You can collect and analyze data to discover exciting business opportunities and any company would be lucky to have you on board.
But if you want to land your next analyst role, you first need to put your statistical skills to good use to highlight your impressive achievements on your resume.
If you're unsure where to start, make use of our step-by-step writing guide below, along with our research analyst resume example.
Contents
| | |
| --- | --- |
| How to write a Research Analyst resume | |

Research Analyst Resume Example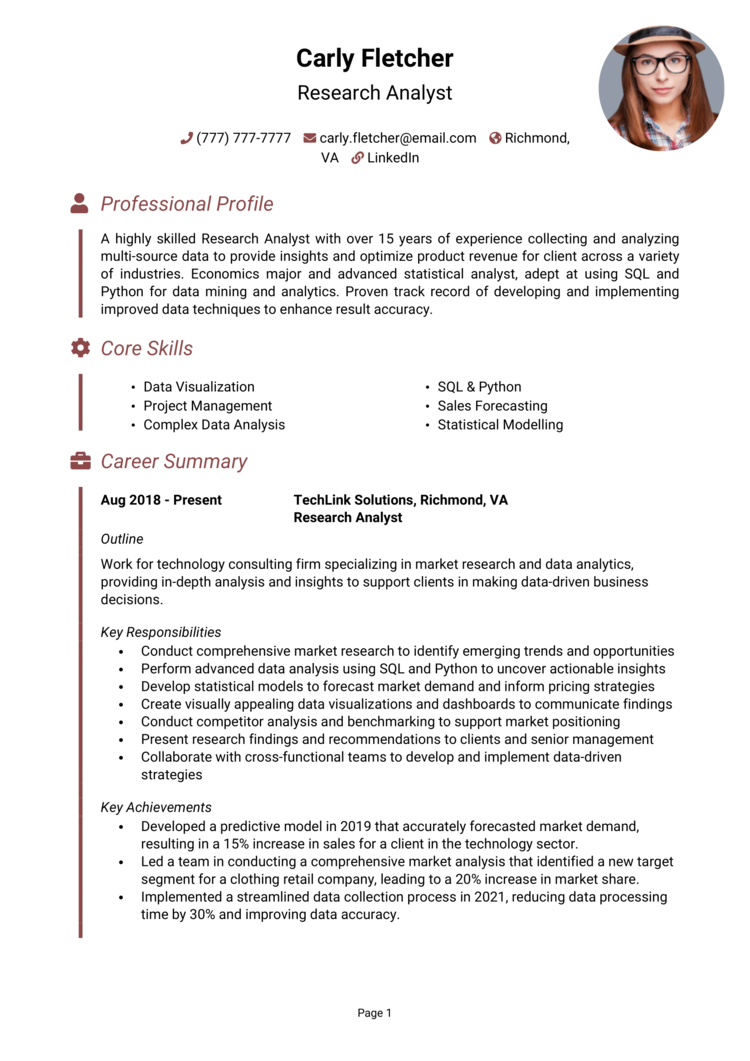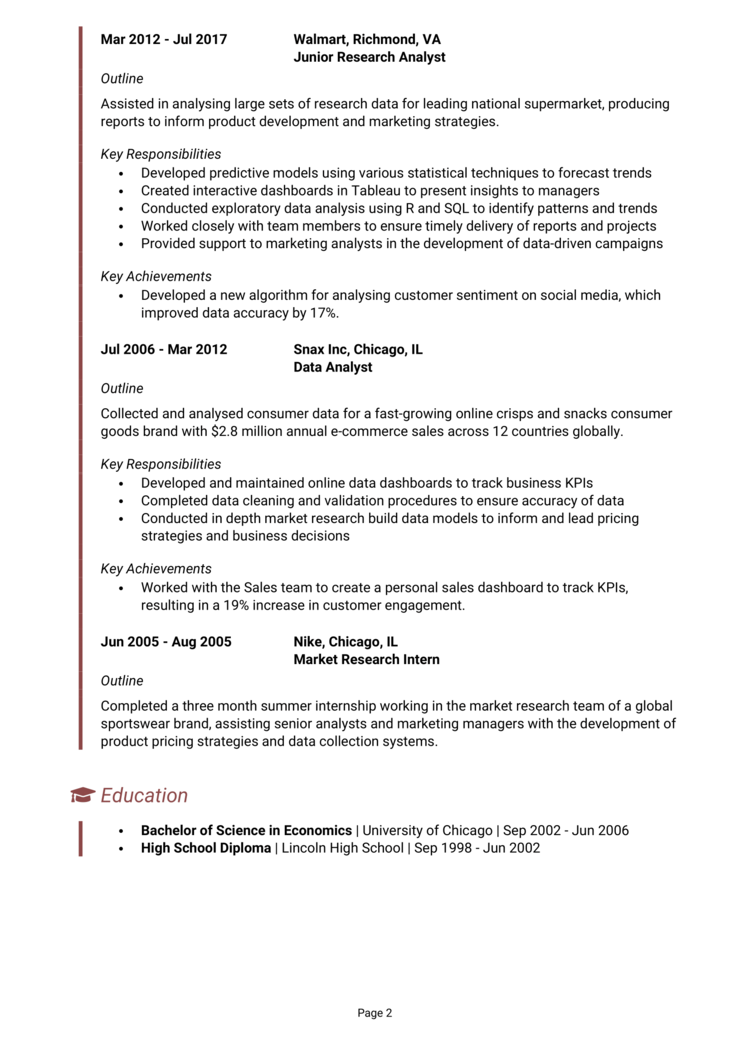 This Research Analyst resume example gives you a good idea of how a good Research Analyst resume should look and read.
The information is presented professionally and the content is well structured to ensure that time-strapped recruiters and hiring managers can find the important skills and knowledge quickly.
Refer to this example as you write your own resume.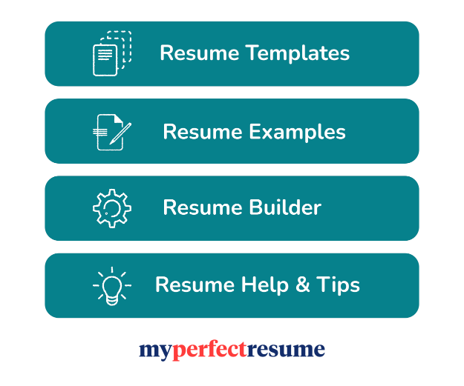 Research Analyst resume layout and format
Formatting is often overlooked when writing resume, but it's a crucial element of it"s success.
Creating a document that not only looks good, but is easily comprehended, is the key to gaining and holding the attention of busy hiring managers.
Use these formatting tips for best results.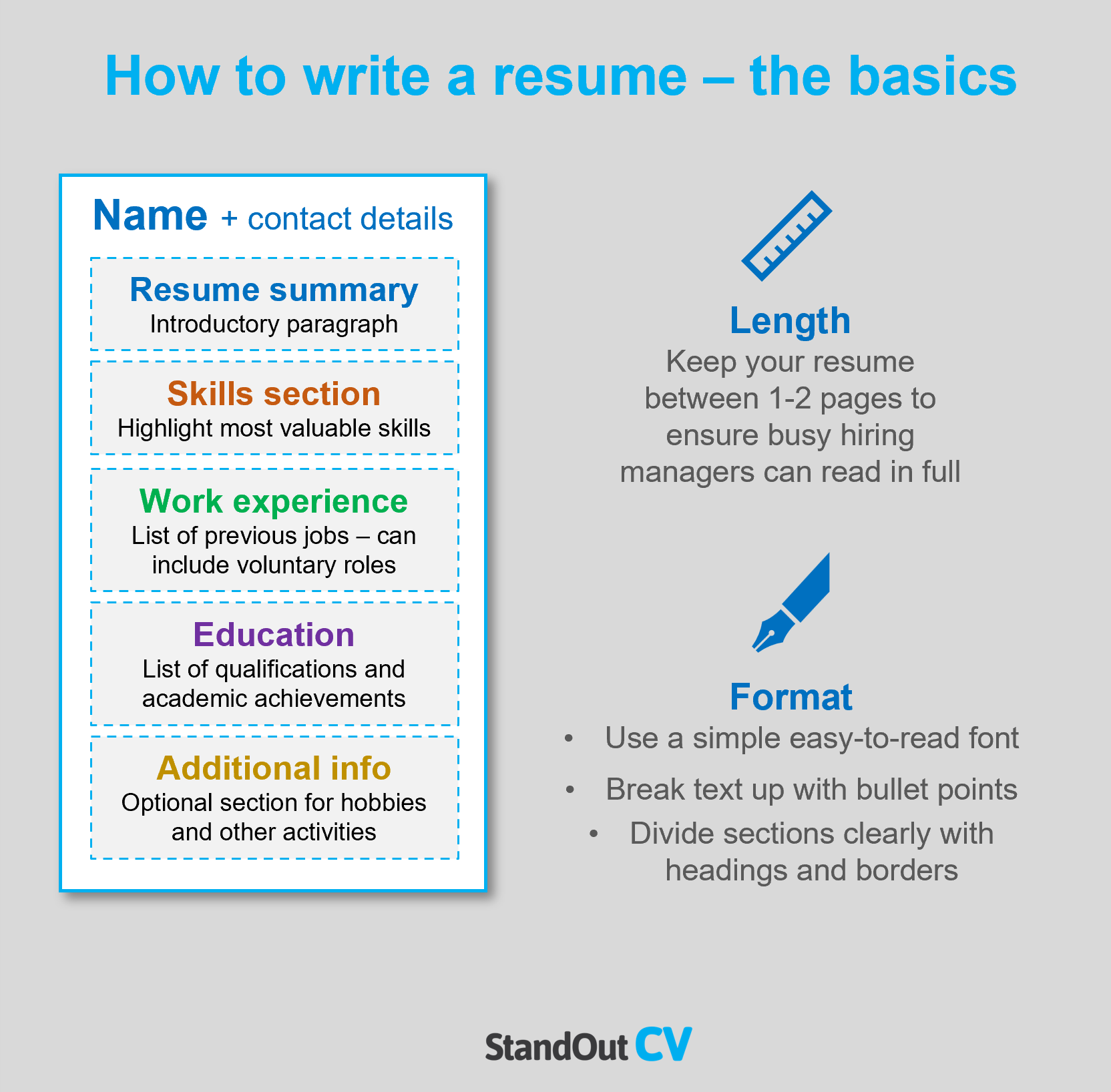 Formatting your resume
Length: Recruiters often see hundreds of resumes per day – so keep yours under 2 pages in length, if you want to ensure it gets read in full.
Font & readability: To create a resume that is easily digestible for hiring managers, it's essential to use an uncomplicated font and structure your content with bullet points and short paragraphs.
Layout & Structure: While creating an attractive resume, it is crucial not to compromise functionality for design. To ensure both, use bold headings and borders to structure the page into clear sections.
Photos: While adding a photo to your resume is not mandatory in the USA, it can be beneficial if you are applying to organizations in creative industries.
Quick tip: Achieving a professional look for your resume can be difficult and time-consuming. If you want to create an attractive resume quickly, try our partner's Resume Builder and use one of their eye-catching resume templates.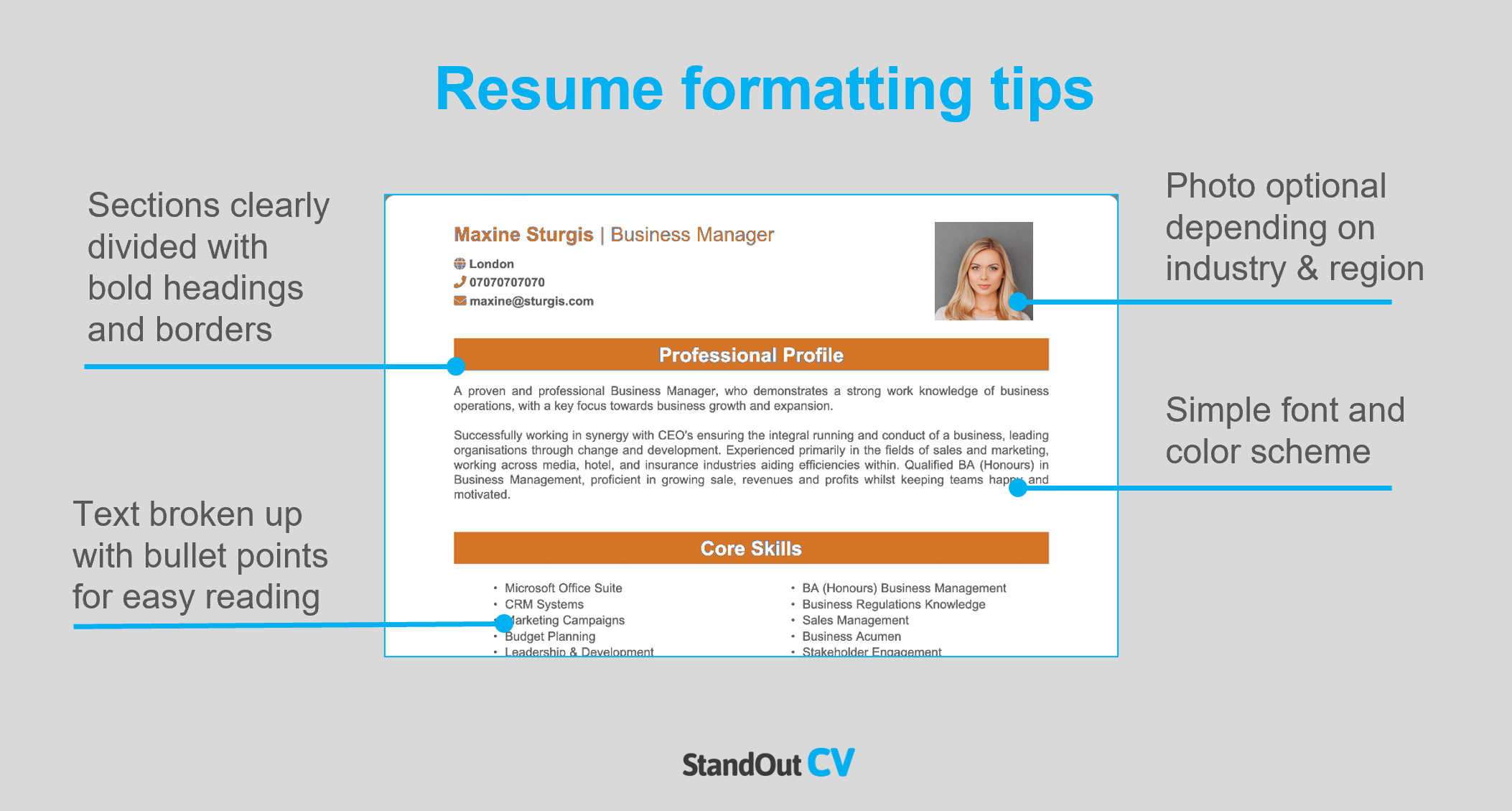 Resume layout
Organize the document into these sections when you write your resume.
Name and contact details – Employers need to know how to get in touch with you – so list your email and cell phone number here.
Resume summary – An intro paragraph at the top of the resume which summarizes your suitability for target jobs.
Skills section – A bullet-pointed list of your most relevant skills and knowledge.
Work experience – A list of your previous jobs (or at least the most relevant and recent ones)
Education – Add academic and professional qualifications that prove you can carry out the job
Additional info – If they are relevant to the jobs you are applying for, you can add an extra section for things like hobbies and interests.
Here's what to include in each part of your resume.
Contact Details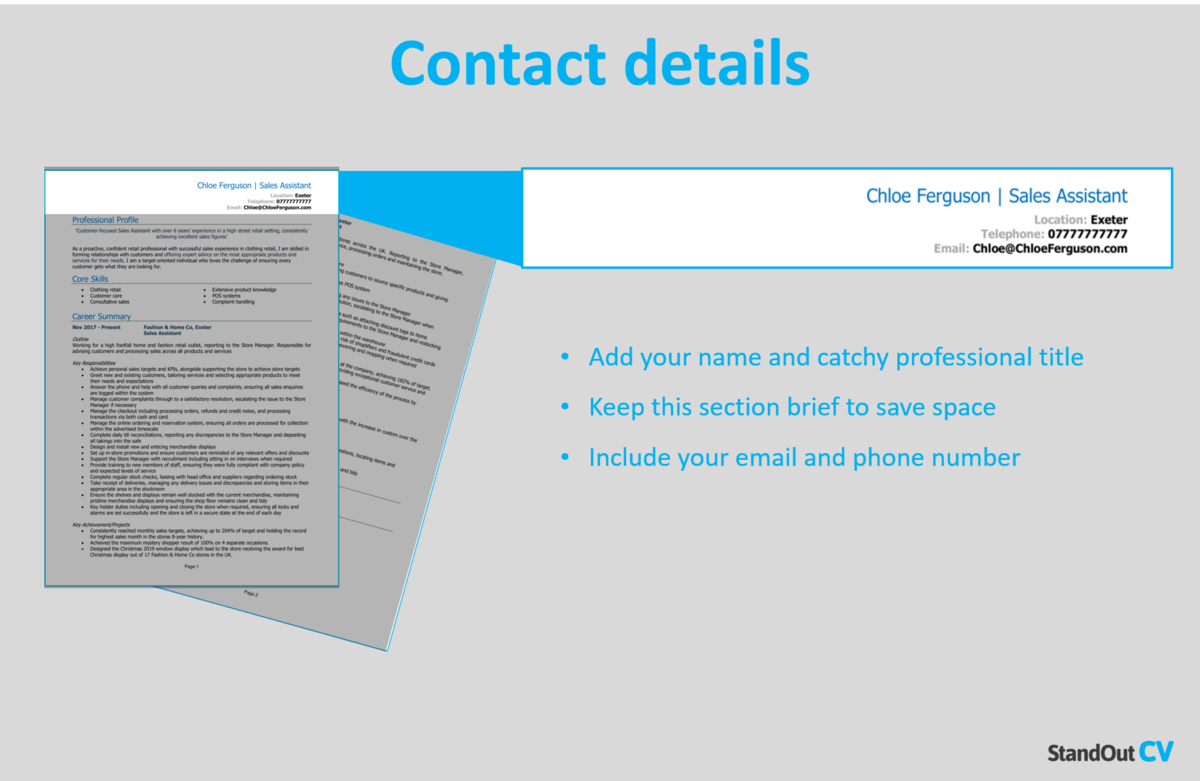 Keep your contact details short to save resume space and include the following.
Name and profession title
Cell phone number
Location – Add your local area such as Silicon Valley or New York, unless you are looking for work in a different location
Email address – Keep it professional and don't use an old address that you thought was cool in high school, but now looks a bit embarrassing.
You can add a link to your LinkedIn profile if you have one – you do not need to include personal details like date of birth or marital status.
Research Analyst Resume Summary
Now it's time to get into the real content of your resume, starting with the summary.
Your resume summary is a short paragraph at the top of the document, and its jobs is to catch the eye of hiring managers by summarizing all your skills and knowledge that are most important to the roles you are applying for.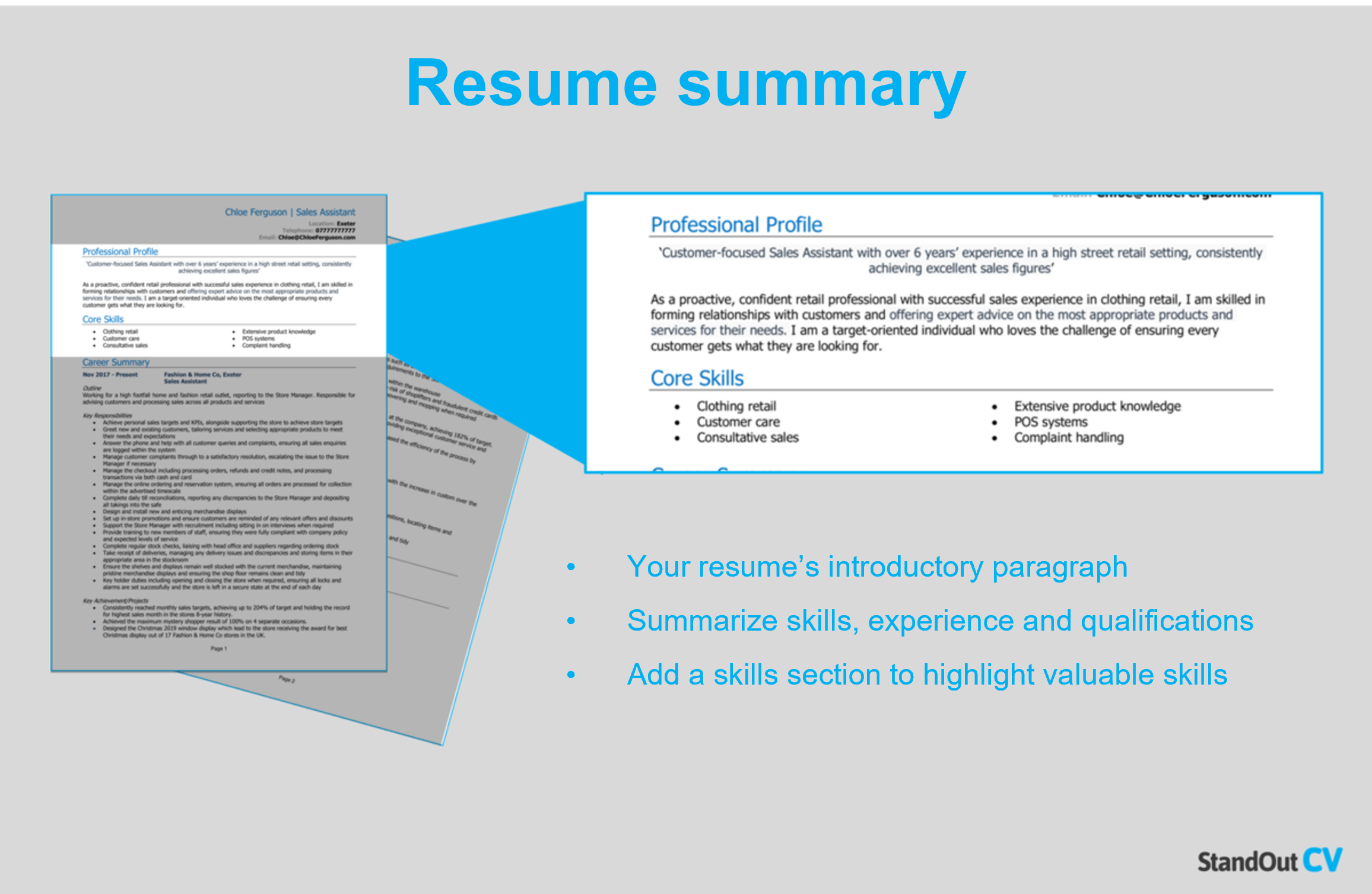 How to create a resume summary that will excite recruiters:
Keep it short: To capture a recruiter's attention and keep them interested in your resume, limit your summary to 4-7 lines as you only have a few seconds to make an impression
Tailor to target jobs: To tailor your resume to your target jobs, it's essential to closely analyze the job description and include as many relevant skills as possible.
Avoid using cliches: You may be a "team player who always give 110%" but generic phrases don't tell employers much about you in reality – stick to factual information.
Research Analyst resume summary example
A highly skilled Research Analyst with over 15 years of experience collecting and analyzing multi-source data to provide insights and optimize product revenue for client across a variety of industries. Economics major and advanced statistical analyst, adept at using SQL and Python for data mining and analytics. Proven track record of developing and implementing improved data techniques to enhance result accuracy.
What to include in your Research Analyst resume summary?
Summary of your experience: Provide a summary of the kind of work you have previously done, along with the benefits you have delivered to the organizations you worked with.
Relevant skills: Instantly showcase your suitability for Research Analyst jobs by including your skills that are highly relevant to them.
Qualifications: Mention any Research Analyst qualifications that are important to your profession in the summary briefly, to show you are qualified to carry out the role.
Quick tip: Choose from hundreds of pre-written summaries across all industries, and add one to your resume with one-click in our partner's Resume Builder. All written by recruitment experts and easily tailored to suit your unique skillset and style.
Core skills section
Underneath your summary, write a core skills section to make your most relevant skills jump off the page at readers.
It should be made up of 2-3 columns of bullet points of your relevant skills.
Before you do this, look over the job description and make a list of any specific skills, specialisms or knowledge required.
Then, make sure to use your findings in your list. This will paint you as the perfect match for the role.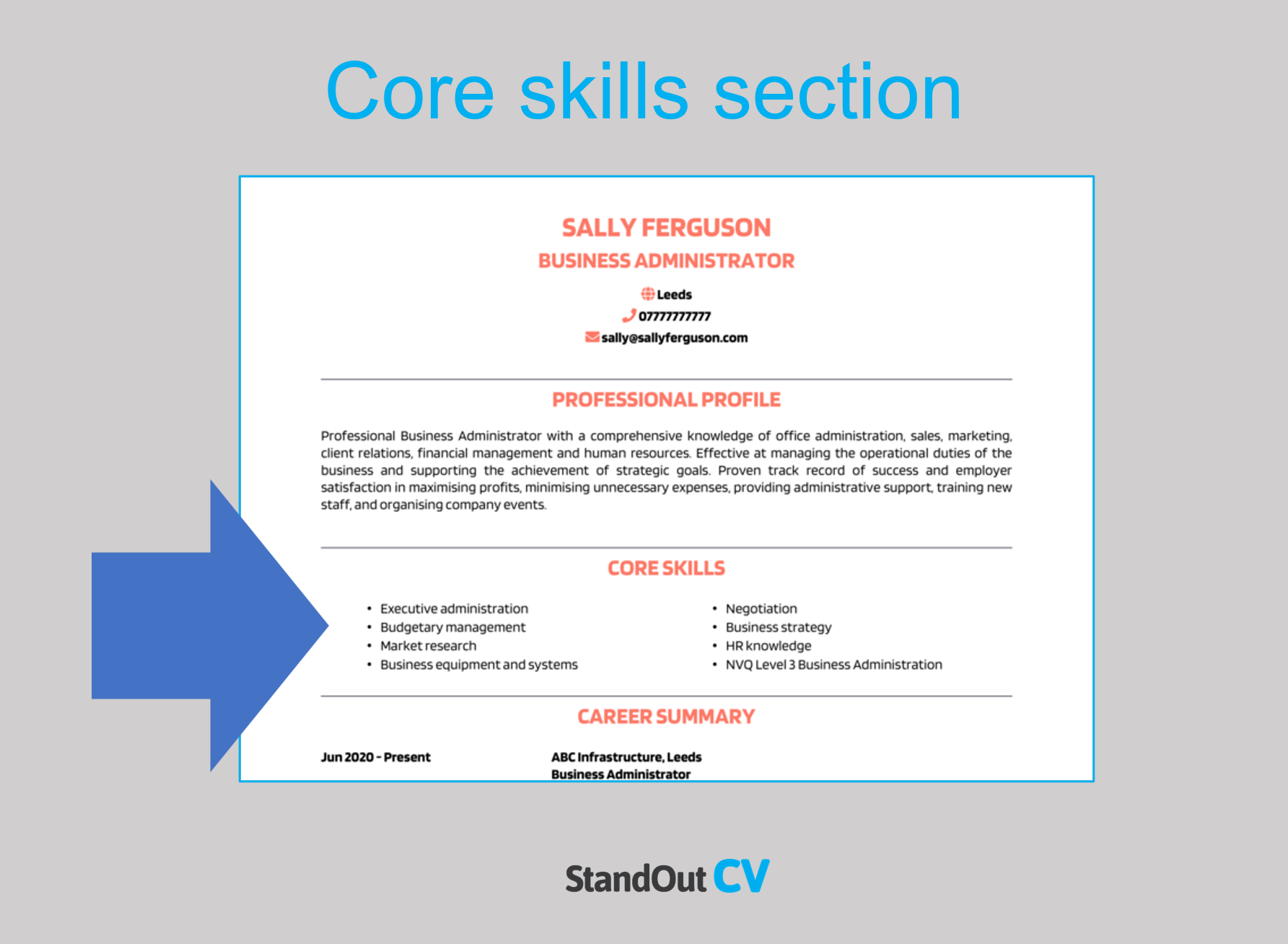 Best skills for your Research Analyst resume
Data Analysis – Analyzing large sets of data, conducting statistical analysis, and drawing insights from research findings.
Research Methodology – Utilizing knowledge of various research methodologies to design and execute research studies and gather relevant data.
Market Research – Conducting market research, including competitor analysis, market trends, consumer behavior, and industry insights.
Quantitative and Qualitative Research – Utilizing both quantitative and qualitative research methods, including surveys, interviews, focus groups, and data interpretation.
Data Visualization – Presenting research findings in a visually compelling and easy-to-understand manner using charts, graphs, and other data visualization techniques.
Statistical Software – Utilizing statistical software such as SPSS, SAS, or R to analyze and interpret research data.
Report Writing – Effectively communicating research findings, insights, and recommendations in clear and concise reports.
Problem Resolution – Identifying research objectives, defining research questions, and developing innovative solutions to address business challenges or market trends.
Critical Thinking – Evaluating data, identifying patterns, and drawing meaningful conclusions from research findings.
Industry Knowledge – Maintaining a deep understanding of the industry or market being researched, including key players, industry dynamics, and emerging trends.
Quick tip: Our partner's Resume Builder contains thousands of in-demand skills for every profession that can be added to your resume in seconds – saving you time and greatly improving your chances of landing job interviews and getting hired.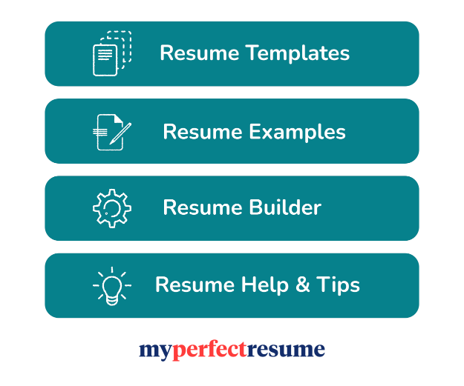 Work experience
Once you've got recruiters interested with your impactful summary, your work experience is where the real detail will lie.
Lay out your previous jobs from current to oldest, detailing what you contributed and achieved in each one.
If you're highly experienced you can cut this section down to your most recent few years of work, but if you are junior you can bulk this up with voluntary work and college placements.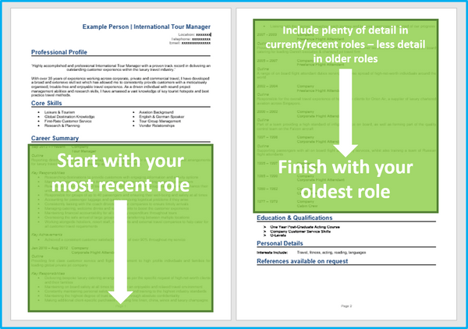 Structuring your jobs
Your job description probably includes tons of information, so it's vital to organize it well when writing about it on your resume.
Structure your jobs as like the example below to make skim-reading easy for recruiters and hiring managers.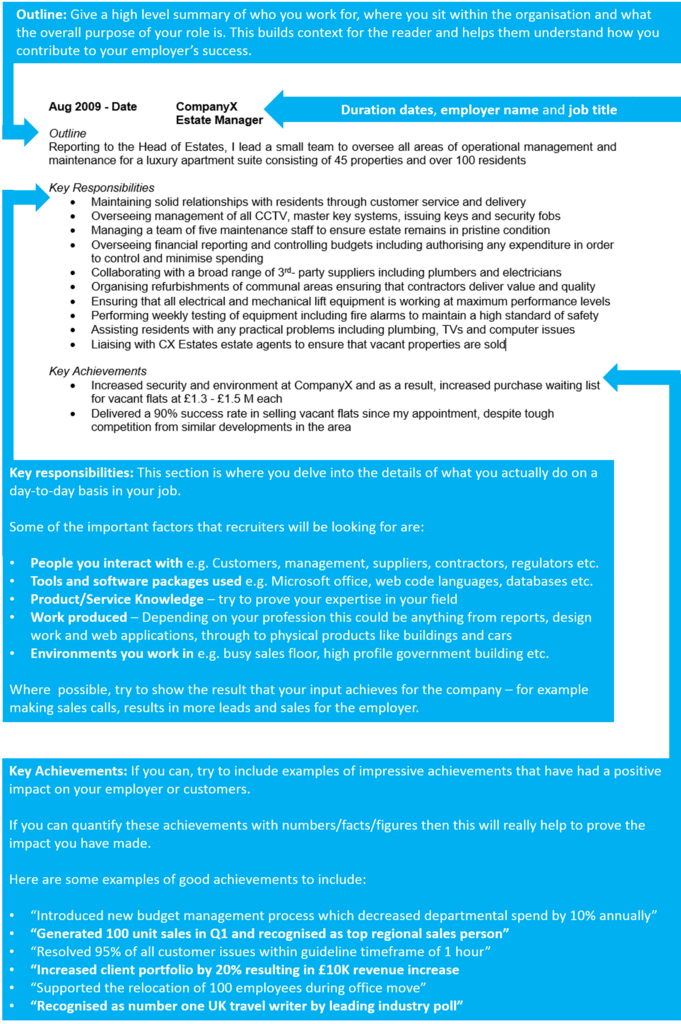 Job outline
To provide context to your jobs, begin each job with a concise summary of the organization, your role within it, and the main objectives of your position.
Key responsibilities
The bulk of the role description should be comprised of bullet points that explain all of your duties in the job.
Keep the sentences short and simple to make them easy for recruiters to digest.
Key achievements
Finish each role by highlighting some impressive achievements you made whilst in the role.
Anything that benefited the employer can be included from making financial savings, to winning new customers.
Quantify your achievements with facts and figures if you can, e.g. "reduced call wait time by 10%"
Example job for Research Analyst resume
Outline
Work for technology consulting firm specializing in market research and data analytics, providing in-depth analysis and insights to support clients in making data-driven business decisions.
Key Responsibilities
Conduct comprehensive market research to identify emerging trends and opportunities
Perform advanced data analysis using SQL and Python to uncover actionable insights
Develop statistical models to forecast market demand and inform pricing strategies
Create visually appealing data visualizations and dashboards to communicate findings
Quick tip: Create impressive job descriptions easily in our partner's Resume Builder by adding pre-written job phrases for every industry and career stage.

Education section
Towards the bottom of your resume, add your education section.
Here you should list your professional qualifications and academic record, such as high school diplomas or college degrees.
If you have lots of work experience, you can keep this section brief (because recruiters will be more interested in your career. If you have little/no experience then you should bulk this section up with plenty of detail.
Additional information
The additional info section is optional but can be useful if you have anything else to add that could benefit your application.
For example, you may have some hobbies and interests that are relevant to your job – or you might have awards or publications to shout about.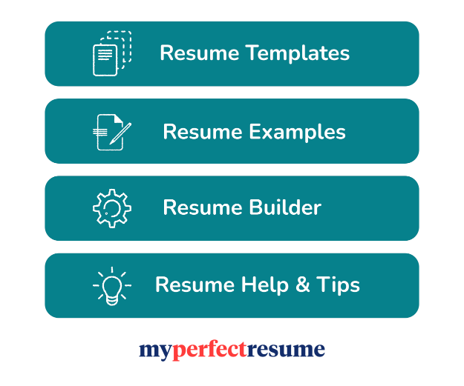 Writing your own winning Research Analyst resume
Writing a Research Analyst resume can be challenging but following the steps above will ensure that you land plenty of interviews.
Good luck with your job search!