A career in regulatory affairs offers plenty of room for progression, as well as the opportunity to do important work and make a real difference.
This can make it a very attractive industry to work in, but first, you've got to prove you have the skills and qualifications to excel.
If you're hoping to land your next role in regulatory affairs, check out our step-by-step resume writing guide below, along with our regulatory affairs resume example.
Contents
| | |
| --- | --- |
| How to write a Regulatory Affairs resume | |

Regulatory Affairs Resume Example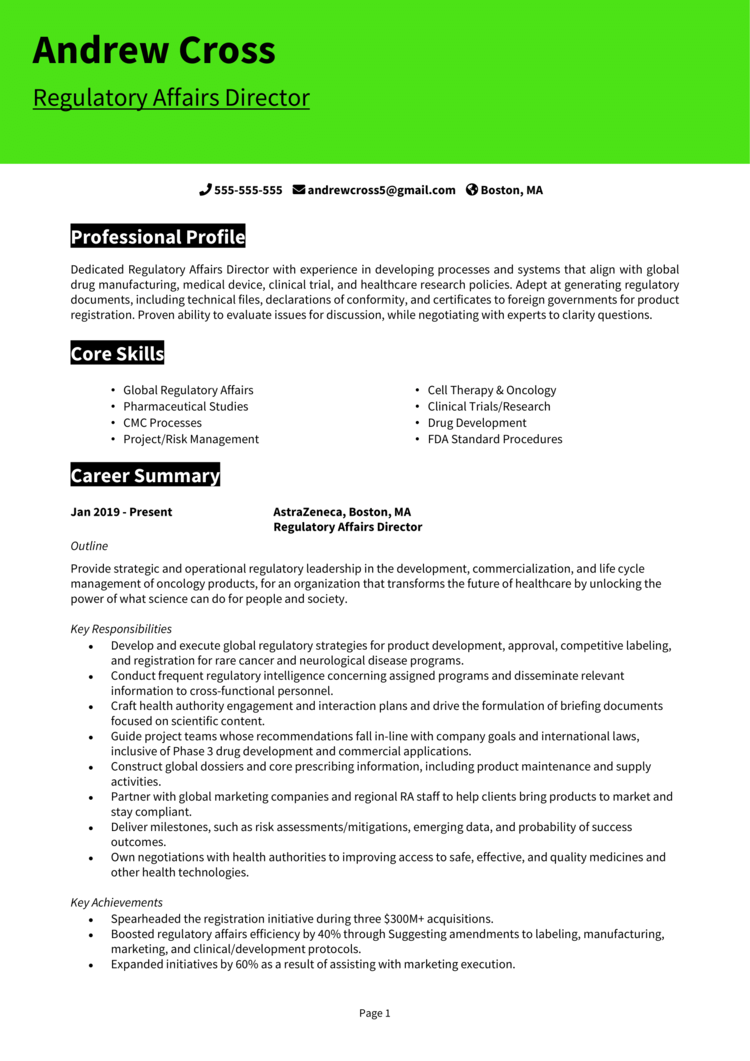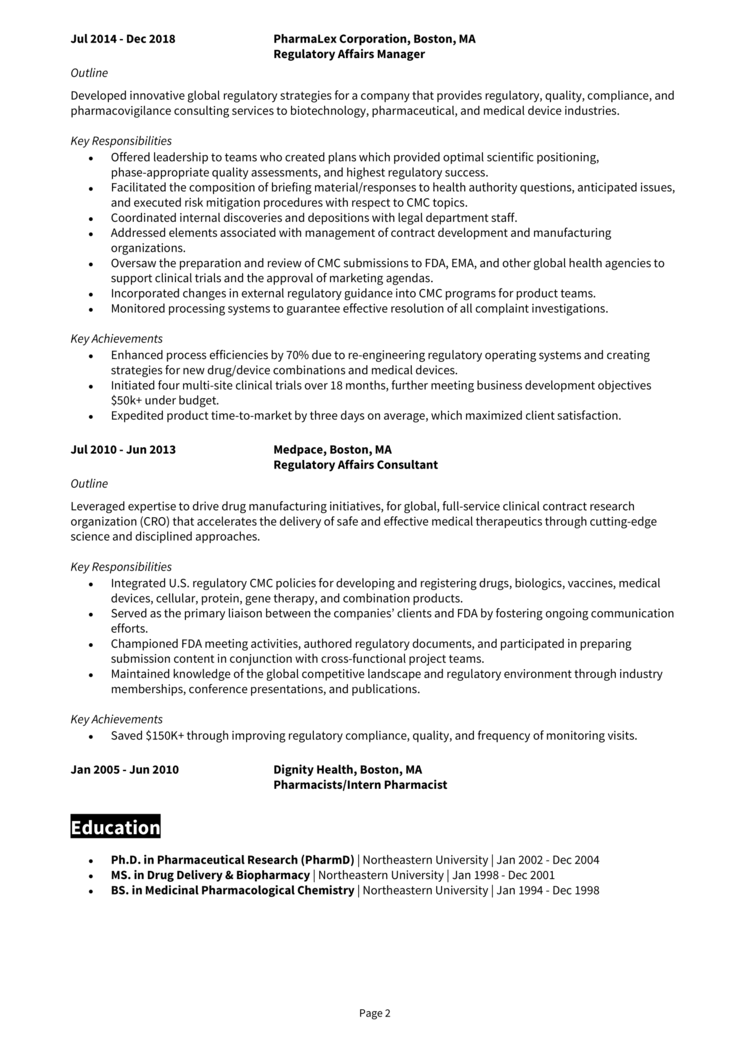 This example Regulatory Affairs Director resume is well-structured to provide a pleasant reading experience for recruiters, and contains all of the crucial information they want to see.
The rest of the guide will show you exactly how you can achieve this in your own resume.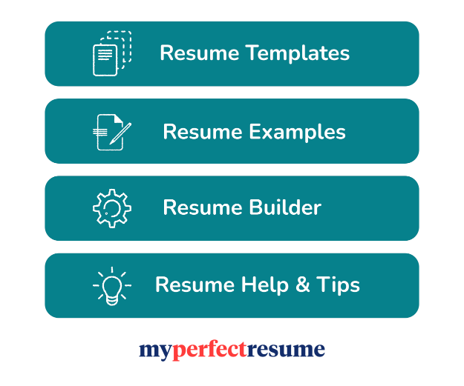 Regulatory Affairs resume layout and formatting
Formatting is often overlooked when writing resume, but it's a crucial element of it"s success.
Creating a document that not only looks good, but is easily comprehended, is the key to gaining and holding the attention of busy hiring managers.
Use these formatting tips for best results.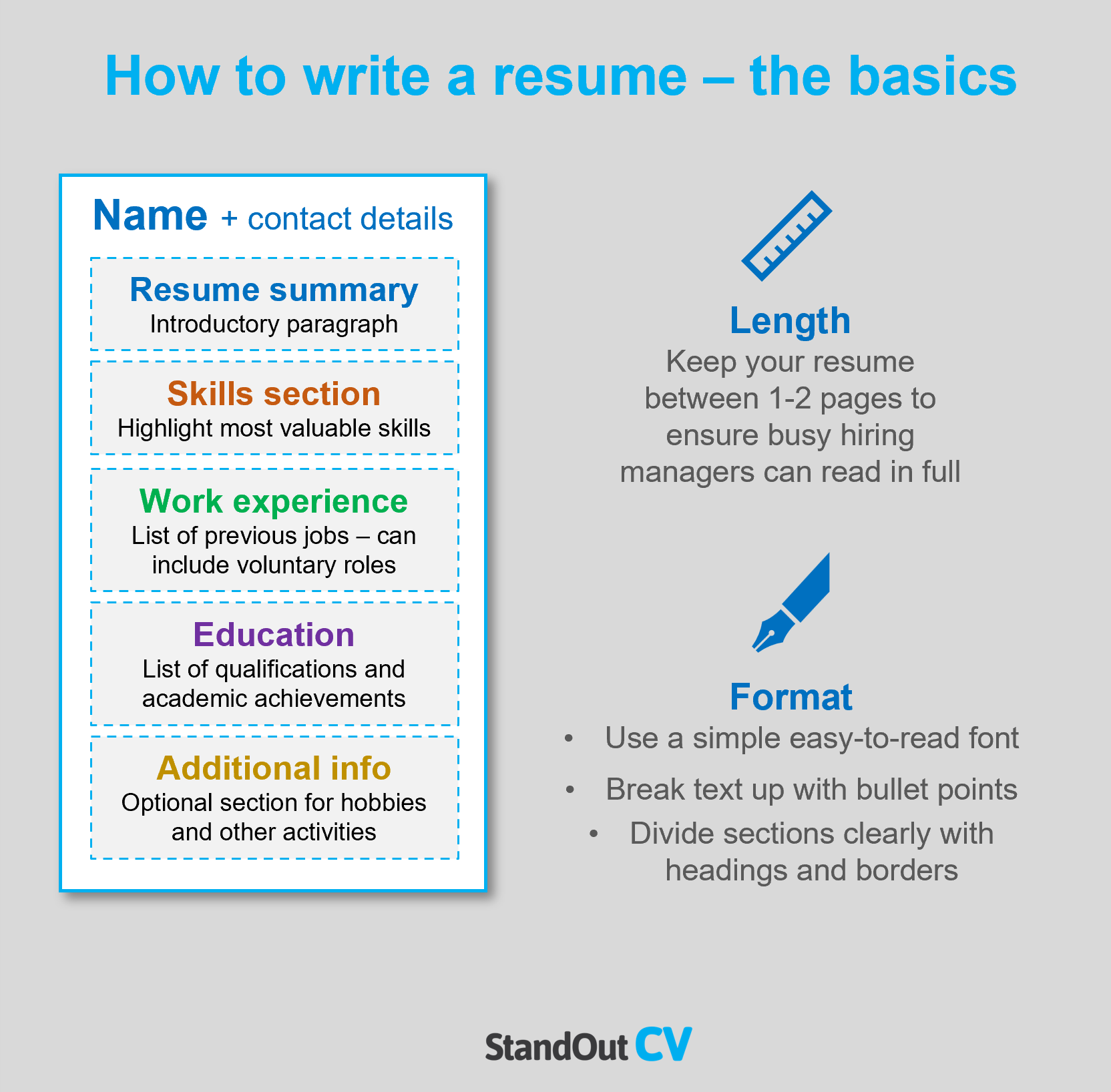 Formatting your resume
Length: To ensure that recruiters will read all of your resume, limit its length to 2 pages – as they someteimes read hundreds of resumes daily.
Font & readability: The key to an effective resume is its readability, so it's best to use a clear and simple font and format it with bullet points and short paragraphs to make it easy for recruiters to read through quickly.
Layout & Structure: Go with a resume design that looks good, but also allows for easy reading and navigation for employers. Ensure the page is clearly split up into sections by adding large font headings and dividing borders. Keep the color scheme simple and don't overcrowd the page.
Photos: While adding a photo to your resume is not mandatory in the USA, it can be beneficial if you are applying to organizations in creative industries.
Quick tip: Achieving a professional look for your resume can be difficult and time-consuming. If you want to create an attractive resume quickly, try our partner's Resume Builder and use one of their eye-catching resume templates.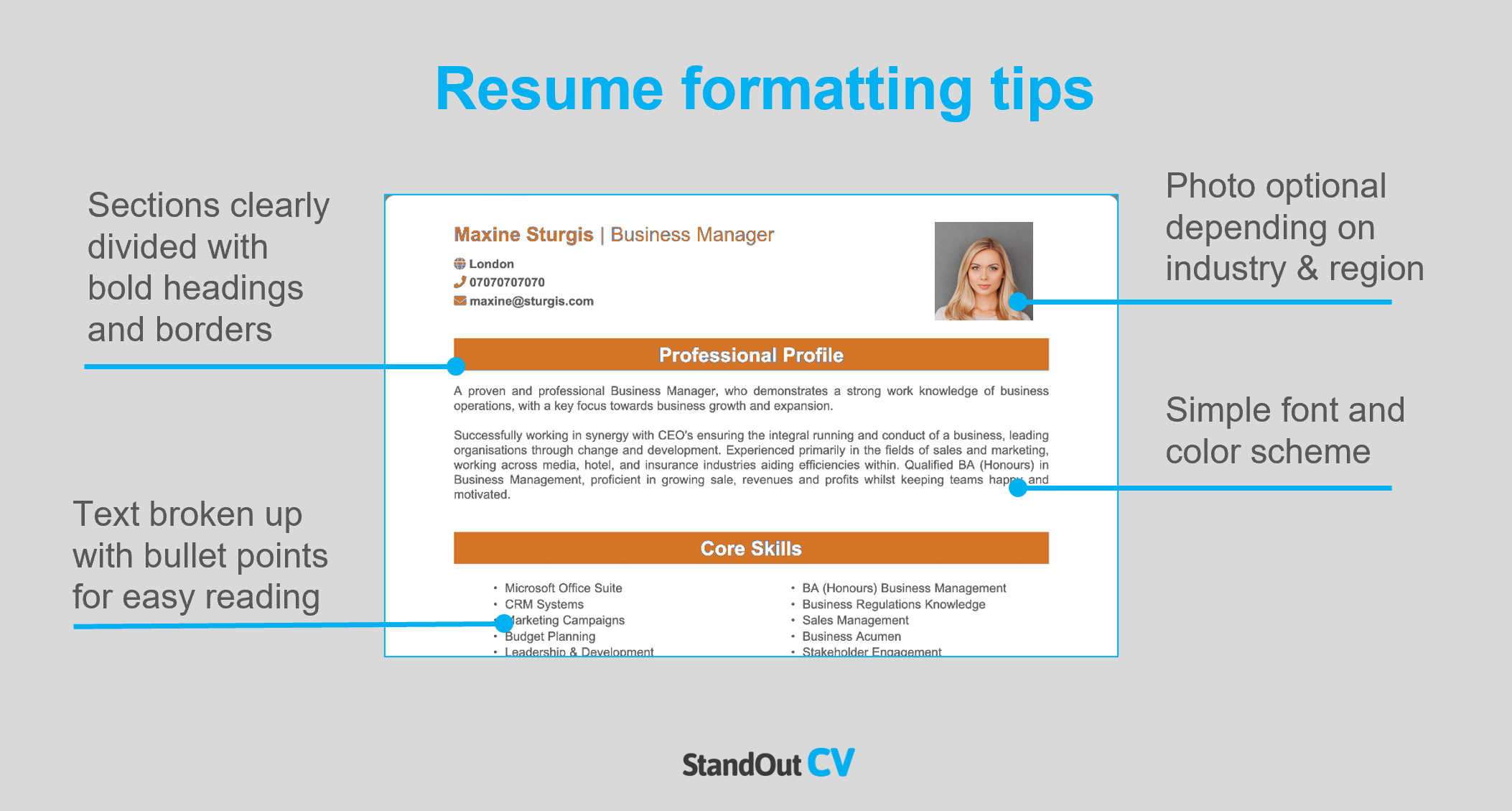 Resume layout
Organize the document into these sections when you write your resume.
Name and contact details – Employers need to know how to get in touch with you – so list your email and cell phone number here.
Resume summary – An intro paragraph at the top of the resume which summarizes your suitability for target jobs.
Skills section – A bullet-pointed list of your most relevant skills and knowledge.
Work experience – A list of your previous jobs (or at least the most relevant and recent ones)
Education – Add academic and professional qualifications that prove you can carry out the job
Additional info – If they are relevant to the jobs you are applying for, you can add an extra section for things like hobbies and interests.
Here's what to include in each part of your resume.
Contact Details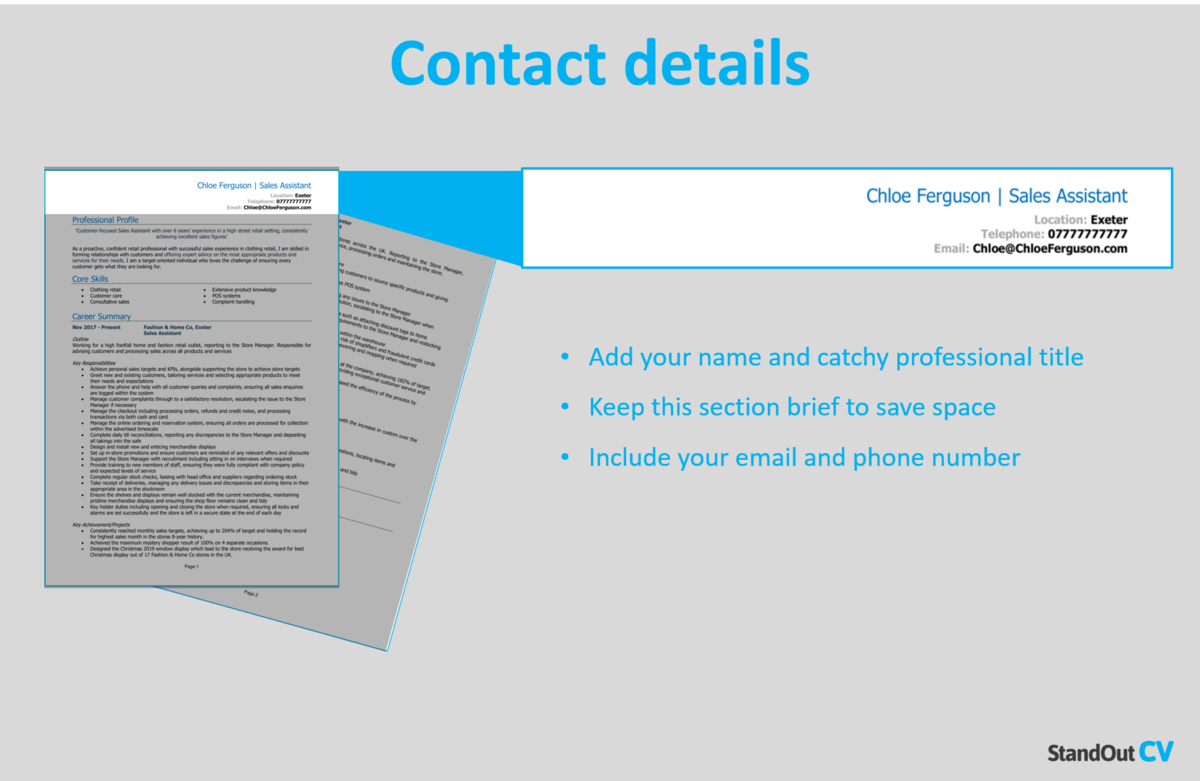 Make it easy for hiring managers to contact you by adding your contact details to the top of your resume.
Keep this section small to save space and include the following.
Name and profession title
Telephone number – Ideally your cell phone so you can answer quickly.
Location – Add your general location such as LA or New York
Email address – Use a professional looking one with no nicknames.
You can add a link to your LinkedIn profile if you have one – you do not need to include personal details like date of birth or marital status.
Regulatory Affairs Resume Summary
Create a strong opening for your resume by adding a compelling summary to the top that highlights your most valuable skills and experience.
This short but important paragraph is designed convince recruiters that you're the perfect candidate for the job and entice them to read more of your resume.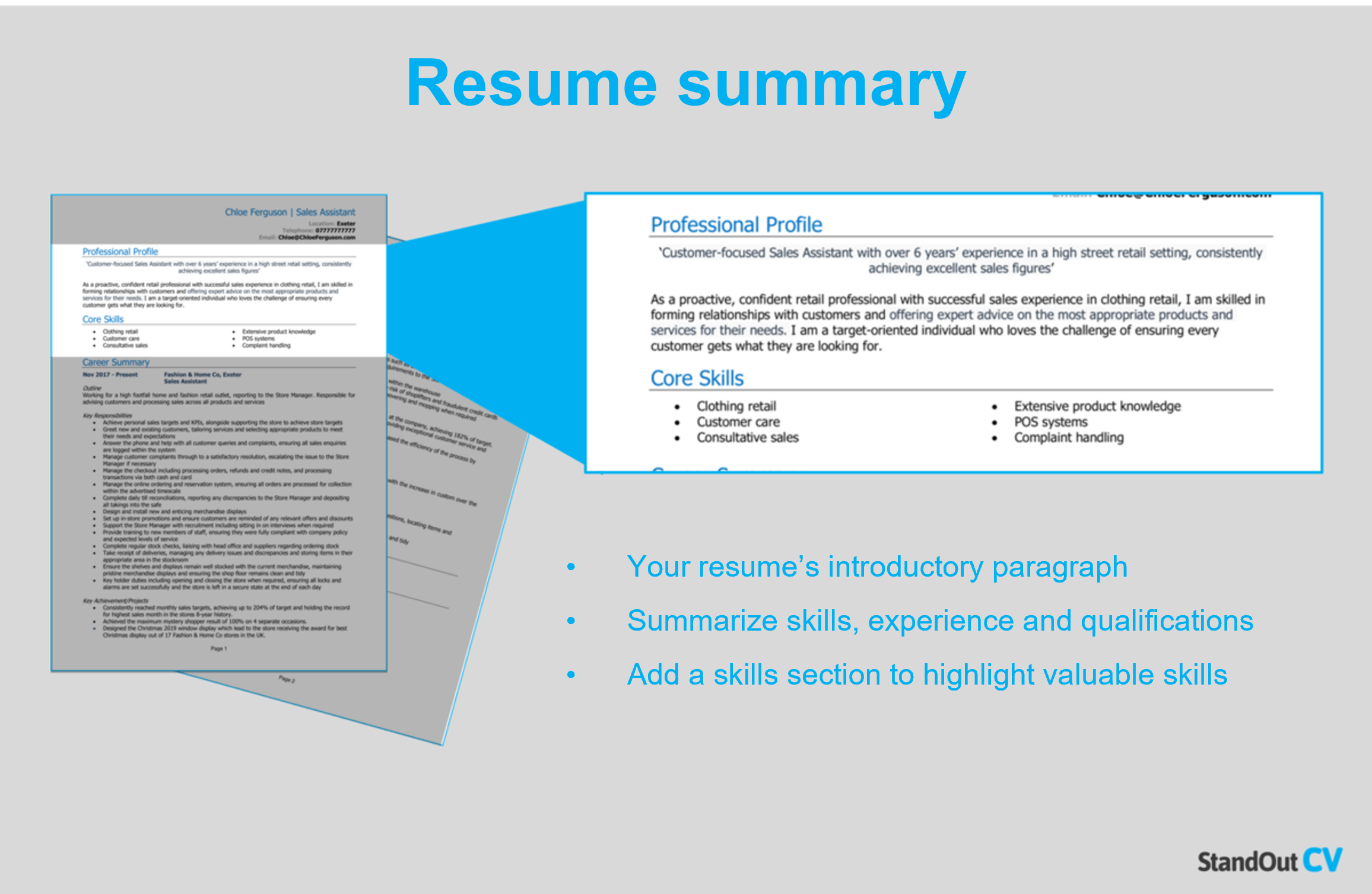 How to create a resume summary that will excite recruiters:
Keep it short: To capture a recruiter's attention and keep them interested in your resume, limit your summary to 4-7 lines as you only have a few seconds to make an impression
Tailor to target jobs: Optimize your summary to match the requirements of your target jobs, by mirroring the key words from the job description as closely as possible.
Avoid using cliches: Recruiters always see cringey cliches like "hardworking guru who works well in a team or individually" – they don't mean much to anyone, so focus your summary on tangible skills and experience.
Regulatory Affairs resume summary example
Dedicated Regulatory Affairs Director with experience in developing processes and systems that align with global drug manufacturing, medical device, clinical trial, and healthcare research policies. Adept at generating regulatory documents, including technical files, declarations of conformity, and certificates to foreign governments for product registration. Proven ability to evaluate issues for discussion, while negotiating with experts to clarity questions.
What to include in your Regulatory Affairs resume summary?
Summary of your experience: Summarize the type of work you have done in the past and the benefits you have delivered for the organizations you worked at.
Relevant skills: Instantly showcase your suitability for Regulatory Affairs jobs by including your skills that are highly relevant to them.
Qualifications: Showcase your level of education with a quick mention of any qualifications that are essential for the Regulatory Affairs roles you are applying to.
Quick tip: Choose from hundreds of pre-written summaries across all industries, and add one to your resume with one-click in our partner's Resume Builder. All written by recruitment experts and easily tailored to suit your unique skillset and style.
Core skills section
Your core skills section, positioned just below your resume summary, provides recruiters with a quick glance at 4-10 of your most in-demand skills.
For Regulatory Affairs jobs, where hiring managers may receive hundreds of applications, this section can help you stand out and immediately grab their attention.
To be effective, this section should consist of 2-3 columns of bullet points that highlight attributes that are highly relevant to the jobs you are targeting.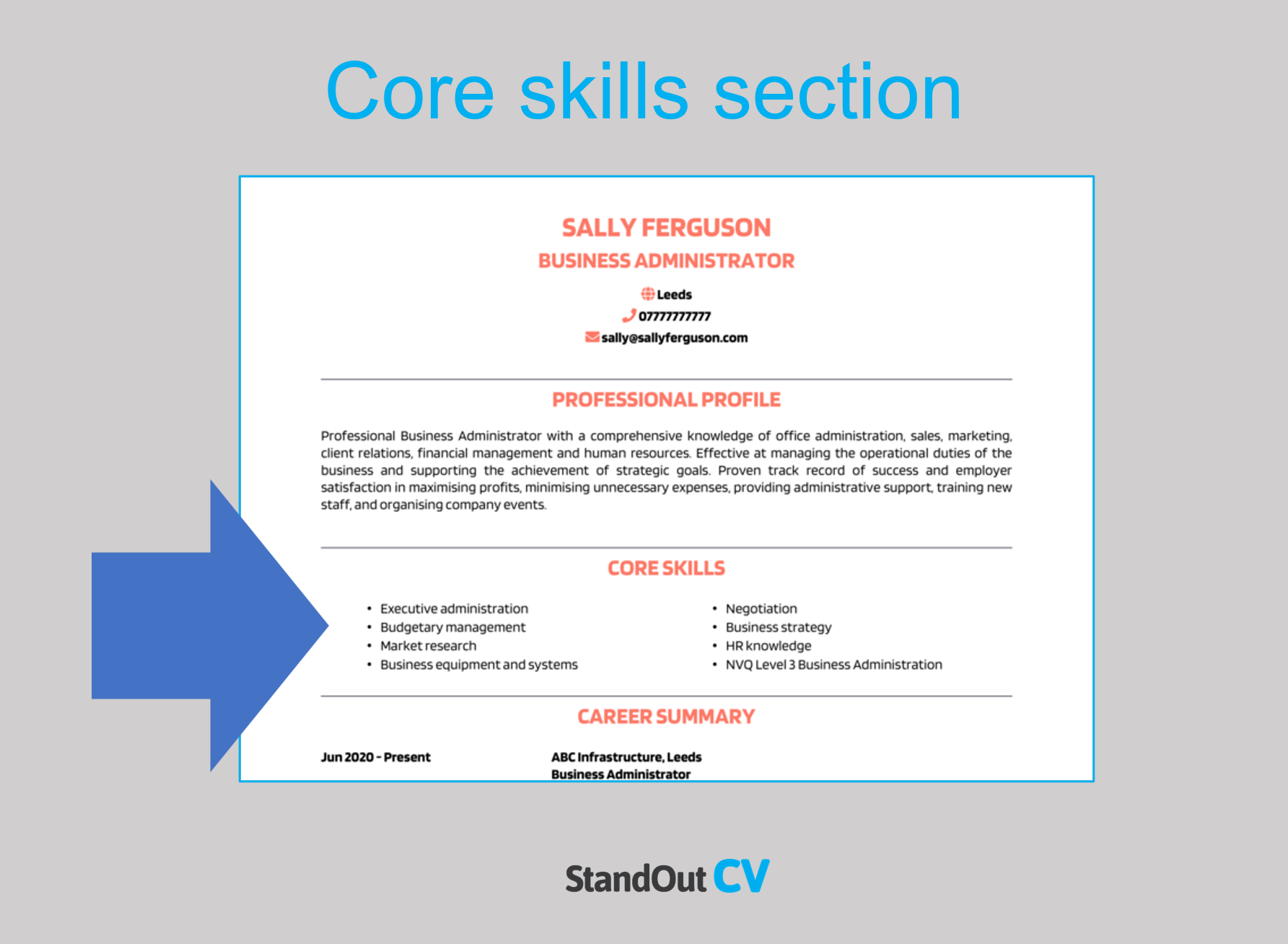 Best skills for your Regulatory Affairs resume
Knowledge of regulations – Maintaining a thorough understanding of regulations related to the industry, such as FDA, EU MDR, and ISO standards.
Compliance – Ensuring that products and processes comply with applicable laws, regulations, and guidelines.
Regulatory strategy – Developing regulatory strategies to support product development, launch, and post-market surveillance.
Technical writing – Utilizing excellent technical writing skills to prepare regulatory documents, such as technical files, reports, and submissions.
Product evaluation – Reviewing and evaluating product design and development documents to ensure compliance with regulations.
Stakeholder communication – Communicating regulatory requirements and changes to stakeholders, such as R&D, manufacturing, and quality teams.
Auditing – Utilizing knowledge of auditing principles and experience in preparing for and participating in regulatory audits.
Quality management – Utilizing knowledge of quality management principles and their application in a regulatory affairs context.
Project management – Managing regulatory projects, including timelines, budgets, and resources, to ensure regulatory requirements are met.
Risk management – Utilizing knowledge of risk management principles and their application in a regulatory affairs context, including risk assessments and risk mitigation strategies.
Quick tip: Our partner's Resume Builder contains thousands of in-demand skills for every profession that can be added to your resume in seconds – saving you time and greatly improving your chances of landing job interviews and getting hired.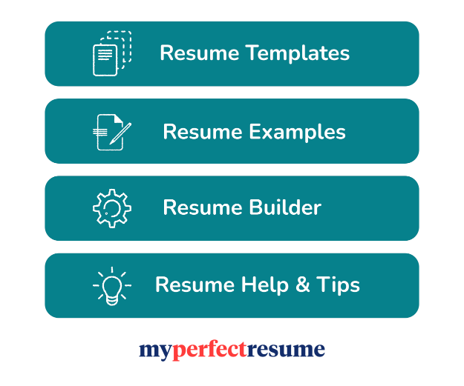 Work experience
Now that you've reeled recruiters in with your awesome summary, it's time to delve into your work experience.
Here you'll list your previous jobs (starting with your most recent and working backward) and showcase how you apply your skills in the workplace.
Provide lots of detail in recent jobs, and less in older roles.
If you have no relevant paid experience, you can include voluntary work and placements – but if you have lots of experience, you can leave out some of the really old jobs.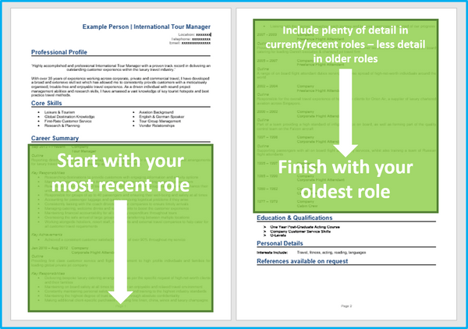 Structuring your jobs
Without a good structure, your job description can look messy and overwhelming to anyone reading them.
Make it easy for recruiters to read your work experience by structuring your roles like this.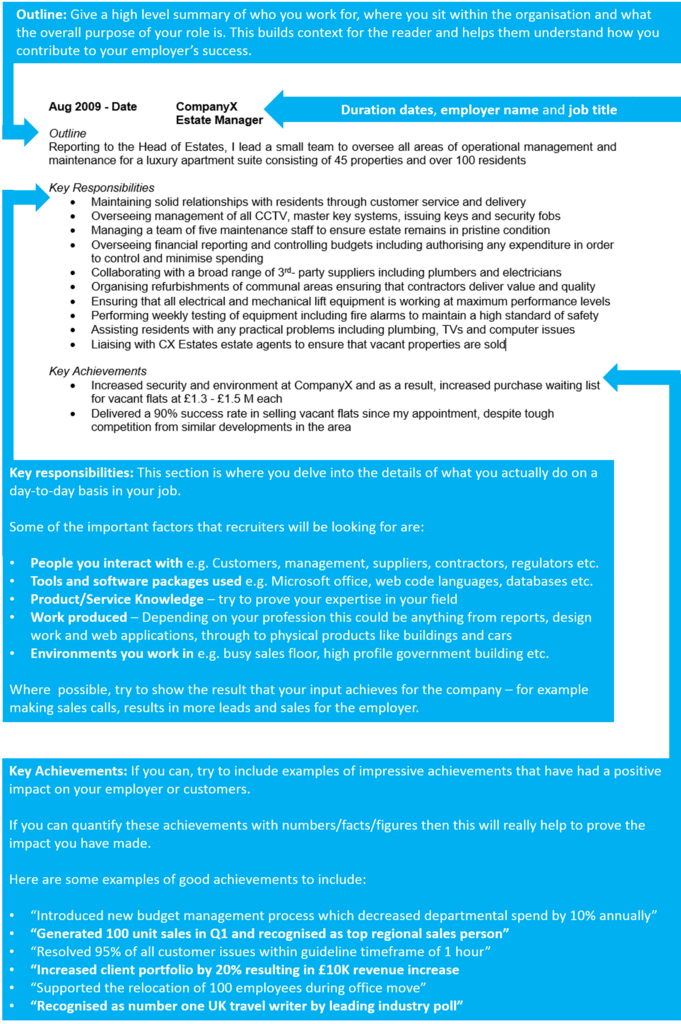 Job outline
Starting each job with a brief summary of the organization, your position within it, and the primary goal of your role can help recruiters quickly understand the context of your work.
Key responsibilities
The bulk of the role description should be comprised of bullet points that explain all of your duties in the job.
Keep the sentences short and simple to make them easy for recruiters to digest.
Key achievements
Show employers the value you can bring to them by adding a few achievements to your jobs.
Whether you've saved the company money or improved an internal process, let recruiters know
Add some numbers to give readers a real scale of the impact, e.g. "reduced call wait time by 10%"
Example job for Regulatory Affairs resume
Outline
Provide strategic and operational regulatory leadership in the development, commercialization, and life cycle management of oncology products, for an organization that transforms the future of healthcare by unlocking the power of what science can do for people and society.
Key Responsibilities
Develop and execute global regulatory strategies for product development, approval, competitive labeling, and registration for rare cancer and neurological disease programs.
Conduct frequent regulatory intelligence concerning assigned programs and disseminate relevant information to cross-functional personnel.
Craft health authority engagement and interaction plans and drive the formulation of briefing documents focused on scientific content.
Guide project teams whose recommendations fall in-line with company goals and international laws, inclusive of Phase 3 drug development and commercial applications.
Quick tip: Create impressive job descriptions easily in our partner's Resume Builder by adding pre-written job phrases for every industry and career stage.

Education section
Towards the bottom of your resume, add your education section.
Here you should list your professional qualifications and academic record, such as high school diplomas or college degrees.
If you have lots of work experience, you can keep this section brief (because recruiters will be more interested in your career. If you have little/no experience then you should bulk this section up with plenty of detail.
Additional information
The bottom of your resume is a place to add any "additional info"
Any other info that didn't fall into any of the previous sections can be added here.
If you have hobbies that are related to your profession or any awards or publications – add them here.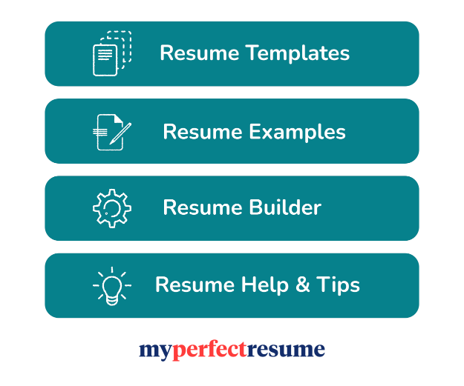 Writing your own winning Regulatory Affairs resume
Crafting a strong Regulatory Affairs resume can be a daunting task, but implementing the steps outlined above will significantly increase your chances of securing multiple interview opportunities.
Good luck with your job search!