If you're hoping to progress your career in quality control, you need a resume that's as impressive as your technical skills.
And we can help you to deliver just that.
In this guide, we've curated our top tips for writing a standout application, along with a quality control inspector resume example to help you.
Contents
| | |
| --- | --- |
| How to write your Quality Control Inspector resume | |

Quality Control Inspector Resume Example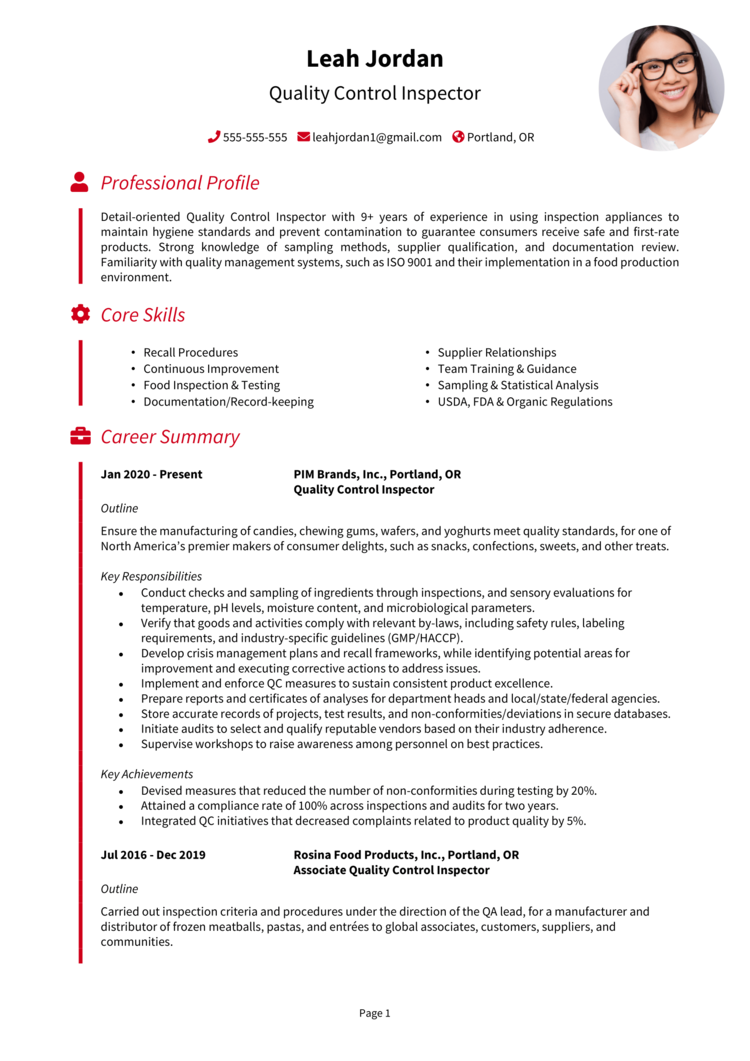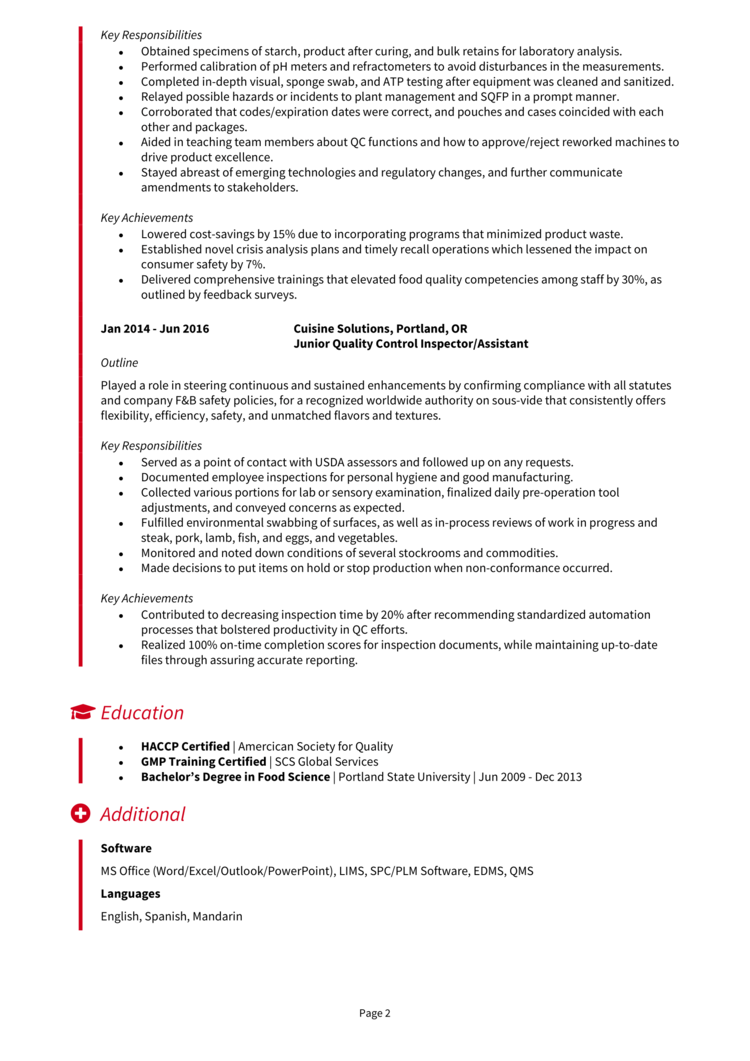 This example Quality Control Inspector resume gives you a general idea of how to structure your own resume, along with the type of content you need to include.
Sticking with this resume format will help you to get noticed by employers and ensure that they can quickly see the benefit of hiring you.
Now, lets walk through a step-by-step guide on how to write your own winning resume.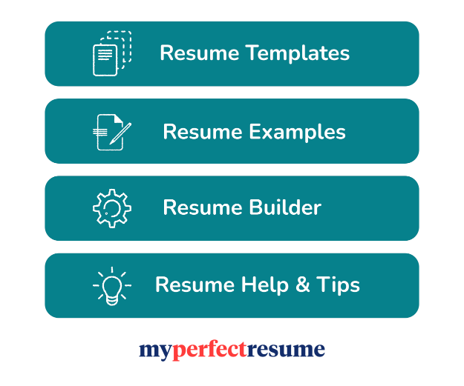 Quality Control Inspector resume layout and format
Your resume layout and format will play a big role in helping hiring managers to take notice of your resume and stay glued to it.
Shoot for a simple yet professional look to ensure you make a strong first impression, and organize the page in a way that is easy for readers to digest the information.
The following formatting tips should help.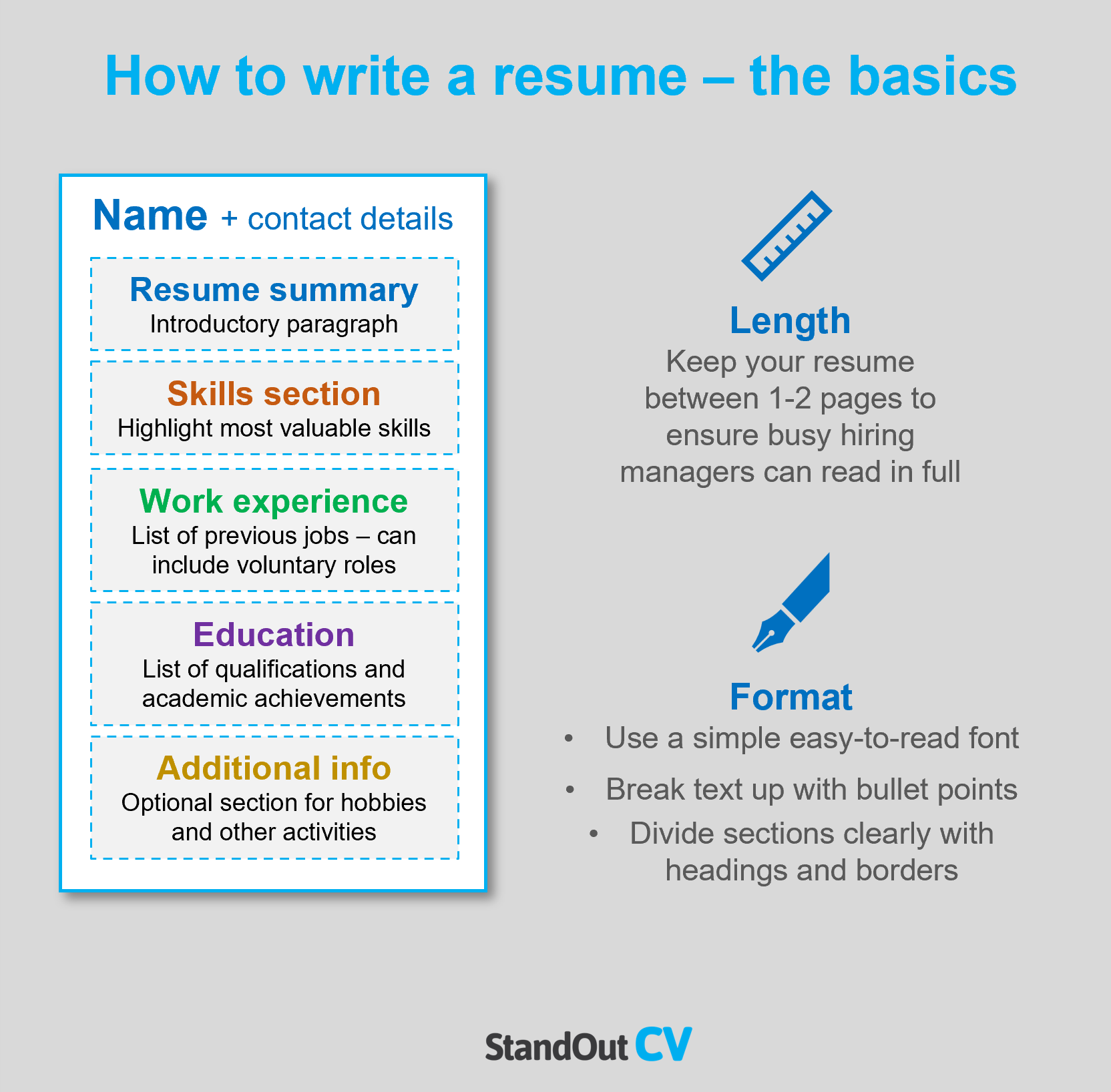 Formatting your resume
Length: Keep your resume to 2 pages or under. You've probably heard that recruiters and hiring managers don't have lots of time to read every resume, so keep yours brief if you want to ensure that they read all of the important info in yours.
Font & readability: Complex fonts are a readers' worst nightmare and will leave recruiters struggling to understand your message. Use a clear simple lean font in a color that stands out against the page, and break your text up with bullet points to make the content easily digestible.
Layout: Your resume should look appealing – but don't overlook functionality when it comes to design. Organise the page into clear sections using bold headings and borders.
Photos: In the USA adding a photo to your resume is optional – you don't have to do it, but it can be a nice way to get your personality across.
Quick tip: Achieving a professional look for your resume can be difficult and time-consuming. If you want to create an attractive resume quickly, try our partner's Resume Builder and use one of their eye-catching resume templates.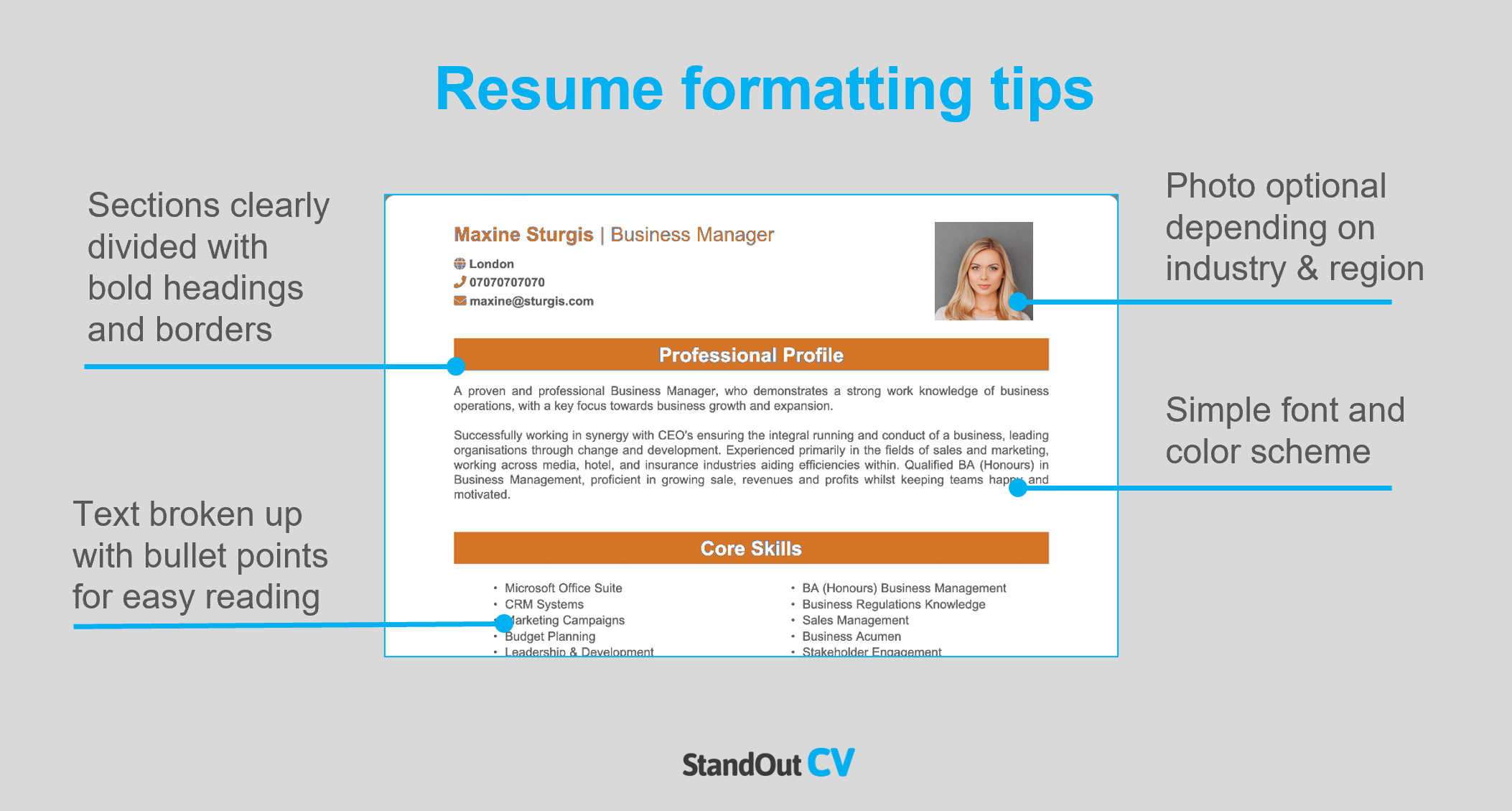 Resume layout
Add the following sections when you write your resume.
Name and contact details – Add to the very top of your resume to introduce yourself and make it super-easy for recruiters to get in touch.
Resume summary – Reel hiring managers in with an "elevator pitch" style paragraph which sums up your suitability for the job.
Skills section – A short and sharp list of your most important skills, that can be quickly skim-read.
Work experience – List your previous jobs (from newest to oldest) detailing the skills learnt and applied in each.
Education – List your qualifications and professional training.
Additional info – If it helps your application, you can add an extra section for things like hobbies and interests.
Here's what to add to each section of your Quality Control Inspector resume.
Contact Details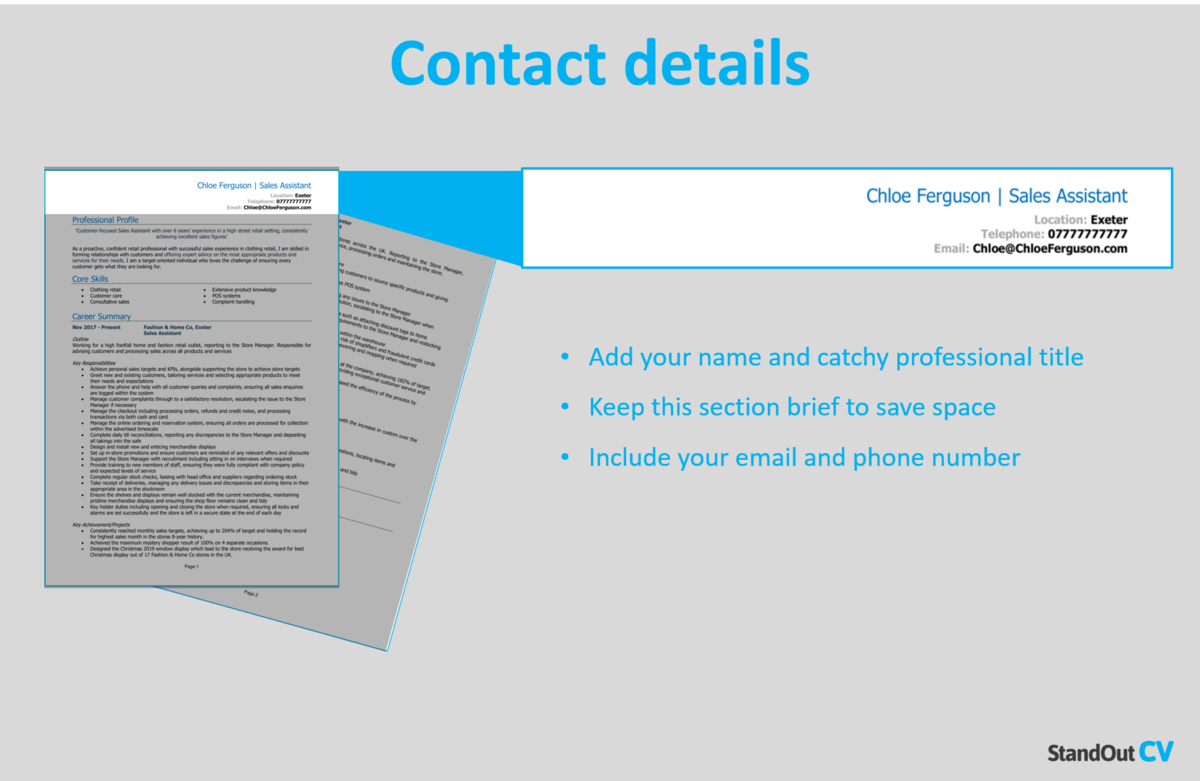 Add your name and contact details to the header of your resume, so that anybody reading can easily see how to contact you.
Name and profession title
Cell phone number – or any number you are easily reachable on
Location – Add your local area such as Washington or San Diego – not your full address as that will take up too much space.
Email address – Use a professional looking address.
You can add a link to your LinkedIn profile if you have one – you do not need to include personal details like date of birth or religion.
Quality Control Inspector Resume Summary
Make a strong first impression on recruiters by beginning your resume with a powerful summary that highlights your most valuable skills and experience.
This brief summary provides an opportunity to showcase why you're the ideal candidate for the job and persuade recruiters to read further into your resume.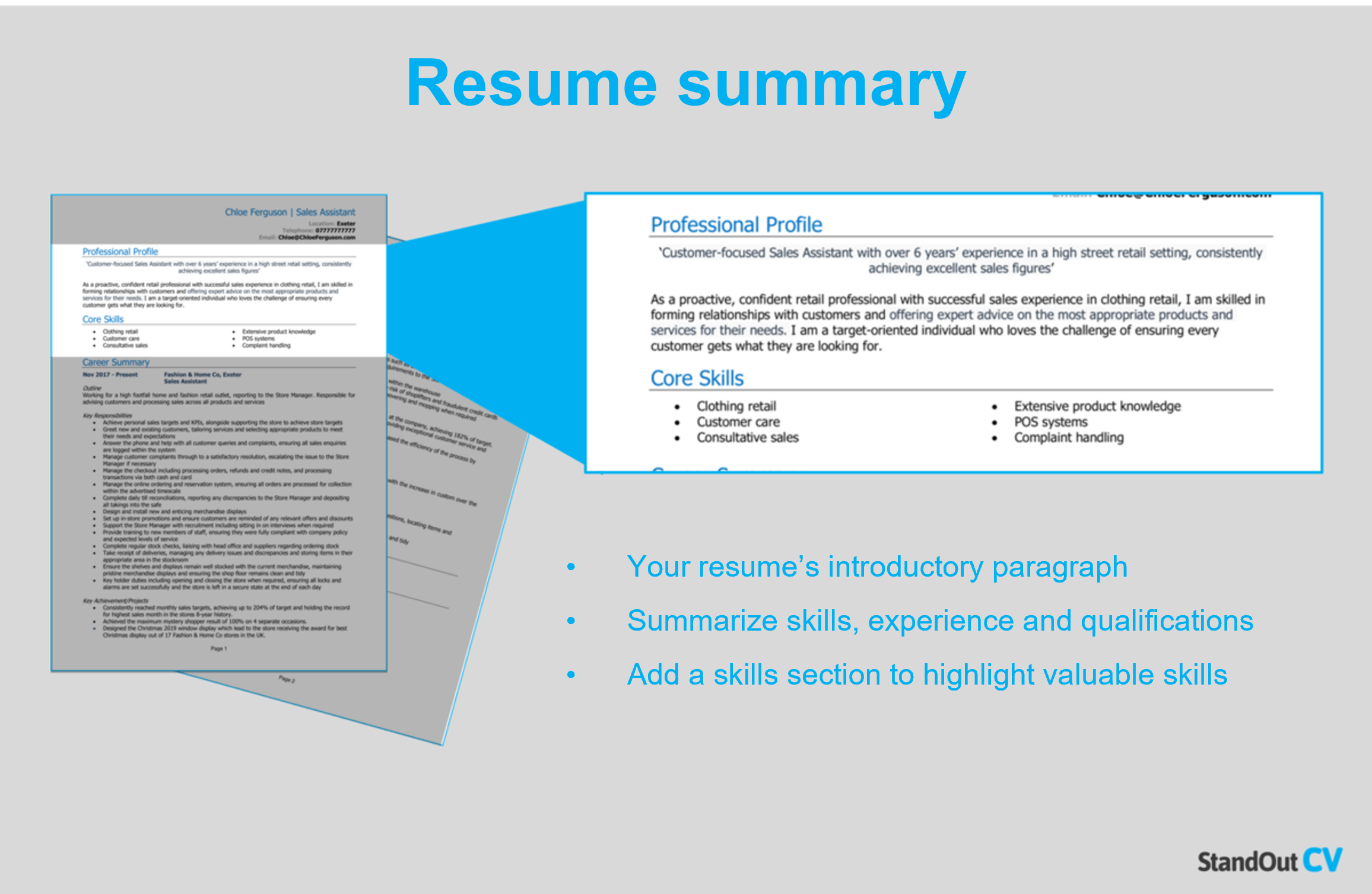 How to create a resume summary that will excite recruiters:
Keep it short: Aim for a short punchy paragraph of 4-7 lines. This is just enough info to showcase why you'd make the perfect hire, without going into excessive detail and overwhelming busy recruiters at such an early stage in the resume.
Tailor to target jobs: To make your resume more relevant to your target jobs, analyze the job description and include as many matching skills as possible.
Avoid using cliches: Although you may believe that you're a "team player who always gives 110%," these kinds of cliches don't communicate much about your skills and qualifications to potential employers. It's more effective to stick to factual information in your resume.
Quality Control Inspector resume summary example
Detail-oriented Quality Control Inspector with 9+ years of experience in using inspection appliances to maintain hygiene standards and prevent contamination to guarantee consumers receive safe and first-rate products. Strong knowledge of sampling methods, supplier qualification, and documentation review. Familiarity with quality management systems, such as ISO 9001 and their implementation in a food production environment.
What to include in your Quality Control Inspector resume summary?
Summary of your experience: Briefly describe the work you have performed in the past and the contributions you have made to the organizations you have worked for.
Relevant skills: Scatter your most in-demand Quality Control Inspector skills through your summary to ensure they are noticed quickly by hiring managers.
Qualifications: To make a strong impression on potential employers when applying for Quality Control Inspector jobs, be sure to mention any relevant qualifications in your summary.
Quick tip: Choose from hundreds of pre-written summaries across all industries, and add one to your resume with one-click in our partner's Resume Builder. All written by recruitment experts and easily tailored to suit your unique skillset and style.
Core skills section
Next, you should create a bullet pointed list of your core skills, formatted into 2-3 columns.
Here, you should focus on including the most important skills or knowledge listed in the job advertisement.
This will instantly prove that you're an ideal candidate, even if a recruiter only has time to briefly scan your resume.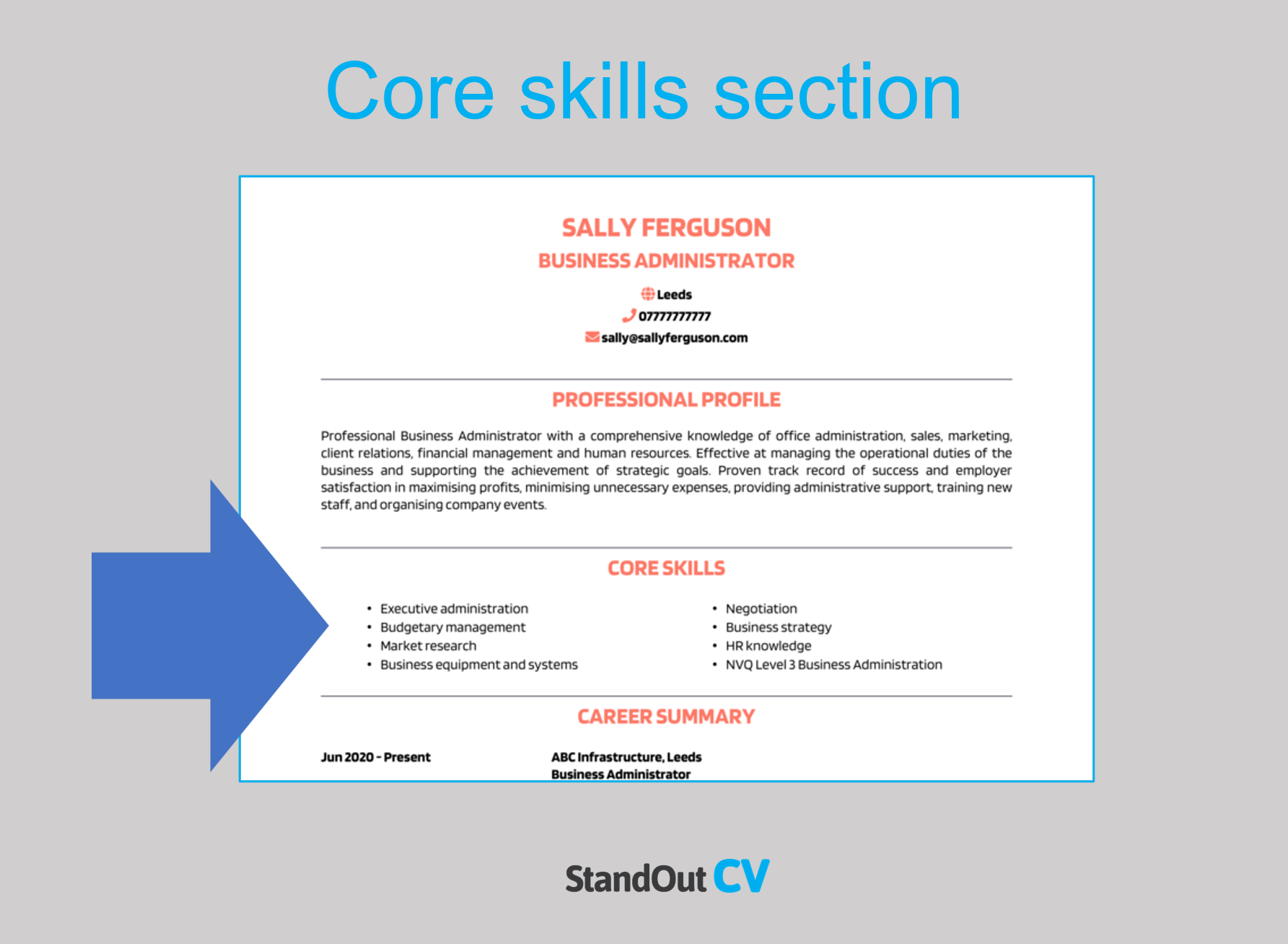 Best skills for your Quality Control Inspector resume
Inspection Techniques – Utilizing various inspection methods, tools, and equipment to assess the quality of products or processes.
Blueprint Reading – Interpreting and understanding engineering drawings, schematics, and specifications to verify product compliance.
Measurement and Calibration – Using precision measuring instruments, such as calipers, micrometers, and gauges, to ensure accurate measurements and calibration.
Statistical Analysis – Utilizing knowledge of statistical methods and data analysis techniques to assess process variations and identify trends or potential issues.
Compliance and Standards – Maintaining familiarity with industry-specific regulations, standards, and quality management systems to ensure products meet required criteria.
Root Cause Analysis – Conducting root cause analysis to identify the underlying reasons for quality issues and develop effective corrective actions.
Documentation and Reporting – Maintaining detailed inspection records, writing inspection reports, and communicating findings to relevant stakeholders.
Non-Destructive Testing (NDT) – Performing non-destructive testing techniques, such as visual inspection, ultrasonic testing, or magnetic particle testing.
Problem Resolution – Identifying and troubleshooting quality-related problems and developing innovative solutions to improve product quality.
Cross-functional Collaboration – Collaborating with cross-functional teams and providing feedback on quality issues.
Quick tip: Our partner's Resume Builder contains thousands of in-demand skills for every profession that can be added to your resume in seconds – saving you time and greatly improving your chances of landing job interviews and getting hired.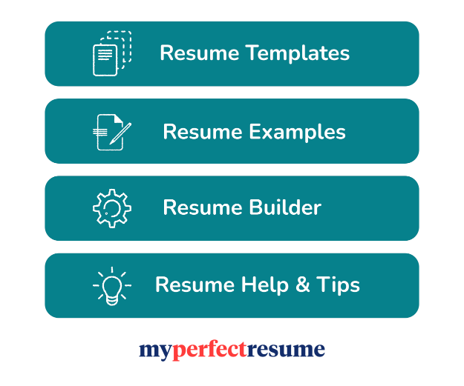 Work experience
So, you've got the recruiter interested with your catchy summary… Great work.
Now it's time to show them the impact you make in the workplace by listing out your previous jobs and what you achieved in each one.
If you have tons of experience, you can condense this part down to the last few years – if you are junior, then you should include as much possible (even volunteering and school work placements)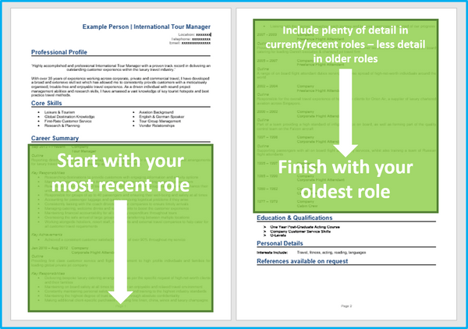 Structuring your jobs
Without a good structure, your job description can look messy and overwhelming to anyone reading them.
Make it easy for recruiters to read your work experience by structuring your roles like this.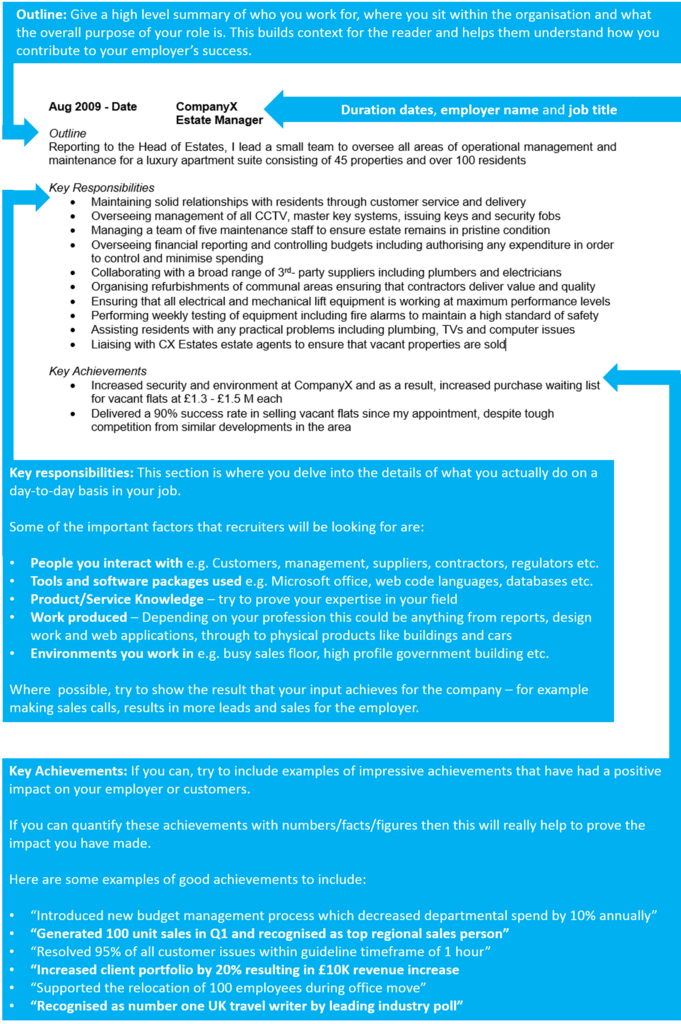 Job outline
Kick off each role with a high-level overview to summarize the focus of the job, what the organization/department does, and how you fit into the bigger picture.
Key responsibilities
The bulk of the role description should be comprised of bullet points that explain all of your duties in the job.
Keep the sentences short and simple to make them easy for recruiters to digest.
Key achievements
Finish each role by highlighting some impressive achievements you made whilst in the role.
Anything that benefited the employer can be included from making financial savings, to winning new customers.
Quantify your achievements with facts and figures if you can, e.g. "reduced call wait time by 10%"
Example job for Quality Control Inspector resume
Outline
Ensure the manufacturing of candies, chewing gums, wafers, and yoghurts meet quality standards, for one of North America's premier makers of consumer delights, such as snacks, confections, sweets, and other treats.
Key Responsibilities
Conduct checks and sampling of ingredients through inspections, and sensory evaluations for temperature, pH levels, moisture content, and microbiological parameters.
Verify that goods and activities comply with relevant by-laws, including safety rules, labelling requirements, and industry-specific guidelines (GMP/HACCP).
Develop crisis management plans and recall frameworks, while identifying potential areas for improvement and executing corrective actions to address issues.
Implement and enforce QC measures to sustain consistent product excellence.
Quick tip: Create impressive job descriptions easily in our partner's Resume Builder by adding pre-written job phrases for every industry and career stage.

Education section
After your work experience, add your education section.
If you are an experienced professional, you can keep this part short – adding basic details of each qualification.
If you have little or no experience, bulk this section up by adding more detail and highlight important skills and knowledge for your target jobs.
Additional information
If you have anything else to add which is relevant to the jobs you are applying for, the additional info section is the place to add it.
Perhaps you have a hobby which involves relevant skills, or maybe you have some awards or publications worth mentioning.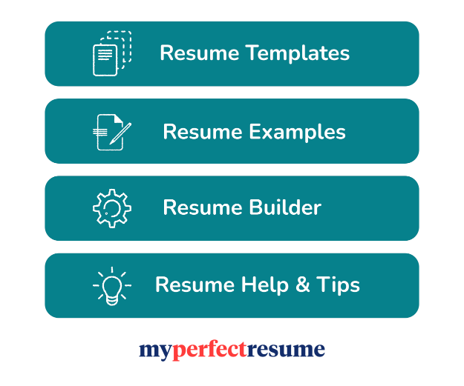 Writing your own winning Quality Control Inspector resume
A winning Quality Control Inspector resume should look great, read well, and sell your skillset to hiring managers.
If you follow the steps above, you should be able to bag yourself a top job in no time.
Good luck with your job search!