Are you ready to become a valued member of the production team?
If you're looking for your next role as a process operator, then you need a quality resume that effectively showcases your skills, safety, and manufacturing experience.
To help you produce this, we've broken the writing process down into manageable steps, sharing our top tips and a process operator resume example to guide you.
Contents
| | |
| --- | --- |
| How to write a Process Operator resume | |

Process Operator Resume Example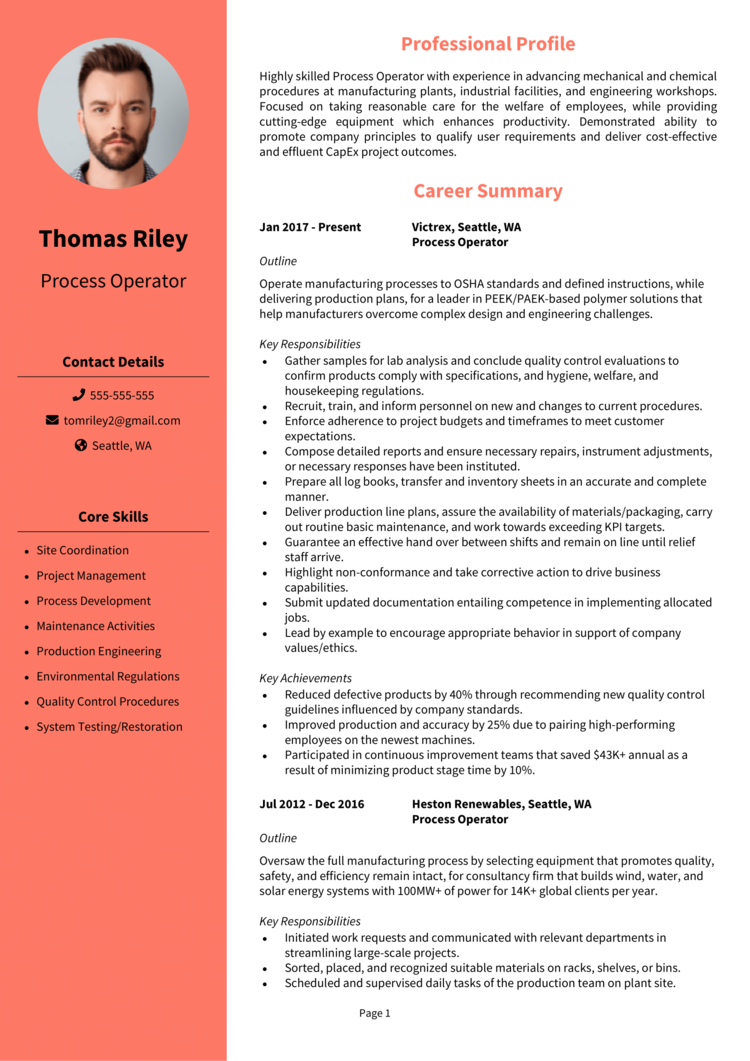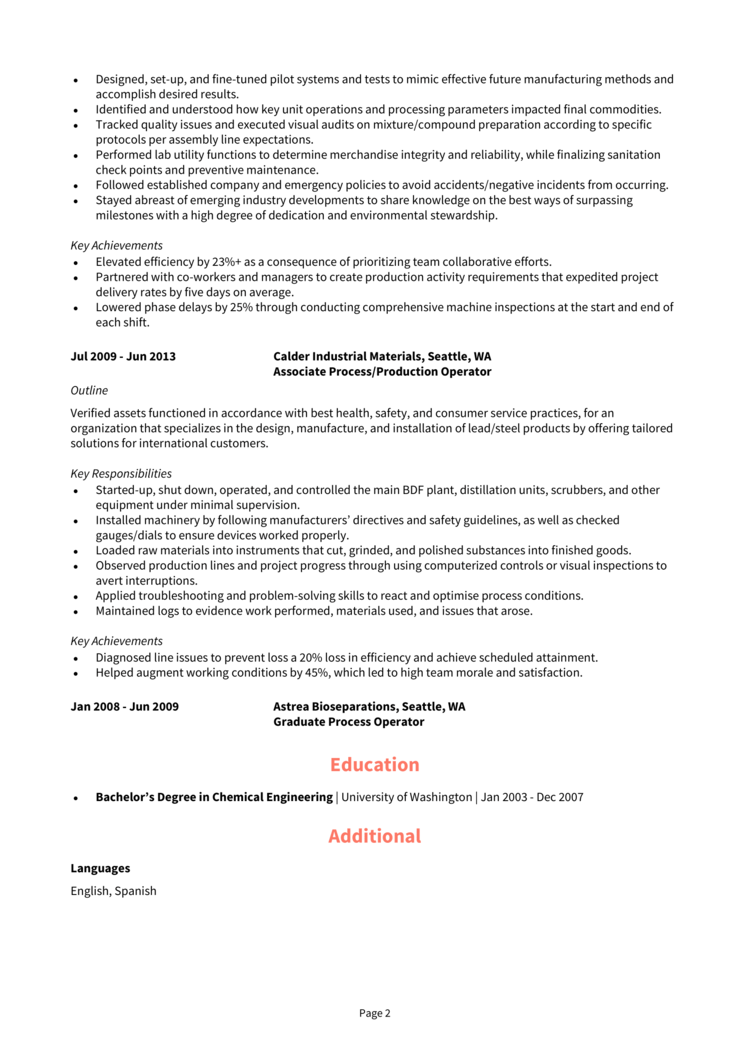 This Process Operator resume example shows you the most effective layout for a resume in today's job market, along with the type of content you need to include.
Stick closely to these guidelines as you write your own resume, to boost your chances of getting lots of responses, interviews and job offers.
Now lets dive into the details of how you write your own eye-catching resume…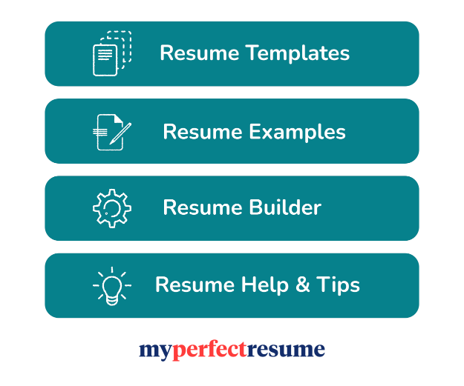 Process Operator resume layout and format
Formatting and structuring your resume correctly is key to landing job interviews.
Your resume needs to look attractive, but more importantly it needs to be easy for recruiters and hiring managers to read and digest the information.
These tips will help you to do that: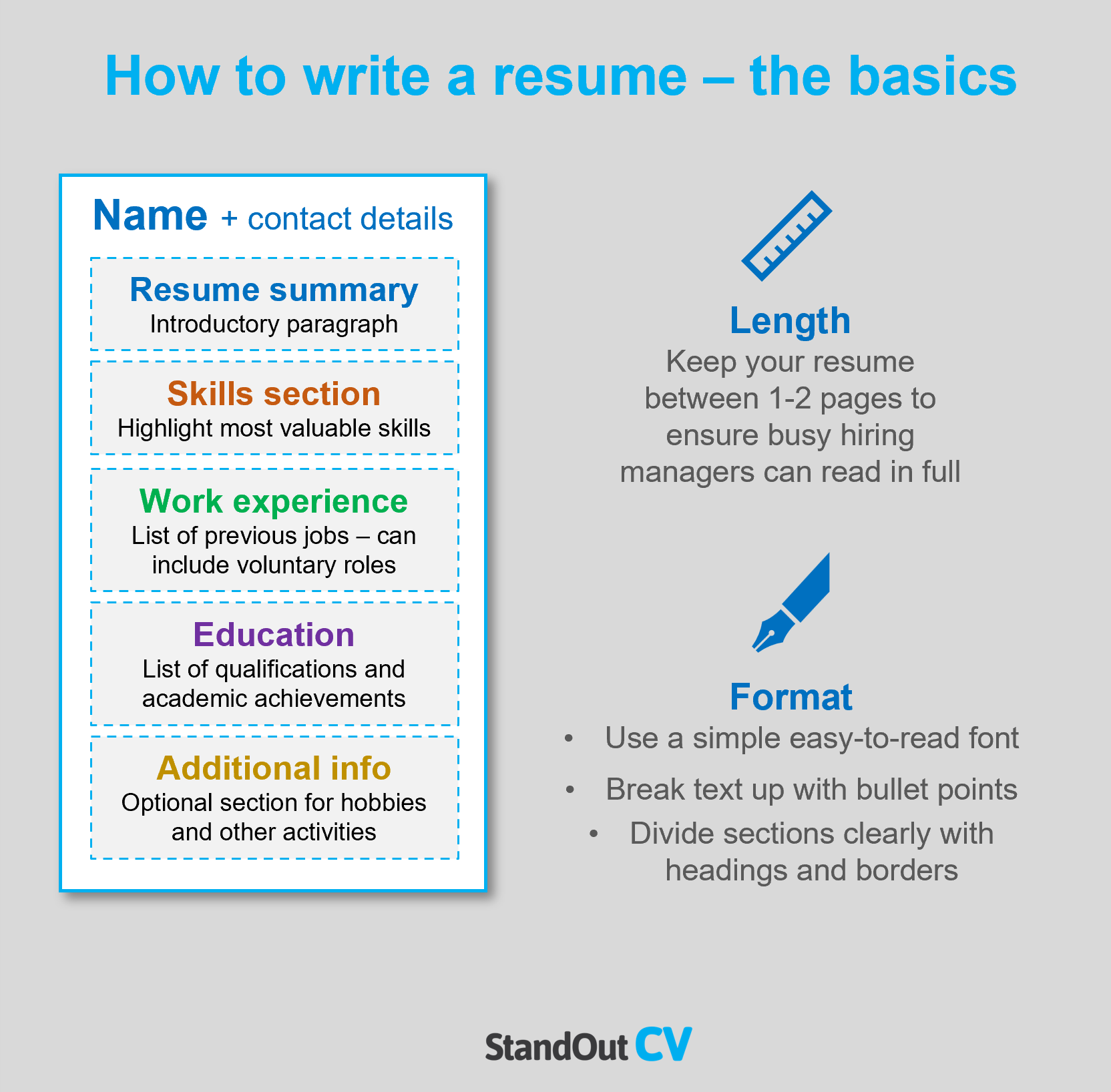 Formatting your resume
Length: To ensure that recruiters will read all of your resume, limit its length to 2 pages – as they someteimes read hundreds of resumes daily.
Font & readability: The key to an effective resume is its readability, so it's best to use a clear and simple font and format it with bullet points and short paragraphs to make it easy for recruiters to read through quickly.
Layout & Structure: Your resume's design must strike a balance between aesthetics and functionality. Using bold headings and borders to organize the page into clear sections is an effective way to achieve both.
Photos: While adding a photo to your resume is not mandatory in the USA, it can be beneficial if you are applying to organizations in creative industries.
Quick tip: Achieving a professional look for your resume can be difficult and time-consuming. If you want to create an attractive resume quickly, try our partner's Resume Builder and use one of their eye-catching resume templates.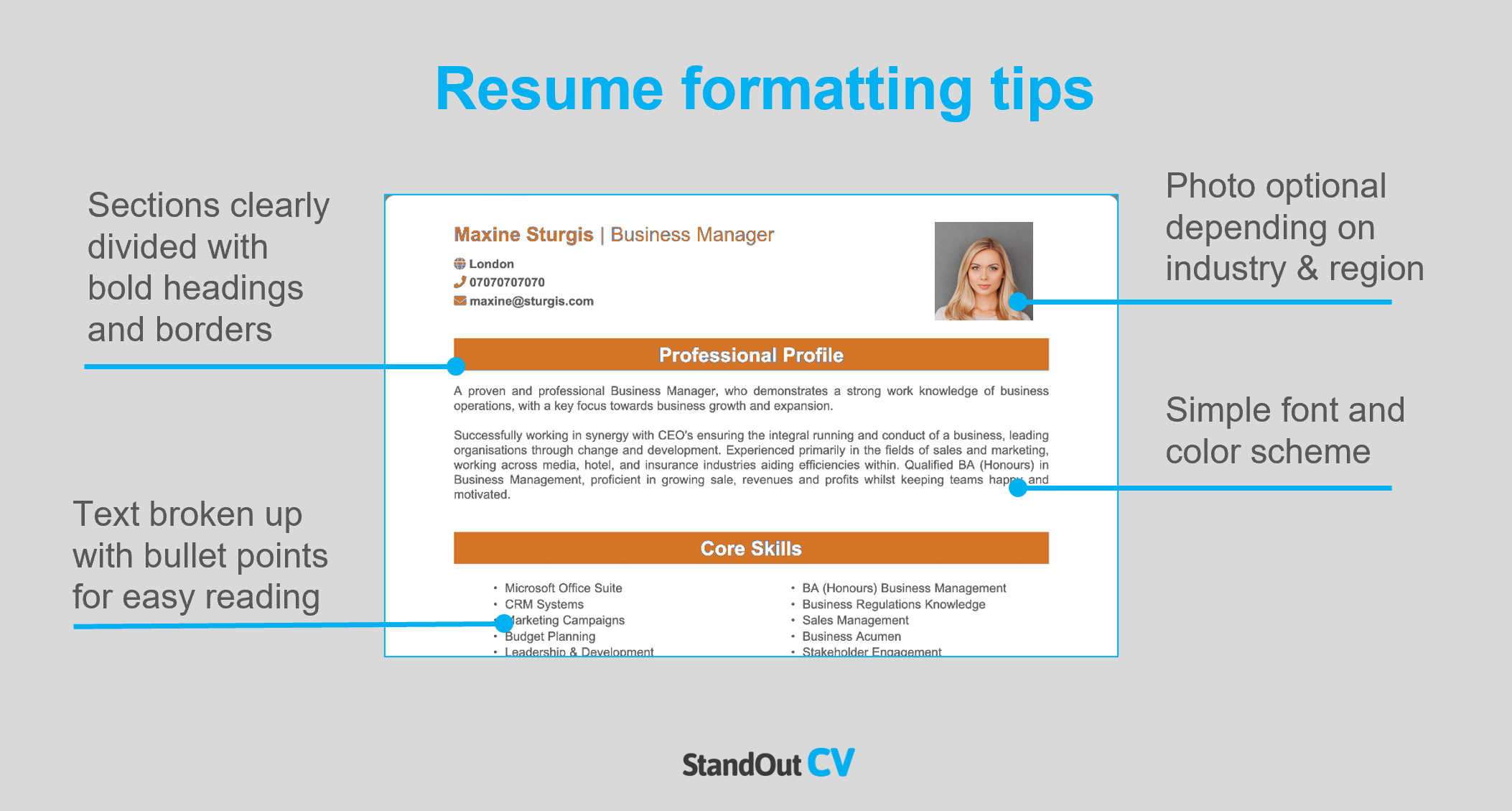 Resume layout
When writing your resume, you should always include the following sections:
Name and Contact Details – Place this information at the top of your resume to make it easy for employers to contact you.
Resume Summary – Write a brief introductory paragraph at the top of your resume summarizing why you are the best candidate for the job.
Skills Section – Create a concise list of your most important skills that can be quickly skimmed over by potential employers.
Work Experience – List your previous jobs in reverse chronological order, including volunteer work and college placements if you have no paid experience.
Education – List your educational qualifications and any professional training you have received.
Additional Information – This is an optional section for including details about hobbies, interests, or any other relevant information that may help distinguish you from other candidates.
Here's what to include in each part of your resume.
Contact Details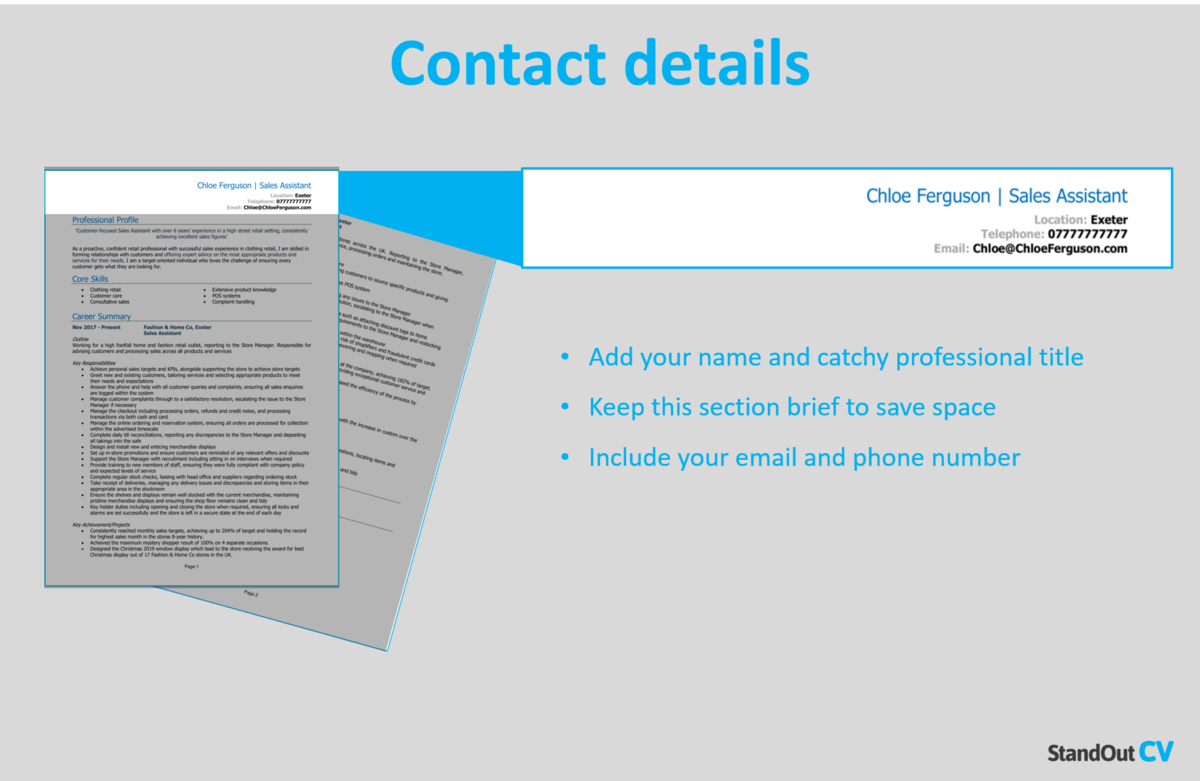 Add your name and contact details to the header of your resume, so that anybody reading can easily see how to contact you.
Name and profession title
Cell phone number – or any number you are easily reachable on
Location – Add your local area such as Washington or San Diego – not your full address as that will take up too much space.
Email address – Use a professional looking address.
You can add a link to your LinkedIn profile if you have one – you do not need to include personal details like date of birth or religion.
Process Operator Resume Summary
Your resume summary is like your introduction to the recruiter or hiring manager – it should grab their attention and leave them eager to read more about you.
Achieve this by writing a snappy overview of your skills, knowledge and what value you can bring to an employer.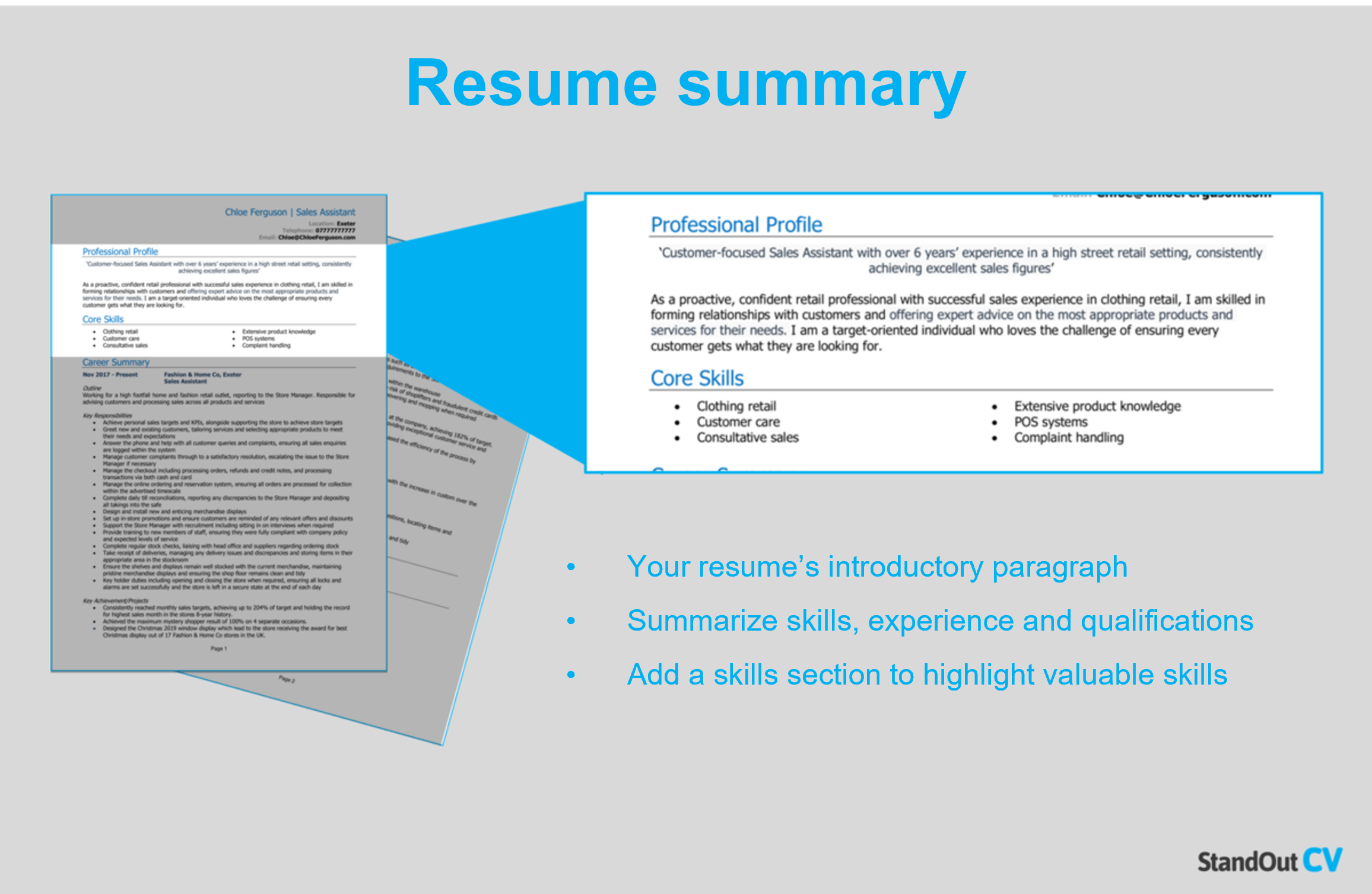 How to create a resume summary that will excite recruiters:
Keep it short: You only have a few seconds to grab a recruiters' attention and make them commit to your resume, so keep your summary between 4 – 7 lines.
Tailor to target jobs: To mirror your target jobs, scrutinize the job description and include as many relevant skills as possible in your resume.
Avoid using cliches: Recruiters always see cringey cliches like "hardworking guru who works well in a team or individually" – they don't mean much to anyone, so focus your summary on tangible skills and experience.
Process Operator resume summary example
Highly skilled Process Operator with experience in advancing mechanical and chemical procedures at manufacturing plants, industrial facilities, and engineering workshops. Focused on taking reasonable care for the welfare of employees, while providing cutting-edge equipment which enhances productivity. Demonstrated ability to promote company principles to qualify user requirements and deliver cost-effective and effluent CapEx project outcomes.
What to include in your Process Operator resume summary?
Summary of your experience: What type of organizations have you worked at? What types of roles have you done and what have you contributed to previous employers?
Relevant skills: To quickly showcase your suitability for Process Operator jobs, ensure that your summary emphasizes your most relevant skills to the jobs you are applying for.
Qualifications: If your job requires any qualifications such as a professional course or a college degree, mention it briefly in your summary.
Quick tip: Choose from hundreds of pre-written summaries across all industries, and add one to your resume with one-click in our partner's Resume Builder. All written by recruitment experts and easily tailored to suit your unique skillset and style.
Core skills section
Next, you should create a bullet pointed list of your core skills, formatted into 2-3 columns.
Here, you should focus on including the most important skills or knowledge listed in the job advertisement.
This will instantly prove that you're an ideal candidate, even if a recruiter only has time to briefly scan your resume.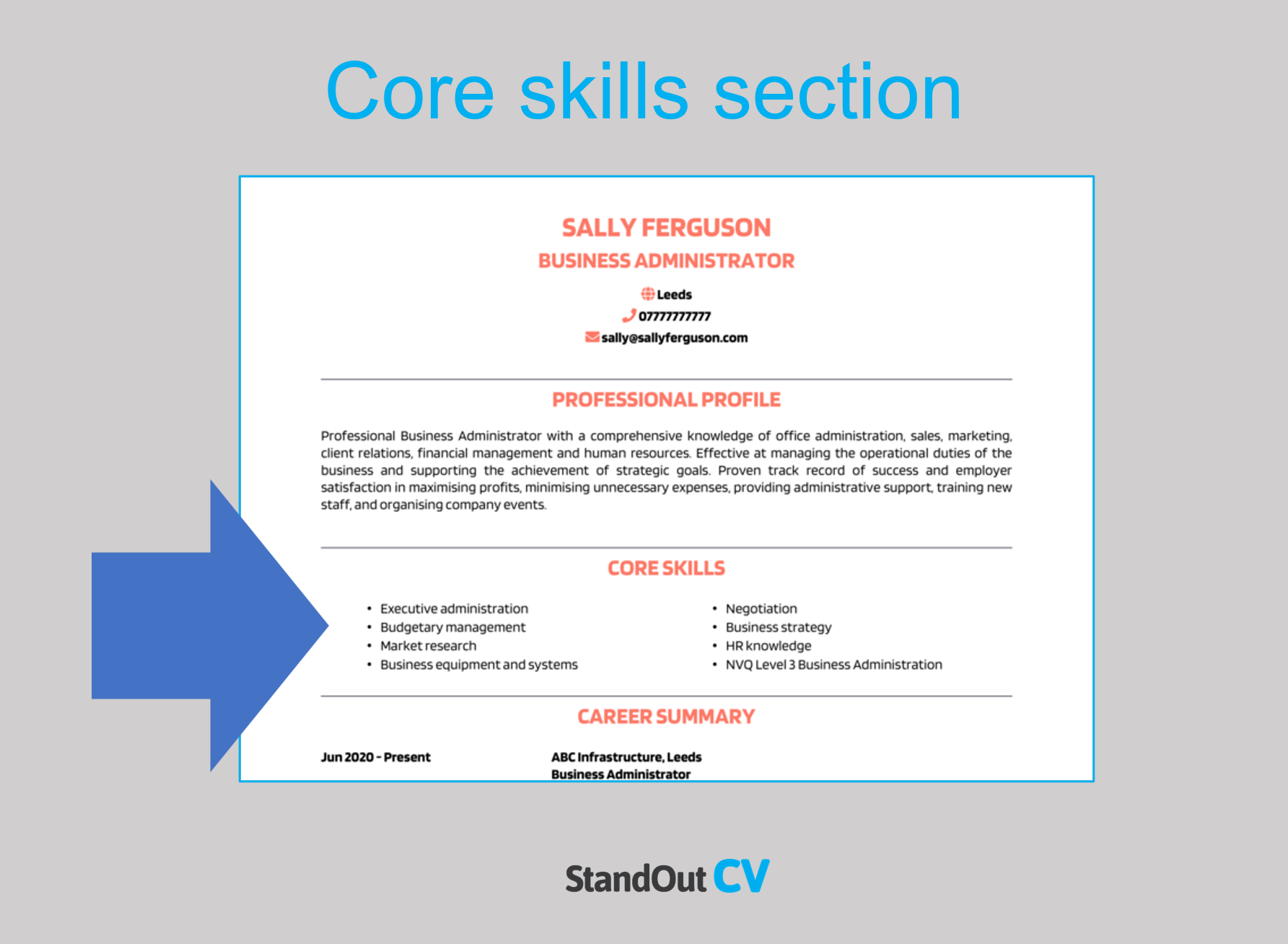 Best skills for your Process Operator resume
Equipment Operation – Operating and controlling various machinery and equipment involved in the manufacturing or production process.
Process Monitoring – Monitoring and evaluating process variables, such as temperature, pressure, flow rates, and levels, to ensure optimal operation and adherence to specifications.
Troubleshooting – Identifying and resolving equipment malfunctions or process deviations to minimize downtime and maintain production efficiency.
Quality Control – Utilizing knowledge of quality control procedures to conduct regular inspections and tests to ensure products meet quality standards and specifications.
Safety Compliance – Adhering to strict safety protocols and guidelines to maintain a safe working environment and minimize risks associated with the manufacturing process.
Documentation and Reporting – Accurately documenting process data, equipment logs, production reports, and any incidents or deviations encountered during the shift.
Root Cause Analysis – Analyzing process issues and identifying the underlying causes to implement corrective actions and prevent recurrence.
Continuous Improvement – Actively seeking opportunities to optimize processes, reduce waste, and improve overall operational efficiency.
Teamwork and Collaboration – Ensuring effective collaboration with colleagues and other departments to ensure smooth operations, troubleshoot issues, and achieve production targets.
Quick tip: Our partner's Resume Builder contains thousands of in-demand skills for every profession that can be added to your resume in seconds – saving you time and greatly improving your chances of landing job interviews and getting hired.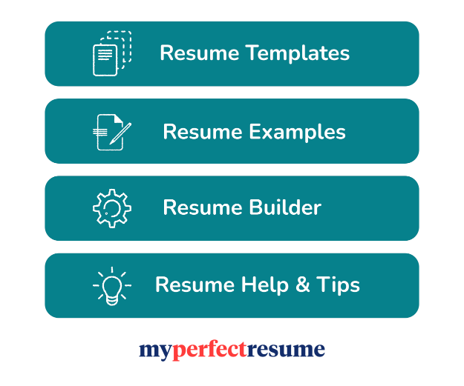 Work experience
Now that you've reeled recruiters in with your awesome summary, it's time to delve into your work experience.
Here you'll list your previous jobs (starting with your most recent and working backward) and showcase how you apply your skills in the workplace.
Provide lots of detail in recent jobs, and less in older roles.
If you have no relevant paid experience, you can include voluntary work and placements – but if you have lots of experience, you can leave out some of the really old jobs.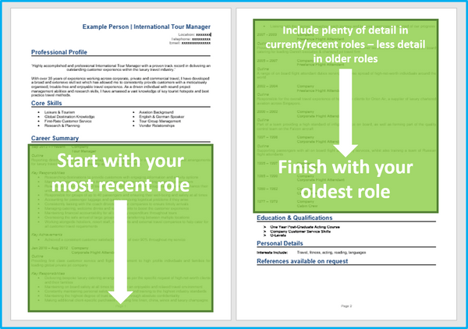 Structuring your jobs
Without a good structure, your job description can look messy and overwhelming to anyone reading them.
Make it easy for recruiters to read your work experience by structuring your roles like this.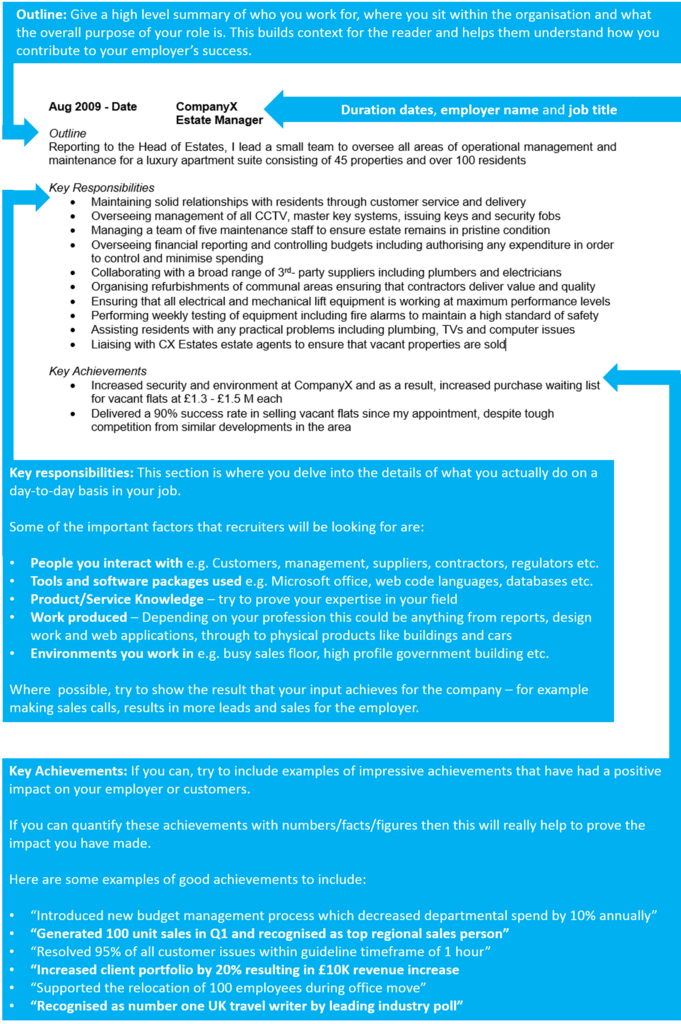 Job outline
Kick off each role with a high-level overview to summarize the focus of the job, what the organization/department does, and how you fit into the bigger picture.
Key responsibilities
The bulk of the role description should be comprised of bullet points that explain all of your duties in the job.
Keep the sentences short and simple to make them easy for recruiters to digest.
Key achievements
Show employers the value you can bring to them by adding a few achievements to your jobs.
Whether you've saved the company money or improved an internal process, let recruiters know
Add some numbers to give readers a real scale of the impact, e.g. "reduced call wait time by 10%"
Example job for Process Operator resume
Outline
Operate manufacturing processes to OSHA standards and defined instructions, while delivering production plans, for a leader in PEEK/PAEK-based polymer solutions that help manufacturers overcome complex design and engineering challenges.
Key Responsibilities
Gather samples for lab analysis and conclude quality control evaluations to confirm products comply with specifications, and hygiene, welfare, and housekeeping regulations.
Recruit, train, and inform personnel on new and changes to current procedures.
Enforce adherence to project budgets and timeframes to meet customer expectations.
Compose detailed reports and ensure necessary repairs, instrument adjustments, or necessary responses have been instituted.
Quick tip: Create impressive job descriptions easily in our partner's Resume Builder by adding pre-written job phrases for every industry and career stage.

Education section
Nearing the end of your resume, your education/qualifications section should be added.
In a well-structured list, add all of your qualifications and certifications that qualify you to perform a typical Process Operator role.
If you have plenty of work experience, keep this section brief – if not, add lots of detail to make up for your lack of experience.
Additional information
If you have anything else to add which is relevant to the jobs you are applying for, the additional info section is the place to add it.
Perhaps you have a hobby which involves relevant skills, or maybe you have some awards or publications worth mentioning.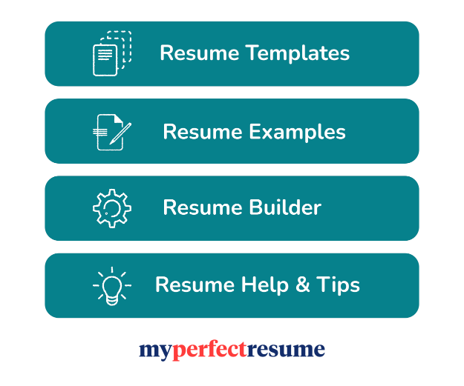 Writing your own winning Process Operator resume
Writing a Process Operator resume can be challenging but following the steps above will ensure that you land plenty of interviews.
Good luck with your job search!