You're quite literally a pro at tracking price and market trends and analyzing data; now you're ready for your next analyst position.
You need an eye-catching resume that is going to showcase your skills and experience and secure you an interview.
We can help with this. Check out our pricing analyst resume example below, complete with a step-by-step resume writing guide.
Contents
| | |
| --- | --- |
| How to write a Pricing Analyst resume | |

Pricing Analyst Resume Example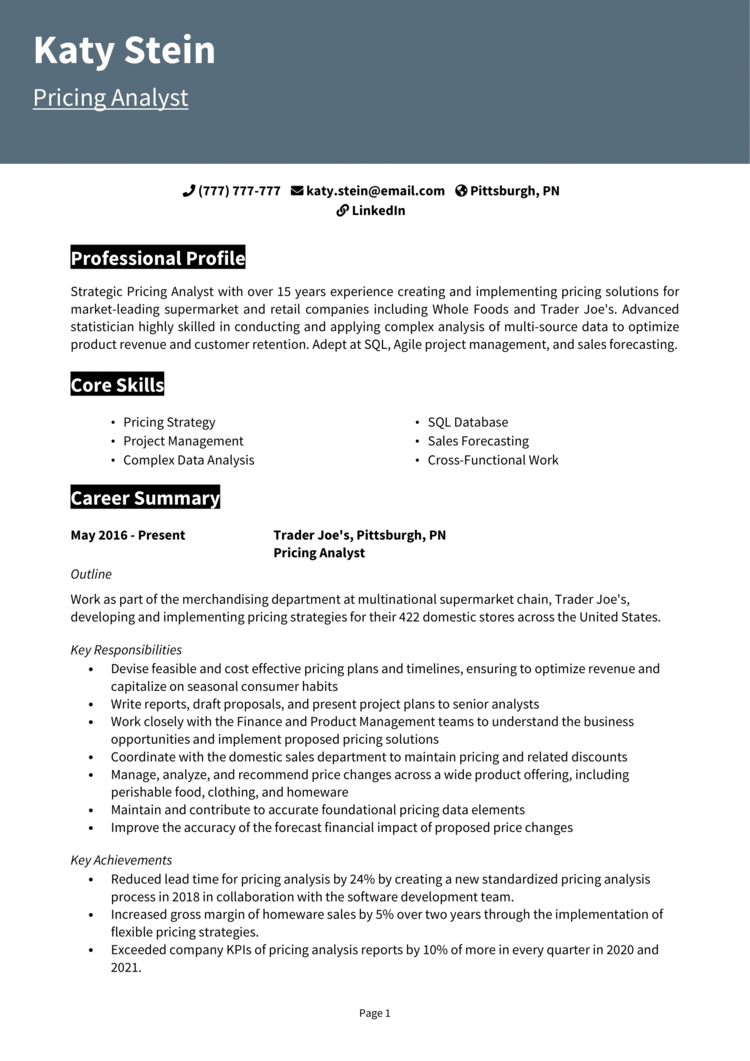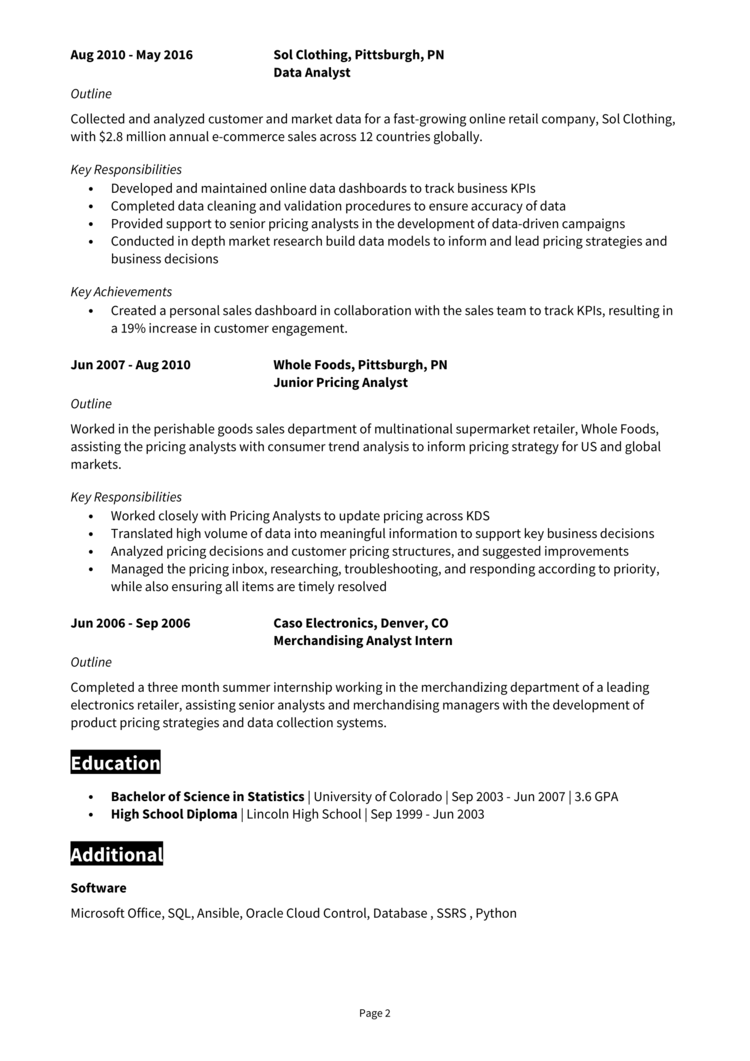 This example Pricing Analyst resume is well-structured to provide a pleasant reading experience for recruiters, and contains all of the crucial information they want to see.
The rest of the guide will show you exactly how you can achieve this in your own resume.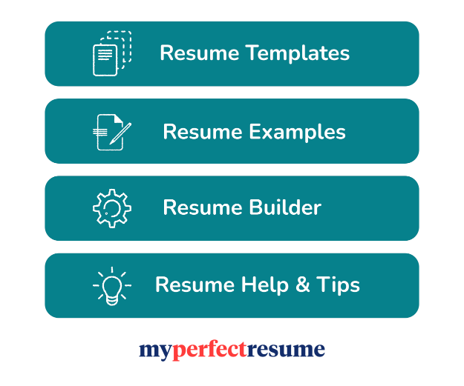 Pricing Analyst resume layout and formatting
When it comes to holding the attention of recruiting managers, the format and layout of your resume play a key role.
Your resume needs to strike a perfect balance between looking awesome, and being easy for recruiters to read (which is not always easy to achieve)
Use the following formatting tips to get started.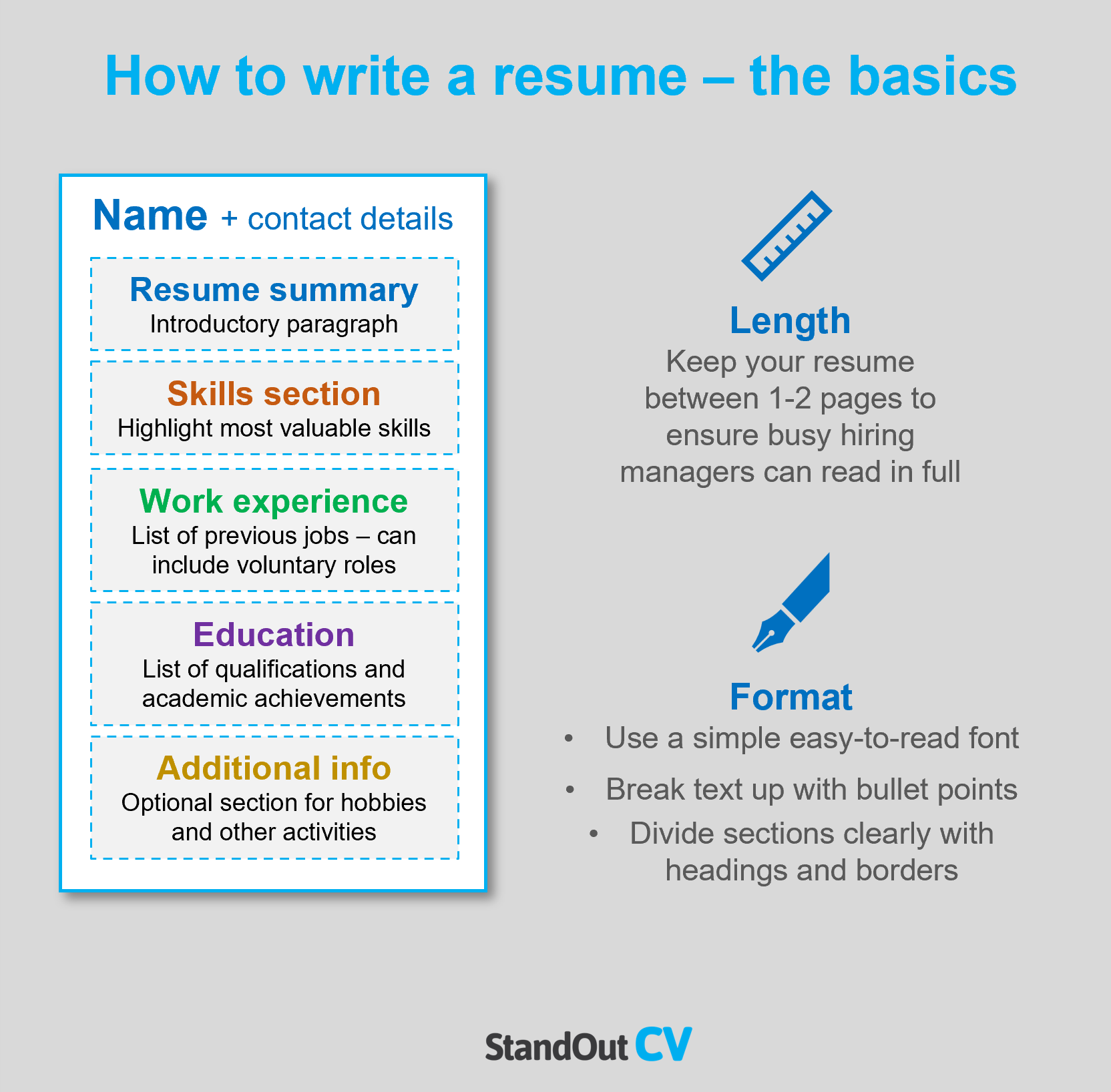 Formatting your resume
Length: Attention spans in recruitment are notoriously short, so keep your resume short and sweet. There's no exact rule for resume length, but aim for 2 pages or less if you want to ensure yours gets read in full.
Font & readability: Readability is the name of the game when it comes to your resume. Ensure yours is a dream to read by using a simple clear font, and breaking the text up with plenty of bullet points and short paragraphs.
Layout & Structure: Hiring managers should be able to skim through your resume easily and pinpoint the information they want quickly. To help them do this, organize the page into clear sections with bold headings and dividing borders. The design should be clutter-free and professional-looking, with a calm color scheme.
Photos: While a photo is not usually necessary on your resume in the United States, it may be beneficial to include one in regions and industries where it is customary.
Quick tip: Achieving a professional look for your resume can be difficult and time-consuming. If you want to create an attractive resume quickly, try our partner's Resume Builder and use one of their eye-catching resume templates.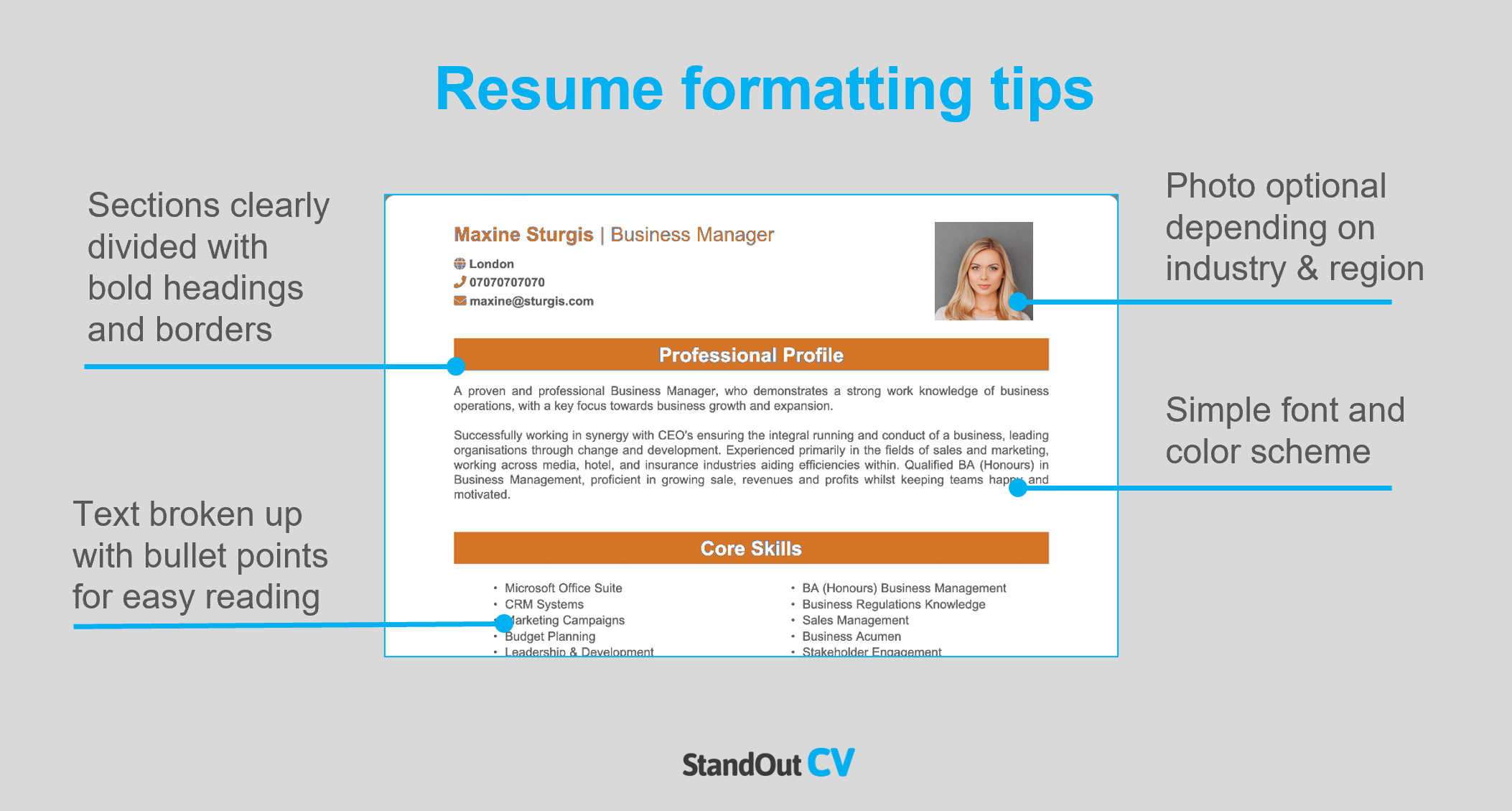 Resume layout
Add the following sections when you write your resume.
Name and contact details – Add to the very top of your resume to introduce yourself and make it super-easy for recruiters to get in touch.
Resume summary – Reel hiring managers in with an "elevator pitch" style paragraph which sums up your suitability for the job.
Skills section – A short and sharp list of your most important skills, that can be quickly skim-read.
Work experience – List your previous jobs (from newest to oldest) detailing the skills learnt and applied in each.
Education – List your qualifications and professional training.
Additional info – If it helps your application, you can add an extra section for things like hobbies and interests.
Here's what to include in each part of your resume.
Contact Details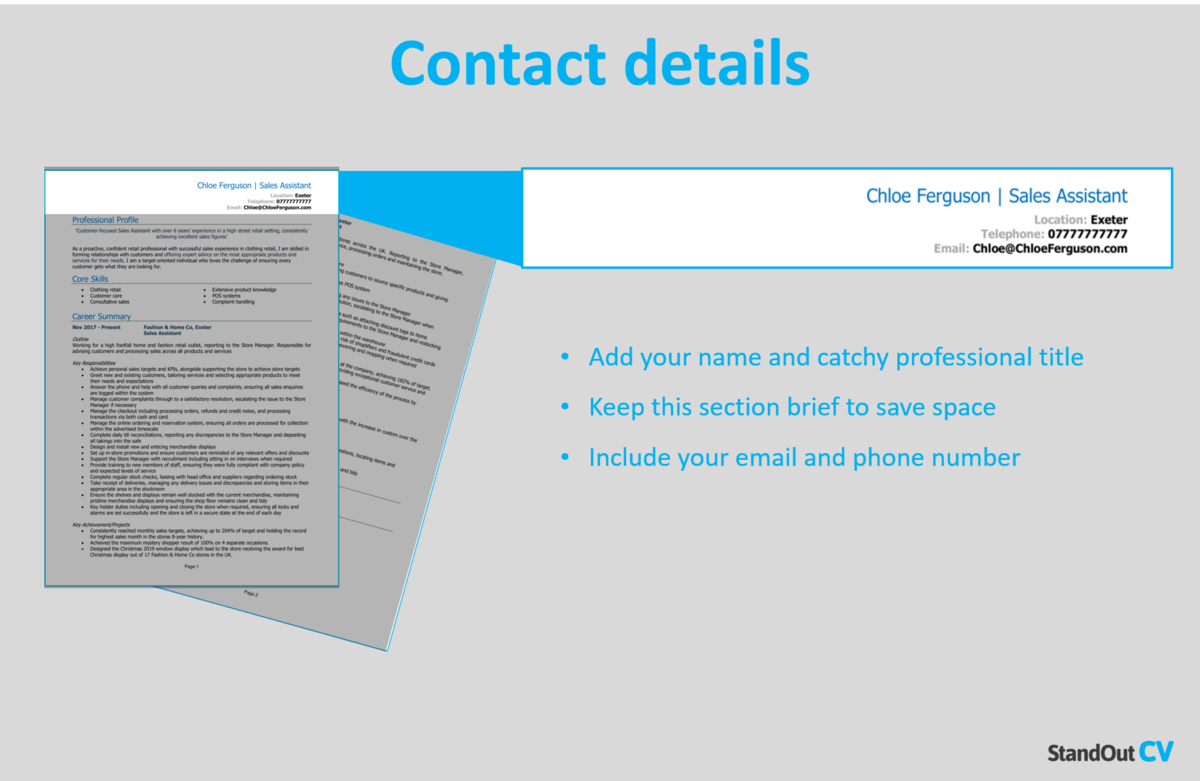 Add your name and contact details to the very top of your resume, making it easy for recruiters to get in touch
Name and profession title
Cell phone number – or another number you can answer quickly
Location – Add your local area such as San Diego or New York – not your full address as that will take up too much space.
Email address – Use your name or close variation – no nicknames from high school.
You can add a link to your LinkedIn profile if you have one – you do not need to include personal details like date of birth or marital status.
Pricing Analyst Resume Summary
Create a strong opening for your resume by adding a compelling summary to the top that highlights your most valuable skills and experience.
This short but important paragraph is designed convince recruiters that you're the perfect candidate for the job and entice them to read more of your resume.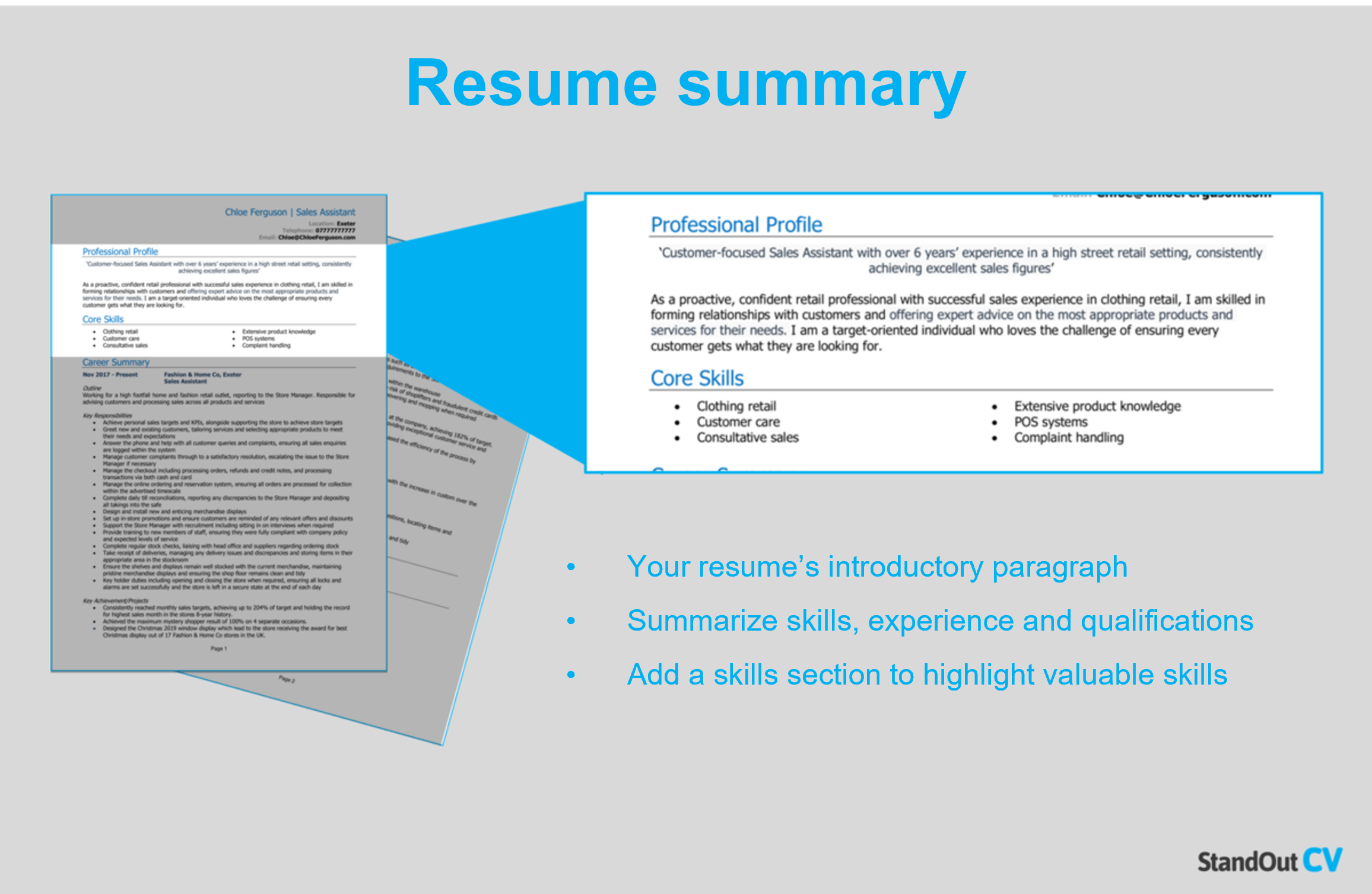 How to create a resume summary that will excite recruiters:
Keep it short: You only have a few seconds to grab a recruiters' attention and make them commit to your resume, so keep your summary between 4 – 7 lines.
Tailor to target jobs: Ensure your profile makes an impact by matching it closely to the requirements of the job description, copying as many key terms as possible.
Avoid using cliches: You may be a "team player who always give 110%" but generic phrases don't tell employers much about you in reality – stick to factual information.
Pricing Analyst resume summary example
Strategic Pricing Analyst with over 15 years' experience creating and implementing pricing solutions for market-leading supermarket and retail companies including Whole Foods and Trader Joe's. Advanced statistician highly skilled in conducting and applying complex analysis of multi-source data to optimize product revenue and customer retention. Adept at SQL, Agile project management, and sales forecasting.
What to include in your Pricing Analyst resume summary?
Summary of your experience: Briefly describe the work you have performed in the past and the contributions you have made to the organizations you have worked for.
Relevant skills: To quickly showcase your suitability for Pricing Analyst jobs, ensure that your summary emphasizes your most relevant skills to the jobs you are applying for.
Qualifications: Mention any Pricing Analyst qualifications that are important to your profession in the summary briefly, to show you are qualified to carry out the role.
Quick tip: Choose from hundreds of pre-written summaries across all industries, and add one to your resume with one-click in our partner's Resume Builder. All written by recruitment experts and easily tailored to suit your unique skillset and style.
Core skills section
Next, you should create a bullet pointed list of your core skills, formatted into 2-3 columns.
Here, you should focus on including the most important skills or knowledge listed in the job advertisement.
This will instantly prove that you're an ideal candidate, even if a recruiter only has time to briefly scan your resume.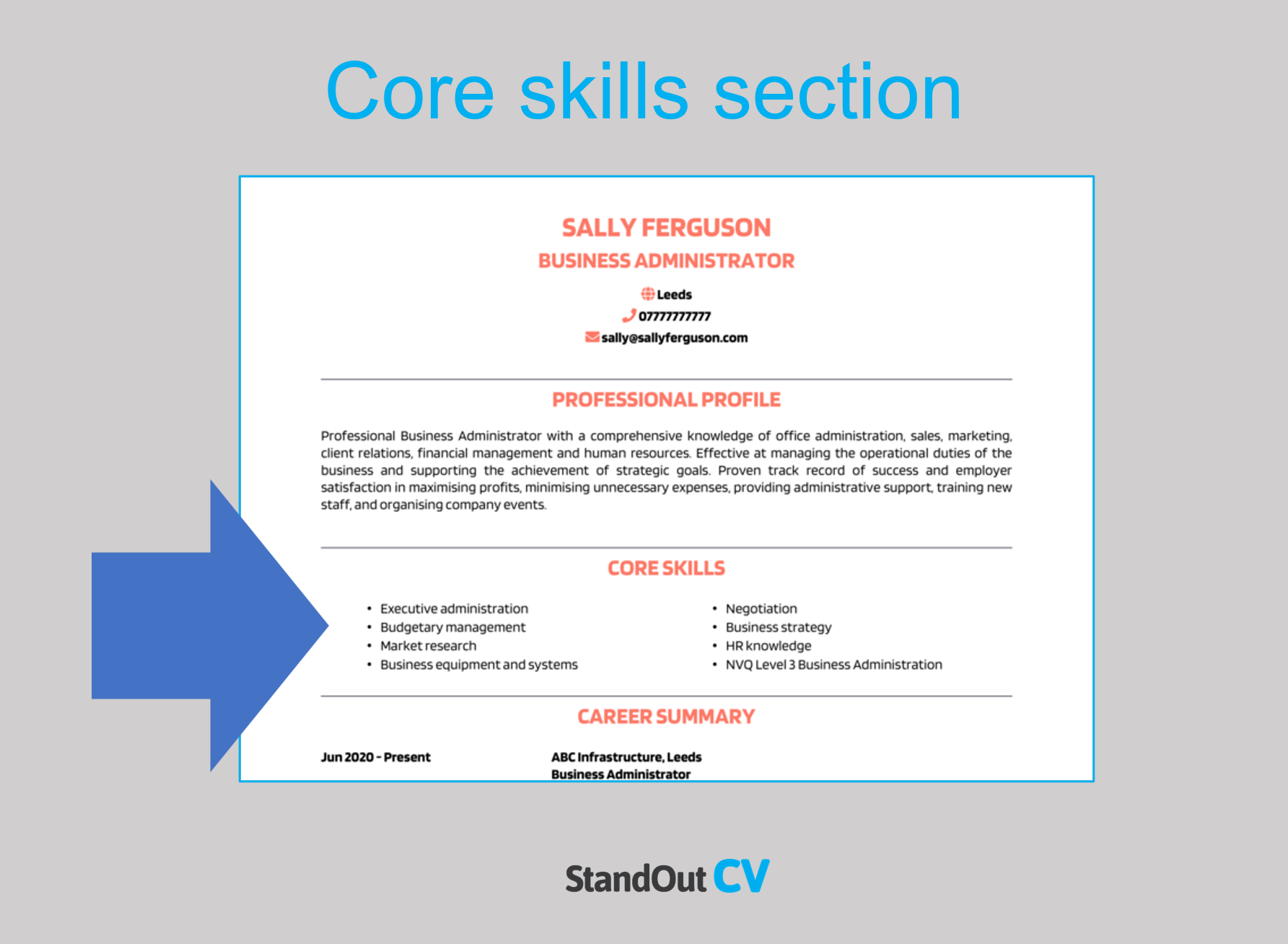 Best skills for your Pricing Analyst resume
Financial analysis – Analyzing financial data, including revenue, cost, and pricing data, to identify trends and opportunities for improvement.
Market analysis – Researching and analyzing market trends, including competitive pricing, consumer behavior, and industry developments.
Pricing strategy development – Developing pricing strategies, including competitive pricing analysis, product positioning, and margin analysis.
Data analysis – Analyzing large datasets using software tools like Excel, SQL, or SAS to support pricing decisions and identify trends.
Statistical analysis – Utilizing knowledge of statistical techniques, such as regression analysis, to support pricing decisions and identify trends.
Forecasting – Forecasting future demand for products and services based on historical data and market trends.
Stakeholder communication – Presenting findings and recommendations to senior management.
Cross functional collaboration – Collaborating with cross-functional teams, including sales, marketing, and finance, to develop pricing strategies that align with organizational goals.
Project management – Managing pricing-related projects, including timelines, budgets, and resources, to ensure pricing initiatives are completed on time and within budget.
Product knowledge – Utilizing knowledge of products, services, and market trends in the industry to develop pricing strategies that meet the needs of the organization and its customers.
Quick tip: Our partner's Resume Builder contains thousands of in-demand skills for every profession that can be added to your resume in seconds – saving you time and greatly improving your chances of landing job interviews and getting hired.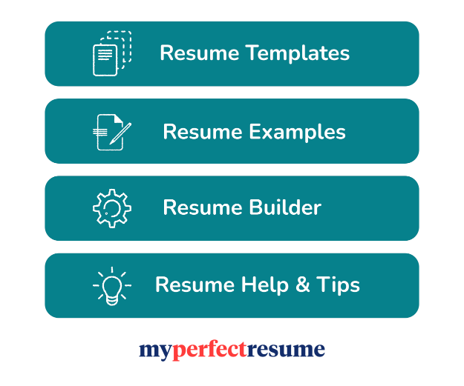 Work experience
Once you've got recruiters interested with your impactful summary, your work experience is where the real detail will lie.
Lay out your previous jobs from current to oldest, detailing what you contributed and achieved in each one.
If you're highly experienced you can cut this section down to your most recent few years of work, but if you are junior you can bulk this up with voluntary work and college placements.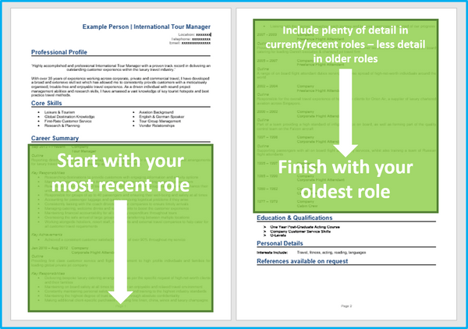 Structuring your jobs
Without a good structure, your job description can look messy and overwhelming to anyone reading them.
Make it easy for recruiters to read your work experience by structuring your roles like this.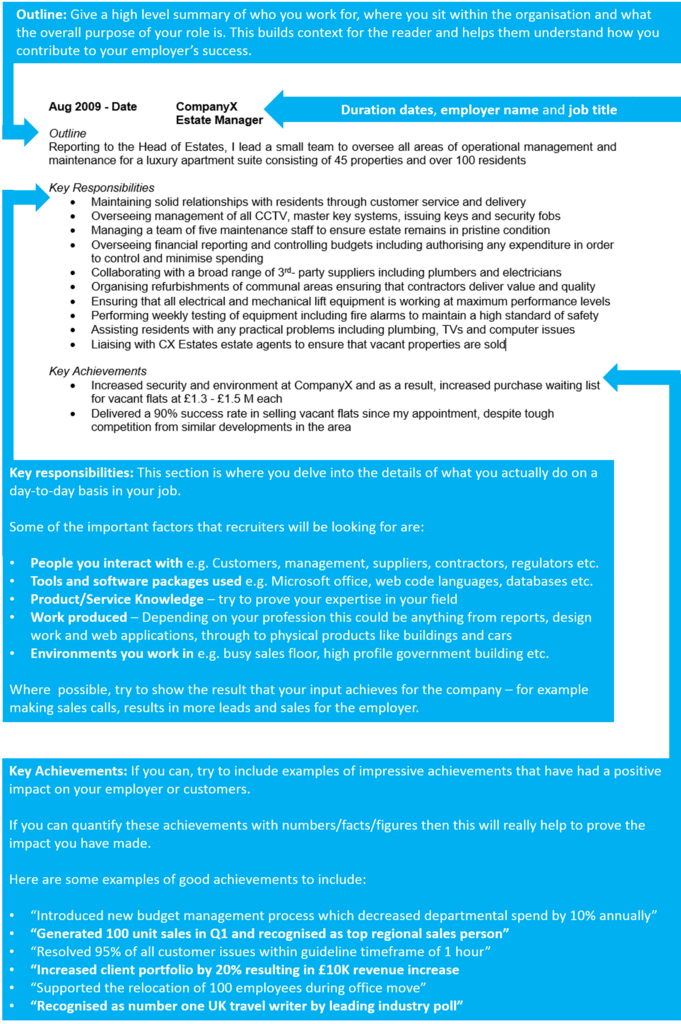 Job outline
Starting each job with a brief summary of the organization, your position within it, and the primary goal of your role can help recruiters quickly understand the context of your work.
Key responsibilities
List your notable responsibilities in short sharp bullet points to demonstrate your input and how you contributed to the organization's success.
Highlight the skills that are most important to the roles you are applying for.
Key achievements
Round off each job by adding some impressive achievements you made in the role.
Anything you've done that has made a big impact on your employer will make a good impression, think; generating revenue, saving costs, or improving a product.
Quantify your achievements with number where possible e.g. "reduced call wait time by 10%"
Example job for Pricing Analyst resume
Outline
Work as part of the merchandising department at multinational supermarket chain, Trader Joe's, developing and implementing pricing strategies for their 422 domestic stores across the United States.
Key Responsibilities
Devise feasible and cost-effective pricing plans and timelines, ensuring to optimize revenue and capitalize on seasonal consumer habits
Write reports, draft proposals, and present project plans to senior analysts
Work closely with the Finance and Product Management teams to understand the business opportunities and implement proposed pricing solutions
Coordinate with the domestic sales department to maintain pricing and related discounts
Quick tip: Create impressive job descriptions easily in our partner's Resume Builder by adding pre-written job phrases for every industry and career stage.

Education section
After your work experience, add your education section.
If you are an experienced professional, you can keep this part short – adding basic details of each qualification.
If you have little or no experience, bulk this section up by adding more detail and highlight important skills and knowledge for your target jobs.
Additional information
The additional info section is optional but can be useful if you have anything else to add that could benefit your application.
For example, you may have some hobbies and interests that are relevant to your job – or you might have awards or publications to shout about.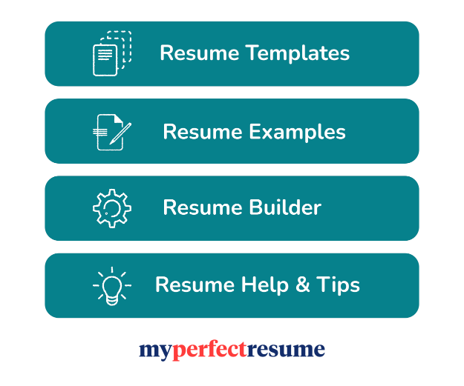 Writing your own winning Pricing Analyst resume
Following the steps in this guide will help you to create a winning Pricing Analyst resume and bag lots of interviews.
Good luck with your job search!