You know that you'd be perfect for that optometrist position, but if you want to land the job, you need the recruiter to see it that way too.
This requires a strong application and in the guide below, we'll teach you how to examine your current resume and make it clearer and more engaging.
We'll also share all our top tips, along with an optometrist resume example to inspire your own.
Contents
| | |
| --- | --- |
| How to write a Optometrist resume | |

Optometrist Resume Example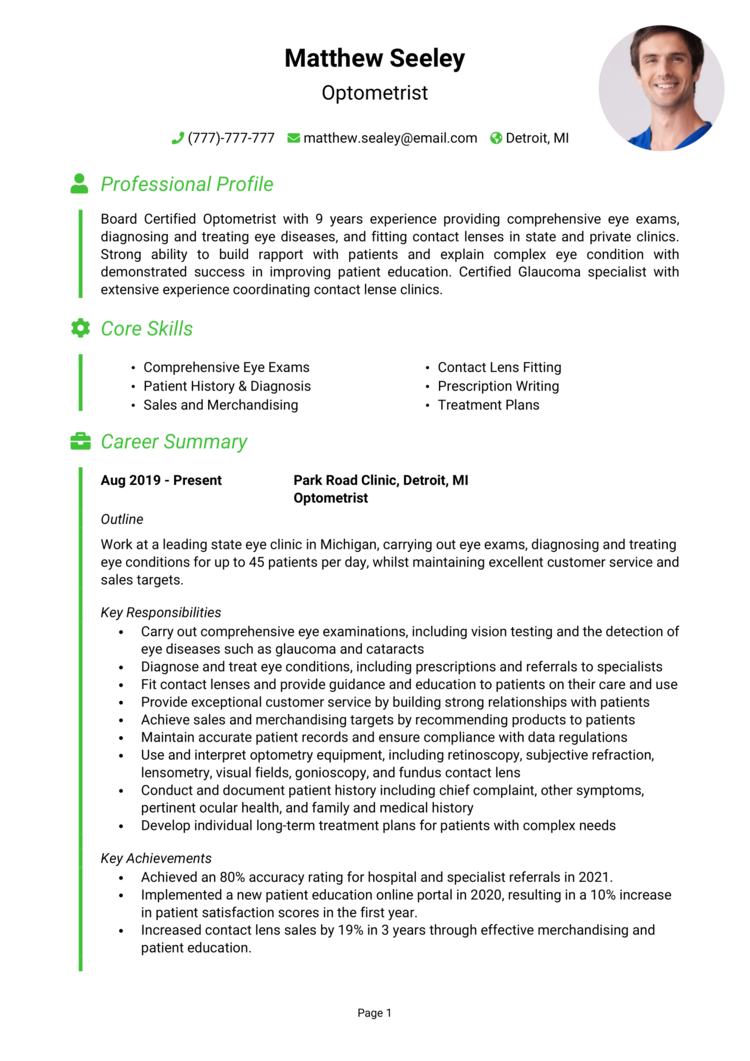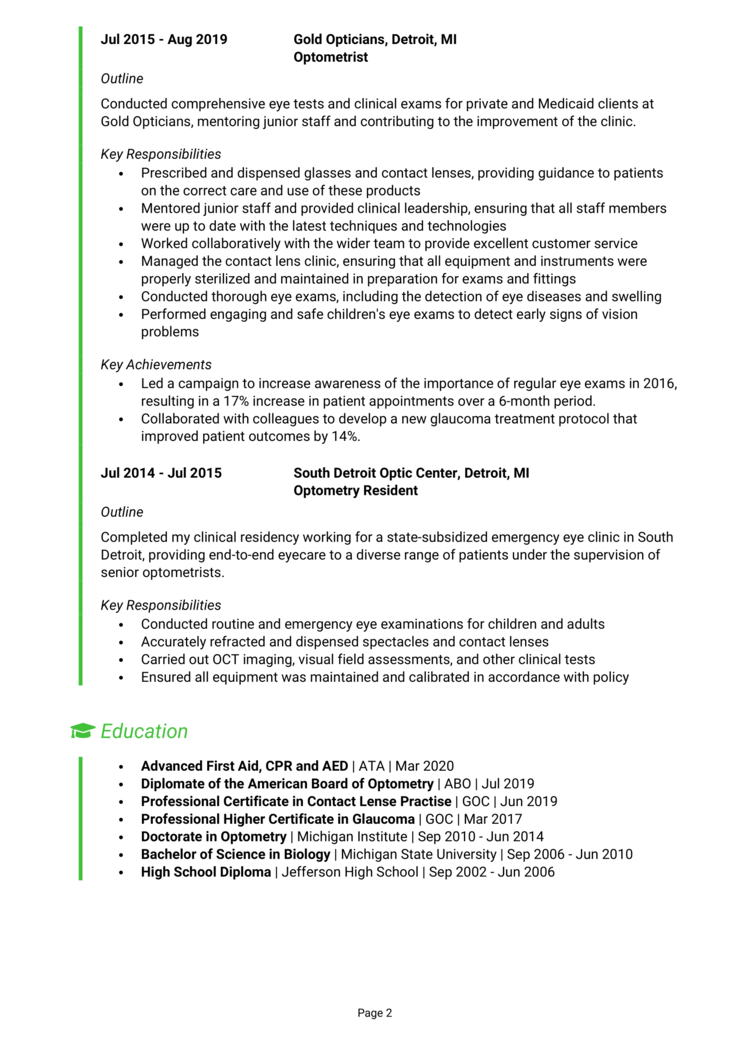 The example Optometrist resume above shows you how a professional resume should look, along with the type of content it should contain.
You can see that the information is well-organized across the page and its easy for busy recruiters to see the candidate's important skills.
Keep this in mind when writing your own resume.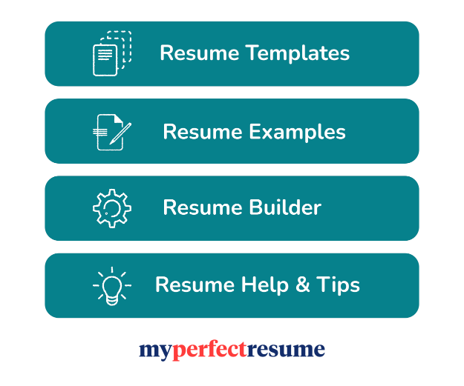 Optometrist resume layout and format
Formatting is often overlooked when writing resume, but it's a crucial element of it"s success.
Creating a document that not only looks good, but is easily comprehended, is the key to gaining and holding the attention of busy hiring managers.
Use these formatting tips for best results.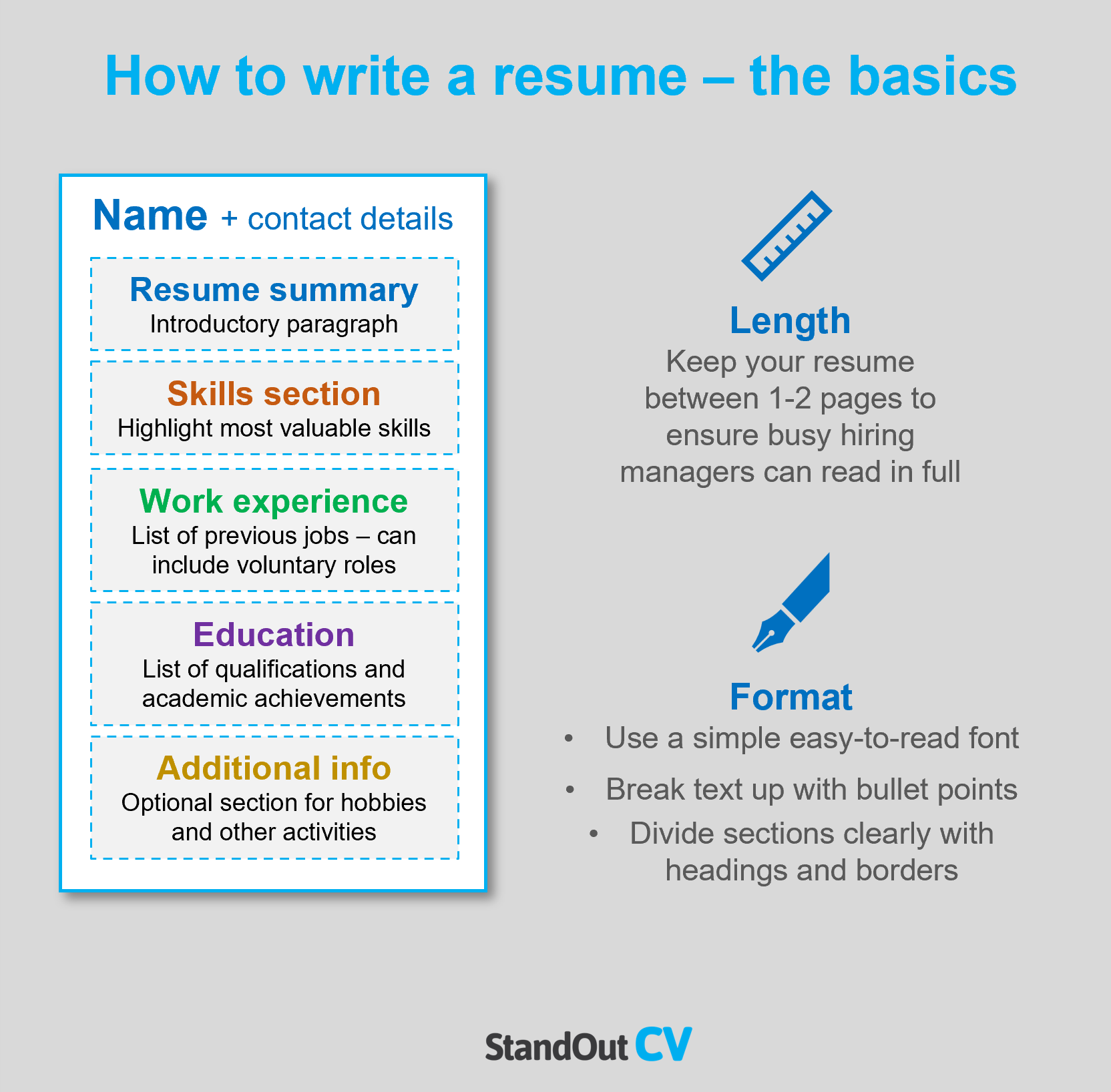 Formatting your resume
Length: Given that recruiters have to sift through tons of resumes daily, it's recommended to keep your resume brief (no more than 2 pages) to make sure it receives their full attention.
Font & readability: Simplicity and a pleasant reading experience are crucial if you want to highlight your most valuable skills to recruiters. Use a clear font (avoid fancy ones) and break up the text in your resume with bullet points to ensure information can be easily consumed.
Layout & Structure: Your resume should look appealing – but don't overlook functionality when it comes to design. Organise the page into clear sections using bold headings and borders.
Photos: You don't have to add a photo to your resume in the States, but some regions and industries like to see them.
Quick tip: Achieving a professional look for your resume can be difficult and time-consuming. If you want to create an attractive resume quickly, try our partner's Resume Builder and use one of their eye-catching resume templates.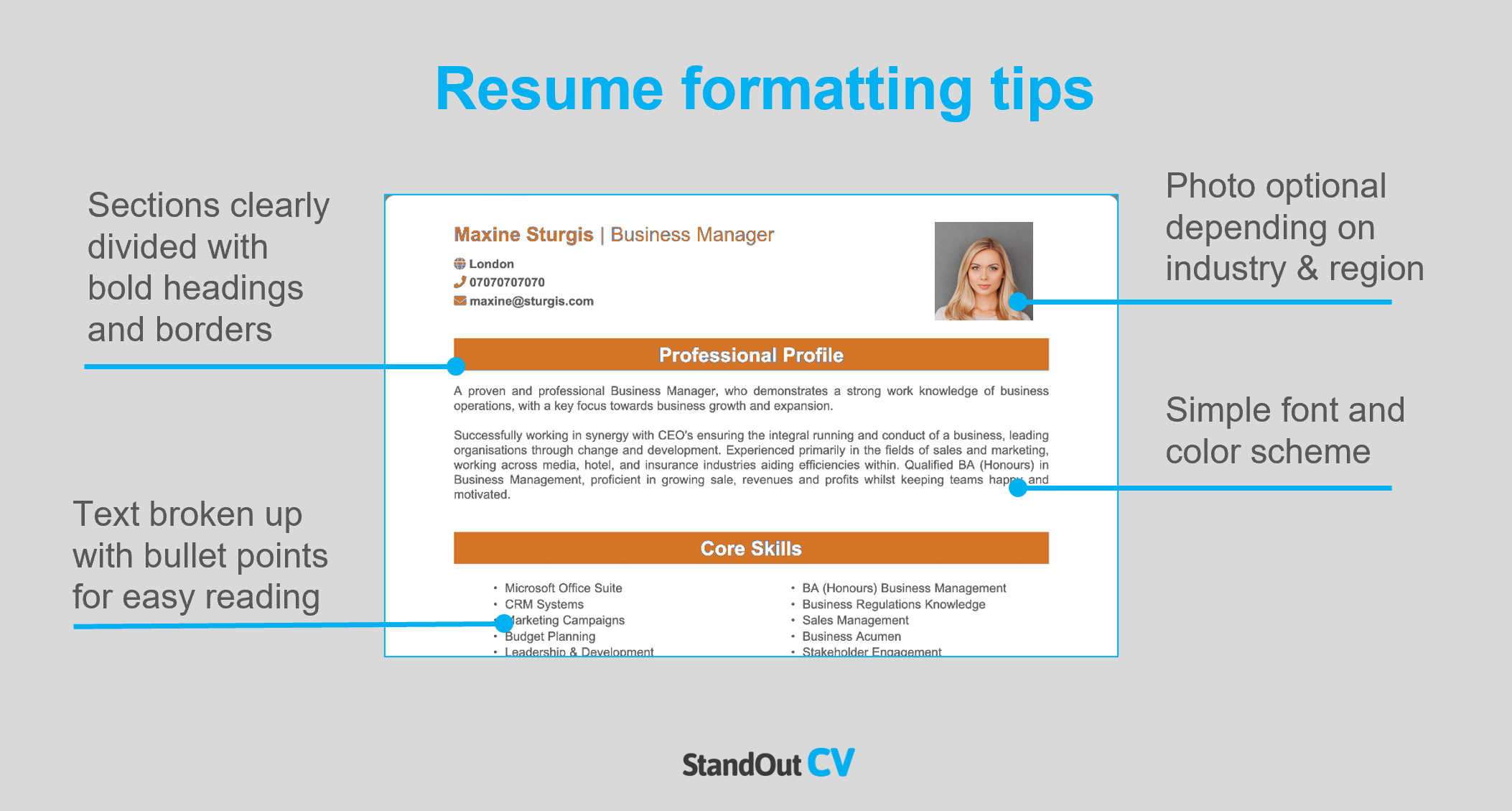 Resume layout
When writing your resume, you should always include the following sections:
Name and Contact Details – Place this information at the top of your resume to make it easy for employers to contact you.
Resume Summary – Write a brief introductory paragraph at the top of your resume summarizing why you are the best candidate for the job.
Skills Section – Create a concise list of your most important skills that can be quickly skimmed over by potential employers.
Work Experience – List your previous jobs in reverse chronological order, including volunteer work and college placements if you have no paid experience.
Education – List your educational qualifications and any professional training you have received.
Additional Information – This is an optional section for including details about hobbies, interests, or any other relevant information that may help distinguish you from other candidates.
Here's what to include in each part of your resume.
Contact Details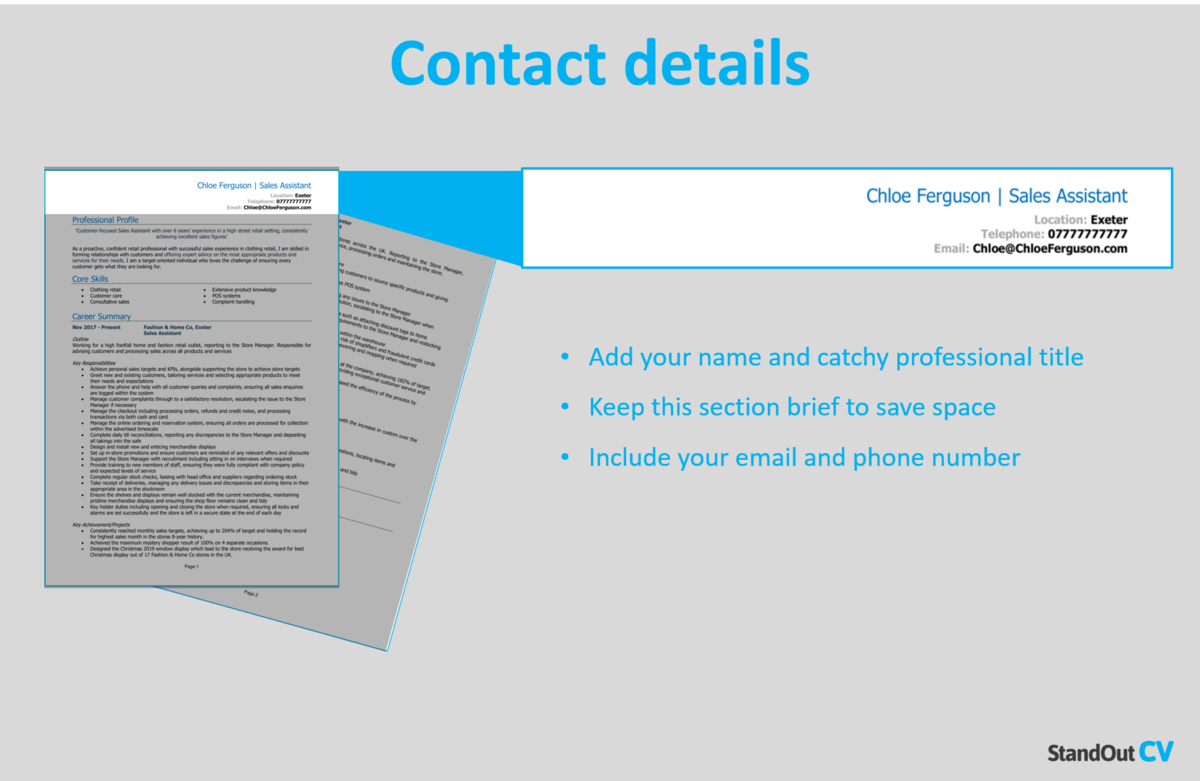 Add your name and contact details to the very top of your resume, making it easy for recruiters to get in touch
Name and profession title
Cell phone number – or another number you can answer quickly
Location – Add your local area such as San Diego or New York – not your full address as that will take up too much space.
Email address – Use your name or close variation – no nicknames from high school.
You can add a link to your LinkedIn profile if you have one – you do not need to include personal details like date of birth or marital status.
Optometrist Resume Summary
Make a strong first impression on recruiters by beginning your resume with a powerful summary that highlights your most valuable skills and experience.
This brief summary provides an opportunity to showcase why you're the ideal candidate for the job and persuade recruiters to read further into your resume.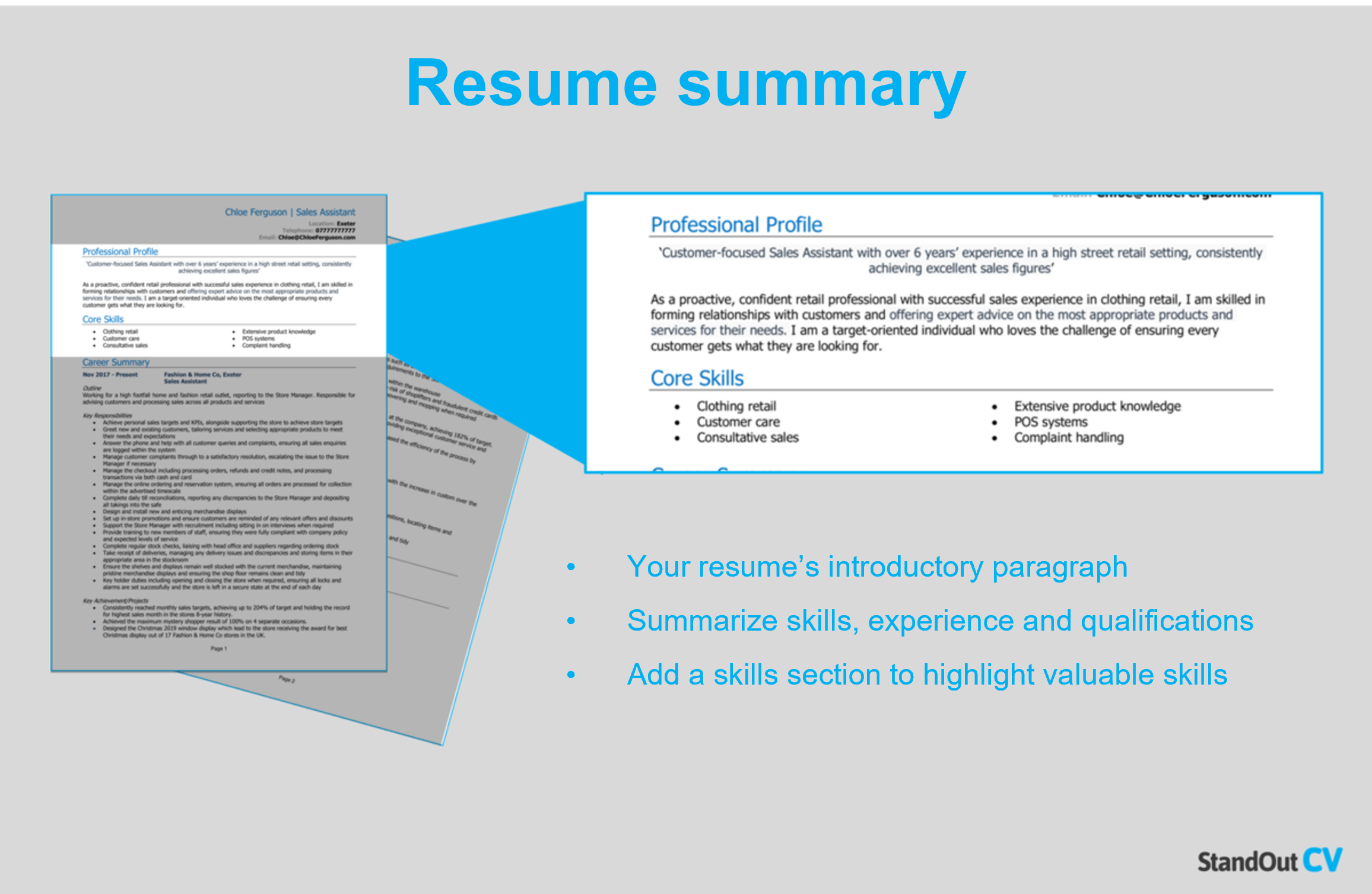 How to create a resume summary that will excite recruiters:
Keep it short: A concise and focused resume summary is essential for capturing a recruiter's attention and keeping them engaged. Limiting your summary to 4-7 lines ensures that you make a strong impression in the first few seconds of them opening the document.
Tailor to target jobs: To tailor your resume to your target jobs, it's essential to closely analyze the job description and include as many relevant skills as possible.
Avoid using cliches: To capture the attention of recruiters you must provide factual information, such as hard skills and qualifications, and avoid using empty phrases like "Go-getter who thinks outside the box."
Optometrist resume summary example
Board Certified Optometrist with 9 years' experience providing comprehensive eye exams, diagnosing, and treating eye diseases, and fitting contact lenses in state and private clinics. Strong ability to build rapport with patients and explain complex eye condition with demonstrated success in improving patient education. Certified Glaucoma specialist with extensive experience coordinating contact lens clinics.
What to include in your Optometrist resume summary?
Summary of your experience: Provide a summary of the kind of work you have previously done, along with the benefits you have delivered to the organizations you worked with.
Relevant skills: Highlight your skills which are most relevant to Optometrist jobs, to ensure that recruiters see your most in-demand skills as soon as they open your resume.
Qualifications: If your job requires any qualifications such as a professional course or a college degree, mention it briefly in your summary.
Quick tip: Choose from hundreds of pre-written summaries across all industries, and add one to your resume with one-click in our partner's Resume Builder. All written by recruitment experts and easily tailored to suit your unique skillset and style.
Core skills section
In addition to your resume summary, your core skills section provides an easily digestible snapshot of your skills – perfect for grabbing the attention of busy hiring managers.
As Optometrist jobs might receive a huge pile of applications, this is a great way to stand out and show off your suitability for the role.
It should be made up of 2-3 columns of bullet points and be made up of skills that are highly relevant to the jobs you are targeting.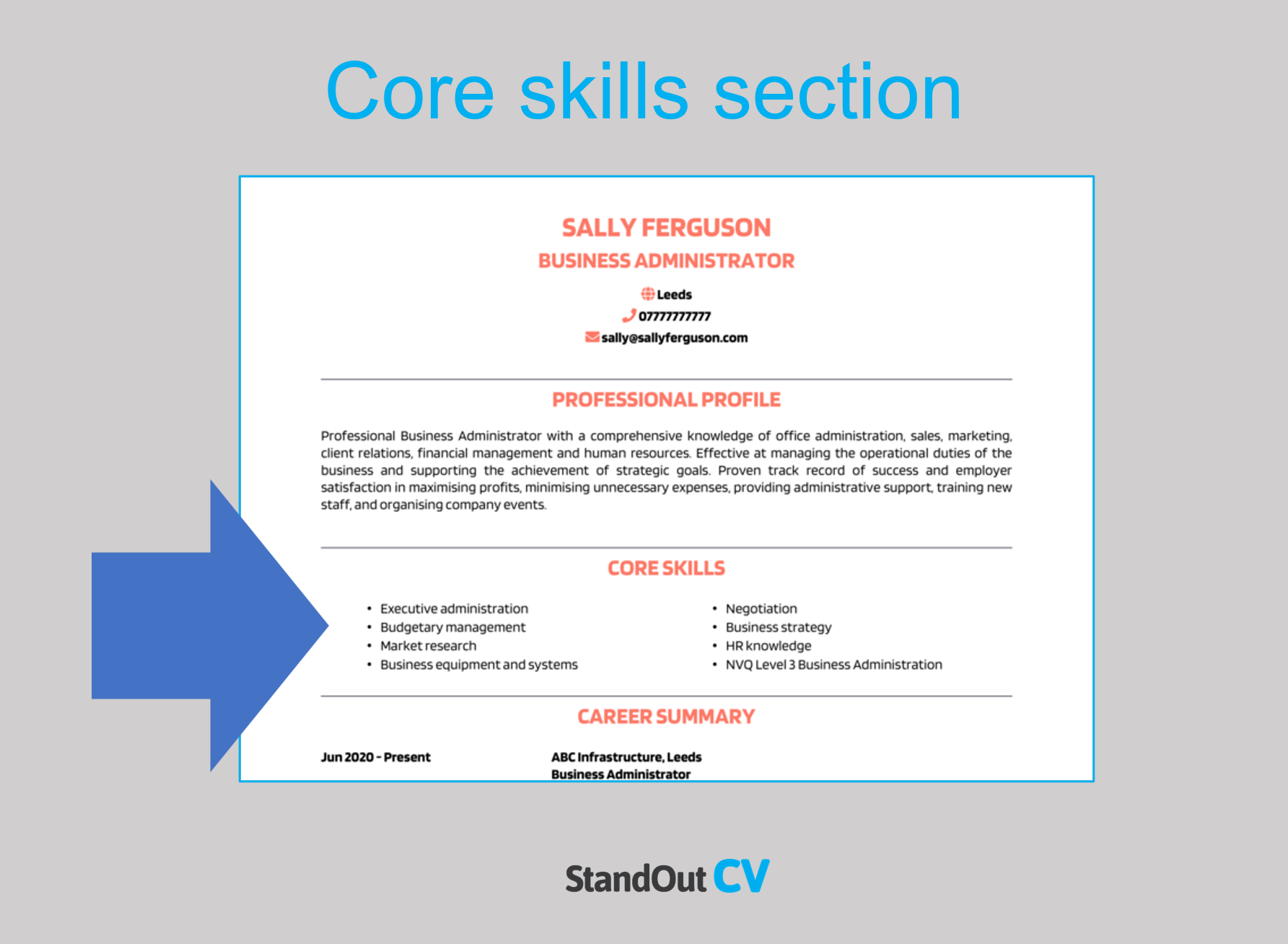 Best skills for your Optometrist resume
Refraction – Performing accurate and precise refractions to determine a patient's corrective lens prescription.
Ocular Disease Diagnosis – Diagnosing and managing various ocular conditions and diseases, such as glaucoma, macular degeneration, and diabetic retinopathy.
Contact Lens Fitting and Management – Fitting, prescribing, and managing contact lenses, including assessing the ocular health of patients and determining the appropriate lens type.
Binocular Vision Assessment– Evaluating and managing binocular vision disorders, including strabismus and amblyopia.
Low Vision Rehabilitation – Assessing and providing rehabilitative services to patients with low vision, utilizing devices and techniques to enhance their visual function.
Ocular Imaging and Diagnostics – Utilizing advanced diagnostic technologies, such as optical coherence tomography (OCT) and visual field testing, to assess and monitor ocular health.
Pediatric Optometry – Providing comprehensive eye care services for pediatric patients, including early detection and management of vision problems in children.
Geriatric Optometry – Addressing the unique vision and eye health needs of older adults, including managing age-related eye conditions and providing appropriate vision correction.
Therapeutic Prescribing – Prescribing and managing ocular medications for the treatment of eye diseases and conditions.
Patient Education – Effectively educating patients about their eye health, treatment options, and preventive measures.
Quick tip: Our partner's Resume Builder contains thousands of in-demand skills for every profession that can be added to your resume in seconds – saving you time and greatly improving your chances of landing job interviews and getting hired.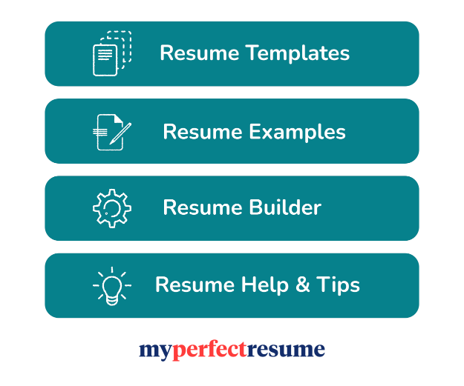 Work experience
Now that you've reeled recruiters in with your awesome summary, it's time to delve into your work experience.
Here you'll list your previous jobs (starting with your most recent and working backward) and showcase how you apply your skills in the workplace.
Provide lots of detail in recent jobs, and less in older roles.
If you have no relevant paid experience, you can include voluntary work and placements – but if you have lots of experience, you can leave out some of the really old jobs.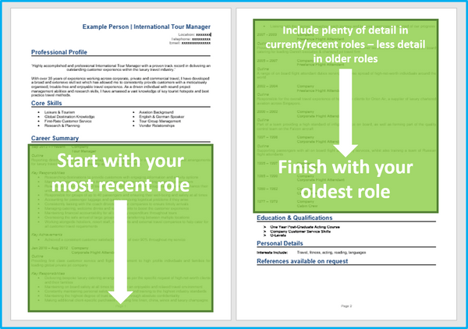 Structuring your jobs
Your job description probably includes tons of information, so it's vital to organize it well when writing about it on your resume.
Structure your jobs as like the example below to make skim-reading easy for recruiters and hiring managers.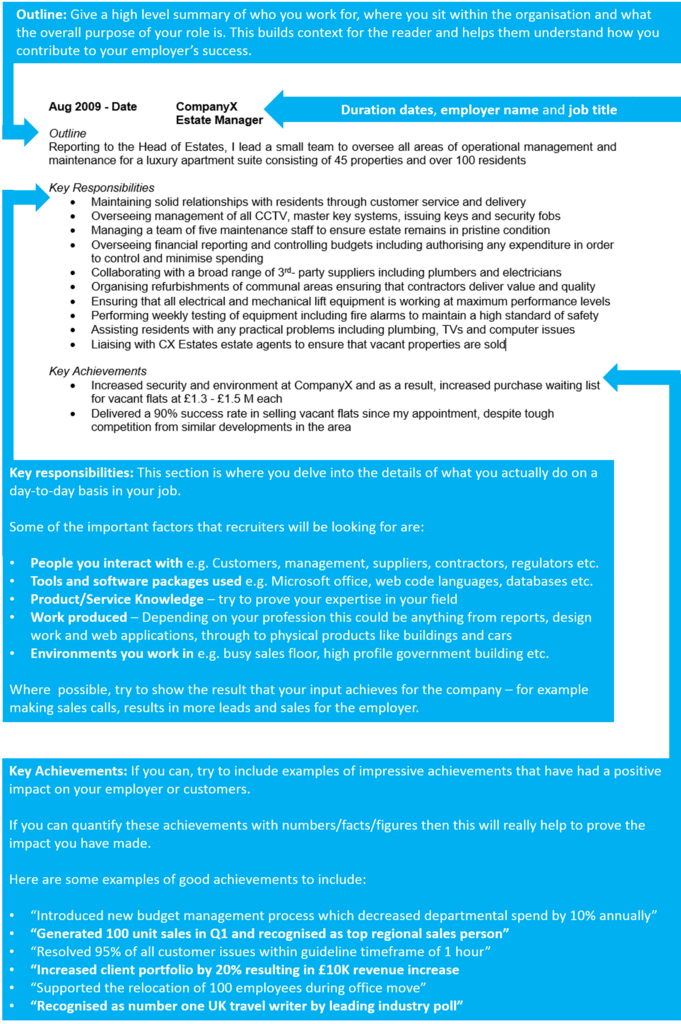 Job outline
Kick off each role with a high-level overview to summarize the focus of the job, what the organization/department does, and how you fit into the bigger picture.
Key responsibilities
The bulk of the role description should be comprised of bullet points that explain all of your duties in the job.
Keep the sentences short and simple to make them easy for recruiters to digest.
Key achievements
Round off each job by adding some impressive achievements you made in the role.
Anything you've done that has made a big impact on your employer will make a good impression, think; generating revenue, saving costs, or improving a product.
Quantify your achievements with number where possible e.g. "reduced call wait time by 10%"
Example job for Optometrist resume
Outline
Work at a leading state eye clinic in Michigan, carrying out eye exams, diagnosing and treating eye conditions for up to 45 patients per day, whilst maintaining excellent customer service and sales targets.
Key Responsibilities
Carry out comprehensive eye examinations, including vision testing and the detection of eye diseases such as glaucoma and cataracts
Diagnose and treat eye conditions, including prescriptions and referrals to specialists
Fit contact lenses and provide guidance and education to patients on their care and use
Provide exceptional customer service by building strong relationships with patients
Quick tip: Create impressive job descriptions easily in our partner's Resume Builder by adding pre-written job phrases for every industry and career stage.

Education section
Nearing the end of your resume, your education/qualifications section should be added.
In a well-structured list, add all of your qualifications and certifications that qualify you to perform a typical Optometrist role.
If you have plenty of work experience, keep this section brief – if not, add lots of detail to make up for your lack of experience.
Additional information
If you have anything else to add which is relevant to the jobs you are applying for, the additional info section is the place to add it.
Perhaps you have a hobby which involves relevant skills, or maybe you have some awards or publications worth mentioning.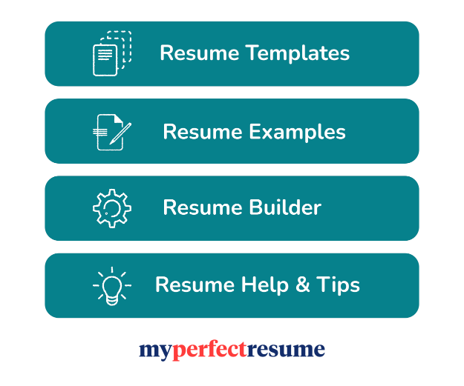 Writing your own winning Optometrist resume
A winning Optometrist resume should look great, read well, and sell your skillset to hiring managers.
If you follow the steps above, you should be able to bag yourself a top job in no time.
Good luck with your job search!