Are you looking for your next position as an oncology nurse?
If you've got the skills and personality to help patients get through the toughest times of their lives, you could be in high demand right now. Providing you can prove this, of course.
Find out how to write a clear and concise resume using our step-by-step advice and oncology nurse resume example in the guide below.
Contents
| | |
| --- | --- |
| How to write a Oncology Nurse resume | |

Oncology Nurse Resume Example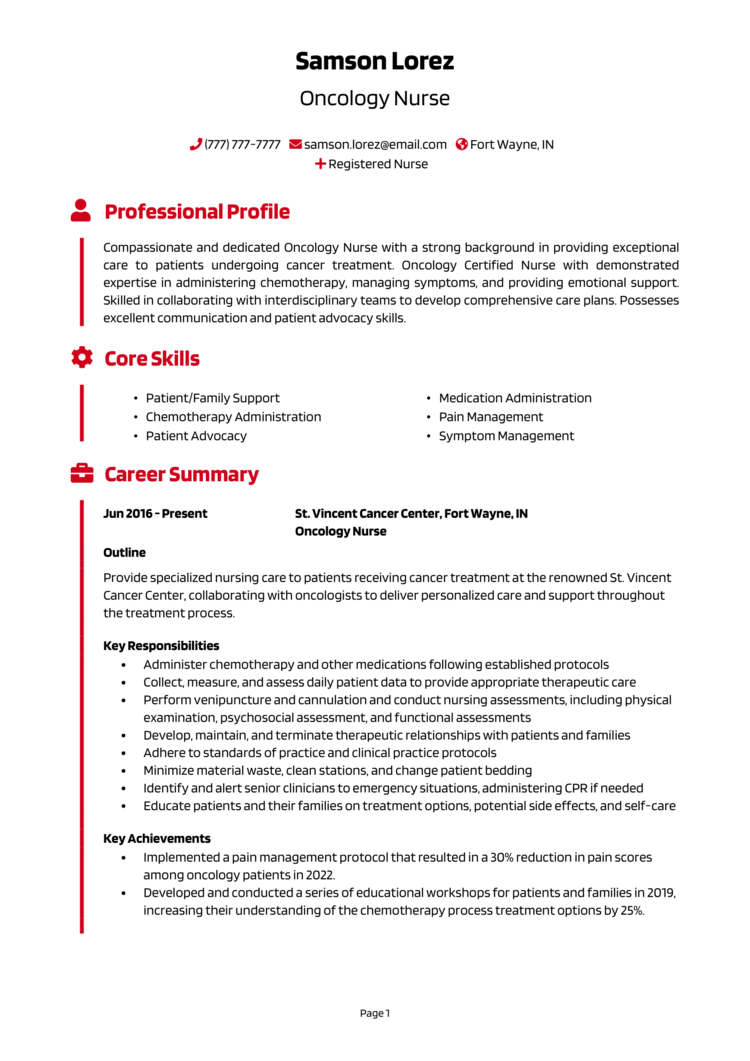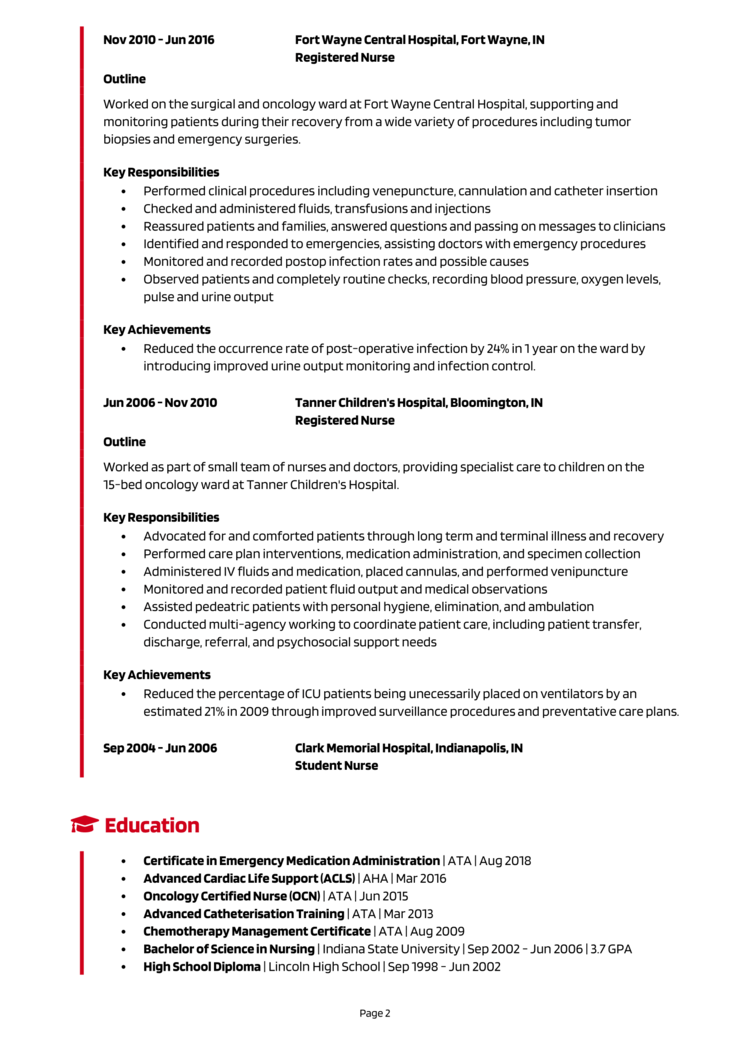 This example Oncology Nurse resume is well-structured to provide a pleasant reading experience for recruiters, and contains all of the crucial information they want to see.
The rest of the guide will show you exactly how you can achieve this in your own resume.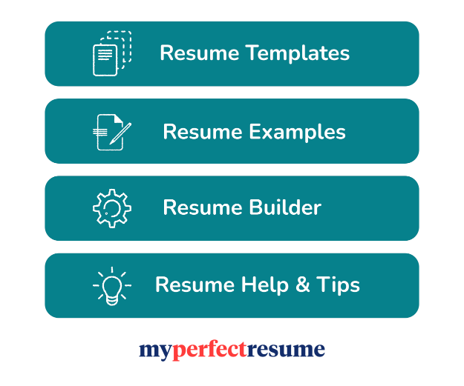 Oncology Nurse resume layout and format
Formatting and structuring your resume correctly is key to landing job interviews.
Your resume needs to look attractive, but more importantly it needs to be easy for recruiters and hiring managers to read and digest the information.
These tips will help you to do that: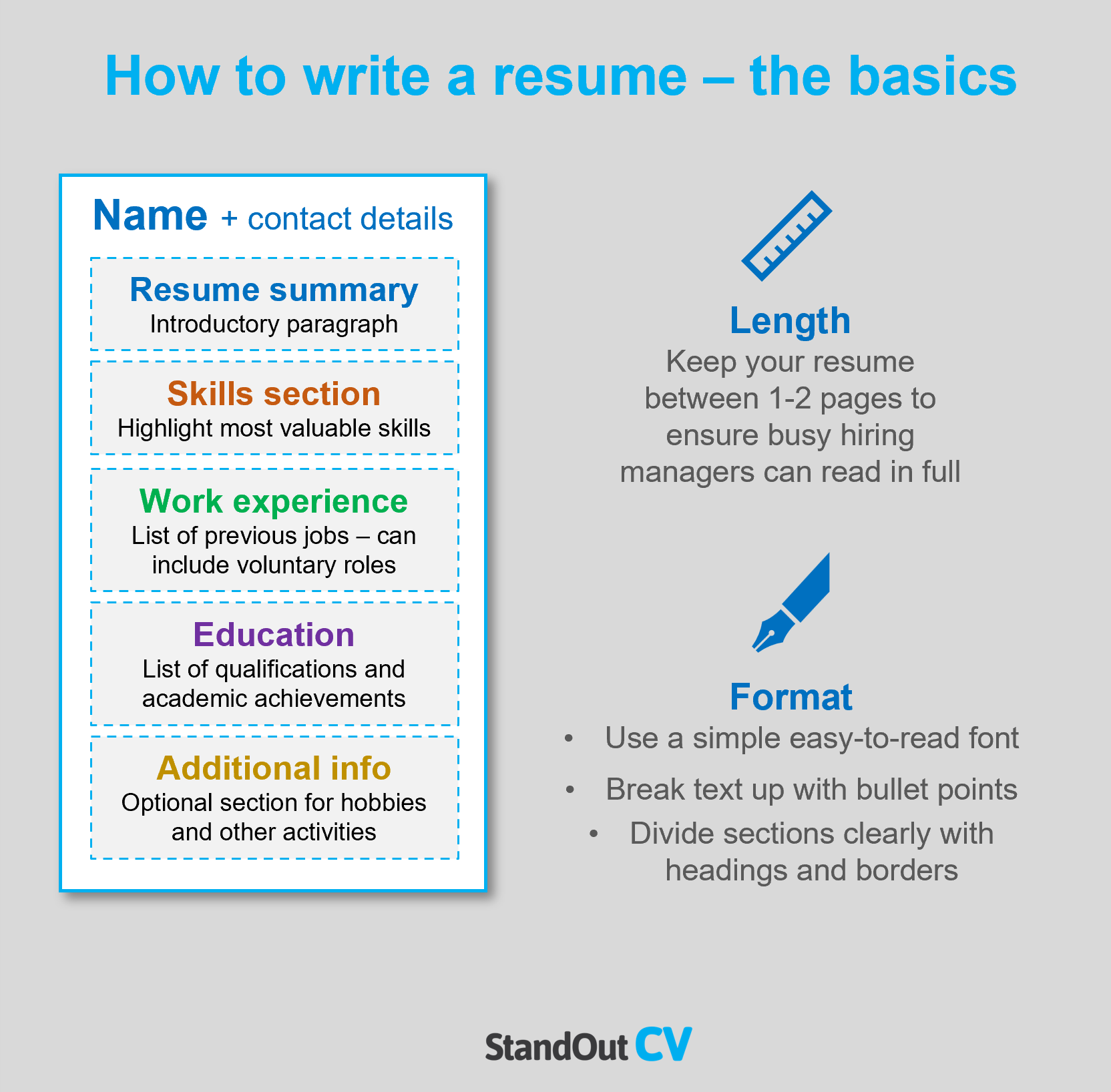 Formatting your resume
Length: Think that submitting a 10 page resume will impress recruiters? Unfortunately it won't… Even if you've got tons of experience to brag about, recruiters don't have time to read essays, so keep it brief – around 2 pages is the sweet spot.
Font & readability: The key to a good resume is readability. To make your resume easy to read, use a clear and uncomplicated font, and break up the text with bullet points and short paragraphs.
Layout & Structure: When it comes to designing your resume, it's essential to make it visually appealing, but it's equally important not to overlook functionality. To achieve this, you should organize the page into clear sections using bold headings and borders.
Photos: While a photo is not usually necessary on your resume in the United States, it may be beneficial to include one in regions and industries where it is customary.
Quick tip: Achieving a professional look for your resume can be difficult and time-consuming. If you want to create an attractive resume quickly, try our partner's Resume Builder and use one of their eye-catching resume templates.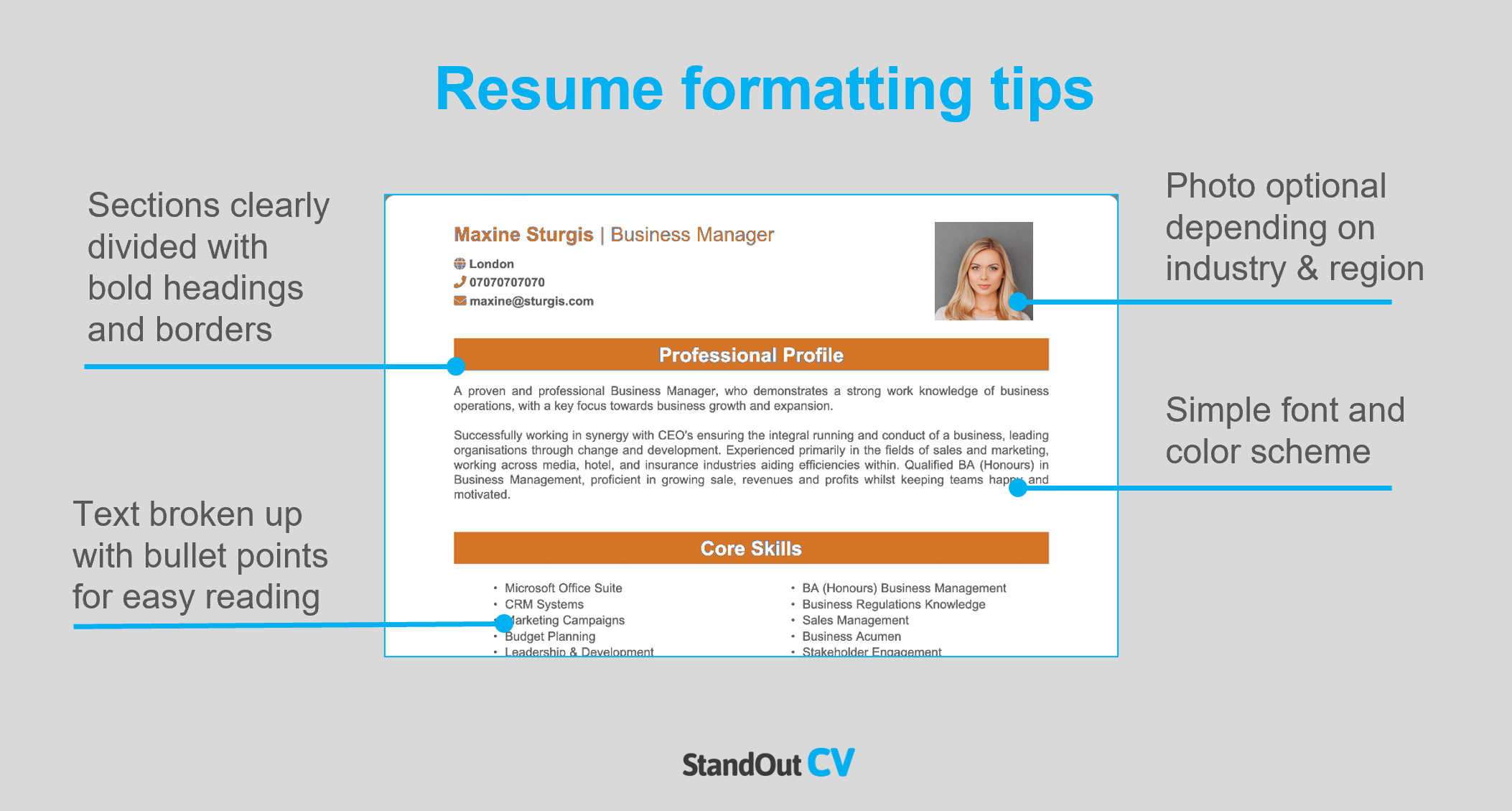 Resume layout
Your resume should include the following sections to give recruiters the information they require:
Name and Contact Details – Place your contact information at the top of your resume to make it easy for employers to get in touch with you.
Resume Summary – Write a brief introduction at the beginning of your resume that summarizes your most important qualifications and highlights why you are the ideal candidate for the job.
Skills Section – Include a concise list of your most relevant and impressive skills to quickly grab the attention of potential employers.
Work Experience – List your previous work experiences in reverse chronological order, including any volunteer work or college placements.
Education – List your educational qualifications and any professional training you have received.
Additional Information – This section is optional, but you can include details about your interests, hobbies, or any other relevant information that can make you stand out from other applicants.
Here's what to include in each part of your resume.
Contact Details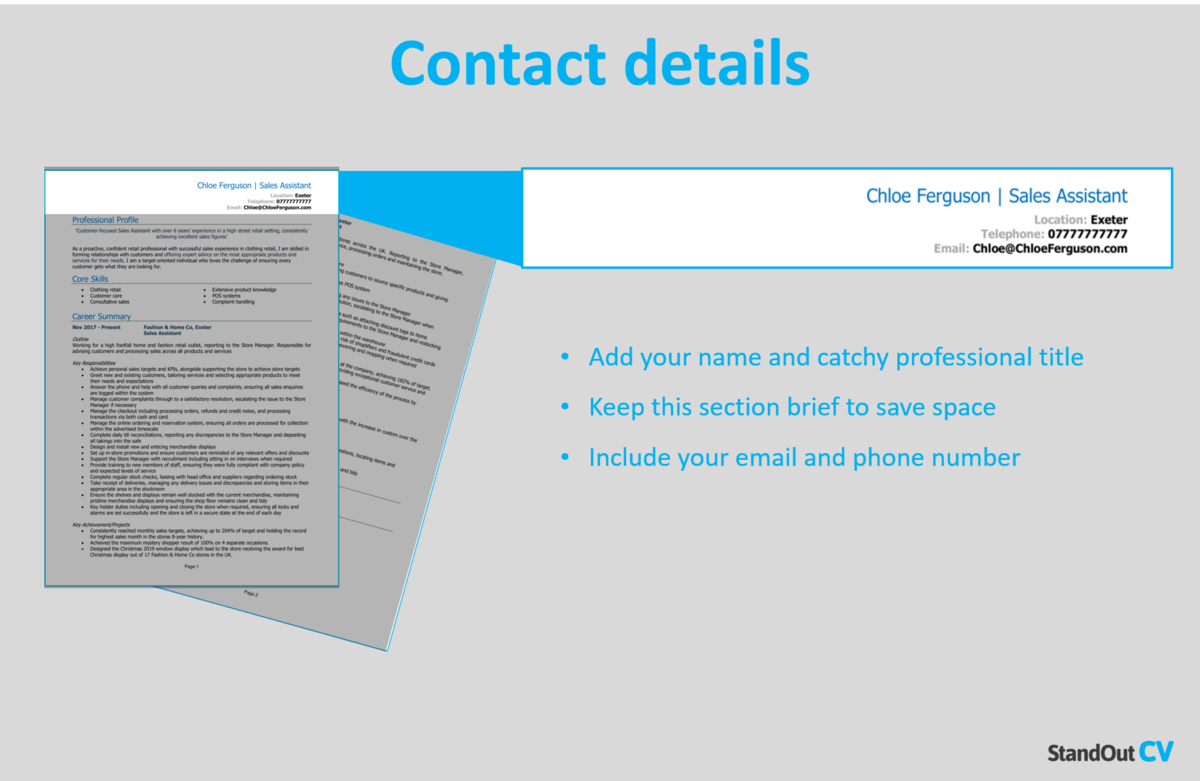 Add your name and contact details to the header of your resume, so that anybody reading can easily see how to contact you.
Name and profession title
Cell phone number – or any number you are easily reachable on
Location – Add your local area such as Washington or San Diego – not your full address as that will take up too much space.
Email address – Use a professional looking address.
You can add a link to your LinkedIn profile if you have one – you do not need to include personal details like date of birth or religion.
Oncology Nurse Resume Summary
Your resume summary is like your introduction to the recruiter or hiring manager – it should grab their attention and leave them eager to read more about you.
Achieve this by writing a snappy overview of your skills, knowledge and what value you can bring to an employer.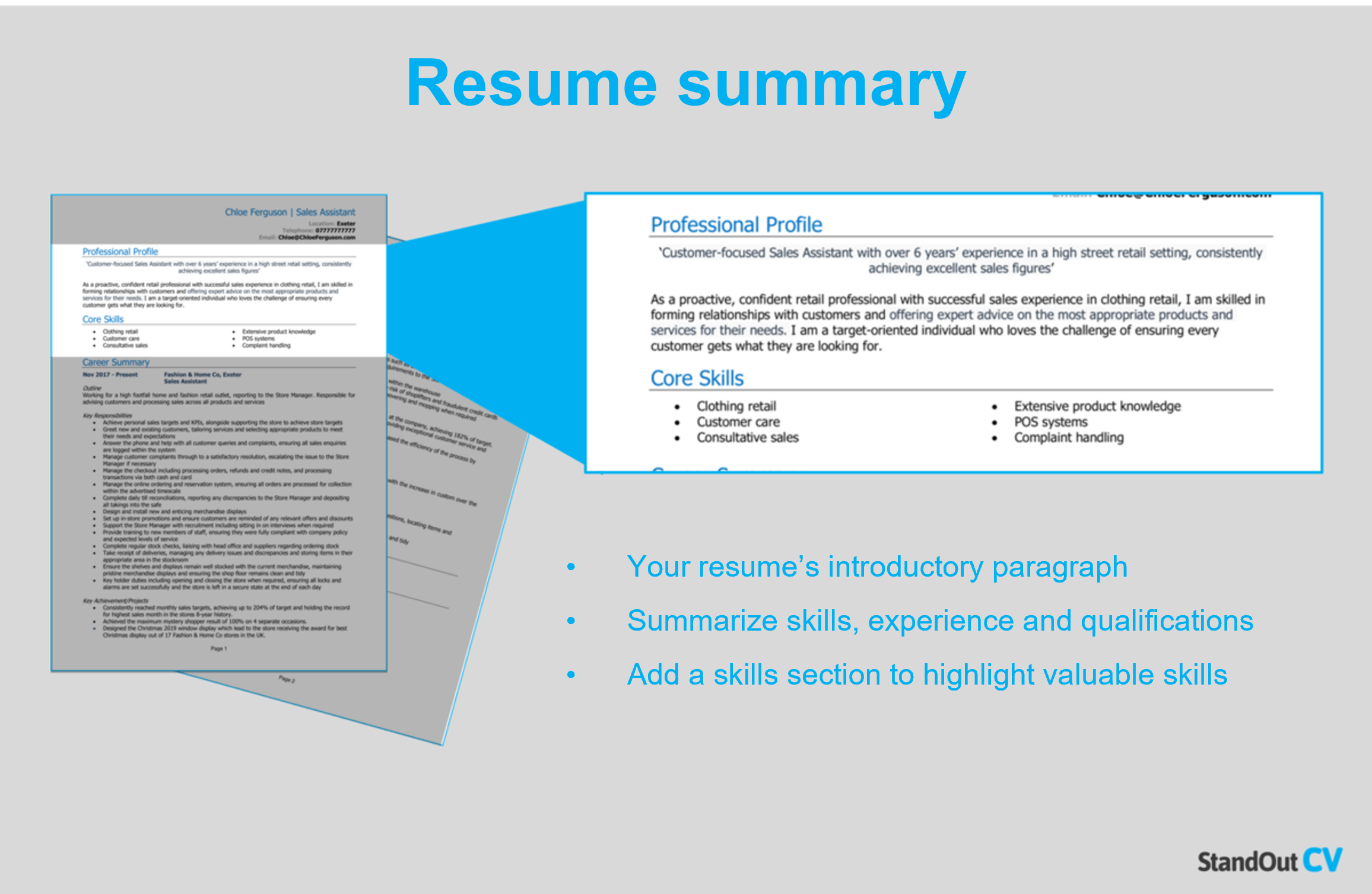 How to create a resume summary that will excite recruiters:
Keep it short: A concise and focused resume summary is essential for capturing a recruiter's attention and keeping them engaged. Limiting your summary to 4-7 lines ensures that you make a strong impression in the first few seconds of them opening the document.
Tailor to target jobs: Optimize your summary to match the requirements of your target jobs, by mirroring the key words from the job description as closely as possible.
Avoid using cliches: You might be a "highly motivated go-getter who thinks outside the box" but generic meaningless cliches like that don't tell employers much about you – stick to factual information in your summary.
Oncology Nurse resume summary example
Compassionate and dedicated Oncology Nurse with a strong background in providing exceptional care to patients undergoing cancer treatment. Oncology Certified Nurse with demonstrated expertise in administering chemotherapy, managing symptoms, and providing emotional support. Skilled in collaborating with interdisciplinary teams to develop comprehensive care plans. Possesses excellent communication and patient advocacy skills.
What to include in your Oncology Nurse resume summary?
Summary of your experience: Provide a summary of the kind of work you have previously done, along with the benefits you have delivered to the organizations you worked with.
Relevant skills: Skills that are highly relevant to Oncology Nurse work should be made prominent throughout your summary.
Qualifications: If your job requires any qualifications such as a professional course or a college degree, mention it briefly in your summary.
Quick tip: Choose from hundreds of pre-written summaries across all industries, and add one to your resume with one-click in our partner's Resume Builder. All written by recruitment experts and easily tailored to suit your unique skillset and style.
Core skills section
In addition to your resume summary, your core skills section provides an easily digestible snapshot of your skills – perfect for grabbing the attention of busy hiring managers.
As Oncology Nurse jobs might receive a huge pile of applications, this is a great way to stand out and show off your suitability for the role.
It should be made up of 2-3 columns of bullet points and be made up of skills that are highly relevant to the jobs you are targeting.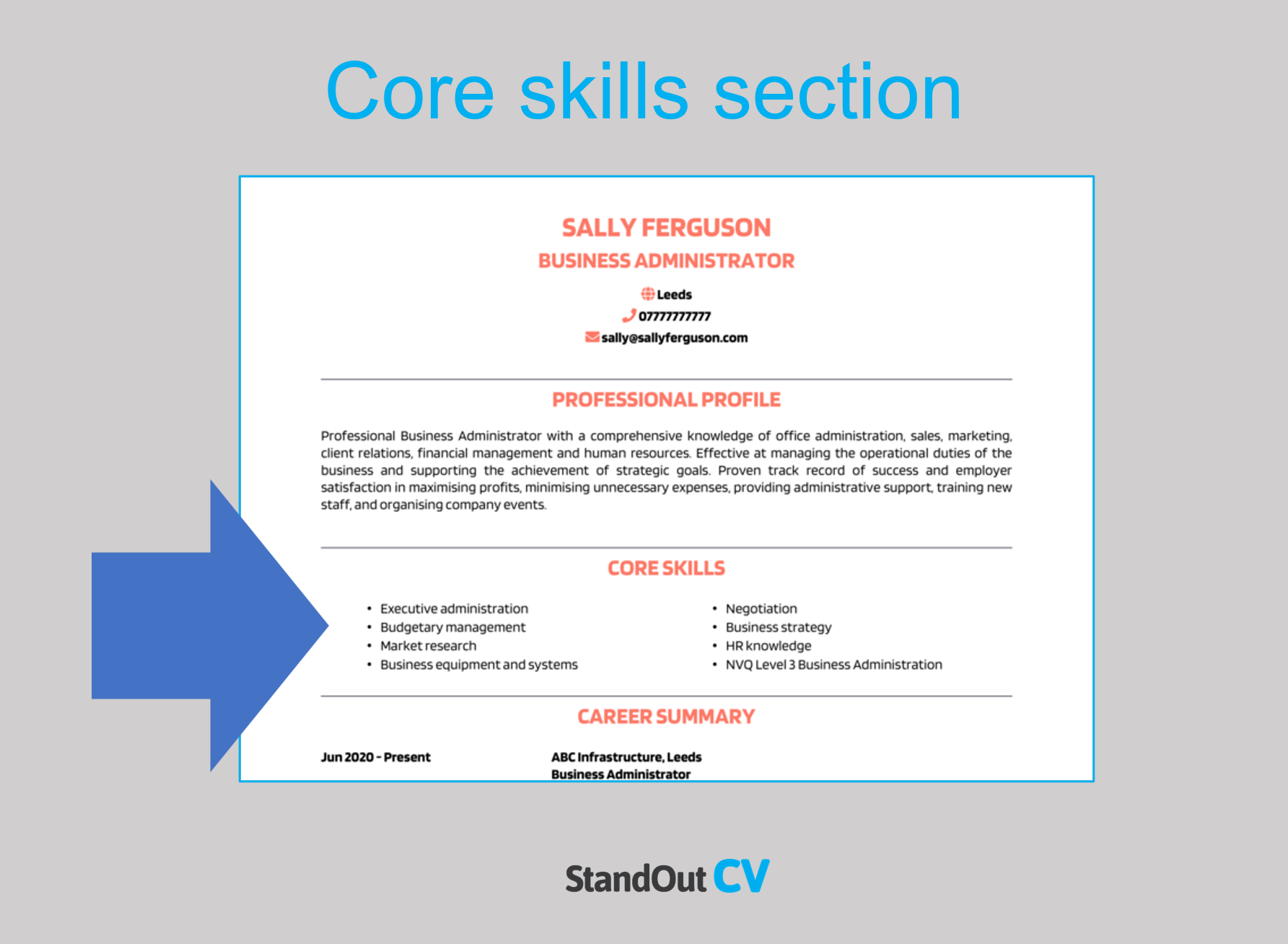 Best skills for your Oncology Nurse resume
Chemotherapy Administration – Administering chemotherapy drugs, understanding dosage calculations, and managing potential side effects.
Cancer Assessment and Diagnosis – Assessing and diagnosing various types of cancer, interpreting diagnostic tests, and understanding cancer staging.
Symptom Management – Managing and alleviating cancer-related symptoms, such as pain, nausea, fatigue, and other treatment-related side effects.
Oncology Treatment Modalities – Utilizing knowledge of different treatment modalities used in oncology, including radiation therapy, immunotherapy, targeted therapy, and hormone therapy.
Patient Education – Providing comprehensive education to patients and their families about cancer treatments, side effects, self-care strategies, and available resources.
Central Venous Access Devices – Managing and maintaining central venous access devices (e.g., ports, PICC lines) used for chemotherapy administration.
Palliative and Supportive Care – Utilizing knowledge of palliative and supportive care principles to provide comfort and improve the quality of life for patients with advanced or terminal cancer.
Emotional Support and Counseling – Providing emotional support and counseling to patients and their families, addressing their psychosocial needs and helping them cope with the challenges of cancer.
Evidence-Based Practice – Utilizing current evidence-based practice guidelines to guide clinical decision-making and provide high-quality care to oncology patients.
Collaboration and Multidisciplinary Care – Collaborating effectively with interdisciplinary healthcare teams, including oncologists, surgeons, radiation therapists, social workers, and other healthcare professionals involved in the patient's care.
Quick tip: Our partner's Resume Builder contains thousands of in-demand skills for every profession that can be added to your resume in seconds – saving you time and greatly improving your chances of landing job interviews and getting hired.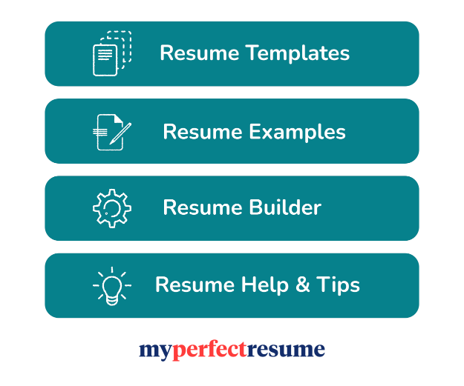 Work experience
So, you've grabbed the recruiters' attention with your summary, now it's time to show them what you're really capable of in your work experience section.
List your previous jobs from current to oldest, showing off the impact you made at each organization.
If you have tons of experience, you should just list the most recent an relevant jobs – but if you have little or no experience, add it all and even consider putting in voluntary work.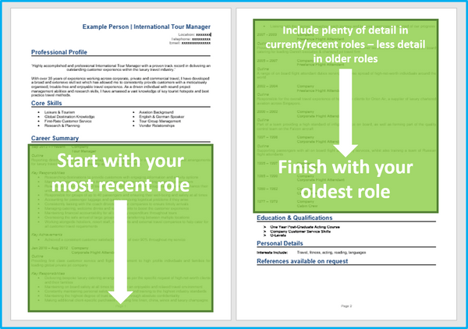 Structuring your jobs
Without a good structure, your job description can look messy and overwhelming to anyone reading them.
Make it easy for recruiters to read your work experience by structuring your roles like this.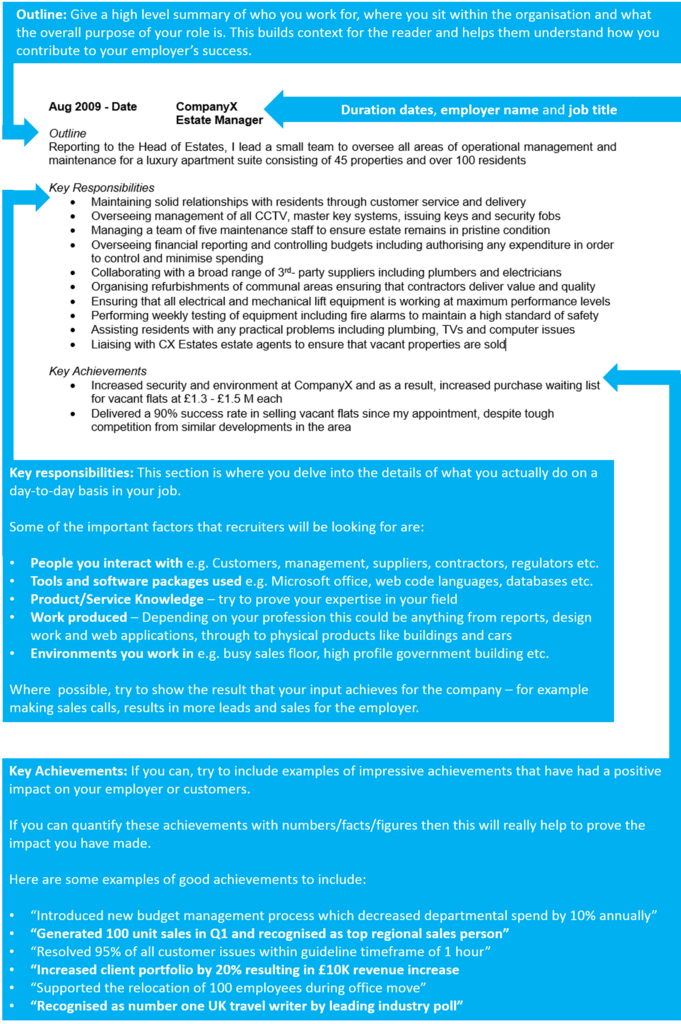 Job outline
Begin each job with a short summary of who the organization is, where you sit within it, and what the main goal of your position is.
Key responsibilities
List your notable responsibilities in short sharp bullet points to demonstrate your input and how you contributed to the organization's success.
Highlight the skills that are most important to the roles you are applying for.
Key achievements
Finish each role by highlighting some impressive achievements you made whilst in the role.
Anything that benefited the employer can be included from making financial savings, to winning new customers.
Quantify your achievements with facts and figures if you can, e.g. "reduced call wait time by 10%"
Example job for Oncology Nurse resume
Outline
Provide specialized nursing care to patients receiving cancer treatment at the renowned St. Vincent Cancer Center, collaborating with oncologists to deliver personalized care and support throughout the treatment process.
Key Responsibilities
Administer chemotherapy and other medications following established protocols
Collect, measure, and assess daily patient data to provide appropriate therapeutic care
Perform venipuncture and cannulation and conduct nursing assessments, including physical examination, psychosocial assessment, and functional assessments
Develop, maintain, and terminate therapeutic relationships with patients and families
Quick tip: Create impressive job descriptions easily in our partner's Resume Builder by adding pre-written job phrases for every industry and career stage.

Education section
Near the end of your resume add your education section.
Experienced candidates should keep it brief and focus on professional qualifications – and junior candidates can include high school diplomas, college degrees etc.
Additional information
The bottom of your resume is a place to add any "additional info"
Any other info that didn't fall into any of the previous sections can be added here.
If you have hobbies that are related to your profession or any awards or publications – add them here.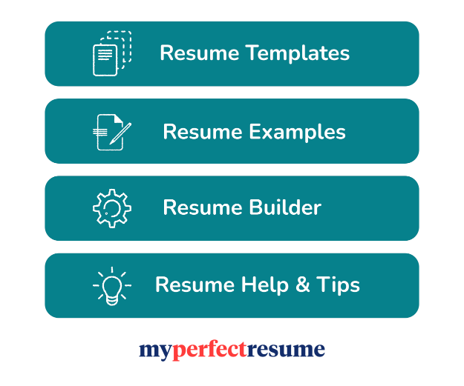 Writing your own winning Oncology Nurse resume
A winning Oncology Nurse resume should look great, read well, and sell your skillset to hiring managers.
If you follow the steps above, you should be able to bag yourself a top job in no time.
Good luck with your job search!