You're an expert in child development, and you know how to support children and help them grow into kind and capable individuals.
While you are perfectly qualified to shape young minds in this way, it's swaying the recruiter to give you an interview that's the tricky part.
But with a carefully crafted resume, you can boost your chances of landing the role. Check out our writing guide and Montessori teacher resume example below to help you with your application.
Contents
| | |
| --- | --- |
| How to write a Montessori Teacher resume | |

Montessori Teacher Resume Example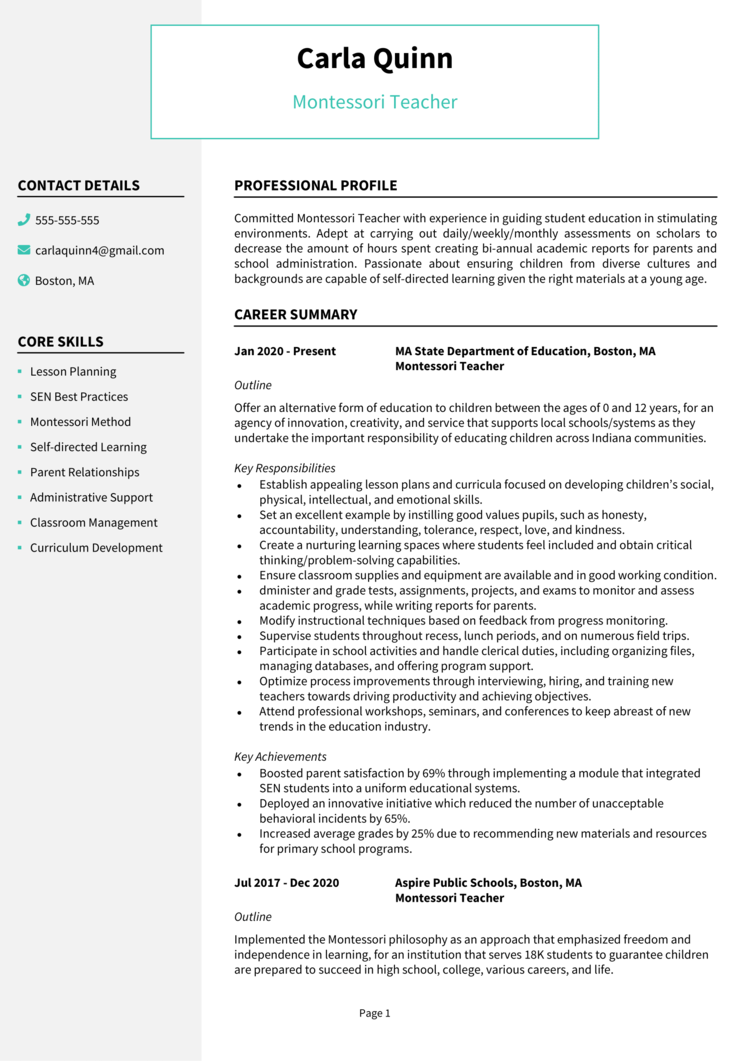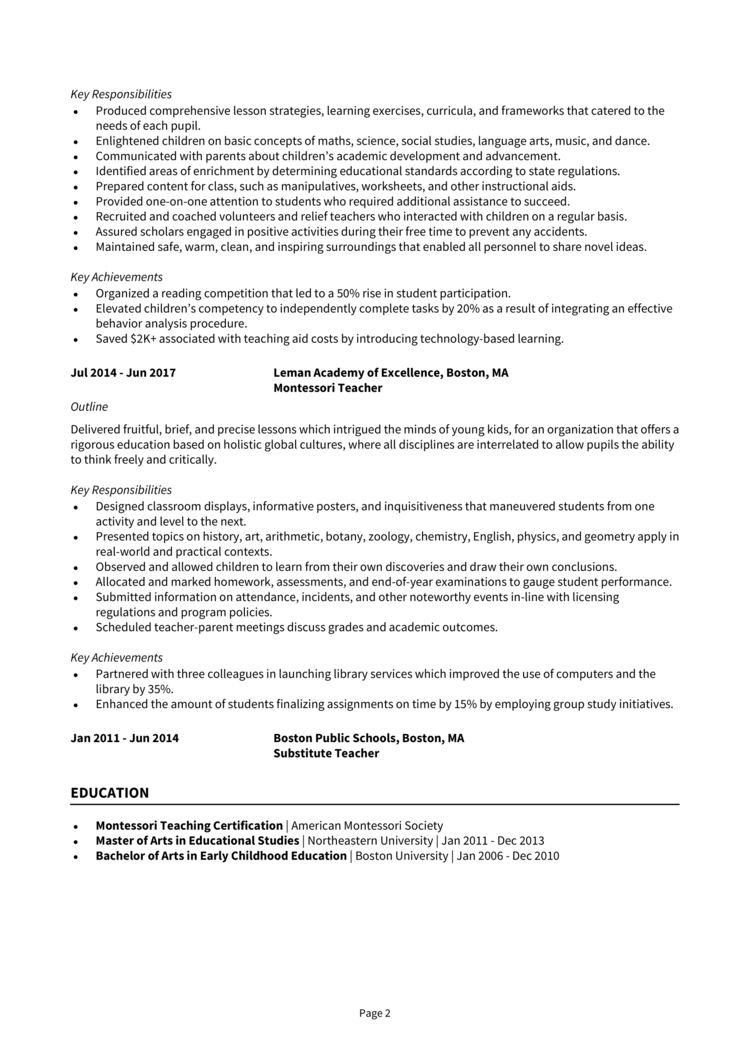 From the Montessori Teacher resume example above, you can see the kind of information your resume will need to include, and the layout you will need to create for an easy-reading experience.
The rest of this guide will show you how to apply this format to your own unique situation, and create a resume that will attract the best employers in your industry.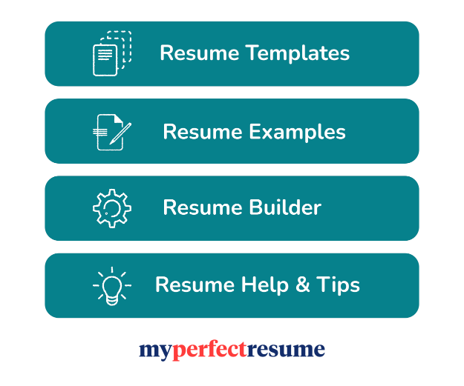 Montessori Teacher resume layout and formatting
If you want to get noticed in the job market, you have to pay attention to the format and layout of your resume.
Essentially your resume needs to look highly polished, and provide hiring managers with an easy reading experience.
Use these resume formatting tips to get a head start on this.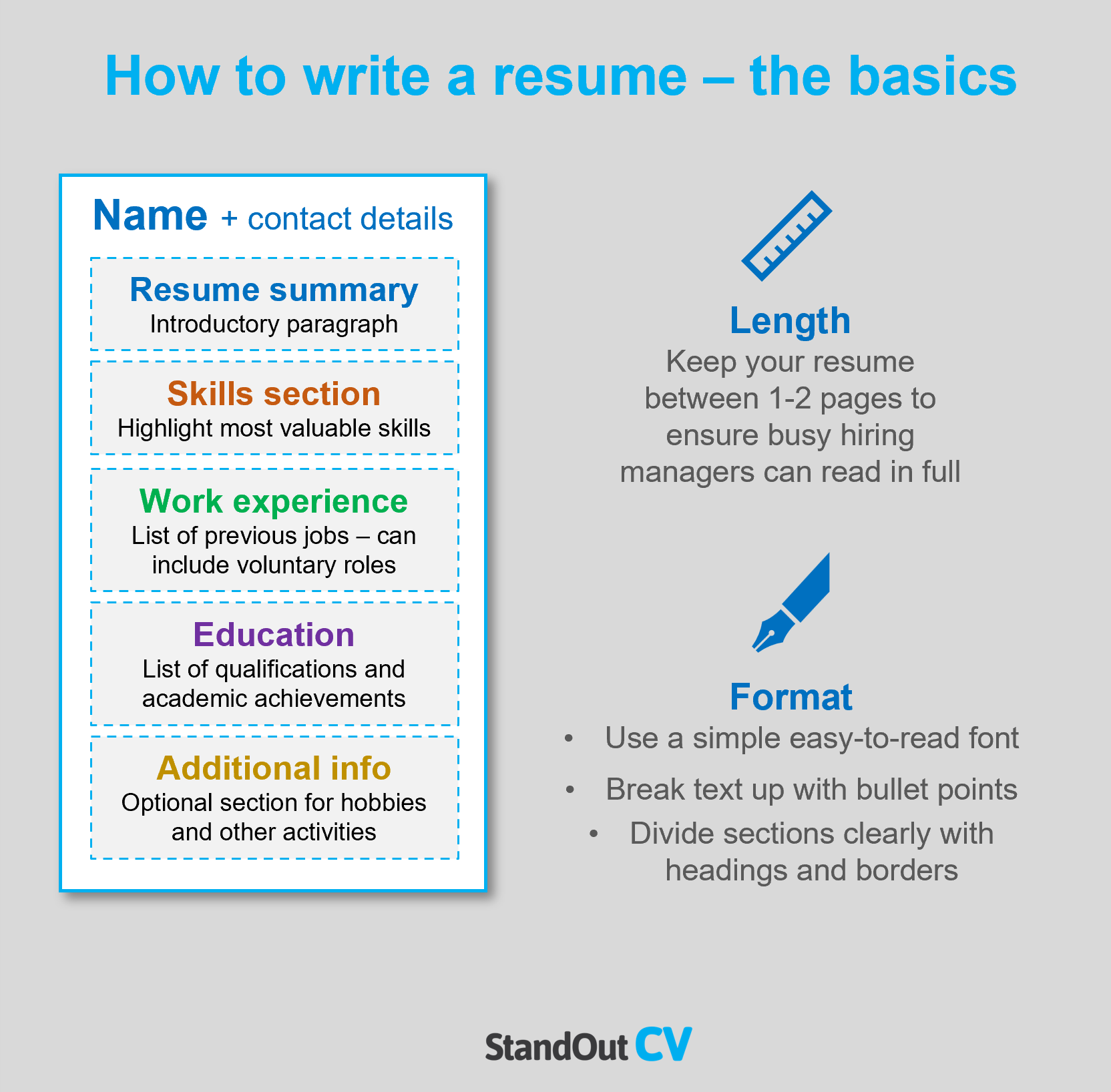 Formatting your resume
Length: As recruiters have a limited amount of time to review each resume they see, keep your resume to 2 pages or less to increase the chances of it being thoroughly reviewed.
Font & readability: Simplicity and a pleasant reading experience are crucial if you want to highlight your most valuable skills to recruiters. Use a clear font (avoid fancy ones) and break up the text in your resume with bullet points to ensure information can be easily consumed.
Layout & Structure: A visually appealing resume is important, but don't forget about functionality. To ensure a functional design, use bold headings and borders to organize the page into clear sections.
Photos: You don't have to add a photo to your resume in the States, but some regions and industries like to see them.
Quick tip: Achieving a professional look for your resume can be difficult and time-consuming. If you want to create an attractive resume quickly, try our partner's Resume Builder and use one of their eye-catching resume templates.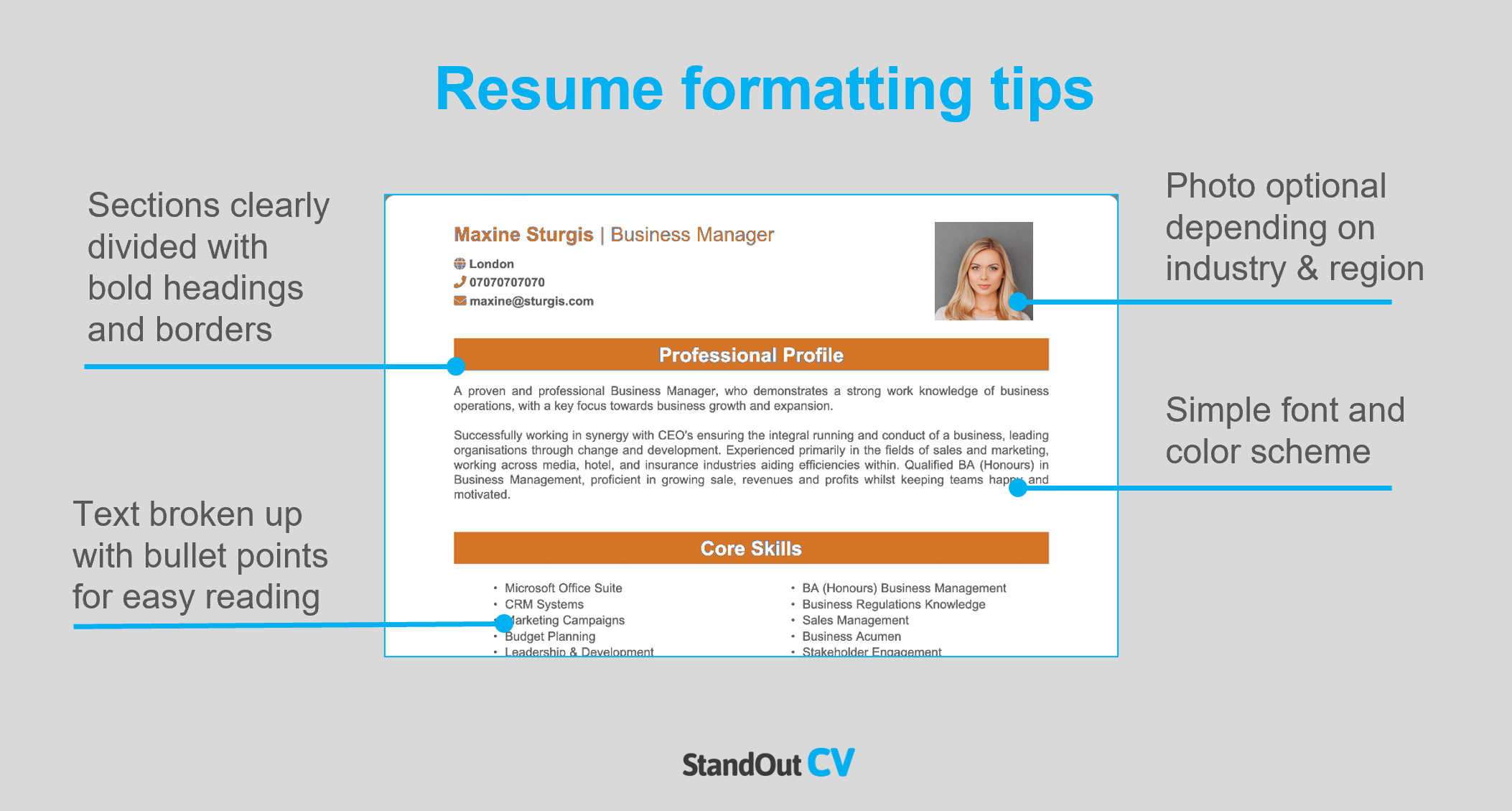 Resume layout
Add the following sections when you write your resume.
Name and contact details – Add to the very top of your resume to introduce yourself and make it super-easy for recruiters to get in touch.
Resume summary – Reel hiring managers in with an "elevator pitch" style paragraph which sums up your suitability for the job.
Skills section – A short and sharp list of your most important skills, that can be quickly skim-read.
Work experience – List your previous jobs (from newest to oldest) detailing the skills learnt and applied in each.
Education – List your qualifications and professional training.
Additional info – If it helps your application, you can add an extra section for things like hobbies and interests.
Here's what to include in each part of your resume.
Contact Details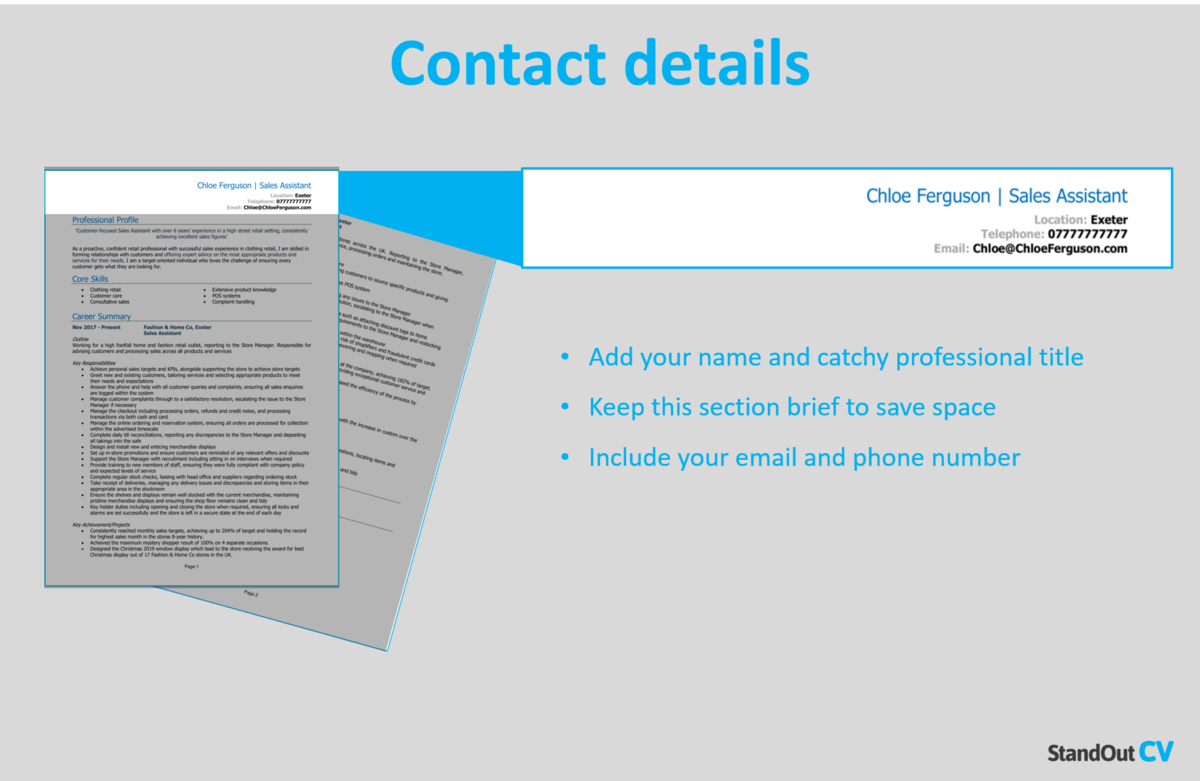 Add your name and contact details to the very top of your resume, making it easy for recruiters to get in touch
Name and profession title
Cell phone number – or another number you can answer quickly
Location – Add your local area such as San Diego or New York – not your full address as that will take up too much space.
Email address – Use your name or close variation – no nicknames from high school.
You can add a link to your LinkedIn profile if you have one – you do not need to include personal details like date of birth or marital status.
Montessori Teacher Resume Summary
Grab the attention of recruiters right away by including a compelling summary at the top of your resume that summarizes your most valuable skills and experience.
This brief yet impactful section enables you to demonstrate why you're the best candidate for the job and convince recruiters to keep reading.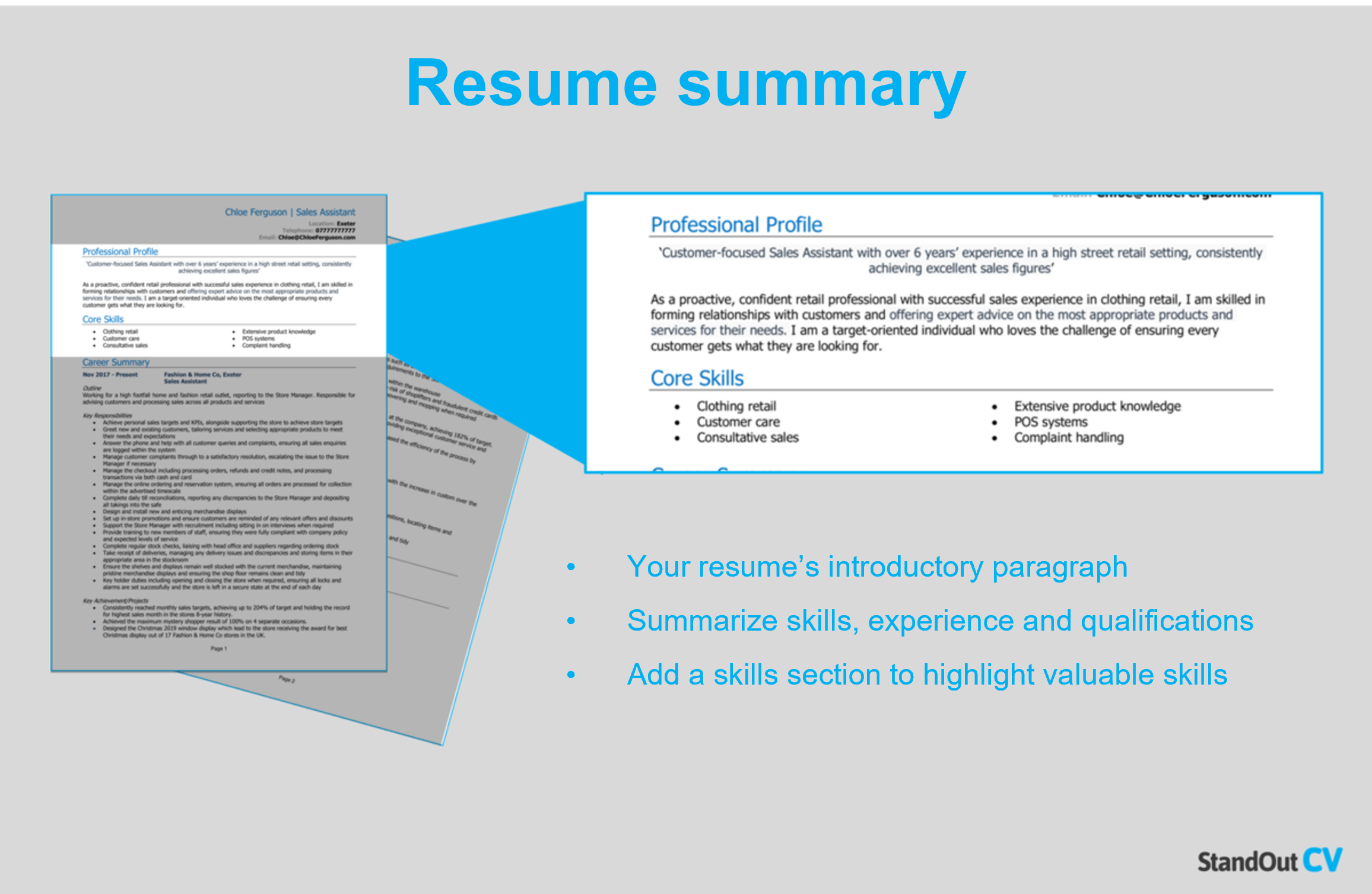 How to create a resume summary that will excite recruiters:
Keep it short: Aim for a short punchy paragraph of 4-7 lines. This is just enough info to showcase why you'd make the perfect hire, without going into excessive detail and overwhelming busy recruiters at such an early stage in the resume.
Tailor to target jobs: Ensure your profile makes an impact by matching it closely to the requirements of the job description, copying as many key terms as possible.
Avoid using cliches: Recruiters look for facts in resumes, such as hard skills and qualifications – so, leave out the meaningless cliches like "hard worker who works well in a team and individually"
Montessori Teacher resume summary example
Committed Montessori Teacher with experience in guiding student education in stimulating environments. Adept at carrying out daily/weekly/monthly assessments on scholars to decrease the number of hours spent creating bi-annual academic reports for parents and school administration. Passionate about ensuring children from diverse cultures and backgrounds are capable of self-directed learning given the right materials at a young age.
What to include in your Montessori Teacher resume summary?
Summary of your experience: What kind of companies have you worked for in the past? And which jobs have you carried out?
Relevant skills: To quickly showcase your suitability for Montessori Teacher jobs, ensure that your summary emphasizes your most relevant skills to the jobs you are applying for.
Qualifications: Mention any Montessori Teacher qualifications that are important to your profession in the summary briefly, to show you are qualified to carry out the role.
Quick tip: Choose from hundreds of pre-written summaries across all industries, and add one to your resume with one-click in our partner's Resume Builder. All written by recruitment experts and easily tailored to suit your unique skillset and style.
Core skills section
In addition to your resume summary, your core skills section provides an easily digestible snapshot of your skills – perfect for grabbing the attention of busy hiring managers.
As Montessori Teacher jobs might receive a huge pile of applications, this is a great way to stand out and show off your suitability for the role.
It should be made up of 2-3 columns of bullet points and be made up of skills that are highly relevant to the jobs you are targeting.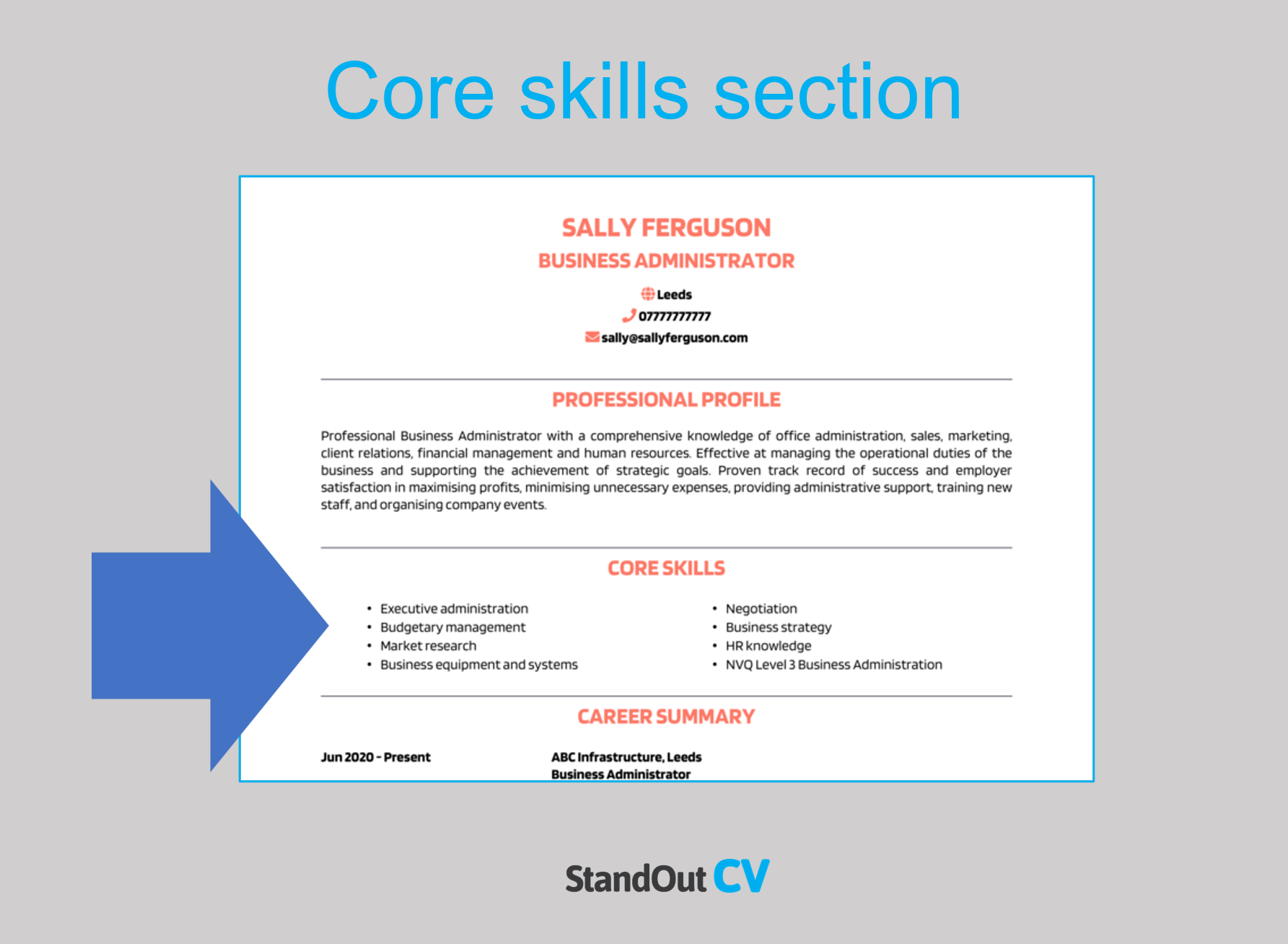 Best skills for your Montessori Teacher resume
Knowledge of Montessori philosophy – Utilizing knowledge of the Montessori philosophy and approach to education, including child development theories and Montessori curriculum principles.
Classroom management – Managing a Montessori classroom effectively, including setting up the environment, managing student behavior, and facilitating student learning.
Lesson planning – Planning and developing Montessori lesson plans, including selecting and preparing Montessori materials, to ensure effective delivery of the Montessori curriculum.
Assessment and evaluation – Utilizing knowledge of Montessori assessment and evaluation techniques, including observation and record keeping, to assess student progress and to inform instructional decisions.
Differentiated instruction – Differentiating instruction to meet the needs of individual students, including adapting Montessori materials and lessons to accommodate different learning styles and abilities.
Parent communication – Utilizing strong communication skills, including written and verbal communication, to effectively communicate with parents, to promote parent involvement in the education process.
Classroom leadership – Providing leadership in the classroom, including guiding and supporting other teachers, to promote a collaborative and productive work environment.
Classroom technology – Utilizing knowledge of classroom technology, including digital Montessori materials and educational software, to effectively integrate technology into the Montessori classroom.
Cultural competency – Utilizing knowledge of cultural competency, including an awareness and appreciation of diverse cultures, to create a welcoming and inclusive classroom environment.
Professional development – Being commitment to ongoing professional development, including attending Montessori workshops and training sessions, to maintain current knowledge of Montessori education and to continuously improve teaching skills.
Quick tip: Our partner's Resume Builder contains thousands of in-demand skills for every profession that can be added to your resume in seconds – saving you time and greatly improving your chances of landing job interviews and getting hired.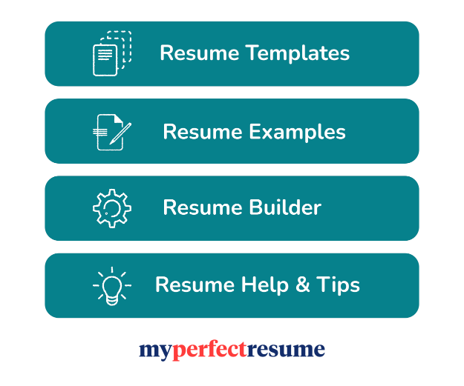 Work experience
Once you've hooked the hiring manager with your summary, you can really blow them away with you work experience.
List your previous jobs from newest to oldest to show the impact you made at each organization.
If you have years of experience, you can leave out some of the older jobs, and if you have little/no experience, you can bulk this section up with voluntary work and college placements.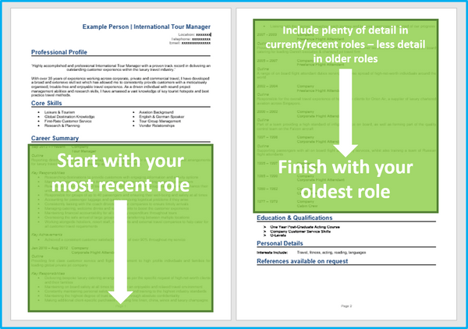 Structuring your jobs
Without a good structure, your job description can look messy and overwhelming to anyone reading them.
Make it easy for recruiters to read your work experience by structuring your roles like this.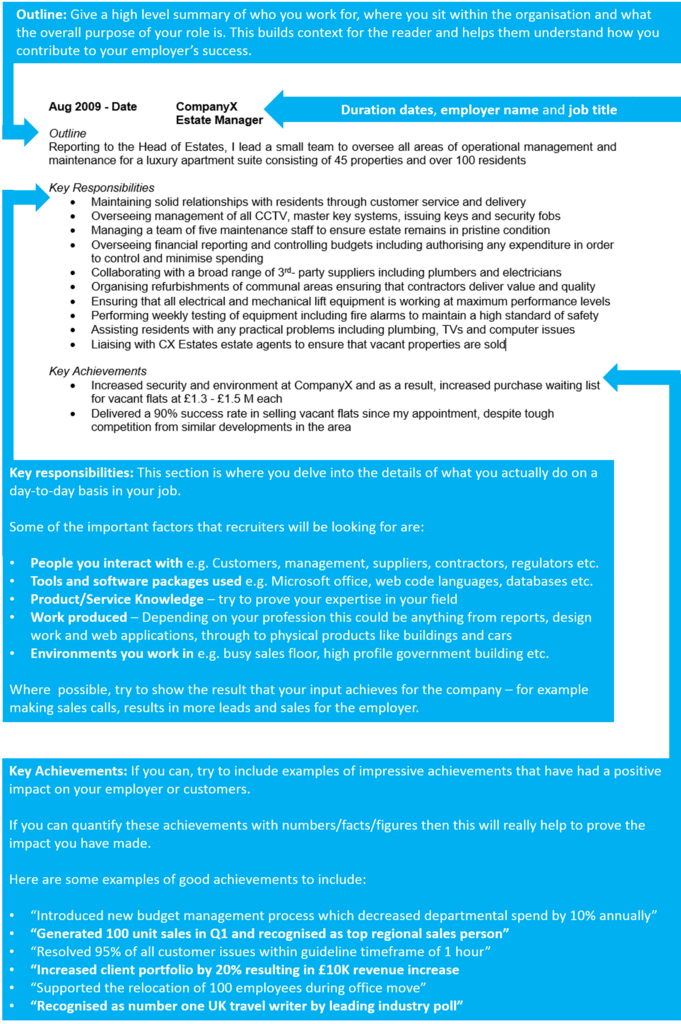 Job outline
Start with a 1-2 sentence outline of the role, summarizing what the goal of your position was, who you reported to (or managed) and the type of organization you worked for.
Key responsibilities
Then delve into the detail of your job by listing out easy-to-read bullet points which show how you apply your skills in the workplace.
Tailor these bullet points to focus on the skills and knowledge that are required in the jobs you are applying for.
Key achievements
Show employers the value you can bring to them by adding a few achievements to your jobs.
Whether you've saved the company money or improved an internal process, let recruiters know
Add some numbers to give readers a real scale of the impact, e.g. "reduced call wait time by 10%"
Example job for Montessori Teacher resume
Outline
Offer an alternative form of education to children between the ages of 0 and 12 years, for an agency of innovation, creativity, and service that supports local schools/systems as they undertake the important responsibility of educating children across Indiana communities.
Key Responsibilities
Establish appealing lesson plans and curricula focused on developing children's social, physical, intellectual, and emotional skills.
Set an excellent example by instilling good values pupils, such as honesty, accountability, understanding, tolerance, respect, love, and kindness.
Create nurturing learning spaces where students feel included and obtain critical thinking/problem-solving capabilities.
Ensure classroom supplies and equipment are available and in good working condition.
Quick tip: Create impressive job descriptions easily in our partner's Resume Builder by adding pre-written job phrases for every industry and career stage.

Education section
Towards the bottom of your resume, add your education section.
Here you should list your professional qualifications and academic record, such as high school diplomas or college degrees.
If you have lots of work experience, you can keep this section brief (because recruiters will be more interested in your career. If you have little/no experience then you should bulk this section up with plenty of detail.
Additional information
At the end of your resume, you can add any extra information that might be relevant to the jobs you are applying for.
This could be hobbies, interests, publications, clubs or memberships.
This section is optional and doesn't need to be added if you have nothing more relevant to add.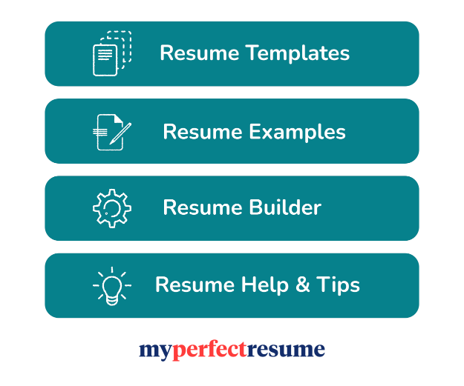 Writing your own winning Montessori Teacher resume
Crafting a strong Montessori Teacher resume can be a daunting task, but implementing the steps outlined above will significantly increase your chances of securing multiple interview opportunities.
Good luck with your job search!