Are you hoping to secure your next role as a media planner? Then you need to know how to market yourself effectively.
Your resume is your chance to advertise your skills and experience to the recruiter; you just need to know how.
So check out our top tips below, and use our detailed media planner resume example to guide you.
Contents
| | |
| --- | --- |
| How to write a Media Planner resume | |

Media Planner Resume Example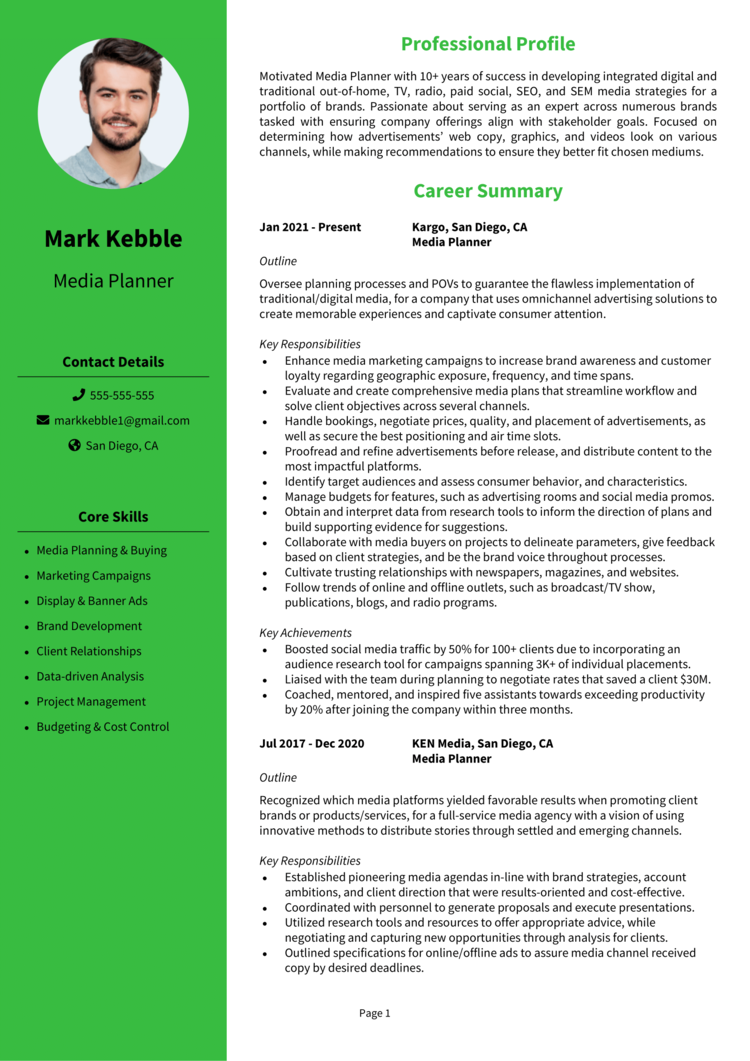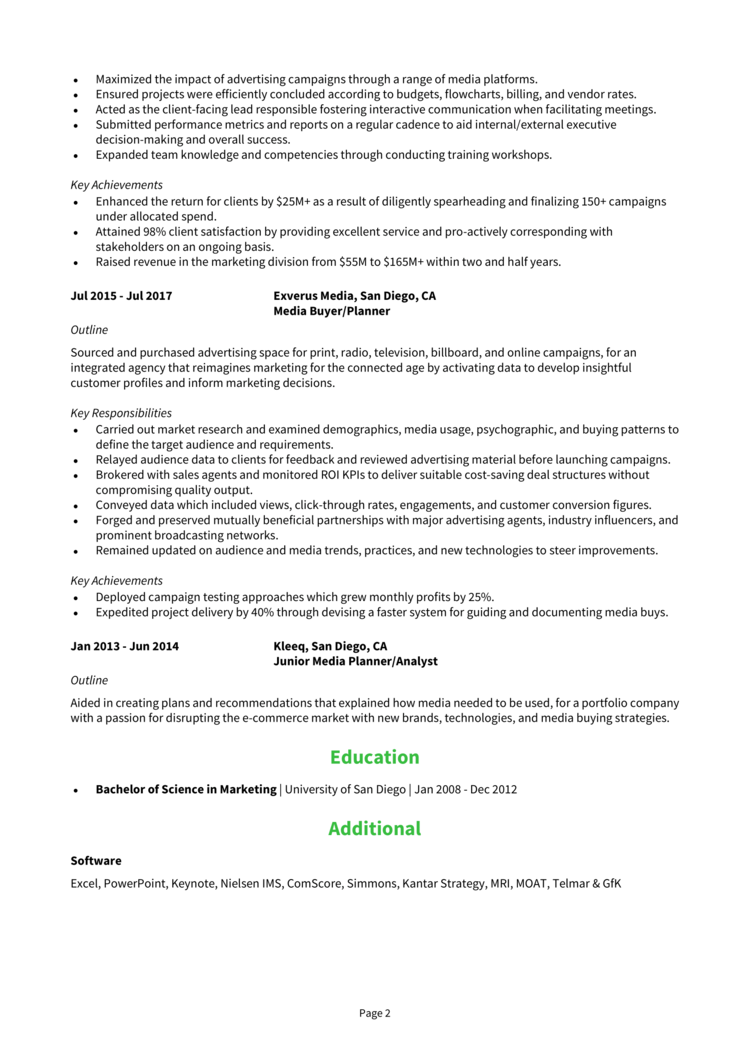 This example Media Planner resume provides you with a general idea of how your resume should look, and what information recruiters expect to see.
The rest of this guide will explain how to layout your resume and create each section effectively.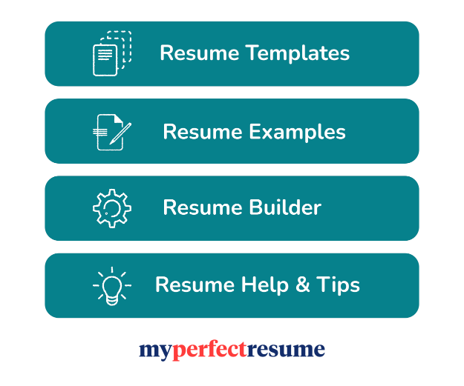 Media Planner resume layout and formatting
The format and layout of your resume can make or break its success.
Sure, it's great to pack your resume with lots of impressive skills and knowledge, but if the page is not structured clearly, hiring managers will struggle to find the important stuff!
Above all, your resume should be easy-to-read and professional looking.
Follow these formatting tips to get noticed.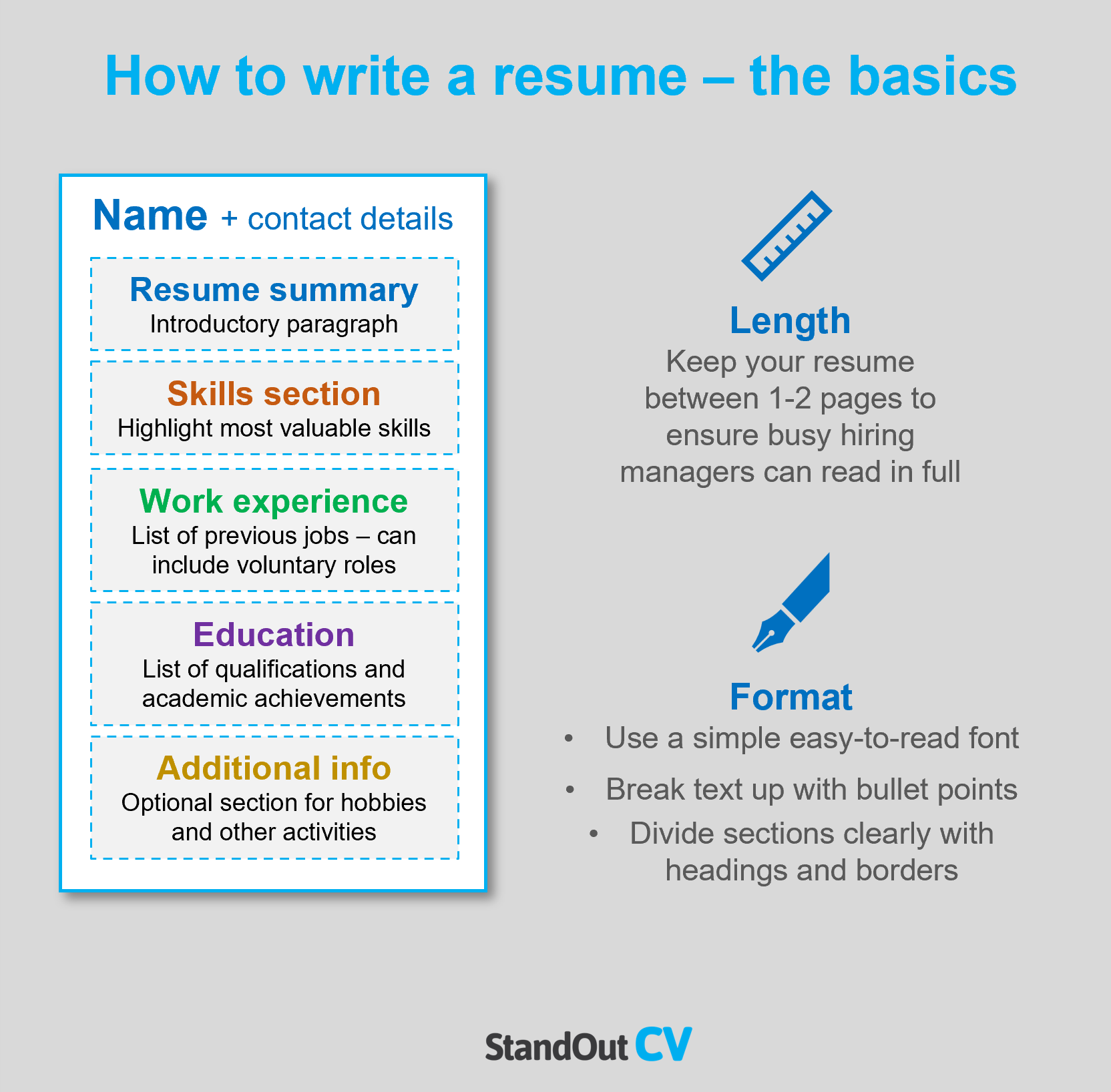 Formatting your resume
Length: Given that recruiters have to sift through tons of resumes daily, it's recommended to keep your resume brief (no more than 2 pages) to make sure it receives their full attention.
Font & readability: Complex fonts are a readers' worst nightmare and will leave recruiters struggling to understand your message. Use a clear simple lean font in a color that stands out against the page, and break your text up with bullet points to make the content easily digestible.
Layout & Structure: Your resume's design must strike a balance between aesthetics and functionality. Using bold headings and borders to organize the page into clear sections is an effective way to achieve both.
Photos: While adding a photo to your resume is not mandatory in the USA, it can be beneficial if you are applying to organizations in creative industries.
Quick tip: Achieving a professional look for your resume can be difficult and time-consuming. If you want to create an attractive resume quickly, try our partner's Resume Builder and use one of their eye-catching resume templates.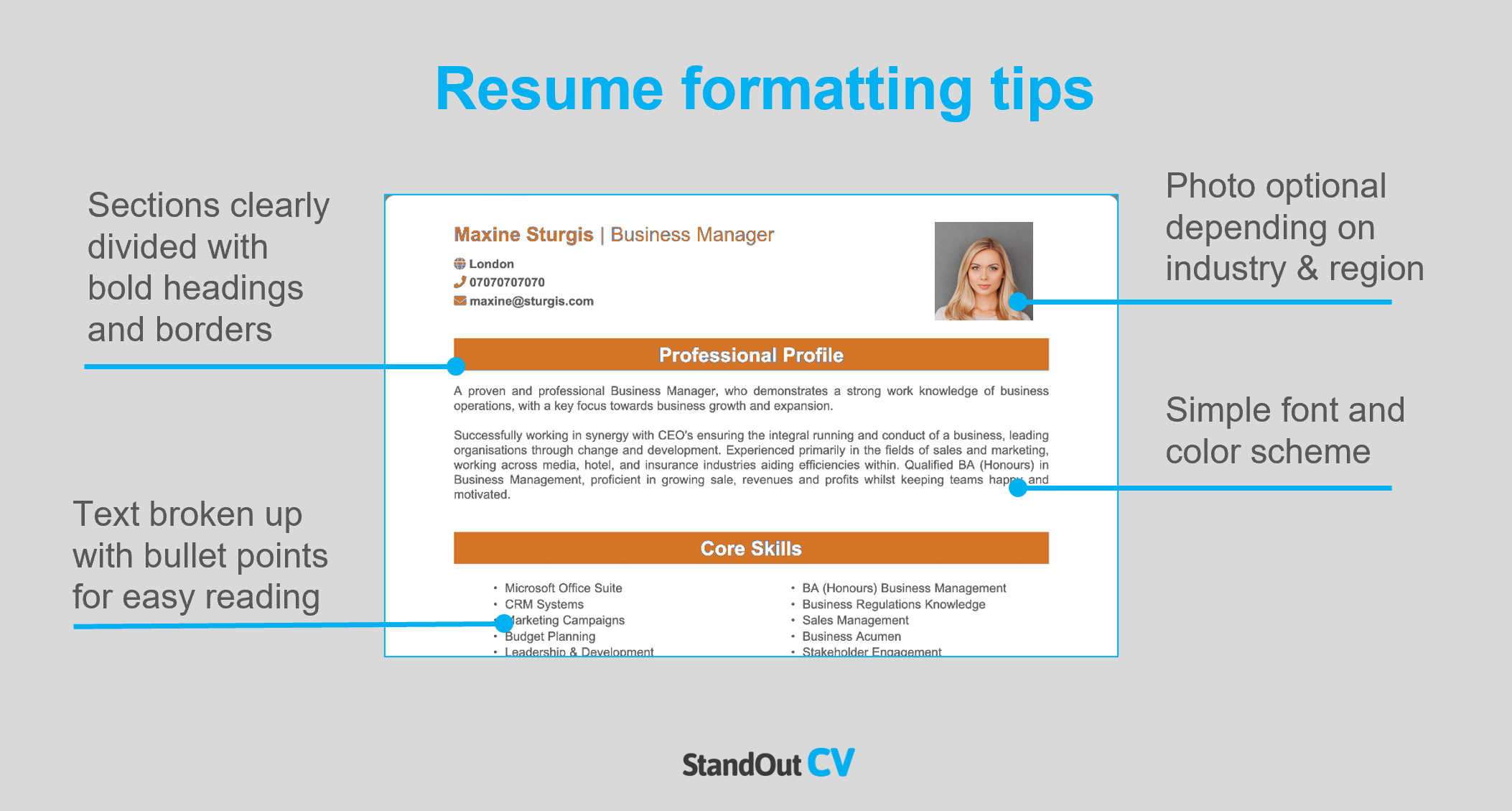 Resume layout
Include the following sections when you write your resume.
Name and contact details – Make it easy for employers to contact you, by putting these at the top.
Resume summary – An intro paragraph sitting at the top of your resume, summarizing the reasons why you should be hired.
Skills section – A short snappy list of your most important skills, that can be quickly digested
Work experience – Reverse chronological list of your previous jobs – voluntary work and college placements can be included if you have no paid experience.
Education – List your qualifications and professional training.
Additional info – An optional section for things like hobbies and interests.
Here's what to include in each part of your resume.
Contact Details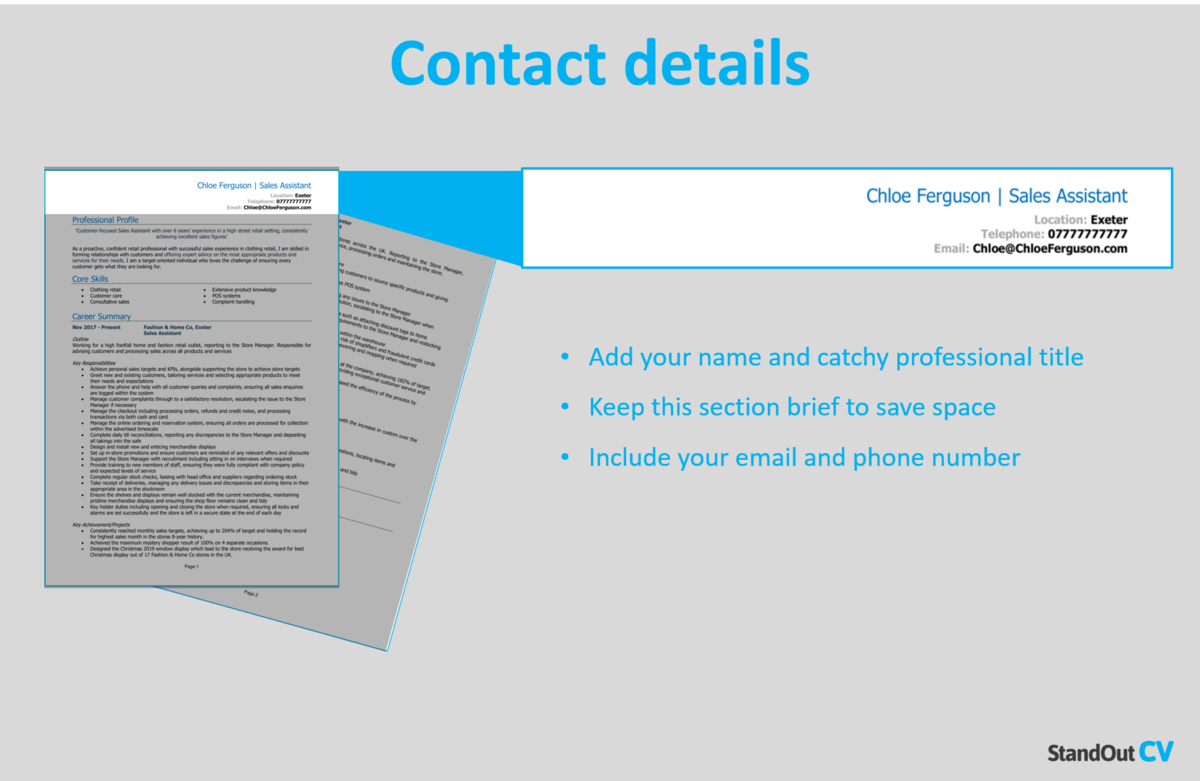 Add your name and contact details to the header of your resume, so that anybody reading can easily see how to contact you.
Name and profession title
Cell phone number – or any number you are easily reachable on
Location – Add your local area such as Washington or San Diego – not your full address as that will take up too much space.
Email address – Use a professional looking address.
You can add a link to your LinkedIn profile if you have one – you do not need to include personal details like date of birth or religion.
Media Planner Resume Summary
Grab the attention of recruiters right away by including a compelling summary at the top of your resume that summarizes your most valuable skills and experience.
This brief yet impactful section enables you to demonstrate why you're the best candidate for the job and convince recruiters to keep reading.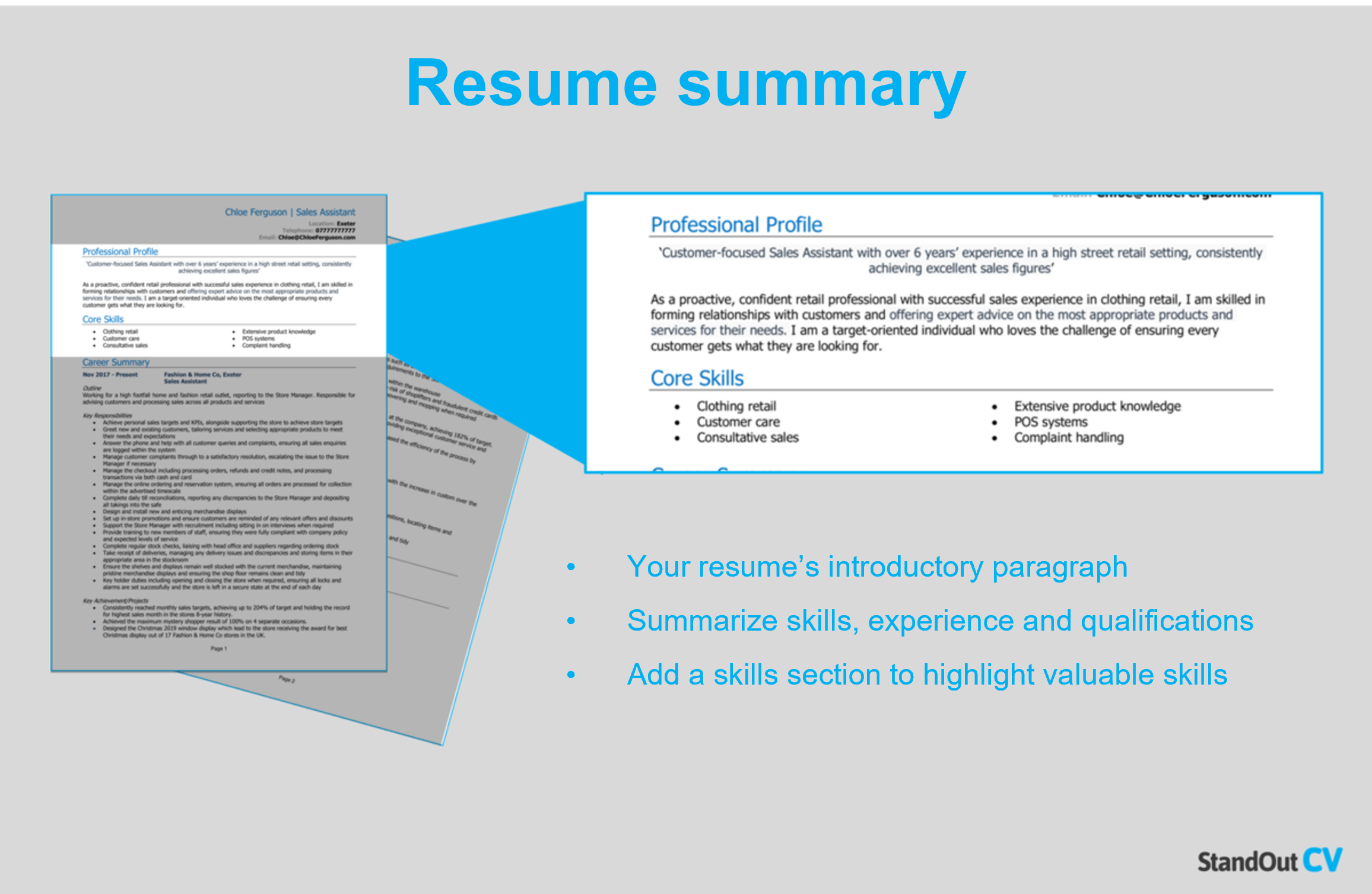 How to create a resume summary that will excite recruiters:
Keep it short: A concise and focused resume summary is essential for capturing a recruiter's attention and keeping them engaged. Limiting your summary to 4-7 lines ensures that you make a strong impression in the first few seconds of them opening the document.
Tailor to target jobs: By carefully reviewing the job description and incorporating as many relevant skills as possible, you can customize your resume to better match your target jobs.
Avoid using cliches: Recruiters always see cringey cliches like "hardworking guru who works well in a team or individually" – they don't mean much to anyone, so focus your summary on tangible skills and experience.
Media Planner resume summary example
Motivated Media Planner with 10+ years of success in developing integrated digital and traditional out-of-home, TV, radio, paid social, SEO, and SEM media strategies for a portfolio of brands. Passionate about serving as an expert across numerous brands tasked with ensuring company offerings align with stakeholder goals. Focused on determining how advertisements' web copy, graphics, and videos look on various channels, while making recommendations to ensure they better fit chosen mediums.
What to include in your Media Planner resume summary?
Summary of your experience: Provide a summary of the kind of work you have previously done, along with the benefits you have delivered to the organizations you worked with.
Relevant skills: To quickly showcase your suitability for Media Planner jobs, ensure that your summary emphasizes your most relevant skills to the jobs you are applying for.
Qualifications: Mention any Media Planner qualifications that are important to your profession in the summary briefly, to show you are qualified to carry out the role.
Quick tip: Choose from hundreds of pre-written summaries across all industries, and add one to your resume with one-click in our partner's Resume Builder. All written by recruitment experts and easily tailored to suit your unique skillset and style.
Core skills section
In addition to your resume summary, your core skills section provides an easily digestible snapshot of your skills – perfect for grabbing the attention of busy hiring managers.
As Media Planner jobs might receive a huge pile of applications, this is a great way to stand out and show off your suitability for the role.
It should be made up of 2-3 columns of bullet points and be made up of skills that are highly relevant to the jobs you are targeting.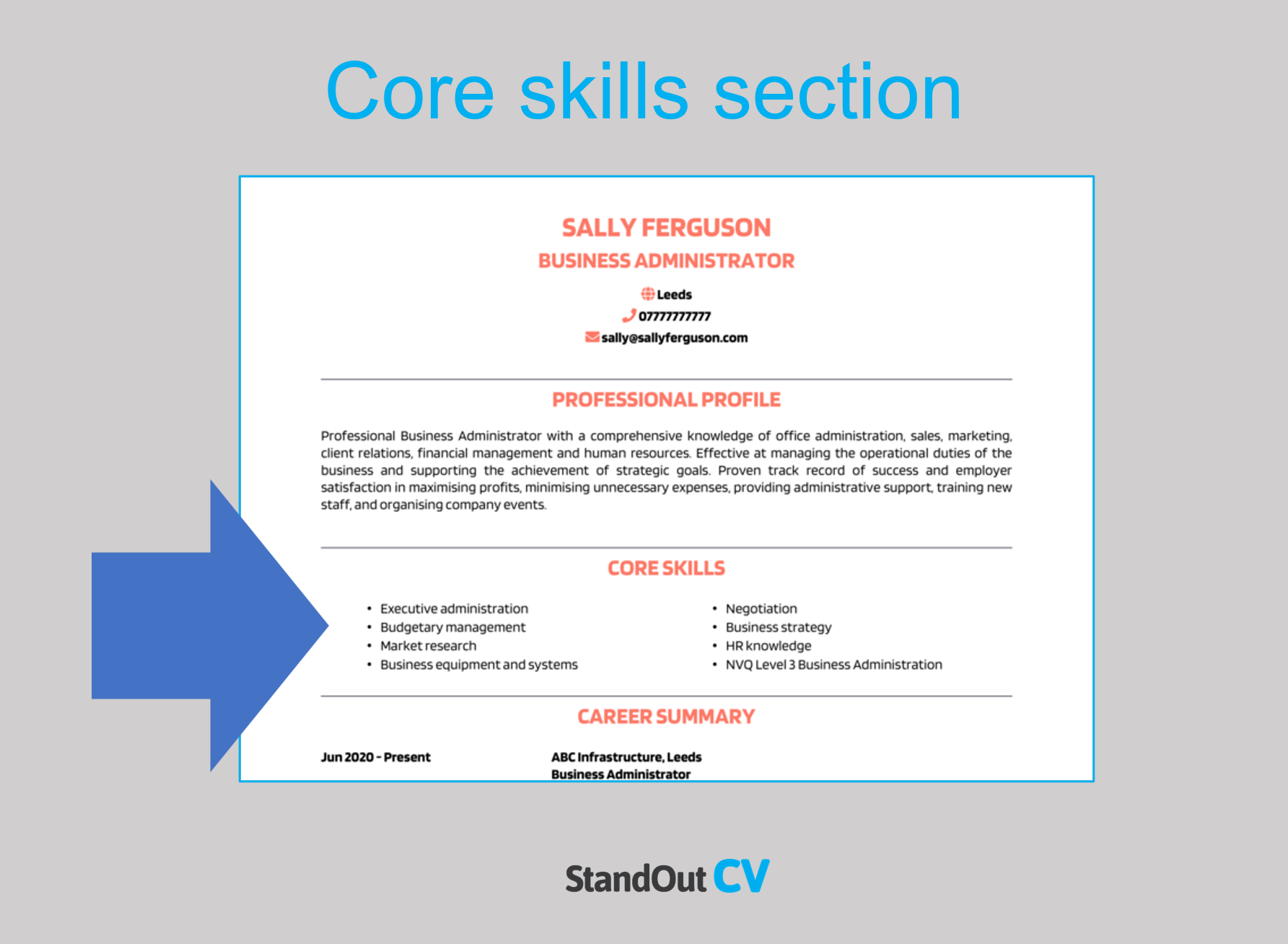 Best skills for your Media Planner resume
Market research – Conducting market research, including audience analysis and competitive research, to inform media planning decisions and to ensure effective targeting of advertising campaigns.
Media planning – Utilizing knowledge of media planning techniques, including selecting media channels, determining ad placement, and developing media schedules, to ensure effective advertising campaigns.
Data analysis – Analzying and interpreting data related to advertising performance, including reach and engagement metrics, to identify trends and opportunities for improvement.
Budgeting – Managing advertising budgets, including forecasting, allocation, and tracking of advertising expenditures, to ensure effective use of resources and to maximize ROI.
Creative brief development – Developing creative briefs, including setting objectives, identifying target audience, and defining key messages, to guide the development of advertising creative.
Campaign optimization – Utilizing knowledge of campaign optimization techniques, including A/B testing and ad optimization, to improve campaign performance and increase ROI.
Negotiation – Negotiating with media vendors, including securing favorable rates and terms, to ensure effective and cost-efficient media placement.
Campaign management – Managing advertising campaigns from start to finish, including timelines, budgets, and resources, to ensure successful execution and delivery.
Technical proficiency – Utilizing knowledge of advertising technology, including ad servers and programmatic advertising, to ensure effective implementation and management of advertising campaigns.
Quick tip: Our partner's Resume Builder contains thousands of in-demand skills for every profession that can be added to your resume in seconds – saving you time and greatly improving your chances of landing job interviews and getting hired.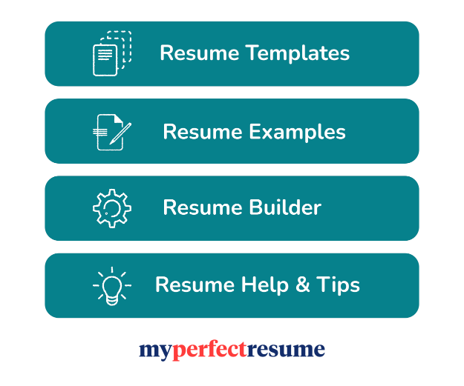 Work experience
Congratulations on successfully capturing the recruiter's interest with your attention-grabbing summary! Now, it's time to showcase your workplace impact by providing a detailed list of your previous job experiences and achievements.
If you have significant experience, consider highlighting the most recent few years to condense this section. However, for junior job seekers, it's essential to include as much relevant experience as possible, including volunteering and school work placements.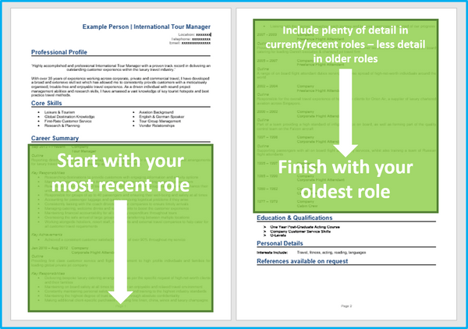 Structuring your jobs
Resume job descriptions contain lots of information, so its crucial to structure them well.
Use the structure below to ensure hiring managers can consume the information easily.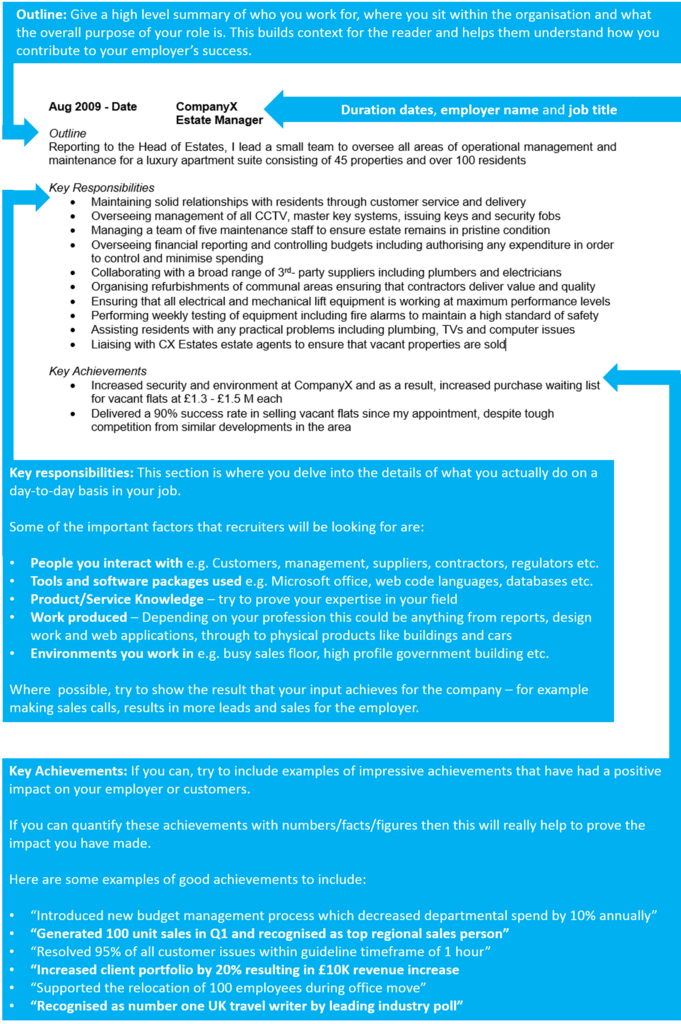 Job outline
To provide context to your jobs, begin each job with a concise summary of the organization, your role within it, and the main objectives of your position.
Key responsibilities
List your notable responsibilities in short sharp bullet points to demonstrate your input and how you contributed to the organization's success.
Highlight the skills that are most important to the roles you are applying for.
Key achievements
Finish each role by highlighting some impressive achievements you made whilst in the role.
Anything that benefited the employer can be included from making financial savings, to winning new customers.
Quantify your achievements with facts and figures if you can, e.g. "reduced call wait time by 10%"
Example job for Media Planner resume
Outline
Oversee planning processes and POVs to guarantee the flawless implementation of traditional/digital media, for a company that uses omnichannel advertising solutions to create memorable experiences and captivate consumer attention.
Key Responsibilities
Enhance media marketing campaigns to increase brand awareness and customer loyalty regarding geographic exposure, frequency, and time spans.
Evaluate and create comprehensive media plans that streamline workflow and solve client objectives across several channels.
Handle bookings, negotiate prices, quality, and placement of advertisements, as well as secure the best positioning and airtime slots.
Proofread and refine advertisements before release and distribute content to the most impactful platforms.
Quick tip: Create impressive job descriptions easily in our partner's Resume Builder by adding pre-written job phrases for every industry and career stage.

Education section
Near the end of your resume add your education section
Experienced candidates should keep it brief and focus on professional qualifications – and junior candidates can include high school diplomas, college degrees etc.
Additional information
The bottom of your resume is a place to add any "additional info"
Any other info that didn't fall into any of the previous sections can be added here.
If you have hobbies that are related to your profession or any awards or publications – add them here.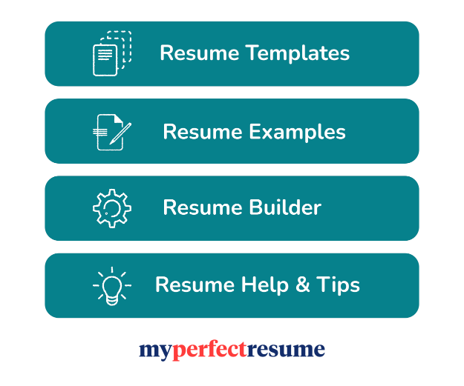 Writing your own winning Media Planner resume
Writing a Media Planner resume can be challenging but following the steps above will ensure that you land plenty of interviews.
Good luck with your job search!