As a marketing professional, you understand the importance of creating engaging content, yet it feels impossible to create a resume that effectively sells yourself and your skills.
The good news is, we've put together a step-by-step guide to help you utilize keywords and showcase your skills, for an impressive application.
The guide includes a marketing associate resume example to influence your own.
Contents
| | |
| --- | --- |
| How to write a Marketing Associate resume | |

Marketing Associate Resume Example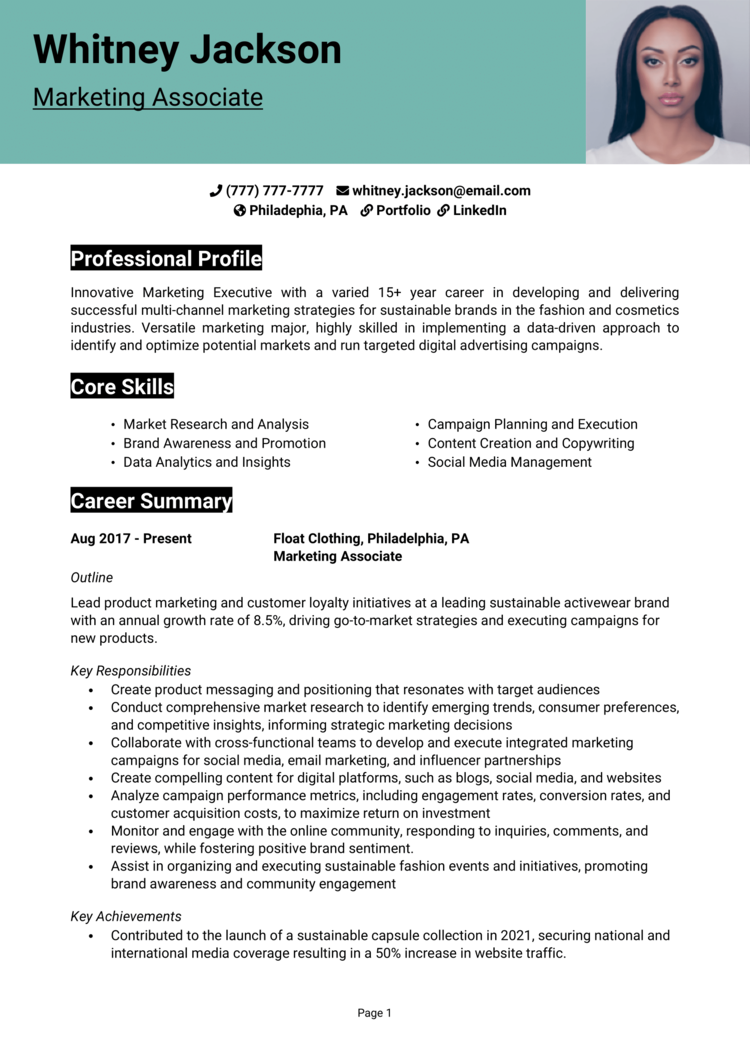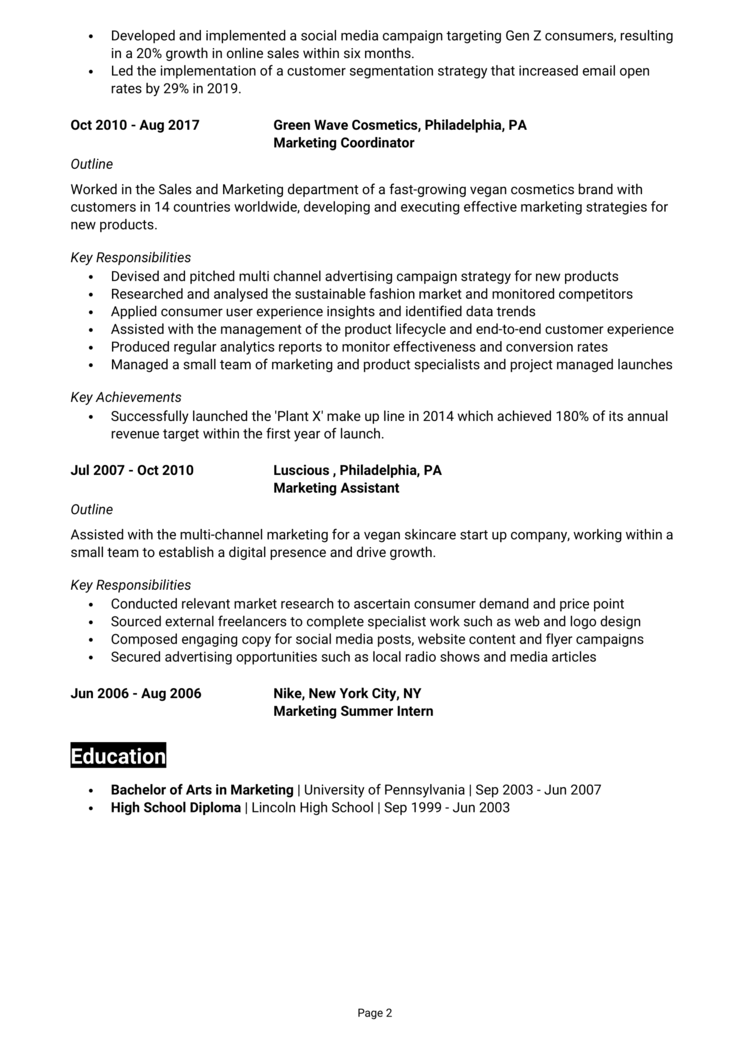 The example Marketing Associate resume above shows you how a professional resume should look, along with the type of content it should contain.
You can see that the information is well-organized across the page and its easy for busy recruiters to see the candidate's important skills.
Keep this in mind when writing your own resume.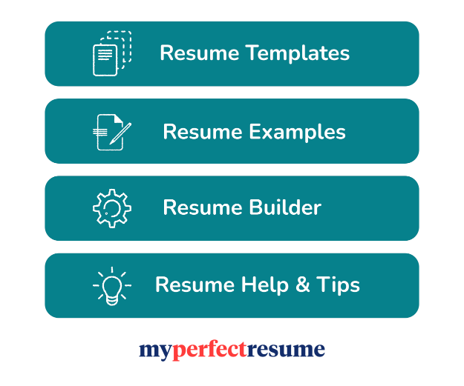 Marketing Associate resume layout and format
Your resume layout and format will play a big role in helping hiring managers to take notice of your resume and stay glued to it.
Shoot for a simple yet professional look to ensure you make a strong first impression, and organize the page in a way that is easy for readers to digest the information.
The following formatting tips should help.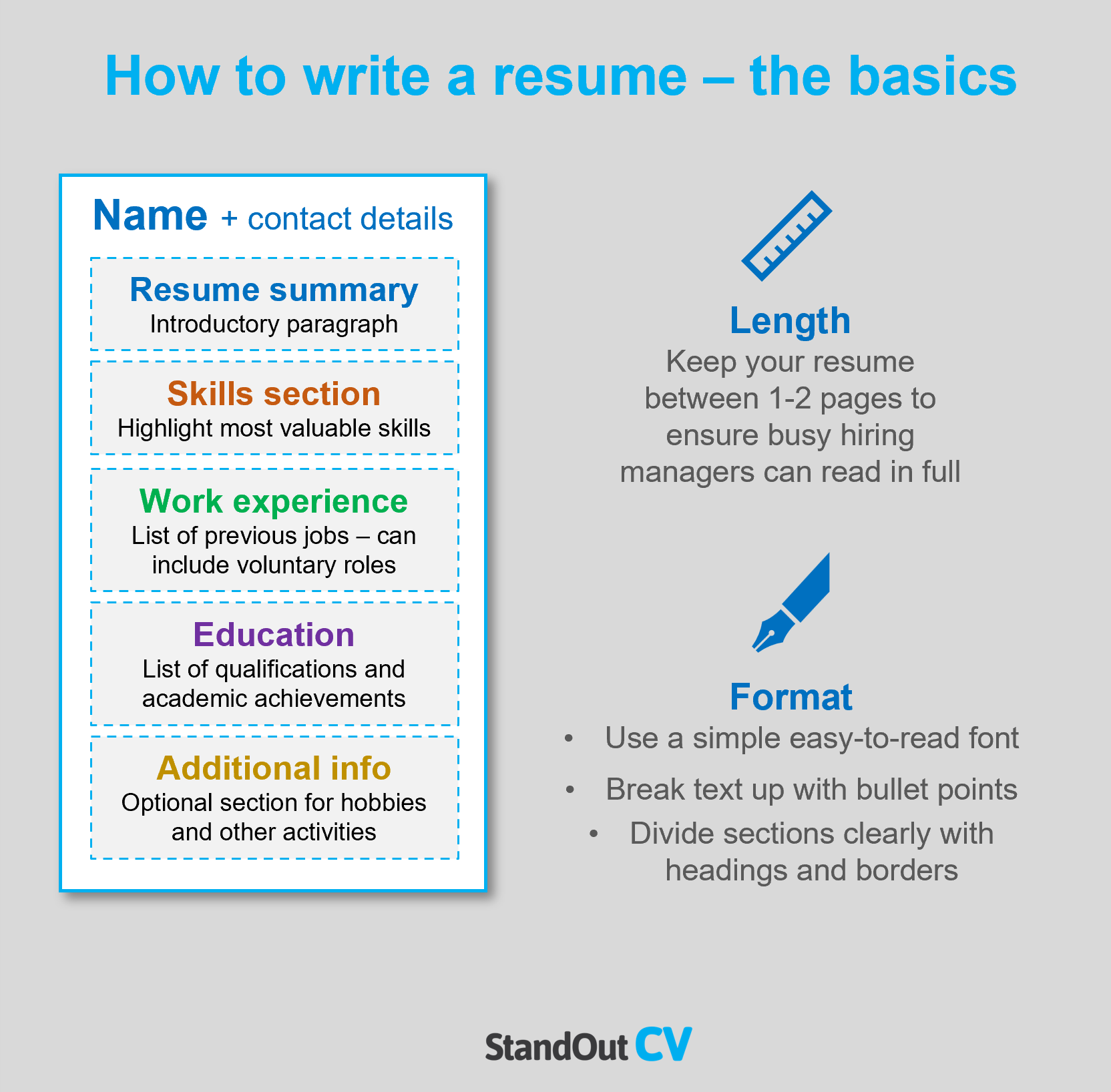 Formatting your resume
Length: Given that recruiters have to sift through tons of resumes daily, it's recommended to keep your resume brief (no more than 2 pages) to make sure it receives their full attention.
Font & readability: Complex fonts are a readers' worst nightmare and will leave recruiters struggling to understand your message. Use a clear simple lean font in a color that stands out against the page, and break your text up with bullet points to make the content easily digestible.
Layout & Structure: Your resume should look appealing – but don't overlook functionality when it comes to design. Organise the page into clear sections using bold headings and borders.
Photos: It's not mandatory to add a photo to your resume in the USA but it if you're applying to organizations within the creative fields, it can be beneficial.
Quick tip: Achieving a professional look for your resume can be difficult and time-consuming. If you want to create an attractive resume quickly, try our partner's Resume Builder and use one of their eye-catching resume templates.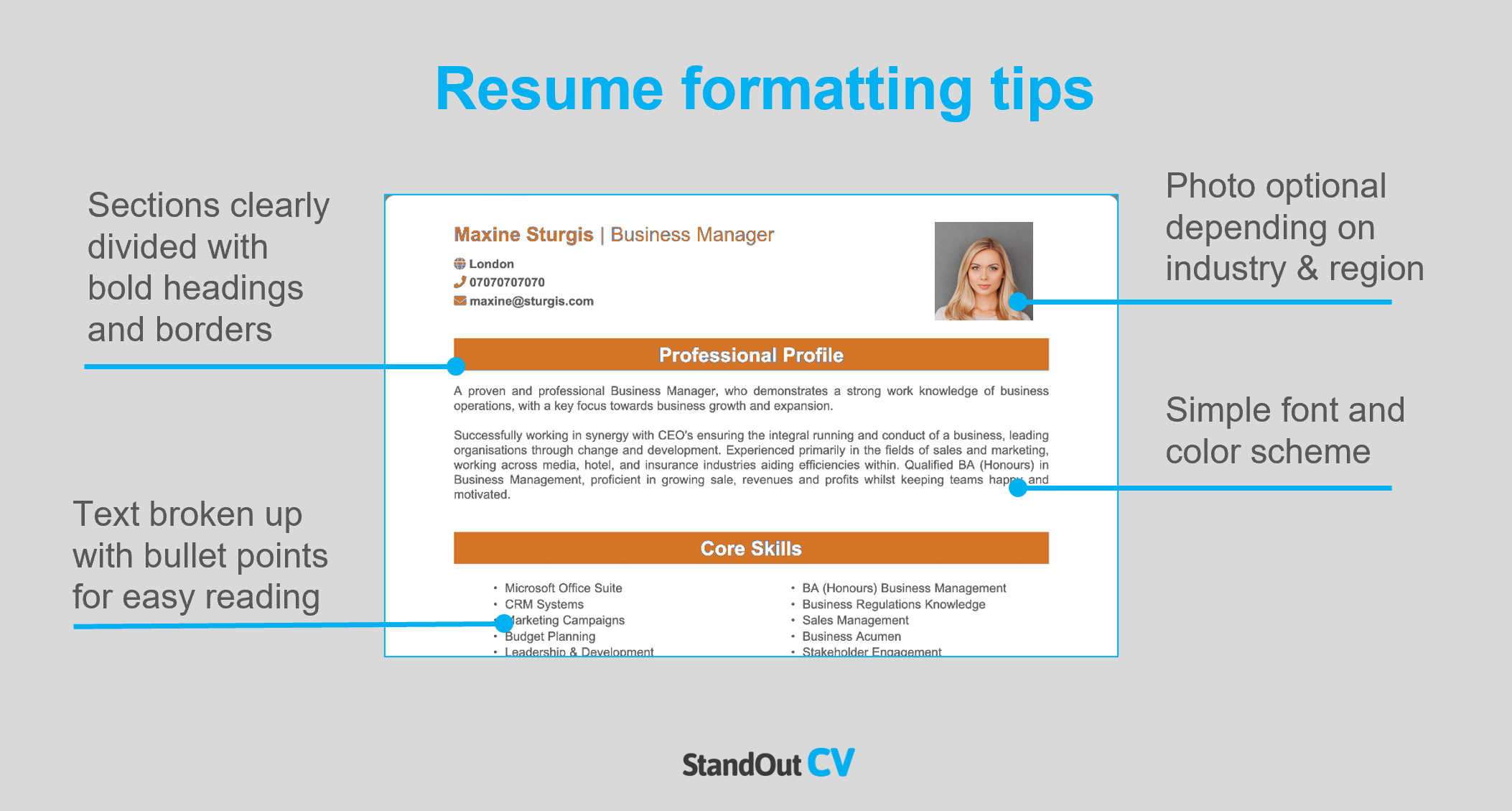 Resume layout
When you write your resume, include the sections below.
Name and contact details – Pop these at the very top to ensure recruiters know how to contact you.
Resume summary – An eye-catching paragraph which summarizes your most valuable attributes – placed near the top of your resume
Skills section – A bullet pointed list of your most in-demand skills, enabling recruiters to see your suitability from a glance.
Work experience – List some or all of your previous jobs in reverse chronological order – voluntary work and college placements can be included if you have no paid experience.
Education – A summary of your professional training and academic qualifications.
Additional info – An optional section for anything that may boost your application, such as relevant hobbies and interests
Here's what to include in each part of your resume.
Contact Details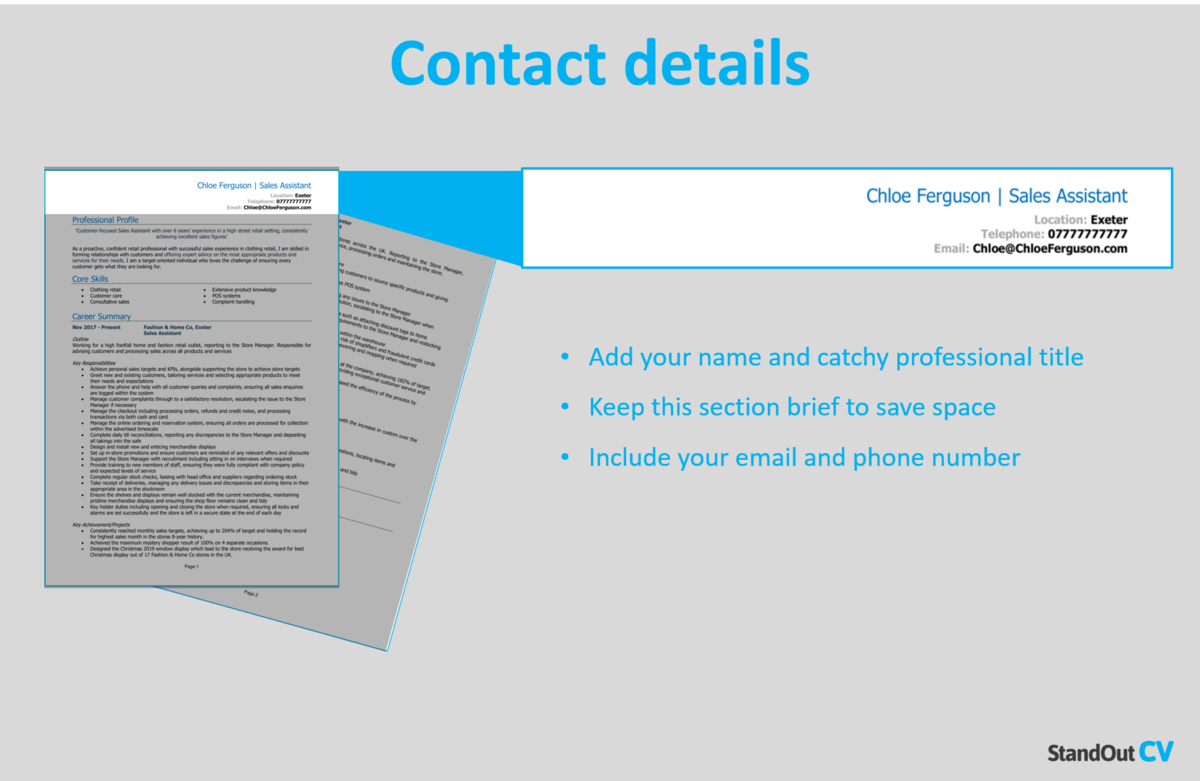 Make it easy for hiring managers to contact you by adding your contact details to the top of your resume.
Keep this section small to save space and include the following.
Name and profession title
Telephone number – Ideally your cell phone so you can answer quickly.
Location – Add your general location such as LA or New York
Email address – Use a professional looking one with no nicknames.
You can add a link to your LinkedIn profile if you have one – you do not need to include personal details like date of birth or marital status.
Marketing Associate Resume Summary
Create a strong opening for your resume by adding a compelling summary to the top that highlights your most valuable skills and experience.
This short but important paragraph is designed convince recruiters that you're the perfect candidate for the job and entice them to read more of your resume.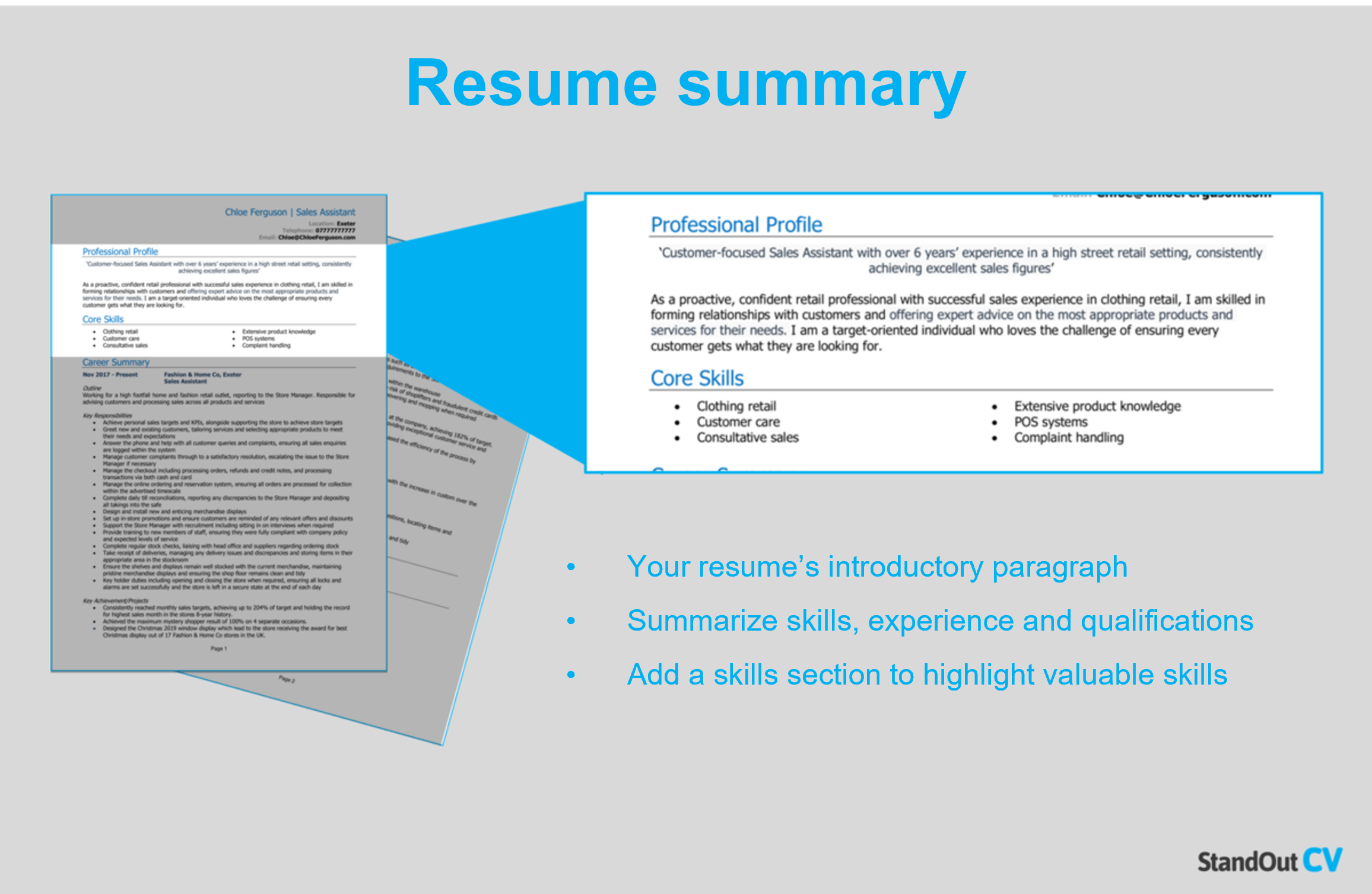 How to create a resume summary that will excite recruiters:
Keep it short: Your summary is intended to be a high-level introduction to hook readers' attention, so keep it brief (4-7 lines) – save the details for later in your resume.
Tailor to target jobs: To tailor your resume to your target jobs, it's essential to closely analyze the job description and include as many relevant skills as possible.
Avoid using cliches: You might be a "highly motivated go-getter who thinks outside the box" but generic meaningless cliches like that don't tell employers much about you – stick to factual information in your summary.
Marketing Associate resume summary example
Innovative Marketing Executive with a varied 15+ year career in developing and delivering successful multi-channel marketing strategies for sustainable brands in the fashion and cosmetics industries. Versatile marketing major, highly skilled in implementing a data-driven approach to identify and optimize potential markets and run targeted digital advertising campaigns.
What to include in your Marketing Associate resume summary?
Summary of your experience: Summarize the type of work you have done in the past and the ways in which you have contributed to the success of your previous employers.
Relevant skills: Include your skills which are hyper relevant to Marketing Associate jobs to instantly show your suitability.
Qualifications: Showcase your level of education with a quick mention of any qualifications that are essential for the Marketing Associate roles you are applying to.
Quick tip: Choose from hundreds of pre-written summaries across all industries, and add one to your resume with one-click in our partner's Resume Builder. All written by recruitment experts and easily tailored to suit your unique skillset and style.
Core skills section
Your core skills section, positioned just below your resume summary, provides recruiters with a quick glance at 4-10 of your most in-demand skills.
For Marketing Associate jobs, where hiring managers may receive hundreds of applications, this section can help you stand out and immediately grab their attention.
To be effective, this section should consist of 2-3 columns of bullet points that highlight attributes that are highly relevant to the jobs you are targeting.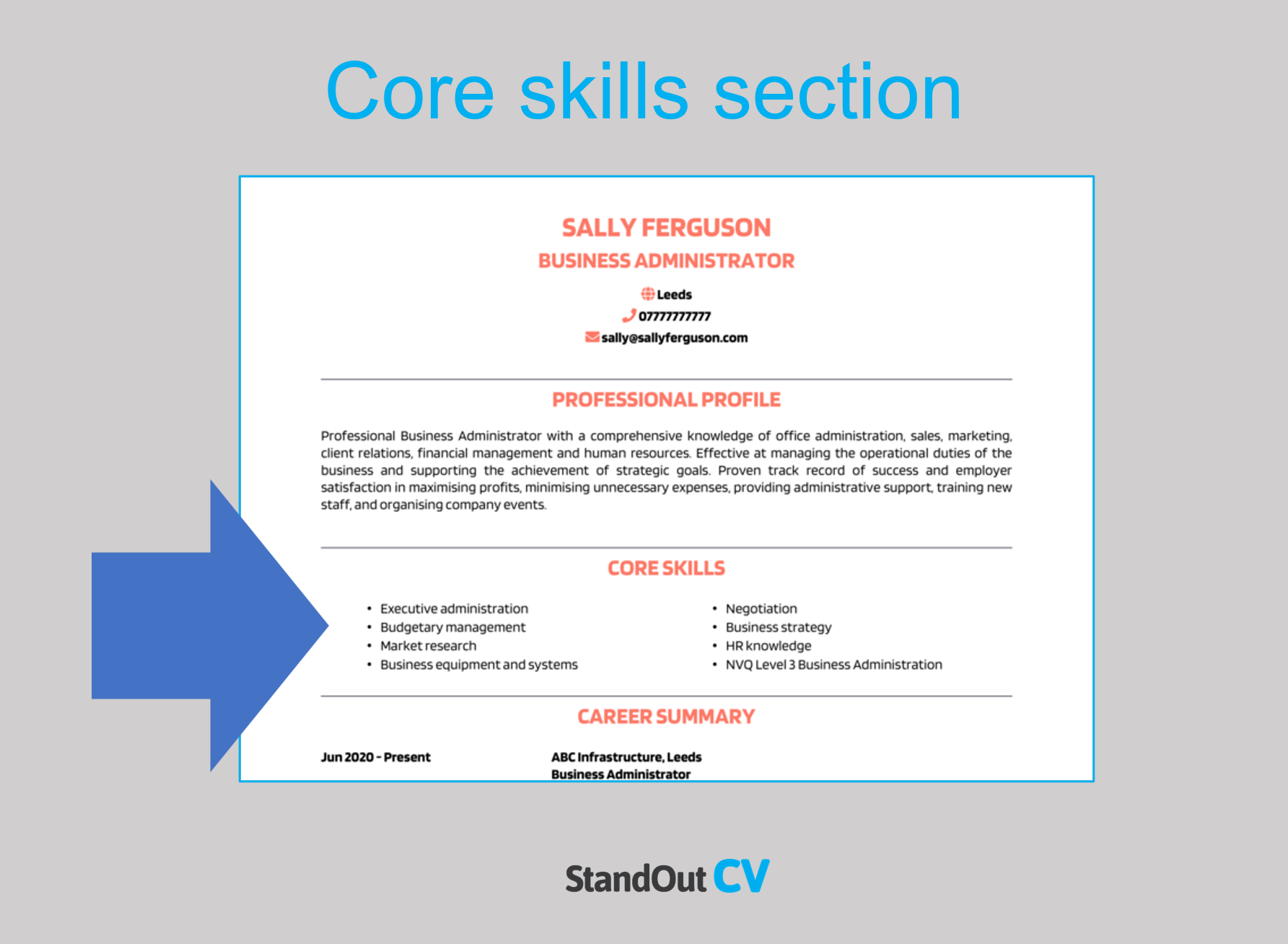 Best skills for your Marketing Associate resume
Market Research – Conducting market research, analyzing data, and identifying target audience segments to inform marketing strategies and campaigns.
Digital Marketing – Utilizing knowledge of digital marketing channels, including social media, email marketing, content marketing, and search engine optimization (SEO), to drive brand awareness and engagement.
Data Analysis – Analyzing marketing data, such as website analytics, campaign performance metrics, and customer insights, to evaluate marketing effectiveness and make data-driven decisions.
Marketing Strategy – Developing marketing strategies and plans aligned with business goals, identifying key value propositions, and positioning products or services in the market.
Brand Management – Utilizing knowledge of brand management principles, including brand positioning, messaging, and visual identity, to maintain brand consistency and enhance brand perception.
Content Creation – Creating compelling and engaging marketing content, such as blog posts, social media posts, email newsletters, and videos, to attract and engage the target audience.
Campaign Management – Managing marketing campaigns from ideation to execution, including planning, budgeting, creative development, media selection, and performance tracking.
Market Trends and Analysis – Utilizing knowledge of industry trends, competitor analysis, and consumer behavior to identify market opportunities, understand customer needs, and stay ahead of market changes.
Marketing Analytics Tools – Utilizing marketing analytics tools, such as Google Analytics, CRM software, or marketing automation platforms, to track campaign performance and generate actionable insights.
Communication and Presentation – Effectively communicating marketing messages, presenting marketing plans or campaign results to stakeholders, and collaborating with cross-functional teams.
Quick tip: Our partner's Resume Builder contains thousands of in-demand skills for every profession that can be added to your resume in seconds – saving you time and greatly improving your chances of landing job interviews and getting hired.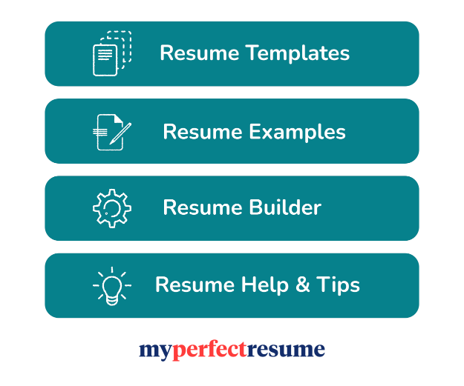 Work experience
Once you've hooked the hiring manager with your summary, you can really blow them away with you work experience.
List your previous jobs from newest to oldest to show the impact you made at each organization.
If you have years of experience, you can leave out some of the older jobs, and if you have little/no experience, you can bulk this section up with voluntary work and college placements.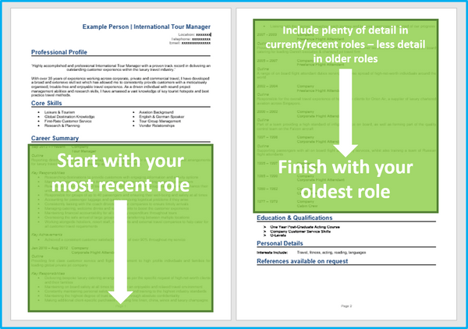 Structuring your jobs
It's easy to overwhelm readers when writing about a job you have been doing for years or even months.
Break the information up like this to keep it simple for recruiters to understand.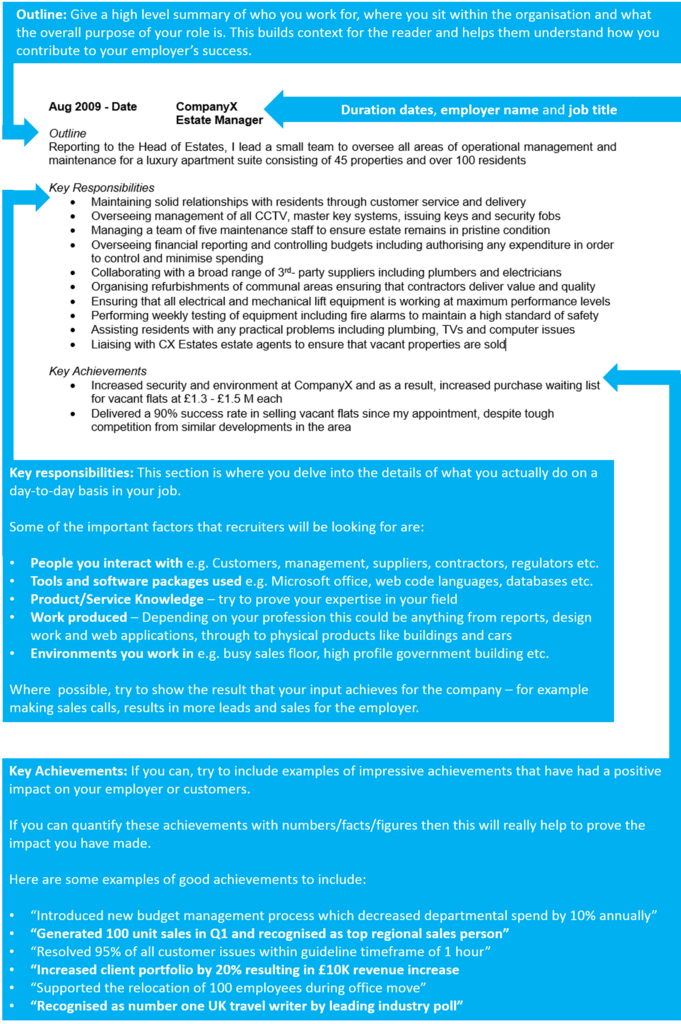 Job outline
Starting each job with a brief summary of the organization, your position within it, and the primary goal of your role can help recruiters quickly understand the context of your work.
Key responsibilities
List your notable responsibilities in short sharp bullet points to demonstrate your input and how you contributed to the organization's success.
Highlight the skills that are most important to the roles you are applying for.
Key achievements
Round off each job by adding some impressive achievements you made in the role.
Anything you've done that has made a big impact on your employer will make a good impression, think; generating revenue, saving costs, or improving a product.
Quantify your achievements with number where possible e.g. "reduced call wait time by 10%"
Example job for Marketing Associate resume
Outline
Lead product marketing and customer loyalty initiatives at a leading sustainable activewear brand with an annual growth rate of 8.5%, driving go-to-market strategies and executing campaigns for new products.
Key Responsibilities
Create product messaging and positioning that resonates with target audiences
Conduct comprehensive market research to identify emerging trends, consumer preferences, and competitive insights, informing strategic marketing decisions
Collaborate with cross-functional teams to develop and execute integrated marketing campaigns for social media, email marketing, and influencer partnerships
Create compelling content for digital platforms, such as blogs, social media, and websites
Quick tip: Create impressive job descriptions easily in our partner's Resume Builder by adding pre-written job phrases for every industry and career stage.

Education section
After your work experience, add your education section.
If you are an experienced professional, you can keep this part short – adding basic details of each qualification.
If you have little or no experience, bulk this section up by adding more detail and highlight important skills and knowledge for your target jobs.
Additional information
If you have anything else to add which is relevant to the jobs you are applying for, the additional info section is the place to add it.
Perhaps you have a hobby which involves relevant skills, or maybe you have some awards or publications worth mentioning.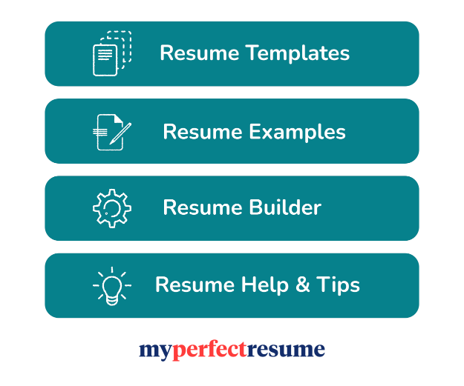 Writing your own winning Marketing Associate resume
A winning Marketing Associate resume should look great, read well, and sell your skillset to hiring managers.
If you follow the steps above, you should be able to bag yourself a top job in no time.
Good luck with your job search!