You can transform any outdoor space into a masterpiece, if only the same applied to your resume.
So, if you're feeling stuck in the mud, we can help! We'll teach you how to apply your creativity to your resume writing, along with a whole host of other top tips.
Check out our step-by-step advice and landscape architect resume example below.
Contents
| | |
| --- | --- |
| How to write a Landscape Architect resume | |

Landscape Architect Resume Example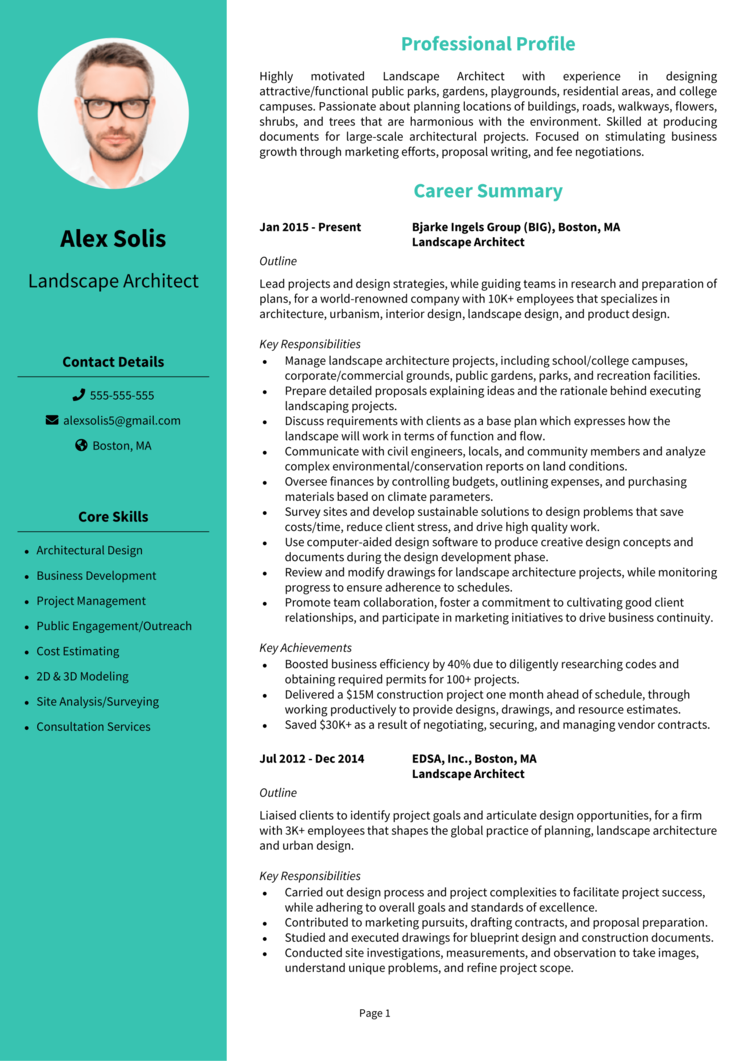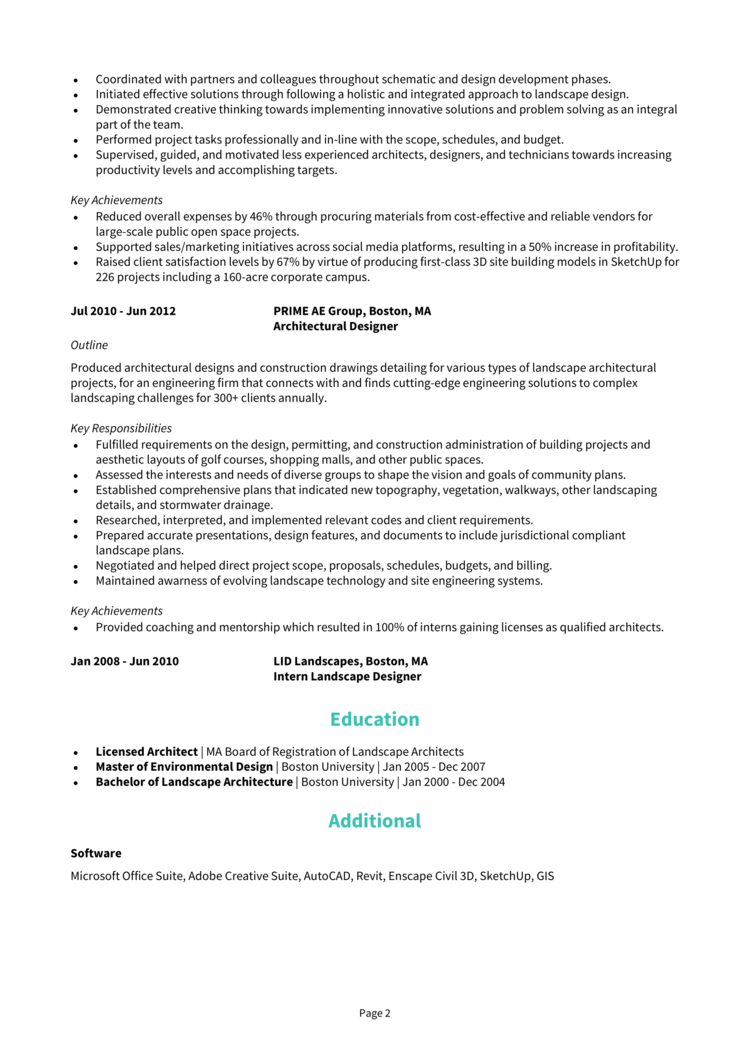 This example Landscape Architect resume provides you with a general idea of how your resume should look, and what information recruiters expect to see.
The rest of this guide will explain how to layout your resume and create each section effectively.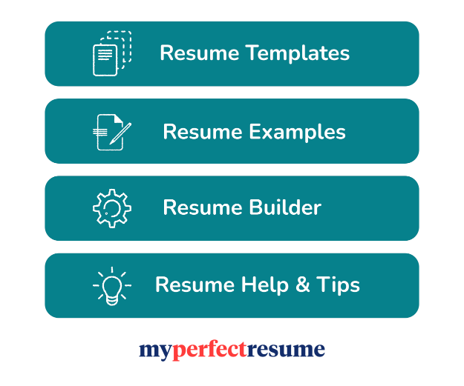 Landscape Architect resume layout and format
When it comes to holding the attention of recruiting managers, the format and layout of your resume play a key role.
Your resume needs to strike a perfect balance between looking awesome, and being easy for recruiters to read (which is not always easy to achieve)
Use the following formatting tips to get started.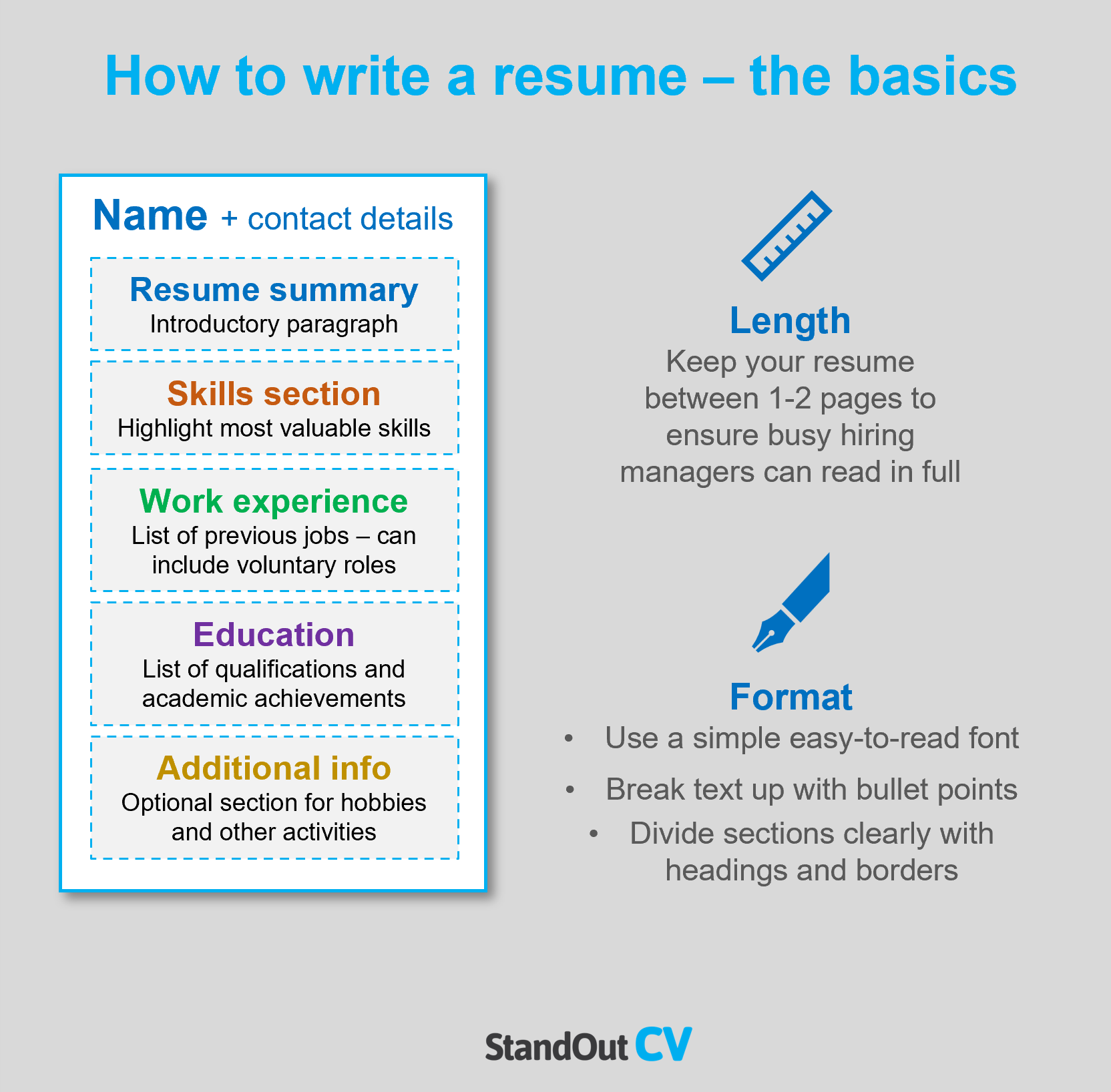 Formatting your resume for success
Length: Recruiters often see hundreds of resumes per day – so keep yours under 2 pages in length, if you want to ensure it gets read in full.
Font & readability: Complex fonts are a readers' worst nightmare and will leave recruiters struggling to understand your message. Use a clear simple lean font in a color that stands out against the page, and break your text up with bullet points to make the content easily digestible.
Layout & Structure: Go with a resume design that looks good, but also allows for easy reading and navigation for employers. Ensure the page is clearly split up into sections by adding large font headings and dividing borders. Keep the color scheme simple and don't overcrowd the page.
Photos: Although it is not compulsory to include a photo in your resume in the USA, it can be advantageous if you are applying to companies in creative industries.
Quick tip: Achieving a professional look for your resume can be difficult and time-consuming. If you want to create an attractive resume quickly, try our partner's Resume Builder and use one of their eye-catching resume templates.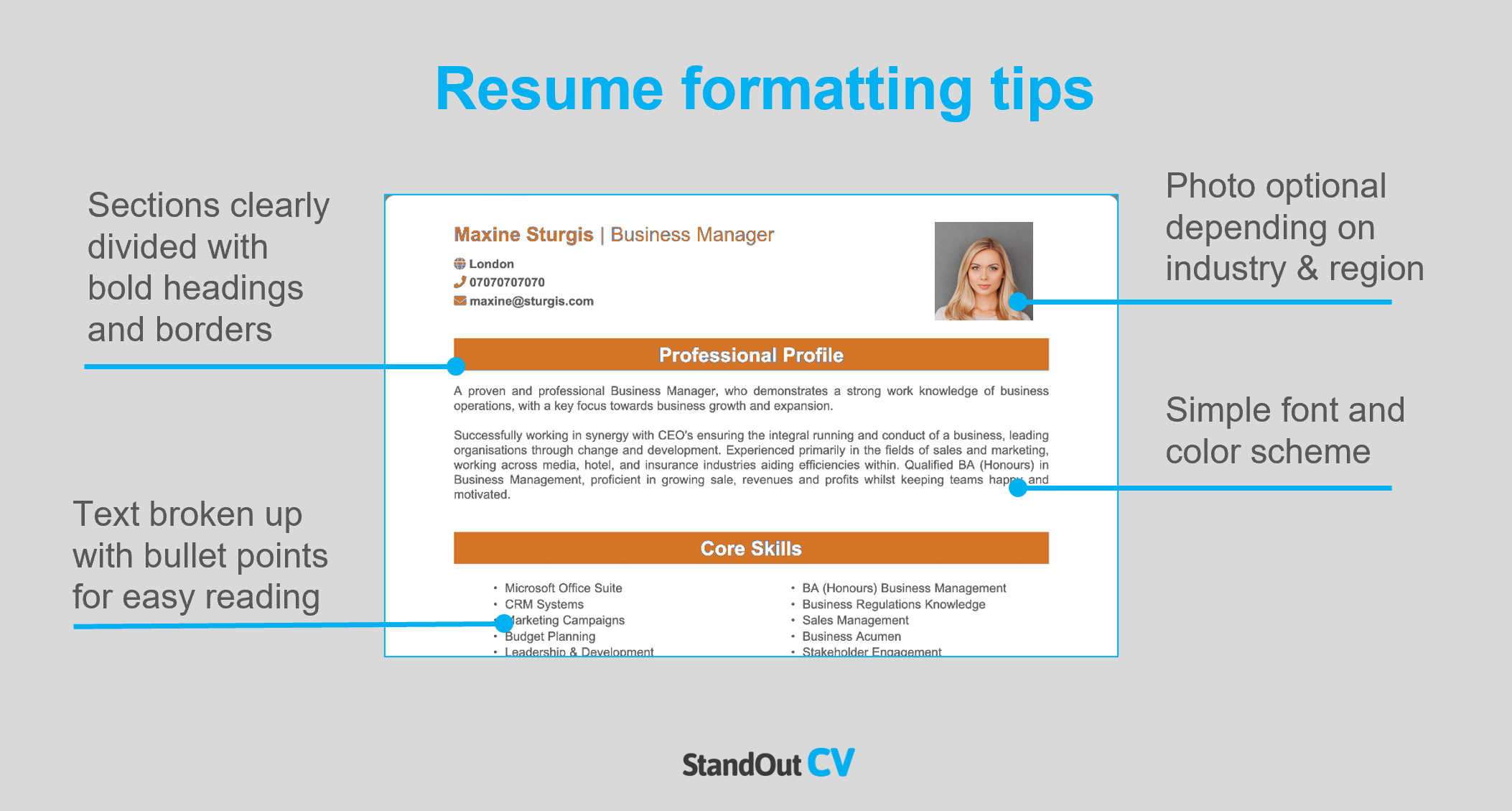 Resume layout
Here's an overview of the sections you should add when writing your resume.
Name and contact details – Stick these details at the top, so they are easy to find.
Resume summary – A punchy paragraph summarizing your skills and knowledge, enticing recruiters to read more of your resume.
Skills section – Short list of your most valuable skills, enabling recruiters to quickly spot your suitability.
Work experience – Showcase your previous employment, starting with your most recent roe and working backwards – voluntary work and college placements can be included if you have no paid experience.
Education – A summary of your most relevant qualifications and academic achievements
Additional info – An optional section for that other attributes that may boost your application, such as hobbies or clubs
Here's what to include in each part of your resume.
Contact Details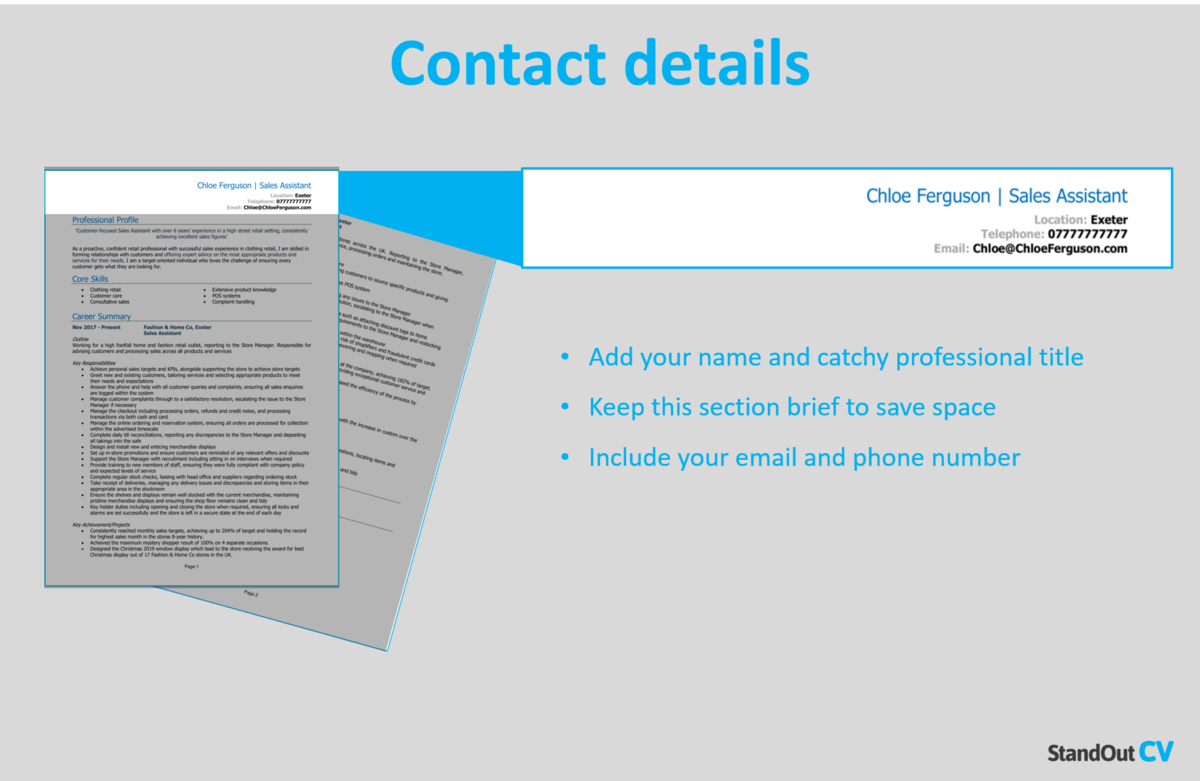 Make it easy for hiring managers to contact you by adding your contact details to the top of your resume.
Keep this section small to save space and include the following.
Name and profession title
Telephone number – Ideally your cell phone so you can answer quickly.
Location – Add your general location such as LA or New York
Email address – Use a professional looking one with no nicknames.
You can add a link to your LinkedIn profile if you have one – you do not need to include personal details like date of birth or marital status.
Landscape Architect Resume Summary
Now it's time to get into the real content of your resume, starting with the summary.
Your resume summary is a short paragraph at the top of the document, and its jobs is to catch the eye of hiring managers by summarizing all your skills and knowledge that are most important to the roles you are applying for.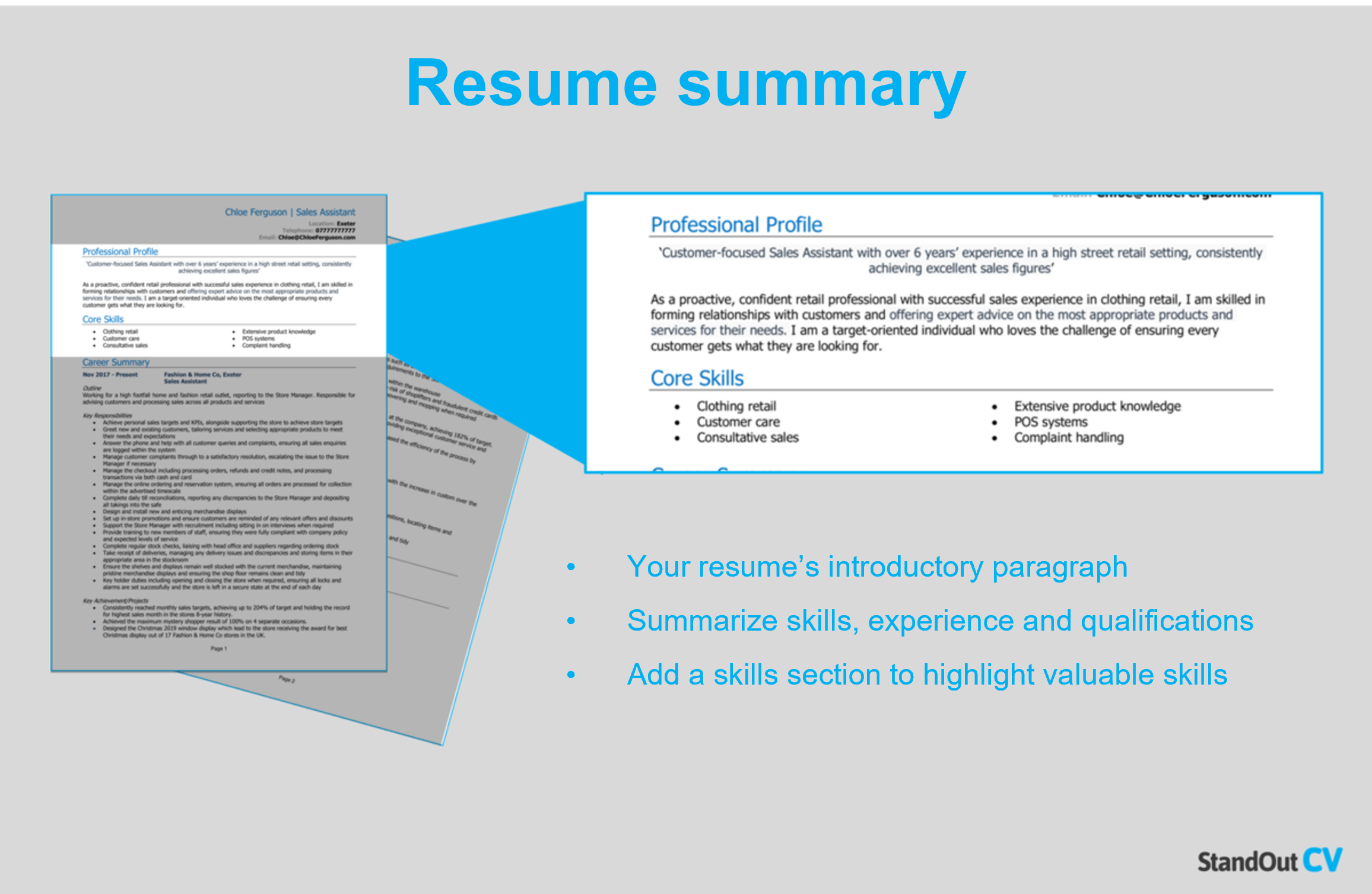 How to create a resume summary that will get you noticed:
Keep it short: Your summary is intended to be a high-level introduction to hook readers' attention, so keep it brief (4-7 lines) – save the details for later in your resume.
Tailor to target jobs: To mirror your target jobs, scrutinize the job description and include as many relevant skills as possible in your resume.
Avoid using cliches: Recruiters always see cringey cliches like "hardworking guru who works well in a team or individually" – they don't mean much to anyone, so focus your summary on tangible skills and experience.
Example resume summary for Landscape Architect
Highly motivated Landscape Architect with experience in designing attractive/functional public parks, gardens, playgrounds, residential areas, and college campuses. Passionate about planning locations of buildings, roads, walkways, flowers, shrubs, and trees that are harmonious with the environment. Skilled at producing documents for large-scale architectural projects. Focused on stimulating business growth through marketing efforts, proposal writing, and fee negotiations.
What to include in your Landscape Architect resume summary?
Summary of experience: Provide an overview of the type of work you have done in the past and the impact you have made at previous employers.
Relevant skills: Scatter your most in-demand Landscape Architect skills through your summary to ensure they are noticed quickly by hiring managers.
Qualifications: Any qualifications that are important to the Landscape Architect jobs you are applying for, should be mentioned in the summary.
Quick tip: Choose from hundreds of pre-written summaries across all industries, and add one to your resume with one-click in our partner's Resume Builder. All written by recruitment experts and easily tailored to suit your unique skillset and style.
Core skills section
Sitting just underneath your resume summary, your core skills section gives recruiters 4-10 of your most in-demand skills in just a glance.
As Landscape Architect jobs may get hundreds of applications, this is a great way to stand out and quickly grab hiring managers' attention.
It should be made up of 2-3 columns of bullet points and highlight attributes that are hyper-relevant to the jobs you are aiming for.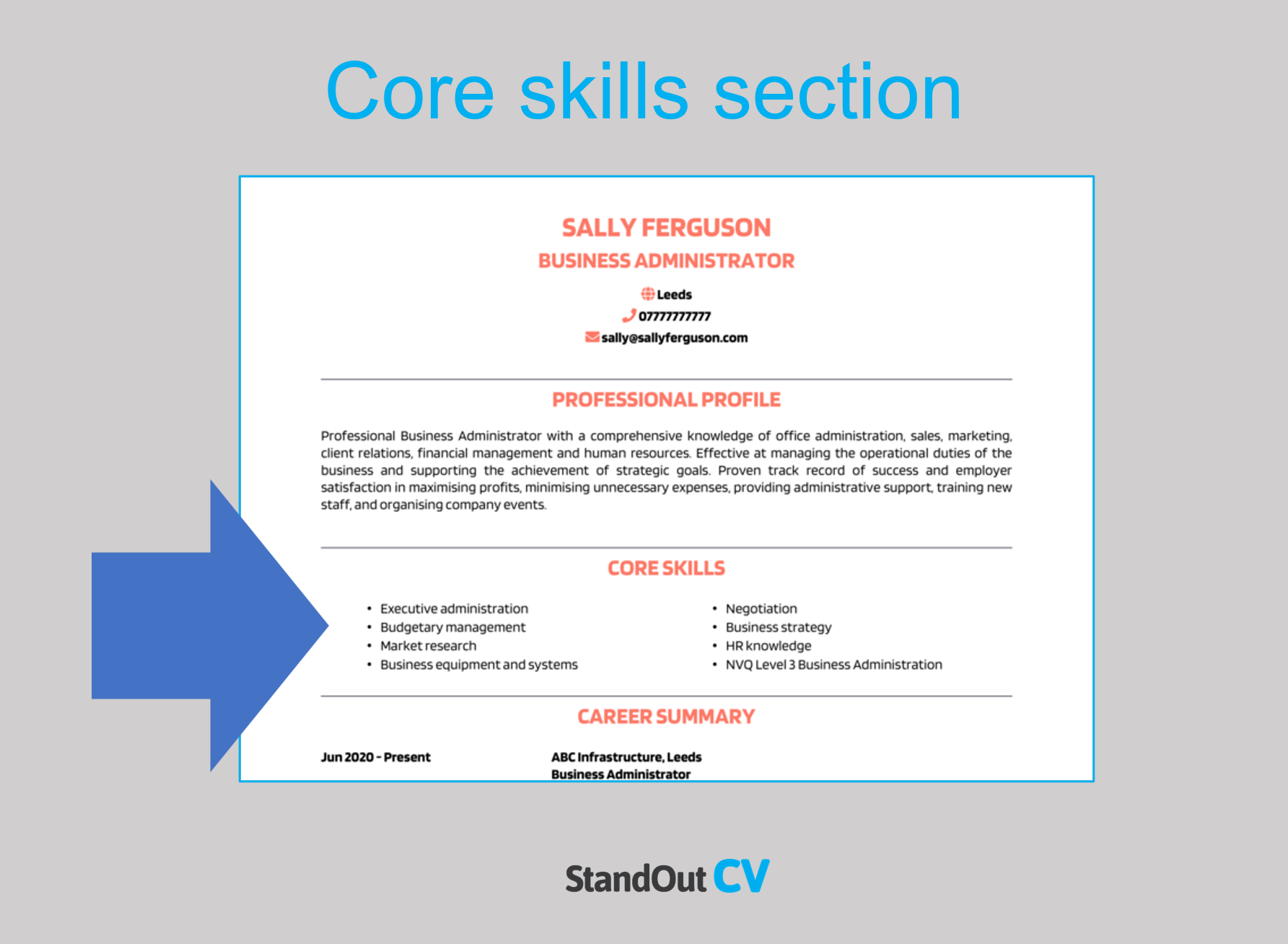 Best skills for your Landscape Architect resume
Site Analysis – Evaluating a site's existing conditions, including topography, soil type, climate, and hydrology, to determine its potential uses.
Landscape Design – Creating detailed designs for outdoor spaces, including parks, public spaces, and residential landscapes.
Knowledge of Plant Materials – Maintaining knowledge of various plant species and their growth patterns, soil and light requirements, and disease resistance.
Project Management – Managing multiple projects simultaneously, including creating and managing project schedules, budgets, and resources.
Construction Administration – Overseeing the construction process, including coordinating with contractors and other stakeholders, managing schedules, and ensuring that designs are implemented accurately.
CAD/Technology – Using computer-aided design (CAD) software, as well as other industry-specific software.
Sustainable Design Principles – Maintaining knowledge of sustainable design principles, including techniques for reducing water usage, increasing biodiversity, and using environmentally friendly materials.
Stakeholder Communication – Communicating effectively with clients, contractors, and other stakeholders, as well as the ability to present and explain design concepts.
Regulatory Compliance – Maintaining knowledge of regulations and compliance requirements related to landscaping, including environmental regulations, building codes, and zoning laws.
Cost Estimation and Budgeting – Estimating project costs accurately and managing project budgets effectively.
Quick tip: Our partner's Resume Builder contains thousands of in-demand skills for every profession that can be added to your resume in seconds – saving you time and greatly improving your chances of landing job interviews and getting hired.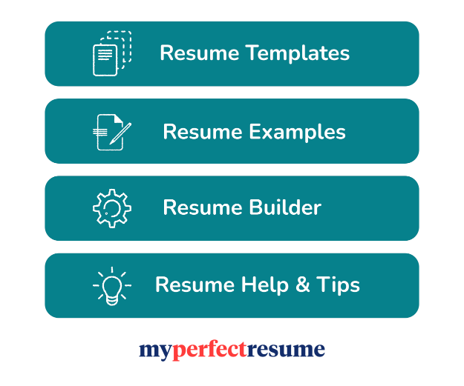 Work experience
Once you've got recruiters interested with your impactful summary, your work experience is where the real detail will lie.
Lay out your previous jobs from current to oldest, detailing what you contributed and achieved in each one.
If you're highly experienced you can cut this section down to your most recent few years of work, but if you are junior you can bulk this up with voluntary work and college placements.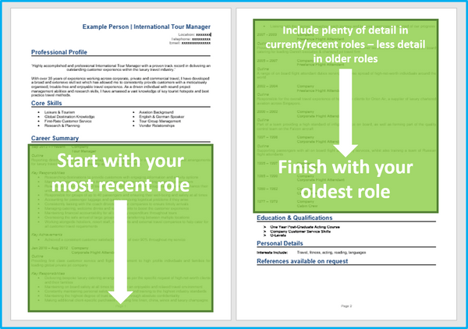 Structuring your jobs
Resume job descriptions contain lots of information, so its crucial to structure them well.
Use the structure below to ensure hiring managers can consume the information easily.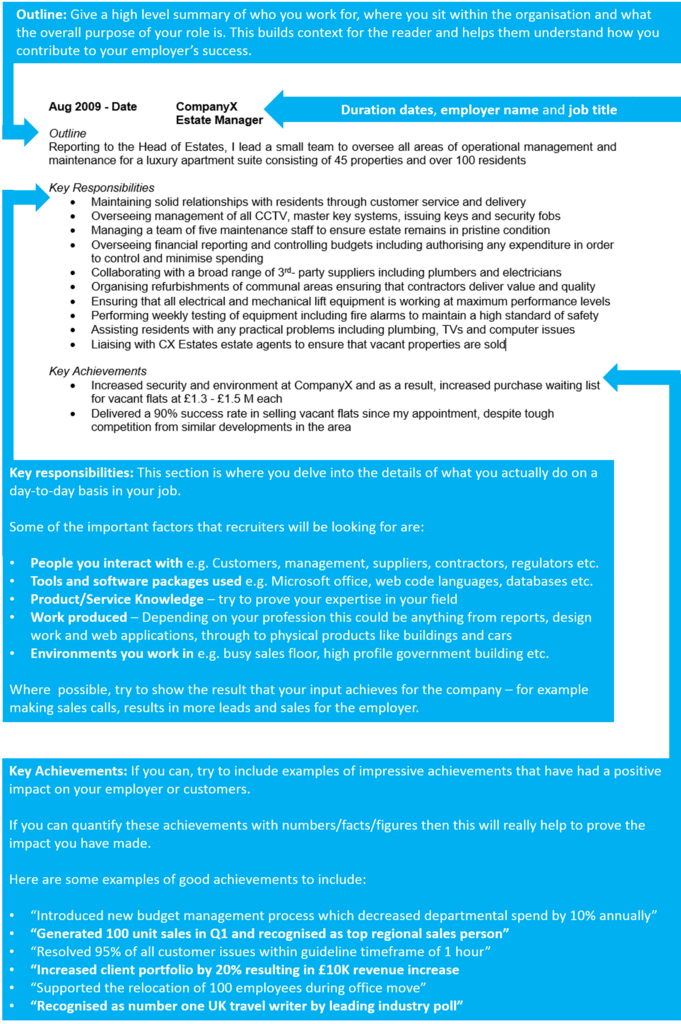 Job outline
Start with a 1-2 sentence outline of the role, summarizing what the goal of your position was, who you reported to (or managed) and the type of organization you worked for.
Key responsibilities
Then delve into the detail of your job by listing out easy-to-read bullet points which show how you apply your skills in the workplace.
Tailor these bullet points to focus on the skills and knowledge that are required in the jobs you are applying for.
Key achievements
Finish each role by highlighting some impressive achievements you made whilst in the role.
Anything that benefited the employer can be included from making financial savings, to winning new customers.
Quantify your achievements with facts and figures if you can, e.g. "reduced call wait time by 10%"
Example job for Landscape Architect resume
Outline
Lead projects and design strategies, while guiding teams in research and preparation of plans, for a world-renowned company with 10K+ employees that specializes in architecture, urbanism, interior design, landscape design, and product design.
Key Responsibilities
Manage landscape architecture projects, including school/college campuses, corporate/commercial grounds, public gardens, parks, and recreation facilities.
Prepare detailed proposals explaining ideas and the rationale behind executing landscaping projects.
Discuss requirements with clients as a base plan which expresses how the landscape will work in terms of function and flow.
Communicate with civil engineers, locals, and community members and analyze complex environmental/conservation reports on land conditions.
Quick tip: Create impressive job descriptions easily in our partner's Resume Builder by adding pre-written job phrases for every industry and career stage.

Education section
After your work experience, add your education section.
If you are an experienced professional, you can keep this part short – adding basic details of each qualification.
If you have little or no experience, bulk this section up by adding more detail and highlight important skills and knowledge for your target jobs.
Additional information
The bottom of your resume is a place to add any "additional info"
Any other info that didn't fall into any of the previous sections can be added here.
If you have hobbies that are related to your profession or any awards or publications – add them here.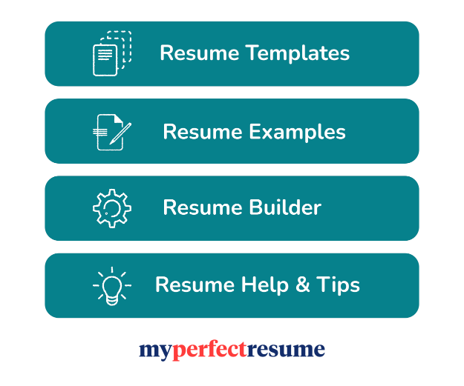 Writing your own Landscape Architect resume
A winning Landscape Architect resume should look great, read well, and sell your skillset to hiring managers.
If you follow the steps above, you should be able to bag yourself a top job in no time.
And don't forget you can use our partner's Resume Builder if you want to save time and ensure your resume contains the very best content.
Good luck with your job search!