Are you looking for your next role as a kitchen manager?
If you hope to bag an interview, then you need to serve up an impressive application, bursting with facts and figures that recruiters will just eat up.
But if you need a little inspiration, make use of our kitchen manager resume example and writing advice in the guide below.
Contents
| | |
| --- | --- |
| How to write a Kitchen Manager resume | |

Kitchen Manager Resume Example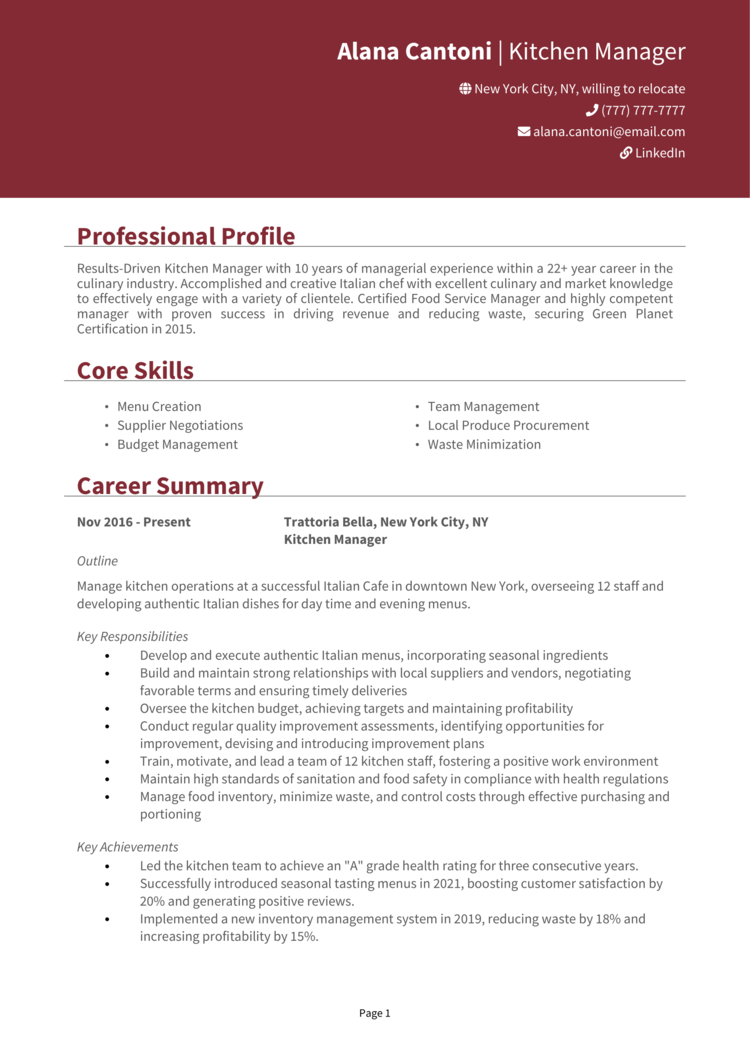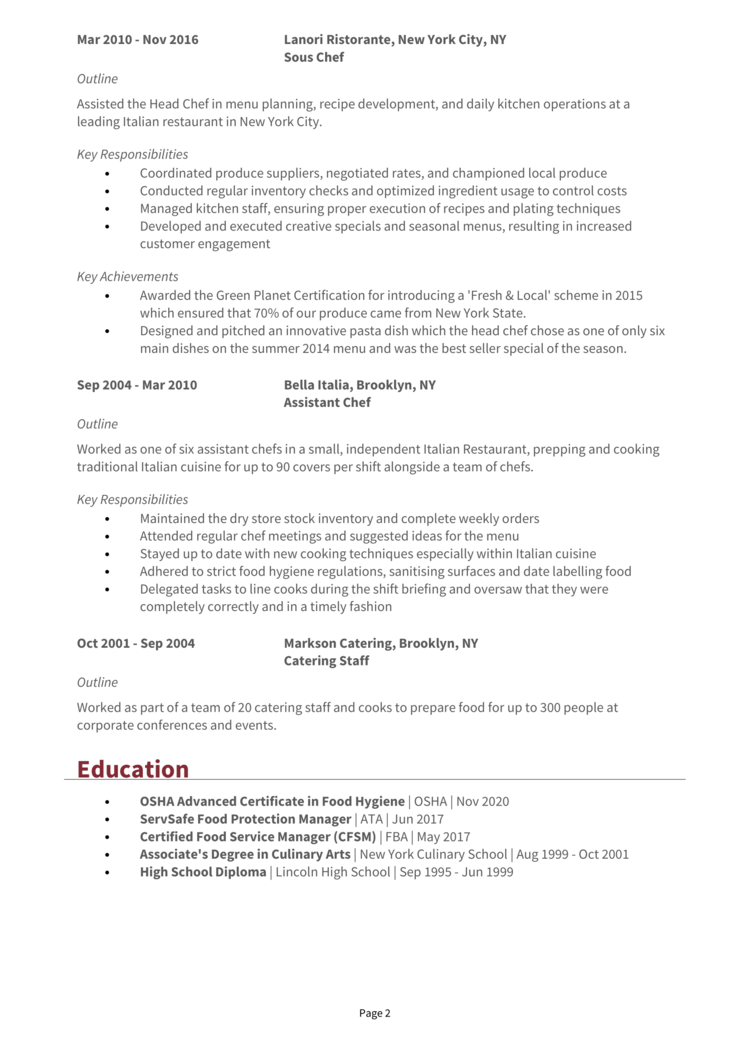 This example Kitchen Manager resume is well-structured to provide a pleasant reading experience for recruiters, and contains all of the crucial information they want to see.
The rest of the guide will show you exactly how you can achieve this in your own resume.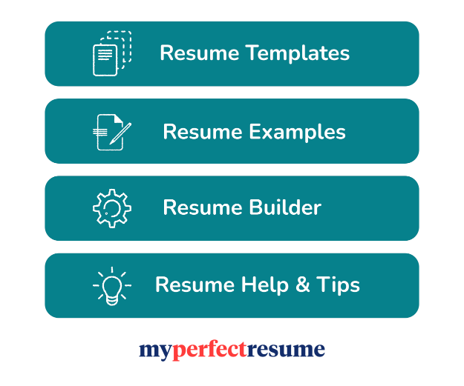 Kitchen Manager resume layout and format
When it comes to holding the attention of recruiting managers, the format and layout of your resume play a key role.
Your resume needs to strike a perfect balance between looking awesome, and being easy for recruiters to read (which is not always easy to achieve)
Use the following formatting tips to get started.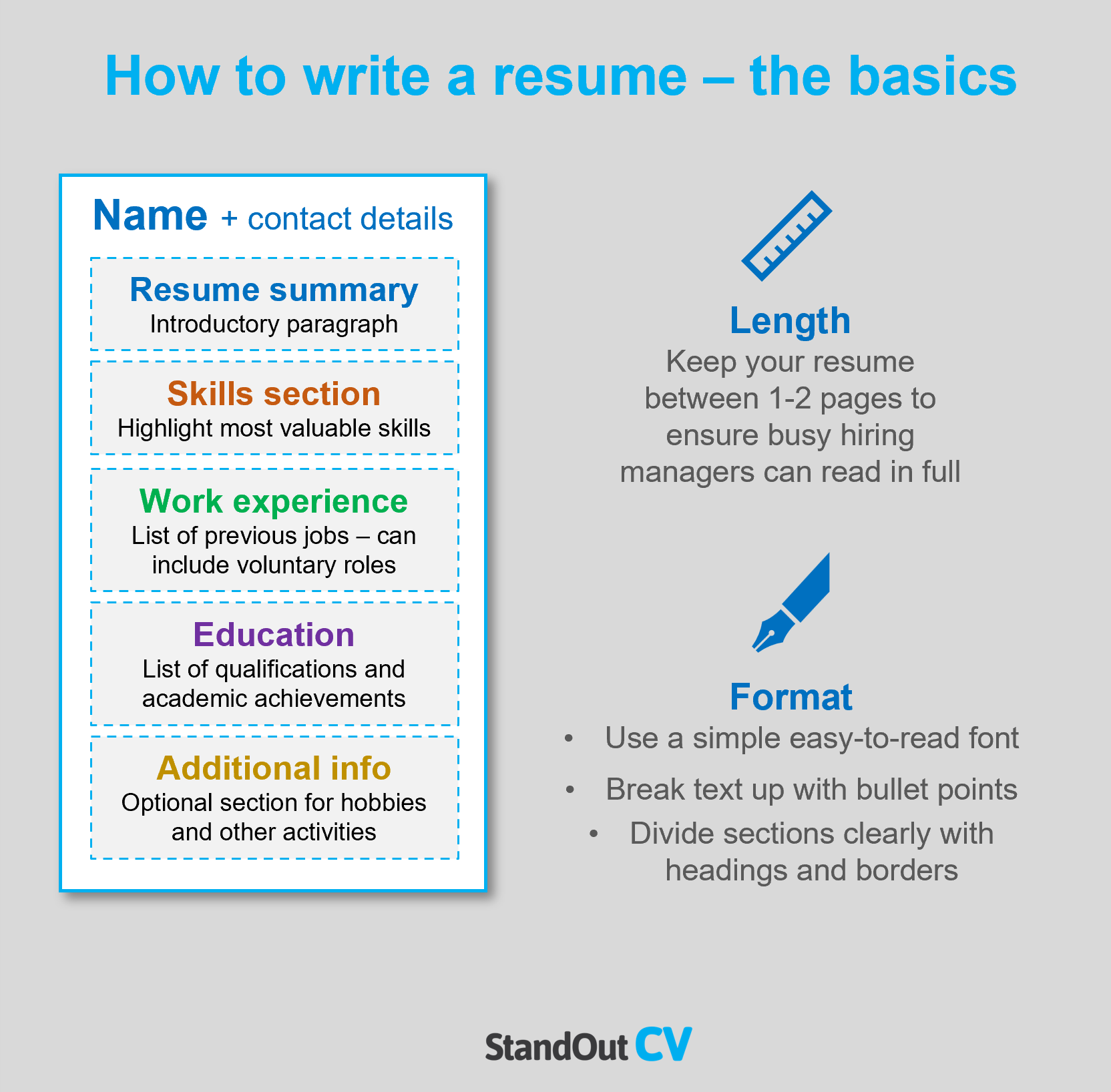 Formatting your resume
Length: Think that submitting a 10 page resume will impress recruiters? Unfortunately it won't… Even if you've got tons of experience to brag about, recruiters don't have time to read essays, so keep it brief – around 2 pages is the sweet spot.
Font & readability: Nobody likes to read huge unbroken paragraphs of text – and recruiters are no different. Break your resume text up with bullet points and use a clear simple font.
Layout & Structure: Your resume's design must strike a balance between aesthetics and functionality. Using bold headings and borders to organize the page into clear sections is an effective way to achieve both.
Photos: Including a photo on your resume is not obligatory in the United States, but it may be a good idea in some regions and industries where it is customary.
Quick tip: Achieving a professional look for your resume can be difficult and time-consuming. If you want to create an attractive resume quickly, try our partner's Resume Builder and use one of their eye-catching resume templates.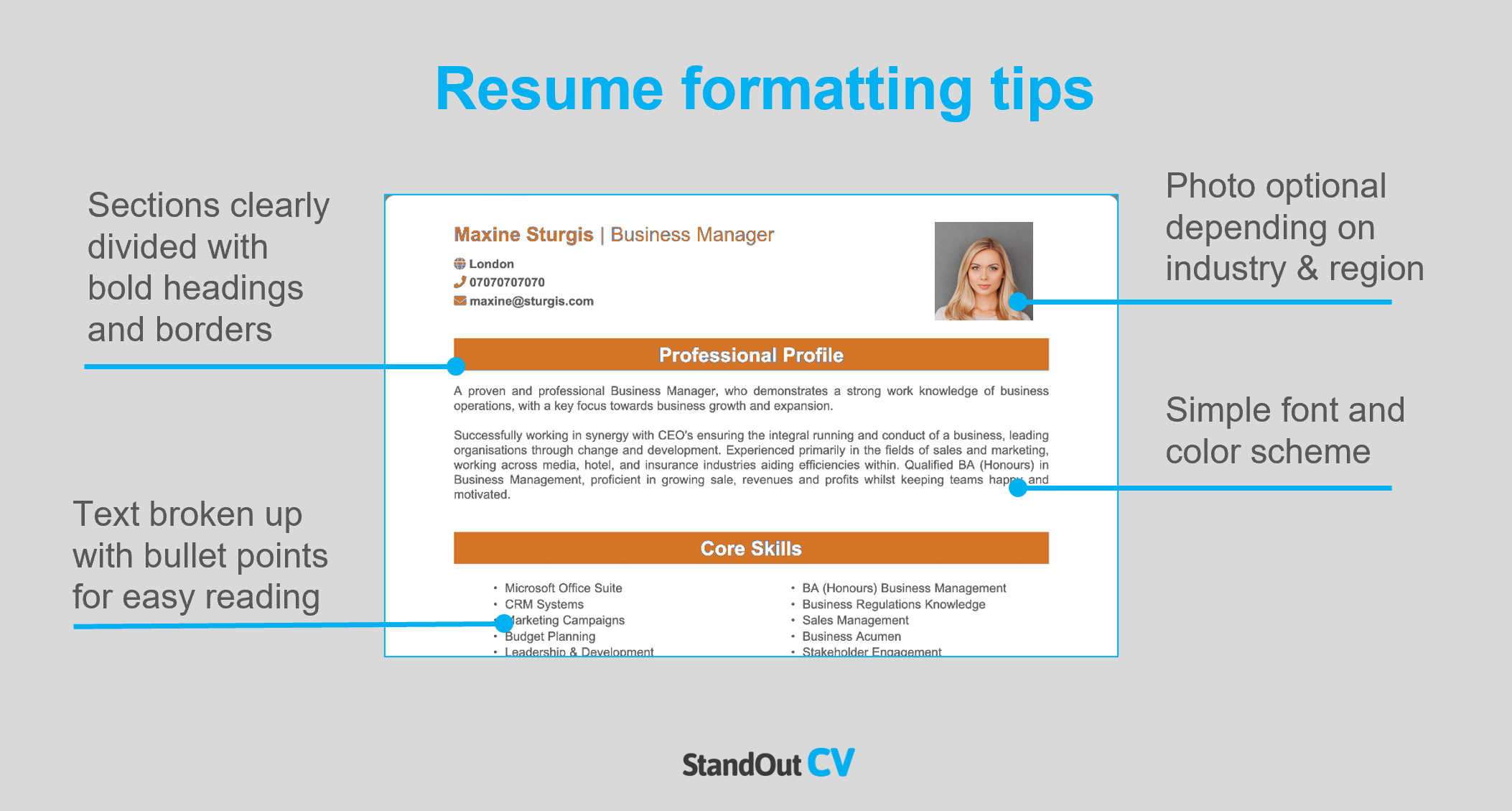 Resume layout
Here's an overview of the sections you should add when writing your resume.
Name and contact details – Stick these details at the top, so they are easy to find.
Resume summary – A punchy paragraph summarizing your skills and knowledge, enticing recruiters to read more of your resume.
Skills section – Short list of your most valuable skills, enabling recruiters to quickly spot your suitability.
Work experience – Showcase your previous employment, starting with your most recent roe and working backwards – voluntary work and college placements can be included if you have no paid experience.
Education – A summary of your most relevant qualifications and academic achievements
Additional info – An optional section for that other attributes that may boost your application, such as hobbies or clubs
Here's what to include in each part of your resume.
Contact Details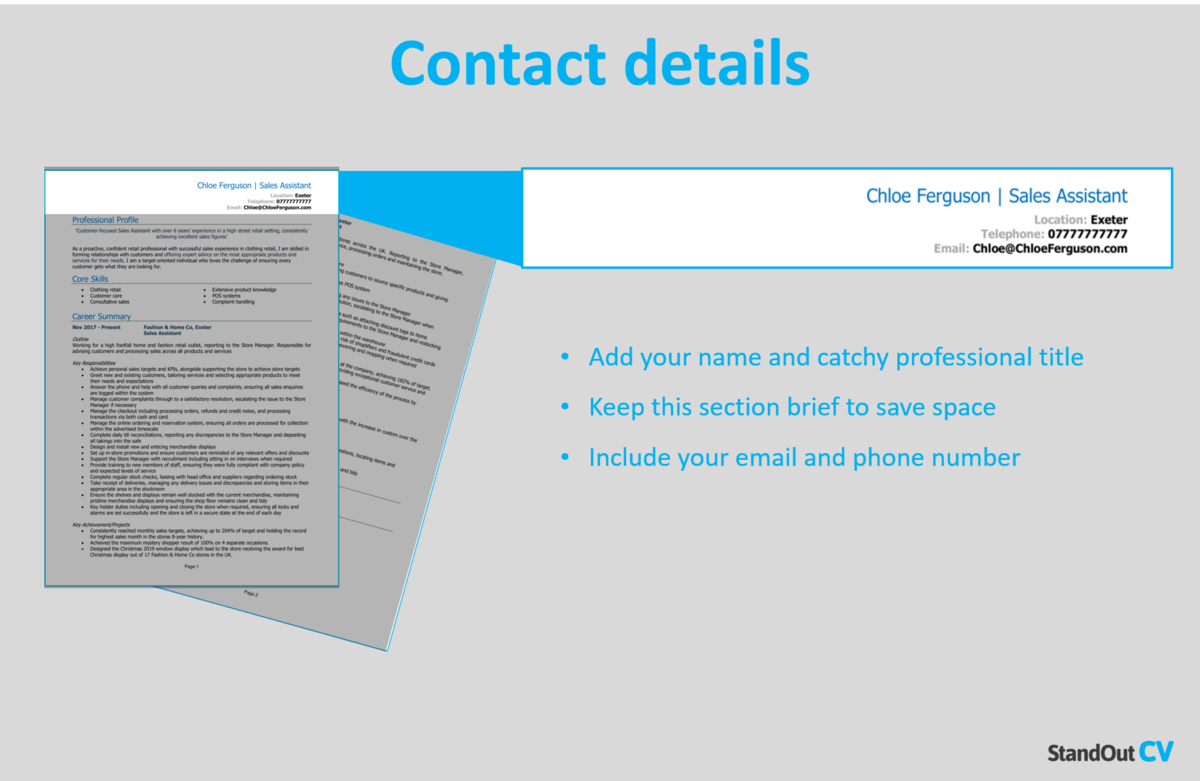 Add your name and contact details to the header of your resume, so that anybody reading can easily see how to contact you.
Name and profession title
Cell phone number – or any number you are easily reachable on
Location – Add your local area such as Washington or San Diego – not your full address as that will take up too much space.
Email address – Use a professional looking address.
You can add a link to your LinkedIn profile if you have one – you do not need to include personal details like date of birth or religion.
Kitchen Manager Resume Summary
Start your resume with a bang by adding a powerful summary to the top, summarizing your most valuable skills and experience.
This short paragraph is your chance to show recruiters why you are a perfect fit for the job and encourage them to read more of your resume.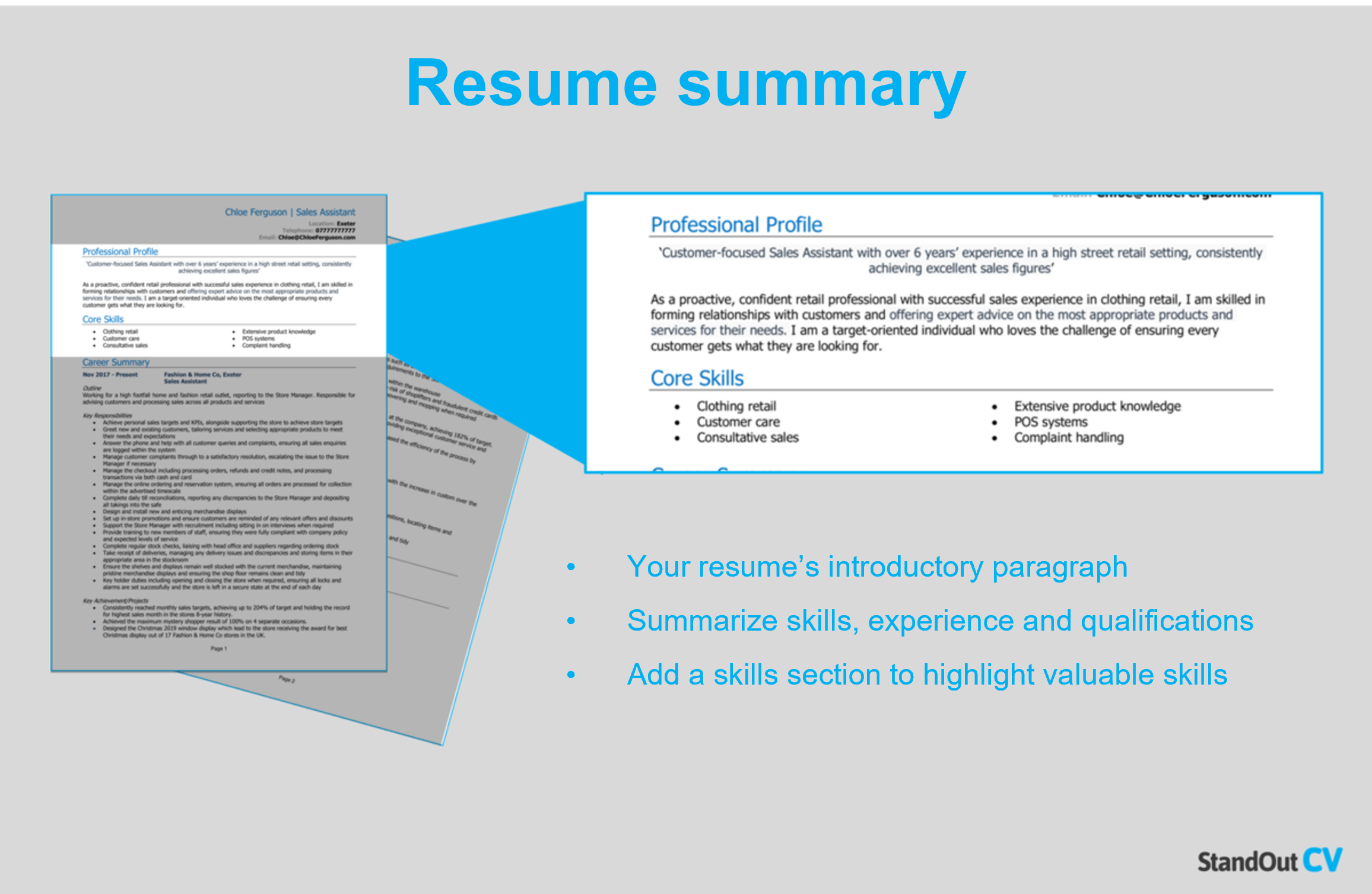 How to create a resume summary that will excite recruiters:
Keep it short: To effectively capture a recruiter's attention, it's crucial to keep your resume summary brief and to the point, limiting it to 4-7 lines as this provides enough detail without overwhelming them at this early stage.
Tailor to target jobs: By carefully reviewing the job description and incorporating as many relevant skills as possible, you can customize your resume to better match your target jobs.
Avoid using cliches: Recruiters always see cringey cliches like "hardworking guru who works well in a team or individually" – they don't mean much to anyone, so focus your summary on tangible skills and experience.
Kitchen Manager resume summary example
Results-driven Kitchen Manager with 10 years of managerial experience within a 22+ year career in the culinary industry. Accomplished and creative Italian chef with excellent culinary and market knowledge to effectively engage with a variety of clientele. Certified Food Service Manager and highly competent manager with proven success in driving revenue and reducing waste, securing Green Planet Certification in 2015.
What to include in your Kitchen Manager resume summary?
Summary of your experience: Summarize the type of work you have done in the past and the ways in which you have contributed to the success of your previous employers.
Relevant skills: Incorporate your highly relevant skills for Kitchen Manager jobs to exhibit your suitability as soon as your resume is opened.
Qualifications: Showcase your level of education with a quick mention of any qualifications that are essential for the Kitchen Manager roles you are applying to.
Quick tip: Choose from hundreds of pre-written summaries across all industries, and add one to your resume with one-click in our partner's Resume Builder. All written by recruitment experts and easily tailored to suit your unique skillset and style.
Core skills section
Underneath your summary, write a core skills section to make your most relevant skills jump off the page at readers.
It should be made up of 2-3 columns of bullet points of your relevant skills.
Before you do this, look over the job description and make a list of any specific skills, specialisms or knowledge required.
Then, make sure to use your findings in your list. This will paint you as the perfect match for the role.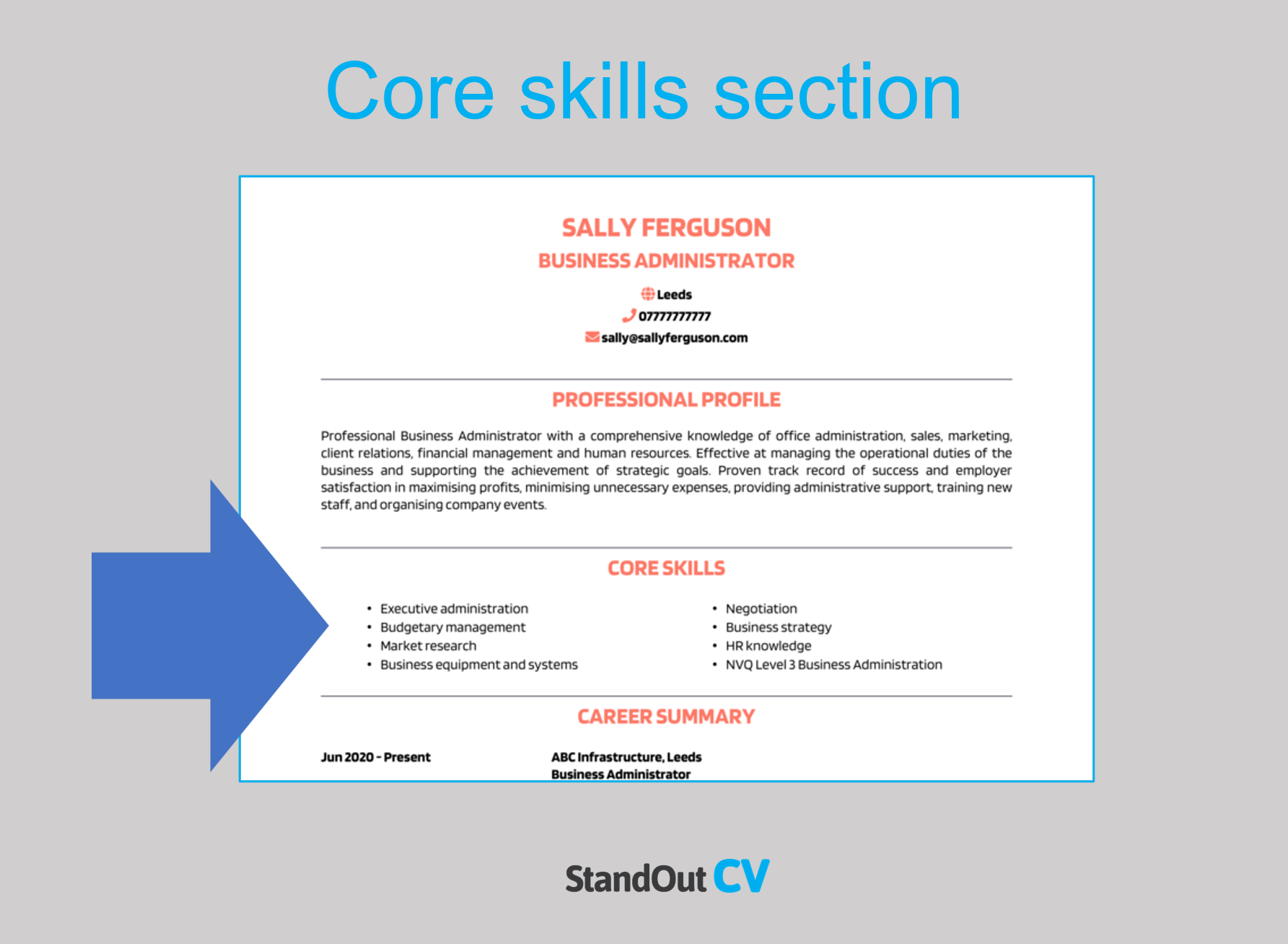 Best skills for your Kitchen Manager resume
Culinary Expertise – Proficiency in various cooking techniques, food preparation methods, and knowledge of different cuisines to oversee kitchen operations and ensure high-quality food production.
Menu Planning and Development – Creating menus that cater to diverse customer preferences, considering factors such as seasonality, cost-effectiveness, and nutritional balance.
Food Safety and Sanitation – Utilizing knowledge of food safety regulations, proper handling procedures, and hygiene practices to maintain a safe and clean kitchen environment.
Inventory Management – Tracking inventory levels, ordering supplies in a timely manner, and managing stock efficiently to minimize waste and control costs.
Team Leadership – Managing and motivating kitchen staff, delegating tasks, and ensuring smooth operations during peak hours and busy periods.
Operational Efficiency – Optimizing kitchen workflows, organizing workstations, and implementing effective processes to enhance productivity and reduce wait times.
Budgeting and Cost Control – Monitoring expenses, analyzing costs, and implementing cost-saving measures without compromising food quality or customer satisfaction.
Vendor Management – Building and maintaining relationships with suppliers and vendors, negotiating contracts, and ensuring timely delivery of quality ingredients and supplies.
Training and Development – Training and mentoring kitchen staff, providing ongoing feedback, and fostering a positive work culture that encourages growth and professional development.
Problem Resolution – Addressing kitchen-related challenges, such as equipment malfunctions, staff shortages, or customer complaints, with effective and timely solutions.
Quick tip: Our partner's Resume Builder contains thousands of in-demand skills for every profession that can be added to your resume in seconds – saving you time and greatly improving your chances of landing job interviews and getting hired.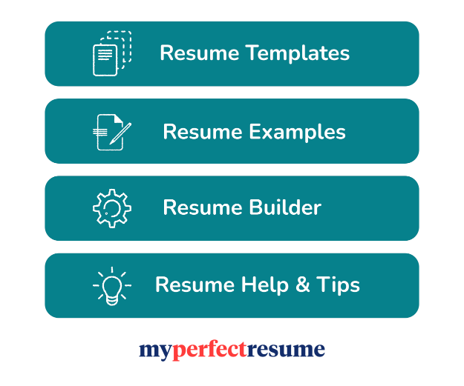 Work experience
Once you've got recruiters interested with your impactful summary, your work experience is where the real detail will lie.
Lay out your previous jobs from current to oldest, detailing what you contributed and achieved in each one.
If you're highly experienced you can cut this section down to your most recent few years of work, but if you are junior you can bulk this up with voluntary work and college placements.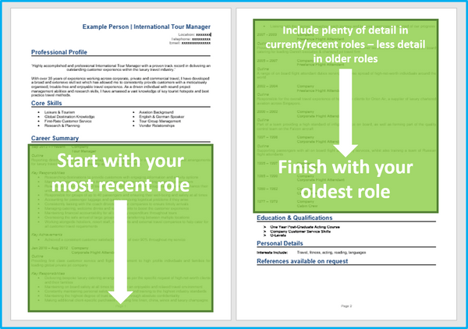 Structuring your jobs
Resume job descriptions contain lots of information, so its crucial to structure them well.
Use the structure below to ensure hiring managers can consume the information easily.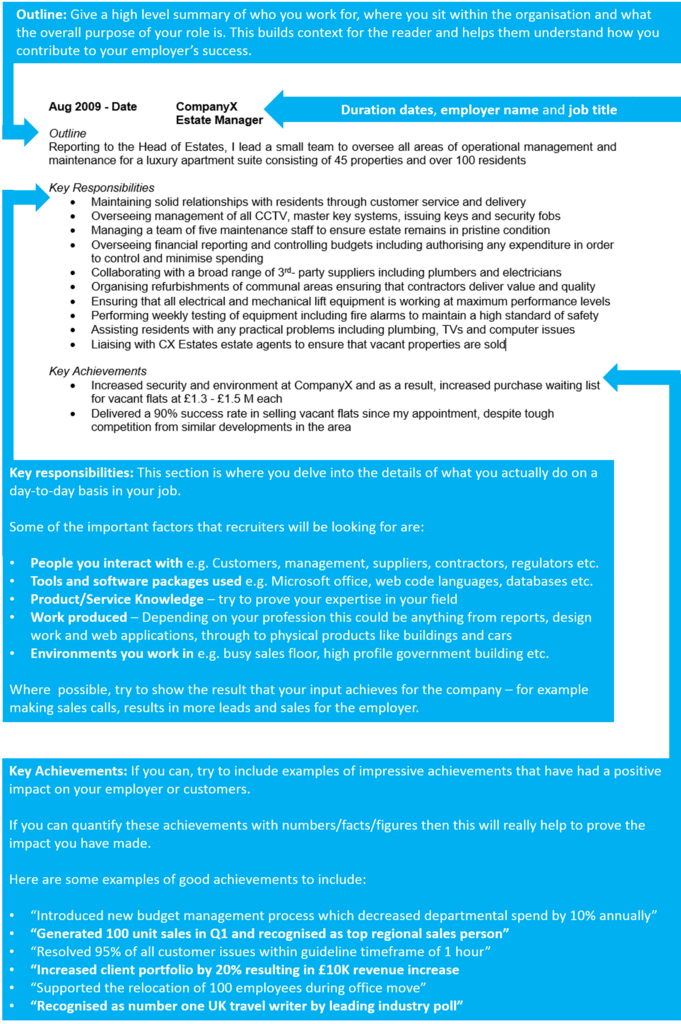 Job outline
Begin each job with a short summary of who the organization is, where you sit within it, and what the main goal of your position is.
Key responsibilities
The bulk of the role description should be comprised of bullet points that explain all of your duties in the job.
Keep the sentences short and simple to make them easy for recruiters to digest.
Key achievements
Show employers the value you can bring to them by adding a few achievements to your jobs.
Whether you've saved the company money or improved an internal process, let recruiters know
Add some numbers to give readers a real scale of the impact, e.g. "reduced call wait time by 10%"
Example job for Kitchen Manager resume
Outline
Manage kitchen operations at a successful Italian Cafe in downtown New York, overseeing 12 staff and developing authentic Italian dishes for daytime and evening menus.
Key Responsibilities
Develop and execute authentic Italian menus, incorporating seasonal ingredients
Build and maintain strong relationships with local suppliers and vendors, negotiating favorable terms and ensuring timely deliveries
Oversee the kitchen budget, achieving targets and maintaining profitability
Conduct regular quality improvement assessments, identifying opportunities for improvement, devising and introducing improvement plans
Quick tip: Create impressive job descriptions easily in our partner's Resume Builder by adding pre-written job phrases for every industry and career stage.

Education section
Nearing the end of your resume, your education/qualifications section should be added.
In a well-structured list, add all of your qualifications and certifications that qualify you to perform a typical Kitchen Manager role.
If you have plenty of work experience, keep this section brief – if not, add lots of detail to make up for your lack of experience.
Additional information
At the end of your resume, you can add any extra information that might be relevant to the jobs you are applying for.
This could be hobbies, interests, publications, clubs or memberships.
This section is optional and doesn't need to be added if you have nothing more relevant to add.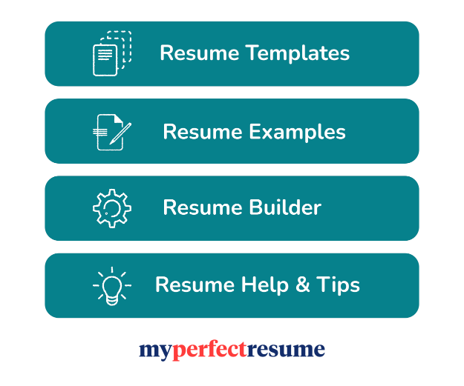 Writing your own winning Kitchen Manager resume
Following the steps in this guide will help you to create a winning Kitchen Manager resume and bag lots of interviews.
Good luck with your job search!