Do you know how to attract new customers from all over the world? Then you could be a big asset as a hotel sales manager.
The tricky part is selling yourself to the recruiter.
The good news is we can help you with that. We've put together our top resume-writing tips, complete with a hotel sales manager resume example to guide you. Check them out below.
Contents
| | |
| --- | --- |
| How to write a Hotel Sales Manager resume | |

Hotel Sales Manager Resume Example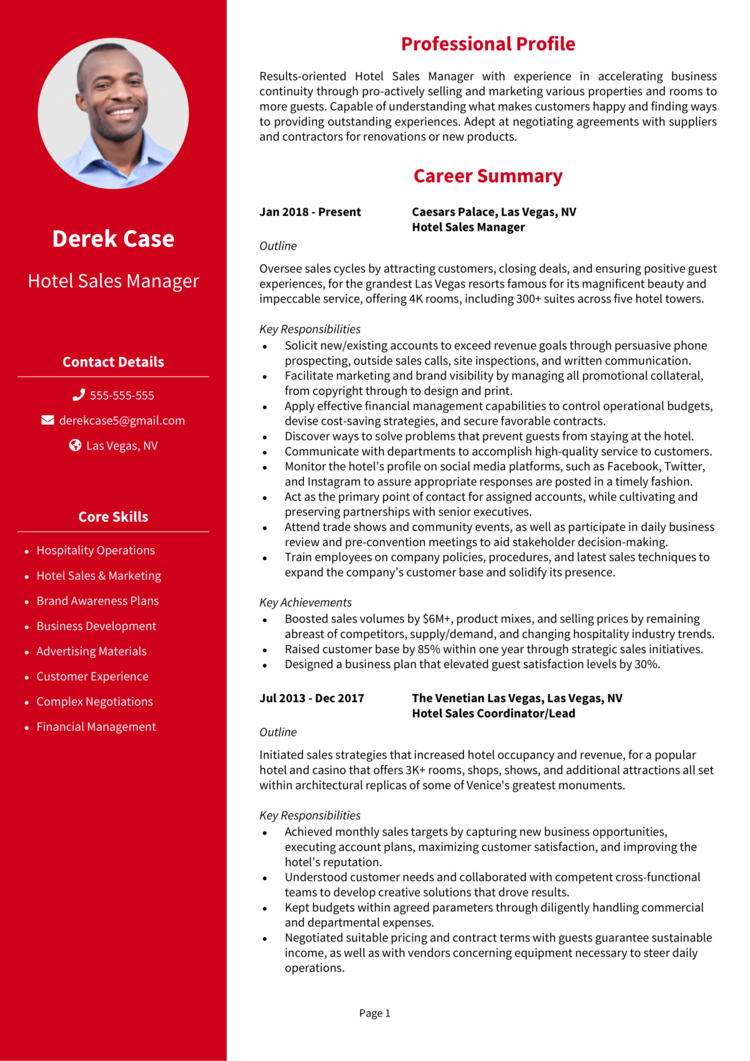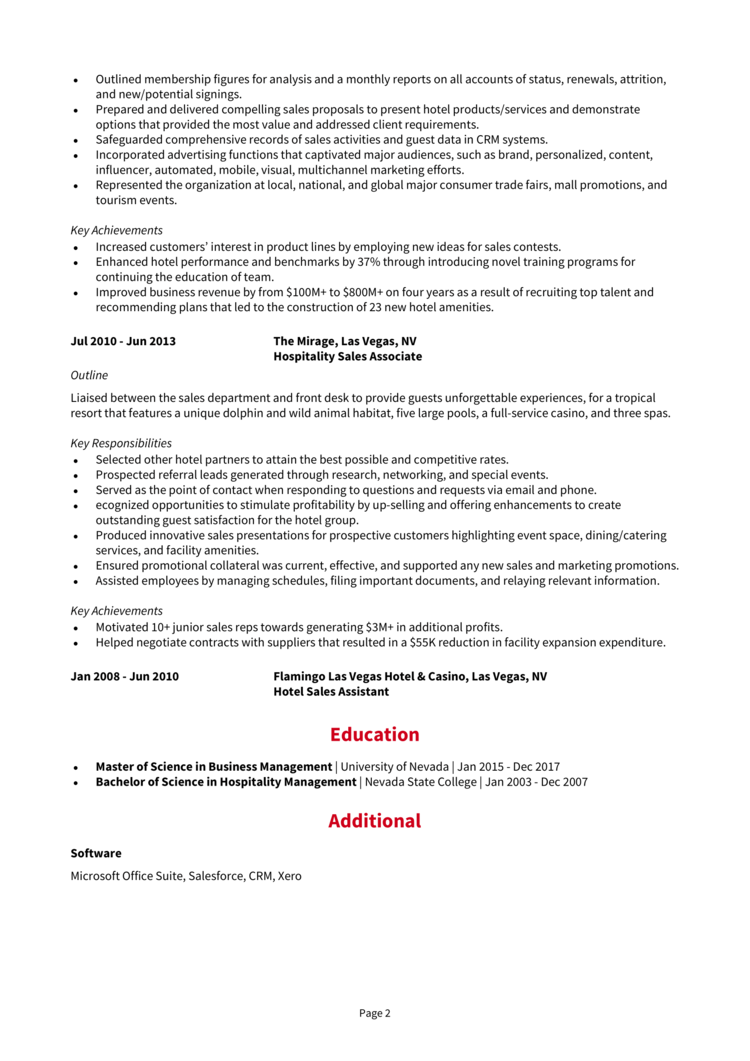 This example Hotel Sales Manager resume gives you a general idea of how to structure your own resume, along with the type of content you need to include.
Sticking with this resume format will help you to get noticed by employers and ensure that they can quickly see the benefit of hiring you.
Now, lets walk through a step-by-step guide on how to write your own winning resume.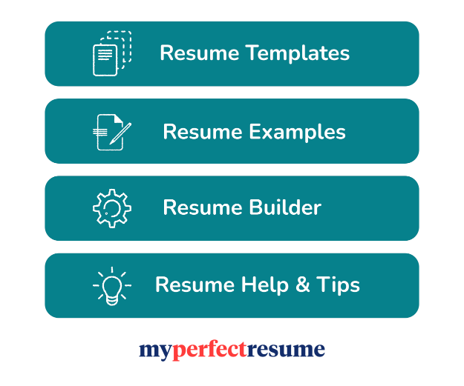 Hotel Sales Manager resume layout and formatting
When it comes to holding the attention of recruiting managers, the format and layout of your resume play a key role.
Your resume needs to strike a perfect balance between looking awesome, and being easy for recruiters to read (which is not always easy to achieve)
Use the following formatting tips to get started.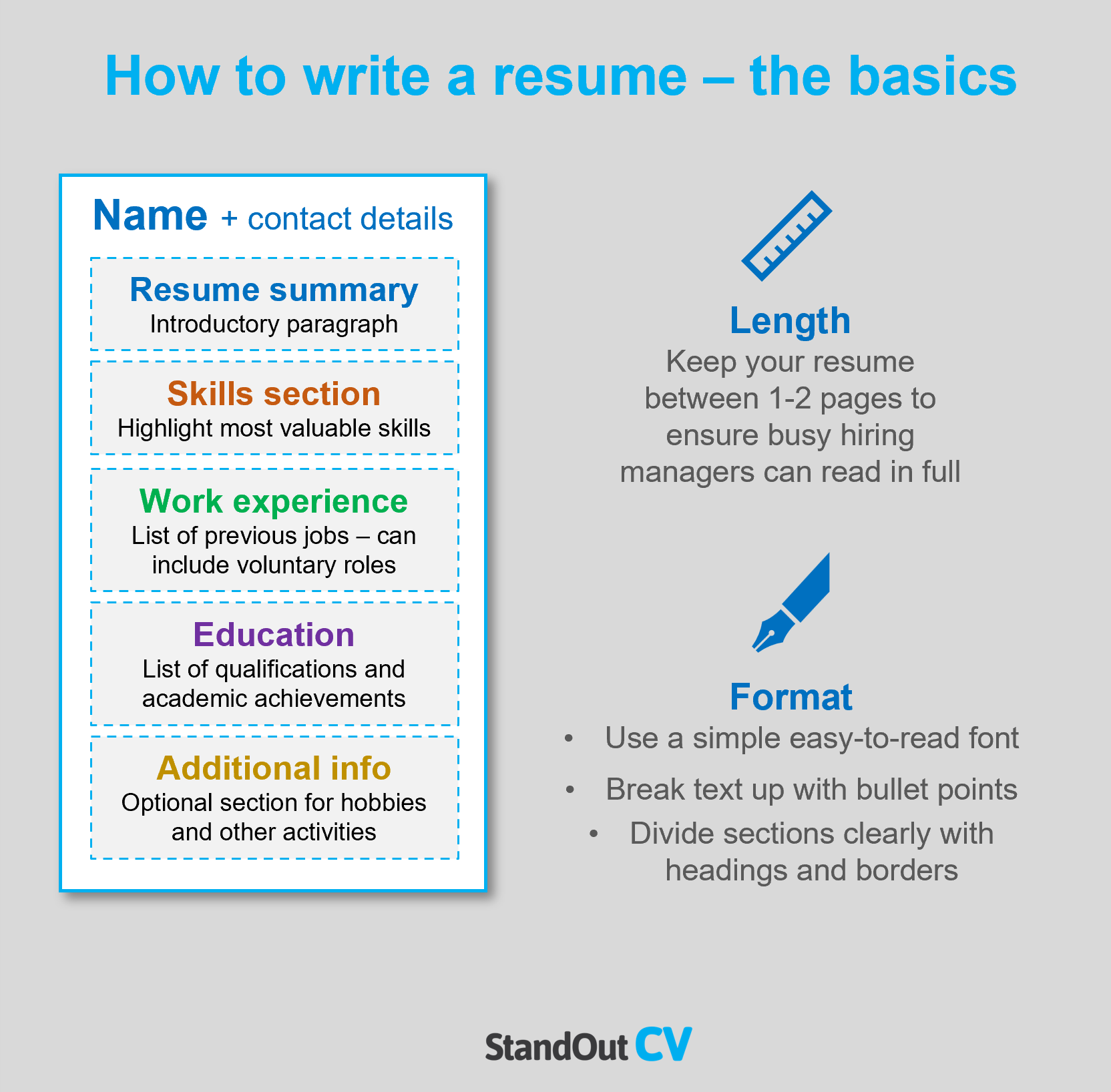 Formatting your resume
Length: Think that submitting a 10 page resume will impress recruiters? Unfortunately it won't… Even if you've got tons of experience to brag about, recruiters don't have time to read essays, so keep it brief – around 2 pages is the sweet spot.
Font & readability: Complex fonts are a readers' worst nightmare and will leave recruiters struggling to understand your message. Use a clear simple lean font in a color that stands out against the page, and break your text up with bullet points to make the content easily digestible.
Layout & Structure: Go with a resume design that looks good, but also allows for easy reading and navigation for employers. Ensure the page is clearly split up into sections by adding large font headings and dividing borders. Keep the color scheme simple and don't overcrowd the page.
Photos: In the USA adding a photo to your resume is optional – you don't have to do it, but it can be a nice way to get your personality across.
Quick tip: Achieving a professional look for your resume can be difficult and time-consuming. If you want to create an attractive resume quickly, try our partner's Resume Builder and use one of their eye-catching resume templates.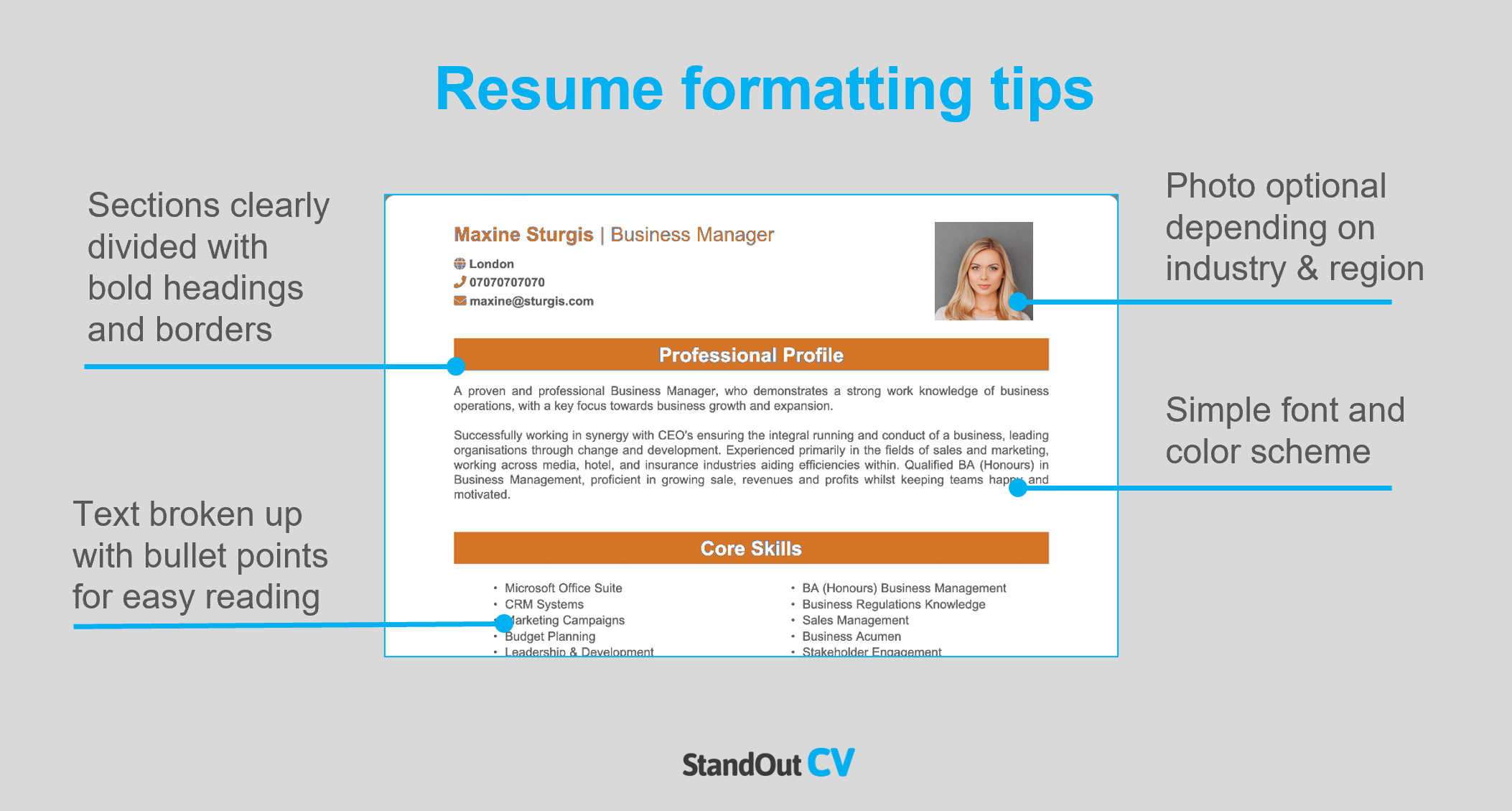 Resume layout
Divide the page into these sections when you write your own resume.
Name and contact details – Simply state who you are, and how to get in touch with you.
Resume summary – An introductory paragraph at the very top of your resume which summarizes your skills, experience and suitability for your target jobs.
Core skills section – A bullet-pointed list of your skills that relate most to your target jobs.
Work experience – A list of your current and previous jobs, including all of your responsibilities and achievements.
Education – A section that showcases all of your education and academic achievements.
Additional info (optional) – Here you can add an extra section for things like hobbies and interests, or anything else that might be relevant to your target jobs.
Here's what to include in each part of your resume.
Contact Details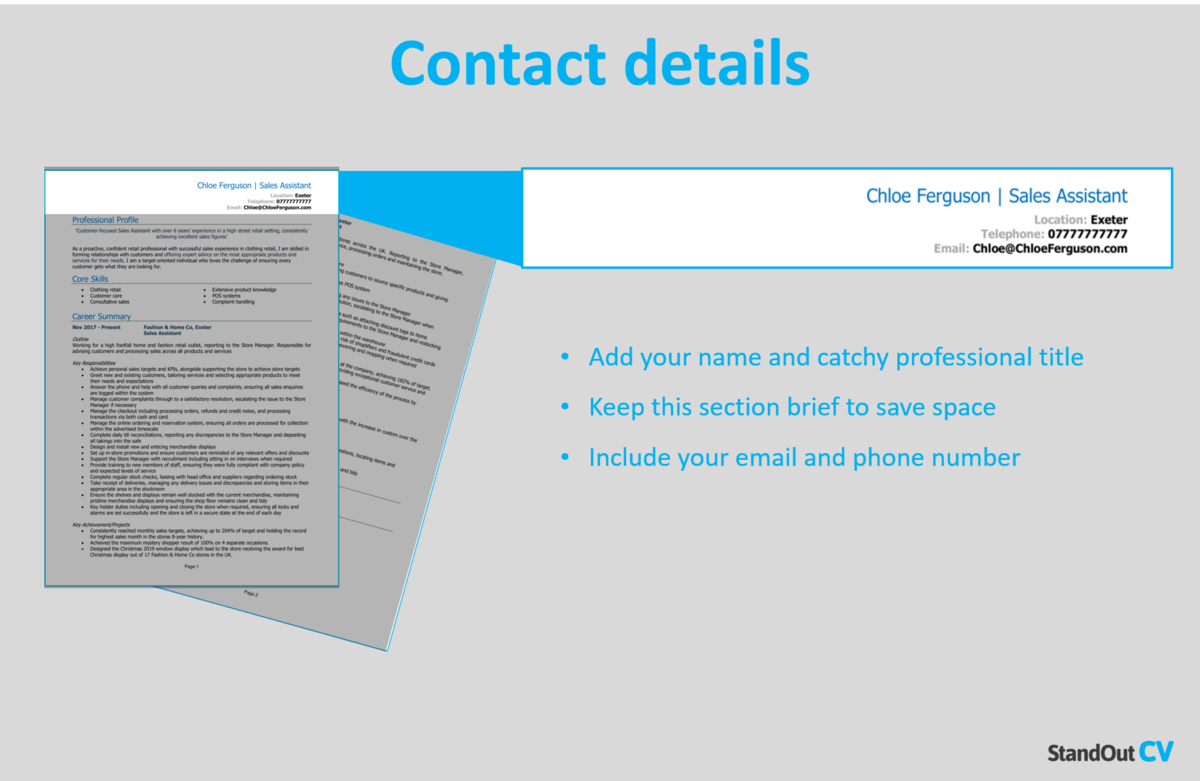 Add your name and contact details to the very top of your resume, making it easy for recruiters to get in touch
Name and profession title
Cell phone number – or another number you can answer quickly
Location – Add your local area such as San Diego or New York – not your full address as that will take up too much space.
Email address – Use your name or close variation – no nicknames from high school.
You can add a link to your LinkedIn profile if you have one – you do not need to include personal details like date of birth or marital status.
Hotel Sales Manager Resume Summary
Start your resume with a bang by adding a powerful summary to the top, summarizing your most valuable skills and experience.
This short paragraph is your chance to show recruiters why you are a perfect fit for the job and encourage them to read more of your resume.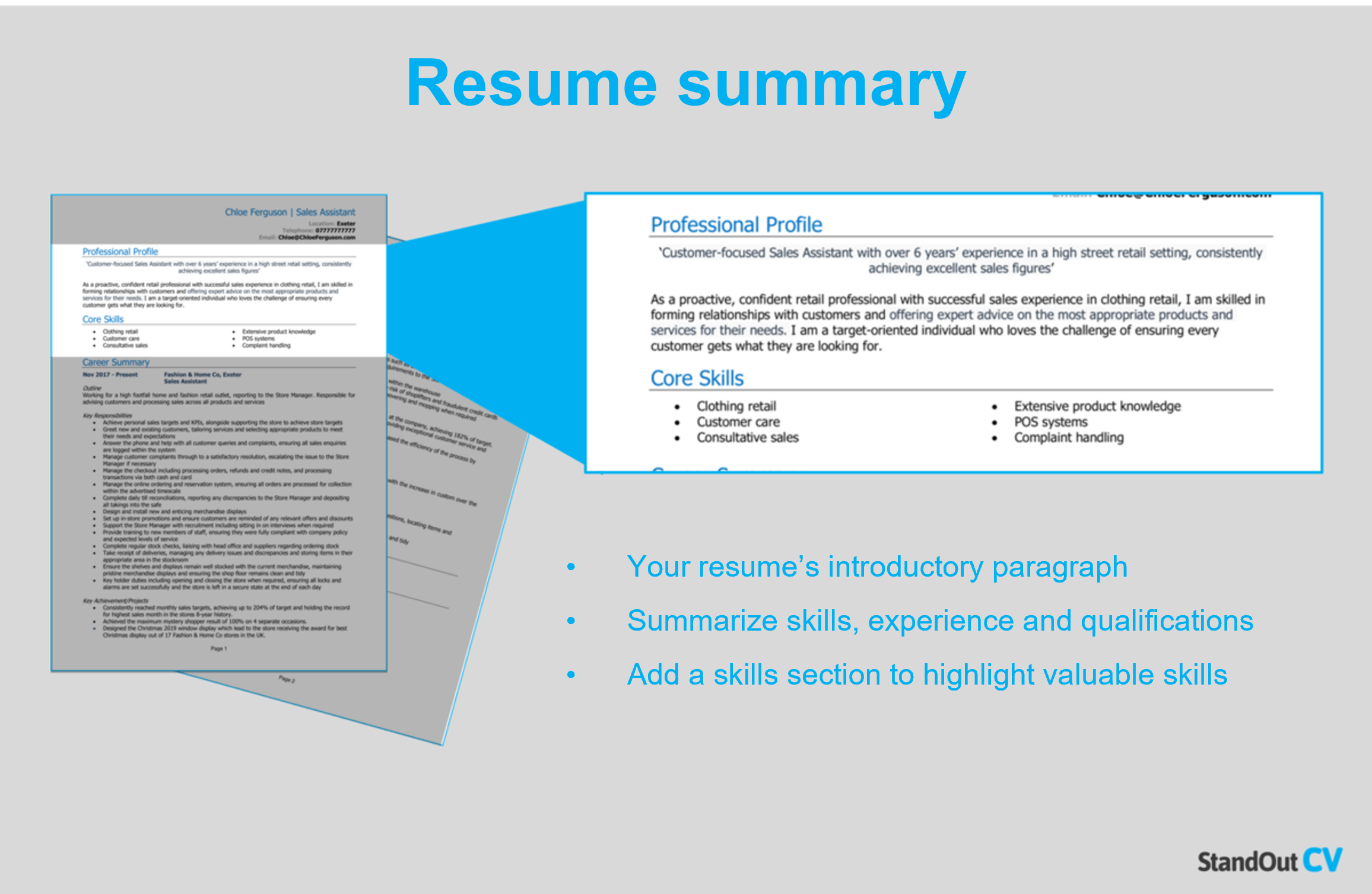 How to create a resume summary that will excite recruiters:
Keep it short: Aim for a short punchy paragraph of 4-7 lines. This is just enough info to showcase why you'd make the perfect hire, without going into excessive detail and overwhelming busy recruiters at such an early stage in the resume.
Tailor to target jobs: Ensure your profile makes an impact by matching it closely to the requirements of the job description, copying as many key terms as possible.
Avoid using cliches: You might be a "highly motivated go-getter who thinks outside the box" but generic meaningless cliches like that don't tell employers much about you – stick to factual information in your summary.
Hotel Sales Manager resume summary example
Results-oriented Hotel Sales Manager with experience in accelerating business continuity through pro-actively selling and marketing various properties and rooms to more guests. Capable of understanding what makes customers happy and finding ways to providing outstanding experiences. Adept at negotiating agreements with suppliers and contractors for renovations or new products.
What to include in your Hotel Sales Manager resume summary?
Summary of your experience: Briefly describe the work you have performed in the past and the contributions you have made to the organizations you have worked for.
Relevant skills: To quickly showcase your suitability for Hotel Sales Manager jobs, ensure that your summary emphasizes your most relevant skills to the jobs you are applying for.
Qualifications: To make a strong impression on potential employers when applying for Hotel Sales Manager jobs, be sure to mention any relevant qualifications in your summary.
Quick tip: Choose from hundreds of pre-written summaries across all industries, and add one to your resume with one-click in our partner's Resume Builder. All written by recruitment experts and easily tailored to suit your unique skillset and style.
Core skills section
In addition to your resume summary, your core skills section provides an easily digestible snapshot of your skills – perfect for grabbing the attention of busy hiring managers.
As Hotel Sales Manager jobs might receive a huge pile of applications, this is a great way to stand out and show off your suitability for the role.
It should be made up of 2-3 columns of bullet points and be made up of skills that are highly relevant to the jobs you are targeting.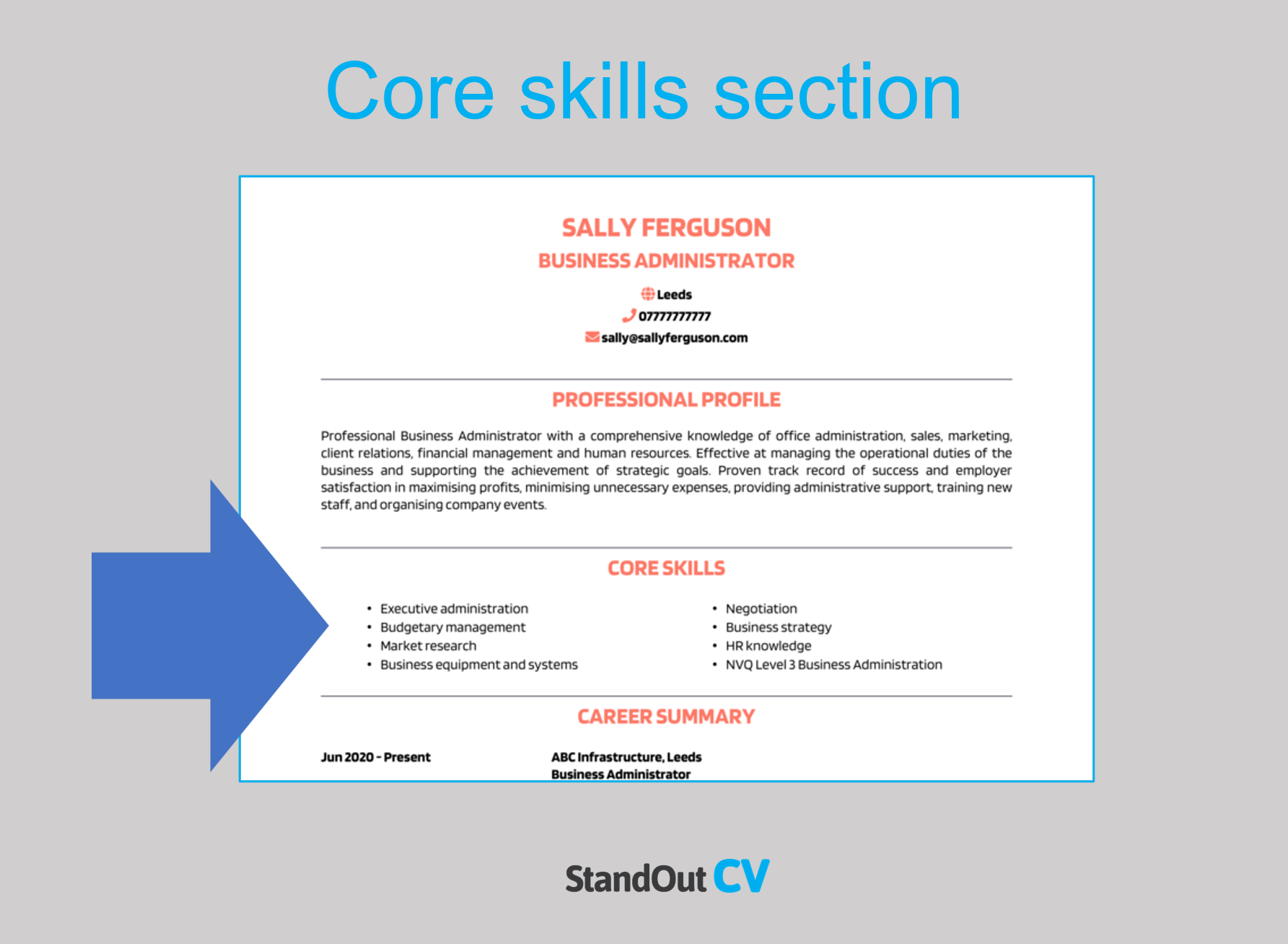 Best skills for your Hotel Sales Manager resume
Sales techniques – Using various sales techniques, including prospecting and cold-calling, to attract new business and increase hotel occupancy.
Customer relationship management – Building and maintaining strong relationships with customers, including meeting customer needs and addressing concerns, to ensure customer satisfaction and loyalty.
Negotiation – Negotiating effectively with customers and partners, including contracts and pricing, to ensure profitable sales and partnerships.
Revenue management – Utilizing knowledge of revenue management principles, including setting room rates and forecasting demand, to maximize hotel revenue and profitability.
Marketing – Utilizing knowledge of marketing principles, including developing and executing marketing campaigns, to attract and retain customers.
Data analysis – Analyzing and interpreting data, including sales metrics and market trends, to identify opportunities for increasing revenue.
Event management – Managing events, including coordinating with event planners and vendors, to ensure successful events and increased hotel revenue.
Effective communication – Interacting effectively with customers, partners, and staff, to provide updates and communicate sales objectives and progress.
Budget management – Utilizing knowledge of budget management principles, including tracking expenses and preparing financial reports, to manage sales budgets and ensure compliance with regulations.
Team management – Managing sales teams, including training, coaching, and performance management, to ensure that teams are meeting sales objectives and providing quality service.
Quick tip: Our partner's Resume Builder contains thousands of in-demand skills for every profession that can be added to your resume in seconds – saving you time and greatly improving your chances of landing job interviews and getting hired.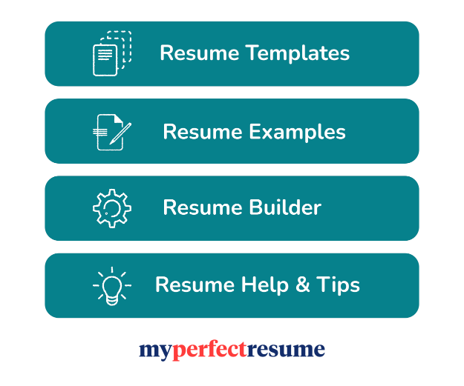 Work experience
So, you've grabbed the recruiters' attention with your summary, now it's time to show them what you're really capable of in your work experience section.
List your previous jobs from current to oldest, showing off the impact you made at each organization.
If you have tons of experience, you should just list the most recent an relevant jobs – but if you have little or no experience, add it all and even consider putting in voluntary work.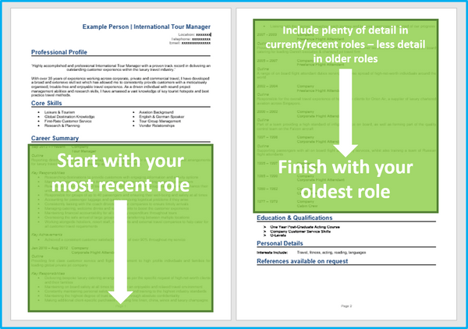 Structuring your jobs
Without a good structure, your job description can look messy and overwhelming to anyone reading them.
Make it easy for recruiters to read your work experience by structuring your roles like this.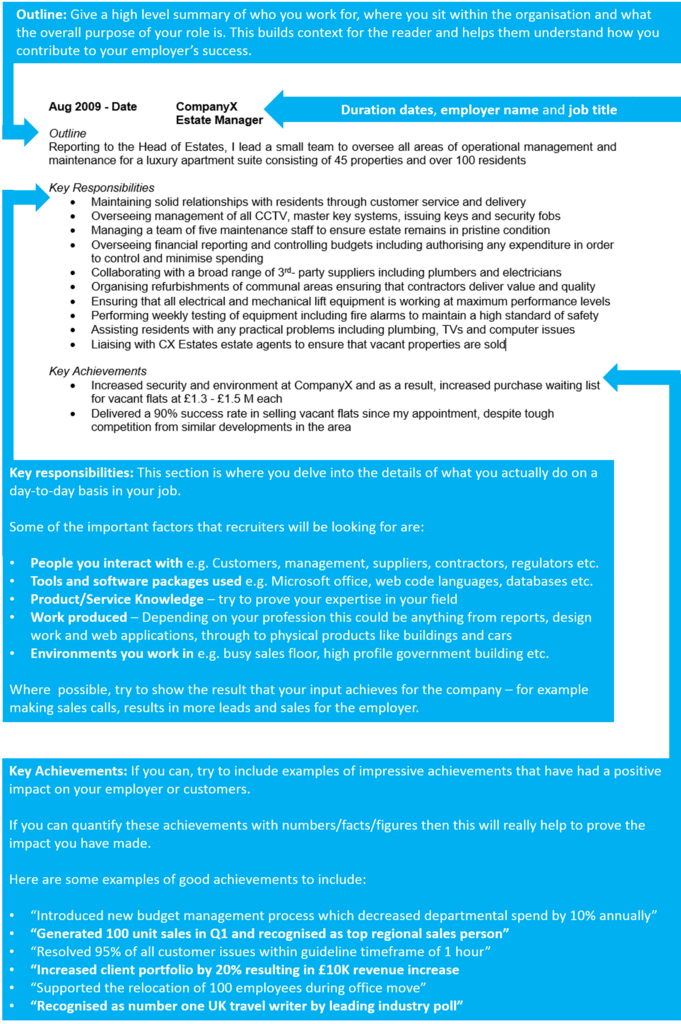 Job outline
Begin each job with a short summary of who the organization is, where you sit within it, and what the main goal of your position is.
Key responsibilities
Next, write up a punchy list of your daily duties and responsibilities, using short bullet points.
Describe how you apply your skills and contribute to the running of the employer's business – highlighting skills which are applicable to your target jobs.
Key achievements
Show employers the value you can bring to them by adding a few achievements to your jobs.
Whether you've saved the company money or improved an internal process, let recruiters know
Add some numbers to give readers a real scale of the impact, e.g. "reduced call wait time by 10%"
Example job for Hotel Sales Manager resume
Outline
Oversee sales cycles by attracting customers, closing deals, and ensuring positive guest experiences, for the grandest Las Vegas resorts famous for its magnificent beauty and impeccable service, offering 4K rooms, including 300+ suites across five hotel towers.
Key Responsibilities
Solicit new/existing accounts to exceed revenue goals through persuasive phone prospecting, outside sales calls, site inspections, and written communication.
Facilitate marketing and brand visibility by managing all promotional collateral, from copyright through to design and print.
Apply effective financial management capabilities to control operational budgets, devise cost-saving strategies, and secure favorable contracts.
Discover ways to solve problems that prevent guests from staying at the hotel.
Quick tip: Create impressive job descriptions easily in our partner's Resume Builder by adding pre-written job phrases for every industry and career stage.

Education section
Nearing the end of your resume, your education/qualifications section should be added.
In a well-structured list, add all of your qualifications and certifications that qualify you to perform a typical Hotel Sales Manager role.
If you have plenty of work experience, keep this section brief – if not, add lots of detail to make up for your lack of experience.
Additional information
The bottom of your resume is a place to add any "additional info"
Any other info that didn't fall into any of the previous sections can be added here.
If you have hobbies that are related to your profession or any awards or publications – add them here.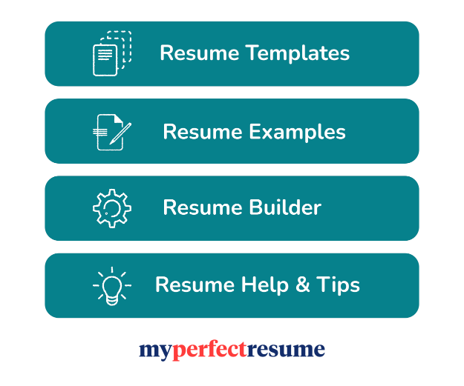 Writing your own winning Hotel Sales Manager resume
A winning Hotel Sales Manager resume should look great, read well, and sell your skillset to hiring managers.
If you follow the steps above, you should be able to bag yourself a top job in no time.
Good luck with your job search!