Are you trying to write a GIS analyst resume but feeling a little lost?
Then you've come to the right place. Below, we've created a detailed guide that will map out each step of the writing process.
We'll also share an impressive GIS analyst resume example to inspire your own.
Contents
| | |
| --- | --- |
| How to write your GIS Analyst resume | |

GIS Analyst Resume Example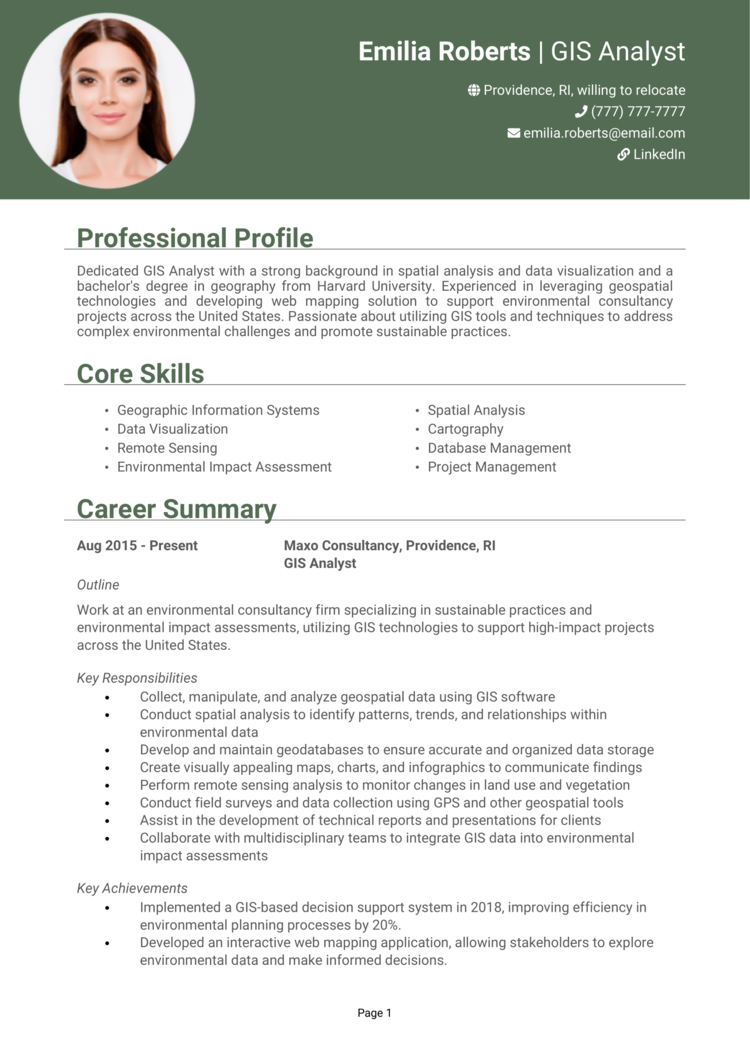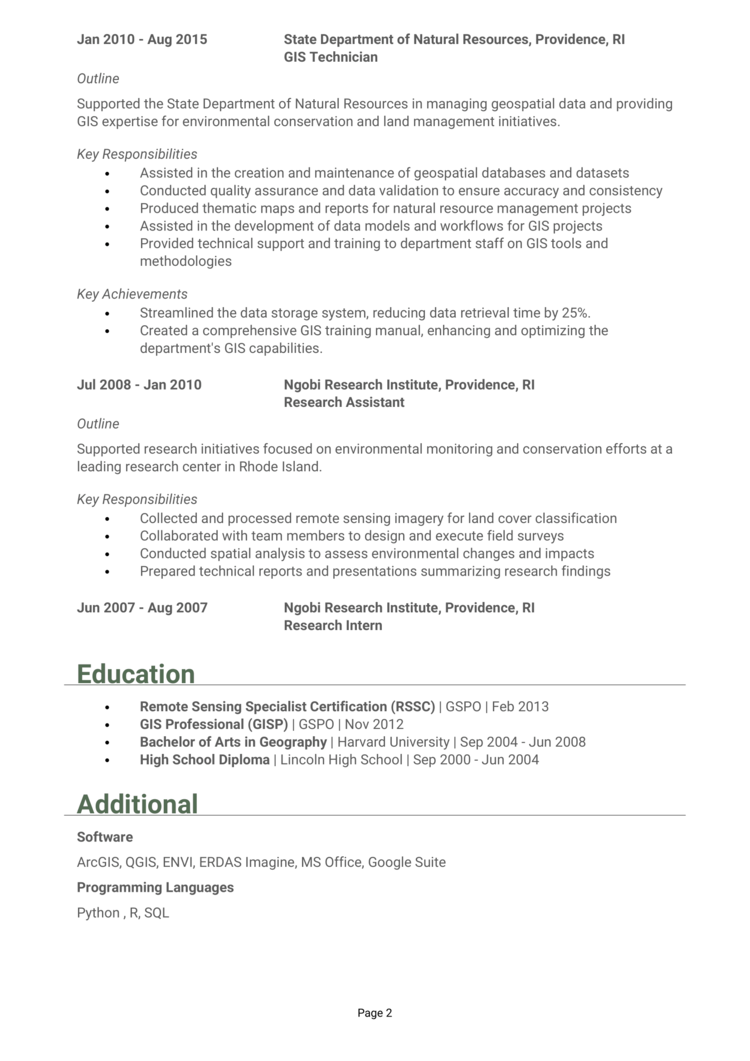 This example GIS Analyst resume is well-structured to provide a pleasant reading experience for recruiters, and contains all of the crucial information they want to see.
The rest of the guide will show you exactly how you can achieve this in your own resume.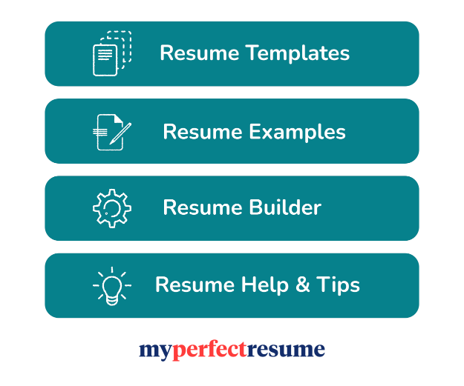 GIS Analyst resume layout and format
Formatting is often overlooked when writing resume, but it's a crucial element of it"s success.
Creating a document that not only looks good, but is easily comprehended, is the key to gaining and holding the attention of busy hiring managers.
Use these formatting tips for best results.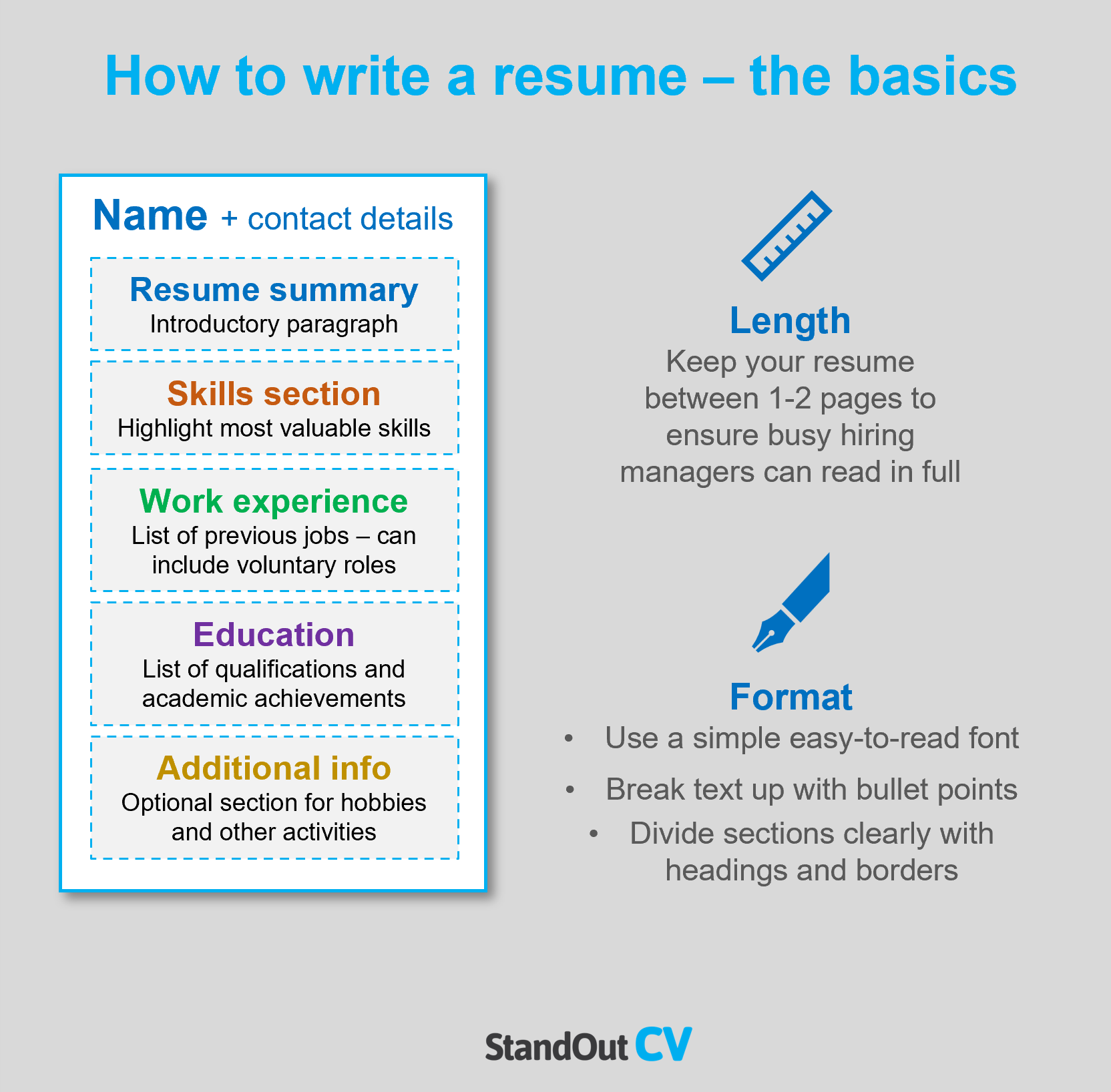 Formatting your resume
Length: Attention spans in recruitment are notoriously short, so keep your resume short and sweet. There's no exact rule for resume length, but aim for 2 pages or less if you want to ensure yours gets read in full.
Font & readability: A readable resume is crucial if you want recruiters to see your important skills. Ensure yours is easy to read by using a simple, clear font and breaking up the text with bullet points and short paragraphs.
Layout: Your resume should look appealing – but don't overlook functionality when it comes to design. Organise the page into clear sections using bold headings and borders.
Photos: While a photo is not usually necessary on your resume in the United States, it may be beneficial to include one in regions and industries where it is customary.
Quick tip: Achieving a professional look for your resume can be difficult and time-consuming. If you want to create an attractive resume quickly, try our partner's Resume Builder and use one of their eye-catching resume templates.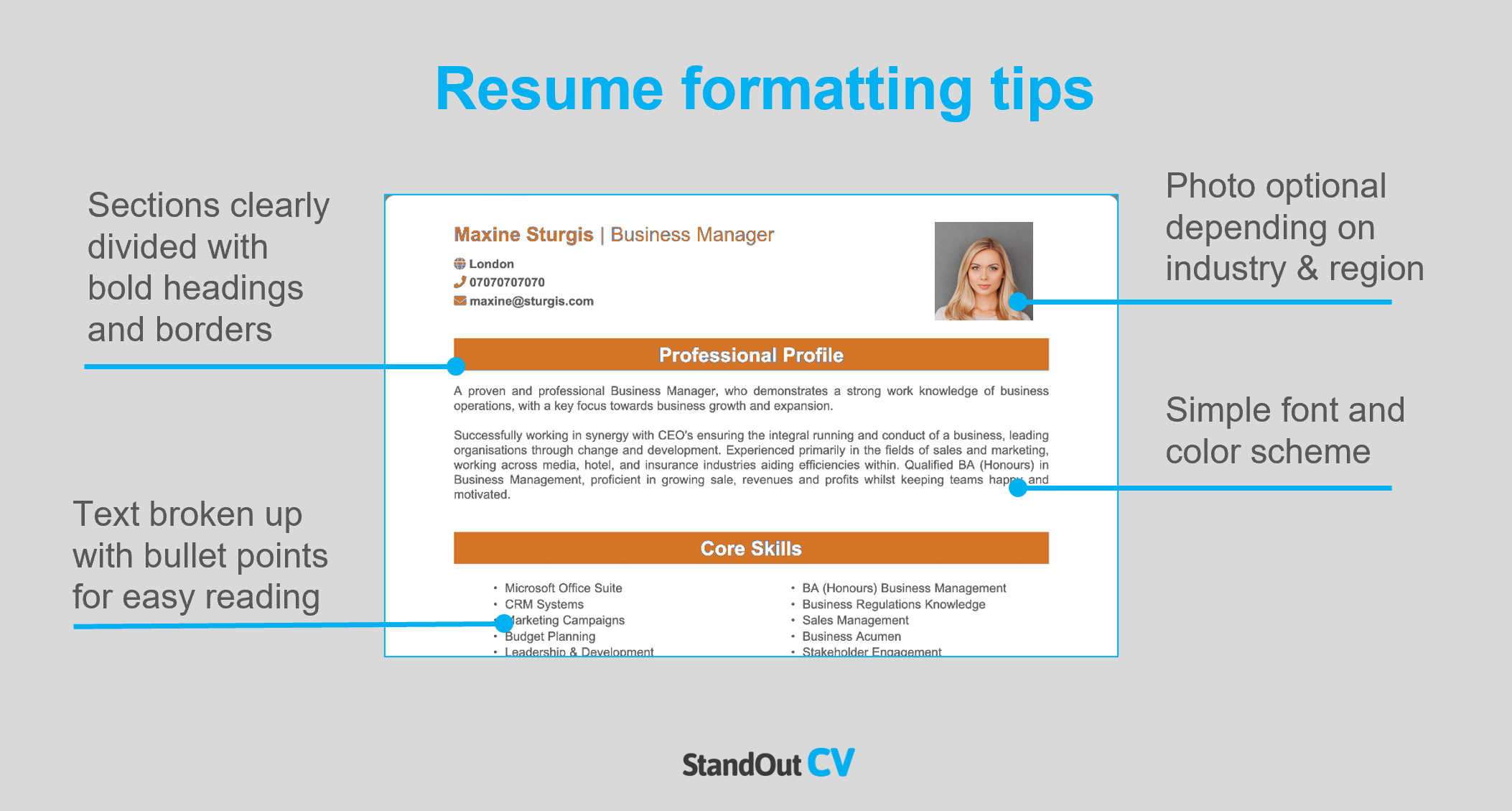 Resume layout
Here's an overview of the sections you should add when writing your resume.
Name and contact details – Stick these details at the top, so they are easy to find.
Resume summary – A punchy paragraph summarizing your skills and knowledge, enticing recruiters to read more of your resume.
Skills section – Short list of your most valuable skills, enabling recruiters to quickly spot your suitability.
Work experience – Showcase your previous employment, starting with your most recent roe and working backwards – voluntary work and college placements can be included if you have no paid experience.
Education – A summary of your most relevant qualifications and academic achievements
Additional info – An optional section for that other attributes that may boost your application, such as hobbies or clubs
Here's what to add to each section of your GIS Analyst resume.
Contact Details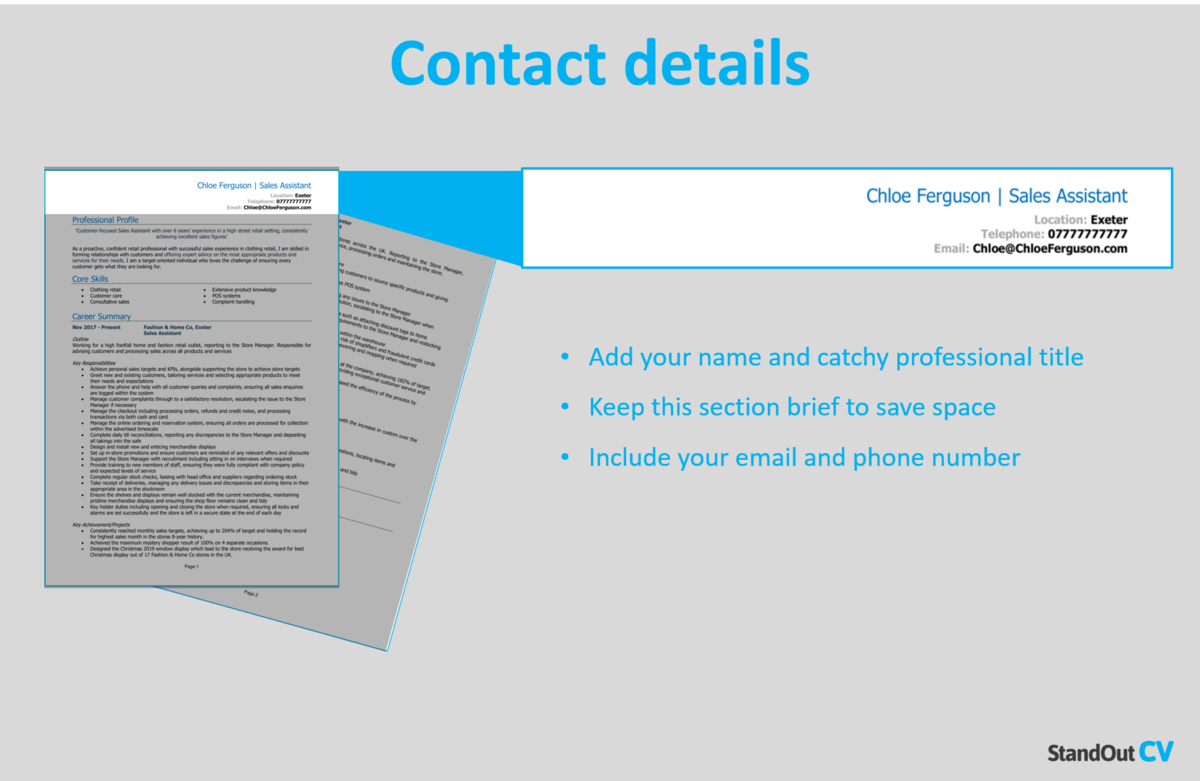 Keep your contact details short to save resume space and include the following.
Name and profession title
Cell phone number
Location – Add your local area such as Silicon Valley or New York, unless you are looking for work in a different location
Email address – Keep it professional and don't use an old address that you thought was cool in high school, but now looks a bit embarrassing.
You can add a link to your LinkedIn profile if you have one – you do not need to include personal details like date of birth or marital status.
GIS Analyst Resume Summary
Create a strong opening for your resume by adding a compelling summary to the top that highlights your most valuable skills and experience.
This short but important paragraph is designed convince recruiters that you're the perfect candidate for the job and entice them to read more of your resume.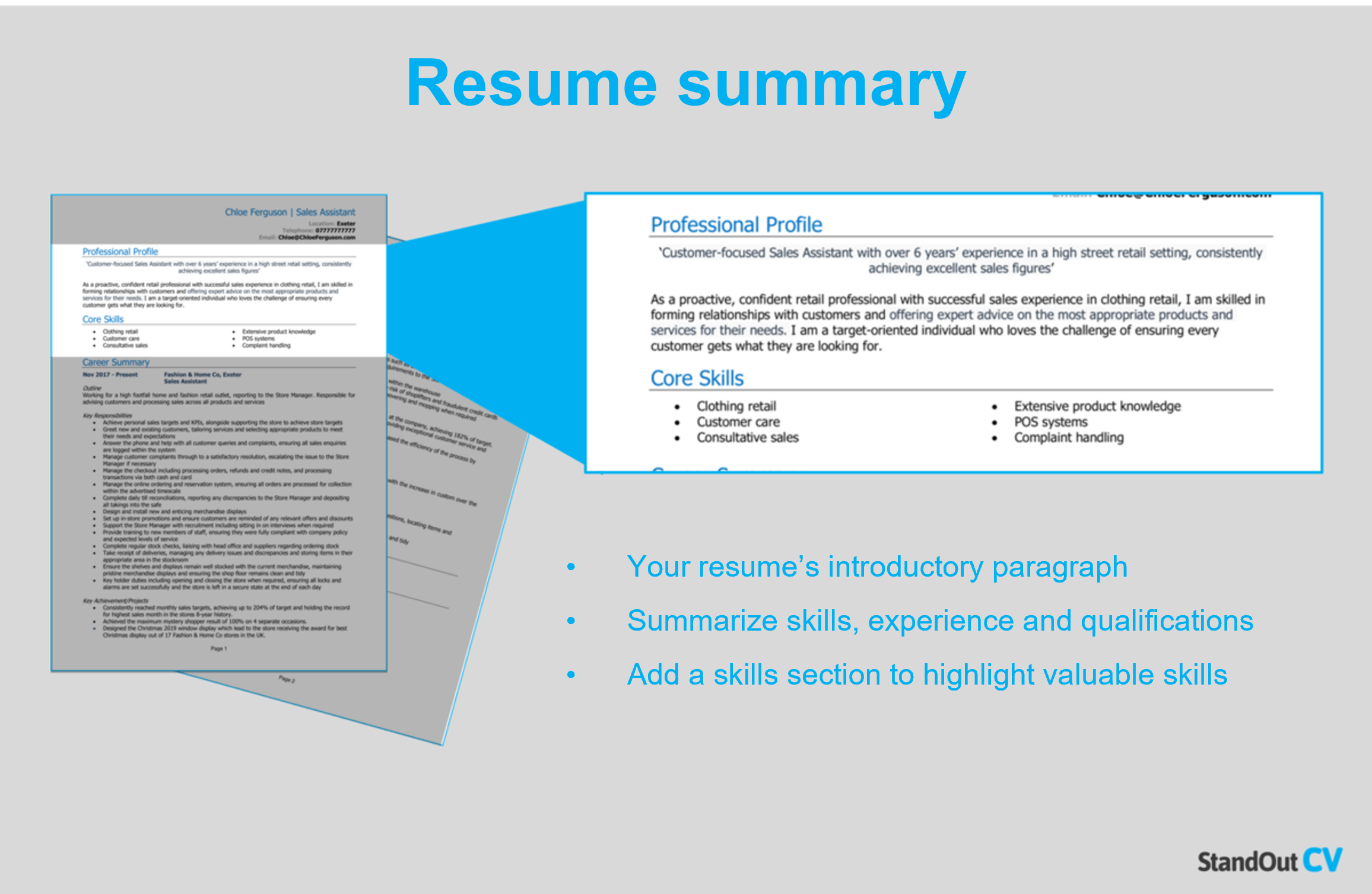 How to create a resume summary that will excite recruiters:
Keep it short: You only have a few seconds to grab a recruiters' attention and make them commit to your resume, so keep your summary between 4 – 7 lines.
Tailor to target jobs: To tailor your resume to your target jobs, it's essential to closely analyze the job description and include as many relevant skills as possible.
Avoid using cliches: Recruiters look for facts in resumes, such as hard skills and qualifications – so, leave out the meaningless cliches like "hard worker who works well in a team and individually"
GIS Analyst resume summary example
Dedicated Geographic Information Systems Analyst with a strong background in spatial analysis and data visualization and a bachelor's degree in geography from Harvard University. Experienced in leveraging geospatial technologies and developing web mapping solution to support environmental consultancy projects across the United States. Passionate about utilizing GIS tools and techniques to address complex environmental challenges and promote sustainable practices.
What to include in your GIS Analyst resume summary?
Summary of your experience: Summarize the type of work you have done in the past and the benefits you have delivered for the organizations you worked at.
Relevant skills: Scatter your most in-demand GIS Analyst skills through your summary to ensure they are noticed quickly by hiring managers.
Qualifications: Any qualifications that are important to the GIS Analyst jobs you are applying for, should be mentioned in the summary.
Quick tip: Choose from hundreds of pre-written summaries across all industries, and add one to your resume with one-click in our partner's Resume Builder. All written by recruitment experts and easily tailored to suit your unique skillset and style.
Core skills section
Underneath your summary, write a core skills section to make your most relevant skills jump off the page at readers.
It should be made up of 2-3 columns of bullet points of your relevant skills.
Before you do this, look over the job description and make a list of any specific skills, specialisms or knowledge required.
Then, make sure to use your findings in your list. This will paint you as the perfect match for the role.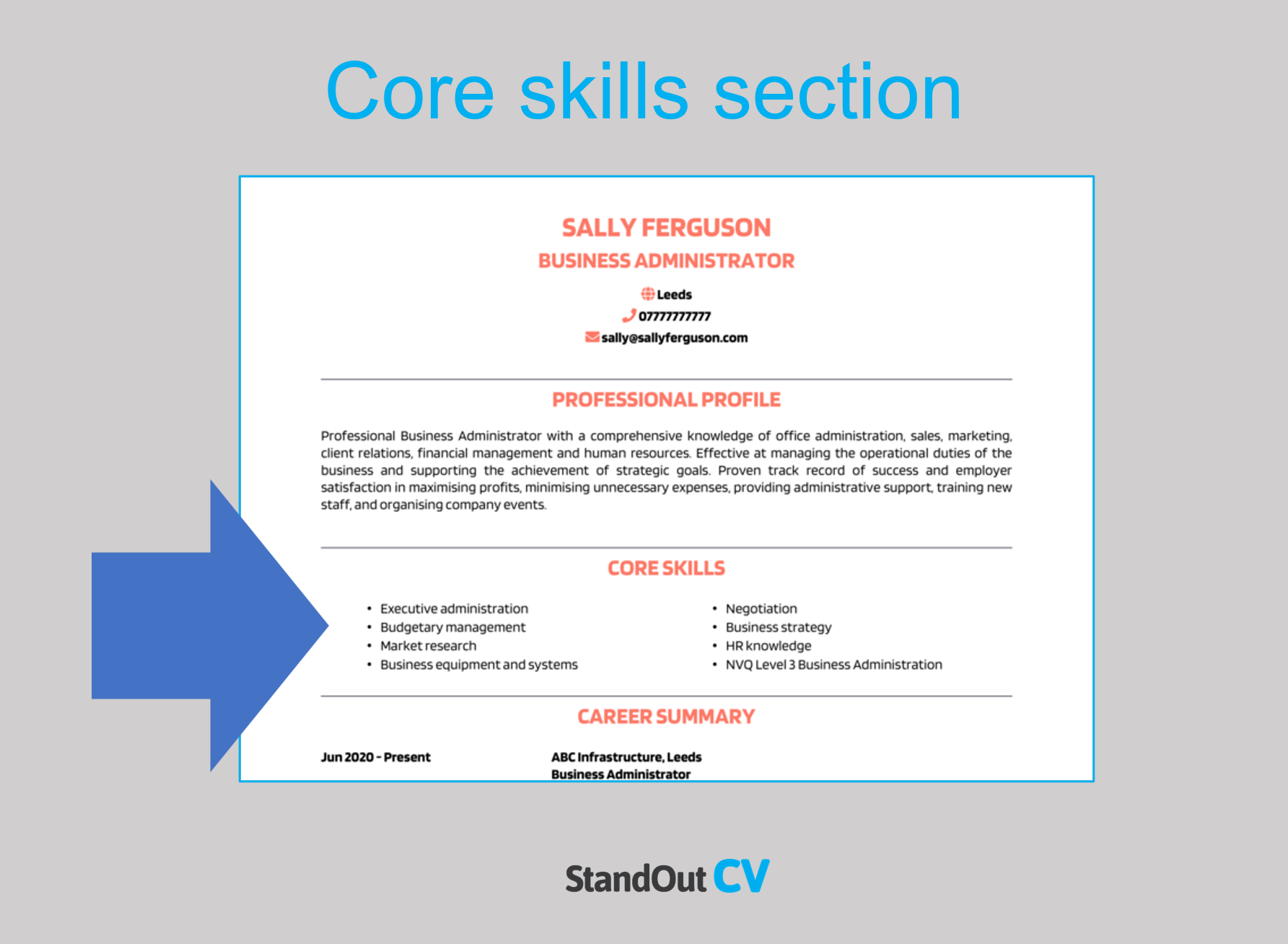 Best skills for your GIS Analyst resume
Geographic Information Systems (GIS) Software – Using GIS software tools such as ArcGIS, QGIS, or other specialized mapping and spatial analysis software.
Spatial Data Analysis – Analyzing and interpreting geospatial data, performing spatial queries, and generating meaningful insights and patterns from spatial datasets.
Database Management – Managing geospatial databases, including data entry, storage, retrieval, and data quality assurance.
Cartography and Map Design – Utilizing knowledge of cartographic principles to create visually appealing and informative maps for various purposes.
Remote Sensing – Utilizing remote sensing technologies to integrate and analyze data from aerial or satellite imagery.
Data Visualization – Visualizing geospatial data using charts, graphs, and other data visualization techniques to communicate complex information effectively.
GPS Technology – Utilizing knowledge of Global Positioning System (GPS) technology and its application in data collection and mapping.
Spatial Modeling – Creating and using spatial models to simulate real-world scenarios and support decision-making processes.
Programming Languages – Utilizing programming languages such as Python, R, or JavaScript to automate geospatial analysis and processes.
Geospatial Analysis Techniques – Utilizing various geospatial analysis methods, including network analysis, geocoding, geostatistics, and spatial interpolation.
Quick tip: Our partner's Resume Builder contains thousands of in-demand skills for every profession that can be added to your resume in seconds – saving you time and greatly improving your chances of landing job interviews and getting hired.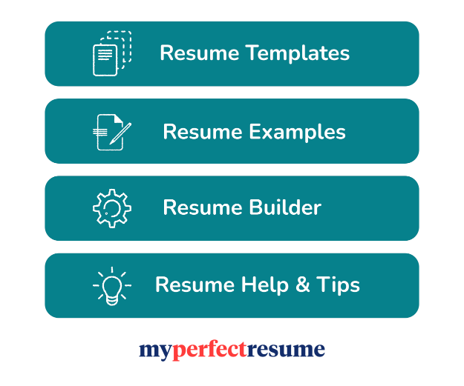 Work experience
Once you've hooked the hiring manager with your summary, you can really blow them away with you work experience.
List your previous jobs from newest to oldest to show the impact you made at each organization.
If you have years of experience, you can leave out some of the older jobs, and if you have little/no experience, you can bulk this section up with voluntary work and college placements.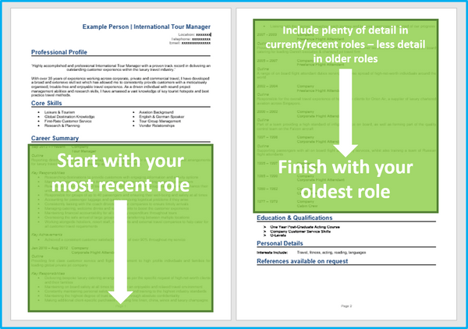 Structuring your jobs
It's easy to overwhelm readers when writing about a job you have been doing for years or even months.
Break the information up like this to keep it simple for recruiters to understand.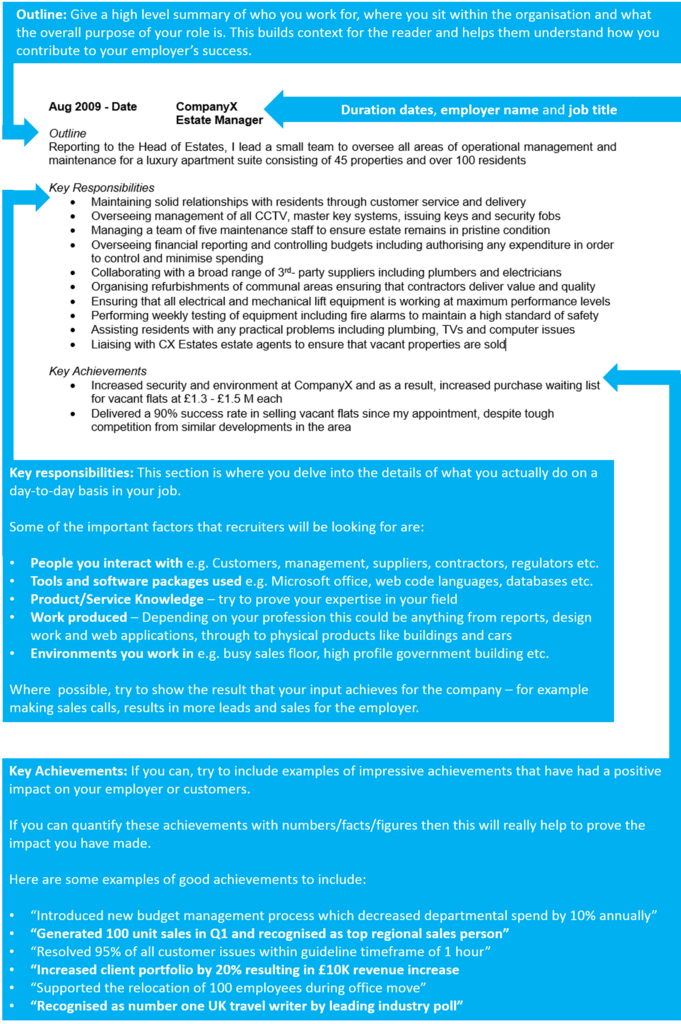 Job outline
Starting each job with a brief summary of the organization, your position within it, and the primary goal of your role can help recruiters quickly understand the context of your work.
Key responsibilities
List your notable responsibilities in short sharp bullet points to demonstrate your input and how you contributed to the organization's success.
Highlight the skills that are most important to the roles you are applying for.
Key achievements
Round off each job by adding some impressive achievements you made in the role.
Anything you've done that has made a big impact on your employer will make a good impression, think; generating revenue, saving costs, or improving a product.
Quantify your achievements with number where possible e.g. "reduced call wait time by 10%"
Example job for GIS Analyst resume
Outline
Work at an environmental consultancy firm specializing in sustainable practices and environmental impact assessments, utilizing GIS technologies to support high-impact projects across the United States.
Key Responsibilities
Collect, manipulate, and analyze geospatial data using GIS software
Conduct spatial analysis to identify patterns, trends, and relationships within environmental data
Develop and maintain geodatabases to ensure accurate and organized data storage
Create visually appealing maps, charts, and infographics to communicate findings
Quick tip: Create impressive job descriptions easily in our partner's Resume Builder by adding pre-written job phrases for every industry and career stage.

Education section
Near the end of your resume add your education section.
Experienced candidates should keep it brief and focus on professional qualifications – and junior candidates can include high school diplomas, college degrees etc.
Additional information
If you have anything else to add which is relevant to the jobs you are applying for, the additional info section is the place to add it.
Perhaps you have a hobby which involves relevant skills, or maybe you have some awards or publications worth mentioning.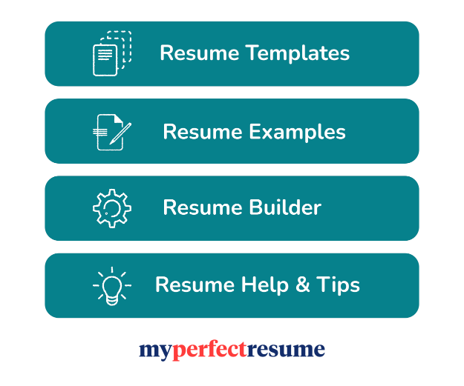 Writing your own winning GIS Analyst resume
Writing a GIS Analyst resume can be challenging but following the steps above will ensure that you land plenty of interviews.
Good luck with your job search!