As a freelance web developer, you can be more selective about the projects you take on.
The trouble is employers can be just as selective about who they hire.
So if you want to impress, you need to effectively outline your design skills, along with your key achievements and experience in your application. You can use our freelance web developer resume example and writing guide to inspire you.
Contents
| | |
| --- | --- |
| How to write a Freelance Web Developer resume | |

Freelance Web Developer Resume Example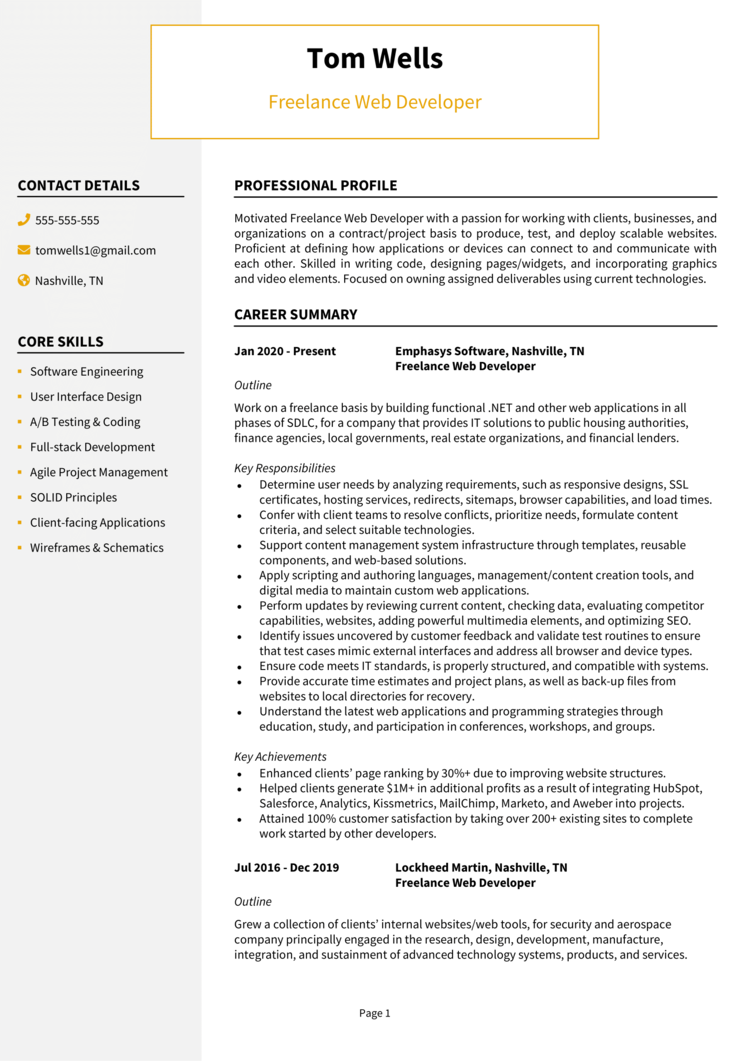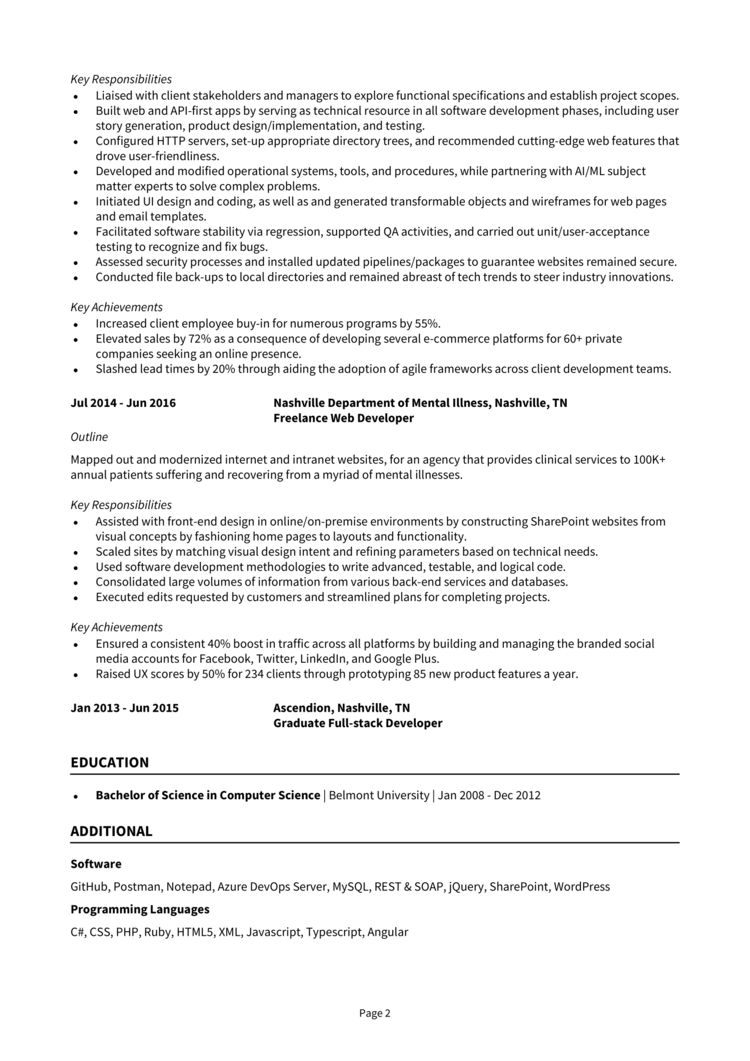 This example Freelance Web Developer resume gives you a general idea of how to structure your own resume, along with the type of content you need to include.
Sticking with this resume format will help you to get noticed by employers and ensure that they can quickly see the benefit of hiring you.
Now, lets walk through a step-by-step guide on how to write your own winning resume.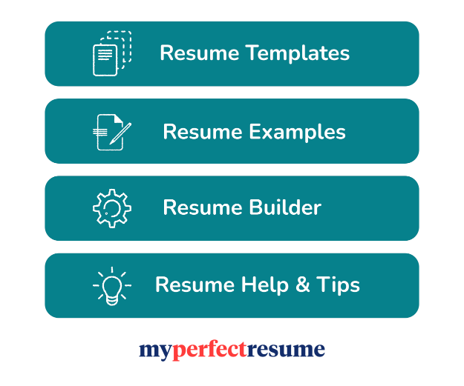 Freelance Web Developer resume layout and formatting
Formatting and structuring your resume correctly is key to landing job interviews.
Your resume needs to look attractive, but more importantly it needs to be easy for recruiters and hiring managers to read and digest the information.
These tips will help you to do that: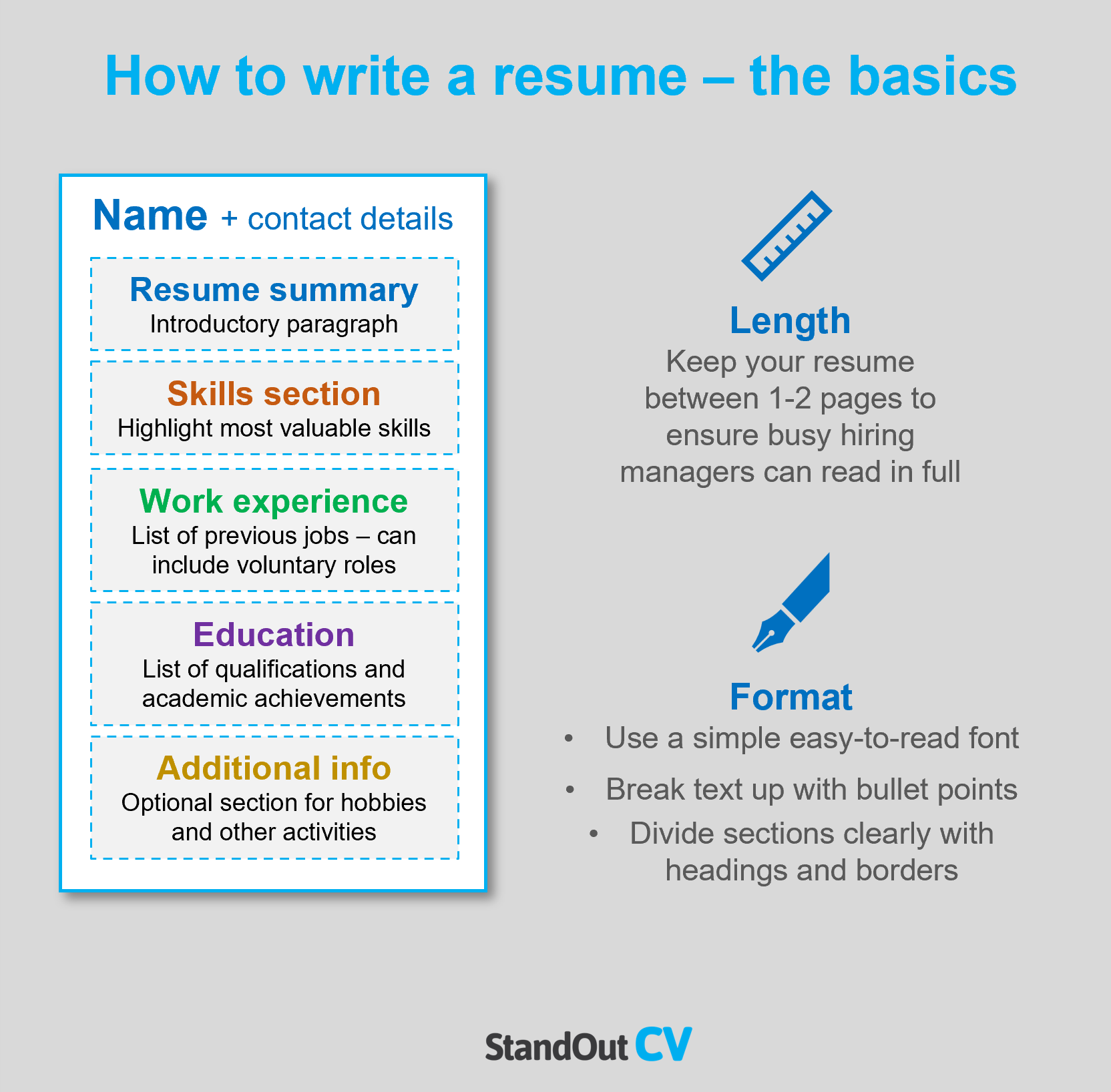 Formatting your resume
Length: To ensure that recruiters will read all of your resume, limit its length to 2 pages – as they sometimes read hundreds of resumes daily.
Font & readability: A readable resume is crucial if you want recruiters to see your important skills. Ensure yours is easy to read by using a simple, clear font and breaking up the text with bullet points and short paragraphs.
Layout & Structure: A visually appealing resume is important, but don't forget about functionality. To ensure a functional design, use bold headings and borders to organize the page into clear sections.
Photos: It's not mandatory to add a photo to your resume in the USA but it if you're applying to organizations within the creative fields, it can be beneficial.
Quick tip: Achieving a professional look for your resume can be difficult and time-consuming. If you want to create an attractive resume quickly, try our partner's Resume Builder and use one of their eye-catching resume templates.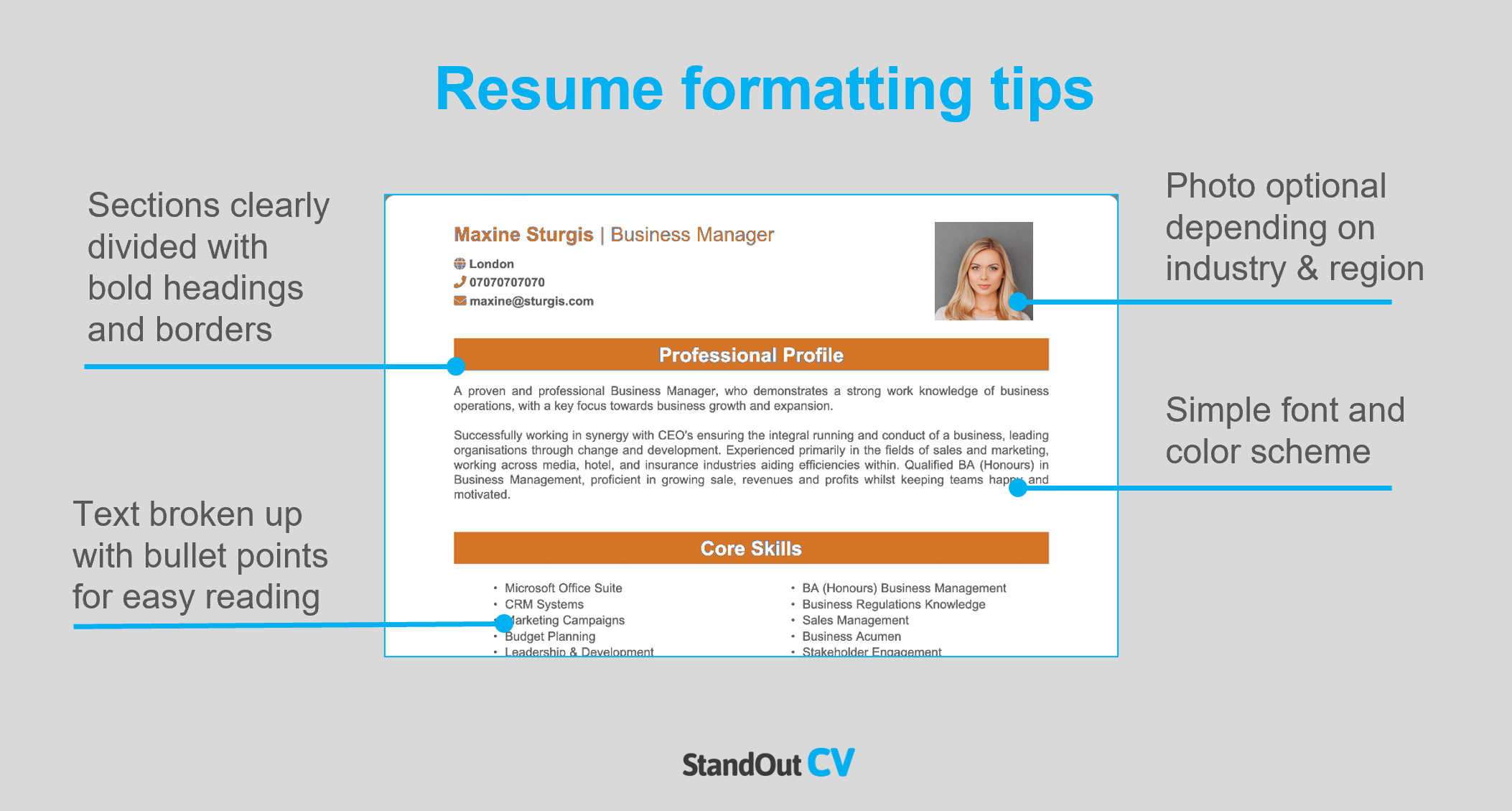 Resume layout
When writing your resume, you should always include the following sections:
Name and Contact Details – Place this information at the top of your resume to make it easy for employers to contact you.
Resume Summary – Write a brief introductory paragraph at the top of your resume summarizing why you are the best candidate for the job.
Skills Section – Create a concise list of your most important skills that can be quickly skimmed over by potential employers.
Work Experience – List your previous jobs in reverse chronological order, including volunteer work and college placements if you have no paid experience.
Education – List your educational qualifications and any professional training you have received.
Additional Information – This is an optional section for including details about hobbies, interests, or any other relevant information that may help distinguish you from other candidates.
Here's what to include in each part of your resume.
Contact Details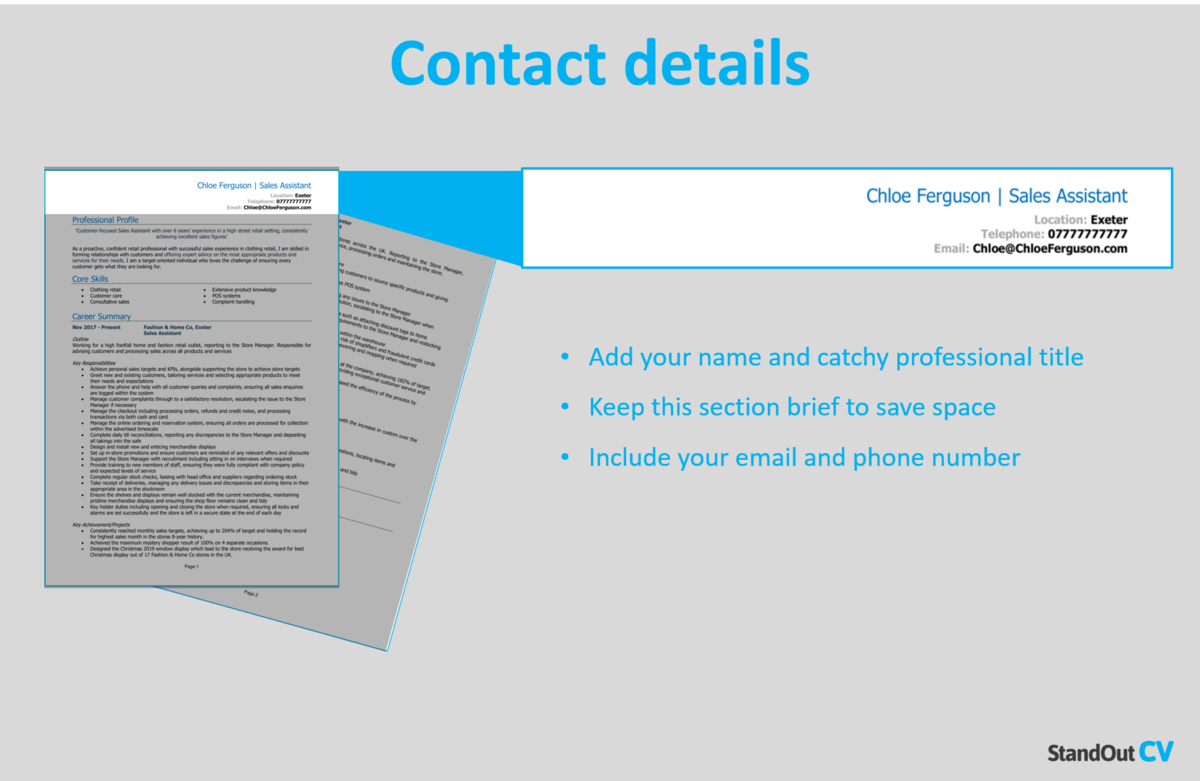 Make it easy for hiring managers to contact you by adding your contact details to the top of your resume.
Keep this section small to save space and include the following.
Name and profession title
Telephone number – Ideally your cell phone so you can answer quickly.
Location – Add your general location such as LA or New York
Email address – Use a professional looking one with no nicknames.
You can add a link to your LinkedIn profile if you have one – you do not need to include personal details like date of birth or marital status.
Freelance Web Developer Resume Summary
Your resume summary is like an elevator pitch. It's your chance to sell yourself to employers within a short space of time.
Achieve this by summarizing your skills and expertise, whilst highlighting your abilities that closely match the jobs you are aiming for.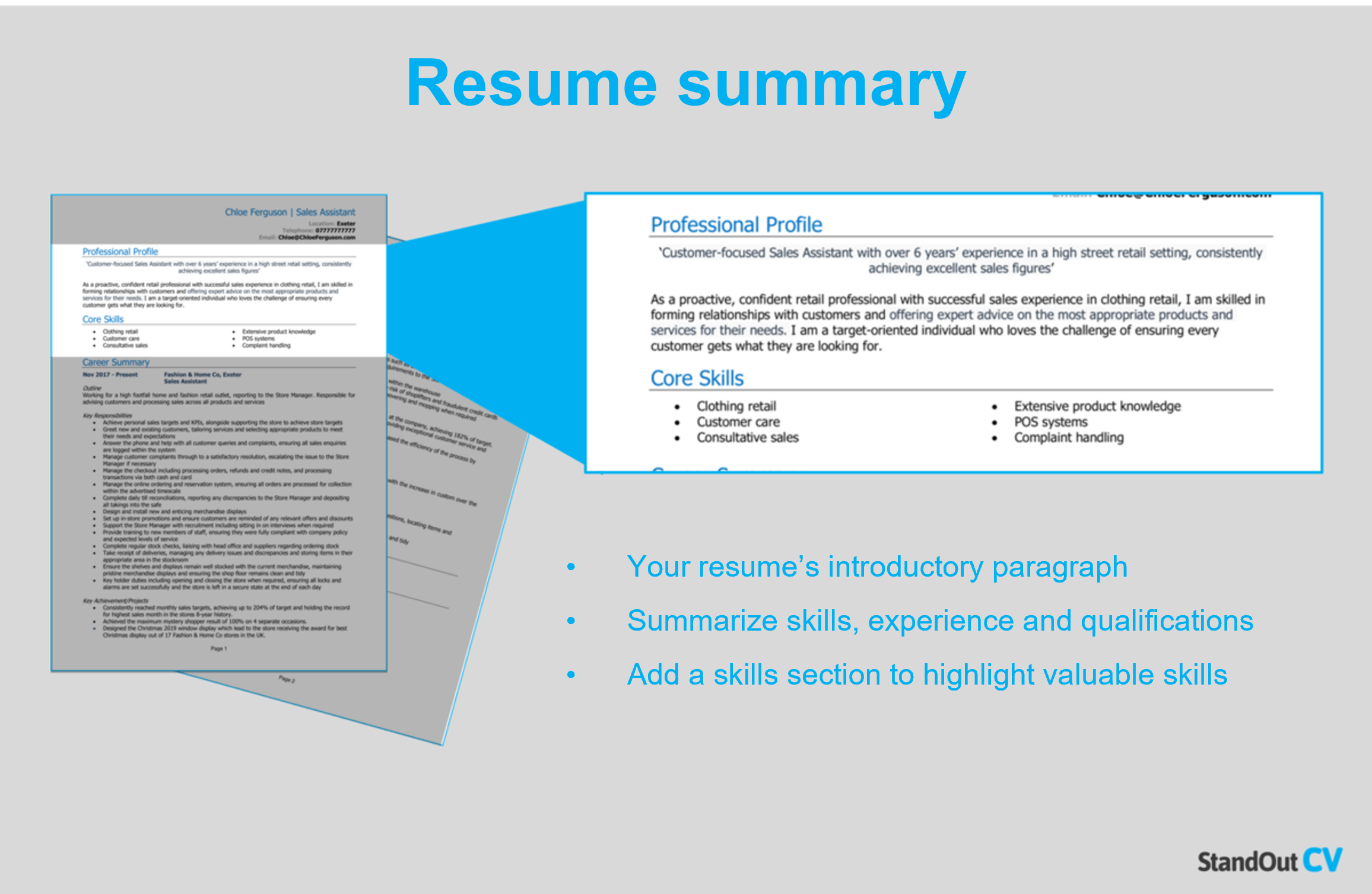 How to create a resume summary that will excite recruiters:
Keep it short: To effectively capture a recruiter's attention, it's crucial to keep your resume summary brief and to the point, limiting it to 4-7 lines as this provides enough detail without overwhelming them at this early stage.
Tailor to target jobs: To mirror your target jobs, scrutinize the job description and include as many relevant skills as possible in your resume.
Avoid using cliches: You might be a "highly motivated go-getter who thinks outside the box" but generic meaningless cliches like that don't tell employers much about you – stick to factual information in your summary.
Freelance Web Developer resume summary example
Motivated Freelance Web Developer with a passion for working with clients, businesses, and organizations on a contract/project basis to produce, test, and deploy scalable websites. Proficient at defining how applications or devices can connect to and communicate with each other. Skilled in writing code, designing pages/widgets, and incorporating graphics and video elements. Focused on owning assigned deliverables using current technologies.
What to include in your Freelance Web Developer resume summary?
Summary of your experience: Briefly describe the work you have performed in the past and the contributions you have made to the organizations you have worked for.
Relevant skills: Highlight your skills which are most relevant to Freelance Web Developer jobs, to ensure that recruiters see your most in-demand skills as soon as they open your resume.
Qualifications: If your job requires any qualifications such as a professional course or a college degree, mention it briefly in your summary.
Quick tip: Choose from hundreds of pre-written summaries across all industries, and add one to your resume with one-click in our partner's Resume Builder. All written by recruitment experts and easily tailored to suit your unique skillset and style.
Core skills section
Next, you should create a bullet pointed list of your core skills, formatted into 2-3 columns.
Here, you should focus on including the most important skills or knowledge listed in the job advertisement.
This will instantly prove that you're an ideal candidate, even if a recruiter only has time to briefly scan your resume.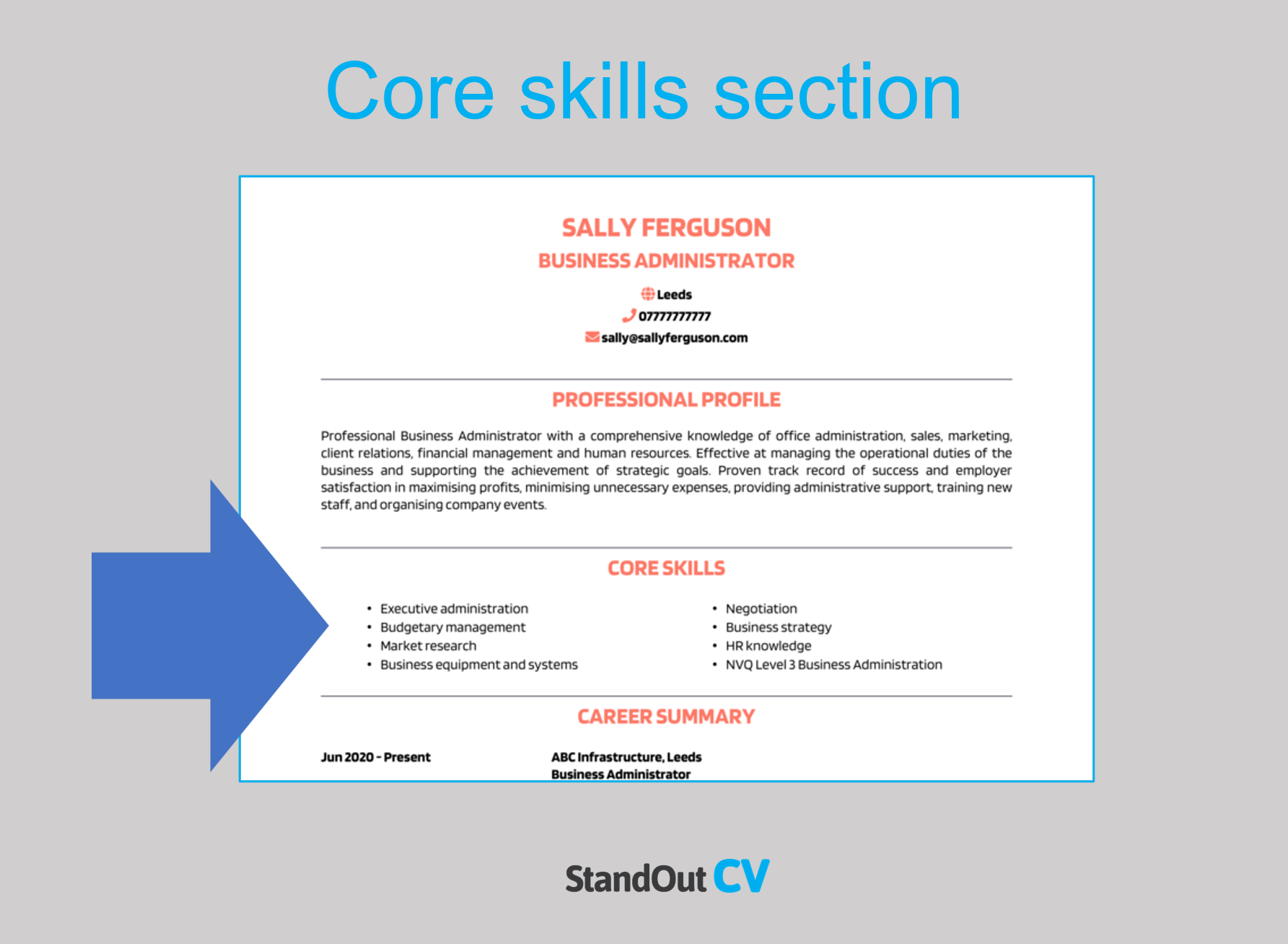 Best skills for your Freelance Web Developer resume
Proficiency in programming languages – Writing and developing code in various programming languages, including HTML, CSS, JavaScript, PHP, and others, to create functional and visually appealing websites.
Web development frameworks – Utilizing knowledge of various web development frameworks, including React, Angular, Vue, and others, to streamline website development and improve website performance.
Responsive web design – Utilizing knowledge of responsive web design principles, including creating mobile-friendly and cross-browser compatible websites, to optimize website accessibility.
Database management – Utilizing knowledge of database management principles, including creating, configuring, and maintaining databases, to ensure efficient data storage and retrieval.
Search engine optimization (SEO) – Utilizing knowledge of SEO principles, including keyword research, content optimization, and link building, to improve website rankings and increase website traffic.
Web analytics – Analyzing website performance metrics, including traffic, engagement, and conversion rates, to identify opportunities for improvement and optimize website performance.
Security protocols – Utilizing knowledge of security protocols and practices, including website security and data protection, to maintain a secure and safe website environment.
Project management – Managing web development projects, including setting timelines, budgets, and resources, to ensure that projects are completed on time and within budget.
Continuous learning – Continuously learning and staying up to date on new web development technologies and trends, to ensure that web development skills and practices are current and relevant.
Quick tip: Our partner's Resume Builder contains thousands of in-demand skills for every profession that can be added to your resume in seconds – saving you time and greatly improving your chances of landing job interviews and getting hired.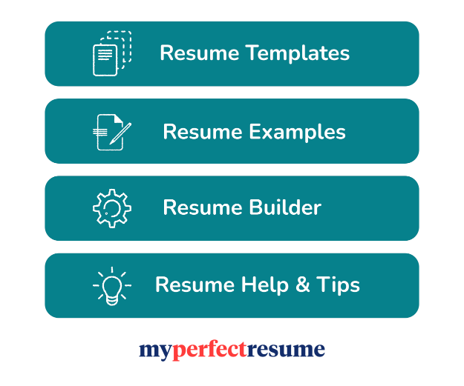 Work experience
So, you've grabbed the recruiters' attention with your summary, now it's time to show them what you're really capable of in your work experience section.
List your previous jobs from current to oldest, showing off the impact you made at each organization.
If you have tons of experience, you should just list the most recent an relevant jobs – but if you have little or no experience, add it all and even consider putting in voluntary work.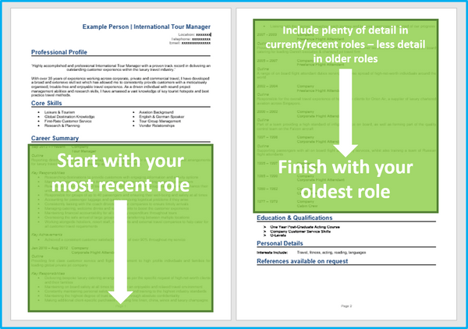 Structuring your jobs
It's easy to overwhelm readers when writing about a job you have been doing for years or even months.
Break the information up like this to keep it simple for recruiters to understand.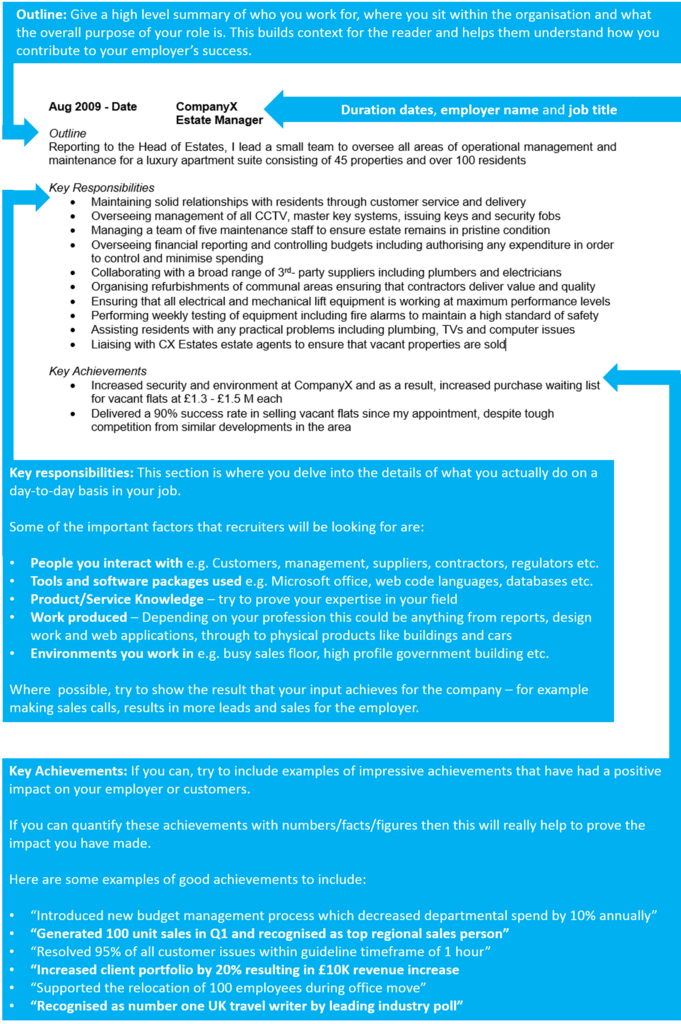 Job outline
Each role description should begin with a qucik summary of the job and company, along with how the job fits into the strucuture of the organization.
Key responsibilities
Then delve into the detail of your job by listing out easy-to-read bullet points which show how you apply your skills in the workplace.
Tailor these bullet points to focus on the skills and knowledge that are required in the jobs you are applying for.
Key achievements
Finish each role by highlighting some impressive achievements you made whilst in the role.
Anything that benefited the employer can be included from making financial savings, to winning new customers.
Quantify your achievements with facts and figures if you can, e.g. "reduced call wait time by 10%"
Example job for Freelance Web Developer resume
Outline
Work on a freelance basis by building functional .NET and other web applications in all phases of SDLC, for a company that provides IT solutions to public housing authorities, finance agencies, local governments, real estate organizations, and financial lenders.
Key Responsibilities
Determine user needs by analyzing requirements, such as responsive designs, SSL certificates, hosting services, redirects, sitemaps, browser capabilities, and load times.
Confer with client teams to resolve conflicts, prioritize needs, formulate content criteria, and select suitable technologies.
Support content management system infrastructure through templates, reusable components, and web-based solutions.
Apply scripting and authoring languages, management/content creation tools, and digital media to maintain custom web applications.
Quick tip: Create impressive job descriptions easily in our partner's Resume Builder by adding pre-written job phrases for every industry and career stage.

Education section
Nearing the end of your resume, your education/qualifications section should be added.
In a well-structured list, add all of your qualifications and certifications that qualify you to perform a typical Freelance Web Developer role.
If you have plenty of work experience, keep this section brief – if not, add lots of detail to make up for your lack of experience.
Additional information
At the end of your resume, you can add any extra information that might be relevant to the jobs you are applying for.
This could be hobbies, interests, publications, clubs or memberships.
This section is optional and doesn't need to be added if you have nothing more relevant to add.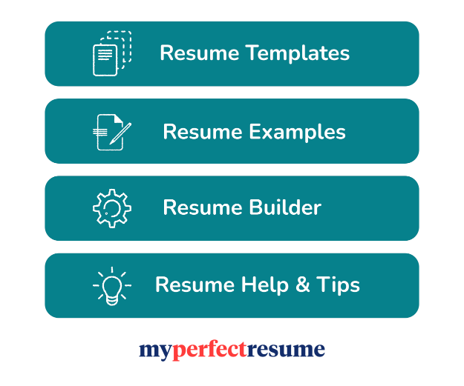 Writing your own winning Freelance Web Developer resume
Following the steps in this guide will help you to create a winning Freelance Web Developer resume and bag lots of interviews.
Good luck with your job search!