You've got an eye for fashion and visual composition, and you're always up to date on the latest trends. The tricky part is ensuring that your job applications reflect this.
So, for a resume that's as au courant as your wardrobe, check out our step-by-step writing guide below.
We've also created a fashion stylist resume example to influence your own.
Contents
| | |
| --- | --- |
| How to write a Fashion Stylist resume | |

Fashion Stylist Resume Example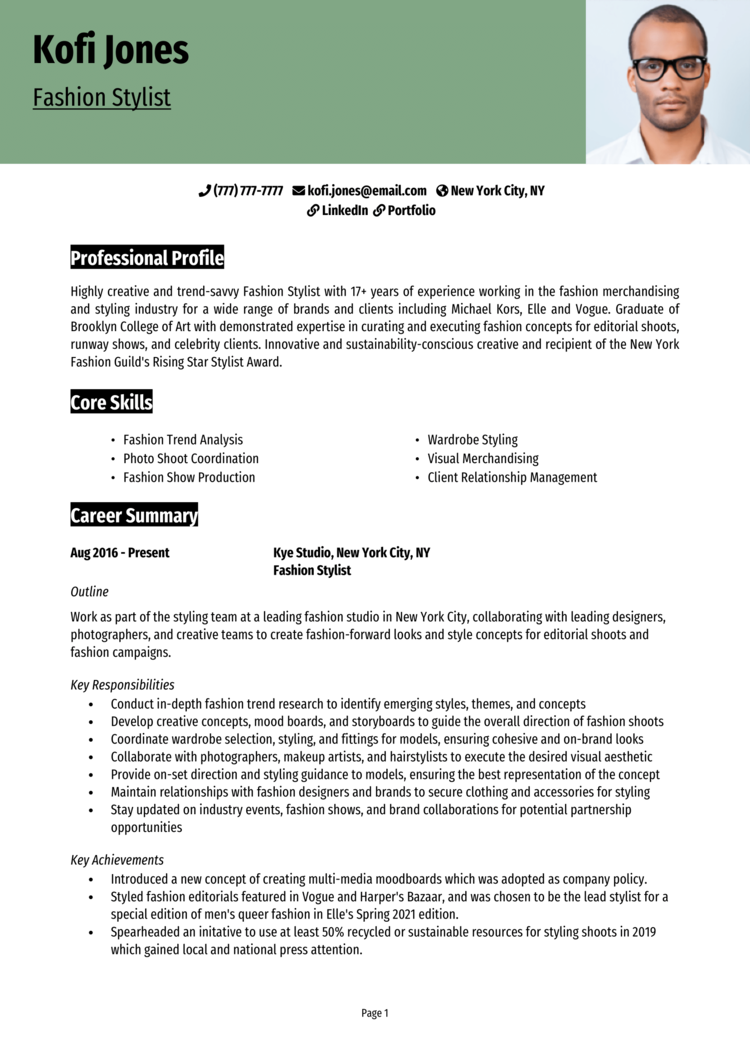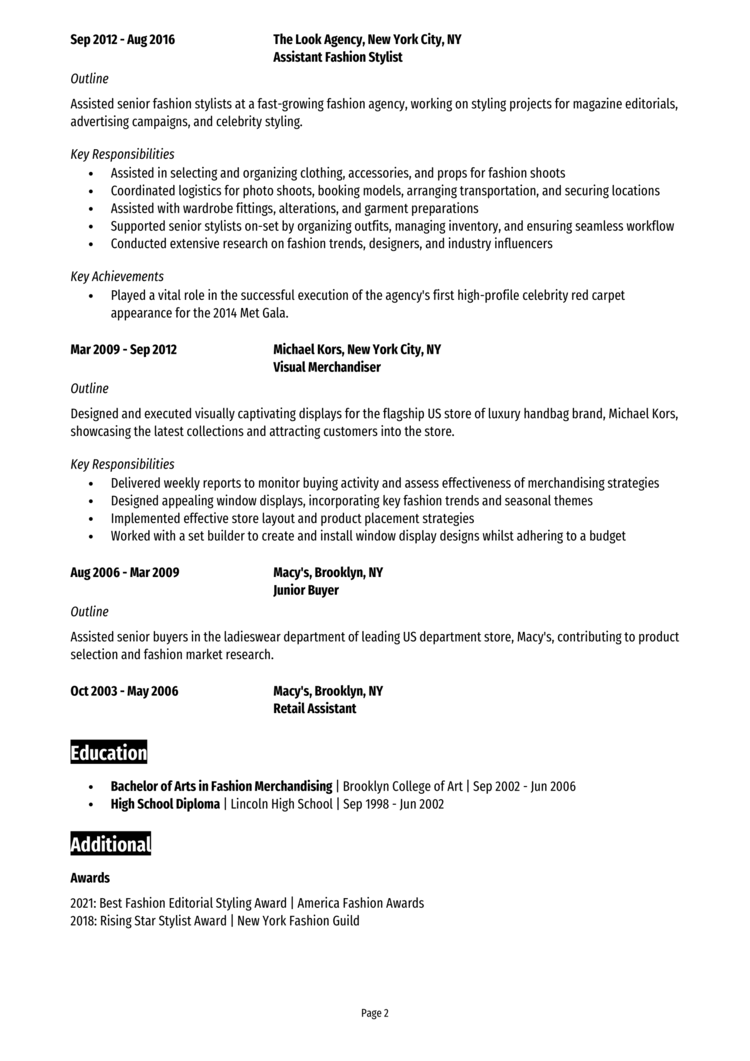 This example Fashion Stylist resume provides you with a general idea of how your resume should look, and what information recruiters expect to see.
The rest of this guide will explain how to layout your resume and create each section effectively.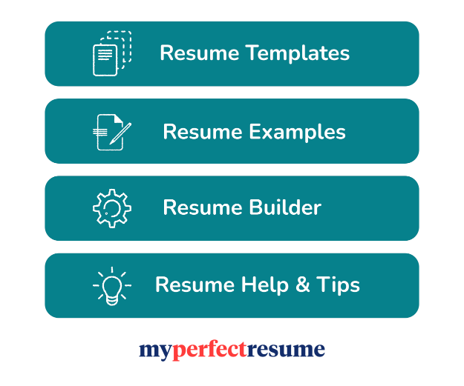 Fashion Stylist resume layout and format
When it comes to holding the attention of recruiting managers, the format and layout of your resume play a key role.
Your resume needs to strike a perfect balance between looking awesome, and being easy for recruiters to read (which is not always easy to achieve)
Use the following formatting tips to get started.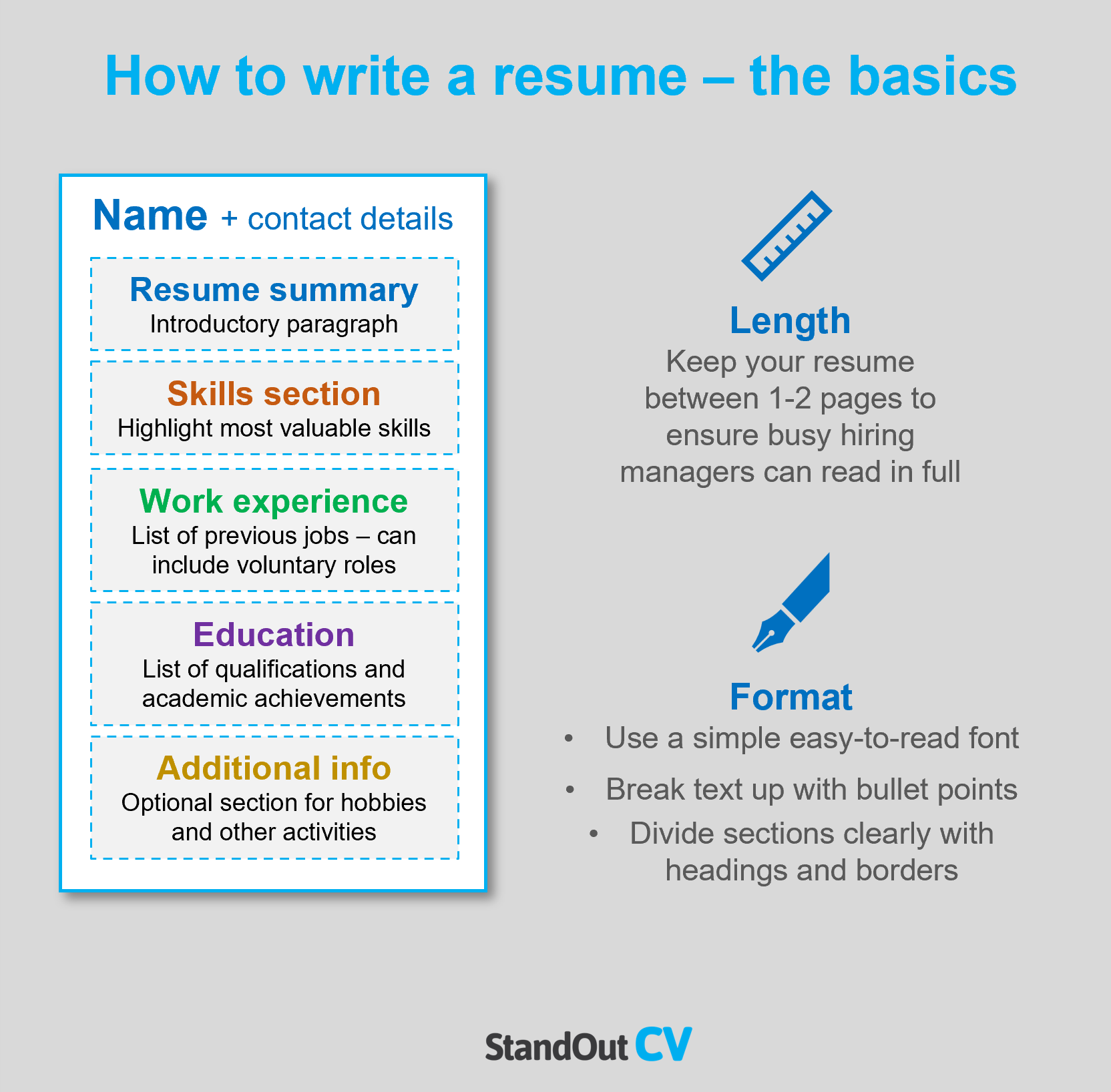 Formatting your resume
Length: To ensure that your resume gets proper attention from recruiters, it is best to keep it at 2 pages or less. Recruiters are often inundated with hundreds of resumes to review on a daily basis, so they want to read each one quickly as possible.
Font & readability: To create a resume that is easily digestible for hiring managers, it's essential to use an uncomplicated font and structure your content with bullet points and short paragraphs.
Layout & Structure: A visually appealing resume is important, but don't forget about functionality. To ensure a functional design, use bold headings and borders to organize the page into clear sections.
Photos: Although it's not mandatory to include a photo on your resume in the United States, it may be a good idea to do so in certain regions and industries where it is preferred.
Quick tip: Achieving a professional look for your resume can be difficult and time-consuming. If you want to create an attractive resume quickly, try our partner's Resume Builder and use one of their eye-catching resume templates.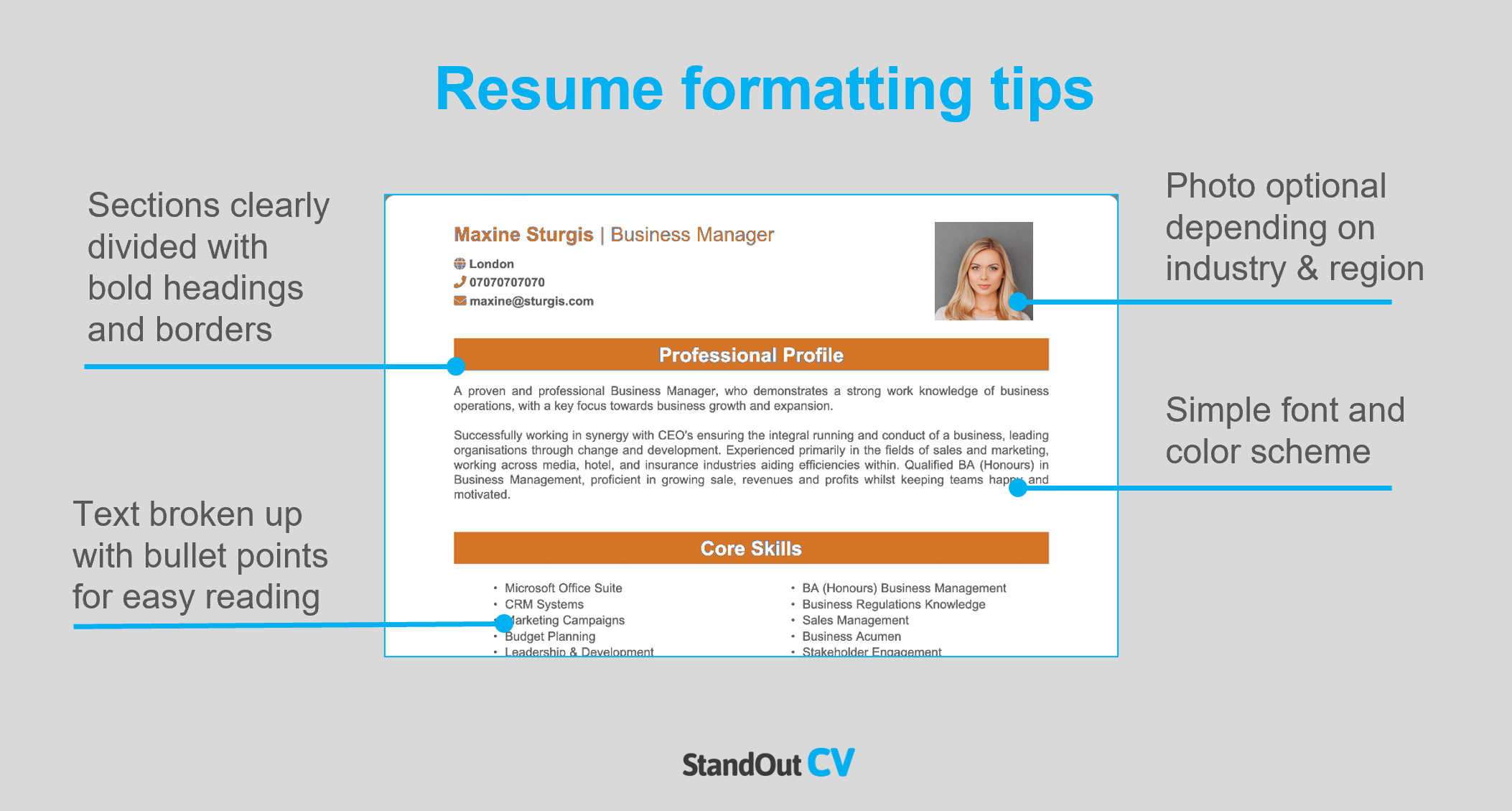 Resume layout
Organize the document into these sections when you write your resume.
Name and contact details – Employers need to know how to get in touch with you – so list your email and cell phone number here.
Resume summary – An intro paragraph at the top of the resume which summarizes your suitability for target jobs.
Skills section – A bullet-pointed list of your most relevant skills and knowledge.
Work experience – A list of your previous jobs (or at least the most relevant and recent ones)
Education – Add academic and professional qualifications that prove you can carry out the job
Additional info – If they are relevant to the jobs you are applying for, you can add an extra section for things like hobbies and interests.
Here's what to include in each part of your resume.
Contact Details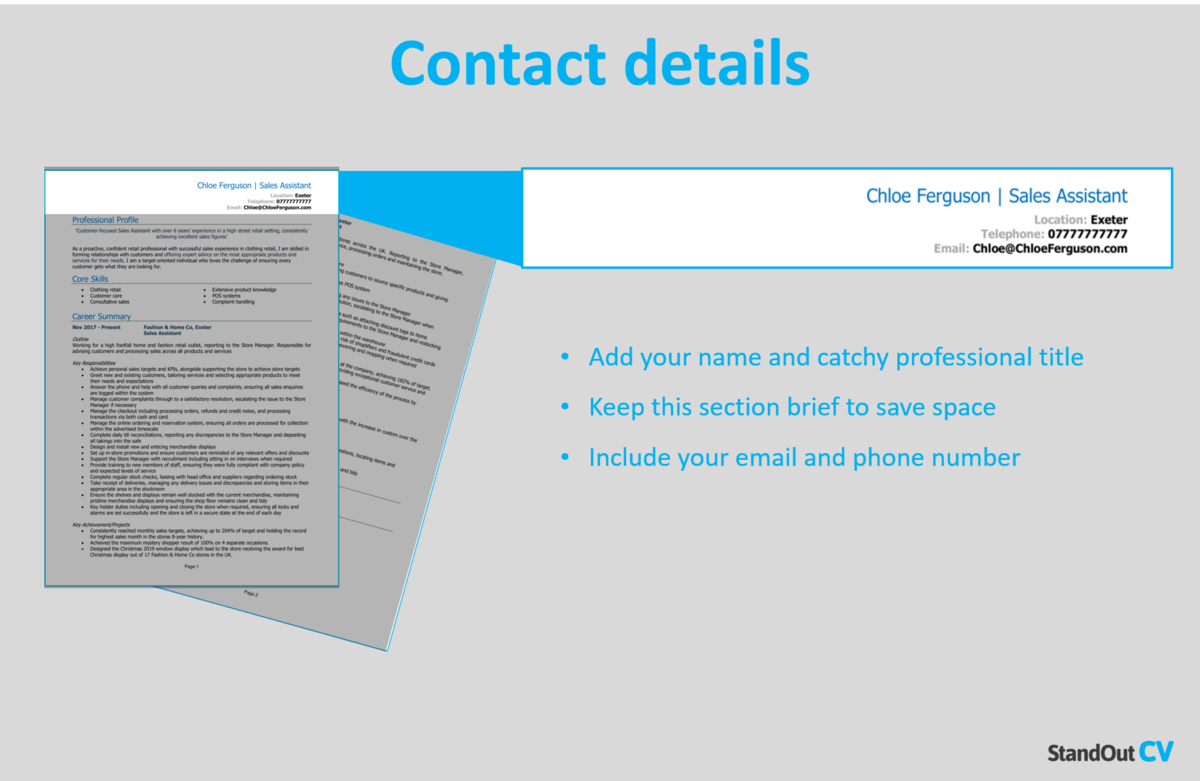 Keep your contact details short to save resume space and include the following.
Name and profession title
Cell phone number
Location – Add your local area such as Silicon Valley or New York, unless you are looking for work in a different location
Email address – Keep it professional and don't use an old address that you thought was cool in high school, but now looks a bit embarrassing.
You can add a link to your LinkedIn profile if you have one – you do not need to include personal details like date of birth or marital status.
Fashion Stylist Resume Summary
Your resume summary is like an elevator pitch. It's your chance to sell yourself to employers within a short space of time.
Achieve this by summarizing your skills and expertise, whilst highlighting your abilities that closely match the jobs you are aiming for.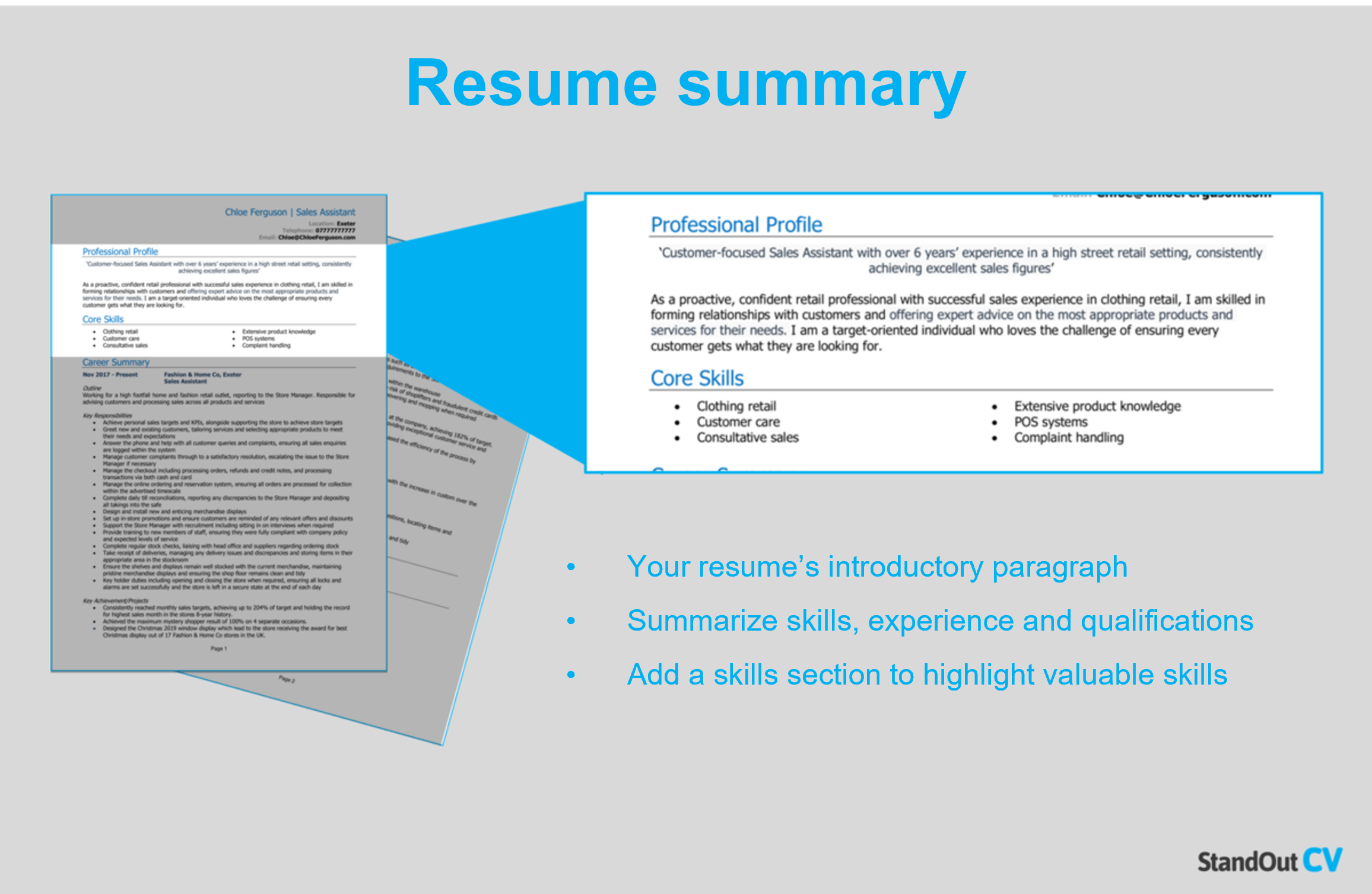 How to create a resume summary that will excite recruiters:
Keep it short: Aim for a short punchy paragraph of 4-7 lines. This is just enough info to showcase why you'd make the perfect hire, without going into excessive detail and overwhelming busy recruiters at such an early stage in the resume.
Tailor to target jobs: Recruiters will be scanning for the skills and knowledge they mentioned in the job description, so add as many as you can to your summary.
Avoid using cliches: Recruiters always see cringey cliches like "hardworking guru who works well in a team or individually" – they don't mean much to anyone, so focus your summary on tangible skills and experience.
Fashion Stylist resume summary example
Highly creative and trend-savvy Fashion Stylist with 17+ years of experience working in the fashion merchandising and styling industry for a wide range of brands and clients including Michael Kors, Elle and Vogue. Graduate of Brooklyn College of Art with demonstrated expertise in curating and executing fashion concepts for editorial shoots, runway shows, and celebrity clients. Innovative and sustainability-conscious creative and recipient of the New York Fashion Guild's Rising Star Stylist Award.
What to include in your Fashion Stylist resume summary?
Summary of your experience: Provide a summary of the kind of work you have previously done, along with the benefits you have delivered to the organizations you worked with.
Relevant skills: Scatter your most in-demand Fashion Stylist skills through your summary to ensure they are noticed quickly by hiring managers.
Qualifications: If your job requires any qualifications such as a professional course or a college degree, mention it briefly in your summary.
Quick tip: Choose from hundreds of pre-written summaries across all industries, and add one to your resume with one-click in our partner's Resume Builder. All written by recruitment experts and easily tailored to suit your unique skillset and style.
Core skills section
Sitting just underneath your resume summary, your core skills section gives recruiters 4-10 of your most in-demand skills in just a glance.
As Fashion Stylist jobs may get hundreds of applications, this is a great way to stand out and quickly grab hiring managers' attention.
It should be made up of 2-3 columns of bullet points and highlight attributes that are hyper-relevant to the jobs you are aiming for.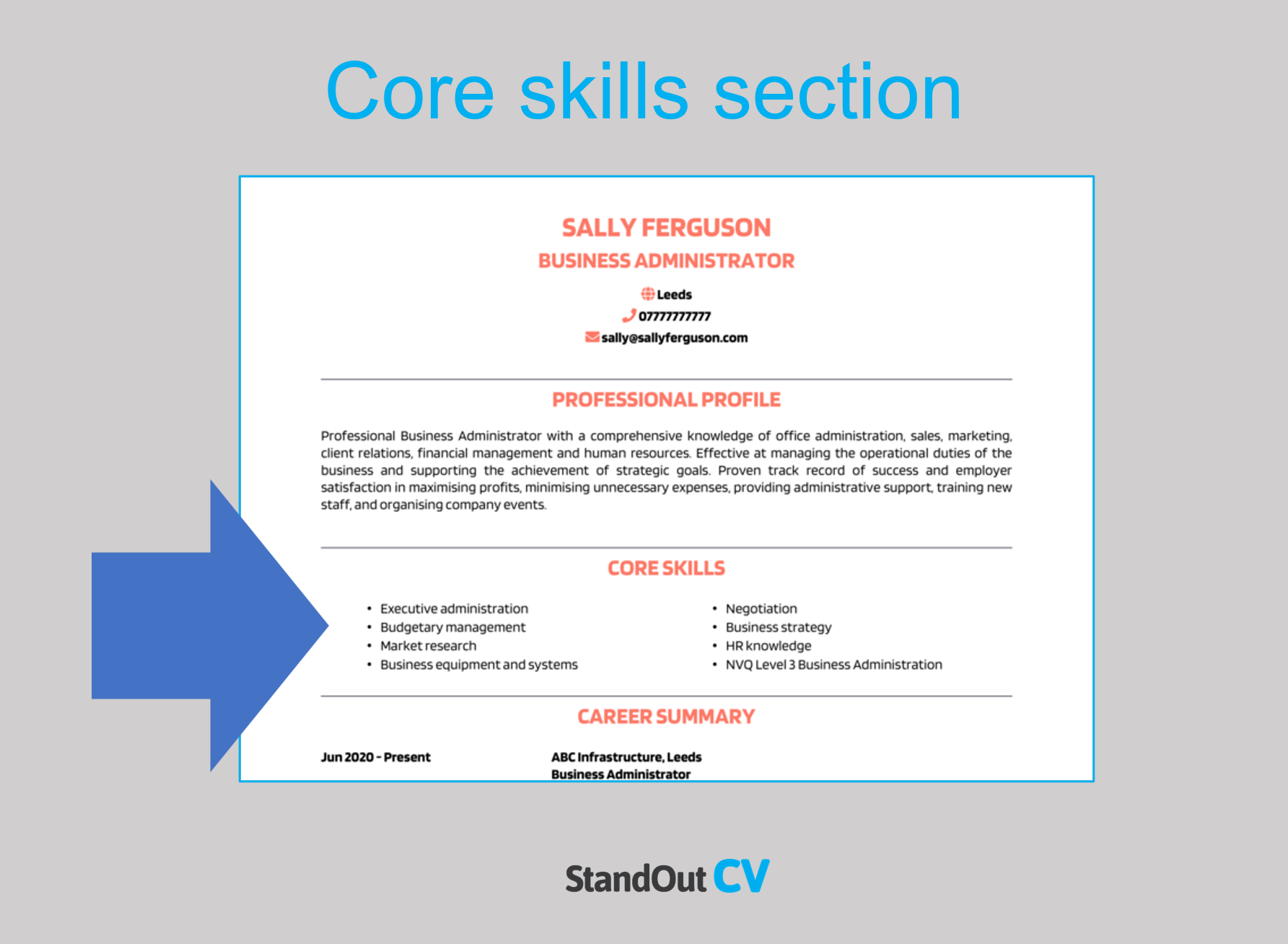 Best skills for your Fashion Stylist resume
Fashion Trend Knowledge – Keeping up with the latest fashion trends, understanding fashion history, and being aware of emerging styles.
Styling Techniques – Selecting clothing, accessories, and hairstyles that enhance a client's appearance, considering their body type, skin tone, and personal style.
Color Theory – Utilizing knowledge of color theory and how different colors complement or clash with each other.
Fashion Coordination – Mixing and matching clothing items and accessories to create stylish and cohesive outfits.
Clothing Fit and Alterations – Utilizing knowledge of garment fit to assess and make minor alterations to ensure the best fit for clients.
Fabric Knowledge – Utilizing knowledge of different fabrics, their properties, care instructions, and how they drape on the body.
Client Relationship Management – Building strong relationships with clients, understanding their preferences, and delivering personalized styling services.
Client Communication – Effectively conveying styling ideas, providing fashion advice, and collaborating with clients and industry professionals.
Fashion Industry Knowledge – Maintaining familiarity with fashion brands, designers, fashion events, and industry influencers.
Project Management – Managing multiple clients, styling projects, and deadlines efficiently, while maintaining attention to detail and organization.
Quick tip: Our partner's Resume Builder contains thousands of in-demand skills for every profession that can be added to your resume in seconds – saving you time and greatly improving your chances of landing job interviews and getting hired.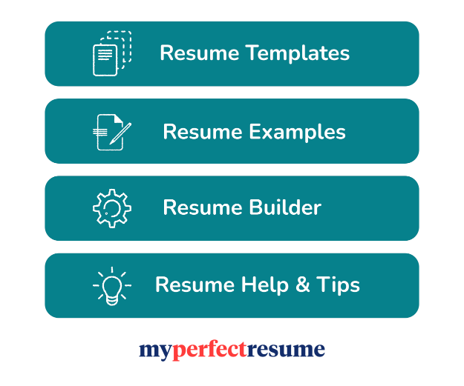 Work experience
Now that you've reeled recruiters in with your awesome summary, it's time to delve into your work experience.
Here you'll list your previous jobs (starting with your most recent and working backward) and showcase how you apply your skills in the workplace.
Provide lots of detail in recent jobs, and less in older roles.
If you have no relevant paid experience, you can include voluntary work and placements – but if you have lots of experience, you can leave out some of the really old jobs.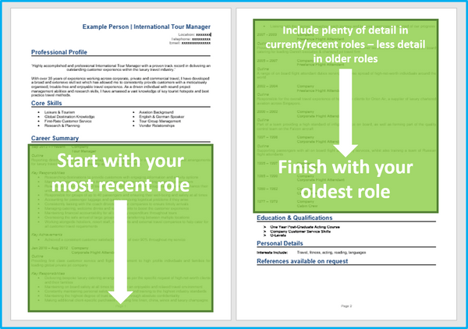 Structuring your jobs
Resume job descriptions contain lots of information, so its crucial to structure them well.
Use the structure below to ensure hiring managers can consume the information easily.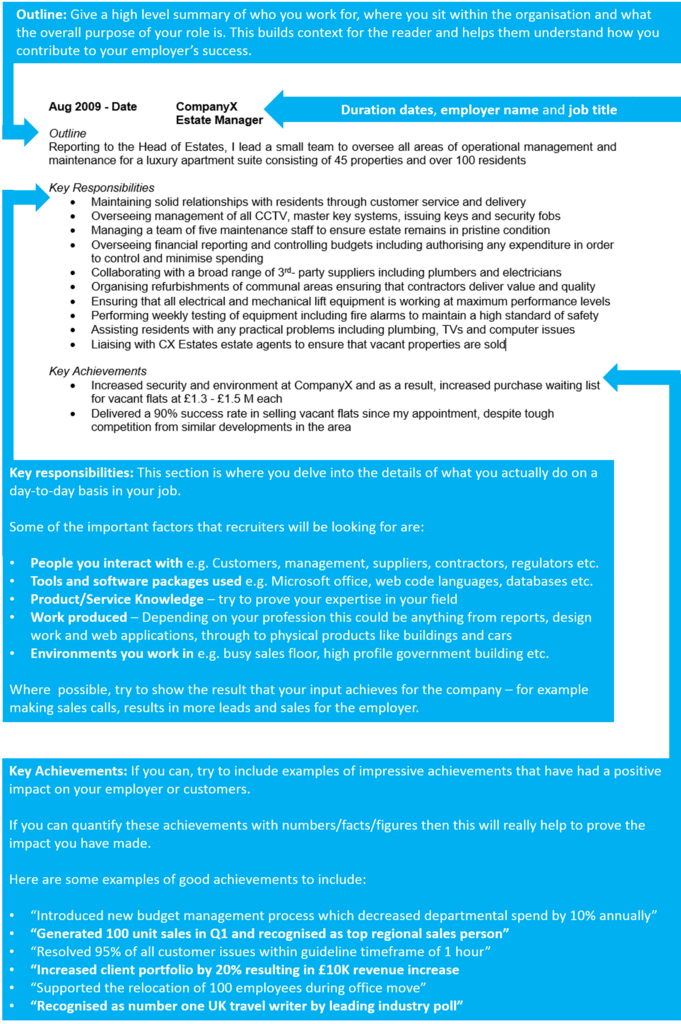 Job outline
Kick off each role with a high-level overview to summarize the focus of the job, what the organization/department does, and how you fit into the bigger picture.
Key responsibilities
List your notable responsibilities in short sharp bullet points to demonstrate your input and how you contributed to the organization's success.
Highlight the skills that are most important to the roles you are applying for.
Key achievements
Finish each role by highlighting some impressive achievements you made whilst in the role.
Anything that benefited the employer can be included from making financial savings, to winning new customers.
Quantify your achievements with facts and figures if you can, e.g. "reduced call wait time by 10%"
Example job for Fashion Stylist resume
Outline
Work as part of the styling team at a leading fashion studio in New York City, collaborating with leading designers, photographers, and creative teams to create fashion-forward looks and style concepts for editorial shoots and fashion campaigns.
Key Responsibilities
Conduct in-depth fashion trend research to identify emerging styles, themes, and concepts
Develop creative concepts, mood boards, and storyboards to guide the overall direction of fashion shoots
Coordinate wardrobe selection, styling, and fittings for models, ensuring cohesive and on-brand looks
Collaborate with photographers, makeup artists, and hairstylists to execute the desired visual aesthetic
Quick tip: Create impressive job descriptions easily in our partner's Resume Builder by adding pre-written job phrases for every industry and career stage.

Education section
Towards the bottom of your resume, add your education section.
Here you should list your professional qualifications and academic record, such as high school diplomas or college degrees.
If you have lots of work experience, you can keep this section brief (because recruiters will be more interested in your career. If you have little/no experience then you should bulk this section up with plenty of detail.
Additional information
The additional info section is optional but can be useful if you have anything else to add that could benefit your application.
For example, you may have some hobbies and interests that are relevant to your job – or you might have awards or publications to shout about.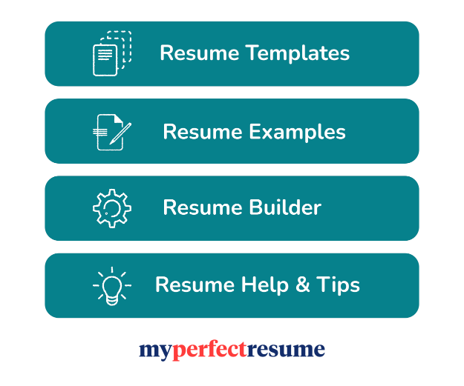 Writing your own winning Fashion Stylist resume
Writing a Fashion Stylist resume can be challenging but following the steps above will ensure that you land plenty of interviews.
Good luck with your job search!