When planning and overseeing an event, you want your guests to be wowed and to keep on coming back for more.
Well, the same rules apply to your resume. You want to quickly engage the recruiter and leave them wanting to know more about you.
But if you're not sure how to begin writing, our step-by-step advice and event manager resume example below are the best place to start.
Contents
| | |
| --- | --- |
| How to write a Event Director resume | |

Event Director Resume Example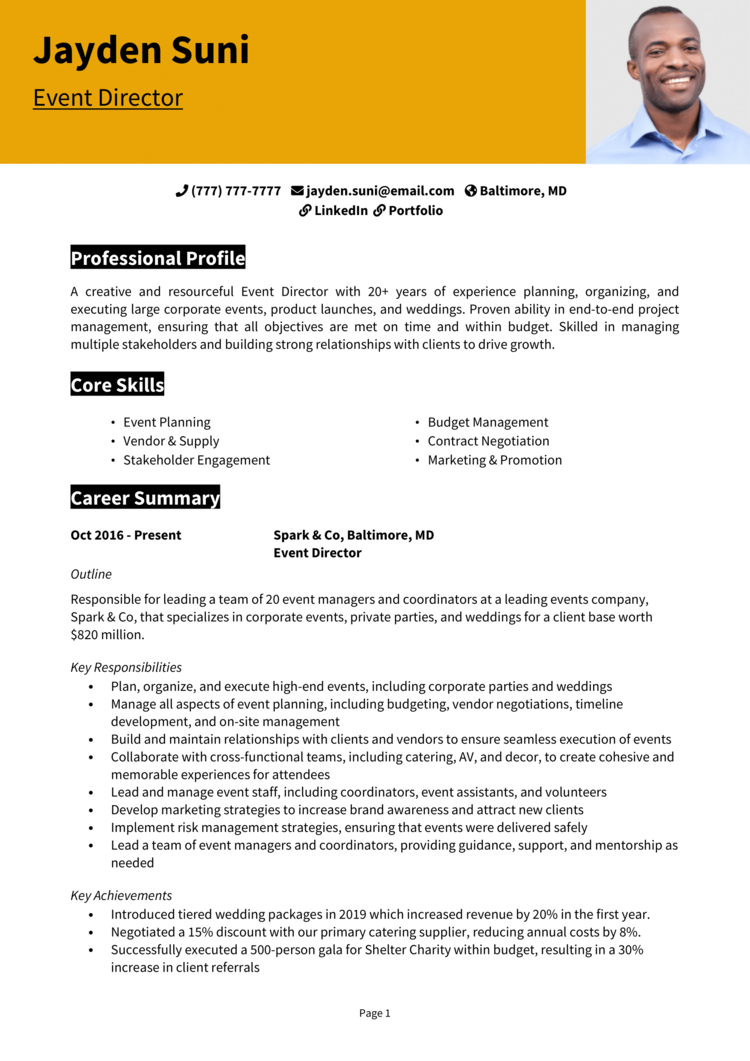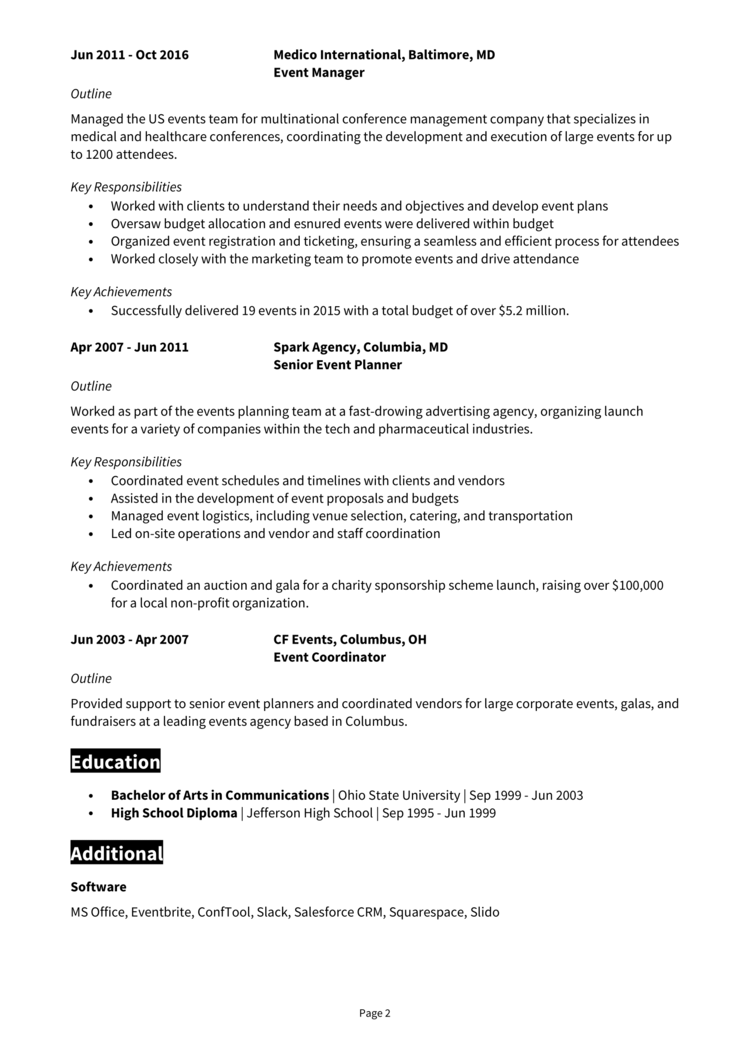 This example Event Director resume gives you a general idea of how to structure your own resume, along with the type of content you need to include.
Sticking with this resume format will help you to get noticed by employers and ensure that they can quickly see the benefit of hiring you.
Now, lets walk through a step-by-step guide on how to write your own winning resume.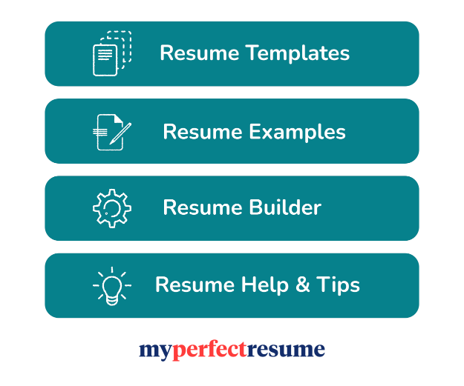 Event Director resume layout and formatting
Formatting and structuring your resume correctly is key to landing job interviews.
Your resume needs to look attractive, but more importantly it needs to be easy for recruiters and hiring managers to read and digest the information.
These tips will help you to do that: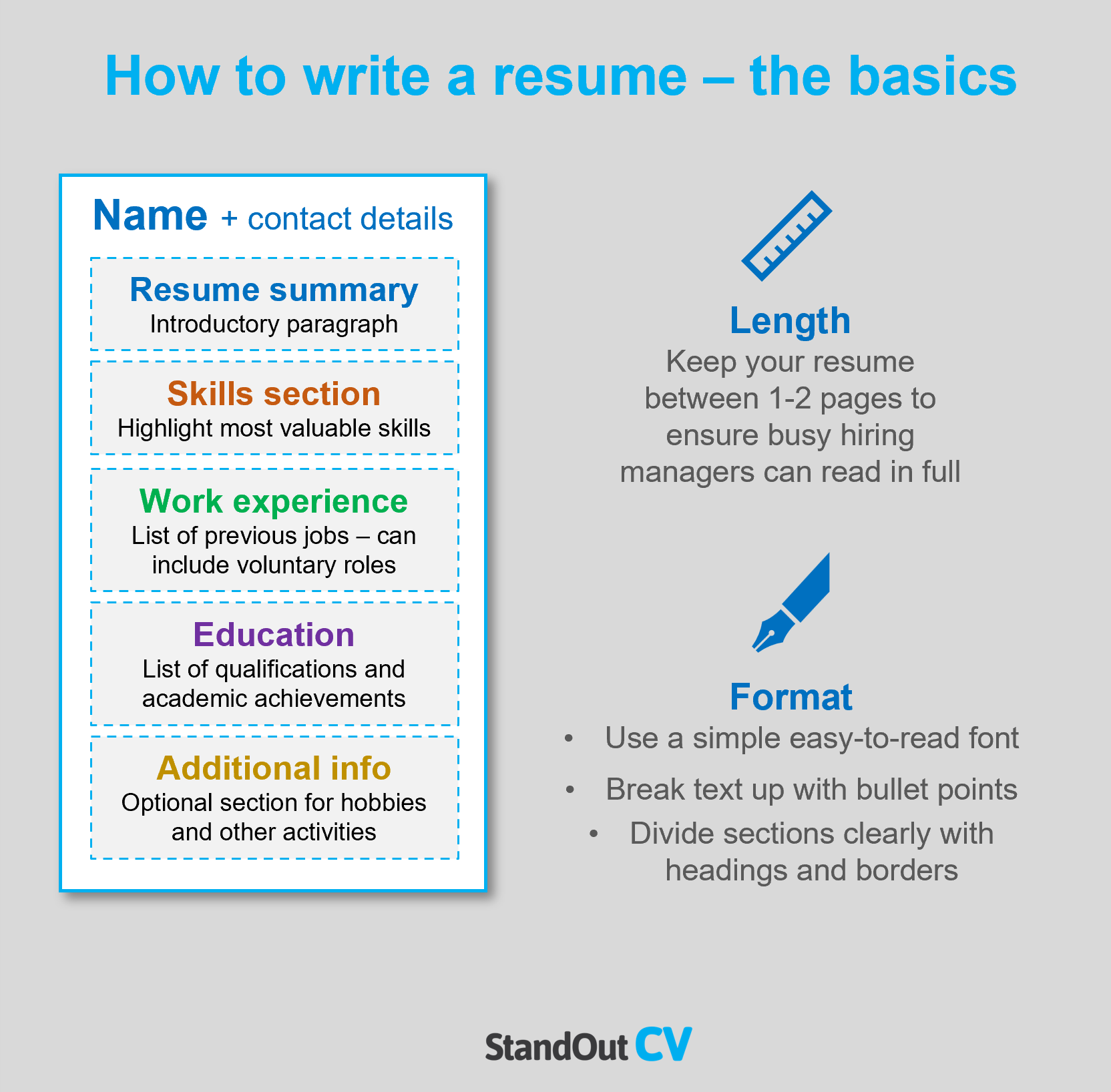 Formatting your resume
Length: Keep your resume to 2 pages or under. You've probably heard that recruiters and hiring managers don't have lots of time to read every resume, so keep yours brief if you want to ensure that they read all of the important info in yours.
Font & readability: To create a resume that is easily digestible for hiring managers, it's essential to use an uncomplicated font and structure your content with bullet points and short paragraphs.
Layout & Structure: Go with a resume design that looks good, but also allows for easy reading and navigation for employers. Ensure the page is clearly split up into sections by adding large font headings and dividing borders. Keep the color scheme simple and don't overcrowd the page.
Photos: It's not mandatory to add a photo to your resume in the USA but it if you're applying to organizations within the creative fields, it can be beneficial.
Quick tip: Achieving a professional look for your resume can be difficult and time-consuming. If you want to create an attractive resume quickly, try our partner's Resume Builder and use one of their eye-catching resume templates.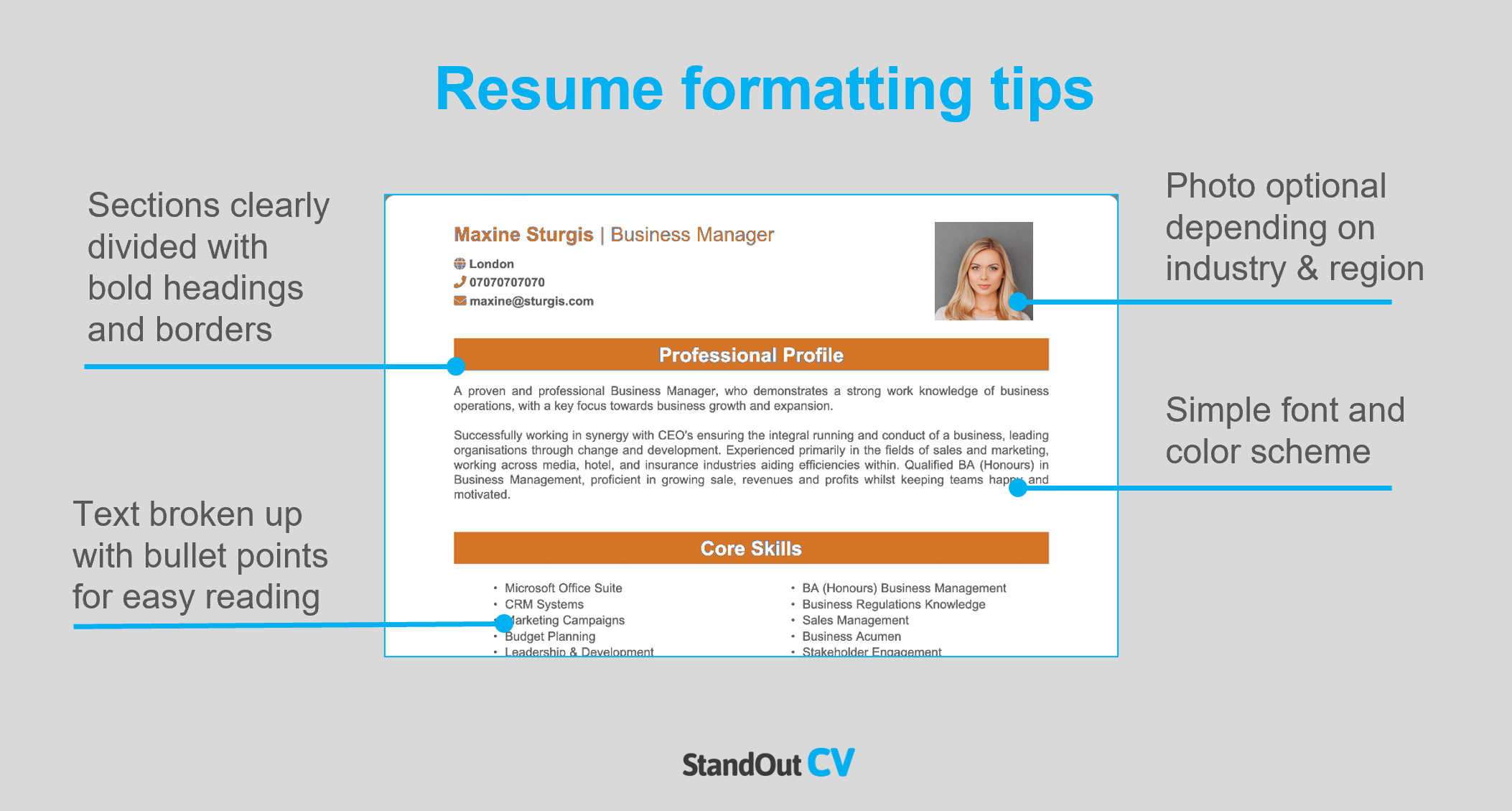 Resume layout
Include the following sections when you write your resume.
Name and contact details – Make it easy for employers to contact you, by putting these at the top.
Resume summary – An intro paragraph sitting at the top of your resume, summarizing the reasons why you should be hired.
Skills section – A short snappy list of your most important skills, that can be quickly digested
Work experience – Reverse chronological list of your previous jobs – voluntary work and college placements can be included if you have no paid experience.
Education – List your qualifications and professional training.
Additional info – An optional section for things like hobbies and interests.
Here's what to include in each part of your resume.
Contact Details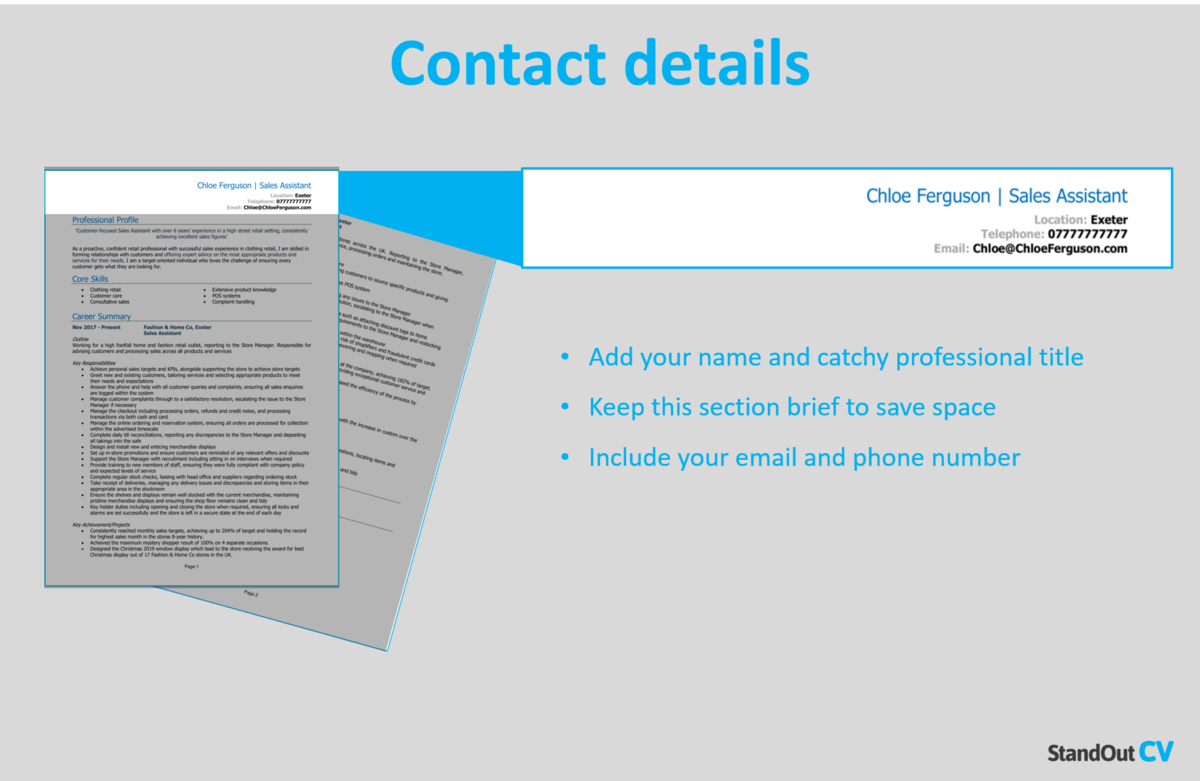 Make it easy for hiring managers to contact you by adding your contact details to the top of your resume.
Keep this section small to save space and include the following.
Name and profession title
Telephone number – Ideally your cell phone so you can answer quickly.
Location – Add your general location such as LA or New York
Email address – Use a professional looking one with no nicknames.
You can add a link to your LinkedIn profile if you have one – you do not need to include personal details like date of birth or marital status.
Event Director Resume Summary
Your resume summary is like an elevator pitch. It's your chance to sell yourself to employers within a short space of time.
Achieve this by summarizing your skills and expertise, whilst highlighting your abilities that closely match the jobs you are aiming for.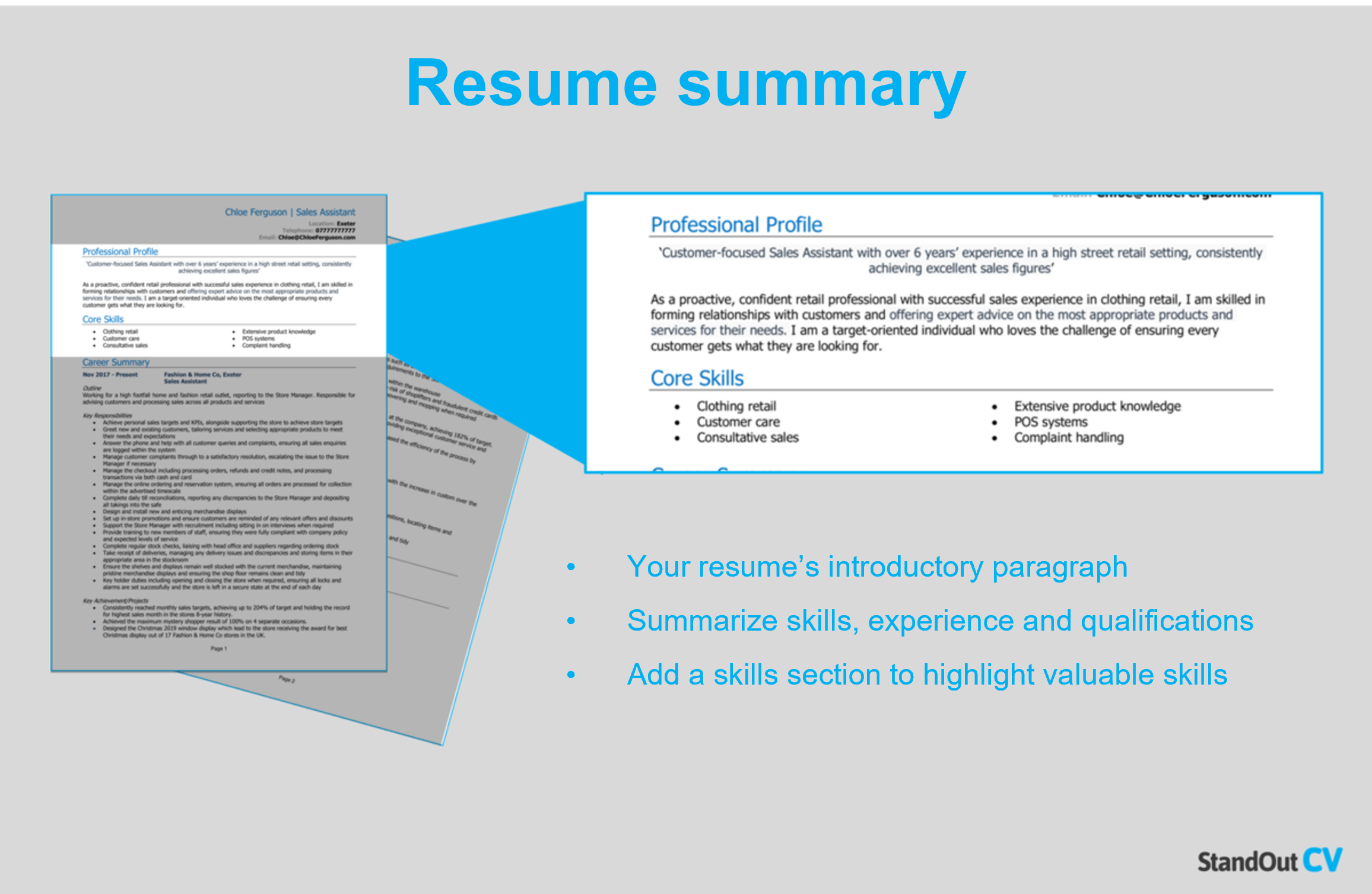 How to create a resume summary that will excite recruiters:
Keep it short: A concise and focused resume summary is essential for capturing a recruiter's attention and keeping them engaged. Limiting your summary to 4-7 lines ensures that you make a strong impression in the first few seconds of them opening the document.
Tailor to target jobs: To better align your resume with your target jobs, it's important to scrutinize the job description and identify as many relevant skills as possible to include in your resume.
Avoid using cliches: To capture the attention of recruiters you must provide factual information, such as hard skills and qualifications, and avoid using empty phrases like "Go-getter who thinks outside the box."
Event Director resume summary example
A creative and resourceful Event Director with 20+ years of experience planning, organizing, and executing large corporate events, product launches, and weddings. Proven ability in end-to-end project management, ensuring that all objectives are met on time and within budget. Skilled in managing multiple stakeholders and building strong relationships with clients to drive growth.
What to include in your Event Director resume summary?
Summary of your experience: What kind of companies have you worked for in the past? And which jobs have you carried out?
Relevant skills: To quickly showcase your suitability for Event Director jobs, ensure that your summary emphasizes your most relevant skills to the jobs you are applying for.
Qualifications: To make a strong impression on potential employers when applying for Event Director jobs, be sure to mention any relevant qualifications in your summary.
Quick tip: Choose from hundreds of pre-written summaries across all industries, and add one to your resume with one-click in our partner's Resume Builder. All written by recruitment experts and easily tailored to suit your unique skillset and style.
Core skills section
Your core skills section, positioned just below your resume summary, provides recruiters with a quick glance at 4-10 of your most in-demand skills.
For Event Director jobs, where hiring managers may receive hundreds of applications, this section can help you stand out and immediately grab their attention.
To be effective, this section should consist of 2-3 columns of bullet points that highlight attributes that are highly relevant to the jobs you are targeting.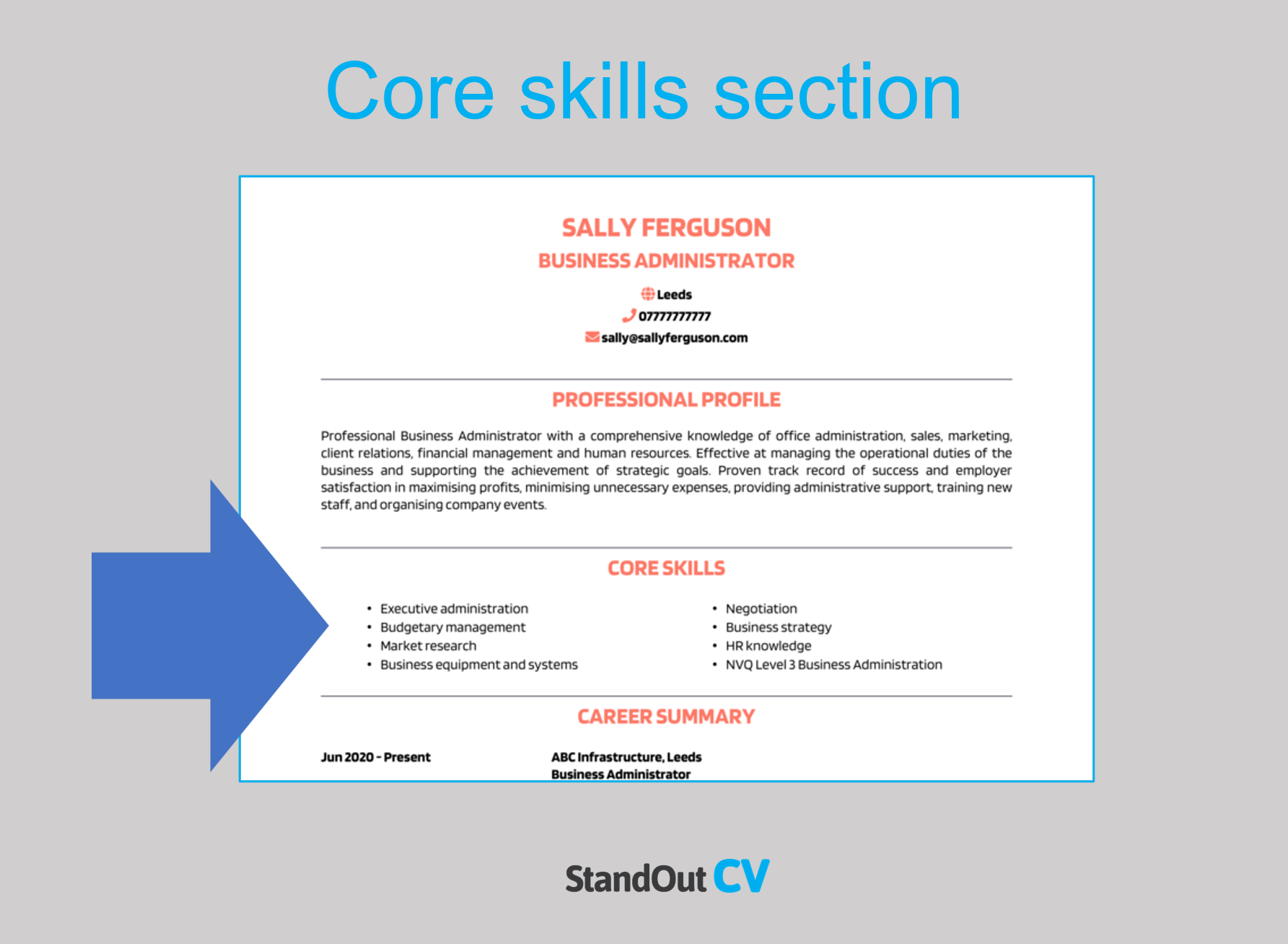 Best skills for your Event Director resume
Event planning – Planning and managing events, including developing event concepts, budgets, timelines, and logistics.
Vendor management – Identifying, negotiating with, and managing vendors, including caterers, event planners, and equipment rental companies, to ensure that events are executed seamlessly.
Event marketing – Utilizing knowledge of event marketing principles, including social media marketing and email marketing, to promote events and increase attendance.
Project management – Managing event projects, including setting timelines, budgets, and resources, to ensure that events are executed on time and within budget.
Risk management – Identifying, assessing, and mitigating risks related to events, including safety risks and financial risks, to ensure that events are executed safely and successfully.
Team management – Managing event teams, including event staff, vendors, and volunteers, to ensure that events are executed seamlessly.
Event design – Utilizing understanding of event design principles, including decor, lighting, and audio-visual elements, to create visually appealing and engaging events.
Logistics management – Managing event logistics, including transportation, lodging, and equipment, to ensure that events are executed smoothly.
Contract management – Utilizing knowledge of contract management processes, including contract review and negotiation, to ensure that contractual obligations are met and risks are mitigated.
Quick tip: Our partner's Resume Builder contains thousands of in-demand skills for every profession that can be added to your resume in seconds – saving you time and greatly improving your chances of landing job interviews and getting hired.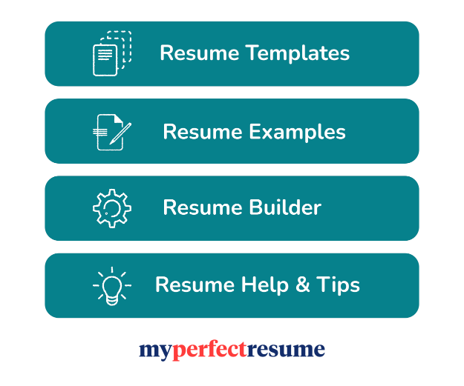 Work experience
So, you've grabbed the recruiters' attention with your summary, now it's time to show them what you're really capable of in your work experience section.
List your previous jobs from current to oldest, showing off the impact you made at each organization.
If you have tons of experience, you should just list the most recent an relevant jobs – but if you have little or no experience, add it all and even consider putting in voluntary work.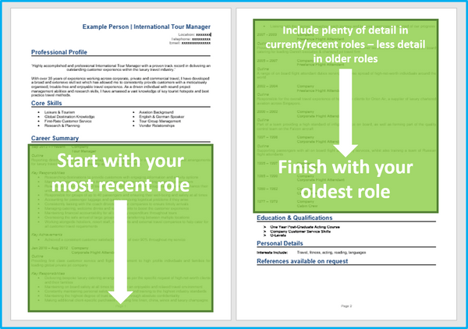 Structuring your jobs
Resume job descriptions contain lots of information, so its crucial to structure them well.
Use the structure below to ensure hiring managers can consume the information easily.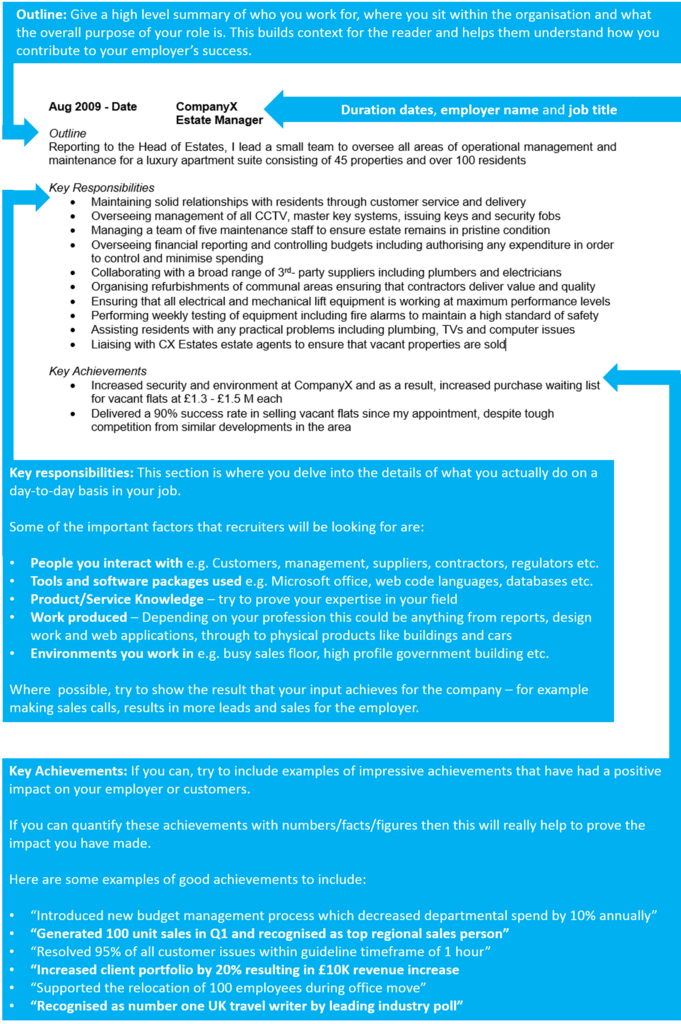 Job outline
Kick off each role with a high-level overview to summarize the focus of the job, what the organization/department does, and how you fit into the bigger picture.
Key responsibilities
List your notable responsibilities in short sharp bullet points to demonstrate your input and how you contributed to the organization's success.
Highlight the skills that are most important to the roles you are applying for.
Key achievements
Round off each job by adding some impressive achievements you made in the role.
Anything you've done that has made a big impact on your employer will make a good impression, think; generating revenue, saving costs, or improving a product.
Quantify your achievements with number where possible e.g. "reduced call wait time by 10%"
Example job for Event Director resume
Outline
Responsible for leading a team of 20 event managers and coordinators at a leading events company, Spark & Co, that specializes in corporate events, private parties, and weddings for a client base worth $820 million.
Key Responsibilities
Plan, organize, and execute high-end events, including corporate parties and weddings
Manage all aspects of event planning, including budgeting, vendor negotiations, timeline development, and on-site management
Build and maintain relationships with clients and vendors to ensure seamless execution of events
Collaborate with cross-functional teams, including catering, AV, and decor, to create cohesive and memorable experiences for attendees
Quick tip: Create impressive job descriptions easily in our partner's Resume Builder by adding pre-written job phrases for every industry and career stage.

Education section
Towards the bottom of your resume, add your education section.
Here you should list your professional qualifications and academic record, such as high school diplomas or college degrees.
If you have lots of work experience, you can keep this section brief (because recruiters will be more interested in your career. If you have little/no experience then you should bulk this section up with plenty of detail.
Additional information
If you have anything else to add which is relevant to the jobs you are applying for, the additional info section is the place to add it.
Perhaps you have a hobby which involves relevant skills, or maybe you have some awards or publications worth mentioning.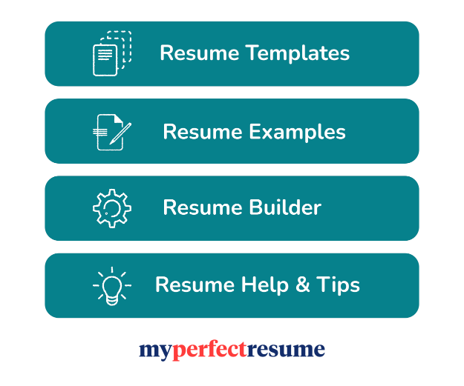 Writing your own winning Event Director resume
By tailoring your resume to the specific job and industry you are targeting and ensuring that it effectively communicates your professional value, you can position yourself as a top candidate for all Event Director positions.
Good luck with your job search!