Data has become one of the most valuable commodities in the world, so if you can help businesses to better manage and utilize this information, your skills are going to be in high demand.
So you need to make sure that you're showcasing your technical and analytical skills as effectively as possible on your application.
We can help you to do this with our step-by-step resume writing guide, complete with an ETL developer resume example to inspire your own.
Contents
| | |
| --- | --- |
| How to write a ETL Developer resume | |

ETL Developer Resume Example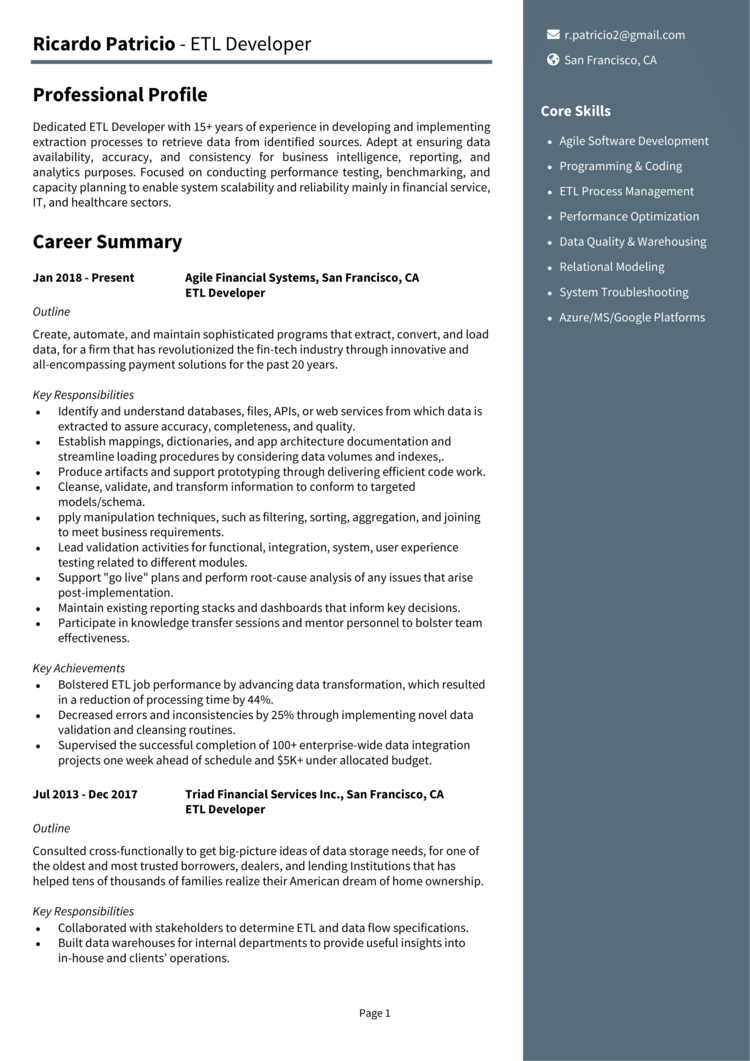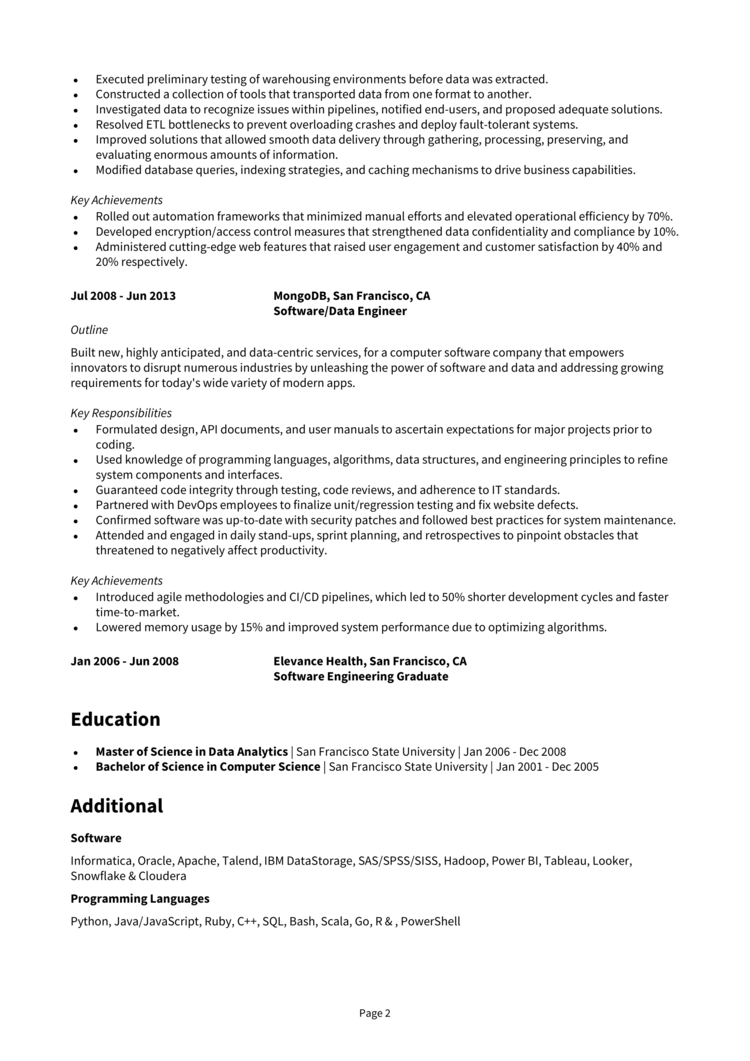 This example ETL Developer resume gives you a general idea of how to structure your own resume, along with the type of content you need to include.
Sticking with this resume format will help you to get noticed by employers and ensure that they can quickly see the benefit of hiring you.
Now, lets walk through a step-by-step guide on how to write your own winning resume.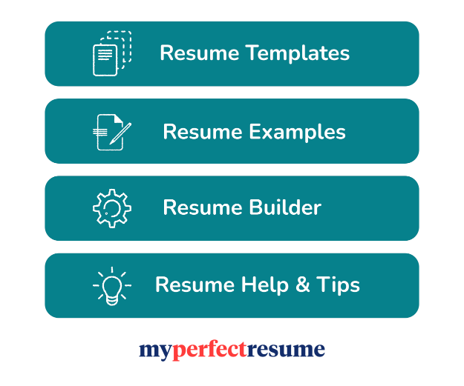 ETL Developer resume layout and format
The format and layout of your resume can make or break its success.
Sure, it's great to pack your resume with lots of impressive skills and knowledge, but if the page is not structured clearly, hiring managers will struggle to find the important stuff!
Above all, your resume should be easy-to-read and professional looking.
Follow these formatting tips to get noticed.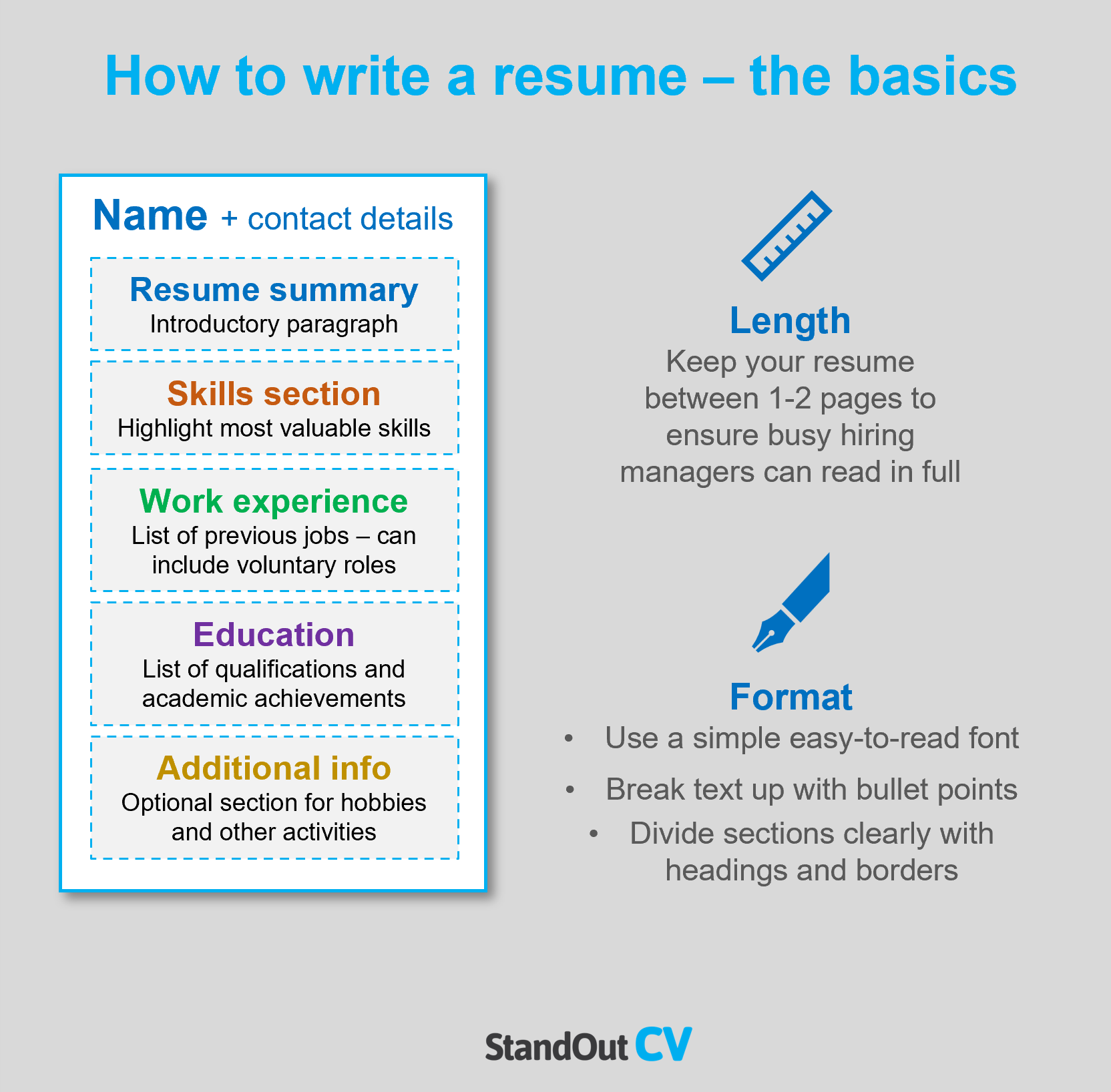 Formatting your resume
Length: To ensure that recruiters will read all of your resume, limit its length to 2 pages – as they someteimes read hundreds of resumes daily.
Font & readability: Simplicity and a pleasant reading experience are crucial if you want to highlight your most valuable skills to recruiters. Use a clear font (avoid fancy ones) and break up the text in your resume with bullet points to ensure information can be easily consumed.
Layout & Structure: Go with a resume design that looks good, but also allows for easy reading and navigation for employers. Ensure the page is clearly split up into sections by adding large font headings and dividing borders. Keep the color scheme simple and don't overcrowd the page.
Photos: Including a photo on your resume is not obligatory in the United States, but it may be a good idea in some regions and industries where it is customary.
Quick tip: Achieving a professional look for your resume can be difficult and time-consuming. If you want to create an attractive resume quickly, try our partner's Resume Builder and use one of their eye-catching resume templates.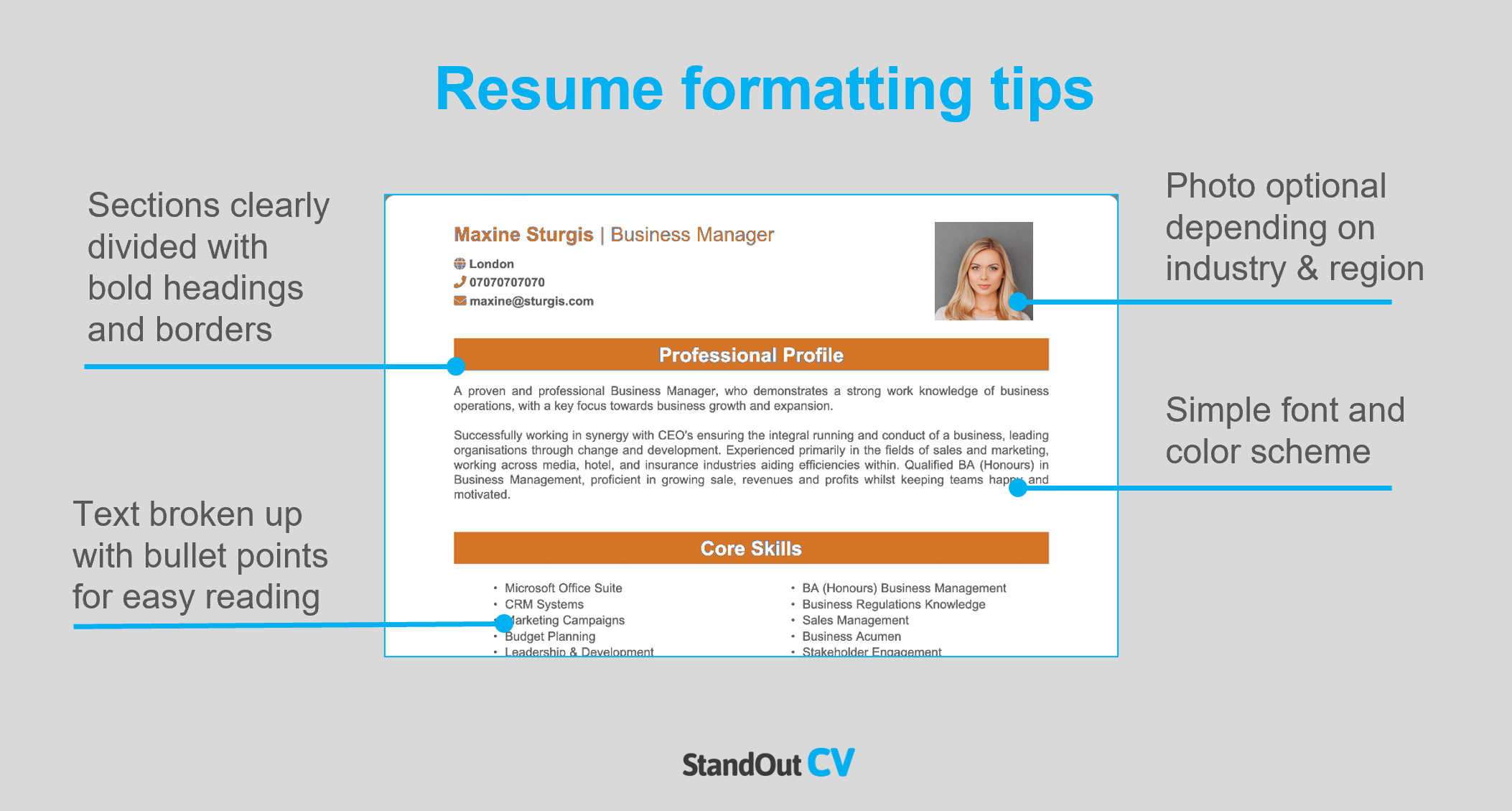 Resume layout
Add the following sections when you write your resume.
Name and contact details – Add to the very top of your resume to introduce yourself and make it super-easy for recruiters to get in touch.
Resume summary – Reel hiring managers in with an "elevator pitch" style paragraph which sums up your suitability for the job.
Skills section – A short and sharp list of your most important skills, that can be quickly skim-read.
Work experience – List your previous jobs (from newest to oldest) detailing the skills learnt and applied in each.
Education – List your qualifications and professional training.
Additional info – If it helps your application, you can add an extra section for things like hobbies and interests.
Here's what to include in each part of your resume.
Contact Details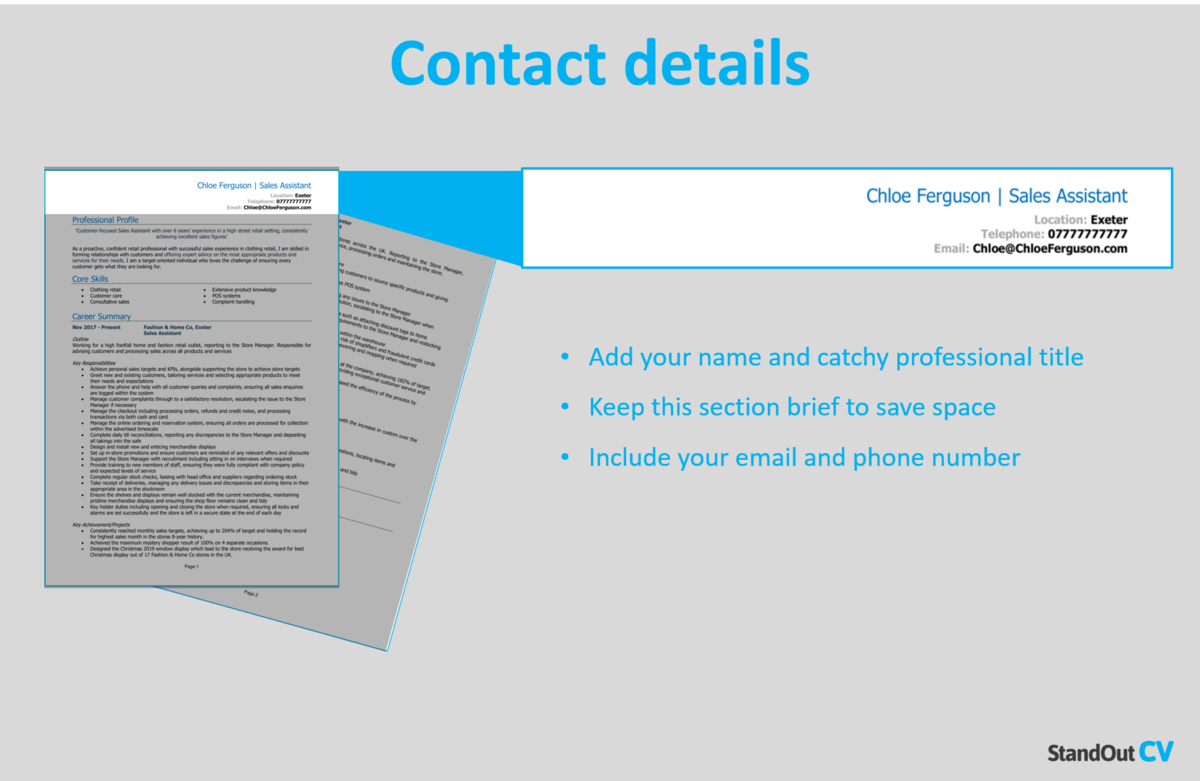 Add your name and contact details to the very top of your resume, making it easy for recruiters to get in touch
Name and profession title
Cell phone number – or another number you can answer quickly
Location – Add your local area such as San Diego or New York – not your full address as that will take up too much space.
Email address – Use your name or close variation – no nicknames from high school.
You can add a link to your LinkedIn profile if you have one – you do not need to include personal details like date of birth or marital status.
ETL Developer Resume Summary
Now it's time to get into the real content of your resume, starting with the summary.
Your resume summary is a short paragraph at the top of the document, and its jobs is to catch the eye of hiring managers by summarizing all your skills and knowledge that are most important to the roles you are applying for.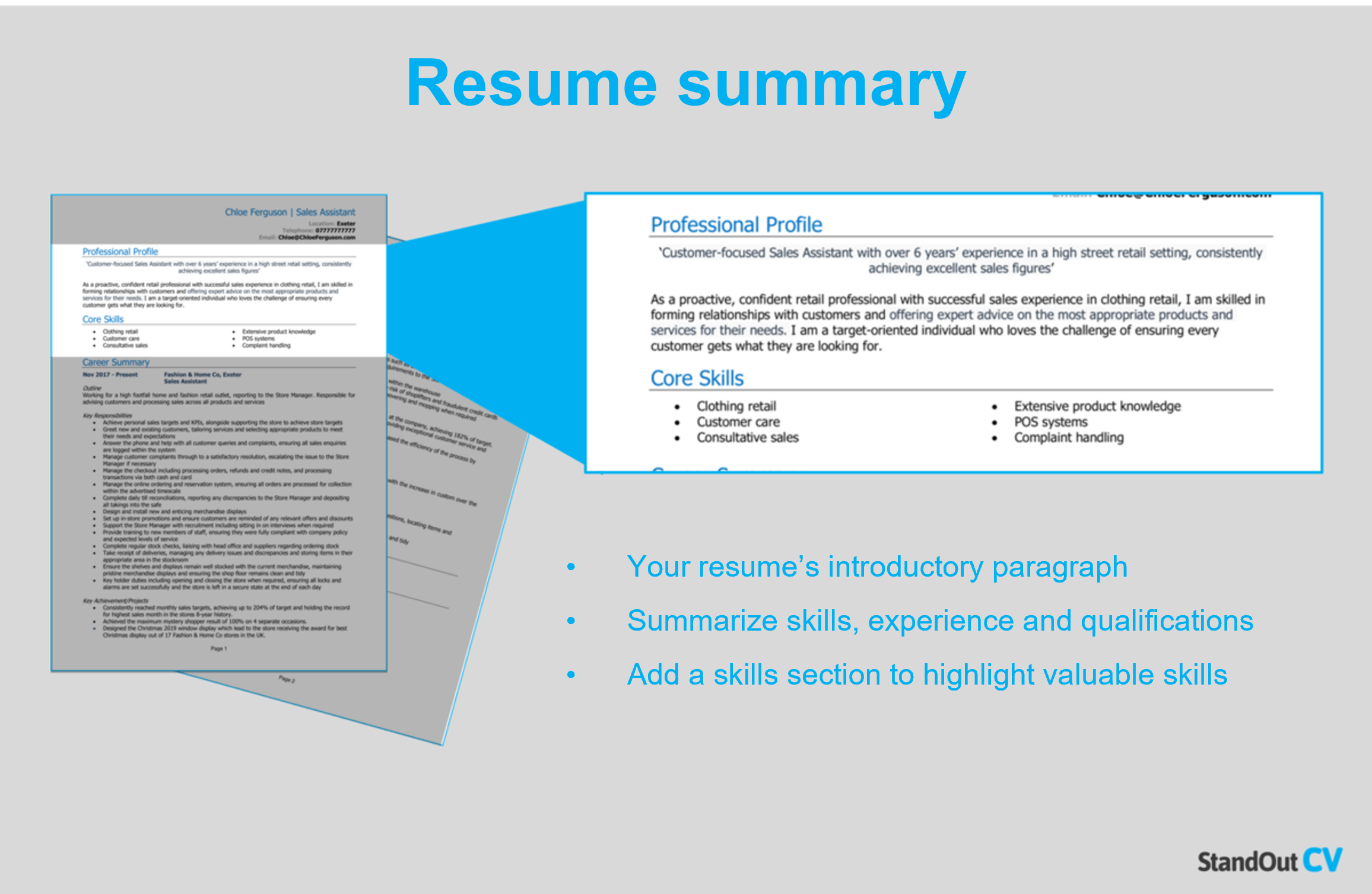 How to create a resume summary that will excite recruiters:
Keep it short: You only have a few seconds to grab a recruiters' attention and make them commit to your resume, so keep your summary between 4 – 7 lines.
Tailor to target jobs: Recruiters will be scanning for the skills and knowledge they mentioned in the job description, so add as many as you can to your summary.
Avoid using cliches: You might be a "highly motivated go-getter who thinks outside the box" but generic meaningless cliches like that don't tell employers much about you – stick to factual information in your summary.
ETL Developer resume summary example
Dedicated ETL Developer with 15+ years of experience in developing and implementing extraction processes to retrieve data from identified sources. Adept at ensuring data availability, accuracy, and consistency for business intelligence, reporting, and analytics purposes. Focused on conducting performance testing, benchmarking, and capacity planning to enable system scalability and reliability mainly in financial service, IT, and healthcare sectors.
What to include in your ETL Developer resume summary?
Summary of your experience: Briefly describe the work you have performed in the past and the contributions you have made to the organizations you have worked for.
Relevant skills: Scatter your most in-demand ETL Developer skills through your summary to ensure they are noticed quickly by hiring managers.
Qualifications: If your job requires any qualifications such as a professional course or a college degree, mention it briefly in your summary.
Quick tip: Choose from hundreds of pre-written summaries across all industries, and add one to your resume with one-click in our partner's Resume Builder. All written by recruitment experts and easily tailored to suit your unique skillset and style.
Core skills section
Next, you should create a bullet pointed list of your core skills, formatted into 2-3 columns.
Here, you should focus on including the most important skills or knowledge listed in the job advertisement.
This will instantly prove that you're an ideal candidate, even if a recruiter only has time to briefly scan your resume.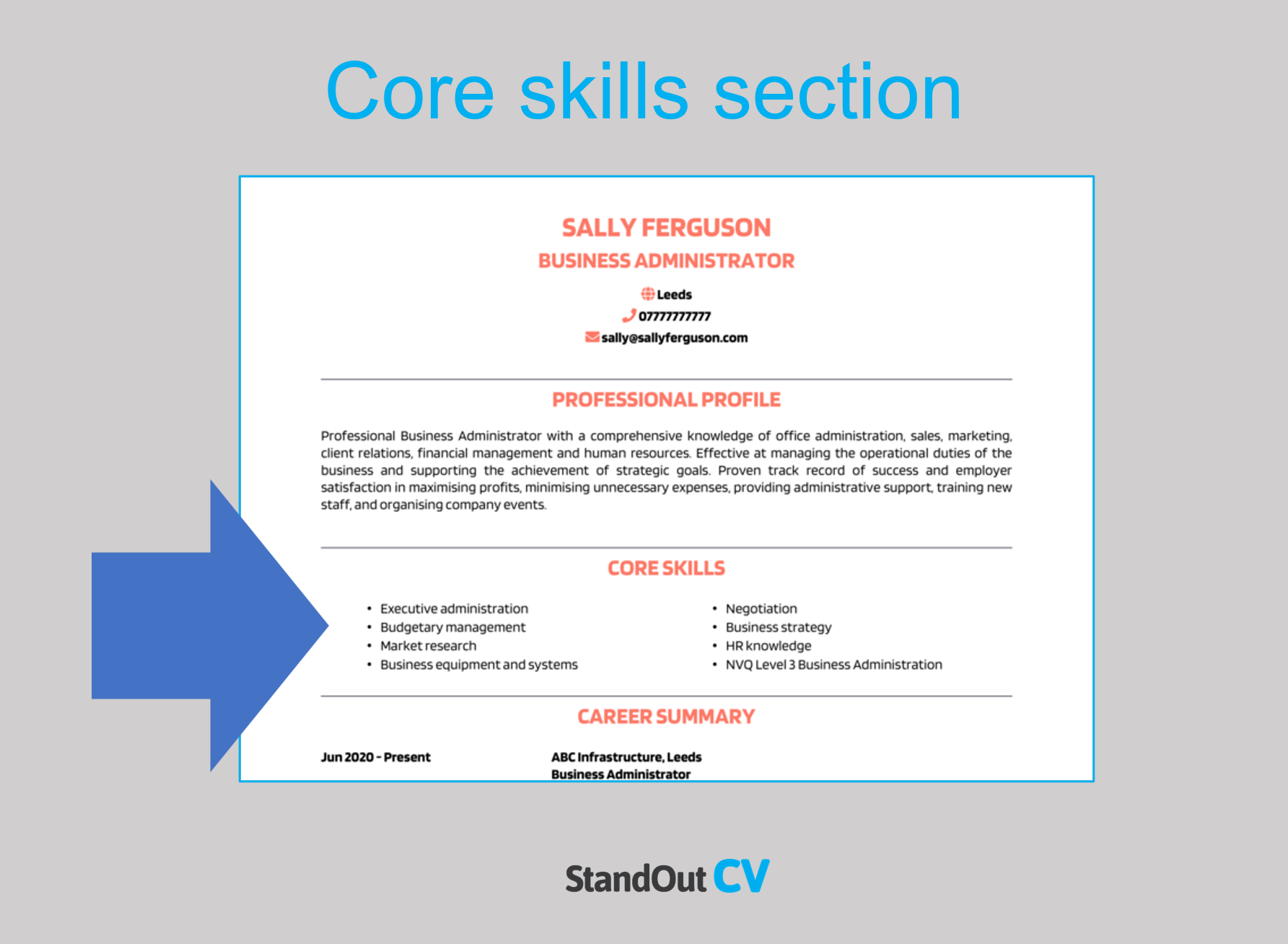 Best skills for your ETL Developer resume
Data Extraction – Extracting data from various sources such as databases, files, APIs, and web services using ETL tools or programming languages.
Data Transformation – Transforming and cleansing data to ensure accuracy, consistency, and adherence to data quality standards.
Data Loading – Loading transformed data into target systems, such as data warehouses, data marts, or operational databases, using ETL processes or integration tools.
ETL Tools – Utilizing popular ETL tools such as Informatica PowerCenter, IBM DataStage, Microsoft SSIS, or Talend, including their functionalities and features.
SQL and Database Proficiency – Utilizing SQL (Structured Query Language) for querying databases, performing data manipulations, and writing efficient SQL scripts for ETL processes.
Data Modeling – Utilizing knowledge of data modeling concepts and techniques to design efficient and scalable data structures for data warehouses or data integration projects.
Performance Tuning – Utilizing performance optimization techniques to enhance ETL processes, including indexing, partitioning, parallelism, and query optimization.
Data Integration – Integrating data from disparate sources and systems, including APIs, databases, flat files, and cloud-based platforms.
Data Quality Assurance – Implementing data quality checks, data profiling, and data validation processes to ensure data accuracy, consistency, and completeness.
Troubleshooting and Debugging – Identifying and resolving issues or errors in ETL processes, including error handling, data reconciliation, and data consistency.
Quick tip: Our partner's Resume Builder contains thousands of in-demand skills for every profession that can be added to your resume in seconds – saving you time and greatly improving your chances of landing job interviews and getting hired.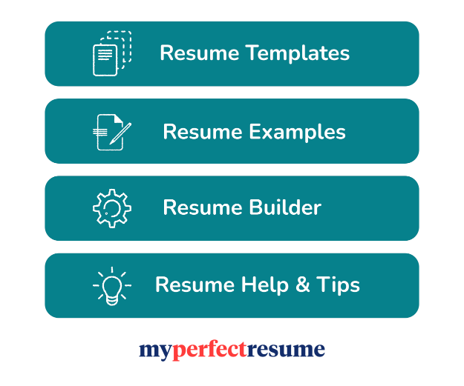 Work experience
So, you've got the recruiter interested with your catchy summary… Great work.
Now it's time to show them the impact you make in the workplace by listing out your previous jobs and what you achieved in each one.
If you have tons of experience, you can condense this part down to the last few years – if you are junior, then you should include as much possible (even volunteering and school work placements)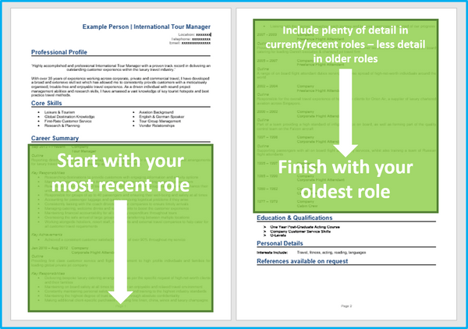 Structuring your jobs
Resume job descriptions contain lots of information, so its crucial to structure them well.
Use the structure below to ensure hiring managers can consume the information easily.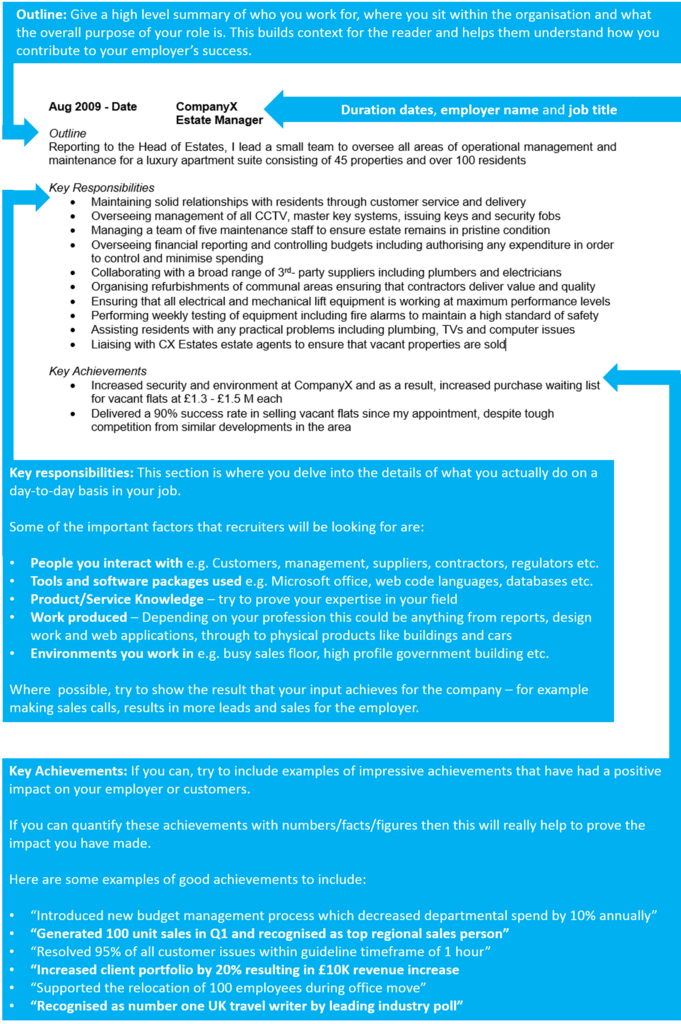 Job outline
Kick off each role with a high-level overview to summarize the focus of the job, what the organization/department does, and how you fit into the bigger picture.
Key responsibilities
Then delve into the detail of your job by listing out easy-to-read bullet points which show how you apply your skills in the workplace.
Tailor these bullet points to focus on the skills and knowledge that are required in the jobs you are applying for.
Key achievements
Show employers the value you can bring to them by adding a few achievements to your jobs.
Whether you've saved the company money or improved an internal process, let recruiters know
Add some numbers to give readers a real scale of the impact, e.g. "reduced call wait time by 10%"
Example job for ETL Developer resume
Outline
Create, automate, and maintain sophisticated programs that extract, convert, and load data, for a firm that has revolutionized the fin-tech industry through innovative and all-encompassing payment solutions for the past 20 years.
Key Responsibilities
Identify and understand databases, files, APIs, or web services from which data is extracted to assure accuracy, completeness, and quality.
Establish mappings, dictionaries, and app architecture documentation and streamline loading procedures by considering data volumes and indexes.
Produce artifacts and support prototyping through delivering efficient code work.
Cleanse, validate, and transform information to conform to targeted models/schema.
Quick tip: Create impressive job descriptions easily in our partner's Resume Builder by adding pre-written job phrases for every industry and career stage.

Education section
After your work experience, add your education section.
If you are an experienced professional, you can keep this part short – adding basic details of each qualification.
If you have little or no experience, bulk this section up by adding more detail and highlight important skills and knowledge for your target jobs.
Additional information
If you have anything else to add which is relevant to the jobs you are applying for, the additional info section is the place to add it.
Perhaps you have a hobby which involves relevant skills, or maybe you have some awards or publications worth mentioning.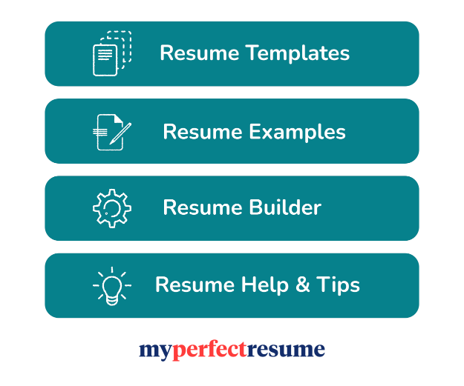 Writing your own winning ETL Developer resume
By tailoring your resume to the specific job and industry you are targeting and ensuring that it effectively communicates your professional value, you can position yourself as a top candidate for all ETL Developer positions.
Good luck with your job search!