Data is one of the world's most valuable commodities, and businesses rely on technical wizards to help them process and secure all of this data.
If you're one such wizard, you could be in high demand right now! But this doesn't mean you don't have to put together an engaging and persuasive resume.
To help you with this, we've put together a comprehensive writing guide and database developer resume example. Check these out below.
Contents
| | |
| --- | --- |
| How to write a Database Developer resume | |

Database Developer Resume Example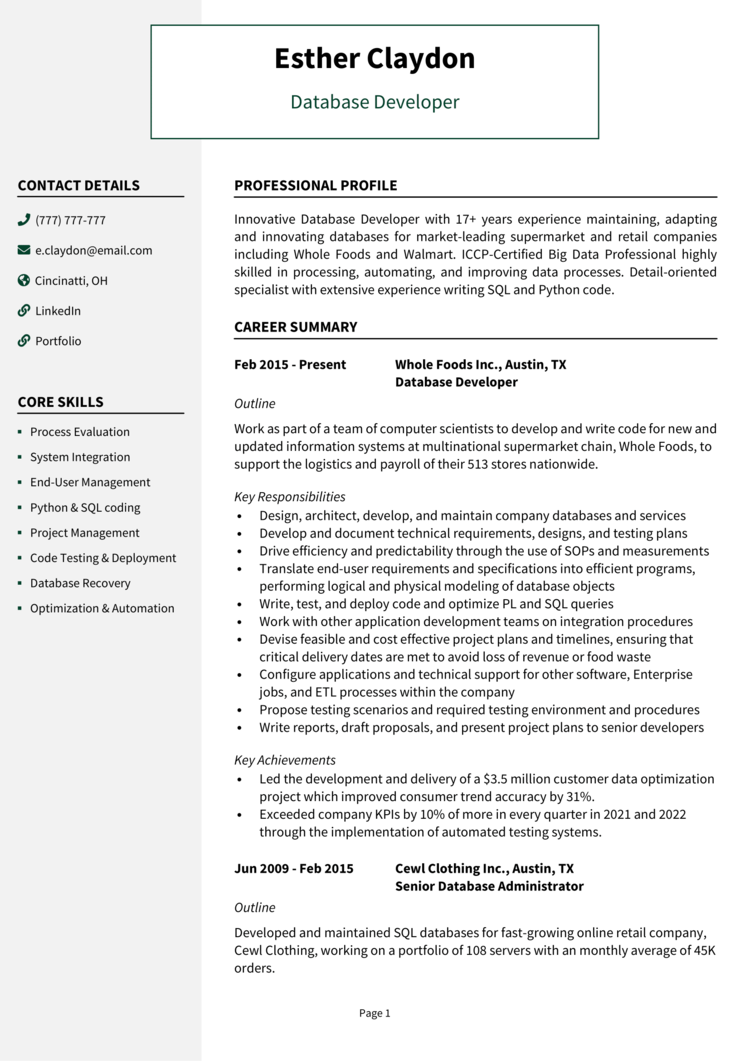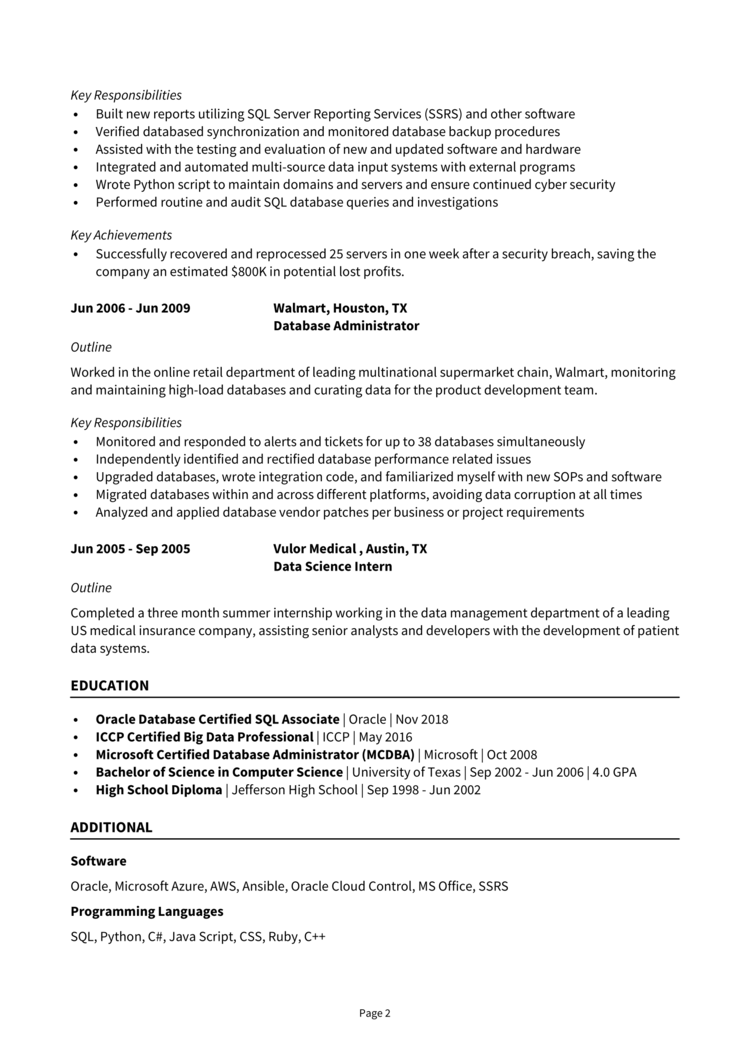 This example Database Developer resume is well-structured to provide a pleasant reading experience for recruiters, and contains all of the crucial information they want to see.
The rest of the guide will show you exactly how you can achieve this in your own resume.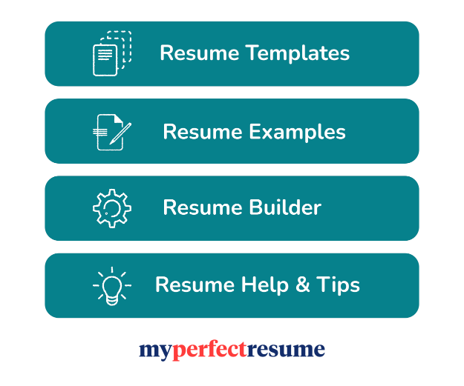 Database Developer resume layout and format
When it comes to holding the attention of recruiting managers, the format and layout of your resume play a key role.
Your resume needs to strike a perfect balance between looking awesome, and being easy for recruiters to read (which is not always easy to achieve)
Use the following formatting tips to get started.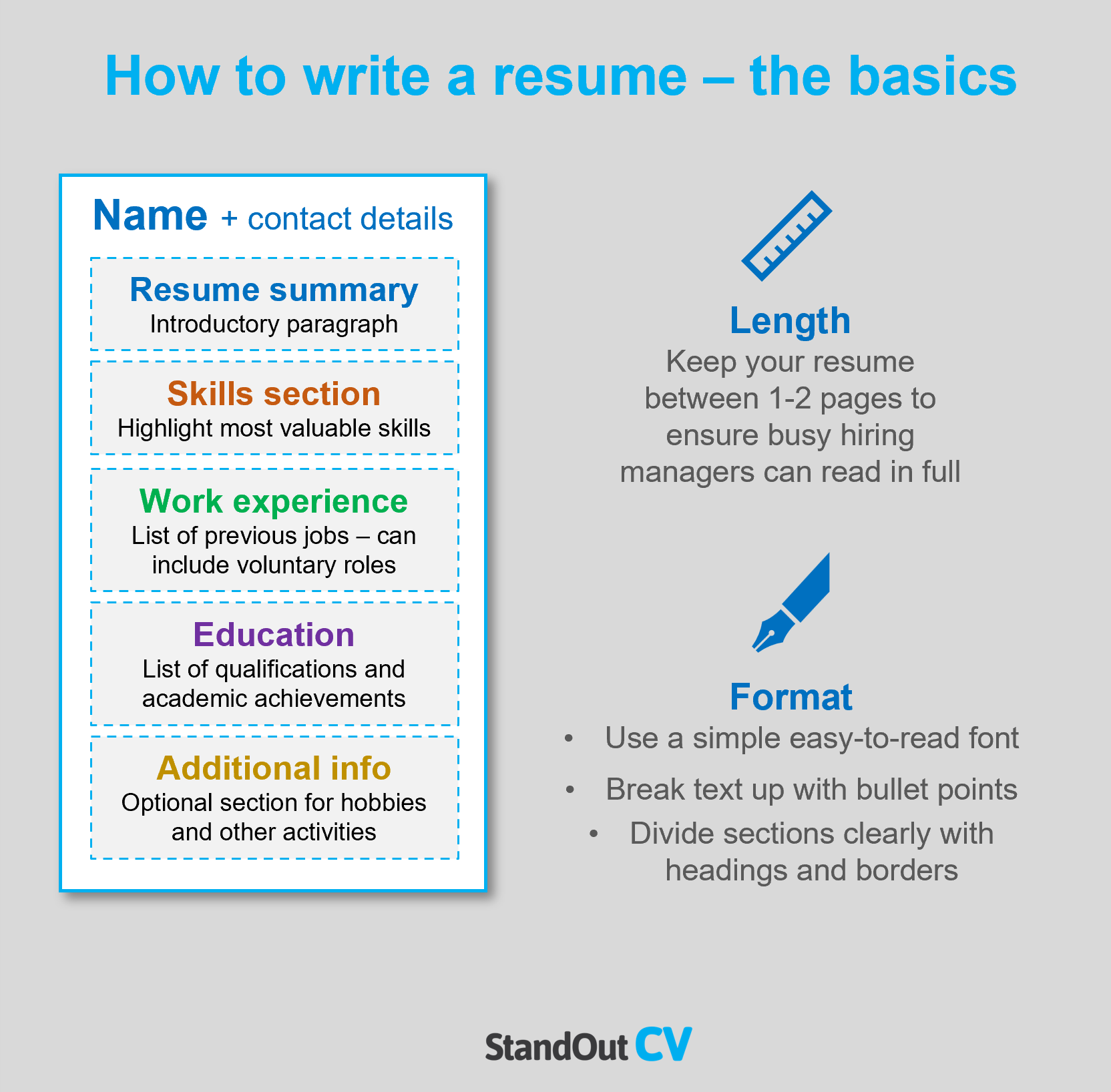 Formatting your resume for success
Length: To ensure that recruiters will read all of your resume, limit its length to 2 pages – as they someteimes read hundreds of resumes daily.
Font & readability: The key to a good resume is readability. To make your resume easy to read, use a clear and uncomplicated font, and break up the text with bullet points and short paragraphs.
Layout & Structure: Allow recruiters to skim through your resume with ease, by dividing the page into clear sections with headings and borders. The design of your resume should be eye-catching but not overly complex – keep the style and color scheme simple and clean.
Photos: Although it is not compulsory to include a photo in your resume in the USA, it can be advantageous if you are applying to companies in creative industries.
Quick tip: Achieving a professional look for your resume can be difficult and time-consuming. If you want to create an attractive resume quickly, try our partner's Resume Builder and use one of their eye-catching resume templates.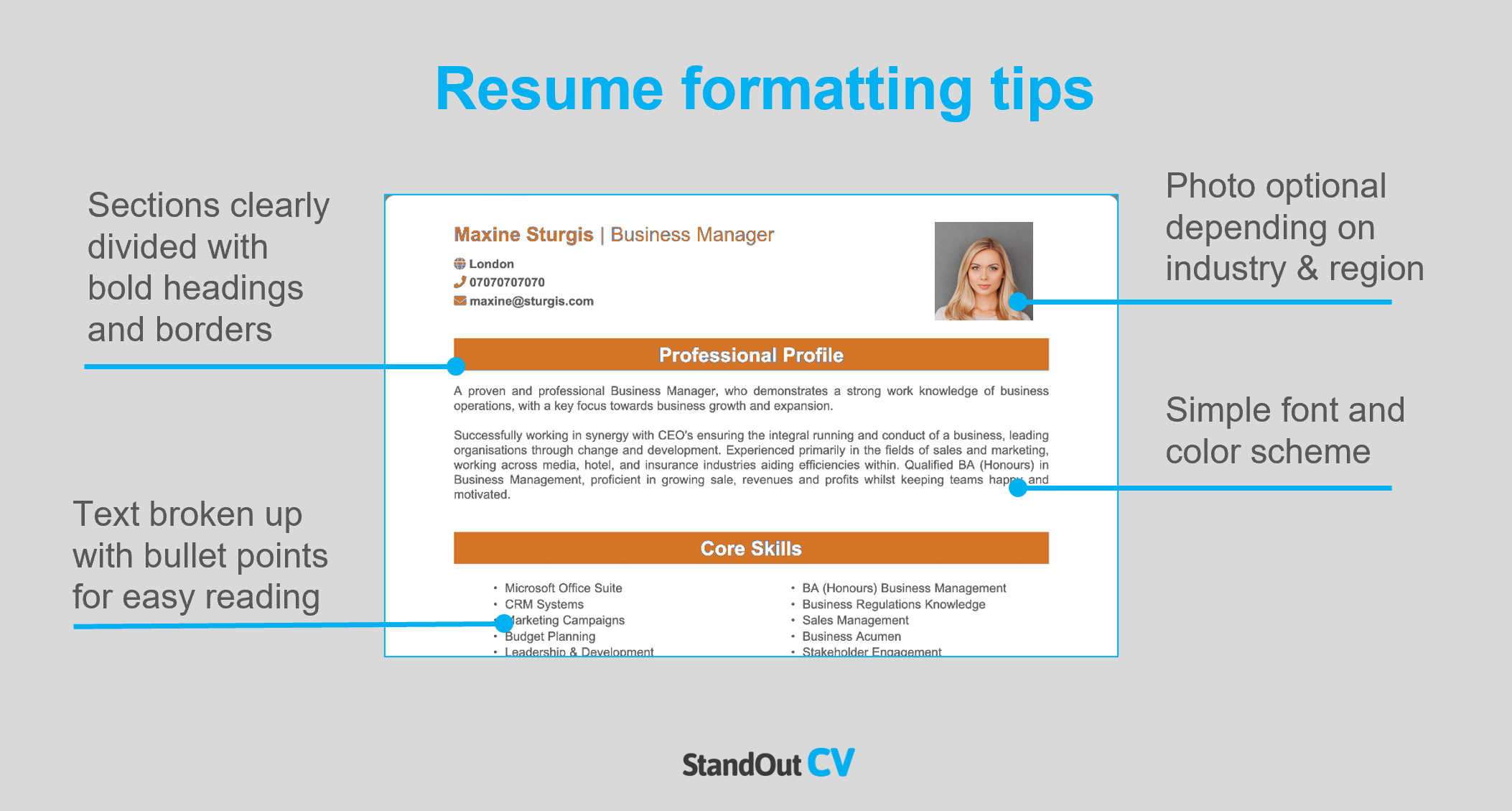 Resume layout
When you write your resume, include the sections below.
Name and contact details – Pop these at the very top to ensure recruiters know how to contact you.
Resume summary – An eye-catching paragraph which summarizes your most valuable attributes – placed near the top of your resume
Skills section – A bullet pointed list of your most in-demand skills, enabling recruiters to see your suitability from a glance.
Work experience – List some or all of your previous jobs in reverse chronological order – voluntary work and college placements can be included if you have no paid experience.
Education – A summary of your professional training and academic qualifications.
Additional info – An optional section for anything that may boost your application, such as relevant hobbies and interests
Here's what to include in each part of your resume.
Contact Details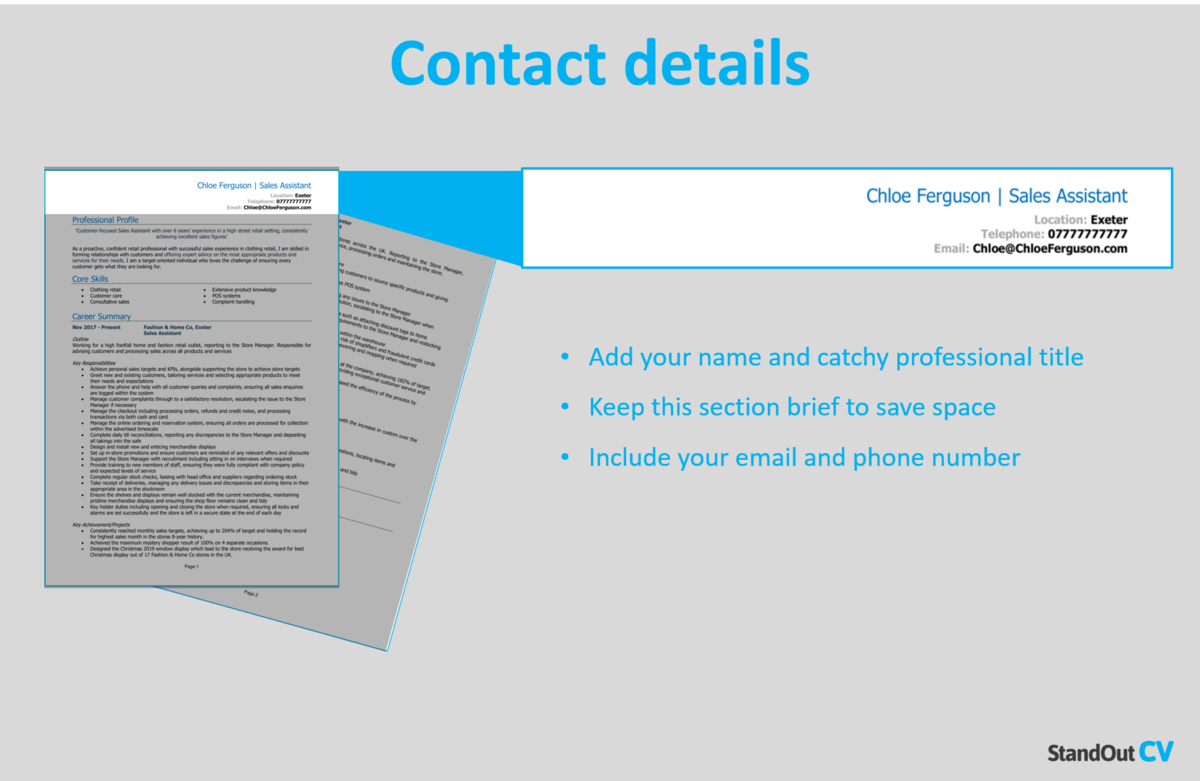 Add your name and contact details to the very top of your resume, making it easy for recruiters to get in touch
Name and profession title
Cell phone number – or another number you can answer quickly
Location – Add your local area such as San Diego or New York – not your full address as that will take up too much space.
Email address – Use your name or close variation – no nicknames from high school.
You can add a link to your LinkedIn profile if you have one – you do not need to include personal details like date of birth or marital status.
Database Developer Resume Summary
Now it's time to get into the real content of your resume, starting with the summary.
Your resume summary is a short paragraph at the top of the document, and its jobs is to catch the eye of hiring managers by summarizing all your skills and knowledge that are most important to the roles you are applying for.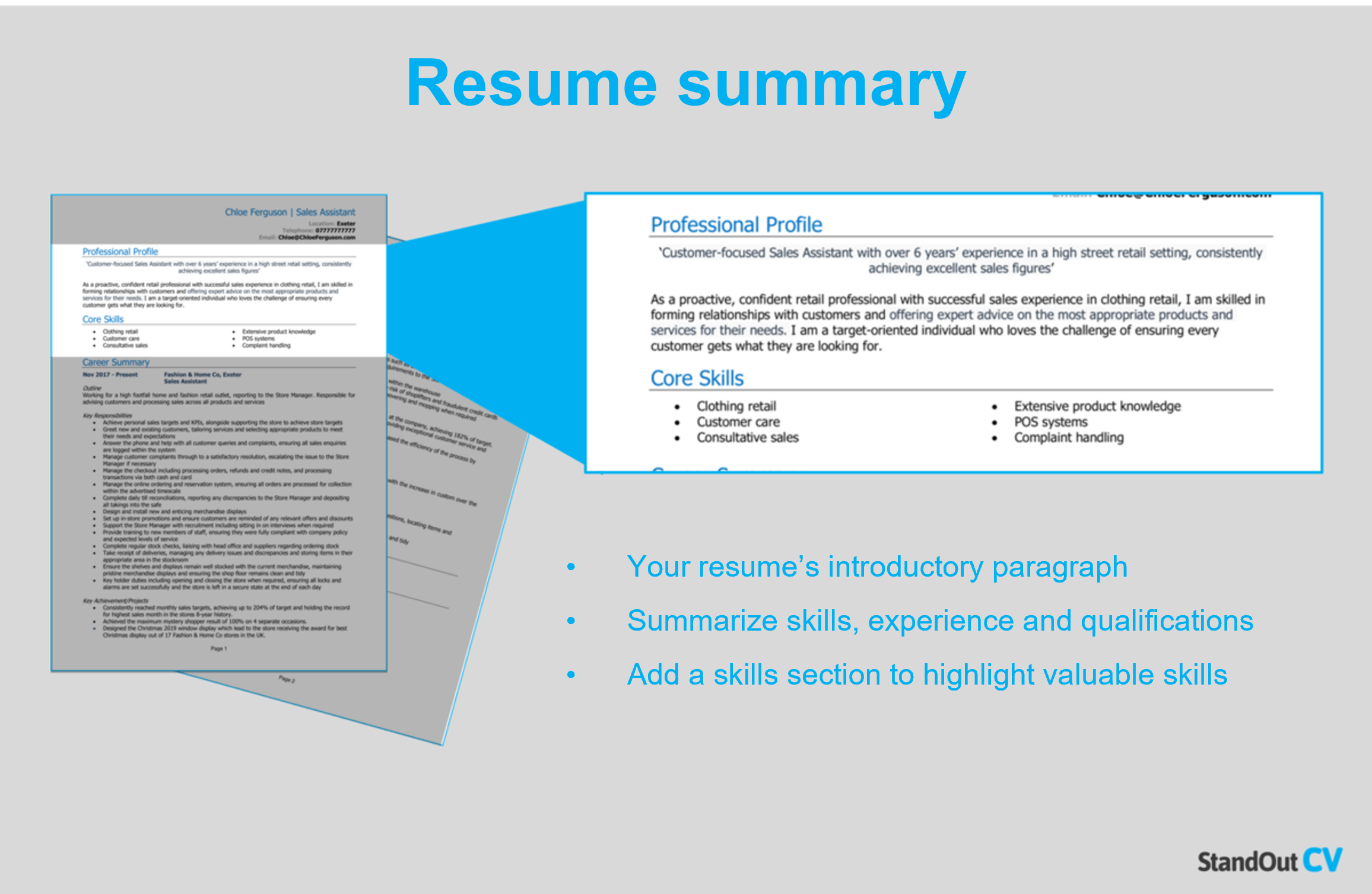 How to create a resume summary that will get you noticed:
Keep it short: To capture a recruiter's attention and keep them interested in your resume, limit your summary to 4-7 lines as you only have a few seconds to make an impression
Tailor to target jobs: Tailor your resume to your target jobs by studying the job description and adding as many matching skills as you can.
Avoid using cliches: You may be a "team player who always give 110%" but generic phrases don't tell employers much about you in reality – stick to factual information.
Example resume summary for Database Developer
Innovative Database Developer with 17+ years' experience maintaining, adapting, and innovating databases for market-leading supermarket and retail companies including Whole Foods and Walmart. ICCP-Certified Big Data Professional highly skilled in processing, automating, and improving data processes. Detail-oriented specialist with extensive experience writing SQL and Python code.
What to include in your Database Developer resume summary?
Summary of experience: What kind of companies have you worked for in the past? And which jobs have you carried out?
Relevant skills: Instantly showcase your suitability for Database Developer jobs by including your skills that are highly relevant to them.
Qualifications: Showcase your level of education with a quick mention of any qualifications that are essential for the Database Developer roles you are applying to.
Quick tip: Choose from hundreds of pre-written summaries across all industries, and add one to your resume with one-click in our partner's Resume Builder. All written by recruitment experts and easily tailored to suit your unique skillset and style.
Core skills section
Next, you should create a bullet pointed list of your core skills, formatted into 2-3 columns.
Here, you should focus on including the most important skills or knowledge listed in the job advertisement.
This will instantly prove that you're an ideal candidate, even if a recruiter only has time to briefly scan your resume.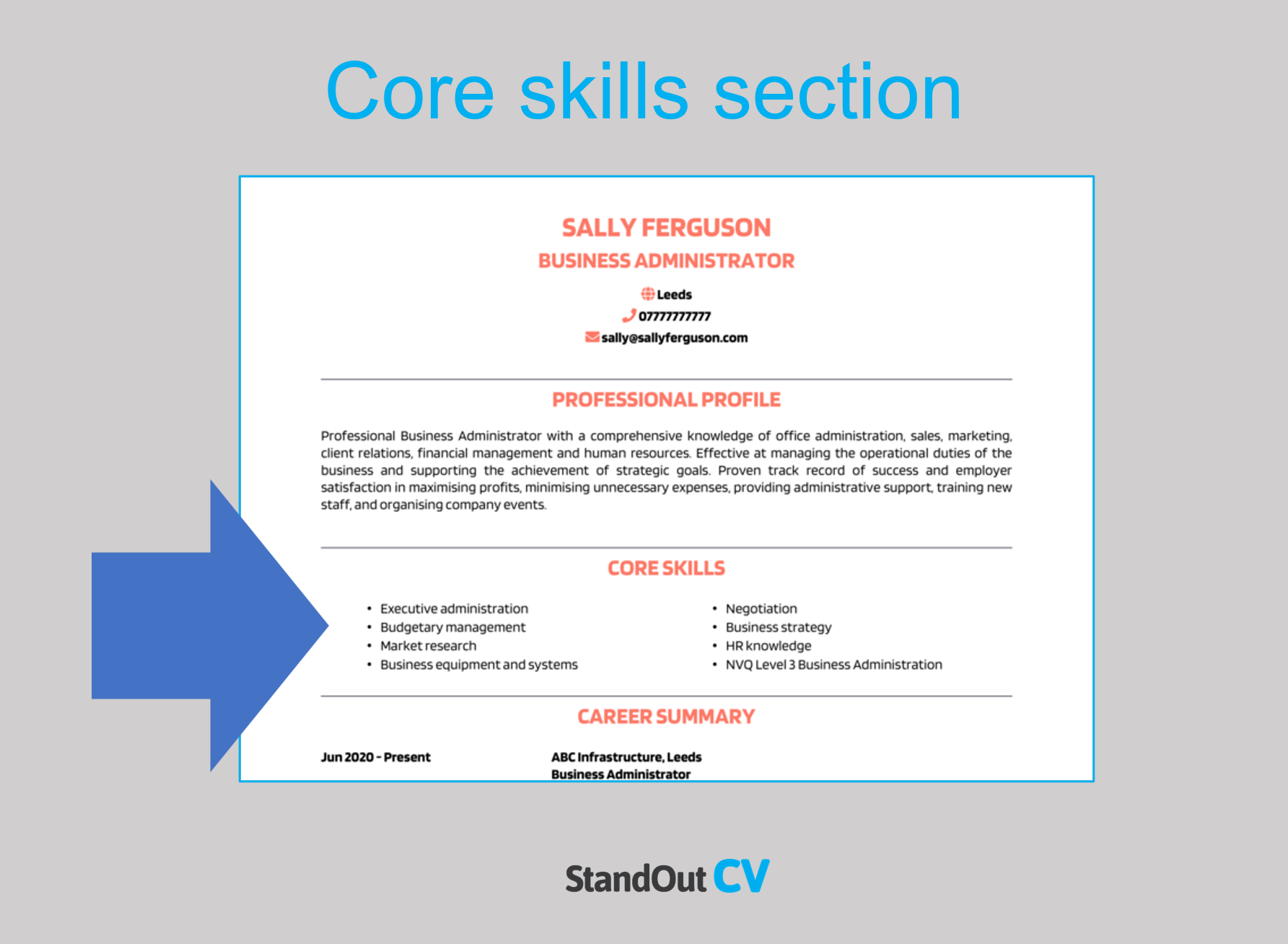 Best skills for your Database Developer resume
Database Design – Designing and creating databases from scratch, including identifying business requirements, defining data models, and implementing schema.
SQL – Remaining proficient in SQL, including writing and executing complex queries, stored procedures, and triggers to manipulate and extract data from databases.
Database Optimization – Optimizing database performance, including index optimization, query tuning, and monitoring system resources to ensure efficient database operation.
Database Security – Maintaining in depth knowledge of database security best practices, including managing user accounts and privileges, encryption, and data access control.
Data Modeling – Developing and implementing data models, including identifying data relationships, defining data attributes, and developing data normalization.
ETL – Using Extract, Transform, Load (ETL) processes, including identifying data sources, mapping data flows, and designing automated data pipelines.
Scripting Languages – Remaining proficient in scripting languages, such as Python or Perl, to automate database-related tasks.
Data Warehousing – Designing and implementing data warehouses, including integrating multiple data sources, implementing data cleansing and normalization processes, and developing data marts.
Debugging – Troubleshooting and debugging issues related to database functionality, including identifying root causes of problems, proposing and implementing solutions, and conducting impact analysis.
Quick tip: Our partner's Resume Builder contains thousands of in-demand skills for every profession that can be added to your resume in seconds – saving you time and greatly improving your chances of landing job interviews and getting hired.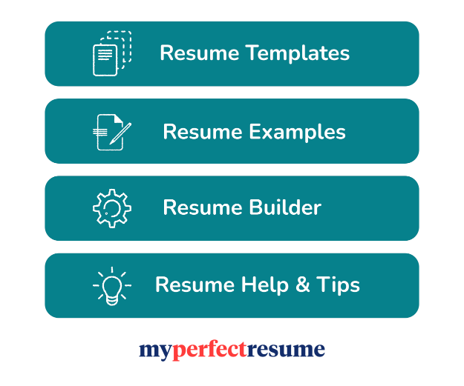 Work experience
So, you've grabbed the recruiters' attention with your summary, now it's time to show them what you're really capable of in your work experience section.
List your previous jobs from current to oldest, showing off the impact you made at each organization.
If you have tons of experience, you should just list the most recent an relevant jobs – but if you have little or no experience, add it all and even consider putting in voluntary work.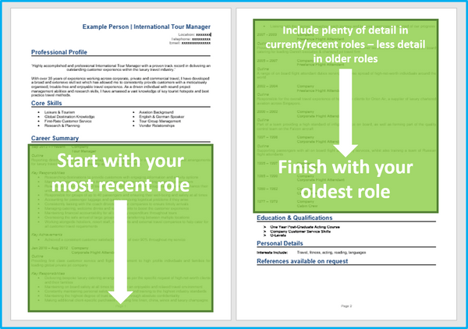 Structuring your jobs
You probably do a lot in your job, so its vital to break all of that information down into a good structure.
Structure your jobs as follows to make it easy for recruiters to skim through and pinpoint the essential info.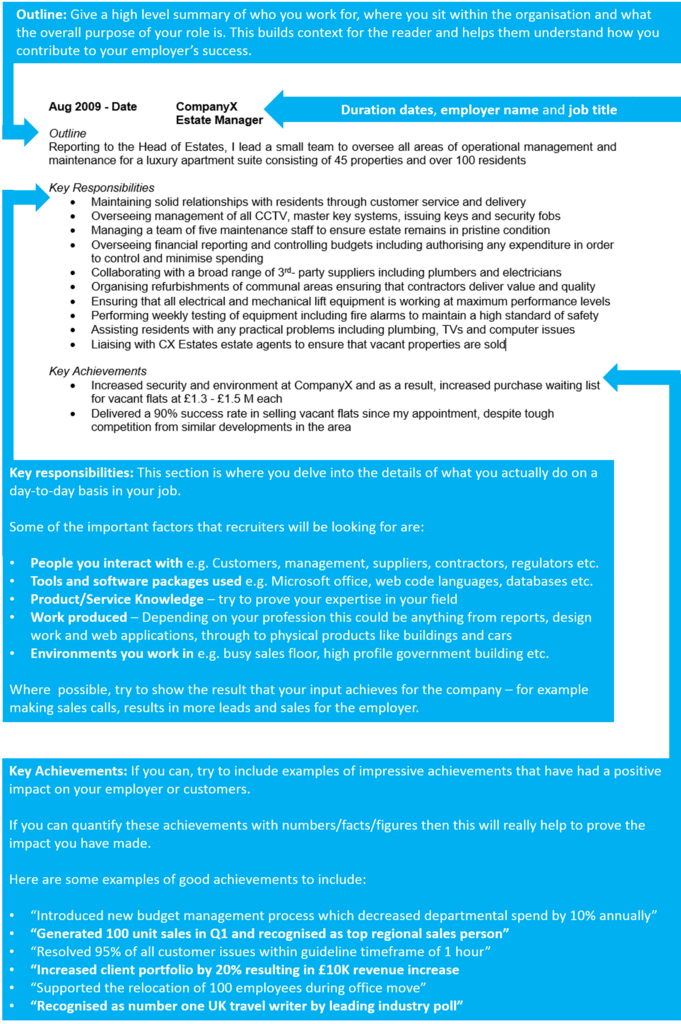 Job outline
Each role description should begin with a qucik summary of the job and company, along with how the job fits into the strucuture of the organization.
Key responsibilities
Next, write up a punchy list of your daily duties and responsibilities, using short bullet points.
Describe how you apply your skills and contribute to the running of the employer's business – highlighting skills which are applicable to your target jobs.
Key achievements
Round off each job by adding some impressive achievements you made in the role.
Anything you've done that has made a big impact on your employer will make a good impression, think; generating revenue, saving costs, or improving a product.
Quantify your achievements with number where possible e.g. "reduced call wait time by 10%"
Example job for Database Developer resume
Outline
Work as part of a team of computer scientists to develop and write code for new and updated information systems at multinational supermarket chain, Whole Foods, to support the logistics and payroll of their 513 stores nationwide.
Key Responsibilities
Design, architect, develop, and maintain company databases and services
Develop and document technical requirements, designs, and testing plans
Drive efficiency and predictability using SOPs and measurements
Translate end-user requirements and specifications into efficient programs, performing logical and physical modeling of database objects
Quick tip: Create impressive job descriptions easily in our partner's Resume Builder by adding pre-written job phrases for every industry and career stage.

Education section
After your work experience, add your education section.
If you are an experienced professional, you can keep this part short – adding basic details of each qualification.
If you have little or no experience, bulk this section up by adding more detail and highlight important skills and knowledge for your target jobs.
Additional information
If you have anything else to add which is relevant to the jobs you are applying for, the additional info section is the place to add it.
Perhaps you have a hobby which involves relevant skills, or maybe you have some awards or publications worth mentioning.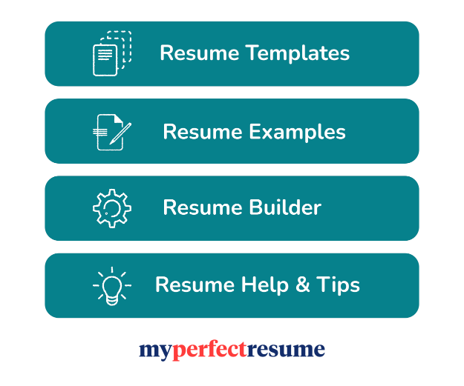 Writing your own Database Developer resume
Following the steps in this guide will help you to create a winning Database Developer resume and bag lots of interviews.
If you want some more help through the process, try our partner's Resume Builder for expert guidance and tons of pre-written resume content.
Good luck with your job search!