When operating huge heavy machinery like cranes on any site, it's vital that you know what you're doing and how to follow all health and safety rules.
As such, employers will only hire operators with the relevant qualifications, skills, and experience behind them.
So if you're ready to take your career to the next level, find out how to write an impressive resume using our guide and crane operator resume example. You can check them out below.
Contents
| | |
| --- | --- |
| How to write a Crane Operator resume | |

Crane Operator Resume Example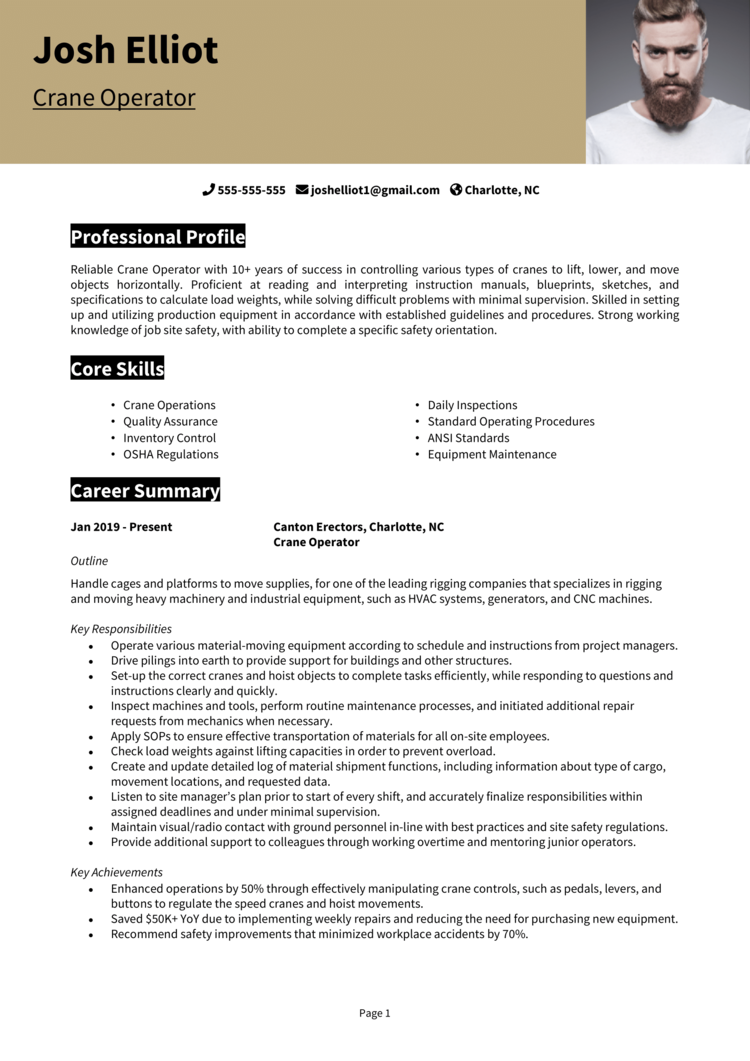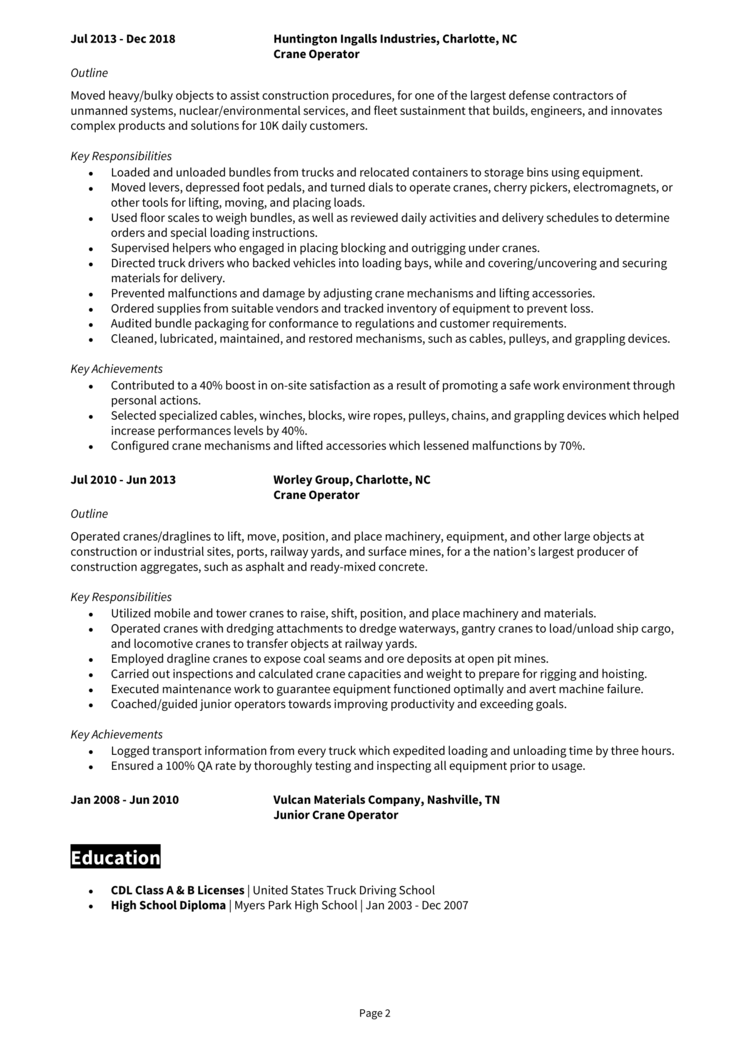 This example Crane Operator resume is well-structured to provide a pleasant reading experience for recruiters, and contains all of the crucial information they want to see.
The rest of the guide will show you exactly how you can achieve this in your own resume.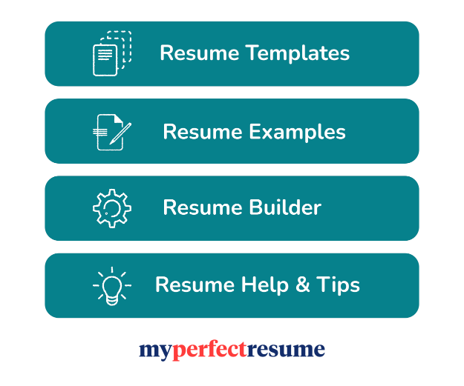 Crane Operator resume layout and formatting
When it comes to holding the attention of recruiting managers, the format and layout of your resume play a key role.
Your resume needs to strike a perfect balance between looking awesome, and being easy for recruiters to read (which is not always easy to achieve)
Use the following formatting tips to get started.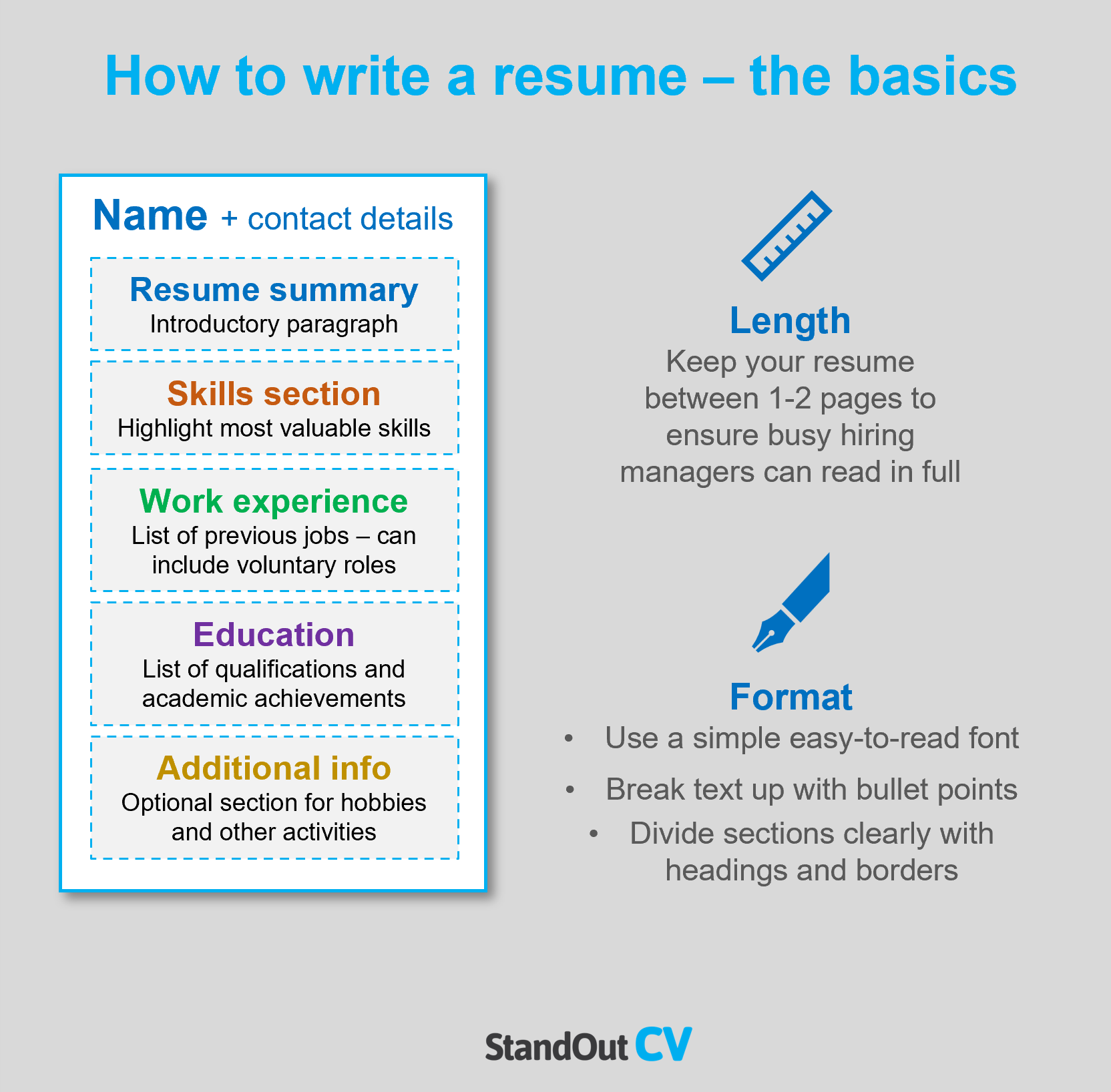 Formatting your resume
Length: Recruiters often see hundreds of resumes per day – so keep yours under 2 pages in length, if you want to ensure it gets read in full.
Font & readability: Complex fonts are a readers' worst nightmare and will leave recruiters struggling to understand your message. Use a clear simple lean font in a color that stands out against the page, and break your text up with bullet points to make the content easily digestible.
Layout & Structure: When it comes to designing your resume, it's essential to make it visually appealing, but it's equally important not to overlook functionality. To achieve this, you should organize the page into clear sections using bold headings and borders.
Photos: In the USA adding a photo to your resume is optional – you don't have to do it, but it can be a nice way to get your personality across.
Quick tip: Achieving a professional look for your resume can be difficult and time-consuming. If you want to create an attractive resume quickly, try our partner's Resume Builder and use one of their eye-catching resume templates.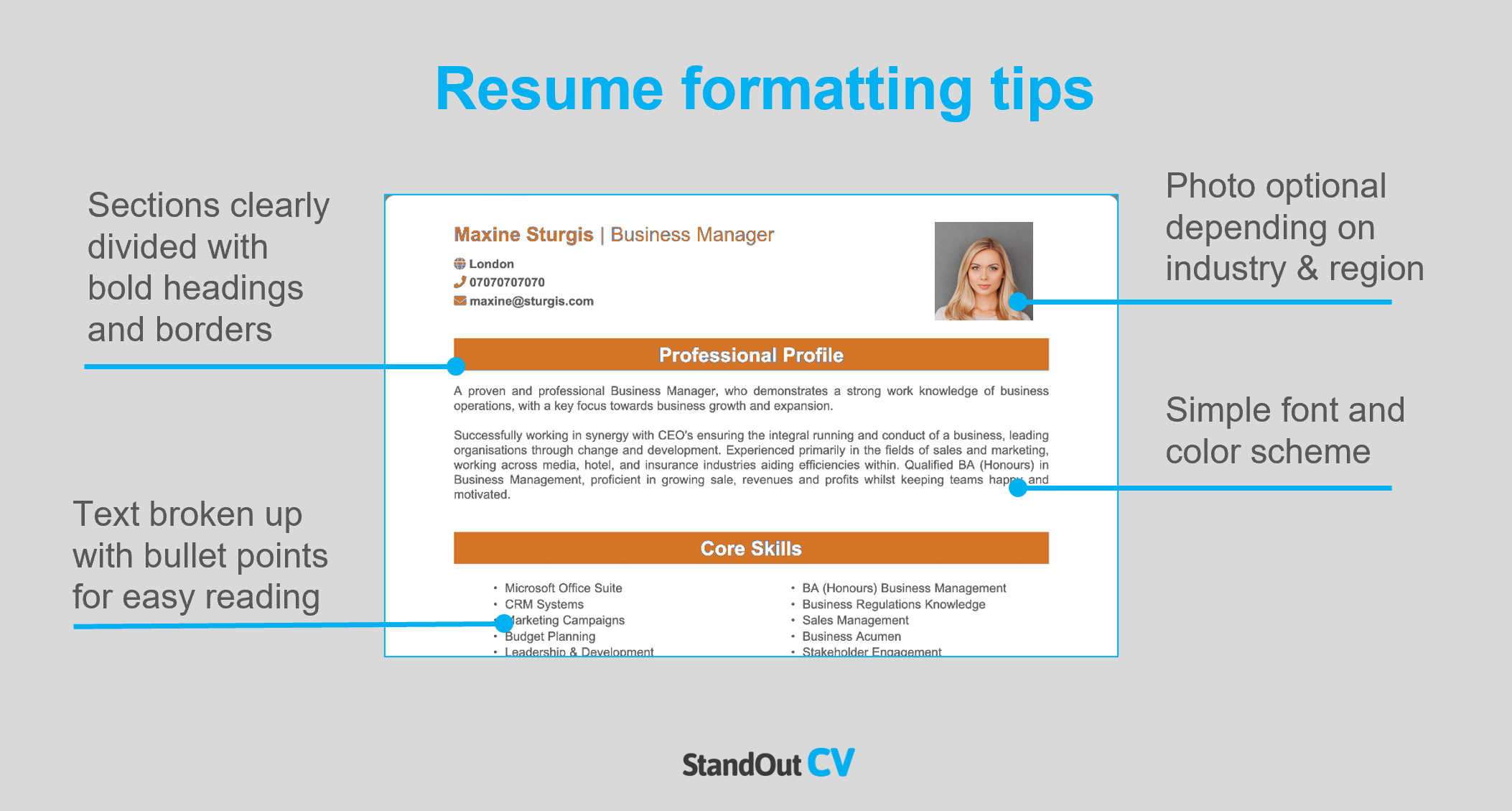 Resume layout
Here's an overview of the sections you should add when writing your resume.
Name and contact details – Stick these details at the top, so they are easy to find.
Resume summary – A punchy paragraph summarizing your skills and knowledge, enticing recruiters to read more of your resume.
Skills section – Short list of your most valuable skills, enabling recruiters to quickly spot your suitability.
Work experience – Showcase your previous employment, starting with your most recent roe and working backwards – voluntary work and college placements can be included if you have no paid experience.
Education – A summary of your most relevant qualifications and academic achievements
Additional info – An optional section for that other attributes that may boost your application, such as hobbies or clubs
Here's what to include in each part of your resume.
Contact Details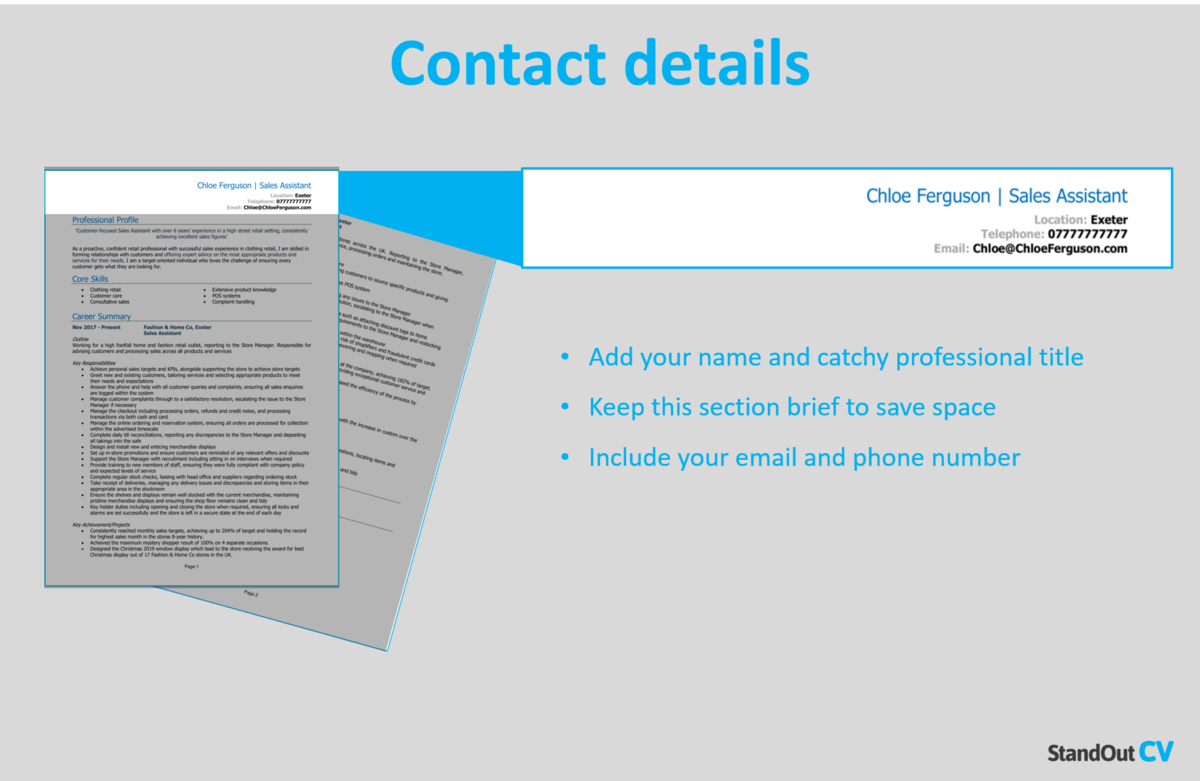 Keep your contact details short to save resume space and include the following.
Name and profession title
Cell phone number
Location – Add your local area such as Silicon Valley or New York, unless you are looking for work in a different location
Email address – Keep it professional and don't use an old address that you thought was cool in high school, but now looks a bit embarrassing.
You can add a link to your LinkedIn profile if you have one – you do not need to include personal details like date of birth or marital status.
Crane Operator Resume Summary
Start your resume with a bang by adding a powerful summary to the top, summarizing your most valuable skills and experience.
This short paragraph is your chance to show recruiters why you are a perfect fit for the job and encourage them to read more of your resume.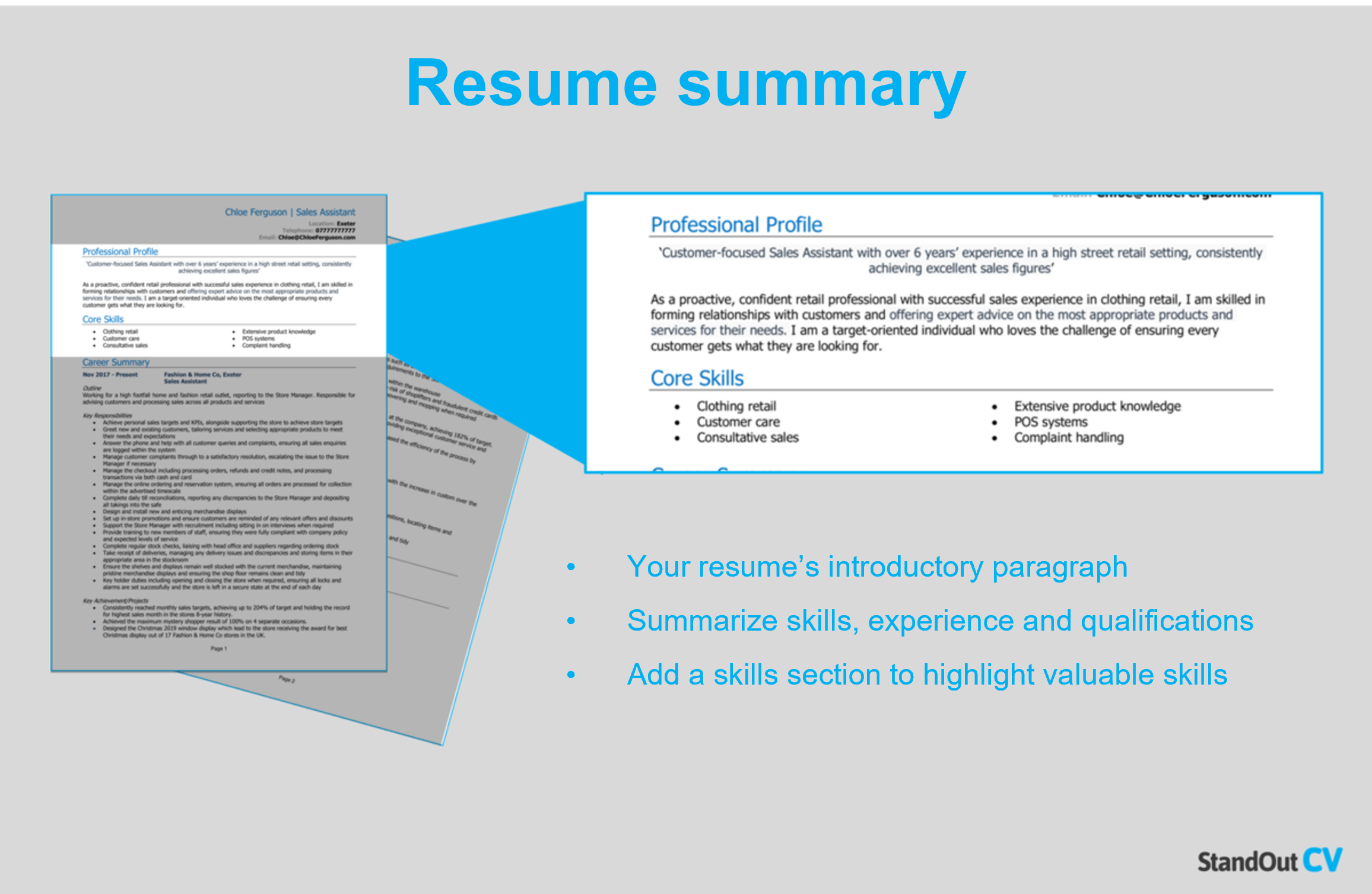 How to create a resume summary that will excite recruiters:
Keep it short: A concise and focused resume summary is essential for capturing a recruiter's attention and keeping them engaged. Limiting your summary to 4-7 lines ensures that you make a strong impression in the first few seconds of them opening the document.
Tailor to target jobs: By carefully reviewing the job description and incorporating as many relevant skills as possible, you can customize your resume to better match your target jobs.
Avoid using cliches: Recruiters look for facts in resumes, such as hard skills and qualifications – so, leave out the meaningless cliches like "hard worker who works well in a team and individually"
Crane Operator resume summary example
Reliable Crane Operator with 10+ years of success in controlling various types of cranes to lift, lower, and move objects horizontally. Proficient at reading and interpreting instruction manuals, blueprints, sketches, and specifications to calculate load weights, while solving difficult problems with minimal supervision. Skilled in setting up and utilizing production equipment in accordance with established guidelines and procedures. Strong working knowledge of job site safety, with ability to complete a specific safety orientation.
What to include in your Crane Operator resume summary?
Summary of your experience: Provide an overview of the type of work you have done in the past and the impact you have made at previous employers.
Relevant skills: Highlight your skills which are most relevant to Crane Operator jobs, to ensure that recruiters see your most in-demand skills as soon as they open your resume.
Qualifications: To make a strong impression on potential employers when applying for Crane Operator jobs, be sure to mention any relevant qualifications in your summary.
Quick tip: Choose from hundreds of pre-written summaries across all industries, and add one to your resume with one-click in our partner's Resume Builder. All written by recruitment experts and easily tailored to suit your unique skillset and style.
Core skills section
Sitting just underneath your resume summary, your core skills section gives recruiters 4-10 of your most in-demand skills in just a glance.
As Crane Operator jobs may get hundreds of applications, this is a great way to stand out and quickly grab hiring managers' attention.
It should be made up of 2-3 columns of bullet points and highlight attributes that are hyper-relevant to the jobs you are aiming for.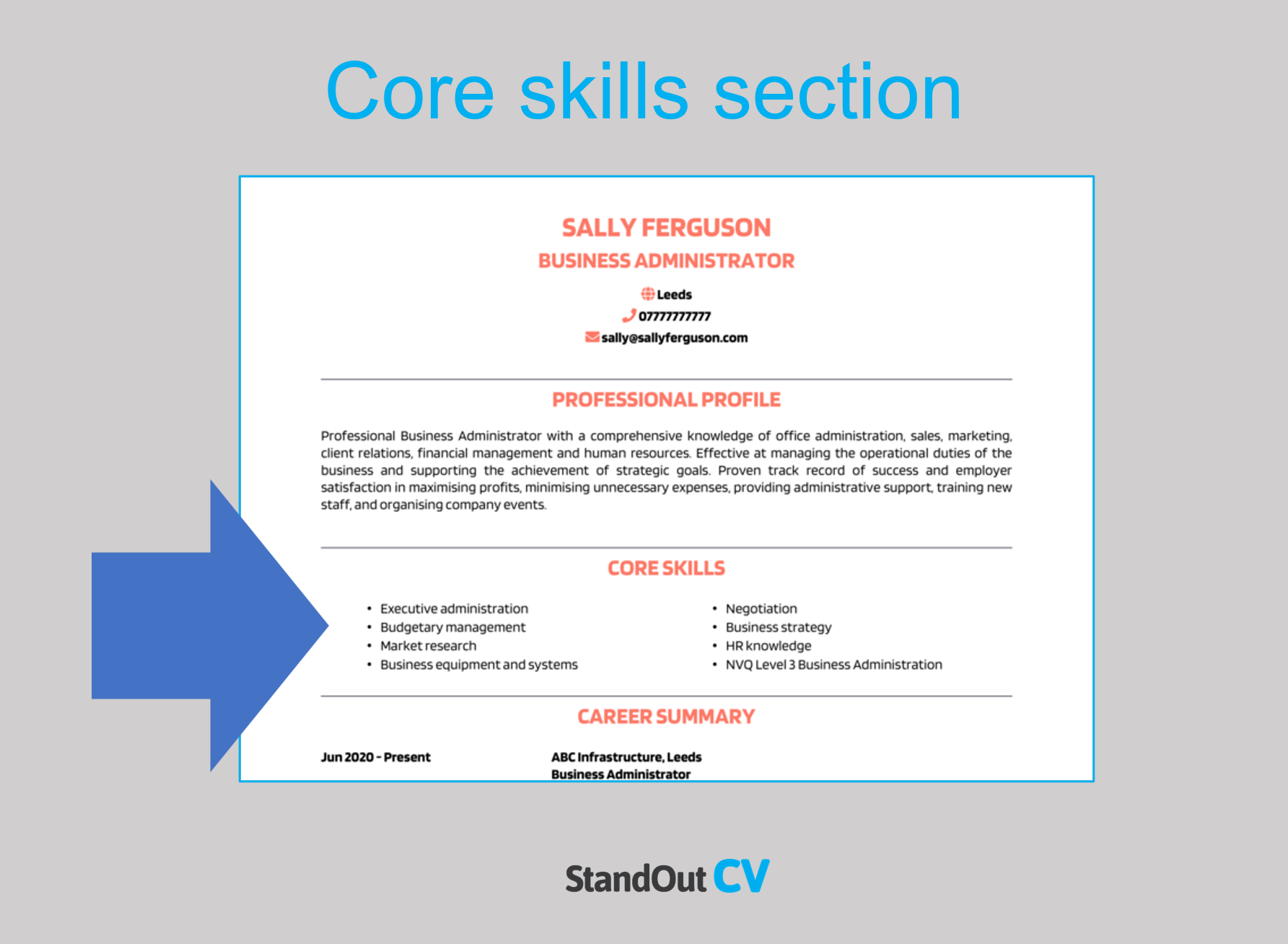 Best skills for your Crane Operator resume
Equipment operation – Operating cranes safely and efficiently, including understanding crane controls, performing pre-operational checks, and following safety protocols.
Rigging and signaling – Utilizing rigging and signaling techniques, including identifying load capacities, calculating load angles, and using proper signaling methods, to safely and effectively move loads.
Spatial awareness – Maintaining spatial awareness and depth perception, to avoid accidents and collisions with objects and structures.
Safety protocols – Maintaining knowledge of safety protocols and procedures, including operating cranes in high-risk environments, working with power lines, and using proper fall protection, to ensure the safety of oneself and others.
Maintenance and repair – Performing maintenance and repair tasks, including lubricating parts, changing filters, and inspecting cables, to ensure that cranes are in good working condition.
Effective communication – Interacting effectively with other crane operators, ground crew, and project managers, to ensure that crane operations are coordinated and safe.
Load calculations – Understanding load calculations, including weight distribution and center of gravity, to ensure that loads are moved safely and accurately.
Regulatory compliance – Maintaining a detailed understanding of regulatory compliance requirements, including industry-specific regulations and laws, to ensure that crane operations are compliant with all applicable laws and regulations.
Quick tip: Our partner's Resume Builder contains thousands of in-demand skills for every profession that can be added to your resume in seconds – saving you time and greatly improving your chances of landing job interviews and getting hired.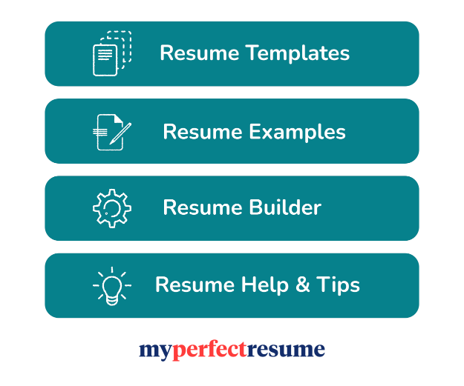 Work experience
So, you've grabbed the recruiters' attention with your summary, now it's time to show them what you're really capable of in your work experience section.
List your previous jobs from current to oldest, showing off the impact you made at each organization.
If you have tons of experience, you should just list the most recent an relevant jobs – but if you have little or no experience, add it all and even consider putting in voluntary work.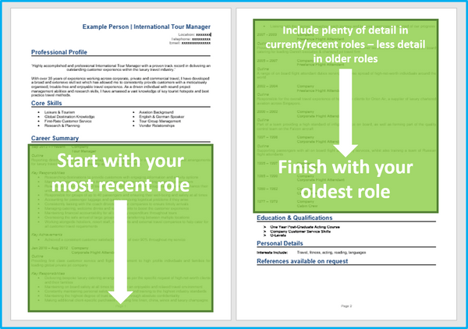 Structuring your jobs
Without a good structure, your job description can look messy and overwhelming to anyone reading them.
Make it easy for recruiters to read your work experience by structuring your roles like this.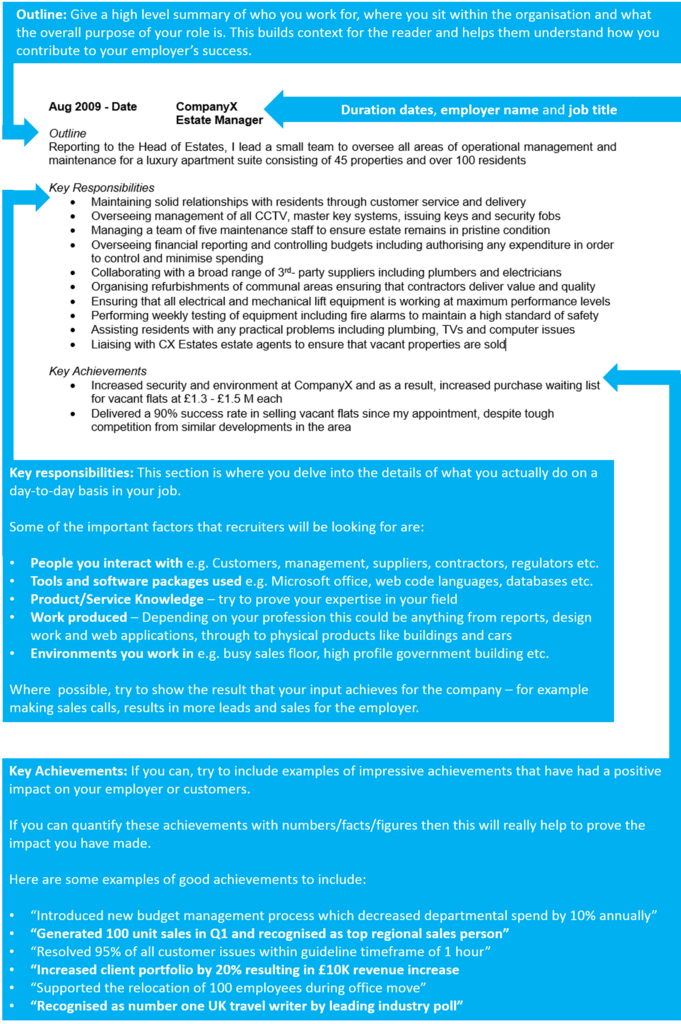 Job outline
Start with a 1-2 sentence outline of the role, summarizing what the goal of your position was, who you reported to (or managed) and the type of organization you worked for.
Key responsibilities
List your notable responsibilities in short sharp bullet points to demonstrate your input and how you contributed to the organization's success.
Highlight the skills that are most important to the roles you are applying for.
Key achievements
Finish each role by highlighting some impressive achievements you made whilst in the role.
Anything that benefited the employer can be included from making financial savings, to winning new customers.
Quantify your achievements with facts and figures if you can, e.g. "reduced call wait time by 10%"
Example job for Crane Operator resume
Outline
Handle cages and platforms to move supplies, for one of the leading rigging companies that specializes in rigging and moving heavy machinery and industrial equipment, such as HVAC systems, generators, and CNC machines.
Key Responsibilities
Operate various material-moving equipment according to schedule and instructions from project managers.
Drive pilings into earth to provide support for buildings and other structures.
Set-up the correct cranes and hoist objects to complete tasks efficiently, while responding to questions and instructions clearly and quickly.
Inspect machines and tools, perform routine maintenance processes, and initiated additional repair requests from mechanics when necessary.
Quick tip: Create impressive job descriptions easily in our partner's Resume Builder by adding pre-written job phrases for every industry and career stage.

Education section
Near the end of your resume add your education section
Experienced candidates should keep it brief and focus on professional qualifications – and junior candidates can include high school diplomas, college degrees etc.
Additional information
If you have anything else to add which is relevant to the jobs you are applying for, the additional info section is the place to add it.
Perhaps you have a hobby which involves relevant skills, or maybe you have some awards or publications worth mentioning.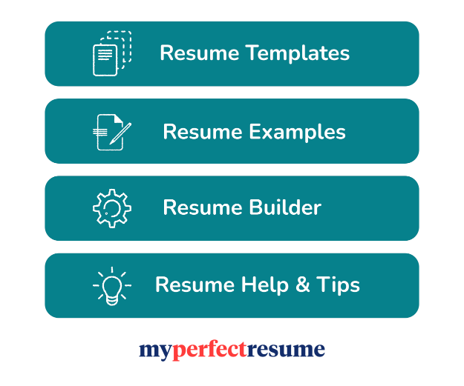 Writing your own winning Crane Operator resume
Writing a Crane Operator resume can be challenging but following the steps above will ensure that you land plenty of interviews.
Good luck with your job search!