Your creativity and writing style, coupled with your leadership skills make you the ideal candidate for a content manager role.
But these positions can be competitive and writing a solid resume is simply not enough. You need to go above and beyond to stand out.
Find out how using our detailed guide and top tips below, complete with a content manager resume example to inspire you.
Contents
| | |
| --- | --- |
| How to write a Content Manager resume | |

Content Manager Resume Example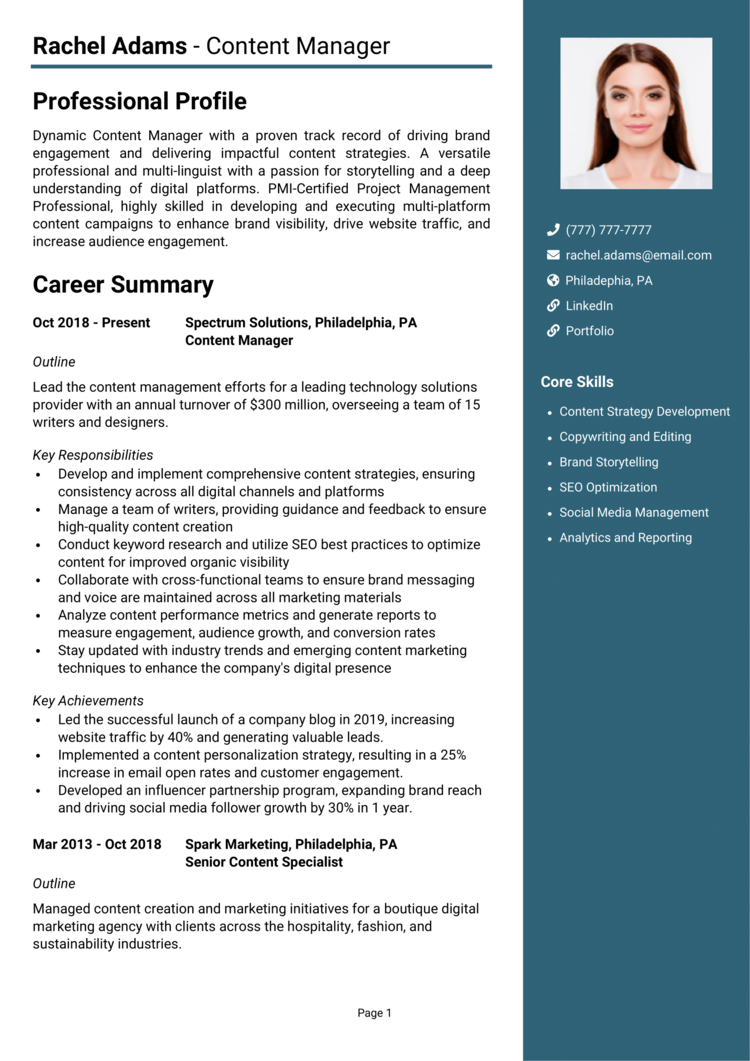 This Content Manager resume example shows you the most effective layout for a resume in today's job market, along with the type of content you need to include.
Stick closely to these guidelines as you write your own resume, to boost your chances of getting lots of responses, interviews and job offers.
Now lets dive into the details of how you write your own eye-catching resume…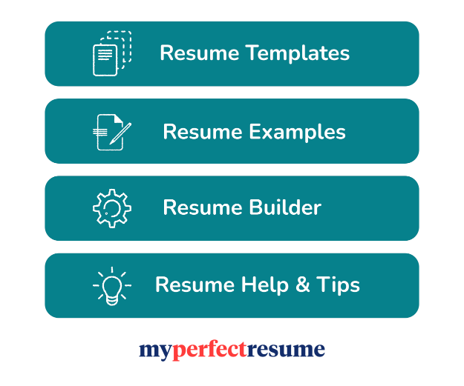 Content Manager resume layout and format
The format and layout of your resume can make or break its success.
Sure, it's great to pack your resume with lots of impressive skills and knowledge, but if the page is not structured clearly, hiring managers will struggle to find the important stuff!
Above all, your resume should be easy-to-read and professional looking.
Follow these formatting tips to get noticed.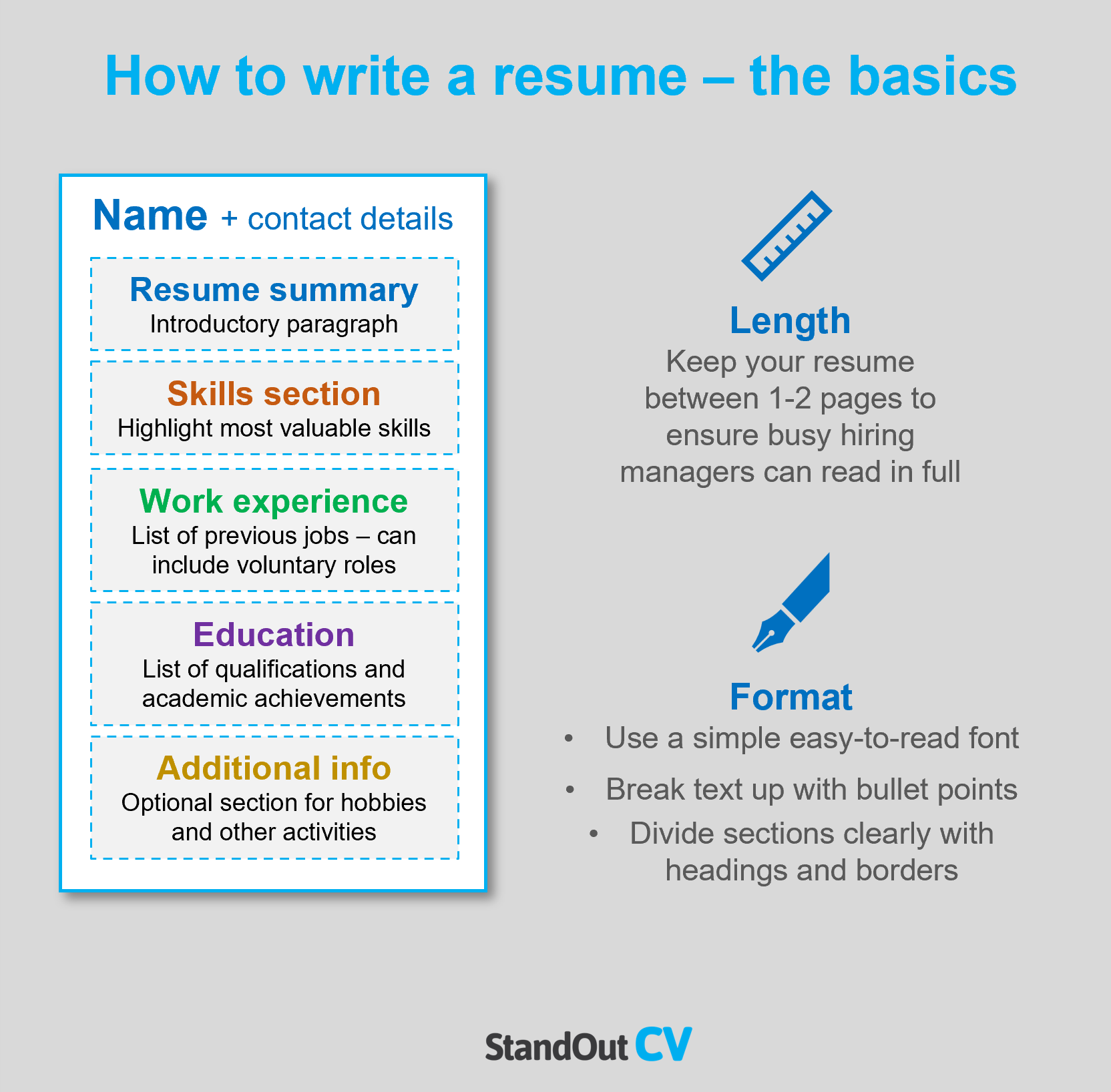 Formatting your resume
Length: To ensure that recruiters will read all of your resume, limit its length to 2 pages – as they someteimes read hundreds of resumes daily.
Font & readability: Nobody likes to read huge unbroken paragraphs of text – and recruiters are no different. Break your resume text up with bullet points and use a clear simple font.
Layout & Structure: When it comes to designing your resume, it's essential to make it visually appealing, but it's equally important not to overlook functionality. To achieve this, you should organize the page into clear sections using bold headings and borders.
Photos: While adding a photo to your resume is not mandatory in the USA, it can be beneficial if you are applying to organizations in creative industries.
Quick tip: Achieving a professional look for your resume can be difficult and time-consuming. If you want to create an attractive resume quickly, try our partner's Resume Builder and use one of their eye-catching resume templates.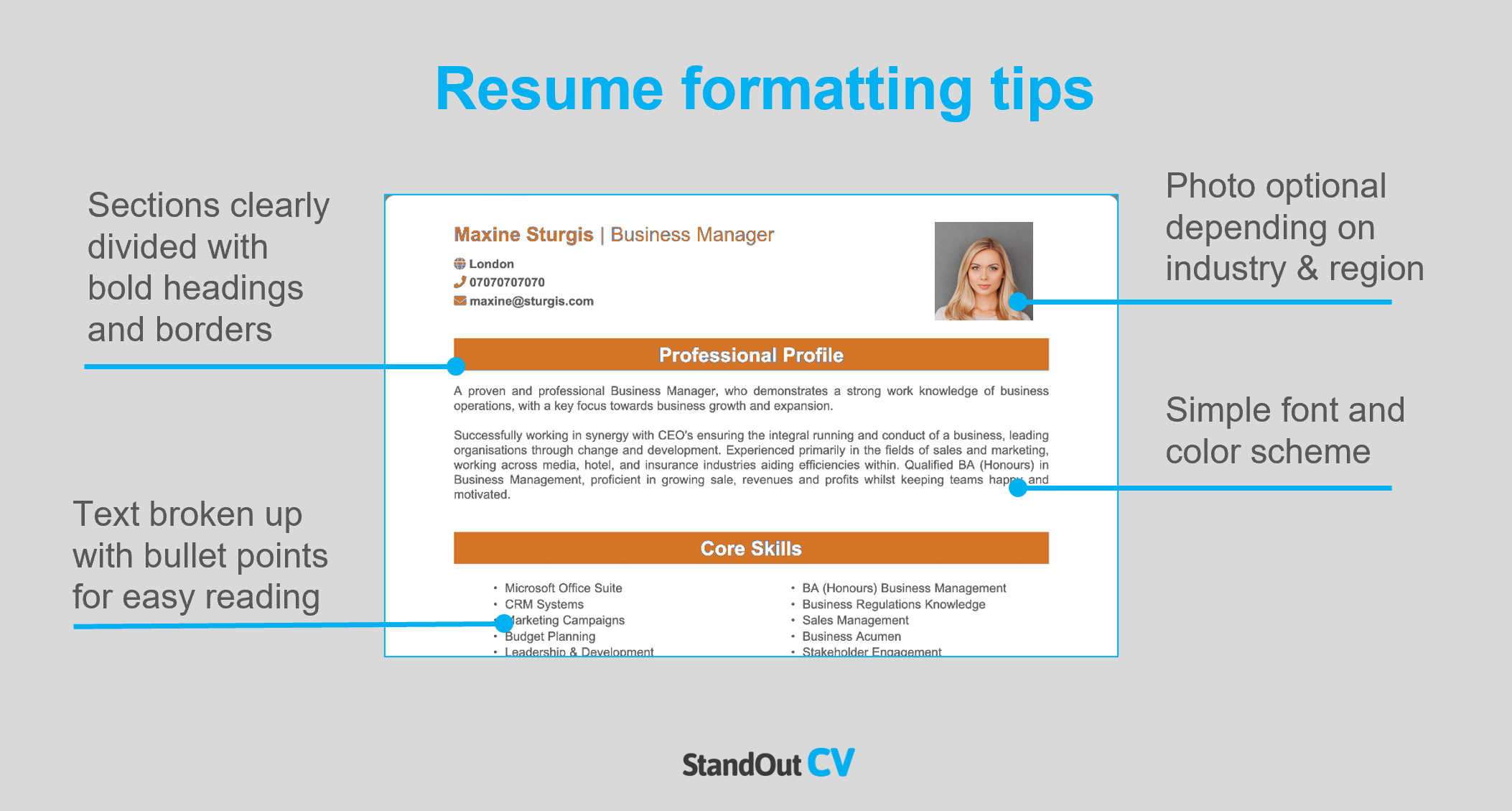 Resume layout
When you write your resume, include the sections below.
Name and contact details – Pop these at the very top to ensure recruiters know how to contact you.
Resume summary – An eye-catching paragraph which summarizes your most valuable attributes – placed near the top of your resume
Skills section – A bullet pointed list of your most in-demand skills, enabling recruiters to see your suitability from a glance.
Work experience – List some or all of your previous jobs in reverse chronological order – voluntary work and college placements can be included if you have no paid experience.
Education – A summary of your professional training and academic qualifications.
Additional info – An optional section for anything that may boost your application, such as relevant hobbies and interests
Here's what to include in each part of your resume.
Contact Details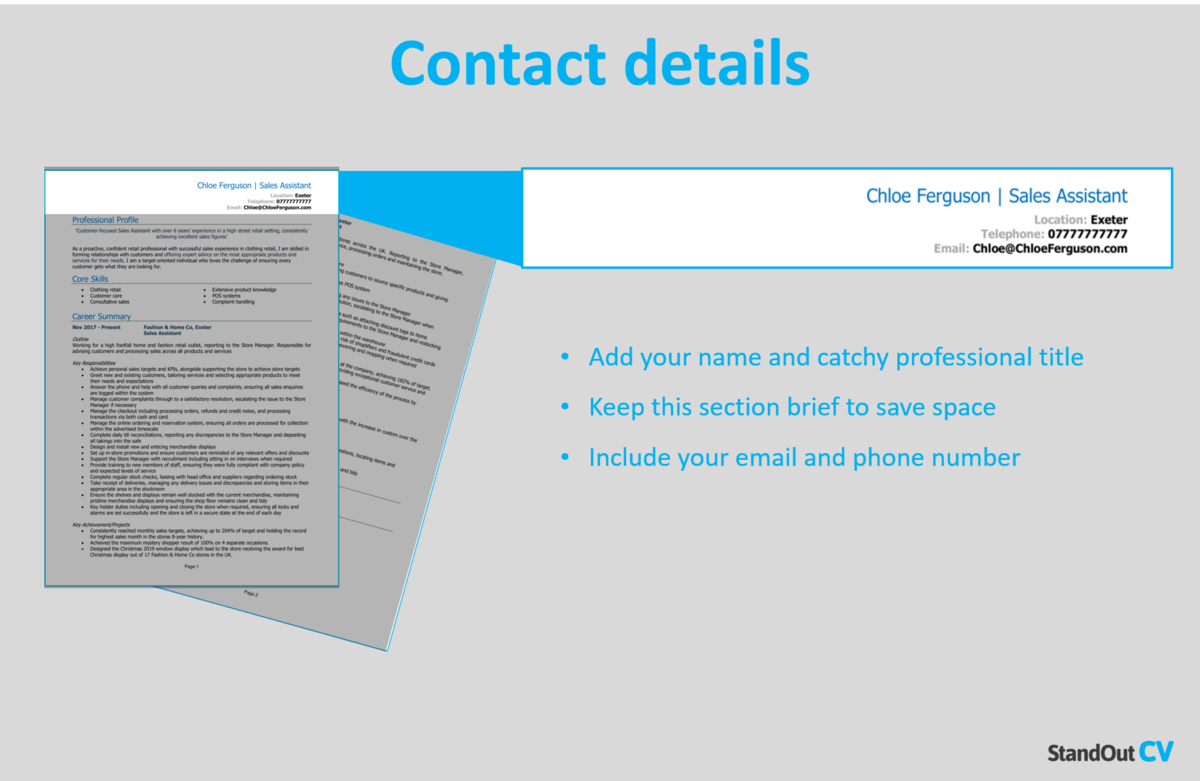 Add your name and contact details to the very top of your resume, making it easy for recruiters to get in touch
Name and profession title
Cell phone number – or another number you can answer quickly
Location – Add your local area such as San Diego or New York – not your full address as that will take up too much space.
Email address – Use your name or close variation – no nicknames from high school.
You can add a link to your LinkedIn profile if you have one – you do not need to include personal details like date of birth or marital status.
Content Manager Resume Summary
Grab the attention of recruiters right away by including a compelling summary at the top of your resume that summarizes your most valuable skills and experience.
This brief yet impactful section enables you to demonstrate why you're the best candidate for the job and convince recruiters to keep reading.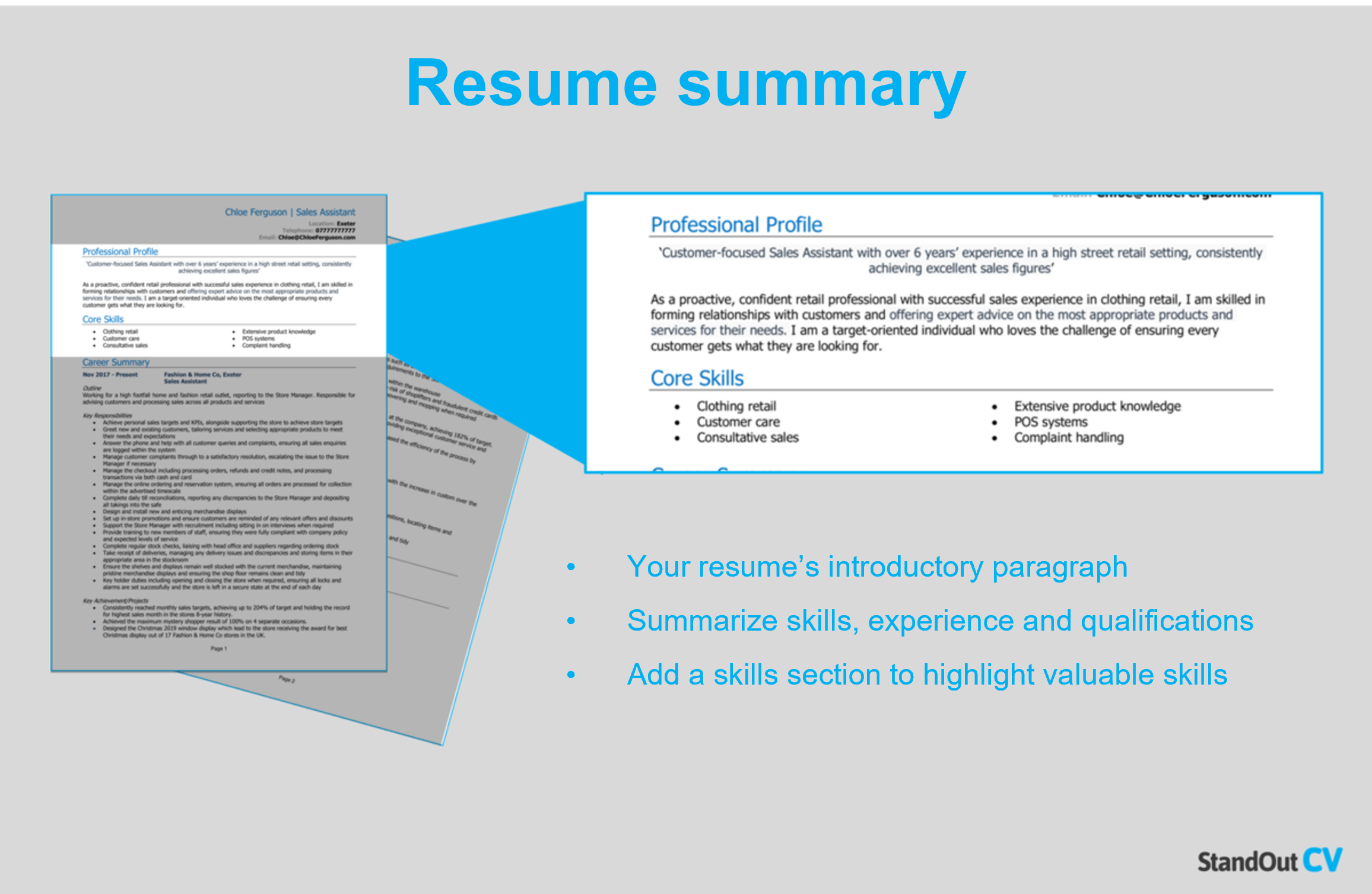 How to create a resume summary that will excite recruiters:
Keep it short: You only have a few seconds to grab a recruiters' attention and make them commit to your resume, so keep your summary between 4 – 7 lines.
Tailor to target jobs: Optimize your summary to match the requirements of your target jobs, by mirroring the key words from the job description as closely as possible.
Avoid using cliches: Recruiters always see cringey cliches like "hardworking guru who works well in a team or individually" – they don't mean much to anyone, so focus your summary on tangible skills and experience.
Content Manager resume summary example
Dynamic Content Manager with a proven track record of driving brand engagement and delivering impactful content strategies. A versatile professional and multi-linguist with a passion for storytelling and a deep understanding of digital platforms. PMI-Certified Project Management Professional, highly skilled in developing and executing multi-platform content campaigns to enhance brand visibility, drive website traffic, and increase audience engagement.
What to include in your Content Manager resume summary?
Summary of your experience: Provide a summary of the kind of work you have previously done, along with the benefits you have delivered to the organizations you worked with.
Relevant skills: Include your skills which are hyper relevant to Content Manager jobs to instantly show your suitability.
Qualifications: Any qualifications that are important to the Content Manager jobs you are applying for, should be mentioned in the summary.
Quick tip: Choose from hundreds of pre-written summaries across all industries, and add one to your resume with one-click in our partner's Resume Builder. All written by recruitment experts and easily tailored to suit your unique skillset and style.
Core skills section
Next, you should create a bullet pointed list of your core skills, formatted into 2-3 columns.
Here, you should focus on including the most important skills or knowledge listed in the job advertisement.
This will instantly prove that you're an ideal candidate, even if a recruiter only has time to briefly scan your resume.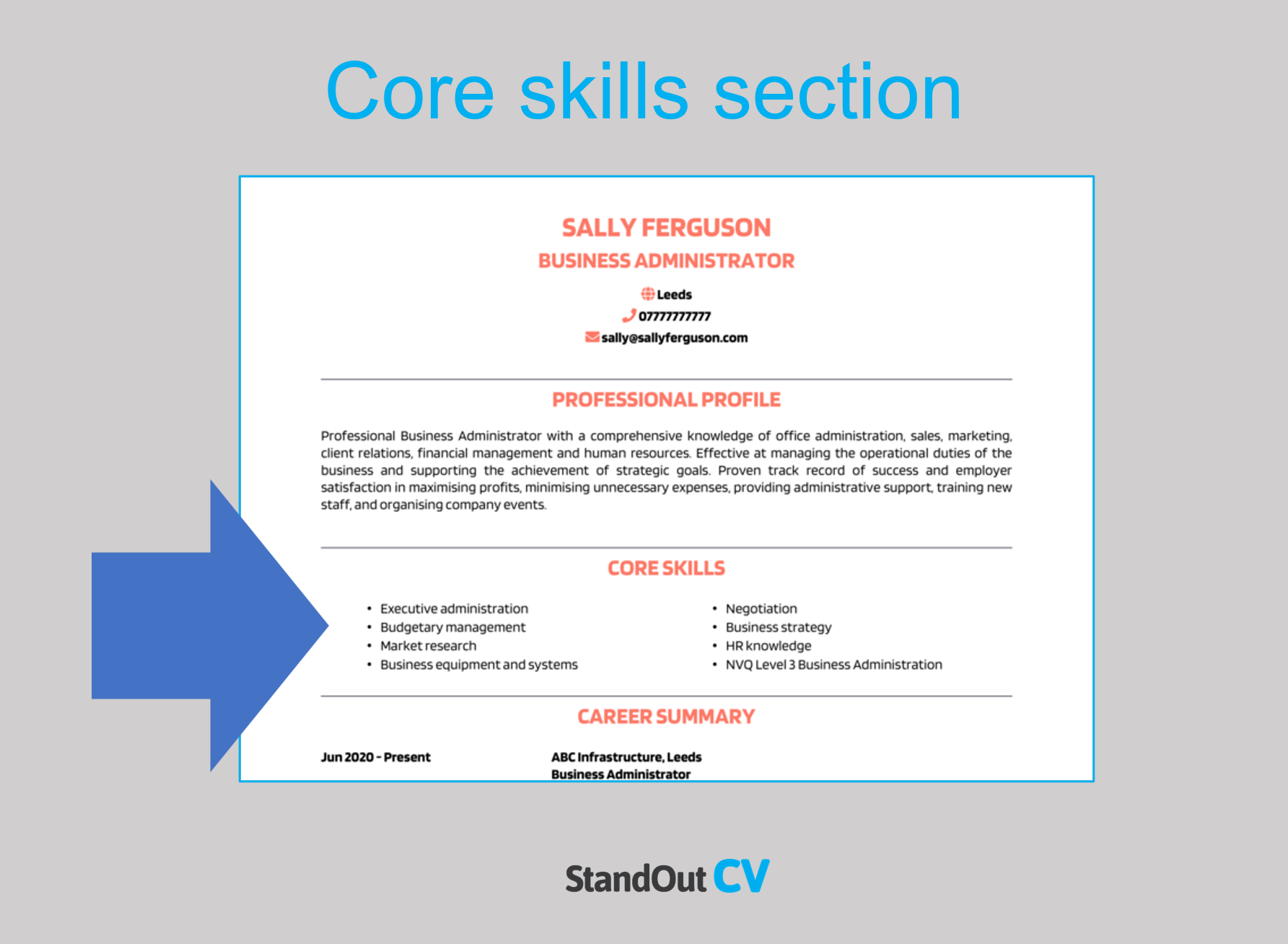 Best skills for your Content Manager resume
Content Strategy – Developing and executing a comprehensive content strategy that aligns with the organization's goals and target audience.
Content Creation – Creating engaging and high-quality written, visual, and multimedia content across various platforms and channels.
SEO Optimization – Utilizing knowledge of search engine optimization (SEO) techniques to optimize content for better visibility, organic traffic, and search engine rankings.
Editing and Proofreading – Ensuring content accuracy, clarity, grammar, and adherence to brand guidelines.
Data Analysis – Analyzing content performance metrics and using data-driven insights to optimize content strategy and improve audience engagement.
Content Management Systems (CMS) – Utilizing CMS platforms to efficiently manage and publish content, including uploading, formatting, and scheduling.
Project Management – Managing content projects, coordinating with cross-functional teams, setting deadlines, and ensuring timely delivery of content.
Social Media Management – Managing social media platforms, crafting engaging social media content, and leveraging social media for content promotion.
Branding and Messaging – Utilizing knowledge of brand guidelines to ensure consistent brand messaging and tone across all content channels.
Data-driven Reporting – Tracking and analyzing content performance metrics, generating reports, and providing insights to inform content strategy and decision-making.
Quick tip: Our partner's Resume Builder contains thousands of in-demand skills for every profession that can be added to your resume in seconds – saving you time and greatly improving your chances of landing job interviews and getting hired.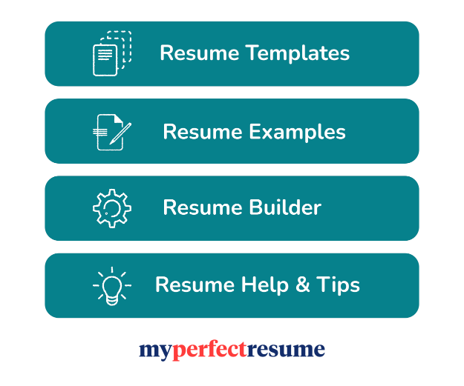 Work experience
Now that you've reeled recruiters in with your awesome summary, it's time to delve into your work experience.
Here you'll list your previous jobs (starting with your most recent and working backward) and showcase how you apply your skills in the workplace.
Provide lots of detail in recent jobs, and less in older roles.
If you have no relevant paid experience, you can include voluntary work and placements – but if you have lots of experience, you can leave out some of the really old jobs.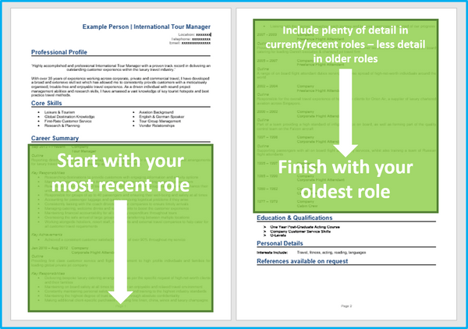 Structuring your jobs
It's easy to overwhelm readers when writing about a job you have been doing for years or even months.
Break the information up like this to keep it simple for recruiters to understand.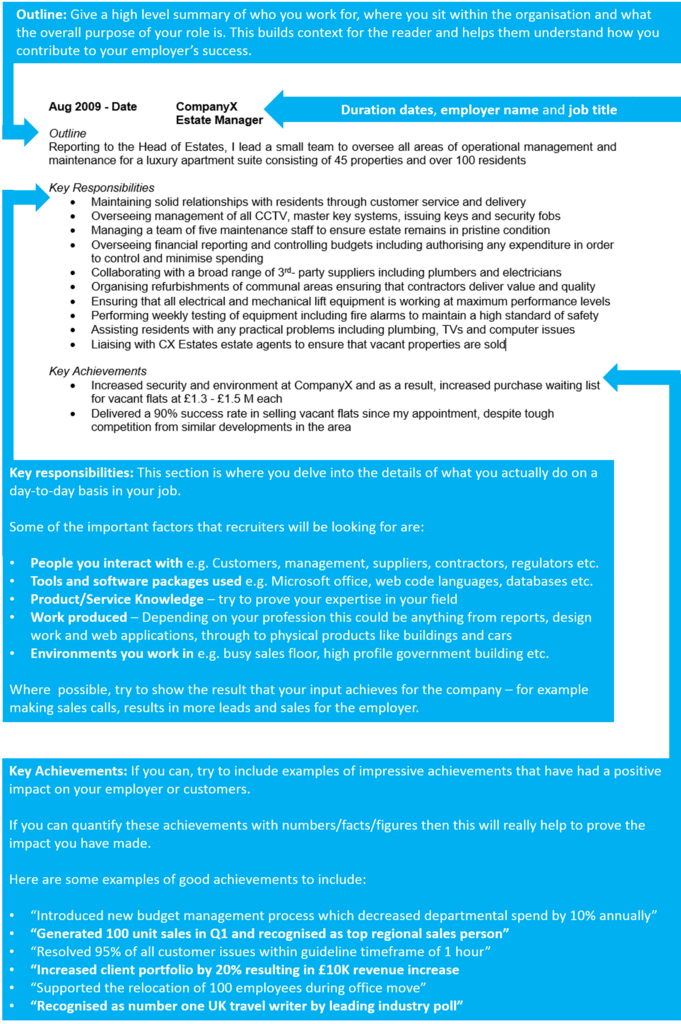 Job outline
Kick off each role with a high-level overview to summarize the focus of the job, what the organization/department does, and how you fit into the bigger picture.
Key responsibilities
Then delve into the detail of your job by listing out easy-to-read bullet points which show how you apply your skills in the workplace.
Tailor these bullet points to focus on the skills and knowledge that are required in the jobs you are applying for.
Key achievements
Finish each role by highlighting some impressive achievements you made whilst in the role.
Anything that benefited the employer can be included from making financial savings, to winning new customers.
Quantify your achievements with facts and figures if you can, e.g. "reduced call wait time by 10%"
Example job for Content Manager resume
Outline
Lead the content management efforts for a leading technology solutions provider with an annual turnover of $300 million, overseeing a team of 15 writers and designers.
Key Responsibilities
Develop and implement comprehensive content strategies, ensuring consistency across all digital channels and platforms
Manage a team of writers, providing guidance and feedback to ensure high-quality content creation
Conduct keyword research and utilize SEO best practices to optimize content for improved organic visibility
Collaborate with cross-functional teams to ensure brand messaging and voice are maintained across all marketing materials
Quick tip: Create impressive job descriptions easily in our partner's Resume Builder by adding pre-written job phrases for every industry and career stage.

Education section
Nearing the end of your resume, your education/qualifications section should be added.
In a well-structured list, add all of your qualifications and certifications that qualify you to perform a typical Content Manager role.
If you have plenty of work experience, keep this section brief – if not, add lots of detail to make up for your lack of experience.
Additional information
The additional info section is optional but can be useful if you have anything else to add that could benefit your application.
For example, you may have some hobbies and interests that are relevant to your job – or you might have awards or publications to shout about.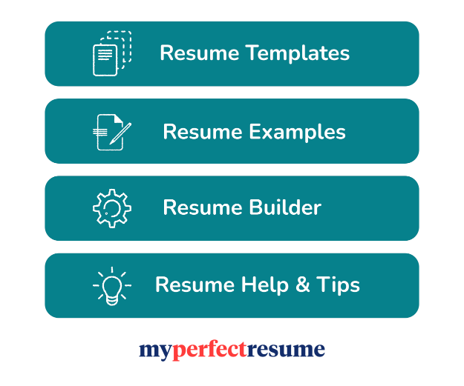 Writing your own winning Content Manager resume
Writing a Content Manager resume can be challenging but following the steps above will ensure that you land plenty of interviews.
Good luck with your job search!