Through careful planning, organization, and project management, you can create an efficient and safe workplace for the entire construction team.
But if you want to land your next supervisor role, you need to be able to prove this with a strong application.
To help you build a resume that's sure to get you noticed, we've put together these step-by-step instructions and a construction supervisor resume example to guide you.
Contents
| | |
| --- | --- |
| How to write your Construction Supervisor resume | |

Construction Supervisor Resume Example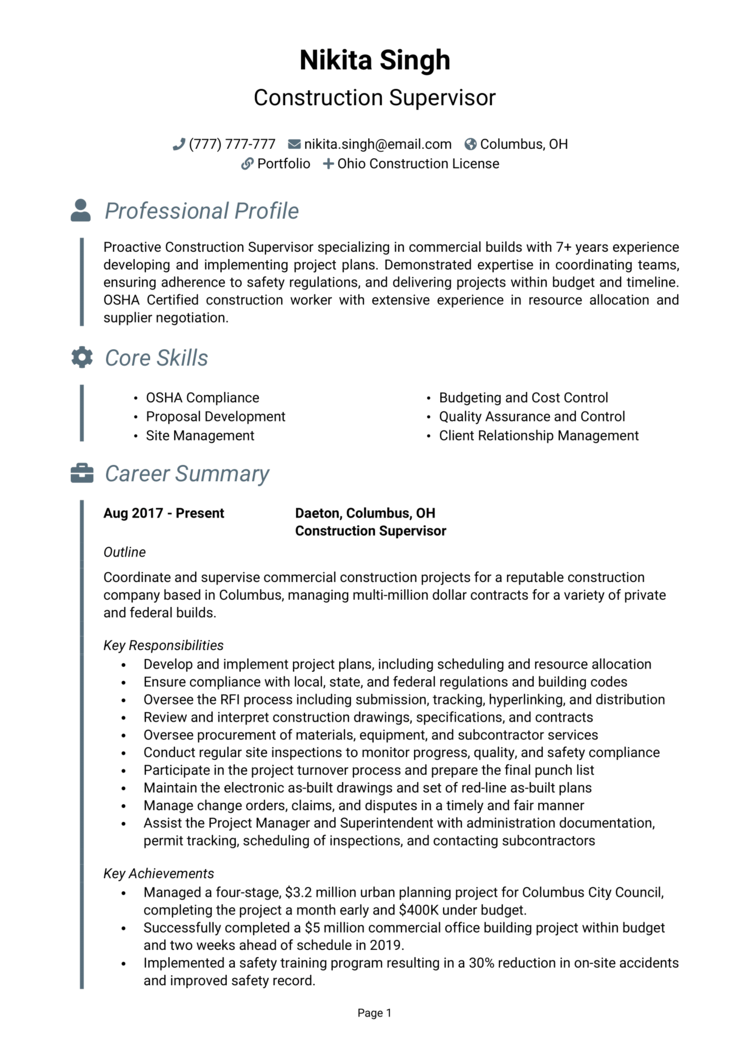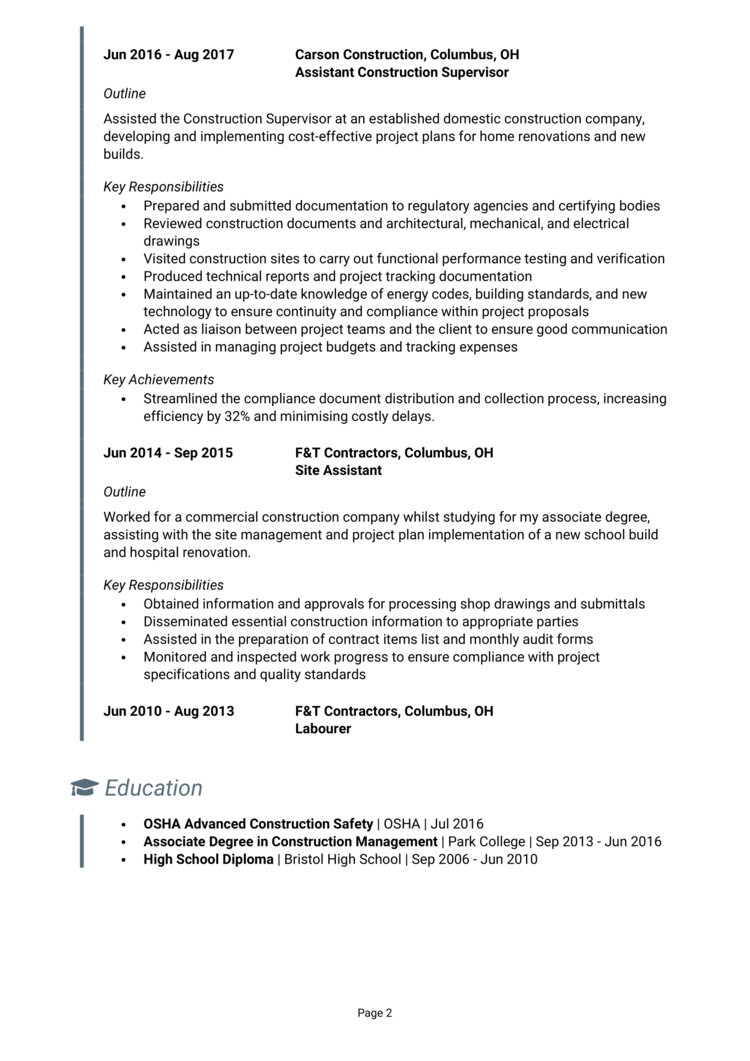 This example Construction Supervisor resume provides you with a general idea of how your resume should look, and what information recruiters expect to see.
The rest of this guide will explain how to layout your resume and create each section effectively.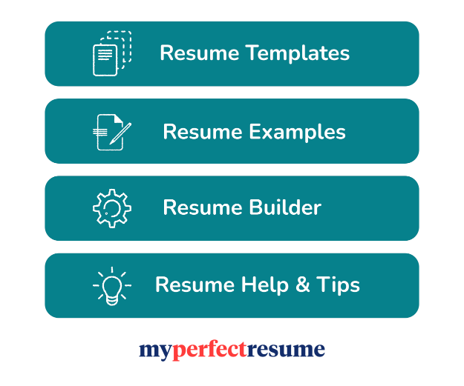 Construction Supervisor resume layout and format
The format and layout of your resume can make or break its success.
Sure, it's great to pack your resume with lots of impressive skills and knowledge, but if the page is not structured clearly, hiring managers will struggle to find the important stuff!
Above all, your resume should be easy-to-read and professional looking.
Follow these formatting tips to get noticed.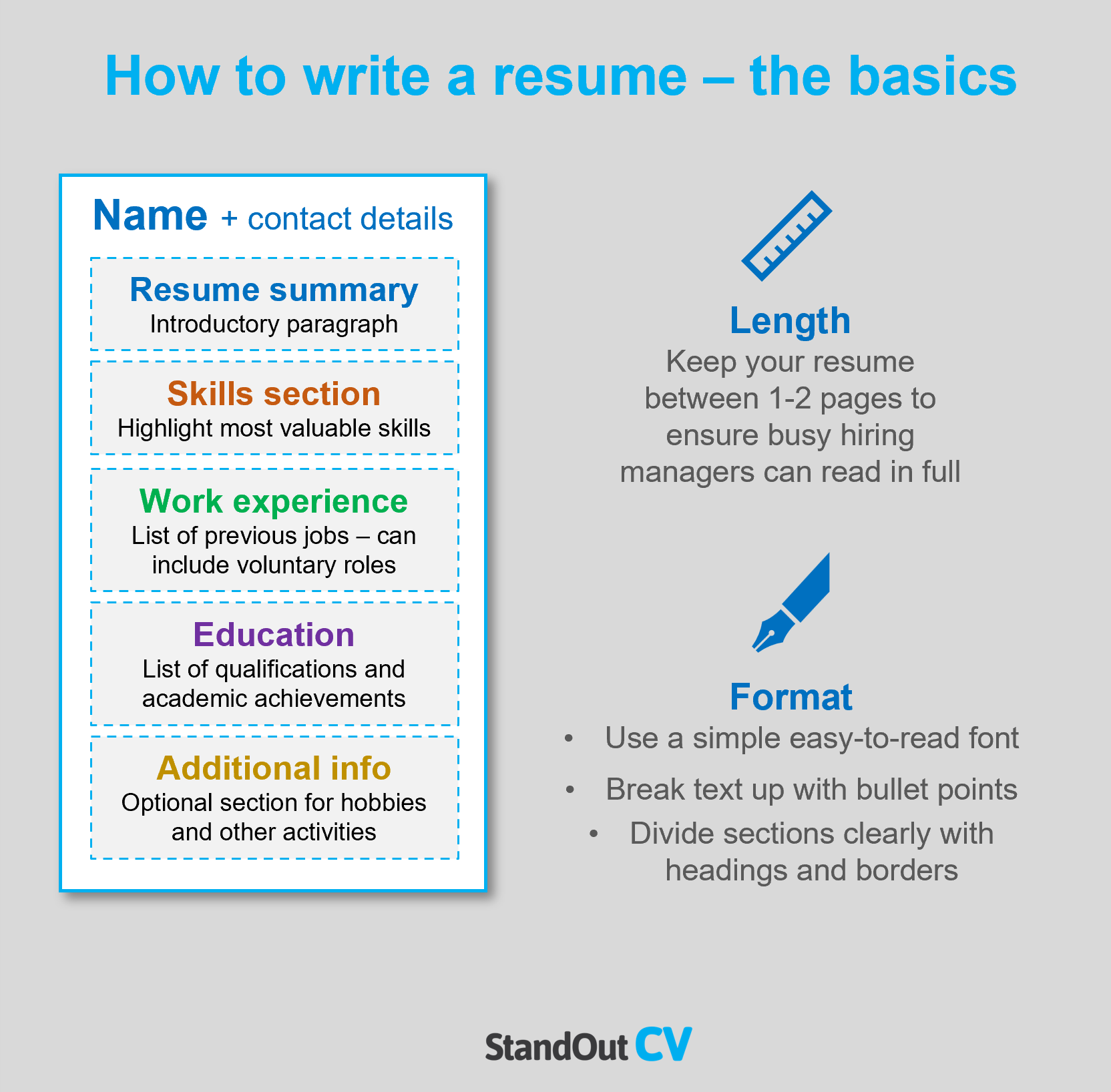 Formatting your resume
Length: Attention spans in recruitment are notoriously short, so keep your resume short and sweet. There's no exact rule for resume length, but aim for 2 pages or less if you want to ensure yours gets read in full.
Font & readability: Readability is the name of the game when it comes to your resume. Ensure yours is a dream to read by using a simple clear font, and breaking the text up with plenty of bullet points and short paragraphs.
Layout: Go with a resume design that looks good, but also allows for easy reading and navigation for employers. Ensure the page is clearly split up into sections by adding large font headings and dividing borders. Keep the color scheme simple and don't overcrowd the page.
Photos: While a photo is not usually necessary on your resume in the United States, it may be beneficial to include one in regions and industries where it is customary.
Quick tip: Achieving a professional look for your resume can be difficult and time-consuming. If you want to create an attractive resume quickly, try our partner's Resume Builder and use one of their eye-catching resume templates.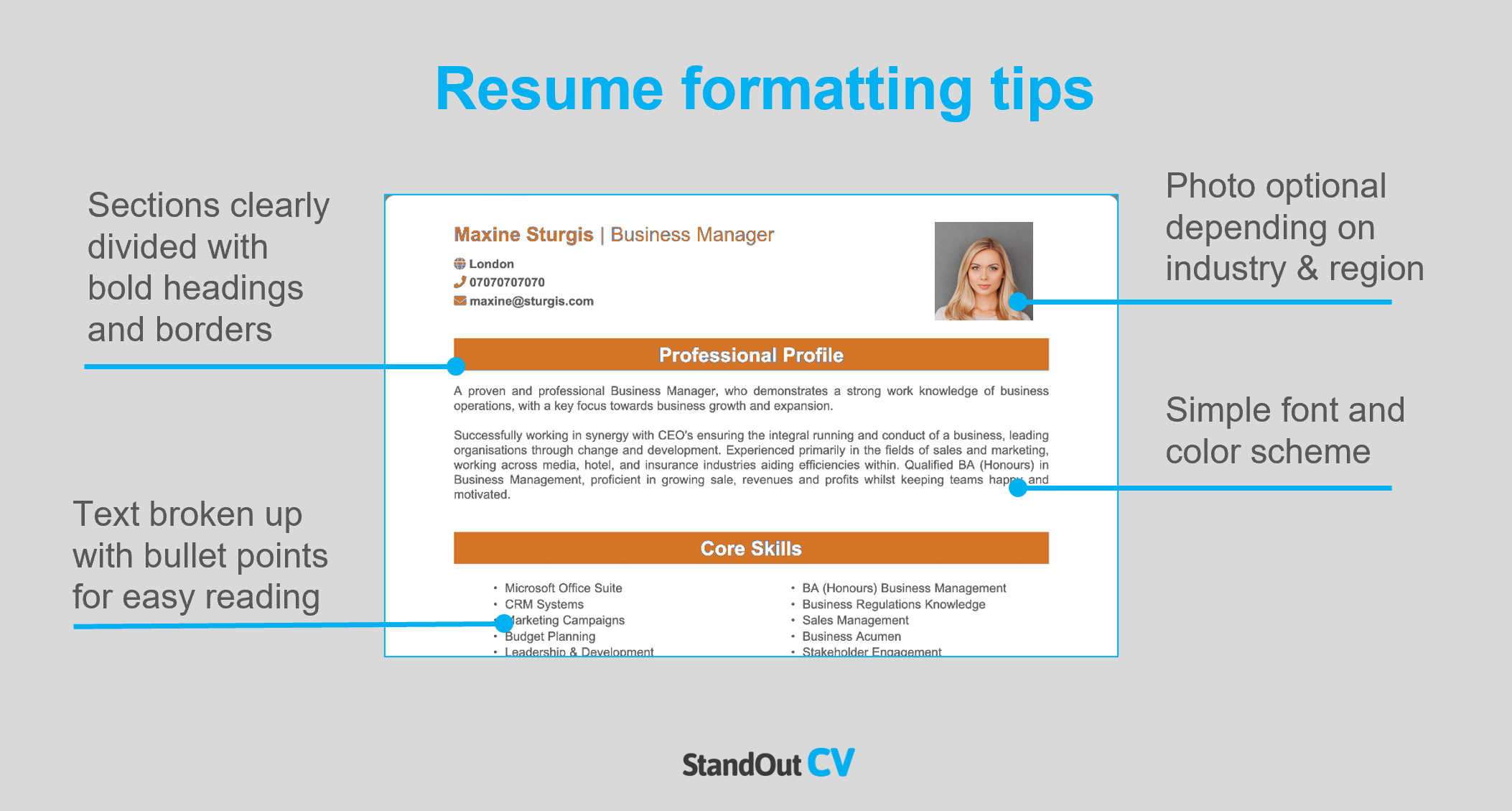 Resume layout
Organize the document into these sections when you write your resume.
Name and contact details – Employers need to know how to get in touch with you – so list your email and cell phone number here.
Resume summary – An intro paragraph at the top of the resume which summarizes your suitability for target jobs.
Skills section – A bullet-pointed list of your most relevant skills and knowledge.
Work experience – A list of your previous jobs (or at least the most relevant and recent ones)
Education – Add academic and professional qualifications that prove you can carry out the job
Additional info – If they are relevant to the jobs you are applying for, you can add an extra section for things like hobbies and interests.
Here's what to add to each section of your Construction Supervisor resume.
Contact Details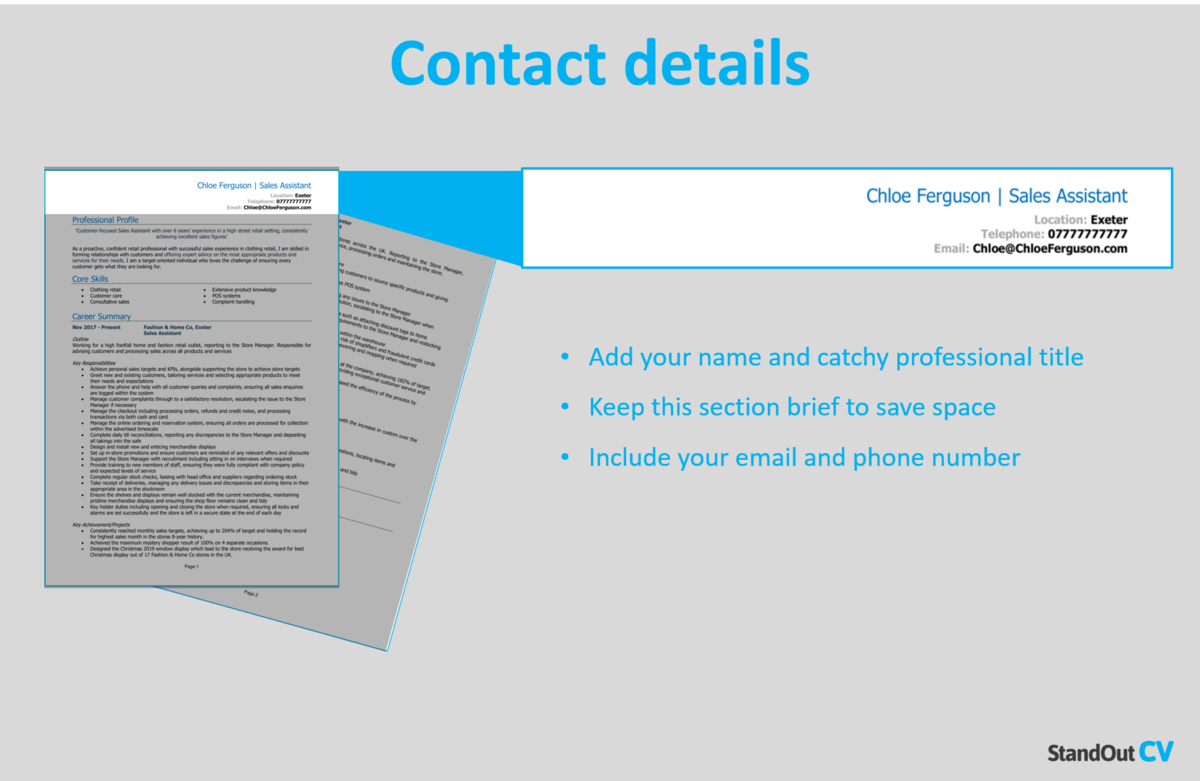 Add your name and contact details to the header of your resume, so that anybody reading can easily see how to contact you.
Name and profession title
Cell phone number – or any number you are easily reachable on
Location – Add your local area such as Washington or San Diego – not your full address as that will take up too much space.
Email address – Use a professional looking address.
You can add a link to your LinkedIn profile if you have one – you do not need to include personal details like date of birth or religion.
Construction Supervisor Resume Summary
The resume summary is a short paragraph at the top of your resume, and it's purpose is to grab recruiter's attention and make sure they keep reading it.
To make your summary work, ensure that you provide a high-level summary of your skills and experience – and tailor it to reflect the requirements of the jobs you are applying for.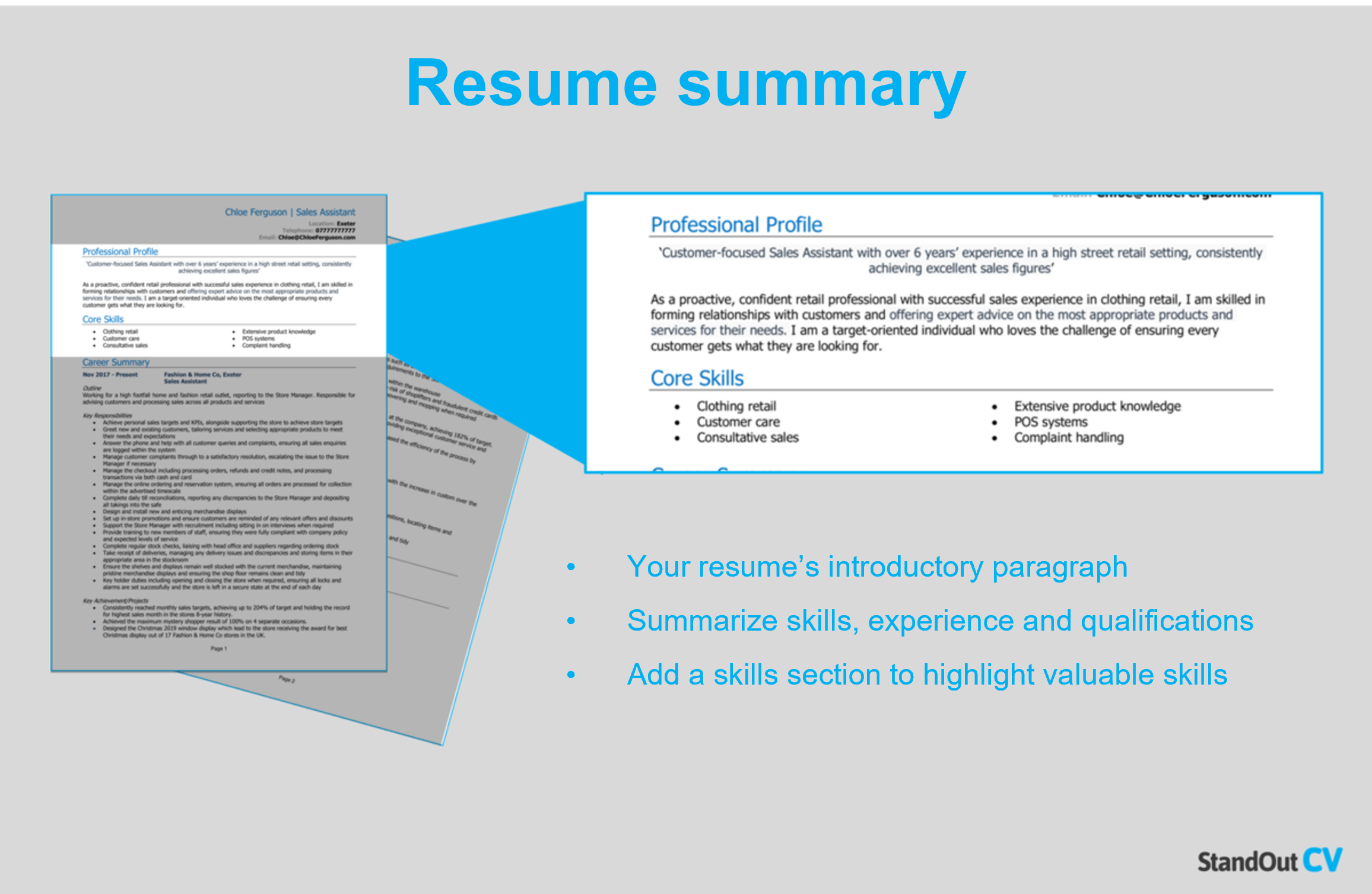 How to create a resume summary that will excite recruiters:
Keep it short: You only have a few seconds to grab a recruiters' attention and make them commit to your resume, so keep your summary between 4 – 7 lines.
Tailor to target jobs: To mirror your target jobs, scrutinize the job description and include as many relevant skills as possible in your resume.
Avoid using cliches: You might be a "highly motivated go-getter who thinks outside the box" but generic meaningless cliches like that don't tell employers much about you – stick to factual information in your summary.
Construction Supervisor resume summary example
Proactive Construction Supervisor specializing in commercial builds with 7+ years' experience developing and implementing project plans. Demonstrated expertise in coordinating teams, ensuring adherence to safety regulations, and delivering projects within budget and timeline. OSHA Certified construction worker with extensive experience in resource allocation and supplier negotiation. 
What to include in your Construction Supervisor resume summary?
Summary of your experience: What kind of companies have you worked for in the past? And which jobs have you carried out?
Relevant skills: Scatter your most in-demand Construction Supervisor skills through your summary to ensure they are noticed quickly by hiring managers.
Qualifications: To make a strong impression on potential employers when applying for Construction Supervisor jobs, be sure to mention any relevant qualifications in your summary.
Quick tip: Choose from hundreds of pre-written summaries across all industries, and add one to your resume with one-click in our partner's Resume Builder. All written by recruitment experts and easily tailored to suit your unique skillset and style.
Core skills section
Your core skills section, positioned just below your resume summary, provides recruiters with a quick glance at 4-10 of your most in-demand skills.
For Construction Supervisor jobs, where hiring managers may receive hundreds of applications, this section can help you stand out and immediately grab their attention.
To be effective, this section should consist of 2-3 columns of bullet points that highlight attributes that are highly relevant to the jobs you are targeting.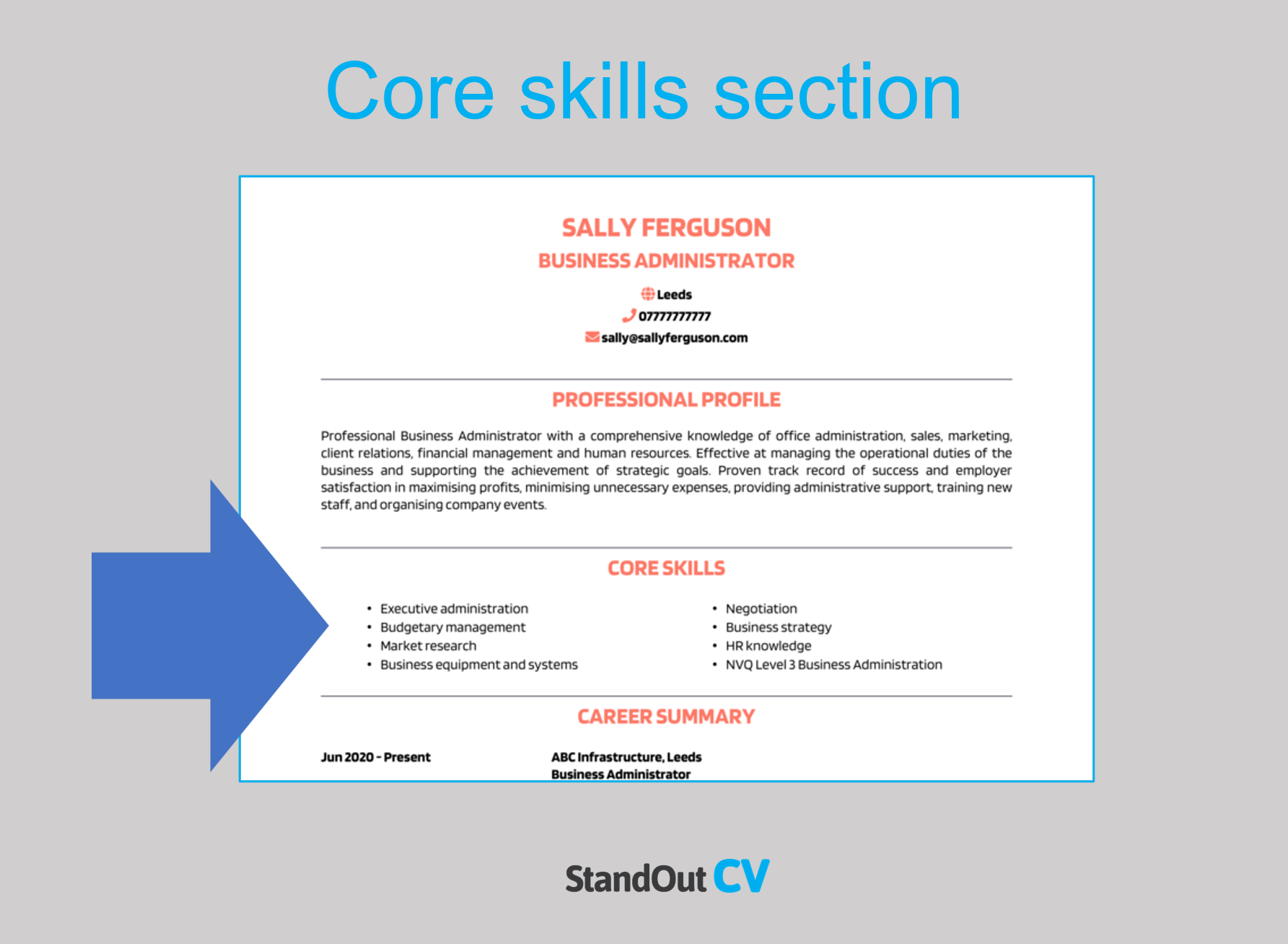 Best skills for your Construction Supervisor resume
Construction Management – Overseeing and managing construction projects from start to finish, ensuring adherence to timelines, budgets, and quality standards.
Technical Knowledge – Maintaining a solid understanding of construction techniques, materials, and equipment to effectively guide and supervise construction teams.
Blueprint Reading – Interpreting and understanding construction blueprints and technical drawings to ensure accurate execution of plans.
Safety Compliance – Maintaining a thorough knowledge of safety regulations and protocols to maintain a safe working environment and ensure compliance with OSHA standards.
Resource Management – Managing resources, including materials, equipment, and labor, to optimize productivity and minimize project costs.
Problem Resolution – Identifying and addressing construction-related challenges and developing effective solutions to keep projects on track.
Stakeholder Communication – Effectively communicating project requirements, updates, and instructions to construction teams, clients, and stakeholders.
Leadership – Motivating and guiding construction teams, delegating tasks, and fostering a positive and productive work environment.
Quality Control – Enforcing quality control measures to ensure that construction work meets specifications and industry standards.
Project Management – Prioritizing tasks, managing schedules, and meeting project deadlines.
Quick tip: Our partner's Resume Builder contains thousands of in-demand skills for every profession that can be added to your resume in seconds – saving you time and greatly improving your chances of landing job interviews and getting hired.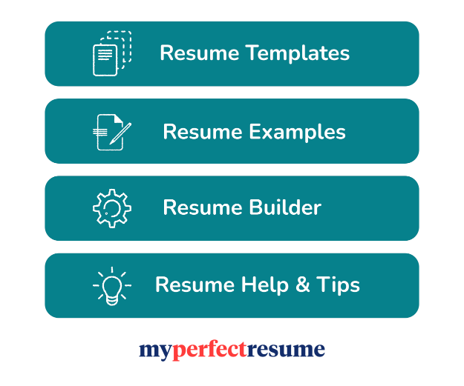 Work experience
Now that you've reeled recruiters in with your awesome summary, it's time to delve into your work experience.
Here you'll list your previous jobs (starting with your most recent and working backward) and showcase how you apply your skills in the workplace.
Provide lots of detail in recent jobs, and less in older roles.
If you have no relevant paid experience, you can include voluntary work and placements – but if you have lots of experience, you can leave out some of the really old jobs.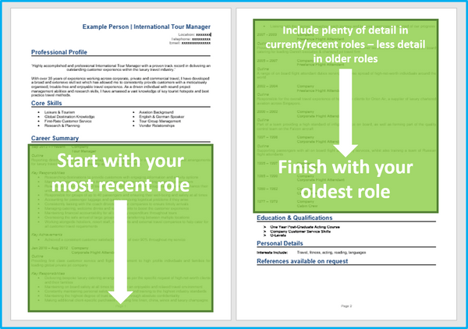 Structuring your jobs
Without a good structure, your job description can look messy and overwhelming to anyone reading them.
Make it easy for recruiters to read your work experience by structuring your roles like this.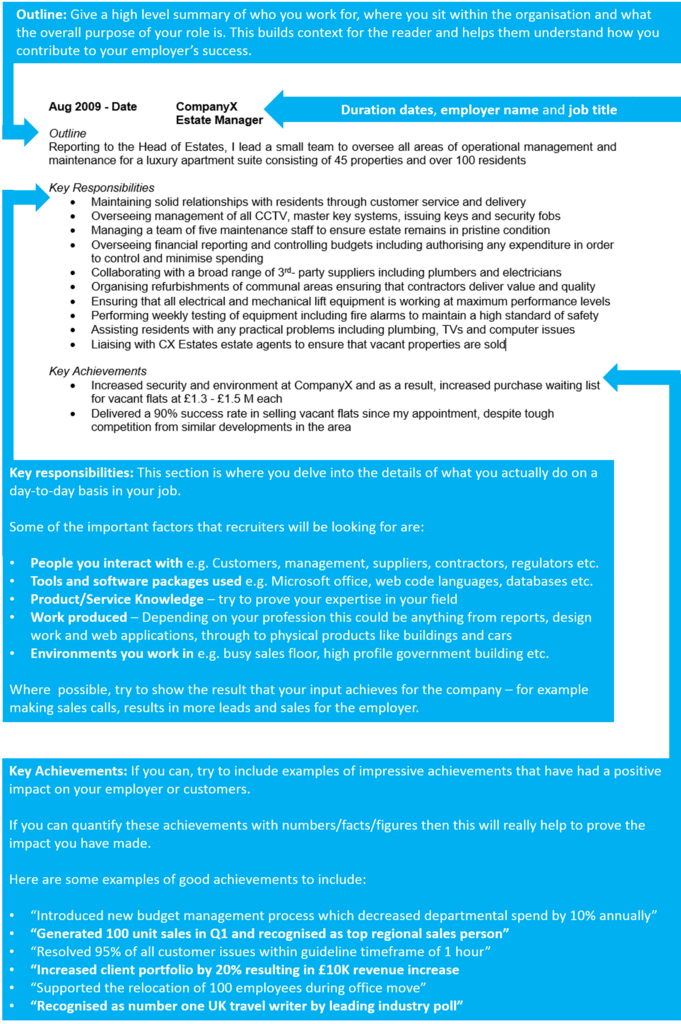 Job outline
To provide context to your jobs, begin each job with a concise summary of the organization, your role within it, and the main objectives of your position.
Key responsibilities
List your notable responsibilities in short sharp bullet points to demonstrate your input and how you contributed to the organization's success.
Highlight the skills that are most important to the roles you are applying for.
Key achievements
Show employers the value you can bring to them by adding a few achievements to your jobs.
Whether you've saved the company money or improved an internal process, let recruiters know
Add some numbers to give readers a real scale of the impact, e.g. "reduced call wait time by 10%"
Example job for Construction Supervisor resume
Outline
Coordinate and supervise commercial construction projects for a reputable construction company based in Columbus, managing multi-million-dollar contracts for a variety of private and federal builds.
Key Responsibilities
Develop and implement project plans, including scheduling and resource allocation
Ensure compliance with local, state, and federal regulations and building codes
Oversee the RFI process including submission, tracking, hyperlinking, and distribution
Review and interpret construction drawings, specifications, and contracts
Quick tip: Create impressive job descriptions easily in our partner's Resume Builder by adding pre-written job phrases for every industry and career stage.

Education section
Towards the bottom of your resume, add your education section.
Here you should list your professional qualifications and academic record, such as high school diplomas or college degrees.
If you have lots of work experience, you can keep this section brief (because recruiters will be more interested in your career. If you have little/no experience then you should bulk this section up with plenty of detail.
Additional information
At the end of your resume, you can add any extra information that might be relevant to the jobs you are applying for.
This could be hobbies, interests, publications, clubs or memberships.
This section is optional and doesn't need to be added if you have nothing more relevant to add.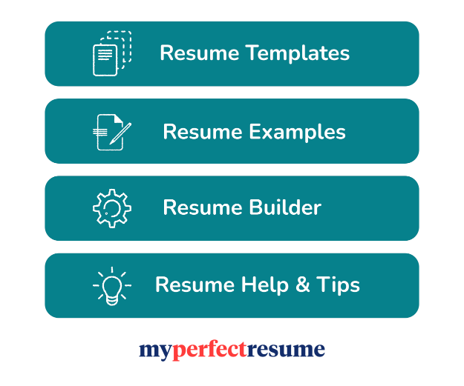 Writing your own winning Construction Supervisor resume
Writing a Construction Supervisor resume can be challenging but following the steps above will ensure that you land plenty of interviews.
Good luck with your job search!