You can juggle schedules, coordinate crew members, supervise the team, and ensure all health and safety rules are met at the same time.
You know you'll make an excellent construction foreman, but now you need to prove it to the hiring manager.
But if resume writing is not your forte, that's OK. Using our top tips and construction foreman resume example below, you can build an impressive application that will get you noticed.
Contents
| | |
| --- | --- |
| How to write a Construction Foreman resume | |

Construction Foreman Resume Example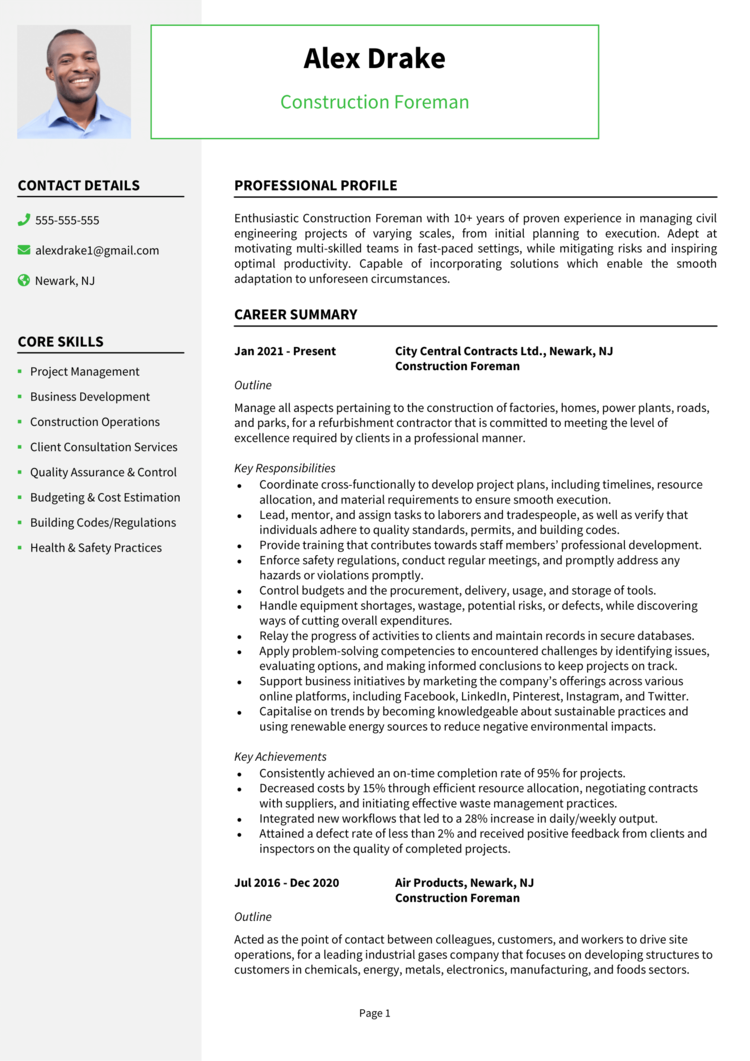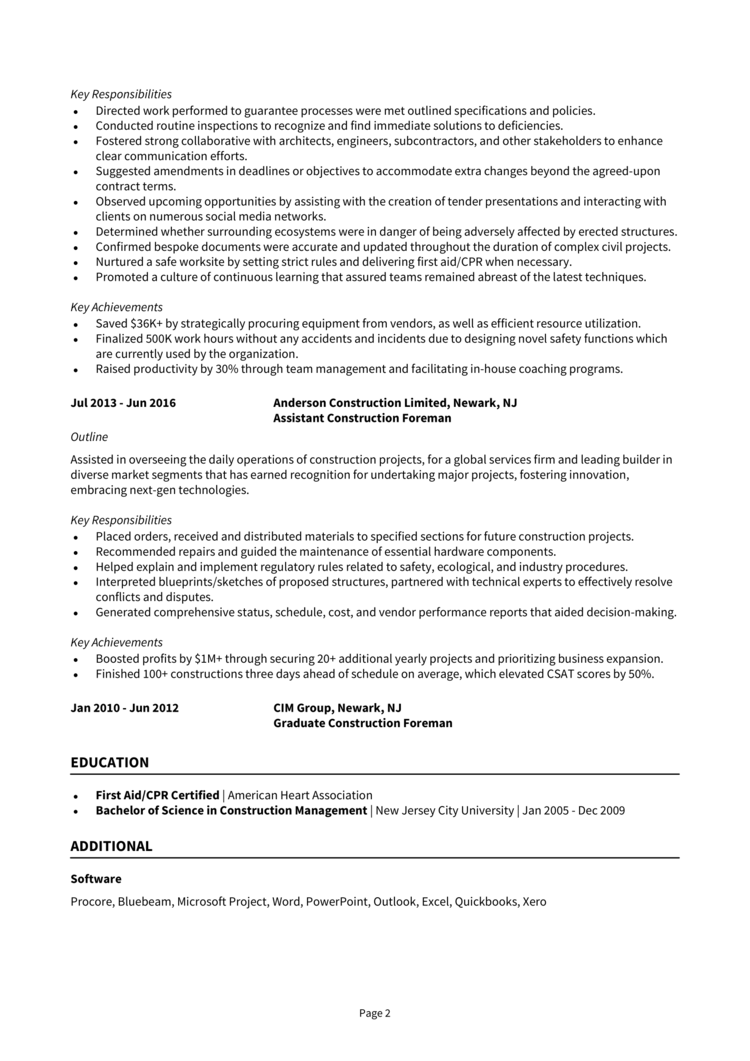 This example Construction Foreman resume is well-structured to provide a pleasant reading experience for recruiters, and contains all of the crucial information they want to see.
The rest of the guide will show you exactly how you can achieve this in your own resume.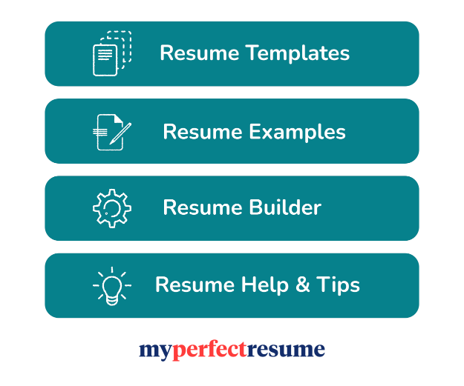 Construction Foreman resume layout and format
Formatting is often overlooked when writing resume, but it's a crucial element of it"s success.
Creating a document that not only looks good, but is easily comprehended, is the key to gaining and holding the attention of busy hiring managers.
Use these formatting tips for best results.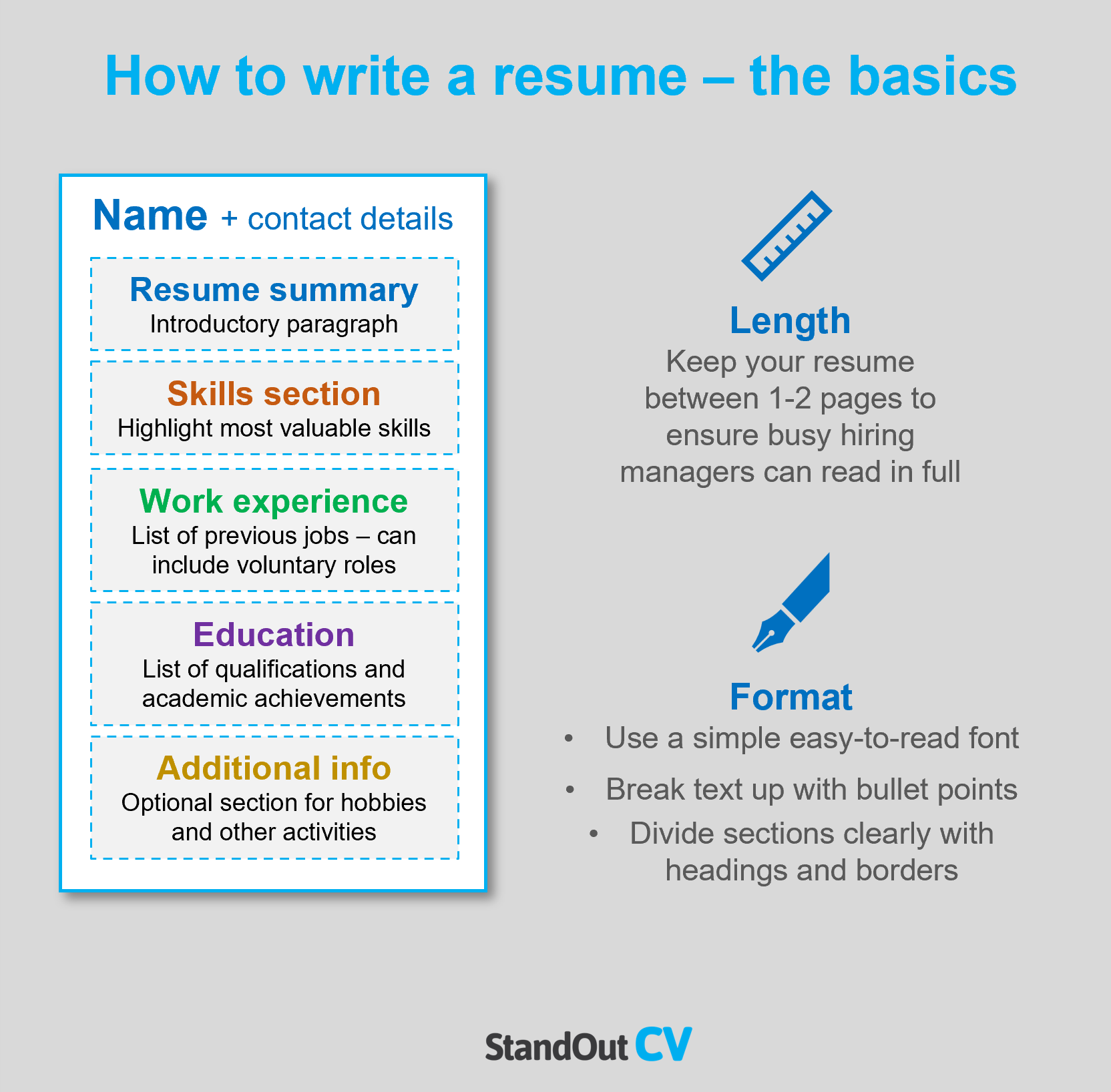 Formatting your resume
Length: To ensure that recruiters will read all of your resume, limit its length to 2 pages – as they someteimes read hundreds of resumes daily.
Font & readability: To create a resume that is easily digestible for hiring managers, it's essential to use an uncomplicated font and structure your content with bullet points and short paragraphs.
Layout & Structure: Go with a resume design that looks good, but also allows for easy reading and navigation for employers. Ensure the page is clearly split up into sections by adding large font headings and dividing borders. Keep the color scheme simple and don't overcrowd the page.
Photos: You don't have to add a photo to your resume in the States, but some regions and industries like to see them.
Quick tip: Achieving a professional look for your resume can be difficult and time-consuming. If you want to create an attractive resume quickly, try our partner's Resume Builder and use one of their eye-catching resume templates.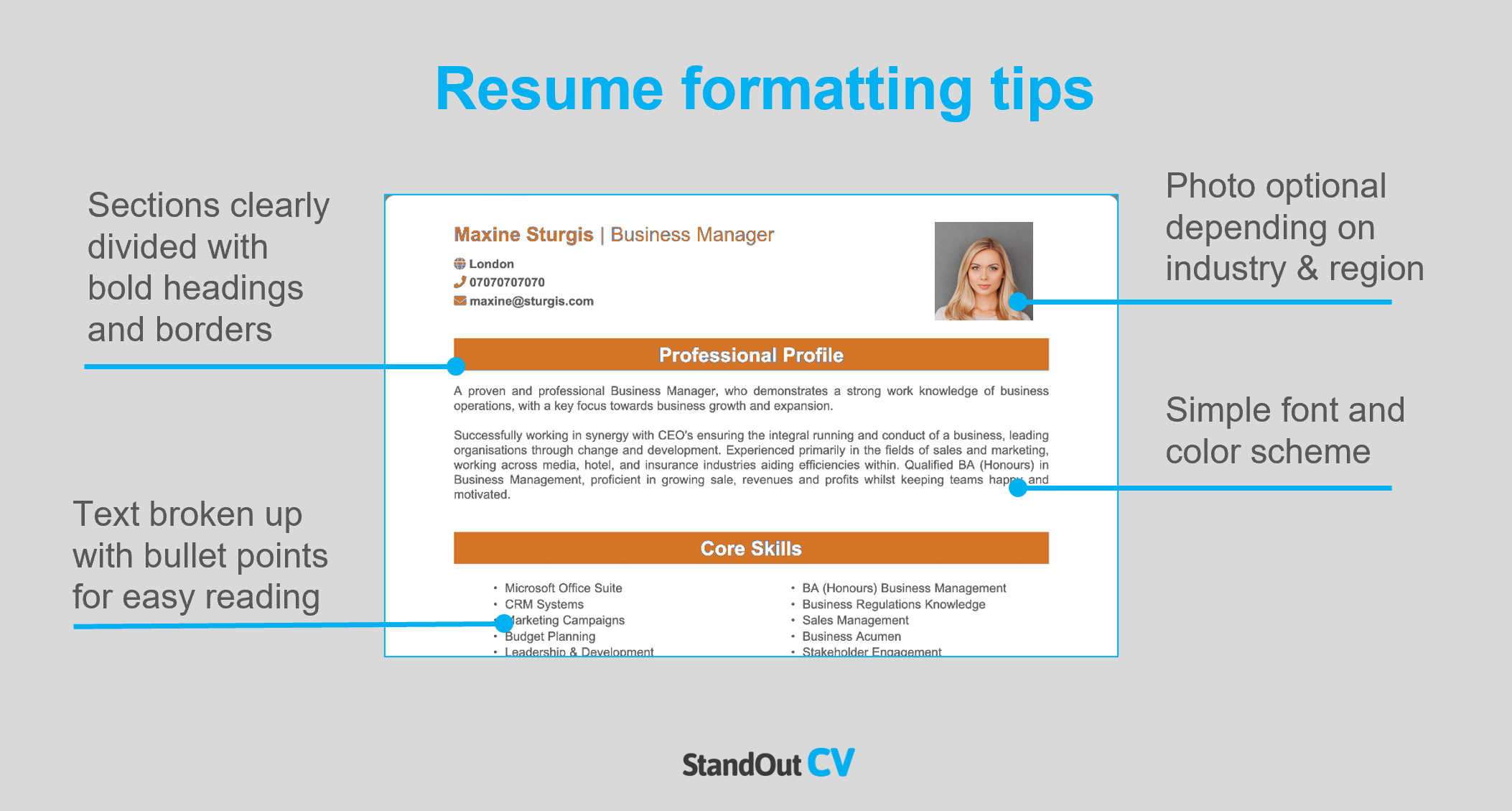 Resume layout
Your resume should include the following sections to give recruiters the information they require:
Name and Contact Details – Place your contact information at the top of your resume to make it easy for employers to get in touch with you.
Resume Summary – Write a brief introduction at the beginning of your resume that summarizes your most important qualifications and highlights why you are the ideal candidate for the job.
Skills Section – Include a concise list of your most relevant and impressive skills to quickly grab the attention of potential employers.
Work Experience – List your previous work experiences in reverse chronological order, including any volunteer work or college placements.
Education – List your educational qualifications and any professional training you have received.
Additional Information – This section is optional, but you can include details about your interests, hobbies, or any other relevant information that can make you stand out from other applicants.
Here's what to include in each part of your resume.
Contact Details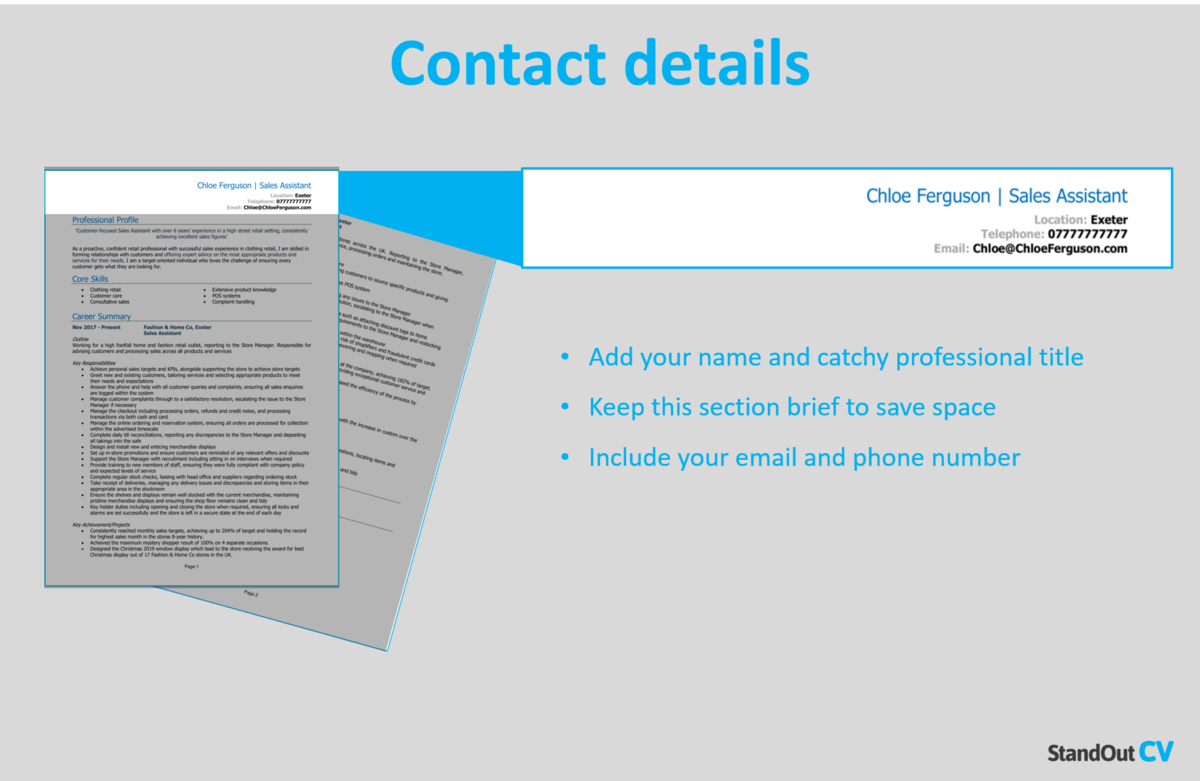 Make it easy for hiring managers to contact you by adding your contact details to the top of your resume.
Keep this section small to save space and include the following.
Name and profession title
Telephone number – Ideally your cell phone so you can answer quickly.
Location – Add your general location such as LA or New York
Email address – Use a professional looking one with no nicknames.
You can add a link to your LinkedIn profile if you have one – you do not need to include personal details like date of birth or marital status.
Construction Foreman Resume Summary
The resume summary is a short paragraph at the top of your resume, and it's purpose is to grab recruiter's attention and make sure they keep reading it.
To make your summary work, ensure that you provide a high-level summary of your skills and experience – and tailor it to reflect the requirements of the jobs you are applying for.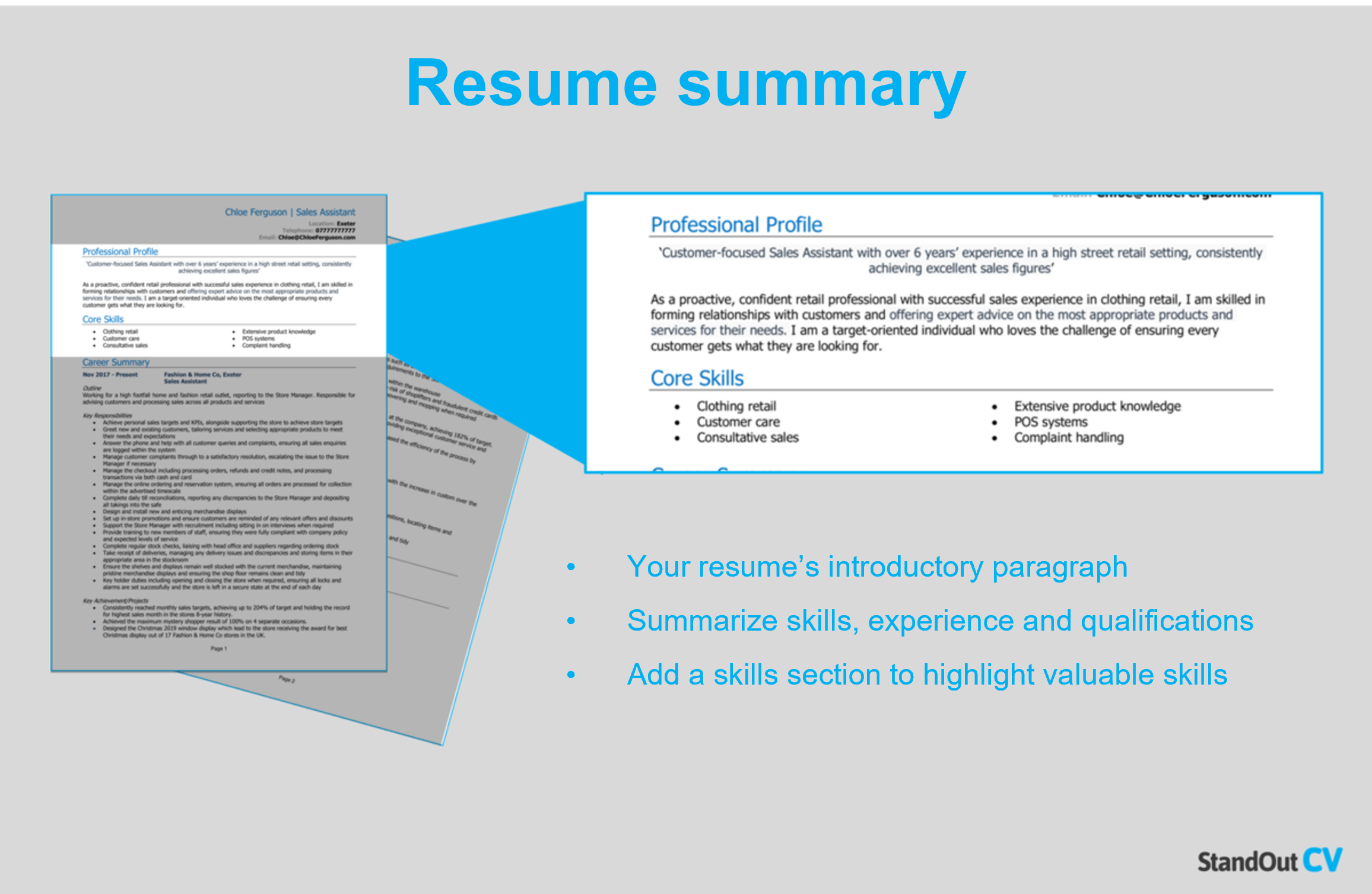 How to create a resume summary that will excite recruiters:
Keep it short: You only have a few seconds to grab a recruiters' attention and make them commit to your resume, so keep your summary between 4 – 7 lines.
Tailor to target jobs: Recruiters will be scanning for the skills and knowledge they mentioned in the job description, so add as many as you can to your summary.
Avoid using cliches: Although you may believe that you're a "team player who always gives 110%," these kinds of cliches don't communicate much about your skills and qualifications to potential employers. It's more effective to stick to factual information in your resume.
Construction Foreman resume summary example
Enthusiastic Construction Foreman with 10+ years of proven experience in managing civil engineering projects of varying scales, from initial planning to execution. Adept at motivating multi-skilled teams in fast-paced settings, while mitigating risks and inspiring optimal productivity. Capable of incorporating solutions which enable the smooth adaptation to unforeseen circumstances.
What to include in your Construction Foreman resume summary?
Summary of your experience: Briefly describe the work you have performed in the past and the contributions you have made to the organizations you have worked for.
Relevant skills: To quickly showcase your suitability for Construction Foreman jobs, ensure that your summary emphasizes your most relevant skills to the jobs you are applying for.
Qualifications: To make a strong impression on potential employers when applying for Construction Foreman jobs, be sure to mention any relevant qualifications in your summary.
Quick tip: Choose from hundreds of pre-written summaries across all industries, and add one to your resume with one-click in our partner's Resume Builder. All written by recruitment experts and easily tailored to suit your unique skillset and style.
Core skills section
Your core skills section, positioned just below your resume summary, provides recruiters with a quick glance at 4-10 of your most in-demand skills.
For Construction Foreman jobs, where hiring managers may receive hundreds of applications, this section can help you stand out and immediately grab their attention.
To be effective, this section should consist of 2-3 columns of bullet points that highlight attributes that are highly relevant to the jobs you are targeting.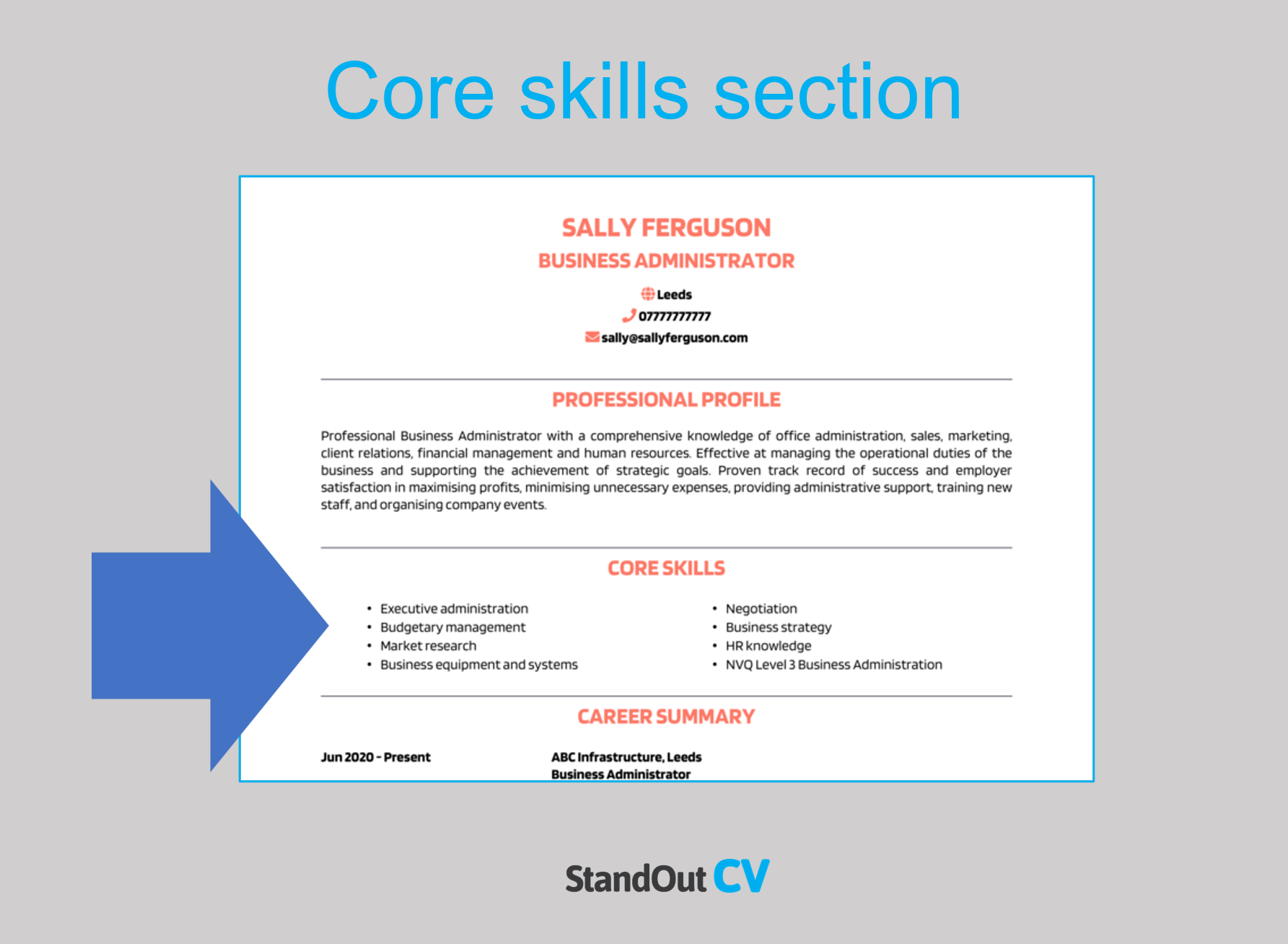 Best skills for your Construction Foreman resume
Construction Knowledge – Maintaining extensive knowledge of construction methods, materials, and processes to effectively oversee and coordinate construction activities on-site.
Construction Crew Leadership – Supervising and guiding construction crews, ensuring they work efficiently, follow safety protocols, and meet project deadlines.
Stakeholder Communication – Communicating effectively with construction teams, subcontractors, project managers, and other stakeholders.
Problem Resolution – Identifying and resolving construction-related problems, adapting to unexpected challenges, and making quick decisions to keep the project on track.
Project Management – Managing project timelines, coordinating tasks, and ensuring that work is completed within specified timeframes.
Safety Compliance – Maintaining a deep understanding of construction safety regulations to enforce safety protocols and maintain a safe work environment.
Blueprint Reading – Reading and interpreting construction blueprints, drawings, and specifications to ensure accurate implementation of project plans.
Budget Management – Utilizing knowledge of project budgets to monitor and control expenses to ensure that projects are completed within budgetary constraints.
Quality Control – Enforcing quality standards, conducting inspections, and ensuring that work meets or exceeds specifications.
Quick tip: Our partner's Resume Builder contains thousands of in-demand skills for every profession that can be added to your resume in seconds – saving you time and greatly improving your chances of landing job interviews and getting hired.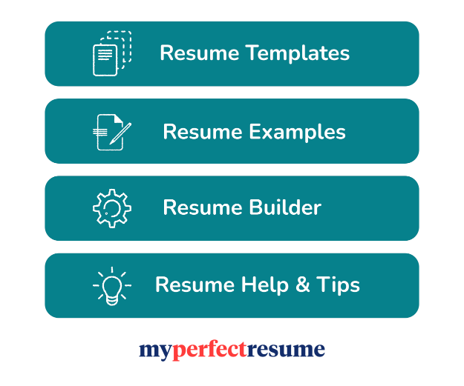 Work experience
Congratulations on successfully capturing the recruiter's interest with your attention-grabbing summary! Now, it's time to showcase your workplace impact by providing a detailed list of your previous job experiences and achievements.
If you have significant experience, consider highlighting the most recent few years to condense this section. However, for junior job seekers, it's essential to include as much relevant experience as possible, including volunteering and school work placements.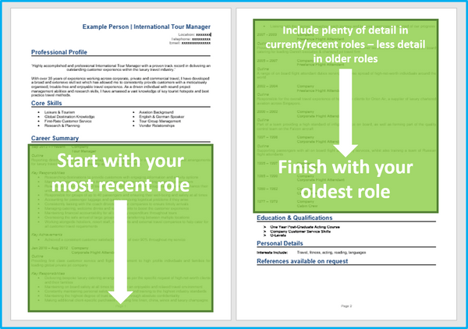 Structuring your jobs
It's easy to overwhelm readers when writing about a job you have been doing for years or even months.
Break the information up like this to keep it simple for recruiters to understand.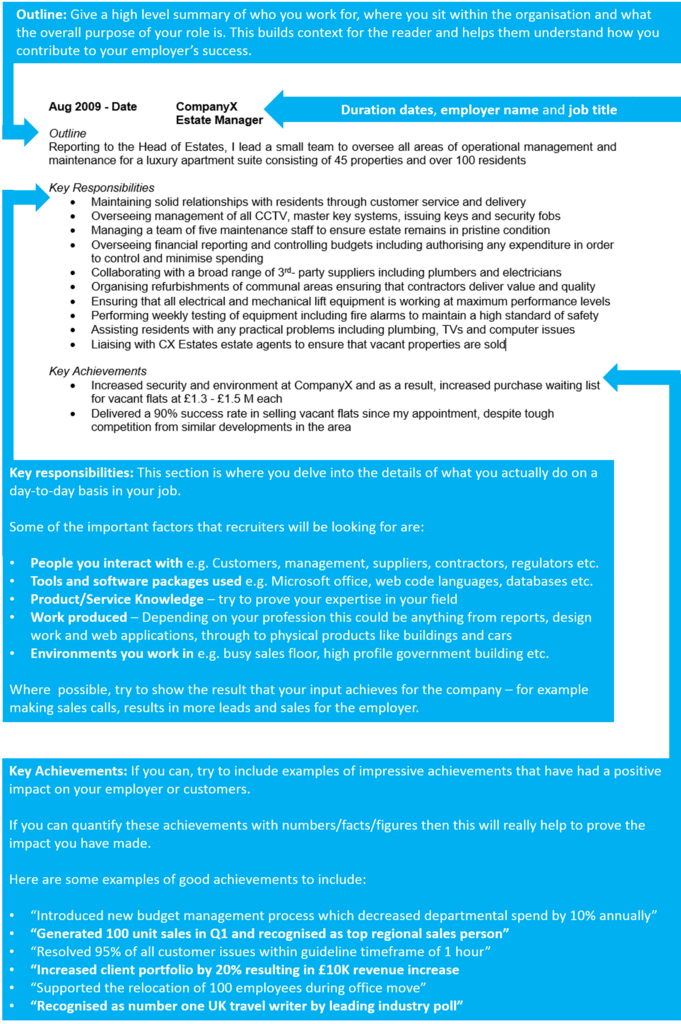 Job outline
Kick off each role with a high-level overview to summarize the focus of the job, what the organization/department does, and how you fit into the bigger picture.
Key responsibilities
Then delve into the detail of your job by listing out easy-to-read bullet points which show how you apply your skills in the workplace.
Tailor these bullet points to focus on the skills and knowledge that are required in the jobs you are applying for.
Key achievements
Finish each role by highlighting some impressive achievements you made whilst in the role.
Anything that benefited the employer can be included from making financial savings, to winning new customers.
Quantify your achievements with facts and figures if you can, e.g. "reduced call wait time by 10%"
Example job for Construction Foreman resume
Outline
Manage all aspects pertaining to the construction of factories, homes, power plants, roads, and parks, for a refurbishment contractor that is committed to meeting the level of excellence required by clients in a professional manner.
Key Responsibilities
Coordinate cross-functionally to develop project plans, including timelines, resource allocation, and material requirements to ensure smooth execution.
Lead, mentor, and assign tasks to laborers and tradespeople, as well as verify that individuals adhere to quality standards, permits, and building codes.
Provide training that contributes towards staff members' professional development.
Enforce safety regulations, conduct regular meetings, and promptly address any hazards or violations promptly.
Quick tip: Create impressive job descriptions easily in our partner's Resume Builder by adding pre-written job phrases for every industry and career stage.

Education section
After your work experience, add your education section.
If you are an experienced professional, you can keep this part short – adding basic details of each qualification.
If you have little or no experience, bulk this section up by adding more detail and highlight important skills and knowledge for your target jobs.
Additional information
The additional info section is optional but can be useful if you have anything else to add that could benefit your application.
For example, you may have some hobbies and interests that are relevant to your job – or you might have awards or publications to shout about.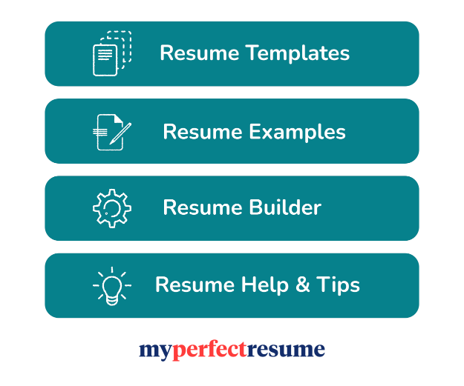 Writing your own winning Construction Foreman resume
A winning Construction Foreman resume should look great, read well, and sell your skillset to hiring managers.
If you follow the steps above, you should be able to bag yourself a top job in no time.
Good luck with your job search!