You can take even the most basic concept and transform it into a visual masterpiece. It's proving this on paper that's the tricky part.
But if you think of your resume like a piece of art, it becomes much simpler.
You can also make use of our top writing tips and concept artist resume example below to guide you further.
Contents
| | |
| --- | --- |
| How to write a Concept Artist resume | |

Concept Artist Resume Example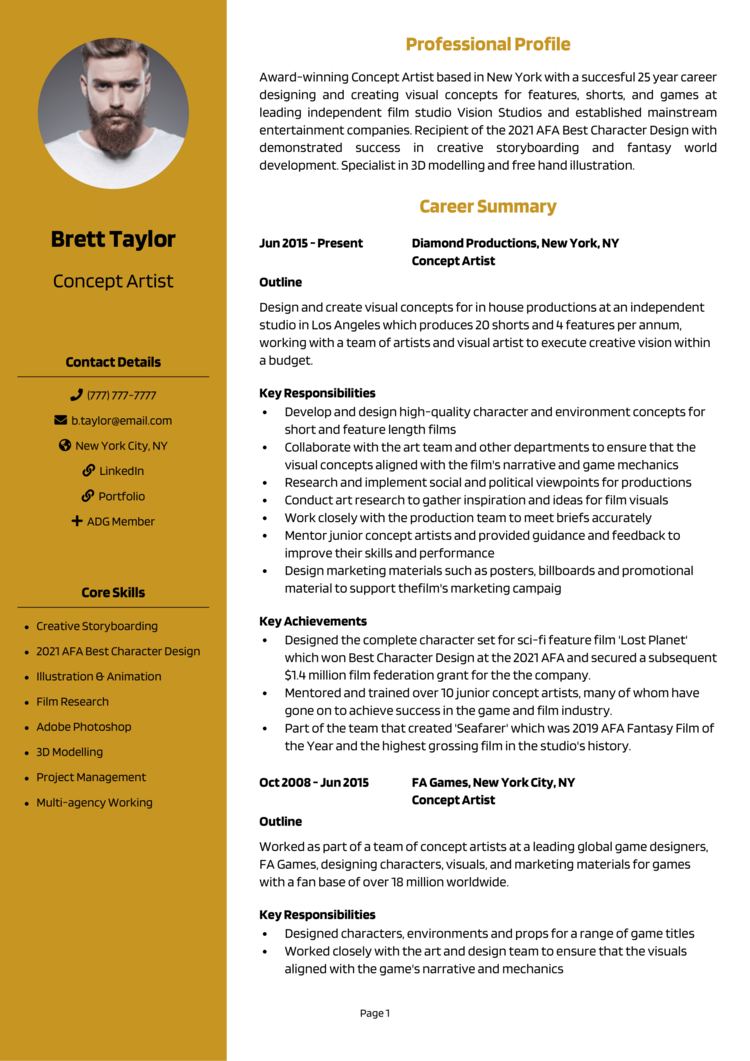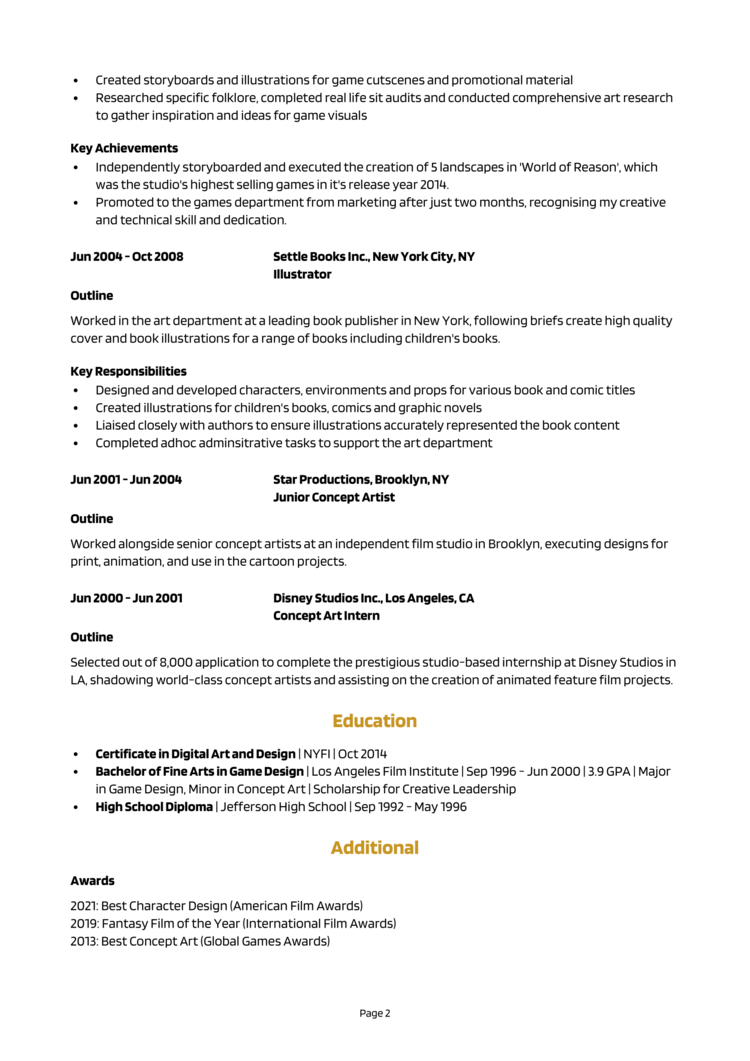 This Concept Artist resume example gives you a good idea of how a good Concept Artist resume should look and read.
The information is presented professionally and the content is well structured to ensure that time-strapped recruiters and hiring managers can find the important skills and knowledge quickly.
Refer to this example as you write your own resume.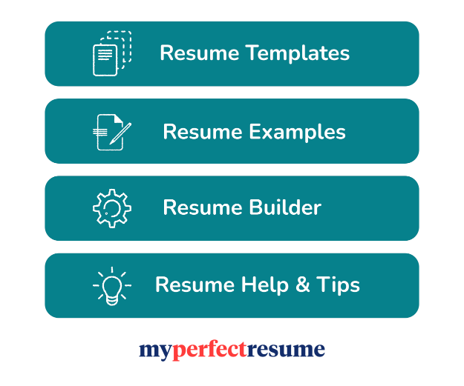 Concept Artist resume layout and formatting
Your resume layout and format will play a big role in helping hiring managers to take notice of your resume and stay glued to it.
Shoot for a simple yet professional look to ensure you make a strong first impression, and organize the page in a way that is easy for readers to digest the information.
The following formatting tips should help.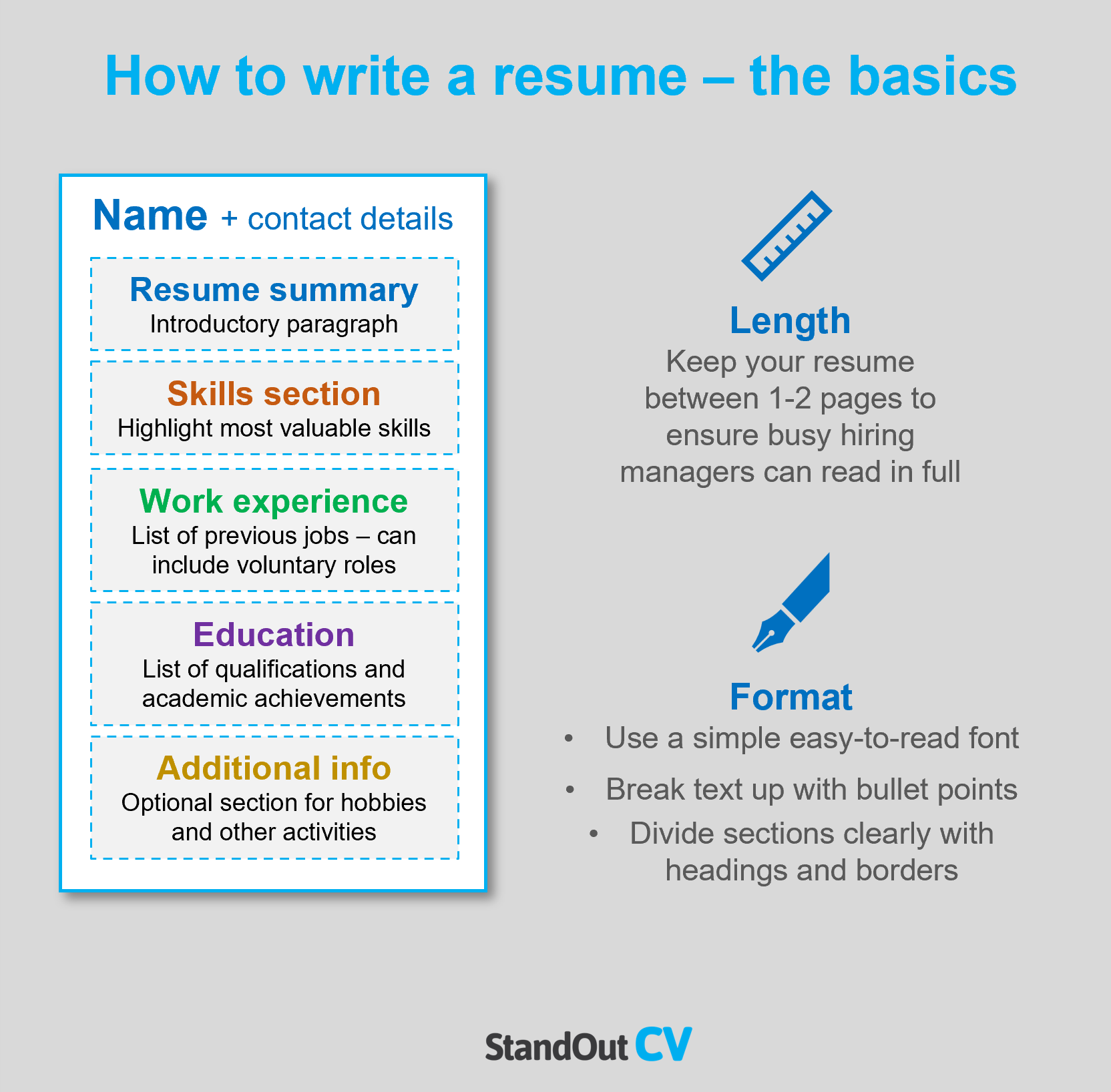 Formatting your resume
Length: To ensure that your resume gets proper attention from recruiters, it is best to keep it at 2 pages or less. Recruiters are often inundated with hundreds of resumes to review on a daily basis, so they want to read each one quickly as possible.
Font & readability: The key to a good resume is readability. To make your resume easy to read, use a clear and uncomplicated font, and break up the text with bullet points and short paragraphs.
Layout & Structure: A visually appealing resume is important, but don't forget about functionality. To ensure a functional design, use bold headings and borders to organize the page into clear sections.
Photos: While adding a photo to your resume is not mandatory in the USA, it can be beneficial if you are applying to organizations in creative industries.
Quick tip: Achieving a professional look for your resume can be difficult and time-consuming. If you want to create an attractive resume quickly, try our partner's Resume Builder and use one of their eye-catching resume templates.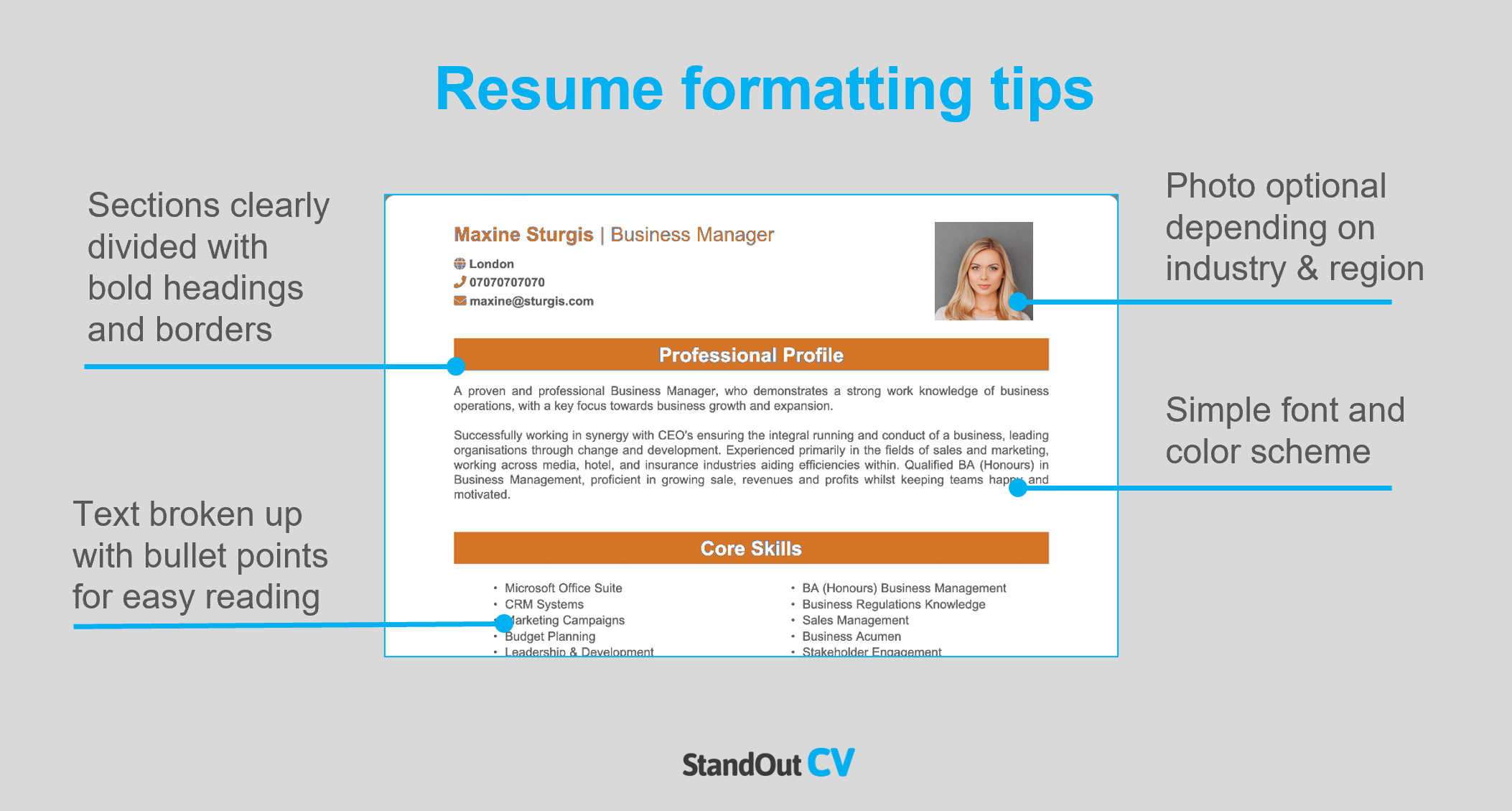 Resume layout
When writing your resume, you should always include the following sections:
Name and Contact Details – Place this information at the top of your resume to make it easy for employers to contact you.
Resume Summary – Write a brief introductory paragraph at the top of your resume summarizing why you are the best candidate for the job.
Skills Section – Create a concise list of your most important skills that can be quickly skimmed over by potential employers.
Work Experience – List your previous jobs in reverse chronological order, including volunteer work and college placements if you have no paid experience.
Education – List your educational qualifications and any professional training you have received.
Additional Information – This is an optional section for including details about hobbies, interests, or any other relevant information that may help distinguish you from other candidates.
Here's what to include in each part of your resume.
Contact Details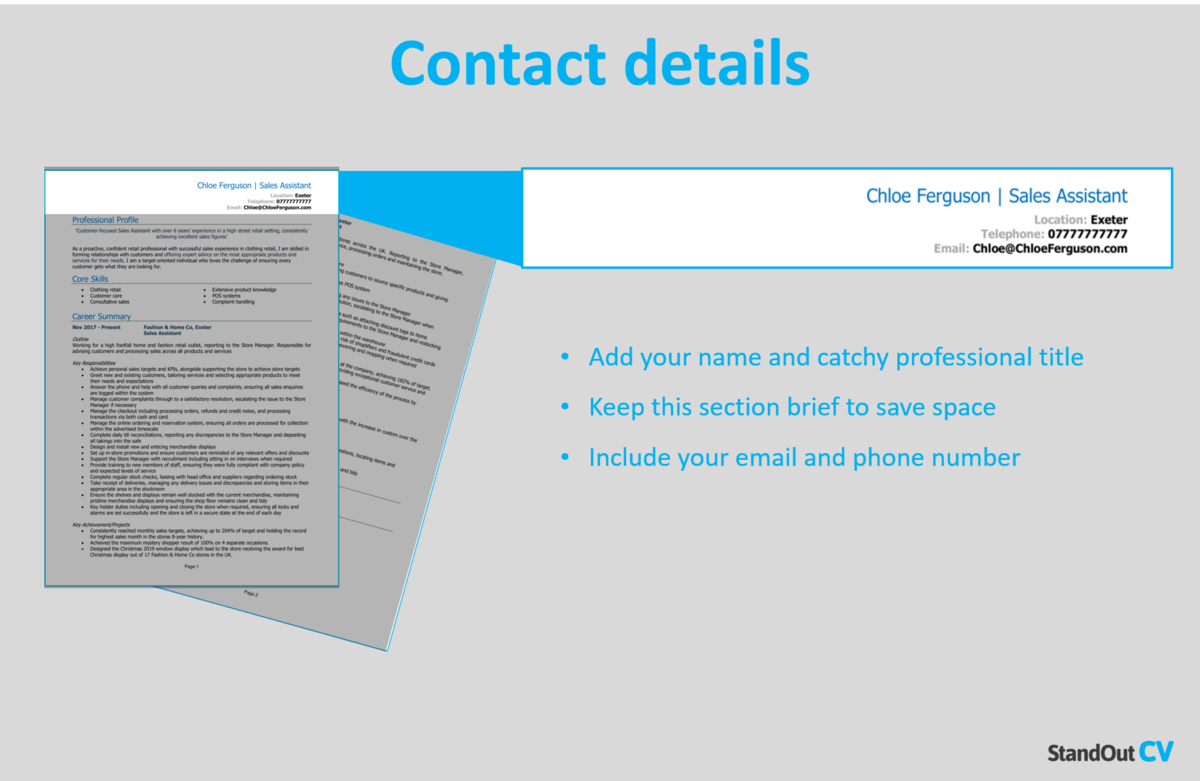 Add your name and contact details to the very top of your resume, making it easy for recruiters to get in touch
Name and profession title
Cell phone number – or another number you can answer quickly
Location – Add your local area such as San Diego or New York – not your full address as that will take up too much space.
Email address – Use your name or close variation – no nicknames from high school.
You can add a link to your LinkedIn profile if you have one – you do not need to include personal details like date of birth or marital status.
Concept Artist Resume Summary
Make a strong first impression on recruiters by beginning your resume with a powerful summary that highlights your most valuable skills and experience.
This brief summary provides an opportunity to showcase why you're the ideal candidate for the job and persuade recruiters to read further into your resume.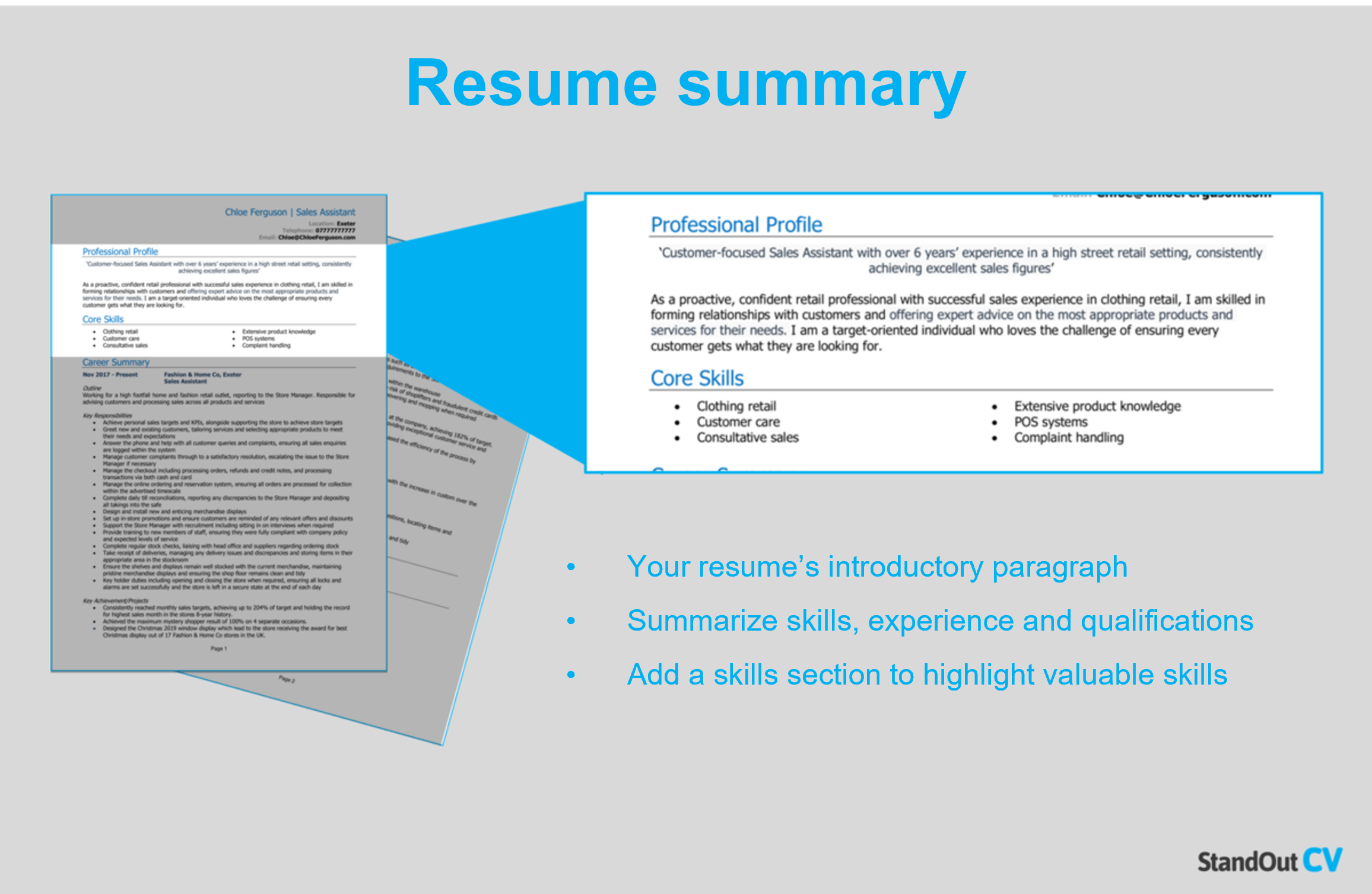 How to create a resume summary that will excite recruiters:
Keep it short: A concise and focused resume summary is essential for capturing a recruiter's attention and keeping them engaged. Limiting your summary to 4-7 lines ensures that you make a strong impression in the first few seconds of them opening the document.
Tailor to target jobs: Tailor your resume to your target jobs by studying the job description and adding as many matching skills as you can.
Avoid using cliches: You might be a "highly motivated go-getter who thinks outside the box" but generic meaningless cliches like that don't tell employers much about you – stick to factual information in your summary.
Concept Artist resume summary example
Award-winning Concept Artist based in New York with a successful 25-year career designing and creating visual concepts for features, shorts, and games at leading independent film studio Vision Studios and established mainstream entertainment companies. Recipient of the 2021 AFA Best Character Design with demonstrated success in creative story boarding and fantasy world development. Specialist in 3D modelling and free hand illustration.
What to include in your Concept Artist resume summary?
Summary of your experience: Provide a summary of the kind of work you have previously done, along with the benefits you have delivered to the organizations you worked with.
Relevant skills: Scatter your most in-demand Concept Artist skills through your summary to ensure they are noticed quickly by hiring managers.
Qualifications: Mention any Concept Artist qualifications that are important to your profession in the summary briefly, to show you are qualified to carry out the role.
Quick tip: Choose from hundreds of pre-written summaries across all industries, and add one to your resume with one-click in our partner's Resume Builder. All written by recruitment experts and easily tailored to suit your unique skillset and style.
Core skills section
In addition to your resume summary, your core skills section provides an easily digestible snapshot of your skills – perfect for grabbing the attention of busy hiring managers.
As Concept Artist jobs might receive a huge pile of applications, this is a great way to stand out and show off your suitability for the role.
It should be made up of 2-3 columns of bullet points and be made up of skills that are highly relevant to the jobs you are targeting.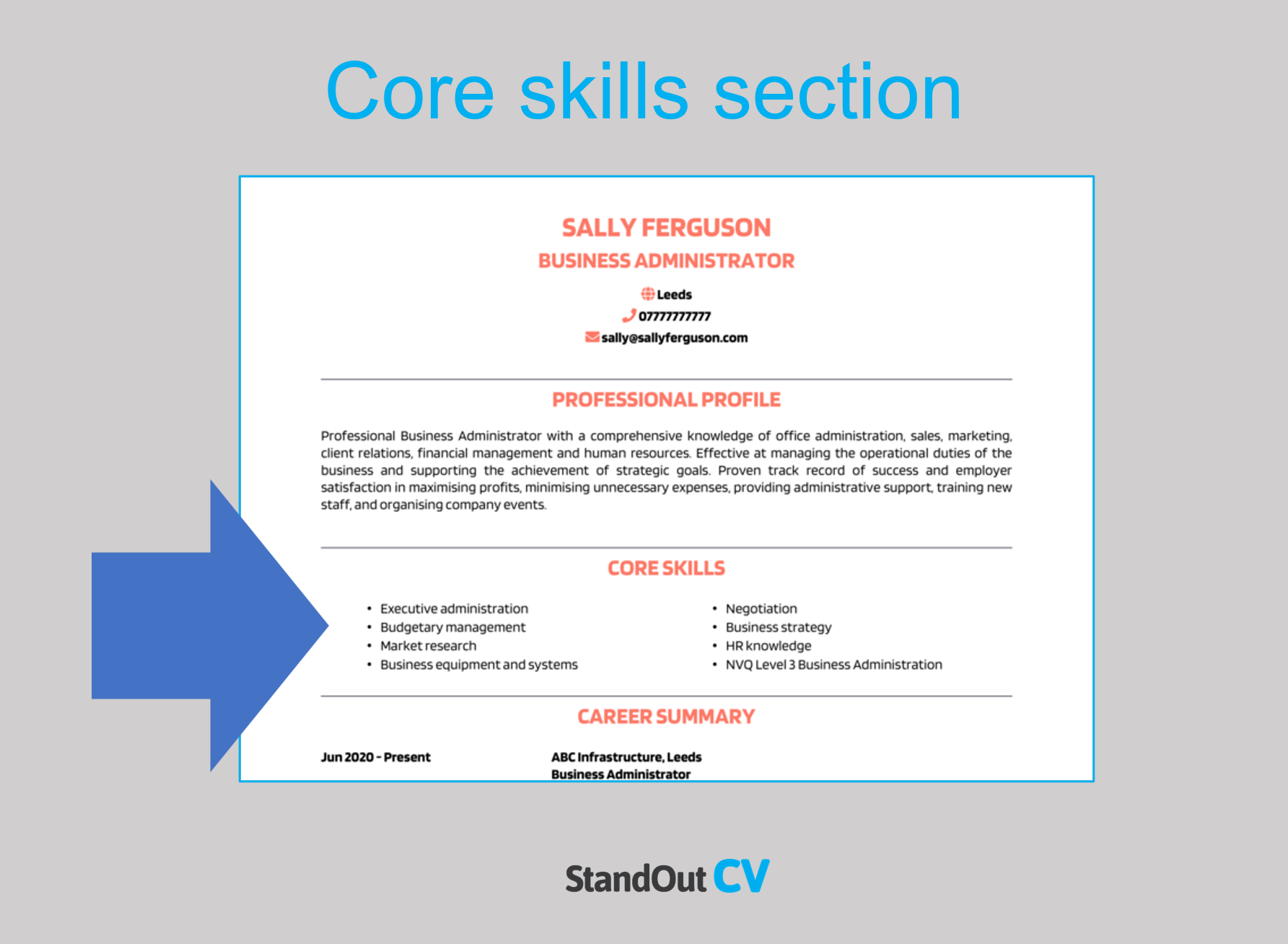 Best skills for your Concept Artist resume
Illustration – Creating high-quality illustrations using traditional and digital media, to convey concepts and ideas visually.
Character design – Utilizing character design principles, including anatomy, color theory, and style, to create unique and compelling characters.
Environment design – Creating immersive and detailed environments, including landscapes, architecture, and interior design, to provide a sense of place and context.
Sketching and ideation – Utilizing sketching and ideation techniques, including thumbnail sketches and ideation sessions, to generate and refine ideas quickly.
Digital painting – Creating digital paintings using software such as Adobe Photoshop and Procreate, to create detailed and realistic images.
Storytelling – Understanding storytelling principles, including narrative structure and pacing, to create concepts that effectively communicate the intended story.
Cross functional collaboration – Collaborating with other members of the creative team, including directors, producers, and other concept artists.
3D modeling – Utilizing 3D modeling software such as Maya or ZBrush, to create 3D models and props that can be used as reference for concept art.
Review and revision – Adapting to changes in production requirements, including working with different art styles and adjusting to new tools and technologies, to ensure that concepts meet the project's needs.
Quick tip: Our partner's Resume Builder contains thousands of in-demand skills for every profession that can be added to your resume in seconds – saving you time and greatly improving your chances of landing job interviews and getting hired.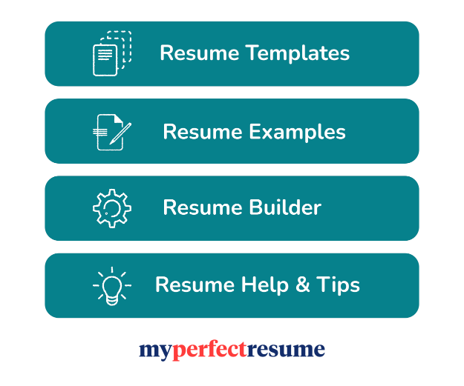 Work experience
Once you've got recruiters interested with your impactful summary, your work experience is where the real detail will lie.
Lay out your previous jobs from current to oldest, detailing what you contributed and achieved in each one.
If you're highly experienced you can cut this section down to your most recent few years of work, but if you are junior you can bulk this up with voluntary work and college placements.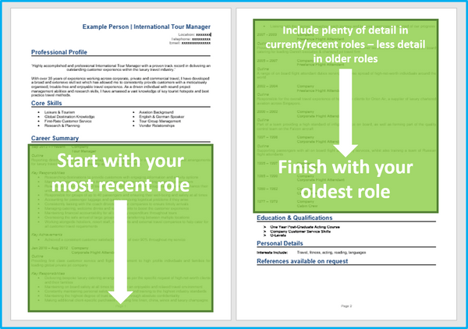 Structuring your jobs
It's easy to overwhelm readers when writing about a job you have been doing for years or even months.
Break the information up like this to keep it simple for recruiters to understand.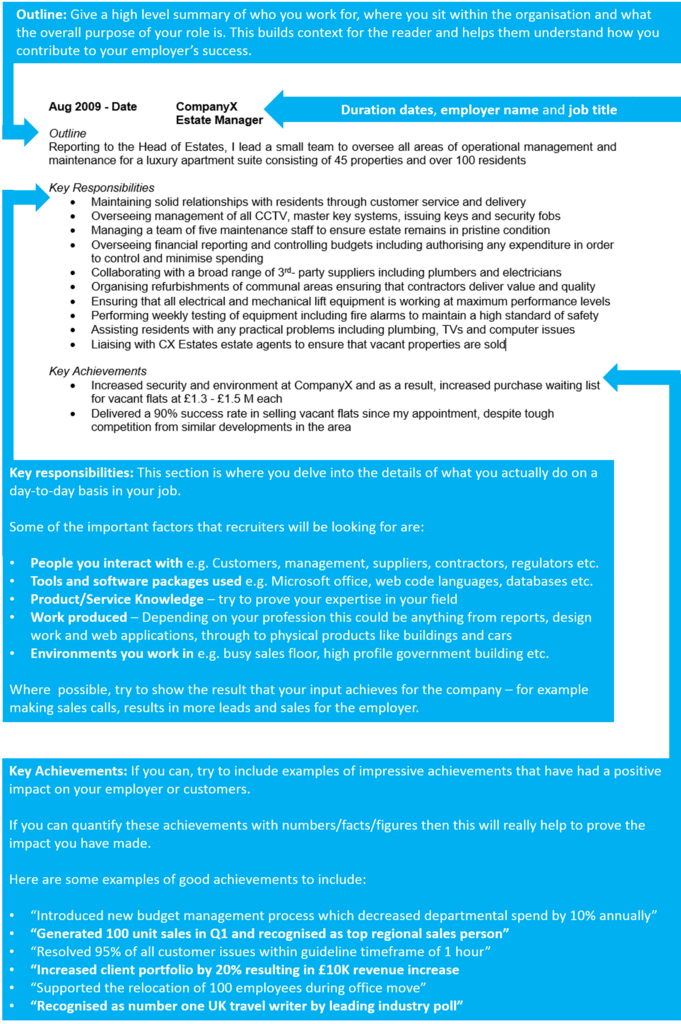 Job outline
Each role description should begin with a qucik summary of the job and company, along with how the job fits into the strucuture of the organization.
Key responsibilities
Then delve into the detail of your job by listing out easy-to-read bullet points which show how you apply your skills in the workplace.
Tailor these bullet points to focus on the skills and knowledge that are required in the jobs you are applying for.
Key achievements
Show employers the value you can bring to them by adding a few achievements to your jobs.
Whether you've saved the company money or improved an internal process, let recruiters know
Add some numbers to give readers a real scale of the impact, e.g. "reduced call wait time by 10%"
Example job for Concept Artist resume
Outline
Design and create visual concepts for in house productions at an independent studio in Los Angeles which produces 20 shorts and 4 features per annum, working with a team of artists and visual artist to execute creative vision within a budget.
Key Responsibilities
Develop and design high-quality character and environment concepts for short and feature length films
Collaborate with the art team and other departments to ensure that the visual concepts aligned with the film's narrative and game mechanics
Research and implement social and political viewpoints for productions
Conduct art research to gather inspiration and ideas for film visuals
Quick tip: Create impressive job descriptions easily in our partner's Resume Builder by adding pre-written job phrases for every industry and career stage.

Education section
Towards the bottom of your resume, add your education section.
Here you should list your professional qualifications and academic record, such as high school diplomas or college degrees.
If you have lots of work experience, you can keep this section brief (because recruiters will be more interested in your career. If you have little/no experience then you should bulk this section up with plenty of detail.
Additional information
If you have anything else to add which is relevant to the jobs you are applying for, the additional info section is the place to add it.
Perhaps you have a hobby which involves relevant skills, or maybe you have some awards or publications worth mentioning.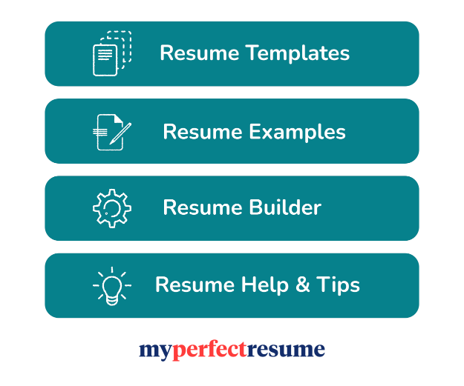 Writing your own winning Concept Artist resume
Writing a Concept Artist resume can be challenging but following the steps above will ensure that you land plenty of interviews.
Good luck with your job search!