Are you looking for your next role as a computer engineer?
If so, you need an engaging resume that's going to showcase your technical skills and help you to LAN the job.
You need to optimize your resume with keywords and highlight your experience and you can find out how in our step-by-step guide and computer engineer resume example below.
Contents
| | |
| --- | --- |
| How to write a Computer Engineer resume | |

Computer Engineer Resume Example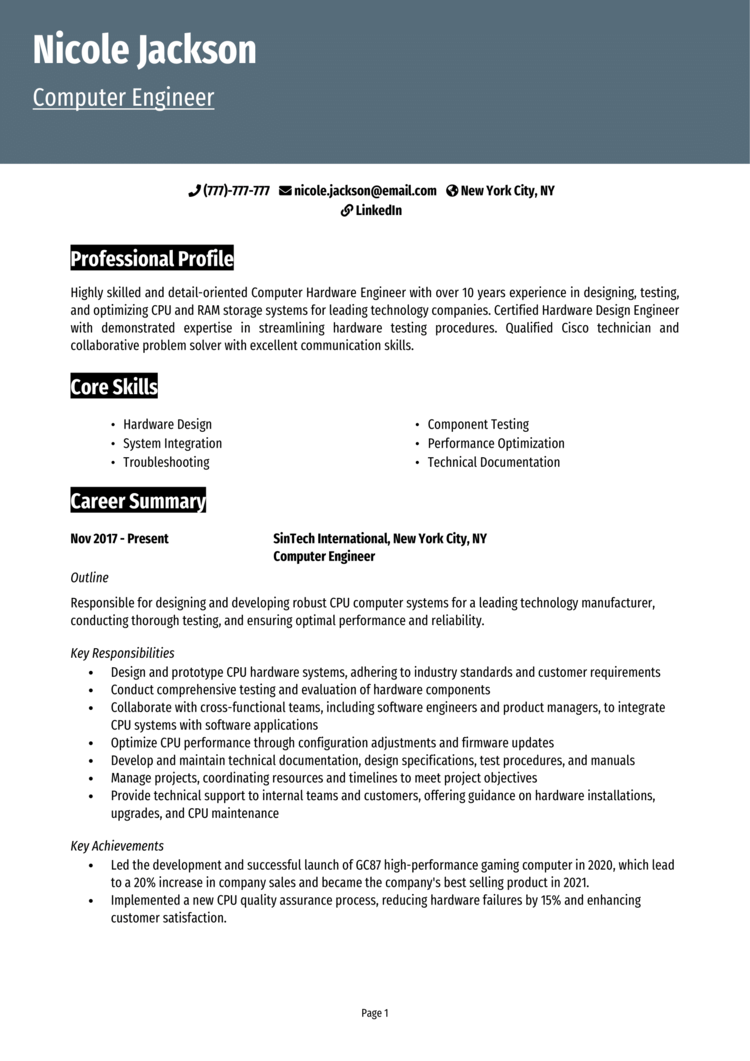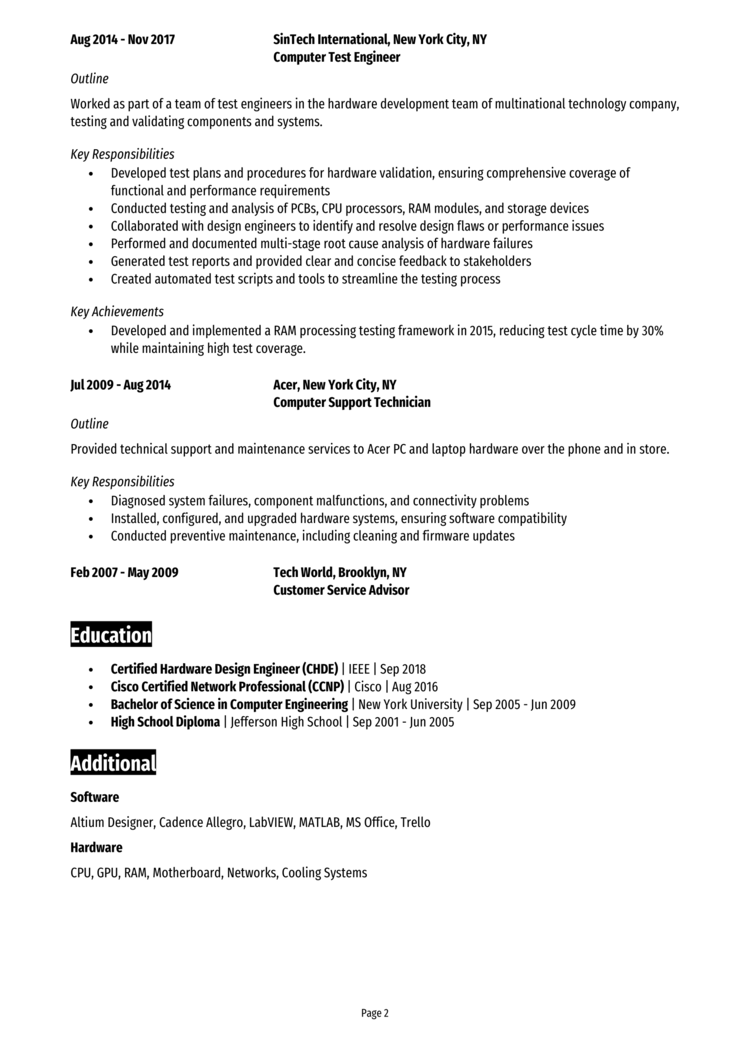 This Computer Engineer resume example shows you the most effective layout for a resume in today's job market, along with the type of content you need to include.
Stick closely to these guidelines as you write your own resume, to boost your chances of getting lots of responses, interviews and job offers.
Now lets dive into the details of how you write your own eye-catching resume…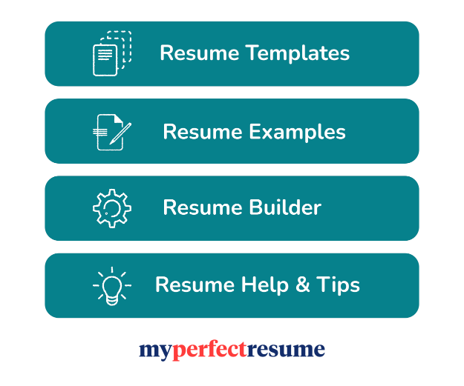 Computer Engineer resume layout and format
The format and layout of your resume can make or break its success.
Sure, it's great to pack your resume with lots of impressive skills and knowledge, but if the page is not structured clearly, hiring managers will struggle to find the important stuff!
Above all, your resume should be easy-to-read and professional looking.
Follow these formatting tips to get noticed.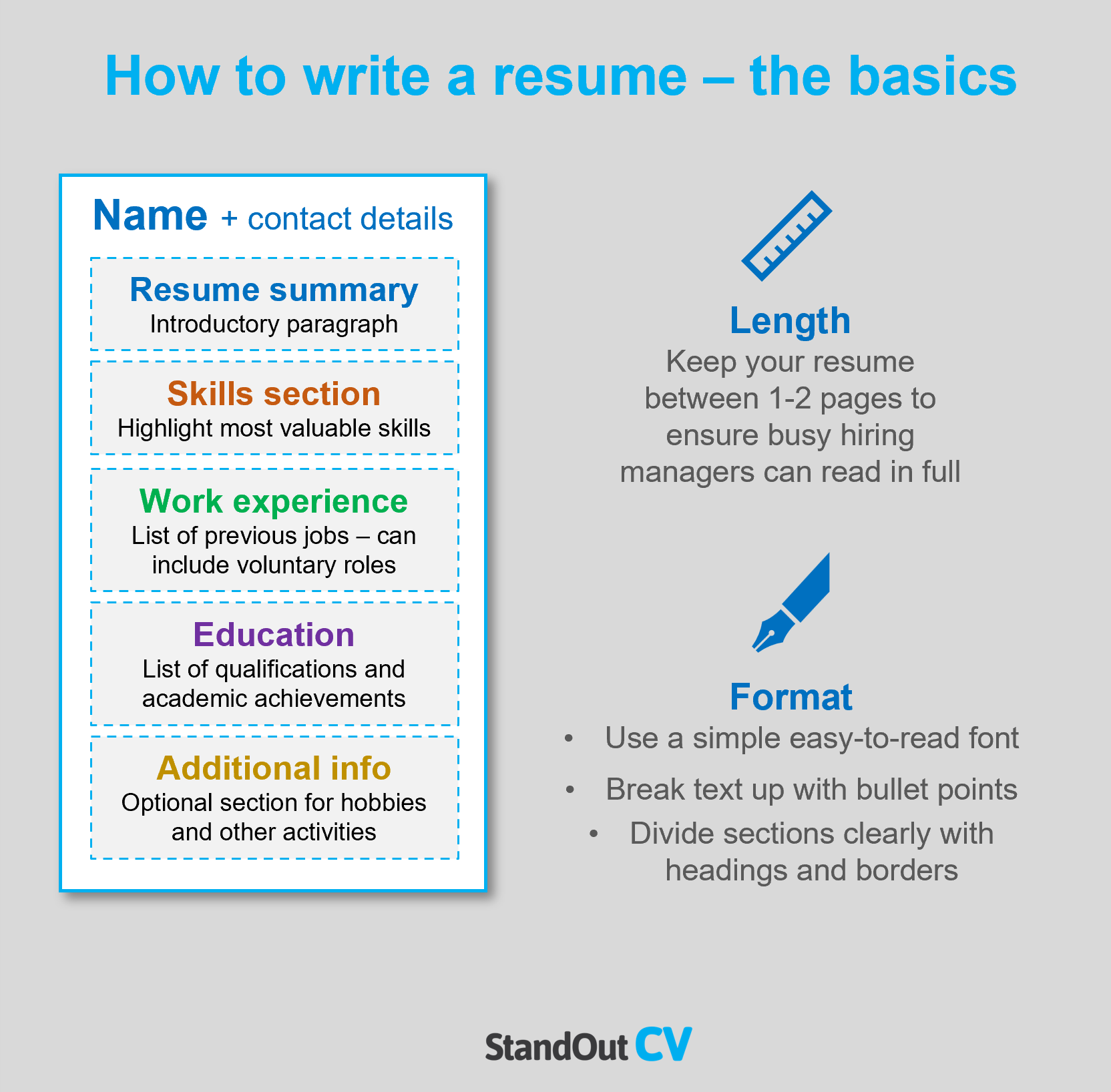 Formatting your resume
Length: As recruiters have a limited amount of time to review each resume they see, keep your resume to 2 pages or less to increase the chances of it being thoroughly reviewed.
Font & readability: To create a resume that is easily digestible for hiring managers, it's essential to use an uncomplicated font and structure your content with bullet points and short paragraphs.
Layout & Structure: Go with a resume design that looks good, but also allows for easy reading and navigation for employers. Ensure the page is clearly split up into sections by adding large font headings and dividing borders. Keep the color scheme simple and don't overcrowd the page.
Photos: It's not mandatory to add a photo to your resume in the USA but it if you're applying to organizations within the creative fields, it can be beneficial.
Quick tip: Achieving a professional look for your resume can be difficult and time-consuming. If you want to create an attractive resume quickly, try our partner's Resume Builder and use one of their eye-catching resume templates.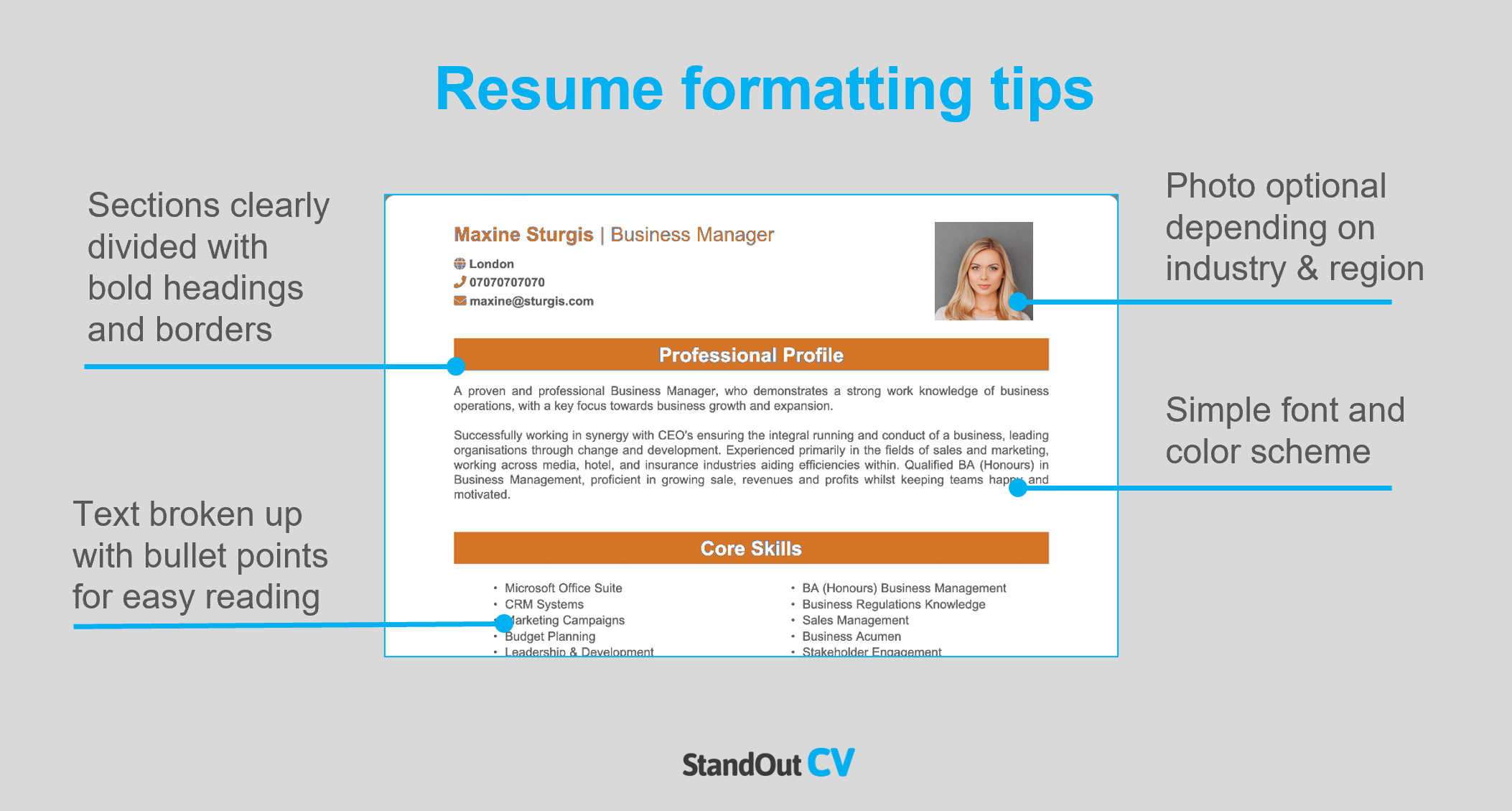 Resume layout
Here's an overview of the sections you should add when writing your resume.
Name and contact details – Stick these details at the top, so they are easy to find.
Resume summary – A punchy paragraph summarizing your skills and knowledge, enticing recruiters to read more of your resume.
Skills section – Short list of your most valuable skills, enabling recruiters to quickly spot your suitability.
Work experience – Showcase your previous employment, starting with your most recent roe and working backwards – voluntary work and college placements can be included if you have no paid experience.
Education – A summary of your most relevant qualifications and academic achievements
Additional info – An optional section for that other attributes that may boost your application, such as hobbies or clubs
Here's what to include in each part of your resume.
Contact Details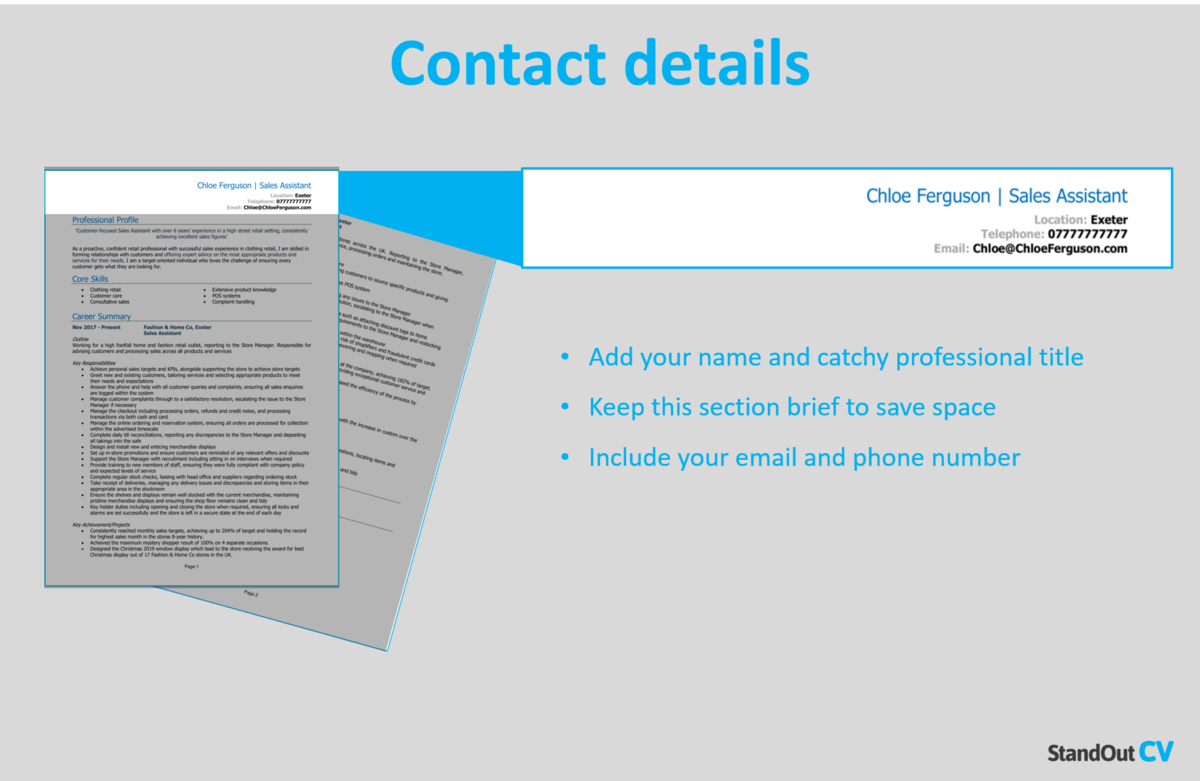 Make it easy for hiring managers to contact you by adding your contact details to the top of your resume.
Keep this section small to save space and include the following.
Name and profession title
Telephone number – Ideally your cell phone so you can answer quickly.
Location – Add your general location such as LA or New York
Email address – Use a professional looking one with no nicknames.
You can add a link to your LinkedIn profile if you have one – you do not need to include personal details like date of birth or marital status.
Computer Engineer Resume Summary
Create a strong opening for your resume by adding a compelling summary to the top that highlights your most valuable skills and experience.
This short but important paragraph is designed convince recruiters that you're the perfect candidate for the job and entice them to read more of your resume.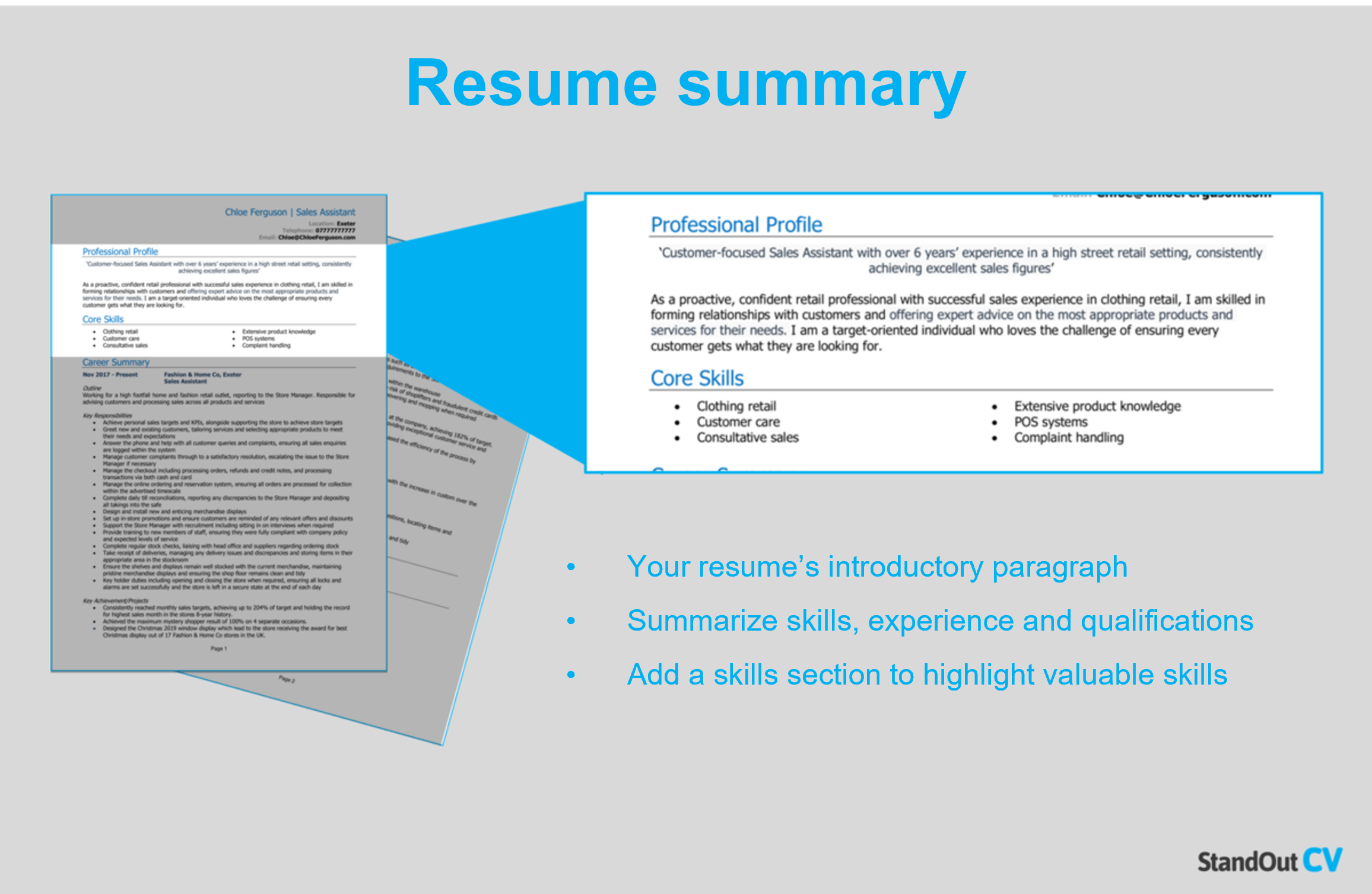 How to create a resume summary that will excite recruiters:
Keep it short: A concise and focused resume summary is essential for capturing a recruiter's attention and keeping them engaged. Limiting your summary to 4-7 lines ensures that you make a strong impression in the first few seconds of them opening the document.
Tailor to target jobs: To make your resume more relevant to your target jobs, analyze the job description and include as many matching skills as possible.
Avoid using cliches: Recruiters look for facts in resumes, such as hard skills and qualifications – so, leave out the meaningless cliches like "hard worker who works well in a team and individually"
Computer Engineer resume summary example
Highly skilled and detail-oriented Computer Hardware Engineer with over 10 years' experience in designing, testing, and optimizing CPU and RAM storage systems for leading technology companies. Certified Hardware Design Engineer with demonstrated expertise in streamlining hardware testing procedures. Qualified Cisco technician and collaborative problem solver with excellent communication skills.
What to include in your Computer Engineer resume summary?
Summary of your experience: What kind of companies have you worked for in the past? And which jobs have you carried out?
Relevant skills: Skills that are highly relevant to Computer Engineer work should be made prominent throughout your summary.
Qualifications: Mention any Computer Engineer qualifications that are important to your profession in the summary briefly, to show you are qualified to carry out the role.
Quick tip: Choose from hundreds of pre-written summaries across all industries, and add one to your resume with one-click in our partner's Resume Builder. All written by recruitment experts and easily tailored to suit your unique skillset and style.
Core skills section
Next, you should create a bullet pointed list of your core skills, formatted into 2-3 columns.
Here, you should focus on including the most important skills or knowledge listed in the job advertisement.
This will instantly prove that you're an ideal candidate, even if a recruiter only has time to briefly scan your resume.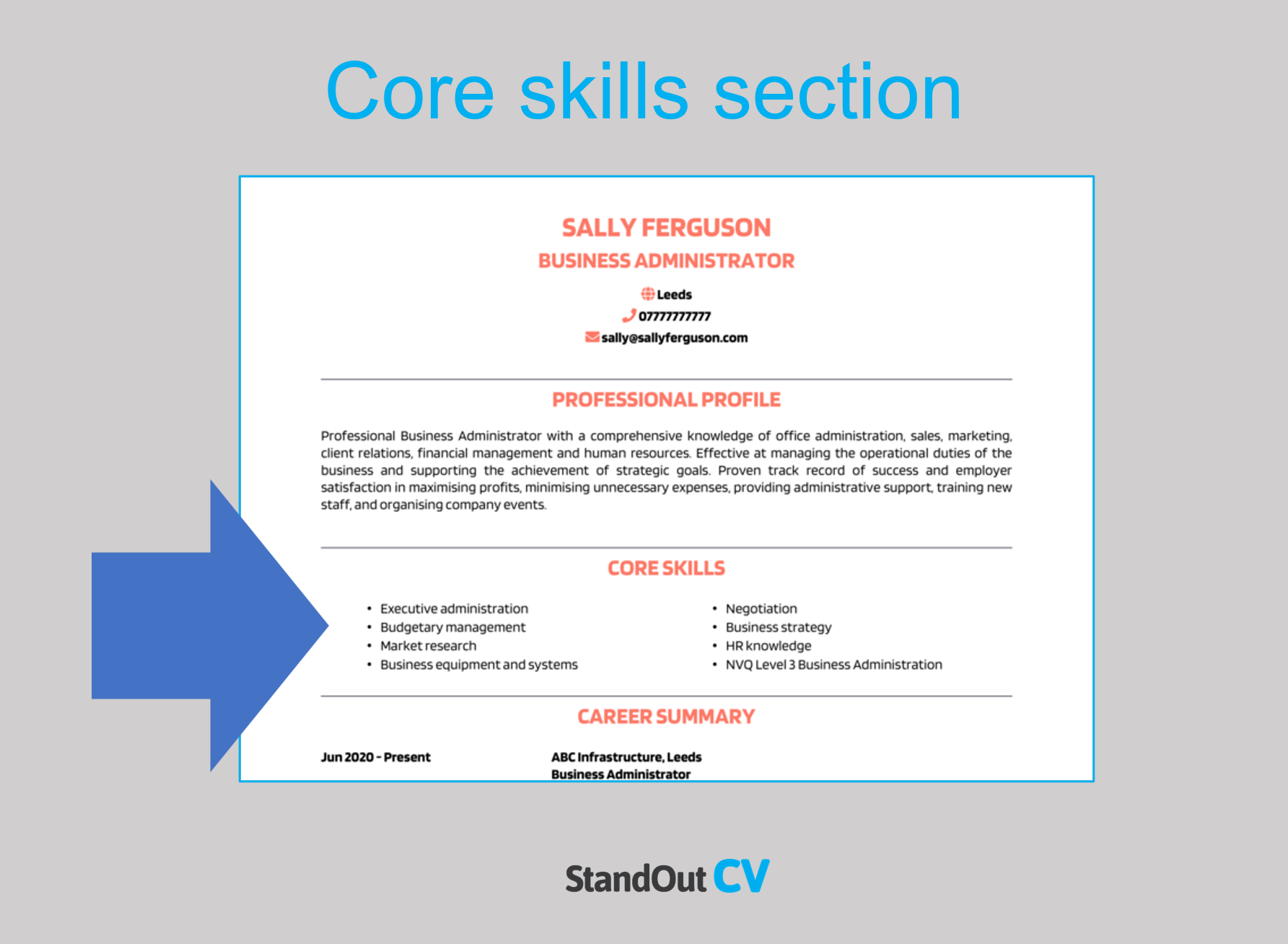 Best skills for your Computer Engineer resume
Programming Languages – Utilizing multiple programming languages such as C++, Java, Python, or JavaScript, allowing for software development and problem-solving.
Software Development – Designing, coding, testing, and debugging software applications or systems using best practices and industry standards.
Computer Architecture – Utilizing knowledge of computer hardware components, memory systems, processors, and their interactions to optimize system performance.
Operating Systems – Utilizing knowledge of various operating systems, such as Windows, macOS, or Linux, including their functions, configurations, and troubleshooting.
Networking – Utilizing knowledge of network protocols, routing, switching, and security concepts to design and troubleshoot computer networks.
Data Structures and Algorithms _ Utilizing knowledge of data structure design and algorithm development to efficiently solve complex problems and optimize program performance.
Embedded Systems – Developing and programming embedded systems, which are computer systems integrated into devices or machinery.
Hardware Design and Testing – Utilizing knowledge of digital circuit design, FPGA programming, and hardware testing methodologies for designing and troubleshooting computer hardware.
Cybersecurity – Utilizing knowledge of cybersecurity principles, techniques, and tools to ensure system security, protect against threats, and mitigate vulnerabilities.
Troubleshooting and Problem Resolution – Utilizing strong problem-solving skills, critical thinking abilities, and an analytical mindset to identify and resolve technical challenges efficiently.
Quick tip: Our partner's Resume Builder contains thousands of in-demand skills for every profession that can be added to your resume in seconds – saving you time and greatly improving your chances of landing job interviews and getting hired.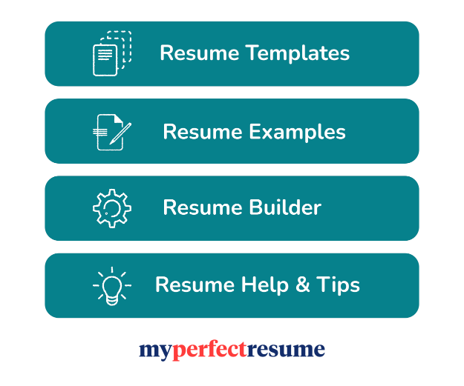 Work experience
So, you've got the recruiter interested with your catchy summary… Great work.
Now it's time to show them the impact you make in the workplace by listing out your previous jobs and what you achieved in each one.
If you have tons of experience, you can condense this part down to the last few years – if you are junior, then you should include as much possible (even volunteering and school work placements)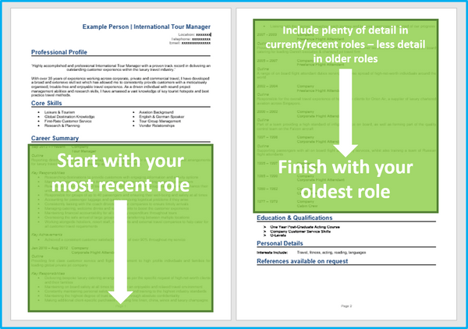 Structuring your jobs
Resume job descriptions contain lots of information, so its crucial to structure them well.
Use the structure below to ensure hiring managers can consume the information easily.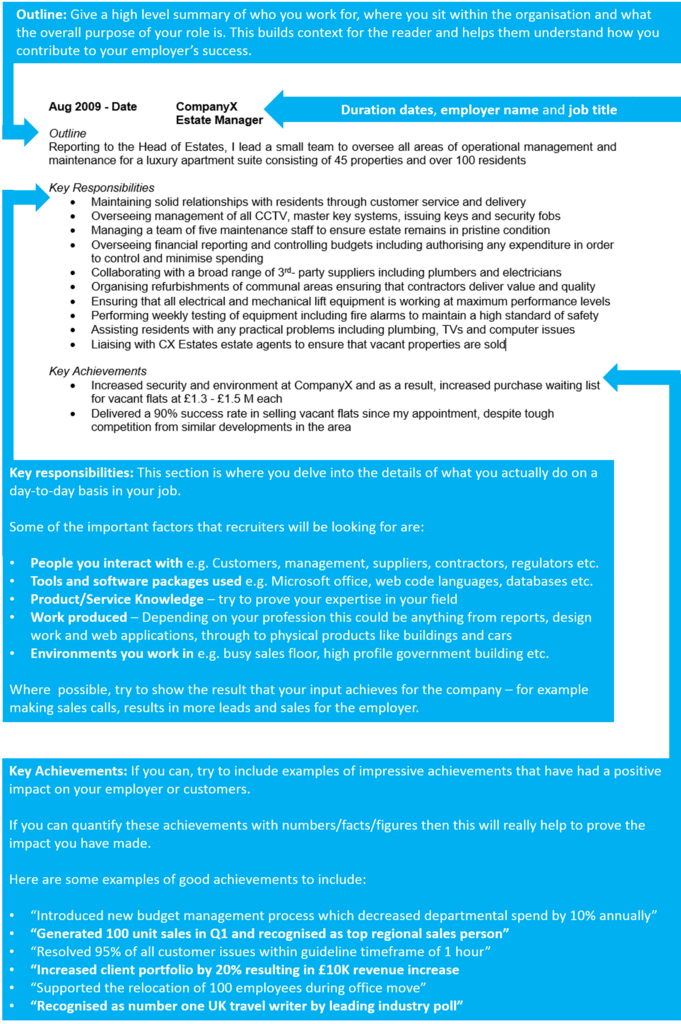 Job outline
Kick off each role with a high-level overview to summarize the focus of the job, what the organization/department does, and how you fit into the bigger picture.
Key responsibilities
Then delve into the detail of your job by listing out easy-to-read bullet points which show how you apply your skills in the workplace.
Tailor these bullet points to focus on the skills and knowledge that are required in the jobs you are applying for.
Key achievements
Round off each job by adding some impressive achievements you made in the role.
Anything you've done that has made a big impact on your employer will make a good impression, think; generating revenue, saving costs, or improving a product.
Quantify your achievements with number where possible e.g. "reduced call wait time by 10%"
Example job for Computer Engineer resume
Outline
Responsible for designing and developing robust CPU computer systems for a leading technology manufacturer, conducting thorough testing, and ensuring optimal performance and reliability.
Key Responsibilities
Design and prototype CPU hardware systems, adhering to industry standards and customer requirements
Conduct comprehensive testing and evaluation of hardware components
Collaborate with cross-functional teams, including software engineers and product managers, to integrate CPU systems with software applications
Optimize CPU performance through configuration adjustments and firmware updates
Quick tip: Create impressive job descriptions easily in our partner's Resume Builder by adding pre-written job phrases for every industry and career stage.

Education section
After your work experience, add your education section.
If you are an experienced professional, you can keep this part short – adding basic details of each qualification.
If you have little or no experience, bulk this section up by adding more detail and highlight important skills and knowledge for your target jobs.
Additional information
The additional info section is optional but can be useful if you have anything else to add that could benefit your application.
For example, you may have some hobbies and interests that are relevant to your job – or you might have awards or publications to shout about.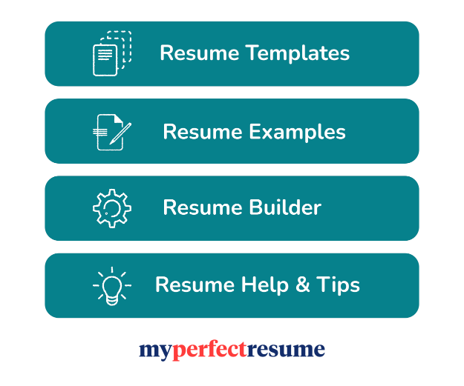 Writing your own winning Computer Engineer resume
A winning Computer Engineer resume should look great, read well, and sell your skillset to hiring managers.
If you follow the steps above, you should be able to bag yourself a top job in no time.
Good luck with your job search!