You take great pleasure in creating and overseeing a safe and fun environment for young children to learn and grow. That's why you'll be the best child care director out there.
Providing you can impress the recruiter, secure an interview and land the job, that is.
To help you do this, we've broken down each section of the resume writing process, pooled all of our top tips, and even created a child care director resume example to guide you.
Contents
| | |
| --- | --- |
| How to write your Child Care Director resume | |

Child Care Director Resume Example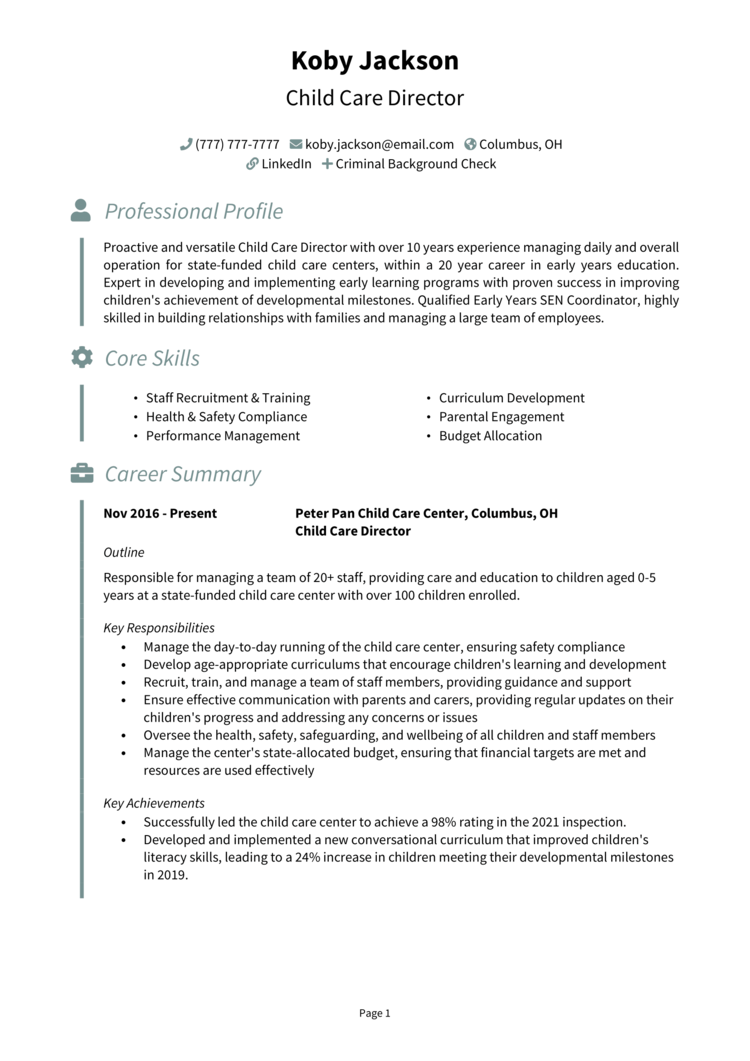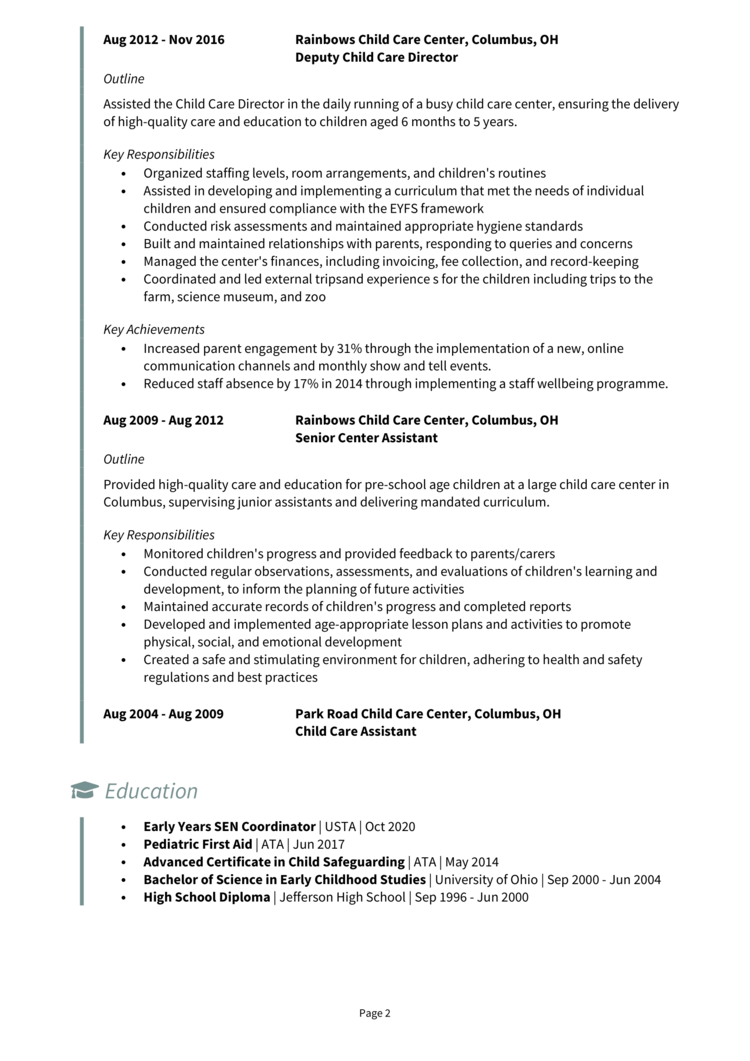 This Child Care Director resume example shows you the most effective layout for a resume in today's job market, along with the type of content you need to include.
Stick closely to these guidelines as you write your own resume, to boost your chances of getting lots of responses, interviews and job offers.
Now lets dive into the details of how you write your own eye-catching resume…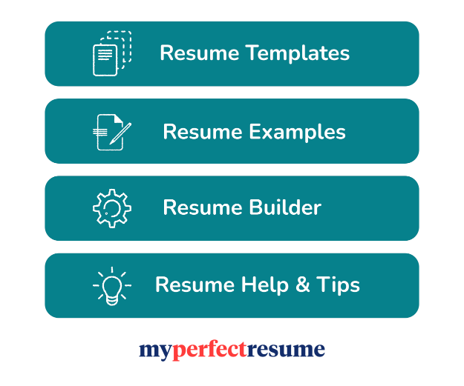 Child Care Director resume layout and format
The format and layout of your resume can make or break its success.
Sure, it's great to pack your resume with lots of impressive skills and knowledge, but if the page is not structured clearly, hiring managers will struggle to find the important stuff!
Above all, your resume should be easy-to-read and professional looking.
Follow these formatting tips to get noticed.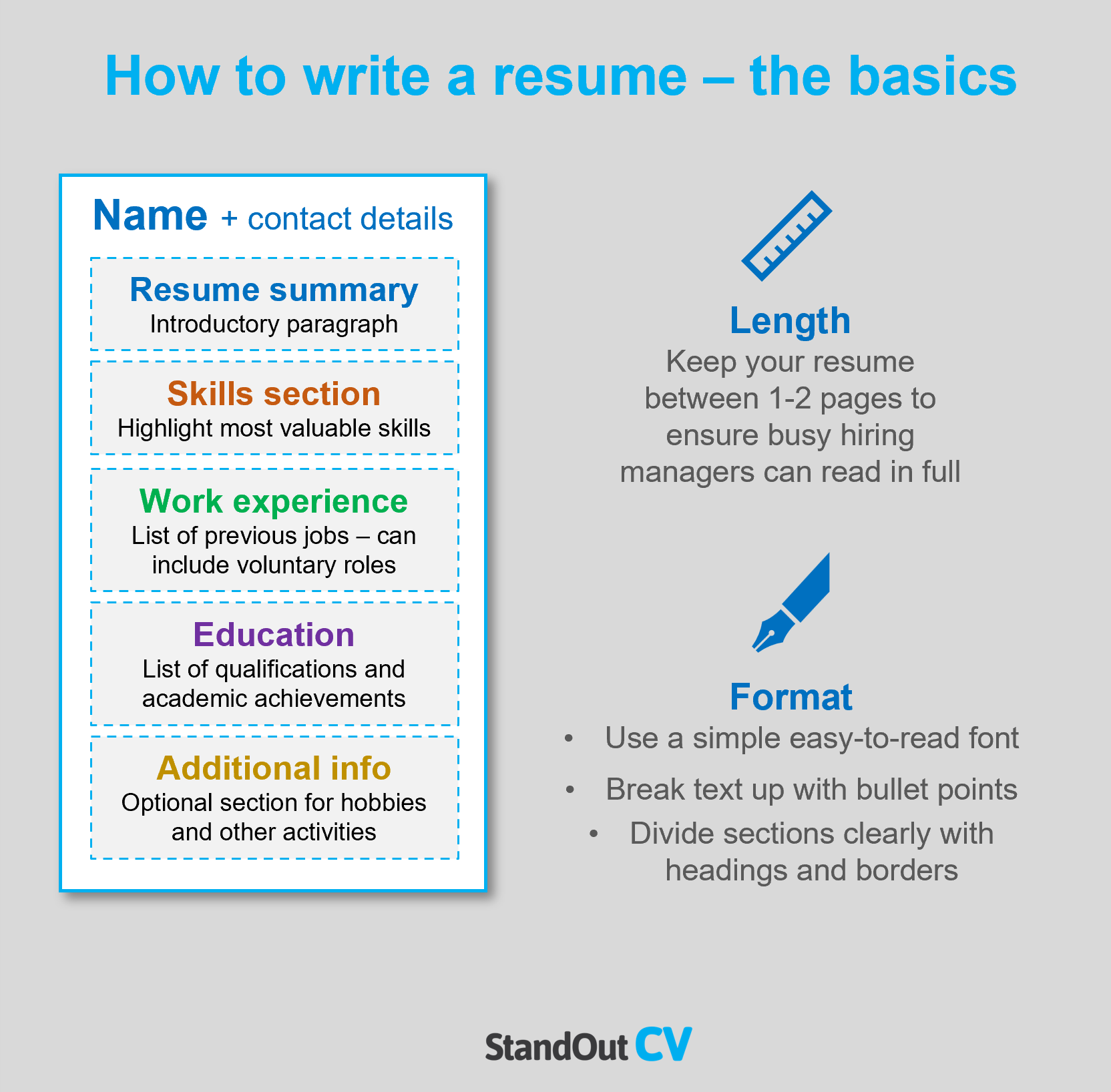 Formatting your resume
Length: To ensure that your resume gets proper attention from recruiters, it is best to keep it at 2 pages or less. Recruiters are often inundated with hundreds of resumes to review on a daily basis, so they want to read each one quickly as possible.
Font & readability: Simplicity and a pleasant reading experience are crucial if you want to highlight your most valuable skills to recruiters. Use a clear font (avoid fancy ones) and break up the text in your resume with bullet points to ensure information can be easily consumed.
Layout: Go with a resume design that looks good, but also allows for easy reading and navigation for employers. Ensure the page is clearly split up into sections by adding large font headings and dividing borders. Keep the color scheme simple and don't overcrowd the page.
Photos: While a photo is not usually necessary on your resume in the United States, it may be beneficial to include one in regions and industries where it is customary.
Quick tip: Achieving a professional look for your resume can be difficult and time-consuming. If you want to create an attractive resume quickly, try our partner's Resume Builder and use one of their eye-catching resume templates.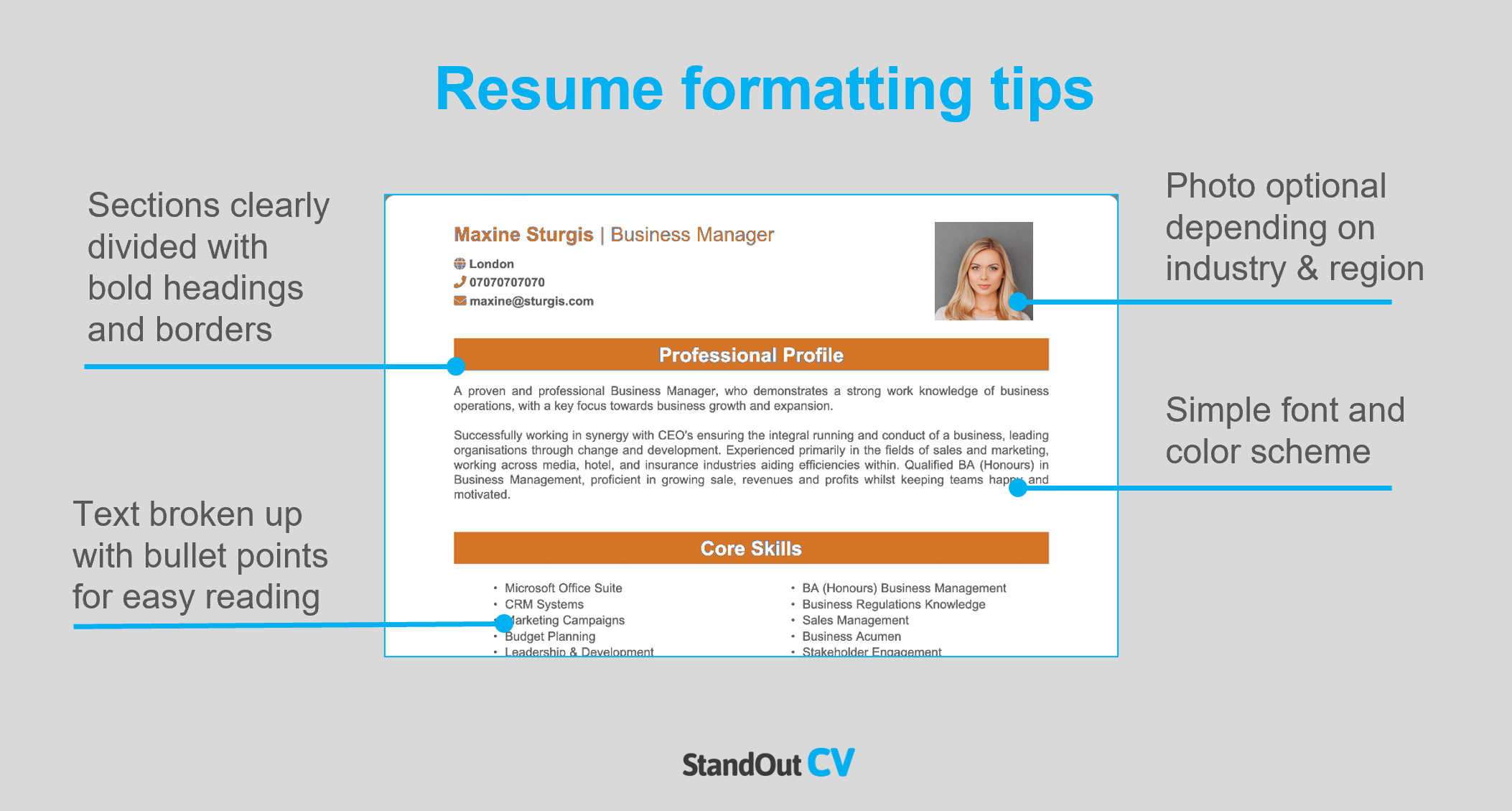 Resume layout
Add the following sections when you write your resume.
Name and contact details – Add to the very top of your resume to introduce yourself and make it super-easy for recruiters to get in touch.
Resume summary – Reel hiring managers in with an "elevator pitch" style paragraph which sums up your suitability for the job.
Skills section – A short and sharp list of your most important skills, that can be quickly skim-read.
Work experience – List your previous jobs (from newest to oldest) detailing the skills learnt and applied in each.
Education – List your qualifications and professional training.
Additional info – If it helps your application, you can add an extra section for things like hobbies and interests.
Here's what to add to each section of your Child Care Director resume.
Contact Details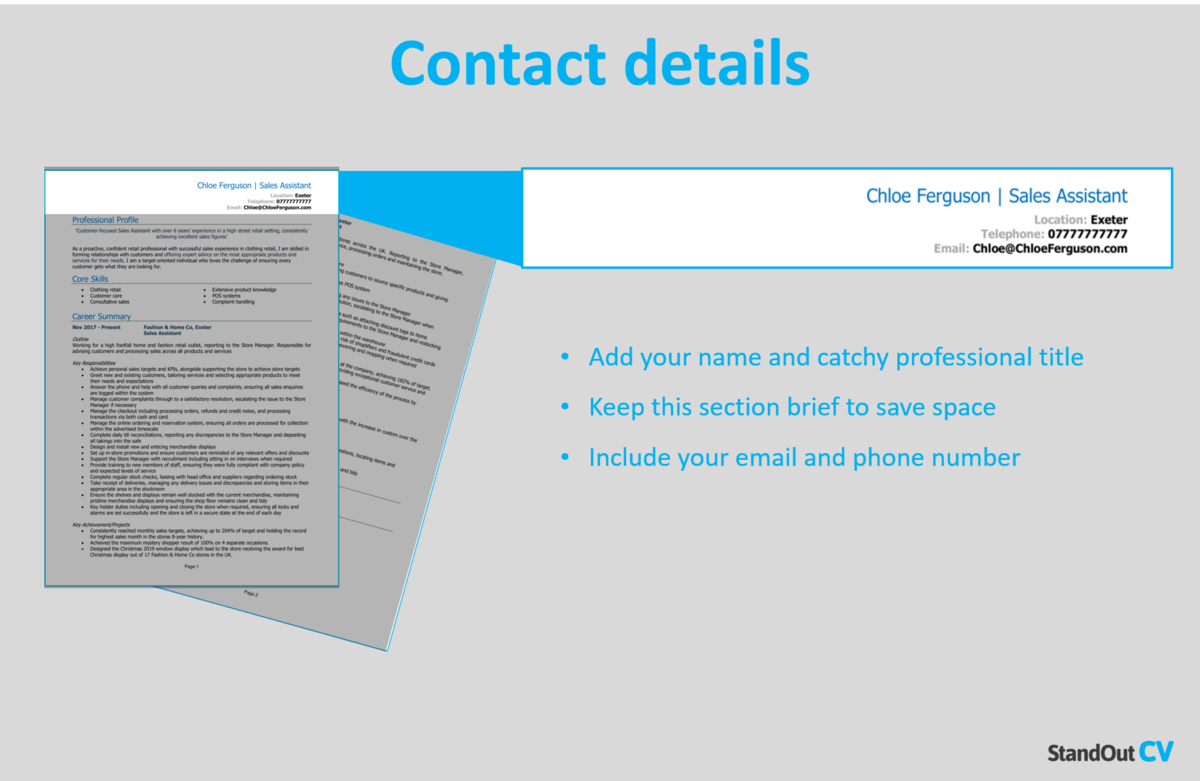 Make it easy for hiring managers to contact you by adding your contact details to the top of your resume.
Keep this section small to save space and include the following.
Name and profession title
Telephone number – Ideally your cell phone so you can answer quickly.
Location – Add your general location such as LA or New York
Email address – Use a professional looking one with no nicknames.
You can add a link to your LinkedIn profile if you have one – you do not need to include personal details like date of birth or marital status.
Child Care Director Resume Summary
Grab the attention of recruiters right away by including a compelling summary at the top of your resume that summarizes your most valuable skills and experience.
This brief yet impactful section enables you to demonstrate why you're the best candidate for the job and convince recruiters to keep reading.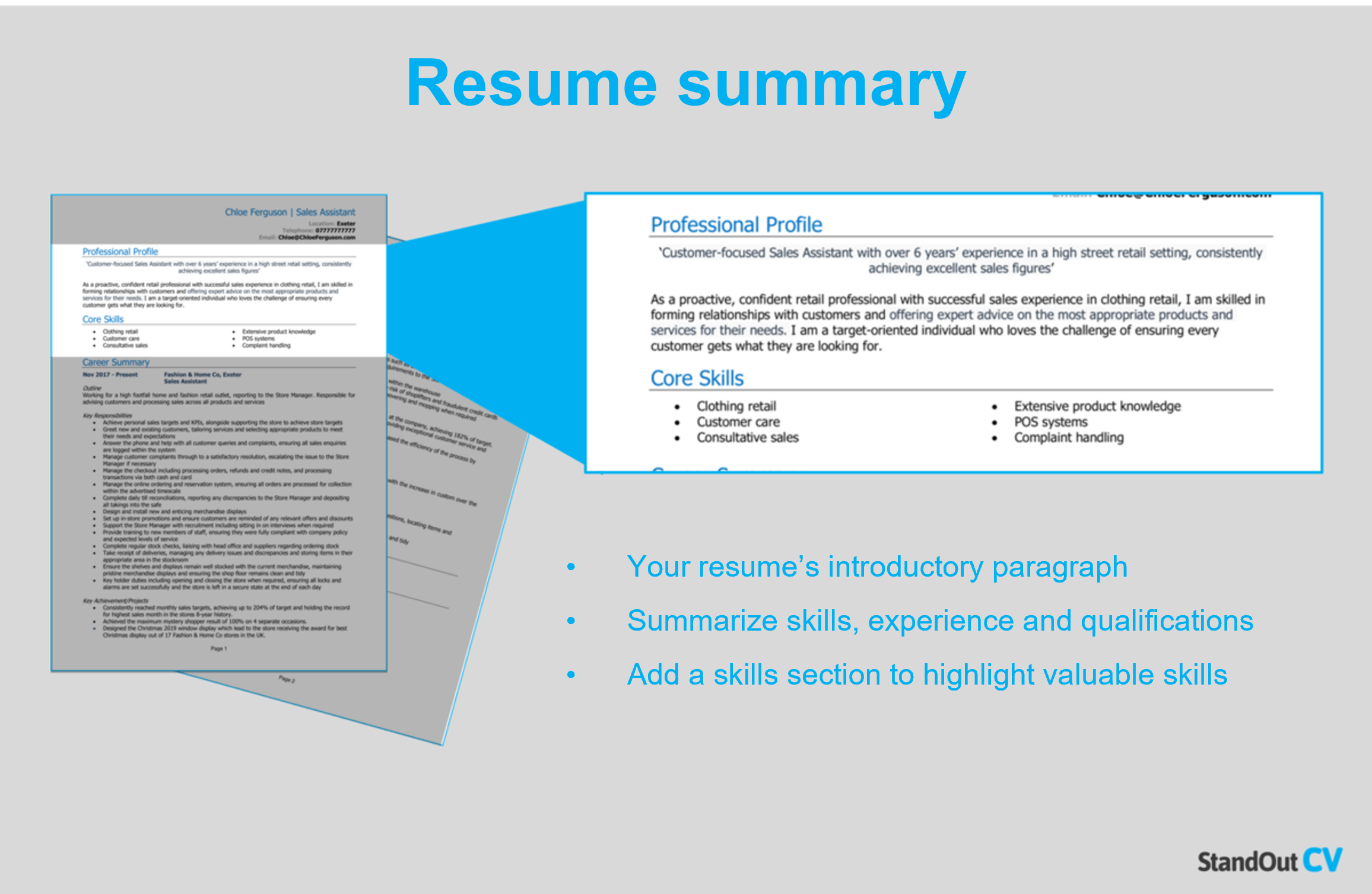 How to create a resume summary that will excite recruiters:
Keep it short: Aim for a short punchy paragraph of 4-7 lines. This is just enough info to showcase why you'd make the perfect hire, without going into excessive detail and overwhelming busy recruiters at such an early stage in the resume.
Tailor to target jobs: To mirror your target jobs, scrutinize the job description and include as many relevant skills as possible in your resume.
Avoid using cliches: You might be a "highly motivated go-getter who thinks outside the box" but generic meaningless cliches like that don't tell employers much about you – stick to factual information in your summary.
Child Care Director resume summary example
Proactive and versatile Child Care Director with over 10 years' experience managing daily and overall operation for state-funded child care centers, within a 20 year career in early years education. Expert in developing and implementing early learning programs with proven success in improving children's achievement of developmental milestones. Qualified Early Years SEN Coordinator, highly skilled in building relationships with families and managing a large team of employees.
What to include in your Child Care Director resume summary?
Summary of your experience: Summarize the type of work you have done in the past and the benefits you have delivered for the organizations you worked at.
Relevant skills: Include your skills which are hyper relevant to Child Care Director jobs to instantly show your suitability.
Qualifications: Mention any Child Care Director qualifications that are important to your profession in the summary briefly, to show you are qualified to carry out the role.
Quick tip: Choose from hundreds of pre-written summaries across all industries, and add one to your resume with one-click in our partner's Resume Builder. All written by recruitment experts and easily tailored to suit your unique skillset and style.
Core skills section
Sitting just underneath your resume summary, your core skills section gives recruiters 4-10 of your most in-demand skills in just a glance.
As Child Care Director jobs may get hundreds of applications, this is a great way to stand out and quickly grab hiring managers' attention.
It should be made up of 2-3 columns of bullet points and highlight attributes that are hyper-relevant to the jobs you are aiming for.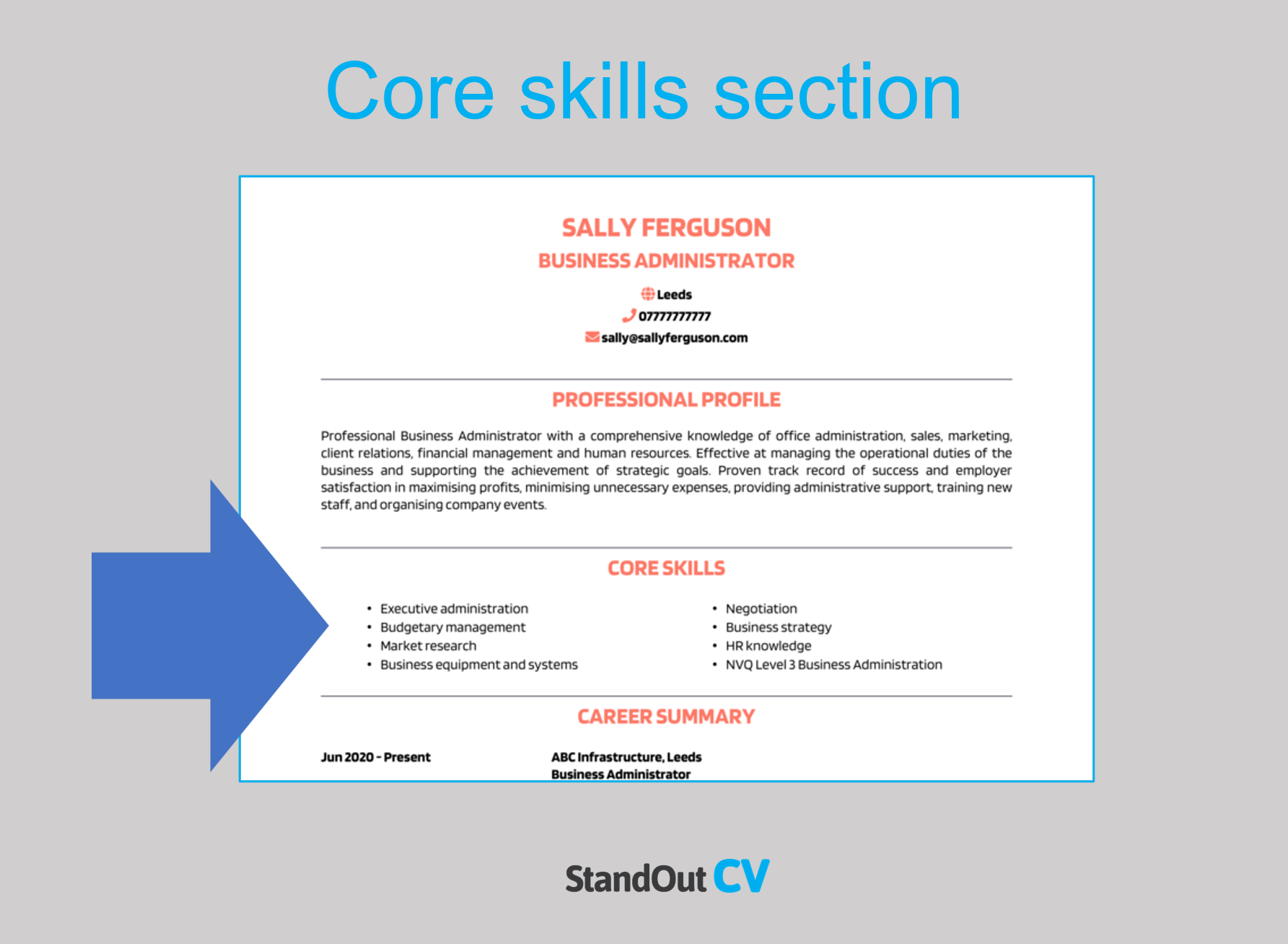 Best skills for your Child Care Director resume
Program Management – Overseeing and managing all aspects of child care programs, including curriculum development, staffing, scheduling, and compliance with regulations.
Leadership – Providing strong leadership to staff members, creating a positive and inclusive work environment, and fostering professional growth and development.
Staff Supervision – Hiring, training, and supervising child care staff, ensuring they have the necessary skills and resources to provide high-quality care.
Regulatory Compliance – Utilizing knowledge of relevant laws, regulations, and licensing requirements for child care facilities, and ensuring compliance to maintain a safe and secure environment for children.
Parent Communication – Establishing and maintaining positive relationships with parents, addressing their concerns, and providing regular updates on their child's progress.
Child Development – Maintaining an in-depth understanding of child development principles and age-appropriate learning activities to create engaging and educational experiences for children.
Health and Safety – Utilizing knowledge of health and safety protocols, including first aid, CPR, and emergency preparedness, to ensure the well-being and security of children and staff.
Budgeting and Financial Management – Utilizing knowledge of budgeting, financial planning, and resource allocation to optimize the financial performance of the child care center.
Stakeholder Collaboration – Collaborating with community organizations, educational institutions, and other stakeholders to enhance services and resources available to children and families.
Problem Resolution – Addressing challenges and issues that may arise in the child care setting, ensuring effective resolutions and continuous improvement.
Quick tip: Our partner's Resume Builder contains thousands of in-demand skills for every profession that can be added to your resume in seconds – saving you time and greatly improving your chances of landing job interviews and getting hired.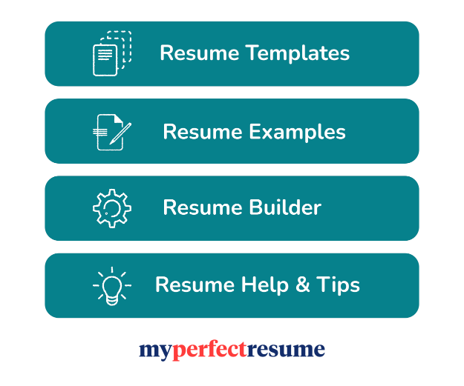 Work experience
So, you've got the recruiter interested with your catchy summary… Great work.
Now it's time to show them the impact you make in the workplace by listing out your previous jobs and what you achieved in each one.
If you have tons of experience, you can condense this part down to the last few years – if you are junior, then you should include as much possible (even volunteering and school work placements)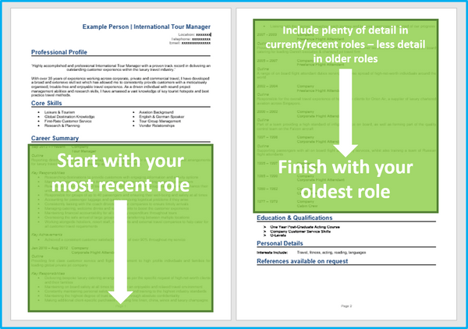 Structuring your jobs
Resume job descriptions contain lots of information, so its crucial to structure them well.
Use the structure below to ensure hiring managers can consume the information easily.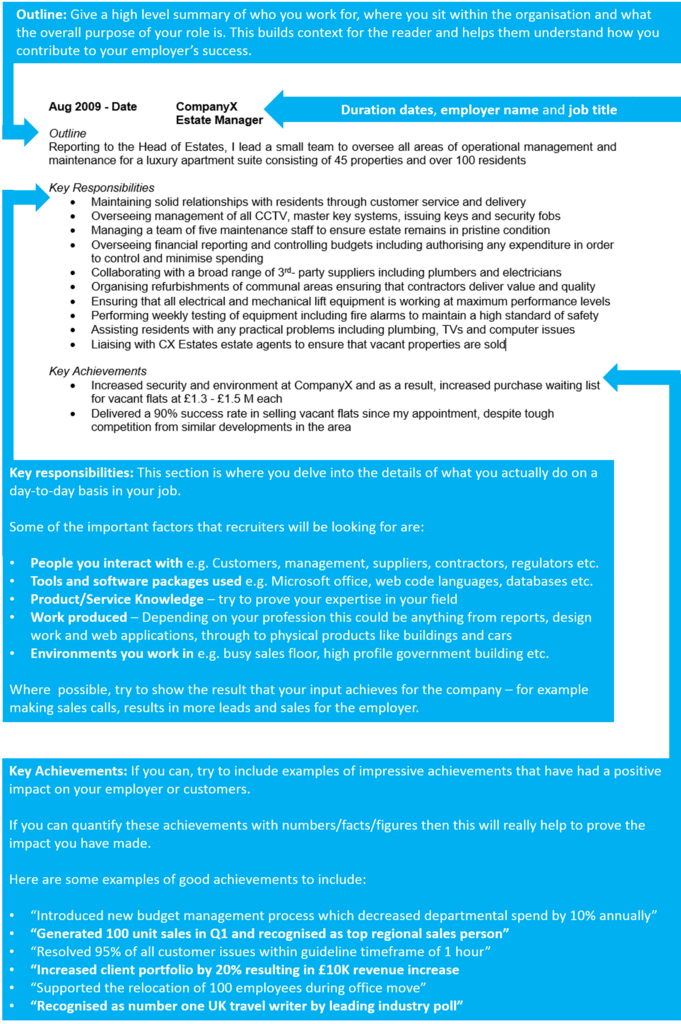 Job outline
Starting each job with a brief summary of the organization, your position within it, and the primary goal of your role can help recruiters quickly understand the context of your work.
Key responsibilities
Then delve into the detail of your job by listing out easy-to-read bullet points which show how you apply your skills in the workplace.
Tailor these bullet points to focus on the skills and knowledge that are required in the jobs you are applying for.
Key achievements
Show employers the value you can bring to them by adding a few achievements to your jobs.
Whether you've saved the company money or improved an internal process, let recruiters know
Add some numbers to give readers a real scale of the impact, e.g. "reduced call wait time by 10%"
Example job for Child Care Director resume
Outline
Responsible for managing a team of 20+ staff, providing care and education to children aged 0-5 years at a state-funded child care center with over 100 children enrolled.
Key Responsibilities
Manage the day-to-day running of the child care center, ensuring safety compliance
Develop age-appropriate curriculums that encourage children's learning and development
Recruit, train, and manage a team of staff members, providing guidance and support
Ensure effective communication with parents and carers, providing regular updates on their children's progress and addressing any concerns or issues
Quick tip: Create impressive job descriptions easily in our partner's Resume Builder by adding pre-written job phrases for every industry and career stage.

Education section
Towards the bottom of your resume, add your education section.
Here you should list your professional qualifications and academic record, such as high school diplomas or college degrees.
If you have lots of work experience, you can keep this section brief (because recruiters will be more interested in your career. If you have little/no experience then you should bulk this section up with plenty of detail.
Additional information
The bottom of your resume is a place to add any "additional info"
Any other info that didn't fall into any of the previous sections can be added here.
If you have hobbies that are related to your profession or any awards or publications – add them here.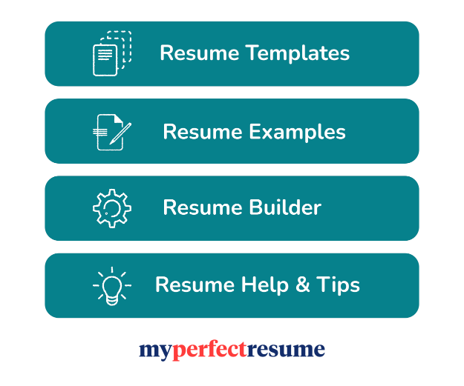 Writing your own winning Child Care Director resume
Crafting a strong Child Care Director resume can be a daunting task, but implementing the steps outlined above will significantly increase your chances of securing multiple interview opportunities.
Good luck with your job search!