As chief of staff, you'll be responsible for guiding key players within the organization, offering support, and dealing with problems or conflicts.
If you want to be shortlisted for such an important role, your application needs to highlight your mediation, organization, and other important transferable skills.
If you need some support with your application, make use of our resume writing advice and chief of staff resume example in this guide.
Guide contents
| | |
| --- | --- |
| How to write a Chief of Staff resume | |

Chief of Staff Resume Example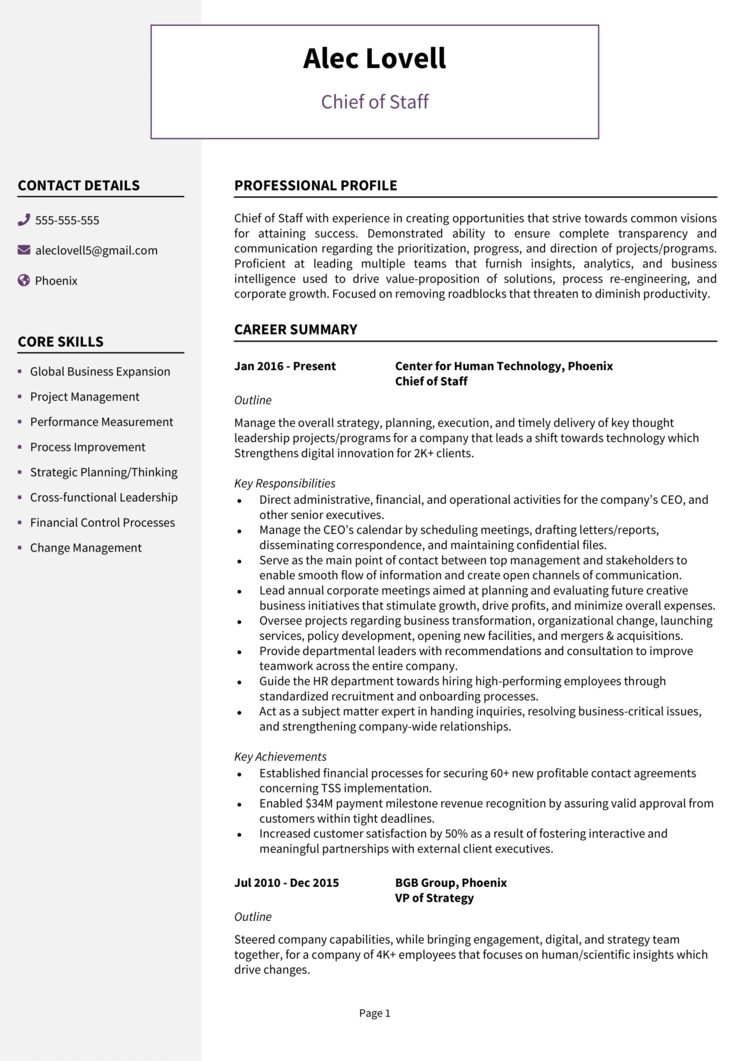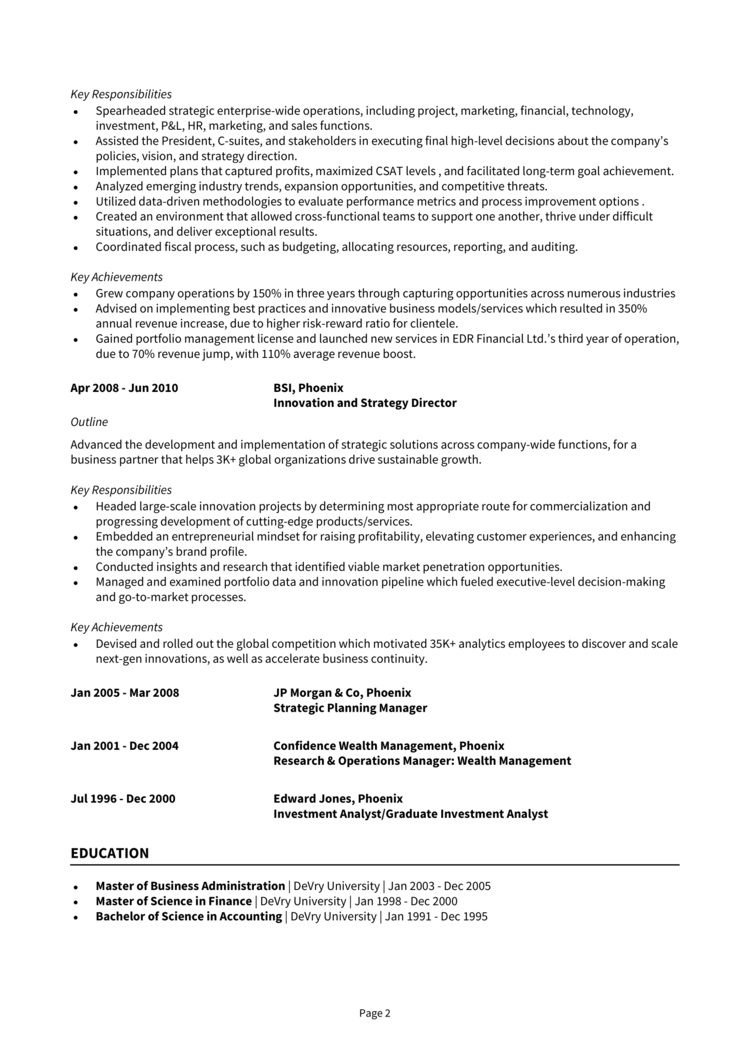 This example Chief of Staff resume gives you a general idea of how to structure your own resume, along with the type of content you need to include.
Sticking with this resume format will help you to get noticed by employers and ensure that they can quickly see the benefit of hiring you.
Now, lets walk through a step-by-step guide on how to write your own winning resume.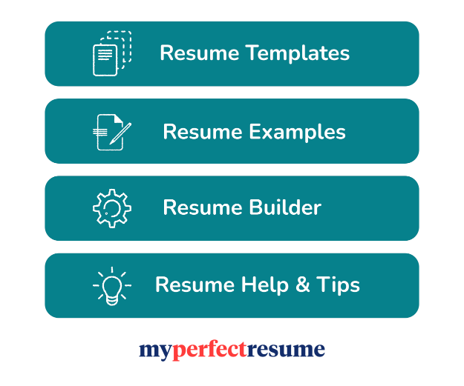 Chief of Staff resume layout and formatting
Your resume layout and format will play a big role in helping hiring managers to take notice of your resume and stay glued to it.
Shoot for a simple yet professional look to ensure you make a strong first impression, and organize the page in a way that is easy for readers to digest the information.
The following formatting tips should help.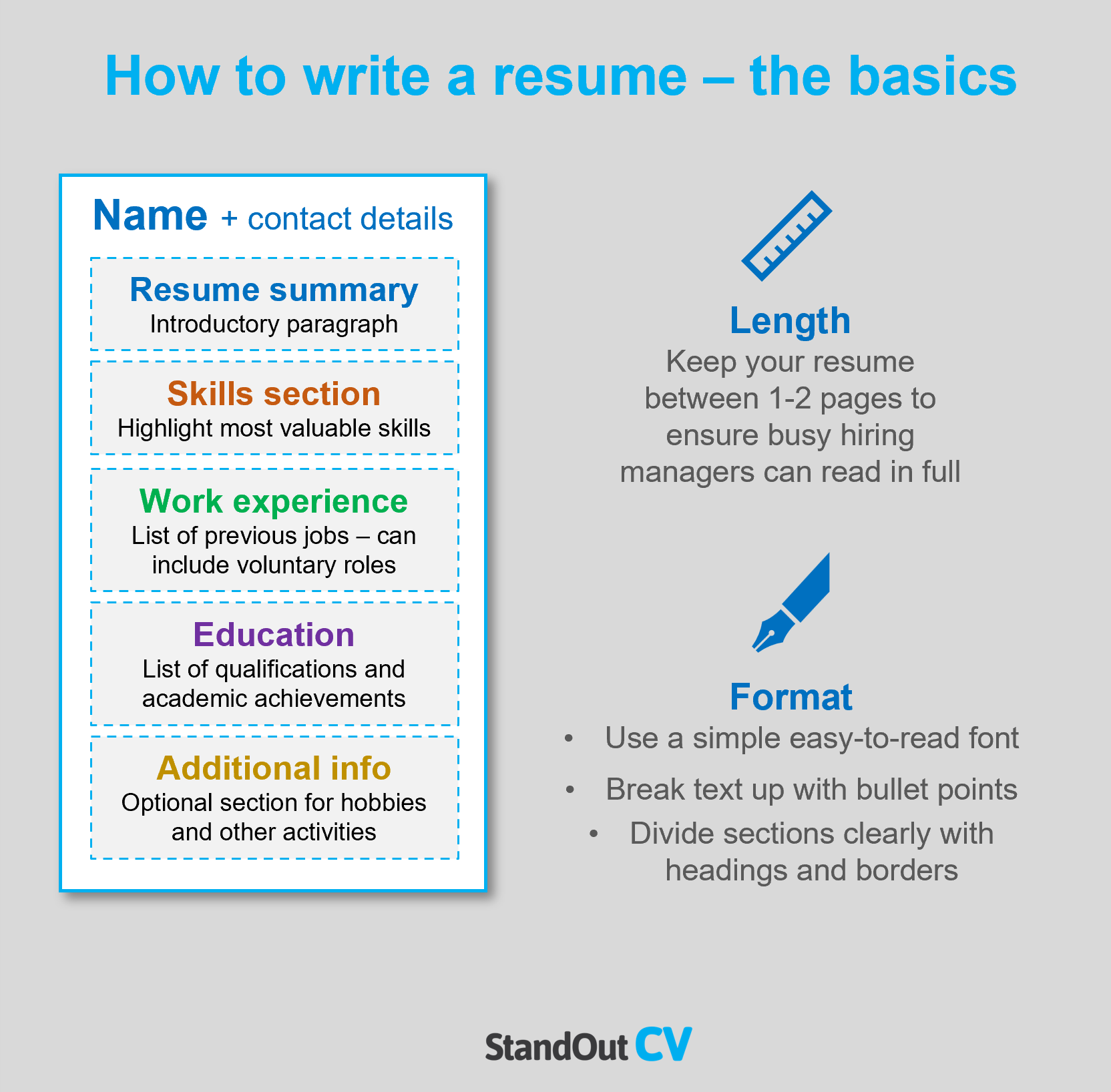 How to format your resume
Length: Keep your resume to 2 pages or under. You've probably heard that recruiters and hiring managers don't have lots of time to read every resume, so keep yours brief if you want to ensure that they read all of the important info in yours.
Font & text: Readability is the name of the game when it comes to your resume. Ensure yours is a dream to read by using a simple clear font, and breaking the text up with plenty of bullet points and short paragraphs.
Design & layout: Hiring managers should be able to skim through your resume easily and pinpoint the information they want quickly. To help them do this, organize the page into clear sections with bold headings and dividing borders. The design should be clutter-free and professional-looking, with a calm color scheme.
Photos: You are not obliged to add a photo to your resume in the USA, but it can be a nice way of adding some life to the document.
Quick tip: Achieving a professional look for your resume can be difficult and time-consuming. If you want to create an attractive resume quickly, try our partner's Resume Builder and use one of their eye-catching resume templates.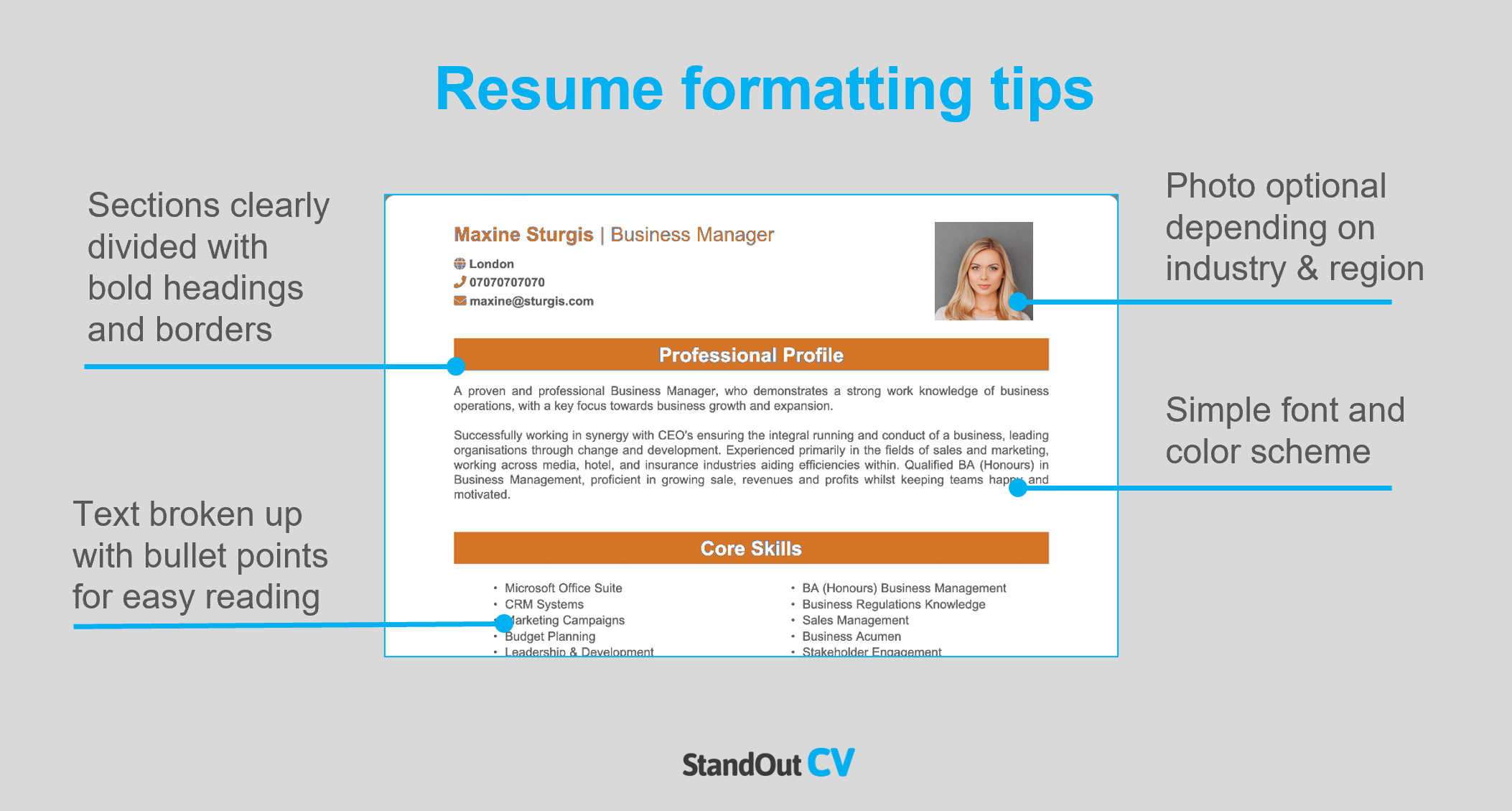 Resume layout
Organize the document into these sections when you write your resume.
Name and contact details – Employers need to know how to get in touch with you – so list your email and cell phone number here.
Resume summary – An intro paragraph at the top of the resume which summarizes your suitability for target jobs.
Skills section – A bullet-pointed list of your most relevant skills and knowledge.
Work experience – A list of your previous jobs (or at least the most relevant and recent ones)
Education – Add academic and professional qualifications that prove you can carry out the job
Additional info – If they are relevant to the jobs you are applying for, you can add an extra section for things like hobbies and interests.
Here's what you should include in each section of your resume.
Resume Contact Details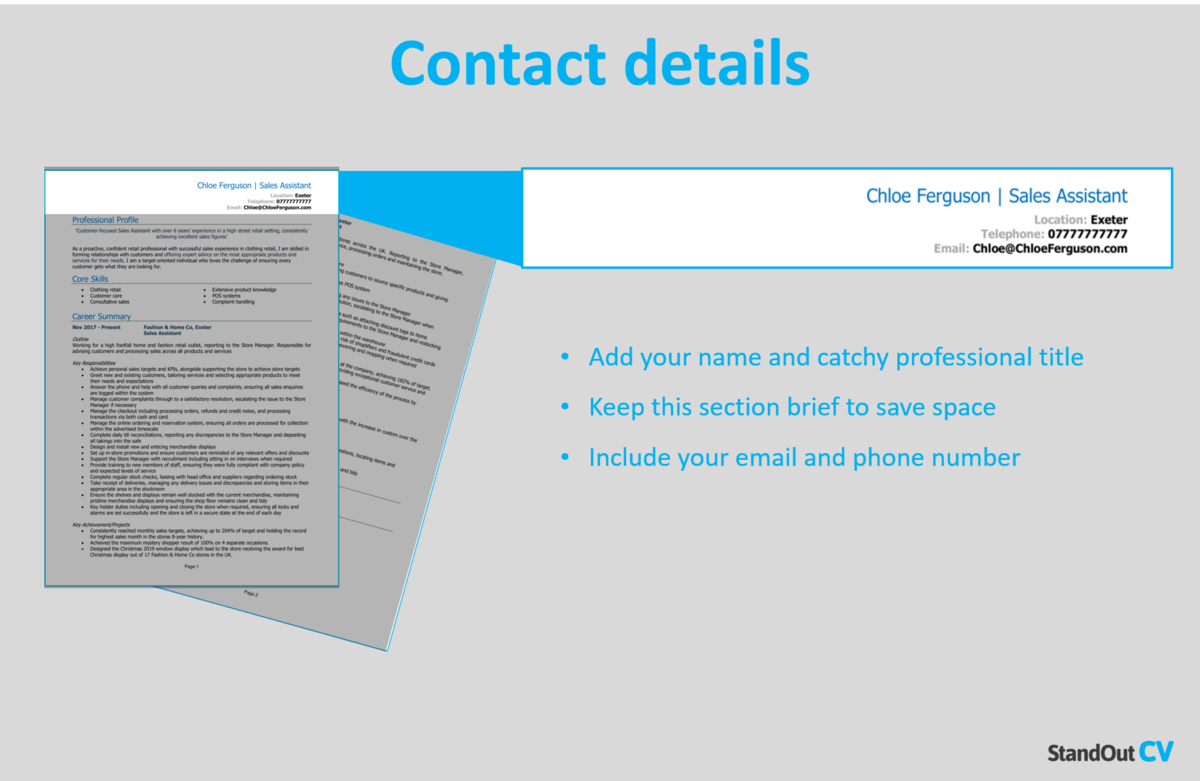 Make it easy for hiring managers to contact you by adding your contact details to the top of your resume.
Keep this section small to save space and include the following.
Name and profession title
Telephone number – Ideally your cell phone so you can answer quickly.
Location – Add your general location such as LA or New York
Email address – Use a professional looking one with no nicknames.
You can add a link to your LinkedIn profile if you have one – you do not need to include personal details like date of birth or marital status.
Chief of Staff Resume Summary
Start your resume with a bang by adding a powerful summary to the top, summarizing your most valuable skills and experience.
This short paragraph is your chance to show recruiters why you are a perfect fit for the job and encourage them to read more of your resume.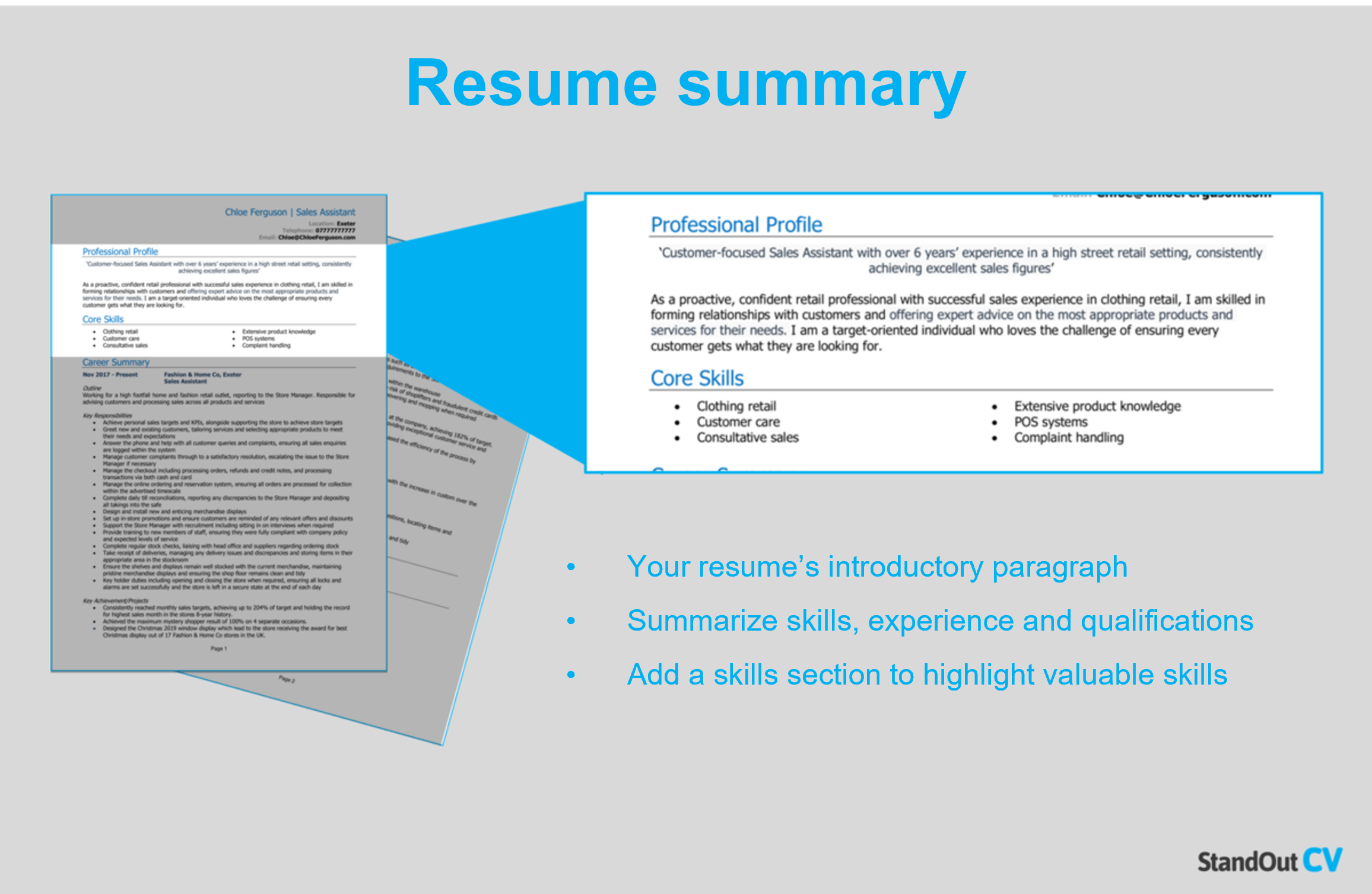 3 tips for creating a resume summary that will get noticed:
Keep it concise: Aim for a short punchy paragraph of 4-7 lines. This is just enough info to showcase why you'd make the perfect hire, without going into excessive detail and overwhelming busy recruiters at such an early stage in the resume.
Tailor to target jobs: Optimize your summary to match the requirements of your target jobs, by mirroring the key words from the job description as closely as possible.
Don't use cliches: Recruiters always see cringey cliches like "hardworking guru who works well in a team or individually" – they don't mean much to anyone, so focus your summary on tangible skills and experience.
Example resume summary for Chief of Staff
Chief of Staff with experience in creating opportunities that strive towards common visions for attaining success. Demonstrated ability to ensure complete transparency and communication regarding the prioritization, progress, and direction of projects/programs. Proficient at leading multiple teams that furnish insights, analytics, and business intelligence used to drive value-proposition of solutions, process re-engineering, and corporate growth. Focused on removing roadblocks that threaten to diminish productivity.
What info to include in your Chief of Staff resume summary?
Summary of experience: What kind of companies have you worked for in the past? And which jobs have you carried out?
Relevant skills: Highlight your skills which are most relevant to Chief of Staff jobs, to ensure that recruiters see your most in-demand skills as soon as they open your resume.
Vital qualifications: If your job requires any qualifications such as a professional course or a college degree, mention it briefly in your summary.
Quick tip: Choose from hundreds of pre-written summaries across all industries, and add one to your resume with one-click in our partner's Resume Builder. All written by recruitment experts and easily tailored to suit your unique skillset and style.
Core skills section
Underneath your summary, write a core skills section to make your most relevant skills jump off the page at readers.
It should be made up of 2-3 columns of bullet points of your relevant skills.
Before you do this, look over the job description and make a list of any specific skills, specialisms or knowledge required.
Then, make sure to use your findings in your list. This will paint you as the perfect match for the role.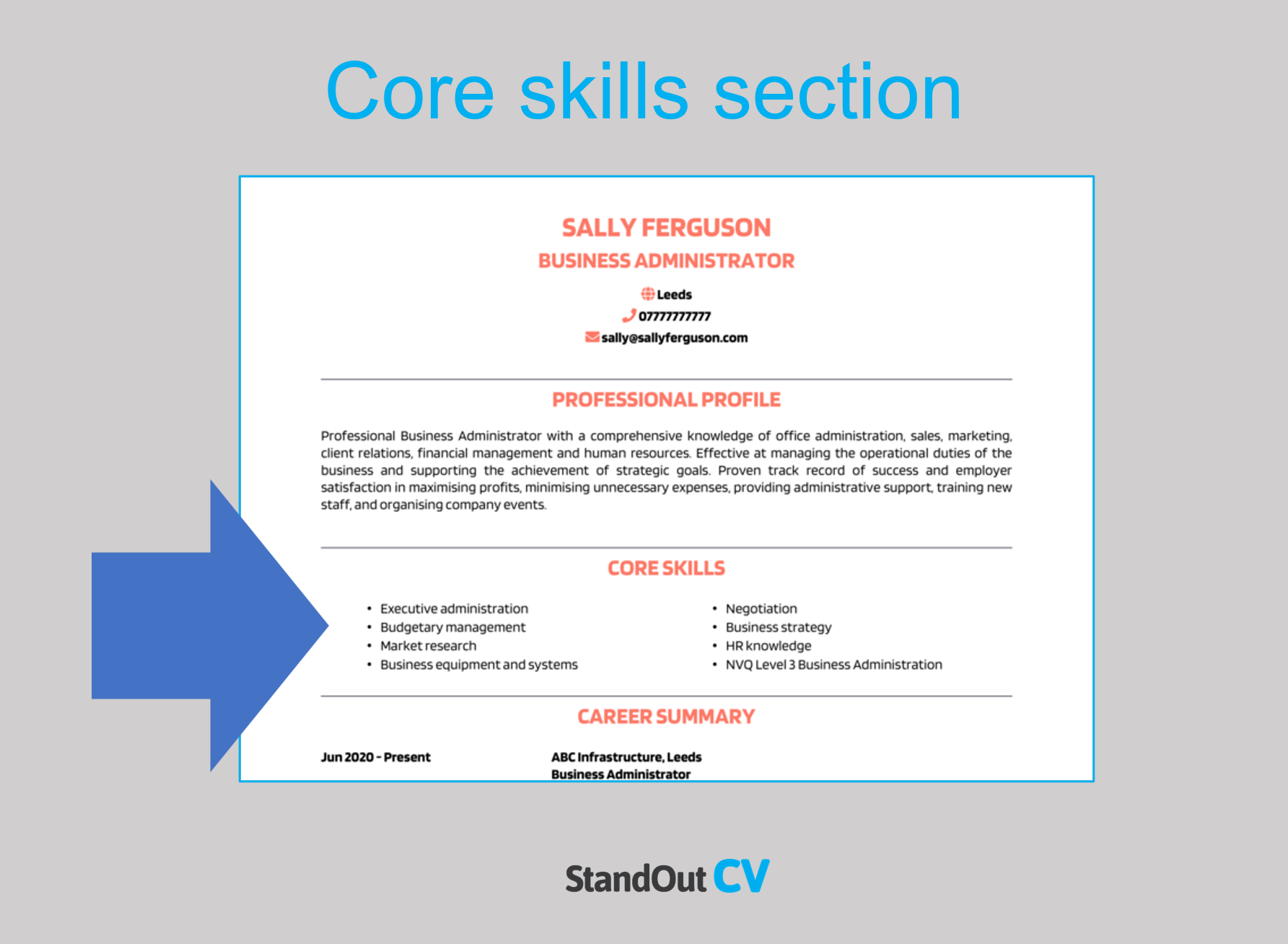 Top skills for your Chief of Staff resume
Global Business Expansion – developing and implementing strategies that allow the business to expand its operations into new and potentially untapped international markets, allowing the business to reach more people with its goods and services.
Strategic Planning/Thinking – creating plans to support getting the company from where it is now to where it wants to be, including ensuring the objectives and goals are not unrealistic or unduly risky.
Cross-functional Leadership – effectively managing and directing company employees across all departments to ensure they fulfil organisational goals.
Financial Control Processes – overseeing complex budgeting, forecasting, and analysis to support major corporate decisions.
Change Management – implementing strategies for effecting change, controlling change and helping the wider business to adapt to change.
Quick tip: Our partner's Resume Builder contains thousands of in-demand skills for every profession that can be added to your resume in seconds – saving you time and greatly improving your chances of landing job interviews and getting hired.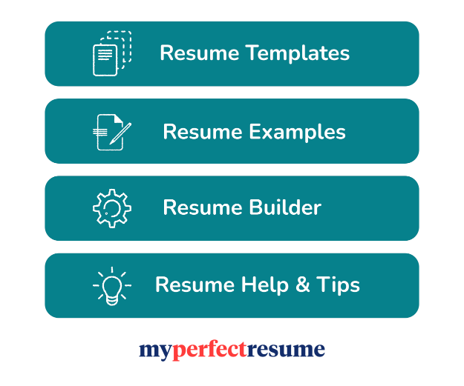 Resume work experience section
Once you've got recruiters interested with your impactful summary, your work experience is where the real detail will lie.
Lay out your previous jobs from current to oldest, detailing what you contributed and achieved in each one.
If you're highly experienced you can cut this section down to your most recent few years of work, but if you are junior you can bulk this up with voluntary work and college placements.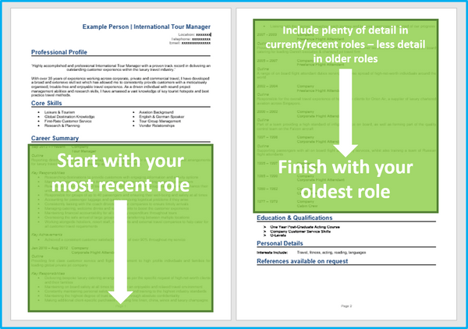 Structuring your job descriptions
Without a good structure, your job description can look messy and overwhelming to anyone reading them.
Make it easy for recruiters to read your work experience by structuring your roles like this.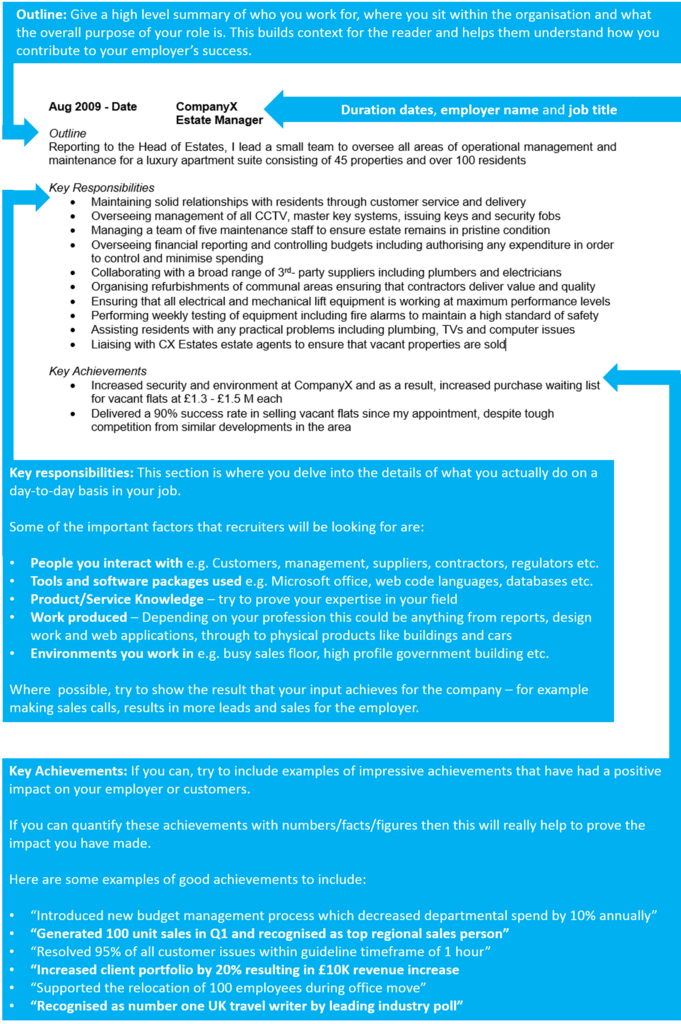 Job outline
Start with a 1-2 sentence outline of the role, summarizing what the goal of your position was, who you reported to (or managed) and the type of organization you worked for.
Key responsibilities
Then delve into the detail of your job by listing out easy-to-read bullet points which show how you apply your skills in the workplace.
Tailor these bullet points to focus on the skills and knowledge that are required in the jobs you are applying for.
Key achievements
Show employers the value you can bring to them by adding a few achievements to your jobs.
Whether you've saved the company money or improved an internal process, let recruiters know
Add some numbers to give readers a real scale of the impact, e.g. "reduced call wait time by 10%"
Example job for Chief of Staff resume
Outline
Manage the overall strategy, planning, execution, and timely delivery of key thought leadership projects/programs for a company that leads a shift towards technology which strengthens digital innovation for 2K+ clients.
Key Responsibilities
Direct administrative, financial, and operational activities for the company's CEO, and other senior executives.
Manage the CEO's calendar by scheduling meetings, drafting letters/reports, disseminating correspondence, and maintaining confidential files.
Serve as the main point of contact between top management and stakeholders to enable smooth flow of information and create open channels of communication.
Lead annual corporate meetings aimed at planning and evaluating future creative business initiatives that stimulate growth, drive profits, and minimize overall expenses.
Quick tip: Create impressive job descriptions easily in our partner's Resume Builder by adding pre-written job phrases for every industry and career stage.

Education section
Near the end of your resume add your education section
Experienced candidates should keep it brief and focus on professional qualifications – and junior candidates can include high school diplomas, college degrees etc.
Additional information
If you have anything else to add which is relevant to the jobs you are applying for, the additional info section is the place to add it.
Perhaps you have a hobby which involves relevant skills, or maybe you have some awards or publications worth mentioning.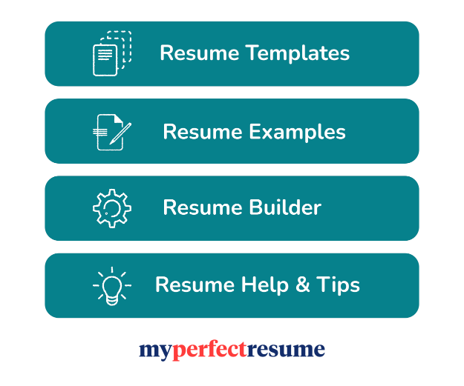 Writing your Chief of Staff resume
Following the steps in this guide will help you to create a winning Chief of Staff resume and bag lots of interviews.
If you want some more help through the process, try our partner's Resume Builder for expert guidance and tons of pre-written resume content.
Good luck with your job search!