If you have a background in science and engineering and what to make a real difference, a role as a chemical engineer is perfect for you.
But no matter what industry you'd like to work in, be that fuel, healthcare, commercial, or any other sector, you first need a standout resume that's going to secure you an interview.
If you need a little guidance when writing your application, check out our top tips below, complete with a chemical engineer resume example to guide you.
Contents
| | |
| --- | --- |
| How to write a Chemical Engineer resume | |

Chemical Engineer Resume Example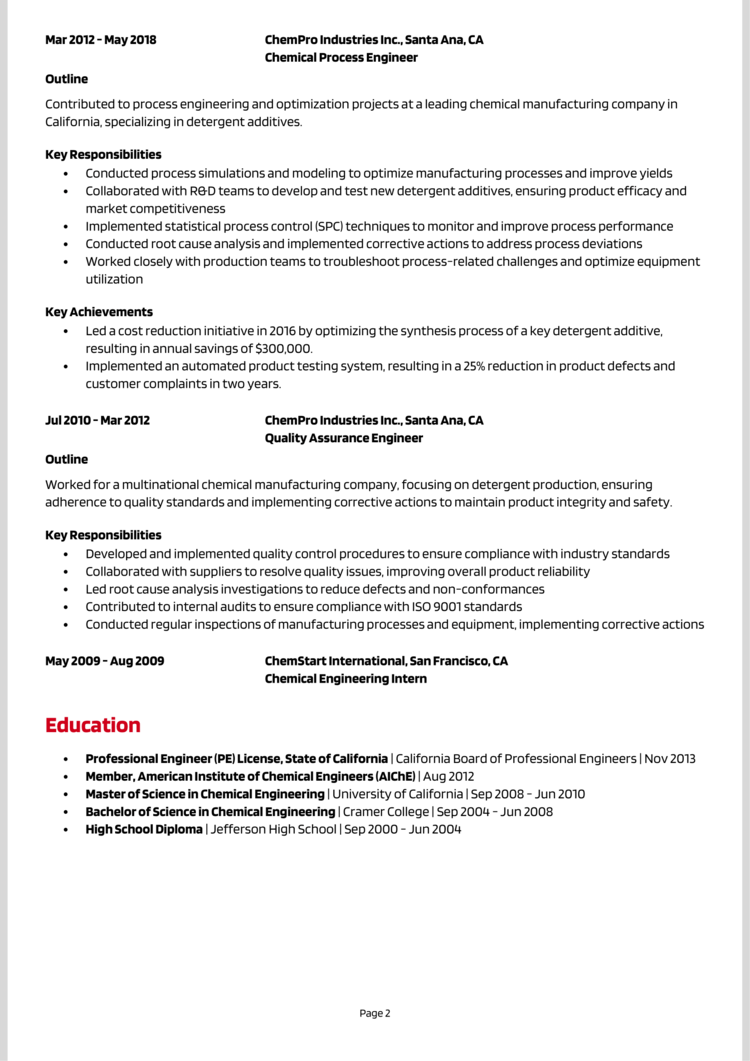 This example Chemical Engineer resume gives you a general idea of how to structure your own resume, along with the type of content you need to include.
Sticking with this resume format will help you to get noticed by employers and ensure that they can quickly see the benefit of hiring you.
Now, lets walk through a step-by-step guide on how to write your own winning resume.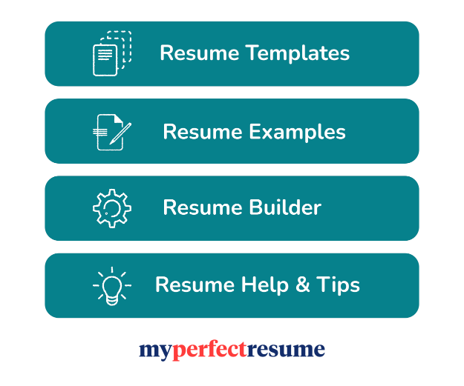 Chemical Engineer resume layout and format
Your resume layout and format will play a big role in helping hiring managers to take notice of your resume and stay glued to it.
Shoot for a simple yet professional look to ensure you make a strong first impression, and organize the page in a way that is easy for readers to digest the information.
The following formatting tips should help.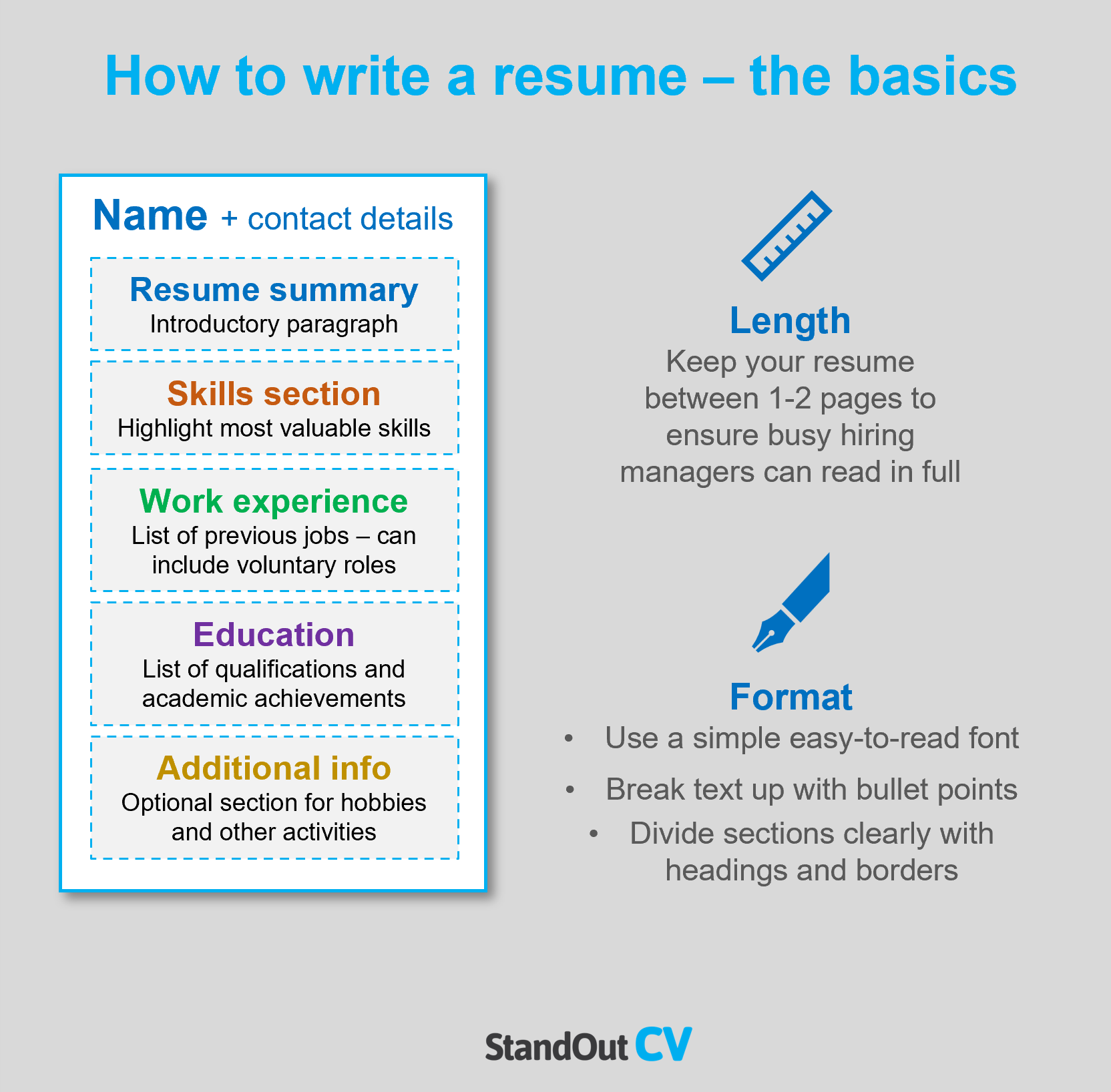 Formatting your resume
Length: To ensure that recruiters will read all of your resume, limit its length to 2 pages – as they someteimes read hundreds of resumes daily.
Font & readability: A readable resume is crucial if you want recruiters to see your important skills. Ensure yours is easy to read by using a simple, clear font and breaking up the text with bullet points and short paragraphs.
Layout & Structure: Your resume's design must strike a balance between aesthetics and functionality. Using bold headings and borders to organize the page into clear sections is an effective way to achieve both.
Photos: You don't have to add a photo to your resume in the States, but some regions and industries like to see them.
Quick tip: Achieving a professional look for your resume can be difficult and time-consuming. If you want to create an attractive resume quickly, try our partner's Resume Builder and use one of their eye-catching resume templates.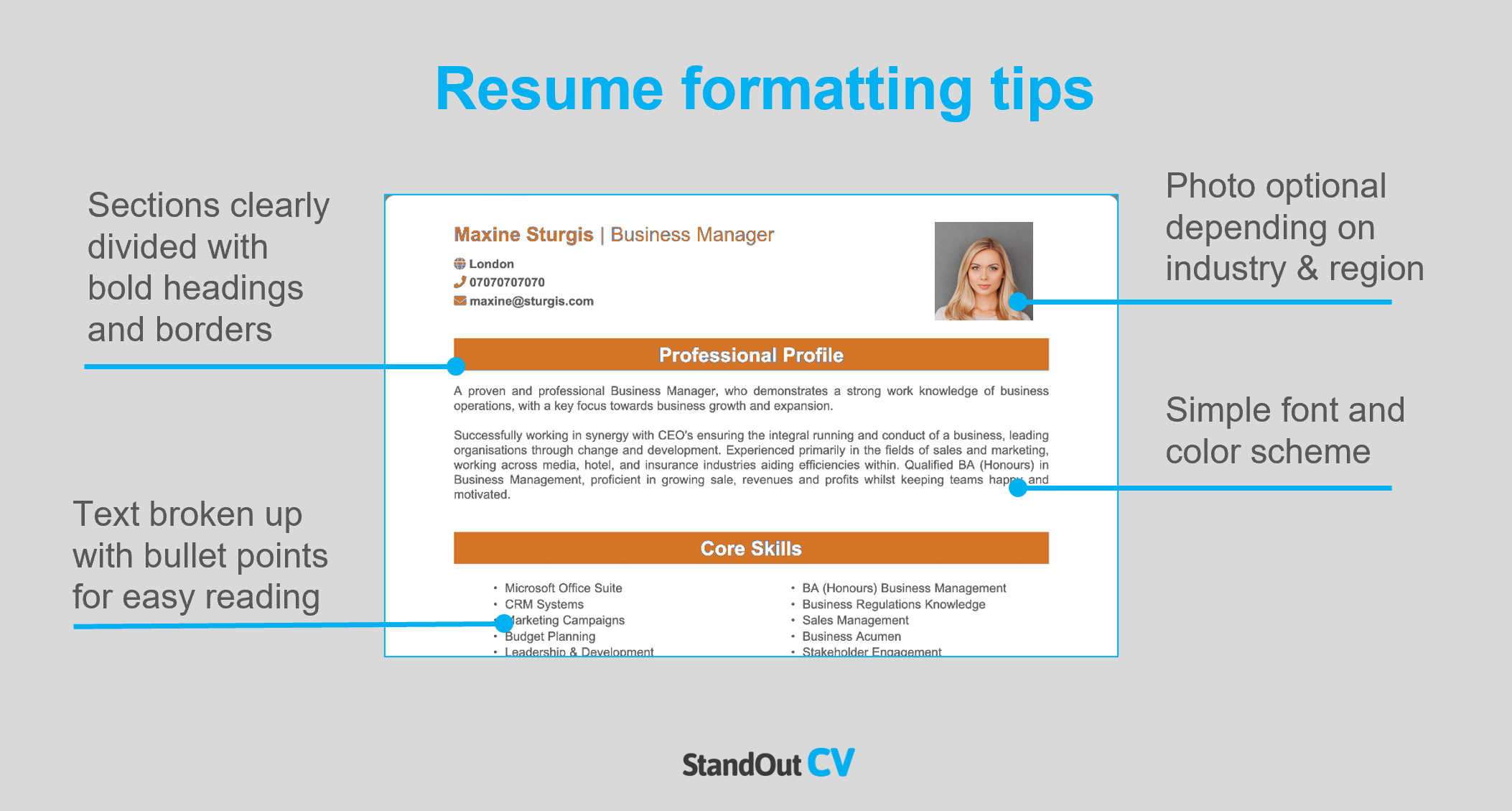 Resume layout
Include the following sections when you write your resume.
Name and contact details – Make it easy for employers to contact you, by putting these at the top.
Resume summary – An intro paragraph sitting at the top of your resume, summarizing the reasons why you should be hired.
Skills section – A short snappy list of your most important skills, that can be quickly digested
Work experience – Reverse chronological list of your previous jobs – voluntary work and college placements can be included if you have no paid experience.
Education – List your qualifications and professional training.
Additional info – An optional section for things like hobbies and interests.
Here's what to include in each part of your resume.
Contact Details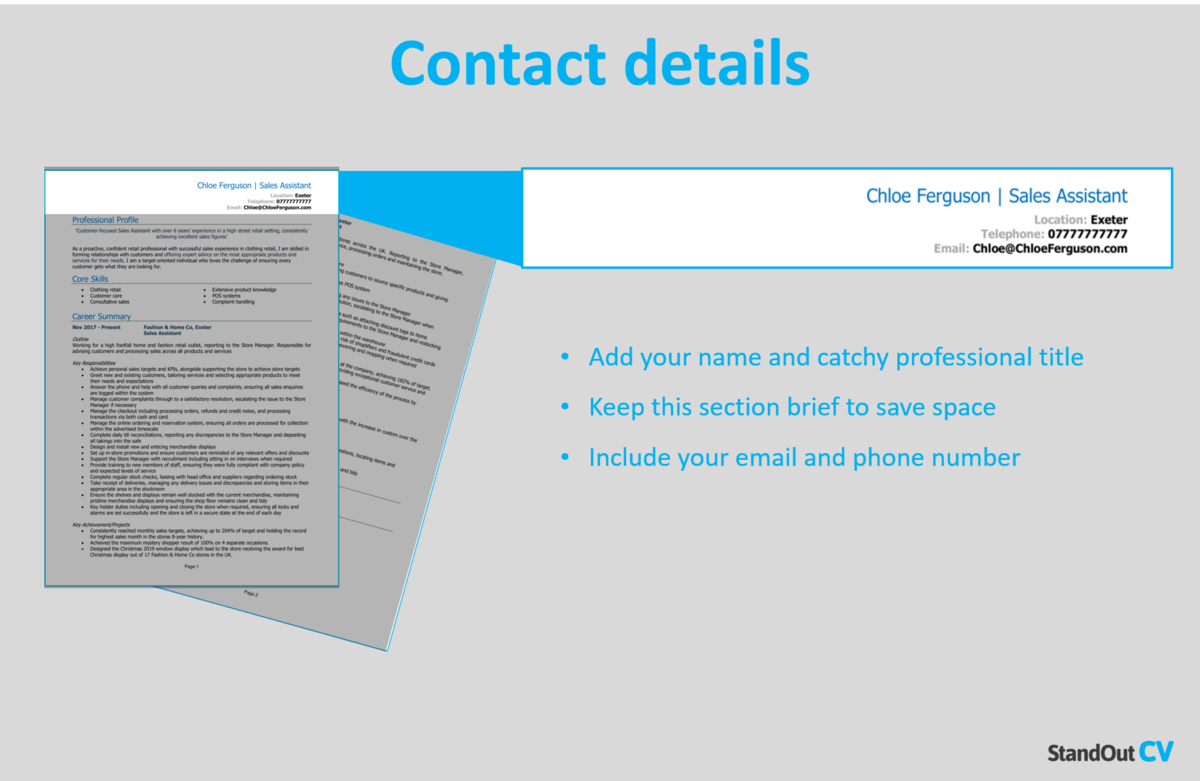 Make it easy for hiring managers to contact you by adding your contact details to the top of your resume.
Keep this section small to save space and include the following.
Name and profession title
Telephone number – Ideally your cell phone so you can answer quickly.
Location – Add your general location such as LA or New York
Email address – Use a professional looking one with no nicknames.
You can add a link to your LinkedIn profile if you have one – you do not need to include personal details like date of birth or marital status.
Chemical Engineer Resume Summary
Create a strong opening for your resume by adding a compelling summary to the top that highlights your most valuable skills and experience.
This short but important paragraph is designed convince recruiters that you're the perfect candidate for the job and entice them to read more of your resume.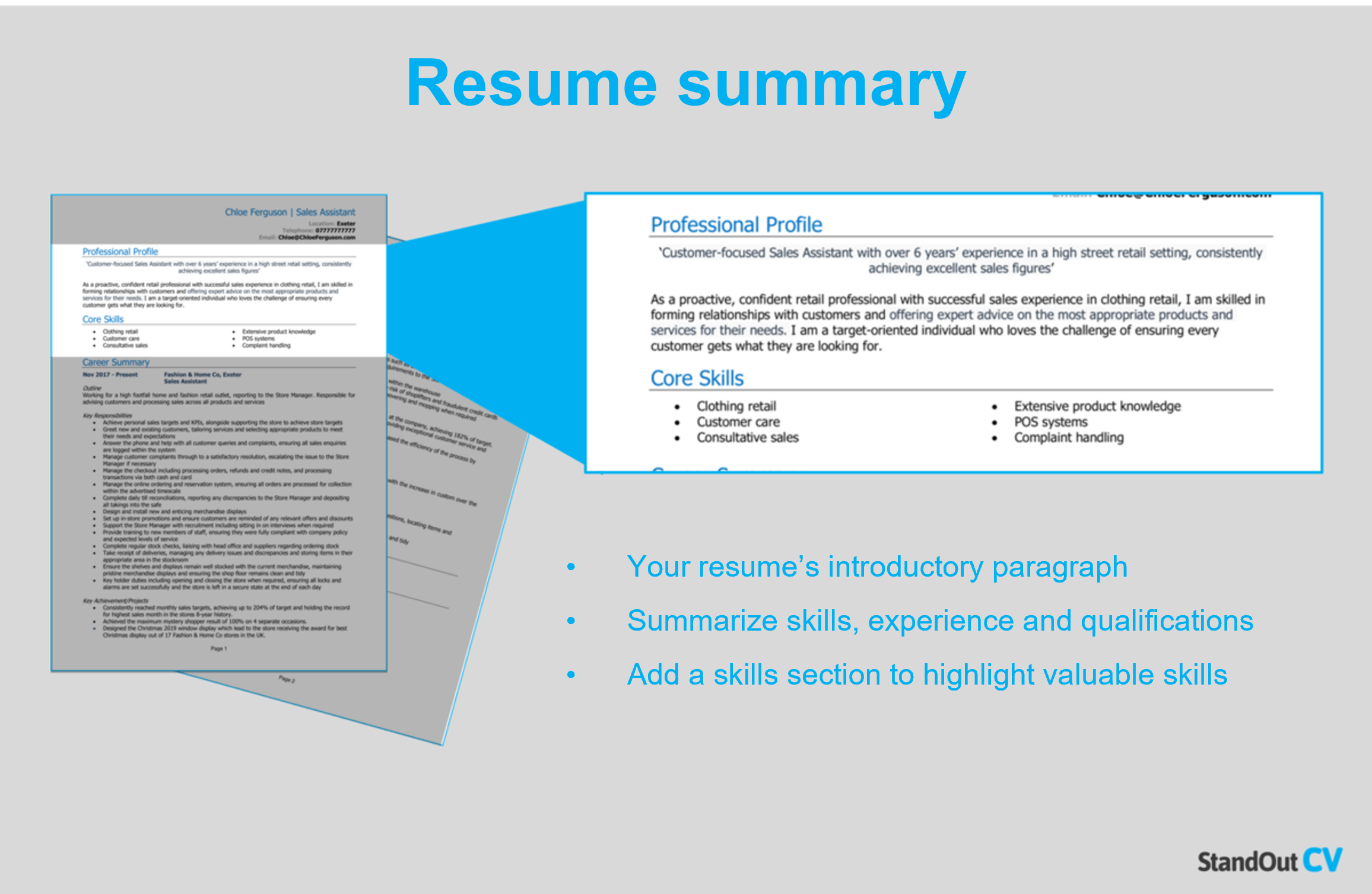 How to create a resume summary that will excite recruiters:
Keep it short: A concise and focused resume summary is essential for capturing a recruiter's attention and keeping them engaged. Limiting your summary to 4-7 lines ensures that you make a strong impression in the first few seconds of them opening the document.
Tailor to target jobs: To make your resume more relevant to your target jobs, analyze the job description and include as many matching skills as possible.
Avoid using cliches: You might be a "highly motivated go-getter who thinks outside the box" but generic meaningless cliches like that don't tell employers much about you – stick to factual information in your summary.
Chemical Engineer resume summary example
Results-driven Chemical Engineer with a strong background in the detergent industry. Demonstrated expertise in process optimization, product development, and quality control. Committed to driving innovation and sustainable practices within the chemical manufacturing sector. Strong analytical skills combined with a detail-oriented approach to problem-solving.
What to include in your Chemical Engineer resume summary?
Summary of your experience: What type of organizations have you worked at? What types of roles have you done and what have you contributed to previous employers?
Relevant skills: Instantly showcase your suitability for Chemical Engineer jobs by including your skills that are highly relevant to them.
Qualifications: To make a strong impression on potential employers when applying for Chemical Engineer jobs, be sure to mention any relevant qualifications in your summary.
Quick tip: Choose from hundreds of pre-written summaries across all industries, and add one to your resume with one-click in our partner's Resume Builder. All written by recruitment experts and easily tailored to suit your unique skillset and style.
Core skills section
Sitting just underneath your resume summary, your core skills section gives recruiters 4-10 of your most in-demand skills in just a glance.
As Chemical Engineer jobs may get hundreds of applications, this is a great way to stand out and quickly grab hiring managers' attention.
It should be made up of 2-3 columns of bullet points and highlight attributes that are hyper-relevant to the jobs you are aiming for.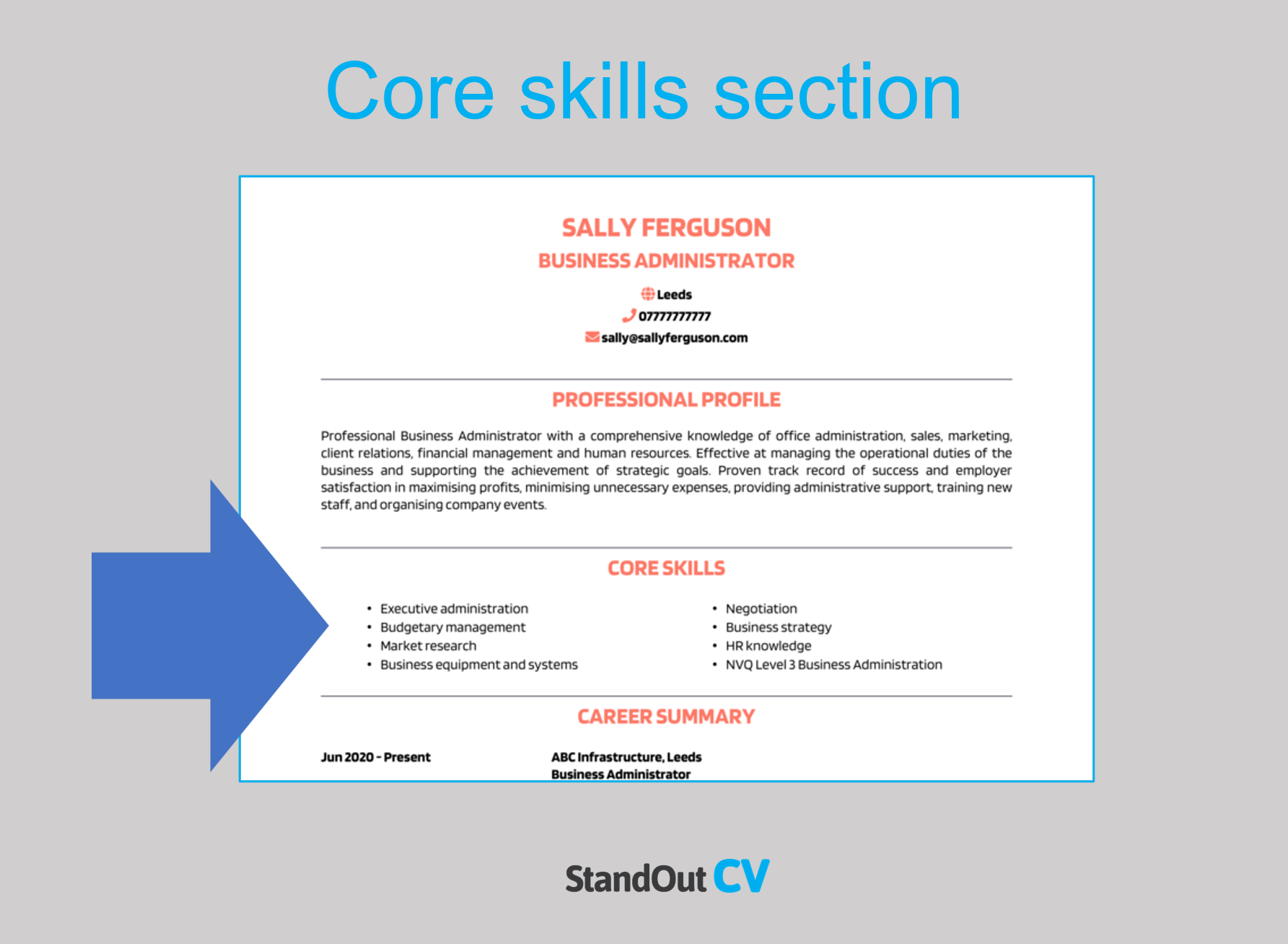 Best skills for your Chemical Engineer resume
Chemical Process Design – Designing and optimizing chemical processes, including selecting equipment, determining operating conditions, and ensuring safety and efficiency.
Process Simulation and Modeling – Utilizing software tools to simulate and model chemical processes, enabling analysis, optimization, and troubleshooting.
Chemical Reaction Engineering – Utilizing knowledge of chemical kinetics and reactor design principles, allowing for the efficient design and operation of chemical reactors.
Process Safety Management – Utilizing knowledge of safety regulations and practices in the chemical industry, ensuring the design and operation of processes that prioritize safety.
Process Control and Optimization – Implementing control strategies and optimizing process variables to ensure stable and efficient operation of chemical processes.
Chemical Separation Techniques – Utilizing various separation methods, such as distillation, extraction, and chromatography, to separate and purify chemical compounds.
Process Troubleshooting – Identifying and resolving issues in chemical processes, employing analytical thinking and problem-solving skills to ensure smooth operation.
Chemical Laboratory Techniques – Utilizing laboratory techniques, such as analysis and testing of chemical samples, ensuring accurate data collection and analysis.
Technical Report Writing – Documenting and presenting technical information, such as research findings, process designs, and safety assessments.
Environmental Regulations and Sustainability – Utilizing knowledge of environmental regulations to incorporate sustainability principles in chemical process design and operation, ensuring compliance and minimizing environmental impact.
Quick tip: Our partner's Resume Builder contains thousands of in-demand skills for every profession that can be added to your resume in seconds – saving you time and greatly improving your chances of landing job interviews and getting hired.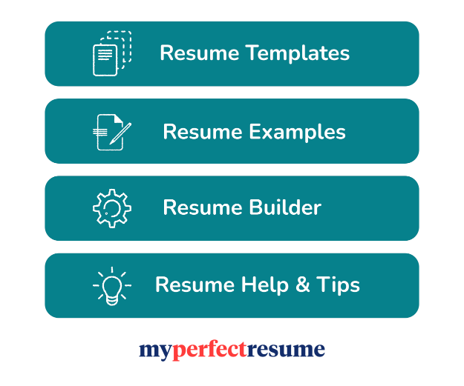 Work experience
So, you've grabbed the recruiters' attention with your summary, now it's time to show them what you're really capable of in your work experience section.
List your previous jobs from current to oldest, showing off the impact you made at each organization.
If you have tons of experience, you should just list the most recent an relevant jobs – but if you have little or no experience, add it all and even consider putting in voluntary work.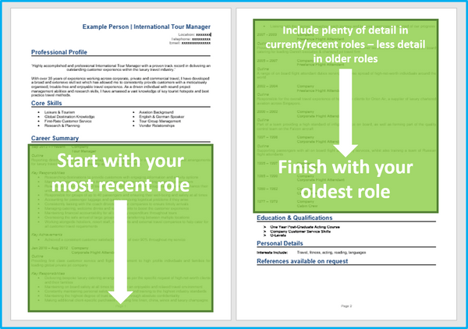 Structuring your jobs
It's easy to overwhelm readers when writing about a job you have been doing for years or even months.
Break the information up like this to keep it simple for recruiters to understand.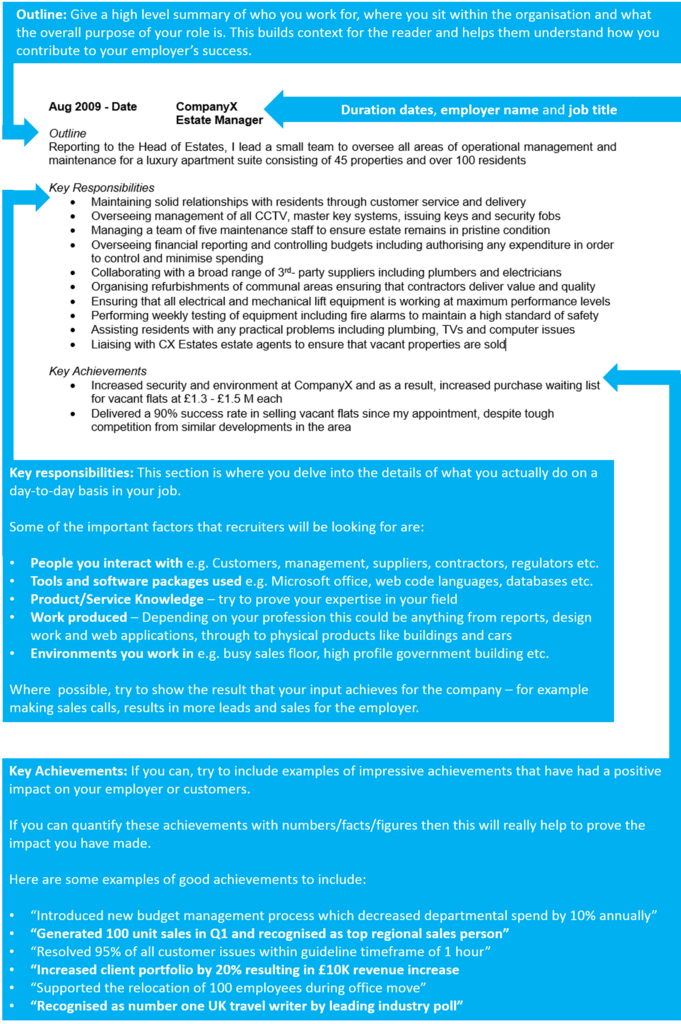 Job outline
Each role description should begin with a qucik summary of the job and company, along with how the job fits into the strucuture of the organization.
Key responsibilities
The bulk of the role description should be comprised of bullet points that explain all of your duties in the job.
Keep the sentences short and simple to make them easy for recruiters to digest.
Key achievements
Round off each job by adding some impressive achievements you made in the role.
Anything you've done that has made a big impact on your employer will make a good impression, think; generating revenue, saving costs, or improving a product.
Quantify your achievements with number where possible e.g. "reduced call wait time by 10%"
Example job for Chemical Engineer resume
Outline
Lead engineer responsible for process optimization, product development, and quality control in a leading detergent manufacturing company. Collaborate with cross-functional teams to improve operational efficiency, ensure regulatory compliance, and drive continuous improvement.
Key Responsibilities
Identify and implement process optimization strategies to increase efficiency and minimize costs
Lead product development initiatives, conducting research, formulating new detergent formulations, and overseeing pilot-scale testing
Implement quality control procedures and perform rigorous testing to ensure safety and consistency
Conduct data analysis to identify trends, troubleshoot issues, and drive process improvements
Quick tip: Create impressive job descriptions easily in our partner's Resume Builder by adding pre-written job phrases for every industry and career stage.

Education section
Towards the bottom of your resume, add your education section.
Here you should list your professional qualifications and academic record, such as high school diplomas or college degrees.
If you have lots of work experience, you can keep this section brief (because recruiters will be more interested in your career. If you have little/no experience then you should bulk this section up with plenty of detail.
Additional information
The bottom of your resume is a place to add any "additional info"
Any other info that didn't fall into any of the previous sections can be added here.
If you have hobbies that are related to your profession or any awards or publications – add them here.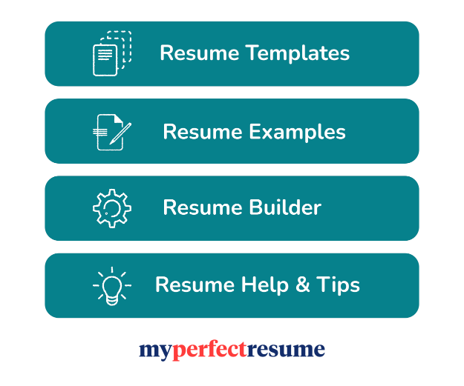 Writing your own winning Chemical Engineer resume
Following the steps in this guide will help you to create a winning Chemical Engineer resume and bag lots of interviews.
Good luck with your job search!