Being a charge nurse is an important and varied role, one that requires you to help others and manage entire teams. You basically have to be a superhero!
But how do you showcase these superpowers on just one bit of paper?
As a nurse, you're always taking care of others, so let us take care of you for a change. To help you boost your application and secure an interview, we've created a charge nurse resume example and writing guide below.
Contents
| | |
| --- | --- |
| How to write a Charge Nurse resume | |

Charge Nurse Resume Example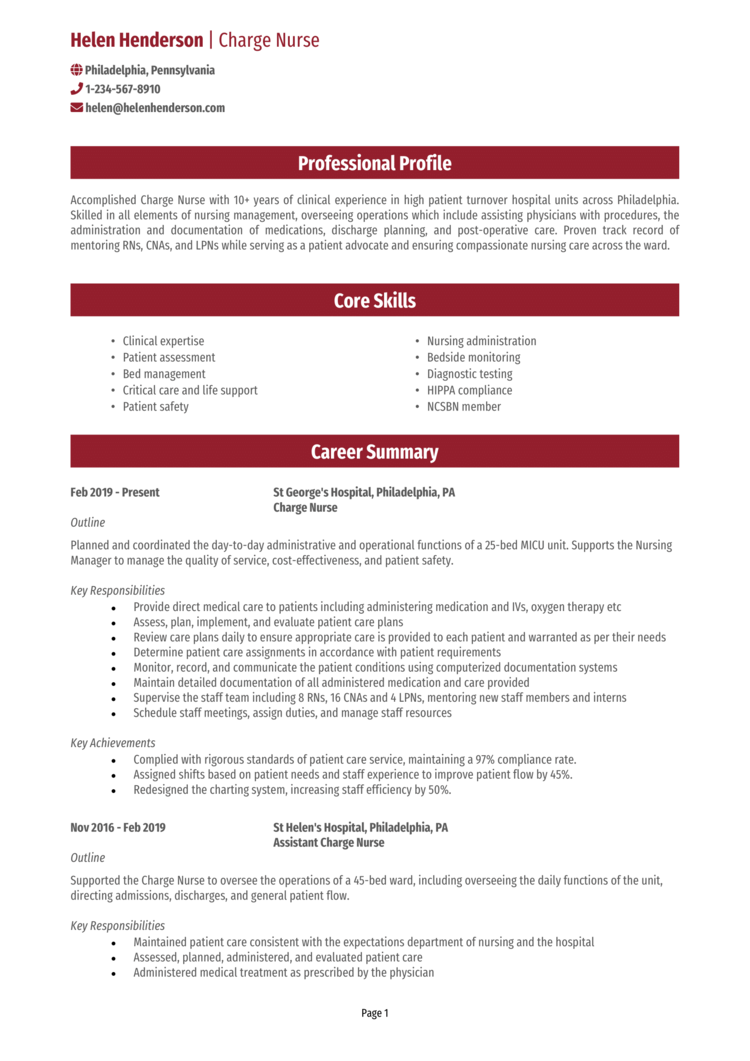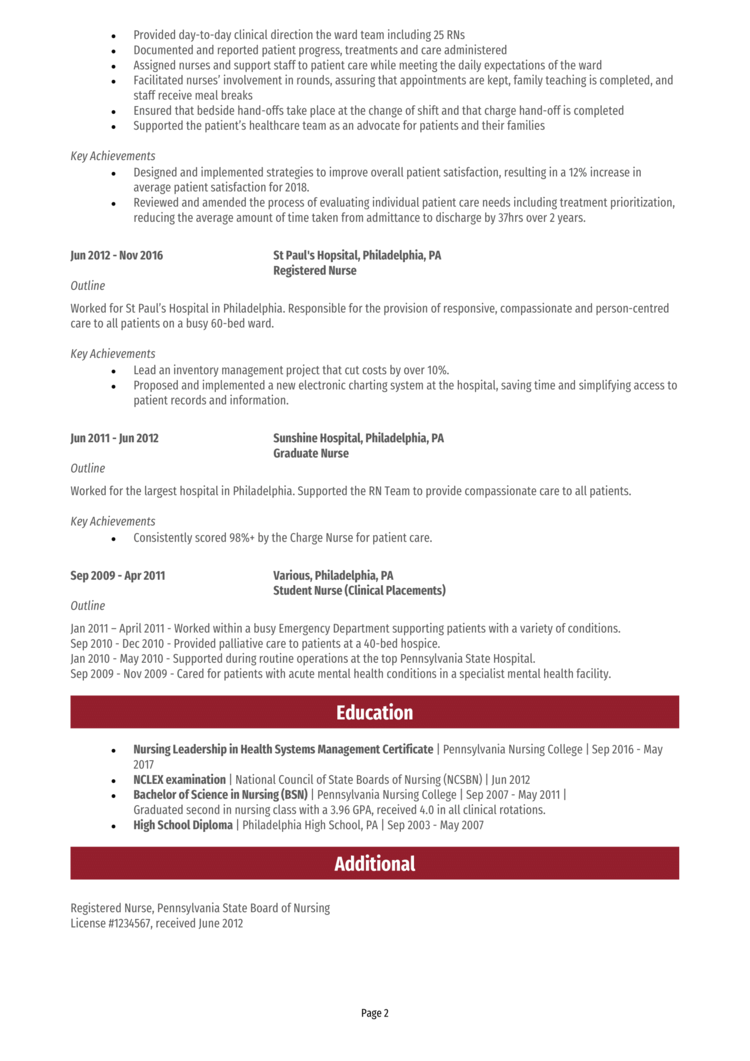 The example Charge Nurse resume above shows you how a professional resume should look, along with the type of content it should contain.
You'll notice that the information is well organized across the page, and its easy for busy hiring managers to spot the candidate's important skills.
Keep this in mind as you write your own resume.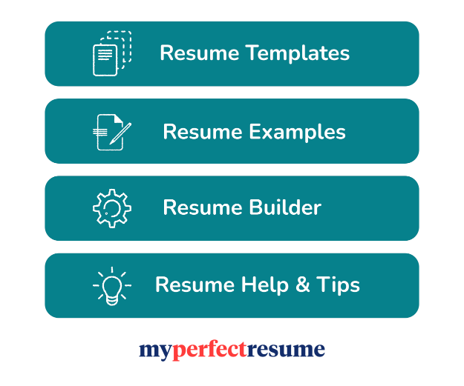 Charge Nurse resume layout and format
Your resume layout and format will play a big role in helping hiring managers to take notice of your resume and stay glued to it.
Shoot for a simple yet professional look to ensure you make a strong first impression, and organize the page in a way that is easy for readers to digest the information.
The following formatting tips should help.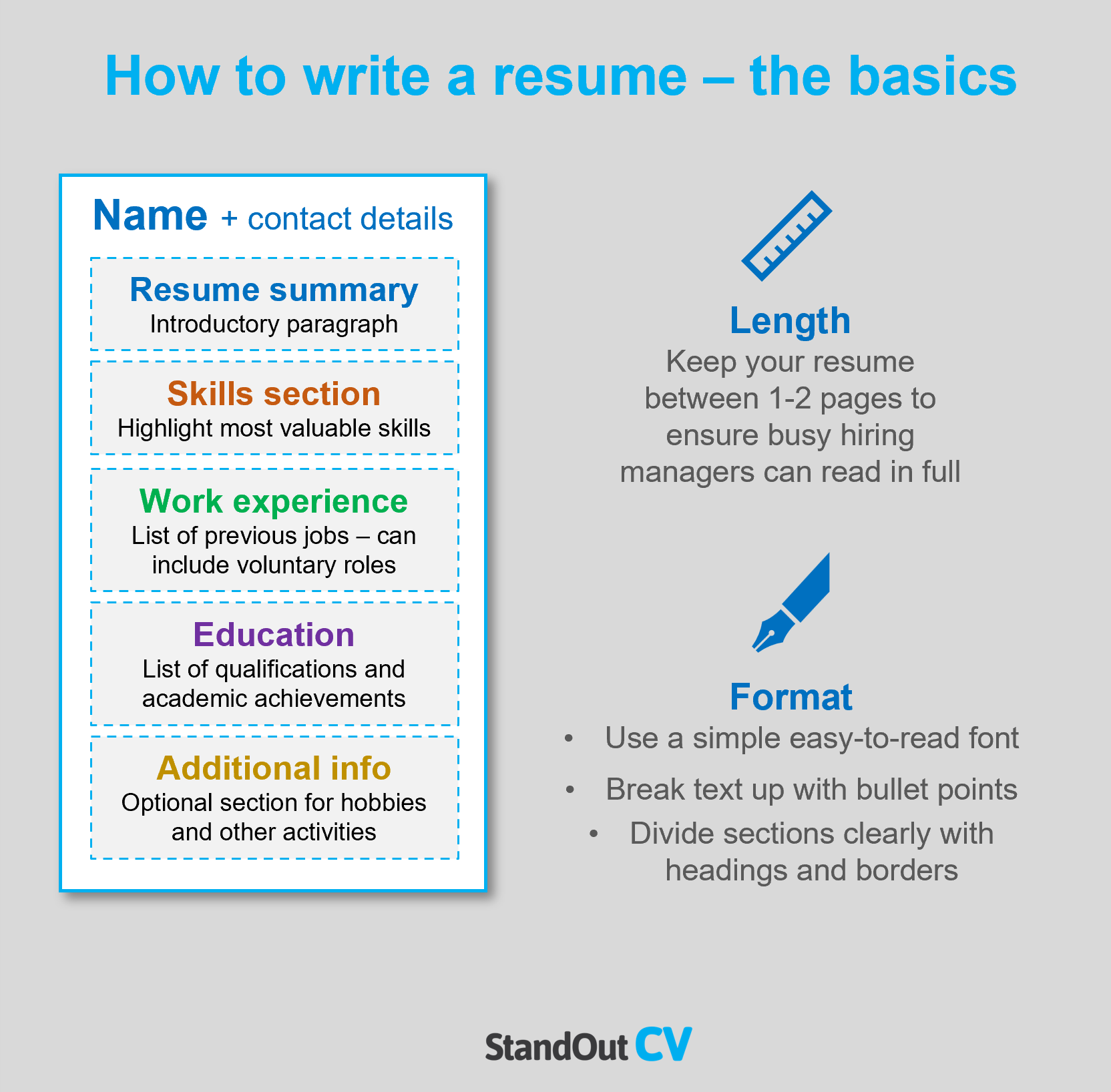 Tips for resume formatting
Length: Keep your resume to 2 pages or under. You've probably heard that recruiters and hiring managers don't have lots of time to read every resume, so keep yours brief if you want to ensure that they read all of the important info in yours.
Font and text: Nobody likes to read huge unbroken paragraphs of text – and recruiters are no different. Break your resume text up with bullet points and use a clear simple font.
Design & structure: Hiring managers should be able to skim through your resume easily and pinpoint the information they want quickly. To help them do this, organize the page into clear sections with bold headings and dividing borders. The design should be clutter-free and professional-looking, with a calm color scheme.
Photos and images: It's not mandatory to add a photo to your resume in the USA but it if you're applying to organizations within the creative fields, it can be beneficial.
Quick tip: Formatting a resume to look professional can be difficult and time-consuming. If you want to create an attractive resume quickly, try our partner's Resume Builder and use one of their eye-catching resume templates.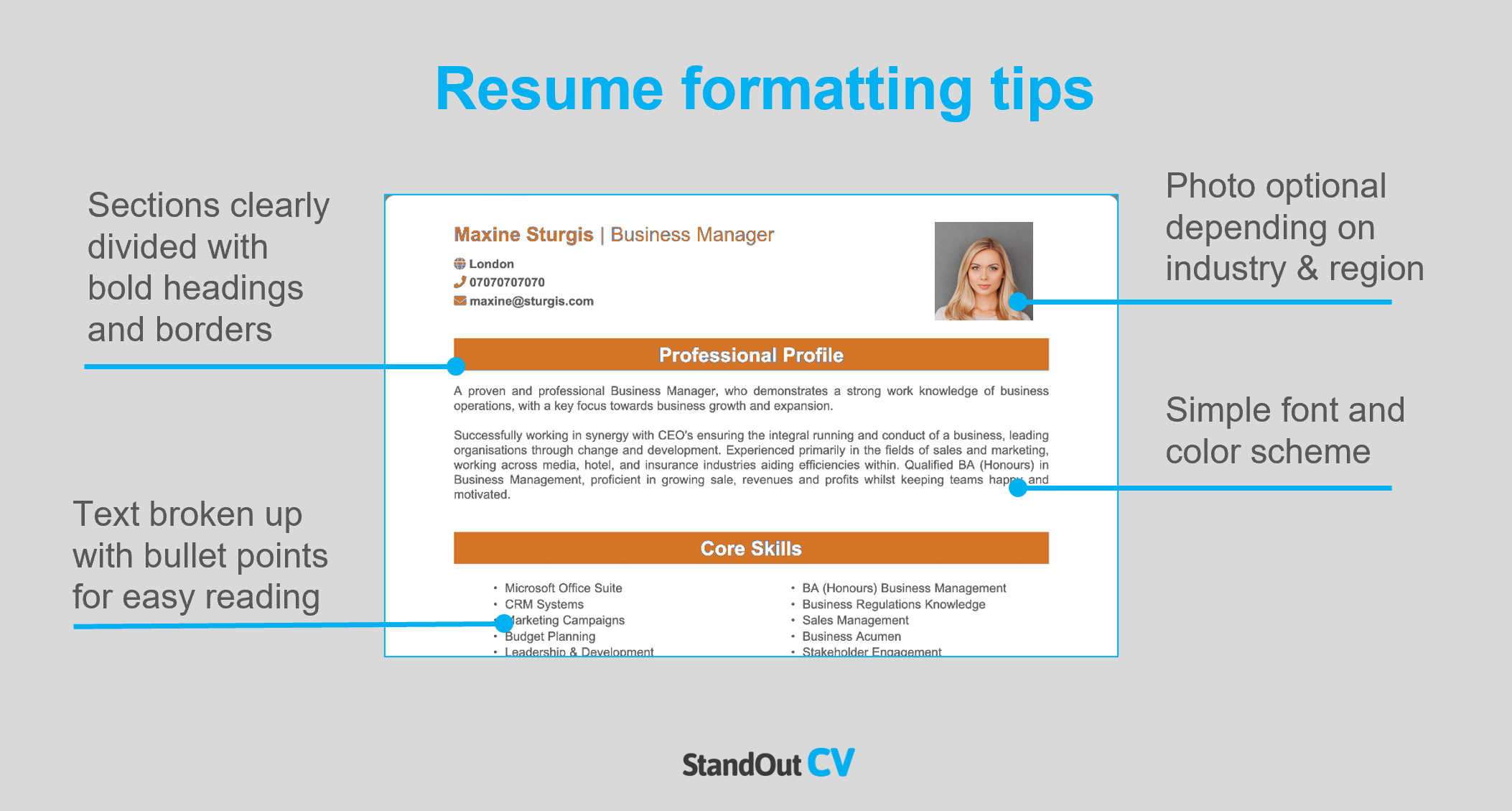 Resume layout
Organize the document into these sections when you write your resume.
Name and contact details – Employers need to know how to get in touch with you – so list your email and cell phone number here.
Resume summary – An intro paragraph at the top of the resume which summarizes your suitability for target jobs.
Skills section – A bullet-pointed list of your most relevant skills and knowledge.
Work experience – A list of your previous jobs (or at least the most relevant and recent ones)
Education – Add academic and professional qualifications that prove you can carry out the job
Additional info – If they are relevant to the jobs you are applying for, you can add an extra section for things like hobbies and interests.
Now, here's what to include in each of these sections in your resume.
Resume Contact Details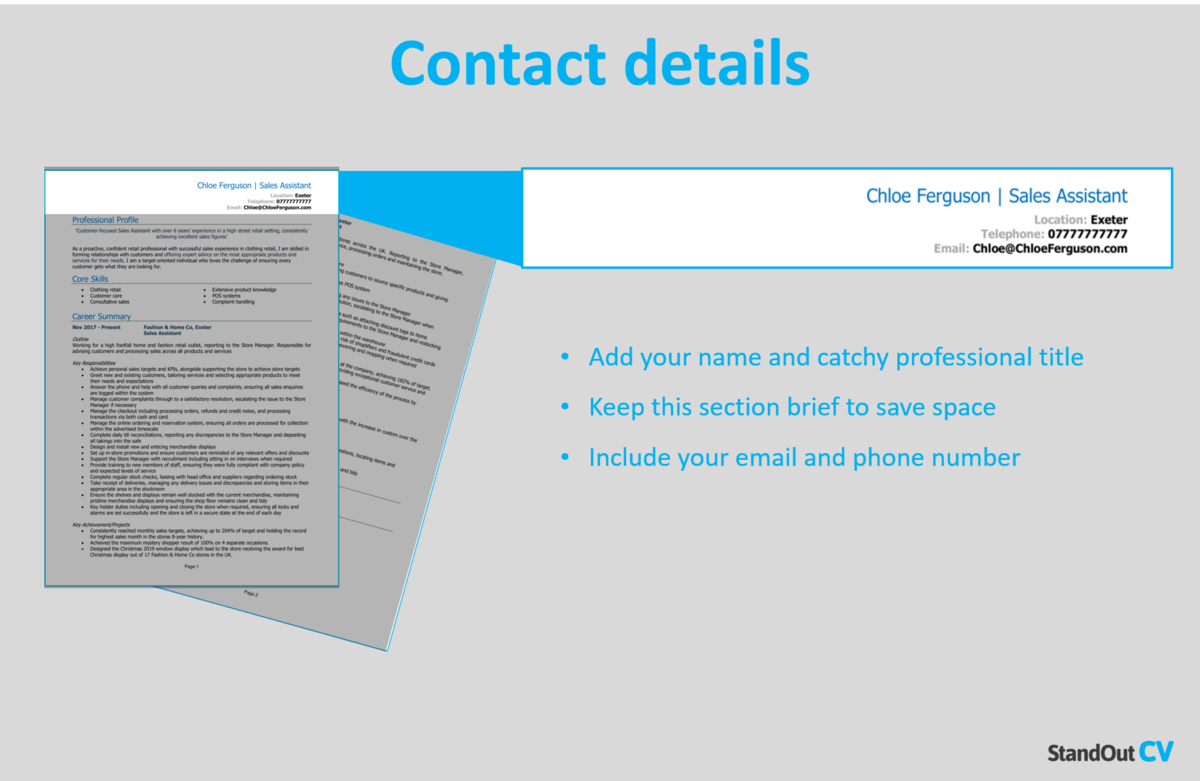 Add your name and contact details to the very top of your resume, making it easy for recruiters to get in touch
Name and profession title
Cell phone number – or another number you can answer quickly
Location – Add your local area such as San Diego or New York – not your full address as that will take up too much space.
Email address – Use your name or close variation – no nicknames from high school.
You can add a link to your LinkedIn profile if you have one – you do not need to include personal details like date of birth or marital status.
Charge Nurse Resume Summary
Start your resume with a bang by adding a powerful summary to the top, summarizing your most valuable skills and experience.
This short paragraph is your chance to show recruiters why you are a perfect fit for the job and encourage them to read more of your resume.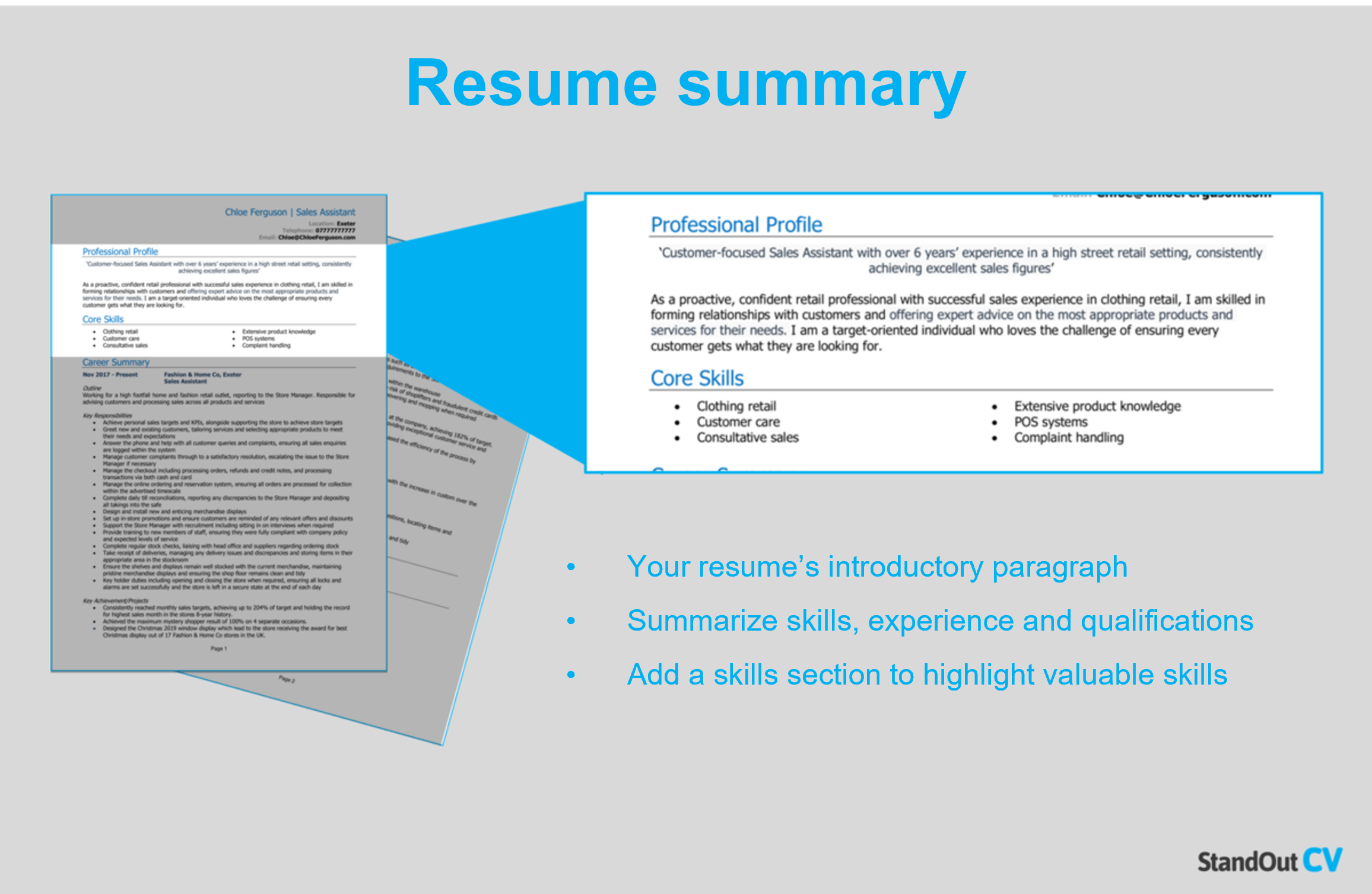 Top tips for creating an effective resume summary:
Keep it brief: You only have a few seconds to grab a recruiters' attention and make them commit to your resume, so keep your summary between 4 – 7 lines.
Tailor it: Optimize your summary to match the requirements of your target jobs, by mirroring the key words from the job description as closely as possible.
Avoid cliches: You might be a "highly motivated go-getter who thinks outside the box" but generic meaningless cliches like that don't tell employers much about you – stick to factual information in your summary.
Example resume summary for Charge Nurse
Accomplished Charge Nurse with 10+ years of clinical experience in high patient turnover hospital units across Philadelphia. Skilled in all elements of nursing management, overseeing operations which include assisting physicians with procedures, the administration and documentation of medications, discharge planning, and post-operative care. Proven track record of mentoring RNs, CNAs, and LPNs while serving as a patient advocate and ensuring compassionate nursing care across the ward.
What to include in your Charge Nurse resume summary?
Summary of your experience: What kind of companies have you worked for in the past? And which jobs have you carried out?
Relevant skills: Include your skills which are hyper relevant to Charge Nurse jobs to instantly show your suitability.
Important qualifications: Any qualifications that are important to the Charge Nurse jobs you are applying for, should be mentioned in the summary.
Quick tip: Choose from hundreds of pre-written summaries across all industries, and add one to your resume with one click in our partner's Resume Builder. All written by our recruitment experts and easily tailored to suit your unique skillset.
Core skills section
In addition to your resume summary, your core skills section provides an easily digestible snapshot of your skills – perfect for grabbing the attention of busy hiring managers.
As Charge Nurse jobs might receive a huge pile of applications, this is a great way to stand out and show off your suitability for the role.
It should be made up of 2-3 columns of bullet points and be made up of skills that are highly relevant to the jobs you are targeting.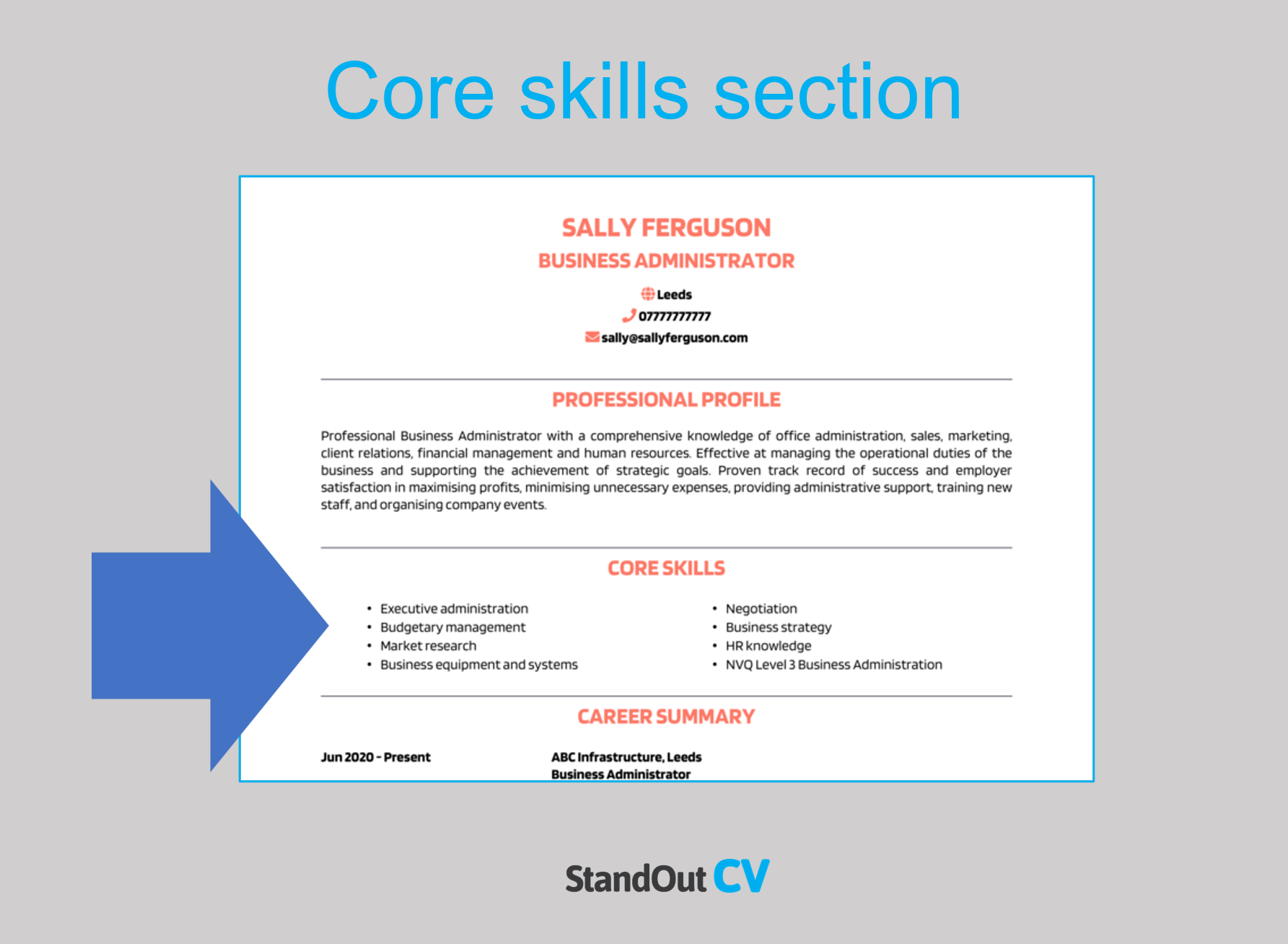 Best skills for your Charge Nurse resume
Nursing administration – supervising nurses and other health care team members to ensure the ward runs effectively and efficiently.
Patient assessment – gathering subjective and objective data, family history, surgical history, medical history, medication history and psychosocial history to identify the patient's needs and create an appropriate care plan.
Bedside monitoring – monitoring a patient's core functions including heart rate, respiratory rate, blood pressure and temperature.
Diagnostic testing – completing a variety of required tests and procedures to provide a diagnosis for a condition, disease or syndrome.
Critical care and life support – providing the utmost care to those patients who are critically ill or unstable following extensive injury, surgery or life-threatening diseases.
Quick tip: Our partner's Resume Builder contains thousands of in-demand skills for every profession that can be added to your resume in seconds – saving you time and greatly improving your chances of landing job interviews.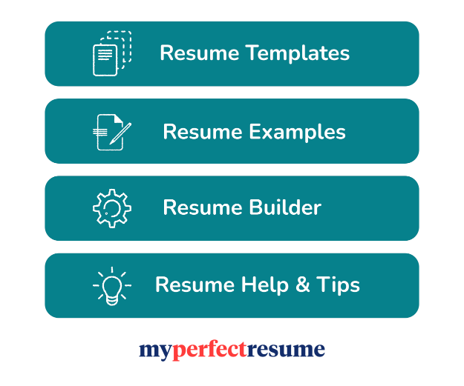 Resume work experience section
So, you've got the recruiter interested with your catchy summary… Great work.
Now it's time to show them the impact you make in the workplace by listing out your previous jobs and what you achieved in each one.
If you have tons of experience, you can condense this part down to the last few years – if you are junior, then you should include as much possible (even volunteering and school work placements)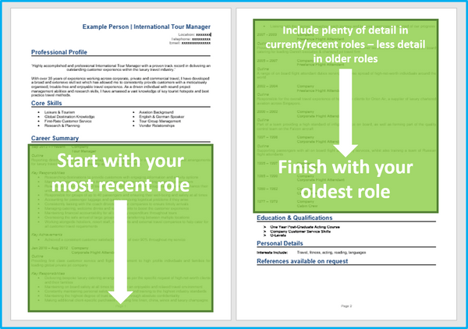 Structuring your job descriptions
Without a good structure, your job description can look messy and overwhelming to anyone reading them.
Make it easy for recruiters to read your work experience by structuring your roles like this.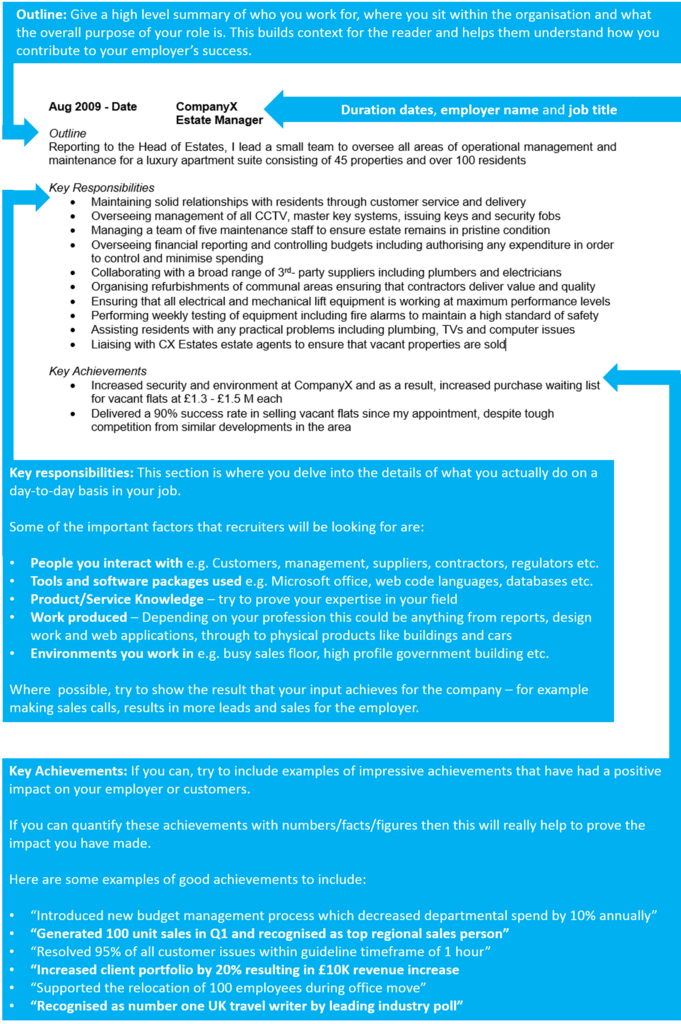 Job outline
Start with a 1-2 sentence outline of the role, summarizing what the goal of your position was, who you reported to (or managed) and the type of organization you worked for.
Key responsibilities
Next, write up a punchy list of your daily duties and responsibilities, using short bullet points.
Describe how you apply your skills and contribute to the running of the employer's business – highlighting skills which are applicable to your target jobs.
Key achievements
Finish each role by highlighting some impressive achievements you made whilst in the role.
Anything that benefited the employer can be included from making financial savings, to winning new customers.
Quantify your achievements with facts and figures if you can, e.g. "reduced call wait time by 10%"
Example job for Charge Nurse resume
Outline
Planned and coordinated the day-to-day administrative and operational functions of a 25-bed MICU unit. Supports the Nursing Manager to manage the quality of service, cost-effectiveness, and patient safety.
Key Responsibilities
Provide direct medical care to patients including administering medication and IVs, oxygen therapy etc
Assess, plan, implement, and evaluate patient care plans
Review care plans daily to ensure appropriate care is provided to each patient and warranted as per their needs
Determine patient care assignments in accordance with patient requirements
Quick tip: Create impressive job descriptions easily in our partner's Resume Builder by adding pre-written job phrases for every industry and career stage.

Education resume section
Nearing the end of your resume, your education/qualifications section should be added.
In a well-structured list, add all of your qualifications and certifications that qualify you to perform a typical Charge Nurse role.
If you have plenty of work experience, keep this section brief – if not, add lots of detail to make up for your lack of experience.
Additional info for your resume
The additional info section is optional but can be useful if you have anything else to add that could benefit your application.
For example ,you may have some hobbies and interests that are relevant to your job – or you might have awards or publications to shout about.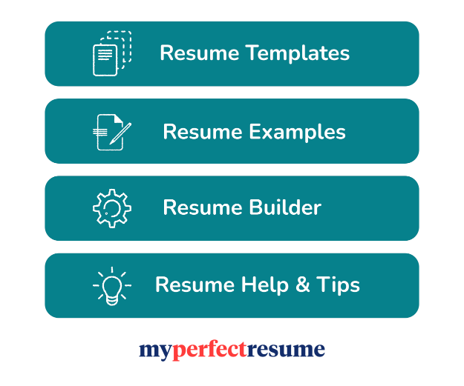 Writing your Charge Nurse resume
A winning Charge Nurse resume should look great, read well, and sell your skillset to hiring managers.
If you follow the steps above, you should be able to bag yourself a top job in no time.
And don't forget you can use our partner's Resume Builder if you want to save time and ensure your resume contains the very best content.
Good luck with your job search!