You love basketball and you want to turn your passion into a career, but in this competitive industry, you need to do all you can to stand out from the crowd.
To do this, you need to make sure your resume is a slam dunk with hiring managers. But if you're not sure how to get started, this guide is for you.
Get inspired with our basketball player resume example below, along with all our top tips for writing a standout application.
Contents
| | |
| --- | --- |
| How to write a Basketball resume | |

Basketball Resume Example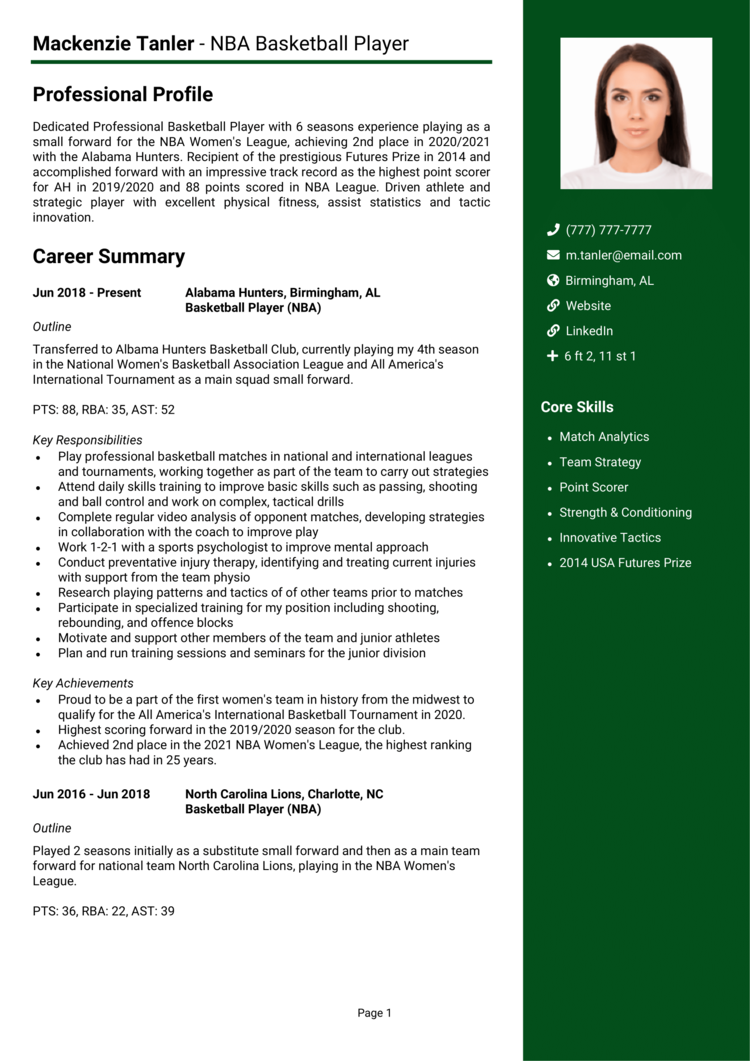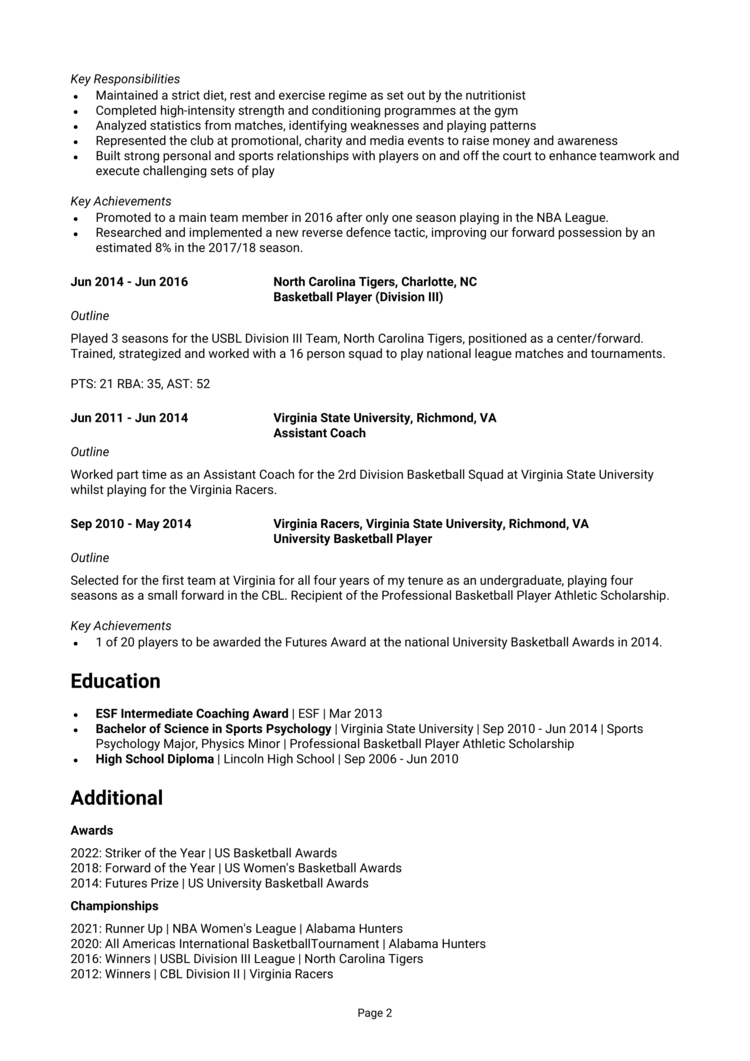 This Basketball Player resume example shows you the most effective layout for a resume in today's job market, along with the type of content you need to include.
Stick closely to these guidelines as you write your own resume, to boost your chances of getting lots of responses, interviews and job offers.
Now lets dive into the details of how you write your own eye-catching resume…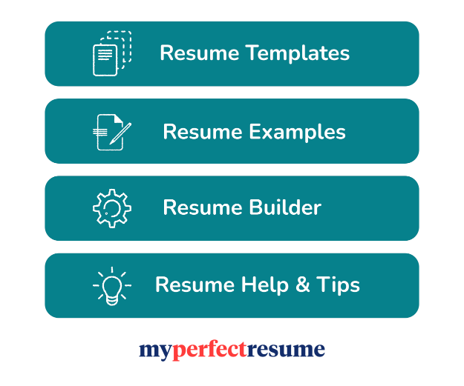 Basketball resume layout and format
The format and layout of your resume can make or break its success.
Sure, it's great to pack your resume with lots of impressive skills and knowledge, but if the page is not structured clearly, hiring managers will struggle to find the important stuff!
Above all, your resume should be easy-to-read and professional looking.
Follow these formatting tips to get noticed.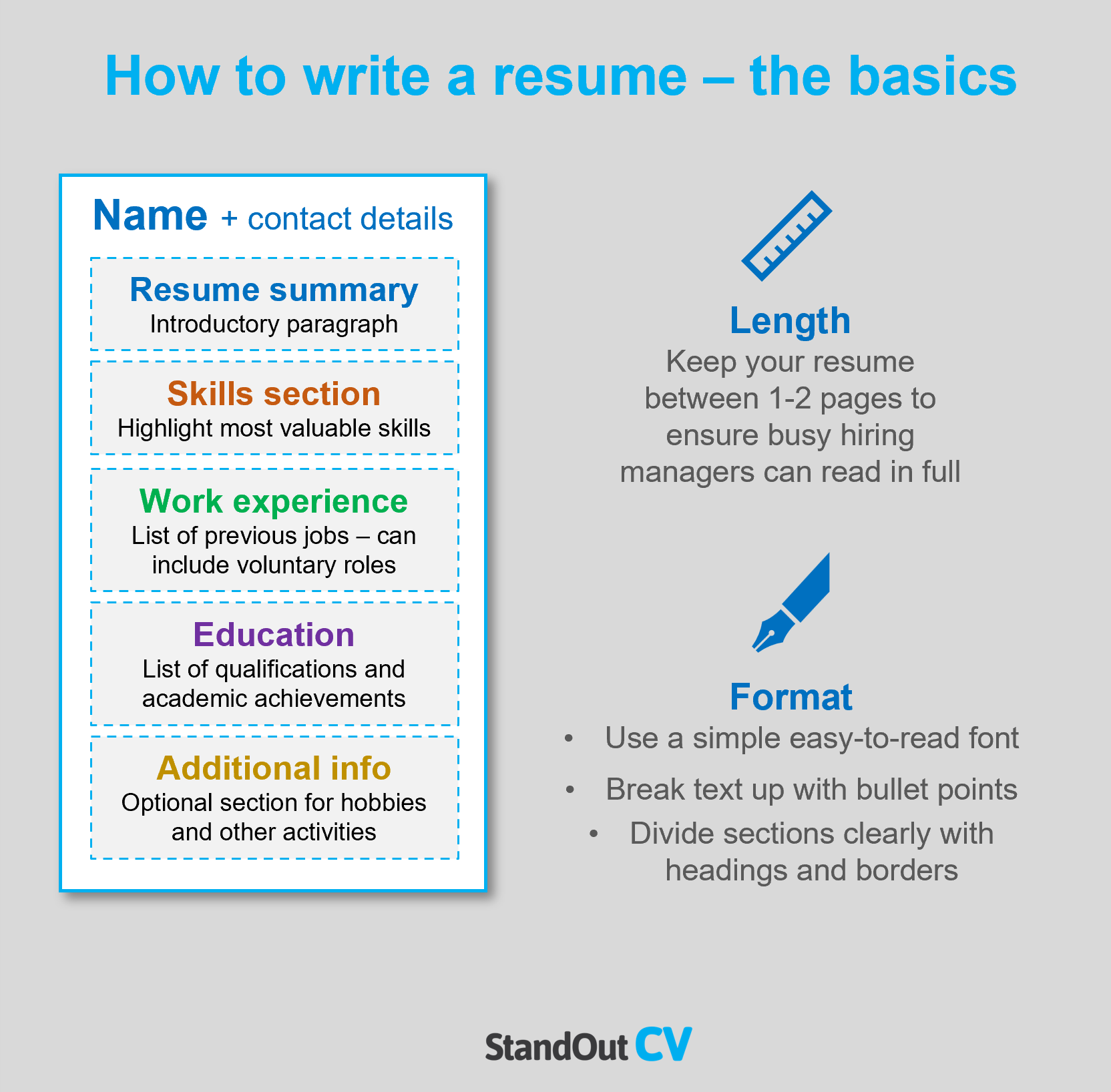 Formatting your resume
Length: To ensure that recruiters will read all of your resume, limit its length to 2 pages – as they someteimes read hundreds of resumes daily.
Font & readability: A readable resume is crucial if you want recruiters to see your important skills. Ensure yours is easy to read by using a simple, clear font and breaking up the text with bullet points and short paragraphs.
Layout & Structure: Allow recruiters to skim through your resume with ease, by dividing the page into clear sections with headings and borders. The design of your resume should be eye-catching but not overly complex – keep the style and color scheme simple and clean.
Photos: While a photo is not usually necessary on your resume in the United States, it may be beneficial to include one in regions and industries where it is customary.
Quick tip: Achieving a professional look for your resume can be difficult and time-consuming. If you want to create an attractive resume quickly, try our partner's Resume Builder and use one of their eye-catching resume templates.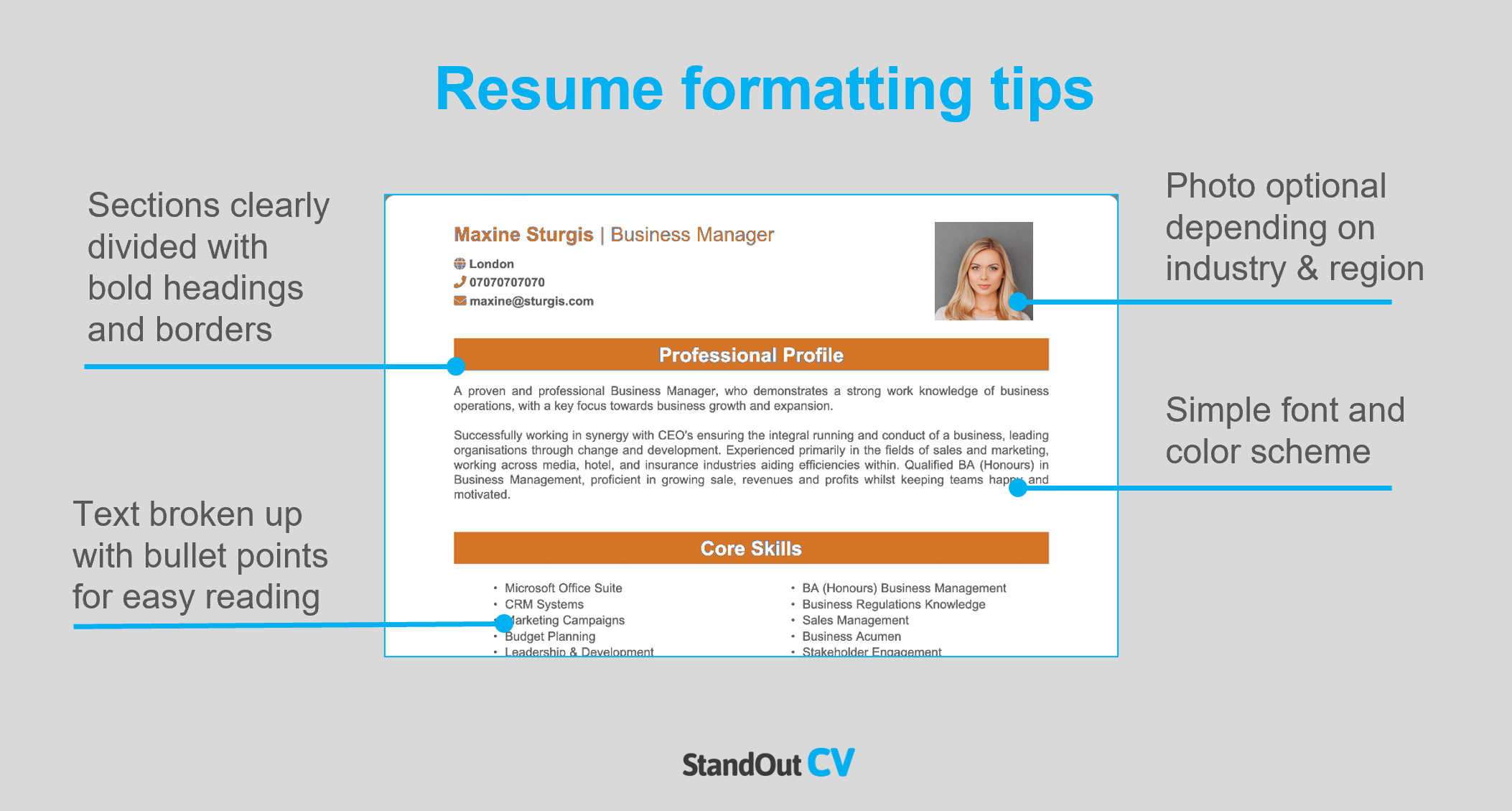 Resume layout
Here's an overview of the sections you should add when writing your resume.
Name and contact details – Stick these details at the top, so they are easy to find.
Resume summary – A punchy paragraph summarizing your skills and knowledge, enticing recruiters to read more of your resume.
Skills section – Short list of your most valuable skills, enabling recruiters to quickly spot your suitability.
Work experience – Showcase your previous employment, starting with your most recent roe and working backwards – voluntary work and college placements can be included if you have no paid experience.
Education – A summary of your most relevant qualifications and academic achievements
Additional info – An optional section for that other attributes that may boost your application, such as hobbies or clubs
Here's what to include in each part of your resume.
Contact Details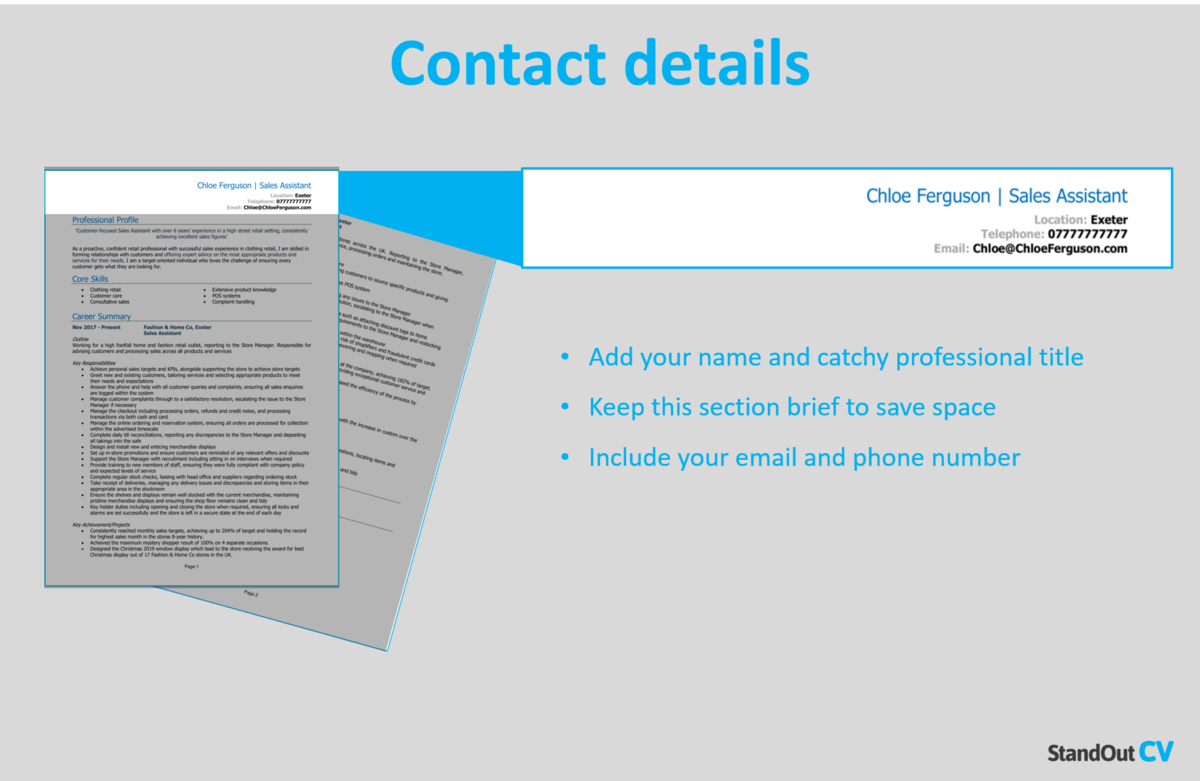 Keep your contact details short to save resume space and include the following.
Name and profession title
Cell phone number
Location – Add your local area such as Silicon Valley or New York, unless you are looking for work in a different location
Email address – Keep it professional and don't use an old address that you thought was cool in high school, but now looks a bit embarrassing.
You can add a link to your LinkedIn profile if you have one – you do not need to include personal details like date of birth or marital status.
Basketball Resume Summary
Grab the attention of recruiters right away by including a compelling summary at the top of your resume that summarizes your most valuable skills and experience.
This brief yet impactful section enables you to demonstrate why you're the best candidate for the job and convince recruiters to keep reading.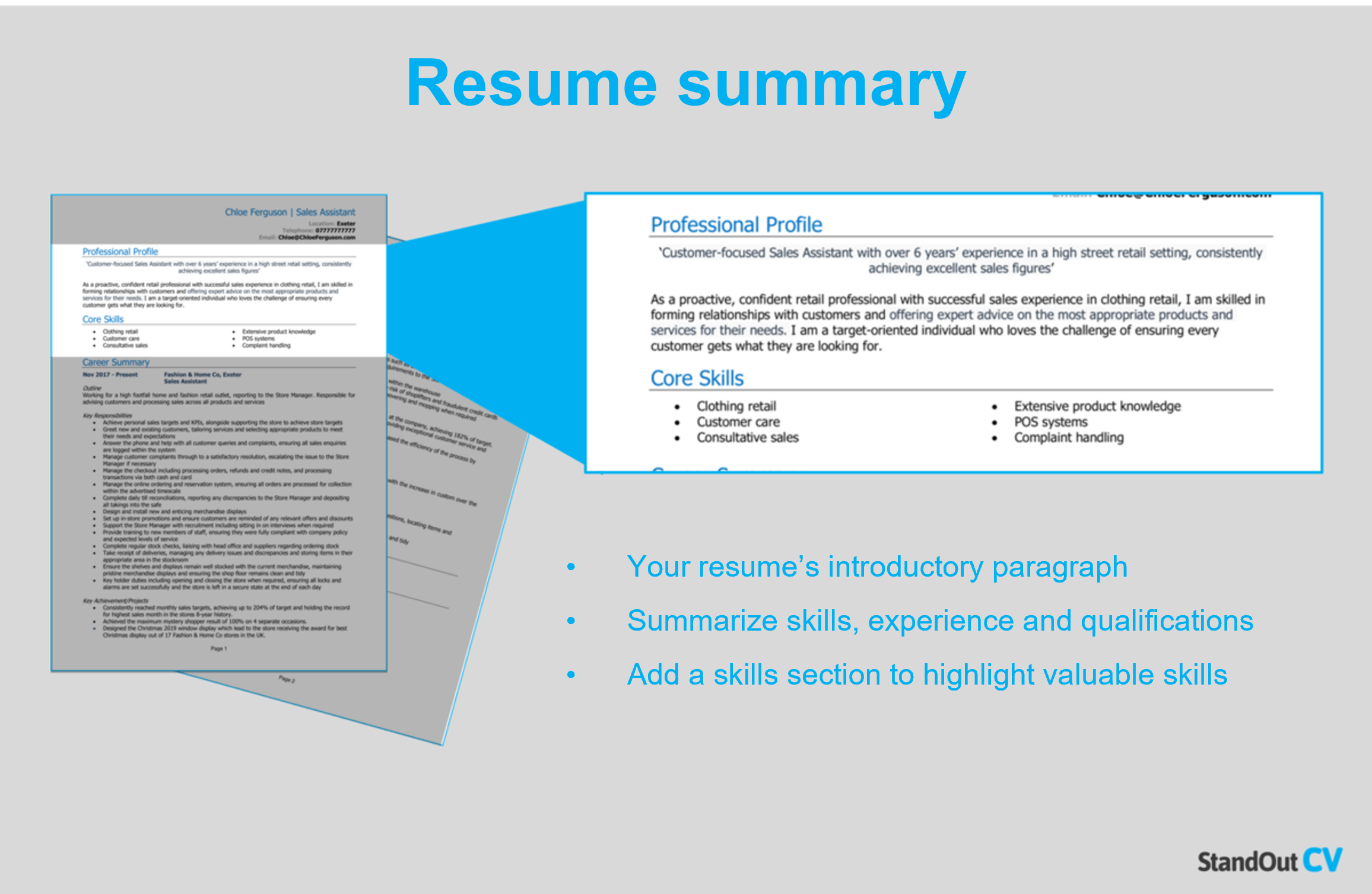 How to create a resume summary that will excite recruiters:
Keep it short: Your summary is intended to be a high-level introduction to hook readers' attention, so keep it brief (4-7 lines) – save the details for later in your resume.
Tailor to target jobs: To better align your resume with your target jobs, it's important to scrutinize the job description and identify as many relevant skills as possible to include in your resume.
Avoid using cliches: Although you may believe that you're a "team player who always gives 110%," these kinds of cliches don't communicate much about your skills and qualifications to potential employers. It's more effective to stick to factual information in your resume.
Basketball resume summary example
Dedicated Professional Basketball Player with 6 seasons experience playing as a small forward for the NBA Women's League, achieving 2nd place in 2020/2021 with the Alabama Hunters. Recipient of the prestigious Futures Prize in 2014 and accomplished forward with an impressive track record as the highest point scorer for AH in 2019/2020 and 88 points scored in NBA League. Driven athlete and strategic player with excellent physical fitness, assist statistics and tactic innovation.
What to include in your Basketball resume summary?
Summary of your experience: Provide a summary of the kind of work you have previously done, along with the benefits you have delivered to the organizations you worked with.
Relevant skills: Include your skills which are hyper relevant to roles in Basketball to instantly show your suitability.
Qualifications: Any qualifications that are important to the roles in Basketball that you are applying for, should be mentioned in the summary.
Quick tip: Choose from hundreds of pre-written summaries across all industries, and add one to your resume with one-click in our partner's Resume Builder. All written by recruitment experts and easily tailored to suit your unique skillset and style.
Core skills section
Underneath your summary, write a core skills section to make your most relevant skills jump off the page at readers.
It should be made up of 2-3 columns of bullet points of your relevant skills.
Before you do this, look over the job description and make a list of any specific skills, specialisms or knowledge required.
Then, make sure to use your findings in your list. This will paint you as the perfect match for the role.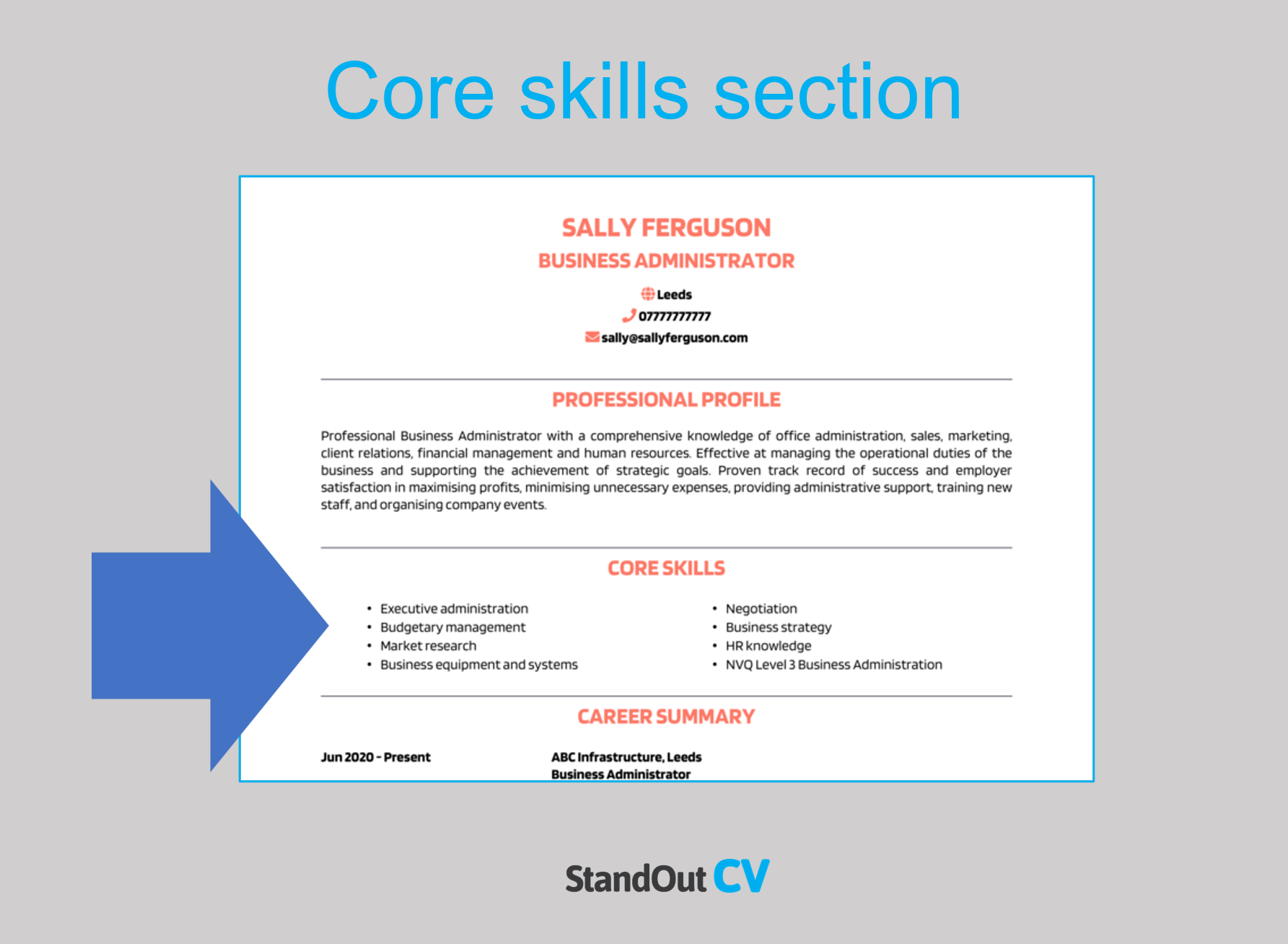 Best skills for your Basketball resume
Shooting – Shooting the basketball accurately and consistently from various positions and distances on the court.
Dribbling – Maintaining control of the ball while moving and maneuvering through defenders using various dribbling techniques.
Passing – Delivering accurate and effective passes to teammates, understanding timing, spacing, and different passing techniques.
Defense – Playing on-ball and off-ball defense, including staying in front of opponents, contesting shots, and effectively communicating with teammates on defensive strategies.
Rebounding – Securing rebounds, both offensively and defensively, by positioning oneself well, timing jumps, and using physicality to gain an advantage.
Speed and Agility – Possessing quickness, agility, and explosiveness to navigate the court swiftly, beat defenders, and react quickly to changes in the game.
Basketball IQ – Demonstrating a high level of basketball intelligence, including understanding offensive and defensive strategies, recognizing game situations, and making sound decisions on the court.
Court Vision – Reading the game and making accurate assessments of available passing and scoring opportunities, including identifying open teammates and executing effective plays.
Stamina and Endurance – Maintaining an adequate level of physical fitness and conditioning to maintain a high level of performance throughout games, being able to withstand the demands of a fast-paced and competitive sport.
Mental Toughness – Developing resilience, focus, and composure to handle pressure situations, maintain confidence, and make critical decisions under intense game conditions.
Quick tip: Our partner's Resume Builder contains thousands of in-demand skills for every profession that can be added to your resume in seconds – saving you time and greatly improving your chances of landing job interviews and getting hired.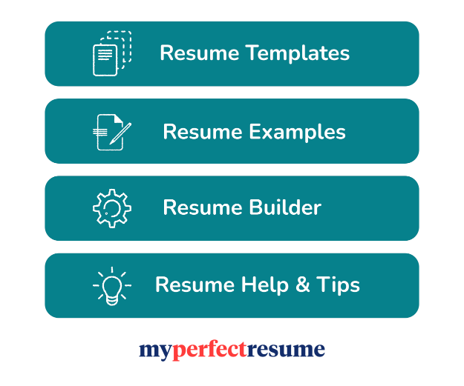 Work experience
Congratulations on successfully capturing the recruiter's interest with your attention-grabbing summary! Now, it's time to showcase your workplace impact by providing a detailed list of your previous job experiences and achievements.
If you have significant experience, consider highlighting the most recent few years to condense this section. However, for junior job seekers, it's essential to include as much relevant experience as possible, including volunteering and school work placements.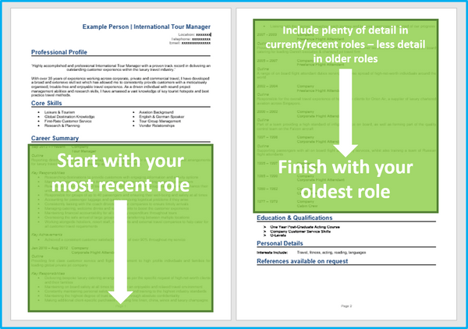 Structuring your jobs
Your job description probably includes tons of information, so it's vital to organize it well when writing about it on your resume.
Structure your jobs as like the example below to make skim-reading easy for recruiters and hiring managers.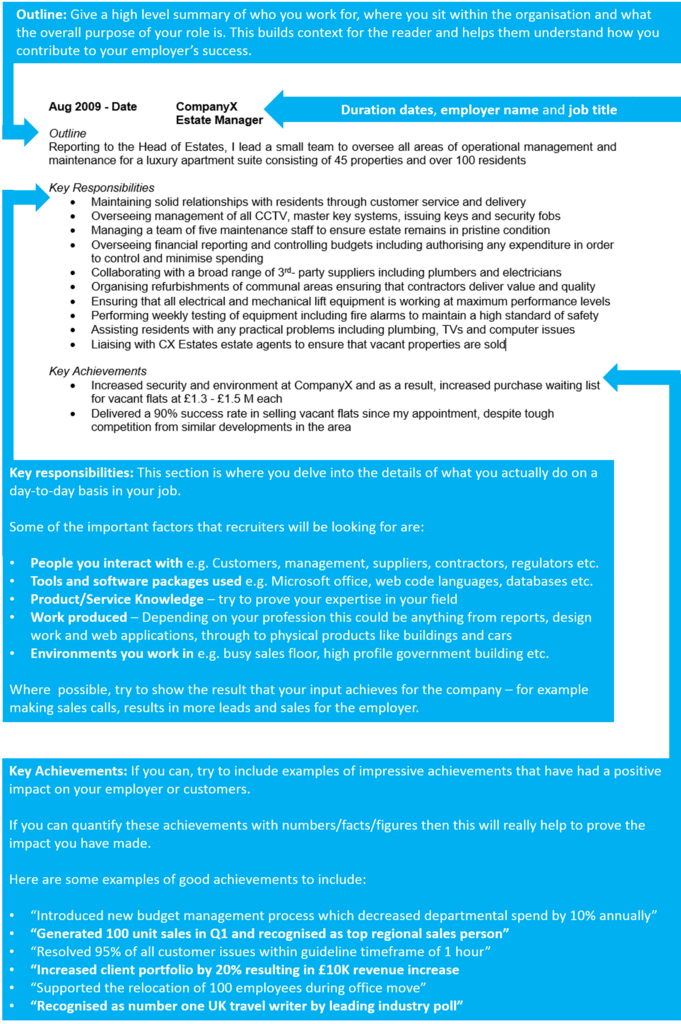 Job outline
Starting each job with a brief summary of the organization, your position within it, and the primary goal of your role can help recruiters quickly understand the context of your work.
Key responsibilities
Next, write up a punchy list of your daily duties and responsibilities, using short bullet points.
Describe how you apply your skills and contribute to the running of the employer's business – highlighting skills which are applicable to your target jobs.
Key achievements
Show employers the value you can bring to them by adding a few achievements to your jobs.
Whether you've saved the company money or improved an internal process, let recruiters know
Add some numbers to give readers a real scale of the impact, e.g. "reduced call wait time by 10%"
Example job for Basketball resume
Outline
Transferred to Alabama Hunters Basketball Club, currently playing my 4th season in the National Women's Basketball Association League and All America's International Tournament as a main squad small forward.
PTS: 88, RBA: 35, AST: 52
Key Responsibilities
Play professional basketball matches in national and international leagues and tournaments, working together as part of the team to carry out strategies
Attend daily skills training to improve basic skills such as passing, shooting and ball control and work on complex, tactical drills
Complete regular video analysis of opponent matches, developing strategies in collaboration with the coach to improve play
Work 1-2-1 with a sports psychologist to improve mental approach
Quick tip: Create impressive job descriptions easily in our partner's Resume Builder by adding pre-written job phrases for every industry and career stage.

Education section
Near the end of your resume add your education section
Experienced candidates should keep it brief and focus on professional qualifications – and junior candidates can include high school diplomas, college degrees etc.
Additional information
At the end of your resume, you can add any extra information that might be relevant to the jobs you are applying for.
This could be hobbies, interests, publications, clubs or memberships.
This section is optional and doesn't need to be added if you have nothing more relevant to add.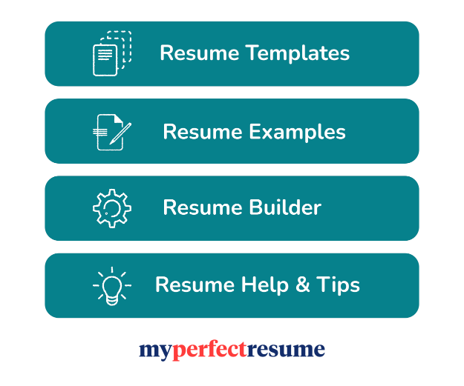 Writing your own winning Basketball resume
Crafting a strong Basketball focused resume can be a daunting task, but implementing the steps outlined above will significantly increase your chances of securing multiple interview opportunities.
Good luck with your job search!