Do you enjoy talking to patrons, serving them with a smile, and providing an exceptional dining experience?
If so, you could be an excellent banquet server. But to land the job, you need to serve up an impressive resume, and we're here to show you how.
Check out our detailed writing guide below, complete with a banquet server resume example to inspire you.
Contents
| | |
| --- | --- |
| How to write a Banquet Server resume | |

Banquet Server Resume Example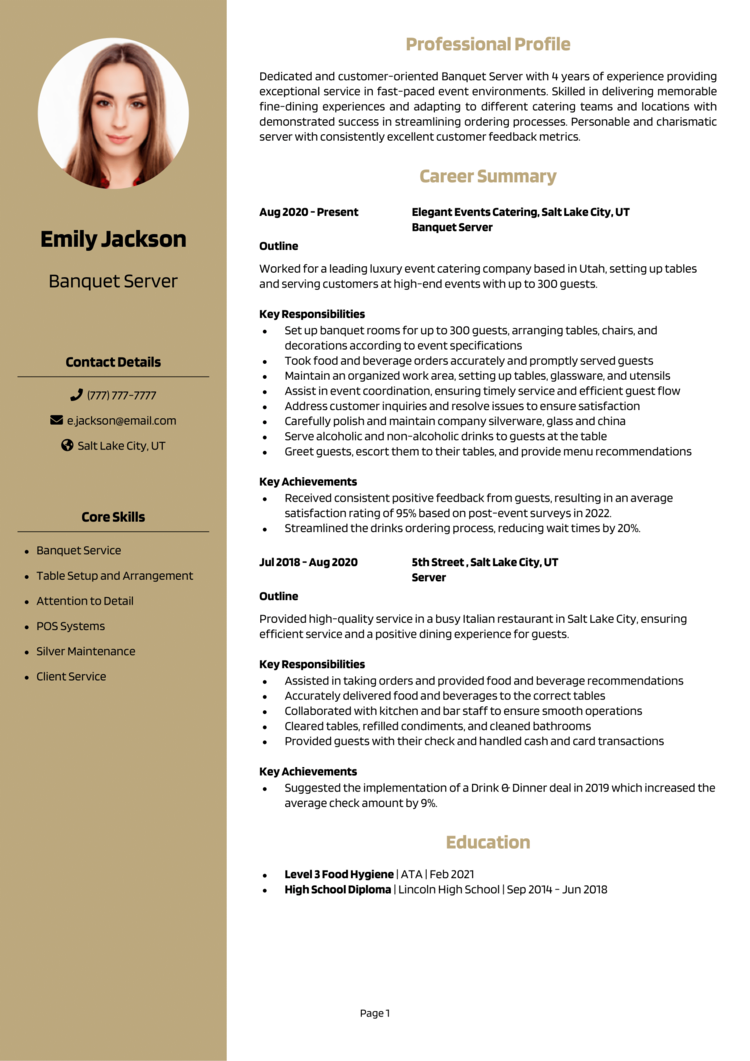 The example Banquet Server resume above shows you how a professional resume should look, along with the type of content it should contain.
You can see that the information is well-organized across the page and its easy for busy recruiters to see the candidate's important skills.
Keep this in mind when writing your own resume.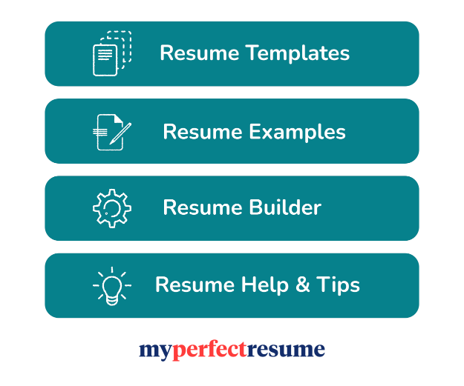 Banquet Server resume layout and format
Your resume layout and format will play a big role in helping hiring managers to take notice of your resume and stay glued to it.
Shoot for a simple yet professional look to ensure you make a strong first impression, and organize the page in a way that is easy for readers to digest the information.
The following formatting tips should help.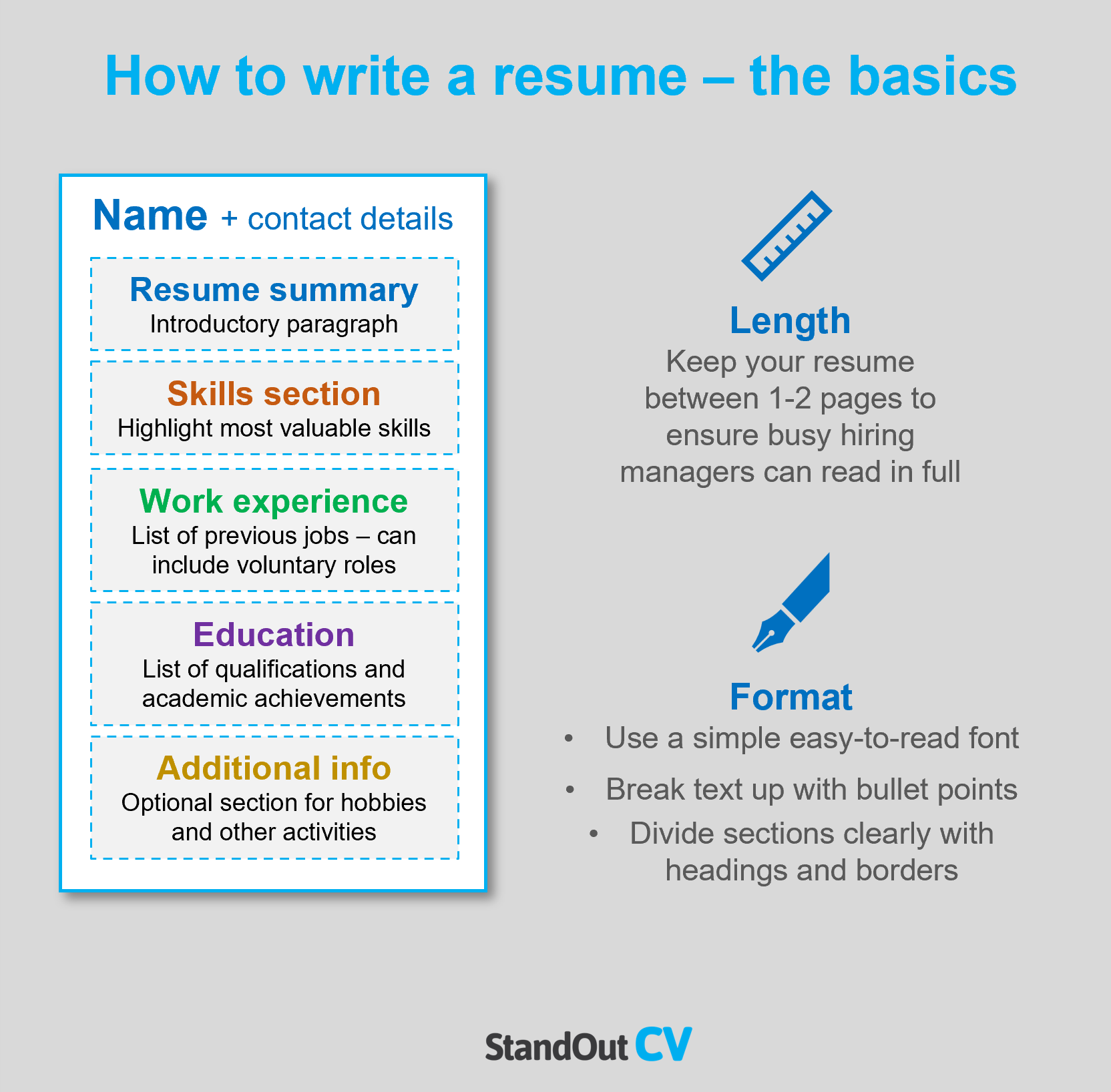 Formatting your resume
Length: To ensure that recruiters will read all of your resume, limit its length to 2 pages – as they someteimes read hundreds of resumes daily.
Font & readability: Complex fonts are a readers' worst nightmare and will leave recruiters struggling to understand your message. Use a clear simple lean font in a color that stands out against the page, and break your text up with bullet points to make the content easily digestible.
Layout & Structure: Hiring managers should be able to skim through your resume easily and pinpoint the information they want quickly. To help them do this, organize the page into clear sections with bold headings and dividing borders. The design should be clutter-free and professional-looking, with a calm color scheme.
Photos: Although it is not compulsory to include a photo in your resume in the USA, it can be advantageous if you are applying to companies in creative industries.
Quick tip: Achieving a professional look for your resume can be difficult and time-consuming. If you want to create an attractive resume quickly, try our partner's Resume Builder and use one of their eye-catching resume templates.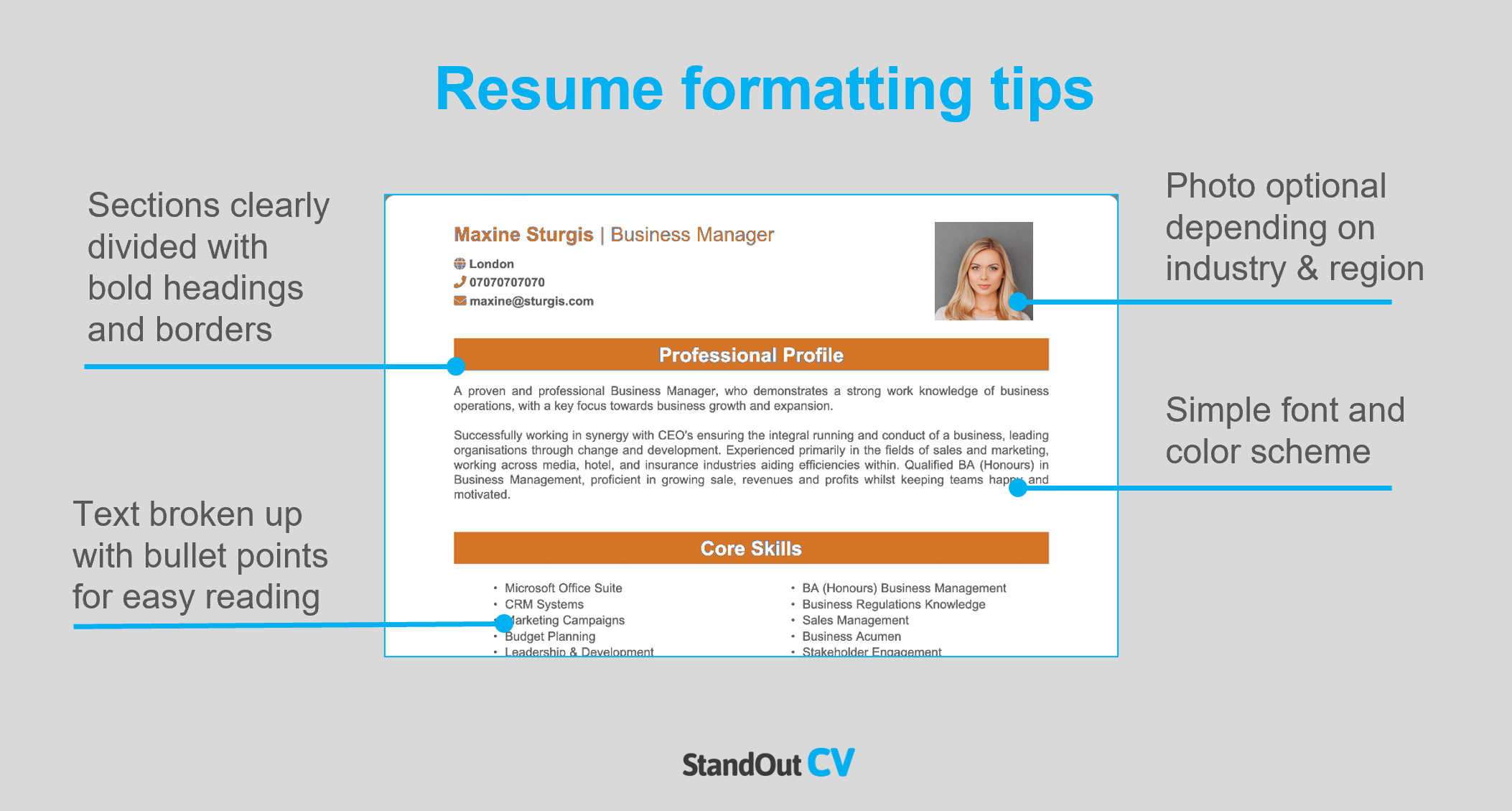 Resume layout
Here's an overview of the sections you should add when writing your resume.
Name and contact details – Stick these details at the top, so they are easy to find.
Resume summary – A punchy paragraph summarizing your skills and knowledge, enticing recruiters to read more of your resume.
Skills section – Short list of your most valuable skills, enabling recruiters to quickly spot your suitability.
Work experience – Showcase your previous employment, starting with your most recent roe and working backwards – voluntary work and college placements can be included if you have no paid experience.
Education – A summary of your most relevant qualifications and academic achievements
Additional info – An optional section for that other attributes that may boost your application, such as hobbies or clubs
Here's what to include in each part of your resume.
Contact Details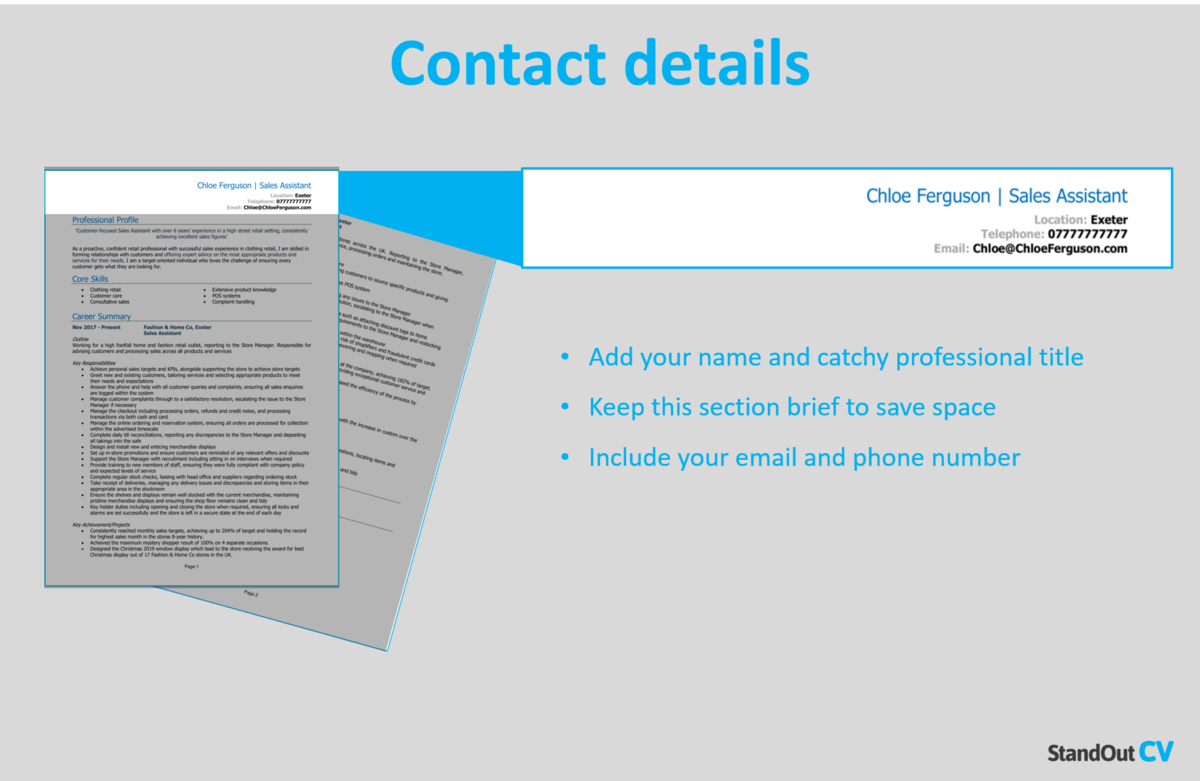 Keep your contact details short to save resume space and include the following.
Name and profession title
Cell phone number
Location – Add your local area such as Silicon Valley or New York, unless you are looking for work in a different location
Email address – Keep it professional and don't use an old address that you thought was cool in high school, but now looks a bit embarrassing.
You can add a link to your LinkedIn profile if you have one – you do not need to include personal details like date of birth or marital status.
Banquet Server Resume Summary
Now it's time to get into the real content of your resume, starting with the summary.
Your resume summary is a short paragraph at the top of the document, and its jobs is to catch the eye of hiring managers by summarizing all your skills and knowledge that are most important to the roles you are applying for.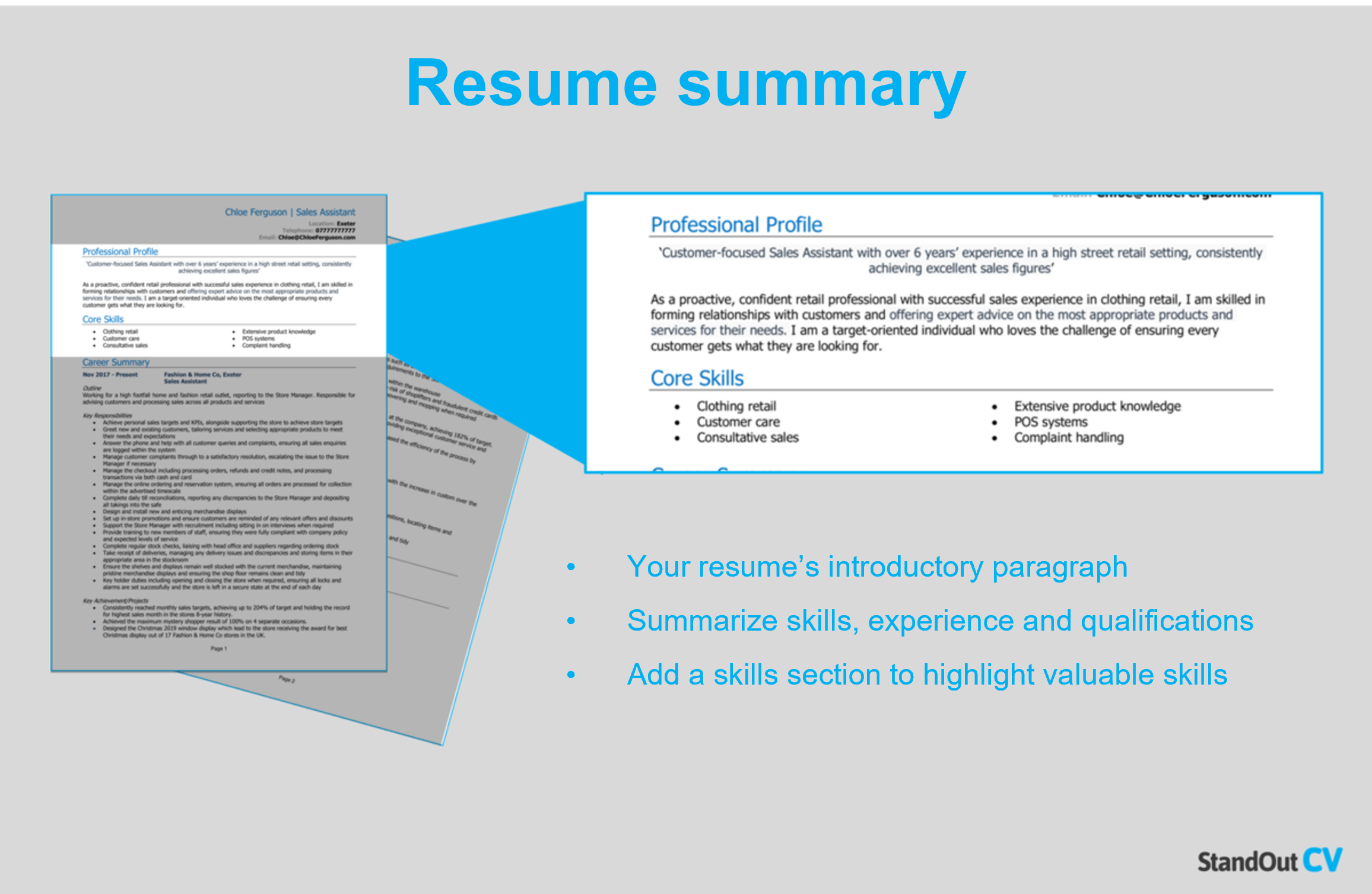 How to create a resume summary that will excite recruiters:
Keep it short: To capture a recruiter's attention and keep them interested in your resume, limit your summary to 4-7 lines as you only have a few seconds to make an impression
Tailor to target jobs: By carefully reviewing the job description and incorporating as many relevant skills as possible, you can customize your resume to better match your target jobs.
Avoid using cliches: You may be a "team player who always give 110%" but generic phrases don't tell employers much about you in reality – stick to factual information.
Banquet Server resume summary example
Dedicated and customer-oriented Banquet Server with 4 years of experience providing exceptional service in fast-paced event environments. Skilled in delivering memorable fine-dining experiences and adapting to different catering teams and locations with demonstrated success in streamlining ordering processes. Personable and charismatic server with consistently excellent customer feedback metrics.
What to include in your Banquet Server resume summary?
Summary of your experience: Summarize the type of work you have done in the past and the benefits you have delivered for the organizations you worked at.
Relevant skills: Incorporate your highly relevant skills for Banquet Server jobs to exhibit your suitability as soon as your resume is opened.
Qualifications: If your job requires any qualifications such as a professional course or a college degree, mention it briefly in your summary.
Quick tip: Choose from hundreds of pre-written summaries across all industries, and add one to your resume with one-click in our partner's Resume Builder. All written by recruitment experts and easily tailored to suit your unique skillset and style.
Core skills section
Sitting just underneath your resume summary, your core skills section gives recruiters 4-10 of your most in-demand skills in just a glance.
As Banquet Server jobs may get hundreds of applications, this is a great way to stand out and quickly grab hiring managers' attention.
It should be made up of 2-3 columns of bullet points and highlight attributes that are hyper-relevant to the jobs you are aiming for.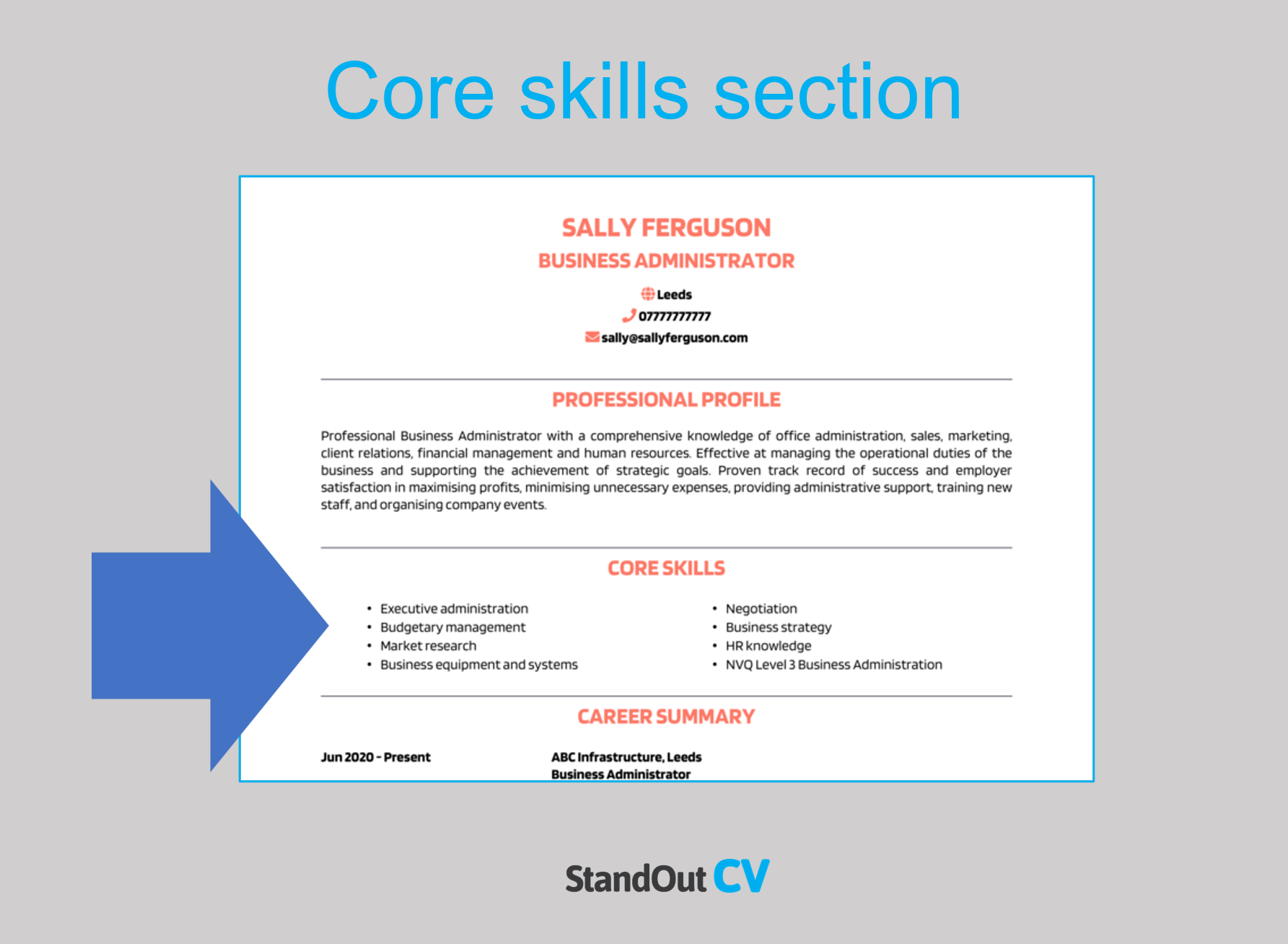 Best skills for your Banquet Server resume
Food and Beverage Service – Providing exceptional food and beverage service, including taking orders, serving food and drinks, and ensuring a high level of customer satisfaction.
Table Setting and Decorum – Setting up tables with appropriate utensils, glassware, and table linens, following proper table etiquette and creating an inviting and professional dining atmosphere.
Menu Knowledge – Maintaining familiarity with the menu offerings, including ingredients, preparation methods, and potential allergens, to assist guests with their menu selections and address any dietary restrictions or preferences.
Flow of Service – Managing time and prioritizing tasks to ensure timely service delivery, coordination with the kitchen, and maintaining an efficient flow of service during banquets and events.
Customer Communication – Interacting with guests, taking orders, addressing inquiries, and providing recommendations, while maintaining a friendly and professional demeanor.
Quality Assurance – Taking accurate orders, handling food and beverage items carefully, and ensuring proper presentation of dishes and drinks to meet the highest quality standards.
Team Collaboration – Working collaboratively with other banquet servers, kitchen staff, and event coordinators to ensure smooth event execution, efficient service, and overall guest satisfaction.
Problem Resolution – Quickly identifying and resolving issues or customer concerns during banquets, such as addressing special requests, accommodating seating changes, or resolving service-related challenges.
Safety and Sanitation – Utilizing knowledge of food safety and sanitation practices, including proper handling of food, adherence to health and safety regulations, and maintaining cleanliness and hygiene in the banquet area.
Quick tip: Our partner's Resume Builder contains thousands of in-demand skills for every profession that can be added to your resume in seconds – saving you time and greatly improving your chances of landing job interviews and getting hired.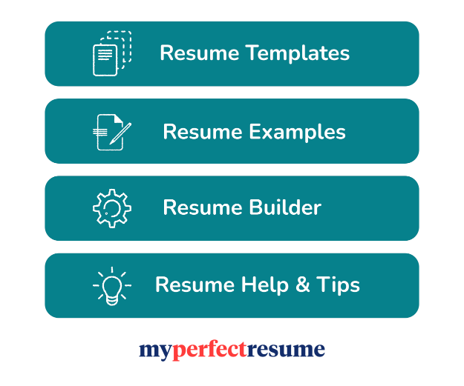 Work experience
So, you've grabbed the recruiters' attention with your summary, now it's time to show them what you're really capable of in your work experience section.
List your previous jobs from current to oldest, showing off the impact you made at each organization.
If you have tons of experience, you should just list the most recent an relevant jobs – but if you have little or no experience, add it all and even consider putting in voluntary work.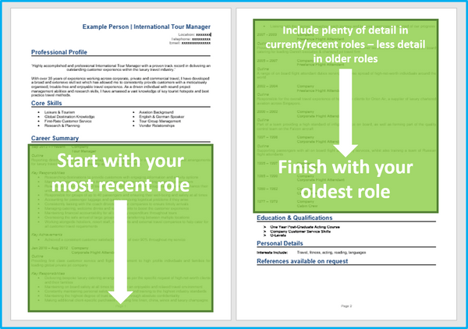 Structuring your jobs
Your job description probably includes tons of information, so it's vital to organize it well when writing about it on your resume.
Structure your jobs as like the example below to make skim-reading easy for recruiters and hiring managers.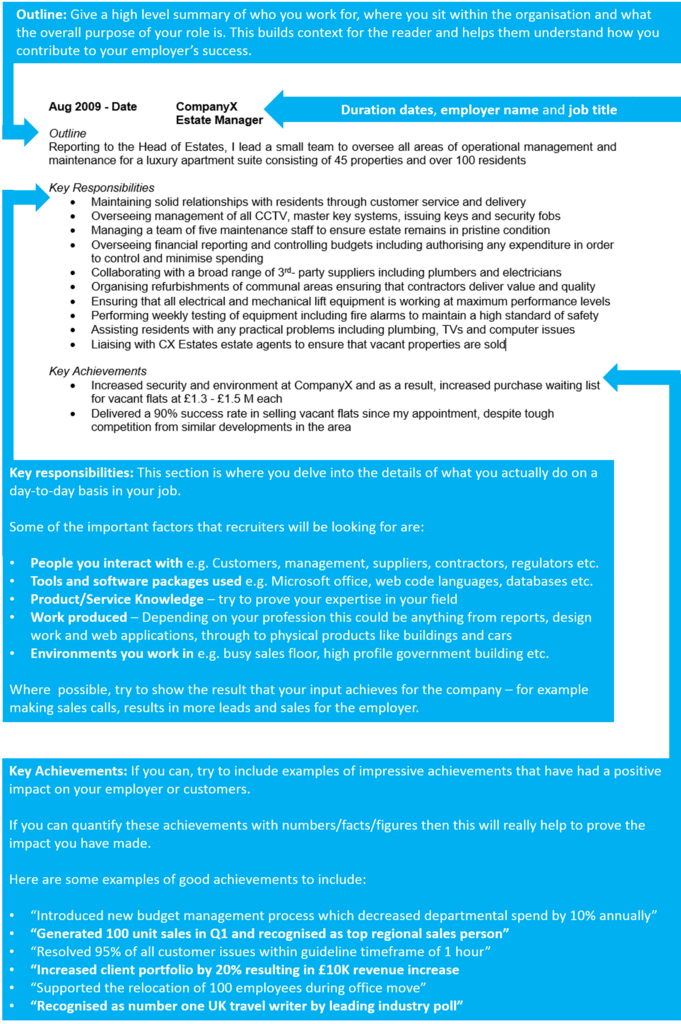 Job outline
Start with a 1-2 sentence outline of the role, summarizing what the goal of your position was, who you reported to (or managed) and the type of organization you worked for.
Key responsibilities
List your notable responsibilities in short sharp bullet points to demonstrate your input and how you contributed to the organization's success.
Highlight the skills that are most important to the roles you are applying for.
Key achievements
Round off each job by adding some impressive achievements you made in the role.
Anything you've done that has made a big impact on your employer will make a good impression, think; generating revenue, saving costs, or improving a product.
Quantify your achievements with number where possible e.g. "reduced call wait time by 10%"
Example job for Banquet Server resume
Outline
Worked for a leading luxury event catering company based in Utah, setting up tables and serving customers at high-end events with up to 300 guests.
Key Responsibilities
Set up banquet rooms for up to 300 guests, arranging tables, chairs, and decorations according to event specifications
Took food and beverage orders accurately and promptly served guests
Maintain an organized work area, setting up tables, glassware, and utensils
Assist in event coordination, ensuring timely service and efficient guest flow
Quick tip: Create impressive job descriptions easily in our partner's Resume Builder by adding pre-written job phrases for every industry and career stage.

Education section
Towards the bottom of your resume, add your education section.
Here you should list your professional qualifications and academic record, such as high school diplomas or college degrees.
If you have lots of work experience, you can keep this section brief (because recruiters will be more interested in your career. If you have little/no experience then you should bulk this section up with plenty of detail.
Additional information
If you have anything else to add which is relevant to the jobs you are applying for, the additional info section is the place to add it.
Perhaps you have a hobby which involves relevant skills, or maybe you have some awards or publications worth mentioning.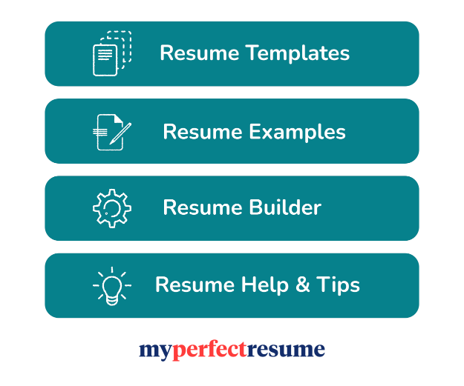 Writing your own winning Banquet Server resume
Crafting a strong Banquet Server resume can be a daunting task, but implementing the steps outlined above will significantly increase your chances of securing multiple interview opportunities.
Good luck with your job search!