You're ready to take your ballet career to the next stage, but proving that you know your pirouette from your plié and that you've mastered your grand jeté is hard at the best of times.
Let alone when you've got to showcase your skills and experience on paper, rather than through performance.
But don't let this get you in a spin. With our step-by-step guide and ballet resume example below, you'll be dancing your way to your next job in no time.
Contents
| | |
| --- | --- |
| How to write your Ballet resume | |

Ballet Resume Example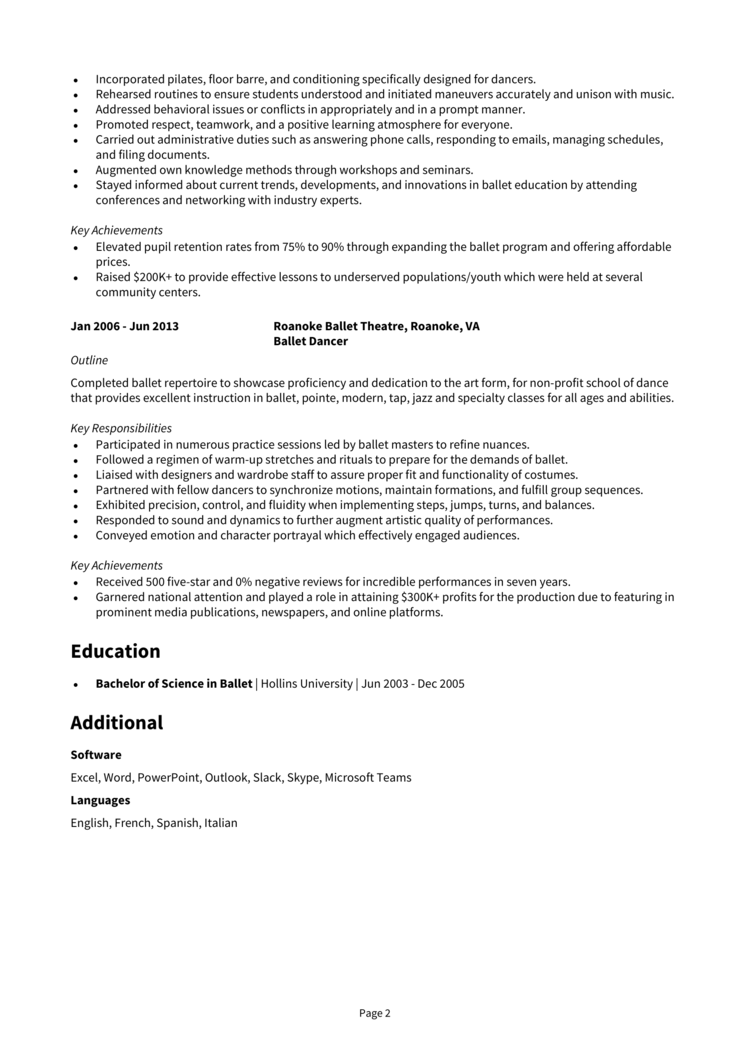 From the Ballet resume example above, you can see the kind of information your resume will need to include, and the layout you will need to create for an easy-reading experience.
The rest of this guide will show you how to apply this format to your own unique situation, and create a resume that will attract the best employers in your industry.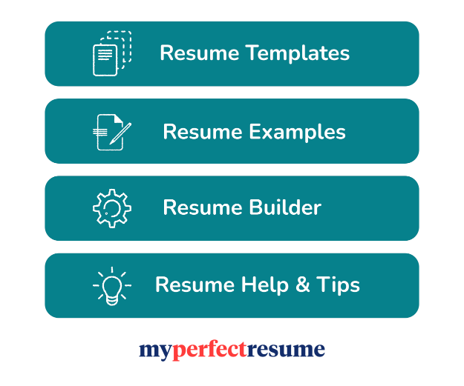 Ballet resume layout and format
Your resume layout and format will play a big role in helping hiring managers to take notice of your resume and stay glued to it.
Shoot for a simple yet professional look to ensure you make a strong first impression, and organize the page in a way that is easy for readers to digest the information.
The following formatting tips should help.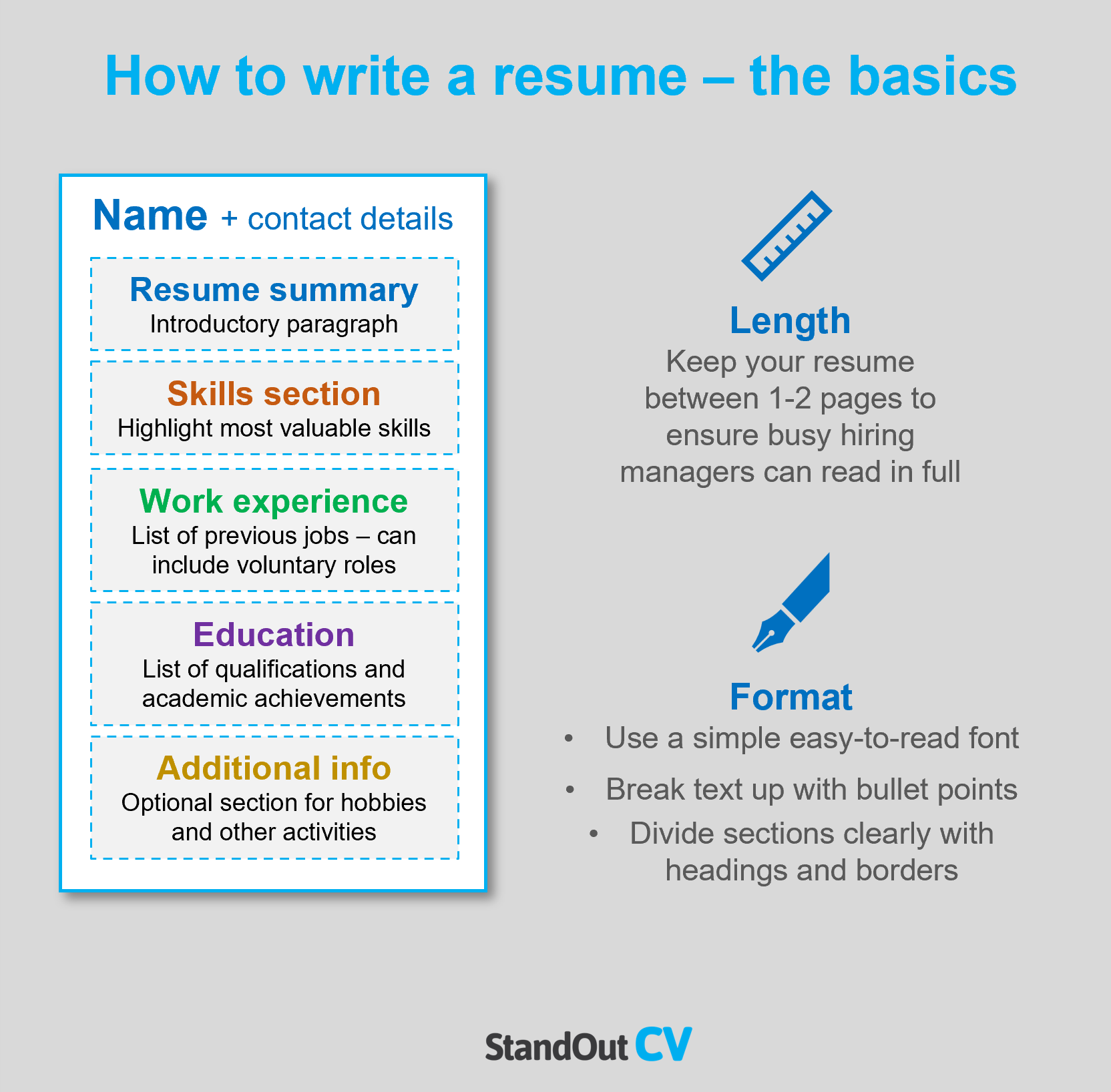 Formatting your resume
Length: To ensure that recruiters will read all of your resume, limit its length to 2 pages – as they someteimes read hundreds of resumes daily.
Font & readability: To create a resume that is easily digestible for hiring managers, it's essential to use an uncomplicated font and structure your content with bullet points and short paragraphs.
Layout: Your resume's design must strike a balance between aesthetics and functionality. Using bold headings and borders to organize the page into clear sections is an effective way to achieve both.
Photos: Including a photo on your resume is not obligatory in the United States, but it may be a good idea in some regions and industries where it is customary.
Quick tip: Achieving a professional look for your resume can be difficult and time-consuming. If you want to create an attractive resume quickly, try our partner's Resume Builder and use one of their eye-catching resume templates.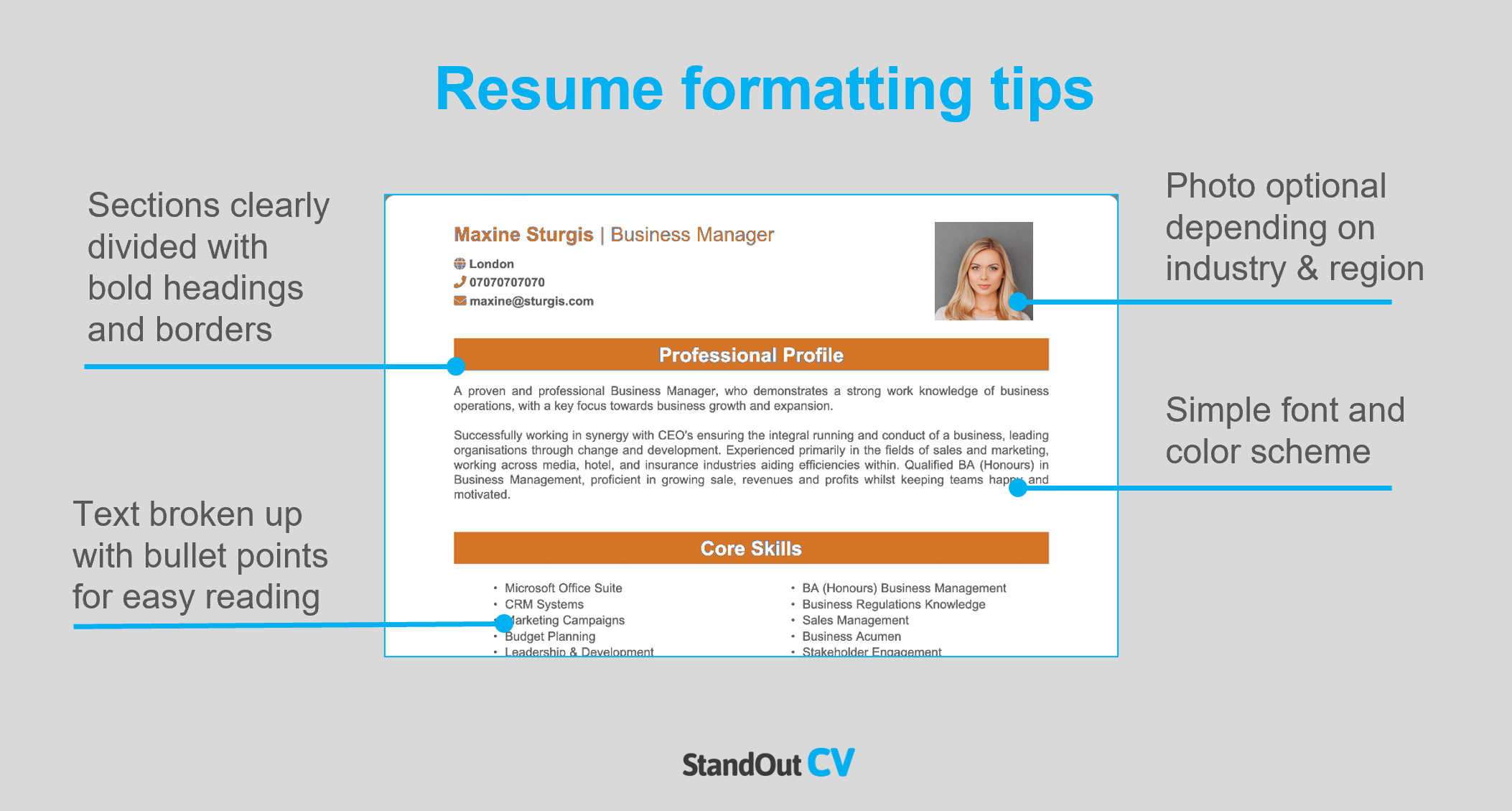 Resume layout
When you write your resume, include the sections below.
Name and contact details – Pop these at the very top to ensure recruiters know how to contact you.
Resume summary – An eye-catching paragraph which summarizes your most valuable attributes – placed near the top of your resume
Skills section – A bullet pointed list of your most in-demand skills, enabling recruiters to see your suitability from a glance.
Work experience – List some or all of your previous jobs in reverse chronological order – voluntary work and college placements can be included if you have no paid experience.
Education – A summary of your professional training and academic qualifications.
Additional info – An optional section for anything that may boost your application, such as relevant hobbies and interests
Here's what to add to each section of your Ballet resume.
Contact Details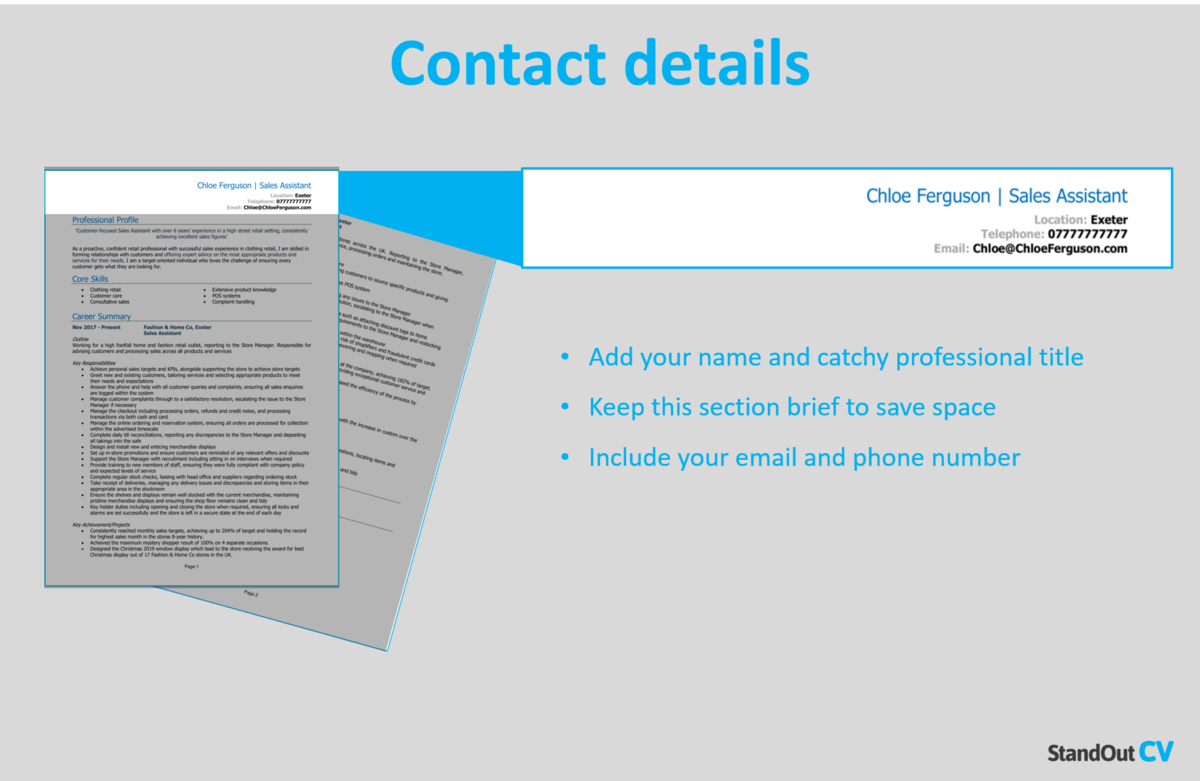 Keep your contact details short to save resume space and include the following.
Name and profession title
Cell phone number
Location – Add your local area such as Silicon Valley or New York, unless you are looking for work in a different location
Email address – Keep it professional and don't use an old address that you thought was cool in high school, but now looks a bit embarrassing.
You can add a link to your LinkedIn profile if you have one – you do not need to include personal details like date of birth or marital status.
Ballet Resume Summary
Make a strong first impression on recruiters by beginning your resume with a powerful summary that highlights your most valuable skills and experience.
This brief summary provides an opportunity to showcase why you're the ideal candidate for the job and persuade recruiters to read further into your resume.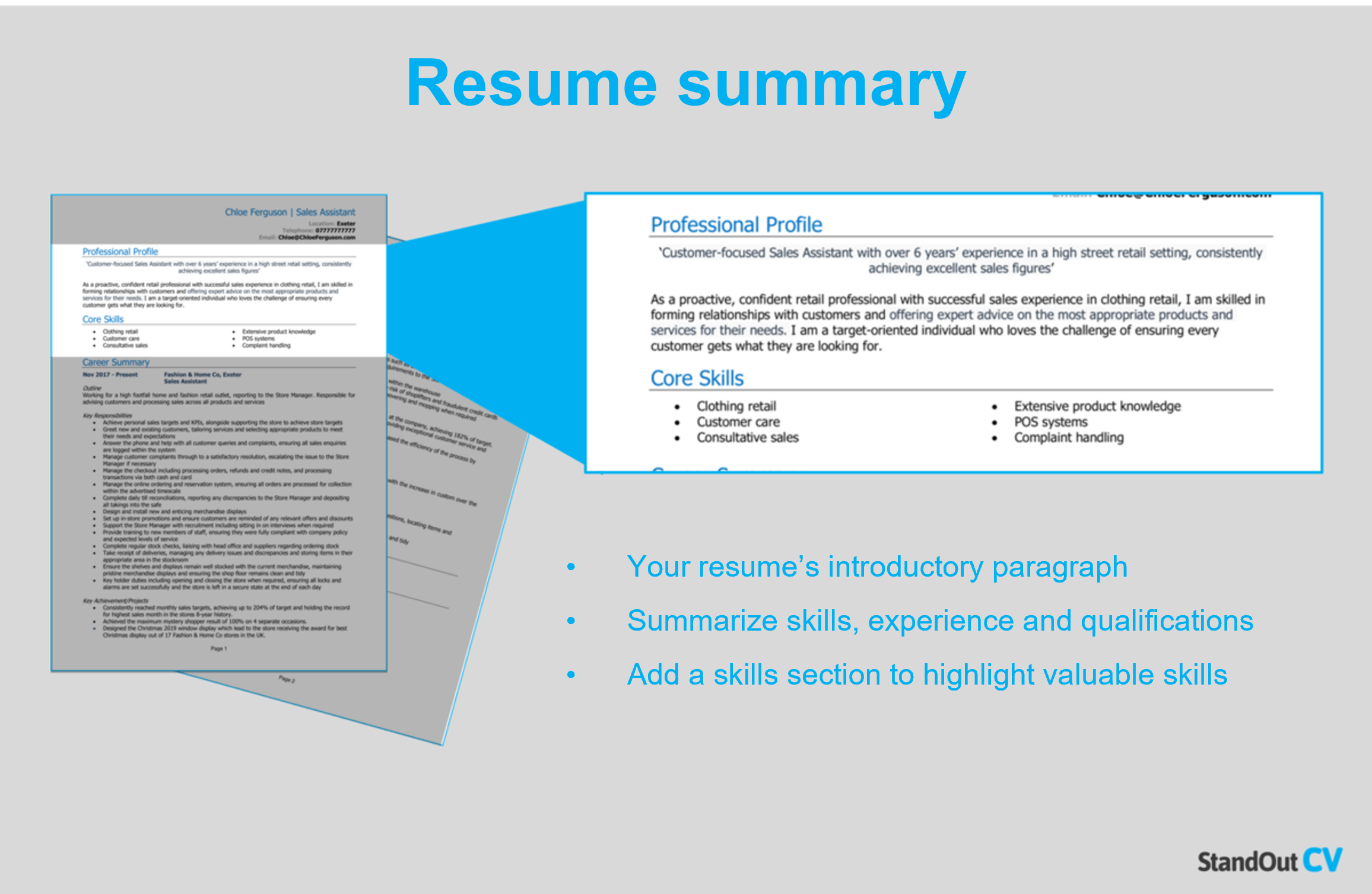 How to create a resume summary that will excite recruiters:
Keep it short: To effectively capture a recruiter's attention, it's crucial to keep your resume summary brief and to the point, limiting it to 4-7 lines as this provides enough detail without overwhelming them at this early stage.
Tailor to target jobs: To tailor your resume to your target jobs, it's essential to closely analyze the job description and include as many relevant skills as possible.
Avoid using cliches: Recruiters look for facts in resumes, such as hard skills and qualifications – so, leave out the meaningless cliches like "hard worker who works well in a team and individually"
Ballet resume summary example
Enthusiastic Ballet Instructor with 10+ years of experience in producing and implementing syllabus tailored to the needs and competencies of ballet students ranging from beginners to advanced levels. Committed to nurturing the development of dancers through comprehensive technical training, artistic guidance, and competition preparation. Passionate about cultivating strong relationships with diverse individuals, parents, and colleagues through promoting collaborative studio environments.
What to include in your Ballet resume summary?
Summary of your experience: Summarize the type of work you have done in the past and the benefits you have delivered for the organizations you worked at.
Relevant skills: Include your skills which are hyper relevant to Ballet jobs to instantly show your suitability.
Qualifications: To make a strong impression on potential employers when applying for Ballet jobs, be sure to mention any relevant qualifications in your summary.
Quick tip: Choose from hundreds of pre-written summaries across all industries, and add one to your resume with one-click in our partner's Resume Builder. All written by recruitment experts and easily tailored to suit your unique skillset and style.
Core skills section
In addition to your resume summary, your core skills section provides an easily digestible snapshot of your skills – perfect for grabbing the attention of busy hiring managers.
As Ballet jobs might receive a huge pile of applications, this is a great way to stand out and show off your suitability for the role.
It should be made up of 2-3 columns of bullet points and be made up of skills that are highly relevant to the jobs you are targeting.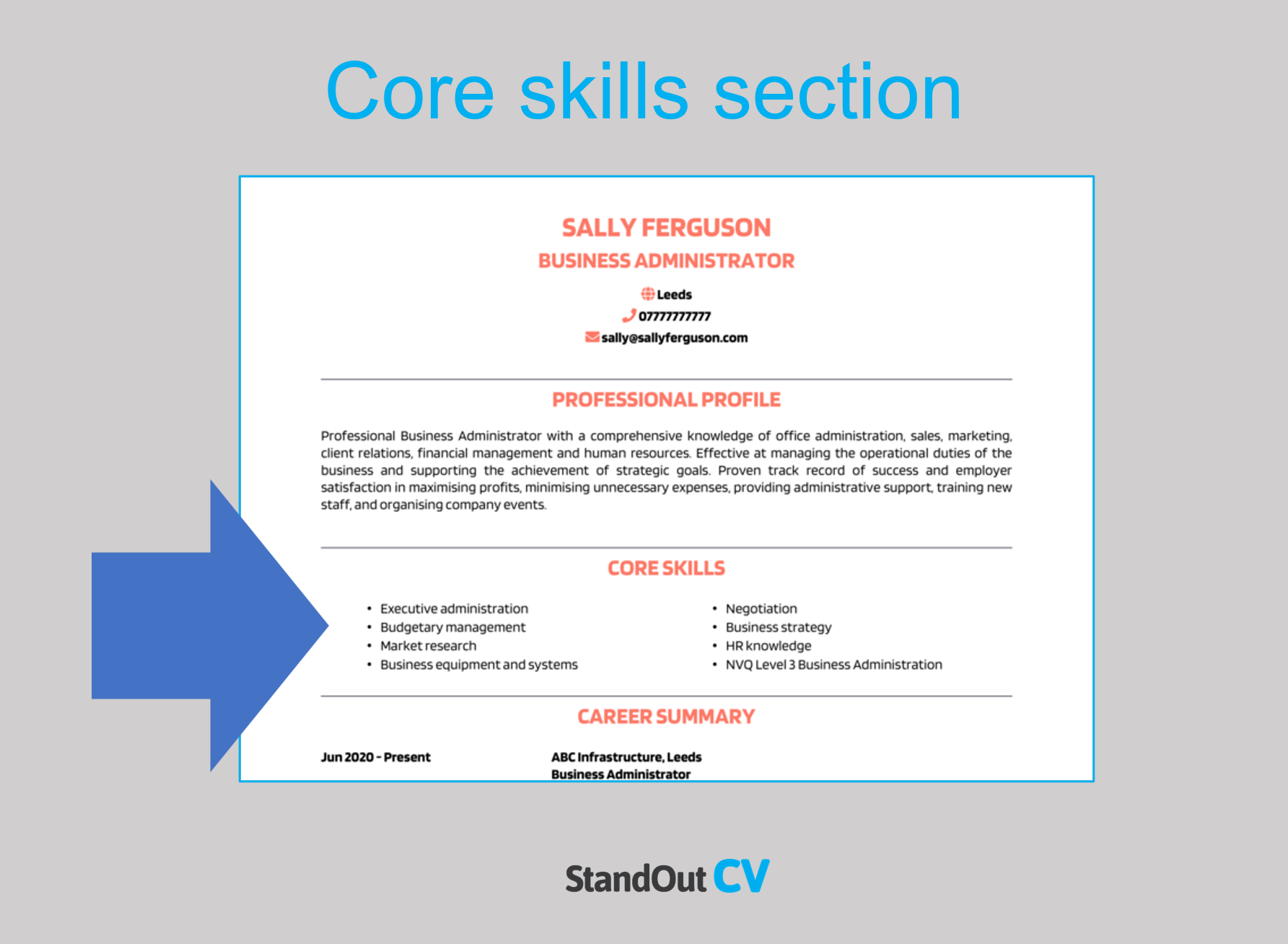 Best skills for your Ballet resume
Ballet Technique – Proficiency in ballet technique, including positions, movements, and vocabulary.
Ballet Repertoire – Performing a diverse range of classical and contemporary ballet repertoire.
Pointe Work – Performing ballet movements and techniques while wearing pointe shoes.
Flexibility and Body Control – Achieving and maintaining a high level of flexibility, control, and coordination in ballet movements.
Artistry and Expression – Expressing emotions, storytelling, and interpretation through movement and body language.
Musicality – Utilizing a sensitivity to music to synchronize movements with the rhythm, tempo, and phrasing of the music.
Partnering and Pas de Deux – Performing partnered movements and lifts, maintaining balance, and working harmoniously with a partner.
Stage Presence and Performance – Engaging and captivating an audience through stage presence, projection, and charisma.
Stamina and Physical Fitness – Maintaining a high level of endurance, strength, and stamina to sustain the physical demands of ballet training and performances.
Discipline and Work Ethic – Maintaining a commitment to regular practice, dedication to continuous improvement, and a strong work ethic in pursuing a career in ballet.
Quick tip: Our partner's Resume Builder contains thousands of in-demand skills for every profession that can be added to your resume in seconds – saving you time and greatly improving your chances of landing job interviews and getting hired.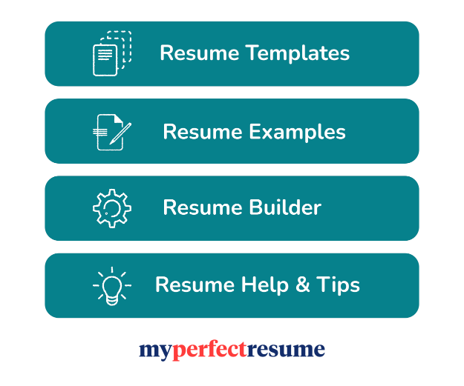 Work experience
Once you've got recruiters interested with your impactful summary, your work experience is where the real detail will lie.
Lay out your previous jobs from current to oldest, detailing what you contributed and achieved in each one.
If you're highly experienced you can cut this section down to your most recent few years of work, but if you are junior you can bulk this up with voluntary work and college placements.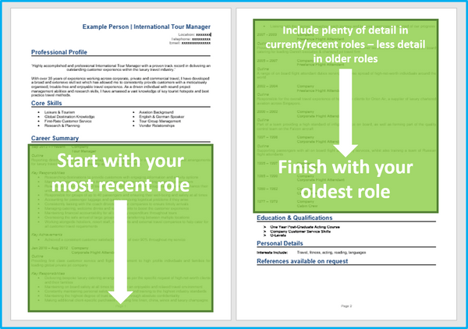 Structuring your jobs
Without a good structure, your job description can look messy and overwhelming to anyone reading them.
Make it easy for recruiters to read your work experience by structuring your roles like this.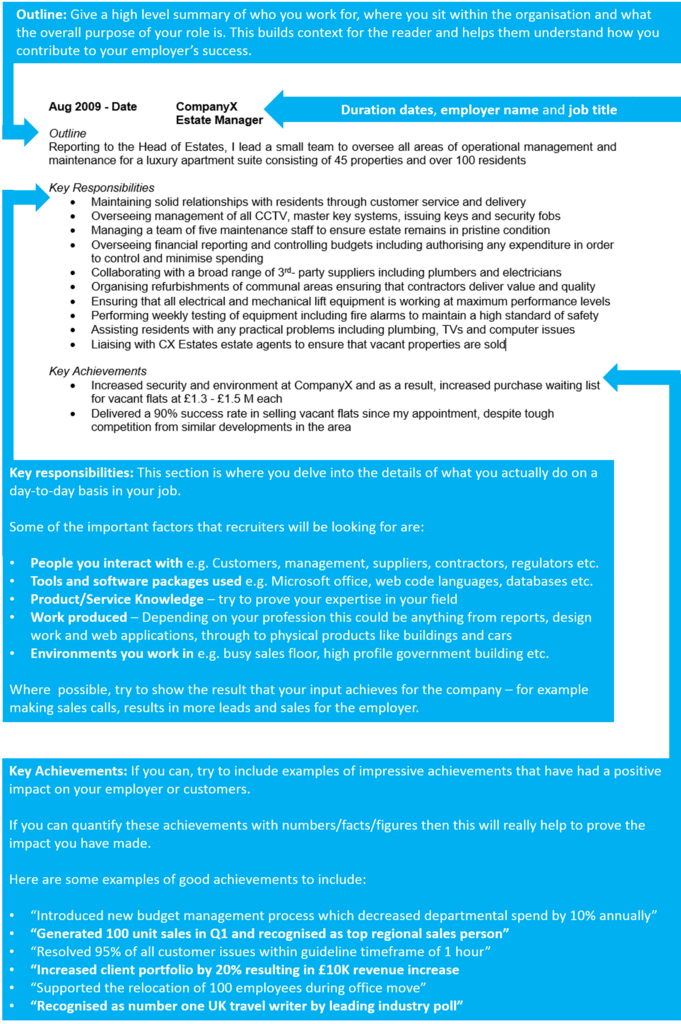 Job outline
To provide context to your jobs, begin each job with a concise summary of the organization, your role within it, and the main objectives of your position.
Key responsibilities
Next, write up a punchy list of your daily duties and responsibilities, using short bullet points.
Describe how you apply your skills and contribute to the running of the employer's business – highlighting skills which are applicable to your target jobs.
Key achievements
Finish each role by highlighting some impressive achievements you made whilst in the role.
Anything that benefited the employer can be included from making financial savings, to winning new customers.
Quantify your achievements with facts and figures if you can, e.g. "reduced call wait time by 10%"
Example job for Ballet resume
Outline
Teach the art of ballet, as well as fostering their technique, artistry, and appreciation for the discipline, for a premier organization that is dedicated to awakening, uplifting, and uniting human spirits through dance.
Key Responsibilities
Deliver lessons to children, teenagers, and adults of various skill levels by following a structured curriculum.
Conduct warm-up exercises and conditioning activities to improve pliability, muscle resiliency, stability, and stamina.
Focus on proper body alignment, posture, and execution when demonstrating different positions, movements, and combinations.
Create original choreography for recitals, performances, and contests, and other events.
Quick tip: Create impressive job descriptions easily in our partner's Resume Builder by adding pre-written job phrases for every industry and career stage.

Education section
Near the end of your resume add your education section
Experienced candidates should keep it brief and focus on professional qualifications – and junior candidates can include high school diplomas, college degrees etc.
Additional information
If you have anything else to add which is relevant to the jobs you are applying for, the additional info section is the place to add it.
Perhaps you have a hobby which involves relevant skills, or maybe you have some awards or publications worth mentioning.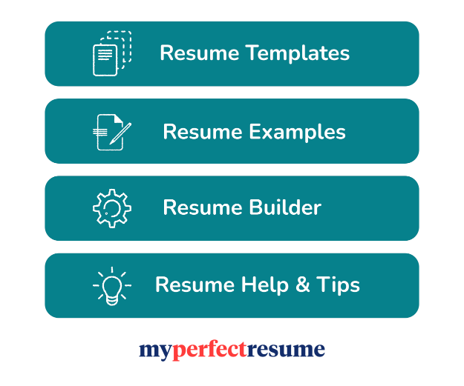 Writing your own winning Ballet resume
Following the steps in this guide will help you to create a winning Ballet resume and bag lots of interviews.
Good luck with your job search!