Have you got the technical know-how to set up and repair sound and video equipment for live events, no matter how big or small?
Of course you have, that's why you're one of the best technicians out there. But now you need to prove it to the recruiter with a resume that's bursting with your key skills.
Find out how to write such an impressive application using our detailed writing guide and audio visual technician resume example below.
Contents
| | |
| --- | --- |
| How to write your Audio Visual Technician resume | |

Audio Visual Technician Resume Example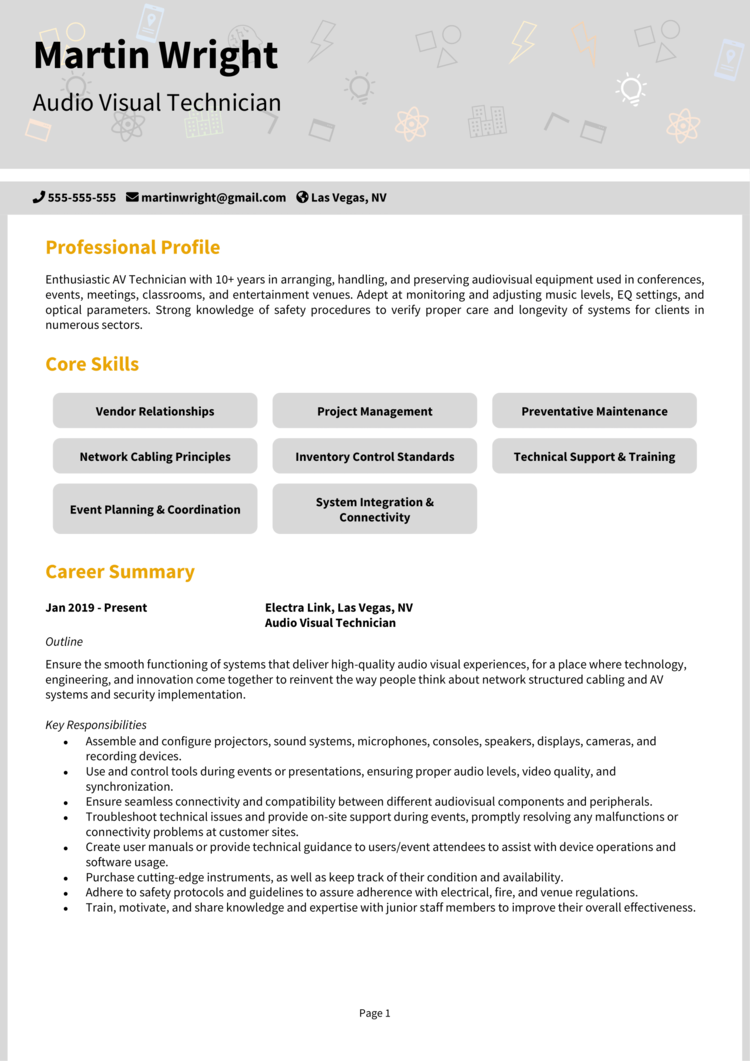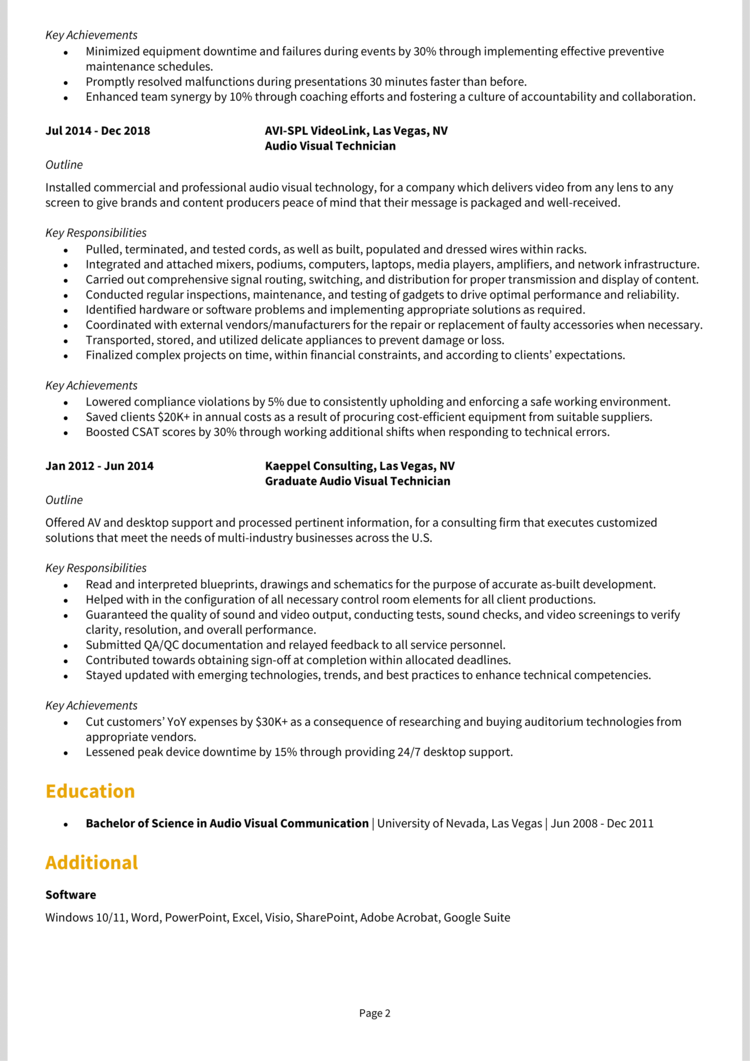 This example Audio Visual Technician resume is well-structured to provide a pleasant reading experience for recruiters, and contains all of the crucial information they want to see.
The rest of the guide will show you exactly how you can achieve this in your own resume.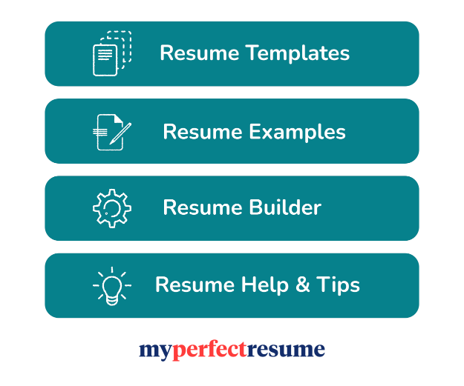 Audio Visual Technician resume layout and format
When it comes to holding the attention of recruiting managers, the format and layout of your resume play a key role.
Your resume needs to strike a perfect balance between looking awesome, and being easy for recruiters to read (which is not always easy to achieve)
Use the following formatting tips to get started.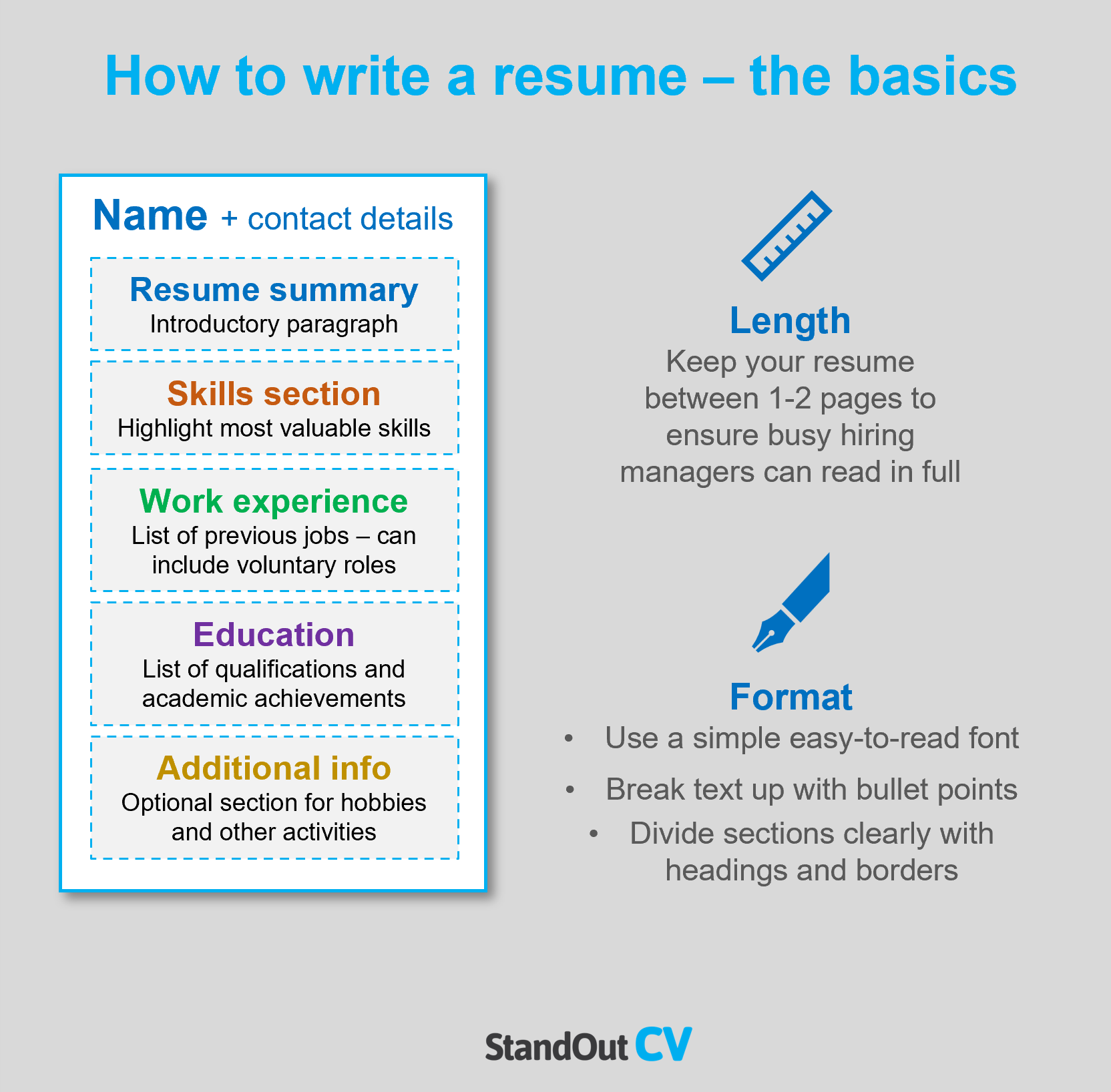 Formatting your resume
Length: To ensure that your resume gets proper attention from recruiters, it is best to keep it at 2 pages or less. Recruiters are often inundated with hundreds of resumes to review on a daily basis, so they want to read each one quickly as possible.
Font & readability: The key to an effective resume is its readability, so it's best to use a clear and simple font and format it with bullet points and short paragraphs to make it easy for recruiters to read through quickly.
Layout: Your resume should look appealing – but don't overlook functionality when it comes to design. Organise the page into clear sections using bold headings and borders.
Photos: While adding a photo to your resume is not mandatory in the USA, it can be beneficial if you are applying to organizations in creative industries.
Quick tip: Achieving a professional look for your resume can be difficult and time-consuming. If you want to create an attractive resume quickly, try our partner's Resume Builder and use one of their eye-catching resume templates.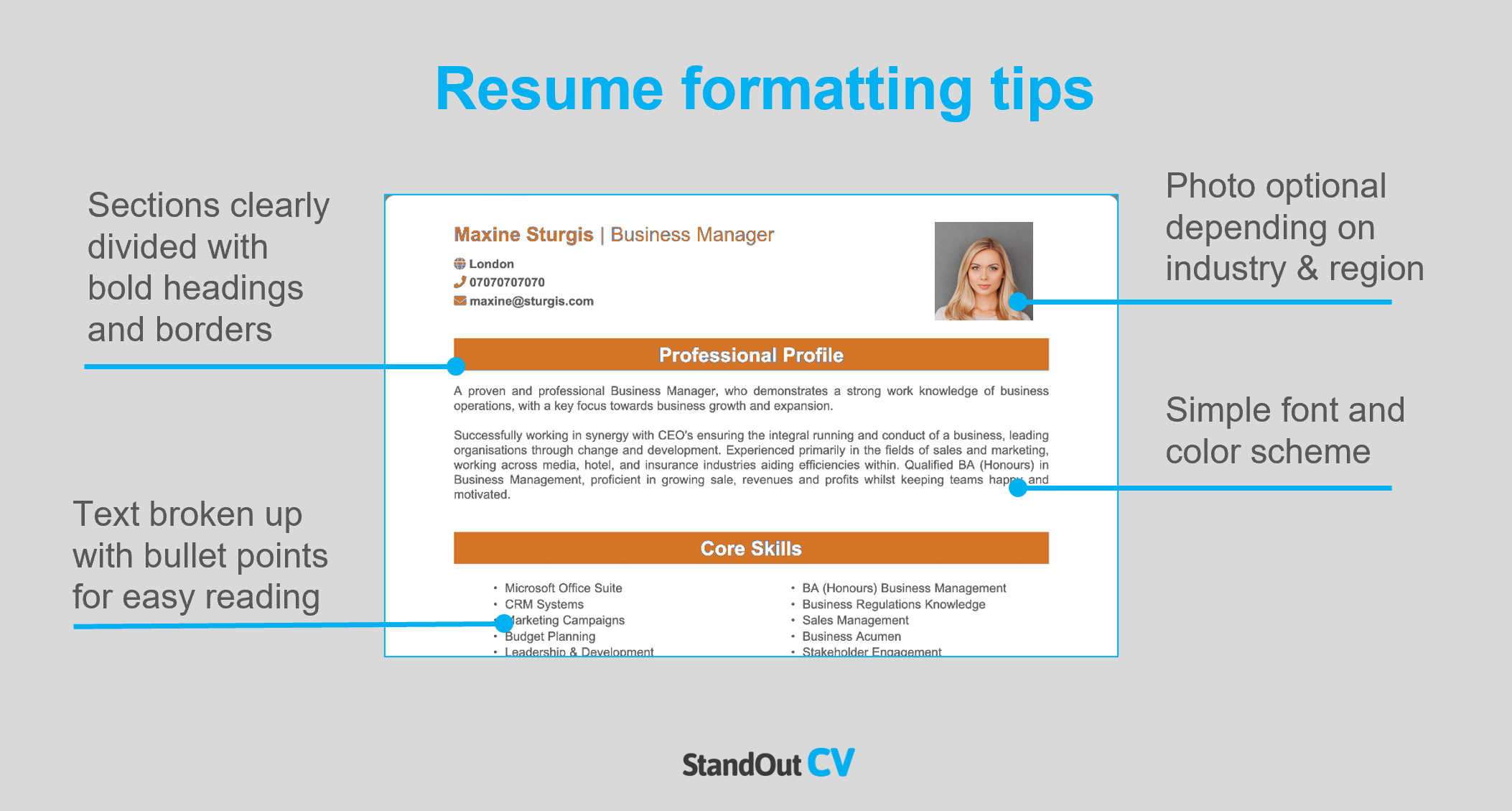 Resume layout
Your resume should include the following sections to give recruiters the information they require:
Name and Contact Details – Place your contact information at the top of your resume to make it easy for employers to get in touch with you.
Resume Summary – Write a brief introduction at the beginning of your resume that summarizes your most important qualifications and highlights why you are the ideal candidate for the job.
Skills Section – Include a concise list of your most relevant and impressive skills to quickly grab the attention of potential employers.
Work Experience – List your previous work experiences in reverse chronological order, including any volunteer work or college placements.
Education – List your educational qualifications and any professional training you have received.
Additional Information – This section is optional, but you can include details about your interests, hobbies, or any other relevant information that can make you stand out from other applicants.
Here's what to add to each section of your Audio Visual Technician resume.
Contact Details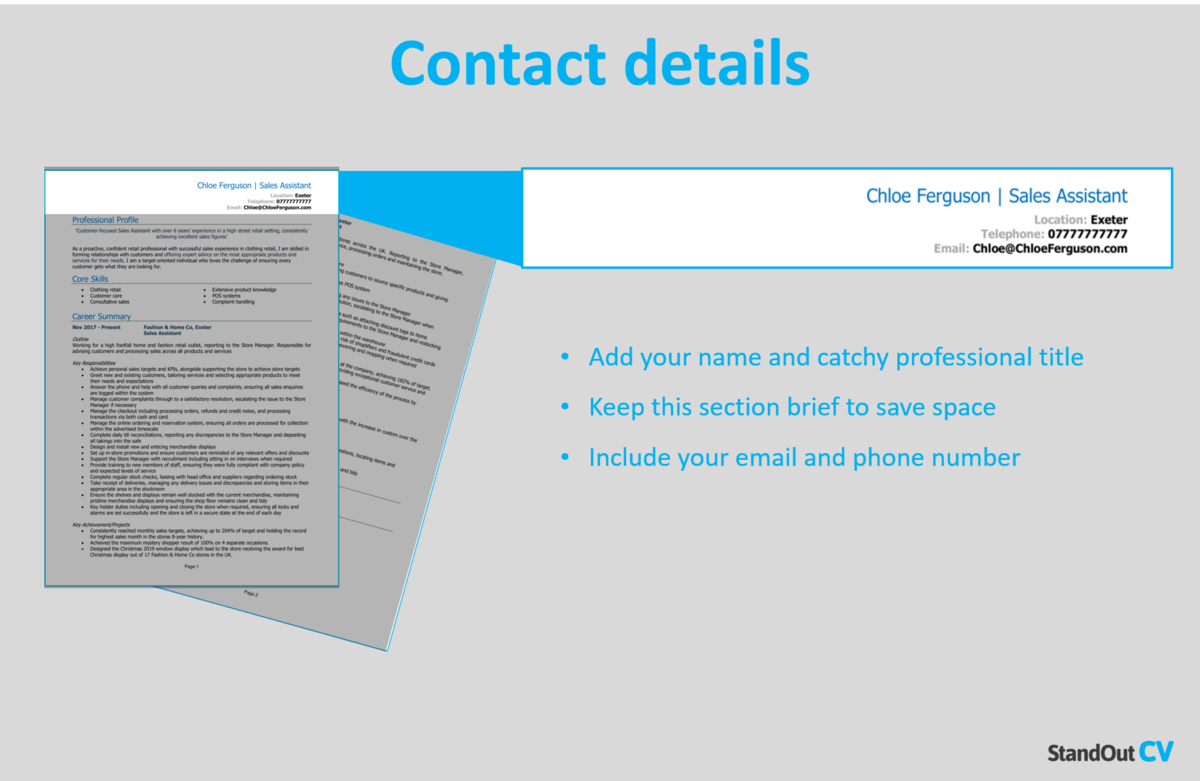 Add your name and contact details to the header of your resume, so that anybody reading can easily see how to contact you.
Name and profession title
Cell phone number – or any number you are easily reachable on
Location – Add your local area such as Washington or San Diego – not your full address as that will take up too much space.
Email address – Use a professional looking address.
You can add a link to your LinkedIn profile if you have one – you do not need to include personal details like date of birth or religion.
Audio Visual Technician Resume Summary
Start your resume with a bang by adding a powerful summary to the top, summarizing your most valuable skills and experience.
This short paragraph is your chance to show recruiters why you are a perfect fit for the job and encourage them to read more of your resume.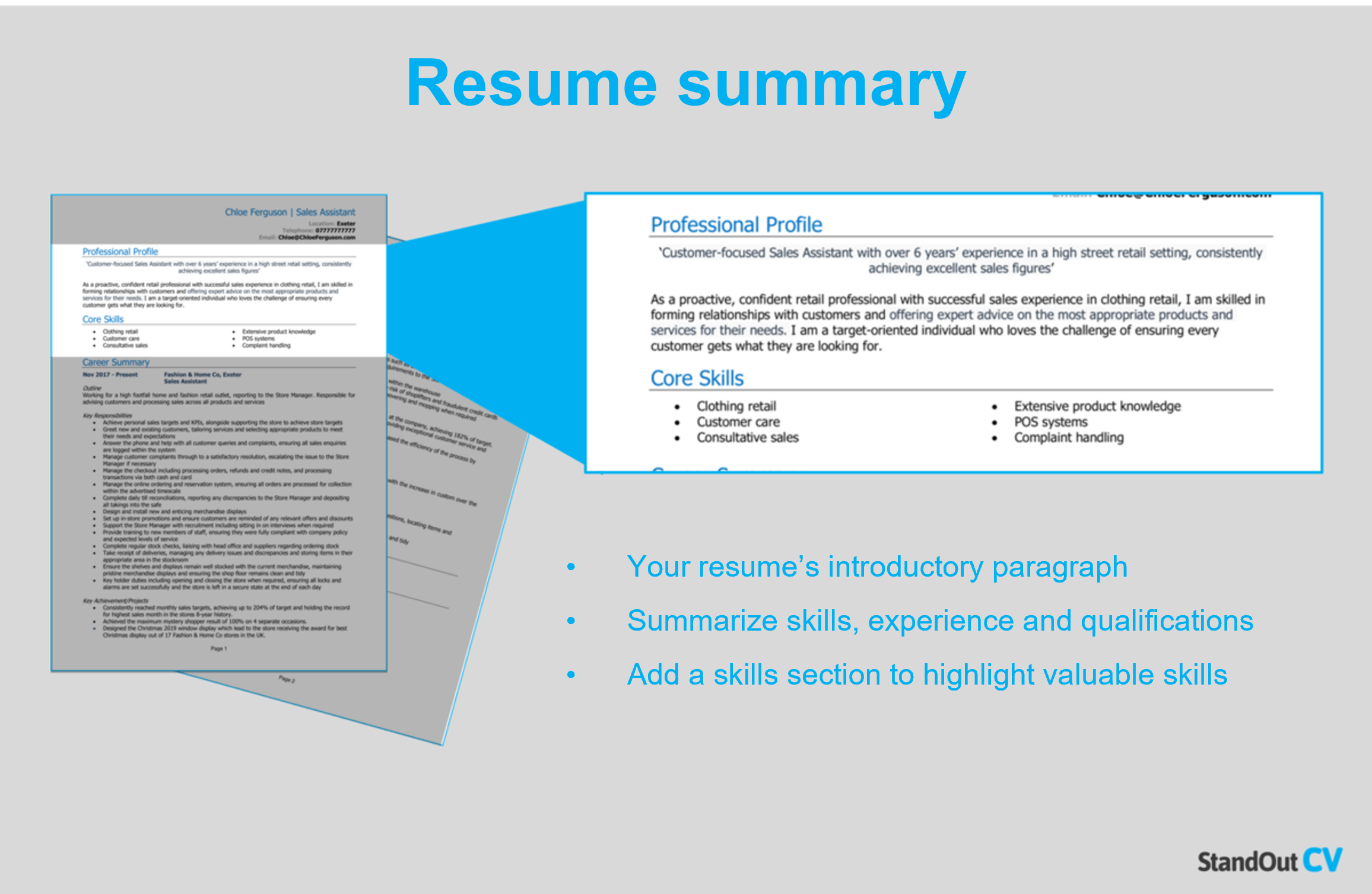 How to create a resume summary that will excite recruiters:
Keep it short: Attention spans are short in the job market, so keep your summary brief and high-level at around 4-7 lines – This is just enough to catch the eye of rushed hiring managers.
Tailor to target jobs: Optimize your summary to match the requirements of your target jobs, by mirroring the key words from the job description as closely as possible.
Avoid using cliches: Recruiters look for facts in resumes, such as hard skills and qualifications – so, leave out the meaningless cliches like "hard worker who works well in a team and individually"
Audio Visual Technician resume summary example
Enthusiastic AV Technician with 10+ years in arranging, handling, and preserving audiovisual equipment used in conferences, events, meetings, classrooms, and entertainment venues. Adept at monitoring and adjusting music levels, EQ settings, and optical parameters. Strong knowledge of safety procedures to verify proper care and longevity of systems for clients in numerous sectors.
What to include in your Audio Visual Technician resume summary?
Summary of your experience: Briefly describe the work you have performed in the past and the contributions you have made to the organizations you have worked for.
Relevant skills: Instantly showcase your suitability for Audio Visual Technician jobs by including your skills that are highly relevant to them.
Qualifications: Any qualifications that are important to the Audio Visual Technician jobs you are applying for, should be mentioned in the summary.
Quick tip: Choose from hundreds of pre-written summaries across all industries, and add one to your resume with one-click in our partner's Resume Builder. All written by recruitment experts and easily tailored to suit your unique skillset and style.
Core skills section
Underneath your summary, write a core skills section to make your most relevant skills jump off the page at readers.
It should be made up of 2-3 columns of bullet points of your relevant skills.
Before you do this, look over the job description and make a list of any specific skills, specialisms or knowledge required.
Then, make sure to use your findings in your list. This will paint you as the perfect match for the role.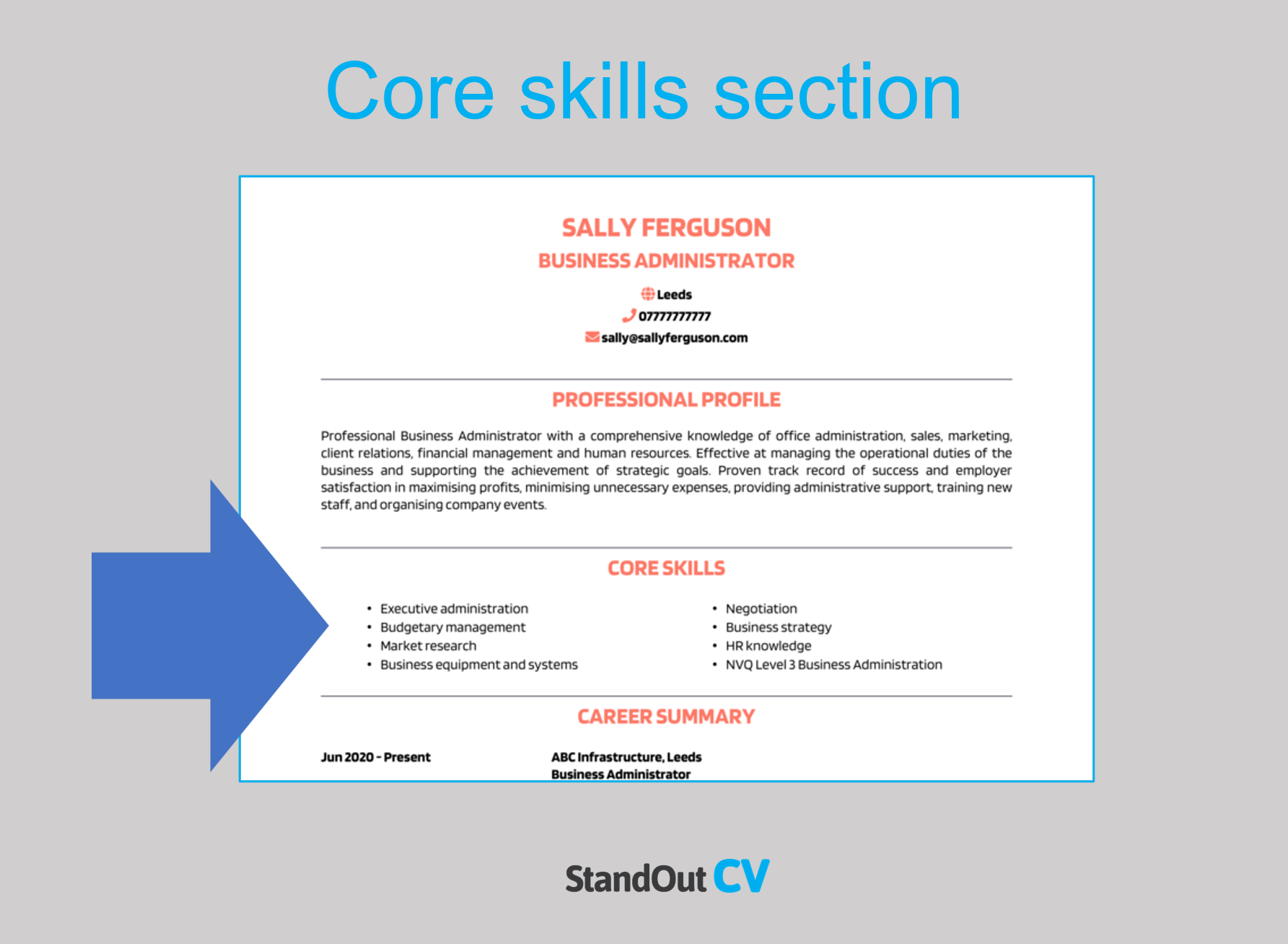 Best skills for your Audio Visual Technician resume
Audio Systems Operation – Setting up, operating, and troubleshooting audio equipment, such as microphones, sound systems, and mixing consoles.
Video Systems Operation – Utilizing knowledge of video equipment and systems, including projectors, video walls, cameras, and video conferencing technology, to ensure smooth operation and troubleshooting.
Lighting Design and Control – Designing and setting up lighting systems for optimal visibility and atmosphere during events, performances, or presentations.
Projection Mapping – Utilizing projection mapping technology to create visually captivating displays on various surfaces, enhancing the overall visual experience.
Signal Routing and Connectivity – Utilizing knowledge of signal flow and connectivity standards to establish reliable audio and video connections between different devices and systems.
Equipment Maintenance and Repair – Maintaining, troubleshooting, and repairing audiovisual equipment to minimize downtime and ensure optimal performance.
Technical Problem Resolution – Quickly identifying and resolving technical issues that may arise during live events or presentations.
Event Coordination – Collaborating with event organizers, presenters, and other stakeholders to understand their audiovisual requirements and ensure seamless execution.
Software and Control Systems – Utilizing audiovisual software and control systems, such as Crestron or AMX, to configure and operate complex setups and automate processes.
Safety and Compliance – Utilizing knowledge of safety protocols and compliance standards to ensure the proper installation, operation, and maintenance of audiovisual equipment, prioritizing the well-being of individuals and the integrity of the environment.
Quick tip: Our partner's Resume Builder contains thousands of in-demand skills for every profession that can be added to your resume in seconds – saving you time and greatly improving your chances of landing job interviews and getting hired.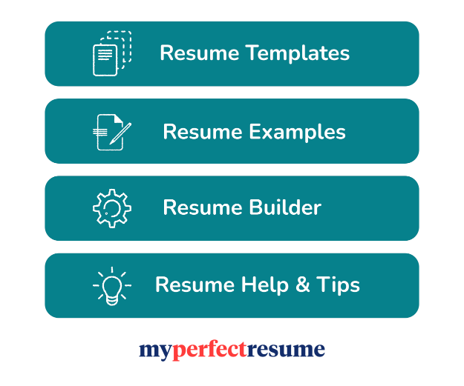 Work experience
Now that you've reeled recruiters in with your awesome summary, it's time to delve into your work experience.
Here you'll list your previous jobs (starting with your most recent and working backward) and showcase how you apply your skills in the workplace.
Provide lots of detail in recent jobs, and less in older roles.
If you have no relevant paid experience, you can include voluntary work and placements – but if you have lots of experience, you can leave out some of the really old jobs.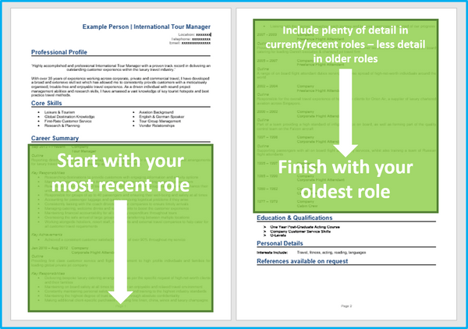 Structuring your jobs
Your job description probably includes tons of information, so it's vital to organize it well when writing about it on your resume.
Structure your jobs as like the example below to make skim-reading easy for recruiters and hiring managers.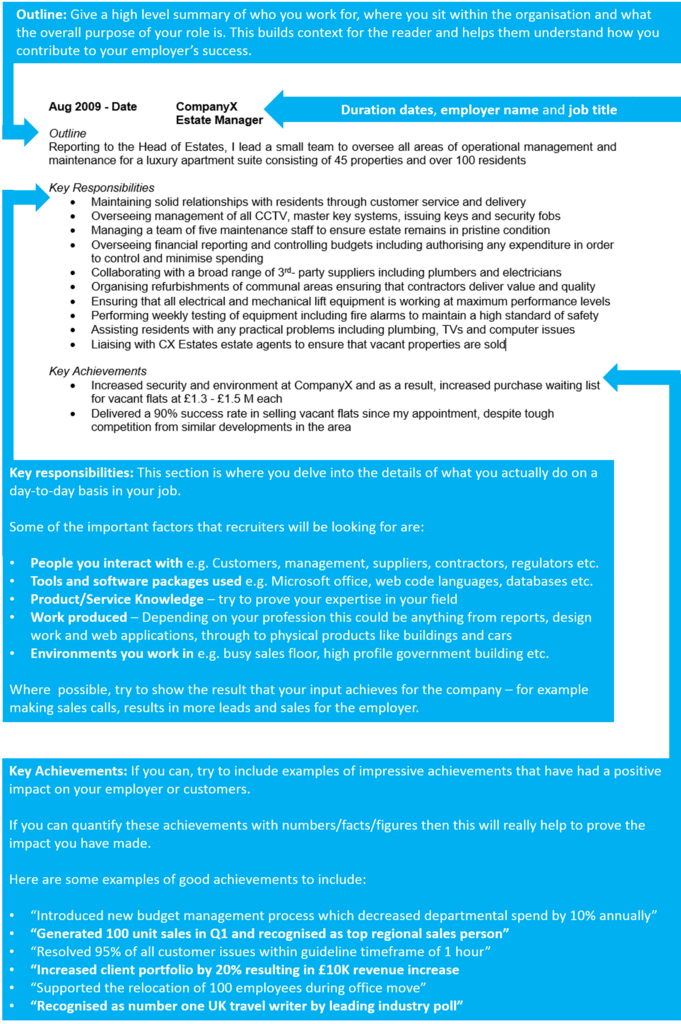 Job outline
Each role description should begin with a qucik summary of the job and company, along with how the job fits into the strucuture of the organization.
Key responsibilities
List your notable responsibilities in short sharp bullet points to demonstrate your input and how you contributed to the organization's success.
Highlight the skills that are most important to the roles you are applying for.
Key achievements
Show employers the value you can bring to them by adding a few achievements to your jobs.
Whether you've saved the company money or improved an internal process, let recruiters know
Add some numbers to give readers a real scale of the impact, e.g. "reduced call wait time by 10%"
Example job for Audio Visual Technician resume
Outline
Ensure the smooth functioning of systems that deliver high-quality audio-visual experiences, for a place where technology, engineering, and innovation come together to reinvent the way people think about network structured cabling and AV systems and security implementation.
Key Responsibilities
Assemble and configure projectors, sound systems, microphones, consoles, speakers, displays, cameras, and recording devices.
Use and control tools during events or presentations, ensuring proper audio levels, video quality, and synchronization.
Ensure seamless connectivity and compatibility between different audiovisual components and peripherals.
Troubleshoot technical issues and provide on-site support during events, promptly resolving any malfunctions or connectivity problems at customer sites.
Quick tip: Create impressive job descriptions easily in our partner's Resume Builder by adding pre-written job phrases for every industry and career stage.

Education section
Towards the bottom of your resume, add your education section.
Here you should list your professional qualifications and academic record, such as high school diplomas or college degrees.
If you have lots of work experience, you can keep this section brief (because recruiters will be more interested in your career. If you have little/no experience then you should bulk this section up with plenty of detail.
Additional information
The bottom of your resume is a place to add any "additional info"
Any other info that didn't fall into any of the previous sections can be added here.
If you have hobbies that are related to your profession or any awards or publications – add them here.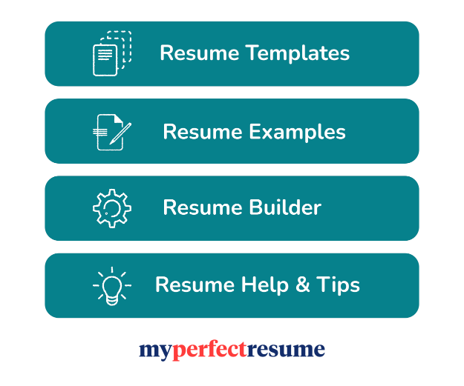 Writing your own winning Audio Visual Technician resume
A winning Audio Visual Technician resume should look great, read well, and sell your skillset to hiring managers.
If you follow the steps above, you should be able to bag yourself a top job in no time.
Good luck with your job search!