Is there anything better than carefully sketching away, designing beautiful buildings or landscapes, and watching as these become a reality?
You don't think so, which is why you need to land your next role as an architectural designer soon.
To help you construct an application that's as impressive as your designs, we've put together the following step-by-step guide and architectural designer resume example.
Contents
| | |
| --- | --- |
| How to write a Architectural Designer resume | |

Architectural Designer Resume Example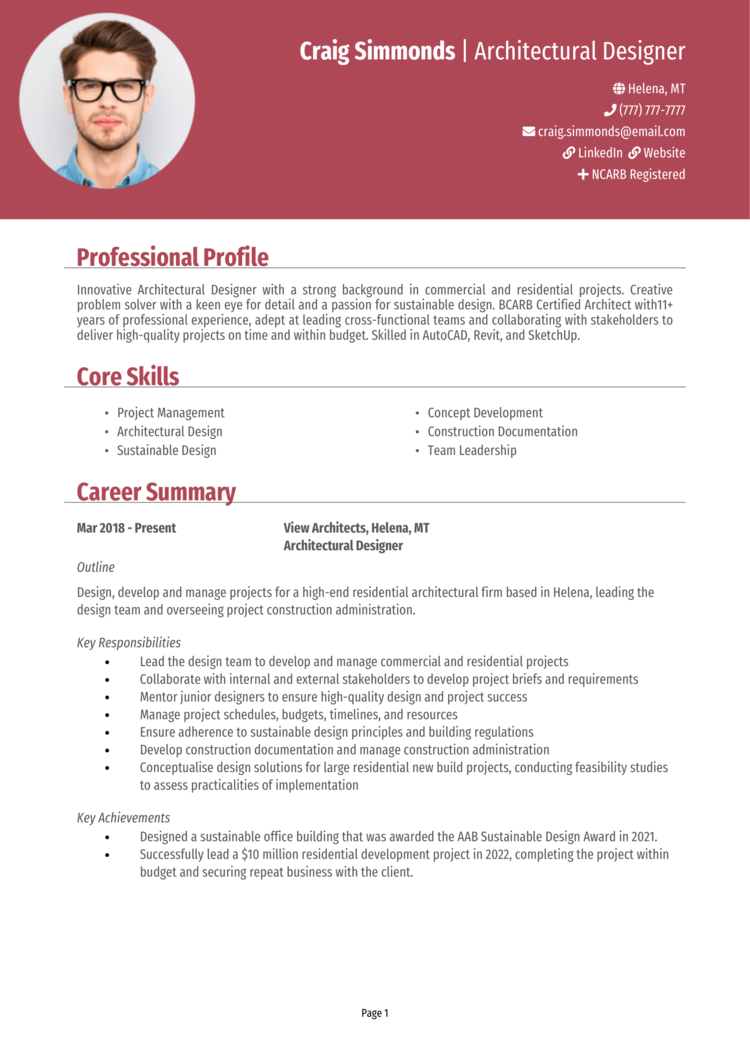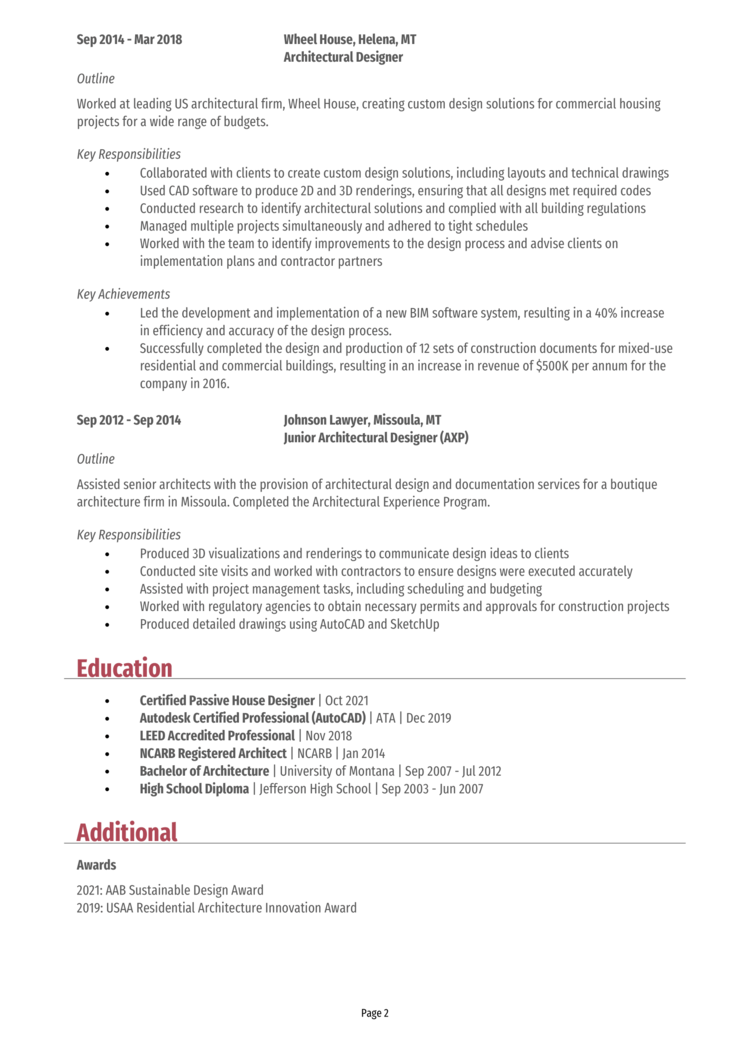 This example Architectural Designer resume is well-structured to provide a pleasant reading experience for recruiters, and contains all of the crucial information they want to see.
The rest of the guide will show you exactly how you can achieve this in your own resume.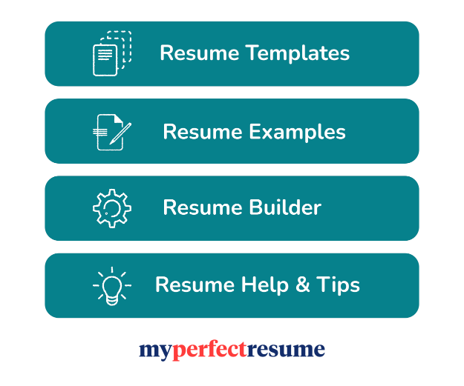 Architectural Designer resume layout and format
When it comes to holding the attention of recruiting managers, the format and layout of your resume play a key role.
Your resume needs to strike a perfect balance between looking awesome, and being easy for recruiters to read (which is not always easy to achieve)
Use the following formatting tips to get started.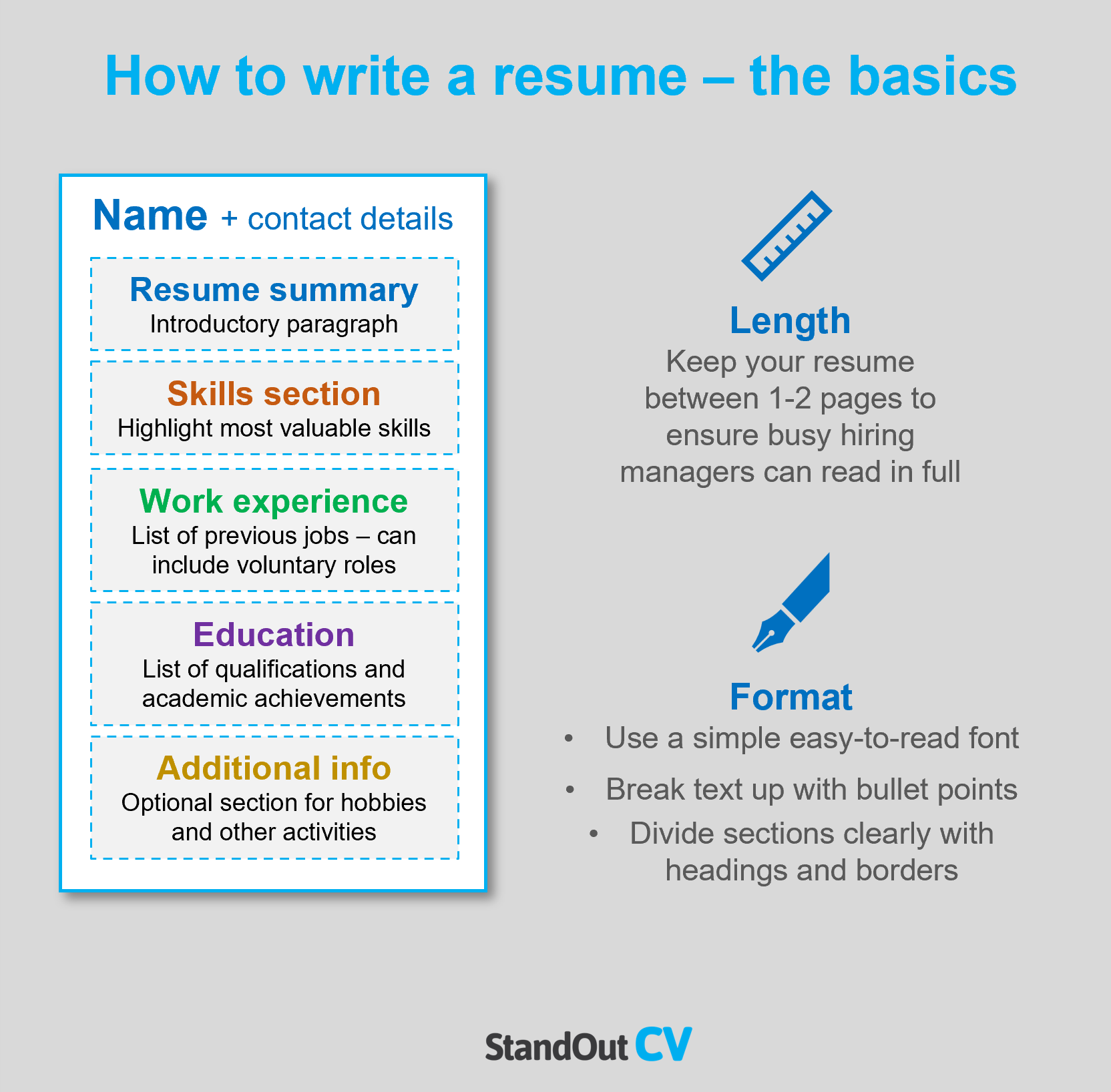 Formatting your resume
Length: As recruiters have a limited amount of time to review each resume they see, keep your resume to 2 pages or less to increase the chances of it being thoroughly reviewed.
Font & readability: Readability is the name of the game when it comes to your resume. Ensure yours is a dream to read by using a simple clear font, and breaking the text up with plenty of bullet points and short paragraphs.
Layout & Structure: While creating an attractive resume, it is crucial not to compromise functionality for design. To ensure both, use bold headings and borders to structure the page into clear sections.
Photos: In the USA adding a photo to your resume is optional – you don't have to do it, but it can be a nice way to get your personality across.
Quick tip: Achieving a professional look for your resume can be difficult and time-consuming. If you want to create an attractive resume quickly, try our partner's Resume Builder and use one of their eye-catching resume templates.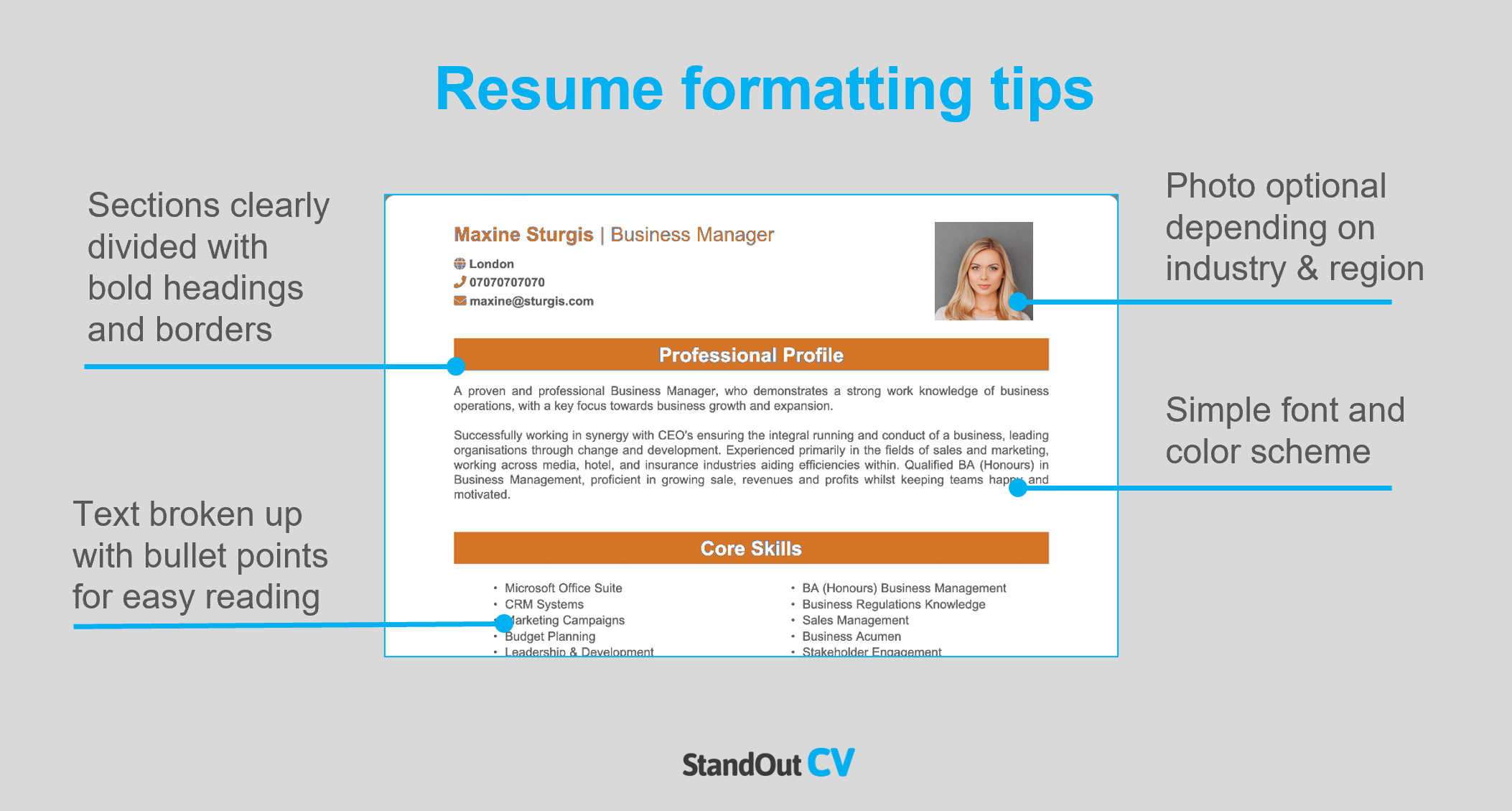 Resume layout
Include the following sections when you write your resume.
Name and contact details – Make it easy for employers to contact you, by putting these at the top.
Resume summary – An intro paragraph sitting at the top of your resume, summarizing the reasons why you should be hired.
Skills section – A short snappy list of your most important skills, that can be quickly digested
Work experience – Reverse chronological list of your previous jobs – voluntary work and college placements can be included if you have no paid experience.
Education – List your qualifications and professional training.
Additional info – An optional section for things like hobbies and interests.
Here's what to include in each part of your resume.
Contact Details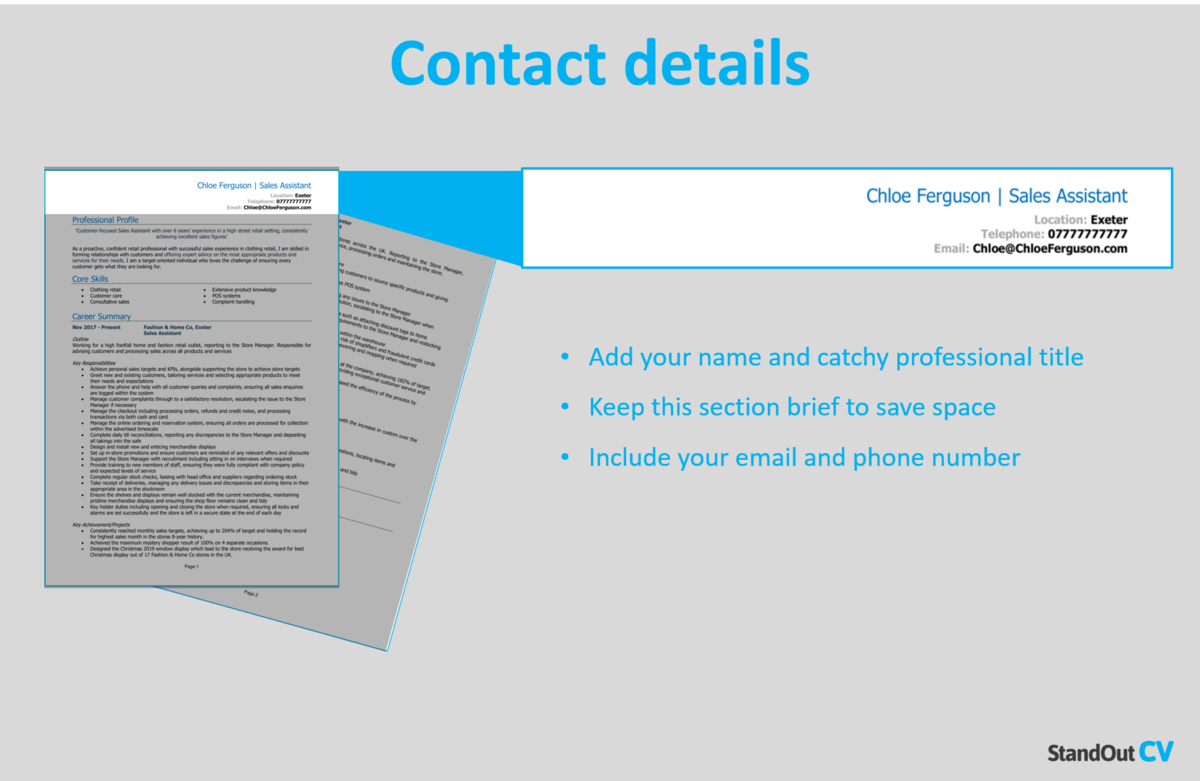 Add your name and contact details to the header of your resume, so that anybody reading can easily see how to contact you.
Name and profession title
Cell phone number – or any number you are easily reachable on
Location – Add your local area such as Washington or San Diego – not your full address as that will take up too much space.
Email address – Use a professional looking address.
You can add a link to your LinkedIn profile if you have one – you do not need to include personal details like date of birth or religion.
Architectural Designer Resume Summary
Your resume summary is like an elevator pitch. It's your chance to sell yourself to employers within a short space of time.
Achieve this by summarizing your skills and expertise, whilst highlighting your abilities that closely match the jobs you are aiming for.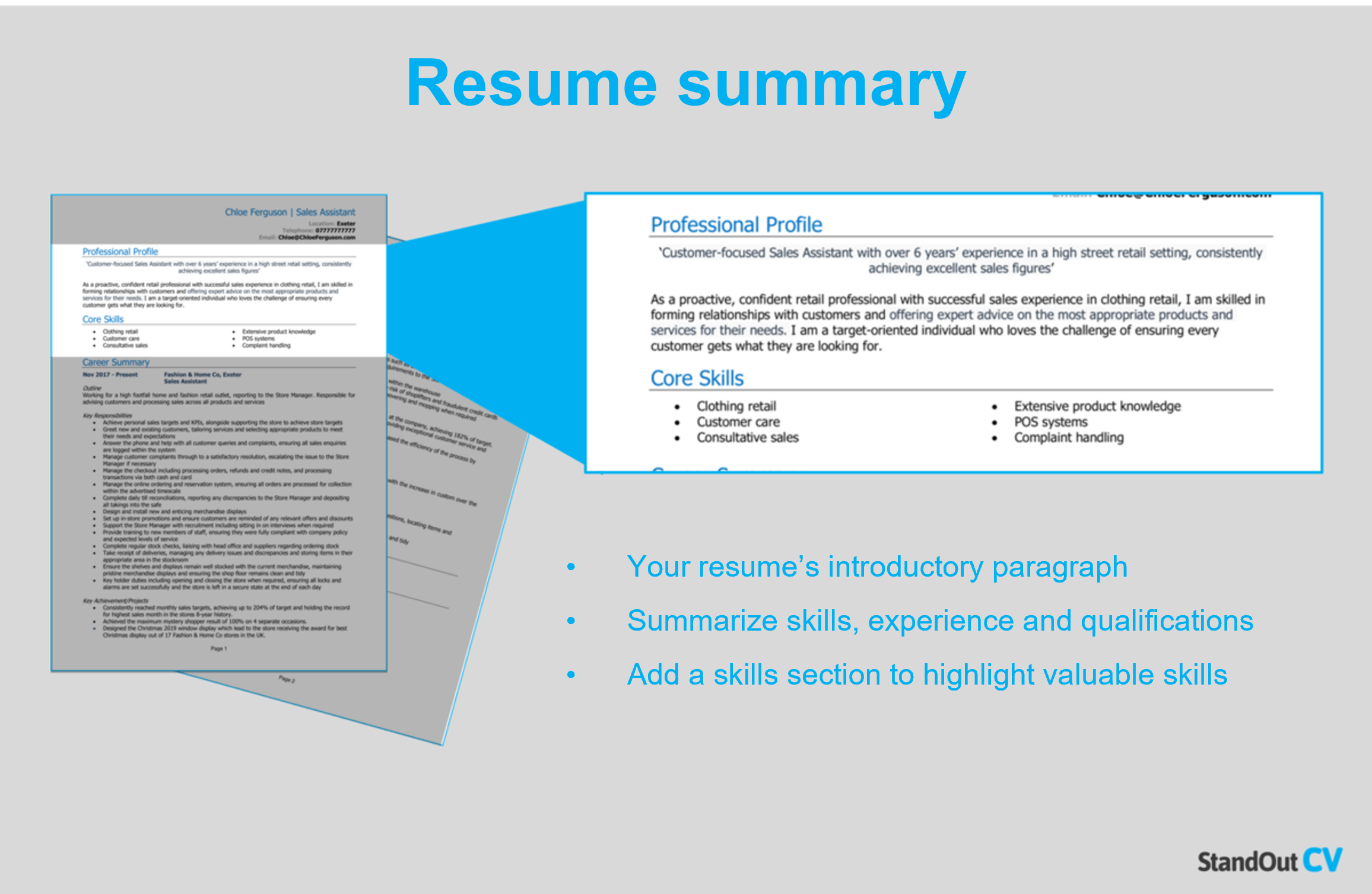 How to create a resume summary that will excite recruiters:
Keep it short: To effectively capture a recruiter's attention, it's crucial to keep your resume summary brief and to the point, limiting it to 4-7 lines as this provides enough detail without overwhelming them at this early stage.
Tailor to target jobs: To make your resume more relevant to your target jobs, analyze the job description and include as many matching skills as possible.
Avoid using cliches: Recruiters always see cringey cliches like "hardworking guru who works well in a team or individually" – they don't mean much to anyone, so focus your summary on tangible skills and experience.
Architectural Designer resume summary example
Innovative Architectural Designer with a strong background in commercial and residential projects. Creative problem solver with a keen eye for detail and a passion for sustainable design. BCARB Certified Architect with 11+ years of professional experience, adept at leading cross-functional teams and collaborating with stakeholders to deliver high-quality projects on time and within budget. Skilled in AutoCAD, Revit, and SketchUp.
What to include in your Architectural Designer resume summary?
Summary of your experience: Briefly describe the work you have performed in the past and the contributions you have made to the organizations you have worked for.
Relevant skills: Incorporate your highly relevant skills for Architectural Designer jobs to exhibit your suitability as soon as your resume is opened.
Qualifications: Any qualifications that are important to the Architectural Designer jobs you are applying for, should be mentioned in the summary.
Quick tip: Choose from hundreds of pre-written summaries across all industries, and add one to your resume with one-click in our partner's Resume Builder. All written by recruitment experts and easily tailored to suit your unique skillset and style.
Core skills section
Next, you should create a bullet pointed list of your core skills, formatted into 2-3 columns.
Here, you should focus on including the most important skills or knowledge listed in the job advertisement.
This will instantly prove that you're an ideal candidate, even if a recruiter only has time to briefly scan your resume.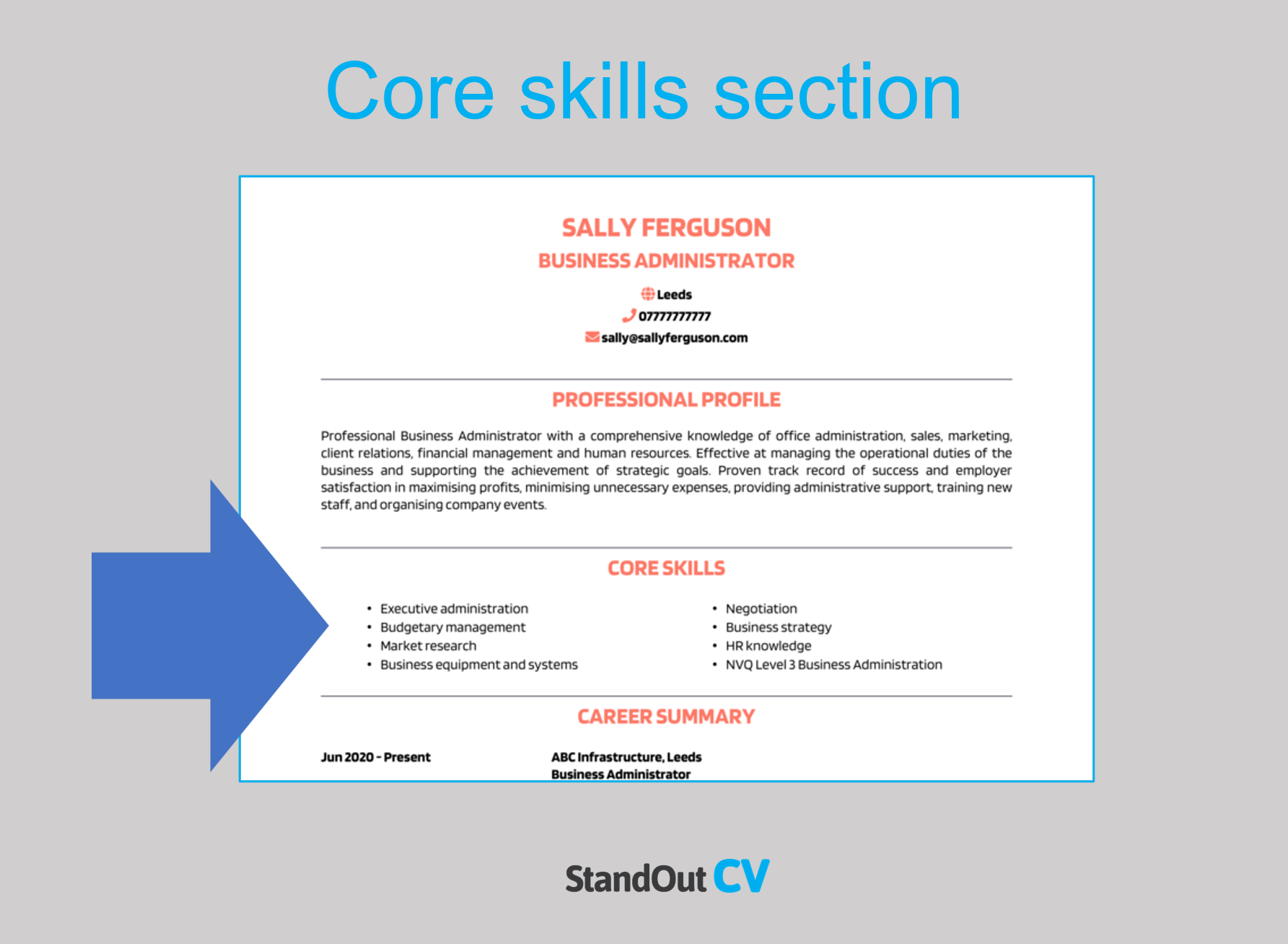 Best skills for your Architectural Designer resume
Architectural Design Software – Utilizing industry-standard software like AutoCAD, Revit, SketchUp, or ArchiCAD to create architectural designs and produce accurate technical drawings.
Building Codes and Regulations – Utilizing knowledge of local, state, and national building codes and regulations to ensure designs comply with legal and safety requirements.
Space Planning – Effectively utilizing and organizing interior spaces to optimize functionality and meet the needs of clients or users.
Sustainable Design – Utilizing knowledge of sustainable design principles, green building practices, and LEED certification standards to create environmentally-friendly and energy-efficient designs.
Technical Drawing and Drafting – Creating detailed technical drawings, including floor plans, elevations, and sections, with precise measurements and annotations.
3D Visualization – Creating 3D models and visualizations of architectural designs using software like 3ds Max, Rhino, or Blender to present design concepts to clients.
Material and Construction Knowledge – Utilizing knowledge of different building materials, their properties, and construction methods to select appropriate materials and ensure structural integrity.
Project Management – Managing architectural projects, including budgeting, scheduling, and coordinating with clients, contractors, and other stakeholders.
Stakeholder Communication and Presentation – Conveying design ideas and concepts to clients, colleagues, and other stakeholders.
Cross-functional Collaboration – Working collaboratively with architects, engineers, and other professionals involved in the design and construction process to ensure a cohesive and successful project outcome.
Quick tip: Our partner's Resume Builder contains thousands of in-demand skills for every profession that can be added to your resume in seconds – saving you time and greatly improving your chances of landing job interviews and getting hired.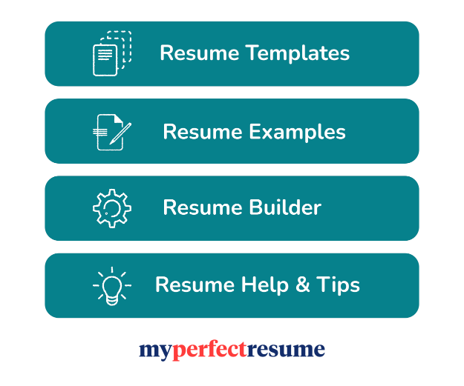 Work experience
Once you've got recruiters interested with your impactful summary, your work experience is where the real detail will lie.
Lay out your previous jobs from current to oldest, detailing what you contributed and achieved in each one.
If you're highly experienced you can cut this section down to your most recent few years of work, but if you are junior you can bulk this up with voluntary work and college placements.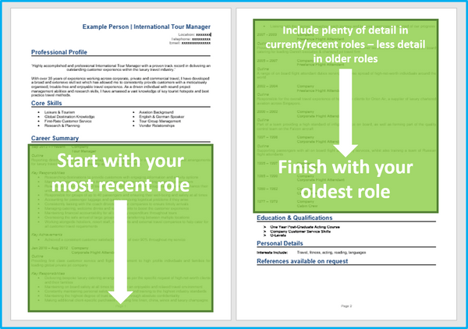 Structuring your jobs
It's easy to overwhelm readers when writing about a job you have been doing for years or even months.
Break the information up like this to keep it simple for recruiters to understand.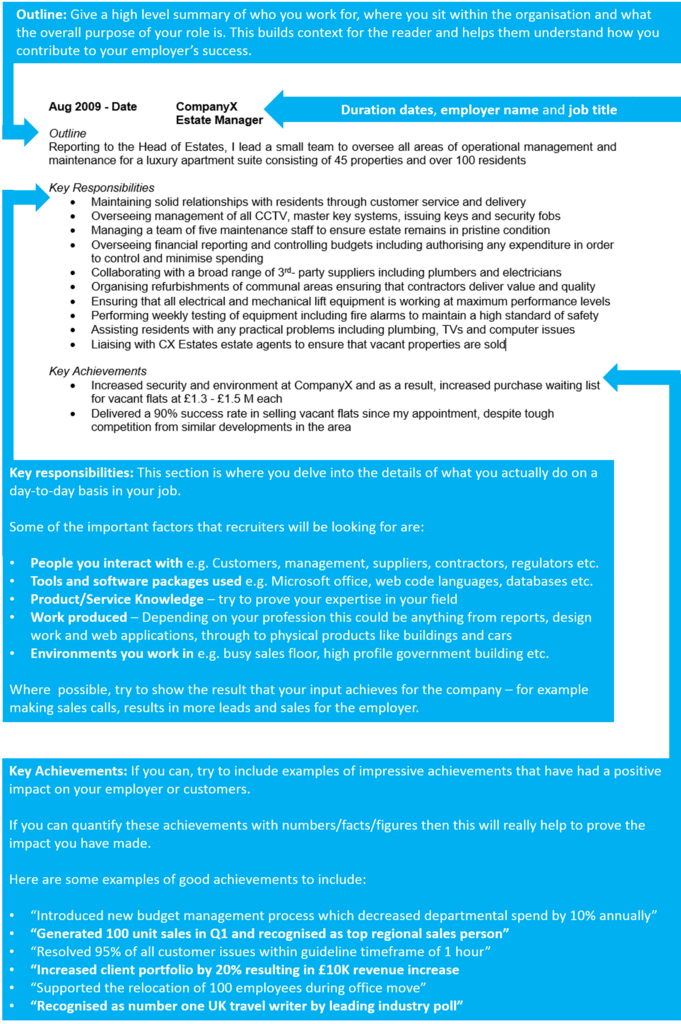 Job outline
Starting each job with a brief summary of the organization, your position within it, and the primary goal of your role can help recruiters quickly understand the context of your work.
Key responsibilities
The bulk of the role description should be comprised of bullet points that explain all of your duties in the job.
Keep the sentences short and simple to make them easy for recruiters to digest.
Key achievements
Finish each role by highlighting some impressive achievements you made whilst in the role.
Anything that benefited the employer can be included from making financial savings, to winning new customers.
Quantify your achievements with facts and figures if you can, e.g. "reduced call wait time by 10%"
Example job for Architectural Designer resume
Outline
Design, develop and manage projects for a high-end residential architectural firm based in Helena, leading the design team, and overseeing project construction administration.
Key Responsibilities
Lead the design team to develop and manage commercial and residential projects
Collaborate with internal and external stakeholders to develop project briefs and requirements
Mentor junior designers to ensure high-quality design and project success
Manage project schedules, budgets, timelines, and resources
Quick tip: Create impressive job descriptions easily in our partner's Resume Builder by adding pre-written job phrases for every industry and career stage.

Education section
After your work experience, add your education section.
If you are an experienced professional, you can keep this part short – adding basic details of each qualification.
If you have little or no experience, bulk this section up by adding more detail and highlight important skills and knowledge for your target jobs.
Additional information
The additional info section is optional but can be useful if you have anything else to add that could benefit your application.
For example, you may have some hobbies and interests that are relevant to your job – or you might have awards or publications to shout about.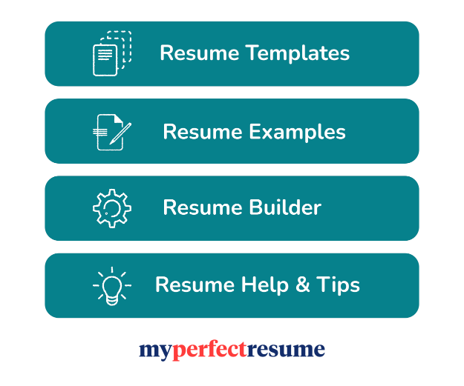 Writing your own winning Architectural Designer resume
By tailoring your resume to the specific job and industry you are targeting and ensuring that it effectively communicates your professional value, you can position yourself as a top candidate for all Architectural Designer positions.
Good luck with your job search!