You know you can help your patients before, during, and after surgery; supporting them through the process and helping with pain management.
The problem is, you need a resume that proves this.
To help you inject some life into your application, we've put together this comprehensive guide, bursting with top tips and complete with an anesthesiologist resume example.
Contents
| | |
| --- | --- |
| How to write your Anesthesiologist resume | |

Anesthesiologist Resume Example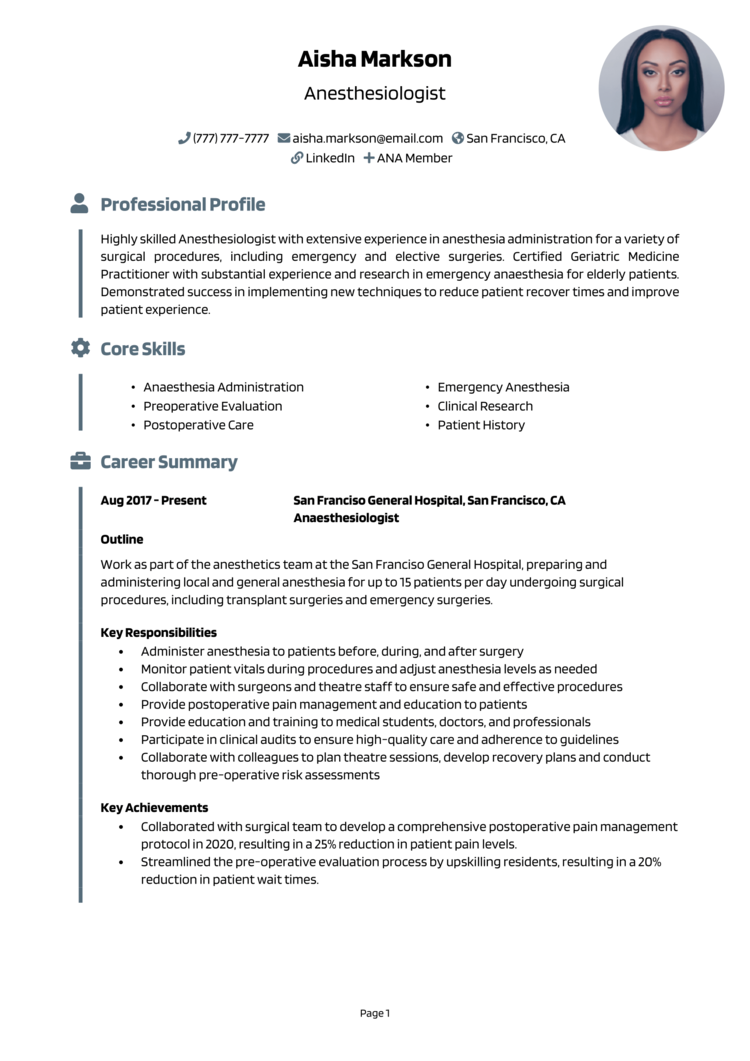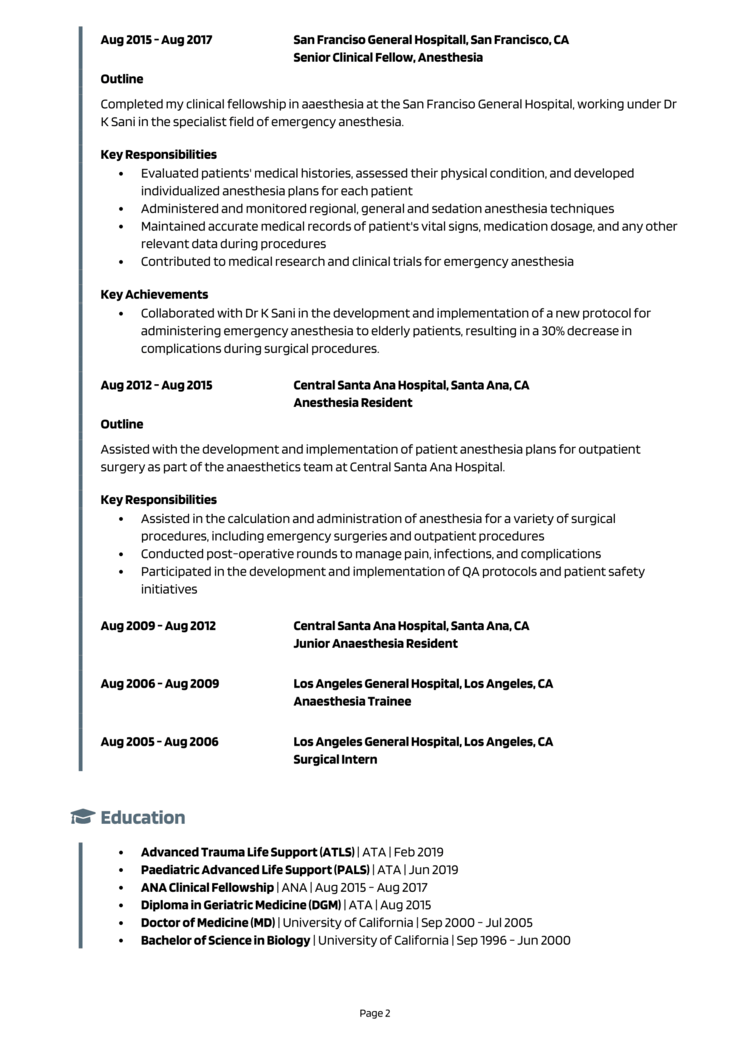 From the Anesthesiologist resume example above, you can see the kind of information your resume will need to include, and the layout you will need to create for an easy-reading experience.
The rest of this guide will show you how to apply this format to your own unique situation, and create a resume that will attract the best employers in your industry.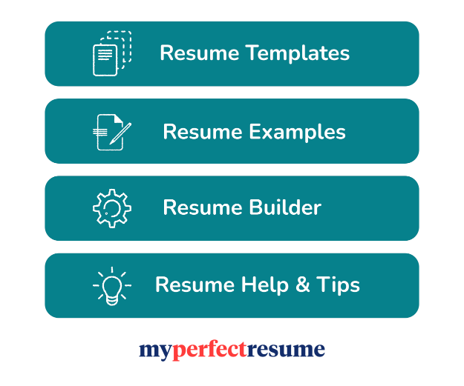 Anesthesiologist resume layout and format
If you want to get noticed in the job market, you have to pay attention to the format and layout of your resume.
Essentially your resume needs to look highly polished, and provide hiring managers with an easy reading experience.
Use these resume formatting tips to get a head start on this.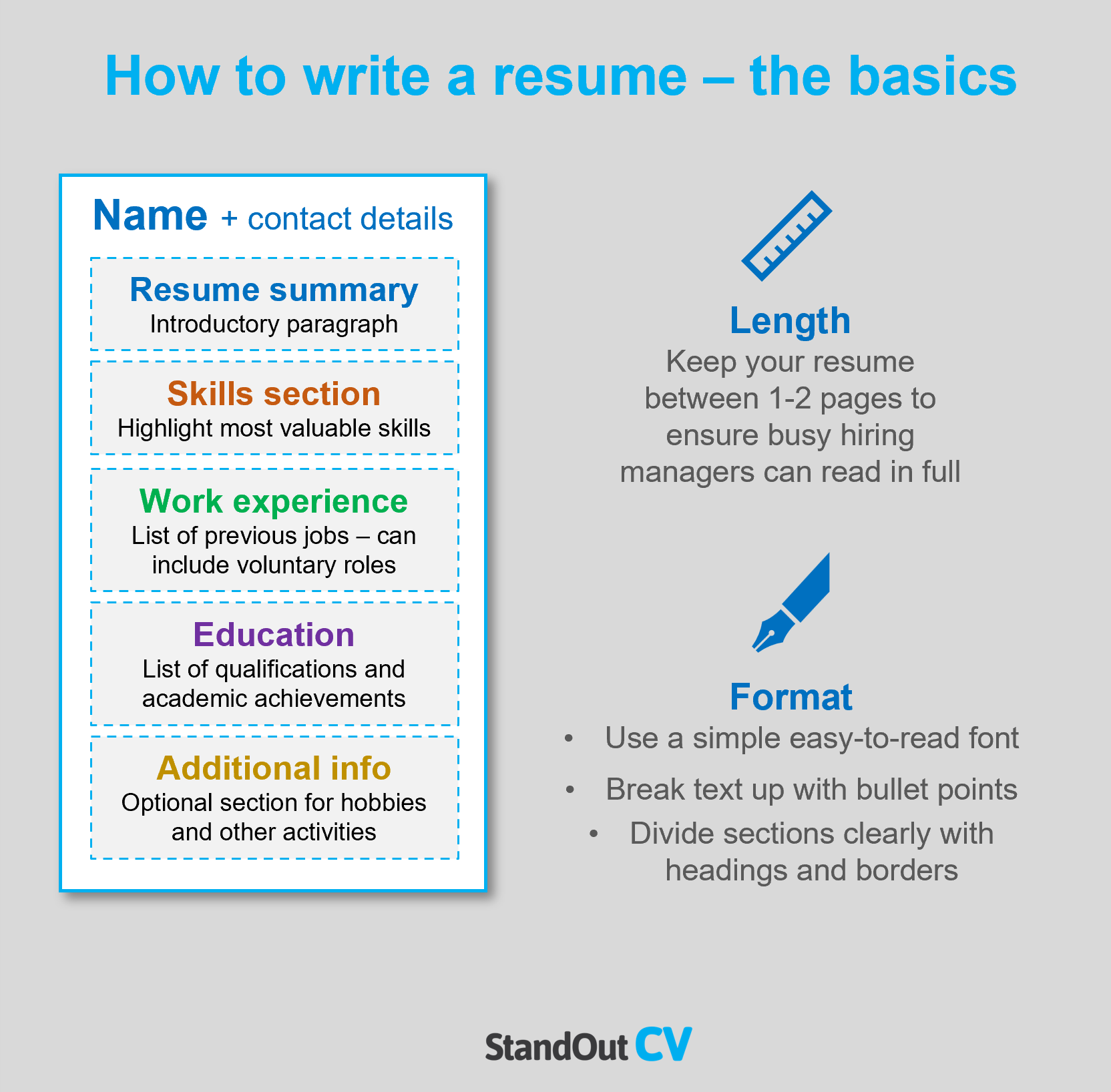 Formatting your resume
Length: Given that recruiters have to sift through tons of resumes daily, it's recommended to keep your resume brief (no more than 2 pages) to make sure it receives their full attention.
Font & readability: Readability is the name of the game when it comes to your resume. Ensure yours is a dream to read by using a simple clear font, and breaking the text up with plenty of bullet points and short paragraphs.
Layout: While creating an attractive resume, it is crucial not to compromise functionality for design. To ensure both, use bold headings and borders to structure the page into clear sections.
Photos: Although it is not compulsory to include a photo in your resume in the USA, it can be advantageous if you are applying to companies in creative industries.
Quick tip: Achieving a professional look for your resume can be difficult and time-consuming. If you want to create an attractive resume quickly, try our partner's Resume Builder and use one of their eye-catching resume templates.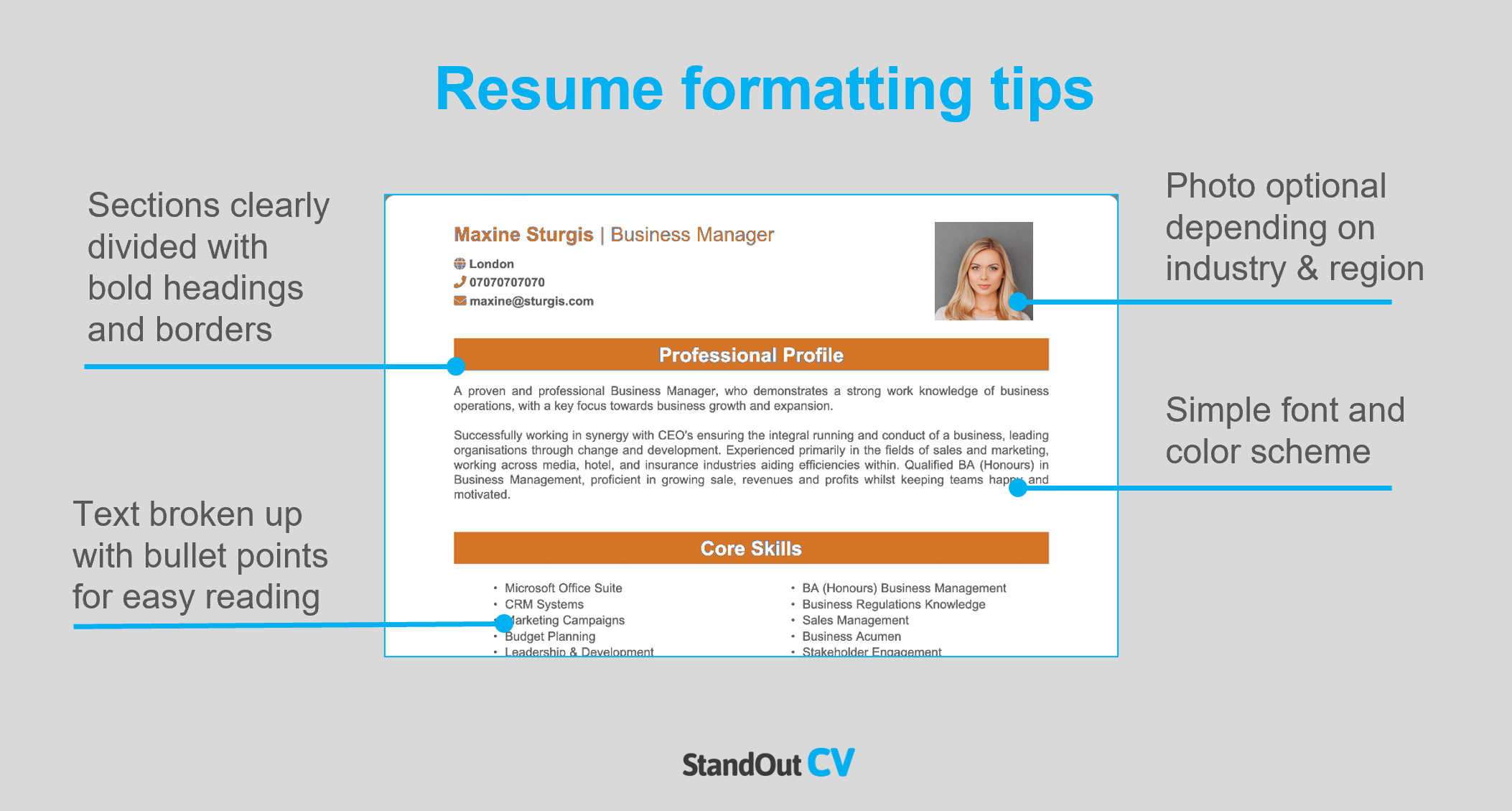 Resume layout
Include the following sections when you write your resume.
Name and contact details – Make it easy for employers to contact you, by putting these at the top.
Resume summary – An intro paragraph sitting at the top of your resume, summarizing the reasons why you should be hired.
Skills section – A short snappy list of your most important skills, that can be quickly digested
Work experience – Reverse chronological list of your previous jobs – voluntary work and college placements can be included if you have no paid experience.
Education – List your qualifications and professional training.
Additional info – An optional section for things like hobbies and interests.
Here's what to add to each section of your Anesthesiologist resume.
Contact Details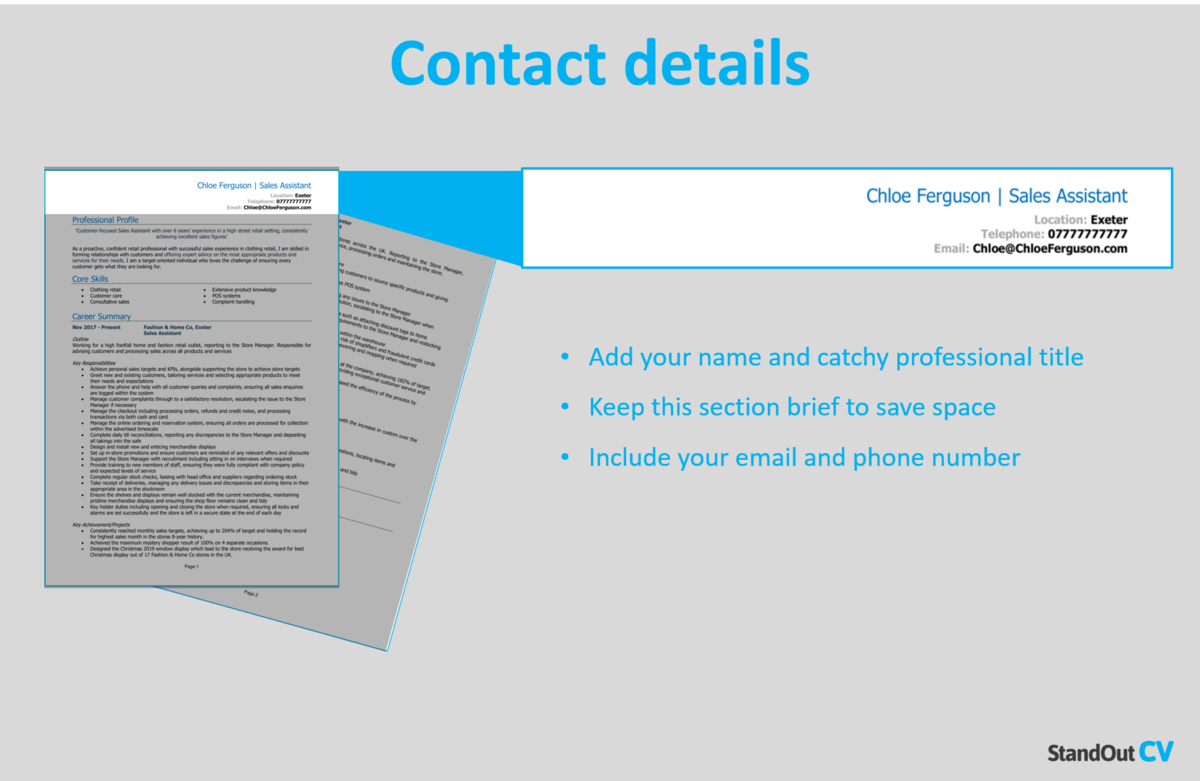 Add your name and contact details to the header of your resume, so that anybody reading can easily see how to contact you.
Name and profession title
Cell phone number – or any number you are easily reachable on
Location – Add your local area such as Washington or San Diego – not your full address as that will take up too much space.
Email address – Use a professional looking address.
You can add a link to your LinkedIn profile if you have one – you do not need to include personal details like date of birth or religion.
Anesthesiologist Resume Summary
Start your resume with a bang by adding a powerful summary to the top, summarizing your most valuable skills and experience.
This short paragraph is your chance to show recruiters why you are a perfect fit for the job and encourage them to read more of your resume.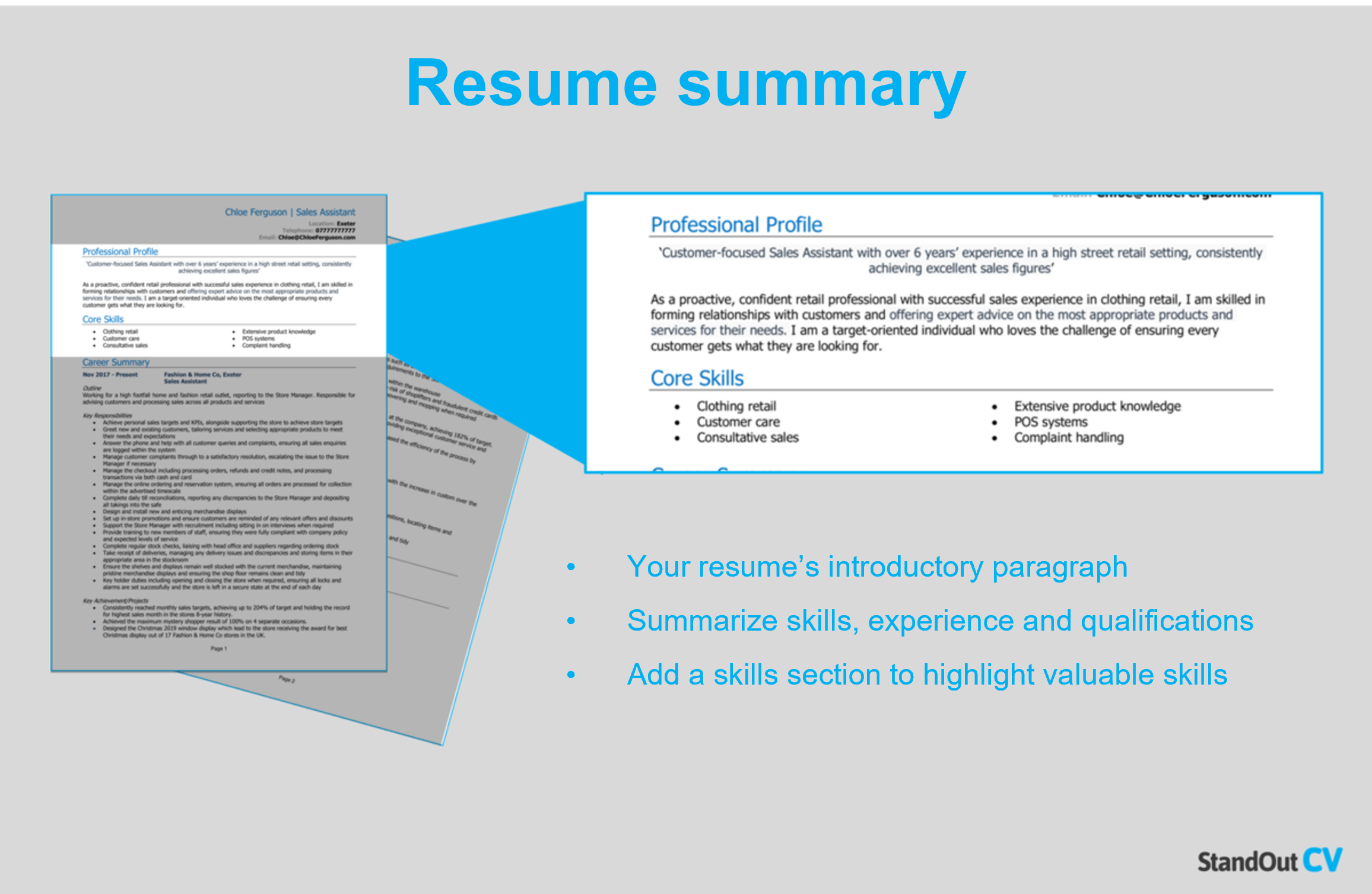 How to create a resume summary that will excite recruiters:
Keep it short: To capture a recruiter's attention and keep them interested in your resume, limit your summary to 4-7 lines as you only have a few seconds to make an impression
Tailor to target jobs: Ensure your profile makes an impact by matching it closely to the requirements of the job description, copying as many key terms as possible.
Avoid using cliches: You might be a "highly motivated go-getter who thinks outside the box" but generic meaningless cliches like that don't tell employers much about you – stick to factual information in your summary.
Anesthesiologist resume summary example
Highly skilled Anesthesiologist with extensive experience in anesthesia administration for a variety of surgical procedures, including emergency and elective surgeries. Certified Geriatric Medicine Practitioner with substantial experience and research in emergency anesthesia for elderly patients. Demonstrated success in implementing new techniques to reduce patient recover times and improve patient experience.
What to include in your Anesthesiologist resume summary?
Summary of your experience: Summarize the type of work you have done in the past and the ways in which you have contributed to the success of your previous employers.
Relevant skills: Include your skills which are hyper relevant to Anesthesiologist jobs to instantly show your suitability.
Qualifications: If your job requires any qualifications such as a professional course or a college degree, mention it briefly in your summary.
Quick tip: Choose from hundreds of pre-written summaries across all industries, and add one to your resume with one-click in our partner's Resume Builder. All written by recruitment experts and easily tailored to suit your unique skillset and style.
Core skills section
Your core skills section, positioned just below your resume summary, provides recruiters with a quick glance at 4-10 of your most in-demand skills.
For Anesthesiologist jobs, where hiring managers may receive hundreds of applications, this section can help you stand out and immediately grab their attention.
To be effective, this section should consist of 2-3 columns of bullet points that highlight attributes that are highly relevant to the jobs you are targeting.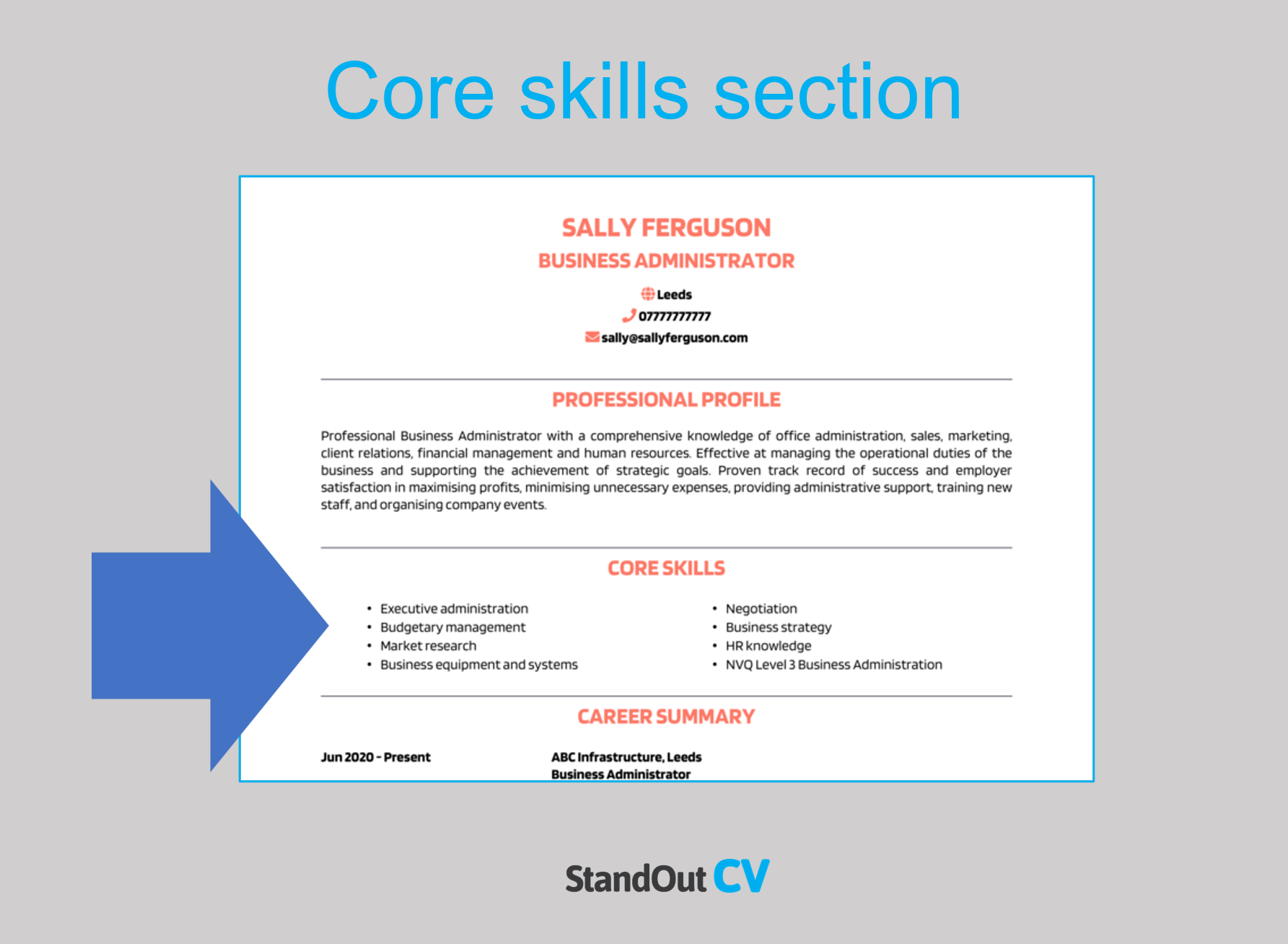 Best skills for your Anesthesiologist resume
Anesthesia Administration – Administering various types of anesthesia, including general anesthesia, regional anesthesia, and sedation, to ensure patient comfort and safety during surgical procedures.
Patient Assessment – Assessing patients' medical history, current health status, and anesthesia needs to develop individualized anesthesia plans and make informed decisions regarding patient care.
Airway Management – Managing the patient's airway, ensuring adequate ventilation and oxygenation during anesthesia administration and addressing any airway complications that may arise.
Pharmacology Knowledge – Maintaining an in-depth understanding of pharmacology principles and anesthesia drugs, including their mechanisms of action, side effects, and potential drug interactions, to safely and effectively administer anesthesia.
Intraoperative Monitoring – Utilizing and interpreting various monitoring devices, such as ECG (electrocardiogram), blood pressure monitors, pulse oximeters, and capnography, to monitor patients' vital signs and adjust anesthesia accordingly.
Emergency Response – Responding quickly and effectively to anesthesia-related emergencies, such as cardiac arrest, anaphylaxis, or airway obstruction, using advanced life support techniques and protocols.
Pain Management – Managing acute and chronic pain in patients through various techniques, including epidural anesthesia, nerve blocks, and patient-controlled analgesia.
Multidisciplinary Collaboration – Collaborating with surgeons, nurses, and other healthcare professionals in the operating room to ensure seamless coordination and patient safety.
Critical Thinking – Assessing complex situations, anticipating potential complications, and making prompt decisions to optimize patient outcomes during anesthesia administration.
Continuous Professional Development – Maintaining a commitment to lifelong learning, staying updated with advancements in anesthesia techniques, new drugs, and research findings, and actively participating in continuing medical education (CME) activities.
Quick tip: Our partner's Resume Builder contains thousands of in-demand skills for every profession that can be added to your resume in seconds – saving you time and greatly improving your chances of landing job interviews and getting hired.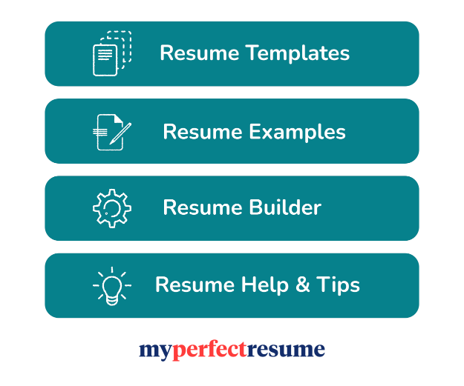 Work experience
So, you've got the recruiter interested with your catchy summary… Great work.
Now it's time to show them the impact you make in the workplace by listing out your previous jobs and what you achieved in each one.
If you have tons of experience, you can condense this part down to the last few years – if you are junior, then you should include as much possible (even volunteering and school work placements)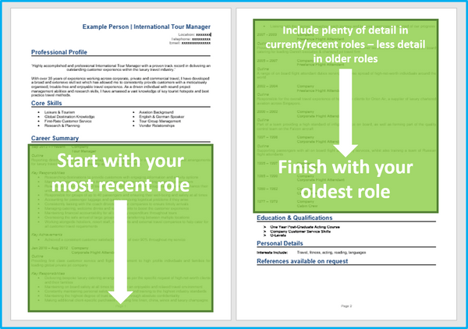 Structuring your jobs
Your job description probably includes tons of information, so it's vital to organize it well when writing about it on your resume.
Structure your jobs as like the example below to make skim-reading easy for recruiters and hiring managers.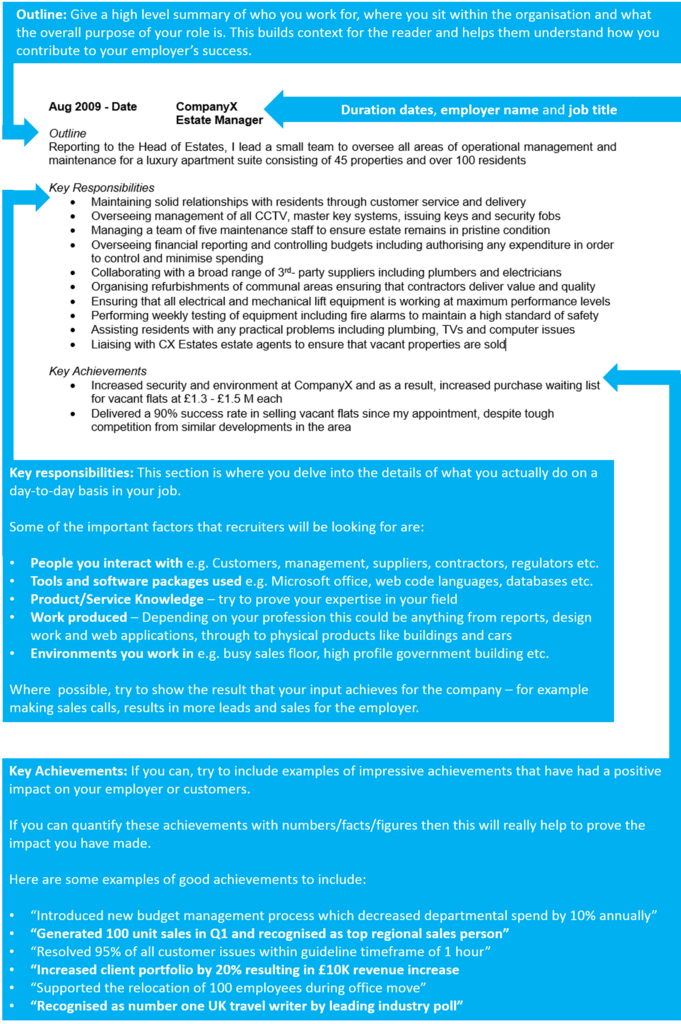 Job outline
Start with a 1-2 sentence outline of the role, summarizing what the goal of your position was, who you reported to (or managed) and the type of organization you worked for.
Key responsibilities
List your notable responsibilities in short sharp bullet points to demonstrate your input and how you contributed to the organization's success.
Highlight the skills that are most important to the roles you are applying for.
Key achievements
Round off each job by adding some impressive achievements you made in the role.
Anything you've done that has made a big impact on your employer will make a good impression, think; generating revenue, saving costs, or improving a product.
Quantify your achievements with number where possible e.g. "reduced call wait time by 10%"
Example job for Anesthesiologist resume
Outline
Work as part of the anesthetics team at the San Francisco General Hospital, preparing and administering local and general anesthesia for up to 15 patients per day undergoing surgical procedures, including transplant surgeries and emergency surgeries.
Key Responsibilities
Administer anesthesia to patients before, during, and after surgery
Monitor patient vitals during procedures and adjust anesthesia levels as needed
Collaborate with surgeons and theater staff to ensure safe and effective procedures
Provide postoperative pain management and education to patients
Quick tip: Create impressive job descriptions easily in our partner's Resume Builder by adding pre-written job phrases for every industry and career stage.

Education section
After your work experience, add your education section.
If you are an experienced professional, you can keep this part short – adding basic details of each qualification.
If you have little or no experience, bulk this section up by adding more detail and highlight important skills and knowledge for your target jobs.
Additional information
The additional info section is optional but can be useful if you have anything else to add that could benefit your application.
For example, you may have some hobbies and interests that are relevant to your job – or you might have awards or publications to shout about.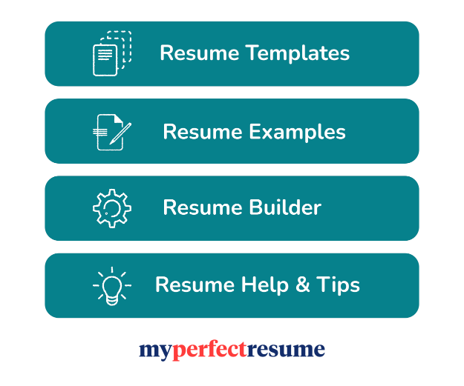 Writing your own winning Anesthesiologist resume
By tailoring your resume to the specific job and industry you are targeting and ensuring that it effectively communicates your professional value, you can position yourself as a top candidate for all Anesthesiologist positions.
Good luck with your job search!