If you're an expert in anti-money laundering solutions and data analysis, your skills could be in high demand right now.
But in order to land such an important role, your application needs to be perfect and we can help you to create a resume that's right on the money.
Check out our detailed guide below, complete with an AML Analyst resume example to inspire your own.
Contents
| | |
| --- | --- |
| How to write your AML Analyst resume | |

AML Analyst Resume Example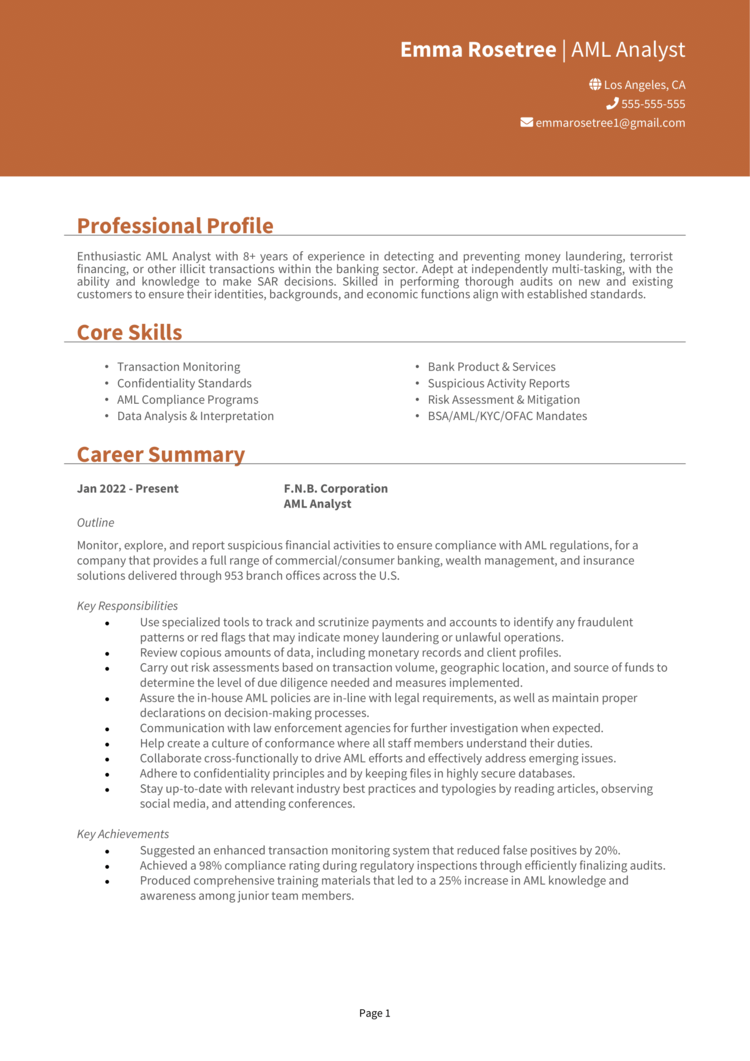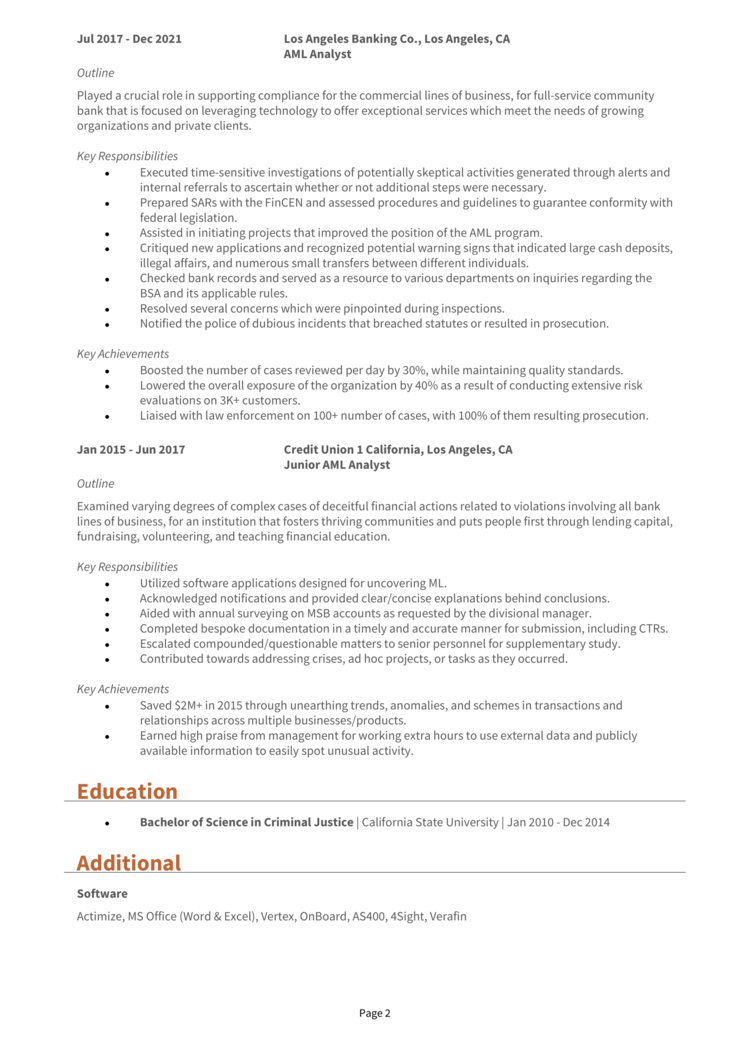 This example AML Analyst resume is well-structured to provide a pleasant reading experience for recruiters, and contains all of the crucial information they want to see.
The rest of the guide will show you exactly how you can achieve this in your own resume.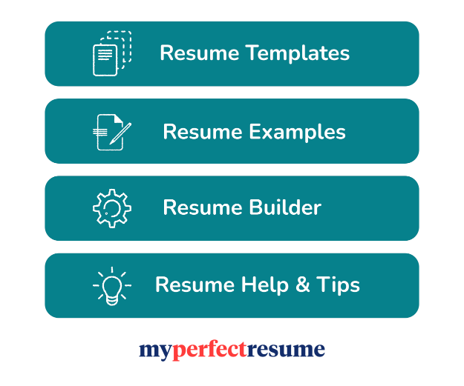 AML Analyst resume layout and format
Your resume layout and format will play a big role in helping hiring managers to take notice of your resume and stay glued to it.
Shoot for a simple yet professional look to ensure you make a strong first impression, and organize the page in a way that is easy for readers to digest the information.
The following formatting tips should help.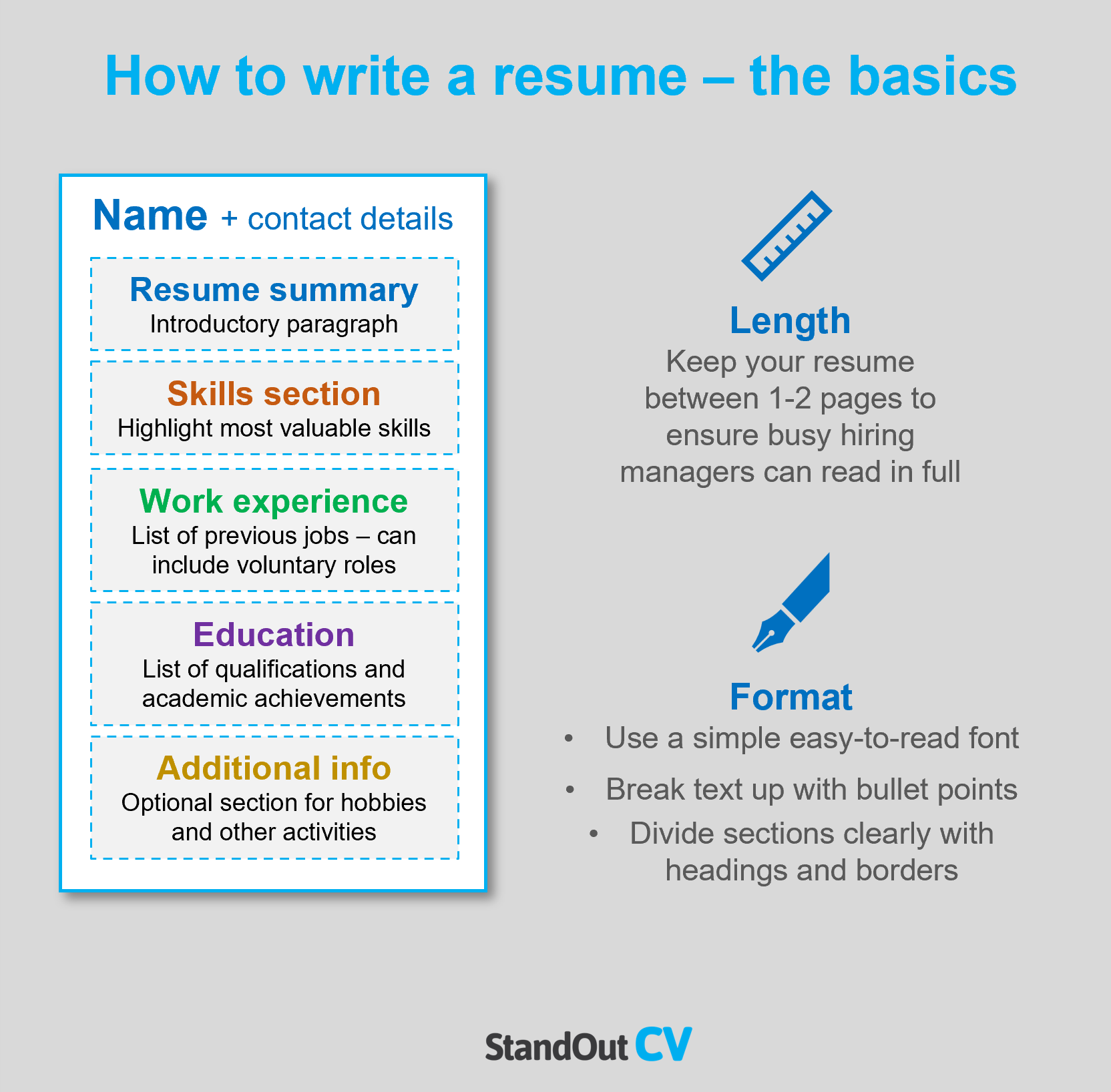 Formatting your resume
Length: To ensure that recruiters will read all of your resume, limit its length to 2 pages – as they someteimes read hundreds of resumes daily.
Font & readability: The key to a good resume is readability. To make your resume easy to read, use a clear and uncomplicated font, and break up the text with bullet points and short paragraphs.
Layout: While creating an attractive resume, it is crucial not to compromise functionality for design. To ensure both, use bold headings and borders to structure the page into clear sections.
Photos: It's not mandatory to add a photo to your resume in the USA but it if you're applying to organizations within the creative fields, it can be beneficial.
Quick tip: Achieving a professional look for your resume can be difficult and time-consuming. If you want to create an attractive resume quickly, try our partner's Resume Builder and use one of their eye-catching resume templates.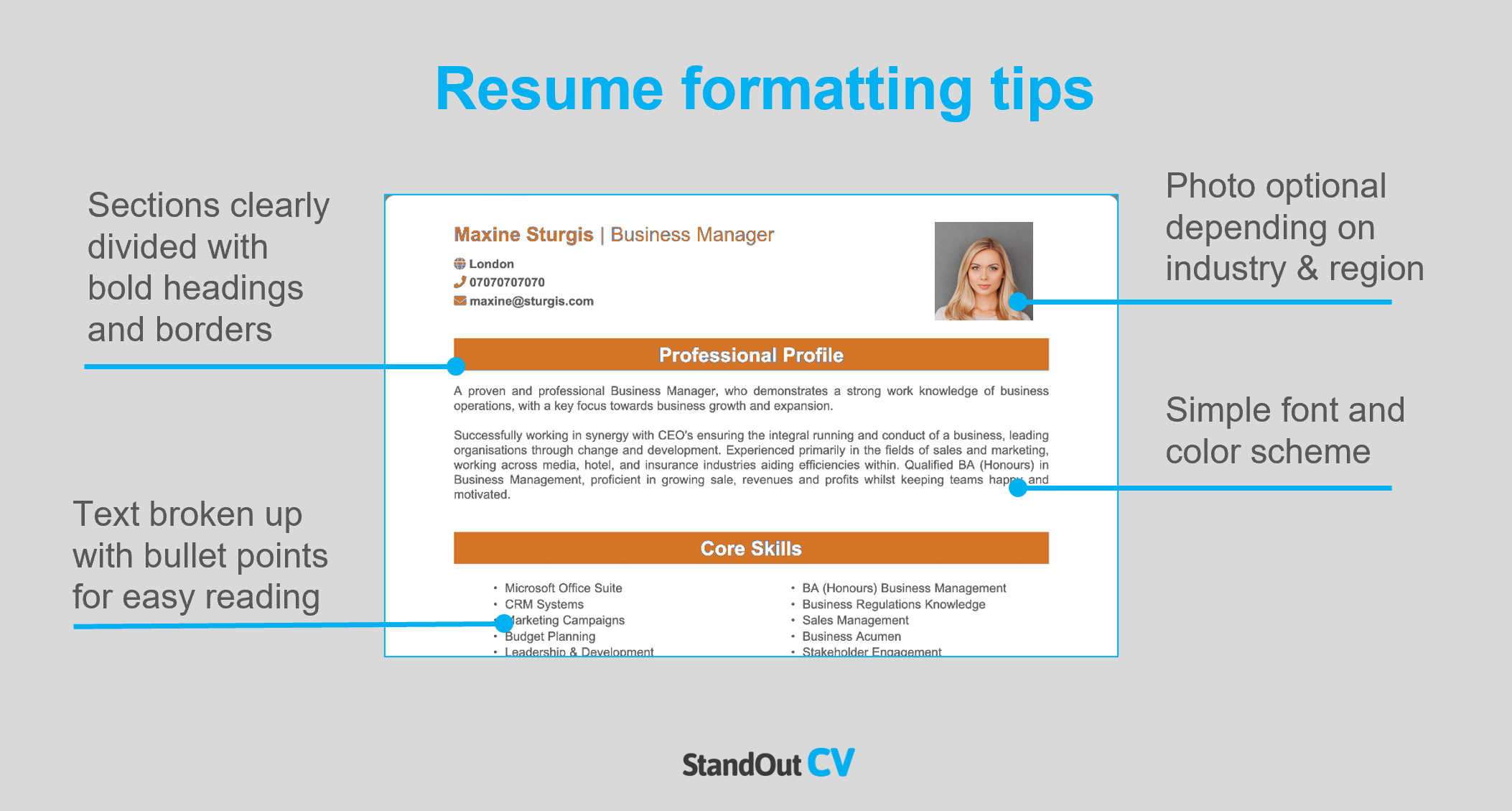 Resume layout
Here's an overview of the sections you should add when writing your resume.
Name and contact details – Stick these details at the top, so they are easy to find.
Resume summary – A punchy paragraph summarizing your skills and knowledge, enticing recruiters to read more of your resume.
Skills section – Short list of your most valuable skills, enabling recruiters to quickly spot your suitability.
Work experience – Showcase your previous employment, starting with your most recent roe and working backwards – voluntary work and college placements can be included if you have no paid experience.
Education – A summary of your most relevant qualifications and academic achievements
Additional info – An optional section for that other attributes that may boost your application, such as hobbies or clubs
Here's what to add to each section of your AML Analyst resume.
Contact Details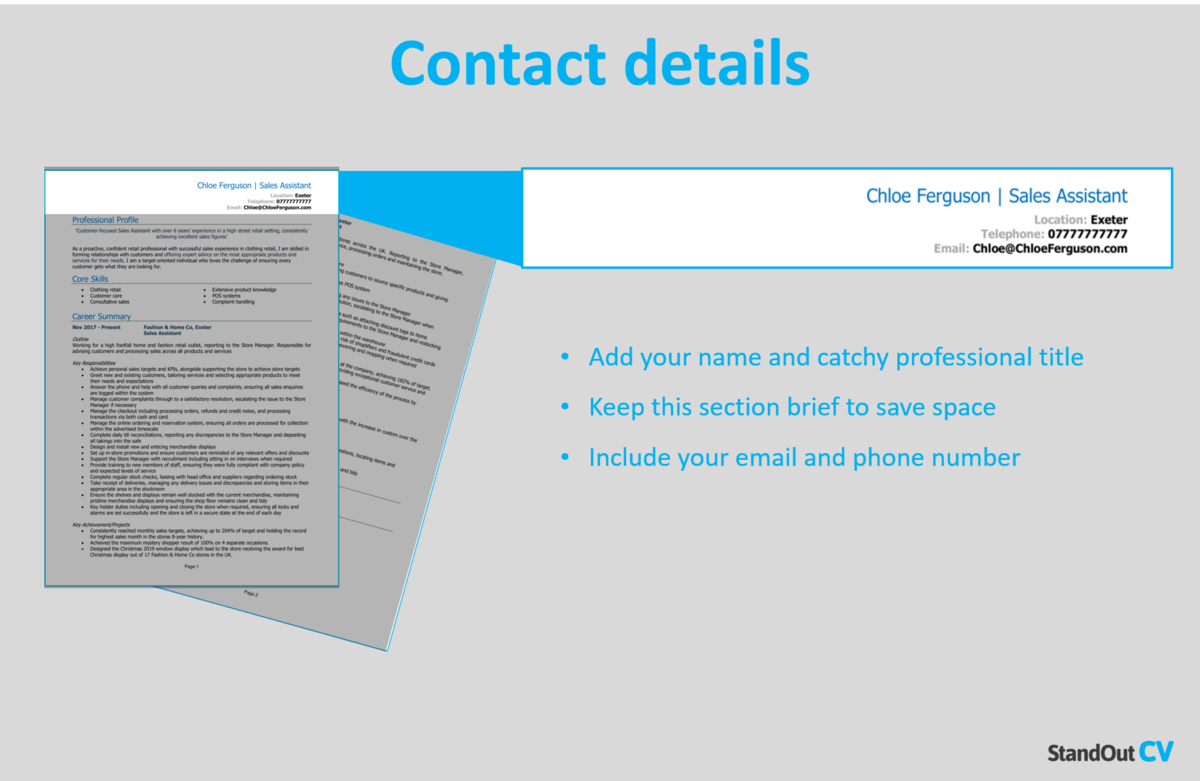 Keep your contact details short to save resume space and include the following.
Name and profession title
Cell phone number
Location – Add your local area such as Silicon Valley or New York, unless you are looking for work in a different location
Email address – Keep it professional and don't use an old address that you thought was cool in high school, but now looks a bit embarrassing.
You can add a link to your LinkedIn profile if you have one – you do not need to include personal details like date of birth or marital status.
AML Analyst Resume Summary
Your resume summary is like your introduction to the recruiter or hiring manager – it should grab their attention and leave them eager to read more about you.
Achieve this by writing a snappy overview of your skills, knowledge and what value you can bring to an employer.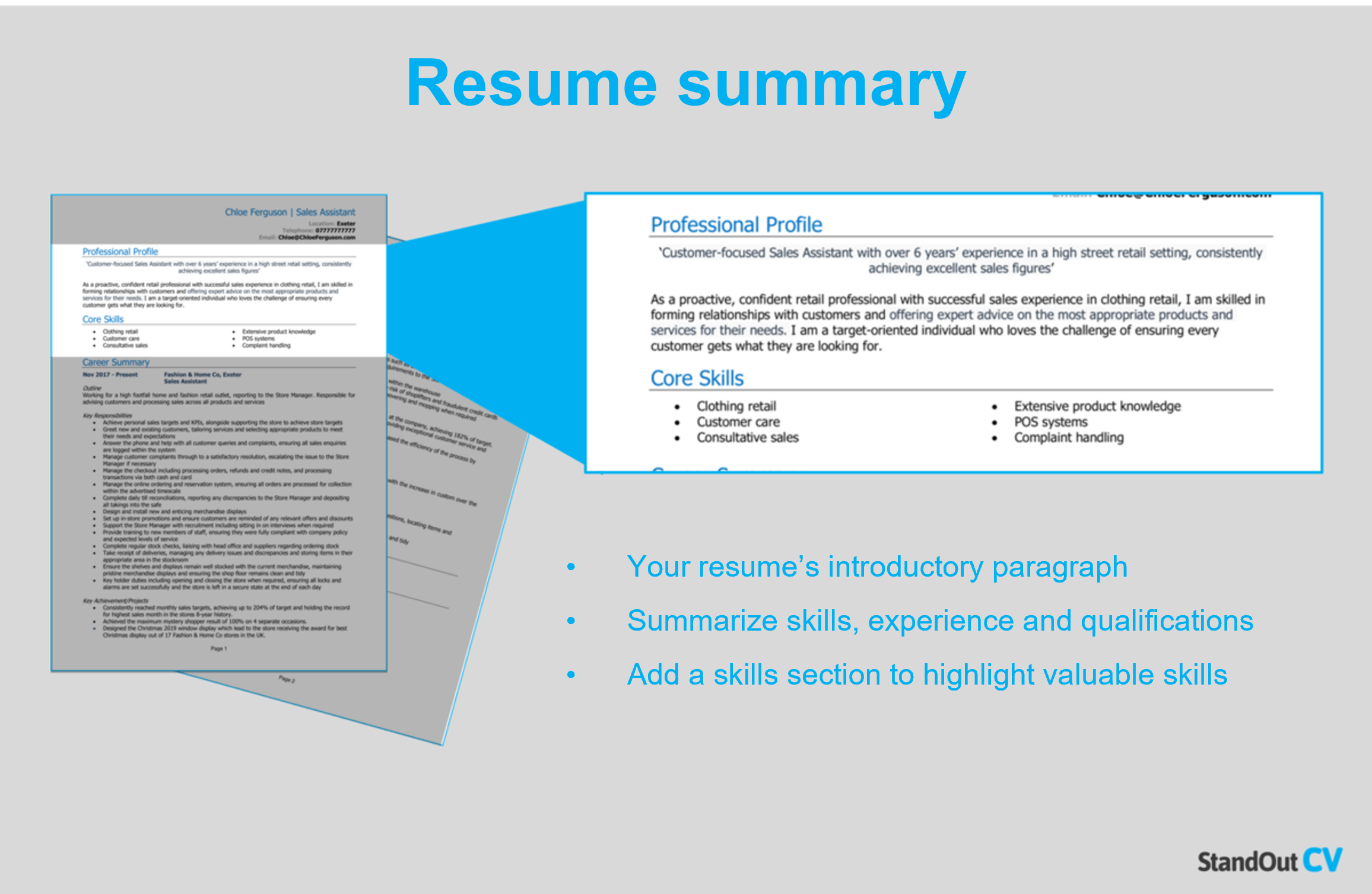 How to create a resume summary that will excite recruiters:
Keep it short: To effectively capture a recruiter's attention, it's crucial to keep your resume summary brief and to the point, limiting it to 4-7 lines as this provides enough detail without overwhelming them at this early stage.
Tailor to target jobs: Optimize your summary to match the requirements of your target jobs, by mirroring the key words from the job description as closely as possible.
Avoid using cliches: Although you may believe that you're a "team player who always gives 110%," these kinds of cliches don't communicate much about your skills and qualifications to potential employers. It's more effective to stick to factual information in your resume.
AML Analyst resume summary example
Enthusiastic AML Analyst with 8+ years of experience in detecting and preventing money laundering, terrorist financing, or other illicit transactions within the banking sector. Adept at independently multi-tasking, with the ability and knowledge to make SAR decisions. Skilled in performing thorough audits on new and existing customers to ensure their identities, backgrounds, and economic functions align with established standards.
What to include in your AML Analyst resume summary?
Summary of your experience: What kind of companies have you worked for in the past? And which jobs have you carried out?
Relevant skills: To quickly showcase your suitability for Anti Money Laundering Analyst jobs, ensure that your summary emphasizes your most relevant skills to the jobs you are applying for.
Qualifications: Any qualifications that are important to the AML Analyst jobs you are applying for, should be mentioned in the summary.
Quick tip: Choose from hundreds of pre-written summaries across all industries, and add one to your resume with one-click in our partner's Resume Builder. All written by recruitment experts and easily tailored to suit your unique skillset and style.
Core skills section
In addition to your resume summary, your core skills section provides an easily digestible snapshot of your skills – perfect for grabbing the attention of busy hiring managers.
As AML Analyst jobs might receive a huge pile of applications, this is a great way to stand out and show off your suitability for the role.
It should be made up of 2-3 columns of bullet points and be made up of skills that are highly relevant to the jobs you are targeting.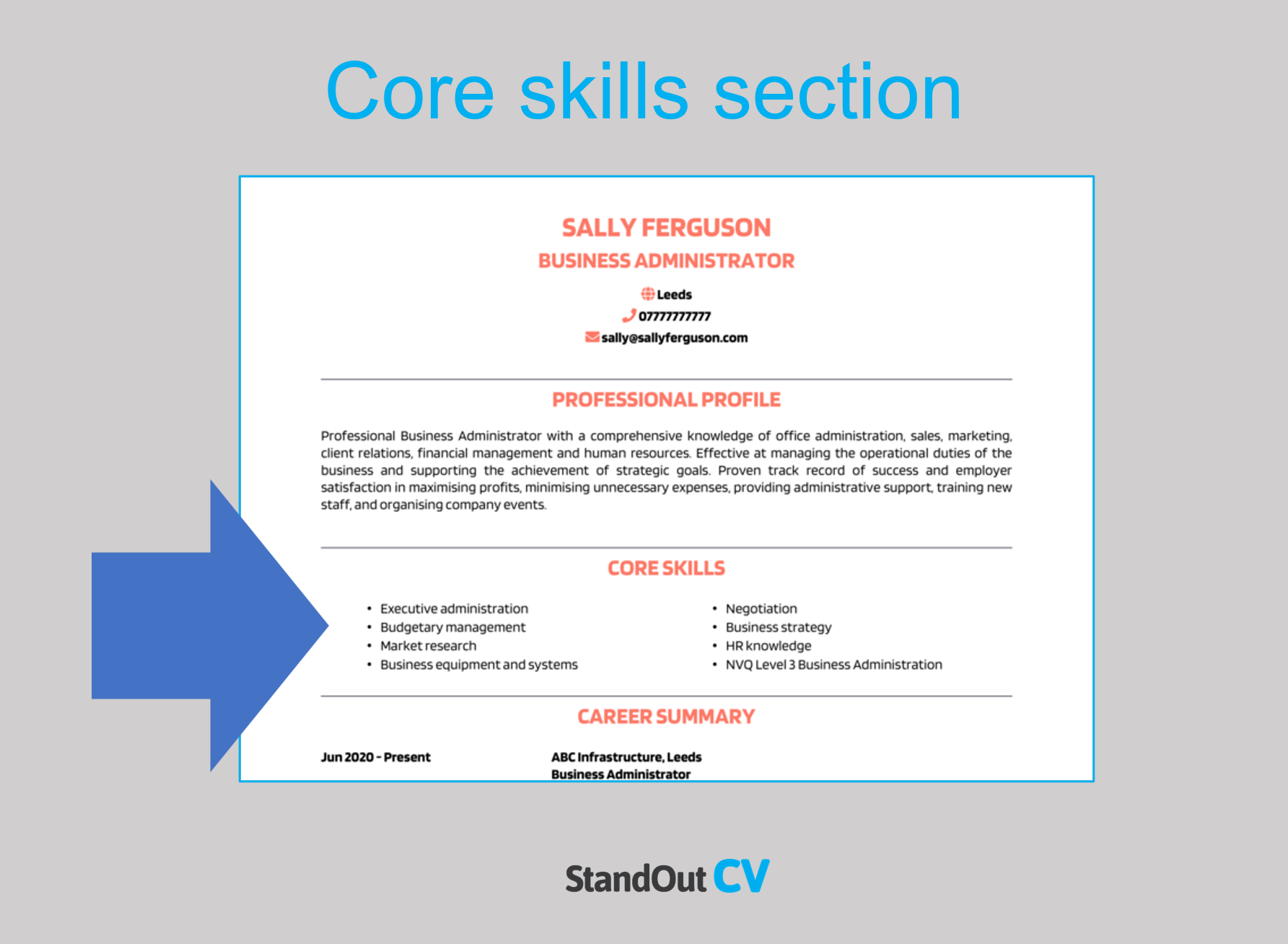 Best skills for your AML Analyst resume
AML Regulations – Maintaining an in-depth knowledge of anti-money laundering laws and regulations in the USA, such as the Bank Secrecy Act (BSA) and USA PATRIOT Act.
Risk Assessment – Conducting risk assessments to identify and evaluate potential money laundering and terrorist financing risks within financial institutions.
Transaction Monitoring – Monitoring and analyzing financial transactions to detect suspicious activity and potential money laundering patterns.
Due Diligence – Performing thorough customer due diligence, including KYC (Know Your Customer) procedures, to ensure compliance with AML regulations.
Investigation – Conducting in-depth analysis and investigations into suspicious transactions or activities, including data analysis and research.
Compliance Reporting – Utilizing knowledge of reporting requirements for suspicious activity, including filing SARs (Suspicious Activity Reports) and CTRs (Currency Transaction Reports) as per regulatory guidelines.
Data Analysis – Utilizing data analysis tools and techniques to identify trends, anomalies, and patterns that may indicate potential money laundering activity.
Stakeholder Communication and Collaboration – Documenting findings, preparing reports, and collaborating with stakeholders such as law enforcement agencies and senior management.
AML Software – Utilzing AML software for transaction monitoring, customer screening, and compliance reporting.
Training and Education – Staying up to date with the latest AML trends, techniques, and regulatory changes through professional certifications, workshops, and industry training.
Quick tip: Our partner's Resume Builder contains thousands of in-demand skills for every profession that can be added to your resume in seconds – saving you time and greatly improving your chances of landing job interviews and getting hired.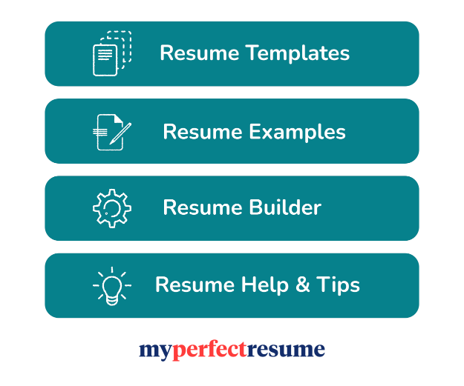 Work experience
Now that you've reeled recruiters in with your awesome summary, it's time to delve into your work experience.
Here you'll list your previous jobs (starting with your most recent and working backward) and showcase how you apply your skills in the workplace.
Provide lots of detail in recent jobs, and less in older roles.
If you have no relevant paid experience, you can include voluntary work and placements – but if you have lots of experience, you can leave out some of the really old jobs.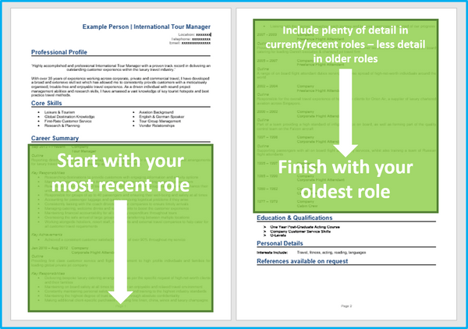 Structuring your jobs
You probably do a lot in your job, so its vital to break all of that information down into a good structure.
Structure your jobs as follows to make it easy for recruiters to skim through and pinpoint the essential info.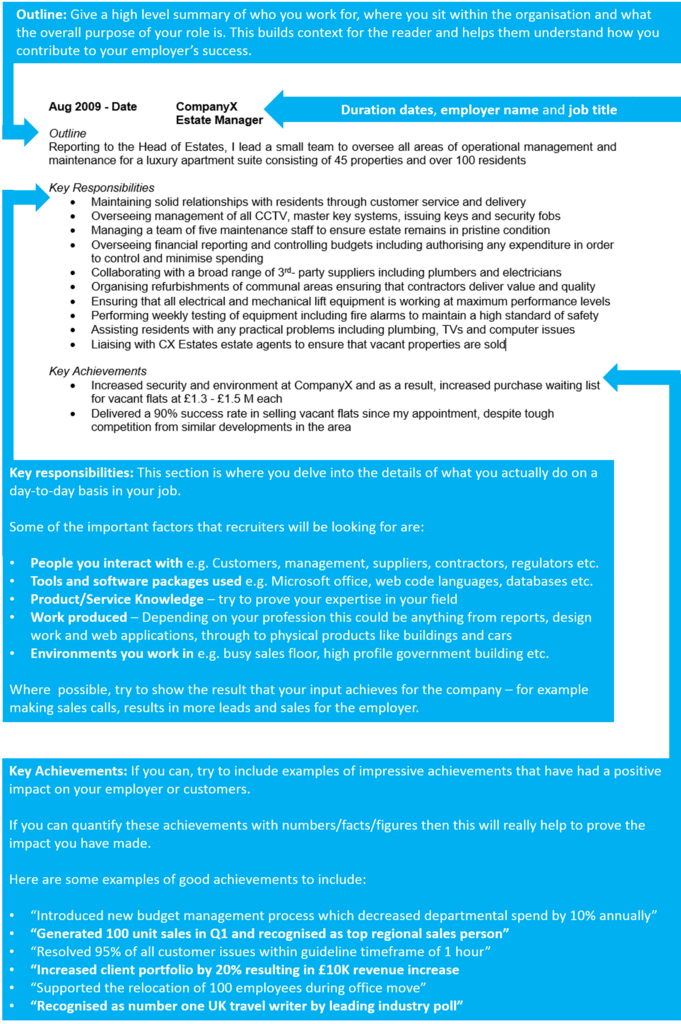 Job outline
Starting each job with a brief summary of the organization, your position within it, and the primary goal of your role can help recruiters quickly understand the context of your work.
Key responsibilities
Next, write up a punchy list of your daily duties and responsibilities, using short bullet points.
Describe how you apply your skills and contribute to the running of the employer's business – highlighting skills which are applicable to your target jobs.
Key achievements
Round off each job by adding some impressive achievements you made in the role.
Anything you've done that has made a big impact on your employer will make a good impression, think; generating revenue, saving costs, or improving a product.
Quantify your achievements with number where possible e.g. "reduced call wait time by 10%"
Example job for AML Analyst resume
Outline
Monitor, explore, and report suspicious financial activities to ensure compliance with AML regulations, for a company that provides a full range of commercial/consumer banking, wealth management, and insurance solutions delivered through 953 branch offices across the U.S.
Key Responsibilities
Use specialized tools to track and scrutinize payments and accounts to identify any fraudulent patterns or red flags that may indicate money laundering or unlawful operations.
Review copious amounts of data, including monetary records and client profiles.
Carry out risk assessments based on transaction volume, geographic location, and source of funds to determine the level of due diligence needed and measures implemented.
Assure the in-house AML policies are in-line with legal requirements, as well as maintain proper declarations on decision-making processes.
Quick tip: Create impressive job descriptions easily in our partner's Resume Builder by adding pre-written job phrases for every industry and career stage.

Education section
Towards the bottom of your resume, add your education section.
Here you should list your professional qualifications and academic record, such as high school diplomas or college degrees.
If you have lots of work experience, you can keep this section brief (because recruiters will be more interested in your career. If you have little/no experience then you should bulk this section up with plenty of detail.
Additional information
The bottom of your resume is a place to add any "additional info"
Any other info that didn't fall into any of the previous sections can be added here.
If you have hobbies that are related to your profession or any awards or publications – add them here.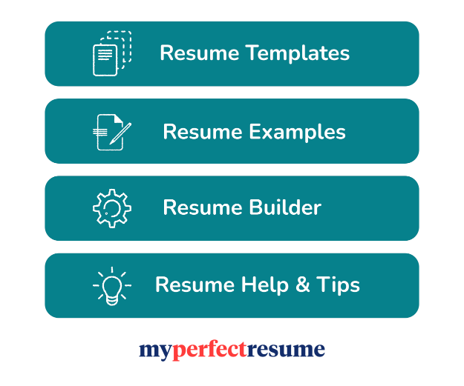 Writing your own winning AML Analyst resume
Following the steps in this guide will help you to create a winning AML Analyst resume and bag lots of interviews.
Good luck with your job search!