Are you ready to get your air traffic control career off the ground?
Then you need an impressive resume that is going to showcase your expertise and qualifications.
Make the most of our top tips in the guide below, complete with an accompanying air traffic control resume example.
Contents
| | |
| --- | --- |
| How to write a Air Traffic Controller resume | |

Air Traffic Controller Resume Example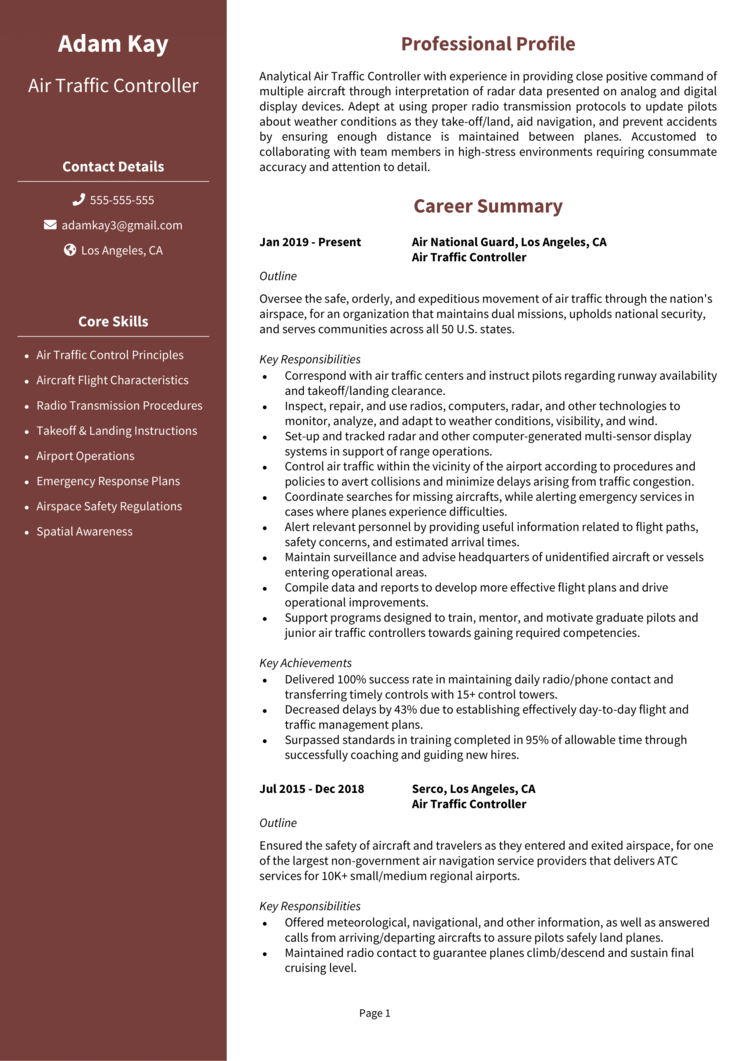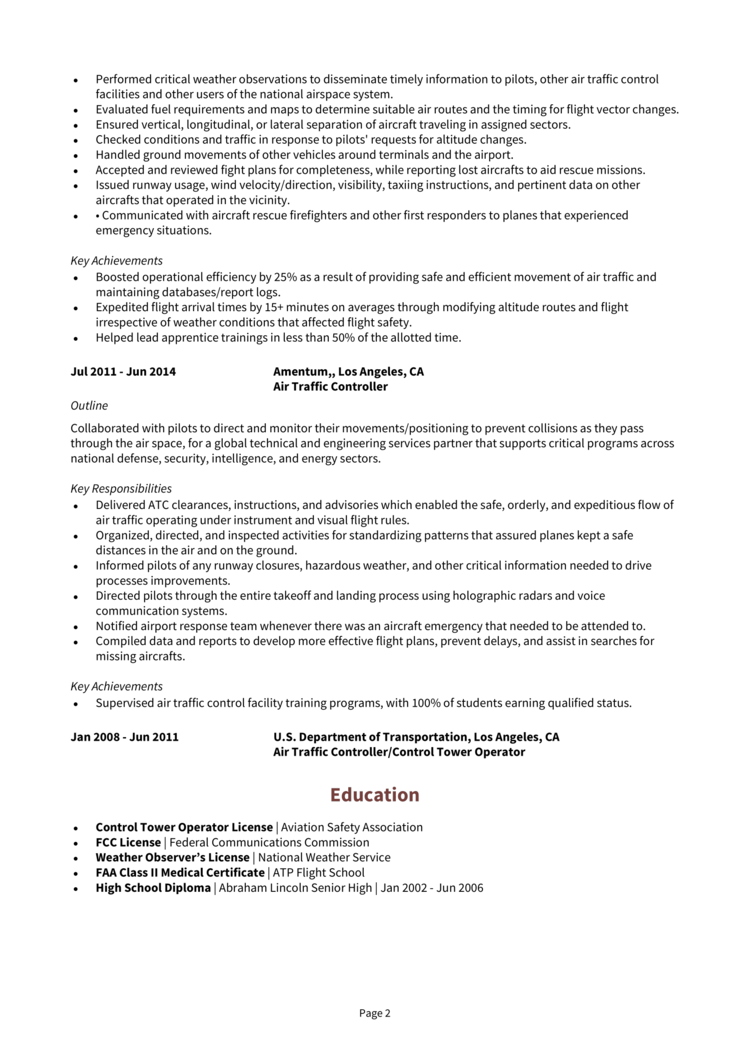 The example Air Traffic Controller resume above shows you how a professional resume should look, along with the type of content it should contain.
You can see that the information is well-organized across the page and its easy for busy recruiters to see the candidate's important skills.
Keep this in mind when writing your own resume.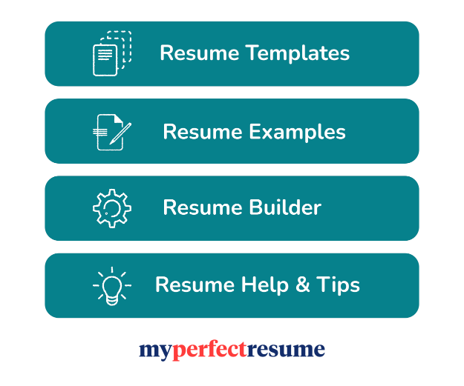 Air Traffic Controller resume layout and formatting
If you want to get noticed in the job market, you have to pay attention to the format and layout of your resume.
Essentially your resume needs to look highly polished, and provide hiring managers with an easy reading experience.
Use these resume formatting tips to get a head start on this.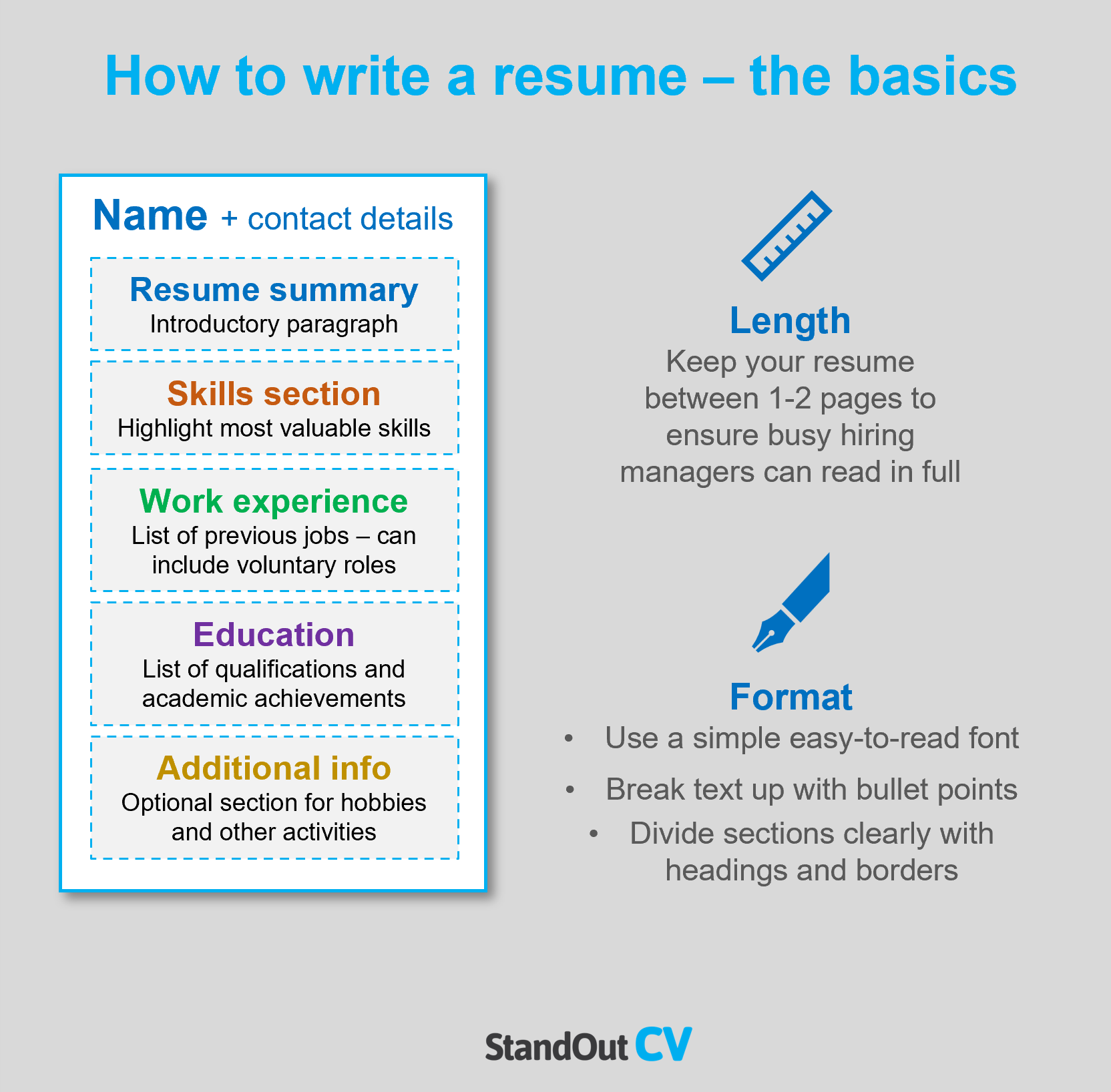 Formatting your resume
Length: Attention spans in recruitment are notoriously short, so keep your resume short and sweet. There's no exact rule for resume length, but aim for 2 pages or less if you want to ensure yours gets read in full.
Font & readability: Nobody likes to read huge unbroken paragraphs of text – and recruiters are no different. Break your resume text up with bullet points and use a clear simple font.
Layout & Structure: While creating an attractive resume, it is crucial not to compromise functionality for design. To ensure both, use bold headings and borders to structure the page into clear sections.
Photos: Although it is not compulsory to include a photo in your resume in the USA, it can be advantageous if you are applying to companies in creative industries.
Quick tip: Achieving a professional look for your resume can be difficult and time-consuming. If you want to create an attractive resume quickly, try our partner's Resume Builder and use one of their eye-catching resume templates.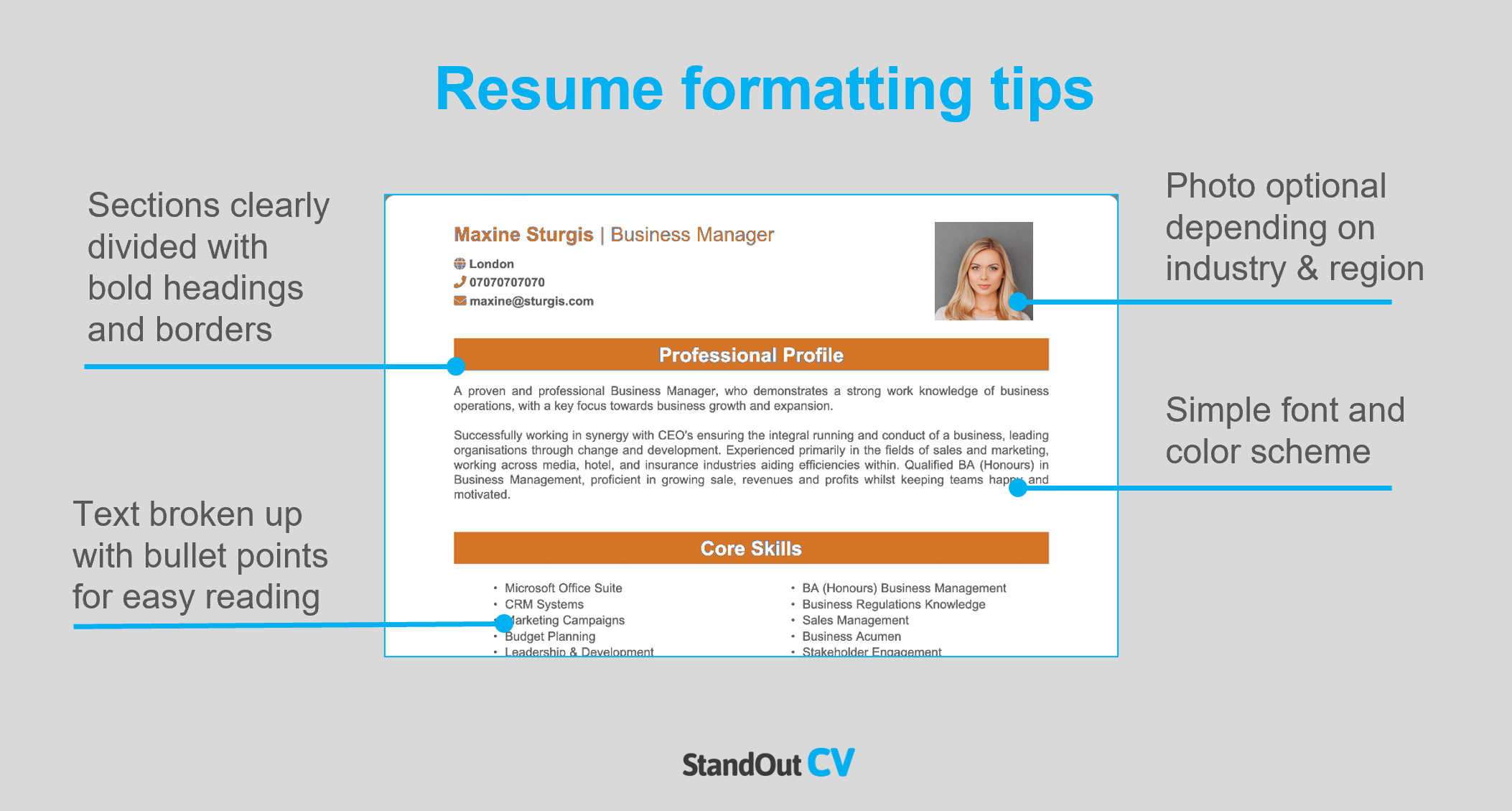 Resume layout
When you write your resume, include the sections below.
Name and contact details – Pop these at the very top to ensure recruiters know how to contact you.
Resume summary – An eye-catching paragraph which summarizes your most valuable attributes – placed near the top of your resume
Skills section – A bullet pointed list of your most in-demand skills, enabling recruiters to see your suitability from a glance.
Work experience – List some or all of your previous jobs in reverse chronological order – voluntary work and college placements can be included if you have no paid experience.
Education – A summary of your professional training and academic qualifications.
Additional info – An optional section for anything that may boost your application, such as relevant hobbies and interests
Here's what to include in each part of your resume.
Contact Details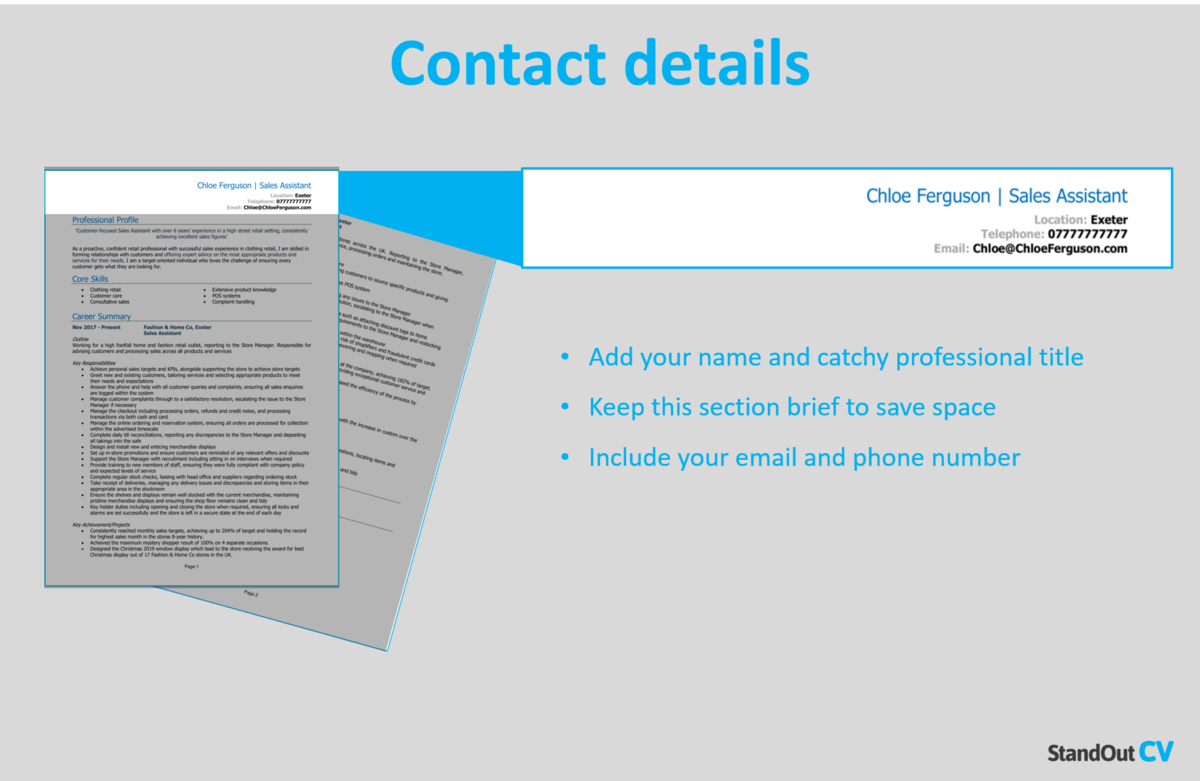 Add your name and contact details to the header of your resume, so that anybody reading can easily see how to contact you.
Name and profession title
Cell phone number – or any number you are easily reachable on
Location – Add your local area such as Washington or San Diego – not your full address as that will take up too much space.
Email address – Use a professional looking address.
You can add a link to your LinkedIn profile if you have one – you do not need to include personal details like date of birth or religion.
Air Traffic Controller Resume Summary
Your resume summary is like your introduction to the recruiter or hiring manager – it should grab their attention and leave them eager to read more about you.
Achieve this by writing a snappy overview of your skills, knowledge and what value you can bring to an employer.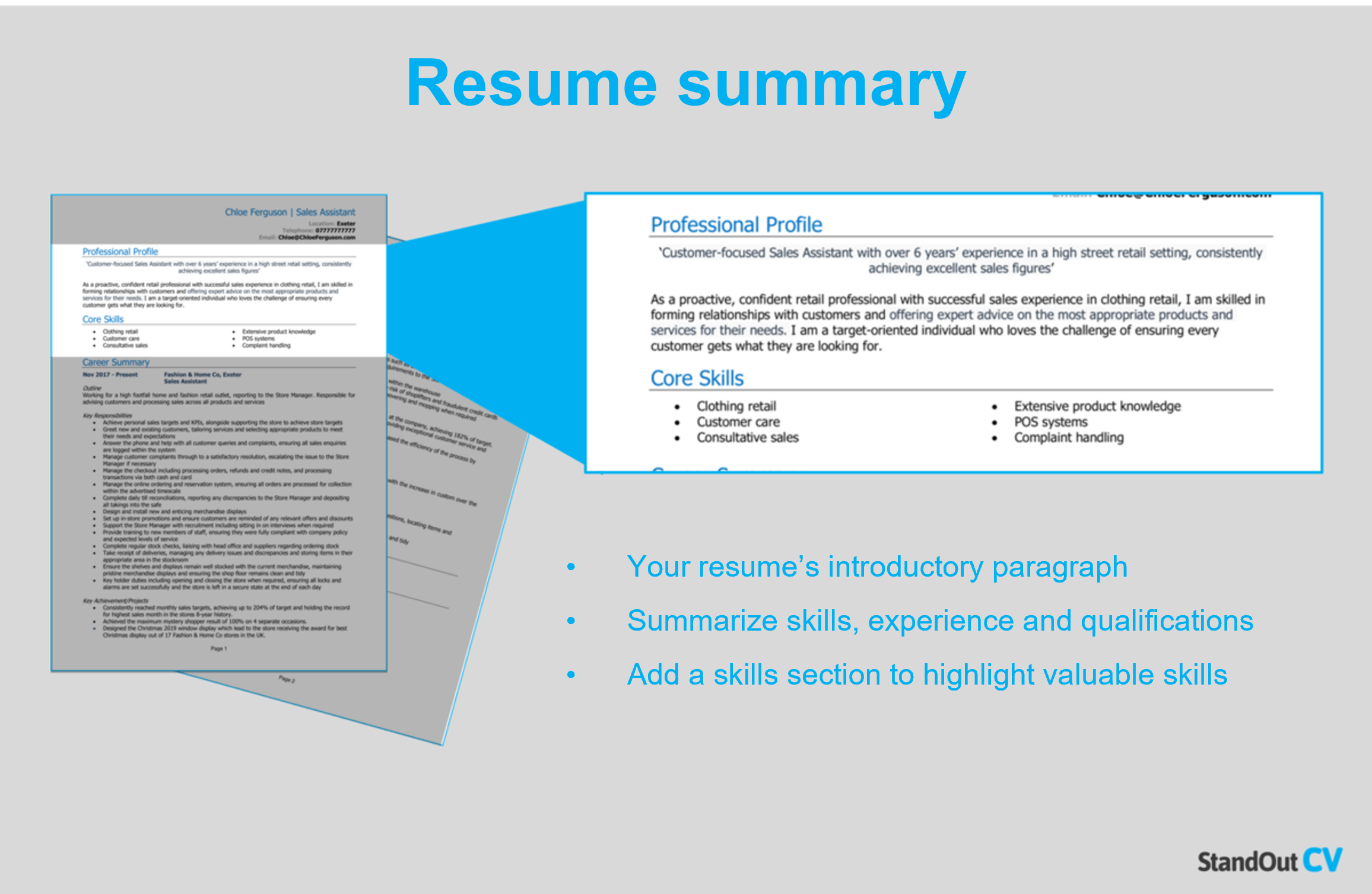 How to create a resume summary that will excite recruiters:
Keep it short: Attention spans are short in the job market, so keep your summary brief and high-level at around 4-7 lines – This is just enough to catch the eye of rushed hiring managers.
Tailor to target jobs: Recruiters will be scanning for the skills and knowledge they mentioned in the job description, so add as many as you can to your summary.
Avoid using cliches: To capture the attention of recruiters you must provide factual information, such as hard skills and qualifications, and avoid using empty phrases like "Go-getter who thinks outside the box."
Air Traffic Controller resume summary example
Analytical Air Traffic Controller with experience in providing close positive command of multiple aircraft through interpretation of radar data presented on analog and digital display devices. Adept at using proper radio transmission protocols to update pilots about weather conditions as they take-off/land, aid navigation, and prevent accidents by ensuring enough distance is maintained between planes. Accustomed to collaborating with team members in high-stress environments requiring consummate accuracy and attention to detail.
What to include in your Air Traffic Controller resume summary?
Summary of your experience: Briefly describe the work you have performed in the past and the contributions you have made to the organizations you have worked for.
Relevant skills: Skills that are highly relevant to Air Traffic Controller work should be made prominent throughout your summary.
Qualifications: Any qualifications that are important to the Air Traffic Controller jobs you are applying for, should be mentioned in the summary.
Quick tip: Choose from hundreds of pre-written summaries across all industries, and add one to your resume with one-click in our partner's Resume Builder. All written by recruitment experts and easily tailored to suit your unique skillset and style.
Core skills section
In addition to your resume summary, your core skills section provides an easily digestible snapshot of your skills – perfect for grabbing the attention of busy hiring managers.
As Air Traffic Controller jobs might receive a huge pile of applications, this is a great way to stand out and show off your suitability for the role.
It should be made up of 2-3 columns of bullet points and be made up of skills that are highly relevant to the jobs you are targeting.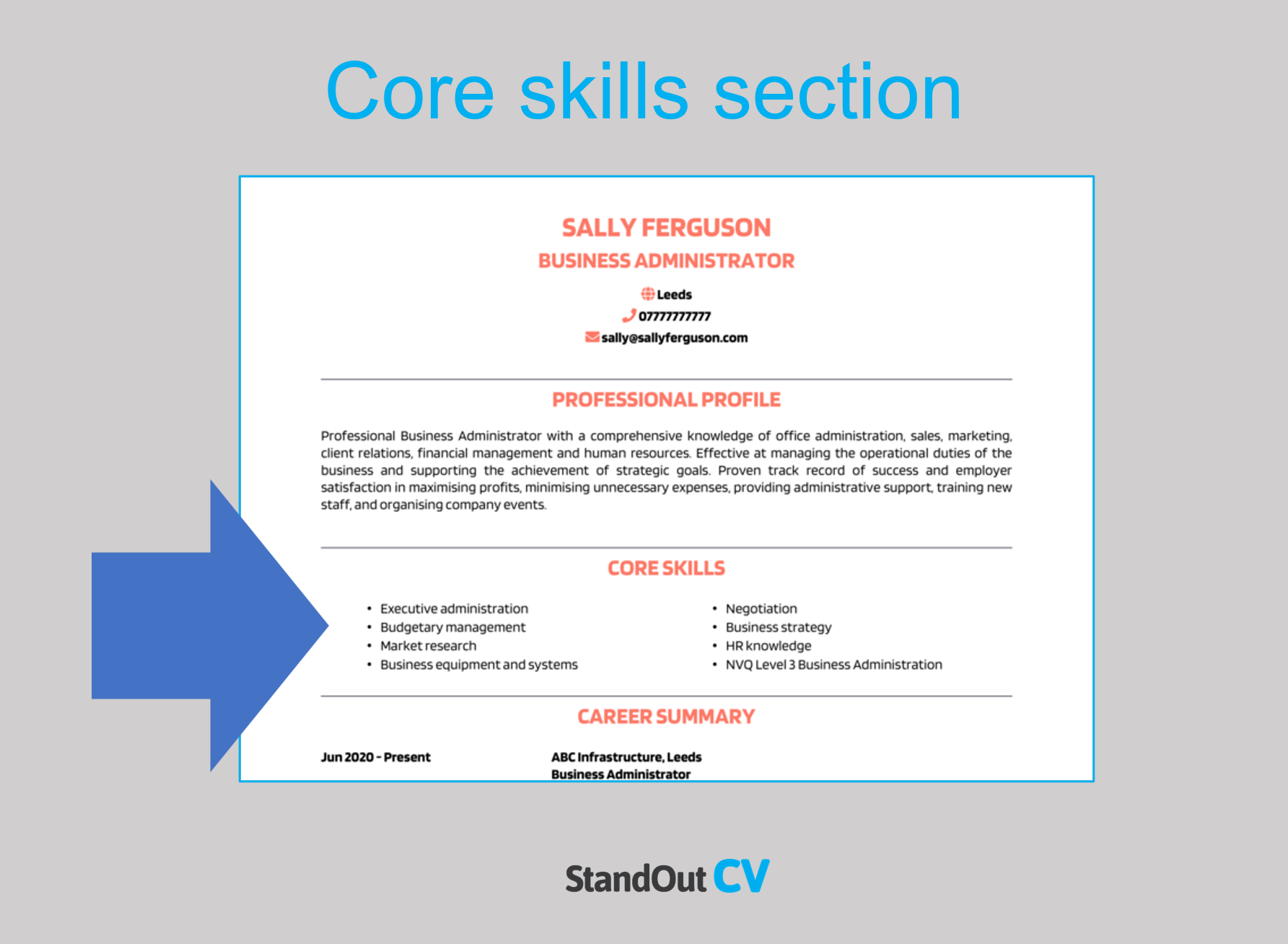 Best skills for your Air Traffic Controller resume
Aviation phraseology – Communicating clearly and effectively with pilots, other air traffic controllers, and ground personnel, using standard aviation phraseology.
Situational awareness – Maintaining situational awareness of aircrafts in the air and on the ground, monitoring radar displays and other equipment to ensure safe separation.
Critical decision-making – Making quick and accurate decisions in high-stress situations, such as emergencies or unexpected changes in weather.
Air traffic flow – Paying close attention to detail around aircraft speeds, altitudes, and directions, to ensure safe and efficient traffic flow.
Technical knowledge – Maintaining detailed knowledge of technical equipment and systems used in air traffic control, such as radar displays, radios, and weather monitoring equipment.
Stress management – Managing stress and remaining calm under pressure, maintaining focus and making sound decisions in high-pressure situations.
Regulations and procedures – Maintaining knowledge of aviation regulations and procedures, including Federal Aviation Administration (FAA) rules and guidelines, to ensure compliance and safety.
Quick tip: Our partner's Resume Builder contains thousands of in-demand skills for every profession that can be added to your resume in seconds – saving you time and greatly improving your chances of landing job interviews and getting hired.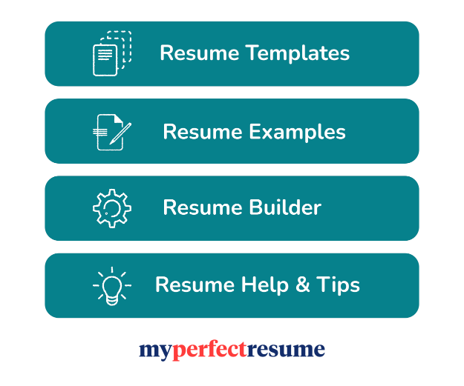 Work experience
So, you've got the recruiter interested with your catchy summary… Great work.
Now it's time to show them the impact you make in the workplace by listing out your previous jobs and what you achieved in each one.
If you have tons of experience, you can condense this part down to the last few years – if you are junior, then you should include as much possible (even volunteering and school work placements)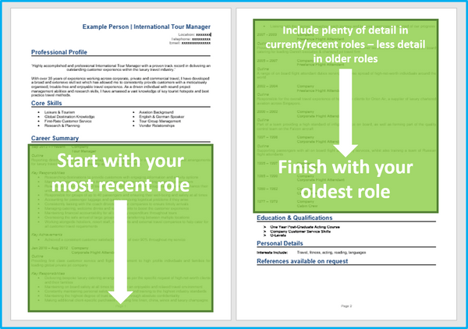 Structuring your jobs
It's easy to overwhelm readers when writing about a job you have been doing for years or even months.
Break the information up like this to keep it simple for recruiters to understand.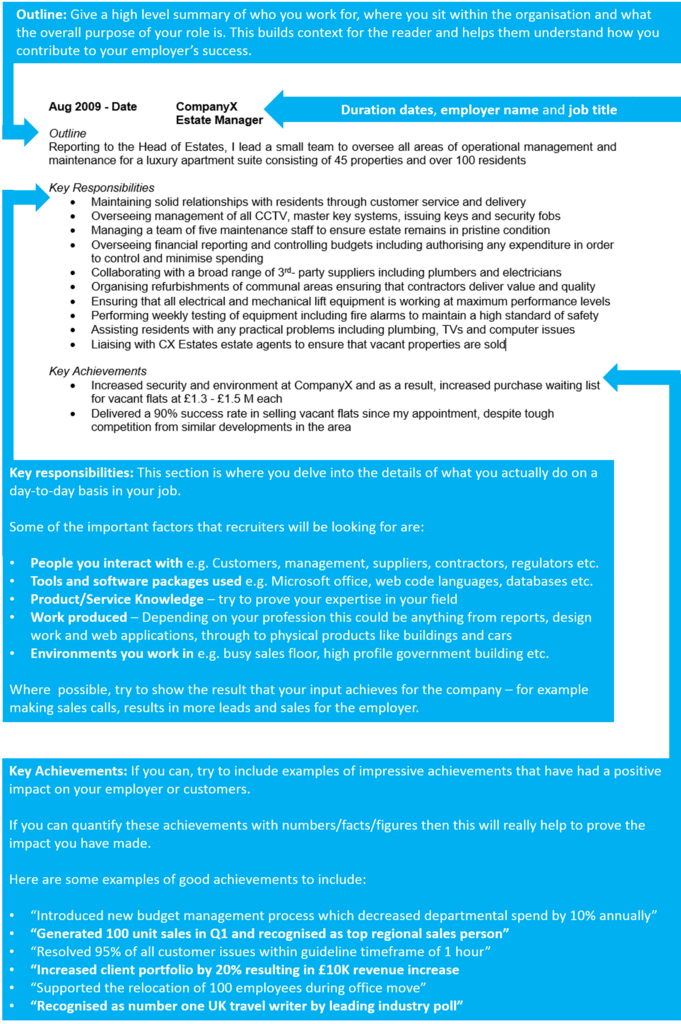 Job outline
Begin each job with a short summary of who the organization is, where you sit within it, and what the main goal of your position is.
Key responsibilities
Then delve into the detail of your job by listing out easy-to-read bullet points which show how you apply your skills in the workplace.
Tailor these bullet points to focus on the skills and knowledge that are required in the jobs you are applying for.
Key achievements
Round off each job by adding some impressive achievements you made in the role.
Anything you've done that has made a big impact on your employer will make a good impression, think; generating revenue, saving costs, or improving a product.
Quantify your achievements with number where possible e.g. "reduced call wait time by 10%"
Example job for Air Traffic Controller resume
Outline
Oversee the safe, orderly, and expeditious movement of air traffic through the nation's airspace, for an organization that maintains dual missions, upholds national security, and serves communities across all 50 U.S. states.
Key Responsibilities
Correspond with air traffic centers and instruct pilots regarding runway availability and take-off/landing clearance.
Inspect, repair, and use radios, computers, radar, and other technologies to monitor, analyze, and adapt to weather conditions, visibility, and wind.
Set-up and tracked radar and other computer-generated multi-sensor display systems in support of range operations.
Control air traffic within the vicinity of the airport according to procedures and policies to avert collisions and minimize delays arising from traffic congestion.
Quick tip: Create impressive job descriptions easily in our partner's Resume Builder by adding pre-written job phrases for every industry and career stage.

Education section
Nearing the end of your resume, your education/qualifications section should be added.
In a well-structured list, add all of your qualifications and certifications that qualify you to perform a typical Air Traffic Controller role.
If you have plenty of work experience, keep this section brief – if not, add lots of detail to make up for your lack of experience.
Additional information
The bottom of your resume is a place to add any "additional info"
Any other info that didn't fall into any of the previous sections can be added here.
If you have hobbies that are related to your profession or any awards or publications – add them here.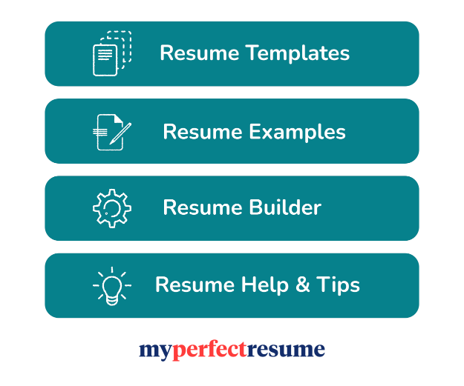 Writing your own winning Air Traffic Controller resume
Following the steps in this guide will help you to create a winning Air Traffic Controller resume and bag lots of interviews.
Good luck with your job search!