You're a pro at designing world-class air and spacecraft, so why does writing a resume feel so tricky?
Well, if you want the job, the pressure is on to get this document right, and we can help you with your job search.
For an application that's out of this world, make use of our aerospace engineer resume example and top tips in the guide below.
Contents
| | |
| --- | --- |
| How to write a Aerospace Engineer resume | |

Aerospace Engineer Resume Example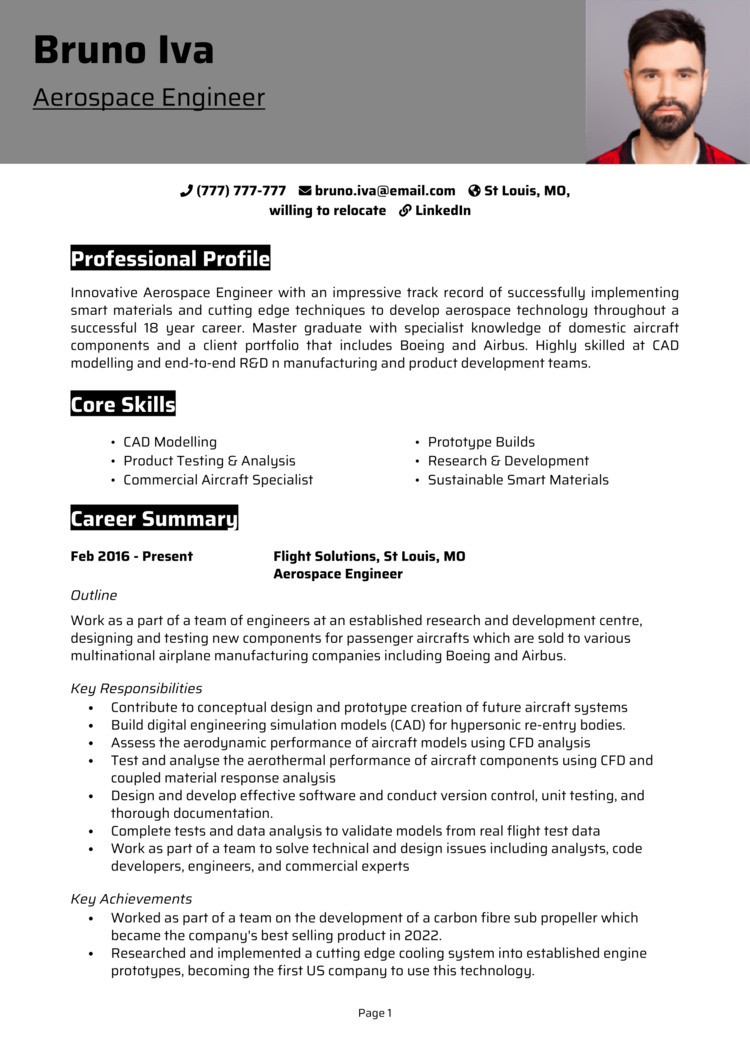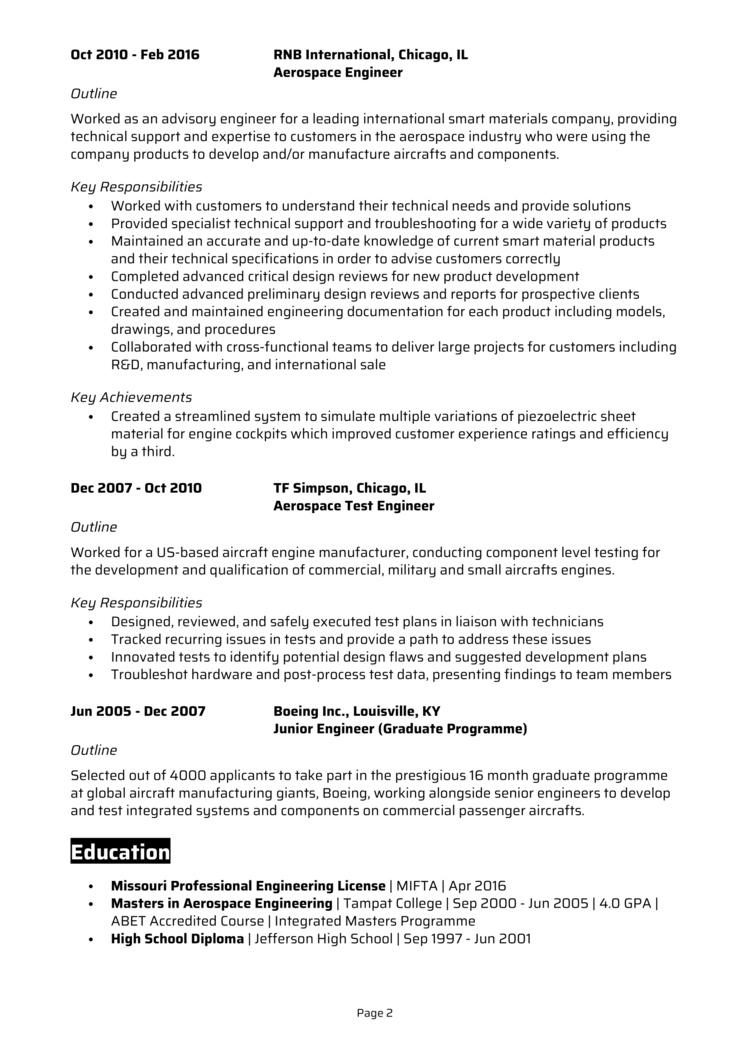 From the Aerospace Engineer resume example above, you can see the kind of information your resume will need to include, and the layout you will need to create for an easy-reading experience.
The rest of this guide will show you how to apply this format to your own unique situation, and create a resume that will attract the best employers in your industry.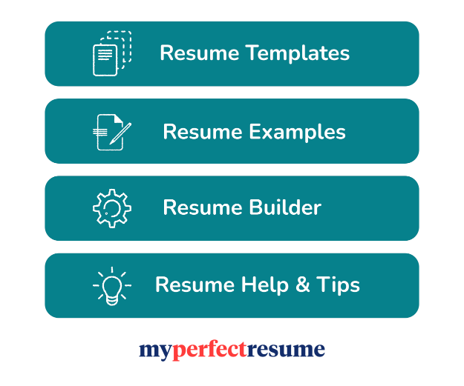 Aerospace Engineer resume layout and format
Formatting and structuring your resume correctly is key to landing job interviews.
Your resume needs to look attractive, but more importantly it needs to be easy for recruiters and hiring managers to read and digest the information.
These tips will help you to do that: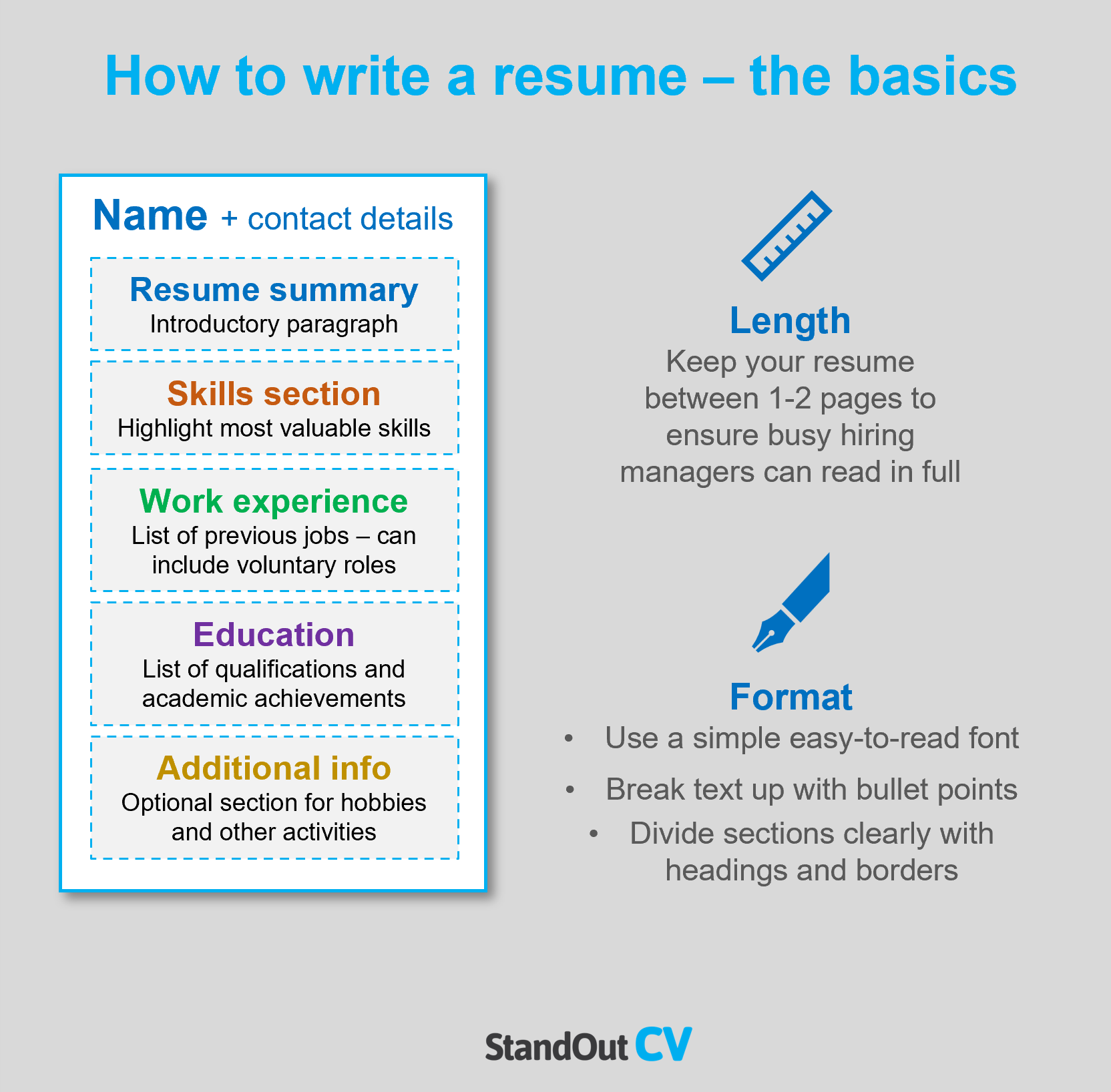 Formatting your resume for success
Length: To ensure that recruiters will read all of your resume, limit its length to 2 pages – as they someteimes read hundreds of resumes daily.
Font & readability: Complex fonts are a readers' worst nightmare and will leave recruiters struggling to understand your message. Use a clear simple lean font in a color that stands out against the page, and break your text up with bullet points to make the content easily digestible.
Layout & Structure: Your resume should look appealing – but don't overlook functionality when it comes to design. Organise the page into clear sections using bold headings and borders.
Photos: Although it is not compulsory to include a photo in your resume in the USA, it can be advantageous if you are applying to companies in creative industries.
Quick tip: Achieving a professional look for your resume can be difficult and time-consuming. If you want to create an attractive resume quickly, try our partner's Resume Builder and use one of their eye-catching resume templates.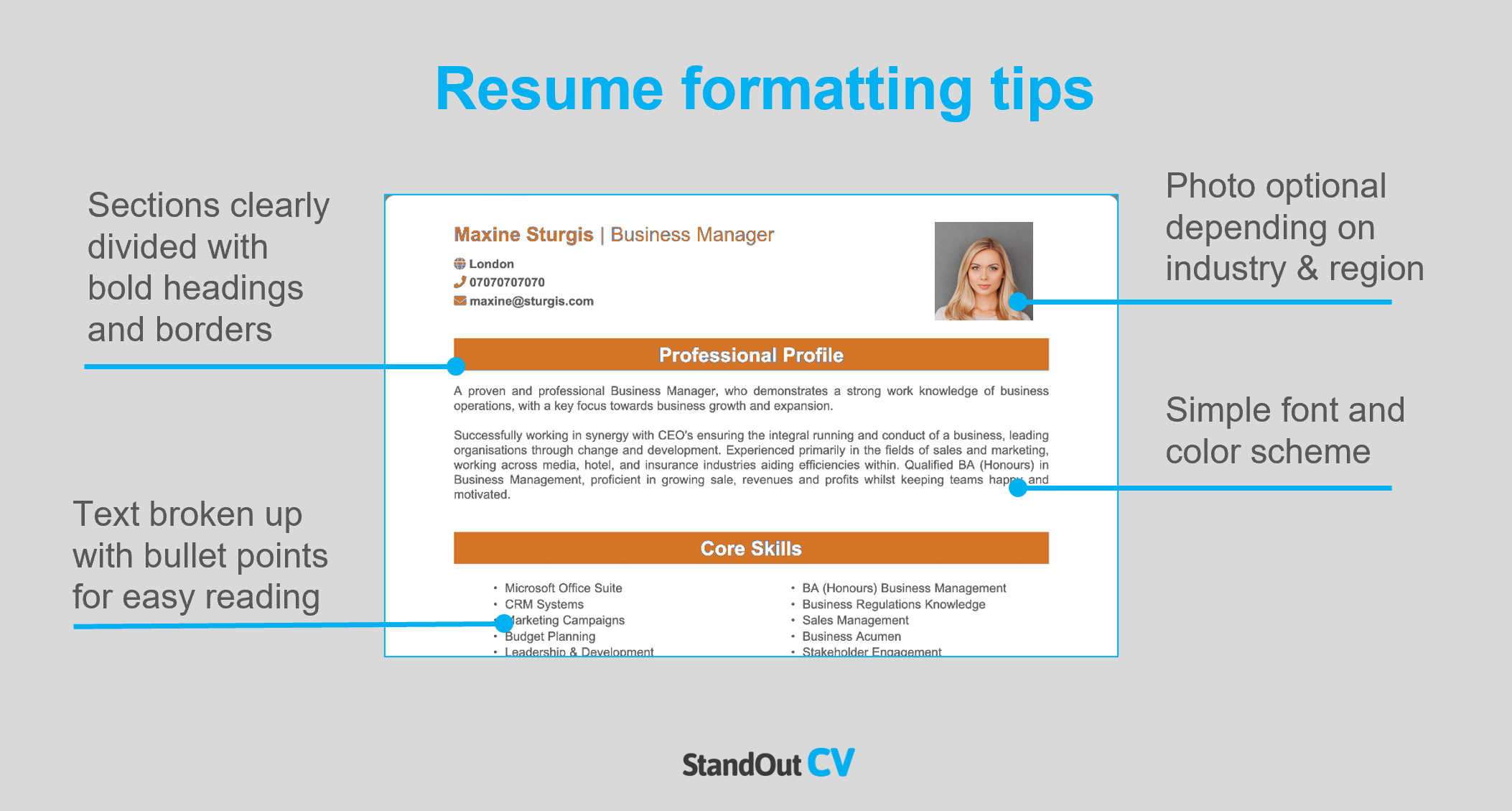 Resume layout
Include the following sections when you write your resume.
Name and contact details – Make it easy for employers to contact you, by putting these at the top.
Resume summary – An intro paragraph sitting at the top of your resume, summarizing the reasons why you should be hired.
Skills section – A short snappy list of your most important skills, that can be quickly digested
Work experience – Reverse chronological list of your previous jobs – voluntary work and college placements can be included if you have no paid experience.
Education – List your qualifications and professional training.
Additional info – An optional section for things like hobbies and interests.
Here's what to include in each part of your resume.
Contact Details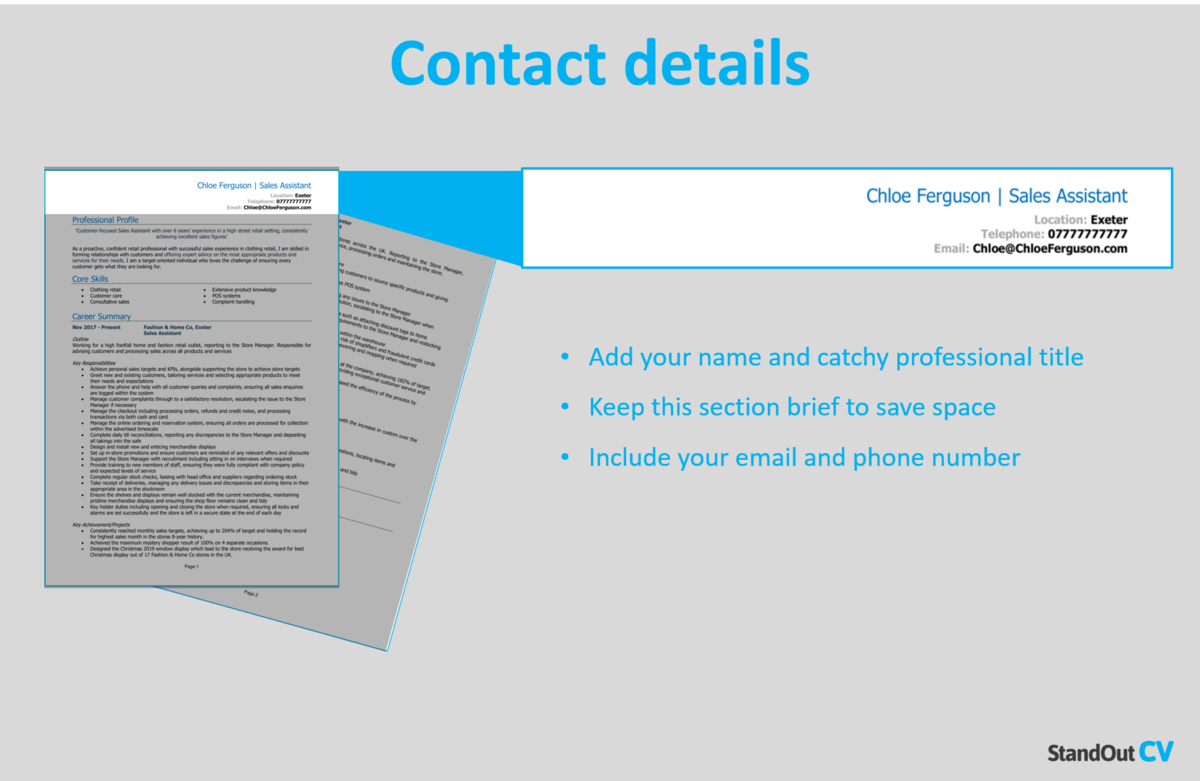 Make it easy for hiring managers to contact you by adding your contact details to the top of your resume.
Keep this section small to save space and include the following.
Name and profession title
Telephone number – Ideally your cell phone so you can answer quickly.
Location – Add your general location such as LA or New York
Email address – Use a professional looking one with no nicknames.
You can add a link to your LinkedIn profile if you have one – you do not need to include personal details like date of birth or marital status.
Aerospace Engineer Resume Summary
Your resume summary is like your introduction to the recruiter or hiring manager – it should grab their attention and leave them eager to read more about you.
Achieve this by writing a snappy overview of your skills, knowledge and what value you can bring to an employer.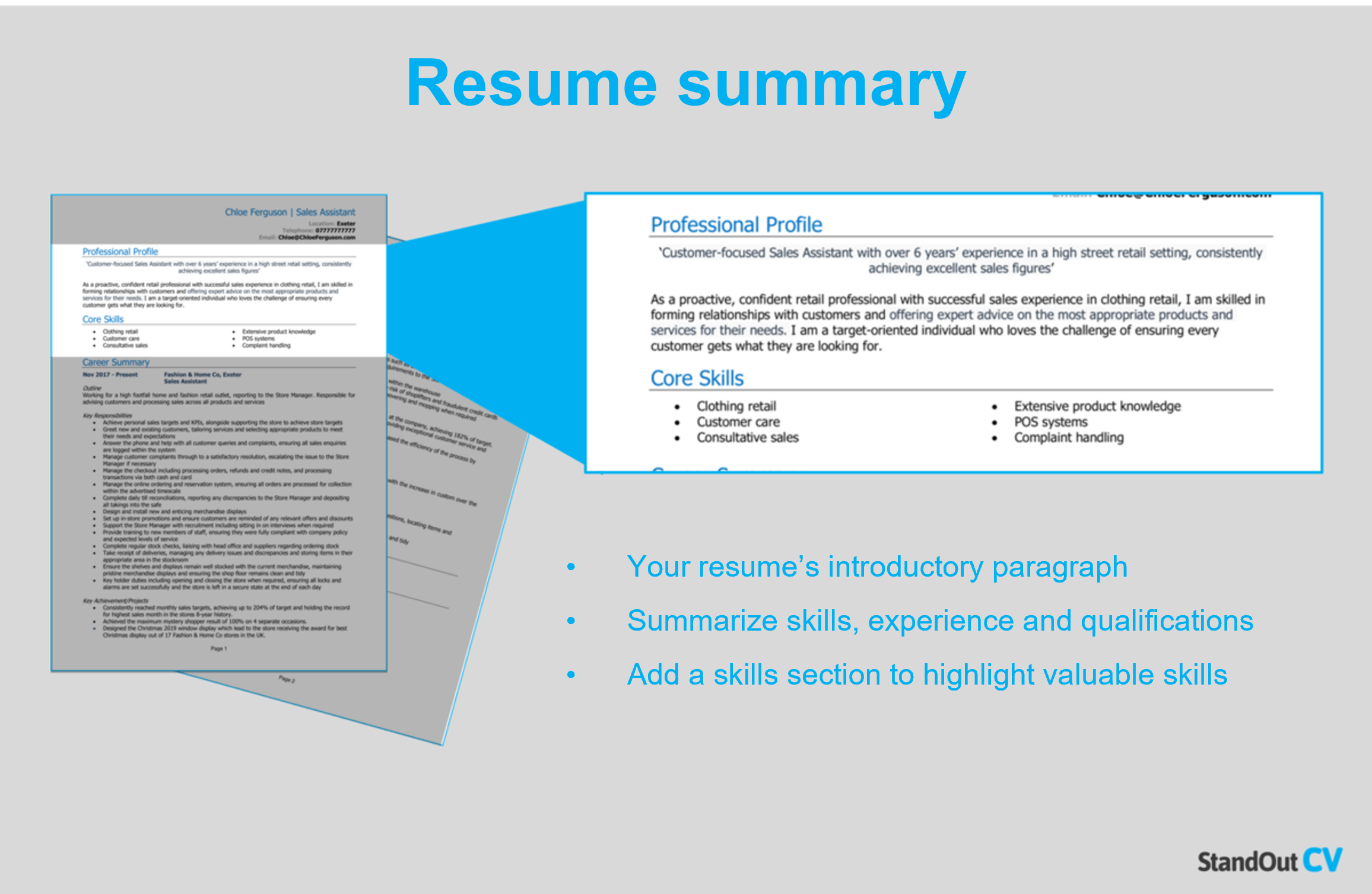 How to create a resume summary that will get you noticed:
Keep it short: Your summary is intended to be a high-level introduction to hook readers' attention, so keep it brief (4-7 lines) – save the details for later in your resume.
Tailor to target jobs: Recruiters will be scanning for the skills and knowledge they mentioned in the job description, so add as many as you can to your summary.
Avoid using cliches: You might be a "highly motivated go-getter who thinks outside the box" but generic meaningless cliches like that don't tell employers much about you – stick to factual information in your summary.
Example resume summary for Aerospace Engineer
Innovative Aerospace Engineer with an impressive track record of successfully implementing smart materials and cutting-edge techniques to develop aerospace technology throughout a successful 18-year career. Master graduate with specialist knowledge of domestic aircraft components and a client portfolio that includes Boeing and Airbus. Highly skilled at CAD modelling and end-to-end R&D n manufacturing and product development teams.
What to include in your Aerospace Engineer resume summary?
Summary of experience: Briefly describe the work you have performed in the past and the contributions you have made to the organizations you have worked for.
Relevant skills: Include your skills which are hyper relevant to Aerospace Engineer jobs to instantly show your suitability.
Qualifications: Any qualifications that are important to the Aerospace Engineer jobs you are applying for, should be mentioned in the summary.
Quick tip: Choose from hundreds of pre-written summaries across all industries, and add one to your resume with one-click in our partner's Resume Builder. All written by recruitment experts and easily tailored to suit your unique skillset and style.
Core skills section
Next, you should create a bullet pointed list of your core skills, formatted into 2-3 columns.
Here, you should focus on including the most important skills or knowledge listed in the job advertisement.
This will instantly prove that you're an ideal candidate, even if a recruiter only has time to briefly scan your resume.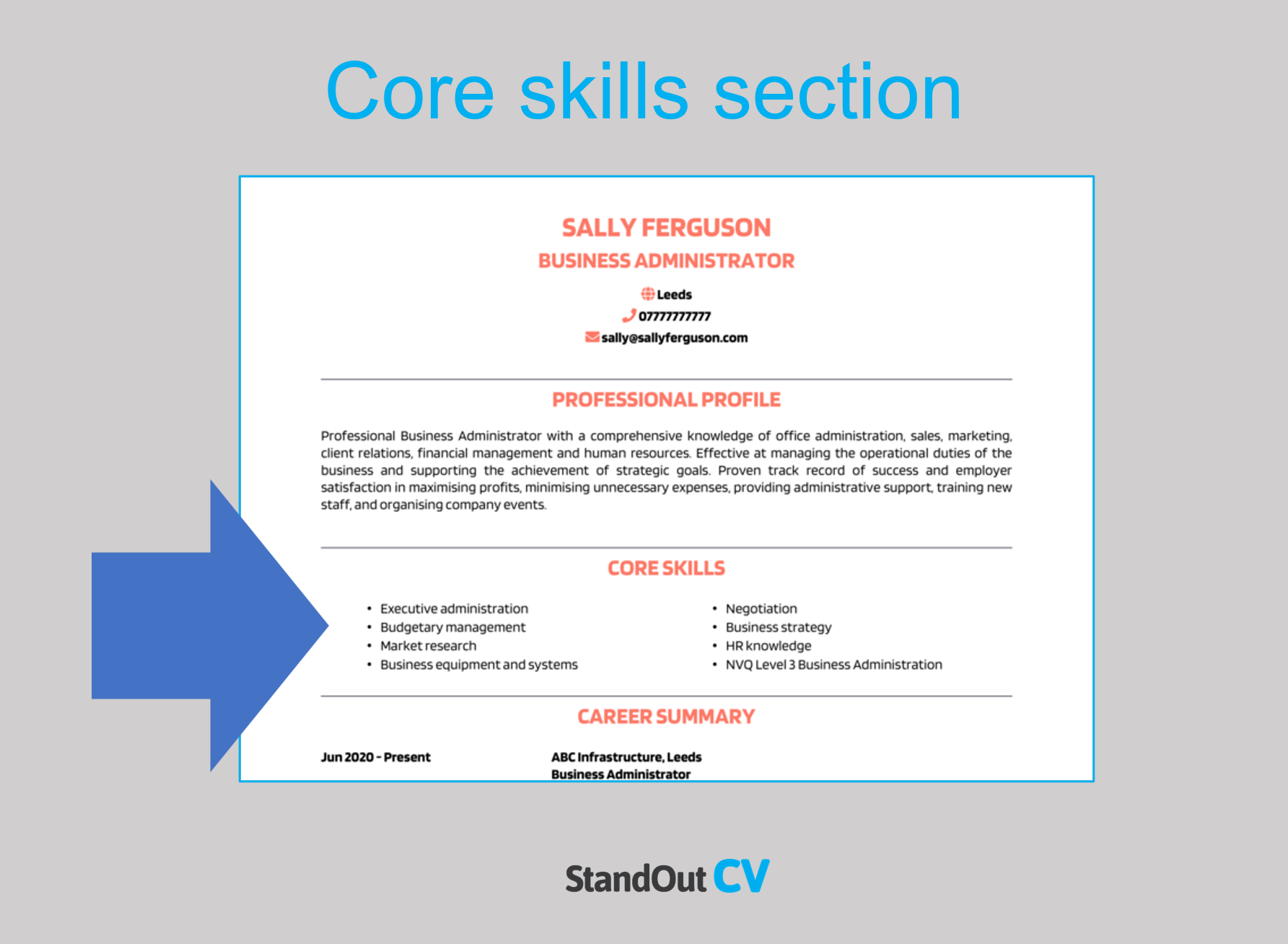 Best skills for your Aerospace Engineer resume
Design and Analysis – Designing and analyzing aircraft and spacecraft systems, including creating models, simulations, and test data.
Knowledge of Aerodynamics – Maintaining complex knowledge of aerodynamics principles, including airflow, drag, and lift, as well as the ability to apply this knowledge to the design of aircraft and spacecraft.
Materials Science – Maintaining detailed knowledge of materials science, including an understanding of material properties, durability, and safety, and the ability to apply this knowledge to the design and manufacture of aerospace systems.
Project Management – Managing projects, including developing project plans, setting deadlines, and managing budgets.
Problem Resolution – Solving complex engineering problems, including identifying and analyzing issues, developing solutions, and testing prototypes.
Quality Control – Understanding quality control principles and practices, including the conducting quality control tests and inspections on aerospace components and systems.
Regulations and Safety – Maintaining an up-to-date knowledge of regulations and safety standards in the aerospace industry, including an understanding of relevant government regulations and industry best practices.
Quick tip: Our partner's Resume Builder contains thousands of in-demand skills for every profession that can be added to your resume in seconds – saving you time and greatly improving your chances of landing job interviews and getting hired.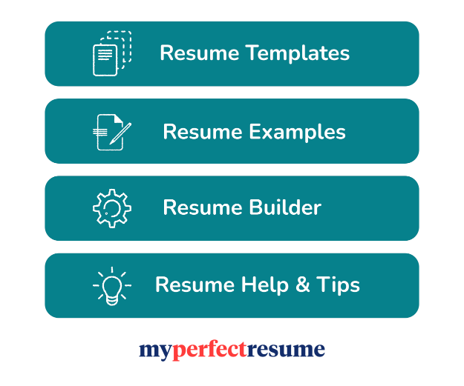 Work experience
Once you've hooked the hiring manager with your summary, you can really blow them away with you work experience.
List your previous jobs from newest to oldest to show the impact you made at each organization.
If you have years of experience, you can leave out some of the older jobs, and if you have little/no experience, you can bulk this section up with voluntary work and college placements.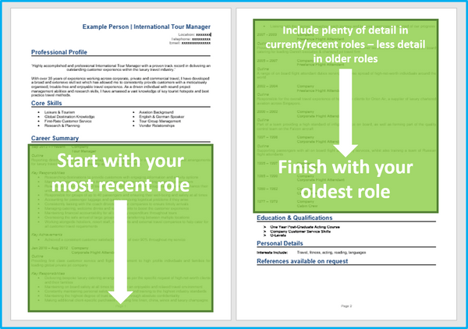 Structuring your jobs
Resume job descriptions contain lots of information, so its crucial to structure them well.
Use the structure below to ensure hiring managers can consume the information easily.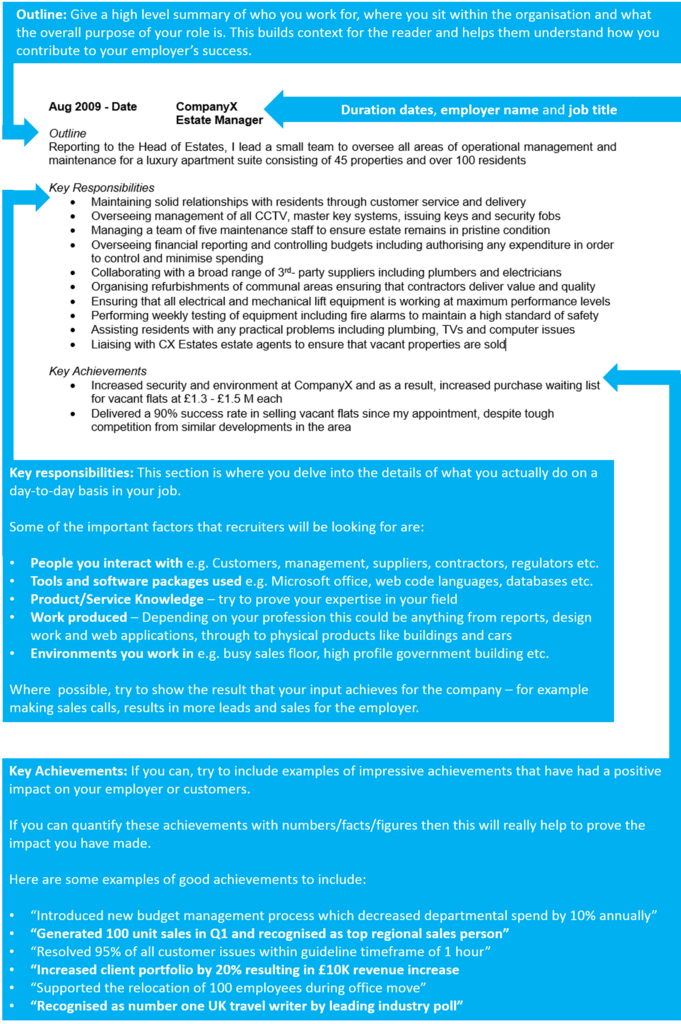 Job outline
Kick off each role with a high-level overview to summarize the focus of the job, what the organization/department does, and how you fit into the bigger picture.
Key responsibilities
List your notable responsibilities in short sharp bullet points to demonstrate your input and how you contributed to the organization's success.
Highlight the skills that are most important to the roles you are applying for.
Key achievements
Round off each job by adding some impressive achievements you made in the role.
Anything you've done that has made a big impact on your employer will make a good impression, think; generating revenue, saving costs, or improving a product.
Quantify your achievements with number where possible e.g. "reduced call wait time by 10%"
Example job for Aerospace Engineer resume
Outline
Work as a part of a team of engineers at an established research and development centre, designing and testing new components for passenger aircrafts which are sold to various multinational airplane manufacturing companies including Boeing and Airbus.
Key Responsibilities
Contribute to conceptual design and prototype creation of future aircraft systems
Build digital engineering simulation models (CAD) for hypersonic re-entry bodies.
Assess the aerodynamic performance of aircraft models using CFD analysis
Test and analyse the aerothermal performance of aircraft components using CFD and coupled material response analysis
Quick tip: Create impressive job descriptions easily in our partner's Resume Builder by adding pre-written job phrases for every industry and career stage.

Education section
Towards the bottom of your resume, add your education section.
Here you should list your professional qualifications and academic record, such as high school diplomas or college degrees.
If you have lots of work experience, you can keep this section brief (because recruiters will be more interested in your career. If you have little/no experience then you should bulk this section up with plenty of detail.
Additional information
The bottom of your resume is a place to add any "additional info"
Any other info that didn't fall into any of the previous sections can be added here.
If you have hobbies that are related to your profession or any awards or publications – add them here.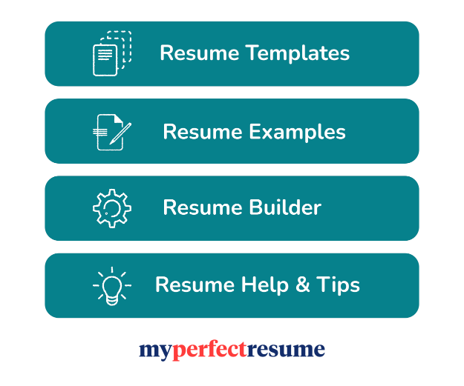 Writing your own Aerospace Engineer resume
Following the steps in this guide will help you to create a winning Aerospace Engineer resume and bag lots of interviews.
If you want some more help through the process, try our partner's Resume Builder for expert guidance and tons of pre-written resume content.
Good luck with your job search!