If you're interested in politics and want to get your career started on the right track, a job as a parliamentary assistant can help you to build your experience in the industry.
That said, because these posts aren't often advertised externally, competition to land a role is extremely competitive.
So if you want to boost your chances of securing an interview, check out our example parliamentary assistant CV below.
Guide contents
Parliamentary Assistant CV example
Structuring and formatting your CV
Writing your CV profile
Detailing work experience
Your education
Skills required for your Parliamentary Assistant CV

Parliamentary Assistant CV example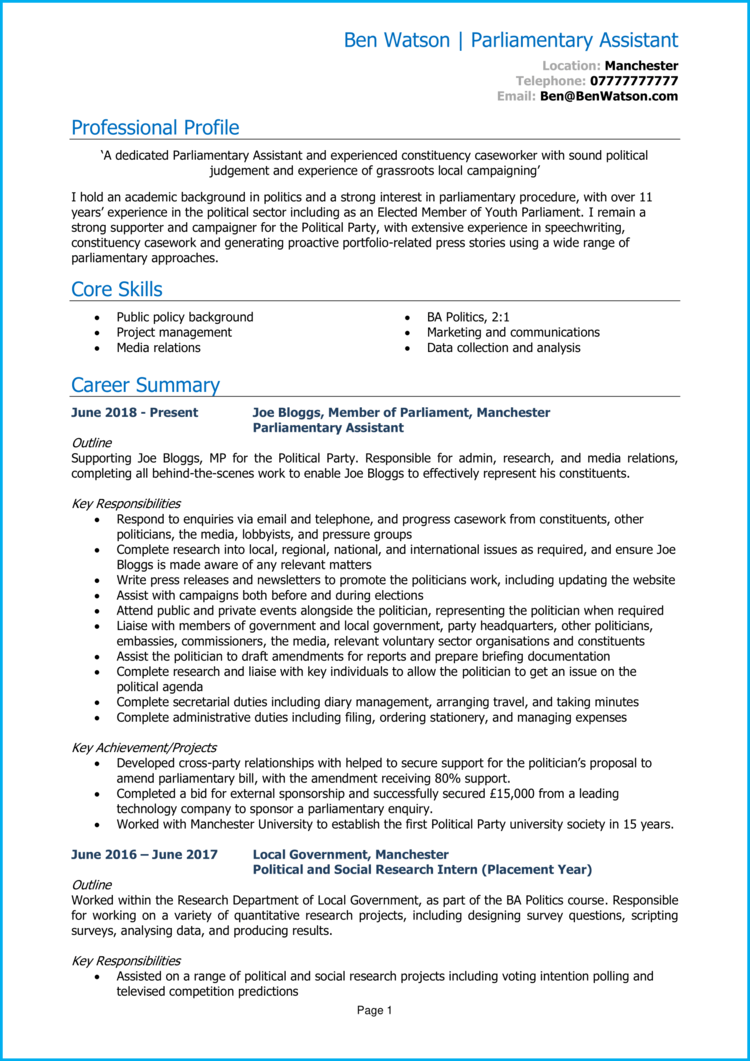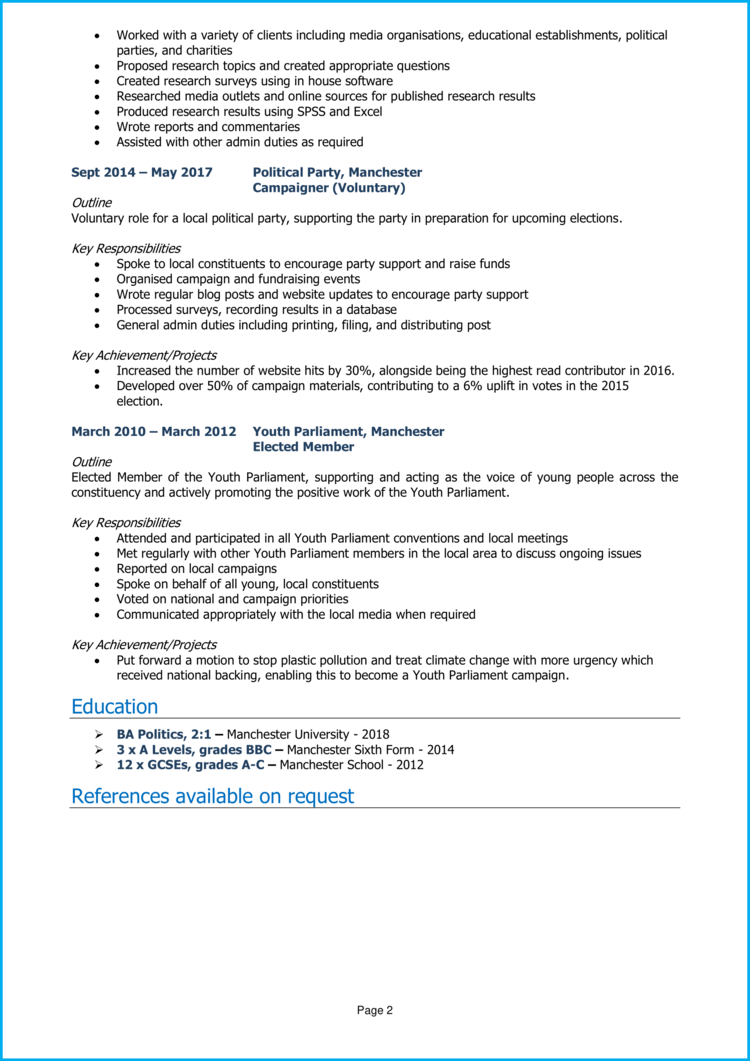 This a good example of a Parliamentary Assistant CV which contains all of the information that an employer would need to know, and presents it in a well- structured, easy-to-read manner.
Take some time to look at this CV and refer to it throughout the writing of your own CV for best results.
Parliamentary Assistant CV structure and format
Recruiters are busy, and if they can't find the information they're looking for in a flash, it could be game over for your application.
You need to format and structure your CV in a way which allows the reader to pick out your key information with ease, even if they're strapped for time.
It should be clear, easily legible, well-organised and scannable – check out some simple tips and tricks below: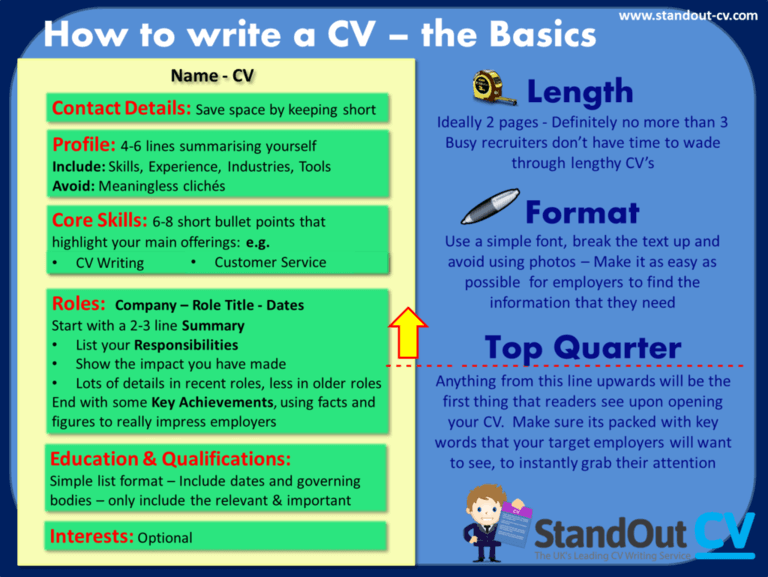 Formatting Tips
Length: Recruiters will be immediately put off by lengthy CVs – with hundreds of applications to read through, they simply don't have the time! Grabbing their attention with a short, snappy and highly relevant CV is far more likely to lead to success. Aim for two sides of A4 or less.
Readability: Help out time-strapped recruiters by formatting your CV for easy reading. Using lots of bullet points and lists will help them to skim through your info, while clearly formatted headings will allow them to navigate towards the content which is most useful to them.
Design: The saying 'less is more' couldn't be more applicable to CVs. Readability is key, so avoid overly complicated designs and graphics. A subtle colour palette and easy-to-read font is all you need!
Avoid photos: Logos, profile photos or other images aren't necessary and rarely add any value – save the space for written content, instead!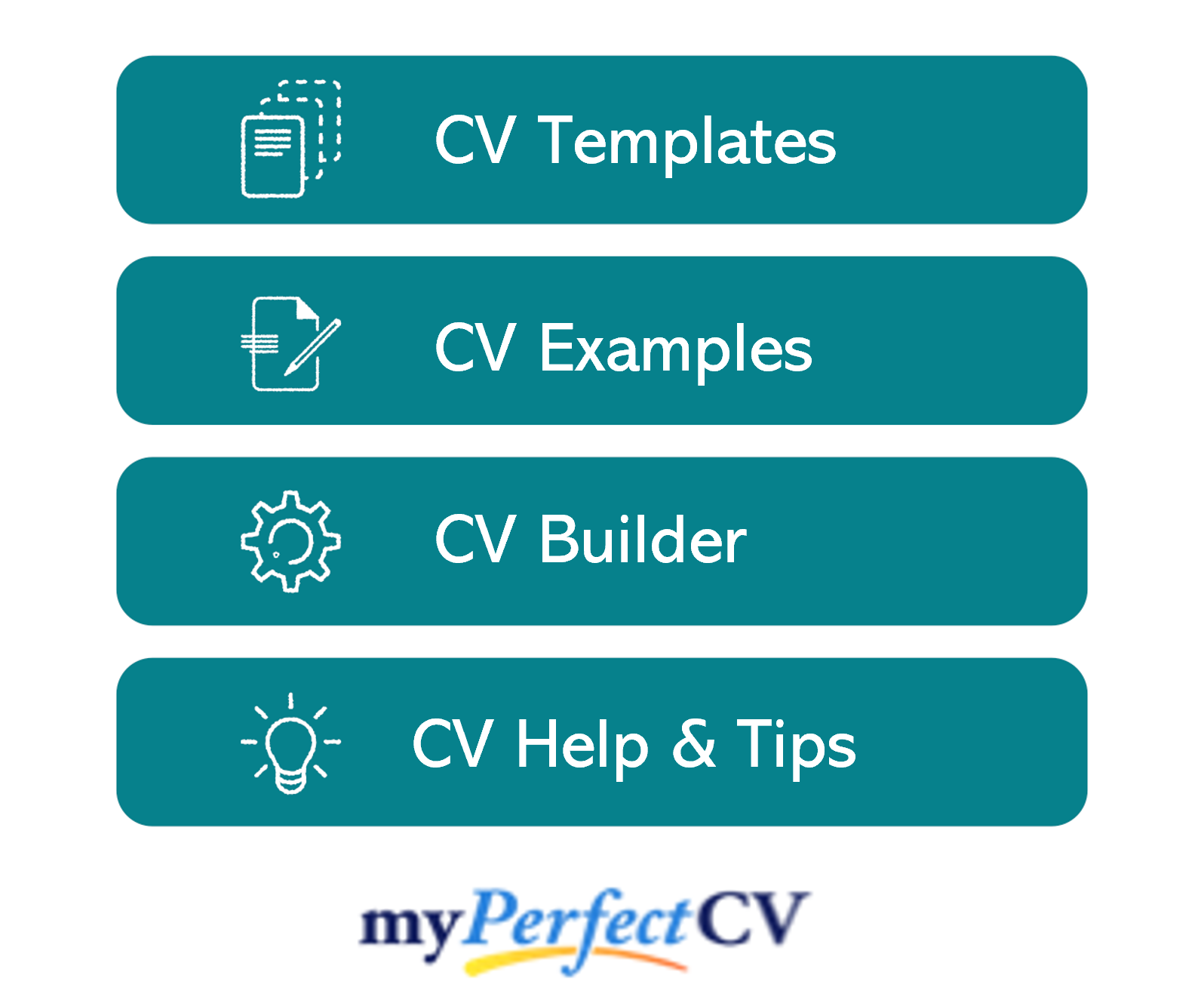 Structuring your CV
When writing your CV, break up the content into the following key sections, to ensure it can be easily digested by busy recruiters and hiring managers:
Contact details – Always list these at the very top of your CV – you don't want them to be missed!
Profile – An introductory paragraph, intended to grab recruiters attention and summarise your offering.
Work experience / career history – Working from your current role and working backwards, list your relevant work experience.
Education – Create a snappy summary of your education and qualifications.
Interest and hobbies – An optional section to document any hobbies that demonstrate transferable skills.
Now I'll guide you through exactly what you should include in each CV section.
CV Contact Details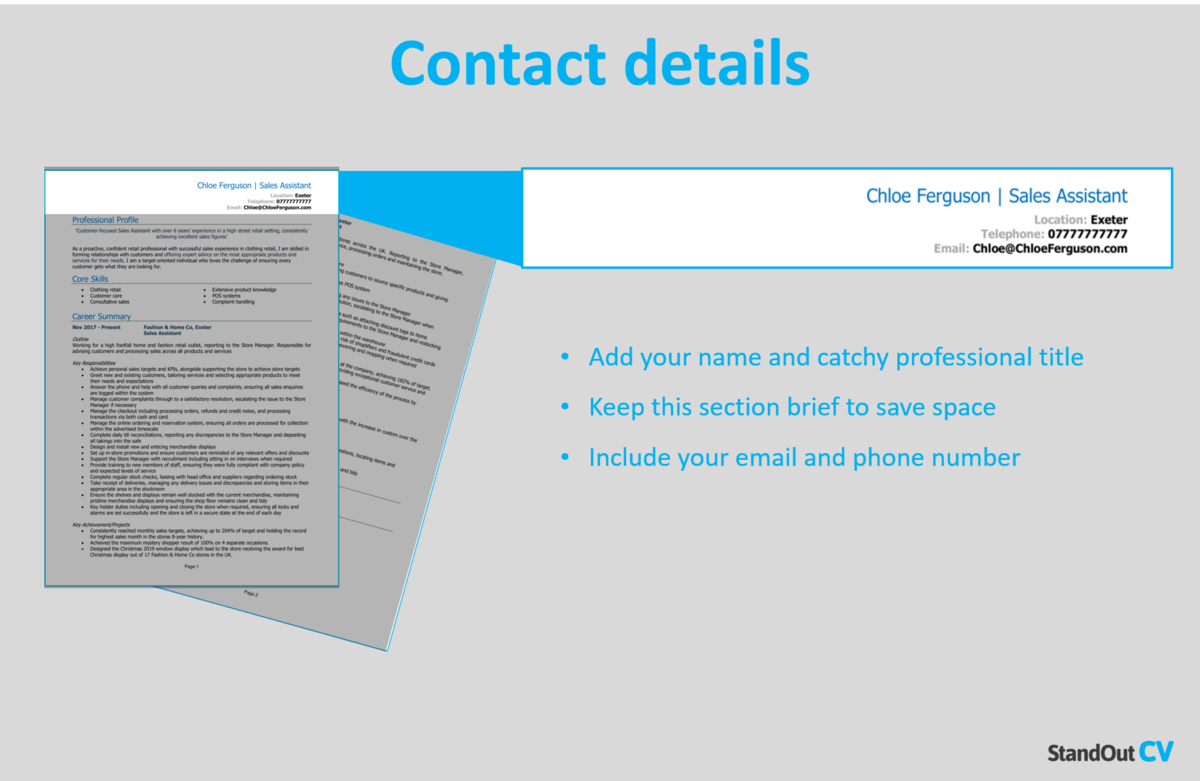 Kick-start your CV with your contact details, so recruiters can get in touch easily.
Here's what you should include:
Mobile number
Email address – Make sure it's professional, with no silly nicknames.
Location – Your town or city is sufficient, rather than a full address.
LinkedIn profile or portfolio URL – Ensure they've been updated and are looking slick and professional.
Quick tip: Avoid listing your date of birth, marital status or other irrelevant details – they're unnecessary at this stage.
Parliamentary Assistant CV Profile
Recruiters read through countless applications every day.
If they don't find what they're looking for quickly, they'll simply move onto the next one.
That's what makes your CV profile (or personal statement, if you're an entry-level/graduate candidate) so important.
This short and snappy summary sits at the top of your CV, and should give a high-level overview of why you're a good match for the job.
This way, you can ensure that busy recruiters see your suitability from the outset, and so, feel your CV is worth their time.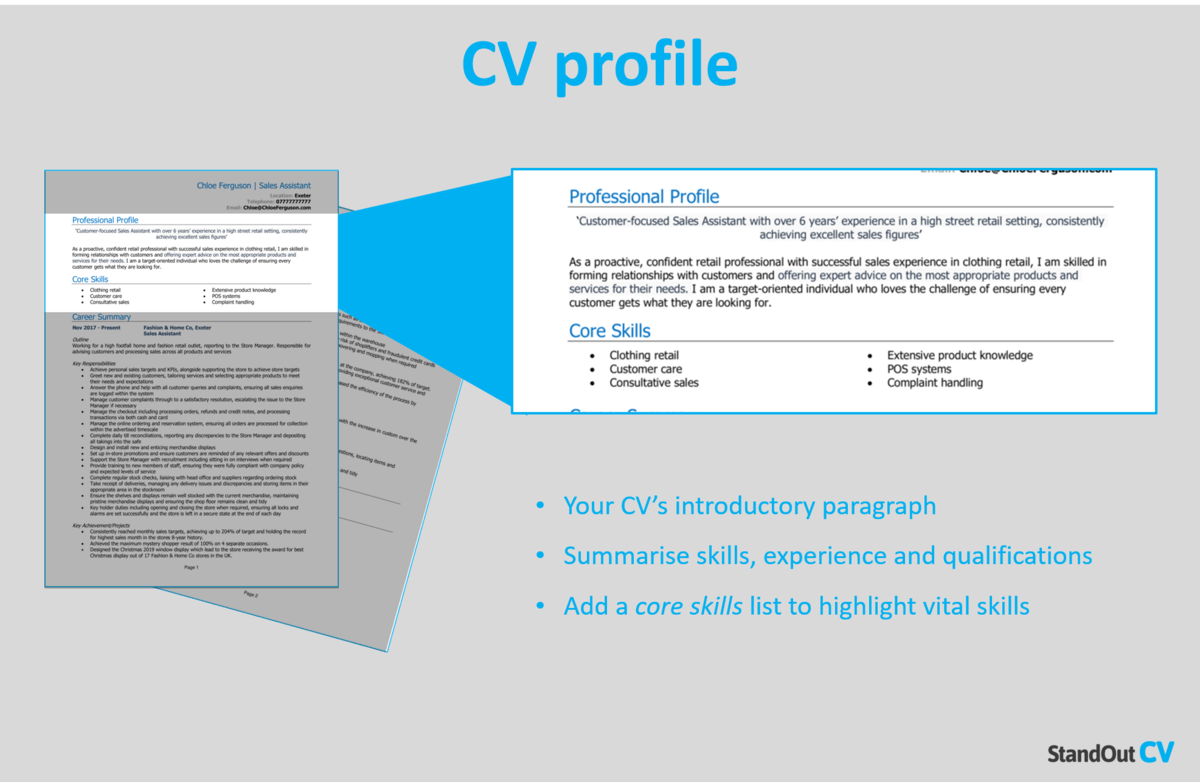 Tips for creating an impactful CV profile:
Keep it brief: Recruiters are busy, so to ensure your profile is actually read, it's best to keep it short and snappy. 3-5 punchy lines makes for the perfect profile.
Tailor it: Recruiters can spot a generic, mass-produced CV at a glance – and they certainly won't be impressed! Before you write your profile (and CV as a whole), read through the job advert and make a list of any skills, knowledge and experience required. You should then incorporate your findings throughout your profile and the rest of your CV.
Don't add an objective: Avoid discussing your career goals in your CV profile – if you think they're necessary, briefly mention them in your cover letter instead.
Avoid cliches: Clichés like "blue-sky thinker with a go-getter attitude" might sound impressive to you, but they don't actually tell the recruiter much about you. Concentrate on highlighting hard facts and skills, as recruiters are more likely to take these on board.
What to include in your Parliamentary Assistant CV profile?
Summary of experience: Recruiters will want to know what type of companies you've worked for, industries you have knowledge of, and the type of work you've carried out in the past, so give them a summary of this in your profile.
Relevant skills: Highlight your skills which are most relevant to Parliamentary Assistant jobs, to ensure that recruiters see your most in-demand skills as soon as they open your CV.
Essential qualifications: Be sure to outline your relevant Parliamentary Assistant qualifications, so that anyone reading the CV can instantly see you are qualified for the jobs you are applying to.
Quick tip: Even the best of writers can overlook typos and spelling mistakes. Use our partner's CV builder to add pre-written content that has been created by recruitment experts, and proofread by our team.
Core skills section
In addition to your CV profile, your core skills section provides an easily digestible snapshot of your skills – perfect for grabbing the attention of busy hiring managers.
As Parliamentary Assistant jobs might receive a huge pile of applications, this is a great way to stand out and show off your suitability for the role.
It should be made up of 2-3 columns of bullet points and be made up of skills that are highly relevant to the jobs you are targeting.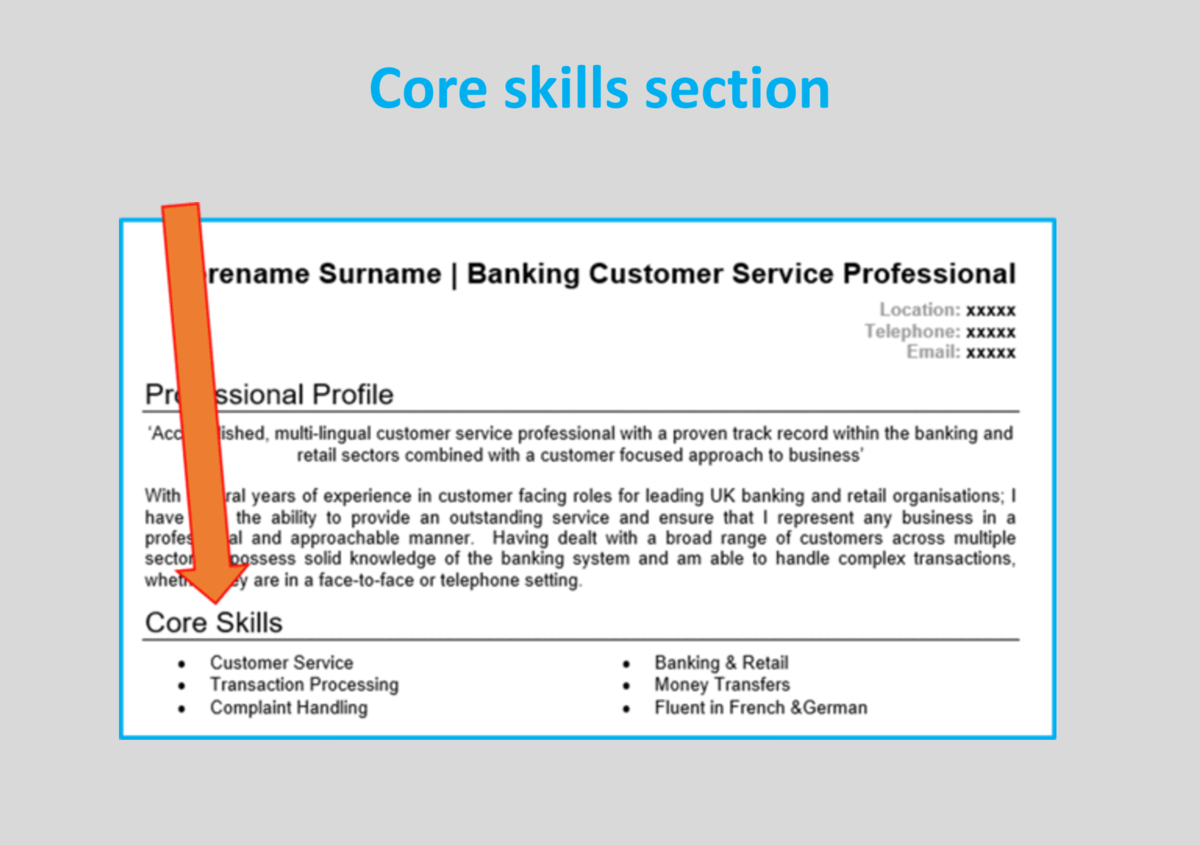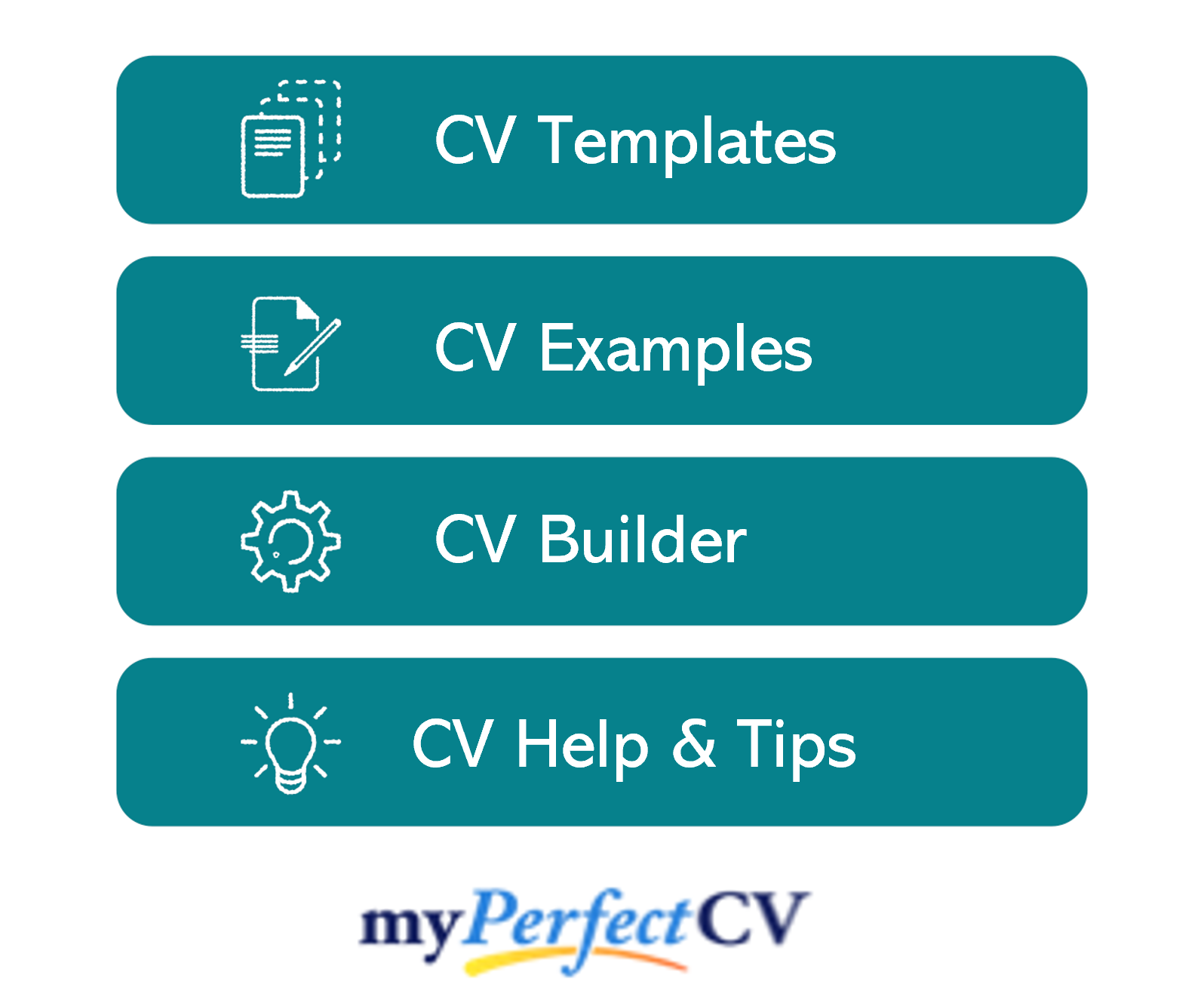 Work experience/Career history
Recruiters will be itching to know more about your relevant experience by now.
Kick-start this section with your most recent (or current) position, and work your way backwards through your history.
You can include voluntary and freelance work, too – as long as you're honest about the nature of the work.
Structuring your roles
If you don't pay attention to the structure of your career history section, it could quickly become bulky and overwhelming.
Get in recruiters' good books by creating a pleasant reading experience, using the 3-step structure below:
Outline
Start with a brief summary of your role as a whole, as well as the type of company you worked for.
Key responsibilities
Use bullet points to detail the key responsibilities of your role, highlighting hard skills, software and knowledge wherever you can.
Keep them short and sharp to make them easily digestible by readers.
Key achievements
To finish off each role and prove the impact you made, list 1-3 stand out achievements, results or accomplishments.
This could be anything which had a positive outcome for the company you worked for, or perhaps a client/customer.
Where applicable, quantify your examples with facts and figures.
Education
Although there should be mentions of your highest and most relevant qualifications earlier on in your CV, save your exhaustive list of qualifications for the bottom.
If you're an experienced candidate, simply include the qualifications that are highly relevant to Parliamentary Assistant roles.
However, less experienced candidates can provide a more thorough list of qualifications, including A-Levels and GCSEs.
You can also dedicate more space to your degree, discussing relevant exams, assignments and modules in more detail, if your target employers consider them to be important.
Interests and hobbies
The hobbies and interests CV section isn't mandatory, so don't worry if you're out of room by this point.
However, if you have an interesting hobby, or an interest that could make you seem more suitable for the role, then certainly think about adding.
Be careful what you include though… Only consider hobbies that exhibit skills that are required for roles as a Parliamentary Assistant, or transferable workplace skills.
There is never any need to tell employers that you like to watch TV and eat out.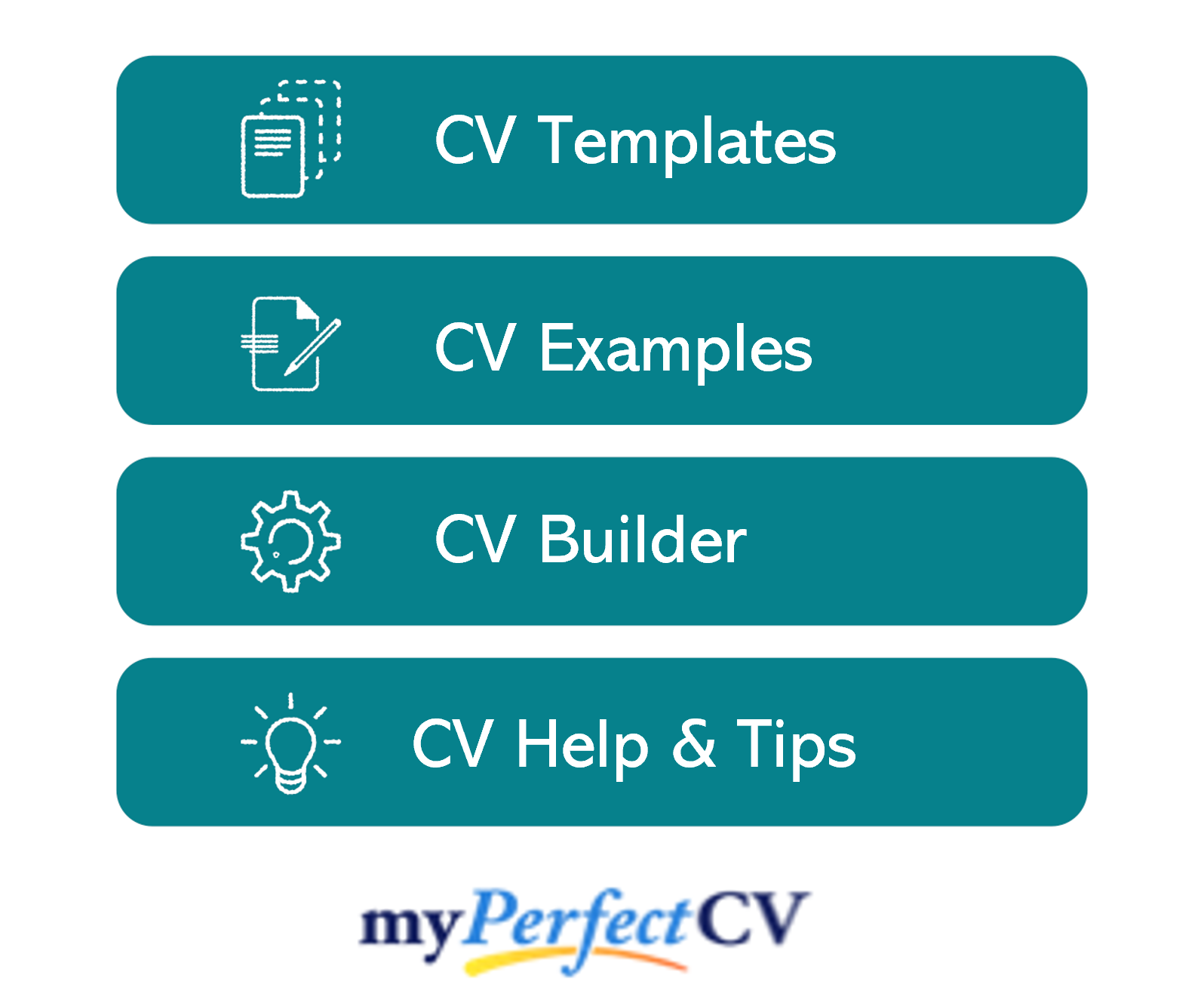 Essential skills for your Parliamentary Assistant CV
Tailoring your CV to the roles you are applying for is key to success, so make sure to read through the job descriptions and tailor your skills accordingly.
However, commonly desired Parliamentary Assistant skills include:
Organisation: You'll be performing a lot of secretarial duties for politicians such as managing their diaries and making travel arrangements; therefore you need to be organised
Research: The role may require you to research local, regional, national and even international issues to advise the politician
Communication: As you'll be doing administrative tasks, you must be able to communicate effectively over the phone, via email and, of course, in person
Interpersonal skills: This is a varied role and you'll be working with lots of different people, including politicians, media representatives and lobbyists, so you need to be confident conversing with them
Resilience: Politics can be a high-pressure industry, so you need to be resilient and recover quickly from stressful days
Writing your Parliamentary Assistant CV
An interview-winning CV for a Parliamentary Assistant role, needs to be both visually pleasing and packed with targeted content.
Whilst it needs to detail your experience, accomplishments and relevant skills, it also needs to be as clear and easy to read as possible.
Remember to research the role and review the job ad before applying, so you're able to match yourself up to the requirements.
If you follow these guidelines and keep motivated in your job search, you should land an interview in no time.
Best of luck with your next application!