If you don't have a lot of work experience, you can still create a compelling CV by adding your extracurricular activities.
In this article, we're going to show you the 12 best extracurricular activities you can use to boost your CV.
And we're going to explain exactly how and where you should add them, if you want to make a big impression on employers, and land job interviews.
The best extracurricular activities for your CV will be those where you developed credible, transferable skills for the workplace. This includes both group activities, as well as any solo initiatives.

Sports teams
Being a member of a sports team is a great way to show an employer that you function well in a team. Being in a sports team is all about cohesion, coordination, and working together to achieve a common goal – just like working within a business.
Teamwork is vital in the workplace, so being able to prove your ability to contribute to a team will add value to your CV. Make sure to highlight the key skills you developed in team sports, including the following:
Top 5 skills
Coordination
Collaboration
Delegation
Diplomacy
Communication
Clubs and societies
If you're a member of any club, society or organisation outside your studies, it can be helpful to include these on your CV. Relevant organisations can include chess clubs, reading groups and debating clubs. Never include any political or religious organisations on your CV, as this can lead to unwanted discrimination.
The best clubs and societies to include on your CV will naturally be those directly related to the job you're applying for, such as a finance society if you were applying for a junior role in a bank. However, being part of a club and society – no matter the genre – demonstrates some key skills that can come in handy on your CV:
Top 5 skills
Confidence
Critical thinking
Persuasion
Teamwork
Organisation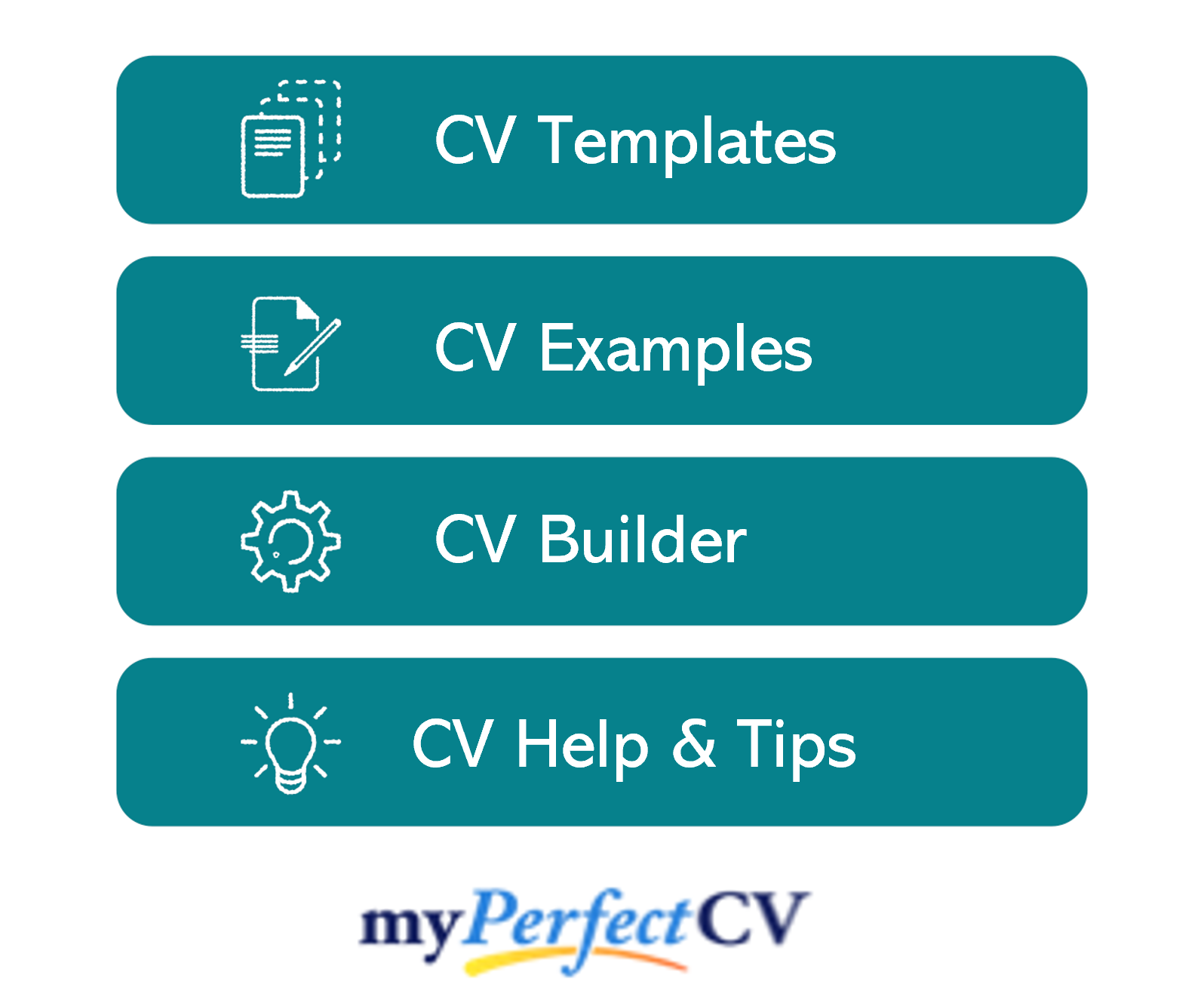 Personal projects (writing, websites etc)
Having a personal side project  (or several) is a great way to demonstrate your skills and interest within a particular line of work. Whether you're making videos on YouTube, writing a book or if you created your own website, it's great to add to your CV.
You don't have to worry about your personal projects being highly successful, either. What a potential employer will see is initiative and a keen enthusiasm both for work and the subject at hand.
Including personal projects on your CV can demonstrate the following skills:
Top 5 skills
Initiative
Subject matter expertise
Writing
Independent working
Research skills
Creative hobbies (art, photography etc.)
Creative hobbies, such as painting, acting or photography are great to include on your CV, as they demonstrate to an employer a number of important workplace skills. Being creative requires a certain attention to detail and patience, which translates well to any office or team environment.
Creative hobbies also demonstrate that you use your time productively and wisely, which is attractive to any potential employer. Creative hobbies can demonstrate the following:
Top 5 skills
Attention to detail
Creativity
Observation
Idea generation
Design

Volunteering
Having volunteer work on your CV is a great way to show off a keen work ethic and valuable workplace skills at the same time. Volunteer work, despite being mostly unpaid, is no different to normal work – you're still engaging with the public or a team, completing tasks, and following instructions.
Volunteer work doesn't have to exclusively mean working for established charities, either. If you put in a few shifts at your university library or coached your school sports team, you can include this as volunteer work on your CV.
Top 5 skills
Customer service
Empathy
Keen work ethic
Accountability
Customer service
Music & theatre
While you might not think to include music and theatre activities on your CV, participation in these types of extracurricular activities can actually be a major bonus on your CV. Theatre is one of the most fast-paced industries in the world, so you'll develop a wealth of skills and learn how to work under pressure.
Similarly, learning a musical instrument takes self-discipline and endless practice. This demonstrates to any employer that you're hard working, dedicated and committed to achieving your goals.
Top 5 skills
Time management
Organisation
Discipline
Ability to work under pressure
Public speaking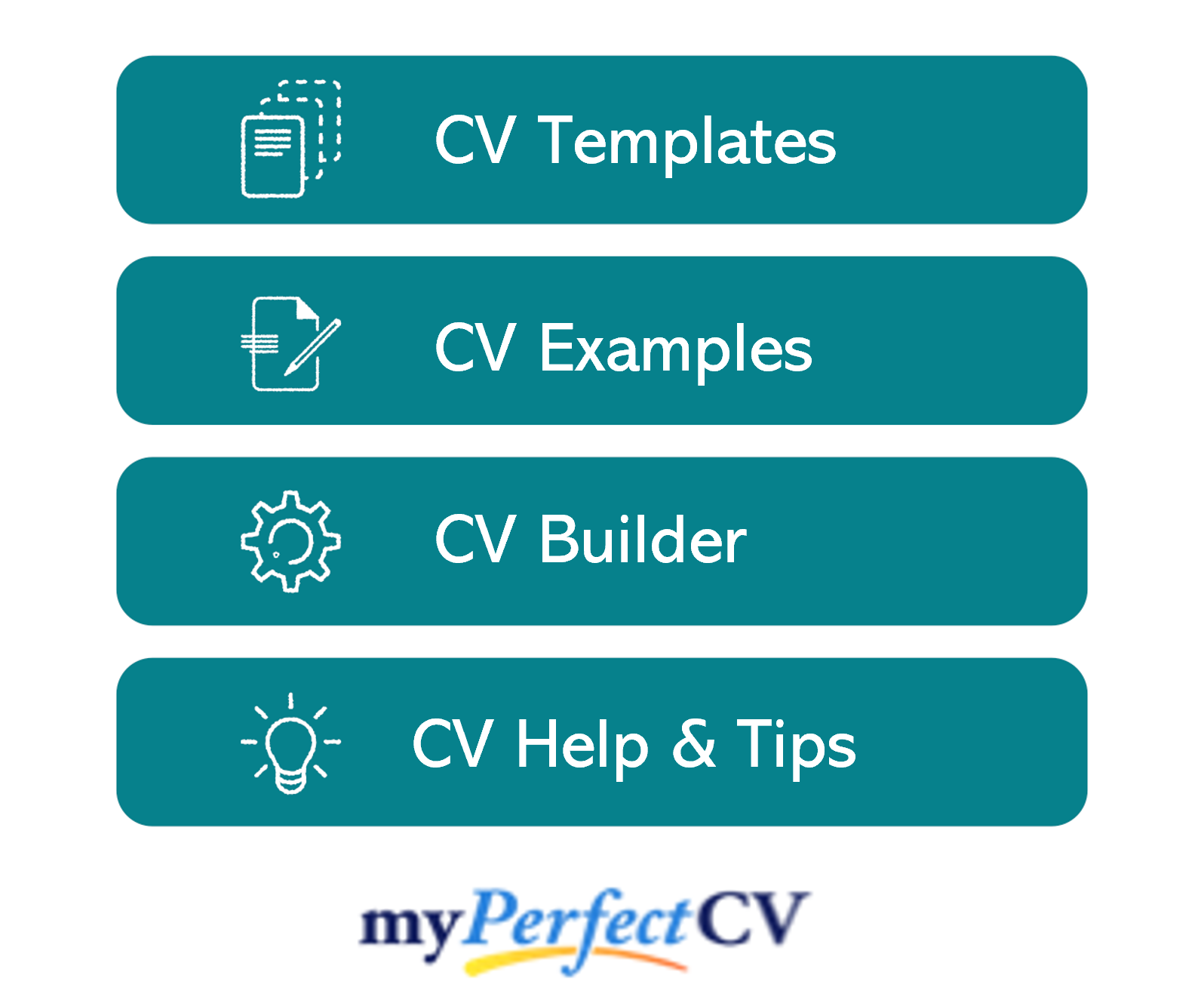 School or University clubs
When attending secondary school and university, you'll have the opportunity to join various extracurricular clubs and societies alongside your studies.
It's always a good idea to join at least one or two school or university societies, as this shows an employer that you're a self-starter and spend your time productively.
If you join clubs or societies that reflect an interest in your chosen career path, that's a bonus. But you can still include other clubs and societies on your CV, as your participation alone can demonstrate some key soft skills:
Top 5 skills
Presentation skills
Co-operation
Collaboration
Brainstorming
Active listening
School positions of responsibility (prefect etc.)
It's a great sign to any employer if you've already been given positions of responsibility during your studies, whether it be class representative or school prefect.
Employers love being able to depend on their employees for help when it comes to decision-making and problem solving, so including these roles is a great way to boost your CV and demonstrate that you'd be a dependable and valuable employee.
Top 5 skills
Leadership
Responsibility
Conflict resolution
Decision making
Dependability
Travel & overseas study
Broadening your horizons with international travel is an enriching experience on a personal level, and it can even help boost your CV too. Travelling abroad shows an employer that you're adaptable and can thrive in new and unfamiliar environments.
Solo travel is also a plus, as it demonstrates both your ability to be self-sufficient and your ability to communicate effectively. You should include studies abroad and education travel on your CV, but leave out any recreational holidays.
Top 5 skills
Adaptability
Confidence
Self-management
Interpersonal skills
Cultural awareness
Languages
Second or third languages are perhaps the most underrated – yet highly valuable – skills to  include on your CV, no matter the job you're applying for. Being multilingual – or even having a substantial level (B1-C2) – in a second language can tell employers a lot about you.
Not only are language skills highly valued in a globalised corporate world, but they also demonstrate soft skills that highlight your work ethic, discipline, and ability to retain information. Make sure to highlight your language level on your CV if you're not yet fluent. (B1, B2, C1, C2, etc.)
Top 5 skills
Verbal skills
Information skills
Multitasking
Commitment
Self-motivation
Practical hobbies (Building things, fixing computers etc.)
Having practical hobbies can be a great way to highlight your self-management skills and information skills, as well as your passion both for work and problem solving. You can include hobbies such as building things, fixing computers, and restoring vintage technological devices on your CV.
While you might consider it a niche hobby, practical hobbies show a potential employer that you're equipped with several soft skills, many of which are highly desirable in the day-to-day running of a business or office.
Top 5 skills
Innovation
Questioning
Analysis
Critical thinking skills
Experimenting

Should I include extracurricular activities in my CV?
If you have little to no work experience, adding extracurricular activities to your CV is a great way to show employers that you have transferable skills for the workplace.
Whether it be from a debating team or volunteer work, participation in extracurricular activities can show motivation, organisational skills and leadership skills – all of which are valued by employers.
But, do be selective about the extracurricular activities you include. Leisurely passive activities (such as watching TV or eating out) are not particularly interesting for an employer. Pick activities that demonstrate credible workplace skills for best results.
How to include extracurricular activities in your CV
You should include your extracurricular activities in the "additional info" section at the bottom of your CV. You should write them in a way that demonstrates the key skills learned and developed, as demonstrated below.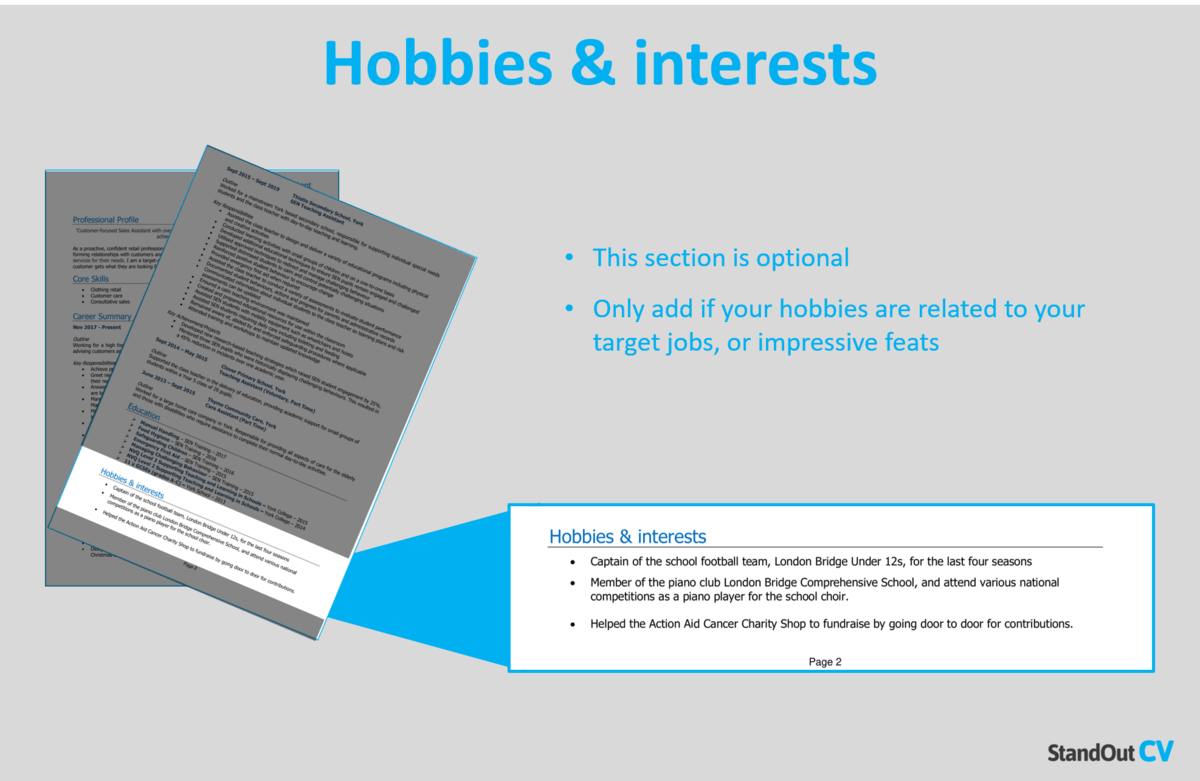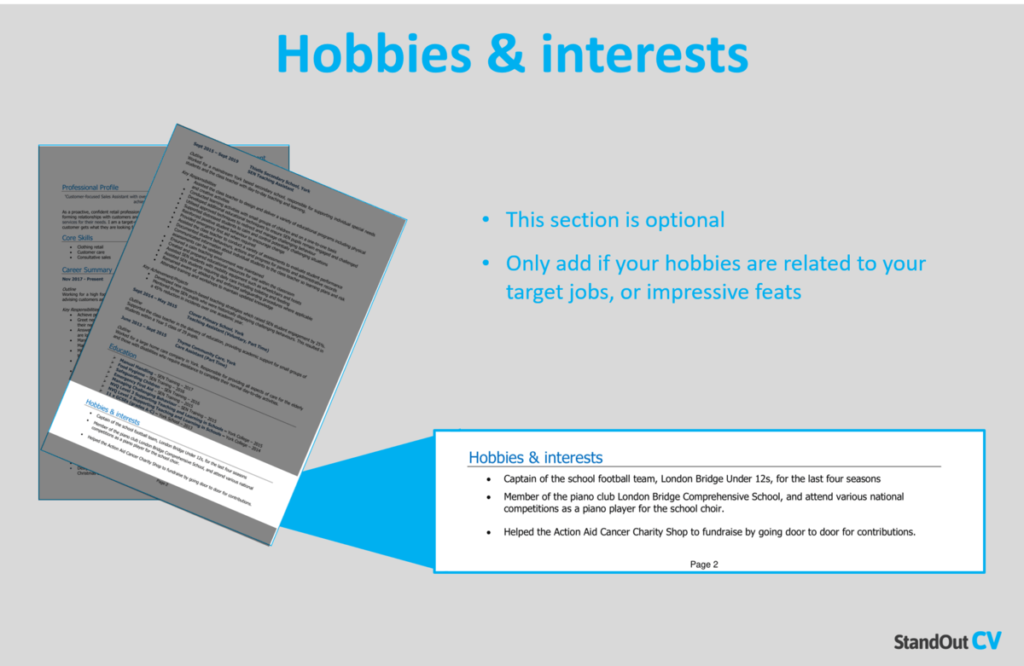 Where to include extracurricular activities in your CV
The best place to include any extracurricular activities on your CV is under the "additional info" section at the bottom of your CV.
This is because while they're certainly helpful, extracurricular activities can't be the main focus of your CV. You have limited space when writing your CV, so it's best to have any work experience and your education as the main focus. Extracurricular activities come in handy when displaying soft skills such as teamwork, innovation, adaptability and flexibility.
Also, don't add every single extracurricular activity that you've ever participated in. You want to highlight the key activities that add value to your skillset, as these will be the most interesting to your employer.
How to write extracurricular activities in your CV
It's important to know how to format your extracurricular activities on your CV if you want to grab the attention of the recruiter. You should highlight your key skills relating to the extracurricular activity, rather than rambling too much about unimportant details.
In fact, it's best to keep extracurricular activities as short and to-the-point as possible. The best way to format your extracurricular activities is in a list structure, with the most important and impressive activities listed first. For example:

Conclusion
This guide should help you understand how to add extracurricular activities to your CV in a coherent and effective way.
The important thing to remember is to include information that your employer will find useful and interesting – leave out the fluff and focus on your key skills.