In 2018, the Gartner Report estimated that 80% of large companies will be monitoring their employees by 2020, using a range of employee monitoring tools and data collectors to track performance and secure property.
However, with the global pandemic seeing many teams work from home, a separate 2020 report found that 1 in 5 companies have or intend to engage in using a form of employee monitoring tool or software. Meanwhile, the TUC reported 1 in 7 of its members had experienced increased employer surveillance since March 2020.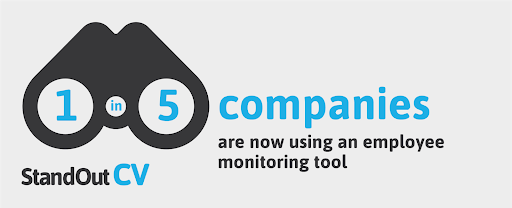 The idea of using the monitoring tools being to better understand employees when not in the office and secure company data. However, whilst those might be the intentions, just what are 1 in 5 firms now able to collect?
To help shed a light on the tools that could be on your work computer, we've analysed 32 of the most used and recognised employee monitoring tools to reveal what and how they collect data.
Contents:
Key Findings
1 in 5 companies are now using an employee monitoring tool
66% of monitoring tools can track your browsing history
75% of "productivity" tools take screenshots of an employee's screen, based on employer set conditions
Teramind is rated as the most invasive tool, based on their reporting of keystrokes, screenshots and stealth modes
47% of monitoring tools use stealth modes to remain hidden from employees
1 in 5 monitors now track your GPS location, in addition to IP address
22% of employee monitoring tools can monitor you via camera or screen recordings
Almost 1 in 10 can record audio from the device it is installed on
Employee Monitoring Index
To help highlight the usage of employee monitoring tools, we've analysed 32 of the most popular employee monitoring tools to identify how much information your boss could be collecting.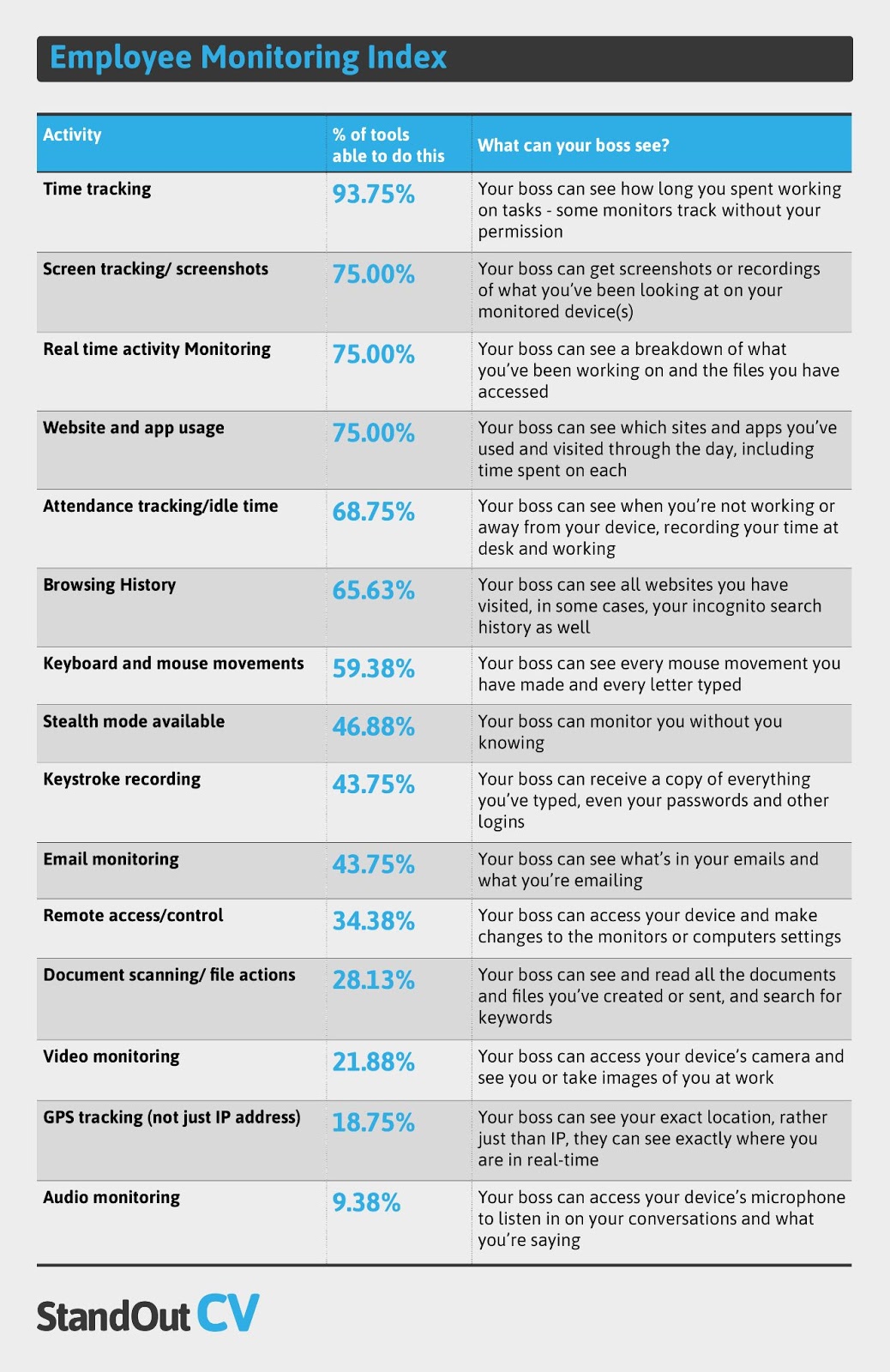 Which Software Collects The Most Data?
Our study found Teramind to have the highest number of concerning and invasive features, providing over 4,000 employers with the opportunity to watch or listen in on their employee's conversations, both at home and at work.
CleverControl and AgenTrack were found to be the second most invasive monitoring tools based on our analysis, both can provide audio and visual monitoring but lacked the document and scanning Teramind can implement.
Rounding off the top 3 are SentryPC, which collates most information points but without audio or visual monitoring, and Veriato Vision.
In terms of the number of companies using these monitors to 'keep tabs' on their employees, consumer numbers are naturally sensitive information. While the like of the fairly innocuous Time Doctor work with more than 83,000 businesses, the likes of Teramind report more than 4,000 businesses using their software.
The main areas of business for many of these firms being in financial, legal, retail, technological, manufacturing, energy, healthcare, and even government bodies.
In addition to the likes of Teramind and Time Doctor, ActivTrack reports having 6,500 business customers, with (the joint 4th most invasive software) Veriato Vision boasting more than 41,000 users across nearly 1.3 million installations.
Based on how much and how invasive the information gathered was, we scored the companies to provide an employer monitoring insight.
The most invasive employee monitoring tools: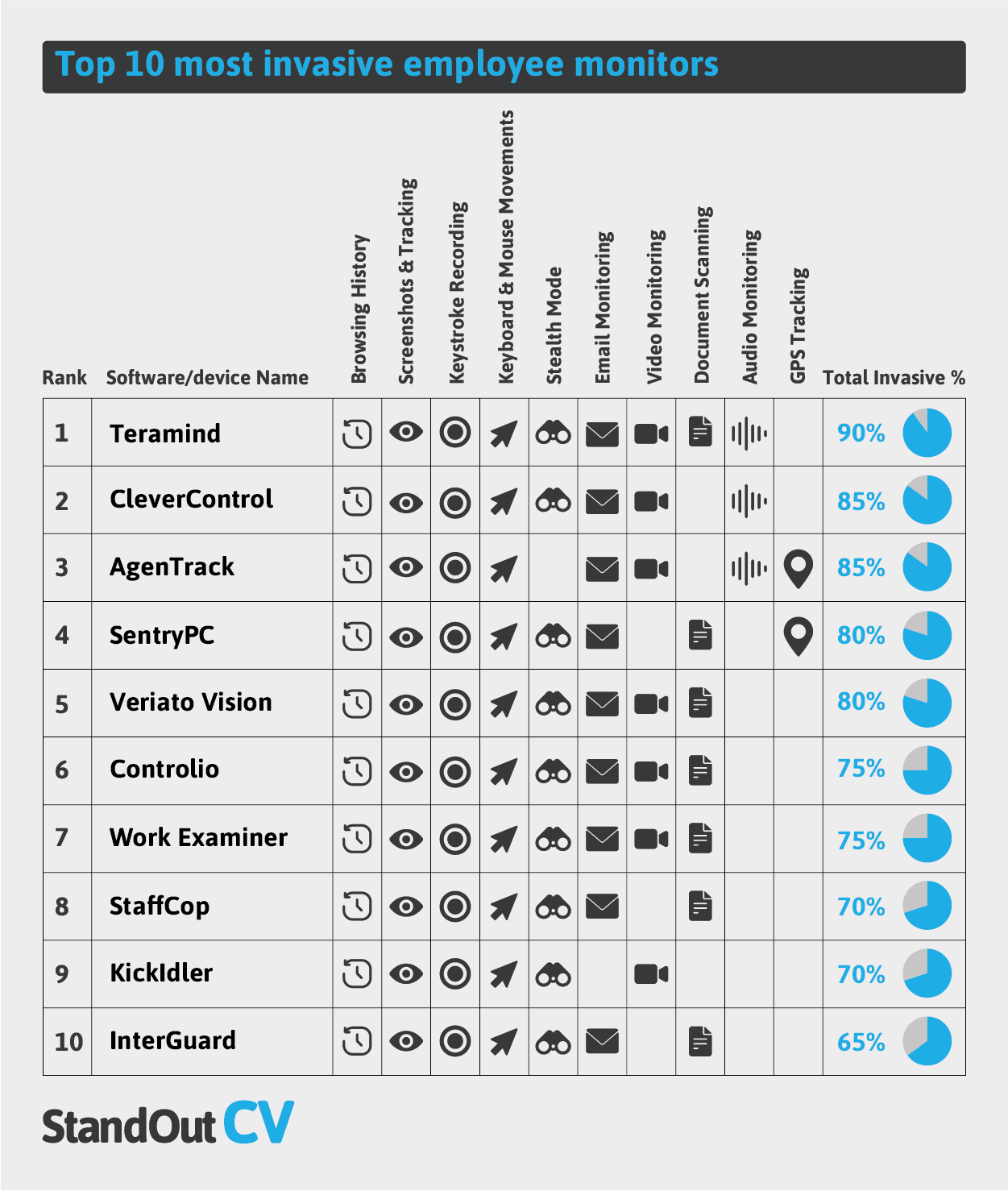 What Can Your Boss Monitor?
Time tracking is the main area employee monitoring tools report on workers, with 94% of the analysed tools tracking time in one way or another.
However, within this figure, it's important to note that whilst some are "self-reporting" others track employee time via other means.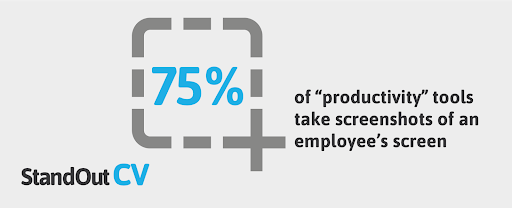 Some of these means can include activity data and usage. Our research found 75% of employee monitors provide some form of "activity and usage tracking".
Additionally, and somewhat concerningly, 75% of software tools were also found to take screengrabs or screenshots of employee desktops; often at set durations but also as a result of 'trigger' actions.
Despite the various memes about people nudging their mouse or hitting keys to "appear" to be working, our research found just 59% of employee monitors collate and report on keyboard and mouse movements and 44% on keystrokes.
That's not to say bosses aren't checking, for most people (69%), attendance tracking and idle time is still reported by the software.
What Other Ways Can Your Boss Monitor You?
As part of our analysis and scoring, we looked at some of the most invasive ways employers can monitor their employees.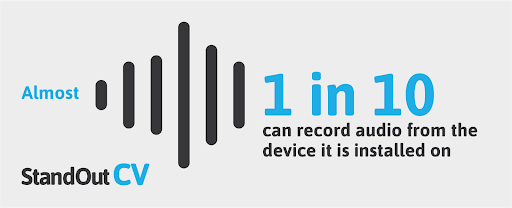 Our data found that nearly 1 in 10 (9%) monitoring tools use audio monitoring, collating information using your microphone. Meanwhile, more than 1 in 5 (22%) monitoring softwares can access video and camera recordings to track employees, often using these videos to take recordings of their screens.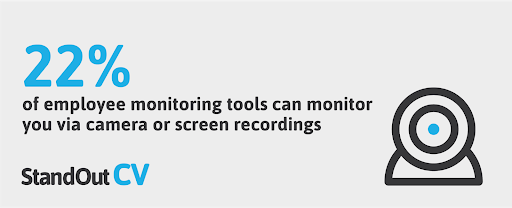 Concerningly, our research found that 47% of employees that have some (or more) of these monitoring tools downloaded onto their equipment, won't be able to see the program. The tools allow employers to hide the software using "Stealth Modes", which prevent employees from seeing their presence on the devices.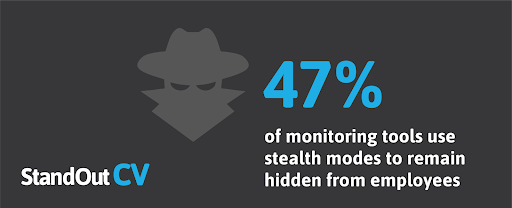 Meanwhile, over a third (34%) of employer-managed monitors provide them with some form of remote access to their employee's device(s).
What's So Concerning?
Whilst most of these aspects of data collection are to aid employers with understanding worker habits and increase productivity, by allowing them to streamline and find solutions to "time drains", there are (naturally) privacy and trust concerns.
For instance, keylogging (44%) and screengrabs (75%) are used by many monitor tools to check activity and provide insights on whether people have been typing for work or for pleasure. However, they often record everything. Meaning your boss could be seeing any and all of your passwords, as well as personal messages.
There is also a concern at the location data employers can track using monitors, nearly 1 in 5 (19%) have access to GPS data (in addition to IP details), potentially providing employers with not just an 'approximate' location but an Uber-esque insight as to where you are at any given time.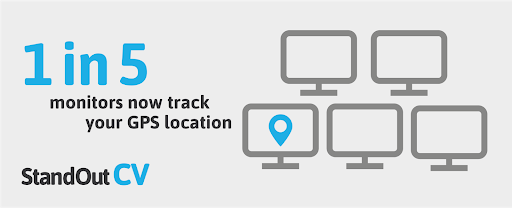 Additionally, as our research revealed, 9% of monitors allow employers to record audio from an employee's device. While 22% can access the camera and video of a device. Both of these naturally pose huge concerns when we consider 35-30% of the UK's workforce could be working from home some or all the week after 2021.
The issue with audio and visual monitoring being the personal conversations or scenarios that could be caught on 'tape', even after an employee has finished for the day.
Commenting on the finding of the study, Andrew Fennell comments:
"It is expected that the pandemic will see greater numbers of people working remotely, with companies choosing to reduce costs and react to employee attitudes. However, with that comes the need for many firms to track and understand their employees, using monitors to help them secure their property and productivity levels high."
"With working increases working from home in mind, it is concerning that so many of the tools we analysed could provide employers and managers with private audio, visual and text-based information."
"To keep people safe we'd recommend checking your employee handbook for information on the companies monitoring policies, to understand what they are (or aren't) collecting. Additionally, as a general rule based on the results of our analysis, people should look to separate their work from personal devices and personal use from work devices."
Methodology & Sources:
The monitoring software and tools were selected on the basis of their popularity and frequency of features in comparison and review sites. When deciding which features to include as column headings, we took into account those most commonly reported, as well as those featured within the descriptions and terms of each particular tool.
"Invasive scores" are based on an index point system with a weighted points system assigned for the instances of data gathering, percentages scores for the monitors are out of a total score of 20.
https://www.gartner.com/smarterwithgartner/the-future-of-employee-monitoring/
https://prospect.org.uk/news/workers-are-not-prepared-for-the-future-of-working-from-home/
https://hbr.org/2020/05/how-to-monitor-your-employees-while-respecting-their-privacy
https://www.skillcast.com/blog/remote-working-compliance-survey-key-findings
https://www.businessofbusiness.com/articles/employee-monitoring-software-productivity-activtrak-hubstaff-covid/