By 2025, it's estimated that 70% of large employers will be monitoring their employees. This is a rise from the 60% of employers that were monitoring employees in 2021 as a result of the pandemic.
In the U.S. 3 in 4 employers offer hybrid working and 87% of UK companies say they have adapted to hybrid working. Employees working remotely can present security risks to businesses and companies are clearly deciding to protect their assets.
On paper, they use monitoring tools to ensure employees aren't acting fraudulently, are actually working when away from the office, and to ensure company data is secure. But how far does this surveillance go? What are companies able to collect on workers when in the office or in the comfort of their own homes?
To help shed a light on the tools that could be on your work computer, we've analysed 50 of the most used and recognised employee monitoring tools to reveal what and how they collect data. We previously ran this study in 2021 and the findings were shocking, here's how employee monitoring has changed in a post-pandemic hybrid working world.
Contents:
Key employer monitoring statistics
By 2025, it's estimated that 70% of large employers will monitor their employees.
Video monitoring is now 42.42% more common on employee monitoring tools than it was in 2021 (38% in 2023 vs 21.88% in 2021).
78% of "productivity" tools take screenshots of an employee's screen, based on employer-set conditions.
Teramind is rated as the most invasive tool, based on their reporting of keystrokes, screenshots and stealth modes.
38% of monitoring tools use stealth modes to remain hidden from employees, which is a decrease of 23.37% compared to 2021.
Over a third (34%) of tools now track employees' exact GPS location, an increase of 44.85% compared to 2021, a possible reaction to employees stealthily working from other countries or states.
Almost 1 in 12 (8%) employee monitoring tools can record audio using the device's internal microphones.
There are now an average of 24.24% more invasive features on employer monitoring tools in 2023 than there were in 2021.
Employee Monitoring Index
To help highlight the usage of employee monitoring tools, we've analysed 50 of the most popular employee monitoring tools to identify how much information your boss could be collecting.
| Features | % of Tools With This Feature | What can your boss see? |
| --- | --- | --- |
| Time tracking | 96% | How long you spent working on tasks - some can do this without your permission. |
| Real-time activity monitoring | 86% | A breakdown of what you have been working on and the exact files you accessed. |
| Attendance tracking/idle time | 86% | When you are actively working on your device or when you are away. This would also record your active working time or time spent as idle. |
| Website and app usage | 82% | Which sites and apps you have used and visited during the day, as well as the amount of time spent on each. |
| Screen tracking/screenshots | 78% | Screenshots or recordings of what you've been looking at on your device(s). You may or may not be notified of this. |
| Browsing history | 64% | All the websites you have visited, in some cases, even your incognito search history as well. |
| Email monitoring | 48% | The exact contents of your emails and attachments, as well as who you are contacting. |
| Keyboard and mouse movements | 44% | The exact movement of your mouse and all letters typed. |
| Chat monitoring | 40% | Your entire chat history, who you speak to, and how long you spend on chat apps. |
| Keystroke recording | 40% | A file containing everything you have ever typed, including passwords and logins. |
| Stealth mode available | 38% | A mode that allows bosses to monitor you real-time without you knowing. |
| Video monitoring | 38% | A live feed of of your device's camera and the ability to take photos or videos of you while working. |
| Document scanning/file actions | 38% | They can read your documents and files you've created or sent and search for keywords. |
| Location tracking | 34% | The exact location your device is based in real-time, not just based on your IP address. |
| Remote access/control | 28% | They could takeover your entire device and act as if they were sitting in front of your screen themselves. |
| Audio monitoring | 8% | Access your device's microphone and listen to your conversations as you work. |
How has employer monitoring changed since the pandemic? (2021 vs 2023)
As we have run this study since 2021 we can compare the data to see trends in the employee monitoring space.
The biggest trends we have seen are a surge in tools allowing location tracking (increased 44.85%), video/camera monitoring (increased 42.42%), document scanning (increased 25.97%), and attendance tracking (increased 20.06%).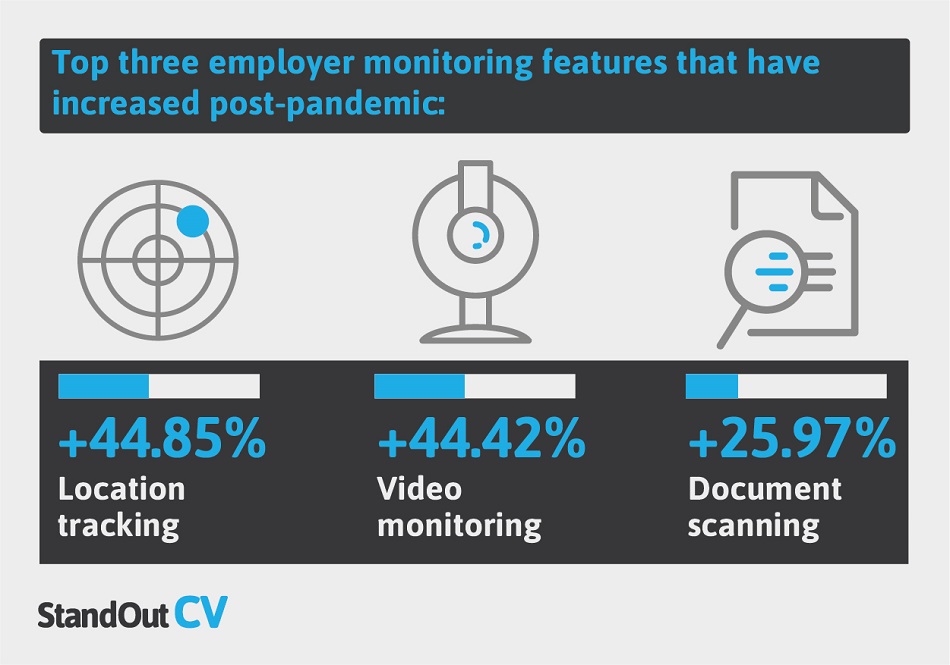 Some features have become less popular, with tools removing them or not offering them to companies. There has been a 35% decrease in tools offering keyboard and mouse movement tracking, and a 23.37% decrease in those offering a 'stealth mode' where employers can monitor real-time activity without you knowing. In these stealth mode instances, the tool may not even appear on your computer, it's hidden tracking you from the shadows.
Overall, the invasiveness score has increased from 45% to 53% from 2021 to 2023. Put simply, it means tools have added more invasive features than they've taken away. The world of employee monitoring has gotten slightly tougher for the average worker since the pandemic.
Employee monitoring features that are increasing and decreasing
The following table reveals the employer monitoring features that are now more likely to appear on these tools in 2023 compared to 2021, as well as those that have fallen. Overall, there are now an average of 24.24% more invasive features on employer monitoring tools than there were in 2021.
| Features | 2023 | 2021 | Difference |
| --- | --- | --- | --- |
| Location & GPS tracking | 34% | 18.75% | 44.85% |
| Video monitoring | 38% | 21.88% | 42.42% |
| Document scanning/file actions | 38% | 28.13% | 25.97% |
| Attendance tracking/idle time | 86% | 68.75% | 20.06% |
| Real-time activity monitoring | 86% | 75% | 12.79% |
| Email monitoring | 48% | 43.75% | 8.85% |
| Website and app usage | 82% | 75% | 8.54% |
| Screen tracking/screenshots | 78% | 75% | 3.85% |
| Time tracking | 96% | 93.75% | 2.34% |
| Browsing history | 64% | 65.63% | -2.55% |
| Keystroke recording | 40% | 43.75% | -9.38% |
| Audio monitoring | 8% | 9.38% | -17.25% |
| Remote access/control | 28% | 34.38% | -22.79% |
| Stealth mode available | 38% | 46.88% | -23.37% |
| Keyboard and mouse movements | 44% | 59.38% | -34.95% |
| Chat monitoring | 40% | N/A | N/A |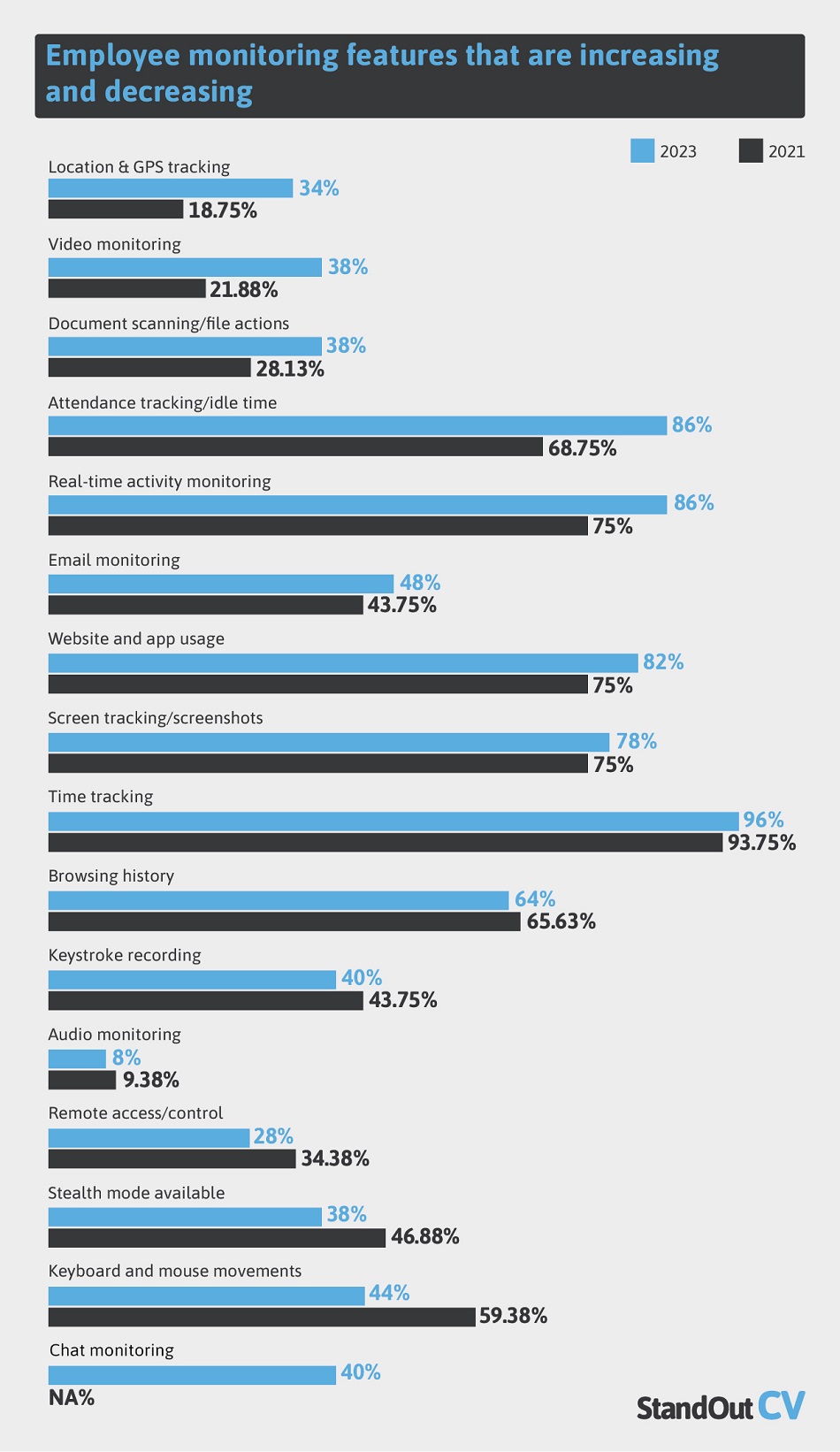 Which bossware collects the most data?
Based on how much and how invasive the information gathered by employer monitoring tools was, we scored the companies on their features to contrast and compare.
For the second year running, the data revealed that Teramind has the highest number of concerning and invasive features, providing over 5,000 employers in 12 countries with the opportunity to watch or listen in on their employee's conversations, both at home and at work.
In 2023 however, Veriato Vision joins Teramind in the first position, with broadly similar features, however, Vision doesn't claim to monitor audio, but does track GPS location.
In third position was CleverControl, last year's runner-up, which also tracks a huge variety of employee activity but not location or document scanning that other tools offer.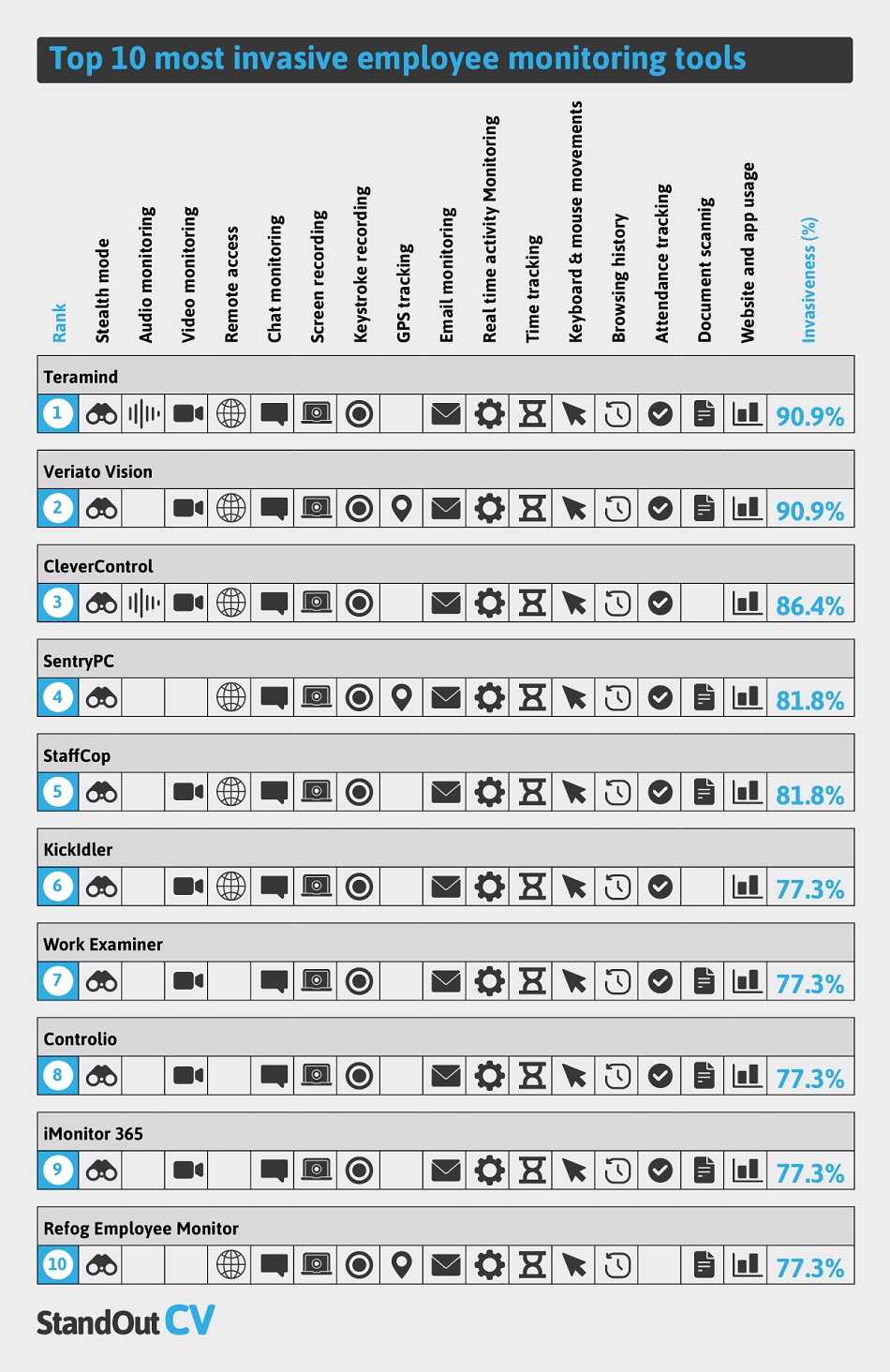 How many employers use employee monitoring tools?
Gartner reports that 7 in 10 large employers are expected to use employer monitoring tools by 2025, while other surveys of U.S. employers from 2023 show that around 60% currently use them. The most recent figures show that there were 6.1 million companies with employees in the U.S., meaning 3.66 million could be monitoring their employees.
In the UK, statistics point to fewer employers monitoring their staff, estimated to be around 1 in 3 companies. Using the latest figures from the Government of companies with employees in the UK, that could mean around 1.76 million businesses are monitoring UK staff.
Official figures of employer monitoring usage are understandably sensitive information. Companies naturally may not want to highlight this activity on their website for example.
While the likes of the fairly innocuous time-tracking and reporting tool, Harvest, celebrate working with more than 70,000 businesses around the world, the more invasive tools typically work with fewer.
Publicly available data from these businesses indicates that the likes of Teramind work with over 5,000, while Veriato Vision boasts over 41,000 clients in more than 110 countries.
The main areas of business for many of these monitoring tools are in the financial, legal, retail, technological, manufacturing, energy, and healthcare spaces, as well as government bodies.
What can your boss monitor?
Time tracking is the main area employee monitoring tools report on workers, with 96% of the analysed tools tracking time in some form.
However, within this figure, it's important to note that while some are "self-reporting", such as an employee logging their time on a task, others track employee time through other methods.
Some of these time trackers will coincide with activity data and usage. Our research found 86% of employee monitors provide some form of "real-time activity monitoring", meaning your employer could know what you did all day because they had access to a log detailing your entire working day.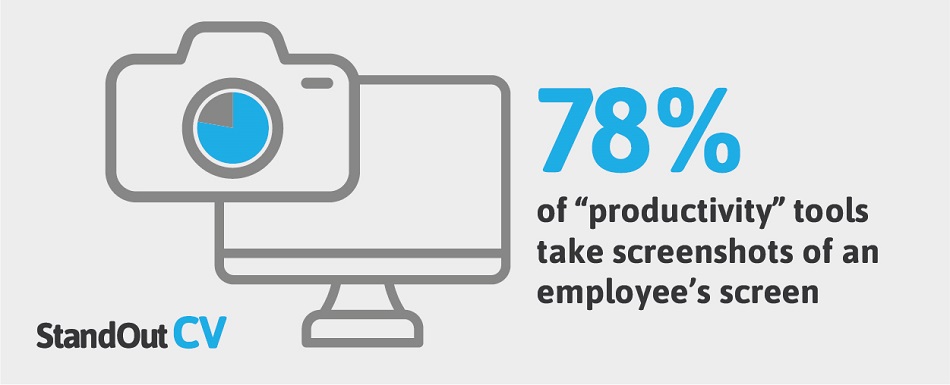 Additionally, and somewhat concerningly, 78% of software tools were also found to take screengrabs or screenshots of employee desktops, up from 75% in 2021. These can be set to trigger randomly, at set times of day, or based on trigger actions, such as going on an entertainment website.
Despite the various memes about people nudging their mouse, or tools you can buy to mimic activity (one employee was fired for using tools like this) our research found just 44% of employee monitors collate and report on keyboard and mouse movements, down from 59% in 2021.
That's not to say leadership aren't checking, for most people, attendance tracking and idle time is still reported by the software (86%, up from 69% in 2021). Some of these attendance trackers don't like to brand themselves as a spy tool however, as they exist to monitor employee attendance or time, not their every move or other invasive actions.
How invasive can bossware be?
As part of our analysis and scoring, we looked at some of the most invasive ways employers can monitor their employees.
Our data found that 1 in 12 (8%) monitoring tools use audio monitoring, collating information using your microphone, this is a minor decrease from 9% in 2021. However, when it came to video recording and monitoring, the number jumps dramatically to 38% of bossware tools.
Concerningly, our research found that at least 38% of employees that have some (or more) of these monitoring tools downloaded onto their equipment, won't be able to see the program. This is because the tools allow employers to hide the software using "Stealth Modes", which prevent employees from seeing their presence on the devices.
Meanwhile, over a quarter (28%) of employer-managed monitors provide them with some form of remote access to their employee's device(s). This is down from 34% in 2021.
What is concerning about bossware?
While most of these aspects of data collection are to aid employers with understanding worker habits and increase productivity, by allowing them to streamline and find solutions to "time drains", there are (naturally) privacy and trust concerns.
On-screen tracking
For instance, keylogging (40%) and screengrabs (78%) are used by many monitor tools to check activity and provide insights on whether people have been on their computer for work or for pleasure.
However, they often record everything. Meaning your boss could be seeing any and all of your passwords, as well as personal messages.
Location data
There is also a concern about the location data employers can track using monitors, a third (34%) have access to GPS data (in addition to IP details) which is a marked increase compared to 2021 when only 19% of tools offered this as a service. This means employers can track your exact location, not an approximation, but the exact coordinates. For those remote workers looking to slyly work from other countries, this is their worst enemy.
Audio and video data
Additionally, as our research revealed, 8% of monitors allow employers to record audio from an employee's device. While 38% can access the camera and video of a device.
Both of these naturally pose huge concerns when we consider that between 75% and 87% of UK and U.S. employees work at home at some point in the week. Are employees inviting their employers into their homes without them knowing? Some conversations are meant for the home and not the workplace and there is the potential for these boundaries to be blurred significantly.
Methodology
The monitoring software and tools were selected on the basis of their popularity and frequency of features in various comparison and review sites including G2's roundup of the Best Employee Monitoring Software in 2023.
When deciding which features to review, we took into account those most commonly reported on product reviews, as well as those featured within the descriptions and terms of each particular tool.
"Invasive scores" are based on an index point system with a weighted points system assigned for the instances of data gathering; percentages scores for the monitors are out of a total score of 20. Audio monitoring, video monitoring, chat monitoring, screen tracking and screenshots, keystroke recording, and GPS tracking were given double weighting as being considered more invasive than the other features.
The original study was run in 2021 and updated in 2023. Percentage comparisons relate to our own bespoke dataset year-on-year.

This work is licensed under a Creative Commons Attribution-ShareAlike 4.0 International License.