You've worked and studied hard for years to be able to give medical advice and help take care of others.
Now you've got to condense all of this information down into just a few short pages if you hope to land your next pharmacist role.
To help you do this, we prescribe our step-by-step writing guide. You can check out all our top tips and advice below, complete with a community pharmacist CV example.
Contents
| | |
| --- | --- |
| How to write a Community Pharmacist CV | |

Community Pharmacist CV example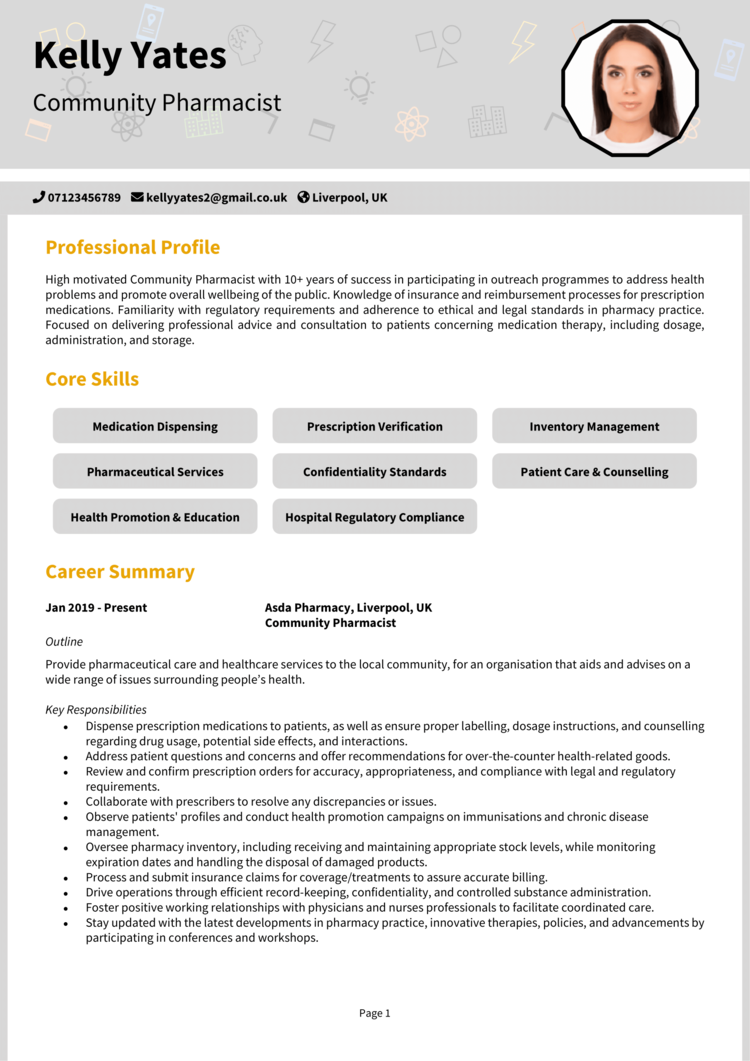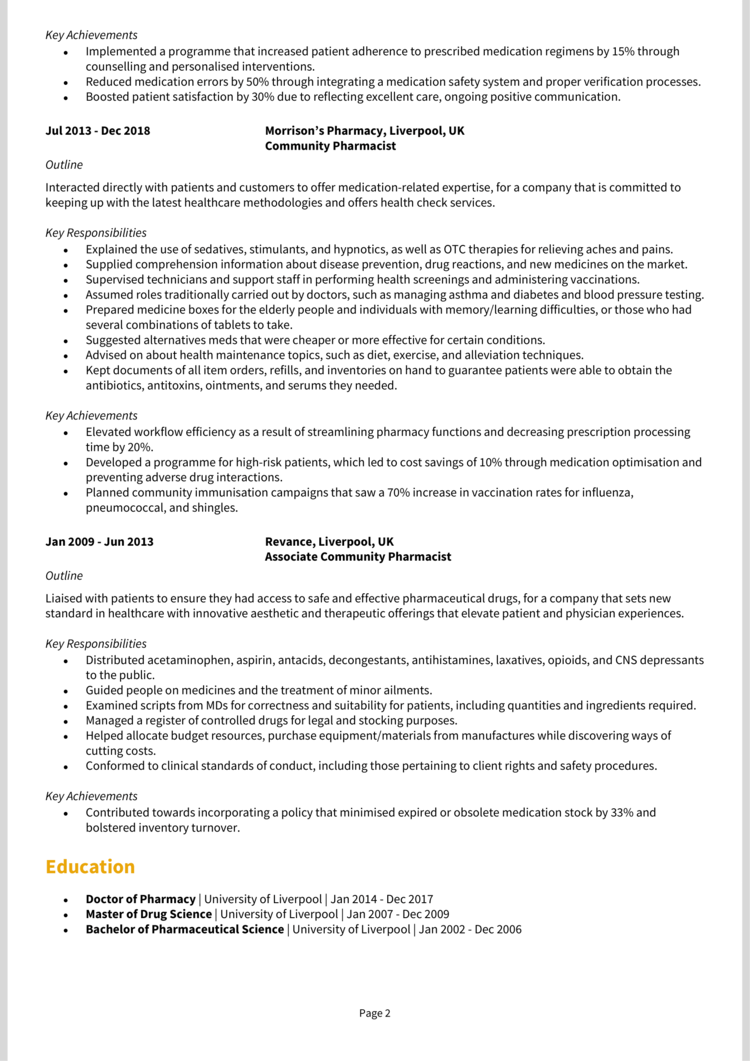 This is a good example of a Community Pharmacist CV which is professionally formatted, and structured in a way that allows recruiters to easily find and understand the candidate's key selling points.
Take some time to look at this CV and refer to it throughout the writing of your own CV for best results.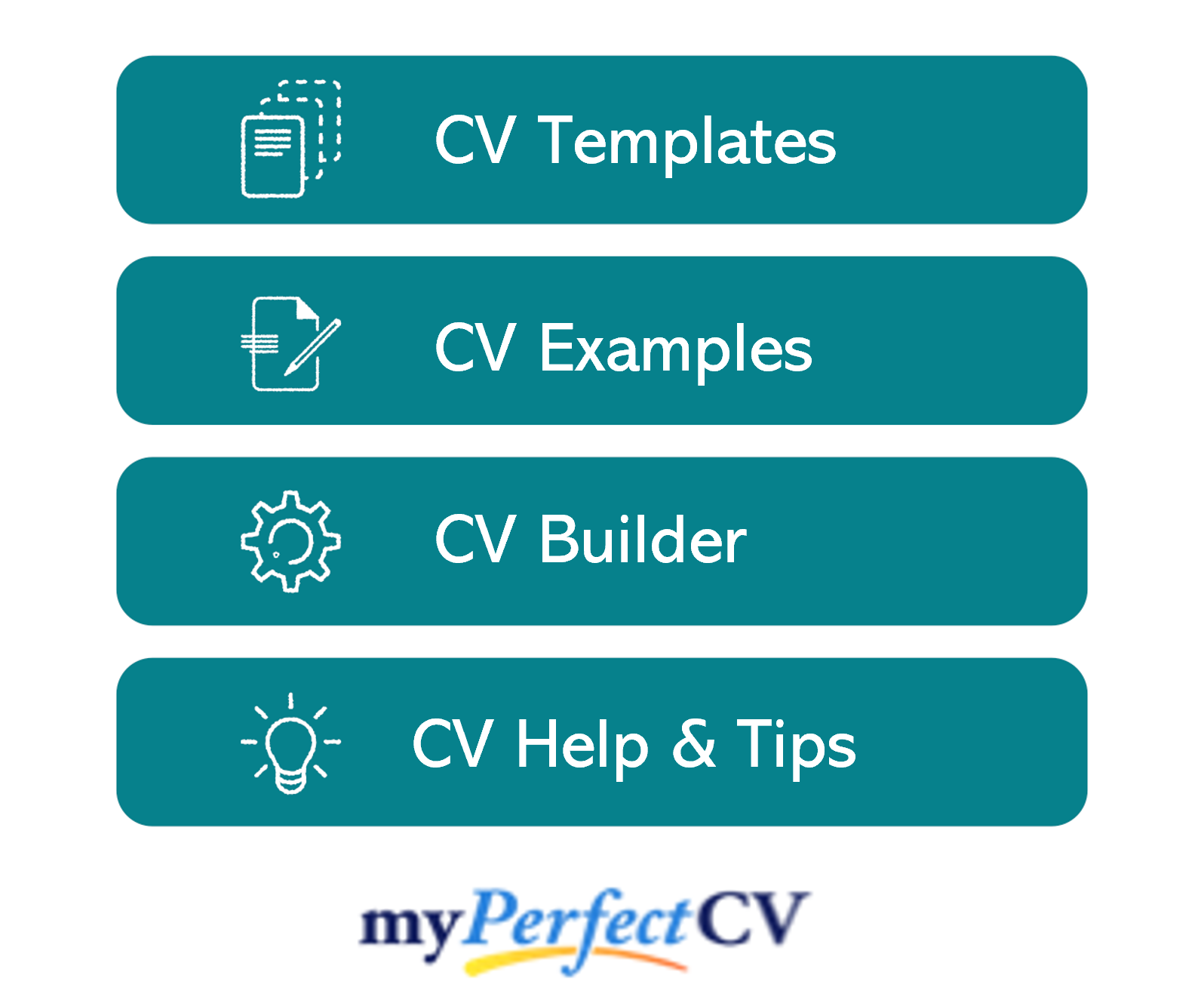 Community Pharmacist CV format and structure
In a highly competitive job market, recruiters and employers are often inundated with applications. If they can't find what they're looking for in your CV quickly, they may skip past your application and move on to the next one in their inbox
So, it's crucial to structure and format your CV in a way that enables them to find your essential details with ease, even if they're pressed for time.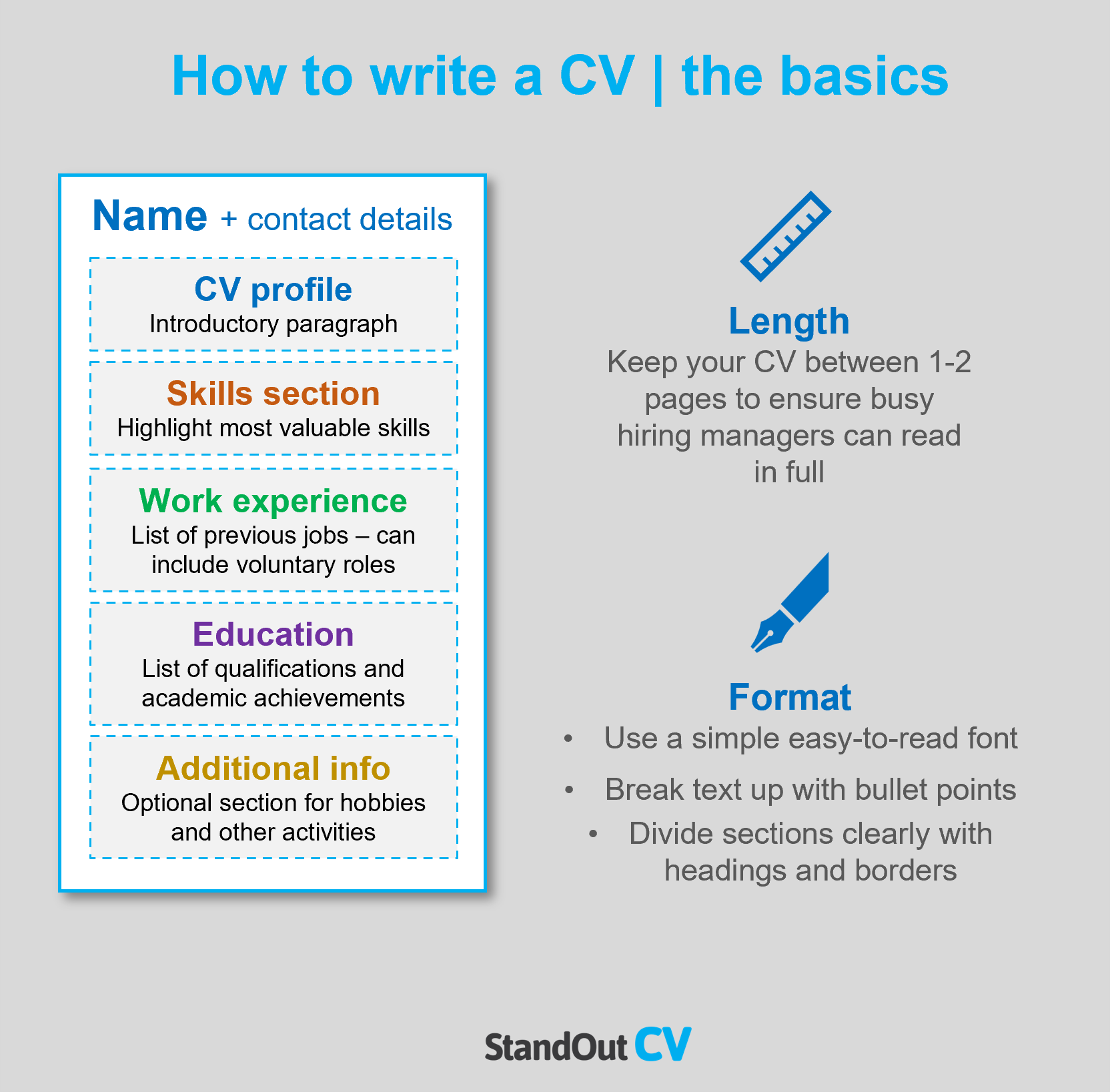 Tips for formatting your Community Pharmacist CV
Length: It's essential to keep your CV concise, regardless of whether you have one year or thirty years of experience. Recruiters are frequently managing multiple roles and responsibilities and do not have the luxury of reading lengthy CVs. Therefore, limit your CV to two sides of A4. If you have little industry experience, one page is sufficient.
Readability: Make sure your CV is easy to read and looks professional by applying some simple formatting tricks. Bullet points are great for making large paragraphs more digestible, while formatting your headings with bold or coloured text will help the reader to find the information they need, with speed.
Design & format: While it's okay to add your own spin to your CV, avoid overdoing the design. If you go for something elaborate, you might end up frustrating recruiters who, above anything, value simplicity and clarity.
Photos: Headshot photos aren't requiered in a CV by most employers, but some creative and artistic industries like to see them. If you decide to inclide one, make sure you look smart and professional in the picture.
Quick tip: Creating a professional CV style can be difficult and time-consuming when using Microsoft Word or Google Docs. To create a winning CV quickly, try our partner's CV Builder and use one of their eye-catching professional CV templates.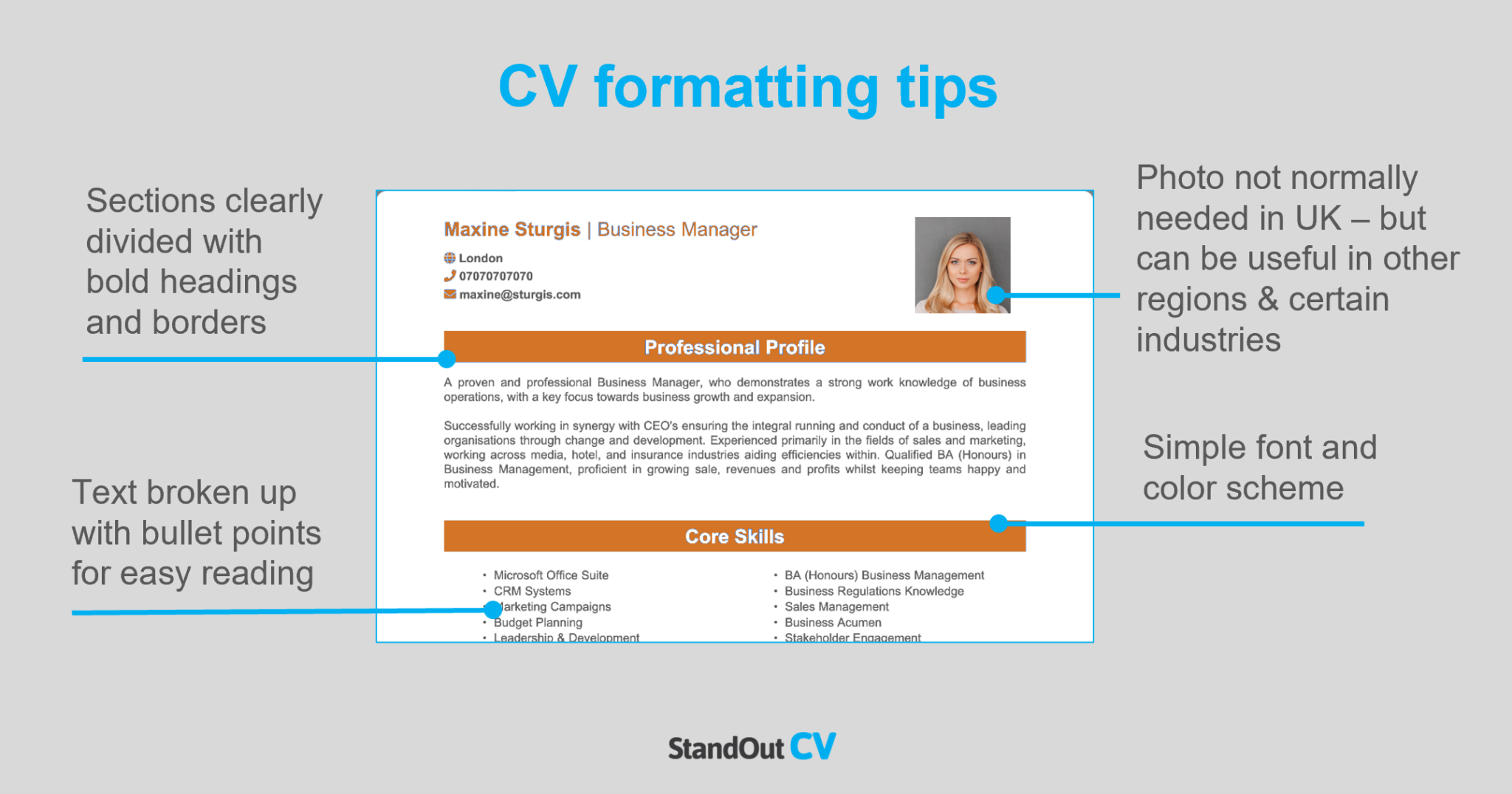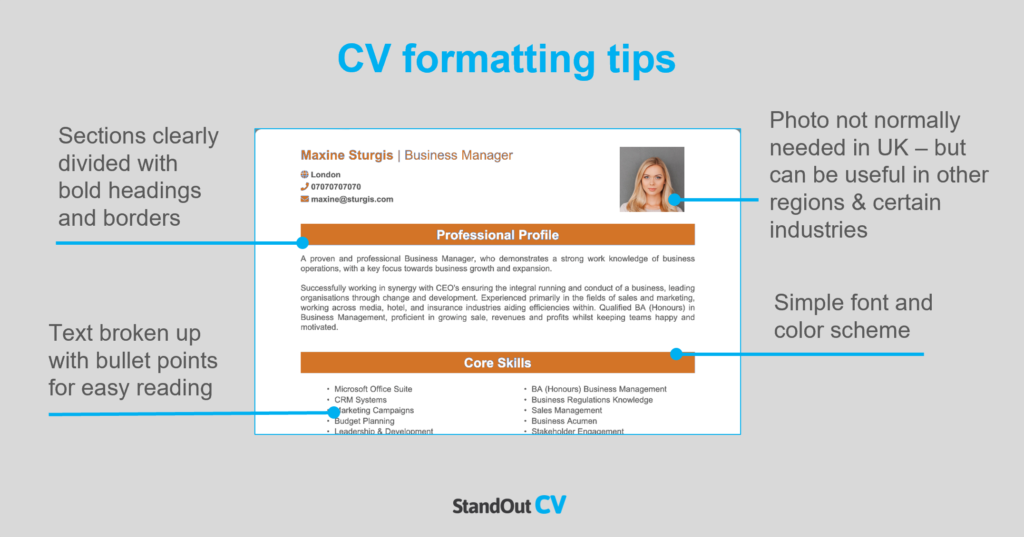 CV structure
To make it easy for busy recruiters and hiring managers to digest your CV, divide the content into several key sections when writing it:
Contact details: Always list your contact details at the very top to avoid them being missed.
Profile: Start with an introductory paragraph that catches recruiters' attention and summarises your offerings.
Work experience/career history: List your relevant work experience in reverse chronological order, starting with your current position.
Education: Provide a concise summary of your education and qualifications.
Interests and hobbies: You can include an optional section to showcase any hobbies that demonstrate transferable skills.
Now you understand the basic layout of a CV, here's what you should include in each section of yours.
Contact Details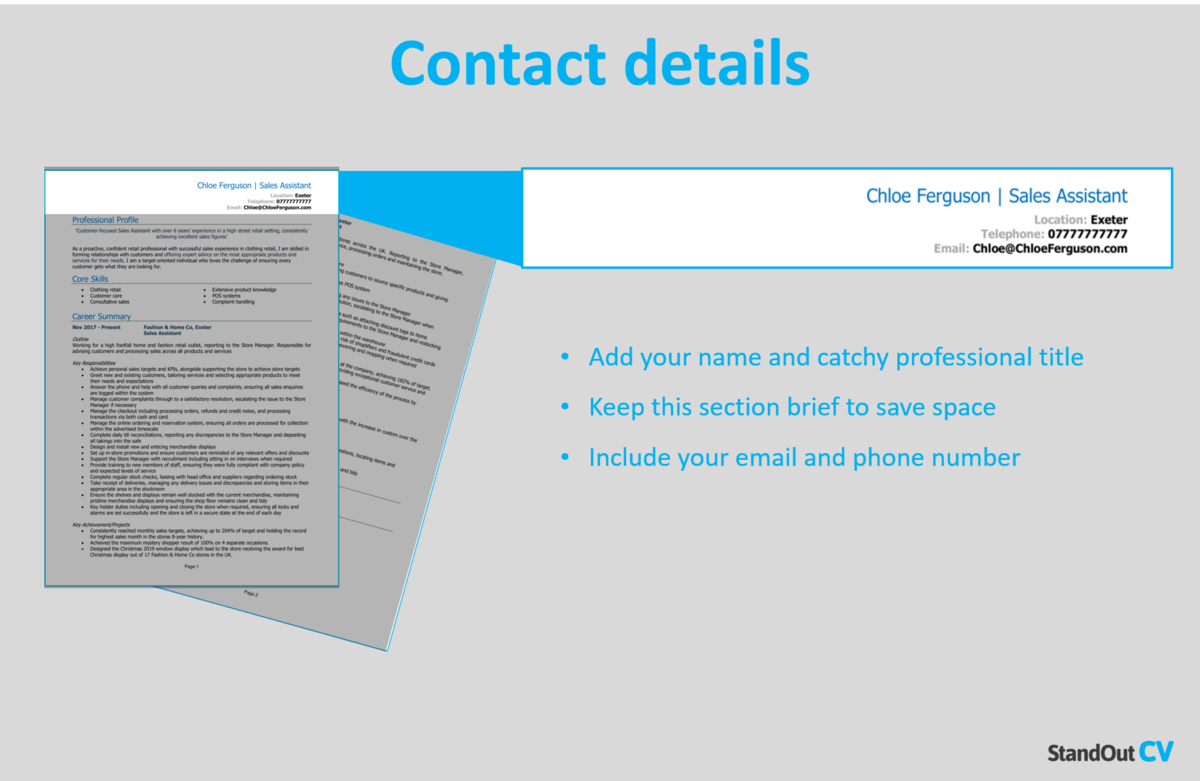 Make it easy for recruiters to get in touch, by heading your CV with your contact details.
There's no need for excessive details – just list the basics:
Mobile number
Email address – Use a professional address with no nicknames.
Location – Just write your your general location, such as 'London' or 'Cardiff' – there's no need to put your full address.
LinkedIn profile or portfolio URL
Community Pharmacist CV Profile
Recruiters read through countless applications every day.
If they don't find what they're looking for quickly, they'll simply move onto the next one.
That's what makes your CV profile (or personal statement, if you're an entry-level/graduate candidate) so important.
This short and snappy summary sits at the top of your CV, and should give a high-level overview of why you're a good match for the job.
This way, you can ensure that busy recruiters see your suitability from the outset, and so, feel your CV is worth their time.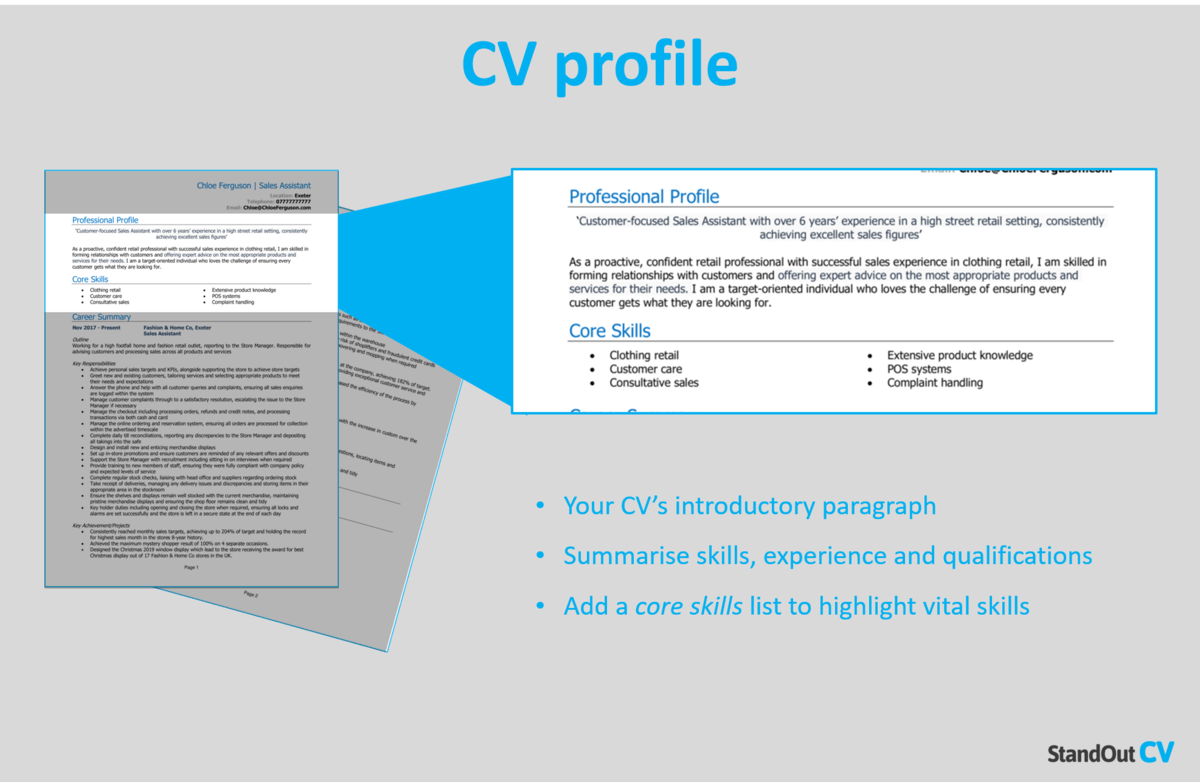 How to write a good CV profile:
Make it short and sharp: Recruiters are busy, so to ensure your profile is actually read, it's best to keep it short and snappy. 3-5 punchy lines makes for the perfect profile.
Tailor it: Recruiters can spot a generic, mass-produced CV at a glance – and they certainly won't be impressed! Before you write your profile (and CV as a whole), read through the job advert and make a list of any skills, knowledge and experience required. You should then incorporate your findings throughout your profile and the rest of your CV.
Don't add an objective: Leave your career objectives or goals out of your profile. You only have limited space to work with, so they're best suited to your cover letter.
Avoid generic phrases: If there's one thing that'll annoy a recruiter, it's a clichè-packed CV. Focus on showcasing your hard skills, experience and the results you've gained in previous roles, which will impress recruiters far more.
Example CV profile for Community Pharmacist
High motivated Community Pharmacist with 10+ years of success in participating in outreach programmes to address health problems and promote overall wellbeing of the public. Knowledge of insurance and reimbursement processes for prescription medications. Familiarity with regulatory requirements and adherence to ethical and legal standards in pharmacy practice. Focused on delivering professional advice and consultation to patients concerning medication therapy, including dosage, administration, and storage.
What to include in your Community Pharmacist CV profile?
Experience overview: Recruiters will want to know what type of companies you've worked for, industries you have knowledge of, and the type of work you've carried out in the past, so give them a summary of this in your profile.
Targeted skills: Employers need to know what skills you can bring to their organisation, and ideally they want to see skills that match their job vacancy. So, research your target roles thoroughly and add the most important Community Pharmacist skills to your profile.
Important qualifications: If the jobs you are applying to require candidates to have certain qualifications, then you must add them in your profile to ensure they are seen by hiring managers.
Quick tip: If you are finding it difficult to write an attention-grabbing CV profile, choose from hundreds of pre-written profiles across all industries, and add one to your CV with one click in our partner's CV Builder. All profiles are written by recruitment experts and easily tailored to suit your unique skillset.
Core skills section
To ensure that your most relevant skills catch the eye of readers, create a core skills section below your profile.
This section should be presented in 2-3 columns of bullet points highlighting your applicable skills. Before crafting this section, carefully examine the job description and create a list of any required skills, specialisms, or knowledge.
Use this list to include the necessary information in your section and present yourself as the ideal match for the position.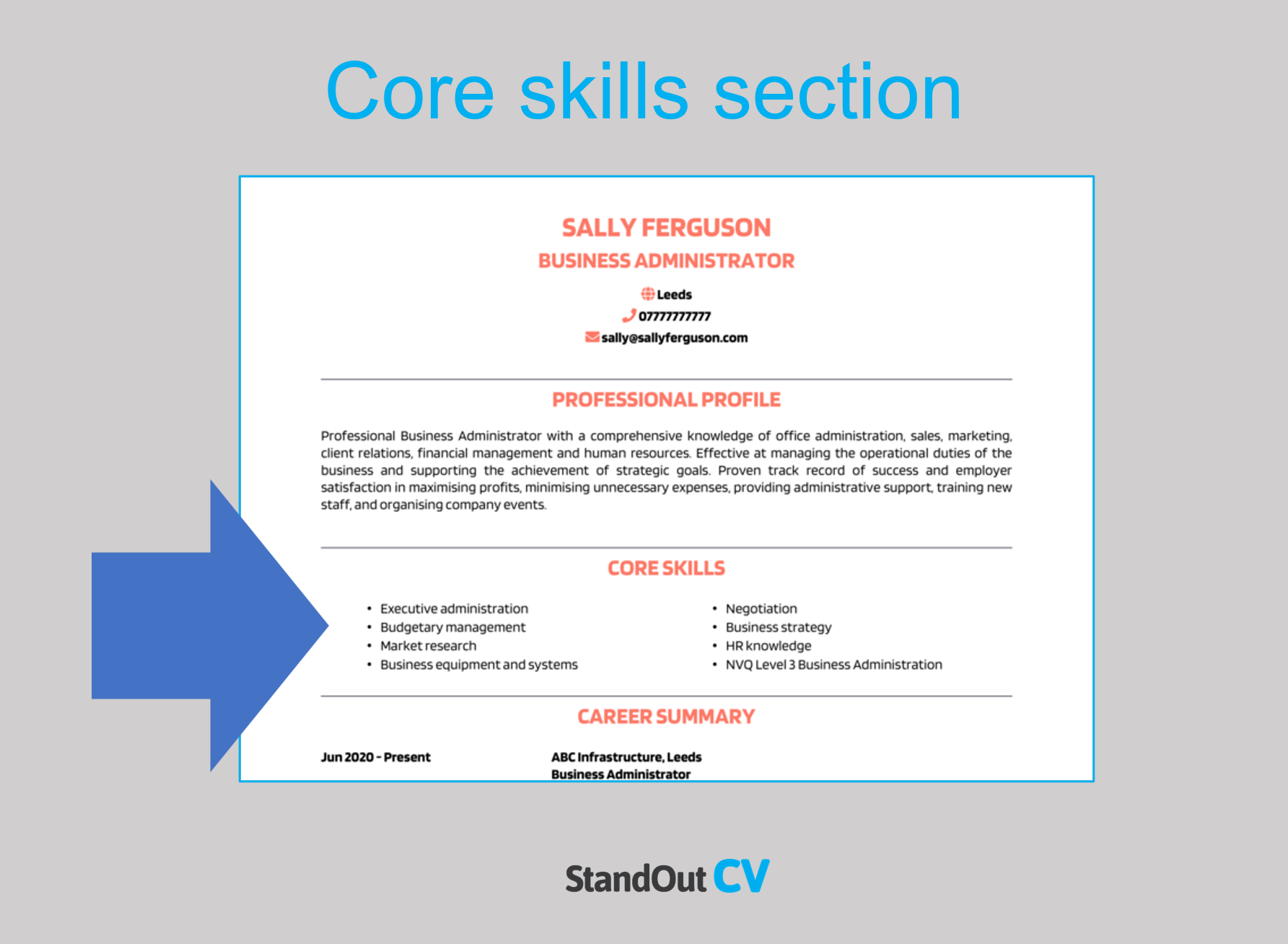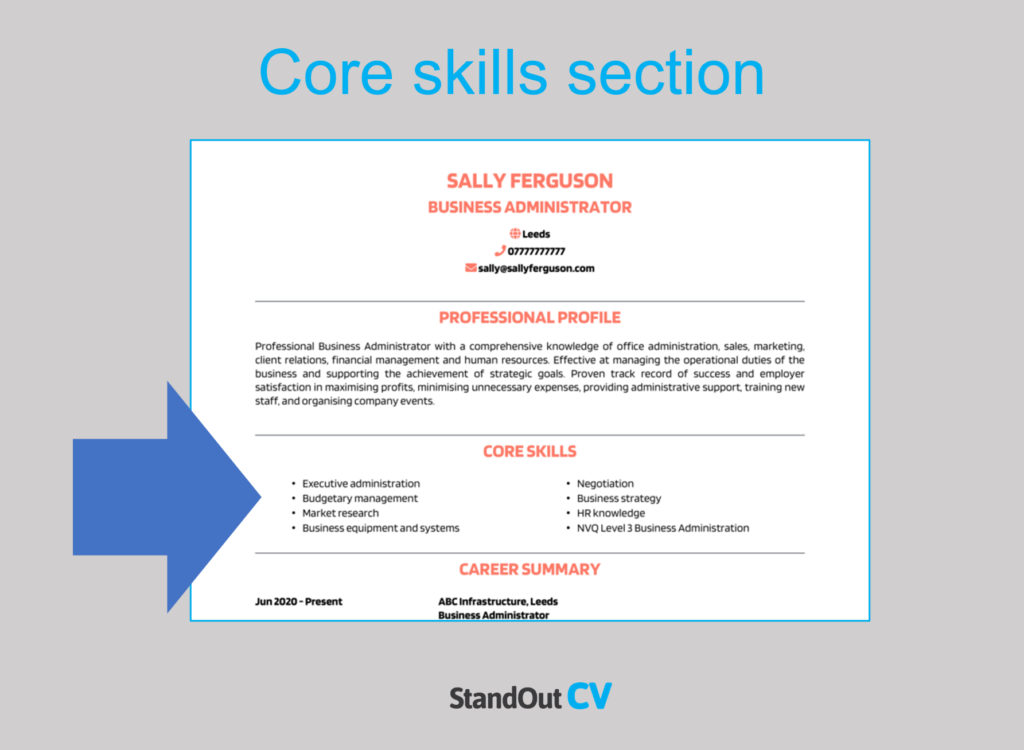 Important skills for your Community Pharmacist CV
Medication Dispensing – Accurately dispensing medications, including dosage calculations, labelling, and ensuring adherence to legal and regulatory requirements.
Medication Counselling – Providing clear and comprehensive medication counselling to patients, including information on proper use, potential side effects, and precautions.
Pharmaceutical Knowledge – Maintaining an in-depth understanding of various medications, their mechanisms of action, therapeutic uses, interactions, and contraindications.
Prescription Processing – Processing prescriptions efficiently, verifying patient information, and ensuring compliance with legal and regulatory requirements.
Patient Care – Providing patient-centred care, assessing medication-related needs, and offering appropriate recommendations or interventions to optimise health outcomes.
Pharmacy Operations – Managing day-to-day pharmacy operations, including inventory management, stock control, and compliance with pharmacy protocols and procedures.
Health Promotion – Utilising knowledge of health promotion strategies to educate patients on lifestyle modifications, preventive care, and disease management.
Patient Counselling – Engaging with patients, addressing their concerns, and providing accurate and accessible health information.
Drug Interaction Management – Identifying and managing potential drug interactions, including assessing patient medication profiles, and implementing necessary precautions.
Regulatory Compliance – Adhering to legal and regulatory requirements governing pharmacy practice, including record keeping, privacy laws, and dispensing guidelines.
Quick tip: Our partner's CV Builder has thousands of in-demand skills for all industries and professions, that can be added to your CV in seconds – This will save you time and ensure you get noticed by recruiters.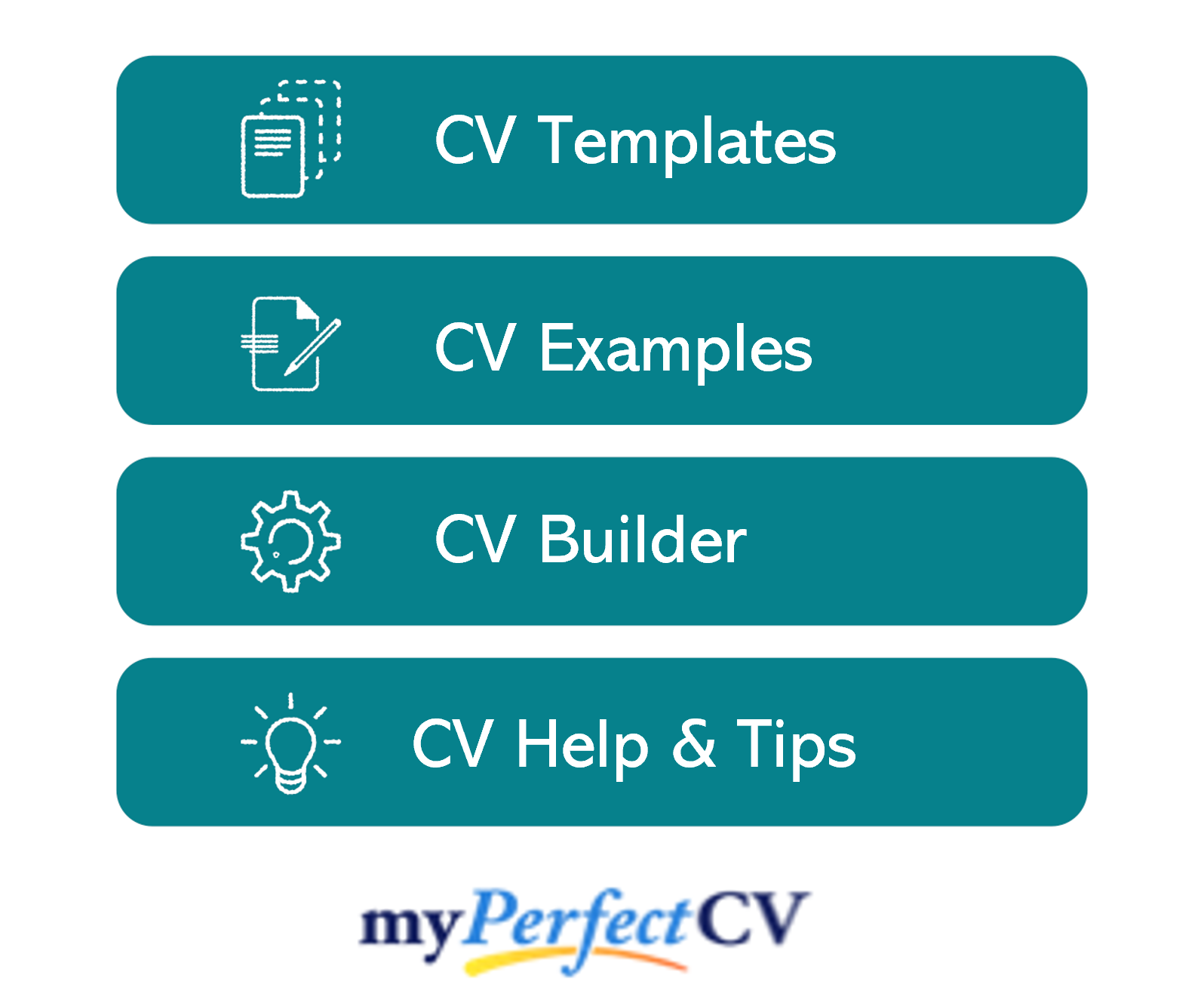 Work experience
Recruiters will be itching to know more about your relevant experience by now.
Kick-start this section with your most recent (or current) position, and work your way backwards through your history.
You can include voluntary and freelance work, too – as long as you're honest about the nature of the work.
Structuring each job
Whilst writing your CV, it's essential to look at it from the eyes of a recruiter.
If they're met with giant blocks of text which are impossible to navigate, they might get frustrated and skip onto the next CV.
Instead, make use of the 3-step structure shown below, to give them a pleasant reading experience.
Outline
Start with a 1-2 sentence summary of your role as a whole, detailing what the goal of your position was, who you reported to or managed, and the type of organisation you worked for.
Key responsibilities
Using easy-to-read bullet points, note down your day-to-day responsibilities in the role.
Make sure to showcase how you used your hard sector skills and knowledge.
Key achievements
Finish off by showcasing 1-3 key achievements made within the role.
This could be anything that had a positive effect on your company, clients or customers, such as saving time or money, receiving exemplary feedback or receiving an award.
Sample job description for Community Pharmacist CV
Outline
Provide pharmaceutical care and healthcare services to the local community, for an organisation that aids and advises on a wide range of issues surrounding people's health.
Key Responsibilities
Dispense prescription medications to patients, as well as ensure proper labelling, dosage instructions, and counselling regarding drug usage, potential side effects, and interactions.
Address patient questions and concerns and offer recommendations for over-the-counter health-related goods.
Review and confirm prescription orders for accuracy, appropriateness, and compliance with legal and regulatory requirements.
Collaborate with prescribers to resolve any discrepancies or issues.
Quick tip: Create impressive job descriptions easily in our partner's CV Builder by adding pre-written job phrases for every industry and career stage.

Education section
Although there should be mentions of your highest and most relevant qualifications earlier on in your CV, save your exhaustive list of qualifications for the bottom.
If you're an experienced candidate, simply include the qualifications that are highly relevant to Community Pharmacist roles.
However, less experienced candidates can provide a more thorough list of qualifications, including A-Levels and GCSEs.
You can also dedicate more space to your degree, discussing relevant exams, assignments and modules in more detail, if your target employers consider them to be important.
Hobbies and interests
The hobbies and interests CV section isn't mandatory, so don't worry if you're out of room by this point.
However, if you have an interesting hobby, or an interest that could make you seem more suitable for the role, then certainly think about adding.
Be careful what you include though… Only consider hobbies that exhibit skills that are required for roles as a Community Pharmacist, or transferable workplace skills.
There is never any need to tell employers that you like to watch TV and eat out.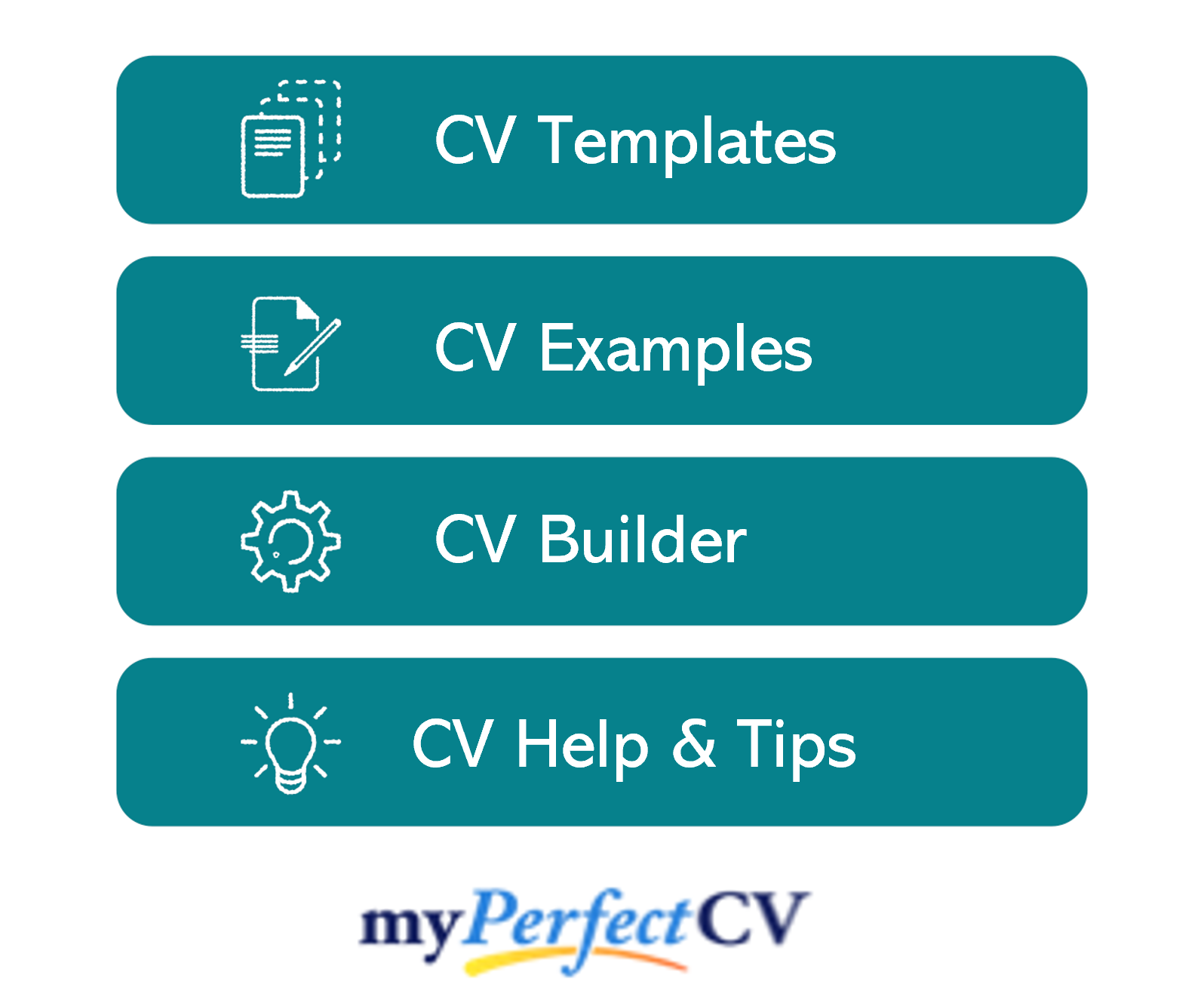 Once you've written your Community Pharmacist CV, you should proofread it several times to ensure that there are no typos or grammatical errors.
With a tailored punchy profile that showcases your relevant experience and skills, paired with well-structured role descriptions, you'll be able to impress employers and land interviews.
Good luck with your next job application!