You're an expert in electrical parts and you know how to inspect, fix and maintain electrical components in a variety of vehicles.
You know you're a bright spark and a great auto electrician, now you just need to prove it to the recruiter.
Find out how to write a strong application using our auto electrician CV example and detailed writing guide below.
Contents
| | |
| --- | --- |
| How to write a Auto Electrician CV | |

Auto Electrician CV example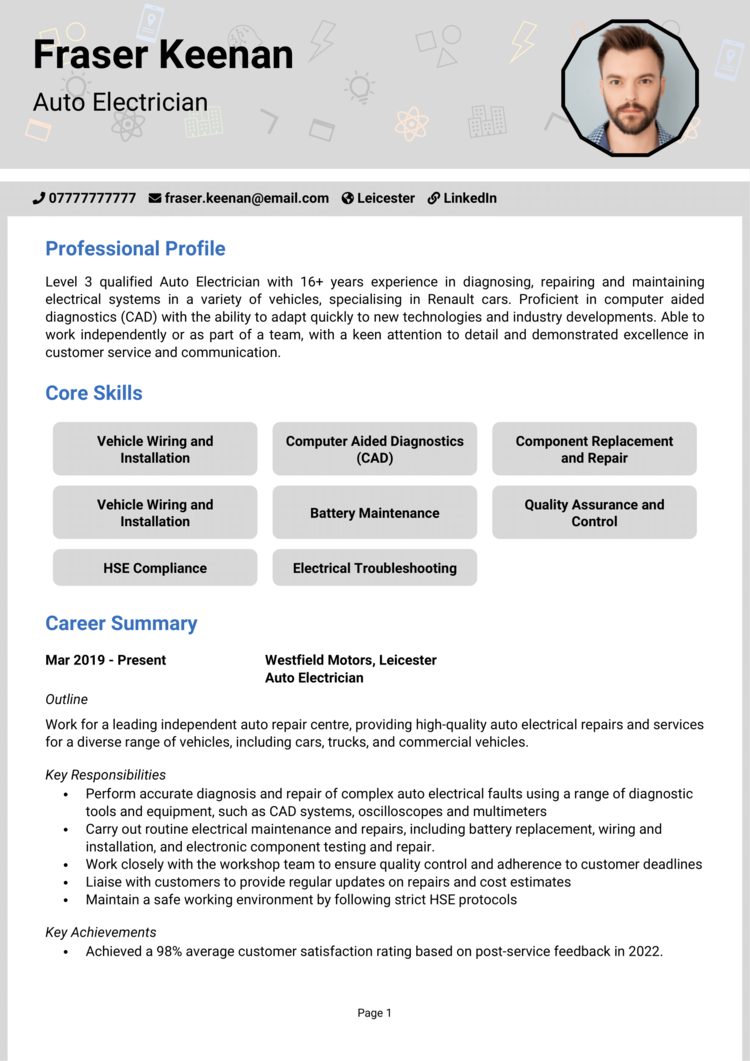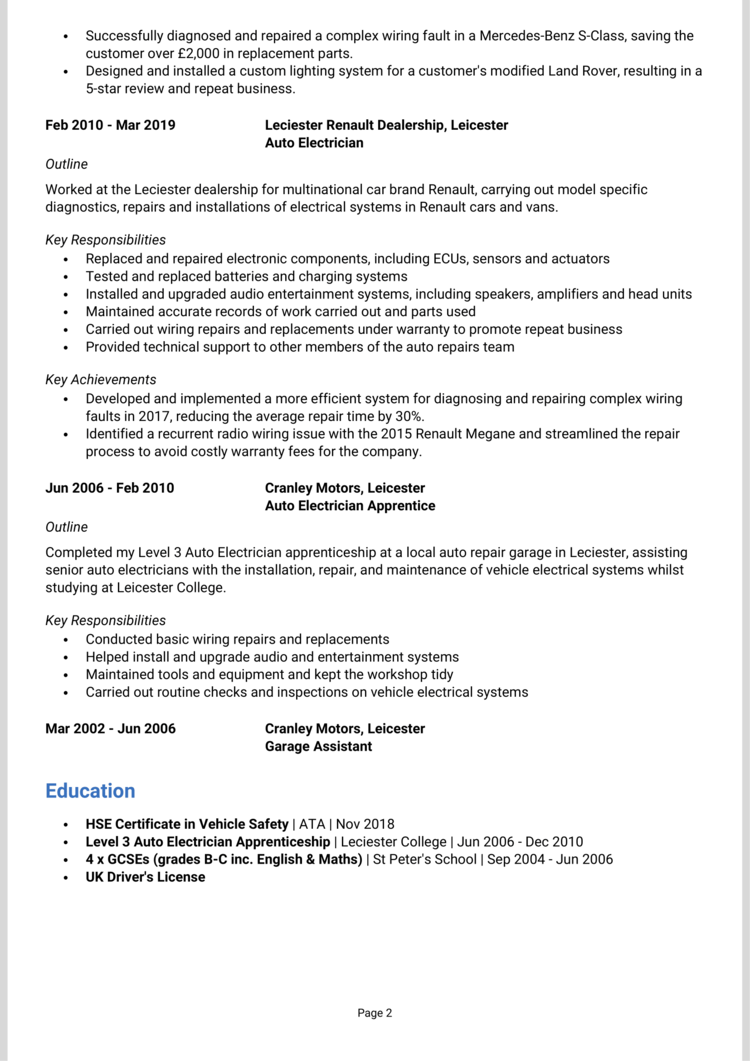 This is a good example of a Auto Electrician CV which contains all of the information that a hiring manager will need to be impressed, and presents it in a well- structured, easy-to-read format.
Take some time to study and understand this CV, and refer to it throughout the writing of your own CV for best results.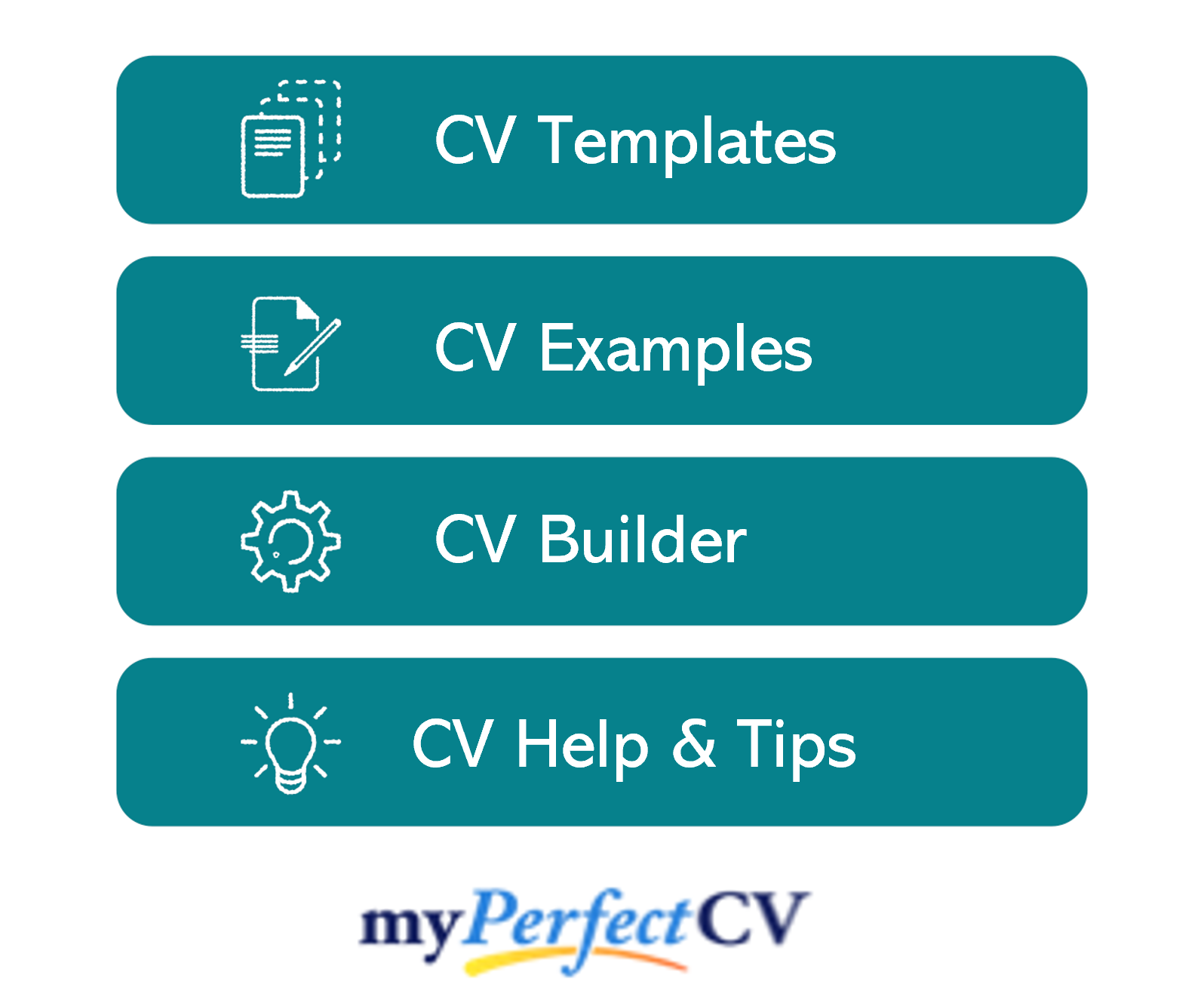 Auto Electrician CV format and structure
In a highly competitive job market, recruiters and employers are often inundated with applications. If they can't find what they're looking for in your CV quickly, they may skip past your application and move on to the next one in their inbox
So, it's crucial to structure and format your CV in a way that enables them to find your essential details with ease, even if they're pressed for time.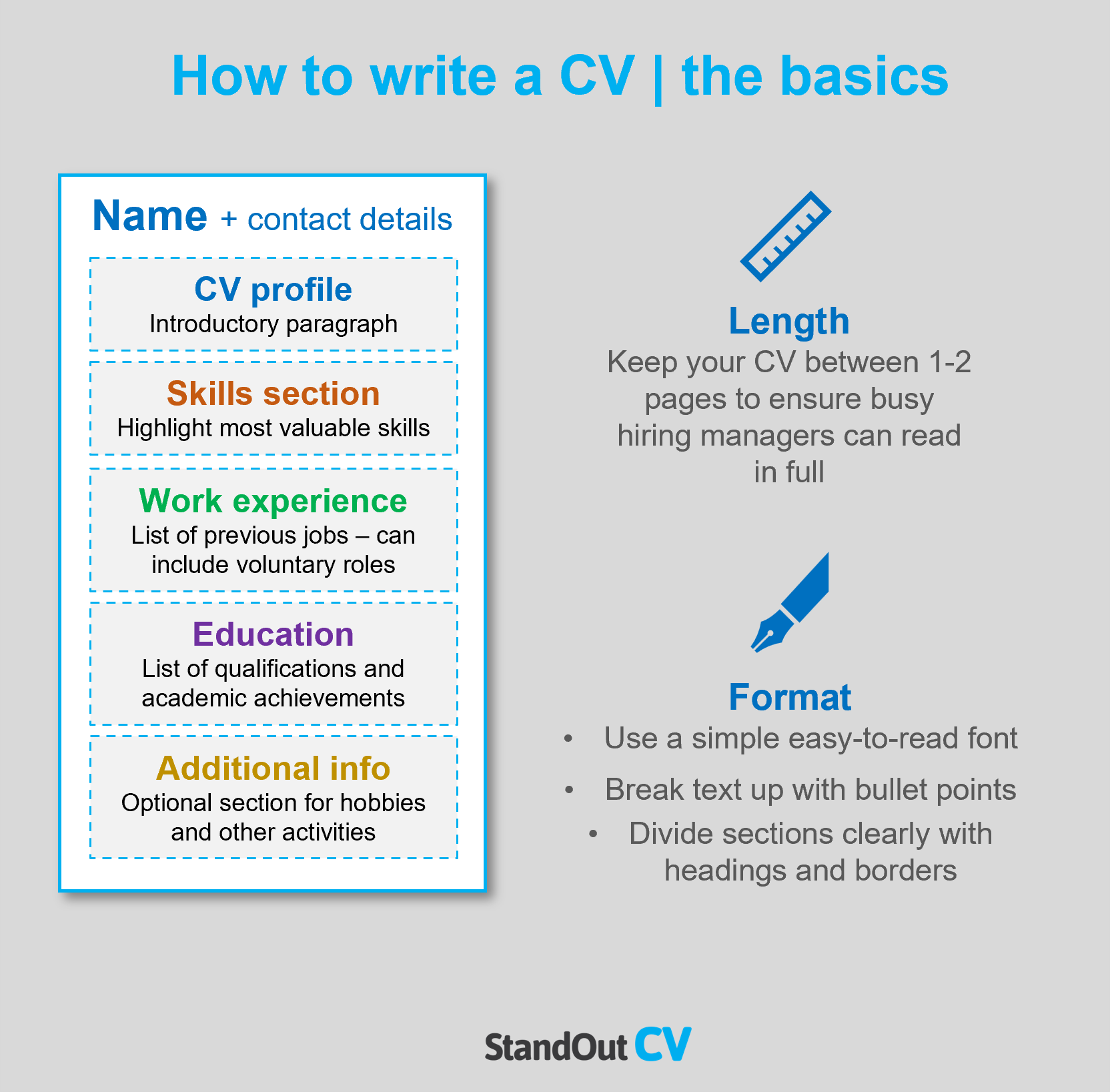 Tips for formatting your Auto Electrician CV
Length: Recruiters will be immediately put off by lengthy CVs – with hundreds of applications to read through, they simply don't have the time! Grabbing their attention with a short, snappy and highly relevant CV is far more likely to lead to success. Aim for two sides of A4 or less.
Readability: By formatting your section headings with bold or a different colour font and using bullet points to break up large blocks of text, you can help busy recruiters quickly scan through your CV. This makes it easier for them to find important details without wasting time.
Design & format: It's generally best to stick to a simple CV design, as funky or elaborate designs rarely add any value to your application. A clear, modern font and a subtle colour scheme work perfectly and allow your skills, experience and achievements to speak for themselves.
Photos: You can add a profile photo to your CV, if you want to add some personality to it, but they are not a requirement the UK, so you don't have to.
Quick tip: Creating a professional CV style can be difficult and time-consuming when using Microsoft Word or Google Docs. To create a winning CV quickly, try our partner's CV Builder and use one of their eye-catching professional CV templates.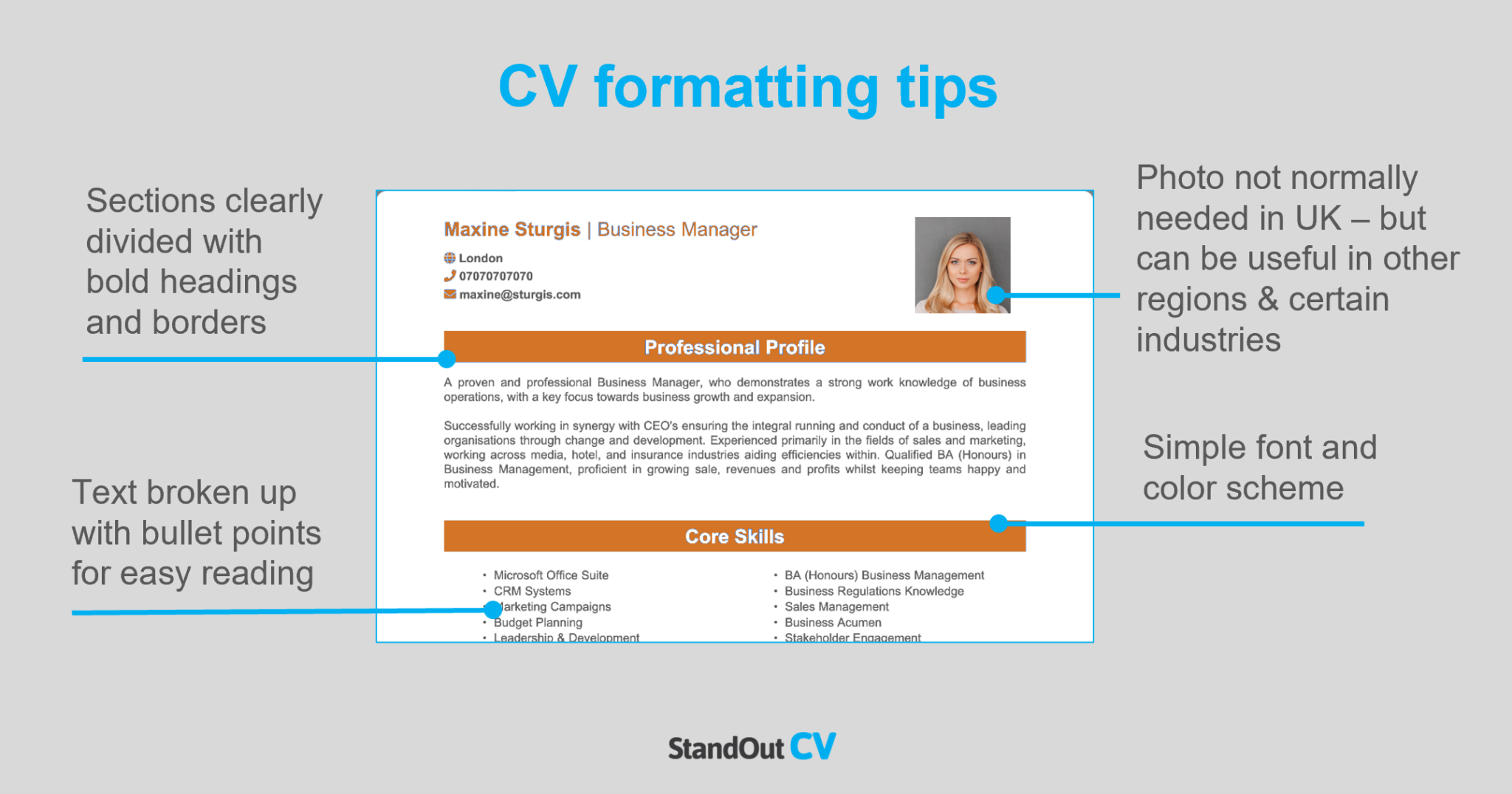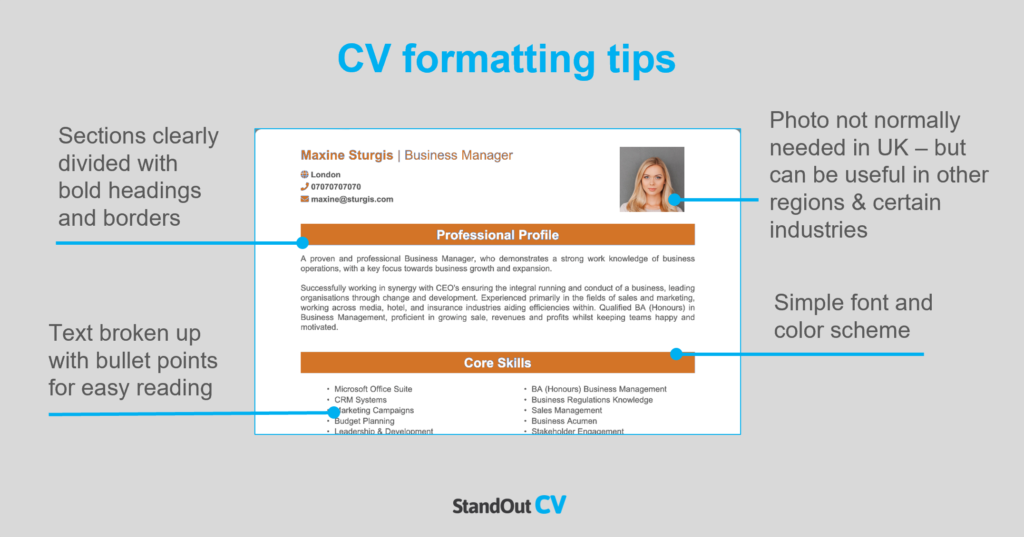 CV structure
When writing your own CV, break up your CV content into the following key sections:
Name and contact details – Place them at the top of your CV, so that employers can easily get in touch.
CV profile – A punchy sales pitch of your key experience, skills and achievements to reel readers in.
Core skills section – A bullet-pointed snapshot of your abilities.
Work experience – A well-structured list of your relevant work experience.
Education – An overview of any relevant qualifications or professional training you have.
Hobbies and interests – A short description of any relevant hobbies or interests (optional).
Now you understand the basic layout of a CV, here's what you should include in each section of yours.
Contact Details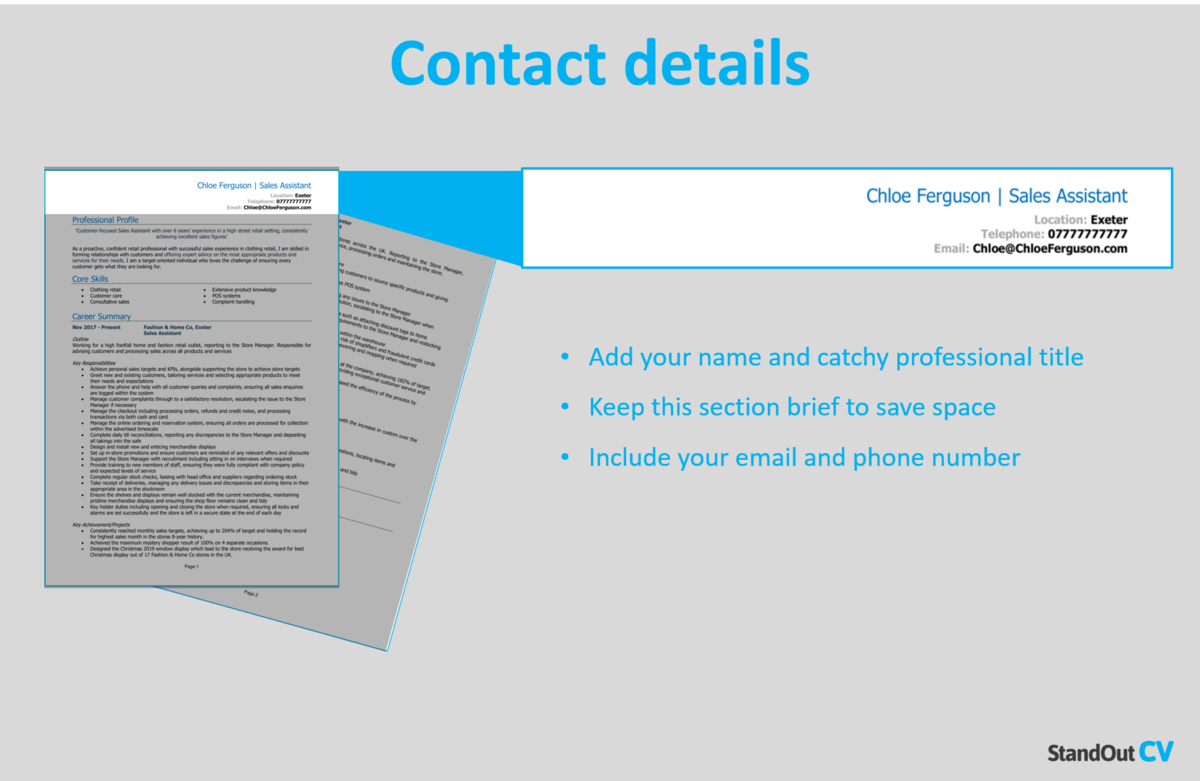 Make it easy for recruiters to get in touch, by heading your CV with your contact details.
There's no need for excessive details – just list the basics:
Mobile number
Email address – Use a professional address with no nicknames.
Location – Just write your your general location, such as 'London' or 'Cardiff' – there's no need to put your full address.
LinkedIn profile or portfolio URL
Auto Electrician CV Profile
Make a strong first impression with recruiters by starting your CV with an impactful profile (or personal statement for junior applicants).
This short introduction paragraph should summarise your skills, experience, and knowledge, highlighting your suitability for the job.
It should be compelling enough to encourage recruiters to read through the rest of your CV.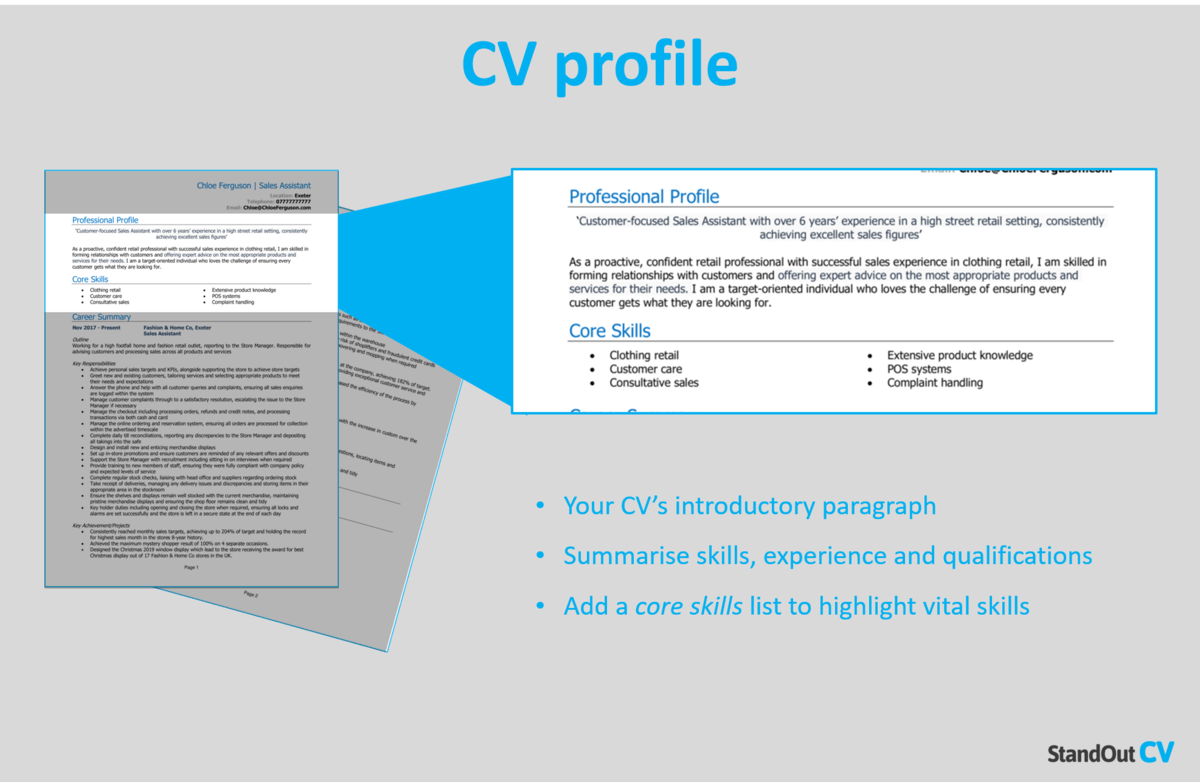 How to write a good CV profile:
Make it short and sharp: Recruiters have piles of CVs to read through and limited time to dedicate to each, so it pays to showcase your abilities in as few words as possible. 3-4 lines is ideal.
Tailor it: If recruiters don't see your suitability within a few seconds, they may close your CV straight away. Your CV profile should closely match the essential requirements listed in the job ad, so make sure to review them before you write it.
Don't add an objective: Avoid discussing your career goals in your CV profile – if you think they're necessary, briefly mention them in your cover letter instead.
Avoid generic phrases: Focus on fact, not fluff. Phrases like "Committed and enthusiastic thought-leader" and "Dynamic problem solver" might sound fancy, but they'll do nothing for your application. Not only do they sound cheesy, but they have no substance – stick to real skills and facts
Example CV profile for Auto Electrician
Level 3 qualified Auto Electrician with 16+ years' experience in diagnosing, repairing, and maintaining electrical systems in a variety of vehicles, specialising in Renault cars. Proficient in computer aided diagnostics (CAD) with the ability to adapt quickly to new technologies and industry developments. Able to work independently or as part of a team, with a keen attention to detail and demonstrated excellence in customer service and communication.
What to include in your Auto Electrician CV profile?
Experience overview: Showcase your aptitude for the job you are aiming for by giving a brief summary of your past work history, including the industries you have worked in, the kinds of employers you have served, and the roles you have held.
Targeted skills: Employers need to know what skills you can bring to their organisation, and ideally they want to see skills that match their job vacancy. So, research your target roles thoroughly and add the most important Auto Electrician skills to your profile.
Important qualifications: If the job postings require specific qualifications, it is essential to incorporate them in your profile to ensure visibility to hiring managers.
Quick tip: If you are finding it difficult to write an attention-grabbing CV profile, choose from hundreds of pre-written profiles across all industries, and add one to your CV with one click in our partner's CV Builder. All profiles are written by recruitment experts and easily tailored to suit your unique skillset.
Core skills section
In addition to your CV profile, your core skills section provides an easily digestible snapshot of your skills – perfect for grabbing the attention of busy hiring managers.
As Auto Electrician jobs might receive a huge pile of applications, this is a great way to stand out and show off your suitability for the role.
It should be made up of 2-3 columns of bullet points and be made up of skills that are highly relevant to the jobs you are targeting.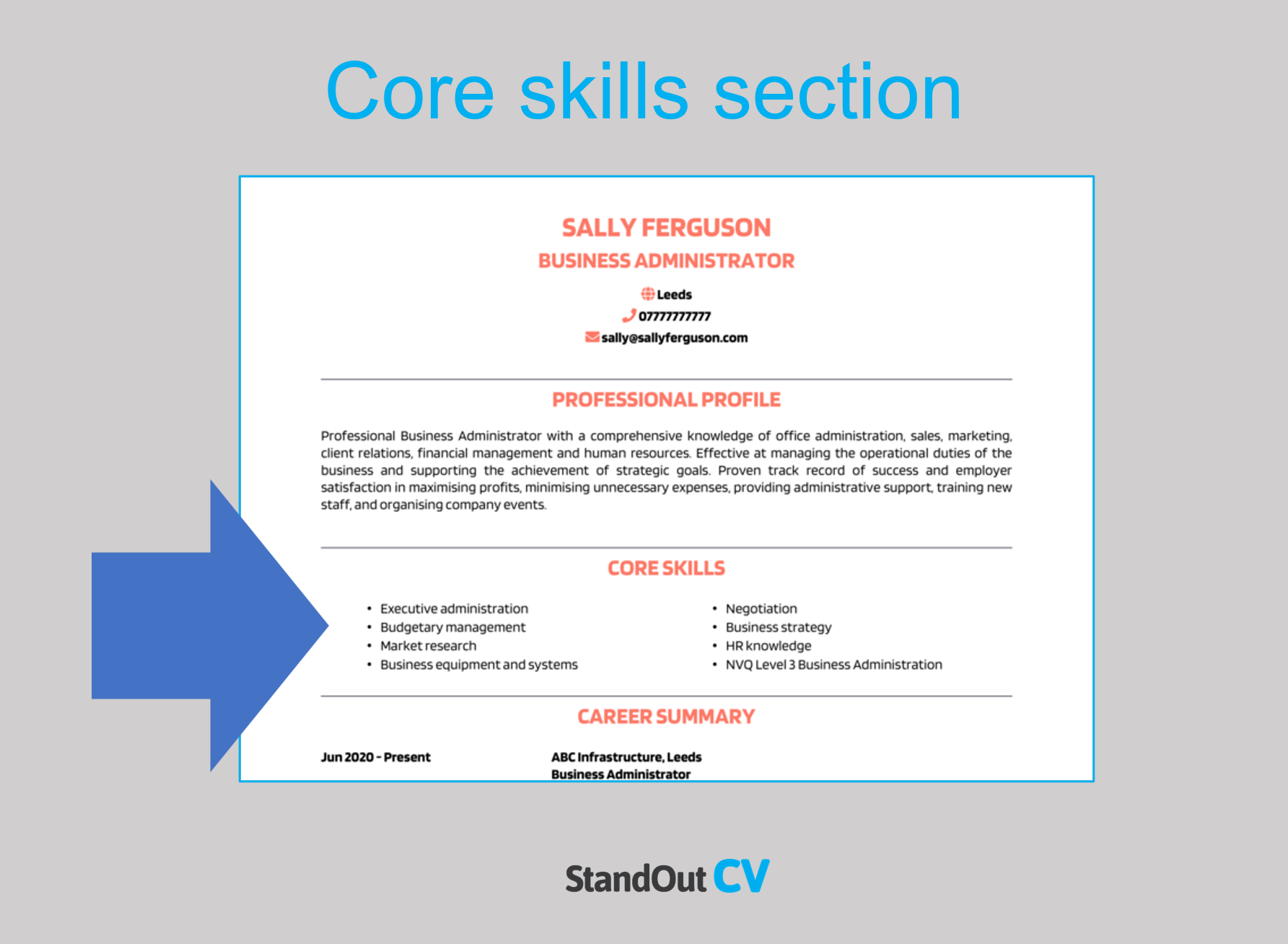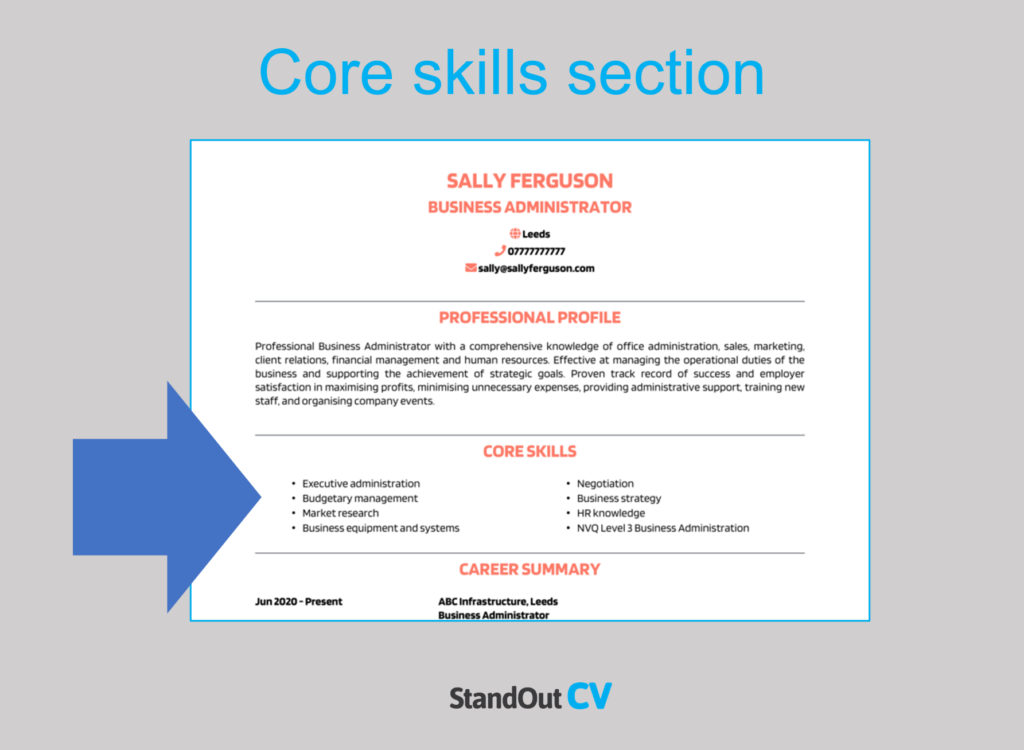 Important skills for your Auto Electrician CV
Electrical Systems Diagnostics – Diagnosing and troubleshooting electrical issues in vehicles, including identifying faulty components and wiring problems.
Wiring and Circuitry – Working with automotive wiring systems, including reading wiring diagrams and connecting electrical components.
Battery Maintenance and Repair – Utilising knowledge of battery technologies to test, charge, and replace automotive batteries.
Ignition Systems – Utilising knowledge of ignition system components, such as spark plugs, coils, and distributors, to diagnose and repair ignition-related issues.
Vehicle Electronics – Utilising knowledge of vehicle electronic systems, including modules, sensors, and control units, to diagnose and repair electronic malfunctions.
Accessory Installation – Installing and integrating various vehicle accessories, such as audio systems, security systems, and lighting upgrades.
Electrical Safety and Compliance – Utilising knowledge of safety protocols and regulations related to electrical work in vehicles to ensure compliance and minimise risks.
Diagnostic Tools and Equipment – Utilising diagnostic tools and equipment, such as multimeters and scan tools, to accurately diagnose electrical problems.
Soldering and Crimping – Utilising soldering and crimping techniques for secure electrical connections and repairs.
Quick tip: Our partner's CV Builder has thousands of in-demand skills for all industries and professions, that can be added to your CV in seconds – This will save you time and ensure you get noticed by recruiters.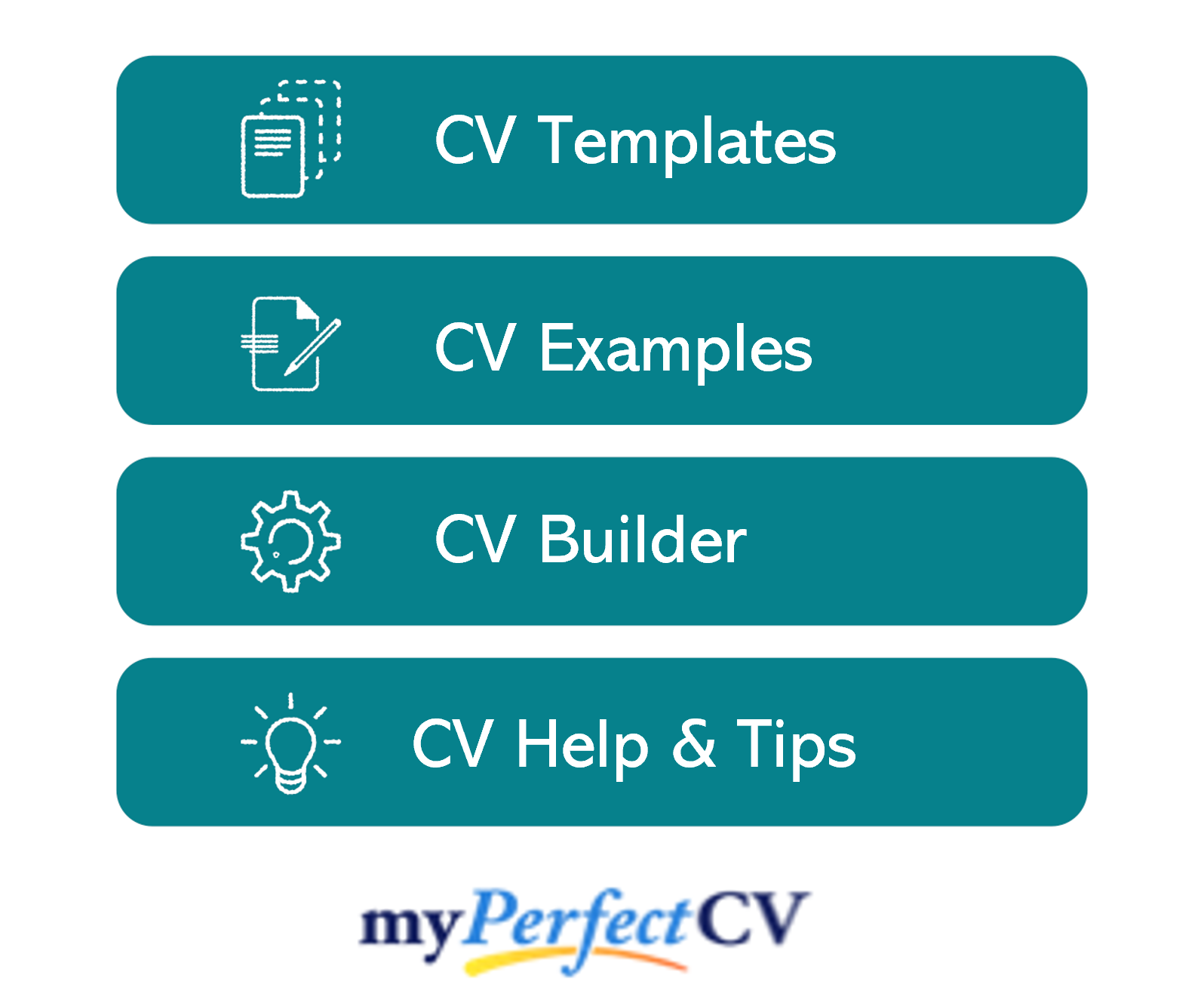 Work experience
By now, you'll have hooked the reader's attention and need to show them how you apply your skills and knowledge in the workplace, to benefit your employers.
So, starting with your most recent role and working backwards to your older roles, create a thorough summary of your career history to date.
If you've held several roles and are struggling for space, cut down the descriptions for your oldest jobs.
Structuring each job
The structure of your work experience section can seriously affect its impact.
This is generally the biggest section of a CV, and with no thought to structure, it can look bulky and important information can get lost.
Use my 3-step structure below to allow for easy navigation, so employers can find what they are looking for:
Outline
Start with a solid introduction to your role as a whole, in order to build some context.
Explain the nature of the organisation you worked for, the size of the team you were part of, who you reported to and what the overarching purpose of your job was.
Key responsibilities
Next up, you should write a short list of your day-to-day duties within the job.
Recruiters are most interested in your sector-specific skills and knowledge, so highlight these wherever possible.
Key achievements
To finish off each role and prove the impact you made, list 1-3 stand out achievements, results or accomplishments.
This could be anything which had a positive outcome for the company you worked for, or perhaps a client/customer.
Where applicable, quantify your examples with facts and figures.
Sample job description for Auto Electrician CV
Outline
Work for a leading independent auto repair centre, providing high-quality auto electrical repairs and services for a diverse range of vehicles, including cars, trucks, and commercial vehicles.
Key Responsibilities
Perform accurate diagnosis and repair of complex auto electrical faults using a range of diagnostic tools and equipment, such as CAD systems, oscilloscopes and multimeters
Carry out routine electrical maintenance and repairs, including battery replacement, wiring and installation, and electronic component testing and repair.
Work closely with the workshop team to ensure quality control and adherence to customer deadlines
Liaise with customers to provide regular updates on repairs and cost estimates
Quick tip: Create impressive job descriptions easily in our partner's CV Builder by adding pre-written job phrases for every industry and career stage.

Education section
Next up, you should list your education and qualifications.
This can include your formal qualifications (a degree, A-Levels and GCSEs), as well as sector-specific Auto Electrician qualifications and/or training.
While school leavers and recent grads should include a lot of detail here to make up for the lack of work experience, experienced candidates may benefit from a shorter education section, as your work experience section will be more important to recruiters.
Hobbies and interests
The hobbies and interests CV section isn't mandatory, so don't worry if you're out of room by this point.
However, if you have an interesting hobby, or an interest that could make you seem more suitable for the role, then certainly think about adding.
Be careful what you include though… Only consider hobbies that exhibit skills that are required for roles as a Auto Electrician, or transferable workplace skills.
There is never any need to tell employers that you like to watch TV and eat out.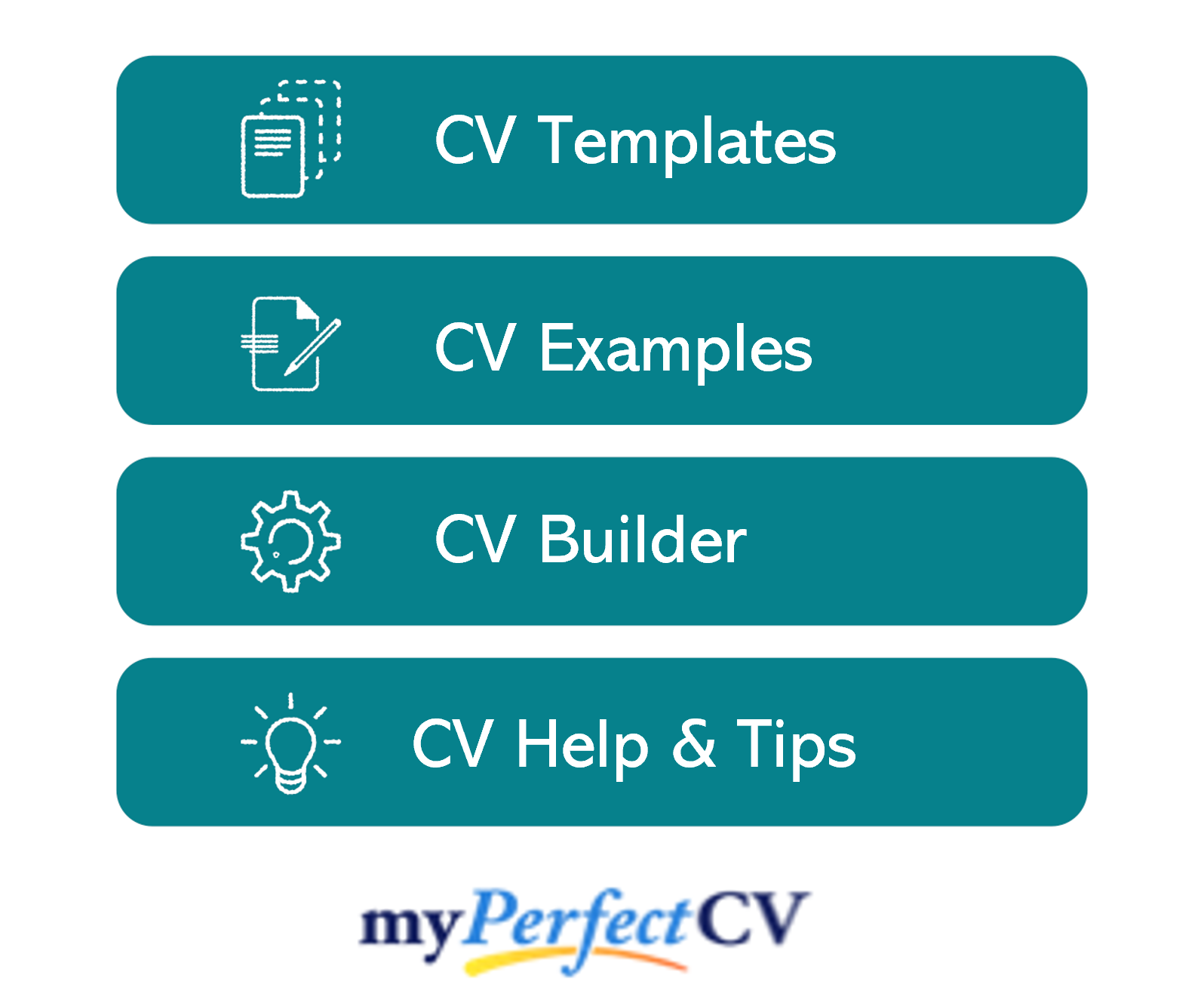 Once you've written your Auto Electrician CV, you should proofread it several times to ensure that there are no typos or grammatical errors.
With a tailored punchy profile that showcases your relevant experience and skills, paired with well-structured role descriptions, you'll be able to impress employers and land interviews.
Good luck with your next job application!