You've put years of study and hard work into becoming an anaesthesiologist, but how do you effectively showcase all of this on just a couple of sheets of paper?
If you're feeling stuck, we can help to make writing your CV as painless as possible with our detailed guide.
Check out our step-by-step advice, along with our anaesthesiologist CV example below.
Contents
| | |
| --- | --- |
| How to write a Anaesthesiologist CV | |

Anaesthesiologist CV example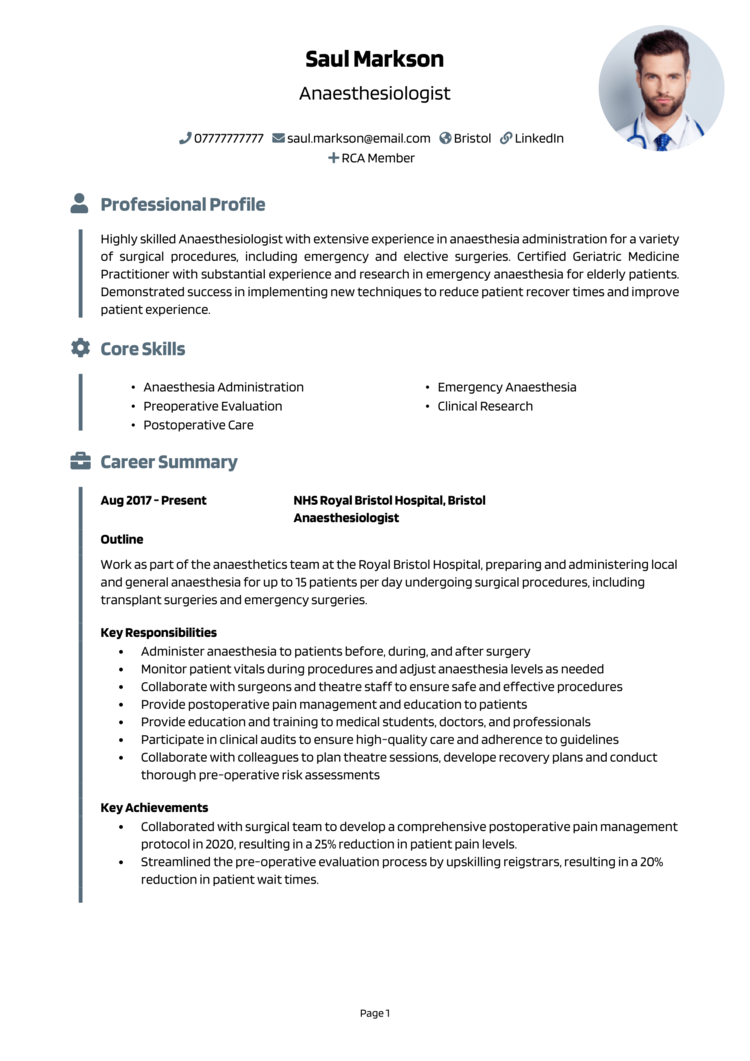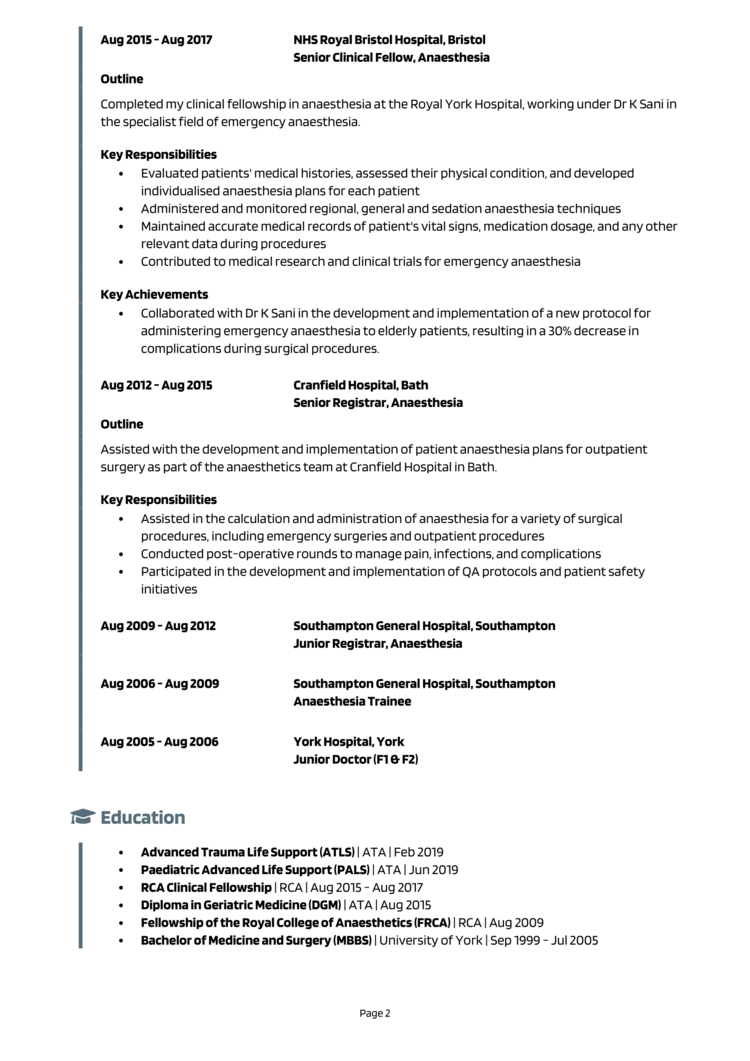 This is a good example of a Anaesthesiologist CV which is professionally formatted, and structured in a way that allows recruiters to easily find and understand the candidate's key selling points.
Take some time to look at this CV and refer to it throughout the writing of your own CV for best results.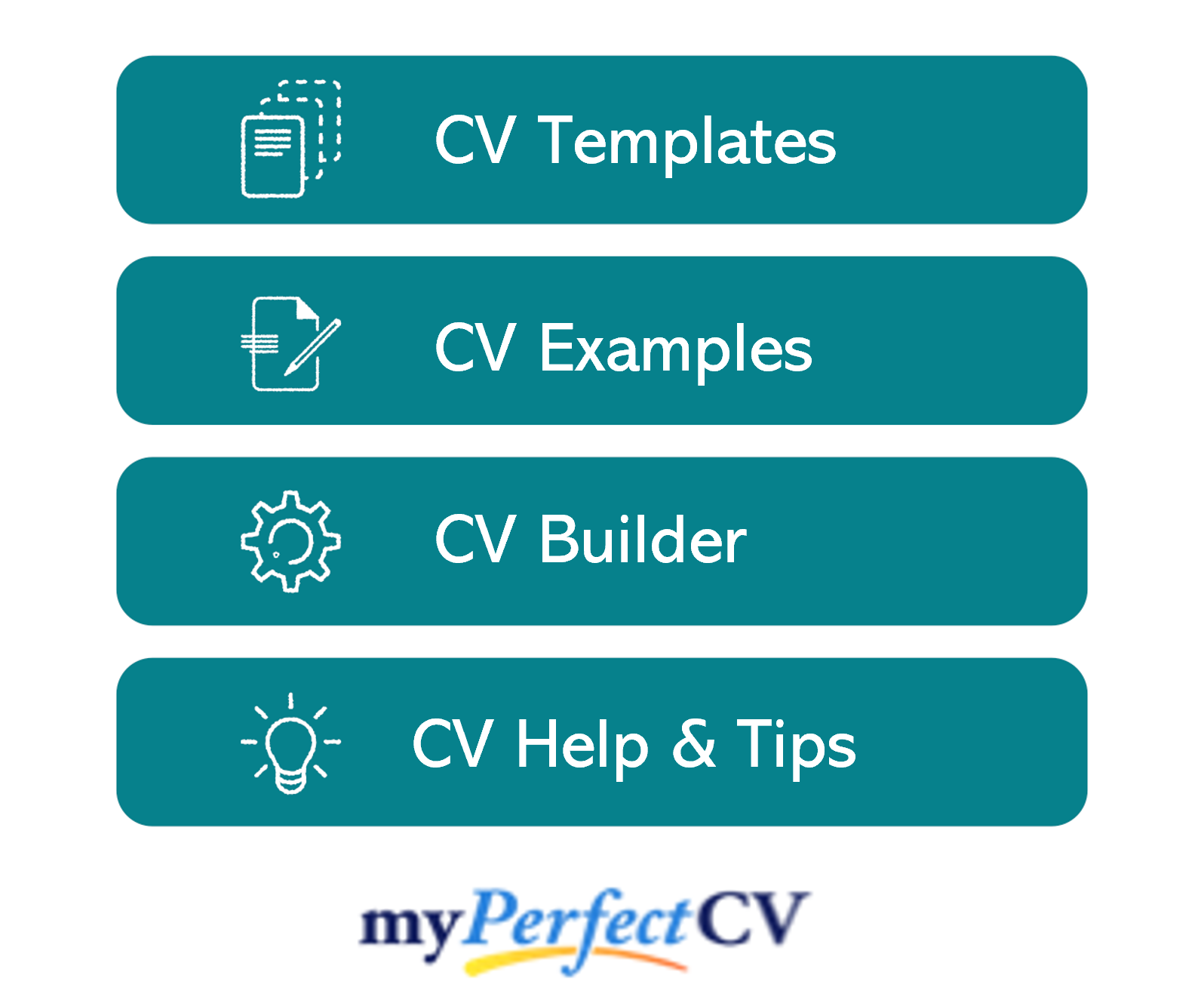 Anaesthesiologist CV format and structure
In today's fast-paced job market, recruiters and employers are often short on time. If they can't locate the information they're searching for within a few seconds, it could result in them overlooking your application.
To avoid this happening, it's critical to structure and format your CV in a way that allows them to quickly identify your key skills and offerings, even when they're pressed for time.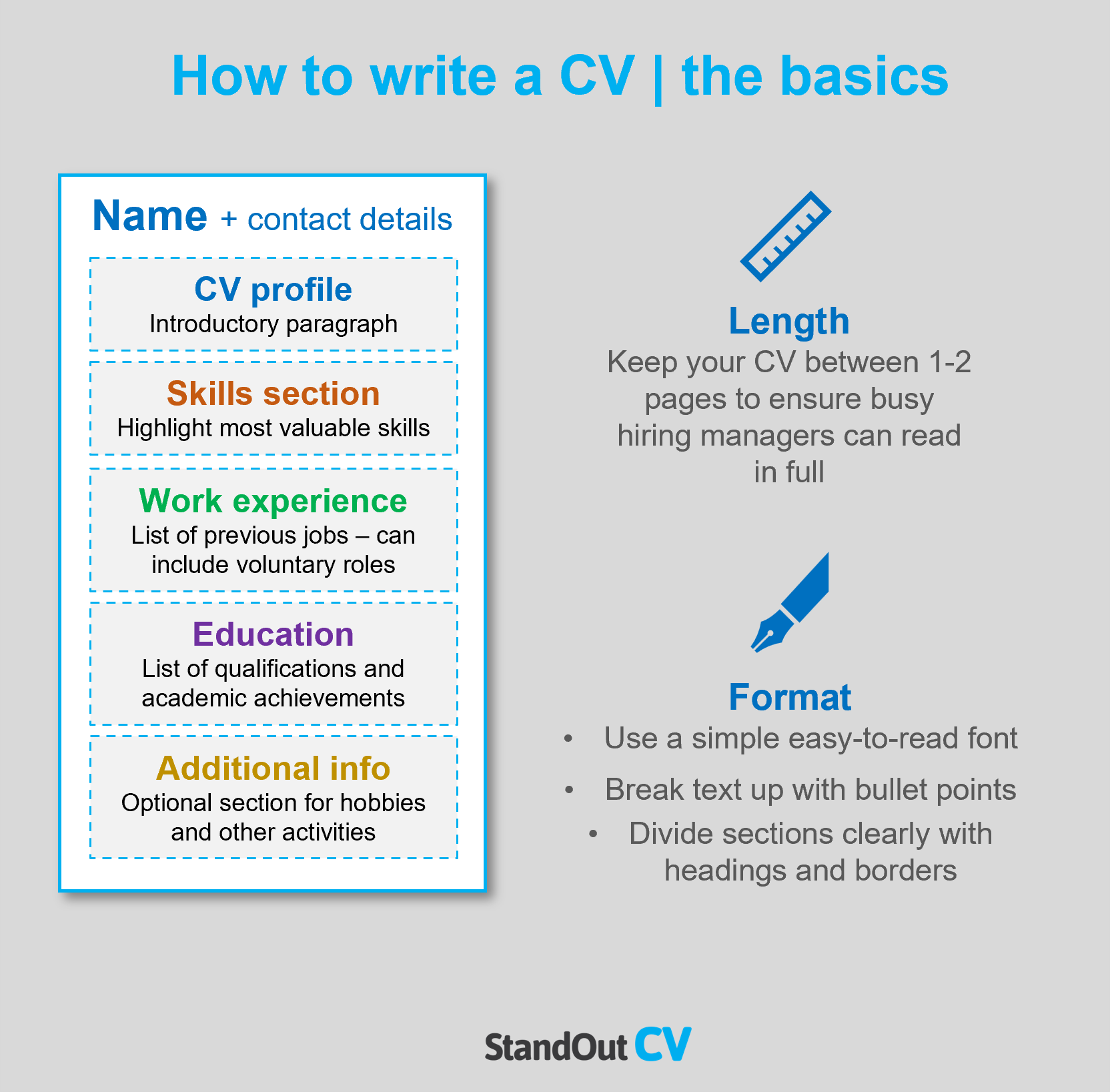 Tips for formatting your Anaesthesiologist CV
Length: It's essential to keep your CV concise, regardless of whether you have one year or thirty years of experience. Recruiters are frequently managing multiple roles and responsibilities and do not have the luxury of reading lengthy CVs. Therefore, limit your CV to two sides of A4. If you have little industry experience, one page is sufficient.
Readability: Make sure your CV is easy to read and looks professional by applying some simple formatting tricks. Bullet points are great for making large paragraphs more digestible, while formatting your headings with bold or coloured text will help the reader to find the information they need, with speed.
Design & format: It's generally best to stick to a simple CV design, as funky or elaborate designs rarely add any value to your application. A clear, modern font and a subtle colour scheme work perfectly and allow your skills, experience and achievements to speak for themselves.
Photos: Recruiters can't factor in appearance, gender or race into the recruitment process, so a profile photo is not usually needed. However, creative employers do like to see them, so you can choose to include one if you think it will add value to your CV .
Quick tip: Creating a professional CV style can be difficult and time-consuming when using Microsoft Word or Google Docs. To create a winning CV quickly, try our partner's CV Builder and use one of their eye-catching professional CV templates.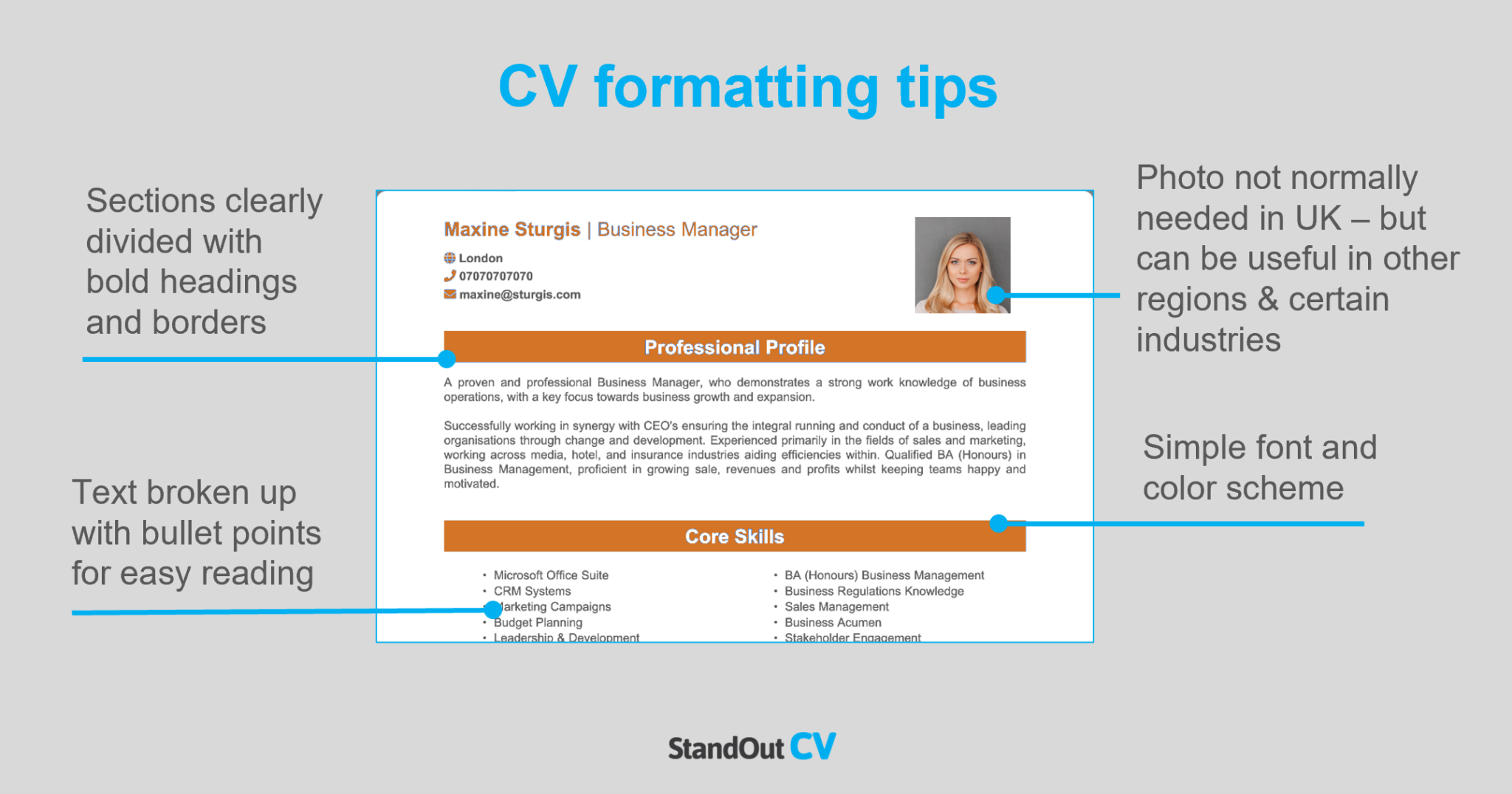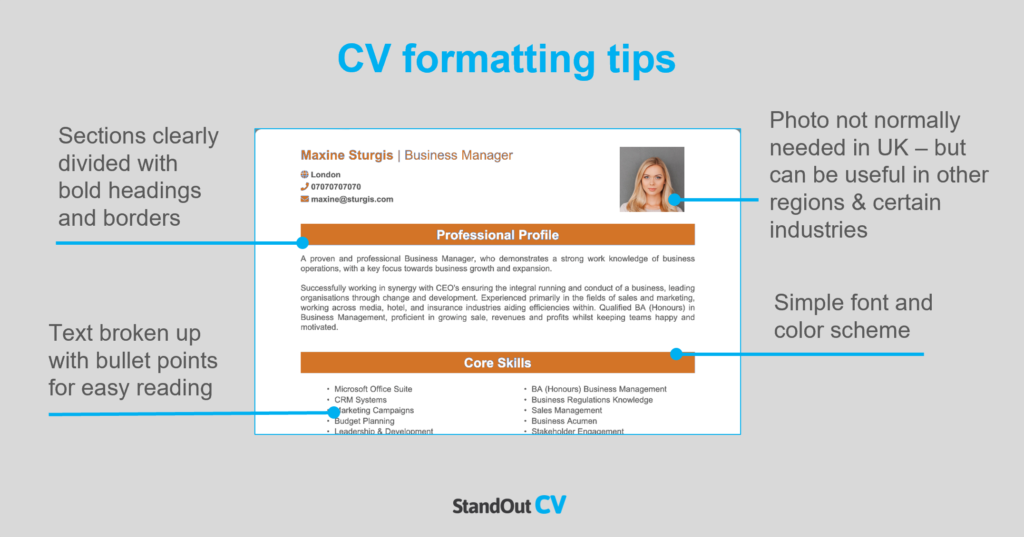 CV structure
To make it easy for busy recruiters and hiring managers to digest your CV, divide the content into several key sections when writing it:
Contact details: Always list your contact details at the very top to avoid them being missed.
Profile: Start with an introductory paragraph that catches recruiters' attention and summarises your offerings.
Work experience/career history: List your relevant work experience in reverse chronological order, starting with your current position.
Education: Provide a concise summary of your education and qualifications.
Interests and hobbies: You can include an optional section to showcase any hobbies that demonstrate transferable skills.
Now you understand the basic layout of a CV, here's what you should include in each section of yours.
Contact Details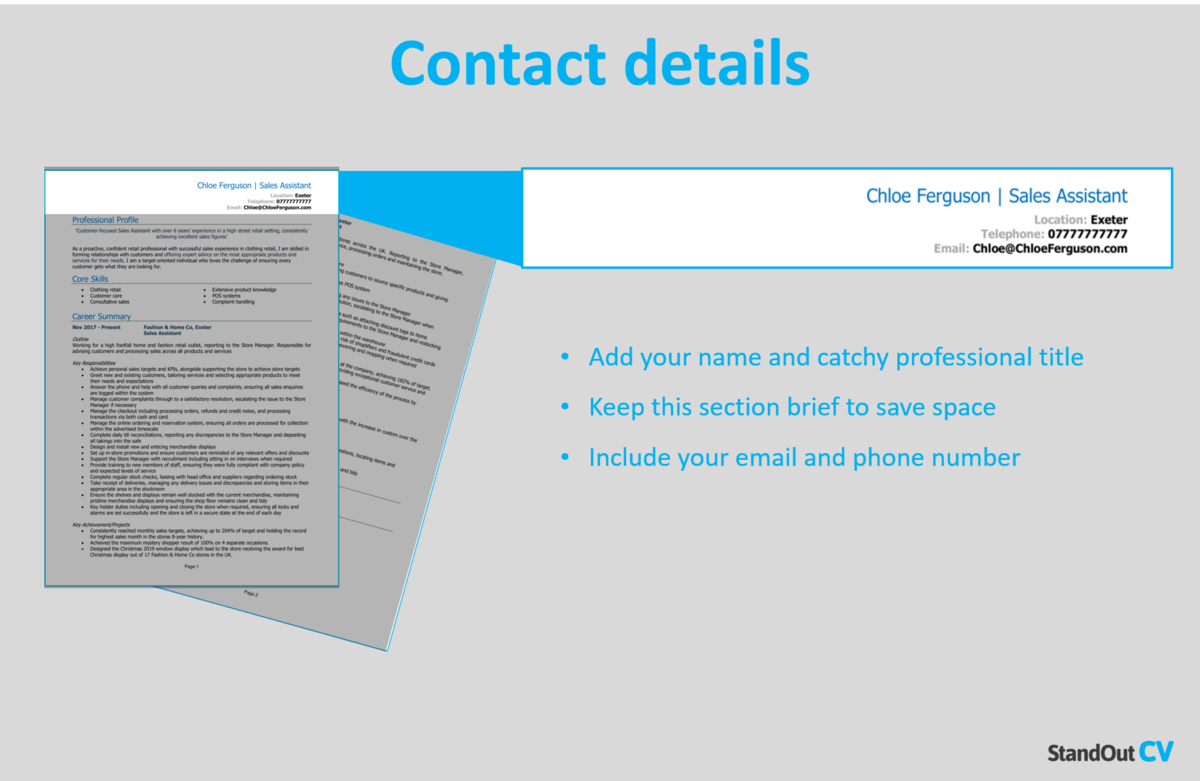 Write your contact details in the top corner of your CV, so that they're easy to find but don't take up too much space.
You only need to list your basic details, such as:
Mobile number
Email address
Location – Don't list your full address. Your town or city, such as 'Norwich' or 'Coventry' is perfect.
LinkedIn profile or portfolio URL – Remember to update these before listing them on an application.
Anaesthesiologist CV Profile
Make a strong first impression with recruiters by starting your CV with an impactful profile (or personal statement for junior applicants).
This short introduction paragraph should summarise your skills, experience, and knowledge, highlighting your suitability for the job.
It should be compelling enough to encourage recruiters to read through the rest of your CV.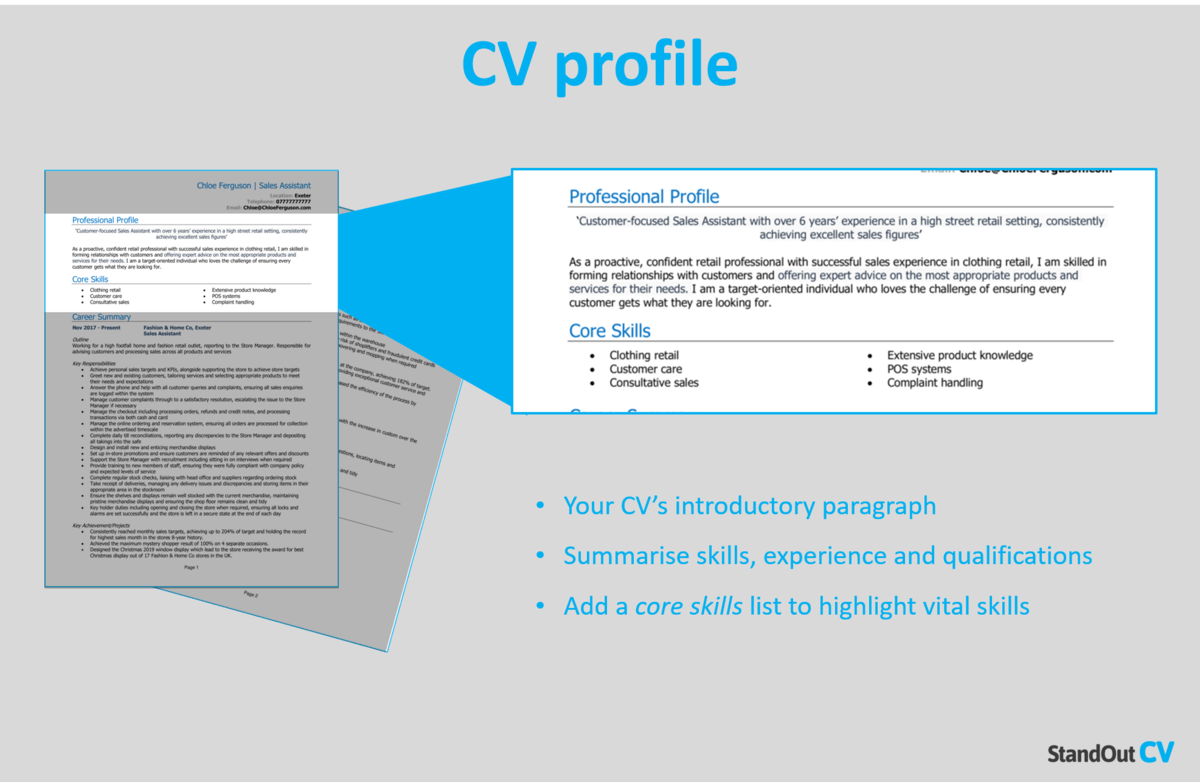 How to write a good CV profile:
Make it short and sharp: Recruiters have piles of CVs to read through and limited time to dedicate to each, so it pays to showcase your abilities in as few words as possible. 3-4 lines is ideal.
Tailor it: The biggest CV mistake? A generic, mass-produced document which is sent out to tens of employers. If you want to land an interview, you need to tailor your CV profile (and your application as a whole) to the specific roles you're applying for. So, before you start writing, remember to read over those job descriptions and make a list of the skills, knowledge and experience the employers are looking for.
Don't add an objective: Career goals and objectives are best suited to your cover letter, so don't waste space with them in your CV profile.
Avoid generic phrases: If there's one thing that'll annoy a recruiter, it's a clichè-packed CV. Focus on showcasing your hard skills, experience and the results you've gained in previous roles, which will impress recruiters far more.
Example CV profile for Anaesthesiologist
Highly skilled Anaesthesiologist with extensive experience in anaesthesia administration for a variety of surgical procedures, including emergency and elective surgeries. Certified Geriatric Medicine Practitioner with substantial experience and research in emergency anaesthesia for elderly patients. Demonstrated success in implementing new techniques to reduce patient recover times and improve patient experience.
What to include in your Anaesthesiologist CV profile?
Experience overview: Start with a brief summary of your relevant experience so far. How many years experience do you have? What type of companies have you worked for? What industries/sectors have you worked in? What are your specialisms?
Targeted skills: Employers need to know what skills you can bring to their organisation, and ideally they want to see skills that match their job vacancy. So, research your target roles thoroughly and add the most important Anaesthesiologist skills to your profile.
Important qualifications: If the jobs you are applying to require candidates to have certain qualifications, then you must add them in your profile to ensure they are seen by hiring managers.
Quick tip: If you are finding it difficult to write an attention-grabbing CV profile, choose from hundreds of pre-written profiles across all industries, and add one to your CV with one click in our partner's CV Builder. All profiles are written by recruitment experts and easily tailored to suit your unique skillset.
Core skills section
To ensure that your most relevant skills catch the eye of readers, create a core skills section below your profile.
This section should be presented in 2-3 columns of bullet points highlighting your applicable skills. Before crafting this section, carefully examine the job description and create a list of any required skills, specialisms, or knowledge.
Use this list to include the necessary information in your section and present yourself as the ideal match for the position.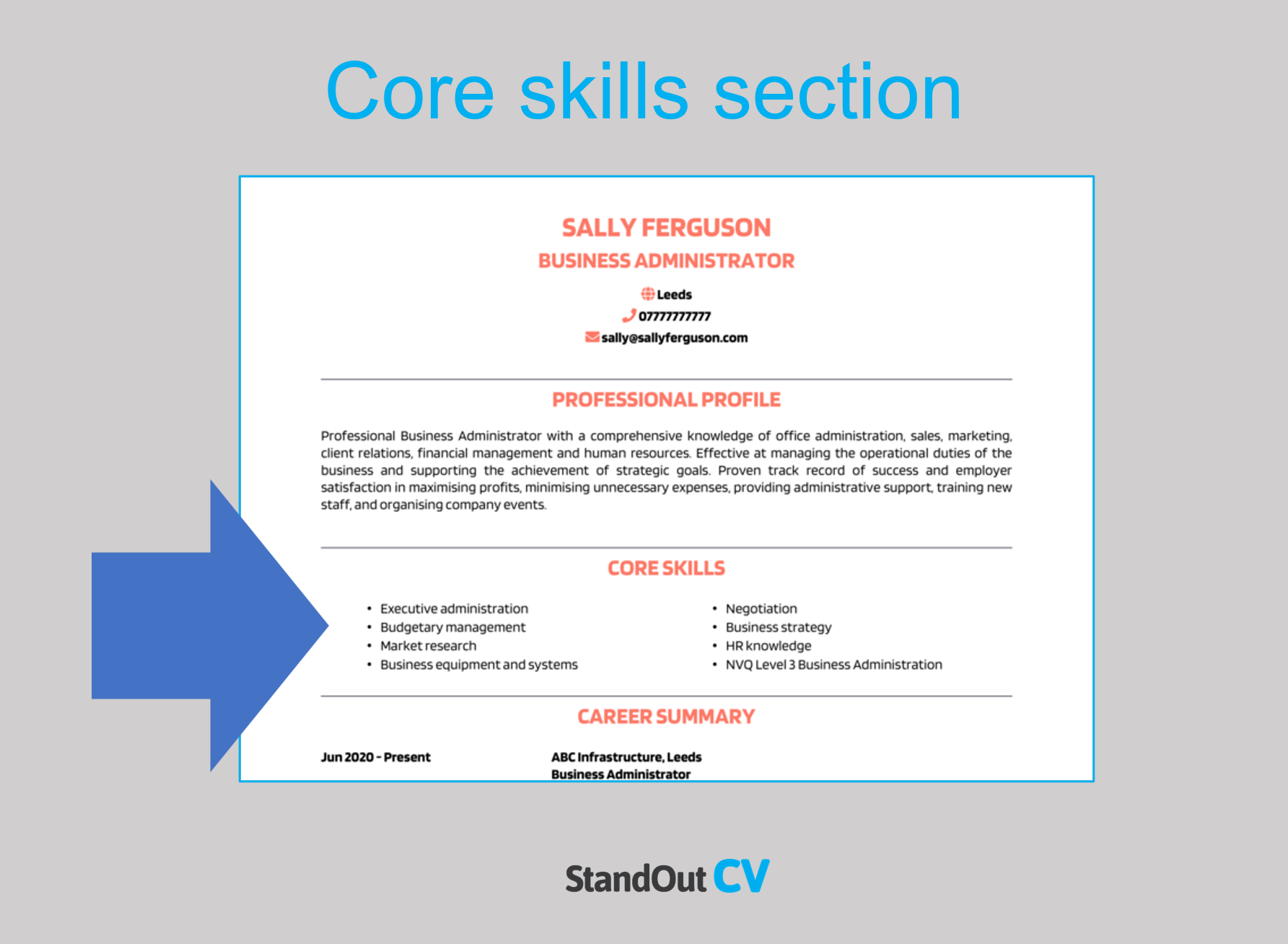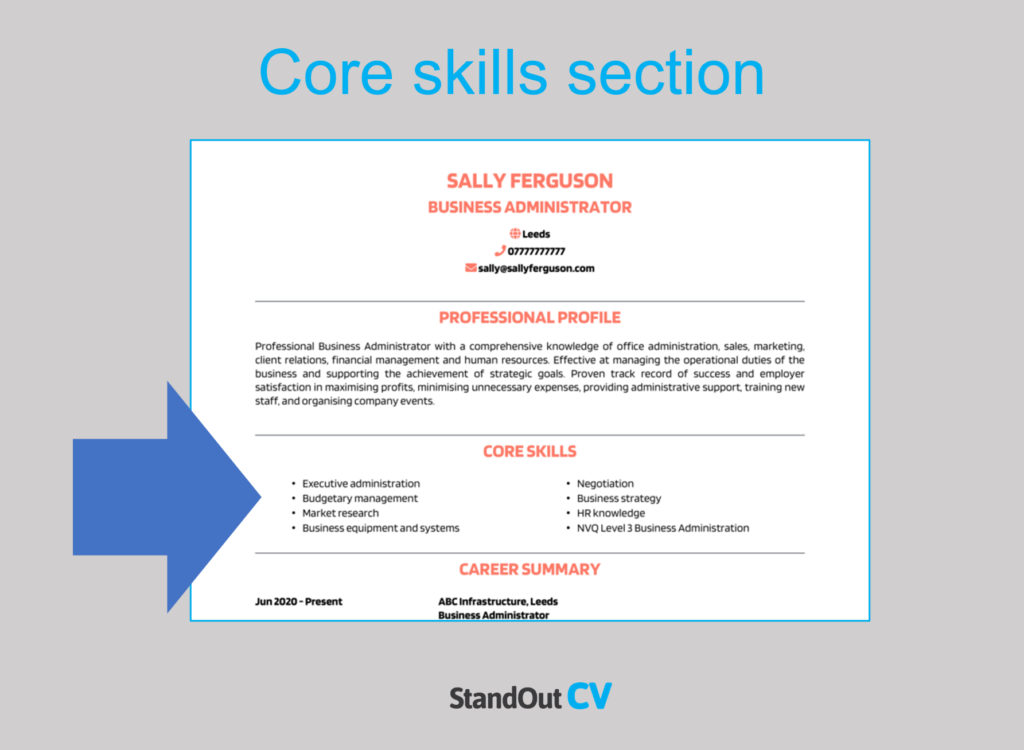 Important skills for your Anaesthesiologist CV
Anaesthesia Administration – Administering anaesthesia to patients, including the selection and administration of appropriate anaesthetic agents, monitoring patient vital signs, and adjusting dosage as needed.
Airway Management – Managing and securing the patient's airway during anaesthesia, including intubation, ventilation, and other advanced airway techniques.
Patient Assessment – Assessing patients' medical history, current health status, and anaesthetic risk factors to develop individualised anaesthesia plans and ensure patient safety.
Surgical Team Collaboration – Working closely with surgeons, nurses, and other members of the surgical team to ensure smooth and safe anaesthesia delivery throughout surgical procedures.
Critical Care – Providing critical care support to patients during emergency situations, such as resuscitation, management of complications, and stabilising patients in critical condition.
Pain Management – Managing acute and chronic pain through various techniques, including regional anaesthesia, epidurals, and patient-controlled analgesia.
Crisis Management – Quickly identifying and managing anaesthetic emergencies, such as anaphylaxis, cardiac arrest, or adverse drug reactions, with prompt decision-making and implementation of appropriate interventions.
Patient Communication – Establishing rapport with patients, explaining anaesthesia procedures and risks, and providing post-operative care instructions to patients and their families.
Technical Expertise – Operating and maintaining anaesthesia equipment, monitoring devices, and advanced technologies used during anaesthesia administration and patient monitoring.
Continuous Learning – Staying updated with the latest advancements in anaesthesiology, attending conferences, and participating in relevant training and education programs.
Quick tip: Our partner's CV Builder has thousands of in-demand skills for all industries and professions, that can be added to your CV in seconds – This will save you time and ensure you get noticed by recruiters.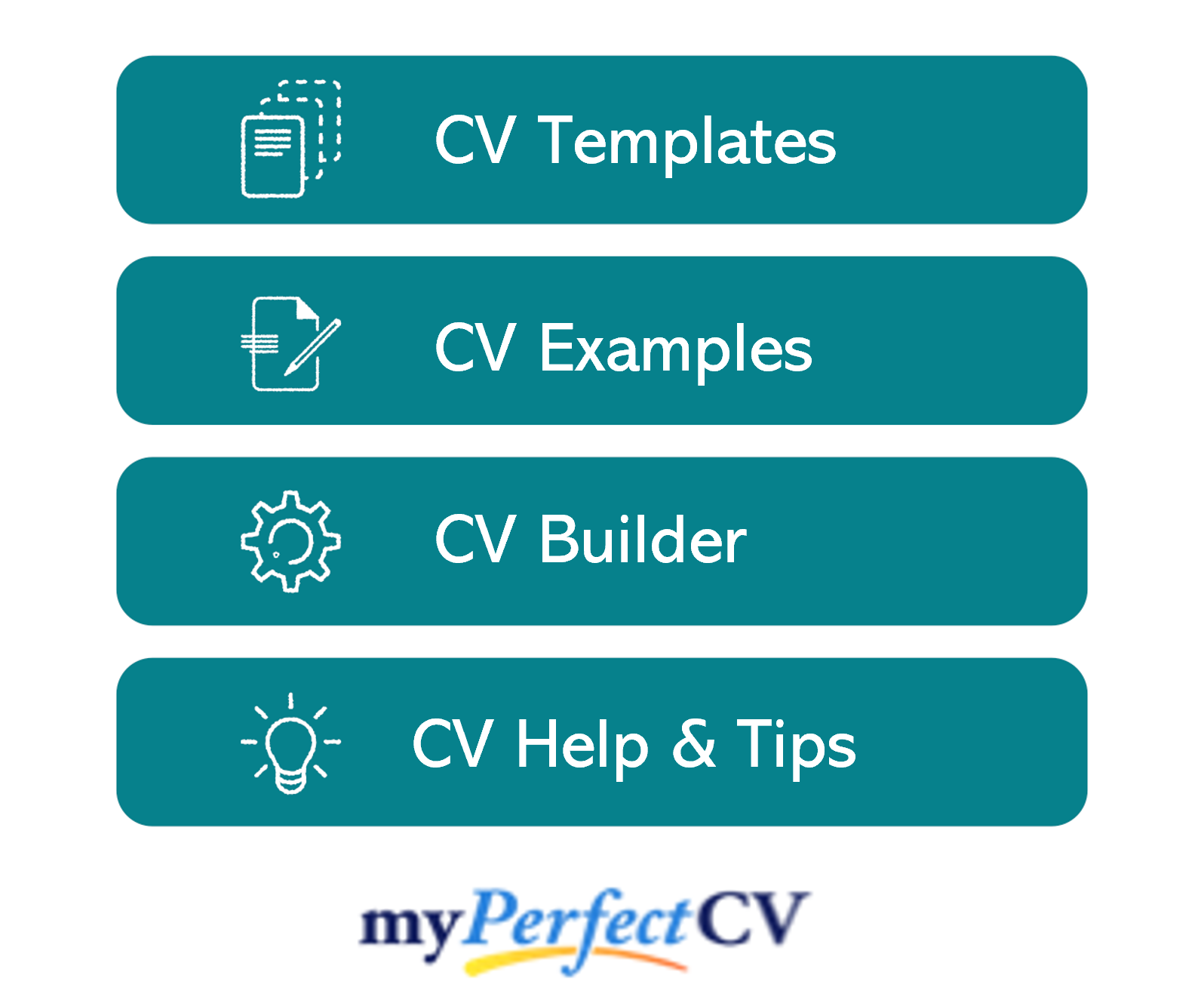 Work experience
Next up is your work experience section, which is normally the longest part of your CV.
Start with your current (or most recent) job and work your way backwards through your experience.
Can't fit all your roles? Allow more space for your recent career history and shorten down descriptions for your older roles.
Structuring each job
If you don't pay attention to the structure of your career history section, it could quickly become bulky and overwhelming.
Get in recruiters' good books by creating a pleasant reading experience, using the 3-step structure below:
Outline
Provide a brief overview of the job as a whole, such as what the overriding purpose of your job was and what type of company you worked for.
Key responsibilities
Follow with a snappy list of bullet points, detailing your daily duties and responsibilities.
Tailor it to the role you're applying for by mentioning how you put the target employer's desired hard skills and knowledge to use in this role.
Key achievements
Finish off by showcasing 1-3 key achievements made within the role.
This could be anything that had a positive effect on your company, clients or customers, such as saving time or money, receiving exemplary feedback or receiving an award.
Sample job description for Anaesthesiologist CV
Outline
Work as part of the anaesthetics team at the Royal Bristol Hospital, preparing and administering local and general anaesthesia for up to 15 patients per day undergoing surgical procedures, including transplant surgeries and emergency surgeries.
Key Responsibilities
Administer anaesthesia to patients before, during, and after surgery
Monitor patient vitals during procedures and adjust anaesthesia levels as needed
Collaborate with surgeons and theatre staff to ensure safe and effective procedures
Provide postoperative pain management and education to patients
Quick tip: Create impressive job descriptions easily in our partner's CV Builder by adding pre-written job phrases for every industry and career stage.

Education section
After your work experience, your education section should provide a detailed view of your academic background.
Begin with those most relevant to Anaesthesiologist jobs, such as vocational training or degrees. If you have space, you can also mention your academic qualifications, such as A-Levels and GCSEs.
Focus on the qualifications that are most relevant to the jobs you are applying for.
Hobbies and interests
This section is entirely optional, so you'll have to use your own judgement to figure out if it's worth including.
If your hobbies and interests could make you appear more suitable for your dream job, then they are definitely worth adding.
Interests which are related to the industry, or hobbies like sports teams or volunteering, which display valuable transferable skills might be worth including.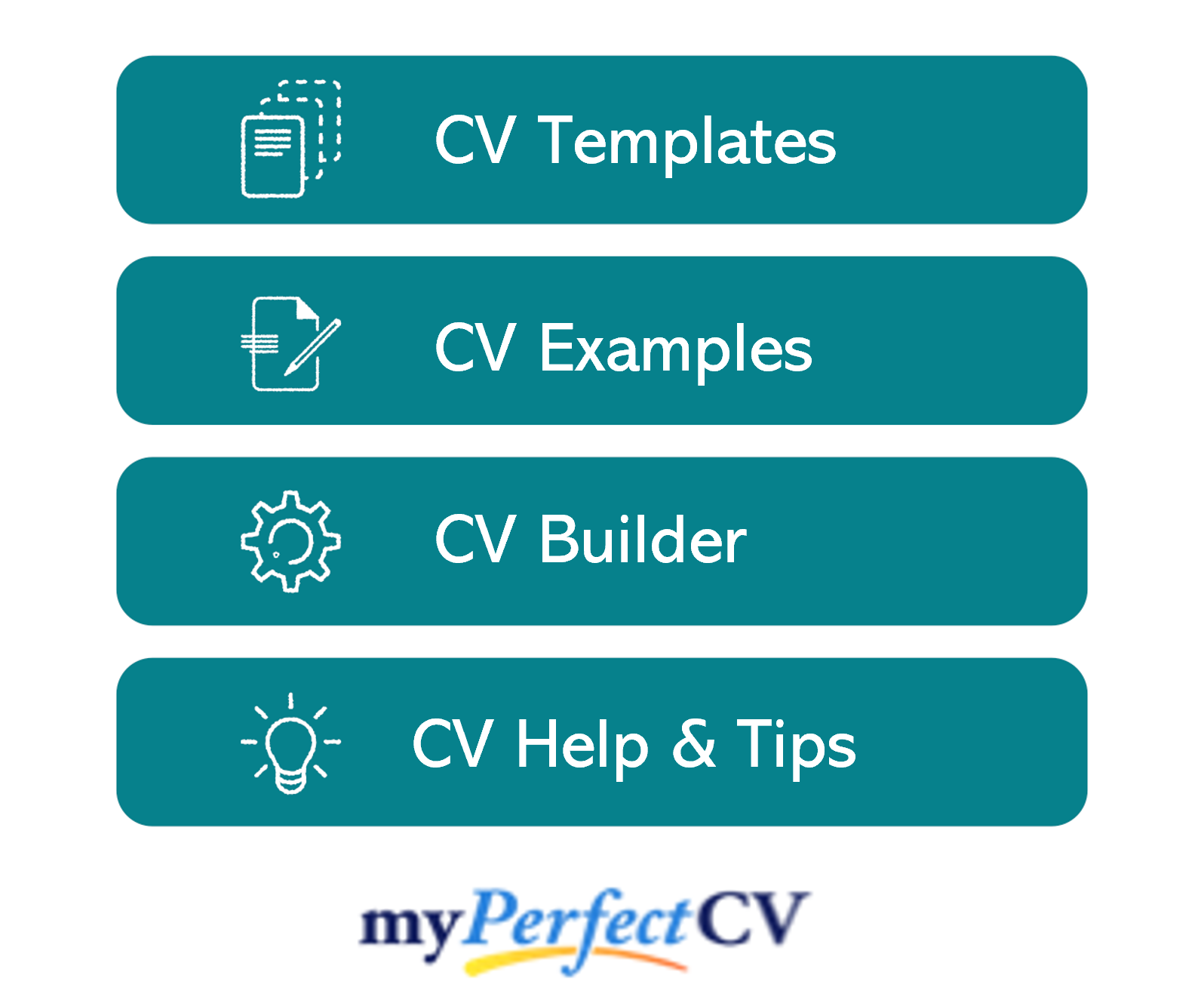 A strong, compelling CV is essential to get noticed and land interviews with the best employers.
To ensure your CV stands out from the competition, make sure to tailor it to your target role and pack it with sector-specific skills and results.
Remember to triple-check for spelling and grammar errors before hitting send.
Good luck with the job search!