Create your CV online in 3 simple steps
| | | |
| --- | --- | --- |
| 1. Choose a professional CV template | 2. Populate your CV with pre-written content | 3. Download your CV, start applying and get hired |
How to create your CV online
The StandOut CV builder provides you with beautiful CV templates, and guides you seamlessly through each stage of the CV writing process, breaking it down into smaller, more manageable tasks.
This makes it easier to complete your CV, and compiles everything into a slick professional template, without needing any design skills.
The key ways which the CV builder helps candidates are:
It ensures your information is well-structured
It lets you create a professional CV in minutes
There is pre-written expert content to help you overcome writer's block
Using our CV builder, you can create a strong CV that is sure to get you more responses, more interviews and ultimately, more job offers.
Pick a CV template and colour scheme
The first step in creating your interview-winning CV is to pick one of our proven professional CV templates and choose a colour scheme that suits your style.
Don't worry if you are unsure at this stage – you can always change these later in the process if you need to.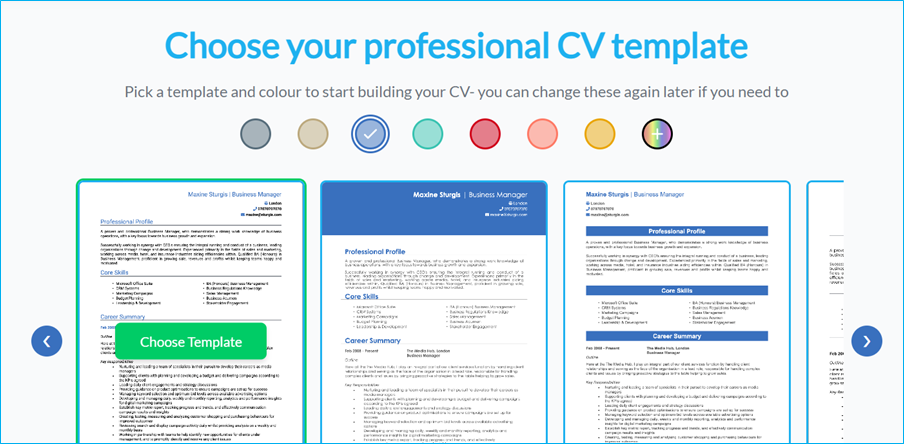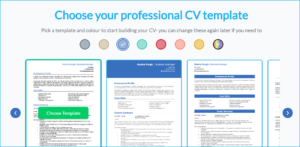 Pick your experience level
After you picking your professional CV template, the next thing you'll be asked to do is choose your level of experience.
This is so the CV builder can provide the best possible layout for your CV based on your level of experience and where you are in your career.
This will help you to prioritise the key information that recruiters want to see from candidates at your level.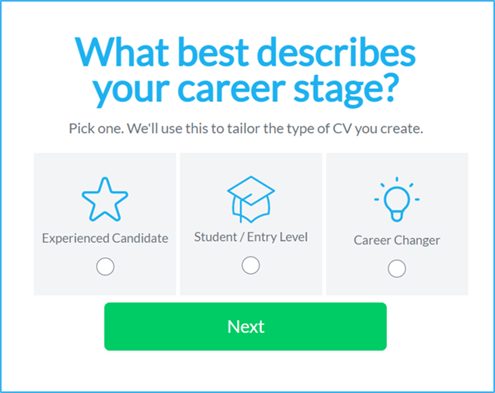 1. Name and contact details
Next, you need to add all the details that will make up your contact section. This section is always found at the top of your CV, and you should approach this stage as follows: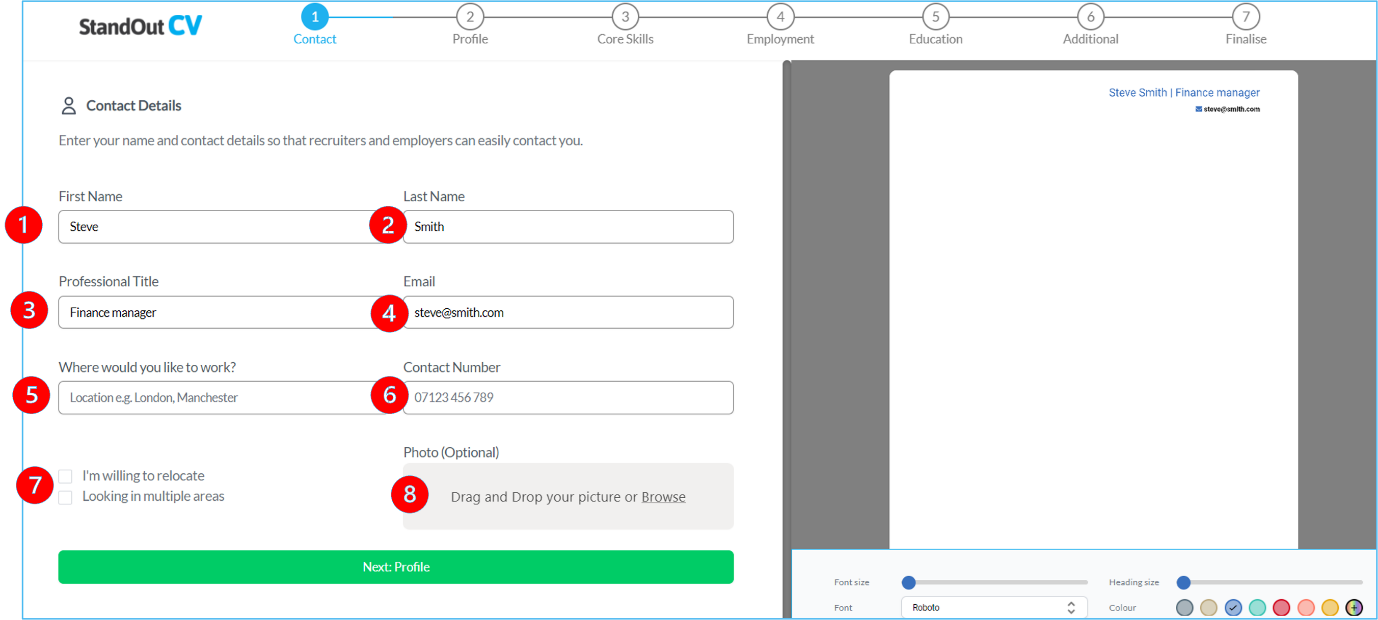 You need to enter your first name in the first box. Don't worry about including any middle names, as these will take up too much space.
In the next box, you need to add your surname.
Next, you need to add your professional title – 2 to 4 words that describe what you do, such as "Management accountant" or "Law student". Make sure this reflects the types of jobs you are applying for.
Step four requires you to enter your email address. Make sure this is something simple or professional like yourname@gmail.co.uk, rather than a silly email address that you thought was cool years ago, like "crazybwoy666@yahoo.com".
Then, you can add your location, showing recruiters where you are looking for work and making it easier for employers in the local area to find you. Keep this to your rough area only (e.g. London) and do not write a full address, because it will take up too much space.
You also need to provide a contact number so that recruiters can get in touch with you to find out more or invite you in for an interview.
It's important to know that you don't have to feel restricted by your location. The boxes give you a chance to state your willingness to relocate and whether you're looking in multiple locations.
Finally, step eight allows you to add a photo. Pictures on a CV are not widely advised in the UK; however, this depends on your industry and location, so look into the customs of the country you are applying to.
2. Professional profile
The next section on your CV is your personal profile; this always goes near the top as it is your chance to introduce yourself to the recruiter and grab their attention. Therefore, it needs to be catchy and highly tailored towards your target jobs!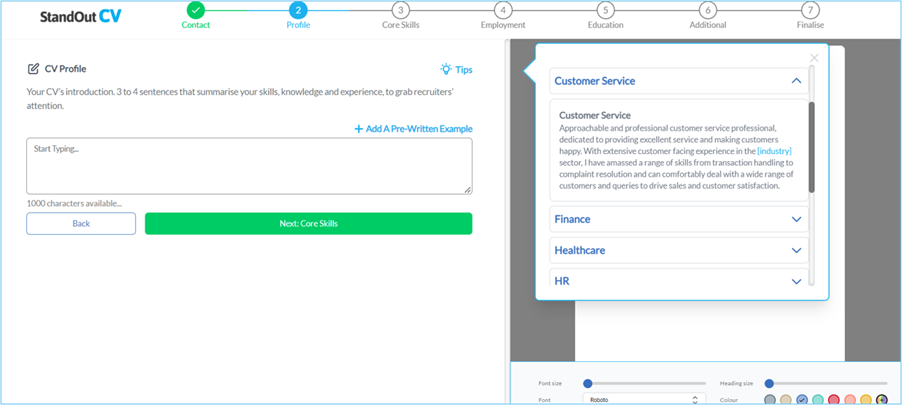 Your profile should be 3 to 4 sentences long (ideally somewhere between 50 to 100 words). It needs to summarise your key skills, experience, qualifications or achievements, depending on what stage you're at in your career and what is most impressive.
If you're stuck for ideas, there is an option to add a pre-written example within our CV builder that you can tailor or use for inspiration.
3. Core skills
You want to help busy recruiters to understand what skills you have to offer as soon as they open your CV.
The core skills section is your opportunity to do this, and it's best done in a bullet point format to make your skills stand out.
Before you begin this step, it's a good idea to scan through the job descriptions you are targeting and highlight the key skills the employer is looking for. You can then type between 4 to 10 eye-catching bullet points that reflect your matching skills.
If you're unsure which skills to include, the CV builder has a whole selection of pre-written examples to inspire you.
4. Work experience
The work experience section is your chance to outline the skills you utilise in your current role, as well as any past positions, volunteer roles, part-time work or internships.
These should be listed in reverse chronological order starting with the most recent first, like this: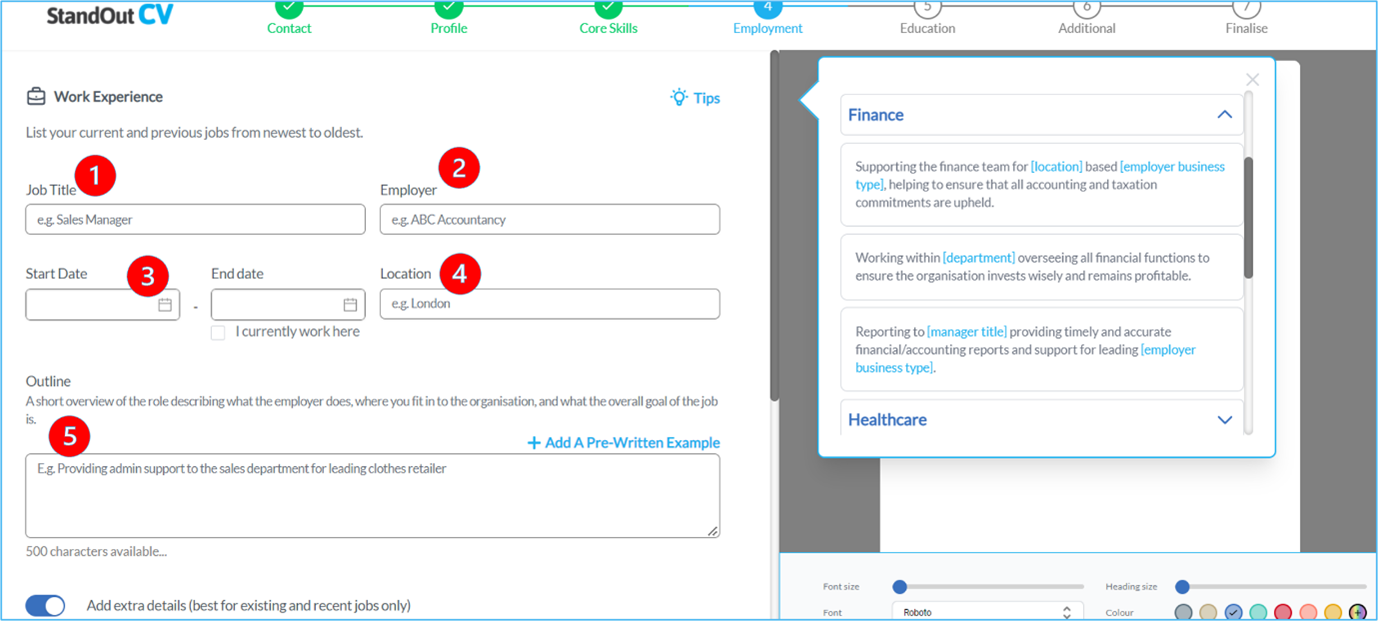 1. Starting with your current or most recent role, the first box asks you to add your job title.
2. Next, you need to include the name of your employer. Again, make sure you're double-checking and spelling everything correctly.
3. It's important to outline how long you worked for the said employer, so step three requires a start date.
4. Then, in step four, you need to include the date on which you left the company. There is an option to tick 'I currently work here' if you still hold the position.
5. The larger text box requires you to write a short overview of your employer, your role and your place within the business. This only has to be a few short sentences, but should build context for the reader.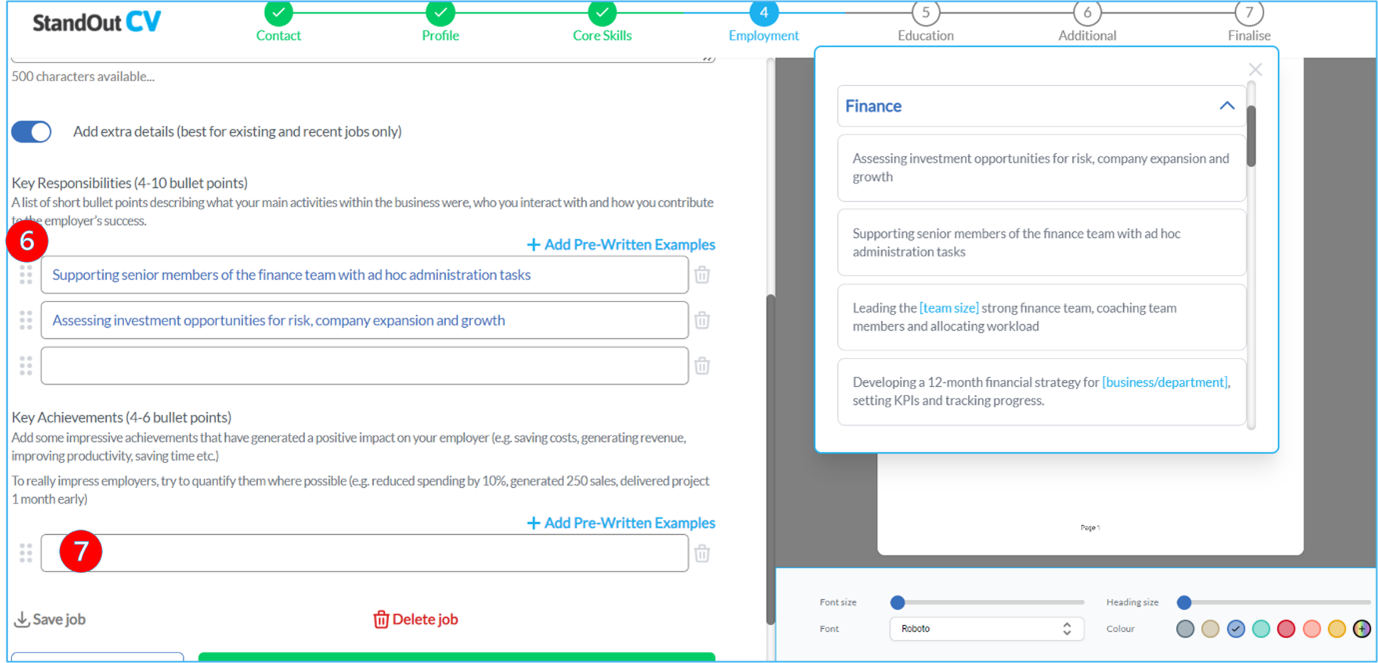 For recent jobs it's best to show recruiters plenty of detail, so you can select the 'add extra details' toggle to expand on your experience.
6. The next step is to add in a few of your key responsibilities, these are short sentences to explain what you do in the job day-to-day. If you're stuck on what to include, you could choose from the pre-written examples that have been broken down by industry.
7. It's also a good idea to include examples of your top achievements during your time in the role, quantifying these where possible – to show employers what benefits you can bring to them. There is also an option to add some pre-written examples at this stage too.
5. Education
Your education section is important to show recruiters you are qualified for the jobs you apply to.
The amount of detail you include will depend on what stage you're at in your career, but it's important to include any impressive or relevant qualifications, certificates or awards as follows: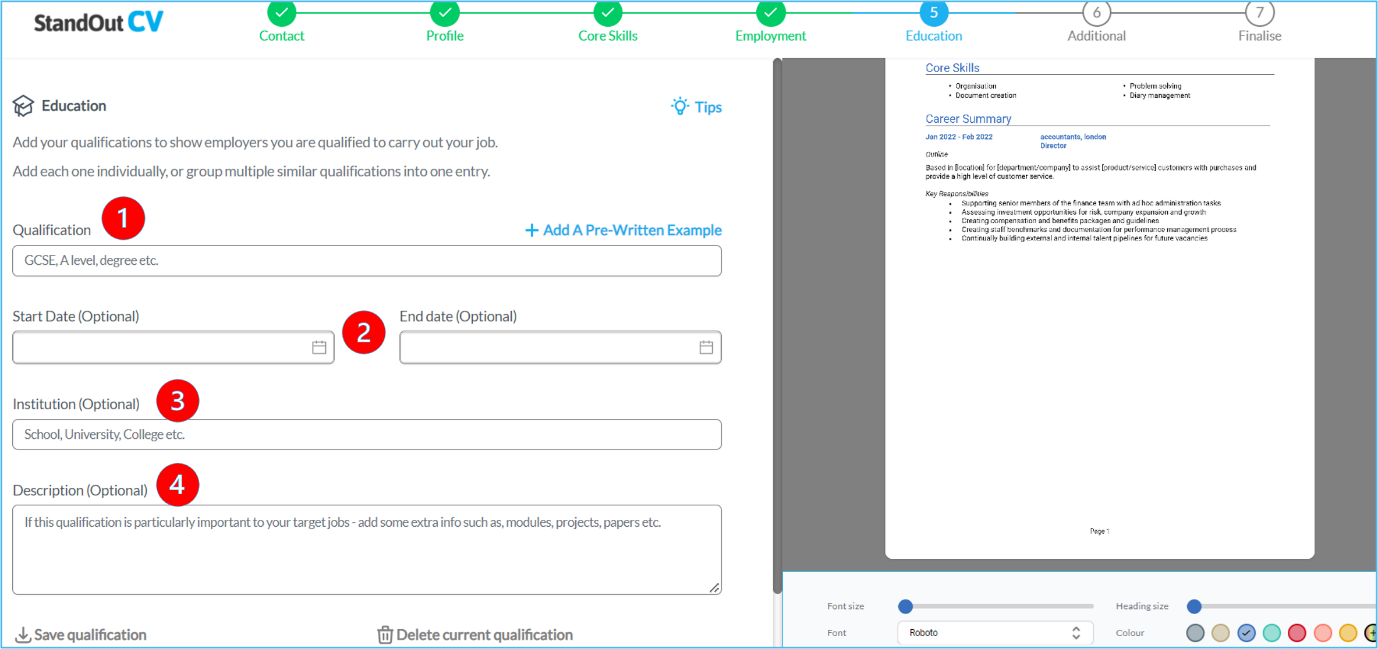 1. The first thing you need to do is include the level of qualifications you want to add, for example, degree, A-Levels, GCSE, etc.
2. Next, you can add in the dates you attended your school, college, university, etc. Although it's optional, if you've got the space, it's a good idea to include the dates you studied there.
3. Then, you can add the name of the institution you attended.
4. Giving a description of your studies at this stage is also optional. However, it can be a good idea to outline your grades, any relevant modules you studied or any key achievements – especially if you have little or no work experience.
6. Additional
There might be some additional information you want to add to your CV that you have not included yet.
If you've got the space and you have additional attributes that will add value to your application, you can add these at the end.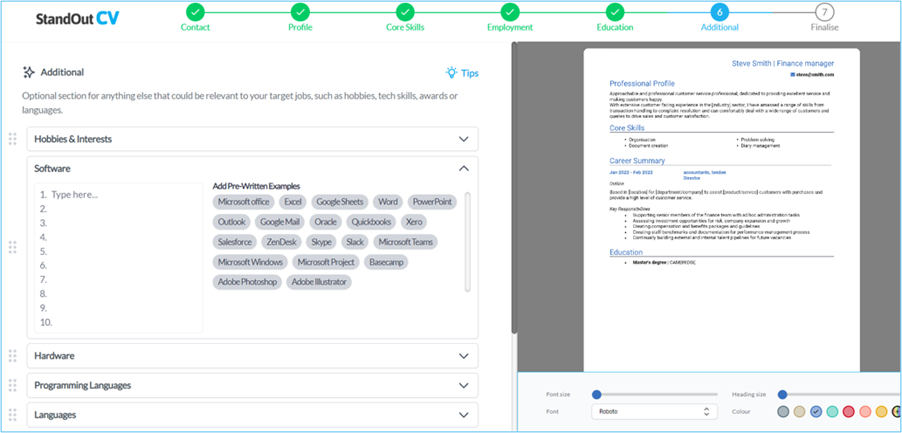 Hobbies and interests are an optional section on a CV as they might not always be relevant to the role, and they take up valuable space. However, if you lack experience or your interests are relevant to the position you're applying for, you might wish to add them at this stage.
The CV builder has some examples if you're stuck. These include sports, software and hardware skills, coding languages, awards you have won or places where your work has been published.
Alternatively, there is a text box that allows you to add your own suggestions if they are not on the list.
7. Download and apply
At the final stage, you simply need to review the information in your CV and give it a good proofread to ensure you haven't made any mistakes.
You can return to any of the previous sections to amend them
At this point, you can also change the format and design of your CV by adjusting the:
CV template
Font type
Font size
Heading size
Colour scheme
Then when it's done, you simply click download, and you're ready to start applying!