When writing about your jobs in your CV, it can be tricky to know how many bullet points you should include for each.
Too few bullet points could mean that you are leaving out important information – too many could overwhelm those reading your CV.
This guide shows you exactly how many bullet points you should include for every job in your CV, and how to do it.
There are also 9 examples of CV job descriptions with bullet points for guidance.

How many bullet points should you have per job in your CV?
Ideally you should write anywhere from 2-10 bullet points for each job in your CV.
The exact amount of bullet points you include for any given job will depend on how recently you were in the job.
The general rule is that the more recent the job is, the more bullet points it should contain.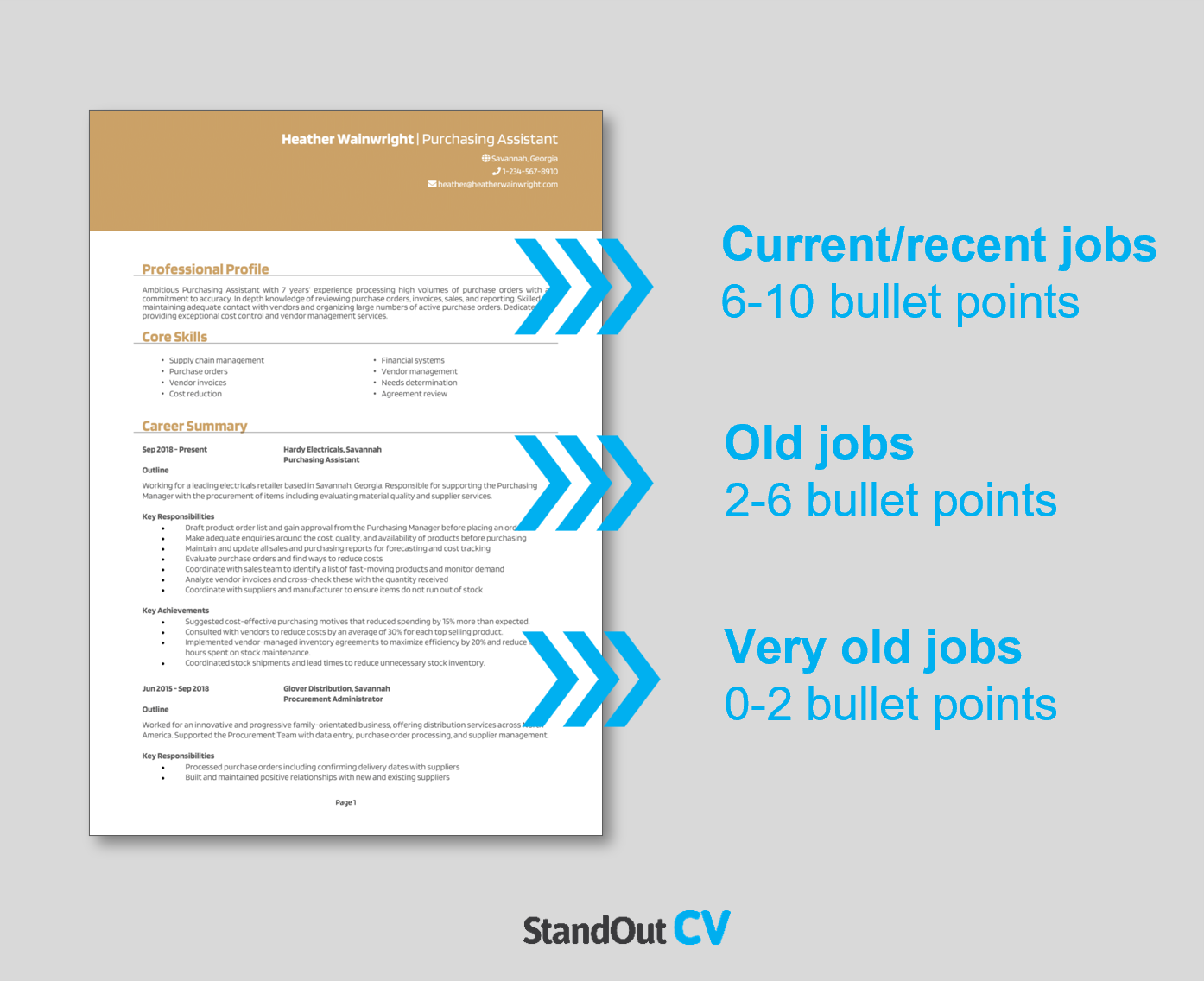 The reasoning behind this is that recruiters are usually more interested in your recent experience, than jobs you did many years ago.
Here's a breakdown of how many bullet points you should include for each career stage.
Current job (8-10 bullet points)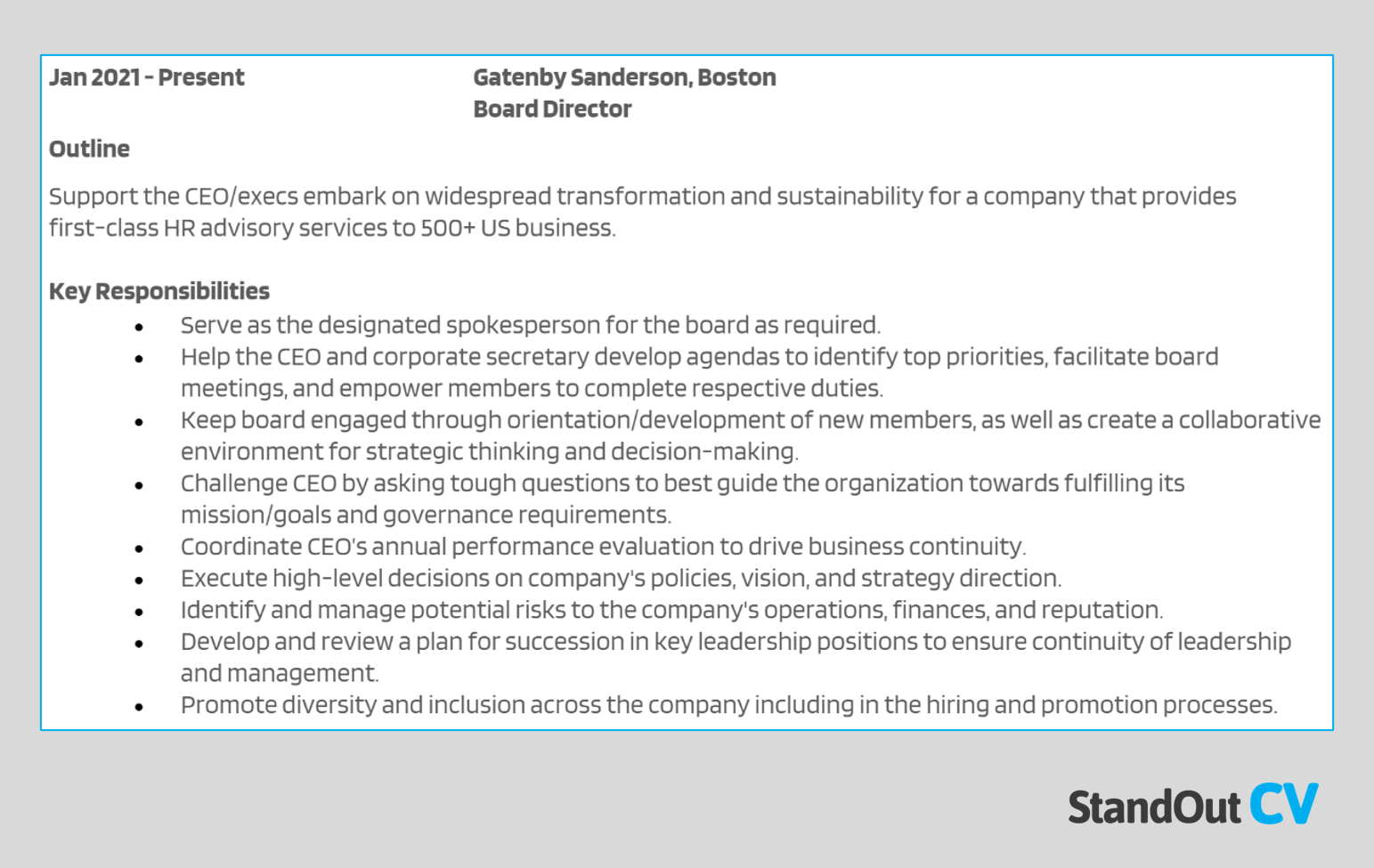 As this is your current job, it reflects your most recent and relevant experience. This is the information that recruiters really want to see, you should include plenty of detail here.
With between 8-10 bullet points, you can go into more detail about how you've added real value to the role, providing solid facts and figures wherever possible.

Recent jobs within 3 years (6-8 bullet points)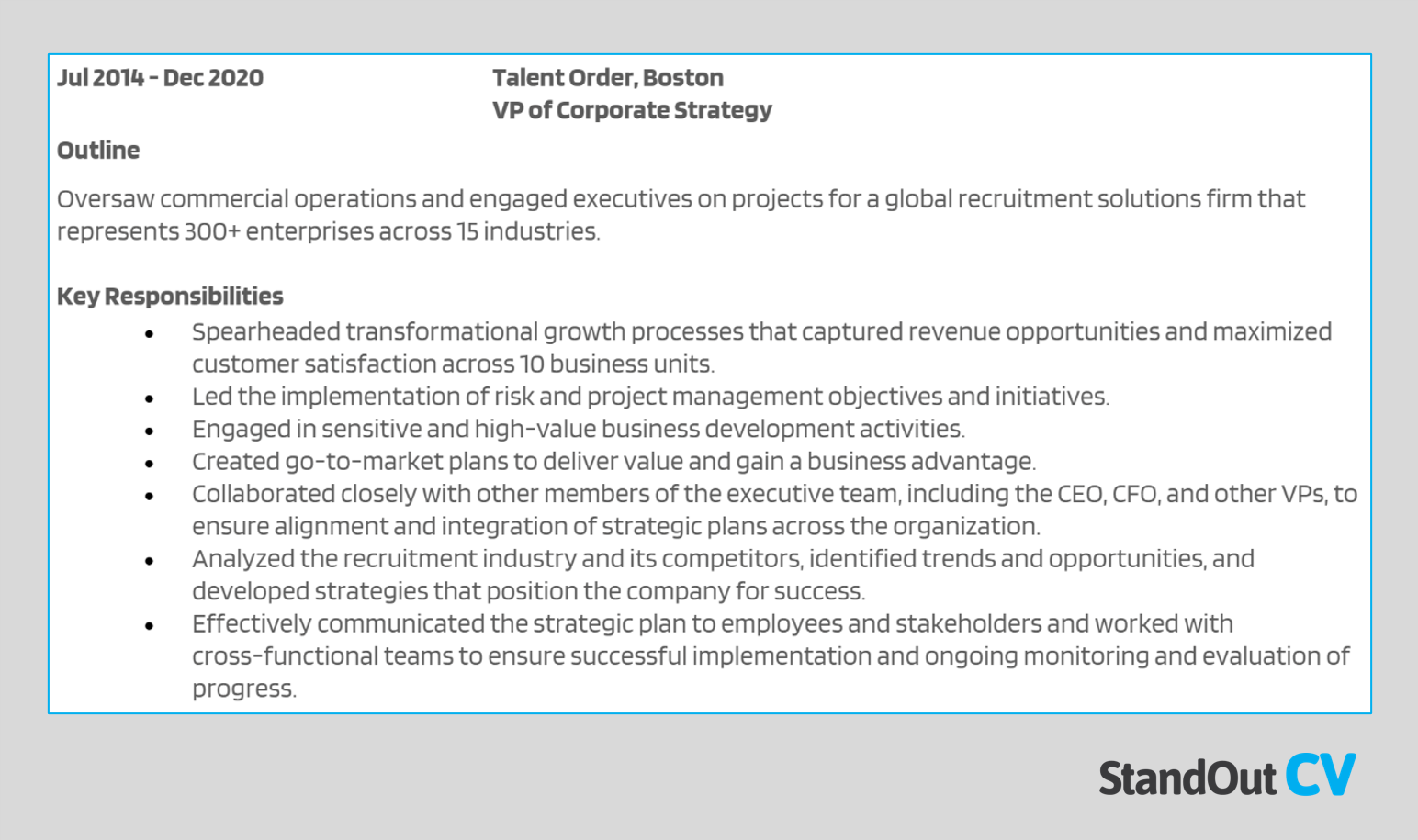 Although it might not be your most recent position, the roles you've had over the last 3 years or so will still be of great interest to employers. They can also help to build your case and showcase your most recently gained skills and achievements. Ideally you should still dedicate between 6-8 bullet points to these.
Jobs older than 3 years (4-6 bullet points)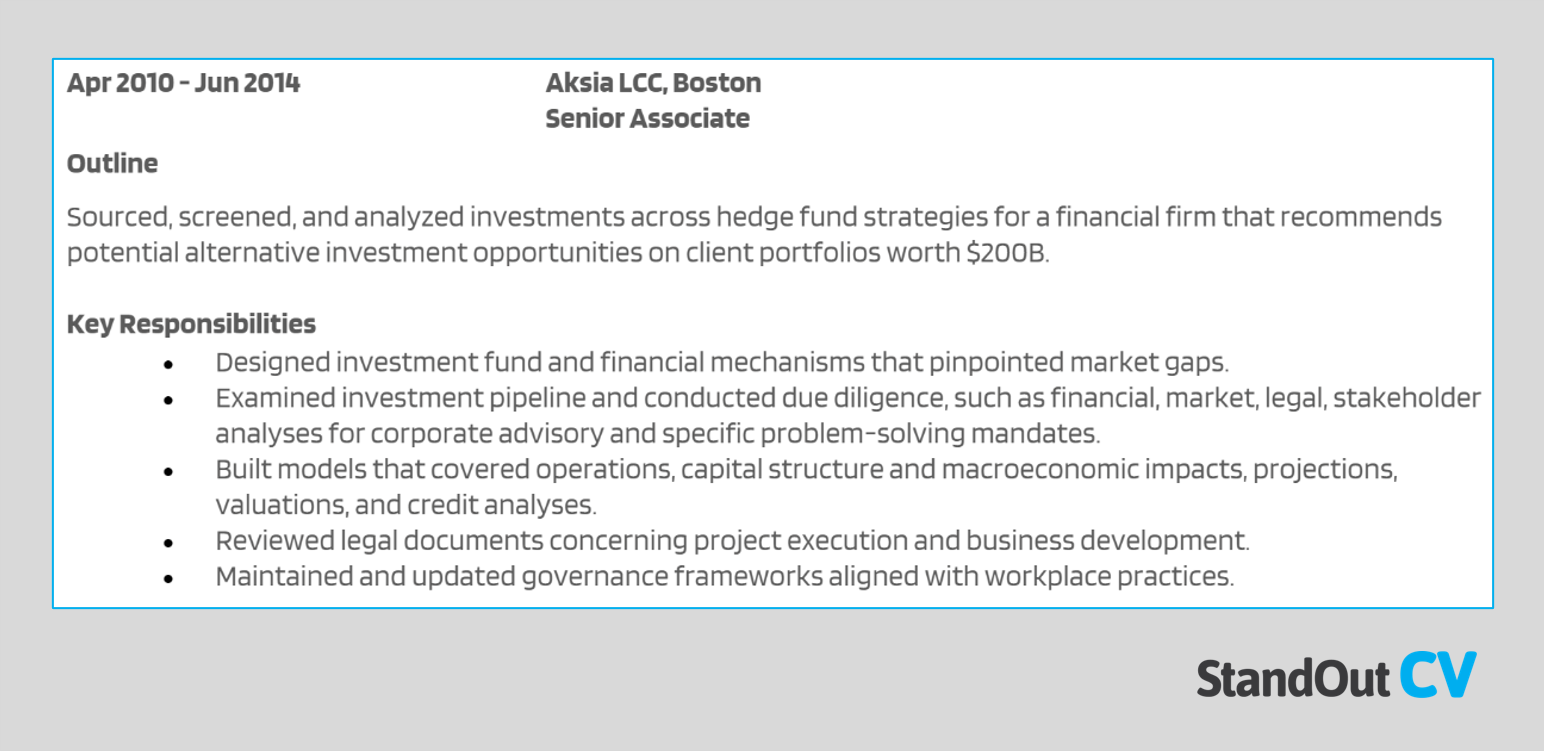 Jobs that you had more than 3 years ago can still have a lot of merit, but as you've got more recent examples of your work, it's better to keep these to just 4-6 bullet points. Reserve these bullet points for your most impressive responsibilities and achievements during this time.
Jobs older than 6 years (2-4 bullet points)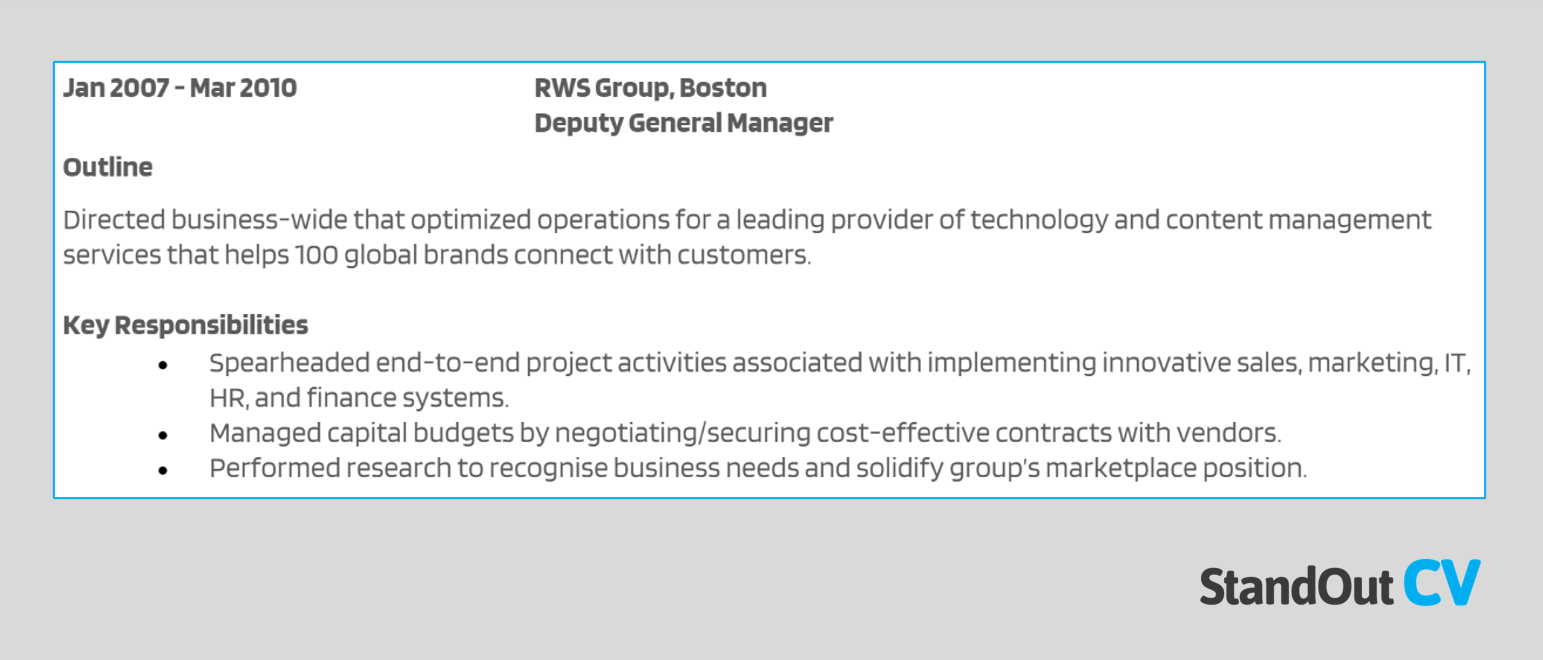 There are a handful of reasons you might wish to include a job you did more than 6 years ago. Perhaps it is very relevant to the position you're currently applying for, or perhaps it was with a very prestigious and impressive company. Either way, keep this short and sweet with just 2-4 bullet points of the highlights so you don't take up too much precious space.
Jobs older than 10 years (no bullet points)

Ideally, your experience section does not need to go back more than 10 years. However, if there is a valid reason that you choose to include older roles, you don't need to give any details about your daily responsibilities as well – a one sentence summary will provide all the detail that recruiters need about this stage in your career.
This also works well when listing lots of contract work in your resume.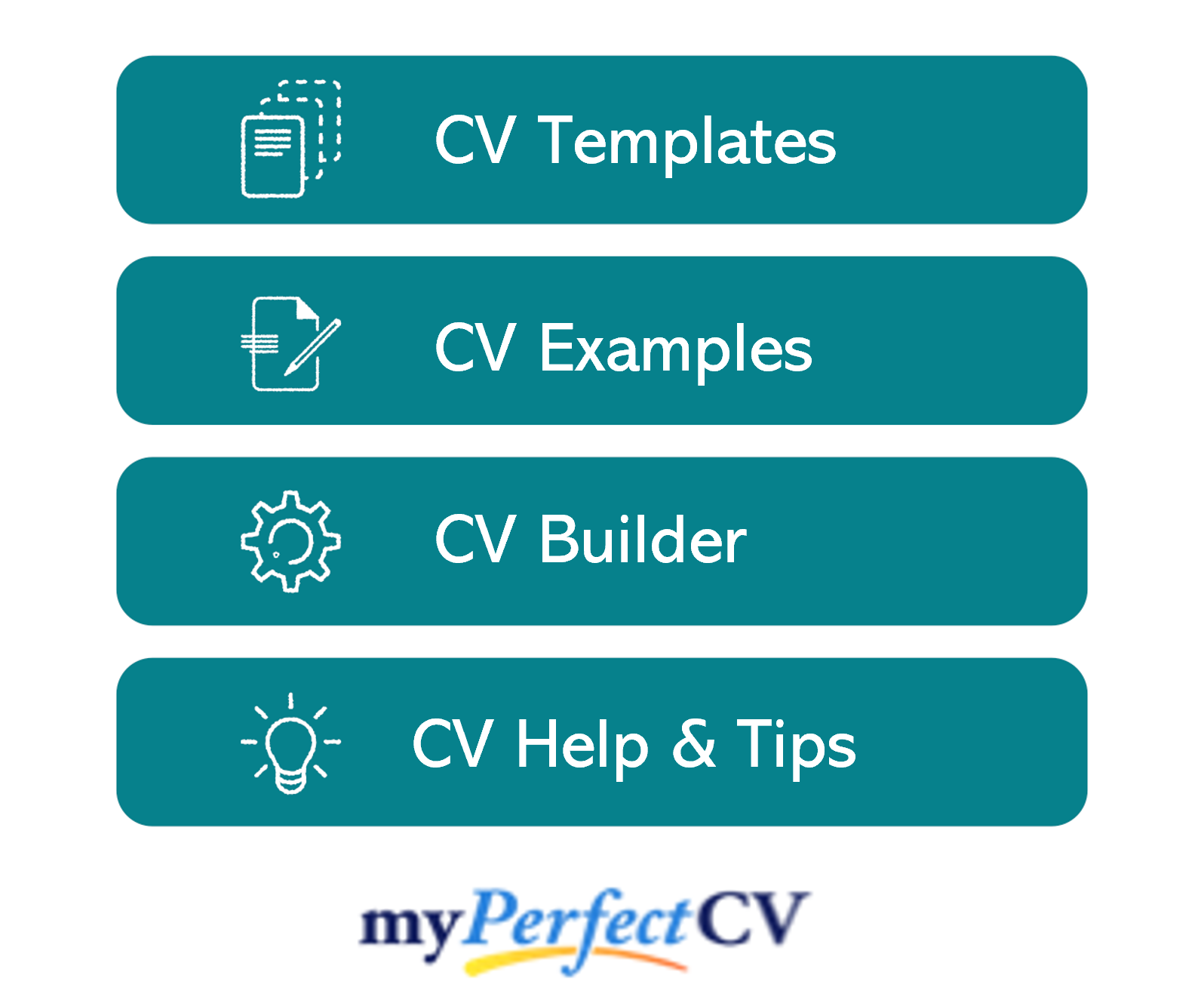 How long should each bullet point be?
Your bullet points should be no more than 1-2 sentences each and need to be kept as clear and concise as possible. You should always remember that recruiters and hiring managers are strapped for time and like to skim read CVs quickly.
What types of bullet points should you include?
You know that you need to include bullet points and how to structure them, but you need to know what to include if you want to land interviews. As we've briefly touched on above, there are two key aspects to the bullet points in your CV; responsibilities and achievements.
Responsibilities
Your responsibilities are the tasks you look after within your jobs.
Your bullet points should explain what you did within your job, the skills you applied, and also show how these tasks contribute to the success of your company or department
Key achievements
As well as outlining what you did, you should also share your top achievements from your time inn the job.
For example, you may have saved your employer money, won new customers, or improved a process to save time.
By adding achievements to your CV, you can help the reader to see how you made a real difference to the company and its larger goals.

Why should you use bullet points in your CV?
Bullet points can be a beneficial way to structure the information for a number of reasons, and these are just a few more reasons you should use them on your CV.
To create a pleasant reading experience – Bullet points can help to break up large blocks of text and give your CV more structure. This leads to a more pleasant reading experience for the recruiter, making them more likely to spot your talents.
To make it easy for recruiters to skim read – Recruiters are busy people, and they only spend an average of 7 seconds skimming through your CV. Using bullet points makes it easier for them to find the information they need quickly and easily.
To highlight important information – Information can get lost in a busy document, especially when the recruiter is skimming through. Therefore, it's better to use bullet points to highlight the most important details and make them stand out.
Tips for using bullet points in your CV
Bullet points can be extremely helpful on your CV, providing you use them correctly, and there are several tips that can help you do this.
Keep them concise
Bullet points help to structure the information and highlight key points by breaking up large blocks of text. As such, your bullet points need to be clear and concise, at just one or two short sentences.
If your bullet points are too long, they might look like just another block of text, and they won't have the desired effect.
Highlight in-demand skills
Pick out some of the most desirable and in-demand skills in your industry and use your bullet points to highlight these. This makes it easier for the recruiter to quickly spot and take on board your skills when skimming through.
Tailor to your target jobs
Make sure that you use your bullet points to showcase the skills that the employer has deemed most important. You can do this by looking back through the job description and then tailoring your bullet points to reflect these skills. You can also place those that you believe to be most important near the top of the list.
Quantify with numbers
Numbers give readers a sense of scale, which is why you need to quantify your achievements with facts and figures. Bullet points give you the perfect opportunity to do this.
You might wish to use percentages, numbers, values of money, and more to showcase your skills and highlight how you've made a difference in past positions.
Use action verbs
Using action verbs can help to create impact and give more context, not just about what you did but also the skills involved and what you achieved.
For example, some popular action verbs you could use include achieved, coordinated, developed, managed, and strengthened. Place these at the beginning of each bullet point to give context and show off your skills.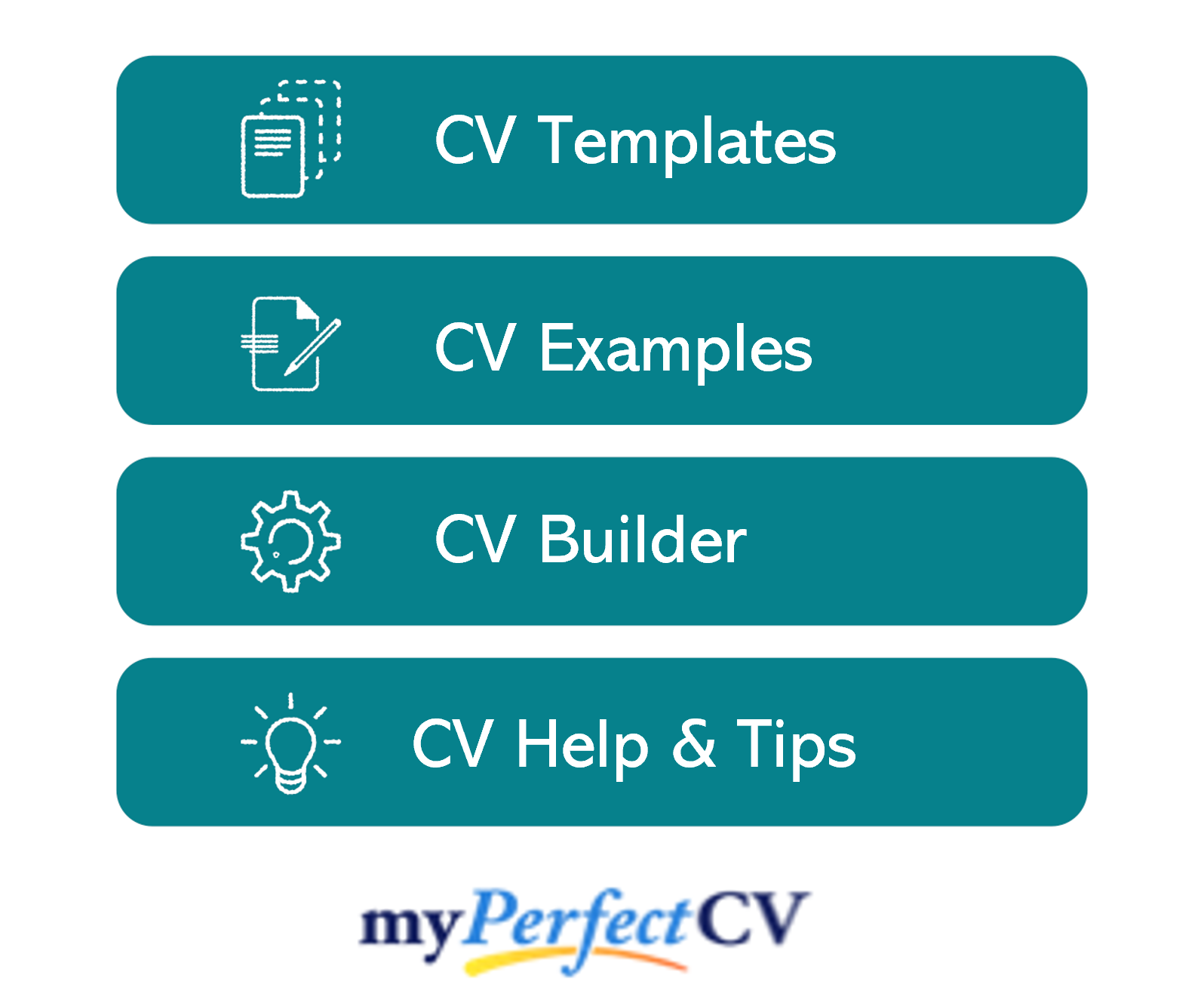 Show your contribution to the company
There are certain pieces of information that recruiters are looking for as they scan your CV, and your contribution in previous roles is one of them.
Bullet points give you the perfect opportunity to carefully select and showcase your key contributions.
Use the correct tense
You need to make sure that you use the correct tense in all your bullet points. For past jobs, this should be the past tense, looking at what you used to do and how you contributed.
For your current role, you should use the present tense and explain how you continue to make a difference in your position.
Where else to use bullet points
It's not just your work experience section that can benefit from bullet points either; there are several others ways you might wish to use these to structure your CV.
Core skills section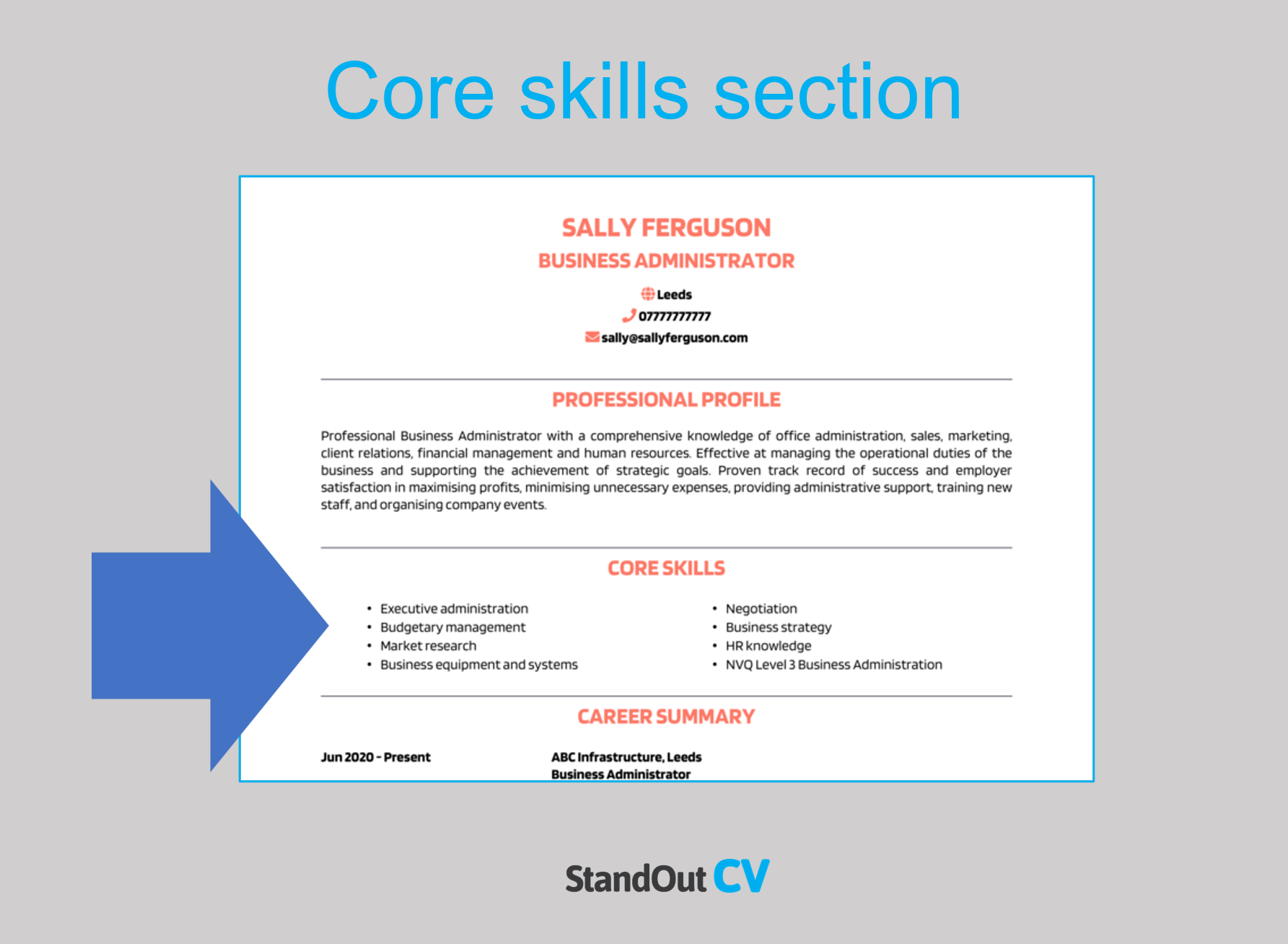 Located near to the top of your CV, your core skill section should include between 5-10 of your most impressive and relevant key skills. Using bullet points to lay out these skills makes them jump off the page when a recruiters first opens the document.
Education section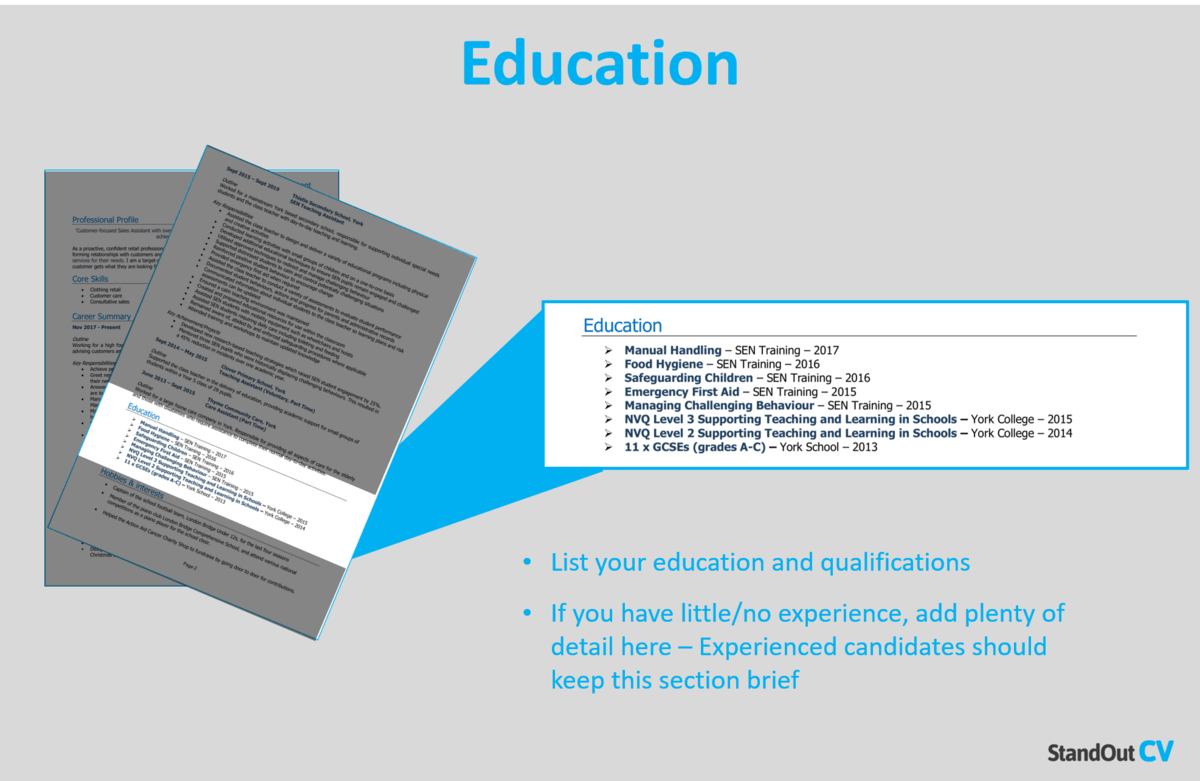 Your education section will include details on what you studied, where, and when. Underneath this, you might wish to use bullet points to go into more detail about what you studied, particularly if this is relevant to the role.
For example, you might use bullet points to outline modules you took, impressive test results, or awards you won.
Additional information section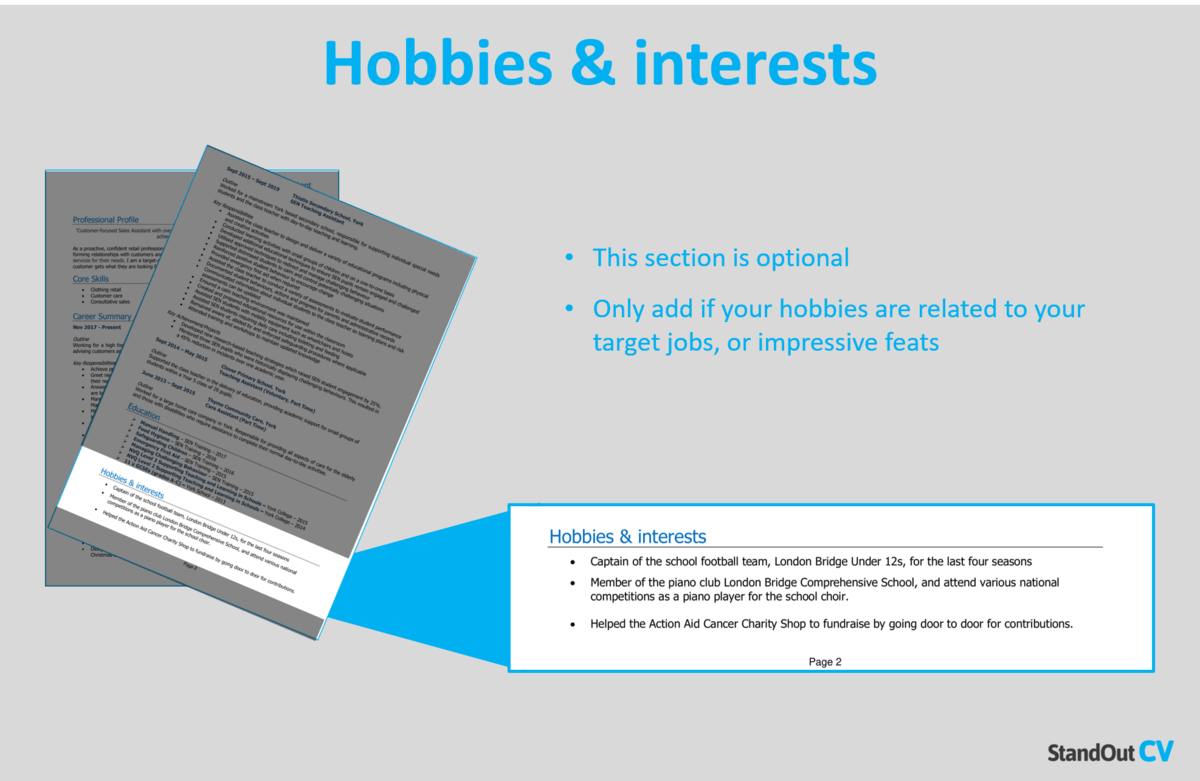 You might have some other interesting information you want to share with the recruiter that doesn't fit perfectly into any of the other sections.
An example might be outlining travel experiences you had or impressive hobbies from your personal life. If this is the case, create an additional information section and use bullet points to make this information easier to digest.

Example job bullet points from CVs
To give you some more inspiration and ensure you get your bullet points just right, we've put together some helpful examples. Check these out below.
Admin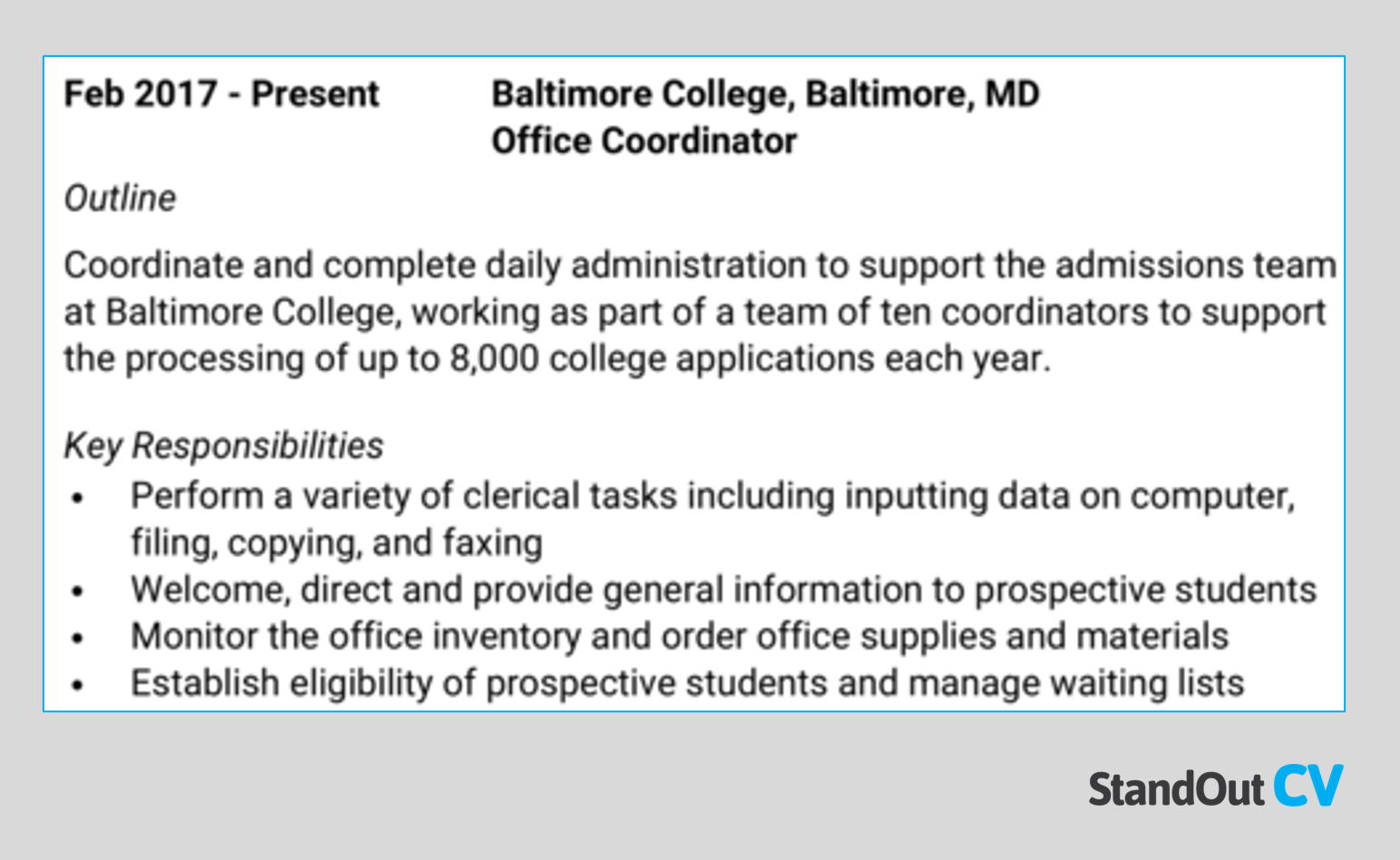 Customer service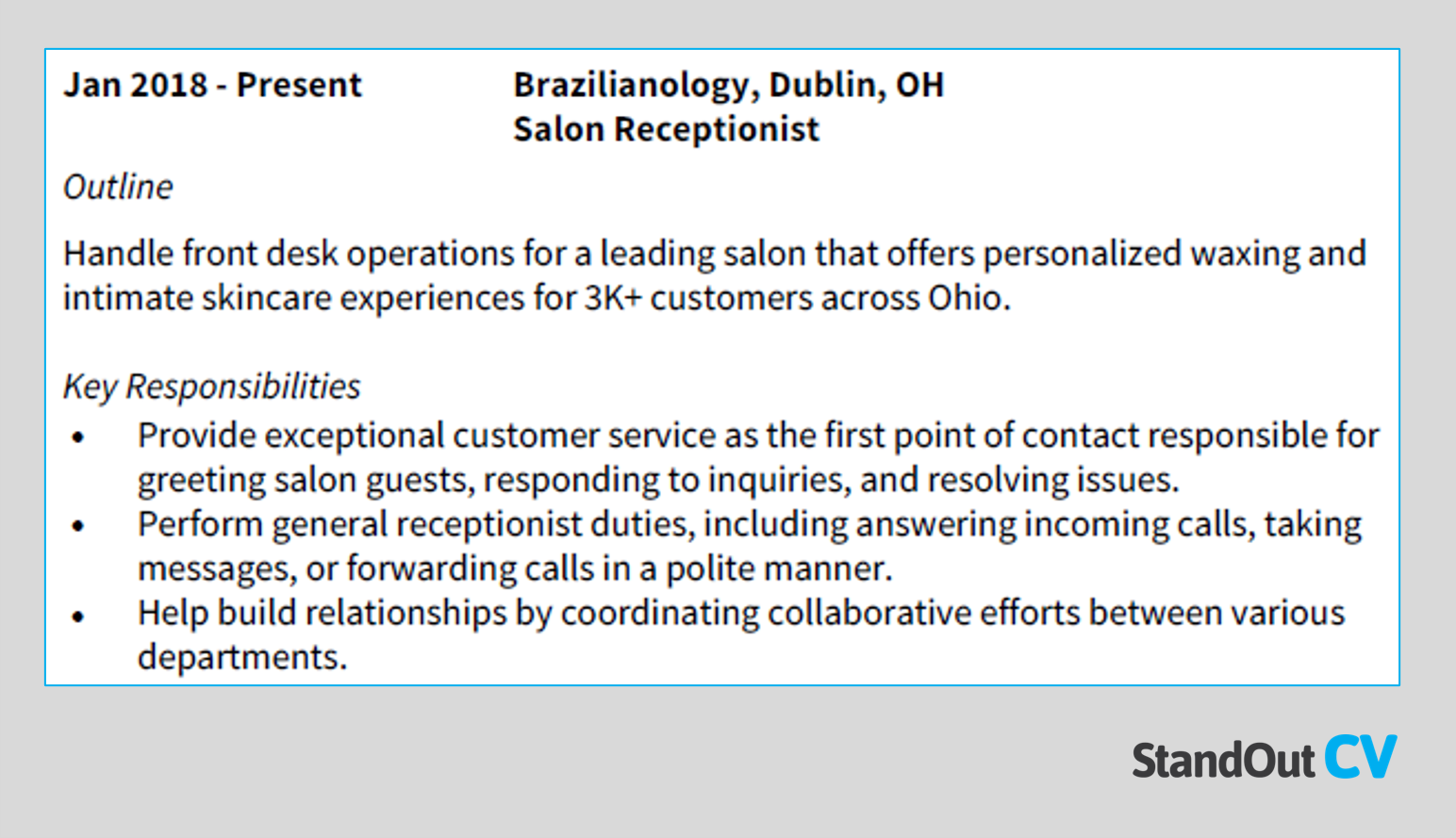 Education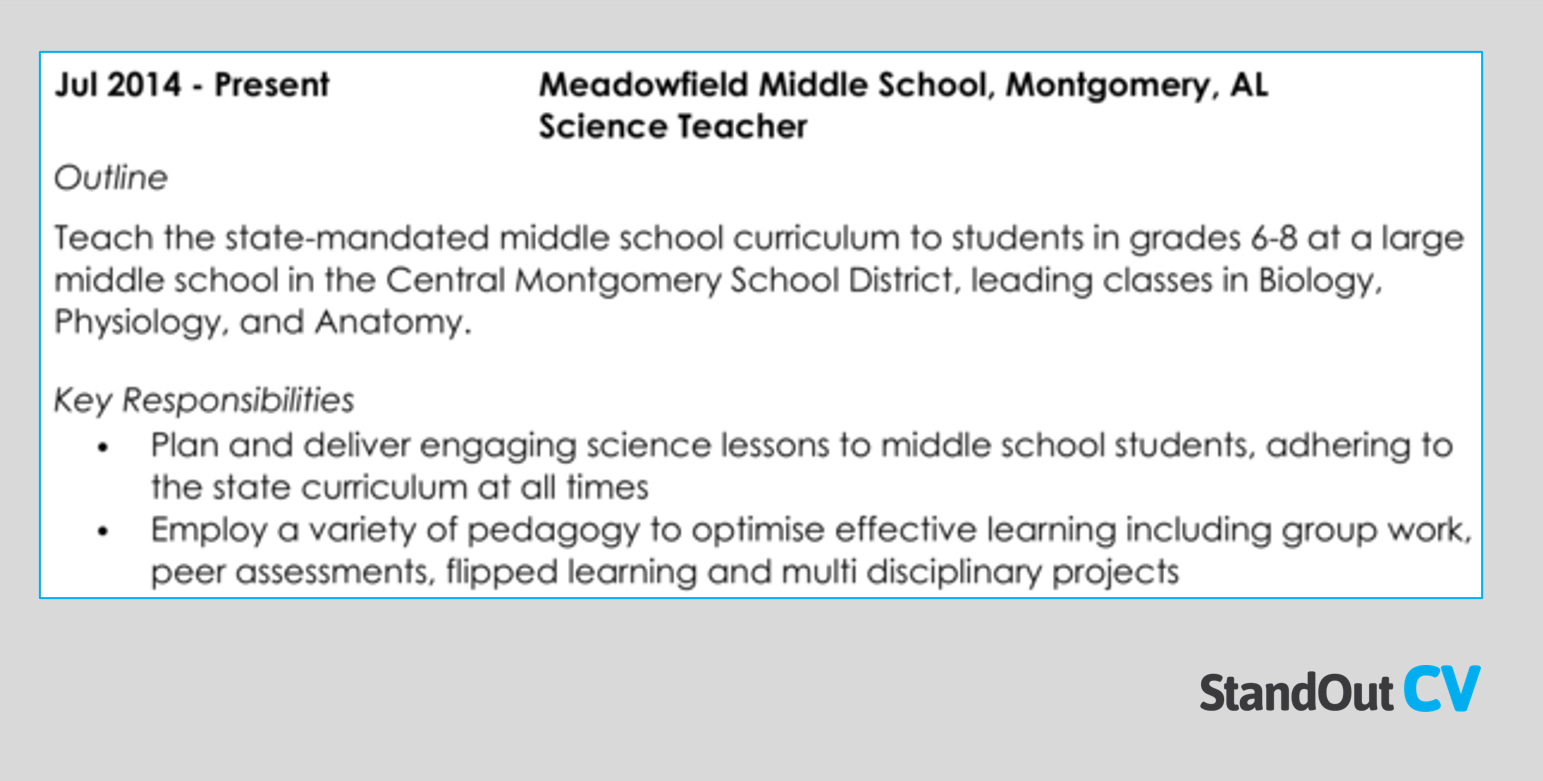 Tech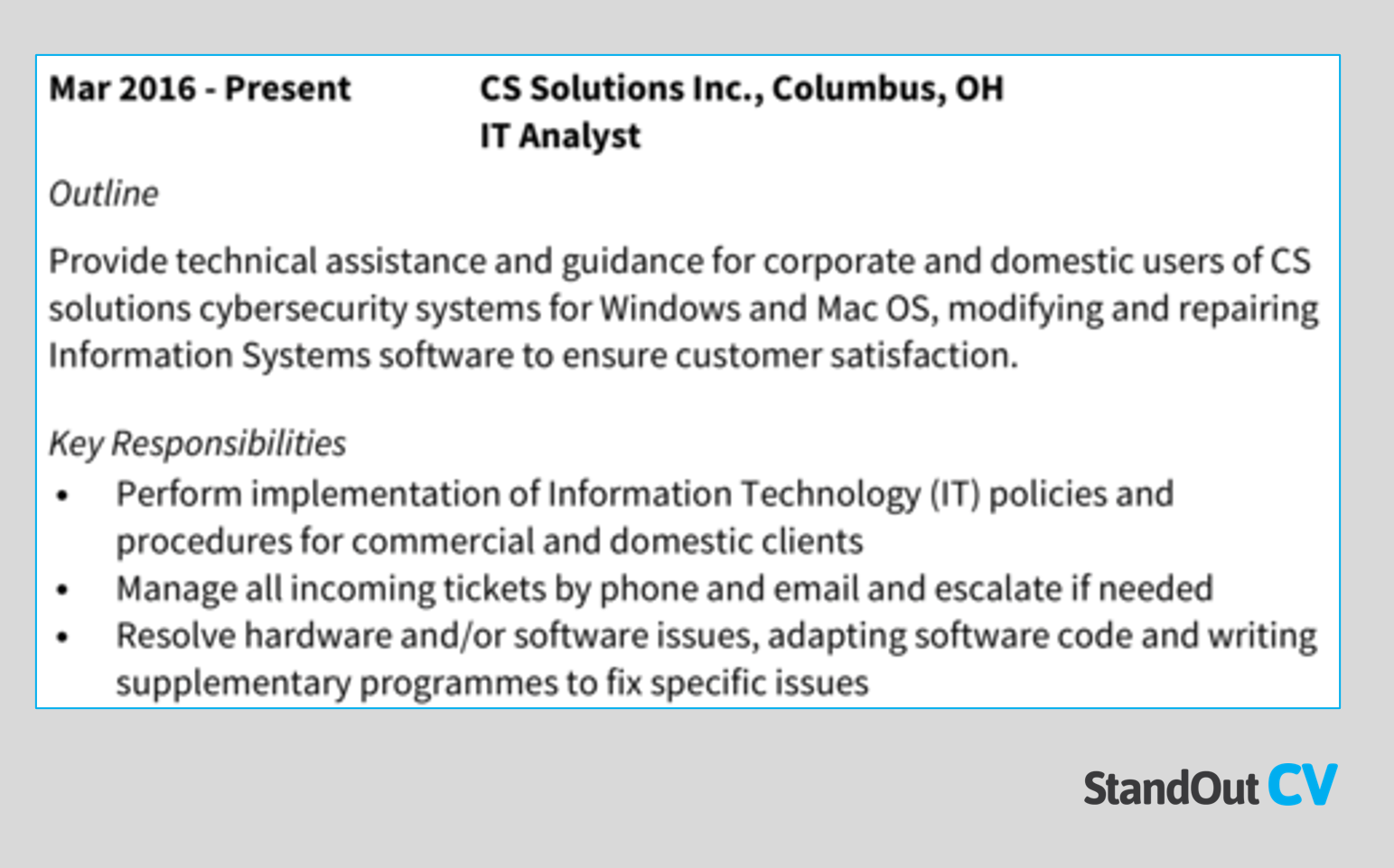 Finance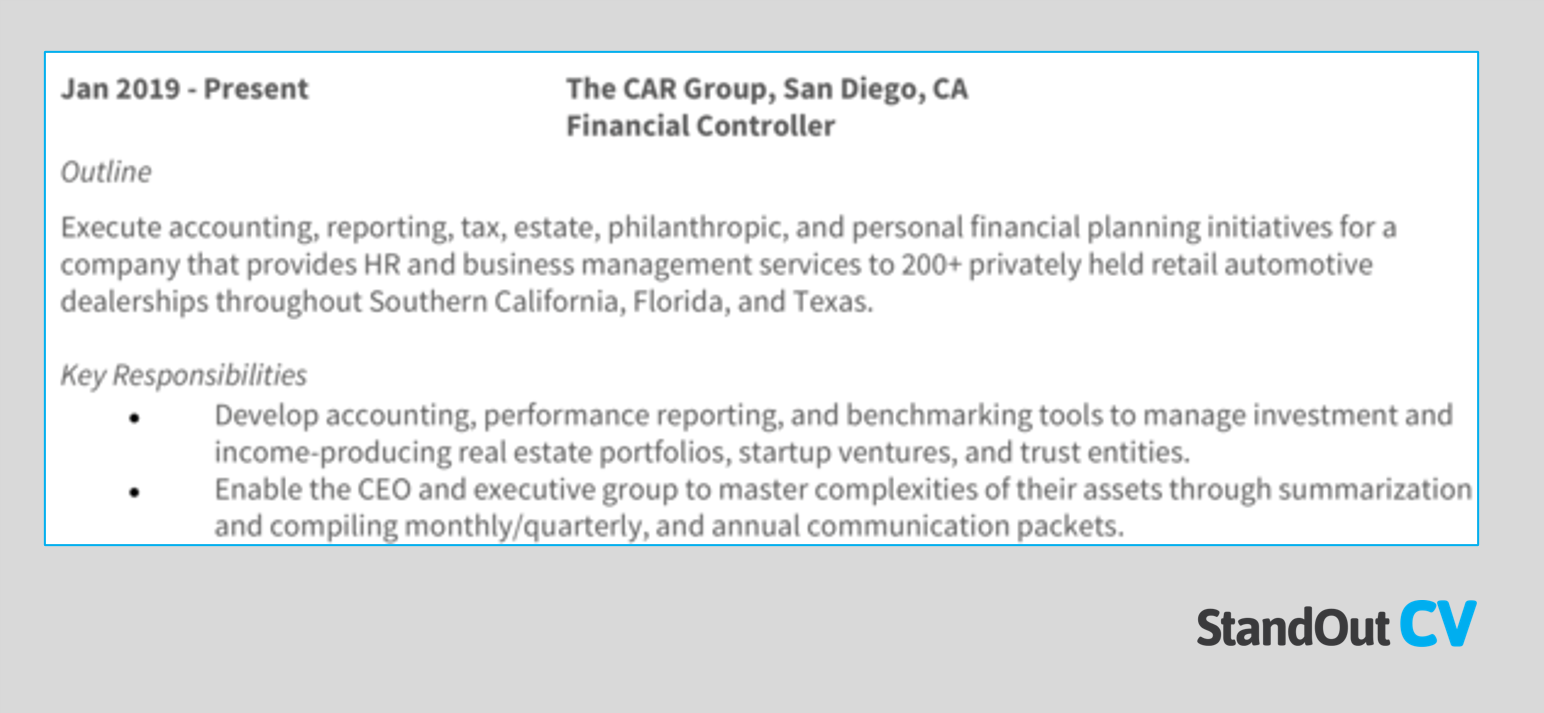 Healthcare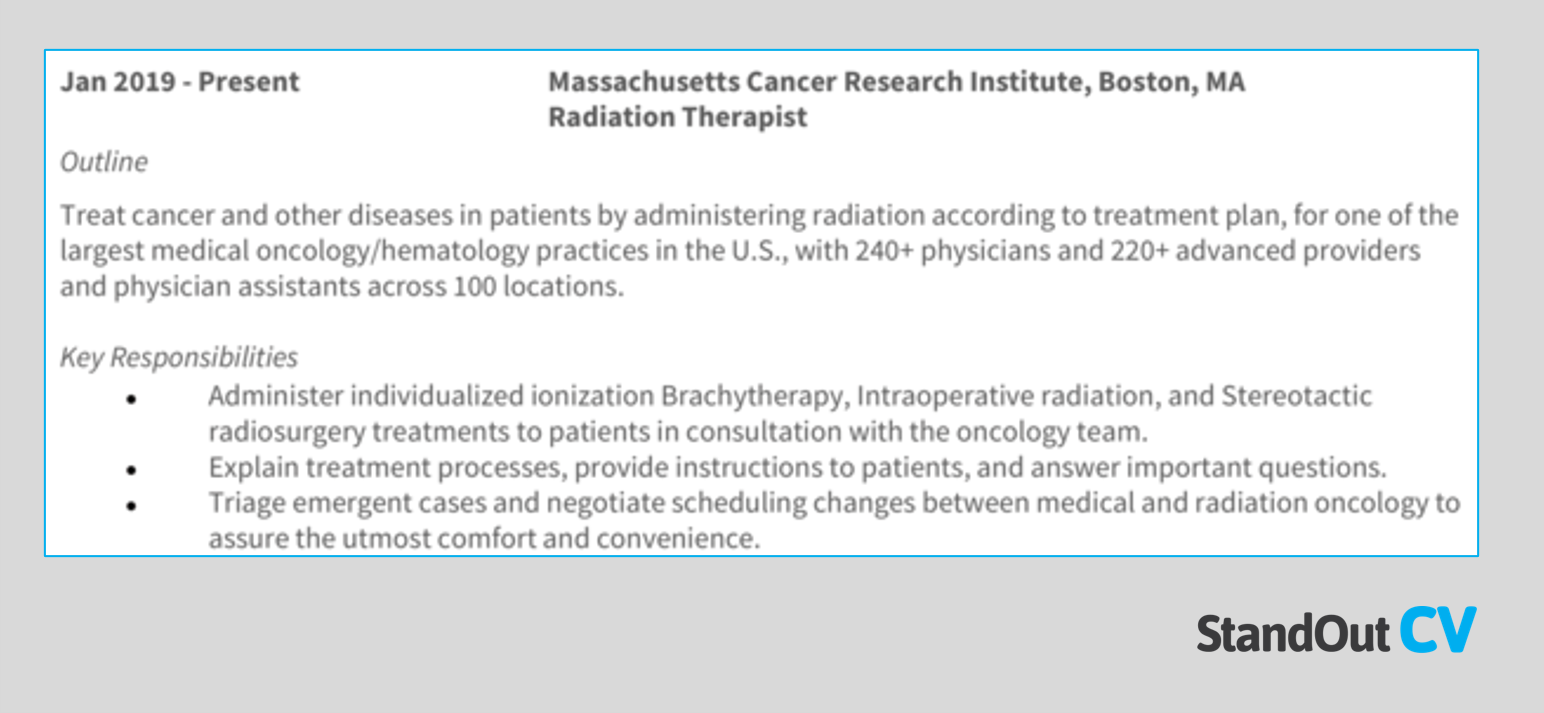 Sales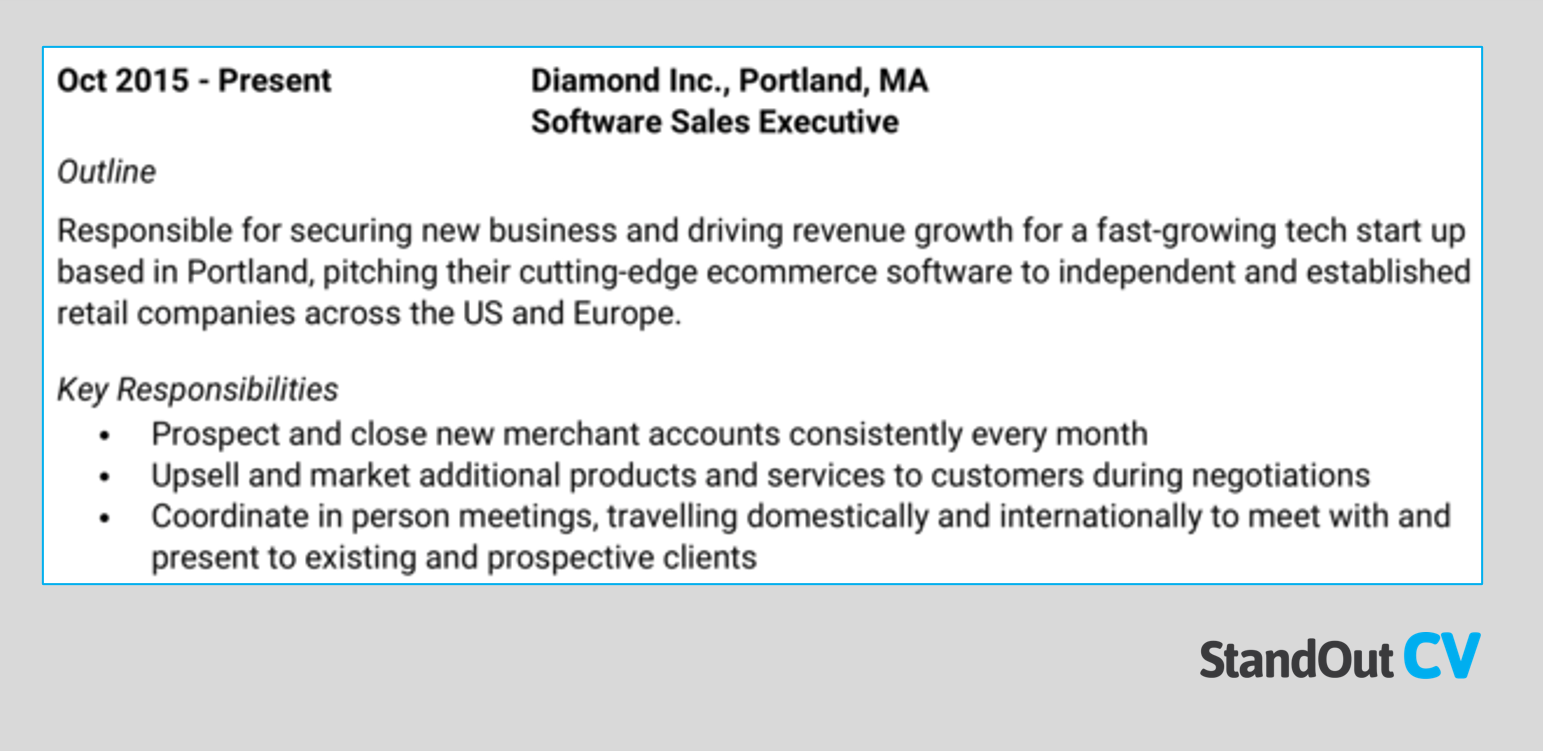 Marketing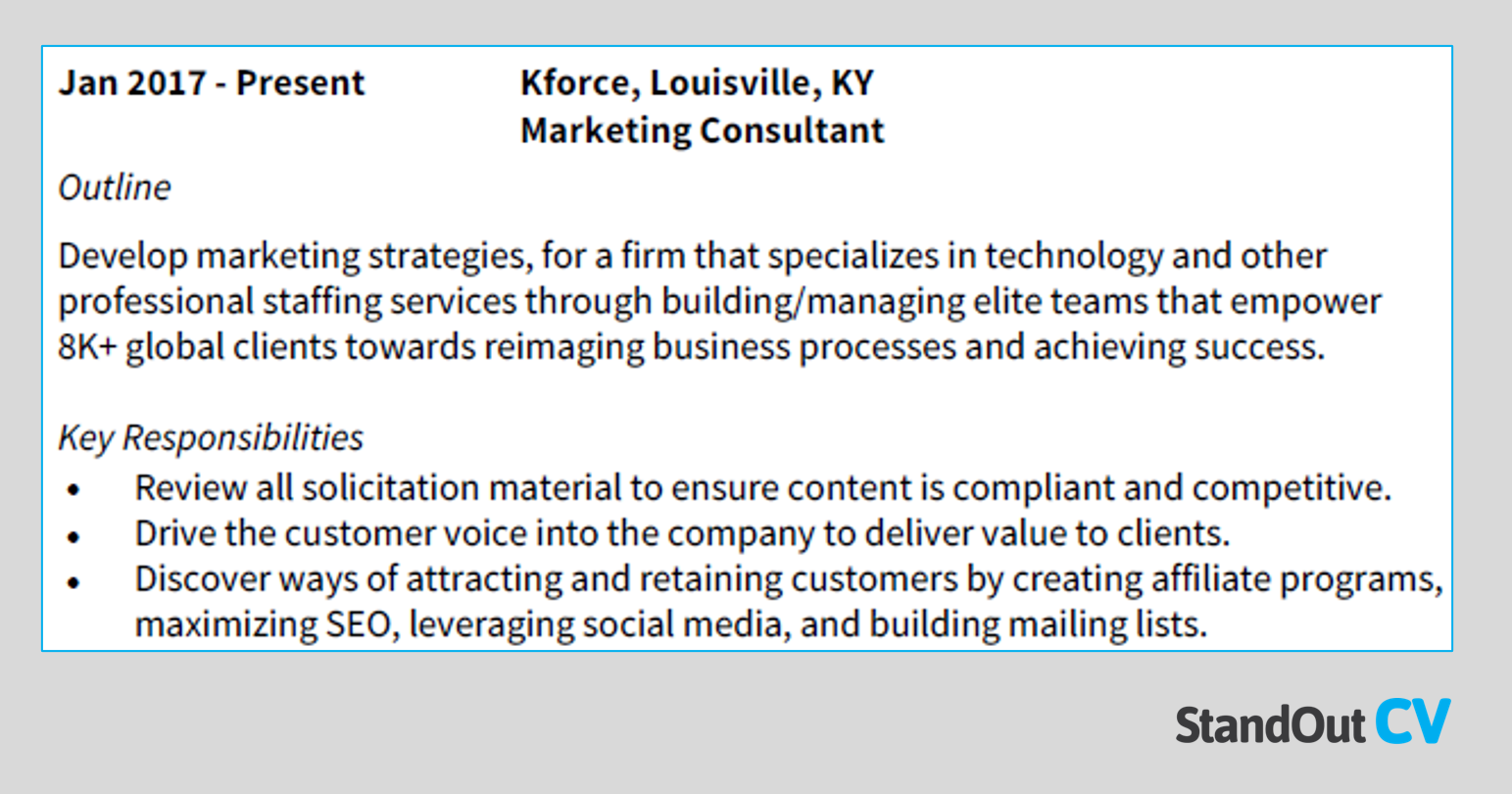 Student