You've got yourself excited about going on the next ski season, you've even bought a new bag. But as soon as it came to the application process, it quickly went downhill.
If you need a little help perfecting your application, we can help. Check out our expert advice on what to include in your cover letter in the guide below.
We've also created some ski season cover letter examples to inspire you.

Ski Season cover letter example 1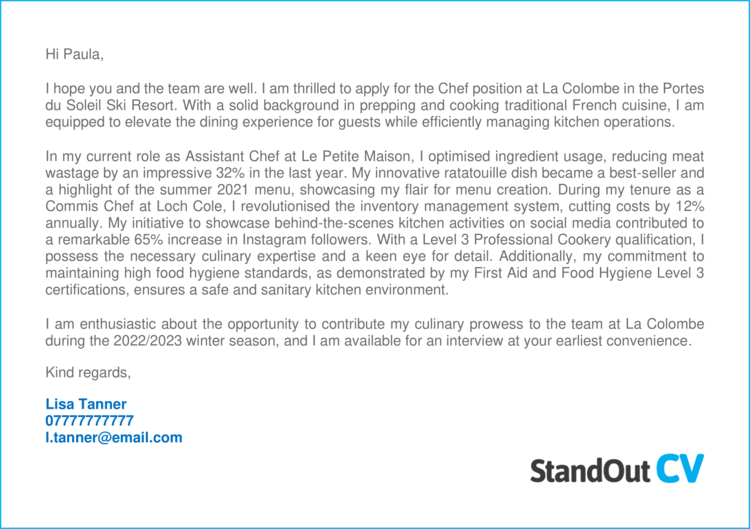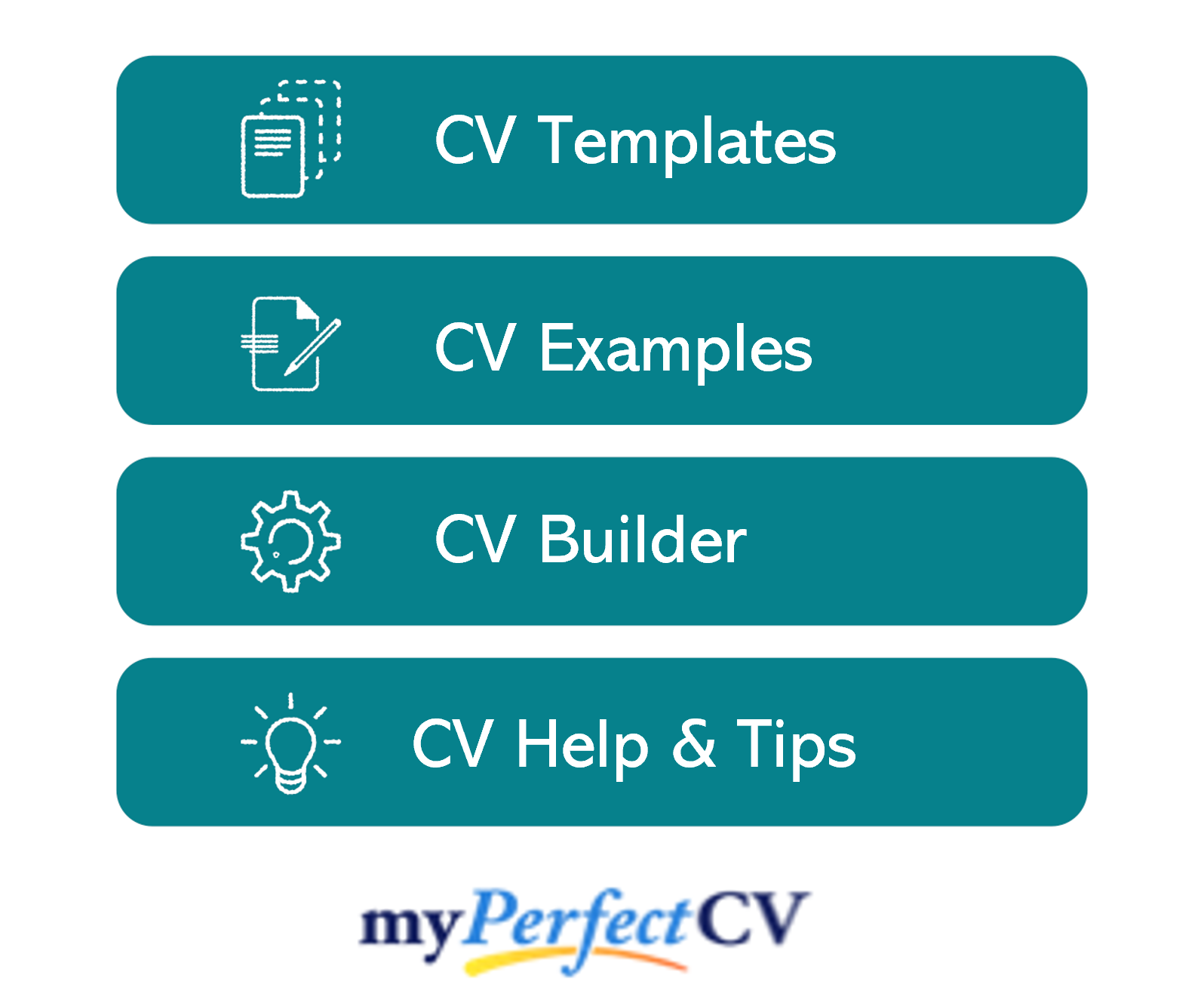 Ski Season cover letter example 2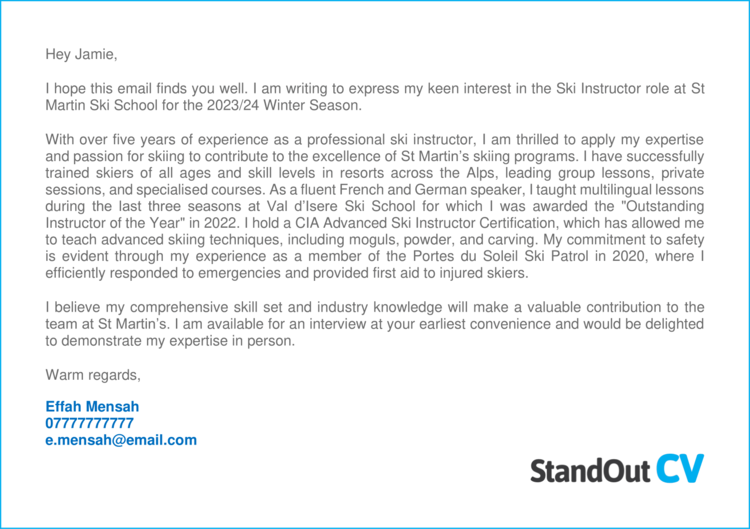 Ski Season cover letter example 3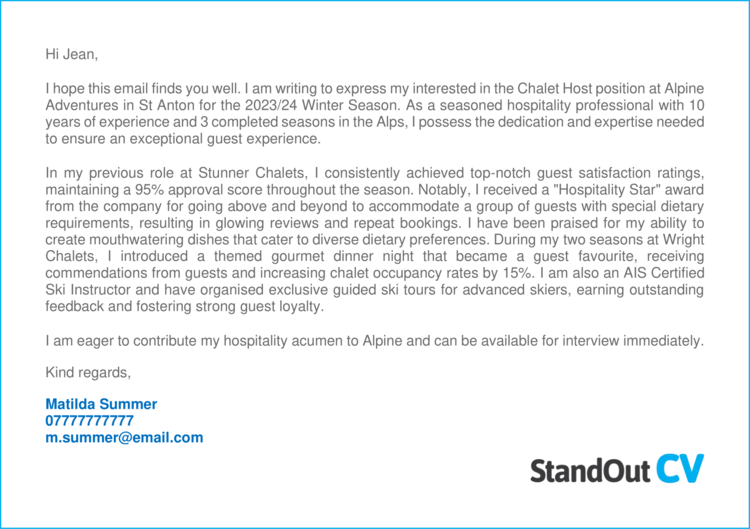 The Ski Season cover letter examples above should give you a good idea of the type of content you need to include in your own cover letter, and how it should be structured.
But if you're really looking to wow recruiters and get your CV in front of the very best employers, then check out our guidance on how to write your own effective cover letter below.
How to write a Ski Season cover letter
Here's how you can write your own eye-catching cover letter, broken down into simple steps.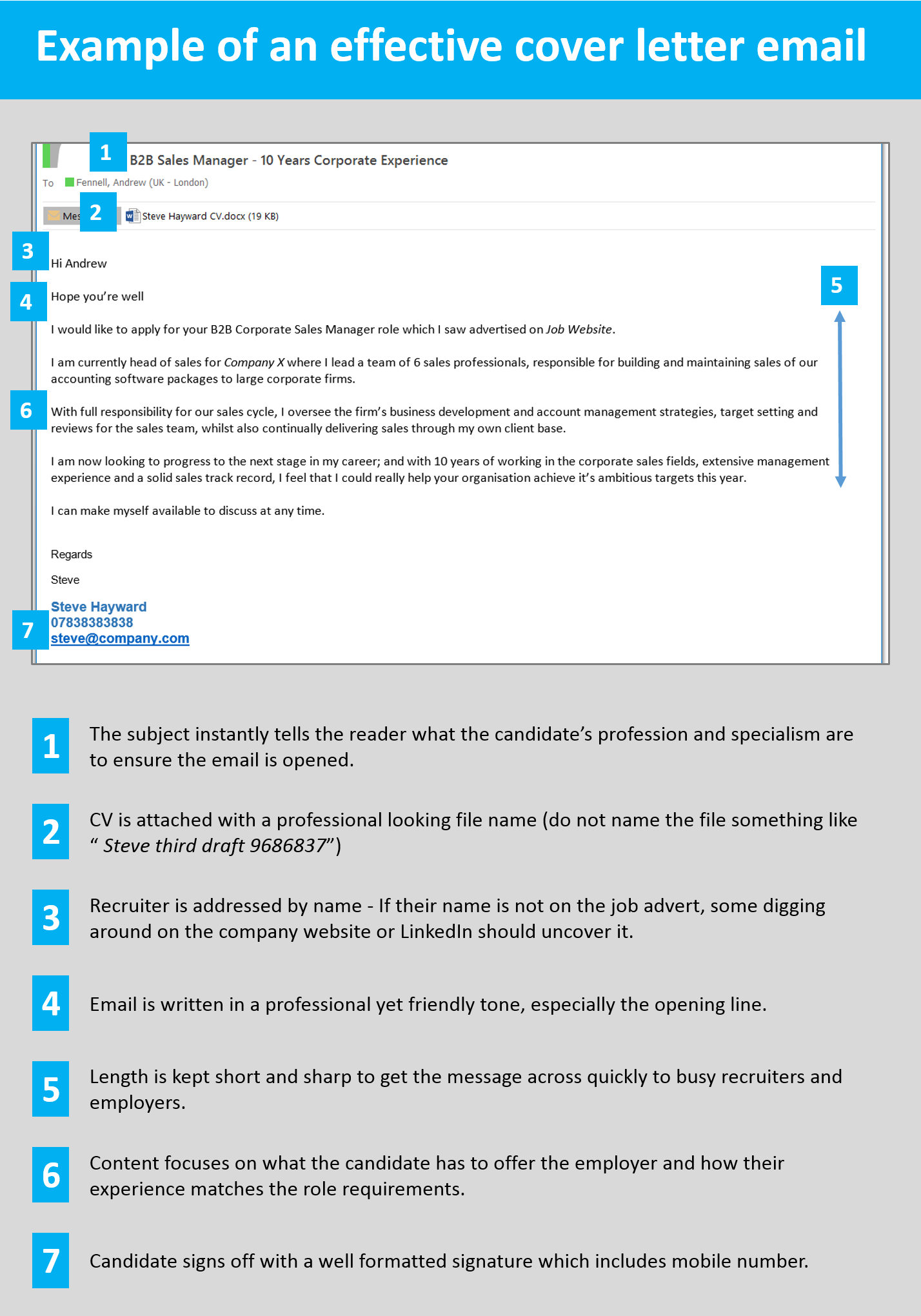 Write your cover letter in the body of an email/message
When you send a cover letter with a job application, you should always write your message into the body of your email – or the body of the messaging system if you are sending via a job website.
Why do this?
Simply because you want to get your message seen as soon as the recruiter opens your application.
If you attach the cover letter as a separate item, this means the recipient will have to open it before they can read it – slowing down the process and potentially causing frustration along the way.
So, write your cover note in the body of your email/message to ensure you make an instant connection with the reader.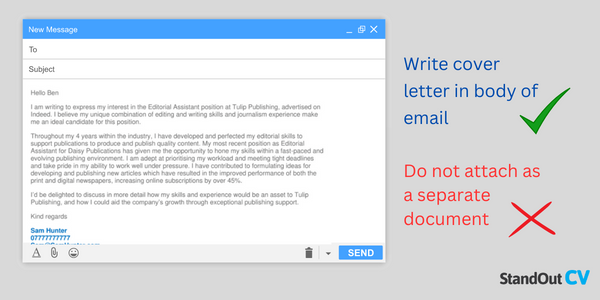 Start with a friendly greeting

Start you cover letter with a greeting that is professional but friendly.
This will build rapport with the recruiter whilst showing your professionalism.
Hi, hope you're well
Hi [insert recruiter name]
Hi [insert department/team name]
Avoid overly formal greetings like "Dear sir/madam" unless applying to very traditional companies.
How to find the contact's name?
Addressing the recruitment contact by name is an excellent way to start building a strong relationship. If it is not listed in the job advert, try these methods to find it.
Check out the company website and look at their About page. If you see a hiring manager, HR person or internal recruiter, use their name. You could also try to figure out who would be your manager in the role and use their name.
Head to LinkedIn, search for the company and scan through the list of employees. Most professionals are on LinkedIn these days, so this is a good bet.
Identify the role you are applying for
Once you've opened up the cover letter with a warm greeting to start building a relationship, it is time to identify which role you want to apply for.
Recruiters are often managing multiple vacancies, so you need to ensure you apply to the correct one.
Be very specific and use a reference number if you can find one.
I am interested in applying for the position of *Ski Season position* with your company.
I would like to apply for the role of Sales assistant (Ref: 406f57393)
I would like to express my interest in the customer service vacancy within your retail department
I saw your advert for a junior project manager on Reed and would like to apply for the role.
Highlight your suitability
The main purpose of your cover letter is to excite recruiters and make them eager to open your CV. And you achieve this by quickly demonstrating your suitability to the job you are applying for.
Take a look at the job adverts you are applying for, and make note of the most important skills being asked for.
Then, when you write your cover letter, make your suitability the focal point.
Explain how you meet the candidate requirements fully, and why you are so well suited to carry out the job.
This will give recruiters all the encouragement they need to open your CV and consider your application.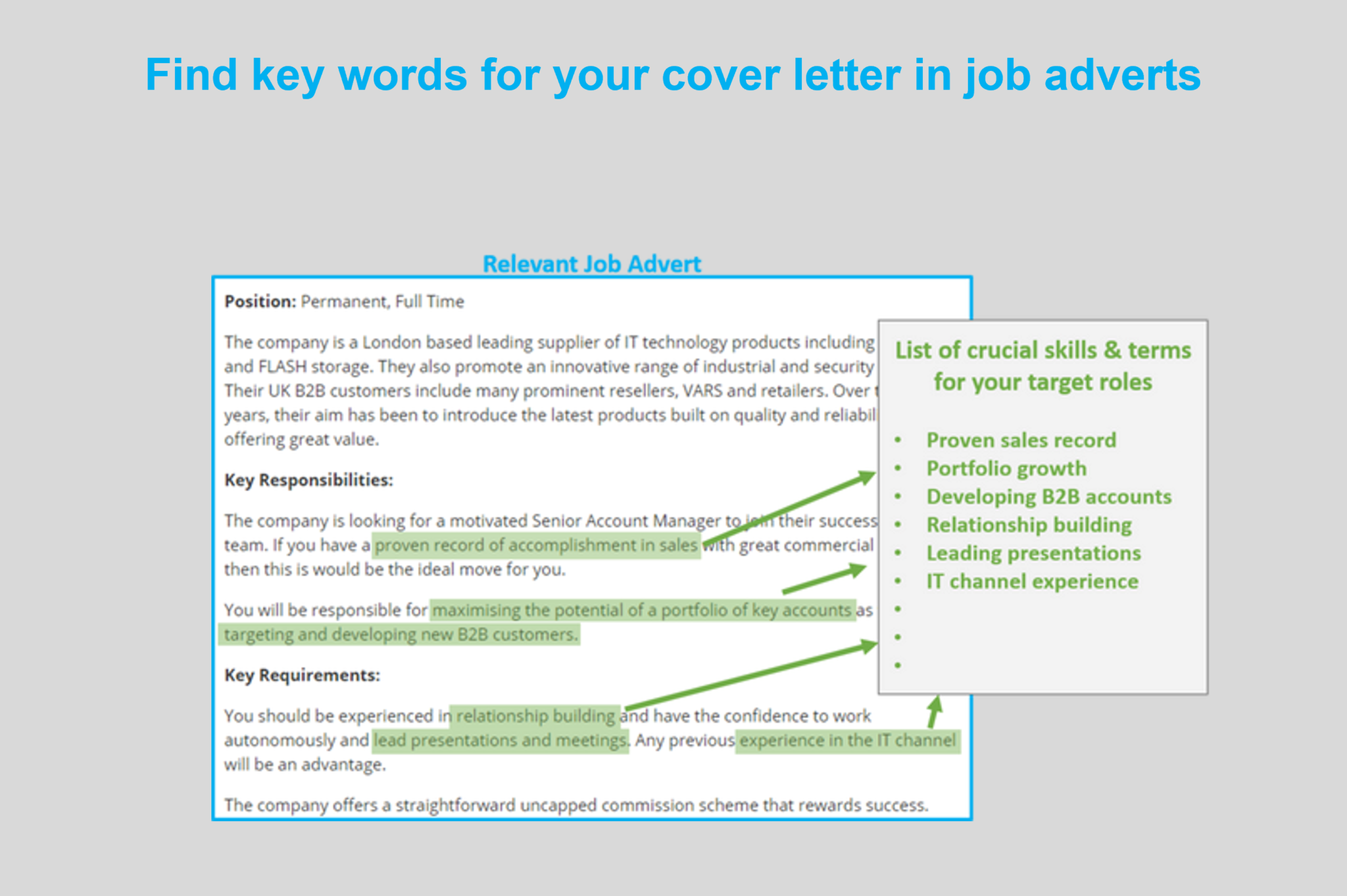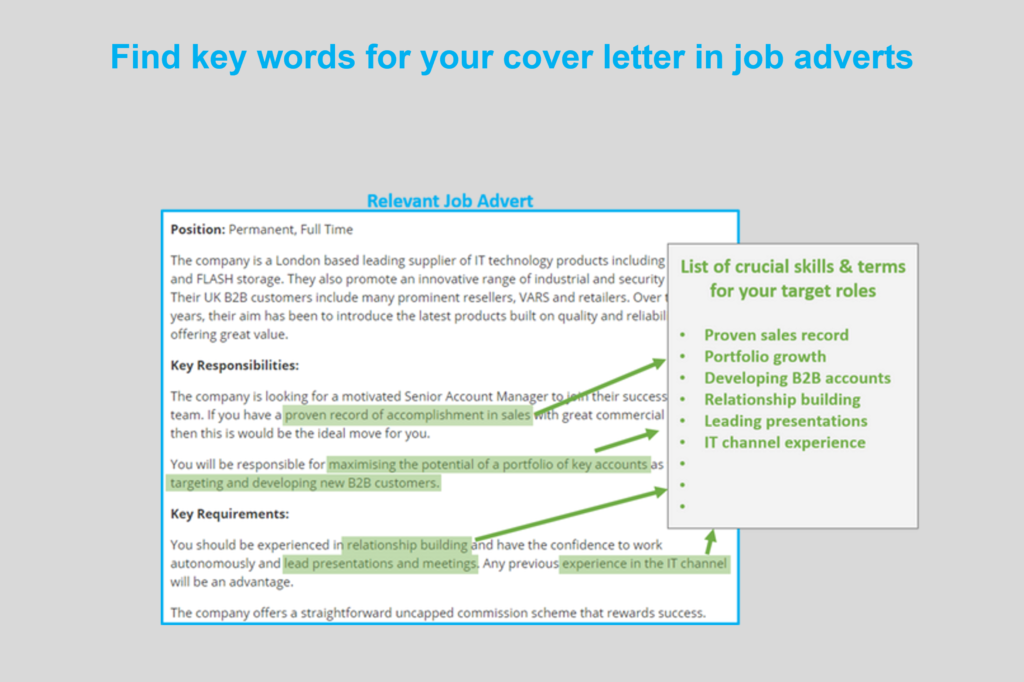 Keep it short and sharp
A good cover letter is short and sharp, getting to the point quickly with just enough information to grab the attention of recruiters.
Ideally your cover letter should be around 4-8 sentences long – anything longer will risk losing the attention of time-strapped recruiters and hiring managers.
Essentially you need to include just enough information to persuade the reader to open up your CV, where the in-depth details will sit.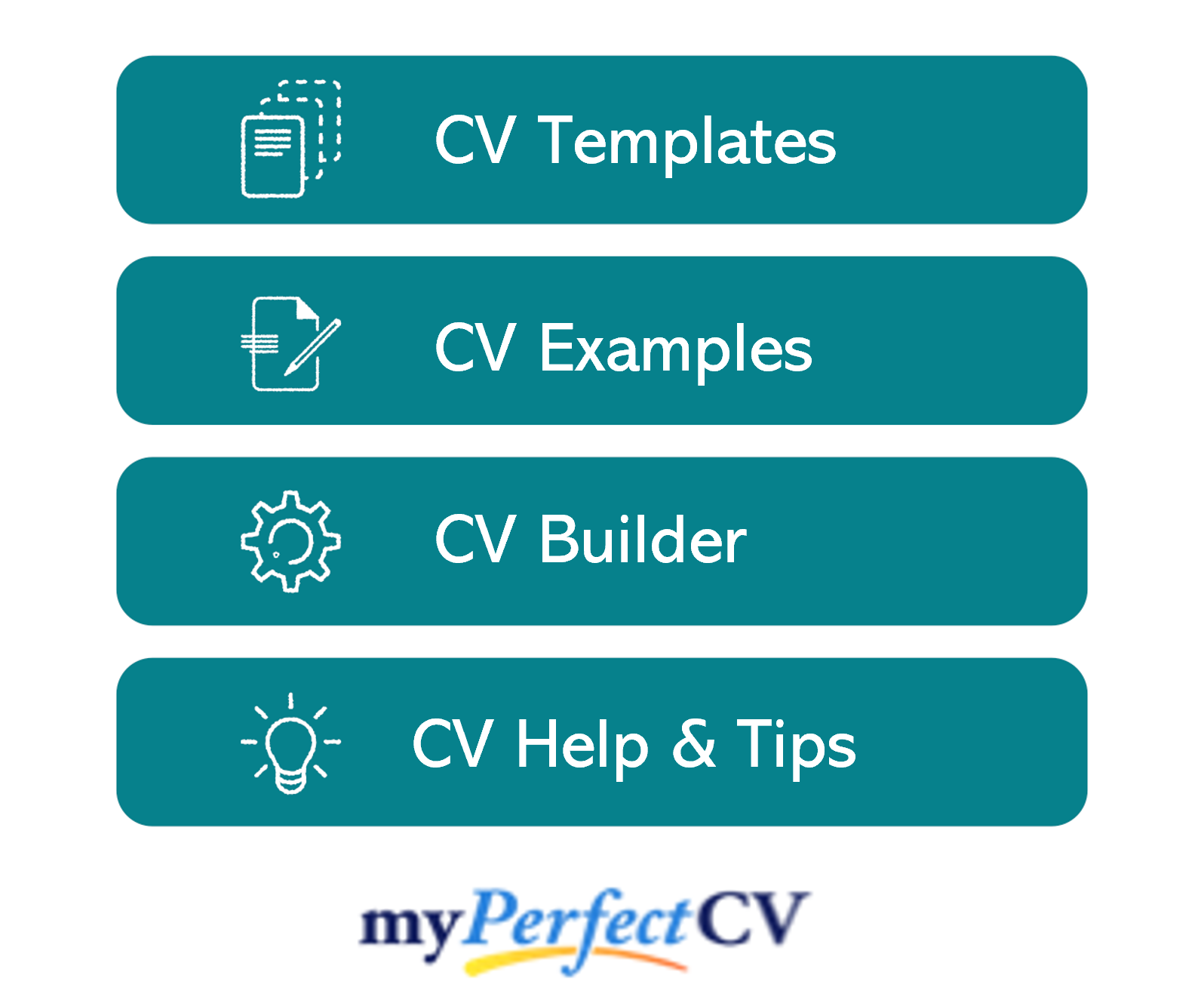 Sign off professionally
To round of your CV, you should sign off with a professional signature.
This will give your cover letter a slick appearance and also give the recruiter all of the necessary contact information they need to get in touch with you.
The information to add should include:
A friendly sign off – e.g. "Kindest regards"
Your full name
Phone number (one you can answer quickly)
Email address
Optional
Profession title
Professional social network –  e.g. LinkedIn
Here is an example signature;
Warm regards,
Jill North
IT Project Manager
078837437373
Jill@hotmail.com
LinkedIn
Quick tip: To save yourself from having to write your signature every time you send a job application, you can save it within your email drafts, or on a separate documents that you could copy in.

What to include in your Ski Season cover letter
Your Ski Season cover letter will be unique to your situation, but there are certain content guidelines you should stick to for best results.
To attract and entice recruiters, stick with the following key subjects in your cover letter – adapting them to fit your profession and target jobs.
Your professional experience – Employers will be keen to know if your experience is suitable for the job you are applying to, so provide a good summary of it in your cover letter.
Your qualifications and education – Highlight your most relevant and high-level of qualification, especially if they are essential to the job.
The positive impact you have made – Employers love to hear about the benefits you can bring to them, so shout about anything impressive you have done, such as saving money or improving processes.
Your reasons for leaving – Use a few words of your cover letter to explain why you are leaving your current job and ensure you avoid any negative reasons.
Your availability – Let recruiters know when you can start a new job. Are you immediately available, or do you have a month notice period?
Ski Season cover letter templates
Copy and paste these Ski Season cover letter templates to get a head start on your own.
Template 1
Hi Paula,
I hope you and the team are well. I am thrilled to apply for the Chef position at La Colombe in the Portes du Soleil Ski Resort. With a solid background in prepping and cooking traditional French cuisine, I am equipped to elevate the dining experience for guests while efficiently managing kitchen operations.
In my current role as Assistant Chef at Le Petite Maison, I optimised ingredient usage, reducing meat wastage by an impressive 32% in the last year. My innovative ratatouille dish became a best-seller and a highlight of the summer 2021 menu, showcasing my flair for menu creation. During my tenure as a Commis Chef at Loch Cole, I revolutionised the inventory management system, cutting costs by 12% annually. My initiative to showcase behind-the-scenes kitchen activities on social media contributed to a remarkable 65% increase in Instagram followers. With a Level 3 Professional Cookery qualification, I possess the necessary culinary expertise and a keen eye for detail. Additionally, my commitment to maintaining high food hygiene standards, as demonstrated by my First Aid and Food Hygiene Level 3 certifications, ensures a safe and sanitary kitchen environment.
I am enthusiastic about the opportunity to contribute my culinary prowess to the team at La Colombe during the 2022/2023 winter season, and I am available for an interview at your earliest convenience.
Kind regards,
Lisa Tanner
Template 2
Hey Jamie,
I hope this email finds you well. I am writing to express my keen interest in the Ski Instructor role at St Martin Ski School for the 2023/24 Winter Season.
With over five years of experience as a professional ski instructor, I am thrilled to apply my expertise and passion for skiing to contribute to the excellence of St Martin's skiing programs. I have successfully trained skiers of all ages and skill levels in resorts across the Alps, leading group lessons, private sessions, and specialised courses. As a fluent French and German speaker, I taught multilingual lessons during the last three seasons at Val d'Isere Ski School for which I was awarded the "Outstanding Instructor of the Year" in 2022. I hold a CIA Advanced Ski Instructor Certification, which has allowed me to teach advanced skiing techniques, including moguls, powder, and carving. My commitment to safety is evident through my experience as a member of the Portes du Soleil Ski Patrol in 2020, where I efficiently responded to emergencies and provided first aid to injured skiers.
I believe my comprehensive skill set and industry knowledge will make a valuable contribution to the team at St Martin's. I am available for an interview at your earliest convenience and would be delighted to demonstrate my expertise in person.
Warm regards,
Effah Mensah
Template 3
Hi Jean,
I hope this email finds you well. I am writing to express my interested in the Chalet Host position at Alpine Adventures in St Anton for the 2023/24 Winter Season. As a seasoned hospitality professional with 10 years of experience and 3 completed seasons in the Alps, I possess the dedication and expertise needed to ensure an exceptional guest experience.
In my previous role at Stunner Chalets, I consistently achieved top-notch guest satisfaction ratings, maintaining a 95% approval score throughout the season. Notably, I received a "Hospitality Star" award from the company for going above and beyond to accommodate a group of guests with special dietary requirements, resulting in glowing reviews and repeat bookings. I have been praised for my ability to create mouthwatering dishes that cater to diverse dietary preferences. During my two seasons at Wright Chalets, I introduced a themed gourmet dinner night that became a guest favourite, receiving commendations from guests and increasing chalet occupancy rates by 15%. I am also an AIS Certified Ski Instructor and have organised exclusive guided ski tours for advanced skiers, earning outstanding feedback and fostering strong guest loyalty.
I am eager to contribute my hospitality acumen to Alpine and can be available for interview immediately.
Kind regards,
Matilda Summer
Writing a strong attention-grabbing cover letter is a vital step in landing a good Ski Season job.
Use the tips, strategies and examples above to get more responses from you job applications and start lining job interview up.
Good luck with your job search!