You've got a keen eye and you can maintain discipline throughout the exam, but in order to land your next invigilator position, you need an application that will pass the test.
A carefully crafted cover letter can help to showcase your key skills and experience in this area and make you stand out from other candidates.
Find out how to write a winning application with our detailed guide and exam invigilator cover letter examples below.

Exam Invigilator cover letter example 1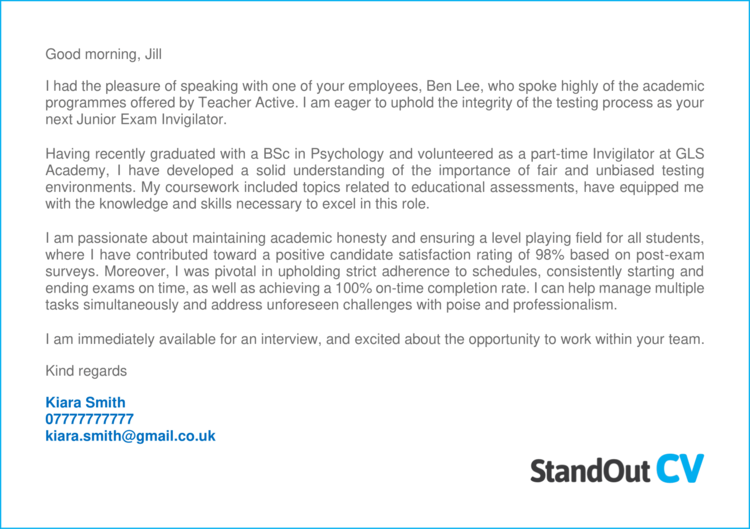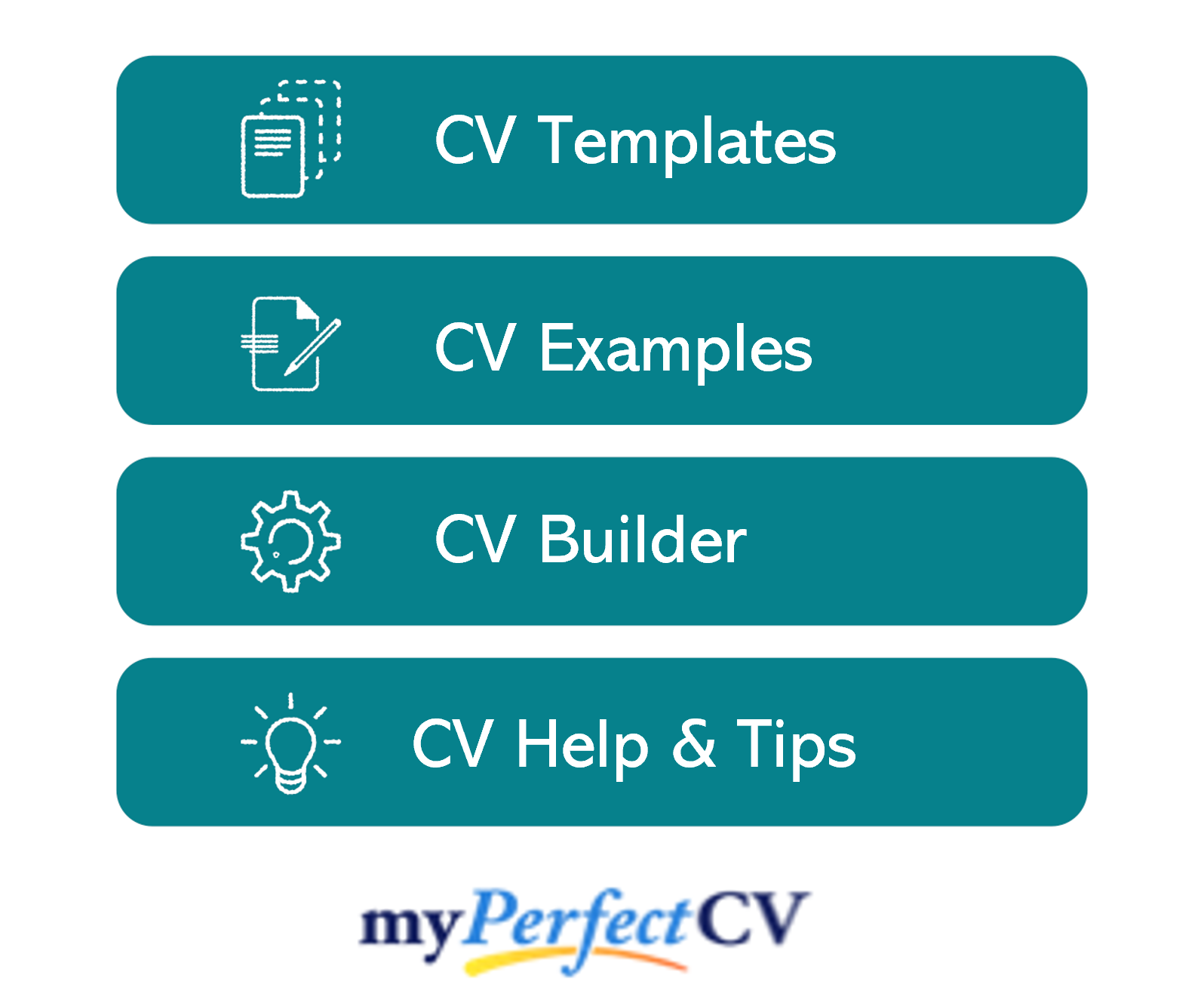 Exam Invigilator cover letter example 2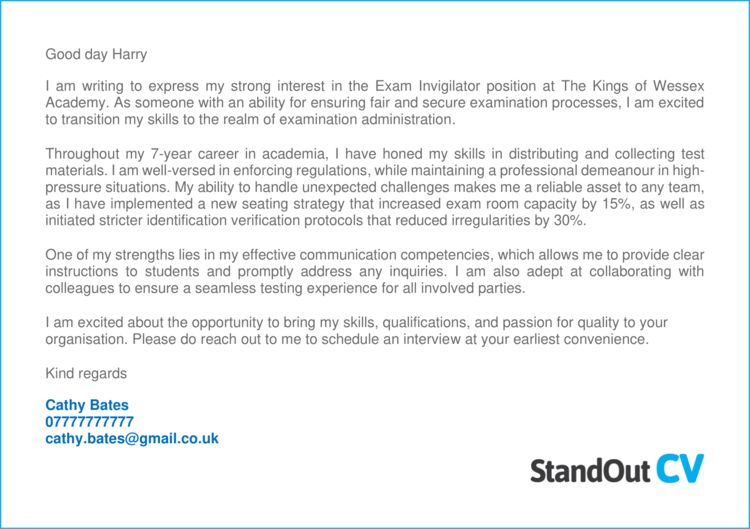 Exam Invigilator cover letter example 3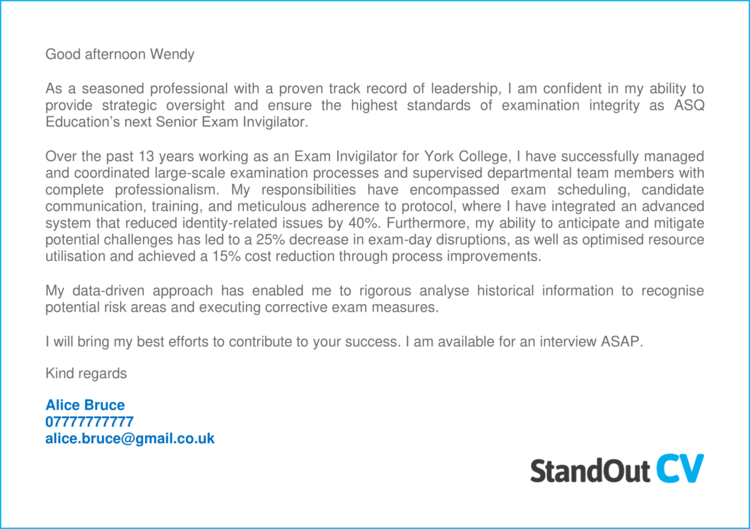 These 3 Exam Invigilator cover letter examples will provide you with some good ideas on how to format a cover letter, along with the type of message you should be trying to put across to recruiters.
To further understand exactly how you can write a cover letter that will get you noticed, check out our further guidance.
How to write a Exam Invigilator cover letter
A simple step-by-step guide to writing your very own winning cover letter.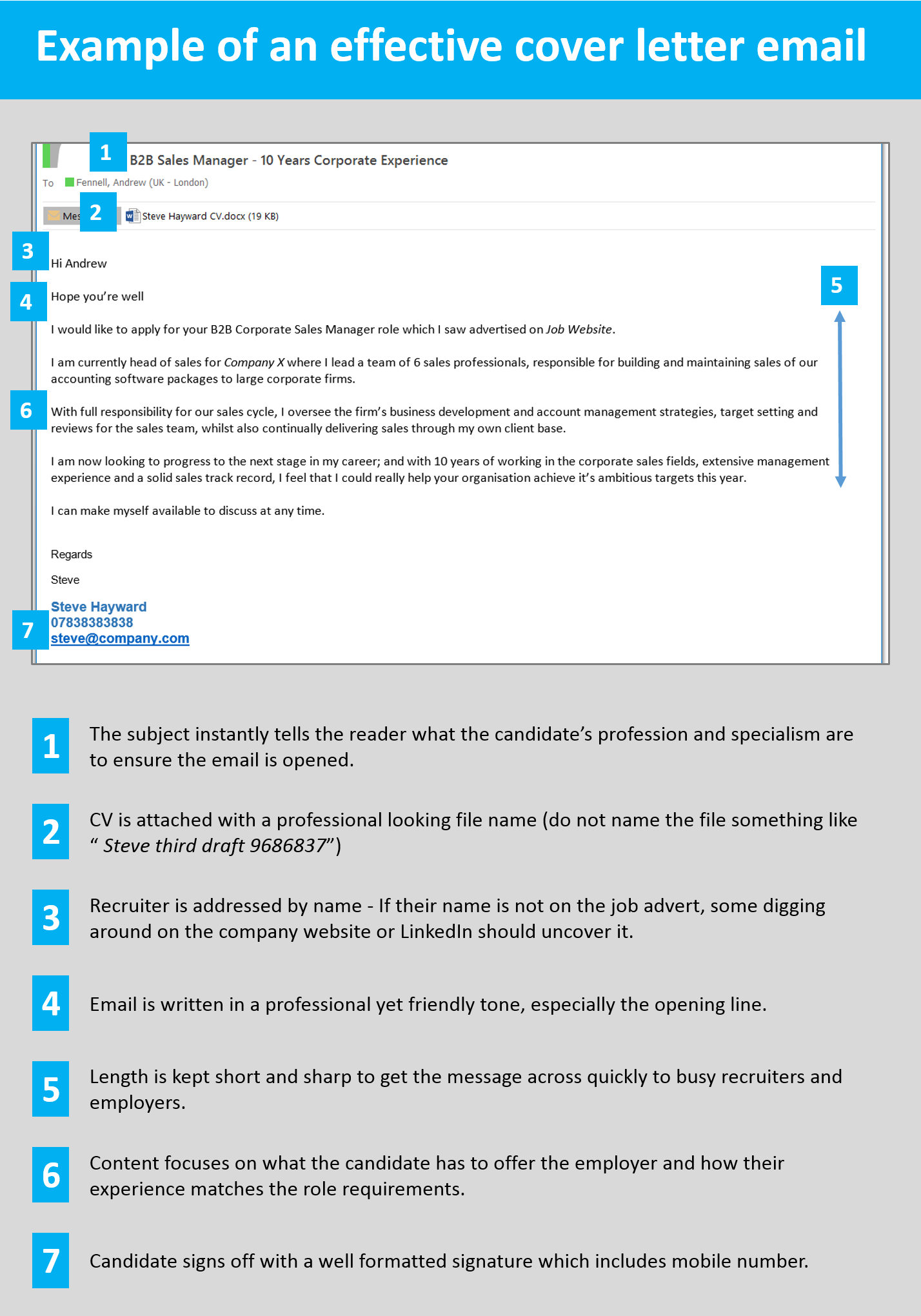 Write your cover letter in the body of an email/message
You should write your cover letter in the body of the email (or messaging system if sending via a job board) and never attach it as a document.
The reason for this?
You want your cover letter to start connecting with the recruiter from the moment they open your application.
If they have to open a document to read it, it will slow things down and they may not even bother to open it.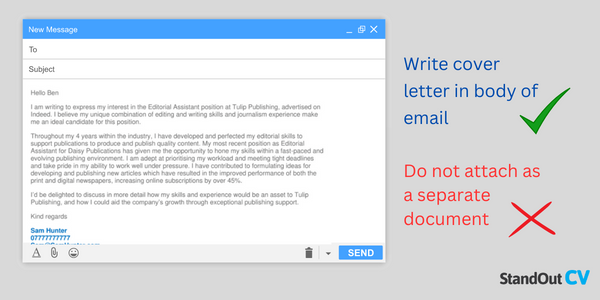 Start with a friendly greeting

To kick your cover letter off, start with a friendly greeting to build rapport with the recruiter instantly.
Your greeting should be personable but professional. Not too casual, but not too formal either
Go with something like…
Hi
Hi [insert recruiter name]
Hi [insert department/team name]
Avoid old-fashioned greetings like "Dear sir/madam" unless applying to very formal companies.
How to find the contact's name?
Addressing the recruitment contact by name is an excellent way to start building a strong relationship. If it is not listed in the job advert, try these methods to find it.
Check out the company website and look at their About page. If you see a hiring manager, HR person or internal recruiter, use their name. You could also try to figure out who would be your manager in the role and use their name.
Head to LinkedIn, search for the company and scan through the list of employees. Most professionals are on LinkedIn these days, so this is a good bet.
Identify the role you are applying for
Now that you have warmed the recruiter up with a friendly greeting, firstly you need to let them know which role you are applying for.
Sometimes a recruitment consultant will be juggling 10 or 10 vacancies, so it's important to specify which one you are applying to.
Give us much detail as possible (team/department, role title etc.) and paste in the reference number if you have one.
Here are some examples you can use.
I am interested in applying for the role of Exam Invigilator with your company.
I would like to apply for the role of Sales assistant (Ref: 40f57393)
I would like to express my interest in the customer service vacancy within your retail department
I saw your advert for an IT project manager on Reed and would like to apply for the role.
Highlight your suitability
The bulk of your cover letter should be focused around highlighting your suitability for the job you are applying to.
Doing this will show the recruiter that you are suitable candidate and encourage them to open your CV.
The best way to do this, is by studying the job advert you are applying to, and find out what the most important skills and knowledge are.
Once you know the most important requirements, you then need to highlight your matching skills to the recruiter. In a few sentences, tell them exactly why you are a good fit for the job and what you can offer the company.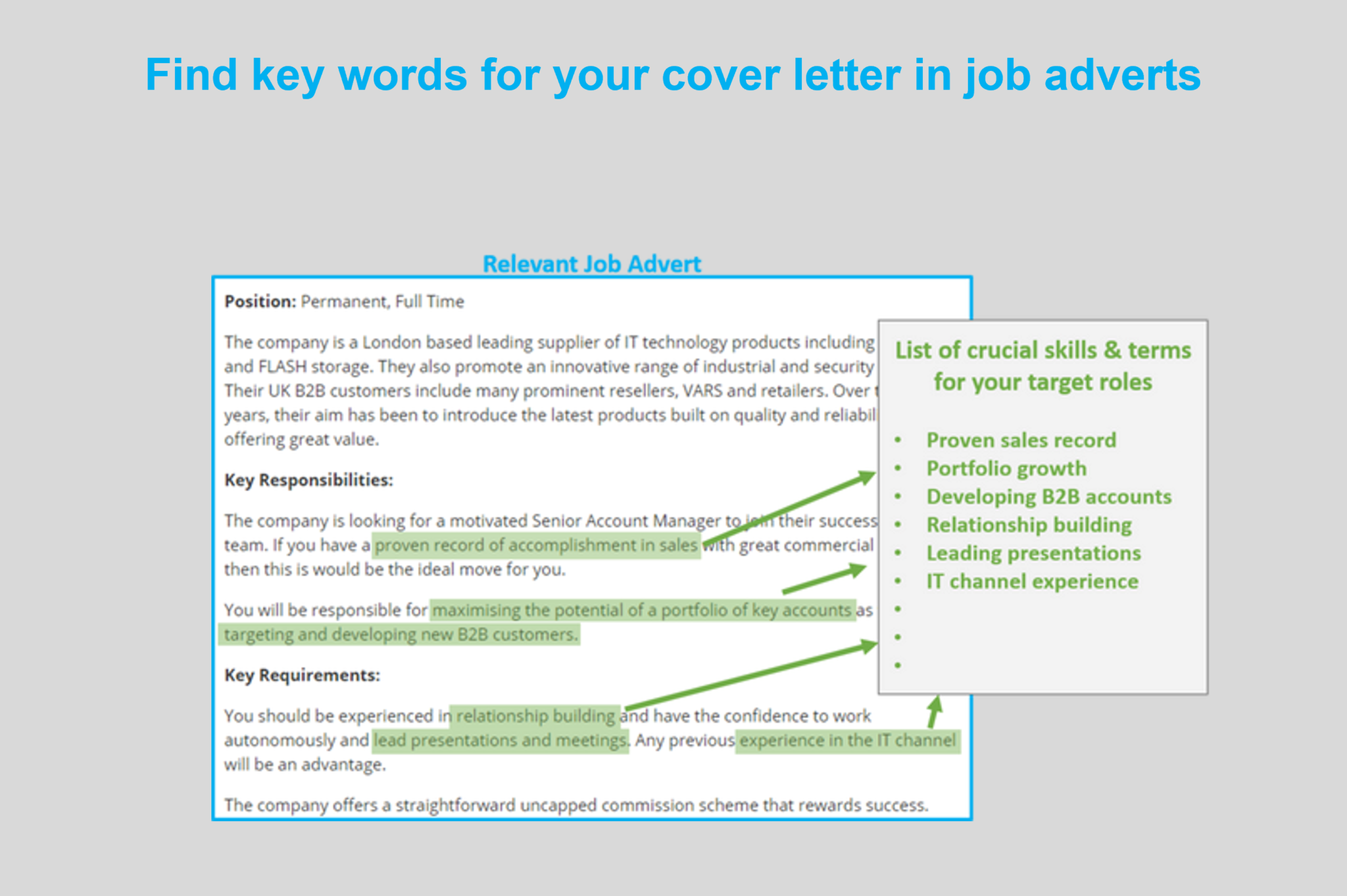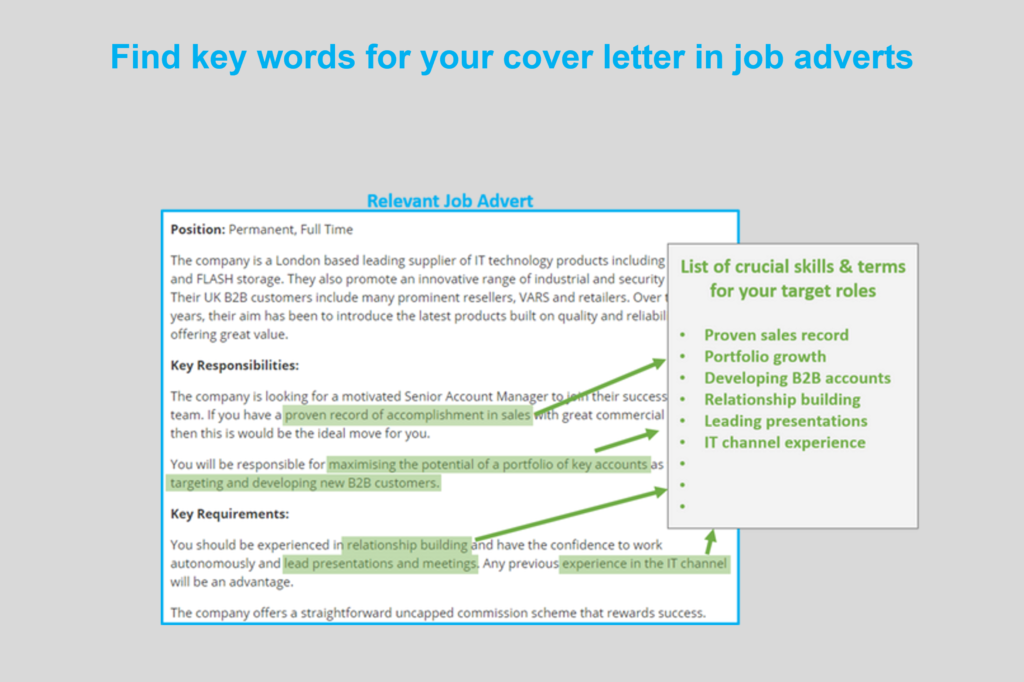 Keep it short and sharp
When sending a job application to a recruiter or hiring manager, it is important to remember that they will normally be very busy and pushed for time.
Therefore, you need to get you message across to them quickly (in a matter of seconds ideally). So, keep your cover letter short and to-the-point. A long waffling cover letter will overwhelm recruiters when they are running through hundreds of emails in there inbox, but a concise one will get their attention.
So, keep your cover letter to just a few sentences long, and save the extensive detail for your CV.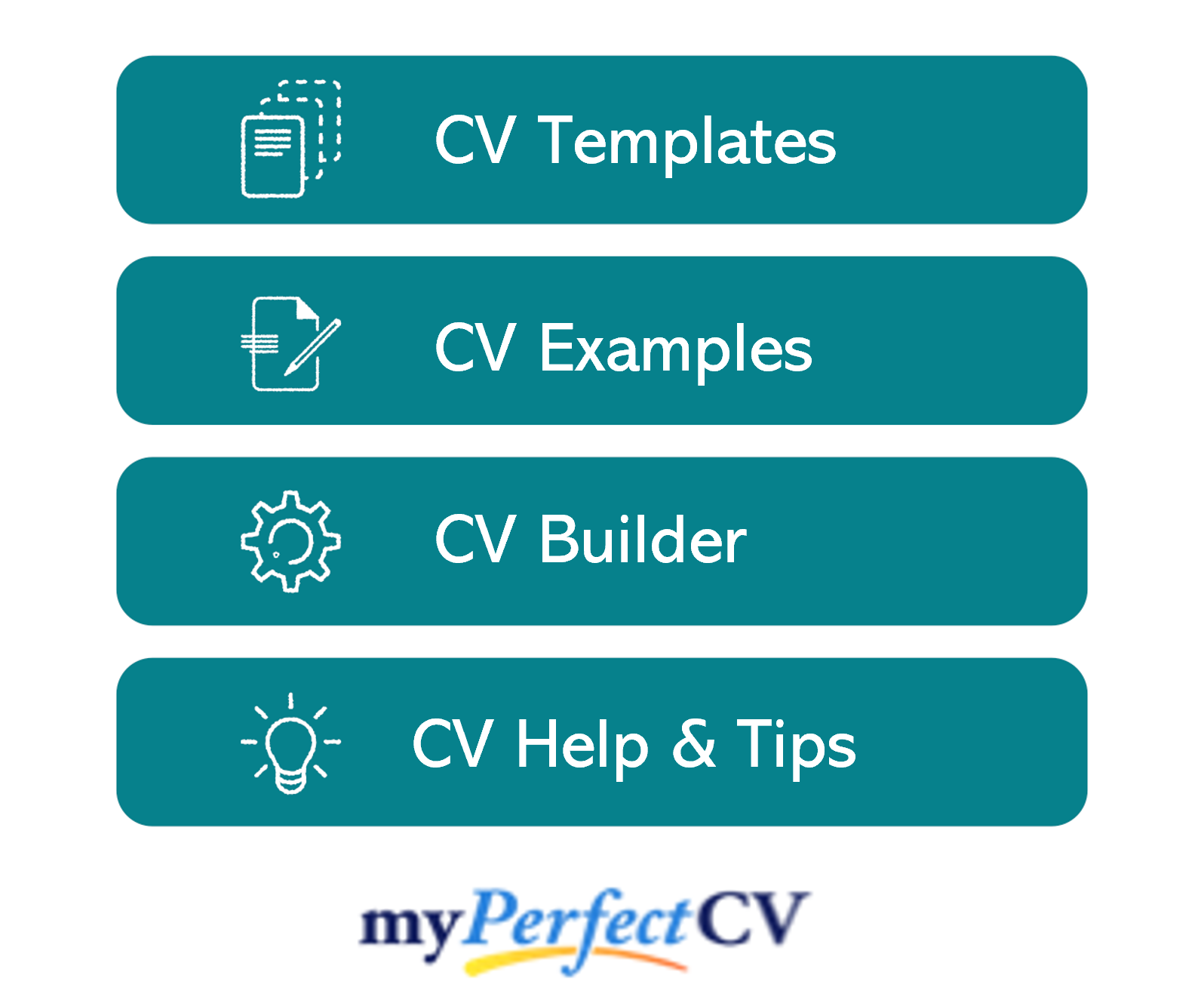 Sign off professionally
To round of your cover letter, add a professional signature to the bottom, giving recruiters your vital contact information.
This not only gives various means of contacting you, it also looks really professional and shows that you know how to communicate in the workplace.
Include the following points;
A friendly sign off – e.g. "Warm regards"
Your full name
Phone number (one you can answer quickly)
Email address
Optional
Profession title
Professional social network – e.g. LinkedIn
Here is an example signature;
Warm regards,
Gerald Baker
Senior Accountant
07887500404
Gbaker213@hotmail.com
LinkedIn
Quick tip: To save yourself from having to write your signature every time you send a job application email, you can save it within your email drafts, or on a separate document that you could copy in.

What to include in your Exam Invigilator cover letter
So, what type of information should you write about in your Exam Invigilator cover letter?
The specifics will obviously depend on your profession and the jobs you are applying to, but these are the key areas you should be covering.
Your industry experience – Tell recruiters the types of companies you have been working for and the roles you have held in the past.
Your qualifications – Highlight your most important relevant qualifications to show employers you are qualified to do the roles you are applying for.
The impact you have made – Demonstrate the positive impact you have made for employers in previous jobs. Have you saved money? Improved processes? Made customers happy?
Your reasons for moving – Employers will want to know why you are leaving your current/previous role, so provide them with a brief explanation here.
Your availability – When will you be able to start a new job? Check your current contract to find out your notice period if you are in a position already.
Exam Invigilator cover letter templates
Copy and paste these Exam Invigilator cover letter templates to get a head start on your own.
Template 1
Good morning, Jill
I had the pleasure of speaking with one of your employees, Ben Lee, who spoke highly of the academic programmes offered by Teacher Active. I am eager to uphold the integrity of the testing process as your next Junior Exam Invigilator.
Having recently graduated with a BSc in Psychology and volunteered as a part-time Invigilator at GLS Academy, I have developed a solid understanding of the importance of fair and unbiased testing environments. My coursework included topics related to educational assessments, have equipped me with the knowledge and skills necessary to excel in this role.
I am passionate about maintaining academic honesty and ensuring a level playing field for all students, where I have contributed toward a positive candidate satisfaction rating of 98% based on post-exam surveys. Moreover, I was pivotal in upholding strict adherence to schedules, consistently starting and ending exams on time, as well as achieving a 100% on-time completion rate. I can help manage multiple tasks simultaneously and address unforeseen challenges with poise and professionalism.
I am immediately available for an interview, and excited about the opportunity to work within your team.
Kind regards
Kiara Smith ¦ 07777777777 ¦ kiara.smith@gmail.co.uk
Template 2
Good day Harry
I am writing to express my strong interest in the Exam Invigilator position at The Kings of Wessex Academy. As someone with an ability for ensuring fair and secure examination processes, I am excited to transition my skills to the realm of examination administration.
Throughout my 7-year career in academia, I have honed my skills in distributing and collecting test materials. I am well-versed in enforcing regulations, while maintaining a professional demeanour in high-pressure situations. My ability to handle unexpected challenges makes me a reliable asset to any team, as I have implemented a new seating strategy that increased exam room capacity by 15%, as well as initiated stricter identification verification protocols that reduced irregularities by 30%.
One of my strengths lies in my effective communication competencies, which allows me to provide clear instructions to students and promptly address any inquiries. I am also adept at collaborating with colleagues to ensure a seamless testing experience for all involved parties.
I am excited about the opportunity to bring my skills, qualifications, and passion for quality to your organisation. Please do reach out to me to schedule an interview at your earliest convenience.
Kind regards
Cathy Bates ¦ 07777777777 ¦ cathy.bates@gmail.co.uk
Template 3
Good afternoon, Wendy
As a seasoned professional with a proven track record of leadership, I am confident in my ability to provide strategic oversight and ensure the highest standards of examination integrity as ASQ Education's next Senior Exam Invigilator.
Over the past 13 years working as an Exam Invigilator for York College, I have successfully managed and coordinated large-scale examination processes and supervised departmental team members with complete professionalism. My responsibilities have encompassed exam scheduling, candidate communication, training, and meticulous adherence to protocol, where I have integrated an advanced system that reduced identity-related issues by 40%. Furthermore, my ability to anticipate and mitigate potential challenges has led to a 25% decrease in exam-day disruptions, as well as optimised resource utilisation and achieved a 15% cost reduction through process improvements.
My data-driven approach has enabled me to rigorous analyse historical information to recognise potential risk areas and executing corrective exam measures.
I will bring my best efforts to contribute to your success. I am available for an interview ASAP.
Kind regards
Alice Bruce ¦ 07777777777 ¦ alice.bruce@gmail.co.uk
Writing an impressive cover letter is a crucial step in landing a Exam Invigilator job, so taking the time to perfect it is well worth while.
By following the tips and examples above you will be able to create an eye-catching cover letter that will wow recruiters and ensure your CV gets read – leading to more job interviews for you.
Good luck with your job search!