An apprenticeship can be a great way to strengthen your skills and kickstart your career. The trouble is, these positions can be competitive.
So, in order to stand out, you need a persuasive application – and that includes an engaging and creative cover letter.
Not sure how to write a standout application? That's OK, we can help. Check out our step-by-step guide and apprenticeship cover letter examples below to get started.

Apprenticeship cover letter example 1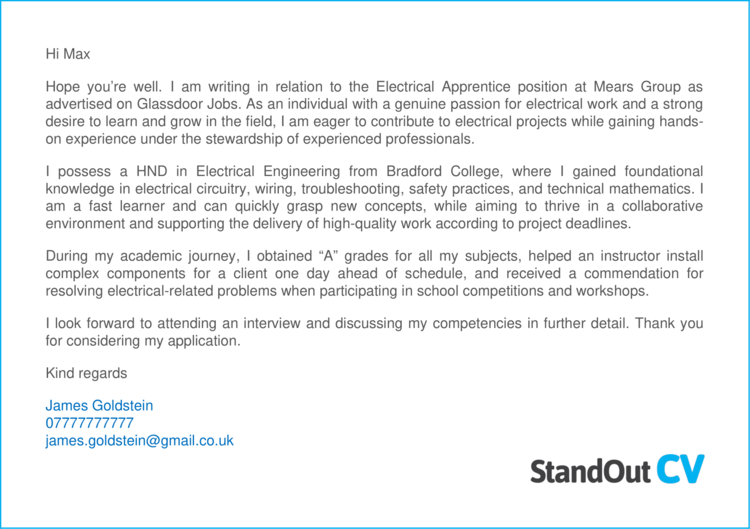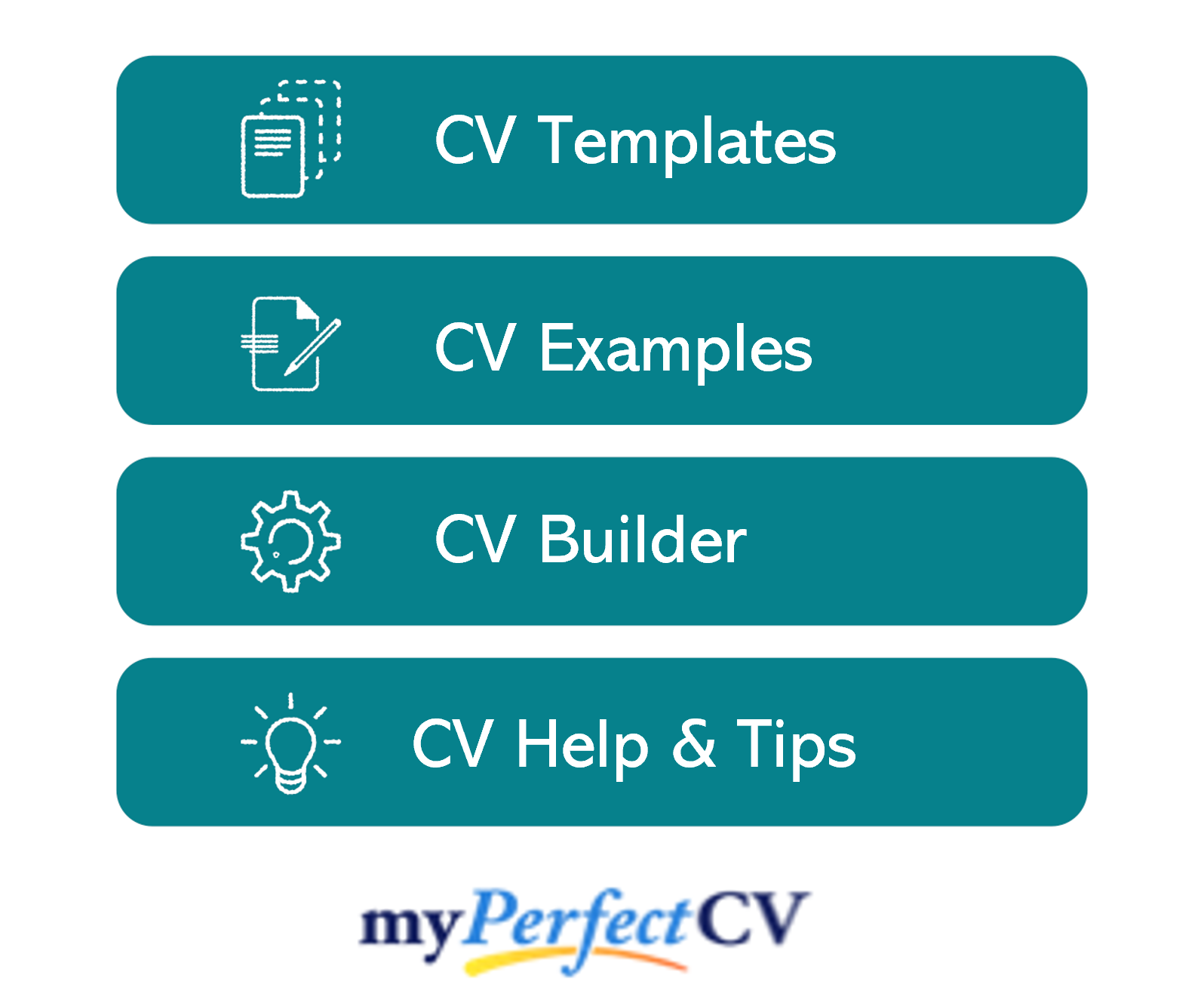 Apprenticeship cover letter example 2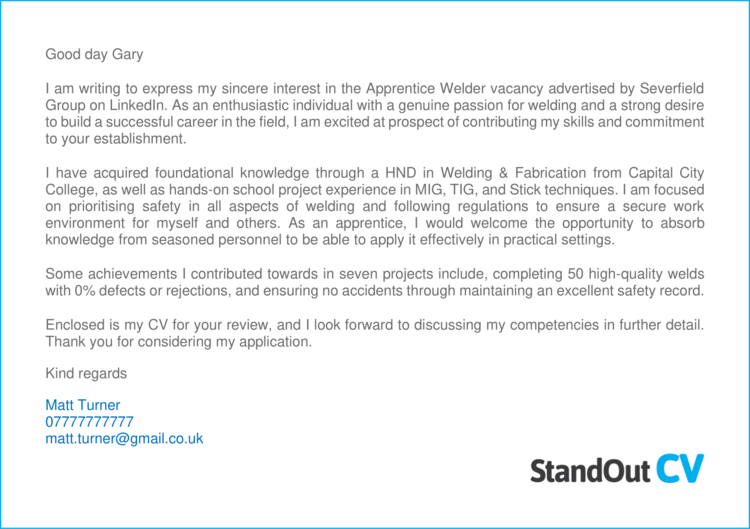 Apprenticeship cover letter example 3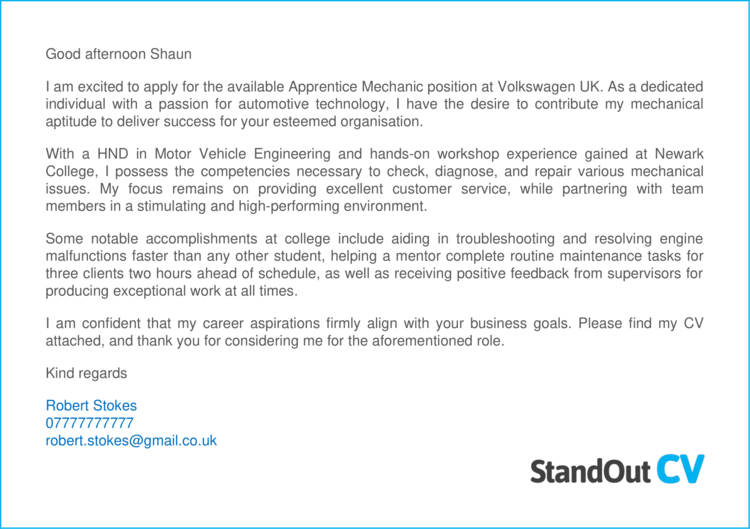 The Apprenticeship cover letter examples above should give you a good idea of the type of content you need to include in your own cover letter, and how it should be structured.
But if you're really looking to wow recruiters and get your CV in front of the very best employers, then check out our guidance on how to write your own effective cover letter below.
How to write an Apprenticeship cover letter
Here's a simple process to write your own interview-winning cover letter.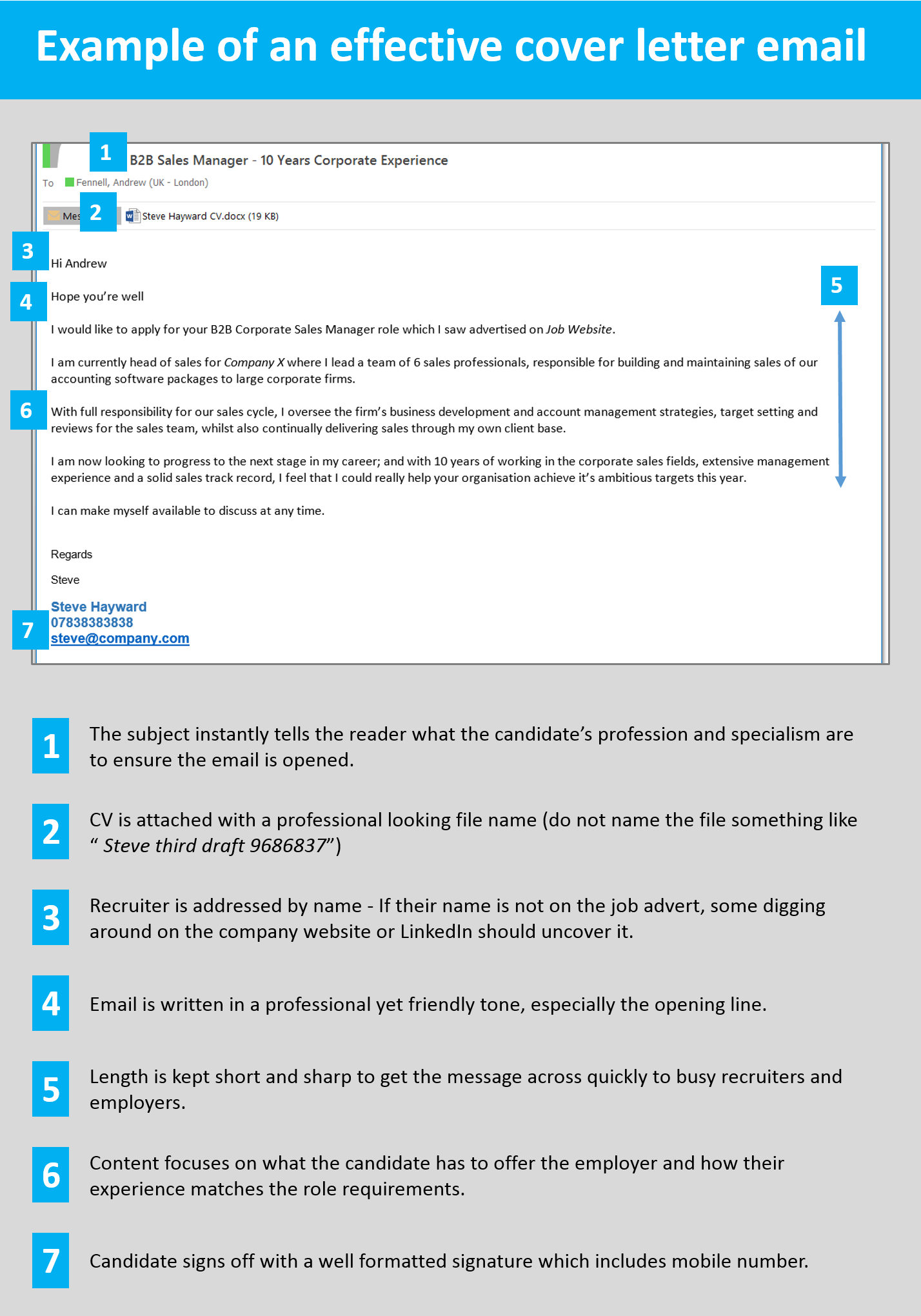 Write your cover letter in the body of an email/message
Type the content of your cover letter directly into the email you are sending, or if you are applying via a job board, directly into their messaging system.
The reason for doing this it to ensure that your cover letter gets seen instantly and you can start connecting with the recruiter as soon as they open your message.
If you attach your cover letter as a separate document, the recipient will have to open up the document, which will slow the process down, or make them less likely to even open your cover letter – which could mean your application gets skipped over.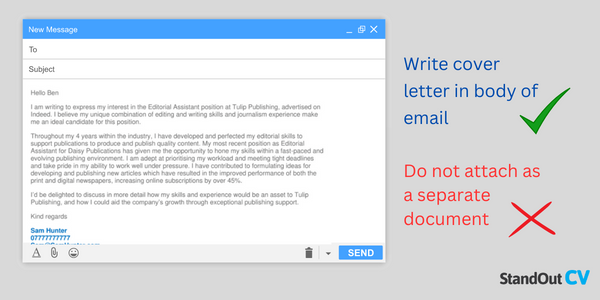 Start with a friendly greeting

To build an instant connection with the recruiter reading your cover letter, start with a warm greeting.
It should be friendly but not casual – keeping it professional at all times.
Hi, hope you're well
Hi [insert recruiter name]
Hi [insert department/team name]
Avoid overly formal greetings like "Dear sir/madam" unless applying to very traditional companies.
How to find the contact's name?
Addressing the recruitment contact by name is an excellent way to start building a strong relationship. If it is not listed in the job advert, try these methods to find it.
Check out the company website and look at their About page. If you see a hiring manager, HR person or internal recruiter, use their name. You could also try to figure out who would be your manager in the role and use their name.
Head to LinkedIn, search for the company and scan through the list of employees. Most professionals are on LinkedIn these days, so this is a good bet.
Identify the role you are applying for
Once you have opened the cover letter with a warm greeting, you need to explain which role you are interested in.
Sometimes a recruitment consultant could be managing over 10 vacancies, so it's crucial to pinpoint exactly which one you are interested in.
Highlight the department/area if possible and look for any reference numbers you can quote.
These are some examples you can add..
I am interested in applying for the role of *Type of Apprenticeship* with your company.
I would like to apply for the role of Sales assistant (Ref: 40f57393)
I would like to express my interest in the customer service vacancy within your retail department
I saw your advert for an IT project manager on Reed and would like to apply for the role.
Highlight your suitability
The bulk of your cover letter should be focused around highlighting your suitability for the job you are applying to.
Doing this will show the recruiter that you are suitable candidate and encourage them to open your CV.
The best way to do this, is by studying the job advert you are applying to, and find out what the most important skills and knowledge are.
Once you know the most important requirements, you then need to highlight your matching skills to the recruiter. In a few sentences, tell them exactly why you are a good fit for the job and what you can offer the company.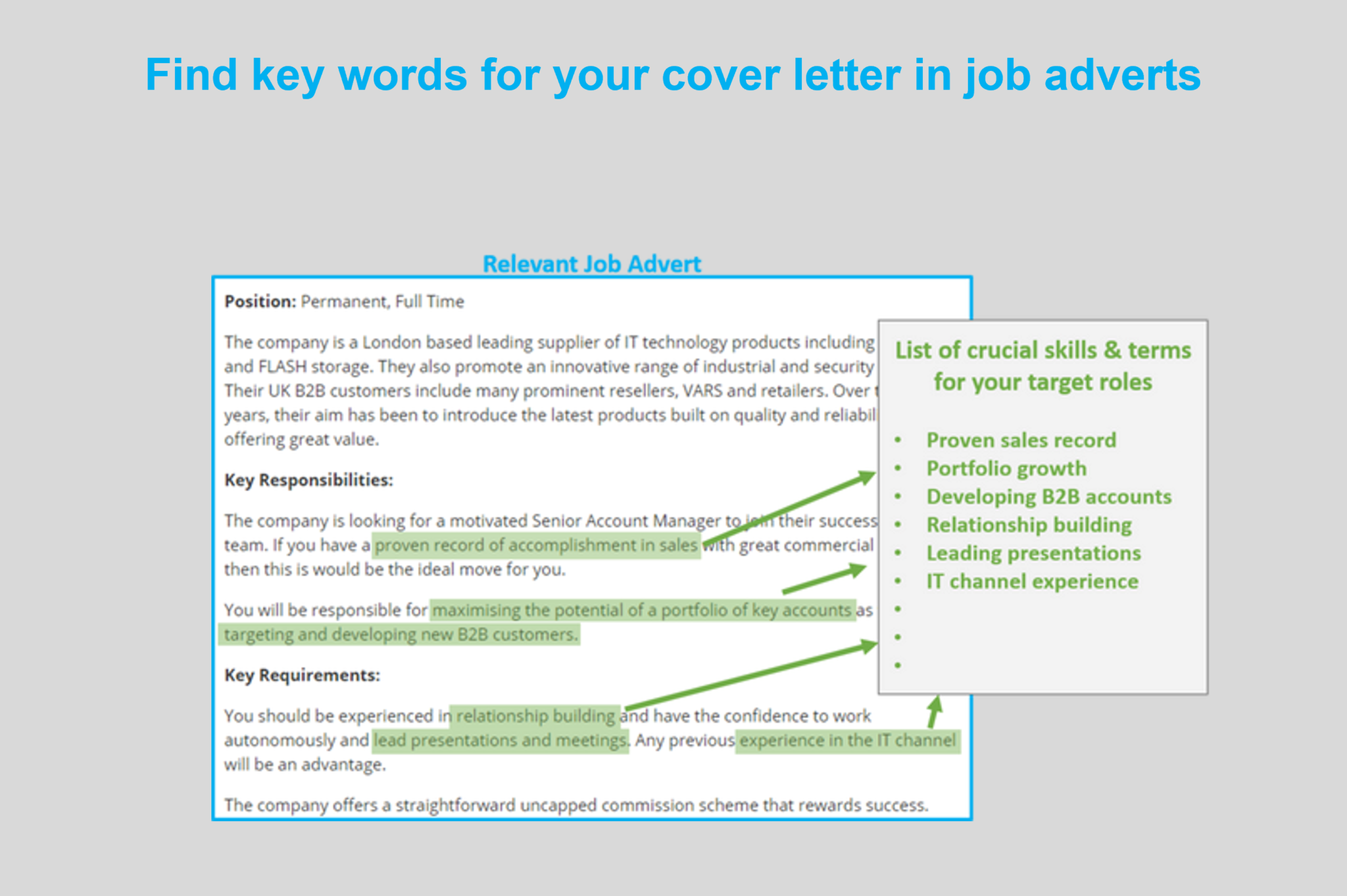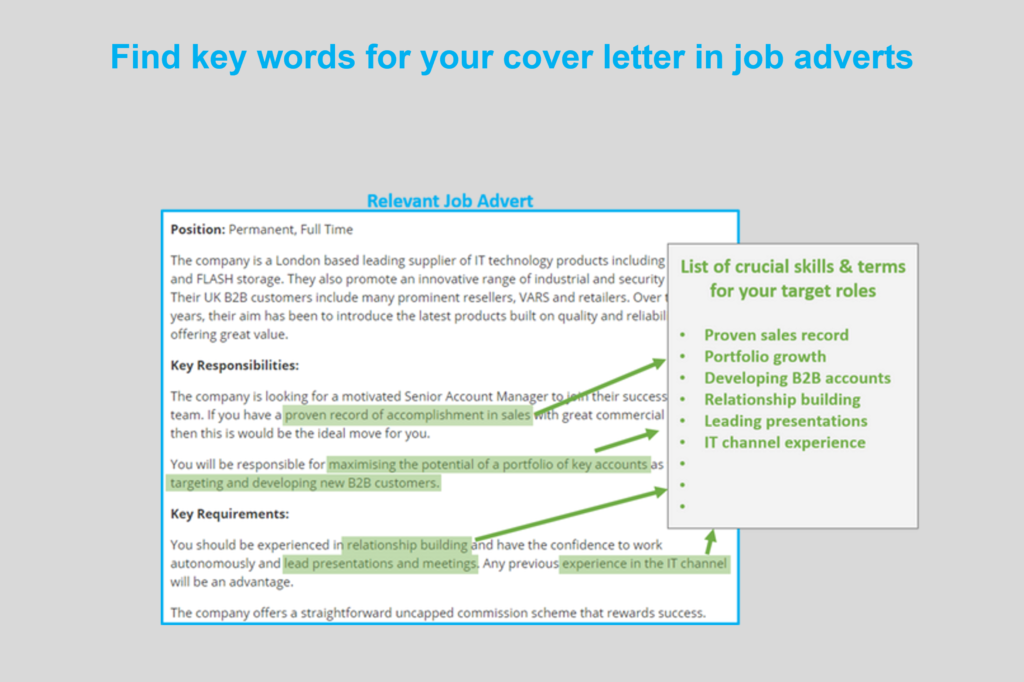 Keep it short and sharp
A good cover letter is short and sharp, getting to the point quickly with just enough information to grab the attention of recruiters.
Ideally your cover letter should be around 4-8 sentences long – anything longer will risk losing the attention of time-strapped recruiters and hiring managers.
Essentially you need to include just enough information to persuade the reader to open up your CV, where the in-depth details will sit.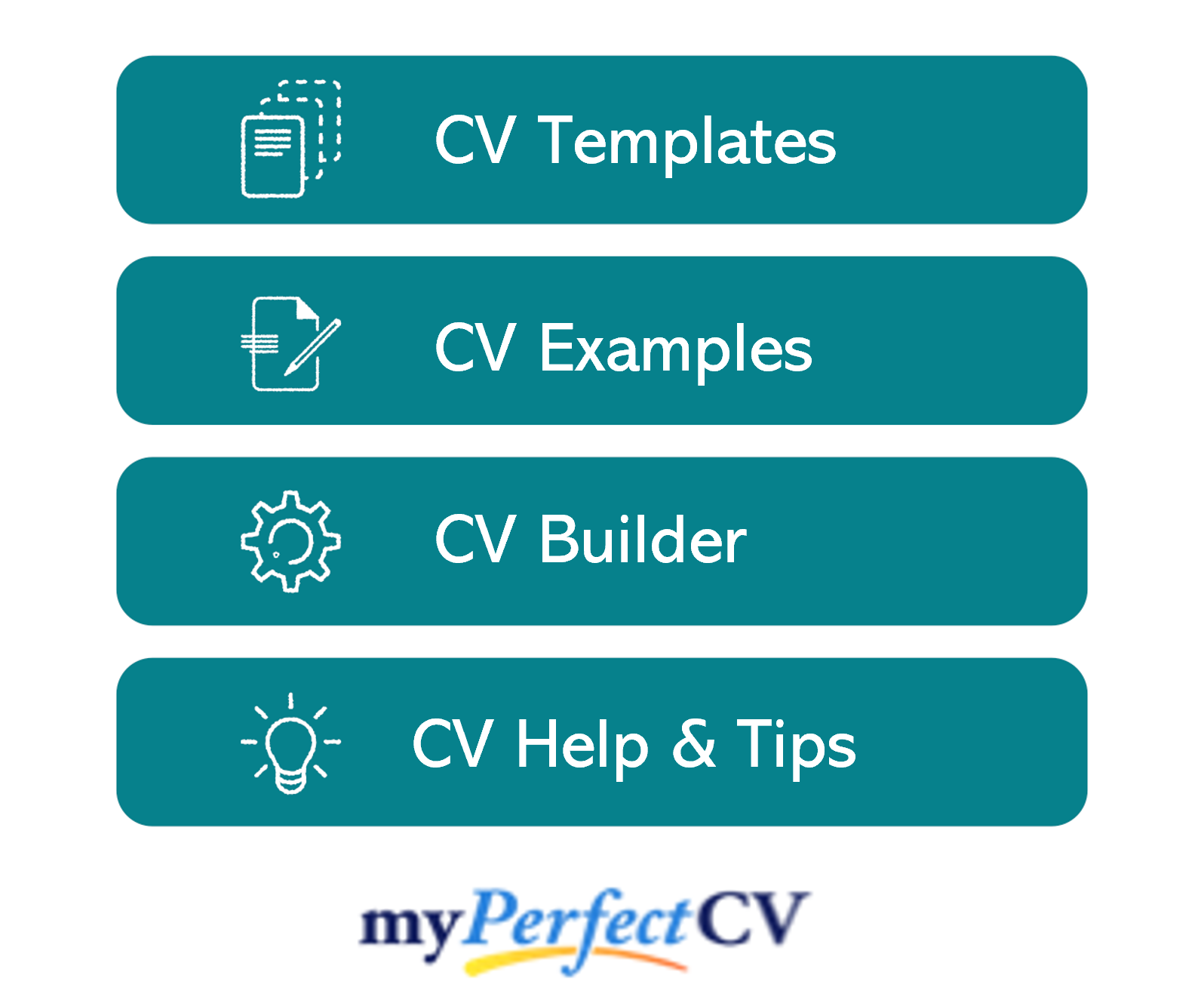 Sign off professionally
To round of your cover letter, add a professional signature to the bottom, giving recruiters your vital contact information.
This not only gives various means of contacting you, it also looks really professional and shows that you know how to communicate in the workplace.
Include the following points;
A friendly sign off – e.g. "Warm regards"
Your full name
Phone number (one you can answer quickly)
Email address
Optional
Profession title
Professional social network – e.g. LinkedIn
Here is an example signature;
Warm regards,
Gerald Baker
Senior Accountant
07887500404
Gbaker213@hotmail.com
LinkedIn
Quick tip: To save yourself from having to write your signature every time you send a job application email, you can save it within your email drafts, or on a separate document that you could copy in.

What to include in your Apprenticeship cover letter
So, what type of information should you write about in your Apprenticeship cover letter?
The specifics will obviously depend on your profession and the jobs you are applying to, but these are the key areas you should be covering.
Your industry experience – Tell recruiters the types of companies you have been working for and the roles you have held in the past.
Your qualifications – Highlight your most important relevant qualifications to show employers you are qualified to do the roles you are applying for.
The impact you have made – Demonstrate the positive impact you have made for employers in previous jobs. Have you saved money? Improved processes? Made customers happy?
Your reasons for moving – Employers will want to know why you are leaving your current/previous role, so provide them with a brief explanation here.
Your availability – When will you be able to start a new job? Check your current contract to find out your notice period if you are in a position already.
Apprenticeship cover letter templates
Copy and paste these Apprenticeship cover letter templates to get a head start on your own.
Template 1
Hi Max
Hope you're well. I am writing in relation to the Electrical Apprentice position at Mears Group as advertised on Glassdoor Jobs. As an individual with a genuine passion for electrical work and a strong desire to learn and grow in the field, I am eager to contribute to electrical projects while gaining hands on experience under the stewardship of experienced professionals.
I possess a HND in Electrical Engineering from Bradford College, where I gained foundational knowledge in electrical circuitry, wiring, troubleshooting, safety practices, and technical mathematics. I am a fast learner and can quickly grasp new concepts, while aiming to thrive in a collaborative environment and supporting the delivery of high-quality work according to project deadlines.
During my academic journey, I obtained "A" grades for all my subjects, helped an instructor install complex components for a client one day ahead of schedule, and received a commendation for resolving electrical-related problems when participating in school competitions and workshops.
I look forward to attending an interview and discussing my competencies in further detail. Thank you for considering my application.
Kind regards
James Goldstein ¦ 07777777777 ¦ james.goldstein@gmail.co.uk
Template 2
Good day Gary
I am writing to express my sincere interest in the Apprentice Welder vacancy advertised by Severfield Group on LinkedIn. As an enthusiastic individual with a genuine passion for welding and a strong desire to build a successful career in the field, I am excited at prospect of contributing my skills and commitment to your establishment.
I have acquired foundational knowledge through a HND in Welding & Fabrication from Capital City College, as well as hands-on school project experience in MIG, TIG, and Stick techniques. I am focused on prioritising safety in all aspects of welding and following regulations to ensure a secure work environment for myself and others. As an apprentice, I would welcome the opportunity to absorb knowledge from seasoned personnel to be able to apply it effectively in practical settings.
Some achievements I contributed towards in seven projects include, completing 50 high-quality welds with 0% defects or rejections, and ensuring no accidents through maintaining an excellent safety record.
Enclosed is my CV for your review, and I look forward to discussing my competencies in further detail. Thank you for considering my application.
Kind regards
Matt Turner ¦ 07777777777 ¦ matt.turner@gmail.co.uk
Template 3
Good afternoon, Shaun
I am excited to apply for the available Apprentice Mechanic position at Volkswagen UK. As a dedicated individual with a passion for automotive technology, I have the desire to contribute my mechanical aptitude to deliver success for your esteemed organisation.
With a HND in Motor Vehicle Engineering and hands-on workshop experience gained at Newark College, I possess the competencies necessary to check, diagnose, and repair various mechanical issues. My focus remains on providing excellent customer service, while partnering with team members in a stimulating and high-performing environment.
Some notable accomplishments at college include aiding in troubleshooting and resolving engine malfunctions faster than any other student, helping a mentor complete routine maintenance tasks for three clients two hours ahead of schedule, as well as receiving positive feedback from supervisors for producing exceptional work at all times.
I am confident that my career aspirations firmly align with your business goals. Please find my CV attached and thank you for considering me for the aforementioned role.
Kind regards
Robert Stokes ¦ 07777777777 ¦ robert.stokes@gmail.co.uk
Writing a strong attention-grabbing cover letter is a vital step in landing a good Apprenticeship job.
Use the tips, strategies and examples above to get more responses from you job applications and start lining job interview up.
Good luck with your job search!