Using adjectives (descriptive words) in your CV can be a great way to highlight your skills and quickly grab the recruiter's attention. However, knowing which adjectives to choose can be tricky.
You don't want to flood your CV with weak adjectives just for the sake of it; instead, you want to focus on those that will present you as the best possible candidate.
In this guide, we're going to show you the top 50 adjectives for your CV, and take a look at why using the right adjectives is so important and how you can do this.

Essential adjectives

When writing a CV, there are some essential adjectives that help to showcase your key transferable skills and why you're a good fit for the role. For example:
Passionate – e.g. "Passionate customer service specialist with over five years experience in the retail industry, and a 96% customer satisfaction record"
Motivated – e.g. "Motivated web developer with extensive knowledge of Python and Javascript, looking for my next exciting role in the automotive industry"
Trustworthy – e.g. "Reporting to the Head of Communications, created a variety of engaging and trustworthy content for a leading luxury clothing brand"
Creative – e.g. "Creative graphic designer with six years experience working for one of the UK's biggest restaurant chains"
Driven – e.g. "Driven sales executive with a wealth of skills and expertise in driving both B2B and B2C sales in the technology sector"
Reliable – e.g. "Used quantitative analysis to provide reliable budget and profit forecasts to ensure the company invested its money carefully"
Confident – e.g. "Confident caregiver with 10 years experience providing care and companionship to elderly patients in assisted living communities"
Diligent – e.g. "Conducted weeks of diligent competitor research to aid the marketing team on their next digital marketing campaign worth over £10,000"
Flexible – e.g. "Remained flexible when it came to scheduling in order to support junior members of staff currently studying for their exams"
Professional – e.g. "Ensured polite and professional communication when dealing with customer complaints and conflicts"

Teamwork adjectives

Teamwork is very important in any role and something that all employers will be looking for in a candidate. So don't just rely on your key skills section to showcase your abilities; really sell your teamwork skills using adjectives like:
Cooperative – e.g. "Cooperative accounts assistant with excellent communication skills and in-depth knowledge of accounting software"
Helpful – e.g. "Working as a project manager, provided helpful advice, support and direction to the team of 15 marketing professionals"
Collaborative – e.g. "Collaborative and creative marketing apprentice looking for their first exciting role as a marketing assistant"
Diplomatic – e.g. "Remained diplomatic and calm when dealing with internal conflicts, ensuring a fair and amicable outcome was reached"
Supportive – e.g. "As coach of the company's charity football team, was supportive and motivational and always signed the team up for local events"
Loyal – e.g. "Working as a car mechanic, I have been a loyal member of the team for 25 years, always striving to offer the best possible customer experience"
Accommodating – e.g. "Accommodating and approachable general manager with an exemplary career in the hospitality industry; winner of 'Best General Manager – Luxury Hotel' three years in a row"
Respectful – e.g. "As branch manager, I am a motivational and respectful leader who oversees a team of 20 sales and customer service professionals"
Friendly – e.g. "Friendly, outgoing hotel receptionist with seven years experience providing support and care to hotel guests"
Conscientious – e.g. "Conscientious SEN teaching assistant with three years experience supporting pupils with varying levels of physical disability"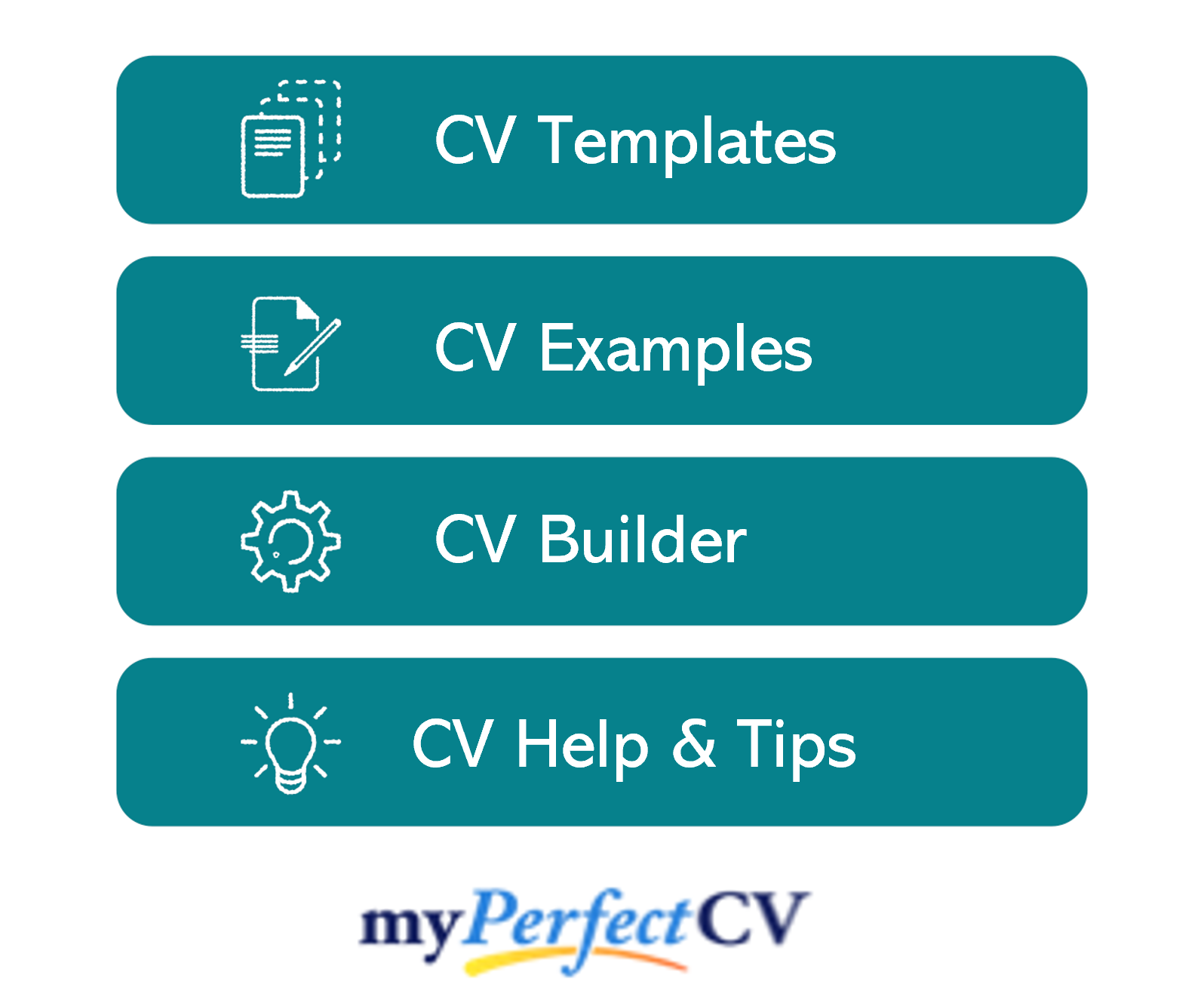 Leadership adjectives

Whether it's customers, colleagues or direct reports, being able to lead and influence others is a highly sought-after skill. So, to highlight your leadership skills, you should include adjectives like:
Decisive – e.g. "Decisive and driven sales manager with 12 years experience driving profitability and strategic growth in a B2B environment"
Influential – e.g. "As an influential social media manager, I created content that grew the brand's following by 56% in the first three months"
Pioneering – e.g. "Implemented several pioneering production strategies to ensure that products were being manufactured smoothly and cost-effectively"
Persuasive – e.g. "Persuasive sales assistant with five years experience working for one of the world's biggest luxury jewellery brands"
Encouraging – e.g. "As a social worker, my role was to be a calming and encouraging influence on the lives of deprived children in the local area"
Responsible – e.g. "Responsible and organised personal assistant with experience working in fast-paced environments for busy CEOs"
Inspirational – e.g. "Won the 'Team Player Award' at the companies end of year presentation for always being a positive and inspirational part of the team"
Impartial – e.g. "As a journalist, I created impartial coverage of local events ensuring they were informative and balanced"
Tactful – e.g. "Tactful and persuasive sales associate with eight years experience driving sales in the healthcare industry"
Pragmatic – e.g. "Pragmatic HR director with extensive experience implementing employee experience initiatives and strategies"
Organisation adjectives

Being organised is important for meeting deadlines, boosting productivity and achieving the best results. Therefore, you need to show off your organisation skills with adjectives like:
Organised – e.g. "Organised event coordinator with over 12 years experience in the industry and an extensive portfolio of corporate events"
Efficient – e.g. "Created efficient predicting models that helped to accurately forecast the number of customer orders needed, reducing wastage by 20%"
Methodical – e.g. "Methodical project coordinator with experience and expertise in managing advertising campaigns from inception through to completion"
Punctual – e.g. "Punctual, organised and adaptable project management graduate with a 1st class honours degree from Brighton University"
Systematic – e.g. "As a restaurant manager, my key responsibilities include overseeing the team of 25 chefs and waiting staff, systematic scheduling and organising relevant training"
Timely – e.g. "Delivered computer programming projects in a timely manner, often 2-3 weeks ahead of schedule"
Detailed – e.g. "Created very detailed weekly round-up emails to ensure every member of the team was always up to date on the status of the project"
Productive – e.g. "Regularly led productive brainstorming sessions, taking detailed notes to circulate to the team afterwards"
Competent – e.g. "Creative and competent freelance photographer with experience using both traditional film and digital photography"
Accurate – e.g. "Provided buyers with an accurate market pricing strategy which lead to a 35% decrease in monthly costs"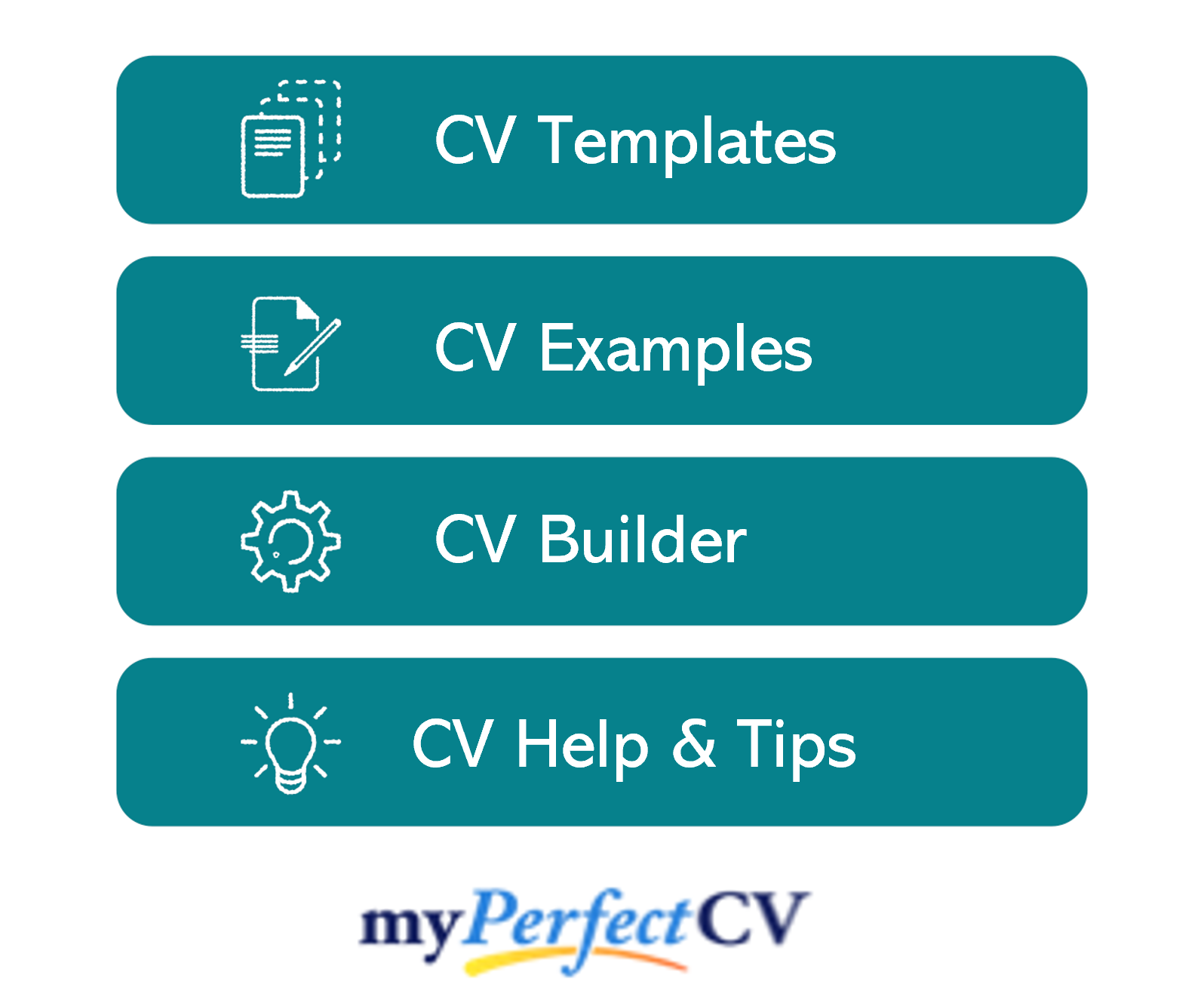 Interpersonal adjectives

Employers value strong interpersonal skills because they underpin a candidate's ability to communicate and work well with other people, be that customers, clients, colleagues, etc. As such, you need to use adjectives to prove you've got what it takes. For example:
Approachable – e.g. "Always ensured an approachable demeanour that encouraged students to come forward when they needed extra support"
Sociable – e.g. "Sociable and upbeat children's entertainer for one of the nation's leading holiday parks"
Outgoing – e.g. "As an outgoing event manager, I regularly liaised with clients both over the phone and in-person, to ensure that every aspect of the event was meeting their expectations"
Patient – e.g. "Patient and kind healthcare professional with extensive experience supporting those suffering from mental health issues"
Polite – e.g. "Welcomed guests to the hotel, providing polite conversation as they checked in and advising them on what to see in the local area"
Eloquent – e.g. "Crafted eloquent pitches to send out to relevant journalists, increasing national coverage by 15% in a year"
Charming – e.g. "Charming sales professional with seven years working in the retail industry, consistently exceeding monthly sales targets"
Articulate – e.g. "Articulate junior copywriter with four years experience creating a range of content from blog posts and articles to press releases and white papers"
Personable – e.g. "Personable and organised receptionist, adept at diary management, data entry and creating travel itineraries"
Easy-going – e.g. "Easy-going bartender with five years experience in the hospitality industry, looking to take the next step in my career"
What are adjectives?
Simply put, an adjective is a word that describes a noun, such as a person, place, thing or action. These are used to add more details and to describe the qualities or state of the noun, and make descriptions clearer or more interesting.
For example, rather than simply stating that you are a senior copywriter on your CV, you might instead say that you are an enthusiastic or creative senior copywriter. This modifies the noun to give it more depth and detail. It helps the reader to paint a better picture of you in their mind.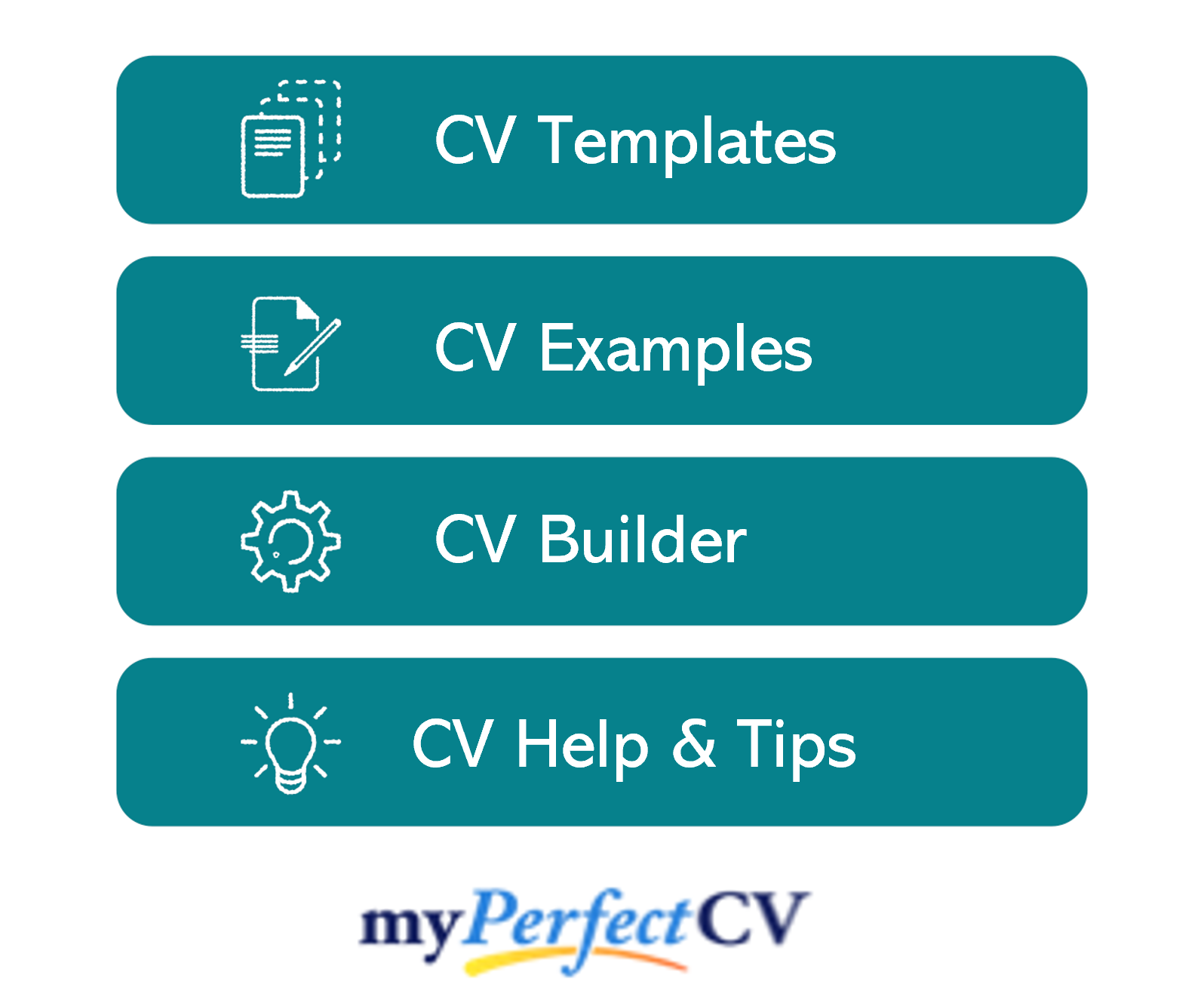 Why are adjectives important?
There are a number of reasons why adjectives are important for helping you to write a good CV. By choosing the right adjectives to describe your skills and achievements, you can boost the impact these have on the recruiter.
What's more, as we mentioned above, these words help with painting a picture and adding more detail to your skills and experiences. This makes it much easier for the employer to see which areas you excel in and how you've added real value to businesses in the past.
Finally, using the right adjectives shows that you are creative, persuasive and that you communicate well using your excellent command of the English language.
How to include adjectives on your CV
Knowing which adjectives to include is one thing, but you need to know how to use these as effectively as possible throughout your CV. The good news is that there are several ways you can do this, and we're going to look at these in more detail below.
In your CV profile
Your personal profile is the first chance you have to utilise adjectives on your CV. Your profile is designed to be an introduction to who you are and why you're right for the role. This makes it the ideal place to use adjectives to highlight your key skills, experience, achievements, etc., as you can see from the example below.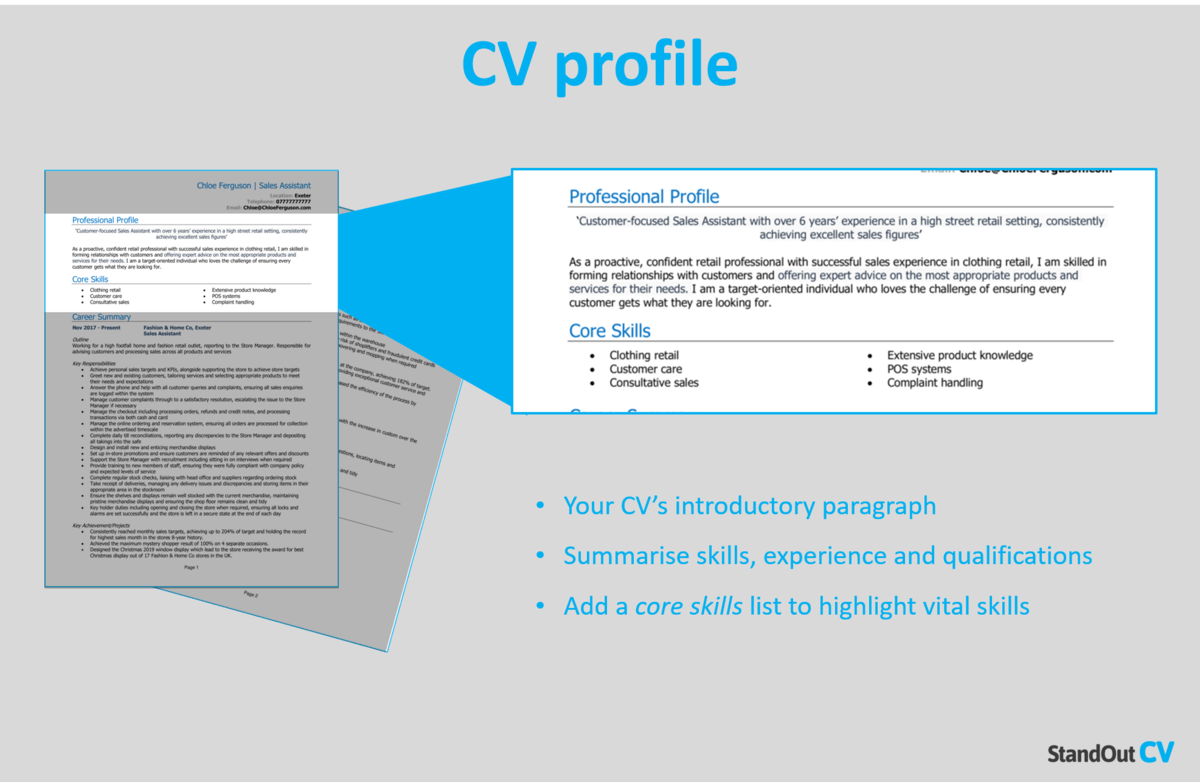 In your jobs
In your employment history section, you can (and should) give a brief overview of your past roles, and you can use adjectives to strengthen this description and show how you've made an impact.
You should also use adjectives in the bullet points to outline your key responsibilities and achievements, helping to add detail and build a better picture of your skills. You can see a good example of this below: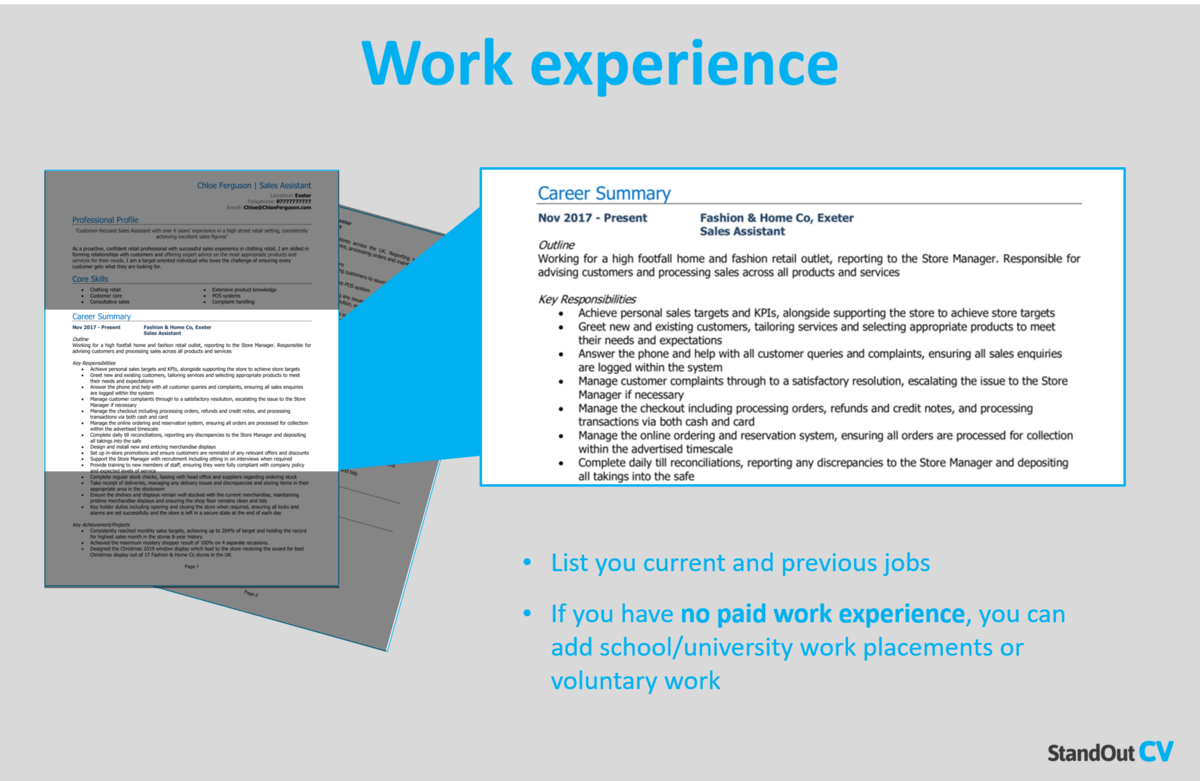 In your skills section
Although we suggest you do this sparingly, you can also use adjectives in your key skills section to make a greater impression on the recruiter. This can help you to emphasise particularly important skills that the employer has specifically asked for. For example:
Don't just list 'Microsoft Word and Excel', say 'proficient in Microsoft Word and Excel' instead
Rather than 'Python and Javascript' say 'advanced knowledge of Python and Javascript'
What to avoid
Finally, when using adjectives in your CV, there are a few things you should aim to avoid. Firstly, try to avoid generic cliches and make sure that you only ever use adjectives to enhance your experience or skills, not replace them.
Not only this but don't try to use bigger words just to sound clever or impressive. Put the thesaurus down because this could actually have the opposite effect.
Lastly, do not try to enhance your headings (such as employment history or core skills) using adjectives. It will look strange, but it could also harm your chances if your CV is passed through an ATS.